Oceania Cruises has announced details on the upcoming renovations for its 1,210-guest ships Riviera and Marina.
Debuting in December 2022 and November 2023, respectively, Riviera and Marina will become what the line calls "better than new." Every surface of every stateroom and suite will be new, while in public spaces a refreshed color palette will surround new fabrics, furnishings, and lighting fixtures.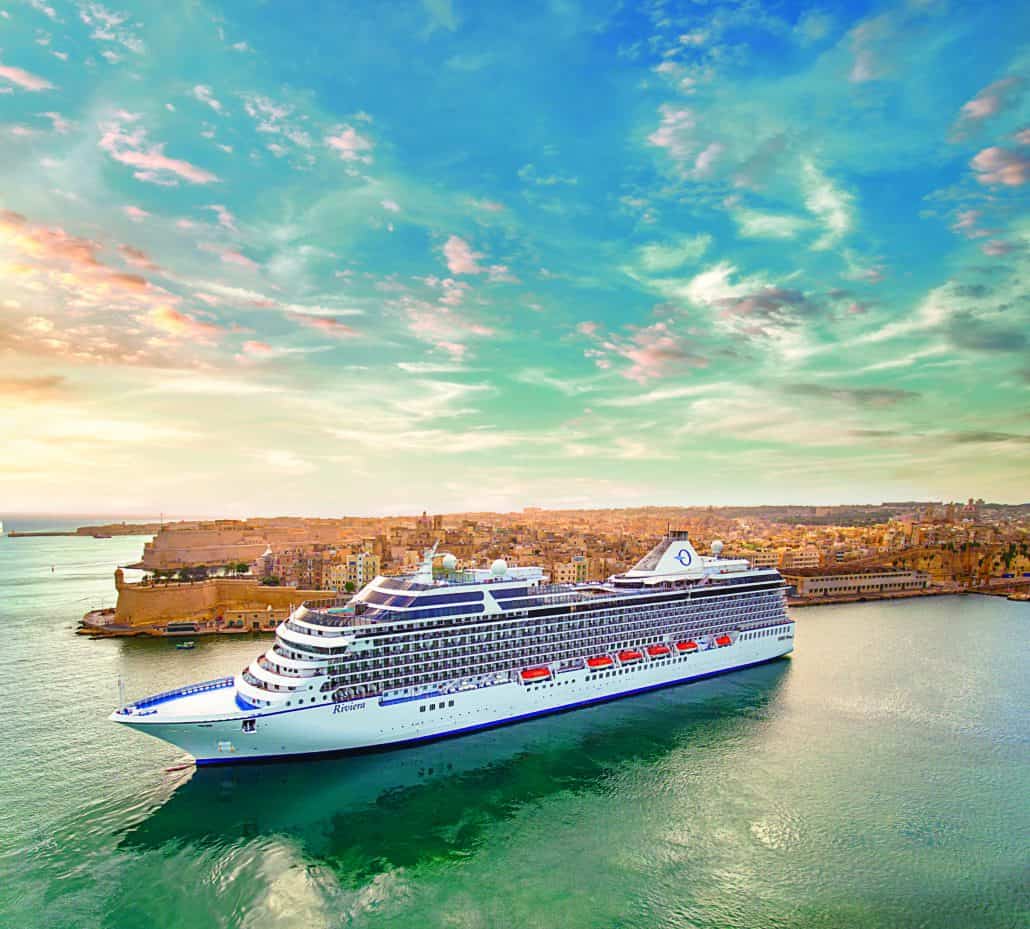 Staterooms & Suites
Riviera and Marina's staterooms will be lighter, brighter, and more spacious with a wall-to-wall reimagining. Custom-crafted furnishings, exotic stone, polished wood finishes, and designer accessories will add elegance and sophistication in a color palette inspired by the sea and sky.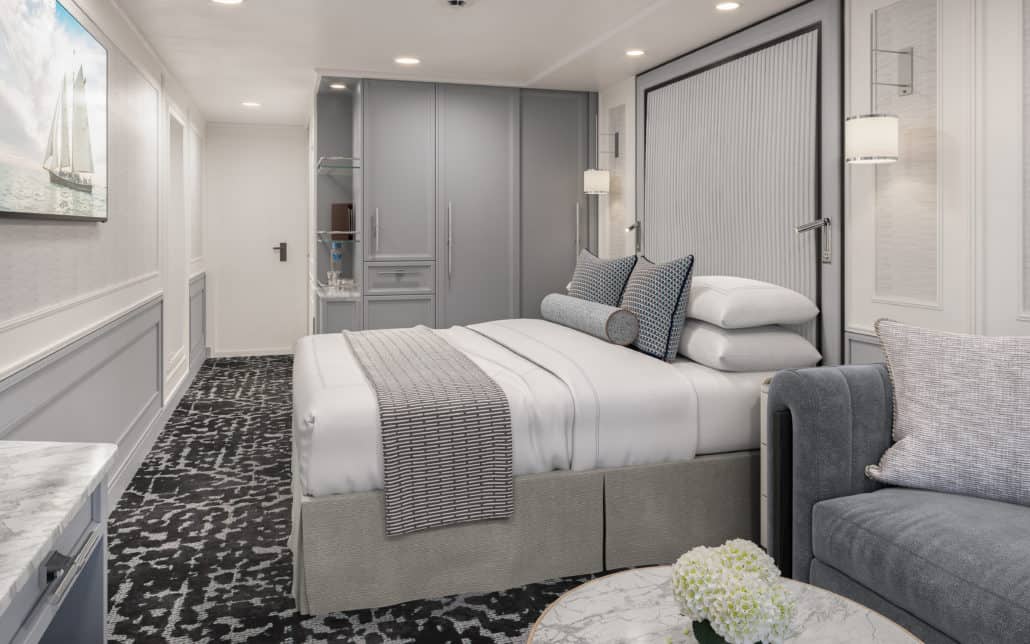 Living and sleeping areas will include Italian marble, fabrics in tones of deserts and skies, curved tables, subtle lighting, and intricate millwork.
Bathrooms will be restyled with new fixtures and spacious storage, as well as oversized showers.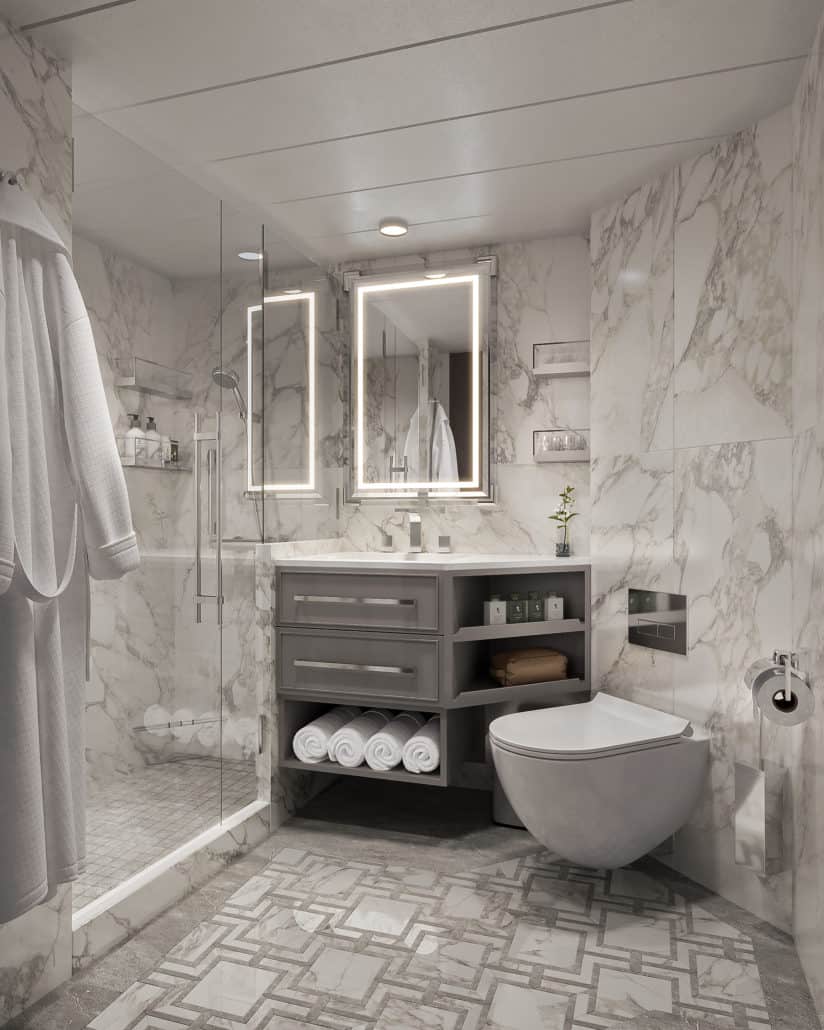 Cabins will include ample outlets and USB ports for charging various devices.
Public Areas
Public areas will be completely updated, offering reimagined elegance and sophistication.
The Grand Dining Room will include a new glistening chandelier, plush carpeting, and soft leather armchairs.
The seaside-inspired Terrace Café and Waves Grill offering barbecue will be updated, and there will be a new Trattoria featuring wood-fired pizzas and grilled Italian specialties.
Polo Grill steakhouse will retain its rich leather chairs and wood panelling, but debut new carpeting, wall coverings, and draperies. The Horizons bar will be completely reimagined, offering a lighter, brighter space.
MORE: Celebrity Cruises Cancels Winter Program In Asia, Ship To Sail From U.S.
Renovation Debut Sailings
Following its renovation, Riviera will re-debut on December 7, 2022 on a 16-night Mediterranean, Atlantic, and Caribbean transatlantic cruise from Rome to Miami.
From Miami, the vessel will begin a schedule of her popular seven to 14-night Caribbean cruises from Miami for one final season before returning to Europe in late March 2023. Later in 2023 and into early 2023, Riviera will head to the Middle East and Asia for the first time.
Marina will re-debut following her renovation on November 13, 2023 on a seven-night cruise from Barcelona to Lisbon. From there, she will then head across the Atlantic to Miami, where she will kick off her annual South America season on December 3.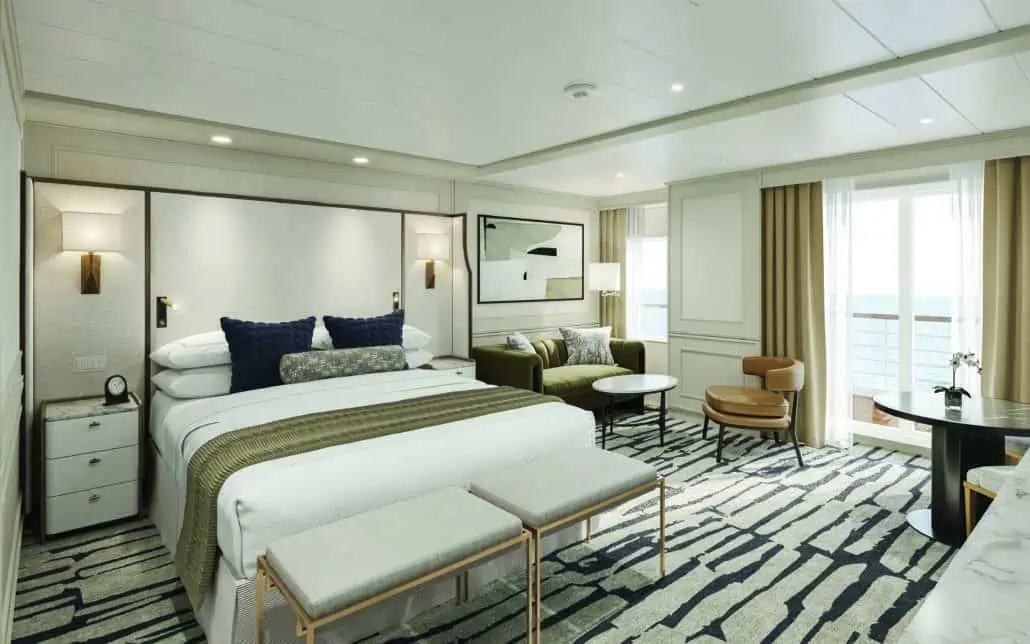 The Rest of the Fleet
In addition to Riviera and Marina, Oceania's four 656-guest vessels have also been renovated.
Insignia debuted her renovations for her 2019 Around the World in 180 Days voyage, followed shortly after by Regatta and Sirena in the same year. Nautica just recently re-entered service after an update on April 1, 2022.
Details on the 2024 itineraries for the entire Oceania Cruises fleet will be released in the coming weeks.
READ NEXT: 7 U.S.-Based Cruise Itineraries With Unique Port Calls