The Stats
Built: 2020
Size: 108,192 gross tons
Measurements: 277.20 meters by 38 meters
Staterooms: 1,408
Capacity: 2,770
Crew: 1,146
Scarlet Lady made her sailing debut in October 2021, having been delayed due to the COVID pandemic. She currently sails a few itineraries from Miami, including to the Dominican Republic and Mexico, all with stops at the fabulous Beach Club at Bimini.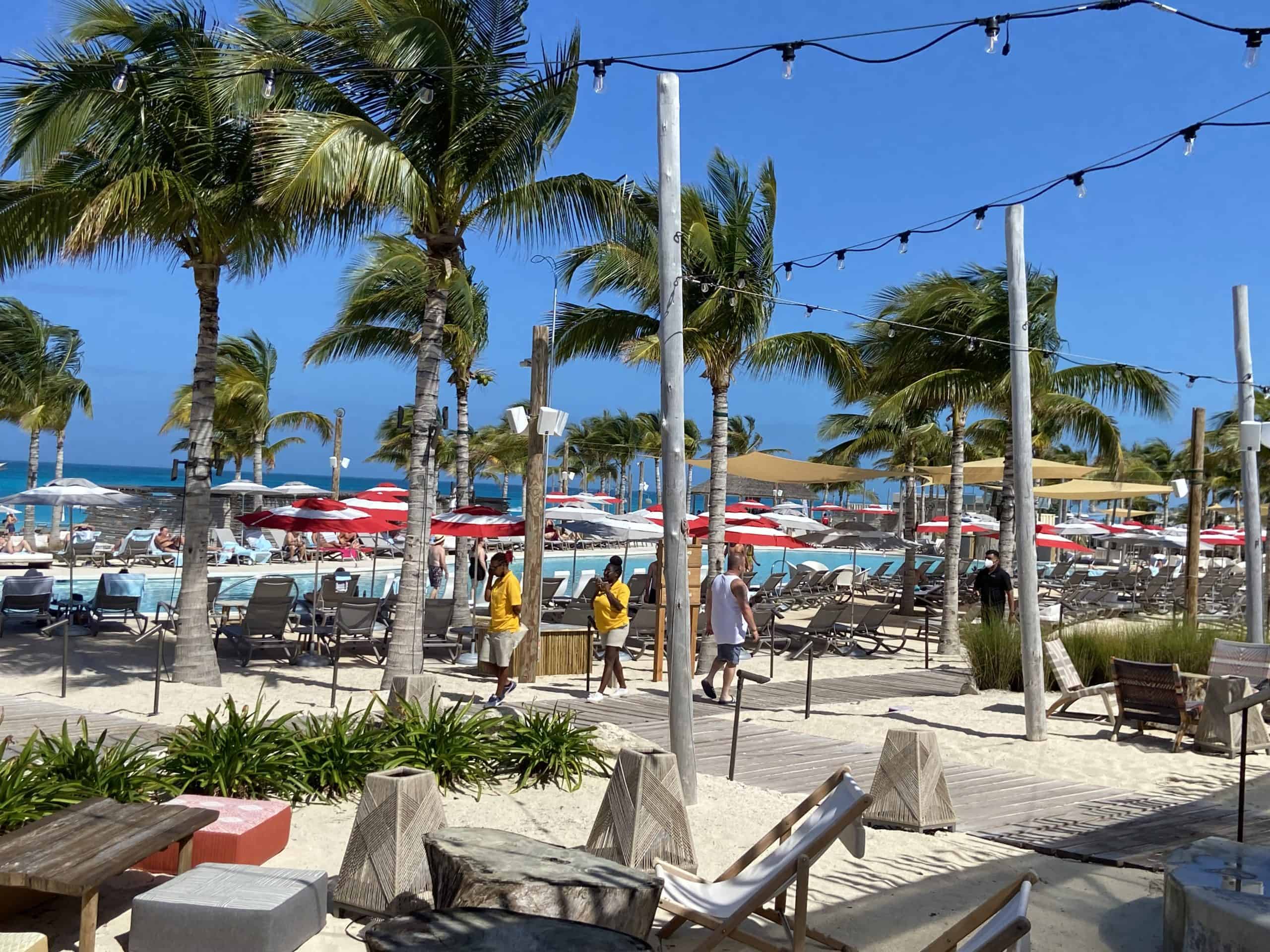 An adults-only cruise line, sailing with Virgin Voyages is touted as a yacht experience. Attempting to disrupt the cruise industry, Virgin Voyages certainly executed a design and experience quite unlike others.
The inclusive nature of the cruise means no forking over extra cash to experience dining venues or included beverages (still and sparkling water, non-pressed juice, soda, sachet tea, and drip coffee). Gratuities and WiFi are included in the fare as well, so when comparing the value of sailing on Scarlet Lady, it's necessary to compare all inclusions as well as the shorter length of the cruises with other mainstream cruise lines.
The Layout
With 17 decks, Scarlet Lady was easy enough to navigate. We appreciated the paper maps available as we found signage throughout the ship difficult to read – either because it wasn't obvious, because it was small, or because it was unexpectedly placed. In general though, getting around was easy enough.
Sailor Services seemed oddly-placed at the entrance to the Pink Agave restaurant. That area was small, but very efficient with an incredibly helpful staff.
Noticeably missing from the ship are an internet café and a photo gallery. There are no roaming photographers on the ship. There are a few retail establishments and a brand store selling Virgin items. I was so taken by the attractive design of the crew's T-shirt uniform that I considered buying one as a souvenir.
The central gathering area, much like the atrium on other ships, is The Roundabout, the venue for activities and relaxation.
What so appealed to me about Scarlet Lady was the connection that I felt with the sea. Outdoor dining, lounging areas, running tracks, bars, pools and hot tubs, and even an outdoor gym kept me spending my time out on the deck.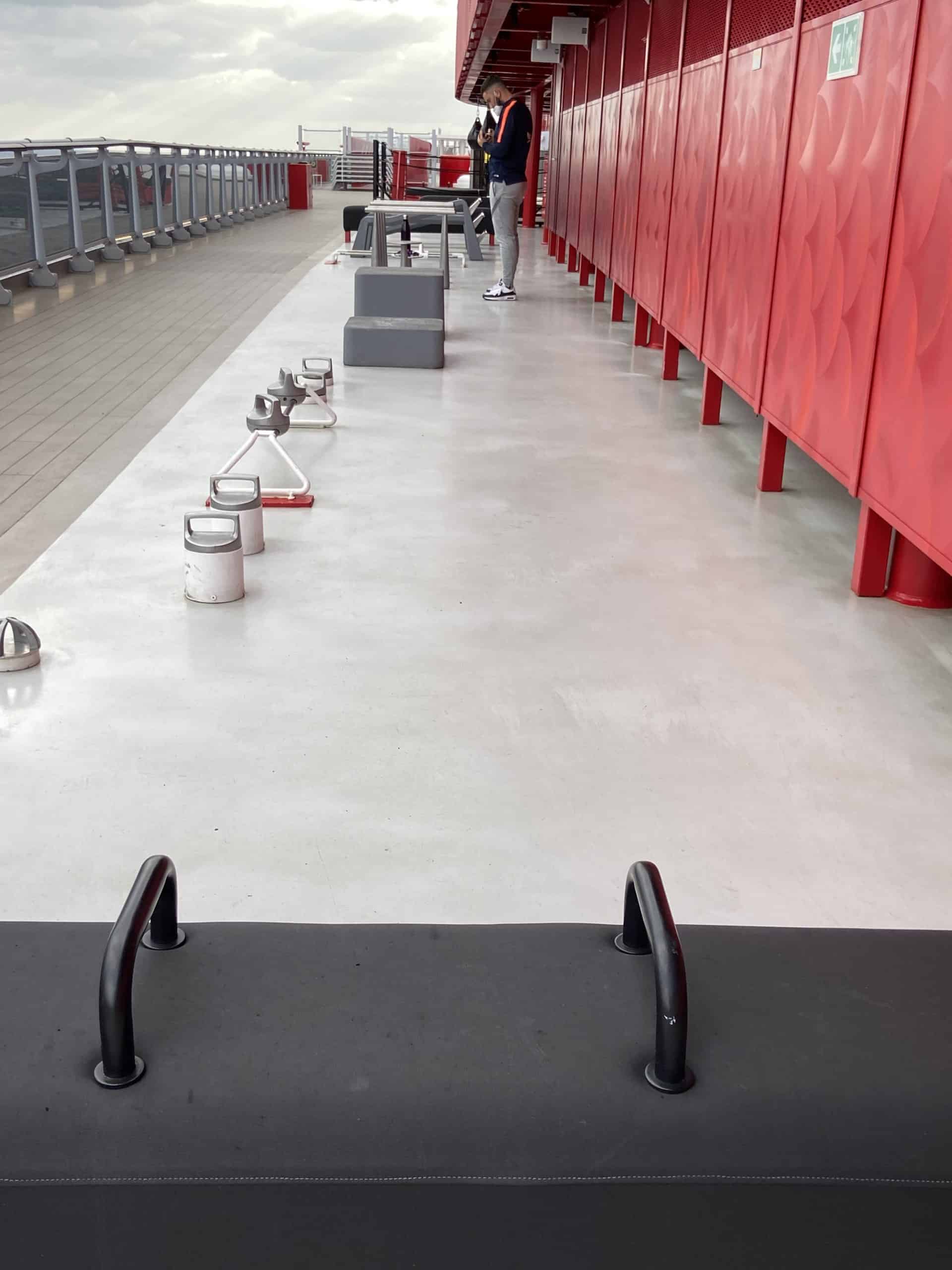 Staterooms
Scarlet Lady offers the standard inside, ocean view, and balcony staterooms along with their upscale Rockstar category suites. For the solo traveler, there are small inside cabins and a few Sea View cabins. My cabin, 14050Z, was in the Sea Terrace category on the starboard side of the ship.
Having seen earlier photos and advertisements for Scarlet Lady, I was unsure exactly what to expect. Already, a few updates were being completed (ours was halfway through the update) to give the stateroom a different feel. Supposedly these updates were in response to cruiser comments.
The room definitely felt modern, almost stark, and after giving it a once-over, I decided it was what I would consider akin to a private room in a hostel. Having not really experienced yacht living, I really had nothing to compare it to, but it definitely felt far less cozy than cabins on other cruise ships. However, Virgin Voyages is attempting to be different and they have definitely succeeded at that. Getting a cozy vibe from a modern style isn't easy.
Our cabin had the bed near the door rather than near our comfortable balcony. We spent enough time on the balcony, just enjoying the sea. The red hammock provided a nice place to swing, but attempting to recline in it required a bit of contortionist expertise.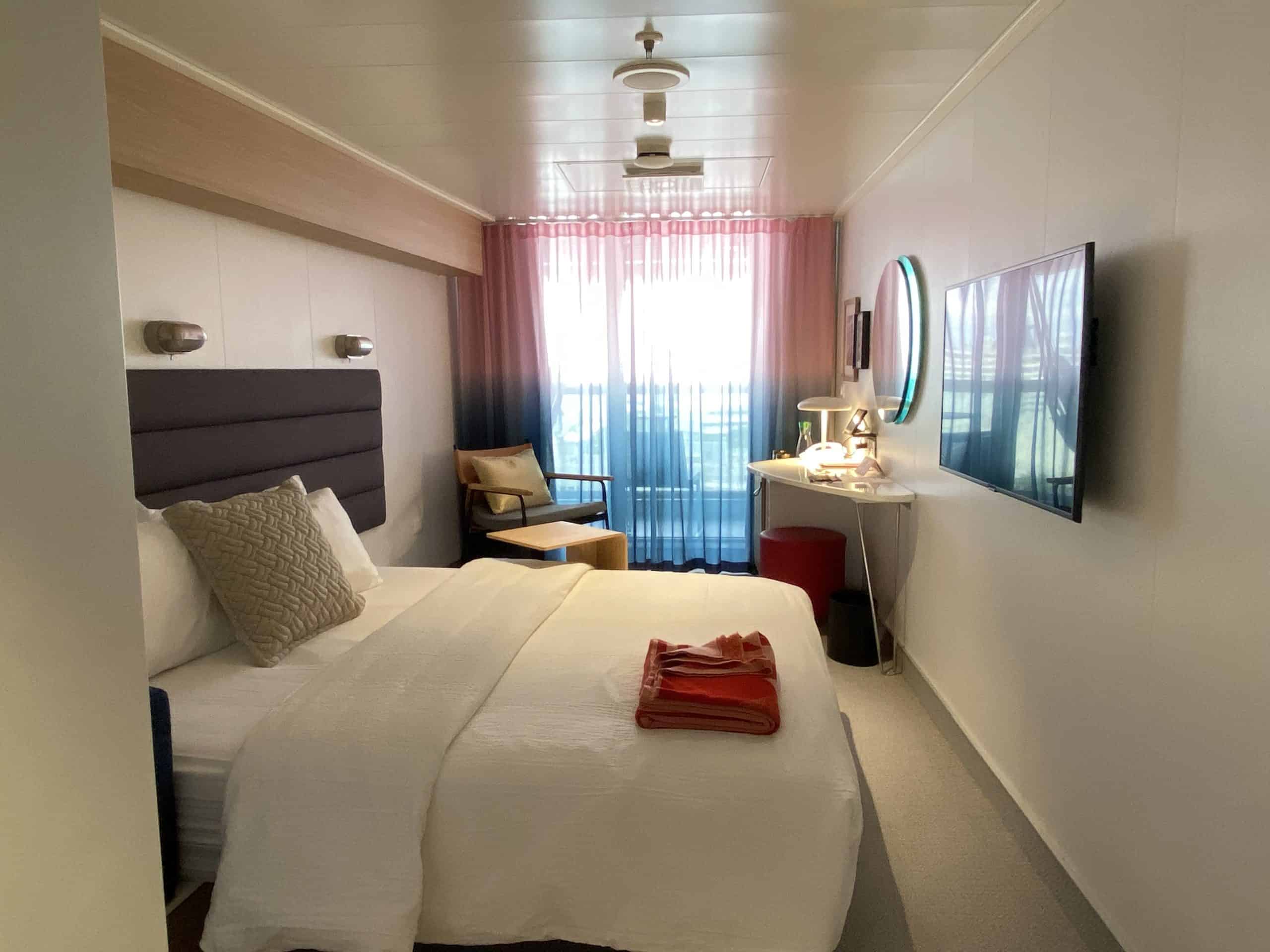 Back in the cabin, we found a tablet on the desk that controlled the TV, the ambient lighting, and drapes. As somebody who has trouble with a remote, I found it hard to find some of the controls and would have been perfectly happy just using the TV remote. It seems that the tablet is just something that requires more maintenance than what it is worth. We did appreciate the adequate number of outlets and USB ports.
Free movies, although not necessarily current ones, were available from the menu. We were surprised to find that there was neither a bridge cam, nor a report from the bridge.
Having seen the option to have the bed converted into a sofa, a feature that I didn't think I would like, we left a request for our stateroom attendant after realizing that this transformation was not automatic. Our room seemed much larger and more functional after this adjustment to the layout. It was so much better than sitting on the bed during the day. As there is no evening turn-down service, this also kept our bedding tidy.
The minuscule bathroom functioned fine, but lacked space for toiletries or other grooming accessories. The shower had both a powerful rain head and also a handheld nozzle. The Red Flower toiletries found in the shower were very pleasant smelling.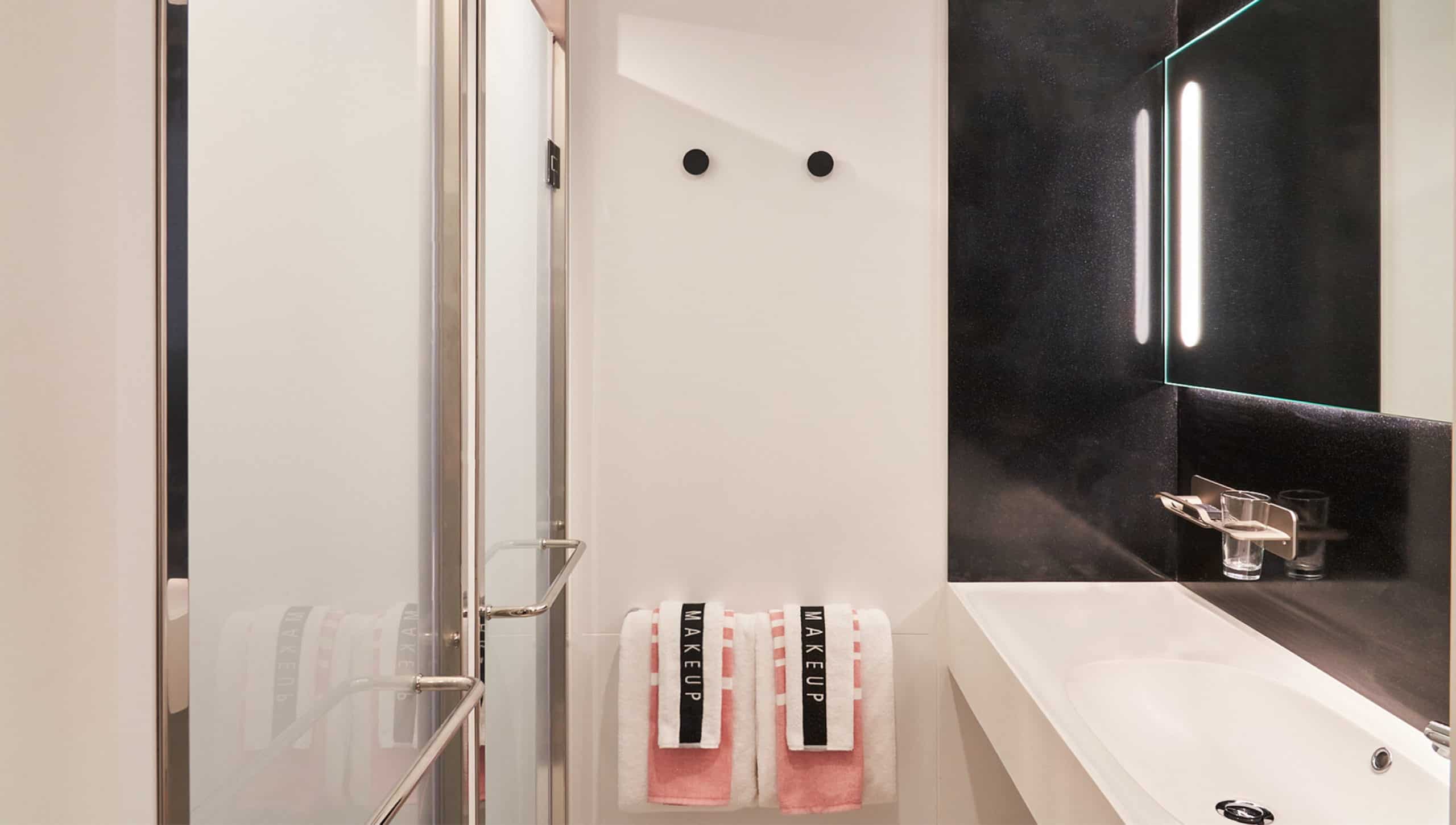 Storage space in the cabin was a bit lacking. The front closet had a curtain rather than a door. A few shelves were available and a long curtain rod sufficed for hanging clothes. We left one piece of luggage unpacked. There is a large drawer under the sofa, but if you don't opt for the sofa configuration, it would be difficult to access.
Dining
Scarlet Lady offers over 20 different dining options. Unlike other cruise lines, there is no dedicated main dining room, nor is there a buffet, although The Galley, with its individual stations, does have some elements found on other ships. The variety of food in the themed dining rooms is impressive. Italian, Mexican, Korean, Steak and Seafood, veggie-forward, and experimental are some of the styles of cuisine. All are included in the fare, but there is usually an option on the menu to select something special for an upcharge.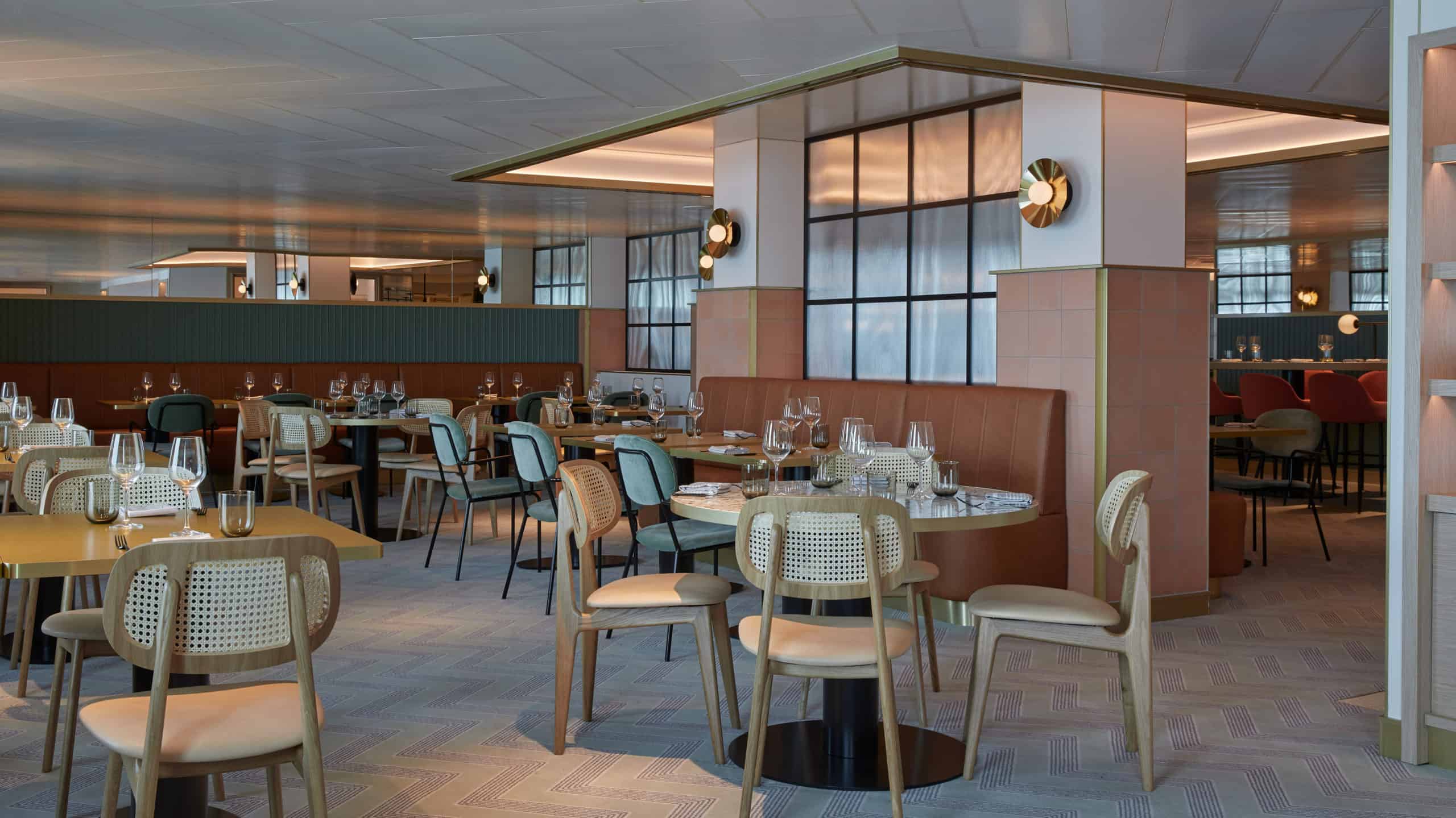 Sailors are permitted to dine in each restaurant just once, but may add their names to a waiting list if so desired. With such short sailings, it was difficult to try all of the different restaurants on the ship. Be sure to make reservations on the app before boarding, if possible.
Many of the items available on the menus are different from what is found on other cruise ship menus. We appreciated these non-standard options and the effort made to differentiate the menu from other, more typical offerings.
Keep in mind that some of the restaurants only serve dinner, but others are open for breakfast, brunch, or lunch. The Galley serves a variety of food including sandwiches, tacos, bento, burgers, and more. Check your app for serving times; there are a few options in The Galley that serve during dinner hours. The all-day Diner & Dash seemed popular. Pizza and gelato are outside of The Galley as are a few options on the outside decks.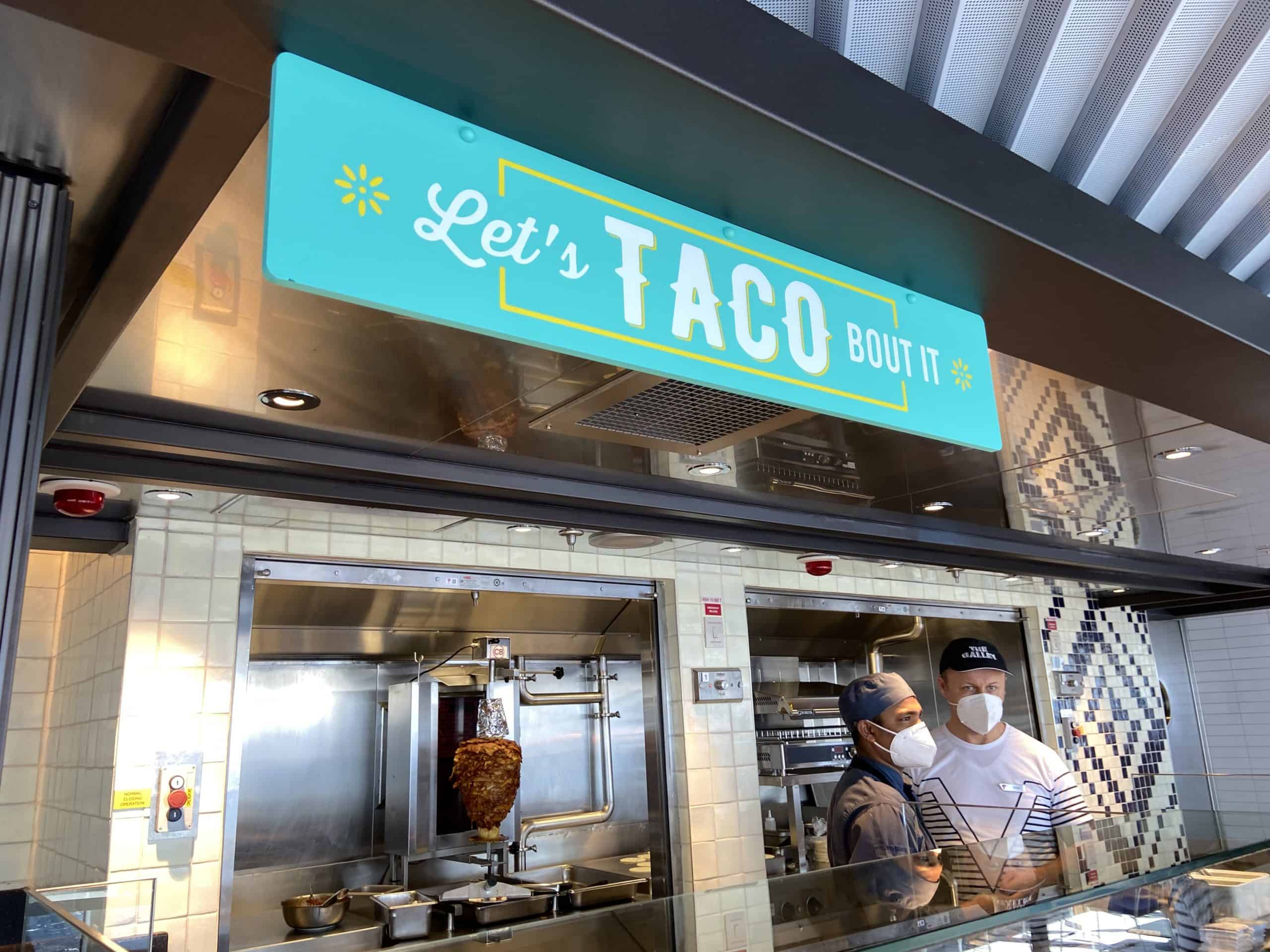 RELATED: My Dining Experience on Virgin Voyages' Scarlet Lady
Entertainment
Having seen marketing videos of the entertainment, I certainly wasn't sure what to expect. It is necessary to make reservations for the larger shows, but for some reason those reservations seemed meaningless, especially when we went to a show and found no available seats. Nobody checked reservations for entry and there was no line for standbys. Some shows do indicate that a reservation doesn't guarantee a seat. What's the point?
Don't expect Broadway production shows or even a comedian. "Duel Reality" takes place in the Red Room. Set up in a school gym configuration, albeit with a small balcony level, guests are basically confined to their seats for the entire performance. The entire floor space is used, so guests may not leave during the show as it would be dangerous for the performers.
Fortunately, as not the biggest fan of shows, I asked where to sit if I needed to leave early. I was directed to the much smaller upstairs area. My seat toward the end of the room allowed a really good view of the acrobatics. The talented performers repeated and repeated the same feats. I certainly appreciated their physical prowess, but felt some of the stunts continued for an excessively long time. The story is an acrobatic version of "Romeo and Juliet." Perhaps if I weren't familiar with that particular story, I would have enjoyed the show more. This show required reservations, which were checked by the staff.
Having reserved the show "Drinks and Revelry" with the Diva, we were disappointed to find no available seats in The Manor. We opted for this show because all of the other entertainment was sold out. This is concerning because there were just 820 guests sailing on this date. Perhaps, just like the one-time dining, there should be one-time reservations for shows.
Public Areas
Throughout the ship, there are a variety of bars and lounging areas where guests may retreat. It was easy to find a quiet space on the ship. Often, Scarlet Lady seemed like a ghost town with so few people sailing. Some of the spaces concentrated on form over function. For example, one outdoor space had attractive loungers so low to the ground that I avoided them fearing that I would need to be hoisted out of them.
Scarlet Lady excels in its outdoor spaces. The connection with the sea reminds guests that they are actually cruising!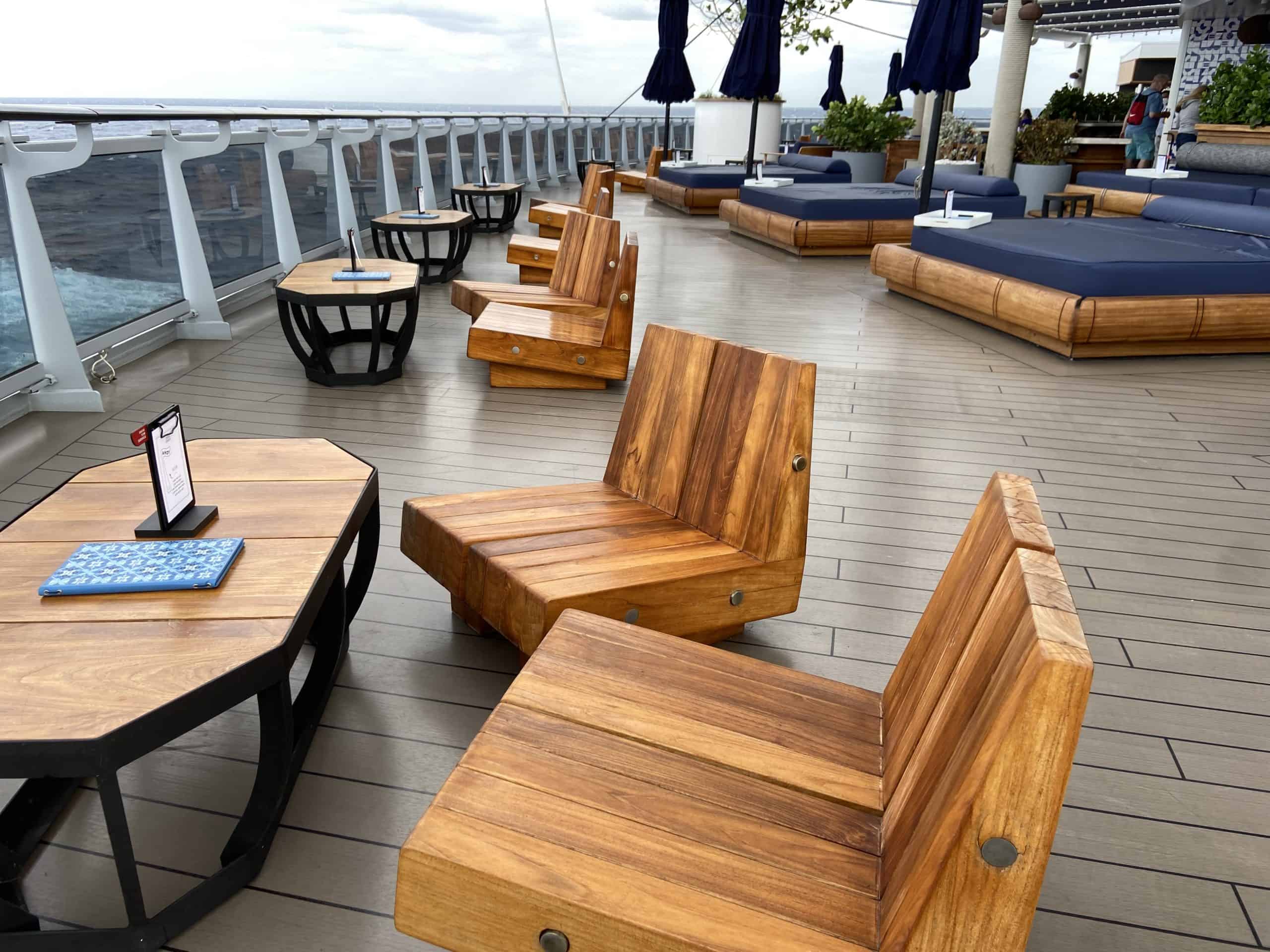 Gym and Spa
Virgin includes group fitness classes that typically come with a surcharge on other ships. Excited to try some of those classes, I found most of them fully booked. What a huge disappointment that was. We did try a class that I was not familiar with. Using a large foam rolling pin to relieve sore muscles, most people groaned during this class due to the difficulty.
As wellness is a serious part of the philosophy of Virgin Voyages, there were plenty of offerings. Again, it was so disappointing that there was no availability for classes, including yoga. An outside gym and running track are also available.
My quick tour of the spa area impressed me with the facilities that I saw. A mud bath was one of the most interesting. The area appeared quite relaxing and had few guests using it. Cruisers should note that the locker rooms are co-ed. The cost for access to the spa is $39 for 3 hours.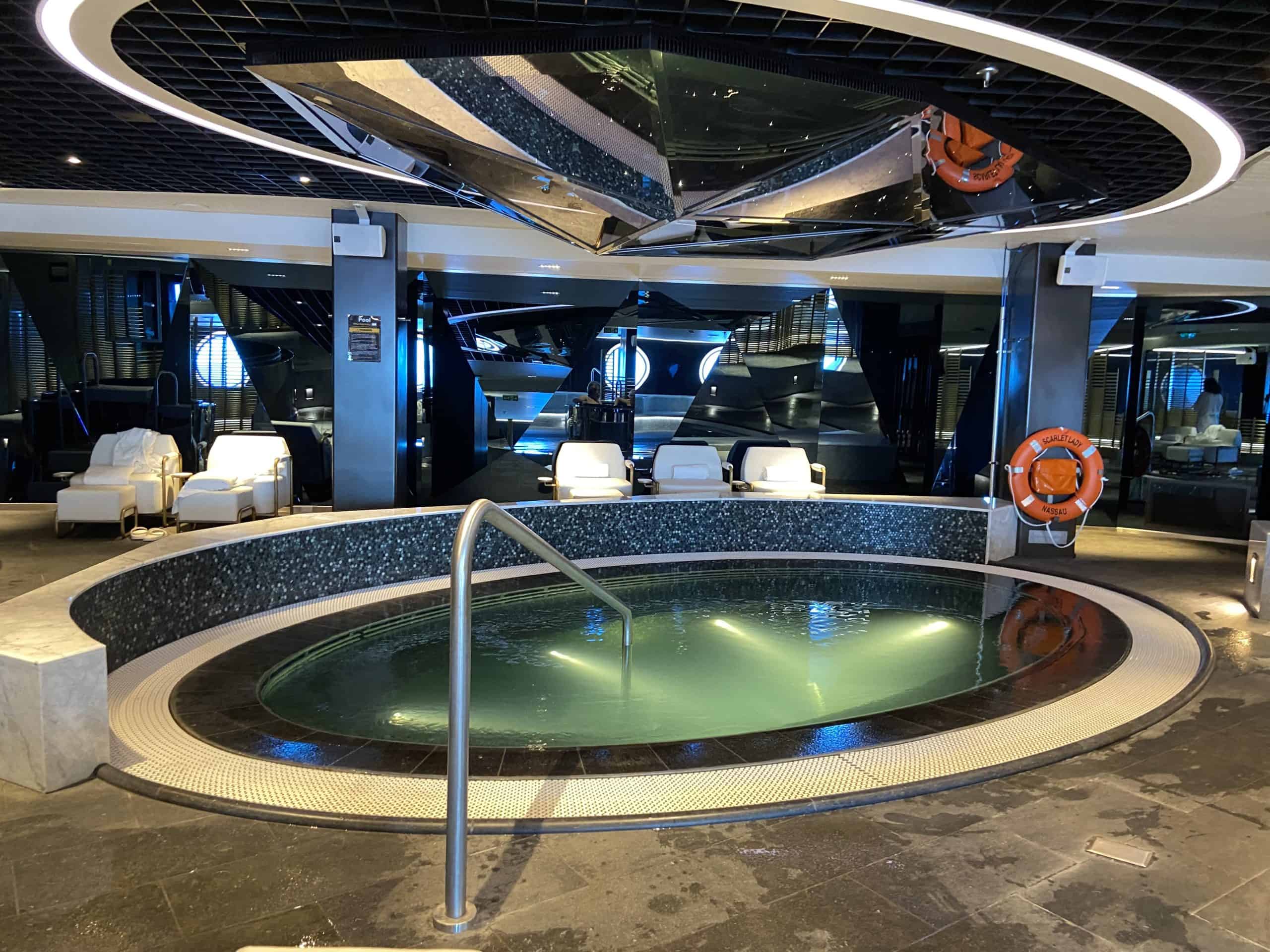 Final Thoughts
Many things on Scarlet Lady are done well, while others need work. The excellent crew contributed greatly to the overall experience. The crew remarked several times how much they enjoyed working for Virgin Voyages. They also reminded us that they listen to feedback and have instituted some changes due to what Sailors have suggested.
For anybody worried about the mix of passengers, don't give it a second thought. On this sailing, the demographic resembled that of any other cruise – minus the children. Virgin Voyages wanted to change up the typical cruise experience and they have. Perhaps they should reexamine the idea that certain standard practices that other cruise lines adhere to are in place for a reason.
READ NEXT: 9 Cruise Concepts That Didn't Quite Catch On
Pin it!