The Stats
Registry: Bahamas
Measurements: 1,188 feet long by 210 feet wide
Size: 236,857 Gross tons
Staterooms: 2,867
Capacity: 5,734 (double occupancy) 6,988 (full occupancy)
Crew: 2,300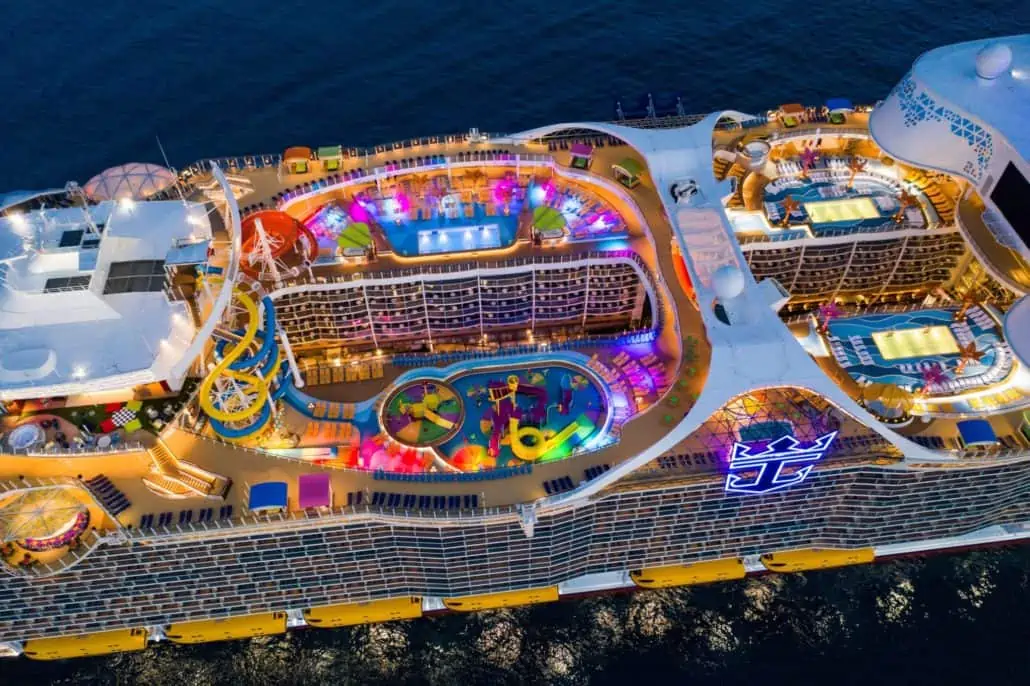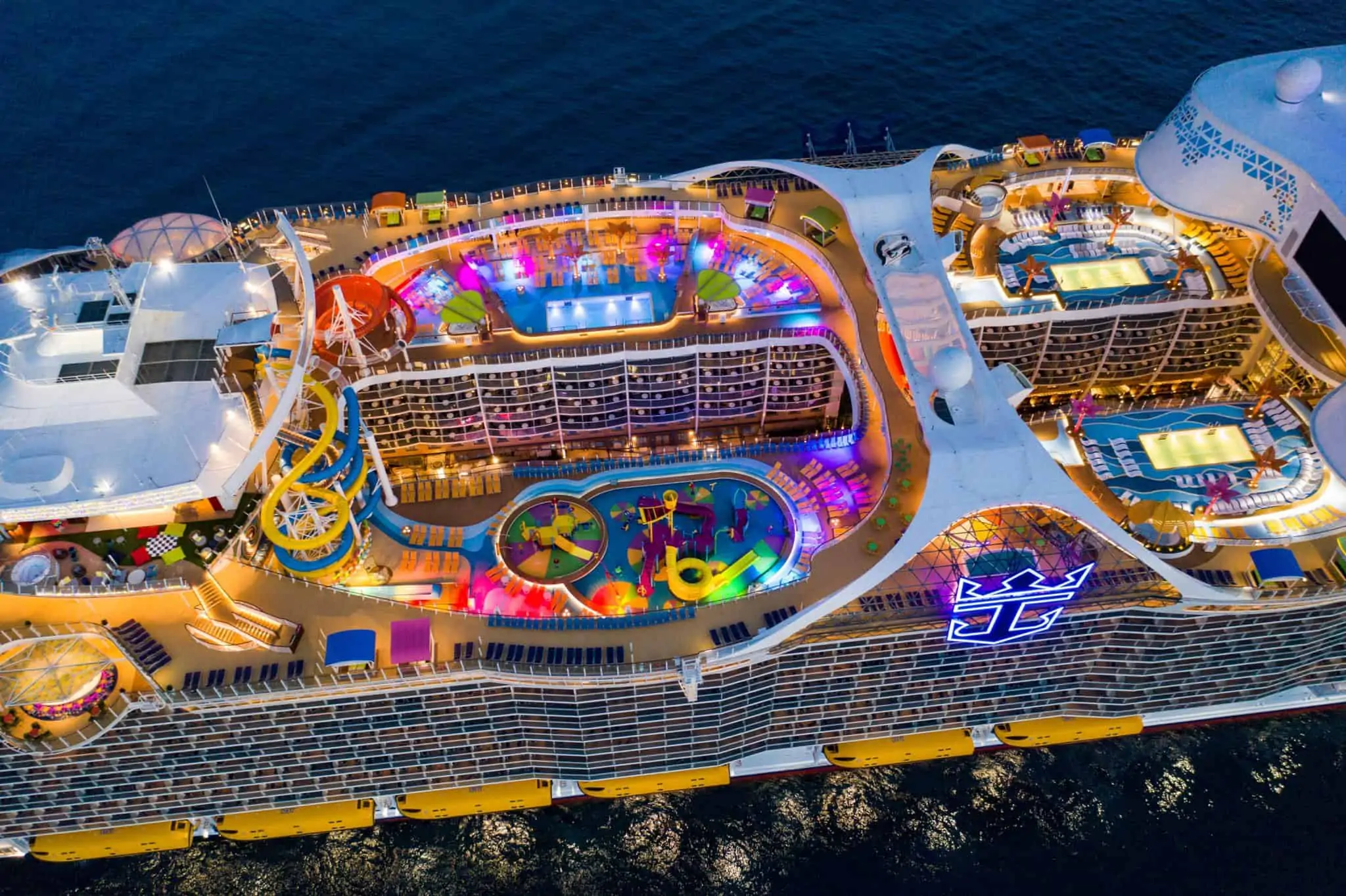 Overview
It's been several years since my last sailing on a ship in the Oasis Class, so waiting for the world's largest cruise ship to start sailing again seemed to take forever. However, having learned during the pandemic that patience really is a virtue, I knew that when Wonder of the Seas finally set sail, the wait would be well worth it.
What a relief it was to finally board the ship – in just about 11 minutes, I might add. No need to sit in the terminal waiting for a boarding number to be called. Signing up for a boarding time really seems to have improved and shortened the process of actually getting on to the ship. In this case, I did keep in mind that Wonder of the Seas was only sailing at about 70 percent capacity.
As I entered the ship, I was shocked to be offered a glass of champagne. It brought back memories of the old days when it seemed that there was always some type of cheap champagne offered as you boarded the ship. Now that I think of it, I don't even remember being offered a frou-frou drink when I boarded any of my past sailings for many years. I recalled how on an early cruise, I thought that those were welcome drinks, but made sure that I asked before taking one from the server.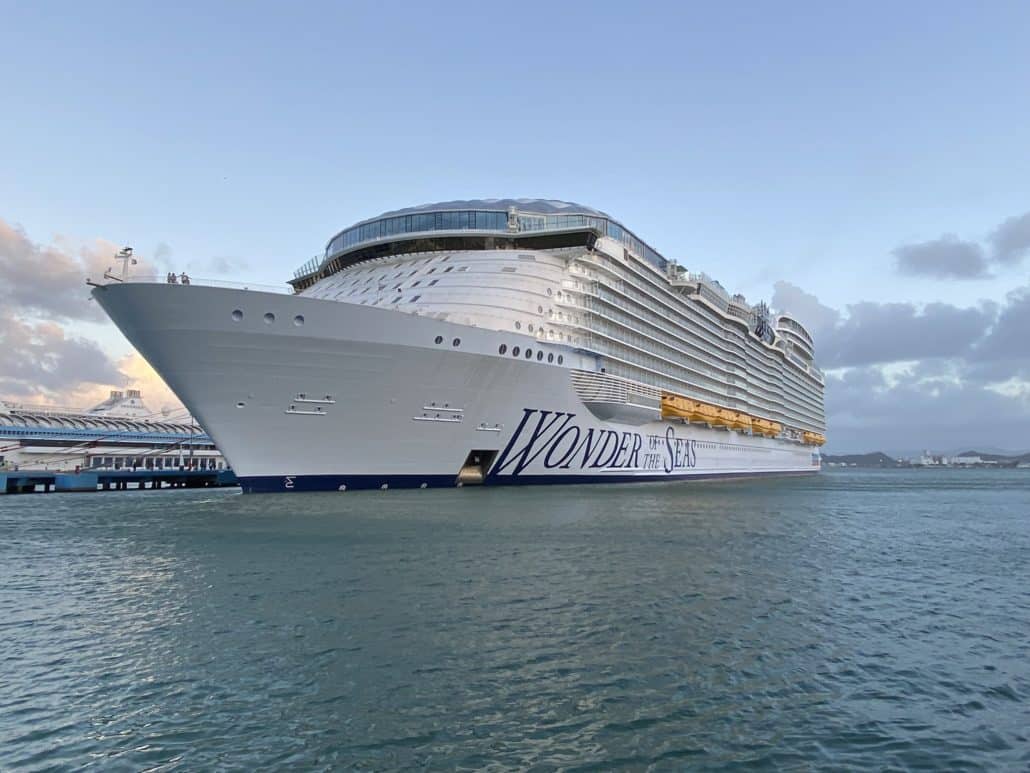 Some things have changed and that is the case due to COVID-19. Although Royal Caribbean does require a vaccination and a negative test for most guests, they do have a few exemptions. Those are changing constantly, so its best to check their Healthy Sail Center on their website for the most up-to-date requirements. On this inaugural sailing, Royal Caribbean had removed the mask mandate. So while some people did continue to wear masks, my unscientific observation indicated that most people did not wear masks.
Walking into Royal Promenade seemed like old times. Plenty of people were at the bars and eateries and some were even dancing in the area. And there did seem to be plenty of people in the space, even with this not being a full cruise. I have been spoiled sailing on other ships with a far more reduced capacity. I had gotten quite used to seeing very few people on board and often felt that it was akin to a private yacht.
Having survived a less than ideal journey getting to Fort Lauderdale and then getting to the ship, it was time to grab something to eat and chill out. One of my favorite spots for boarding lunch is the Park Café. Their Kummelweck sandwich is a favorite and there is both inside and outside dining. I had to wait for some freshly-made buns for my made-to-order sandwich. After receiving it, we went out to sit in the soothing Central Park neighborhood.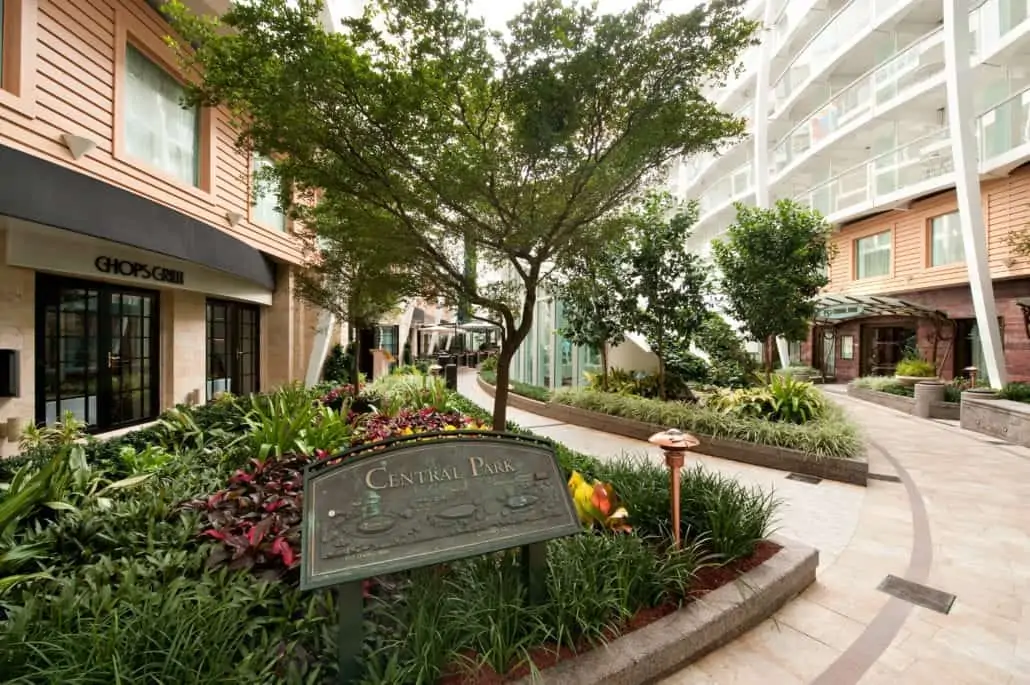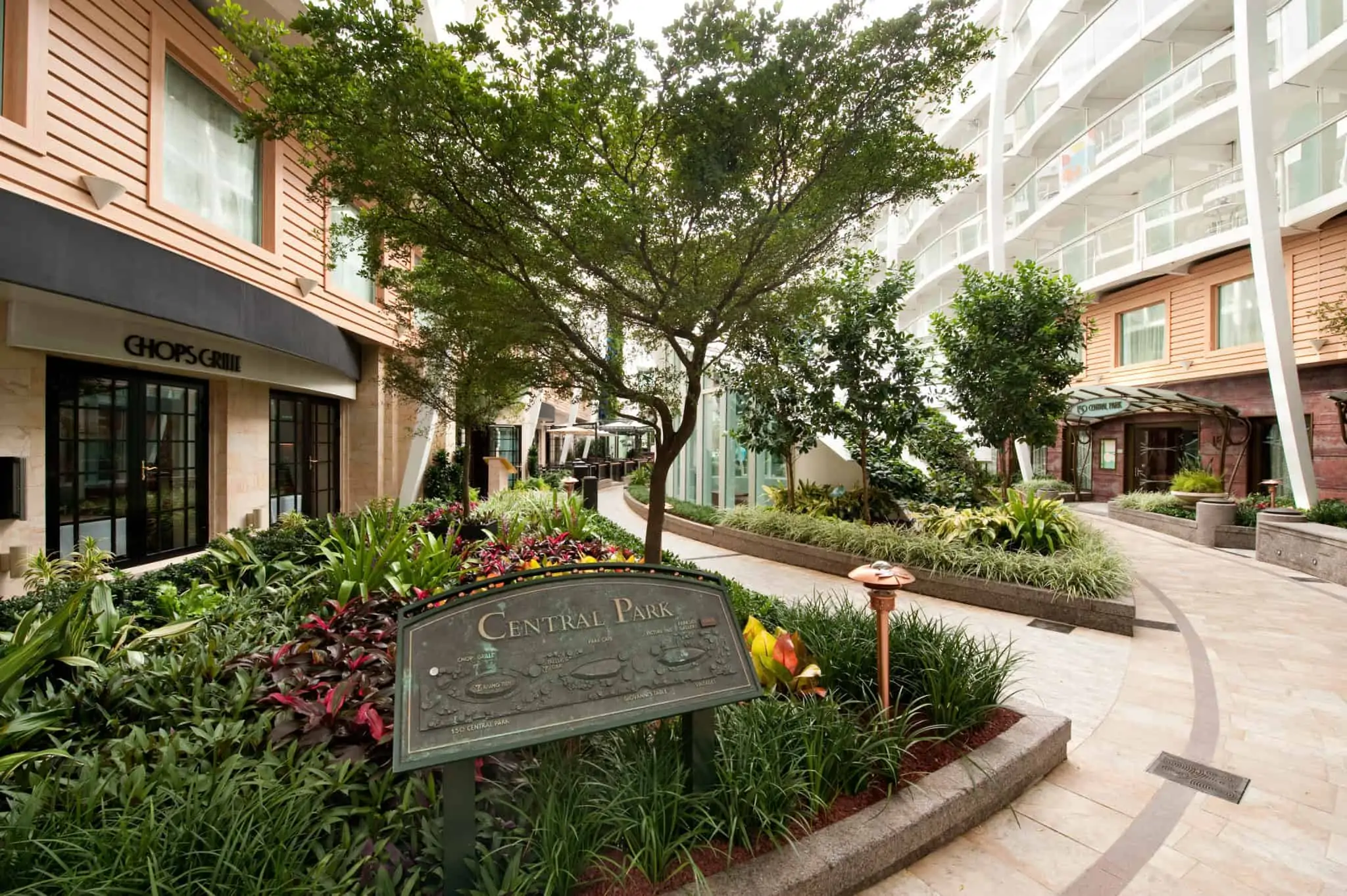 While it seems that the crew prefers to send guests up to The Windjammer for lunch on embarkation day, I avoid that like the plague. Wonder of the Seas lays claim to the largest Windjammer at sea, so that's all the more reason to have a quiet lunch. After enjoying a relaxing meal, we explored the ship for a while.
My travel companion had never been on any Royal Caribbean ship other than Monarch of the Seas. He found the ship amazing, if not a bit overwhelming. Our first stop was to go to Deck 15 for a drink and to see if we could scope out a place for sail away.
Could every passenger really have had the same idea as we did? The deck was crowded and the bar was three people deep waiting to get a drink. We had found a table nearby, but nobody stopped to take a drink order, so waiting at the bar seemed the best option. Too many people up there were taking selfies or videos of themselves, so we quickly finished our drinks and decided that this deck was not the place for us to get a view of our departure from Port Everglades.
The railings on that deck were full of passengers also excited about getting a view during our departure. We headed down to Deck 5 and found some alcoves scattered about in between some of the life boats. Deck 5 is where we boarded and it also has a running track. Maybe that is what kept people away. We found a spot both along the side of the ship and also at the aft.
Being an eventful sailing, Wonder of the Seas departed with several fire boats that followed us and saluted us with streams of water. Few people had found this uncrowded spot, so we waited and took photos until the fire boats returned to their berths. These areas on Deck 5 became our go-to spot to get away from the constant drone on the rest of the ship.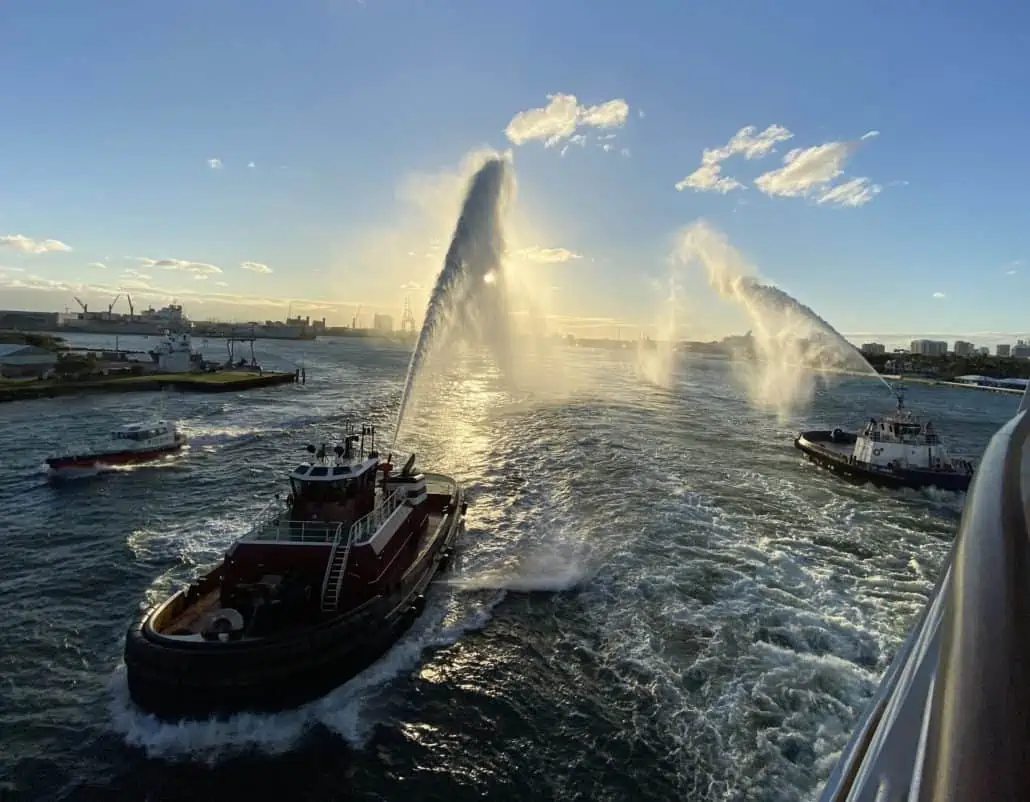 Layout
Although large, Wonder of the Seas is relatively easy to navigate. Having separate neighborhoods helps somewhat. Like other Oasis Class ships, the center of the ship is where most public spots exist. Of course, there are exceptions to this rule. There are interactive electronic boards throughout the vessel that can help guests with finding their bearings. The app is also helpful. I will be awaiting a navigational component of the app that gives verbal directions for getting from Point A to Point B.
MORE: Wonder Of The Seas Dining Guide: Which Restaurants Are Complimentary?
Staterooms
We stayed in balcony stateroom 6324 on Deck 6 aft port side. Before I say anything about this cabin, don't even consider booking in that area. Little did we know that Playmakers Sports Bar and Arcade had a rear entrance into our hallway. The smell of chicken wings permeated the air of the hallway and also found its way into our cabin. It was not pleasant. Of course, if you find the smell of wings pleasant, you might want to book this stateroom.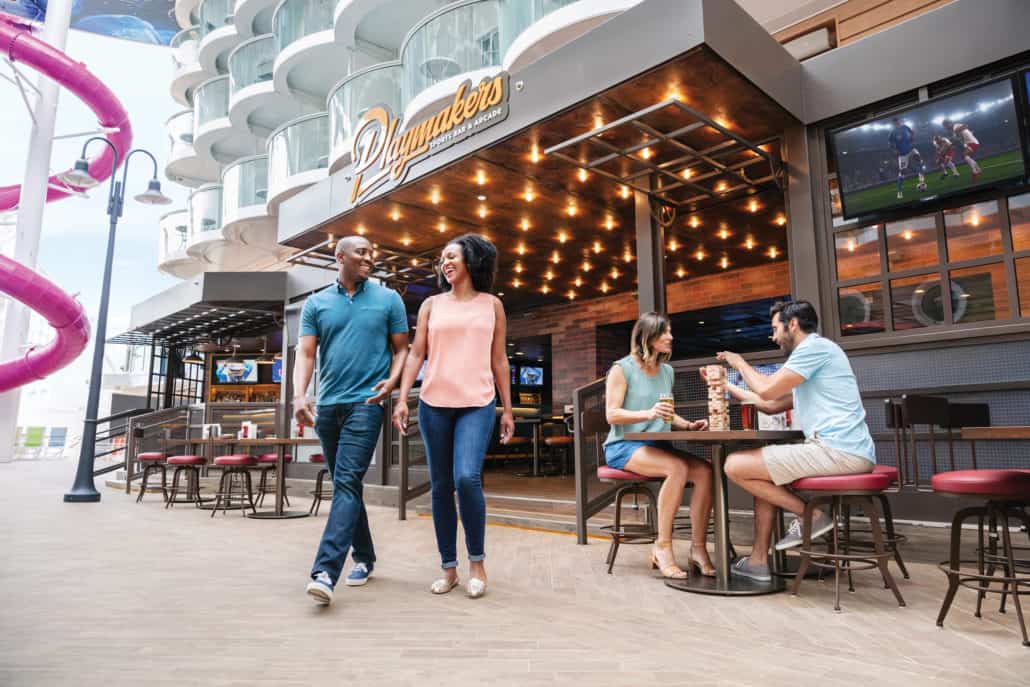 As we reached our cabin, we found our promised room keys in the slot. For some reason, we had four key cards. Only one of them opened the door. It was very convenient to put the non-working cards into the power slot that controlled the electricity in the room.
The stateroom looked quite lovely, decorated in fairly neutral colors with just a touch of other hues in the décor. The room was fresh and inviting. We quickly made ourselves comfortable after exploring the other features in the room.
First on the agenda was to watch the muster drill instructions for the umpteenth time. We had done this on our app once it was working, but guess that it never registered. We were directed to our muster station to have our card checked by the muster attendant. That is when our card problems really began, but more on that later.
Our stateroom seemed roomy, perhaps because of the neutral tones throughout. The two twins had been converted to a Royal King. Next to each side of the bed were two tiny stands with shelves for storing smaller objects. On top of the bedside stands, a small lamp had both USB ports and an outlet. What a nice amenity this was. A switch for the overhead lights was also there.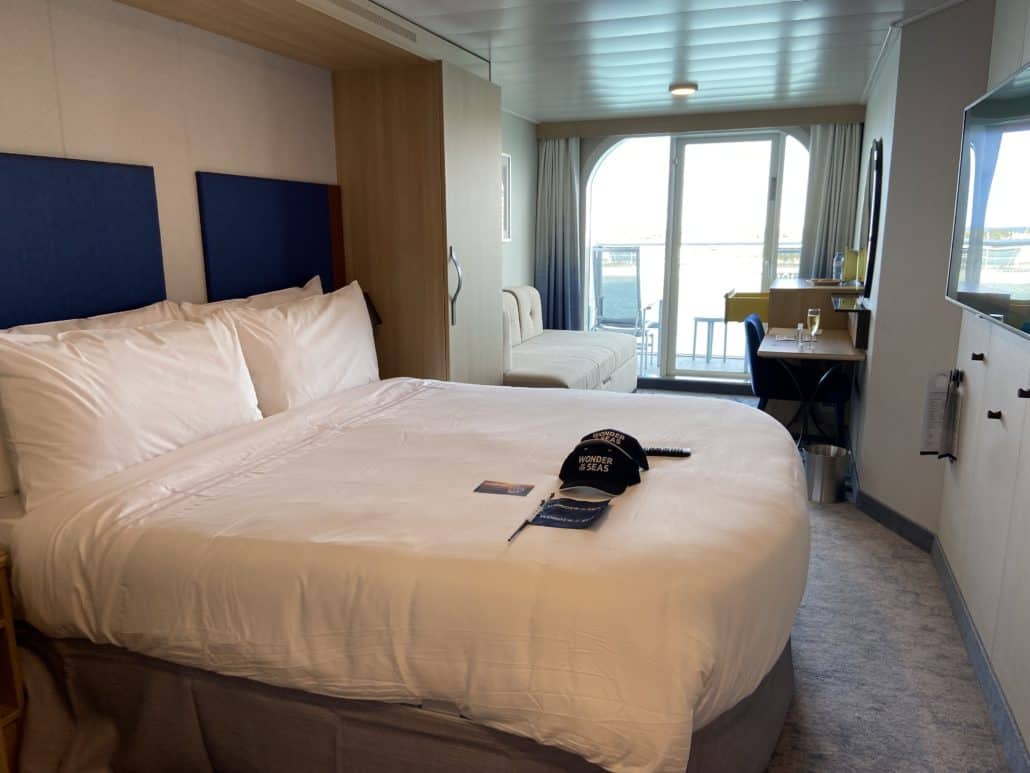 Next to each bedside stand was a closet. On one side, there was a hanging rod with space for short items. Alongside that were shelves, one of which held a safe. Below the shelves and the hanging area were two adequate drawers. There was plenty of room under the bed for our larger suitcases. On the other side of the bed, the closet had room for hanging longer items, once the lower bar was removed.
Across from the bed was a flat screen television. Poking from below the television were several dowels for hanging. They might be perfect for scarves or non-protruding items, but something like a backpack would impede the pathway between the bed and the television.
The bathroom was small, but efficient with a shower. The shower had a grab bar, a shaving bar, and a retractable clothes line. Provided in a dispenser was a combination body wash/shampoo. Other than bar soap at the sink, there were no other toiletries, like conditioner or body lotion.
The sink area had a long shelf underneath, where the wastebasket was, providing adjacent room for storage there. The long counter had adequate space for toiletries. In addition, there were several shelves for other toiletries. Both the floor tile and the backsplash had nice shades of blue that added a touch of elegance to the space.
Our room had the bed near the door, a sofa near the balcony door, and — across from the sofa — a desk with several drawers. We found adequate space for our belongings. One part of that storage area contained a refrigerator that was not filled with beverages. The desk had a comfortable chair and plenty of outlets and USB ports for charging a multitude of electronics.
A New Neighborhood
Wonder of the Seas has added an eighth neighborhood. Like other cruise lines, this neighborhood copies the ship-within-a-ship concept. A quick tour certainly didn't excite me enough to consider staying here. Like on other ships, entry is via a key card and restricted to guests who booked these special suites. The Suite Neighborhood houses the Coastal Kitchen, where guests may dine throughout the day. A bar makes it possible to enjoy drinks without having to leave the confines of this restricted area.
Outside is a Sun Deck, also exclusive to guests staying in the Suite Neighborhood. The sun deck has plenty of loungers and its own bar. Plunge pools are also found there. As somebody who likes quiet, I wasn't thrilled that the Sun Deck overlooked the activities on the sports deck below. I would much prefer a view of the sea.
Speaking of the sea view, if you do decide to stay in the Suite Neighborhood, be careful when choosing a stateroom. The stateroom that I viewed overlooked a basketball court. Who would ever assume that a stateroom with a balcony would not overlook the sea?
Dining Choices
For this cruise, we had selected My Time dining as we rarely know our daily schedule and prefer having some flexibility with our meal times. Although we have made friends on past cruises by sitting at the same table every night, we also experienced the worst dining with obnoxious, tiresome, rude and entitled table mates. And that describes just one couple we suffered with, but that's a different story. Since that dreadful experience, we have never again subjected ourselves to a communal dining experience.
There's no lack of complimentary or specialty dining rooms on the ship, with the options being fairly evenly divided. My Time dining guests go to the Main Dining Room (MDR), which is a three-level seating area. There were a few restrictions with My Time dining. Dining was after 6:45 pm and only available on the Deck 4 level.
No matter what your tastes, there is a dining option that will suit you. Specialty restaurants take dining to another level. All come with costs. (See separate dining article.) Wonder of the Seas offers seafood at Hooked, steak and seafood at Chops, Italian at Giovanni's, and diner food at Johnny Rocket's.
With so many choices, it's difficult to fit everything in with just seven days of cruising. Southern style cooking is on offer at the all-new Mason Jar. For an ultimate dining experience with 6-8 tasting menus, 150 Central Park can't be beat. More intimate experiences can be had at the Chef's Table. If the magic of Alice in Wonderland captivates you, then you should try the magical creations at Wonderland.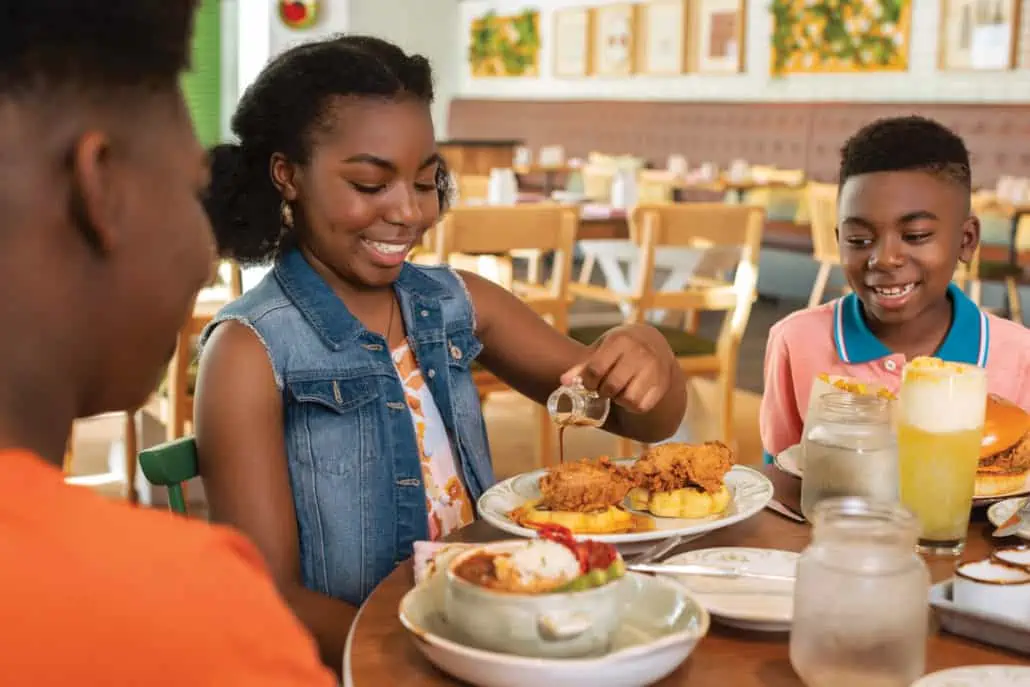 In addition to the MDR, complimentary restaurants include Windjammer, Johnny Rocket's for breakfast, Sorrento's, Park Café, El Loco Fresh (Mexican), Café Promenade, and Boardwalk Dog House. One spot, the Solarium Bistro, fell off our radar until late in the cruise. You will definitely not starve on Wonder of the Seas.
Entertainment
Activities range from daytime events like trivia or other games to the larger evening shows.
Guests have plenty of choices including more active options like FlowRider, Ultimate Abyss, water slides, mini-golf, and pool activities.
Evening shows include the popular diving show at the AquaTheater, known as inTENse on this ship. The ice show is 365, skated to the different seasons. On certain days, it's possible for aspiring skaters to use the facility, which is also used as a laser tag venue.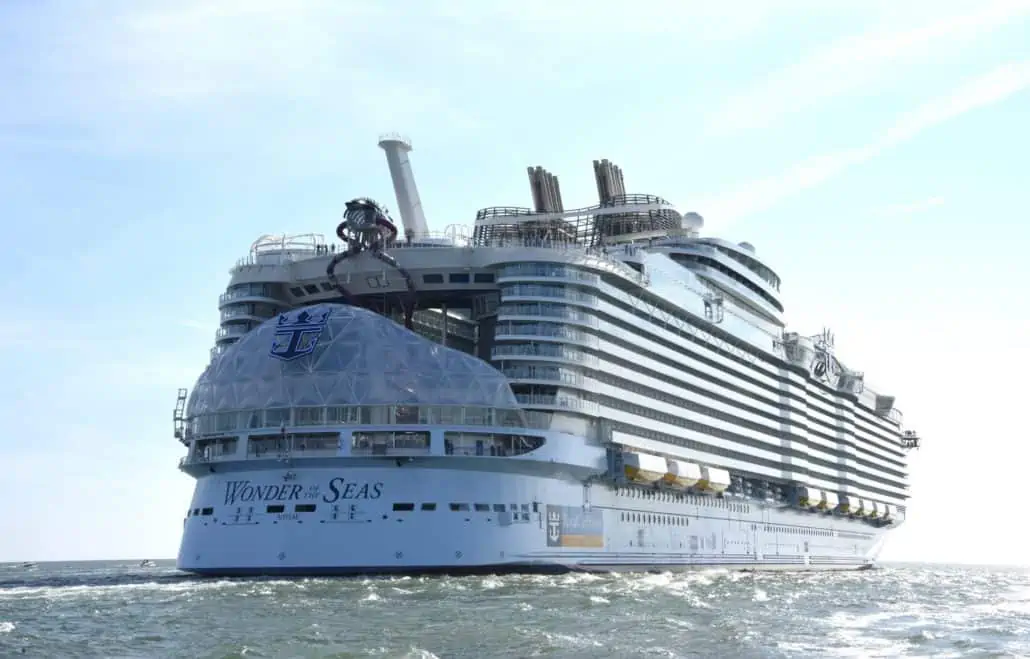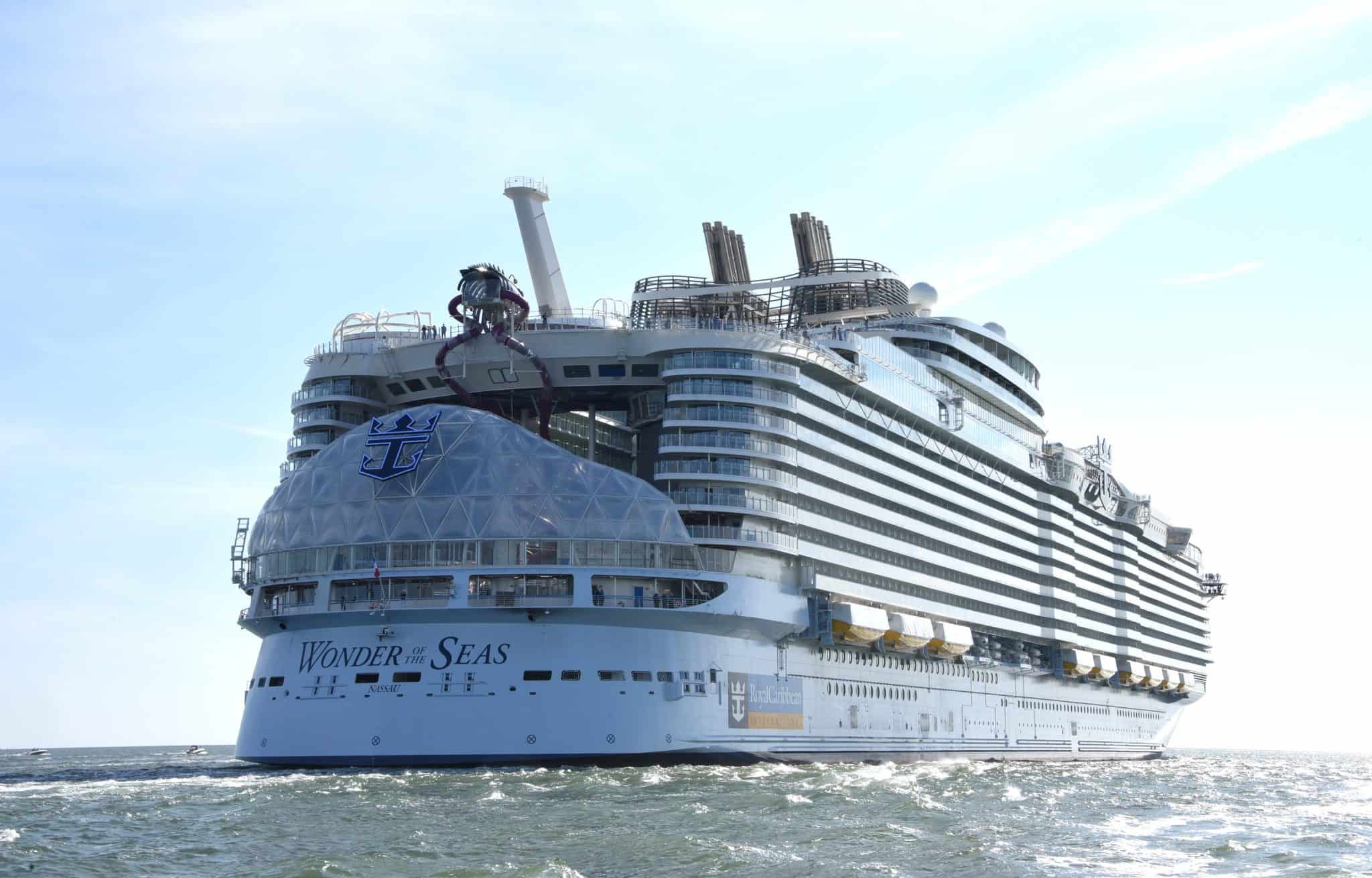 Unlike on other Royal Caribbean ships, Wonder of the Seas offers no large production show. We opted to see "Voices" and as the name suggests, it is a vocal performance. Notable about this show is that voices are used to mimic instruments and other sound effects. If you are familiar with the Pentatonix a capella group, you will find some similarities. The show did start in a chronological order of songs, but somehow lost its way and went off into a tangent of what seemed like a disconnected slate of songs.
The day we saw inTENse, the sea was rough, so the usual show was cancelled at the last minute for safety reasons. A substitute show took its place. We tried to see the next show, but could not get a reservation.
The bigger shows require reservations. We found it very frustrating that most shows had no availability even though we were not sailing at full capacity. There were some comedians performing on several nights and often with two performances. Our attempts to secure reservations for any of these shows were unsuccessful.
We heard some other guests mention that they had seen a few of the same shows. Perhaps Royal Caribbean should consider limiting the number of times you may book the same show. One person bragged about having seen inTENse three times.
Public Areas and Watering Holes
Plenty of different bars draw passengers to imbibe their favorite drinks. One of the new outdoor bars is The Vue, which takes the place of a cantilevered hot tub found on other ships. Located just outside of The Solarium, this space seemed quite popular, although the wind was often a detractor. The bar is basically a satellite of The Lime and Coconut.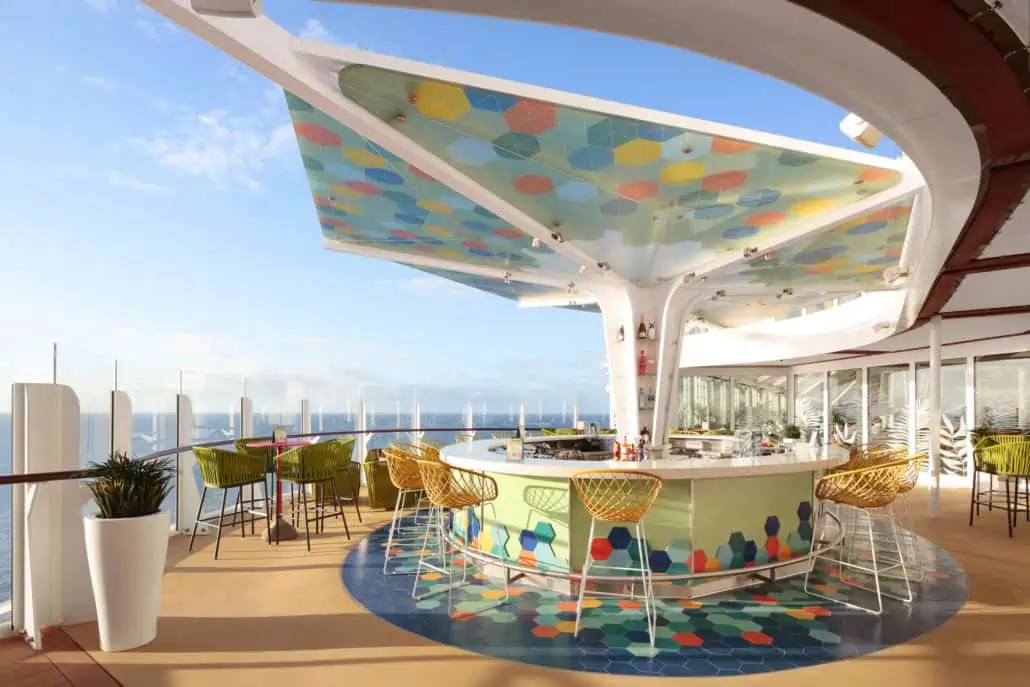 We had a drink package and that involved showing our key card. As mentioned earlier, only one of the cards worked, but it was not connected to the proper account. Every time we got drinks, we had to explain that part of one card was correct and part of the second card was correct. We had been to guest services multiple times without success trying to resolve this problem. It really got old having to explain the situation every single time we ordered drinks.
We sometimes visited Promenade Café for a quick tea or coffee. This spot serves some Starbucks products, which if ordered here are included in the beverage package. However, if we had gone to the branded Starbucks just a few steps away on Royal Promenade, we would have been charged for the exact same beverage.
Again, we had to explain the card situation to our server. He asked for both of our cards and walked over to guest services. He returned shortly after and told us that he thinks that he figured out the problem, but we would have to go to guest services to confirm some information. At this point, we were skeptical. But, sure enough we got another set of cards and our problem was resolved.
I recalled when the Bionic Bar, the robotic bar, was so popular when it first came out. Oddly enough, that location never seemed to be very busy on this particular cruise. We tried it and made a drink that consists of Kahlua and vodka. We had tried this similar drink at several different bars, but found them ordinary. Our 'handmade' drinks from here were excellent.
We then thought we should attempt to mix our own margaritas here. Unfortunately, some drinks have default recipes that cannot be significantly altered or have ingredients substituted. That prevented us from mixing a perfect margarita.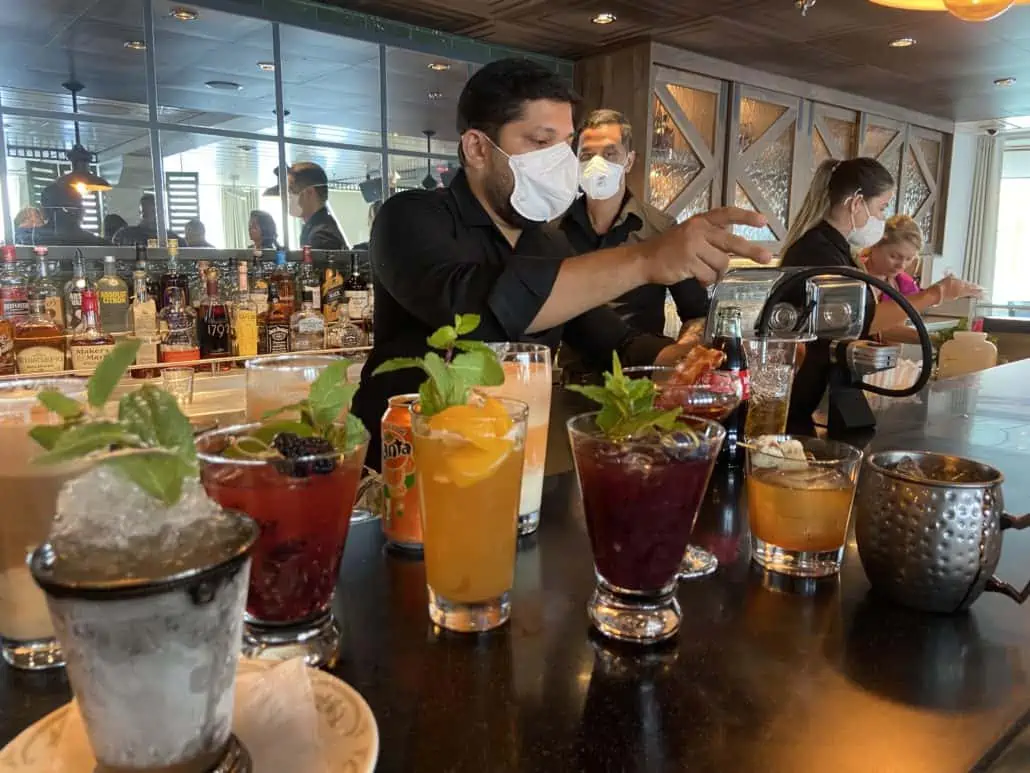 High on our list was the all new Mason Jar, which offers southern-style dishes and a very large selection of interesting drinks, many bourbon-based. We tried several of these drinks and in hindsight should have made that our regular watering hole. The restaurant is open for brunch on sea days and dinner everyday. There is live country-style music in the evenings.
Fitness Center and Spa
For those so motivated, there is a large and well-equipped gym. A staircase leads down to the running/walking track, with its inspirational or snarky sayings on the beams above. The sports deck has a basketball court and an enclosed area for playing ping-pong.
The gym is large with a variety of modern equipment. Classes are offered throughout the day. Some are complimentary, while others – usually those using specialized equipment – incur a fee.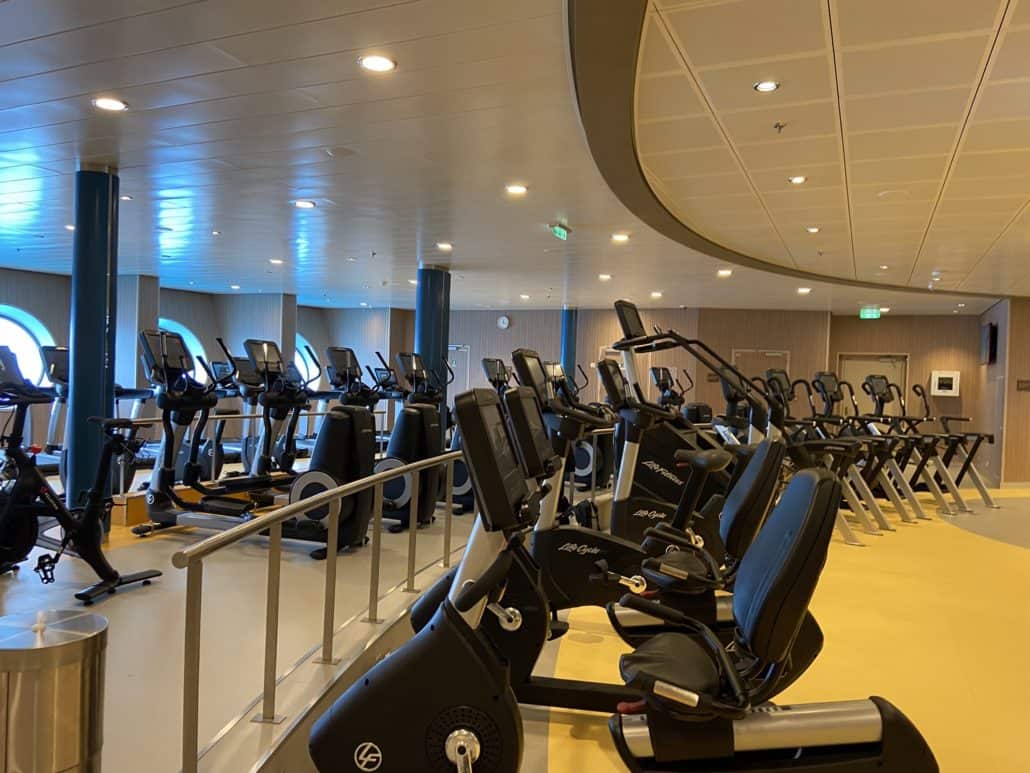 MORE: 9 Cruise Concepts That Didn't Quite Catch On
Vitality Spa sits directly behind the Vitality Café, which offers a variety of fresh-squeezed concoctions and also some energy type shakes. During our cruise, this spot ran short of some of the ingredients for its creations. It is a quiet place for enjoying an energy pickup between meals.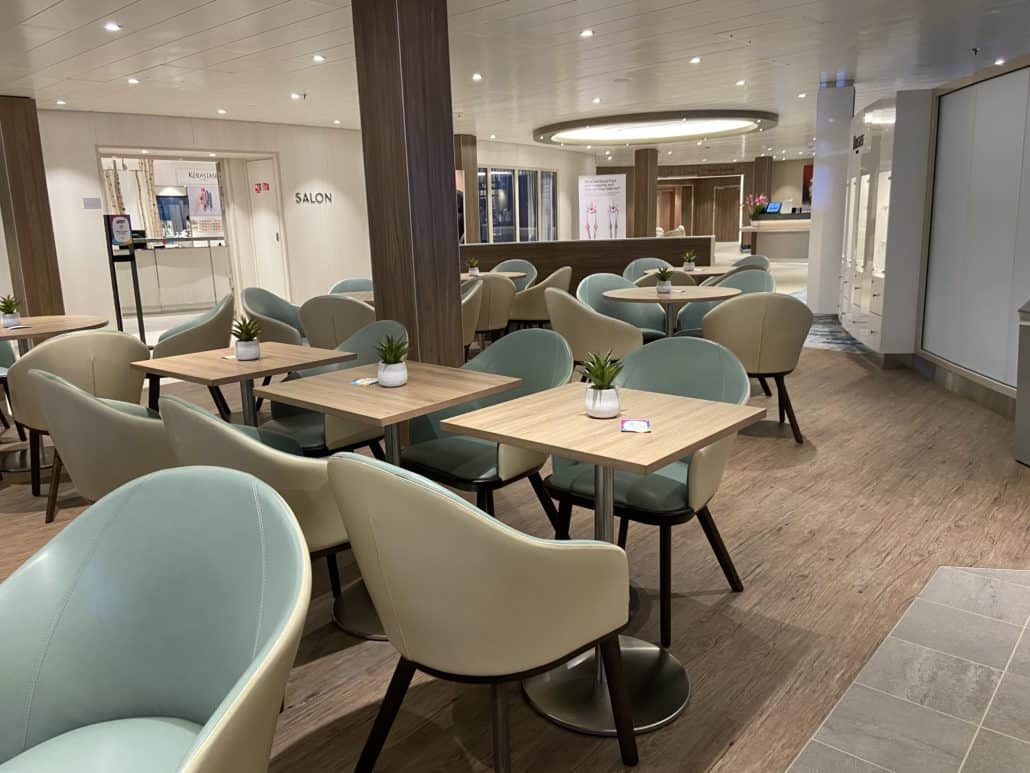 The spa offers a full complement of treatments, including facials, massages, and some medi-spa treatments. Beauty salon services are also available, as is a thermal spa.
Closing Thoughts
Our experience on Wonder of the Seas was certainly enjoyable. We tried to take advantage of as much as we could without exhausting ourselves. One thing we noticed was the shopping offerings. We aren't big shoppers, but we didn't find common things like toiletries in the shops on Royal Promenade. We asked and were directed to Deck 16. It took us numerous times to find this area where there are several vending machines with toiletries, gaming cards, and other interesting selections.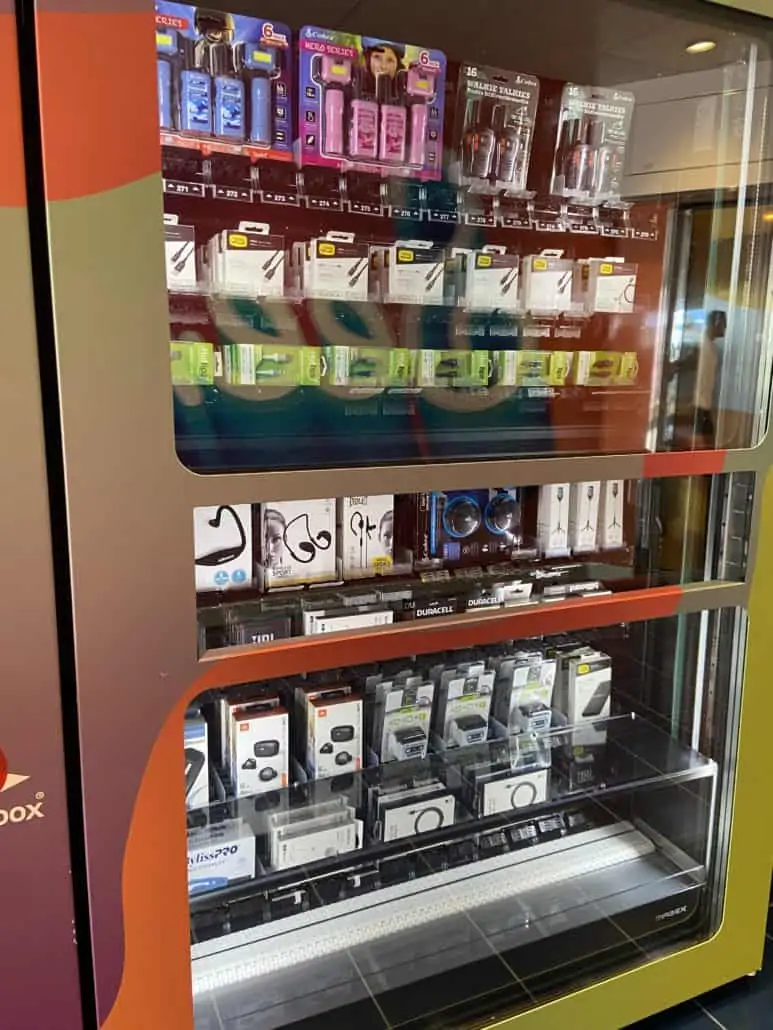 There is no large camera shop, just a few offerings there. And although we did find a shop for men's clothing, we never found a similar shop for women, other than the branded item shop. If you forget your bathing suit, you are out of luck.
On a few occasions we saw kids being picked up from their programs and they were all delighted. For teenagers, there is a new outdoor hangout area called Social100, their private space. Besides the programs at Adventure Ocean, younger kids may enjoy the new underwater-themed activity area, Wonder Playscape.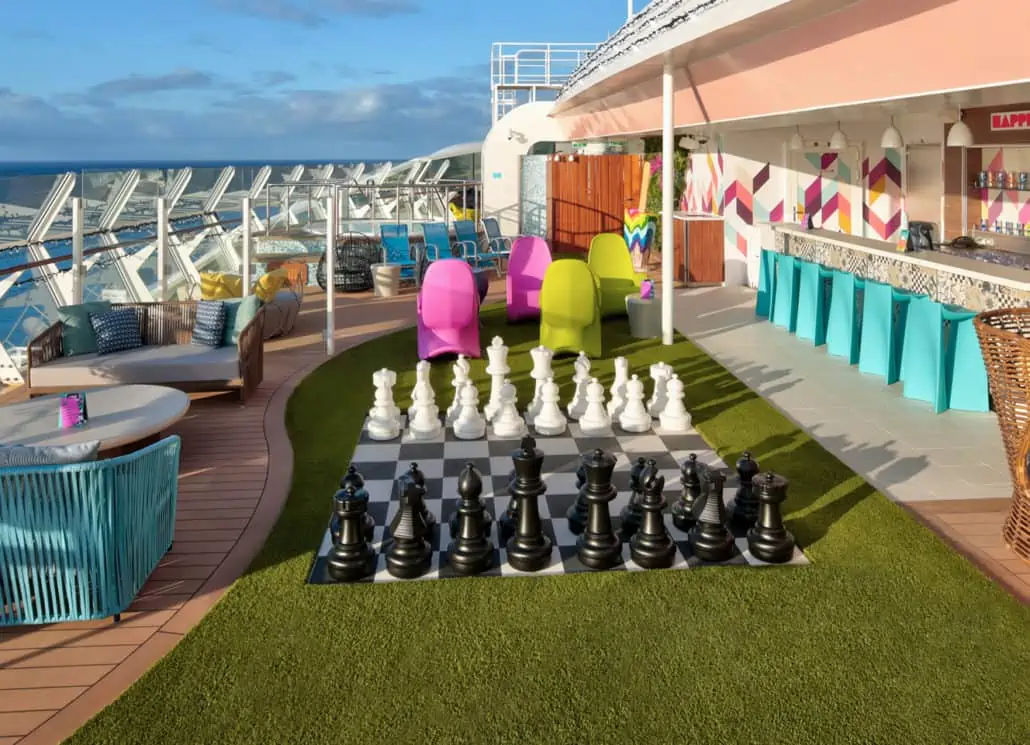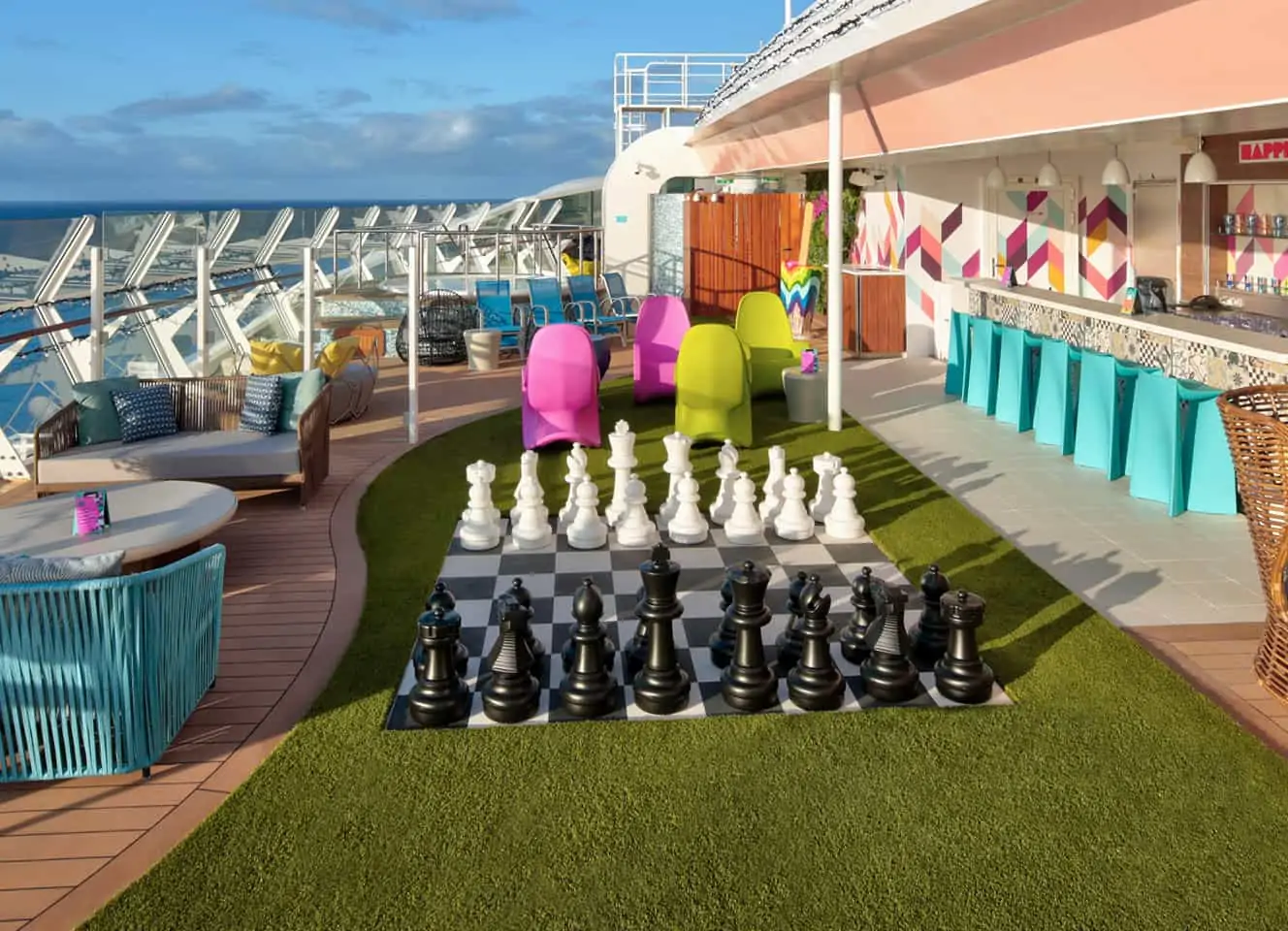 In general, Wonder of the Seas was much like we expected, but with a few new additions that gave us an incentive to do further exploration. For us, the real drawback of the ship was the lack of quiet spots. Yes, there is a windowless card room, but that wasn't a real alternative. Our balcony suited us very well for that quiet and relaxing spot that has a real connection to the sea.
Wonder of the Seas will sail from Barcelona and Rome starting in May of 2022. She will return to Port Canaveral in November of 2022 to cruise to the Caribbean.
RELATED: My Dining Experience on Wonder of the Seas
Pin it!