Looking for a unique way to enjoy your favorite sport while cruising? Look no further than pickleball on cruise ships. As more and more people discover the fun and fast-paced game, cruise lines have begun to offer it on board.
Whether on a makeshift basketball court or in a dedicated space, pickleball is a great way to stay active and meet other players while at sea.
In this article, we'll share with you everything you need to know about pickleball on cruise ships, including which cruise lines offer it as an included activity.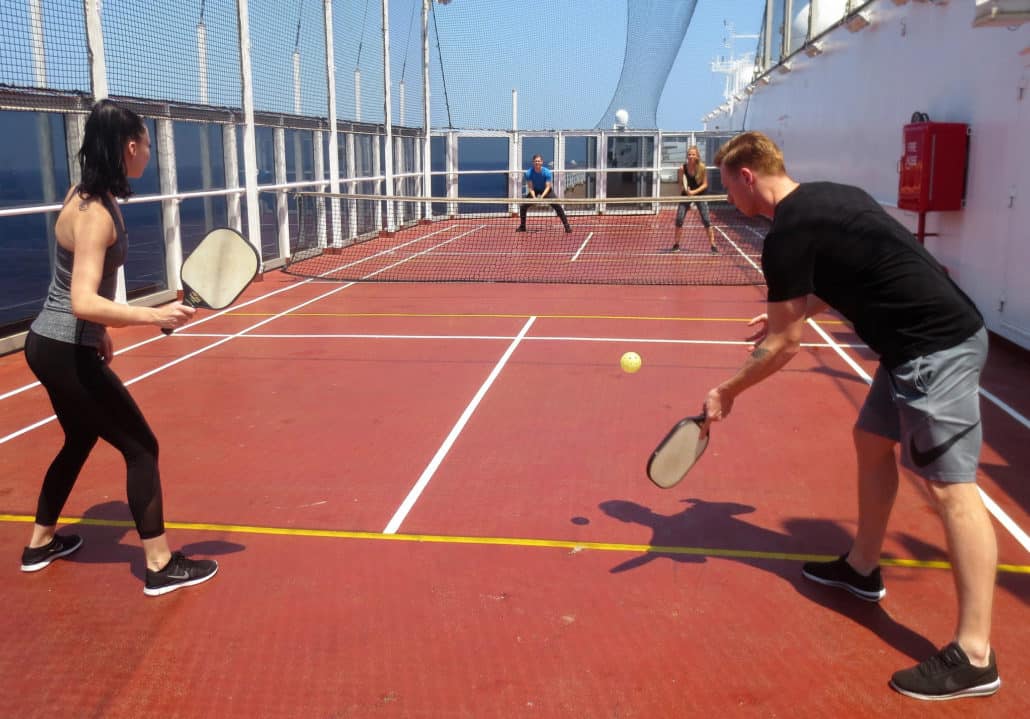 What is Pickleball?
Pickleball is a paddle ball sport that combines elements of badminton, tennis, and table tennis (ping pong). Two or four players use solid paddles made of wood or composite materials to hit a lightweight ball made of plastic (similar to a wiffle ball) over a net. The game is played on a court that is roughly the same size as a doubles badminton court, with a net that's about 36 inches high at the center.
Pickleball was first invented in 1965 by Joel Pritchard, a congressman from the state of Washington, and his friend Bill Bell. The game was originally played on a makeshift court in Pritchard's backyard using ping-pong paddles and a wiffle ball.
The game spread through word of mouth and eventually became popular at YMCAs and community centers across the United States. Today, pickleball is played by millions of people in hundreds of countries around the world. Its popularity is due in part to its accessibility; the game is easy to learn and doesn't require a lot of expensive equipment.
Additionally, pickleball can be played by people of all ages and skill levels, making it a great option for families and recreational players alike.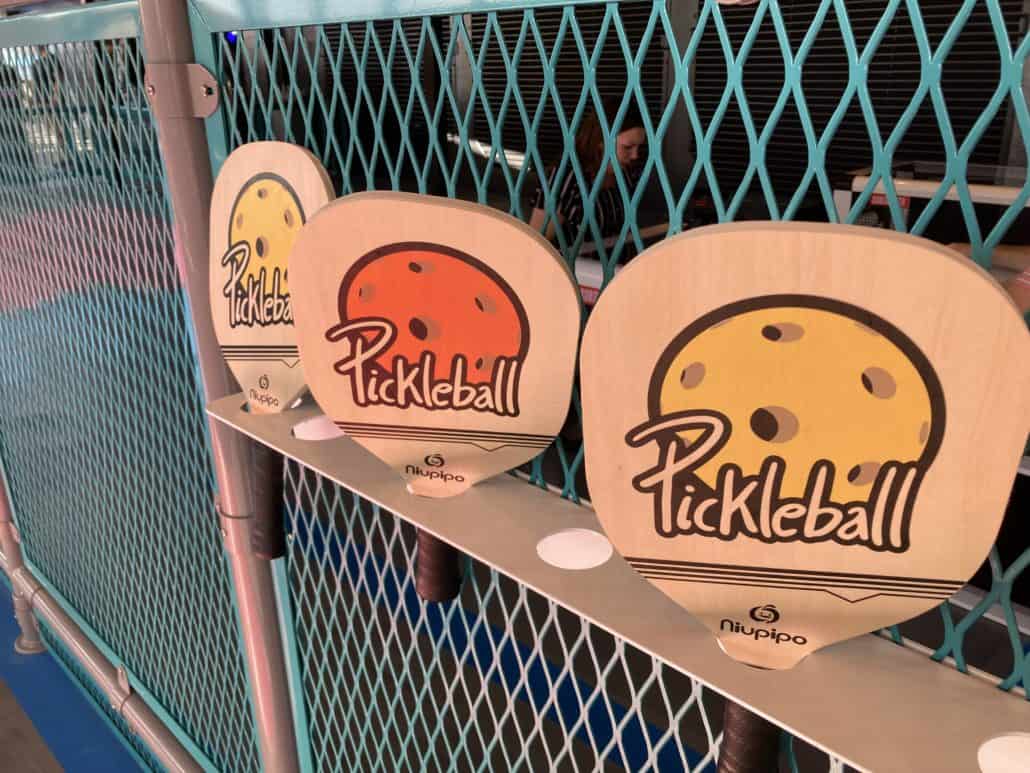 How to Play Pickleball
To play pickleball, you will need a pickleball paddle, which is a larger version of a table tennis paddle, and a small plastic ball with holes called a pickleball.
To start the game, the server stands behind the baseline and hits the pickleball over the net to the opposite corner of the court. The opposing player then hits the ball back over the net, and the players continue to hit the ball back and forth until the ball lands out of bounds or one player misses it.
Points are scored when a player serves and wins the rally, and the game is played until one player or team reaches 11 points and is ahead by at least two points. If you are looking for a fun, fast-paced sport that can be played indoors or outdoors, pickleball is definitely worth a try.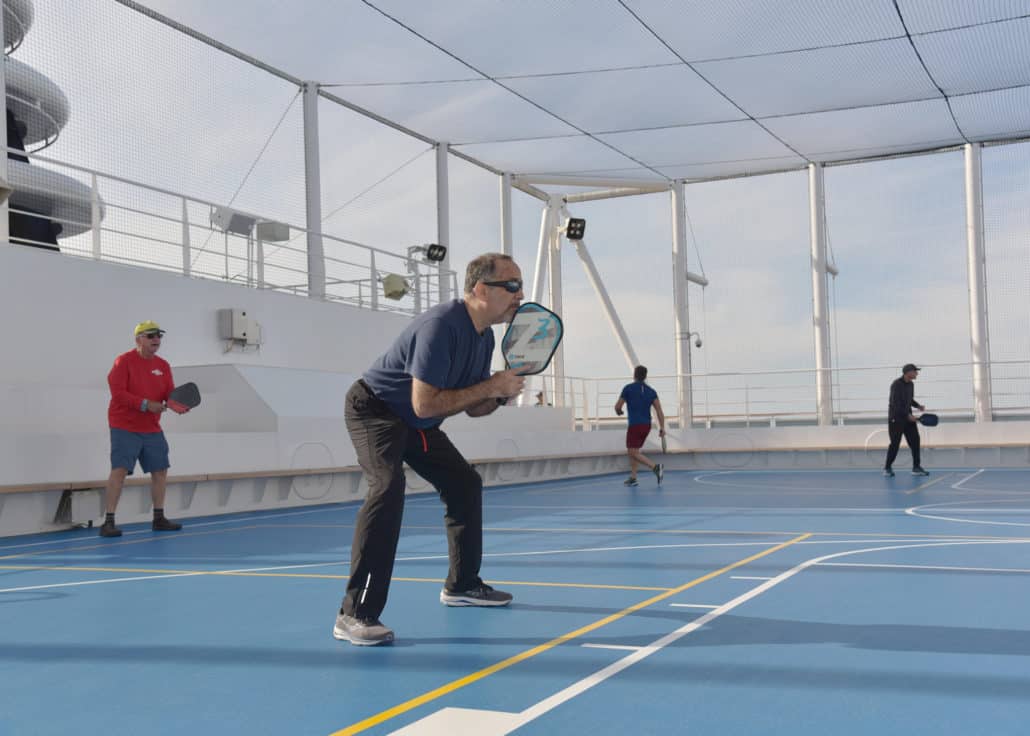 MORE: 7 Cruise Ship Venues That Serve Fresh Juice
Pickleball on Cruise Ships: Which cruise ships have pickleball courts?
Now that you have some context on what pickleball is and the popularity behind it, you can see why cruise lines are jumping on the court.
Carnival Conquest was the first Carnival Cruise Line ship to have a dedicated Pickleball court and the game is offered on other ships in the fleet on the basketball court.
Recently Holland America Line teamed up with the Professional Pickleball Association (PPA) to bring the game fleetwide across all its ships. The line also has pickleball starter packs available in its gift shops for guest who want to go all in, as well as an instructional video on stateroom televisions.
"We like to say that travel unites us, but sports do that as well, and Holland America Line is proud to be the first and exclusive cruise line partner of the PPA. We're excited to offer our guests an elevated pickleball experience as they travel to spectacular and scenic cruise destinations," said Kacy Cole, vice president of marketing for Holland America Line.
1. Holland America Line
Ships: All ships
Holland America is the Official Cruise Line of the Professional Pickleball Association, and all of its ships feature top-deck pickleball courts decked out with PPA Tour partner logos. Equipment is provided. Free beginner lessons are offered where guests can learn the rules and basics of playing pickleball. Tutorial videos on the game are also available on in-cabin TVs, and passengers can purchase souvenir pickleball starter kits if they wish.
Holland America recently just added a sports director position fleetwide to teach and facilitate games.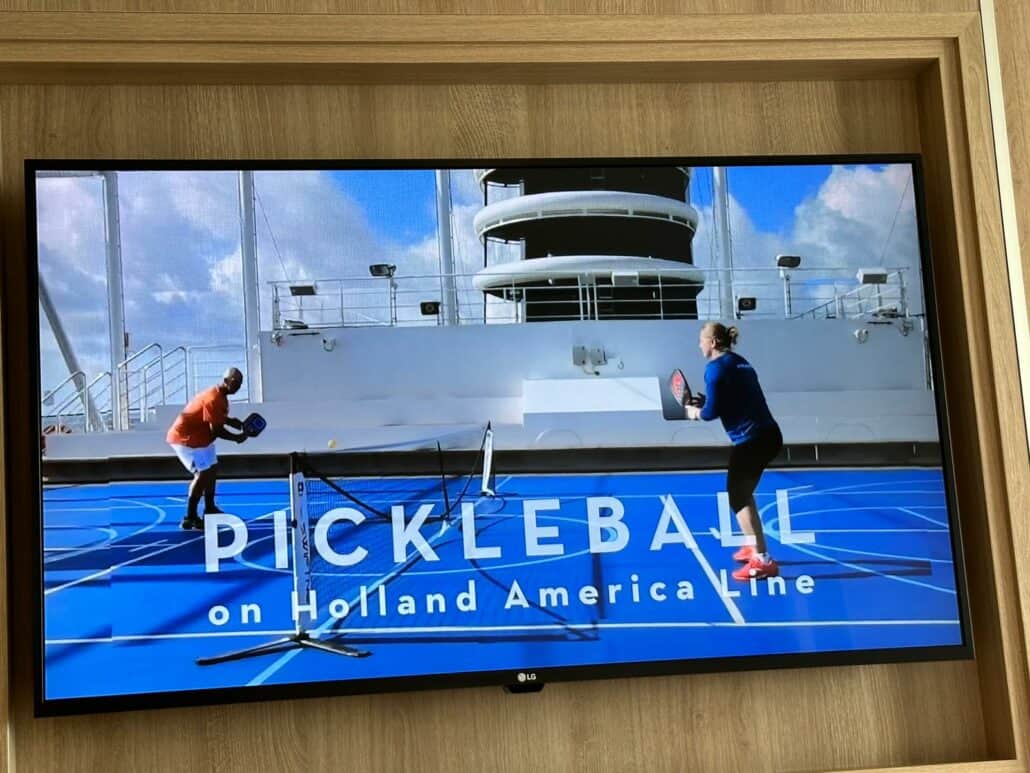 2. Royal Caribbean
Ships: Adventure, Allure, Anthem, Explorer, Freedom, Harmony, Independence, Jewel, Liberty, Mariner, Navigator, Oasis, Odyssey, Serenade, Symphony, and Wonder of the Seas
Royal Caribbean's ships don't have dedicated pickleball courts, but you'll be able to play on the above ships either on one of the other top-deck sports courts or in the indoor SeaPlex. Equipment is provided.
3. Carnival Cruise Line
Ships: Carnival Conquest, Breeze, Celebration, Dream, Glory, Firenze, Horizon, Jubilee, Legend, Miracle, Panorama, Pride, Spirit, Splendor, Venezia, Vista, and Mardi Gras
Carnival Conquest and Glory have dedicated pickleball courts, while the other ships offer pickleball in the basketball court space. Equipment is provided.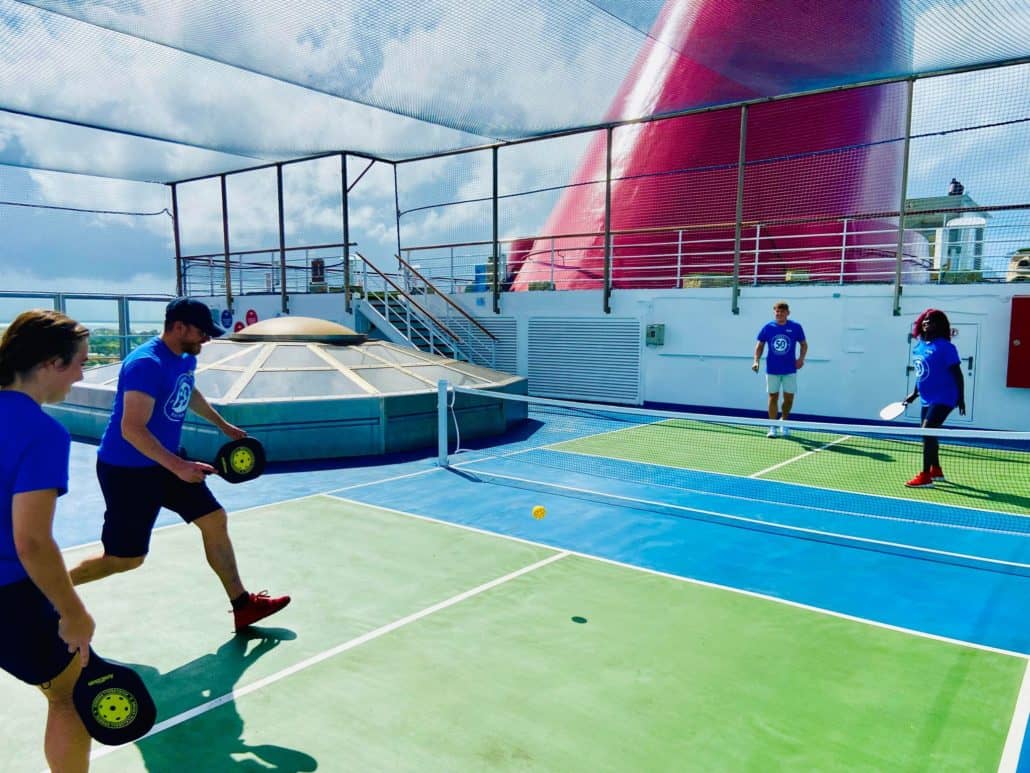 4. Norwegian Cruise Line
Ships: Norwegian Prima and Norwegian Viva
Norwegian Cruise Line's new Prima-class ships feature small, dedicated pickleball courts in The Stadium open-air sports and games area. Equipment is provided.
5. Princess Cruises
Ships: Discovery, Sky, and Enchanted Princess have dedicated pickleball courts, while Coral, Regal, Royal, and Emerald Princess set up pickleball on another sports court.
Princess Cruises' three newest ships feature dedicated pickleball courts in the deck 18 Center Court sports area. On the other four ships, guests can play pickleball at select times on the basketball court. Equipment is provided.
6. Celebrity Cruises
Ships: Celebrity Apex, Beyond, Eclipse, Equinox, Solstice, Constellation, Infinity, Millennium, and Summit
The nine ships listed above all feature open-air pickleball courts. On Beyond and Apex, pickleball is located in the Rooftop Garden. The other ships feature pickleball on their sports decks.
Guests can enjoy pickleball during free-play time periods, and also participate in organized pickleball events and tournaments during the sailing. Court times are offered for adults as well as dedicated times for families with kids. Equipment is provided.
7. Cunard
Ships: All ships
All three of Cunard's current ships, plus the upcoming Queen Anne feature net-enclosed "paddle tennis" courts. Racquets are available, but if you want to play pickleball with the usual "pickleball" ball you'll have to bring one yourself. As well, the courts are covered in grass turf instead of hard flooring so the ball likely won't behave the way you're probably used to.
8. MSC Cruises
Ship: MSC Meraviglia, MSC Euribia, MSC World Europa, and MSC World America
MSC Meraviglia features pickleball in its sports complex area. The line's brand-new upcoming ship MSC Euribia will include pickleball as part of its kids' sports program called Z Active. MSC's two World-class ships, MSC World Europa and the upcoming MSC World America offer pickleball as well.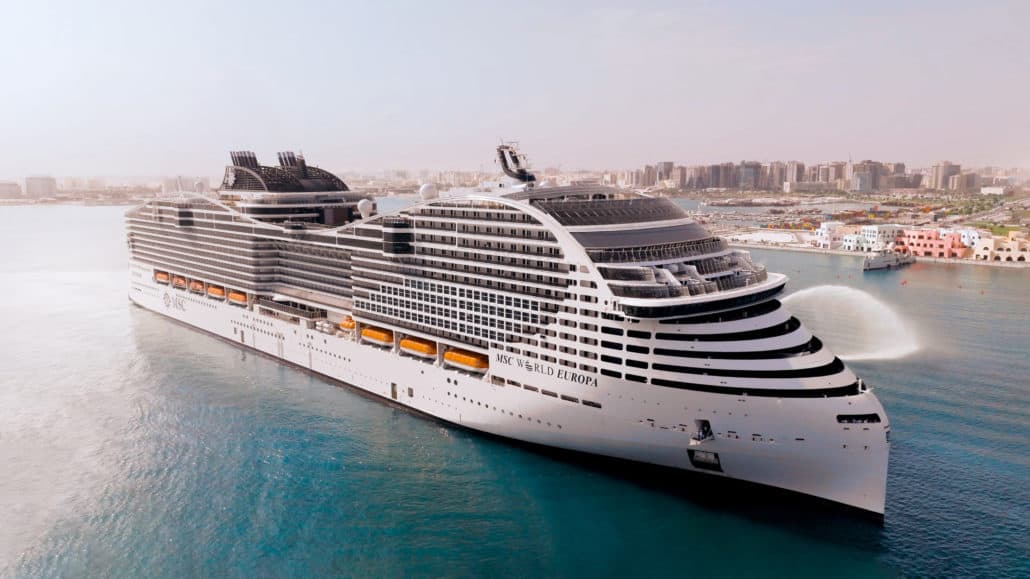 9. Oceania Cruises
Ships: Marina, Riviera, and Vista
Oceania's two Oceania-class ships, Marina and Riviera, both offer pickleball on their upper deck sports court. The line's first Vista-class ship, Vista, will also include pickleball. Equipment is provided.
10. Regent Seven Seas Cruises
Ships: Seven Seas Splendor, Seven Seas Explorer, and Seven Seas Grandeur
Regent Seven Seas' two newest ships, Splendor and Explorer, as well as its upcoming ship Grandeur all feature dedicated, screened two-sport courts (for pickleball and paddle tennis) located on deck 12 aft.
11. Virgin Voyages
Ship: Valiant Lady
Virgin Voyages' ship Valiant Lady offers pickleball in a shared sports court that's also used for dodgeball and basketball. Equipment is provided.
12. AmaWaterways
Ship: AmaMagna
River cruise line AmaWaterways recently installed a regulation-size pickleball court on the sundeck of its ship AmaMagna. The court is located behind the wheelhouse and includes a perimeter net. Pickleball can only be played when the ship is docked because the net needs to be removed to go under certain bridges along the Danube River.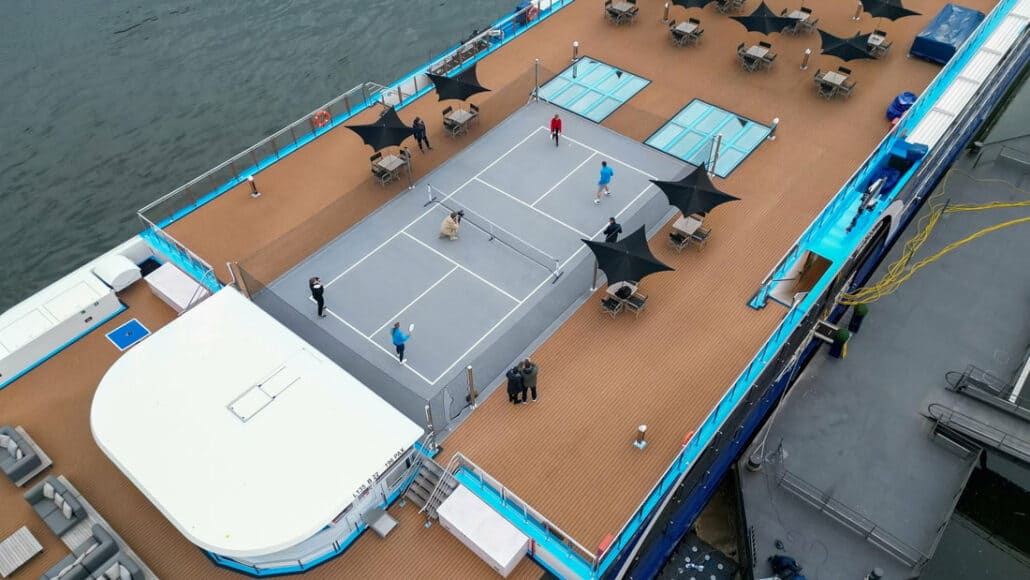 Final Thoughts
As you have read, if you're looking to play pickleball on cruise ships, there are plenty of lines with built-in or makeshift courts. From Royal Caribbean and Carnival Cruise Line to Holland America and Princess Cruises, you'll be able to satisfy your pickleball craving.
So pack your paddle (if you want to use your own) and comfy shoes, and take your game to the high seas. Who knows, you might even meet some fellow pickleball enthusiasts and make some unforgettable memories along the way.
READ NEXT: 9 Cruise Concepts That Didn't Quite Catch On
Pin it!