Princess Cruises has revealed the new artwork today for "The Secret Silk," the third production created with award-winning composer Stephen Schwartz. Created by Katie Rodgers of Paper Fashion, "The Secret Silk" artwork was commissioned to reflect the whimsical nature of the show.
A tale of romance, adventure, and enchantment that features familiar music will transport onboard audiences; the new show was created and directed by Tony Award-nominated John Tartaglia. "The Secret Silk" debuts exclusively on Royal Princess starting in mid-February 2018, while the ship is sailing around the Caribbean.
"The Secret Silk" is the story of an Asian folkloric tale with a modern spin, featuring inspired performances through music, dance, puppetry, and special effects. The story was adapted from the ancient fable "The Grateful Crane," and features Lan, a beautiful, selfless young woman who possess a magical gift: secretly creating brilliant silk fabrics. Audiences will be introduced to life-size puppetry from Jim Henson's Creature Shop, and an original song "Sing to the Sky."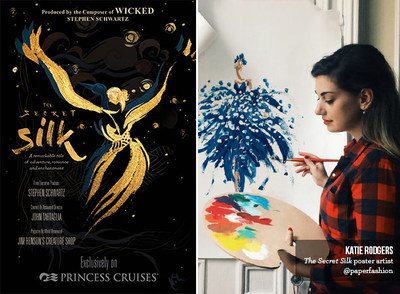 "Working on the poster design for 'The Secret Silk' has been a wonderful creative opportunity," said artist Katie Rodgers. "I love taking a script and seeing where the words take me artistically. 'The Secret Silk' has an air of mystery to it which I love to recreate with my paintings."
Rodgers is the artist and illustrator behind Paper Fashion. Known for her elegant and often animated Shadow Dancers, her work has been commissioned by Cartier, Jaeger-LeCoultre, Estee Lauder, Perrier Jouet, Disney, Focus Features, Harper's Bazaar, and Swarovski, among others.
In addition to "The Secret Silk," Princess' partnership with Stephen Schwartz has premiered "Magic to Do" and "Born to Dance" on select ships in the fleet. "The Secret Silk" premieres on Royal Princess, followed by Island Princess in May 2018 for the Alaska season, and Diamond Princess sailing Japan this coming fall.