You can get beer on just about any cruise ship, but Carnival was the first U.S.-based line to take the brilliant step of putting a craft brewery smack-dab in the middle of a cruise ship. The beers brewed on board are not available anywhere else on the planet, but of course, that only matters if what's being served up is a quality product. To find out just how Carnival's brewery stacked up, I registered for the tour to get the behind-the-scenes scoop and taste each of the varieties brewed on board. 
Fast Facts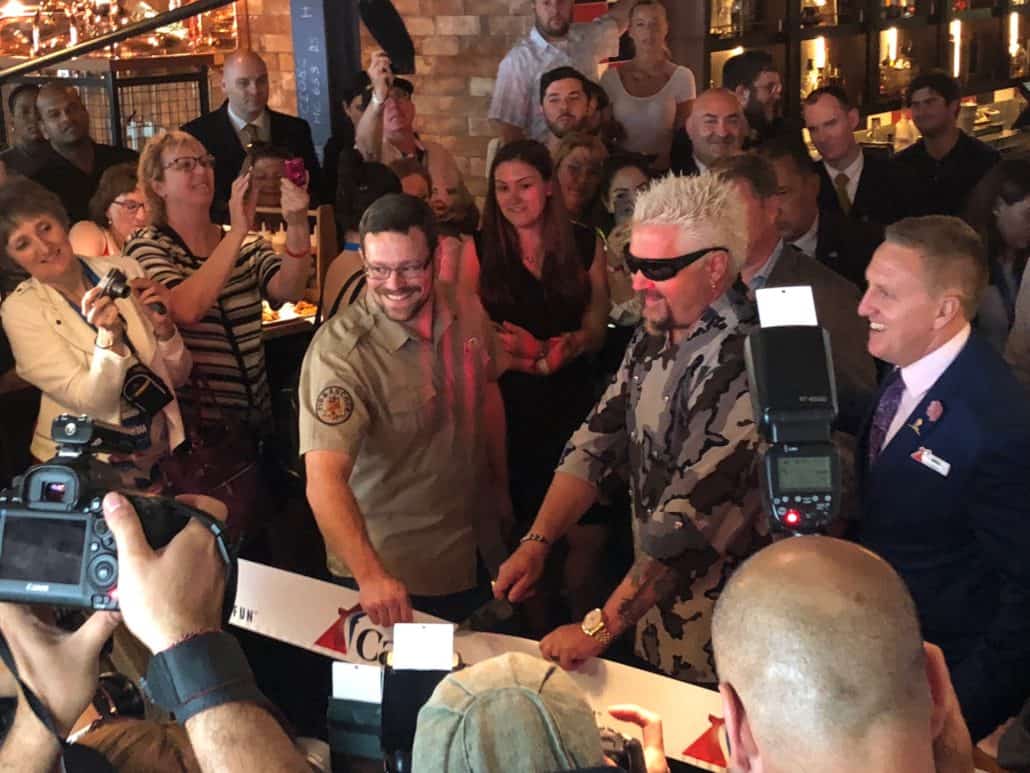 WHEN: Most sea days.
WHERE: Register at the Pig & Anchor Smokehouse|Brewhouse on Carnival Horizon, or the RedFrog Pub on Carnival Vista.
COST: $24.95 per person.
CAUTION: You definitely want to register, as there are only slots for 16 people on any given tour.
PRO TIP: If when registering, they only offer you one time/date, it's likely that other tours either are or will be scheduled. They like to try and fill the tours in chronological order. Ask to be slated for one of the later tours and, while it's not guaranteed, it's likely that enough others will register for that tour to ensure it won't be cancelled.
A Brief History of Carnival's Craft Beers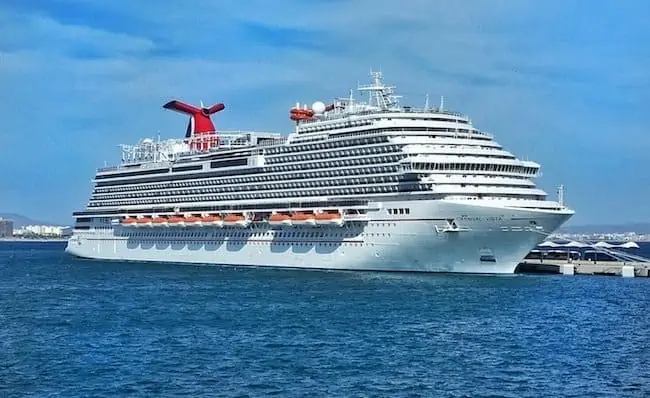 Carnival originally began brewing beer on Vista back in 2016, rebranding the popular RedFrog Pub into the RedFrog Pub & Brewery. When that proved successful, they took things to the next level on Horizon, where they replaced the RedFrog Pub with the Pig & Anchor Smokehouse|Brewhouse. Thanks to their ongoing partnership with celebrity chef Guy Fieri, the new venue would offer a wide variety of food (with an emphasis on barbecue) as well as four Parched Pig brews.
About the Tour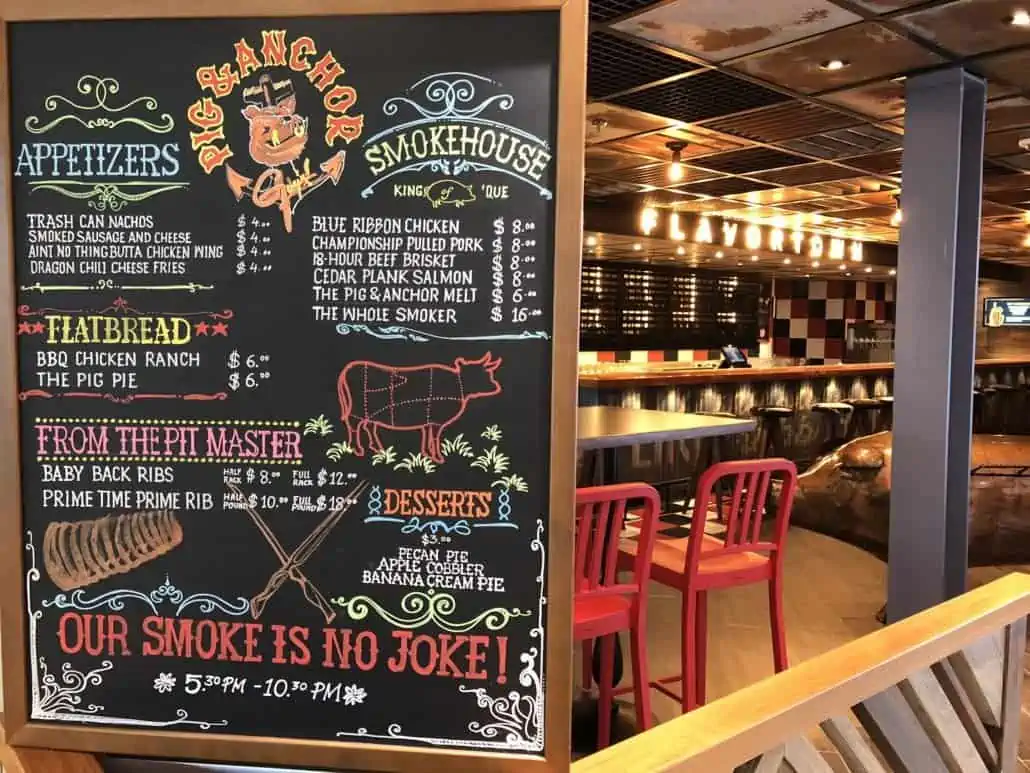 Ever done a brewery tour where you spend an hour exploring the facility, learning about the process and then, finally, get to sample the beer? Well, it probably won't surprise you to learn that Carnival knows that while passengers are interested in the process, we're really all about the beer. So right off the bat, things get rolling with a sample of one of the beers we're about to learn about.
After receiving a sheet explaining the various beers we'd be sampling, the first brew – the Toasted Amber – was placed on the table in a pitcher from which we could help ourselves. While we sipped the beer, Carnival's brewmaster, Colin, talked to us about the process of brewing beer in general and what he does specifically, complete with a helpful accompanying chalkboard infographic. (And really, who doesn't love a good infographic?) For the record, the Toasted Amber is slightly malty and a great introduction to craft beers for those who might not be familiar with them.
READ MORE: Meet Colin Presby, Who Has The Coolest Job At Sea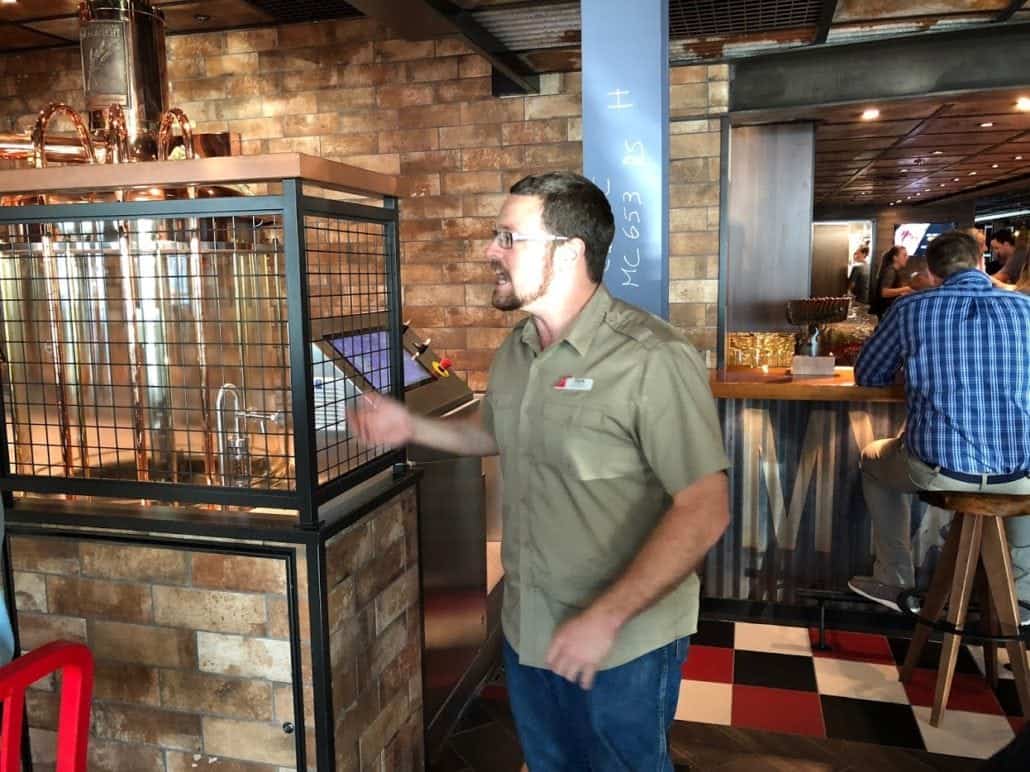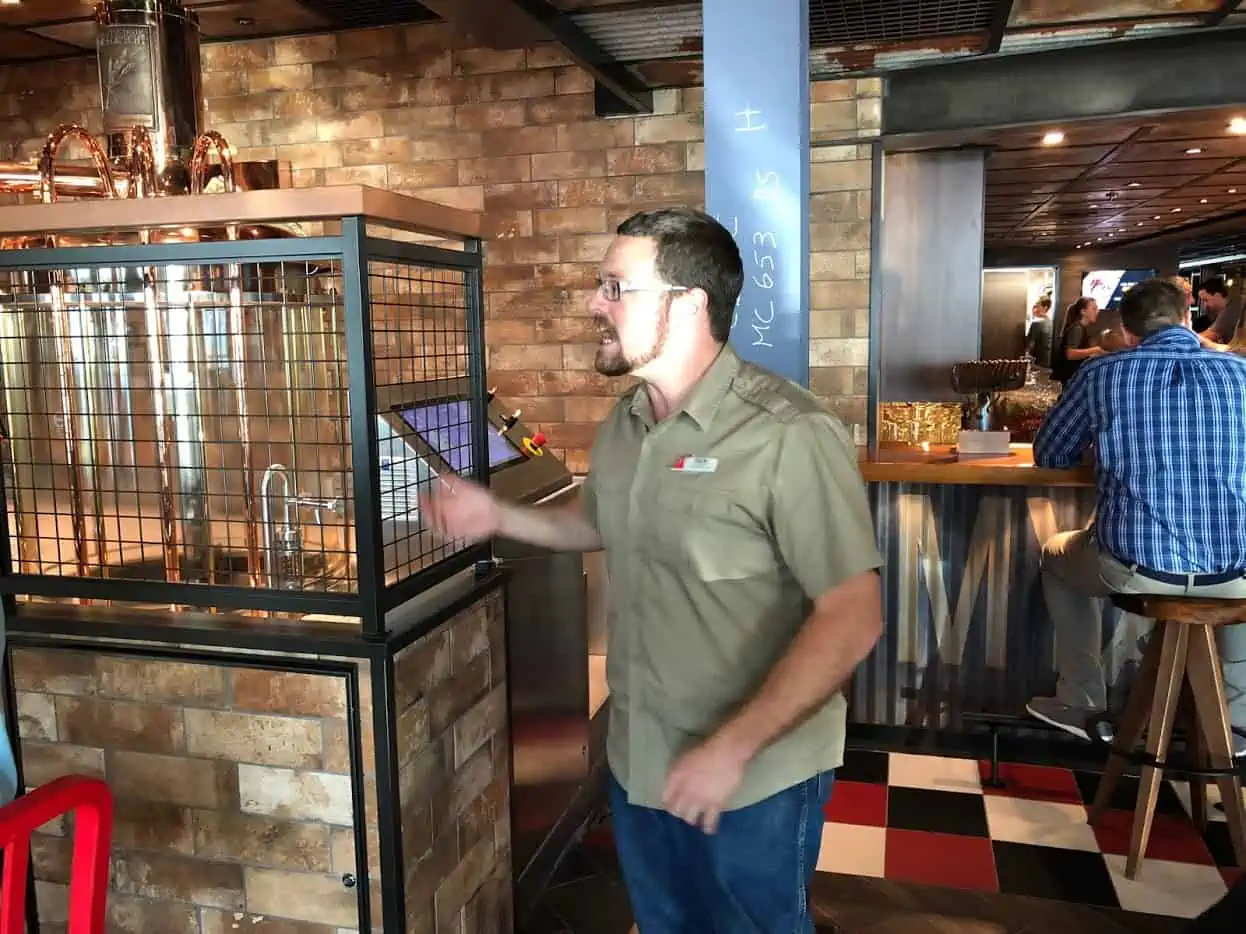 We learned about the four main ingredients in beer: malt (usually barley or wheat), hops, yeast, and water. While Colin explained the differences between German and American beers (mostly involving the stricter ingredient guidelines in Germany, as opposed to American beers which can essentially go crazy when it comes to what's added), we continued sipping our beers, proving my long-standing theory that it's always more fun to learn when beer is involved. There was also an interactive component as Colin passed around hops pellets for us to smell. (Much like your teacher had to tell that one kid in class not to eat the paste, Colin warned us that while the hops pellets smelled great, we wouldn't want to taste them, as their primary purpose is to add bitterness to beers.)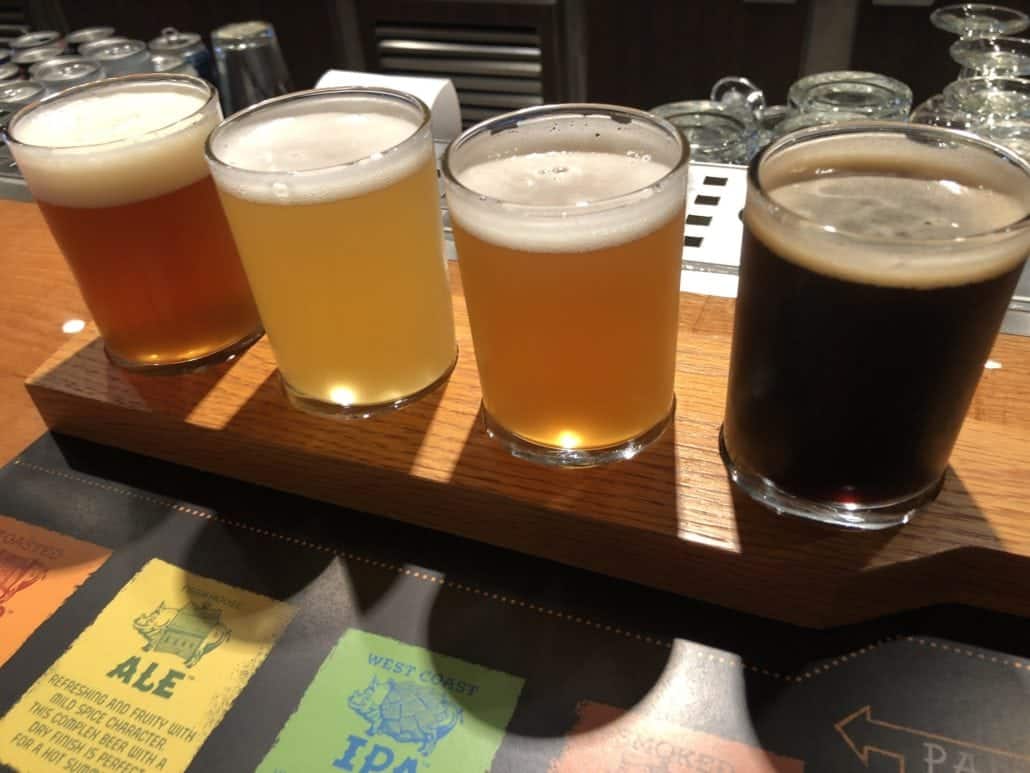 Next, Colin presented us with pitchers of the Farmhouse Ale. This is a great refreshing beer for hot weather – appropriate for the ship's Caribbean destinations – which uses a Belgian yeast, setting it apart from the other beers brewed on board. We learned about the specifics of this ale, more about the brewing process and were able to ask Colin any questions we might have. (It's worth noting that not only is he good at what he does – as the beers you'll sample prove – but he clearly loves what he does and is enthusiastic about sharing it with others.) Colin handed out pieces of dried malted barley (which, unlike the hops, we were free to taste if we wanted). These had a slightly sweet, caramel-like flavor. 
Next up came the third sample: the West Coast IPA, brewed with Centennial, Amarillo, and Simcoe hops. At this point, we all got up and went into what Colin referred to as "the cellar." It's not actually downstairs, but gets its name from the days when beer was brewed in basements for temperature regulation, before things like electric heat and central air conditioning.
The cellar contains the fermentation and serving tanks. The fermentation tanks are where the yeast does its magic by turning sugar into alcohol and CO2. The serving tanks hold the finished beer and are connected directly to the taps at the bar. We could actually hear the sound of it being pumped whenever one of the bartenders served a patron. Beer really doesn't get any fresher than that! 
READ MORE: Pig & Anchor Smokehouse Review 
After we were done with our tour of the cellar, we returned to our tables for our 4th sample: the Smoked Porter.  This one was crafted to have a hint of smokey flavor from the smoked malt that is added, making it a perfect complement to the Pig & Anchor Smokehouse's menu selections.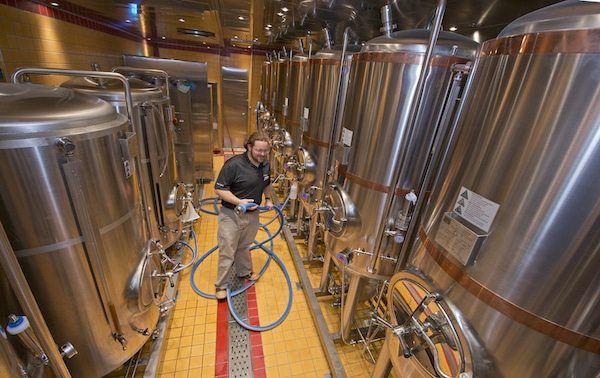 We took our porters with us over to the brew kettle and mash tub, which sit outside the restaurant for all to see and marvel at as they walk past on the promenade. Standard kettles are made of stainless steel, but for Carnival, Colin specifically chose unique ones made of glass so that you can see what's going on inside. He also said that he tries to brew beer in the evening, so that passengers get a chance to watch the brewing process as they walk by.
We learned about the process the beer goes through as it goes from one kettle to the next. First, the malt is mixed with hot water to convert the starch from the grains into sugar. Then the liquid is drained from the grains, hops are added, and the mixture is brought to a boil. Finally, the mixture is cooled and transferred to the cellar, where the yeast is added for fermentation.
We returned to our tables and learned that we were going to get a bonus sample: the seasonal beer currently on tap. In honor of Horizon's temporary stay in New York City, the seasonal on tap at the time was an apple beer (which we were told would basically be scoffed at in Germany), with cinnamon and other spices called "Big Apple Pie"… which was supposed to taste like apple pie, but I would say tasted more like cold mulled cider. I liked it a lot, but I can see where "beer purists" would definitely take issue with it.
Colin wrapped up the tour by handing out some swag. We each got a Thirsty Frog Red pint glass (which, should you want to buy a few more so you have a complete set, are available for purchase at the Red Frog Rum bar) and a certificate of completion "ideal for your man cave." We were also presented with the slips for us to sign for our payment of the tour ($24.95 each). With the certificate, we would be able to get one complementary pint of Parched Pig beer of our choosing from the Pig & Anchor bar.
I was traveling with my husband and we didn't really need two certificates, so I requested that both our names be on one. We did want two free beers, though, so Colin got clever with the Name field on our second one. To get your free beer, you take the certificates to the bartender who initials the back to indicate you've collected your pint. With having just sampled a fair amount of beer, we opted to come back later that night to redeem our pints. 
Final Thoughts
This was one of the best brewery tours I've ever experienced. Colin really encourages questions, so every tour is unique to what its tour group is interested in learning about the process. This tour is ideal for home brewers, people with a passion for beer, or those simply looking for a fun and different way to spend a little time while also enjoying some tasty brews.