Long before Carnival Mardi Gras launched, it was receiving a near-deafening amount of buzz. The mainstream media focused on the ship's roller coaster (with an occasional mention of this being the first cruise ship in North America fueled by liquefied natural gas).
But among cruise lovers and watchers, the words most often used were "game-changer," due to the many ways in which the ship would be different from the rest of the Carnival fleet.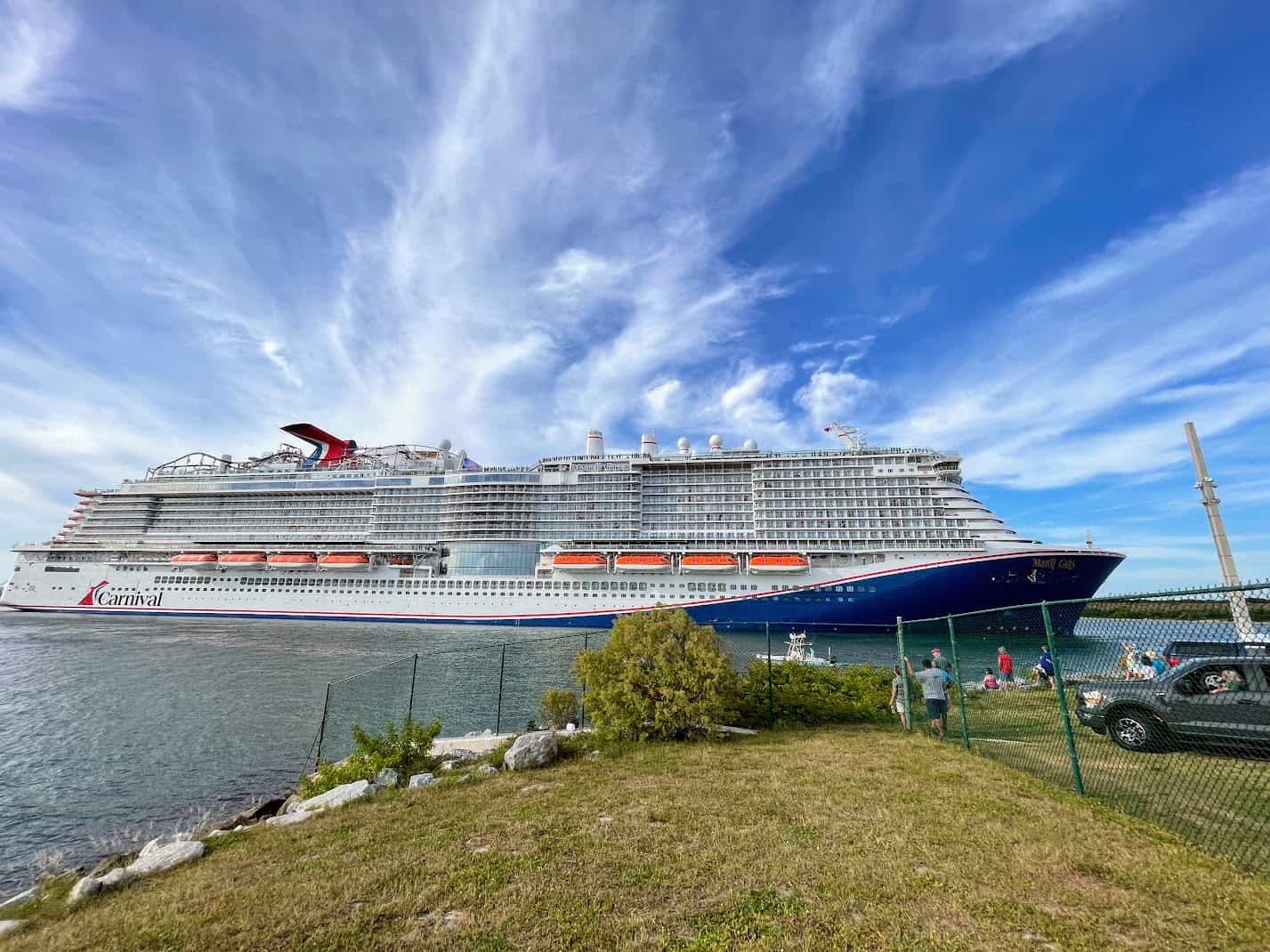 Carnival Mardi Gras: Breaking Down the Hype
Now that the vessel has been sailing for several months, the big question is whether or not she lives up to the hype.
Having sailed on Mardi Gras' inaugural voyage, we're here to give you the scoop on everything from the new-to-Carnival concepts rolled out on this ship to how longtime favorites have been updated.
First Impressions of Carnival Mardi Gras
It's important to note that all of our impressions of the ship were made under unusual circumstances.
For example, it's a little bit difficult to gauge how well the ship and its venues will handle crowds given that it is currently sailing at reduced capacity as part of the health and safety protocols the industry is currently operating under.
Additionally, the early sailings of any new ship will almost always encounter hiccups as the proverbial kinks are worked out.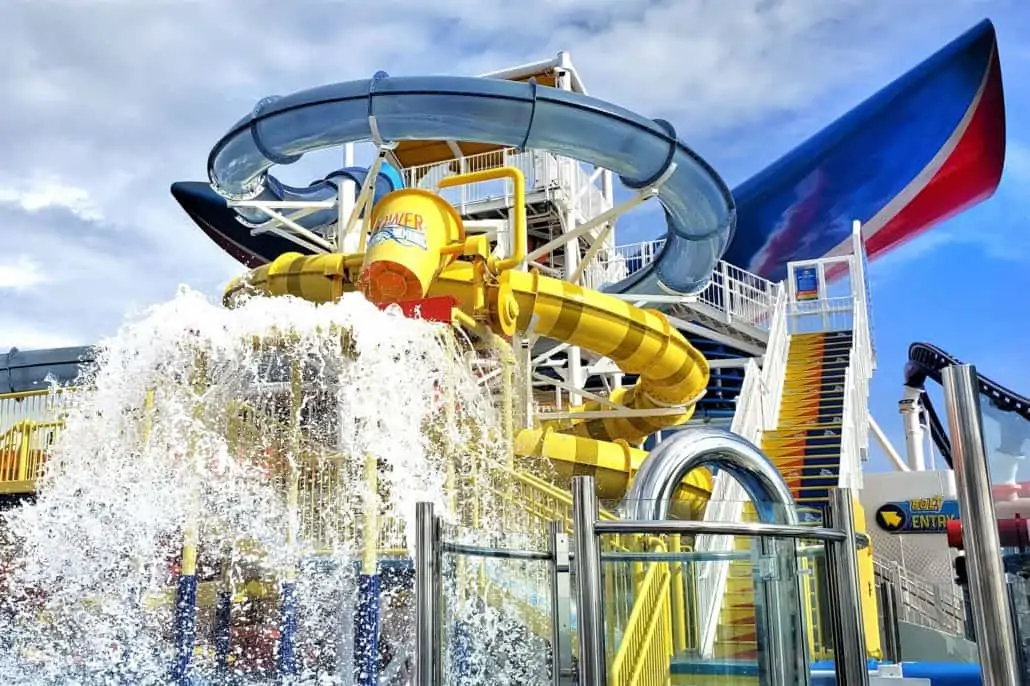 That said, most of the subjects we'll be covering in this review aren't really impacted by either of those factors. One example is the jaw-dropping first impression Mardi Gras makes when guests board.
Many years ago, legendary former Carnival Cruise Line designer Joe Farcus mused that the atrium — which on a Carnival ship is the first space passengers encounter — serves as what he referred to as the "doorway" to their entire vacation. Therefore, he said, it was important that the atrium have a "wow" factor.
Mardi Gras certainly delivers on that level. While Vista-class ships used the now-iconic Dreamscape LED funnels to ramp up the wow-factor, Carnival Mardi Gras takes a much simpler approach by letting the space — here greatly expanded — speak for itself via a three-story wall of glass.
Even sitting in port, it's an impressive sight, immediately leaving one anxious to come back to the atrium once the ship is at sea.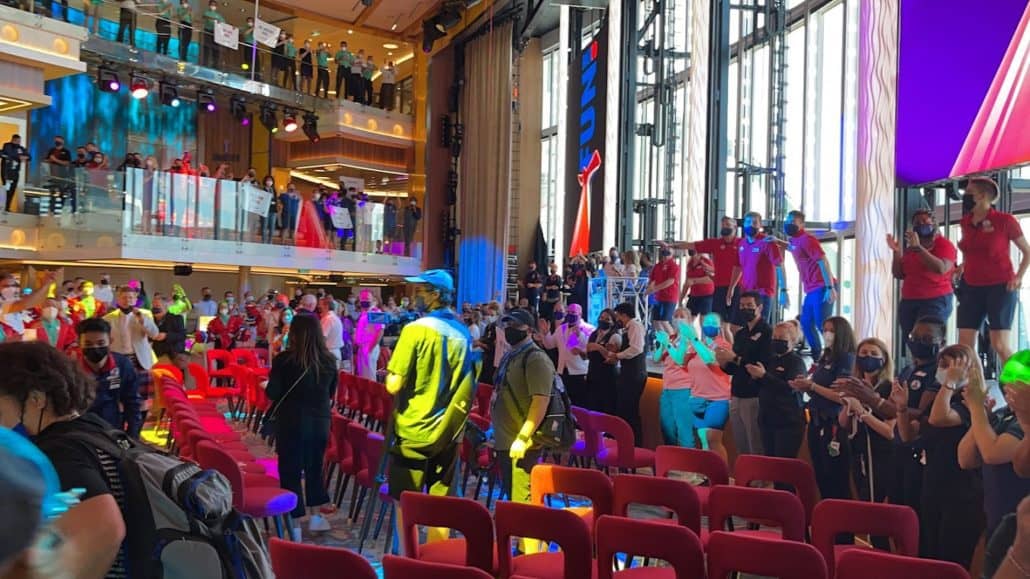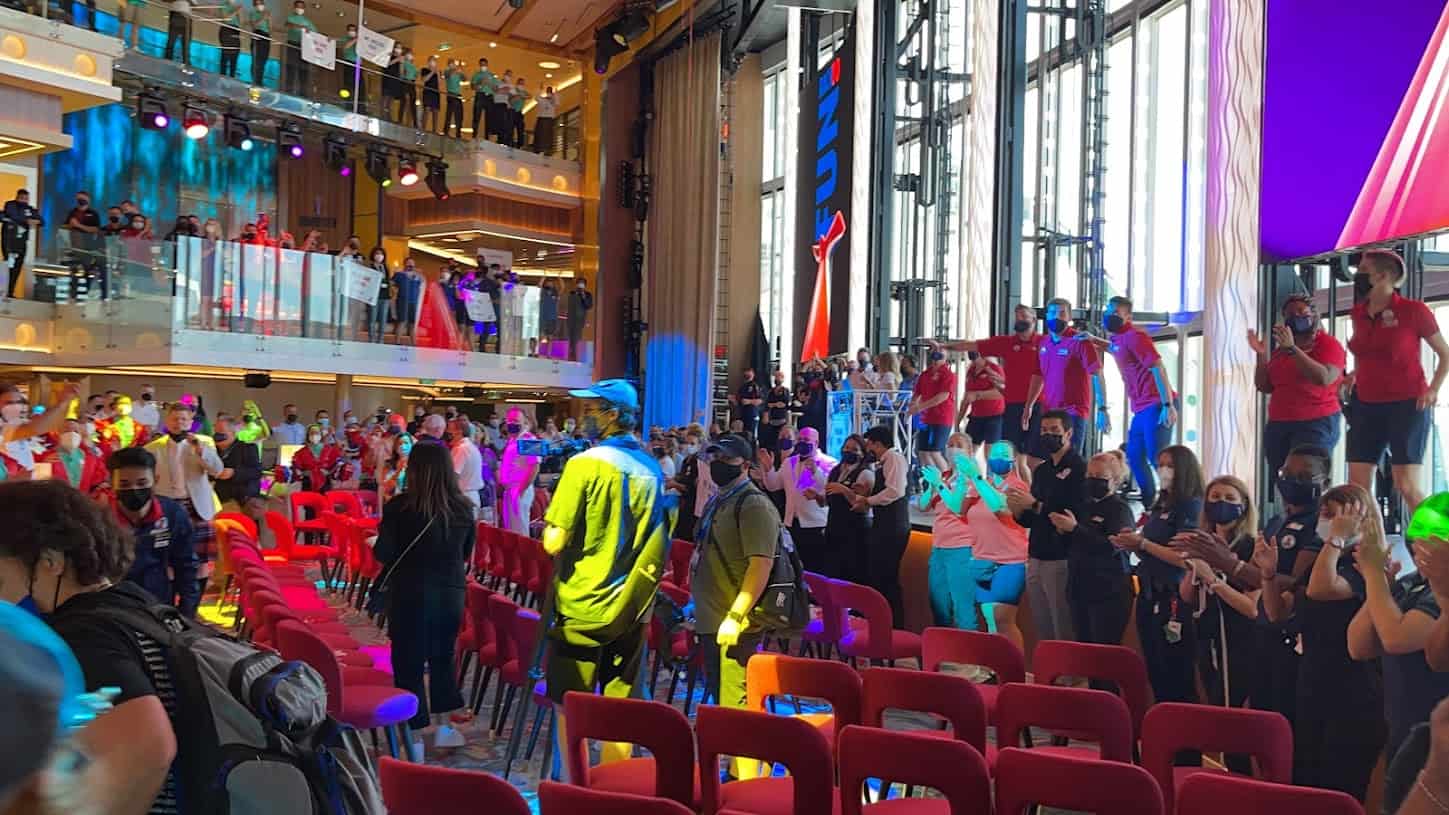 In The Zone on Carnival Mardi Gras
The atrium is the first of six themed areas known as "zones" on board. While this is a new concept for Carnival, it's a kissing cousin of the "neighborhoods" first introduced on Royal Caribbean's Oasis of the Seas. 
The zones here break down as follows:
Grand Central: Probably the least well-defined, it essentially encompasses the atrium (which serves multiple purposes and does a pretty stunning transformation from daytime to night) and a random assortment of venues including Java Blue Café, Piano Bar 88, and Bonsai Sushi/Teppanyaki.
The French Quarter: Without doubt, the most unique of the zones, this area — obviously an homage to the famous New Orleans district — includes several new venues such as Emeril's Bistro 1396, The Brass Magnolia jazz bar, and the Fortune Teller Bar. Pretty much everything you'll find here is new to Carnival.
Summer Landing: With a pool, several restaurants, and a new-to-Carnival bar, this large space on the aft of the ship is sort of a second Lido-like area. One of its best features? The wide variety of seating options, all of which offer pretty incredible views.
La Piazza: In case the name somehow didn't clue you in, this is Mardi Gras' home to all things Italian, including Cucina del Capitano, the pizzeria (which, thanks to the HUB app, delivers almost anywhere onboard), Bar Della Rosa, and Rudi's Seagrill — the line's first collaboration with celebrity chef Rudi Sodamin.
Lido: As on other Carnival ships, this is the main pool area… although tweaks have been made here. For example, the RedFrog Rum Bar and BlueIguana Tequila Bar have been merged into the two-story RedFrog Tiki Bar. A variety of new eateries have been added as well, including Big Chicken and Street Eats— a series of grab-and-go spots mimicking food trucks and offering one or two different items each day.
The Ultimate Playground: Largely similar to the SportSquare concept found on other Carnival ships, this is where you'll find the object of so much attention: the BOLT roller coaster. More on that to come…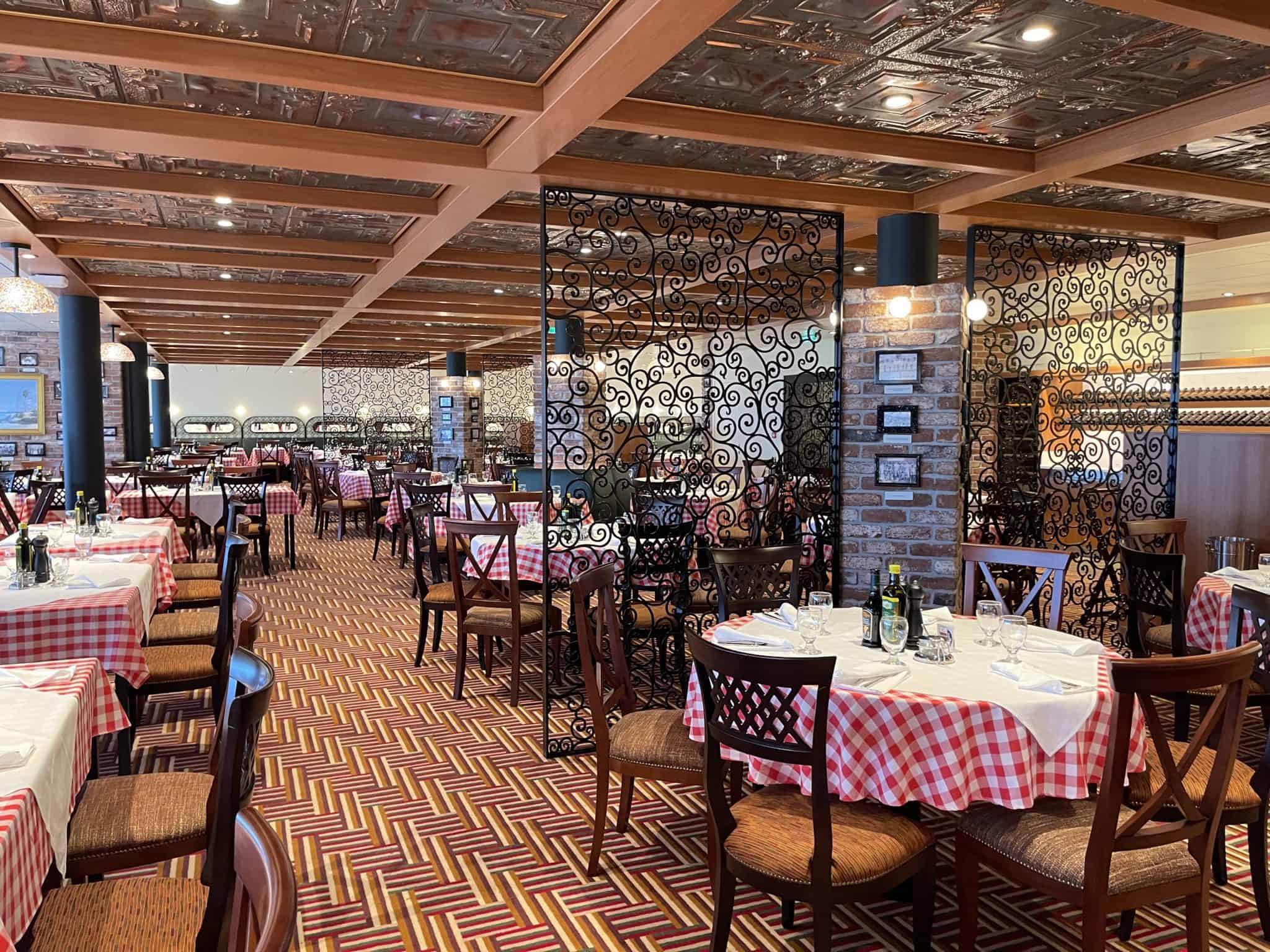 The "zone" concept is largely successful, although a few notable exceptions exist.
For example, ChiBang!, the new restaurant offering a Mexican and Chinese menu, doesn't really thematically fit into any of the zones and so is instead sort of an offshoot of Grand Central.
Similarly, the Heroes Tribute Bar — designed to pay homage to those who have or are serving in the military — seems an odd fit for the casual feel of Summer Landing.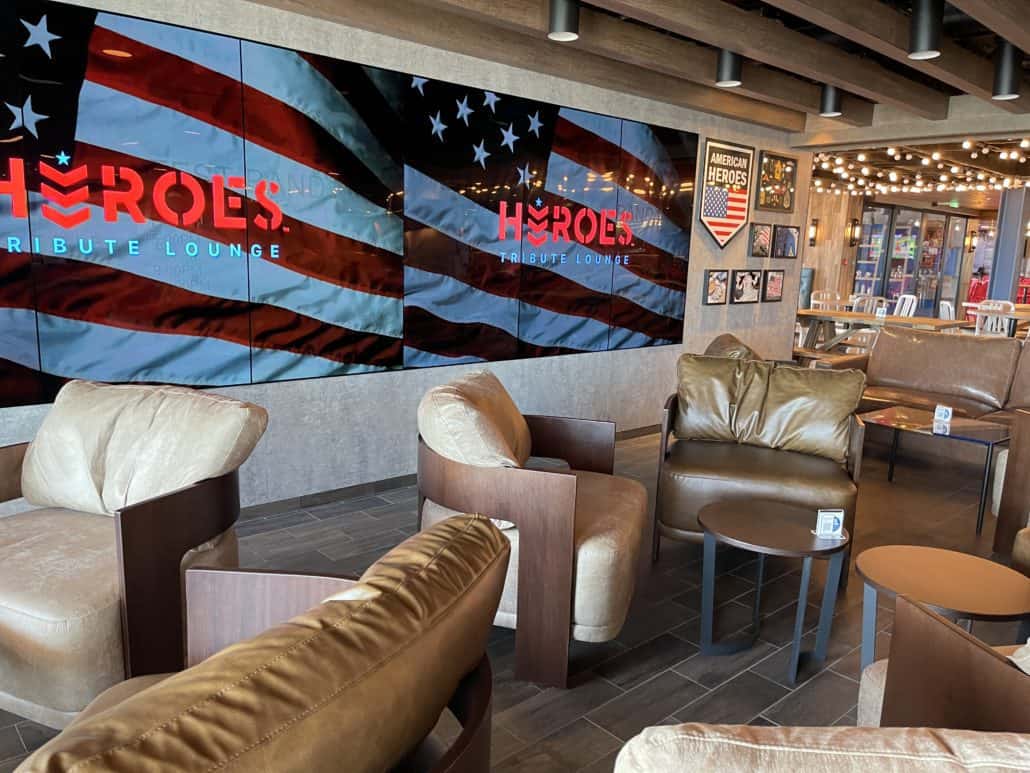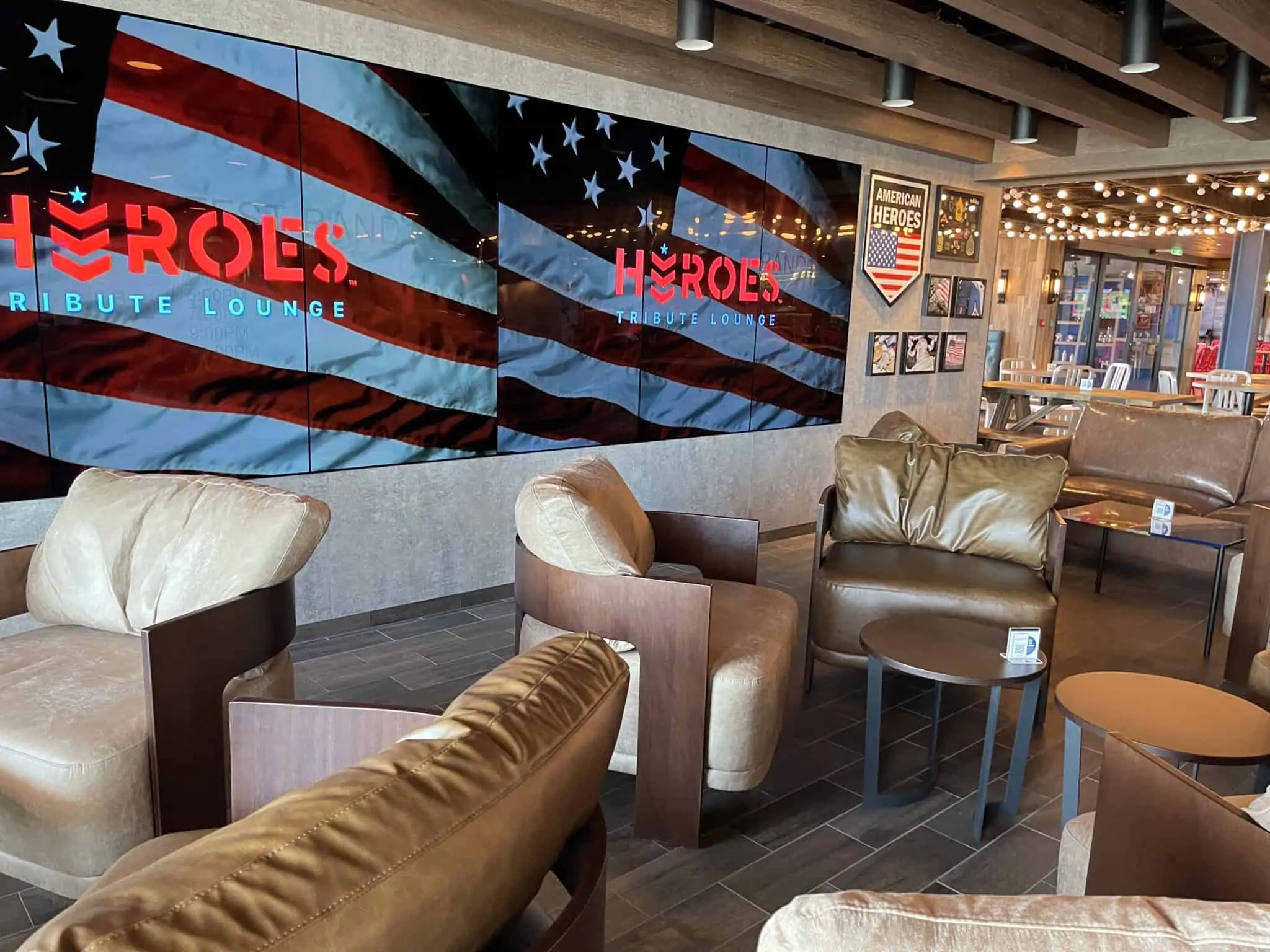 The French Quarter, however, is an example of theming done right. This area is so well designed and so perfectly themed it feels like something you might find at a Disney resort.
Décor, food, bars, atmosphere, and attention to detail come together here to completely transport you to the heart of New Orleans.
MORE: Kid-Free Options on Carnival's Mardi Gras
The Great Outdoors
For many of us, our love of cruising comes at least in part from our desire to connect with the sea. We want to watch the sun rise and set over the ocean, stare off into the wake, and basically spend as much time as possible getting our fill of vitamin "sea."
In recent years, all of the major cruise lines have worked hard to create plenty of opportunities for passengers to do just that.
Carnival Mardi Gras succeeds in a big way on this level. Many of the restaurants and bars have both indoor and outdoor seating.
There are not one, but two aft-facing pools (the aforementioned Summer Landing and the Tides pool) as well as the forward-facing Serenity Retreat area. There are also hot tubs all over the ship, including in the Havana area and the new-to-Carnival Loft 19, both of which we'll discuss shortly.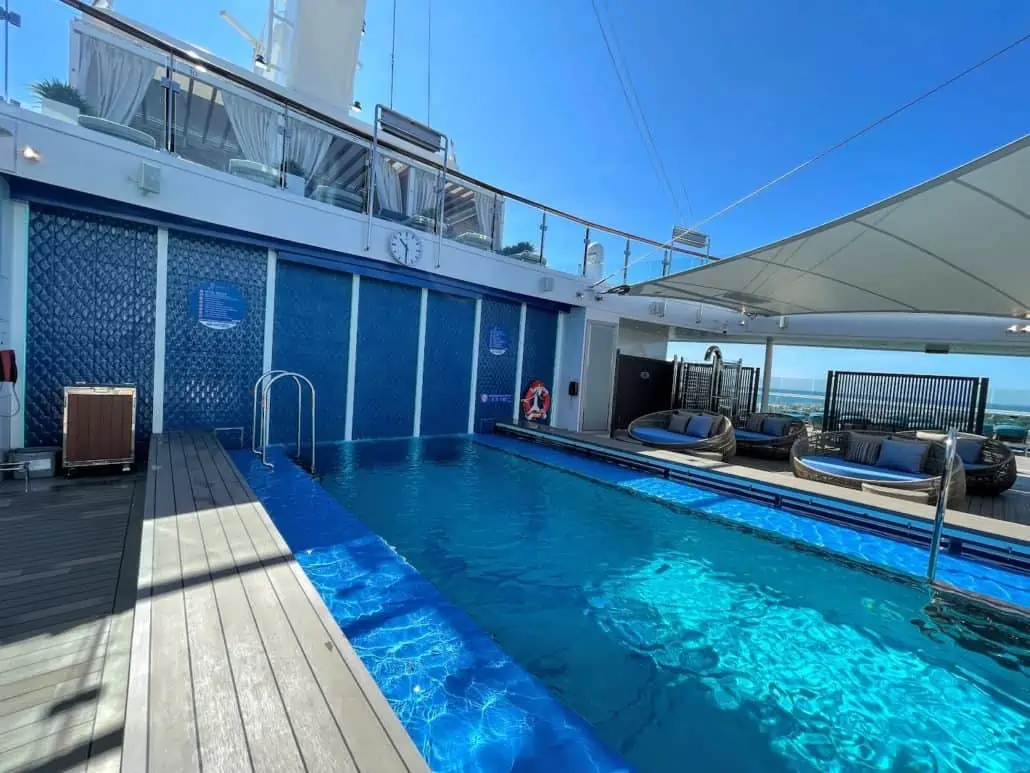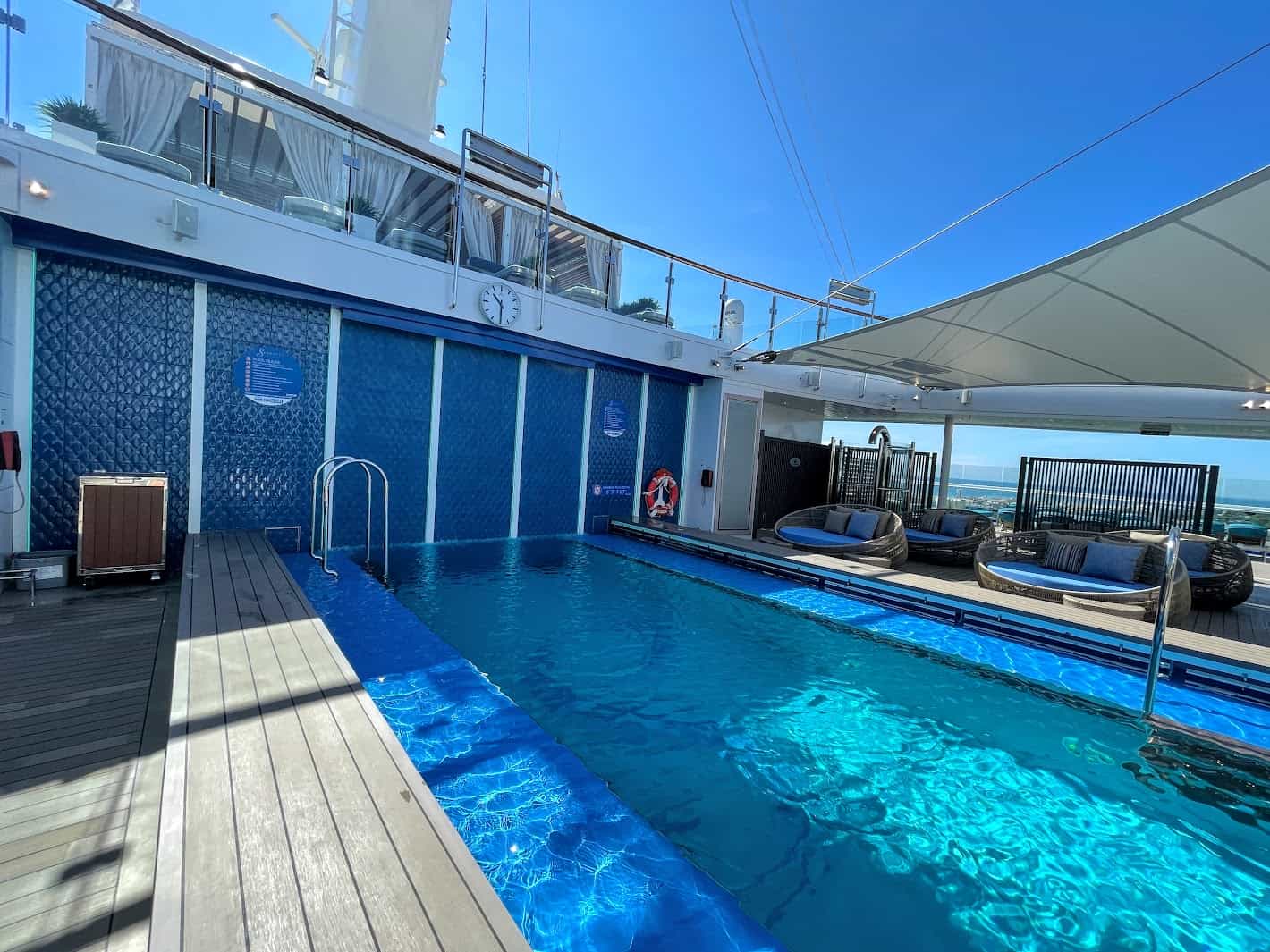 There is a wide array of outdoor seating areas, many of which are beautifully designed and feature unique furnishings. This is not a ship on which the blue loungers which are ubiquitous on most cruise ships are the only option.
Certainly, you'll find those in abundance, especially around the various pools. But you'll also find other seating that is, like the zones themselves, entirely unique to the area in which you find yourself at that given moment.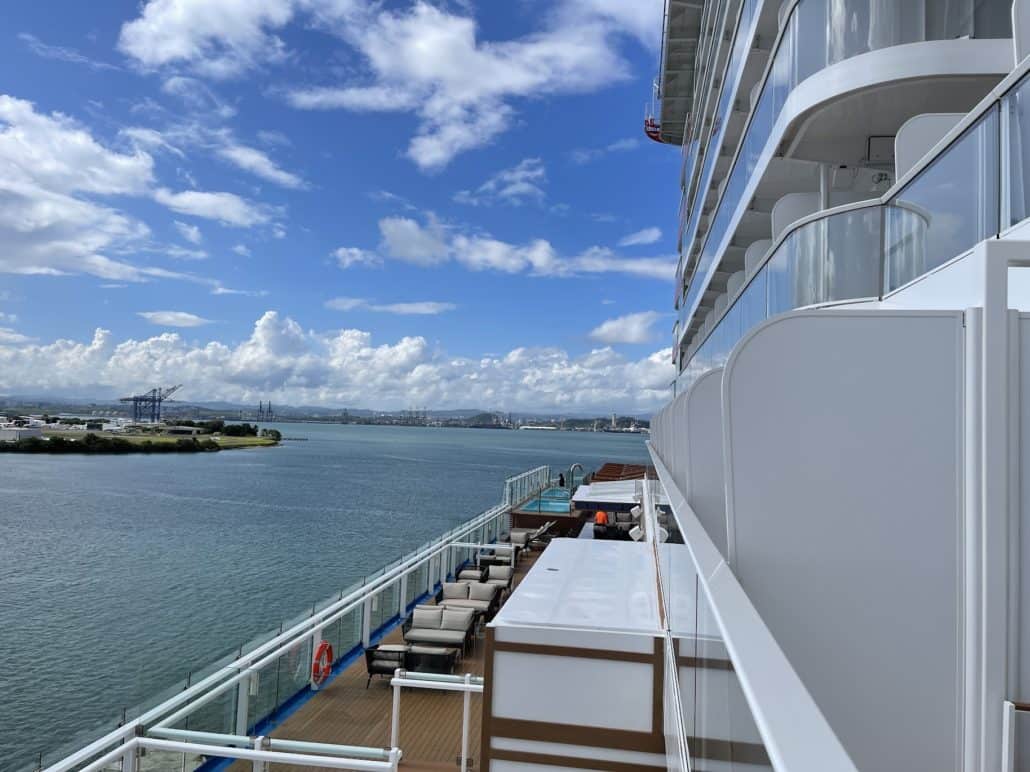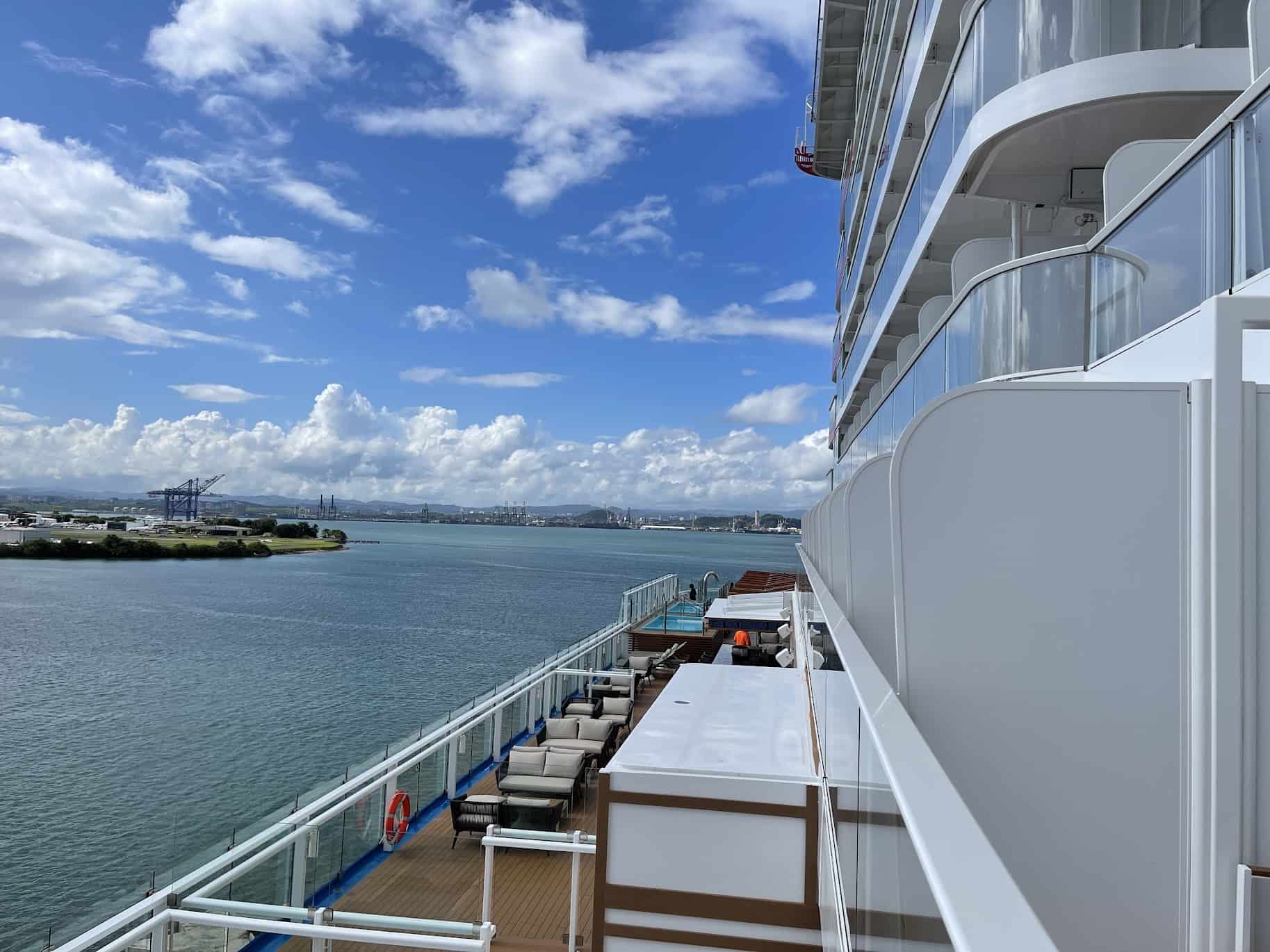 MORE: Carnival's Mardi Gras: Exploring Summer Landing
The Havana Retreat, Serenity, and Loft 19
In recent years, most cruise lines have developed some form of private retreat which can only be accessed by those either staying in a certain class of stateroom or willing to pay a premium for the privilege. Interestingly, Mardi Gras has three different areas with restricted access.
The least restricted area is the Serenity sundeck, which can be accessed by any passengers over the age of 21. Then there is the Havana Retreat, originally introduced on the Vista-class ships, which is only available to guests who are staying in one of the Havana staterooms.
Finally, there is Loft 19, a high-end area designed for those staying in the new-to-Mardi Gras Excel Suites.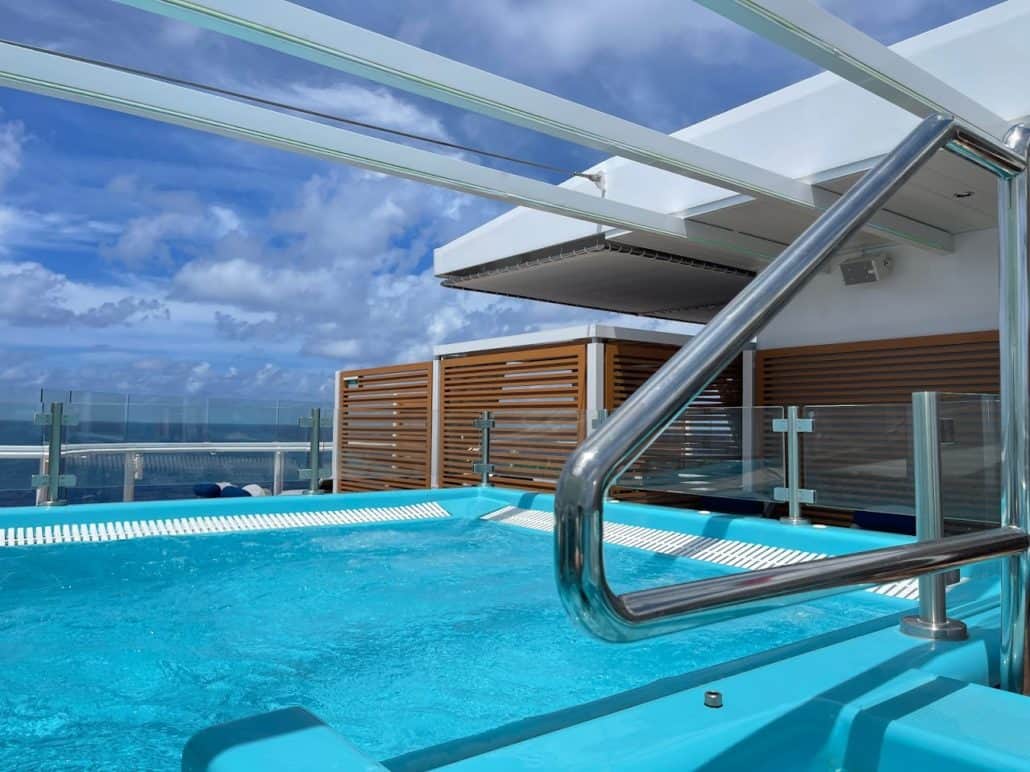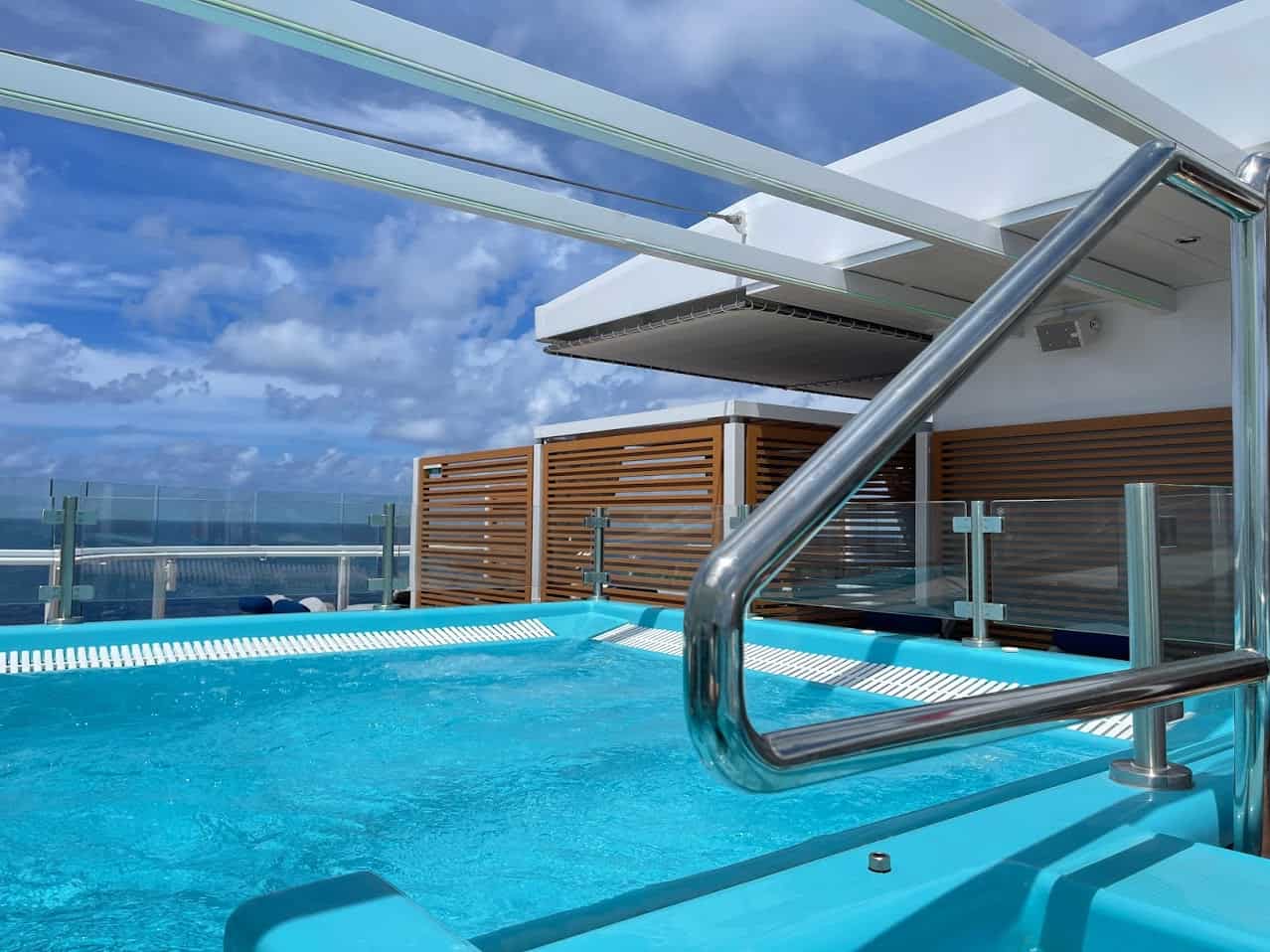 There are some interesting dynamics at play here. While Loft 19 is clearly meant to be the most exclusive area on the ship, any passenger willing to pay for access — and it ain't cheap — can do so. The same cannot be said, however, for the Havana Retreat.
Also, while Serenity technically offers the "lowest" level of exclusivity, it is the only one of the three to feature an actual pool. (Both Loft 19 and the Havana offer large hot tubs, but neither could really be considered a true pool.)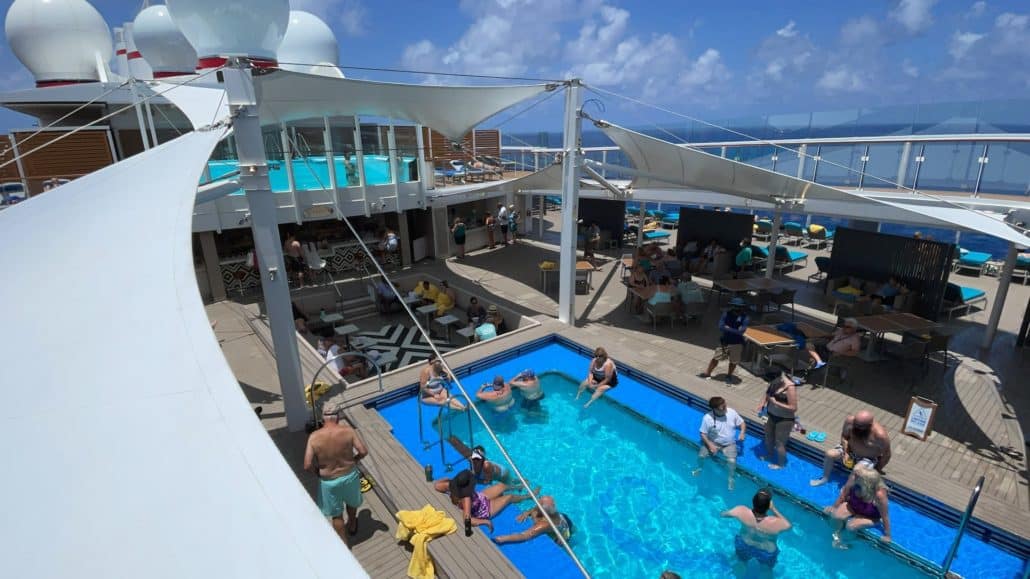 Likewise, while Loft 19 features drink service, it does not actually have its own bar, as both of the other areas do.
While the Havana Retreat area offers a wide variety of seating and a very nice bar, it's worth noting that it is a much smaller space than can be found on the Vista-class ships.
Also, while the Havana Retreat on those ships is aft-facing and offers killer views, on Mardi Gras the Havana Retreat actually runs along the side of the ship.
Loft 19 is an incredible area offering some of the most comfortable seating found anywhere on the ship. Guests can also rent a cabana here, but doing so will set you back $500 a day or $2,000 for a week (as of September 2021).
While any guest willing to pay can rent one of the cabanas, priority is given to those staying in the Excel Suites.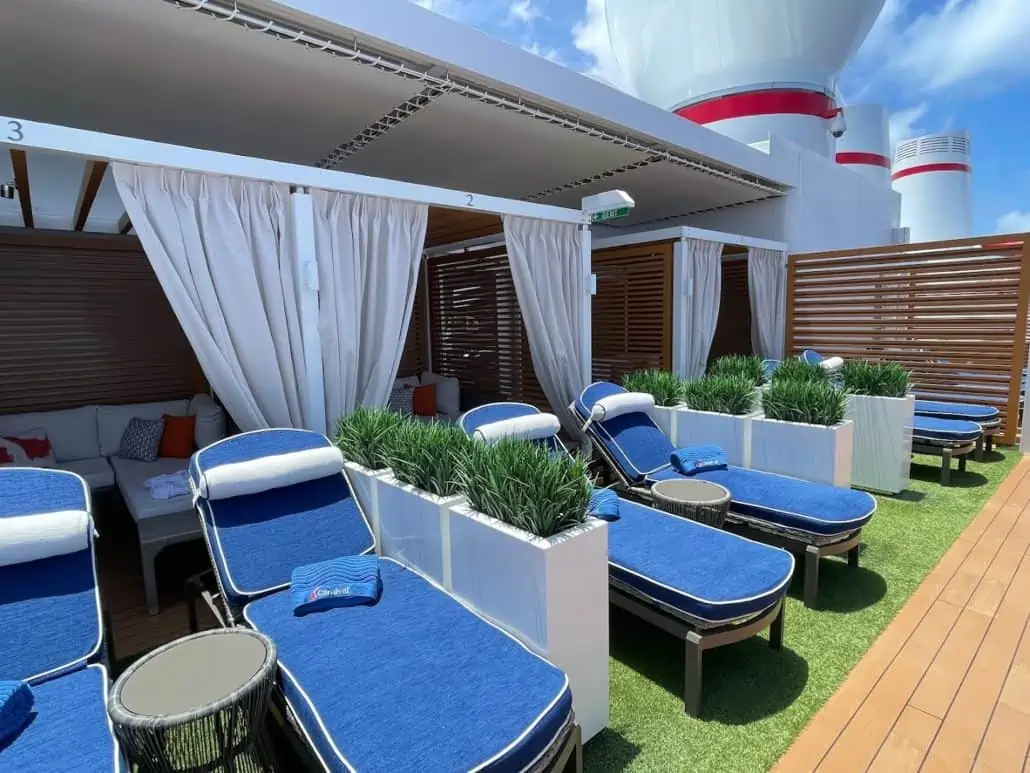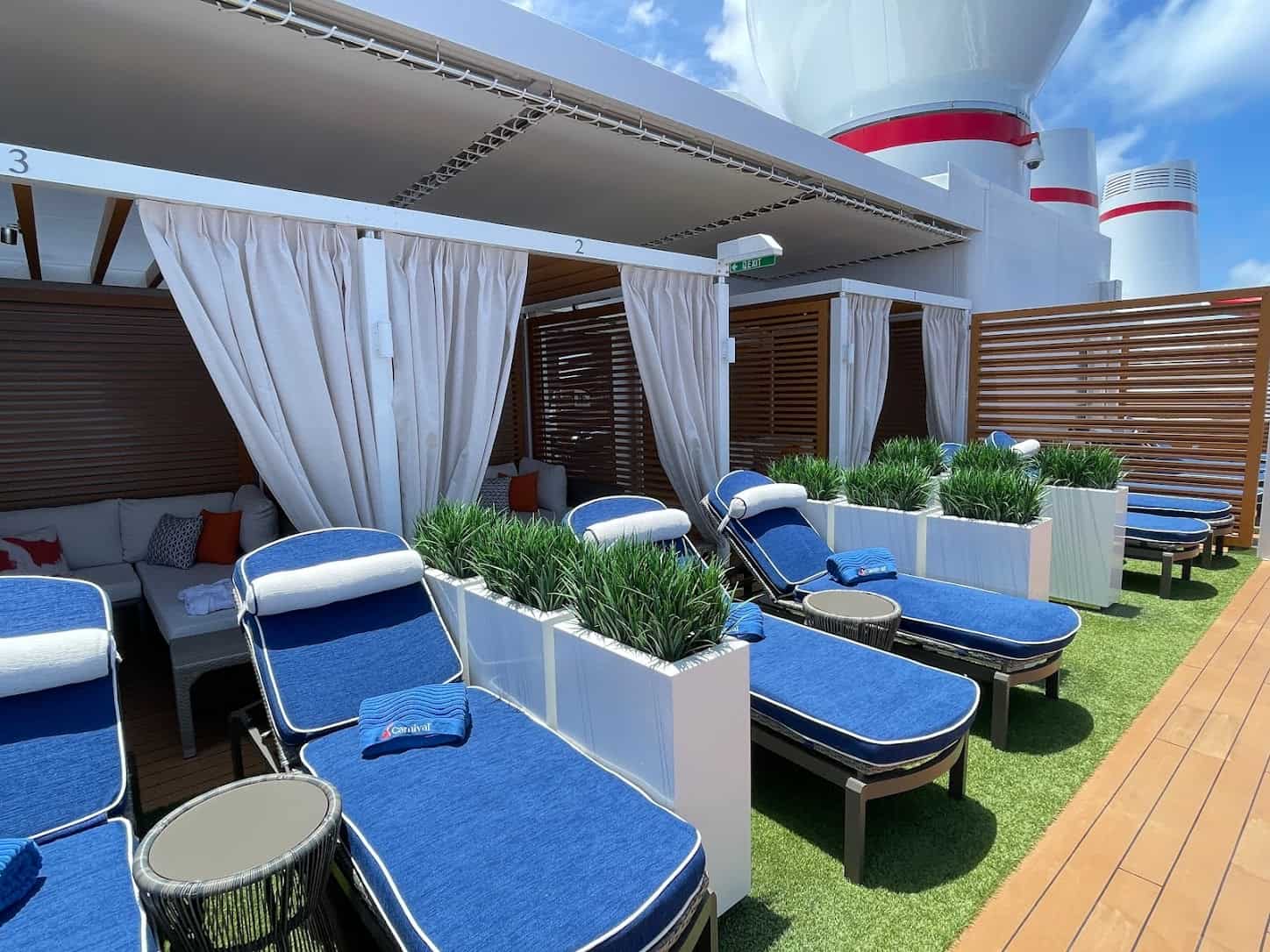 MORE: A Picky Eater's Guide to Dining on Carnival's Mardi Gras
More Food Options Than Ever
There aren't just a wide variety of restaurants on Mardi Gras, there are more than you could possibly experience during a week-long sailing.
What's particularly nice is that while there are a slew of dining options — some of which are new, some of which are past favorites — a surprising number of them are free.
Carnival has always done a nice job of balancing complimentary venues (such as Guy's Burger Joint) with for-fee specialty restaurants (like the steakhouse).
But it's honestly almost shocking how many of the new-to-Carnival venues found on Mardi Gras do not come with an added fee. Standouts among those include the Shaquille O'Neal-fronted Big Chicken (think Guy's Burger Joint but with poultry) and the aforementioned Street Eats, which is a truly unique concept that's very well executed.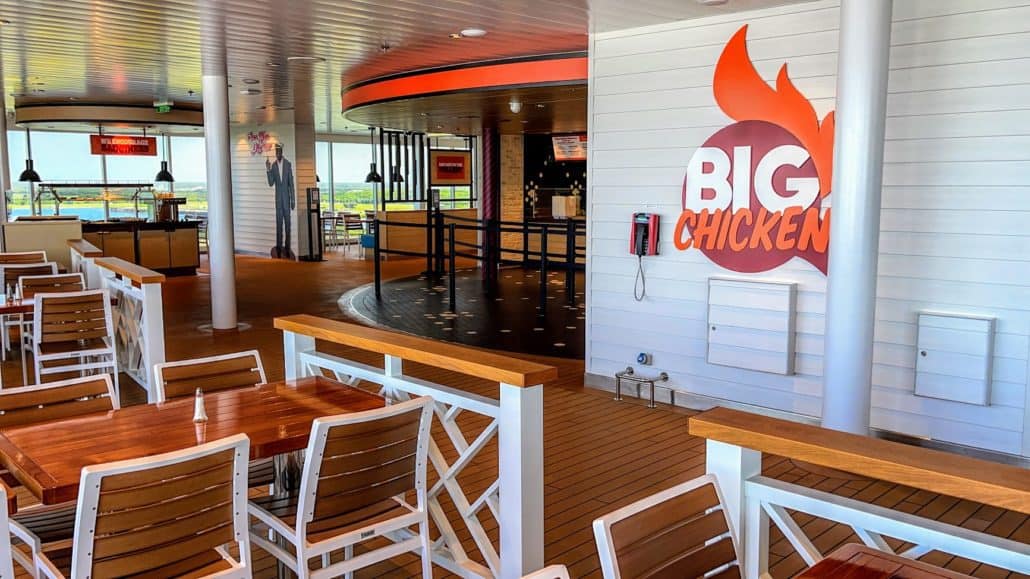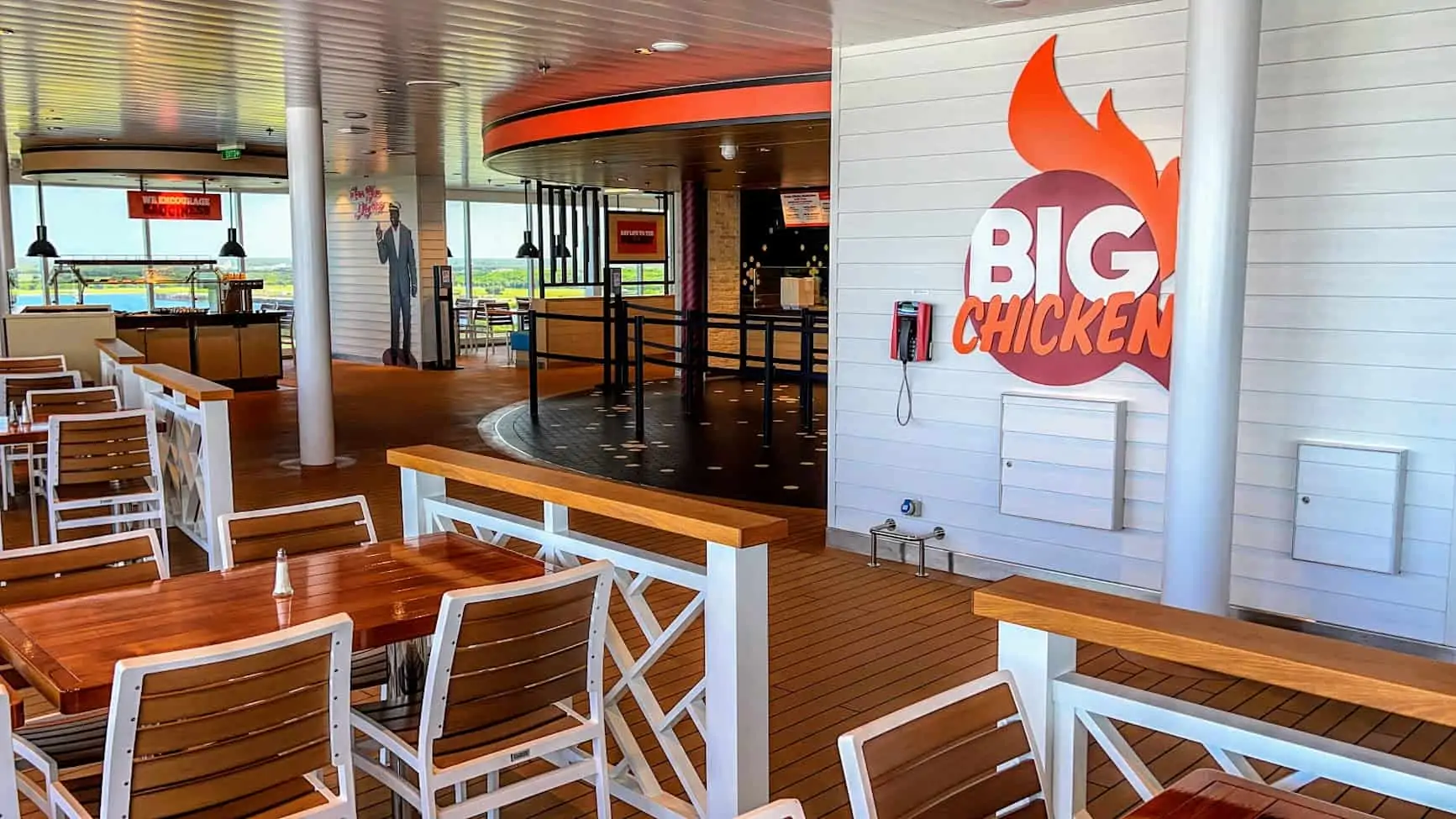 It's worth noting that as of this writing, both Chibang! (the new Chinese/Mexican sit-down restaurant) and Guy's Pig & Anchor Smokehouse | Brewhouse are complimentary. This is particularly noteworthy as the latter is extremely popular as a for-fee venue on several other Carnival ships.
In the for-fee category, perhaps the most buzzed-about venue is Emeril's Bistro 1396, offering a variety of small plates that are well-prepared and reasonably-priced.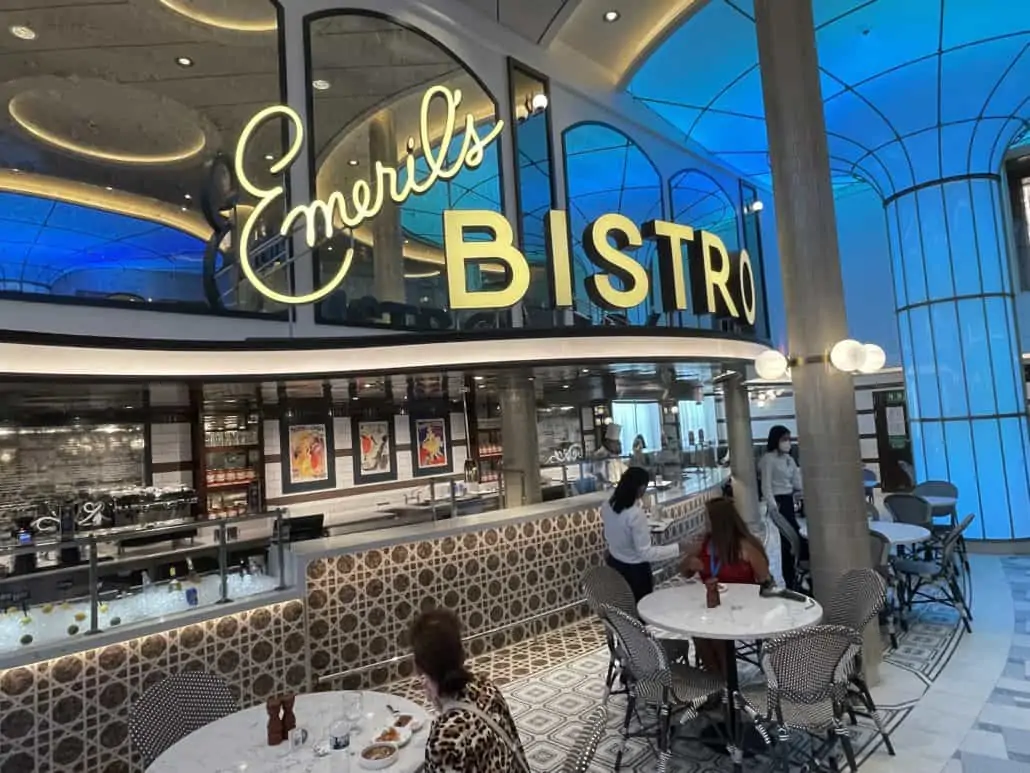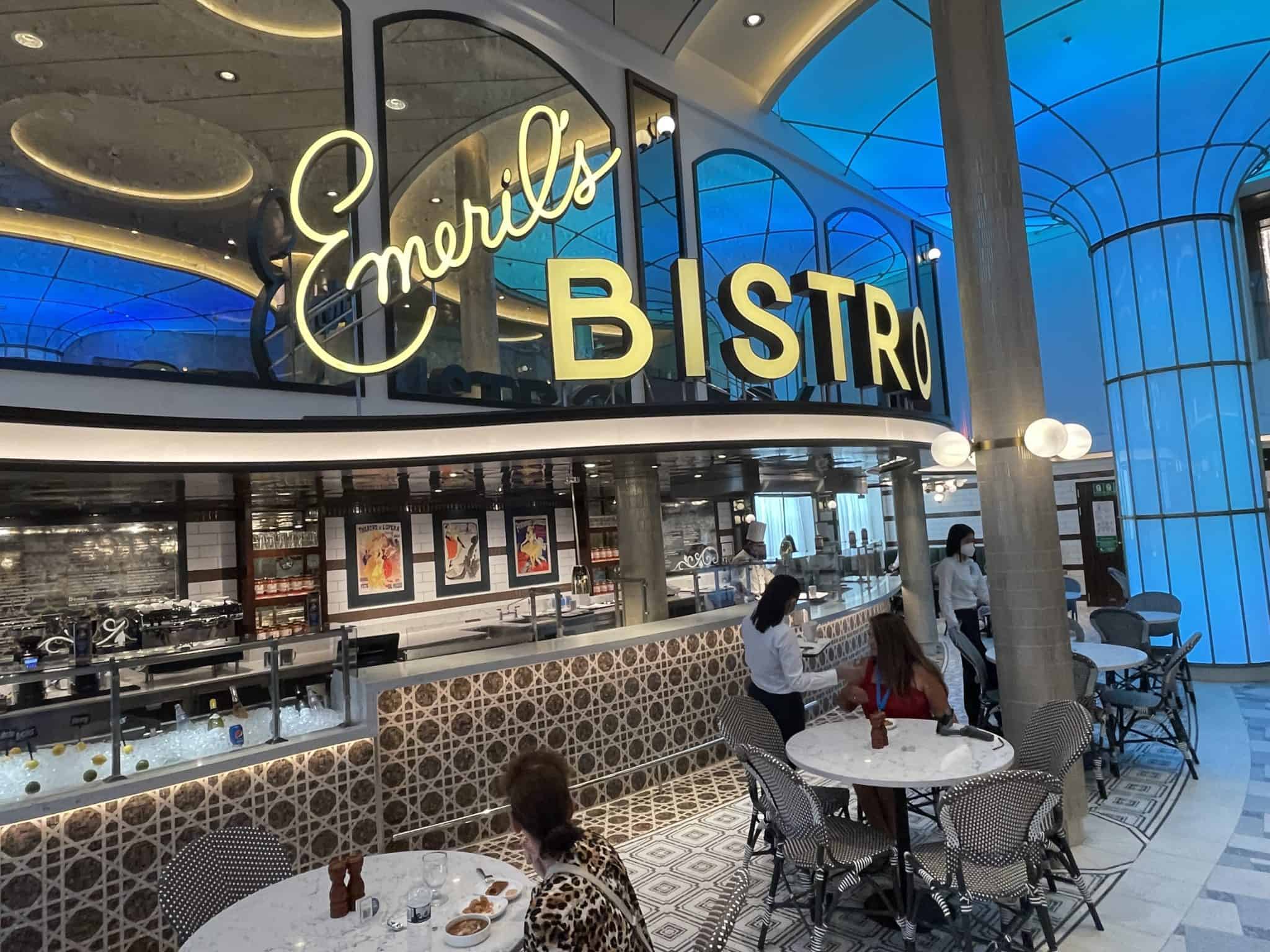 The other new-to-Carnival celebrity collaboration is Rudi Sodamin's restaurant, Rudi's Seagrill, which, for $38 per guest, offers a fantastic meal that's priced low enough to make it popular and, as a result, a tough reservation to snag.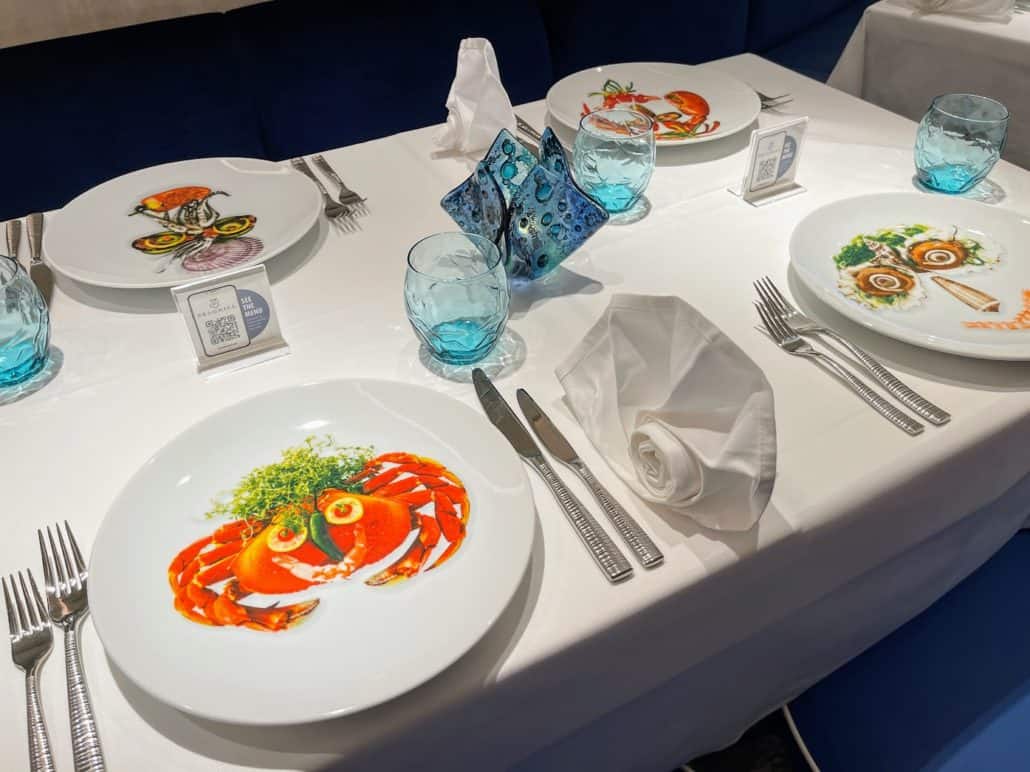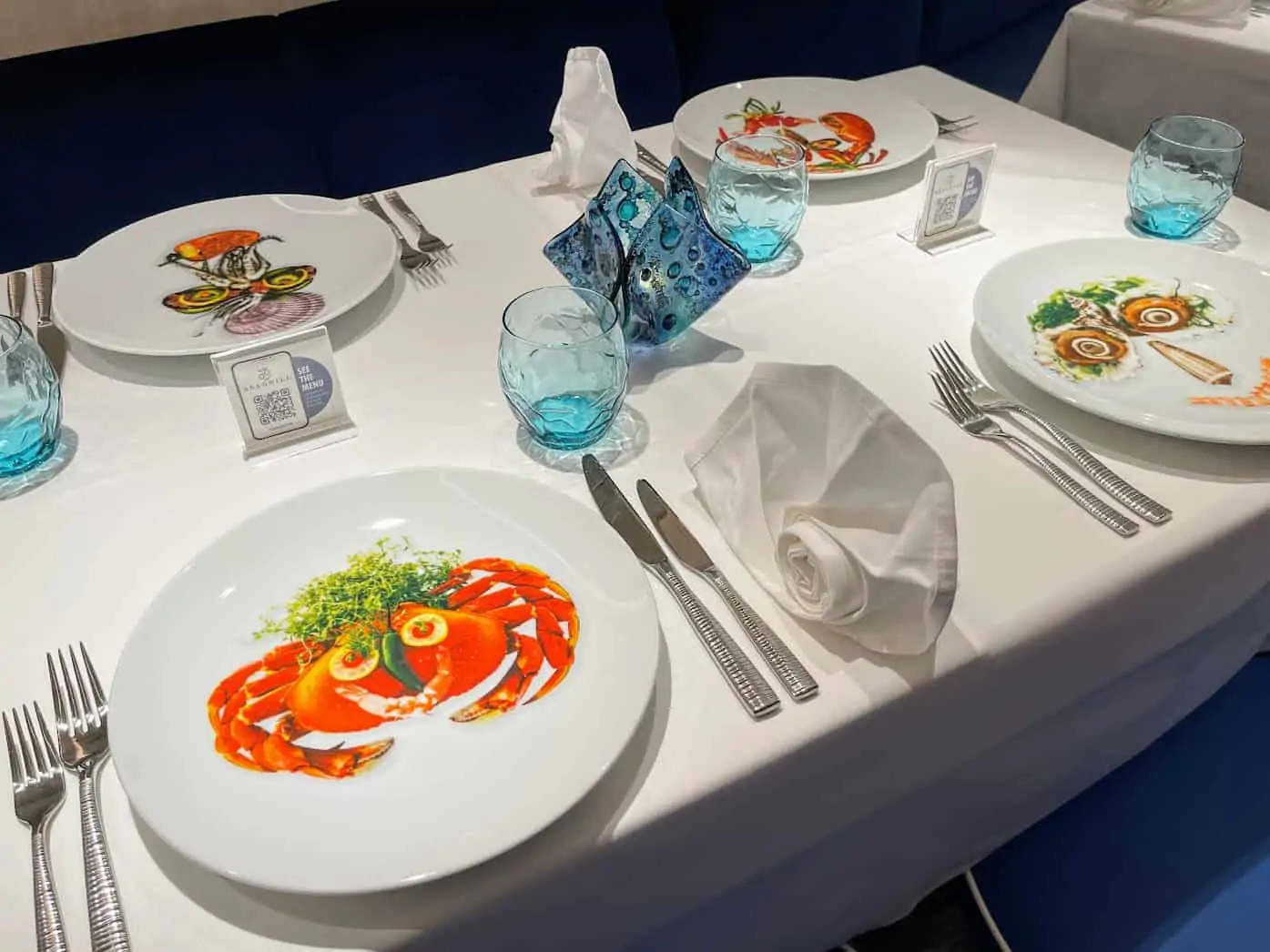 It's worth noting that despite there being so many food options — not to mention the two main dining rooms — it can be difficult to snag a table at one's first choice of restaurant, especially during prime dining hours.
Even when sailing at reduced capacity, reservations for venues such as Rudi's Seagrill and Bonsai Teppanyaki are snapped up quickly. If you have your heart set on a particular venue, make sure to secure a reservation as soon as possible once you've boarded.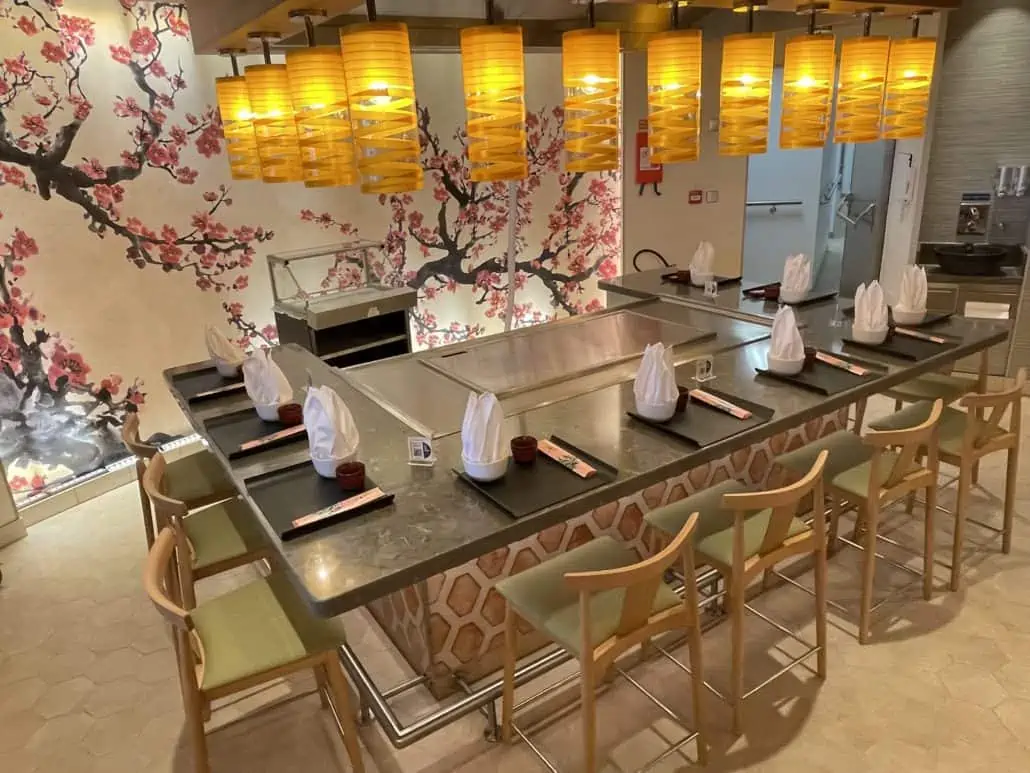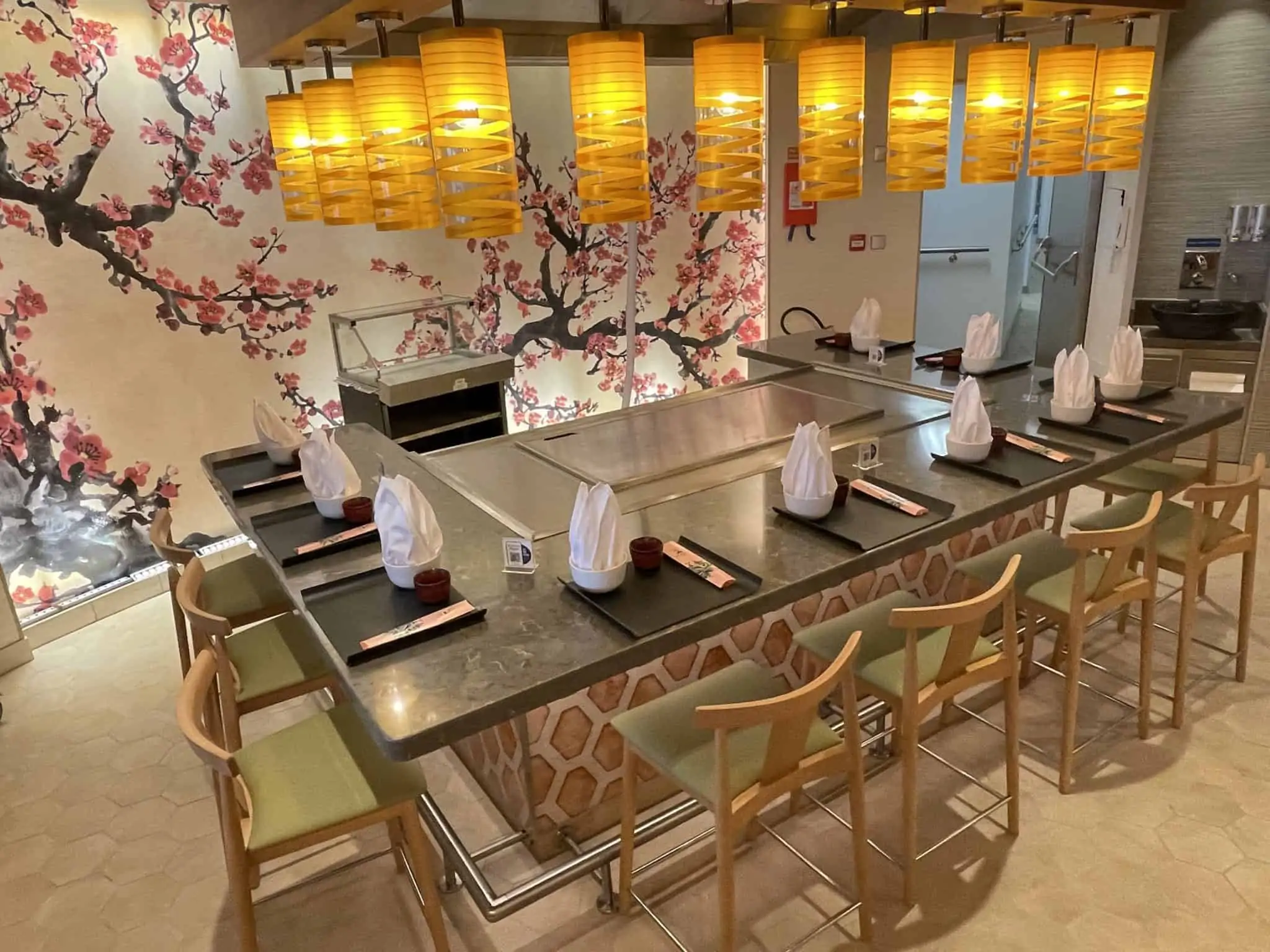 MORE: Review: Rudi's Seagrill Restaurant on Carnival's Mardi Gras
That's Entertainment
While shows are nothing new where Carnival is concerned, the sheer number of productions offered on Mardi Gras is somewhat astounding. Between those offered in the Mardi Gras Theater and the ones presented after dark in the atrium, it's practically impossible to take them all in.
As is to be expected with this many offerings, the quality varies. Voodoo Moon is among the best, a stunning Playlist Production featuring everything from haunting vocals and visuals to high-flying aerialists.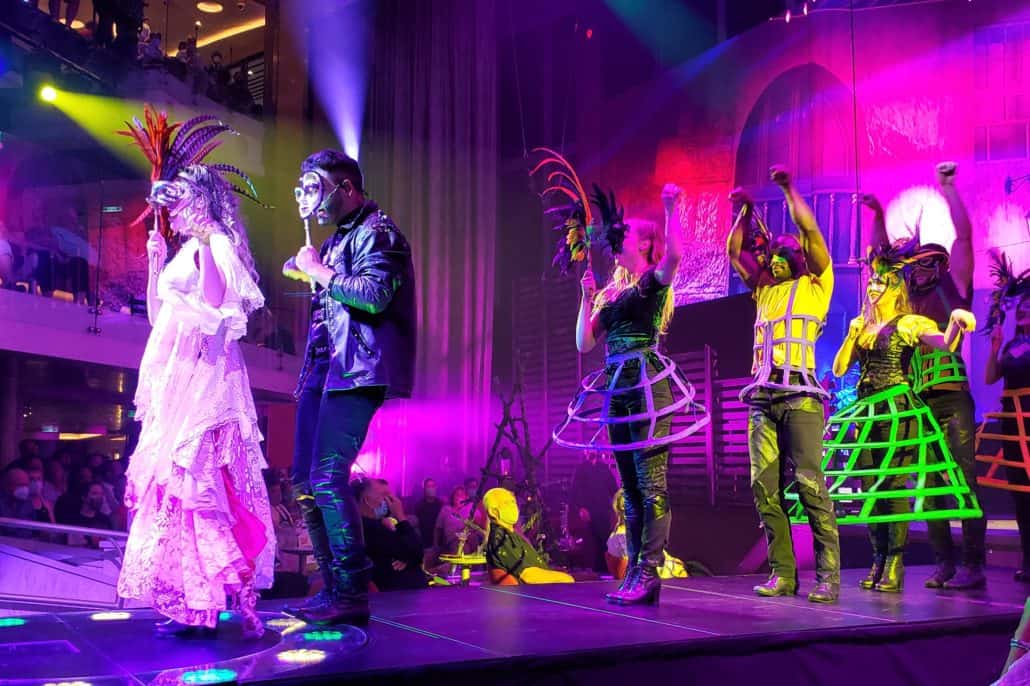 On the opposite end of the scale is Broadway Beats, a surprisingly lifeless tribute to New York City and plays such as Hamilton, Rent, and Hairspray. (How a show dedicated to the theater doesn't include something from Phantom of the Opera or Wicked is baffling).
There is also music around every corner, from jazz quartets at the Brass Magnolia to the always-popular piano bar.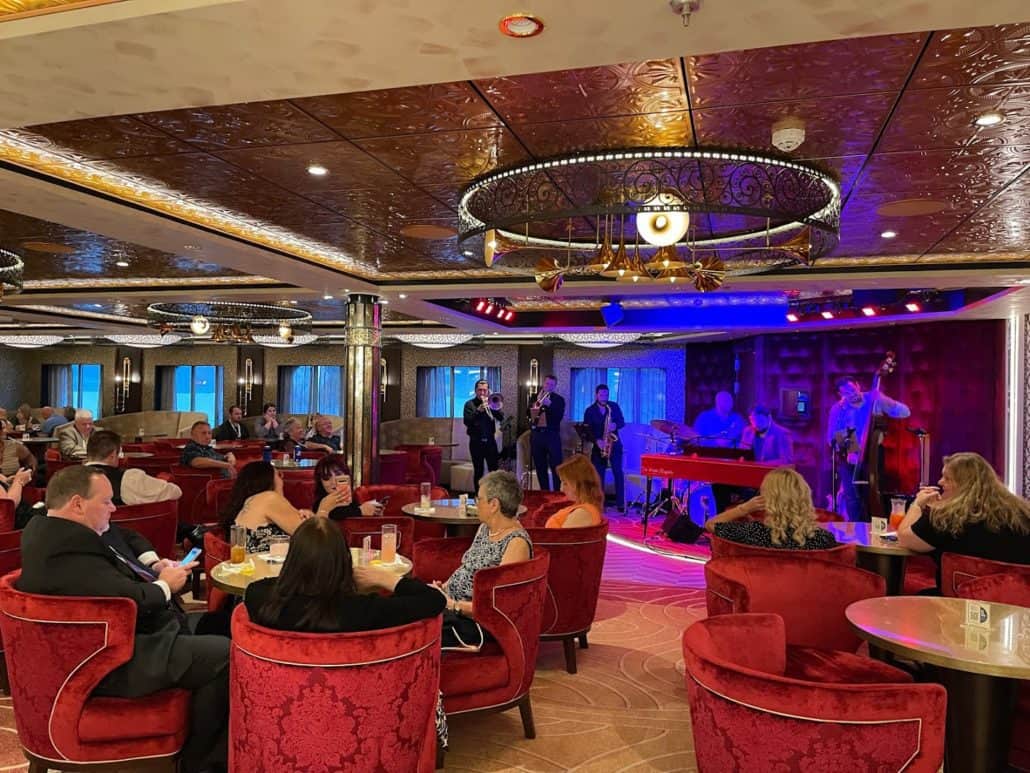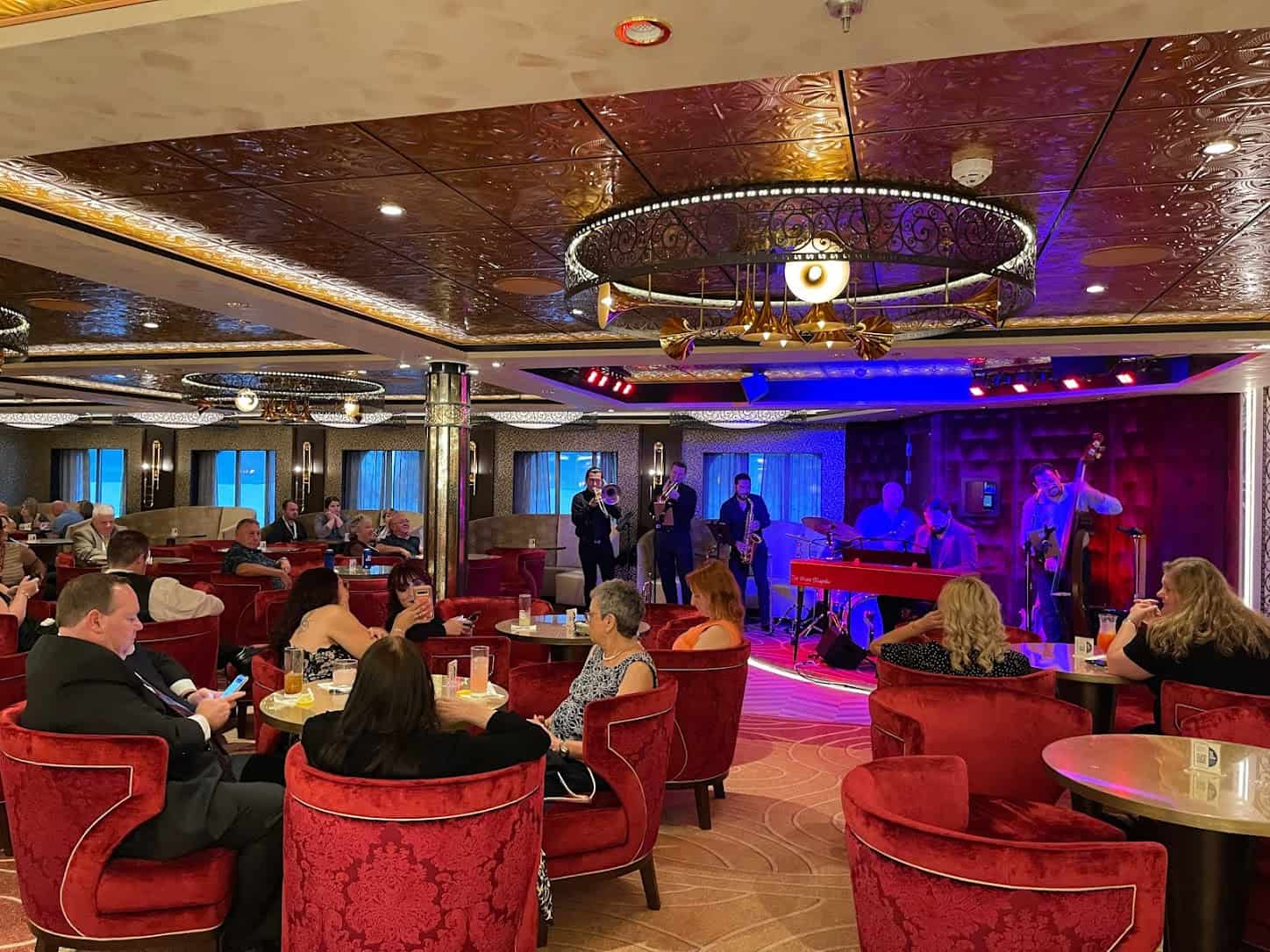 Unfortunately, with so many entertainment options, the largely open design — which allows one space to flow into another, particularly where the Grand Central and French Quarter zones are concerned — can cause a clashing of styles.
During one of the quieter moments in the gorgeous Celestial Strings program, the lively band rocking out at Brass Magnolia could clearly be heard.
On a similar note, the placing of a stage in the atrium has its good and bad points. During one evening's circus-themed musical, a loud (and clearly intoxicated) group at the atrium's bar definitely broke the mood for many around them.
And be warned that while the stadium seating is a fun idea, the first row might seem like a great place to perch but quickly turns into a bit of a nightmare thanks to the endless traffic which crosses directly in front of you.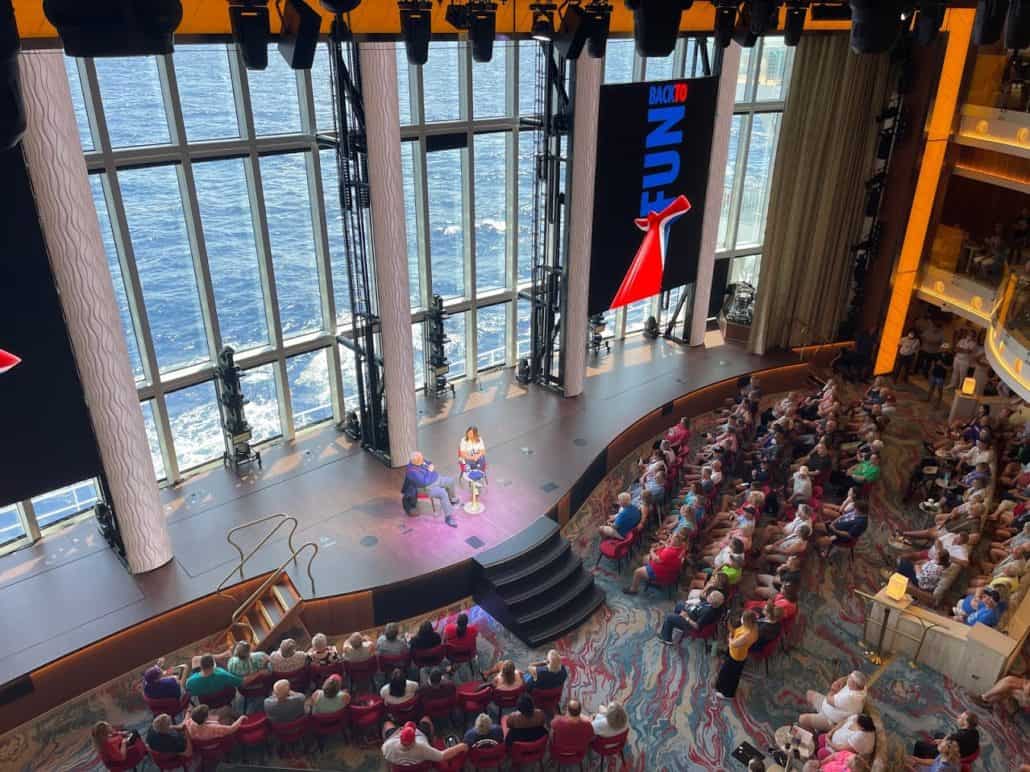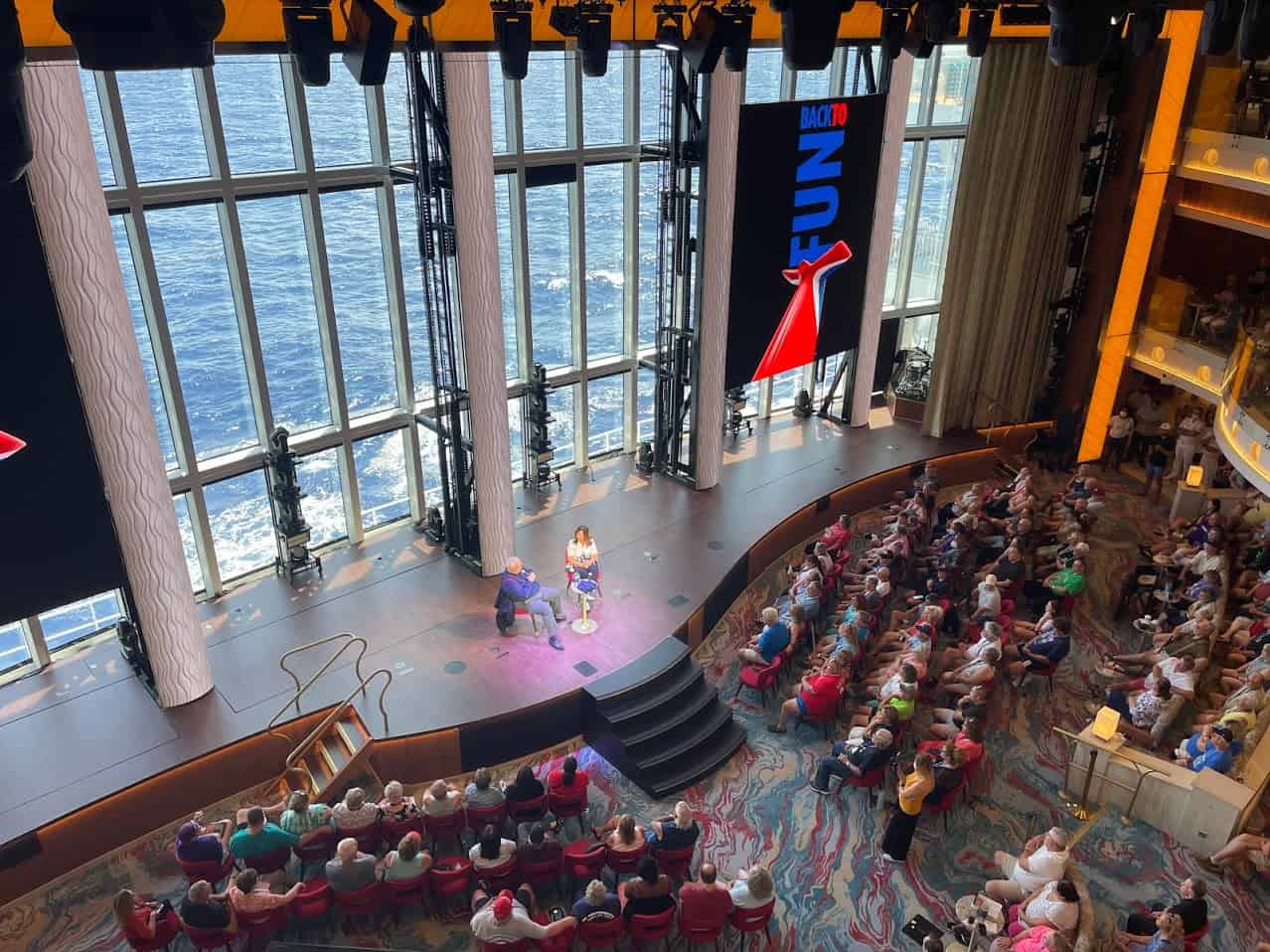 Is Carnival Mardi Gras the Promised Game-Changer?
There was a lot of buzz surrounding Mardi Gras, and it's safe to say that she lives up to most of it. The ship clearly represents an attempt by Carnival to step up its game in several regards.
They appear to be trying to have their cake ("We're the Fun Ships!") and eat it too ("But now with 32% more class!"), and for the most part, it works.
On a design level, the ship has a whole lot of wow factors going for it. Public spaces are bright, airy, and beautiful.
The French Quarter is, without doubt, one of the best-themed areas found on any ship we've experienced. And while BOLT may be a gimmick designed to get the attention of both first-time cruisers and the media, it's also one heck of a thrill ride.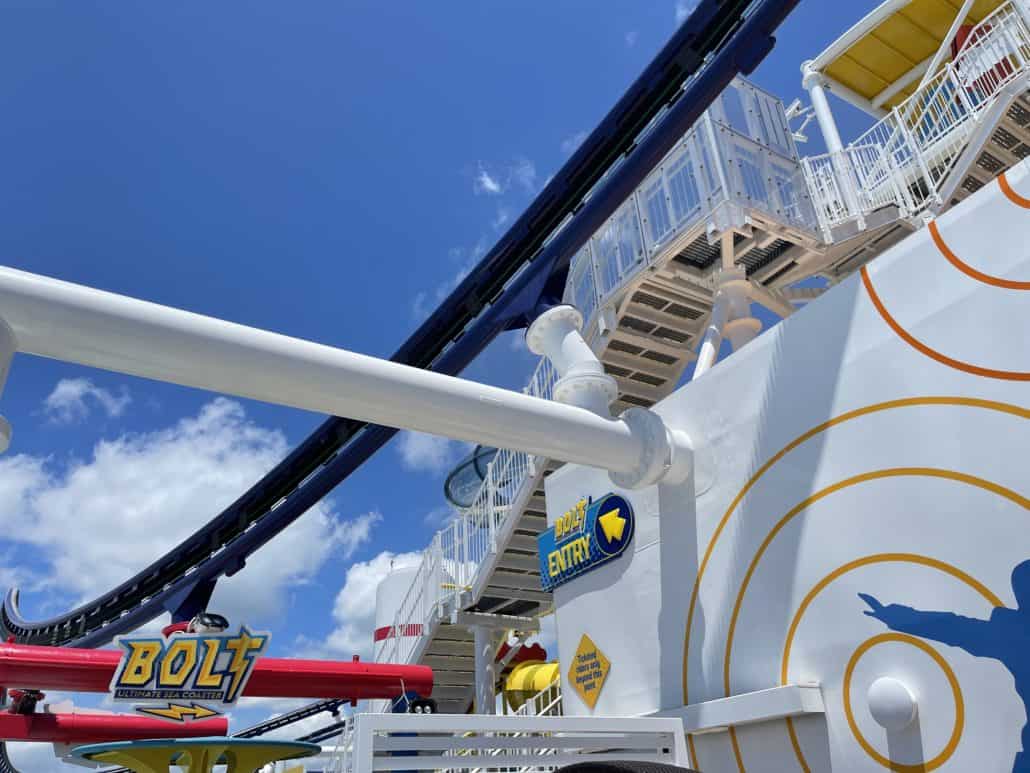 This is not a ship that will please everyone. Those who enjoy the more intimate experiences offered by smaller ships will obviously find this overwhelming. Heck, even several longtime cruisers we know have admitted that Mardi Gras is, in some ways, too much and that it certainly cannot be fully experienced in a single week's voyage.
After spending a week exploring the ship, we wound up, like many others we spoke with, both impressed with the ship and anxious to return and check out some of the experiences we simply weren't able to get to on one sailing.
Carnival Mardi Gras Ship Tour [VIDEO]
READ NEXT: 21 Things to Do on Carnival's Mardi Gras
Pin it!