When Carnival Cruise Line designed their newest, biggest ship, they decided to try something totally different for the line. Mardi Gras would have six distinct "zones": Grand Central, The French Quarter, La Piazza, Summer Landing, Lido and The Ultimate Playground.
Each would feature restaurants, bars, attractions and decor based around a particular theme.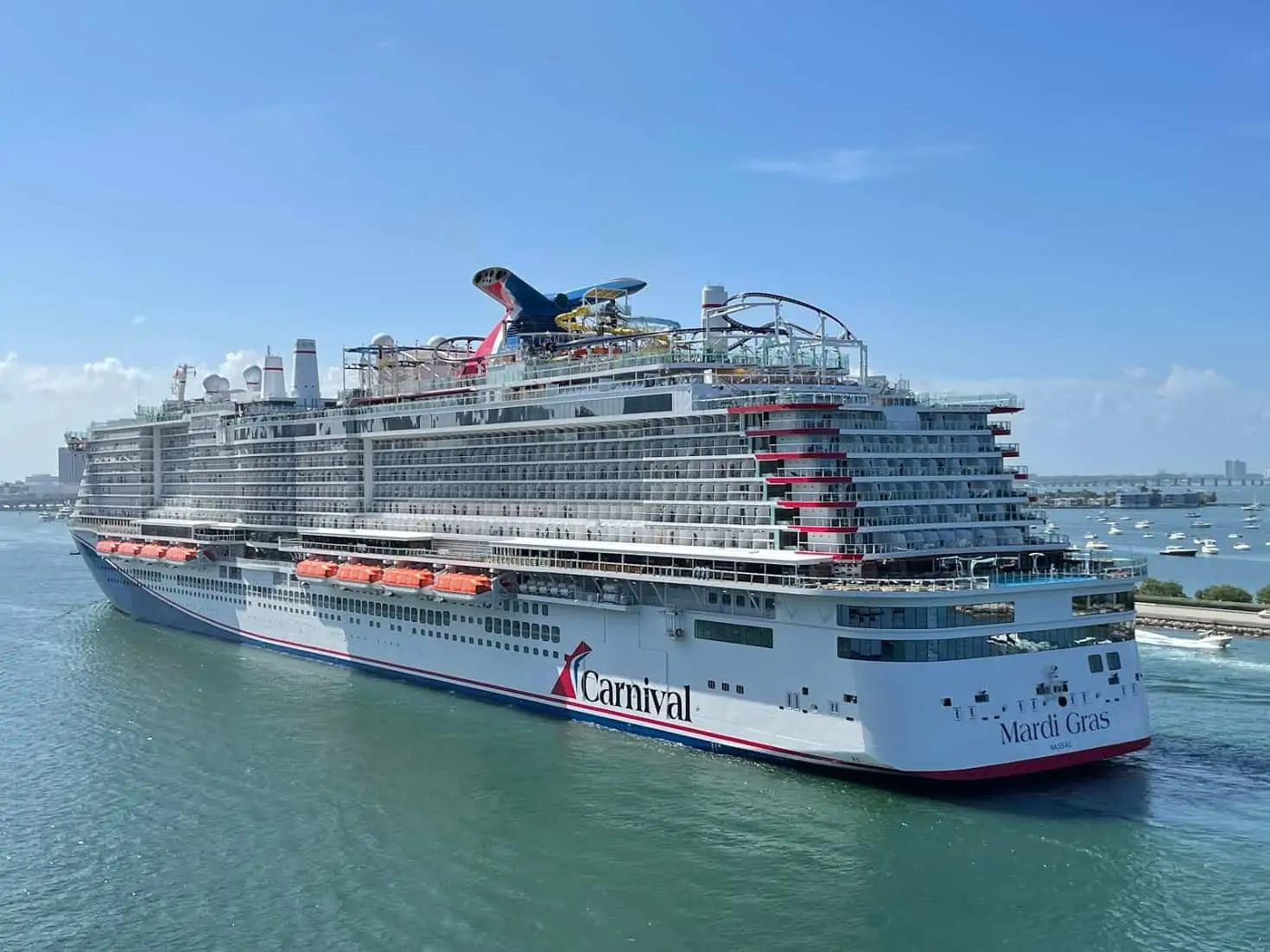 In this article, we're going to focus on Summer Landing, found on the aft section of deck 8 and described by Carnival as "the greatest chill spot at sea."
Along with a slew of comfortable seating overlooking the wake, there are several venues located both inside and out, including Guy's Pig & Anchor Smokehouse/Brewhouse, the Heroes Tribute Lounge and The Watering Hole.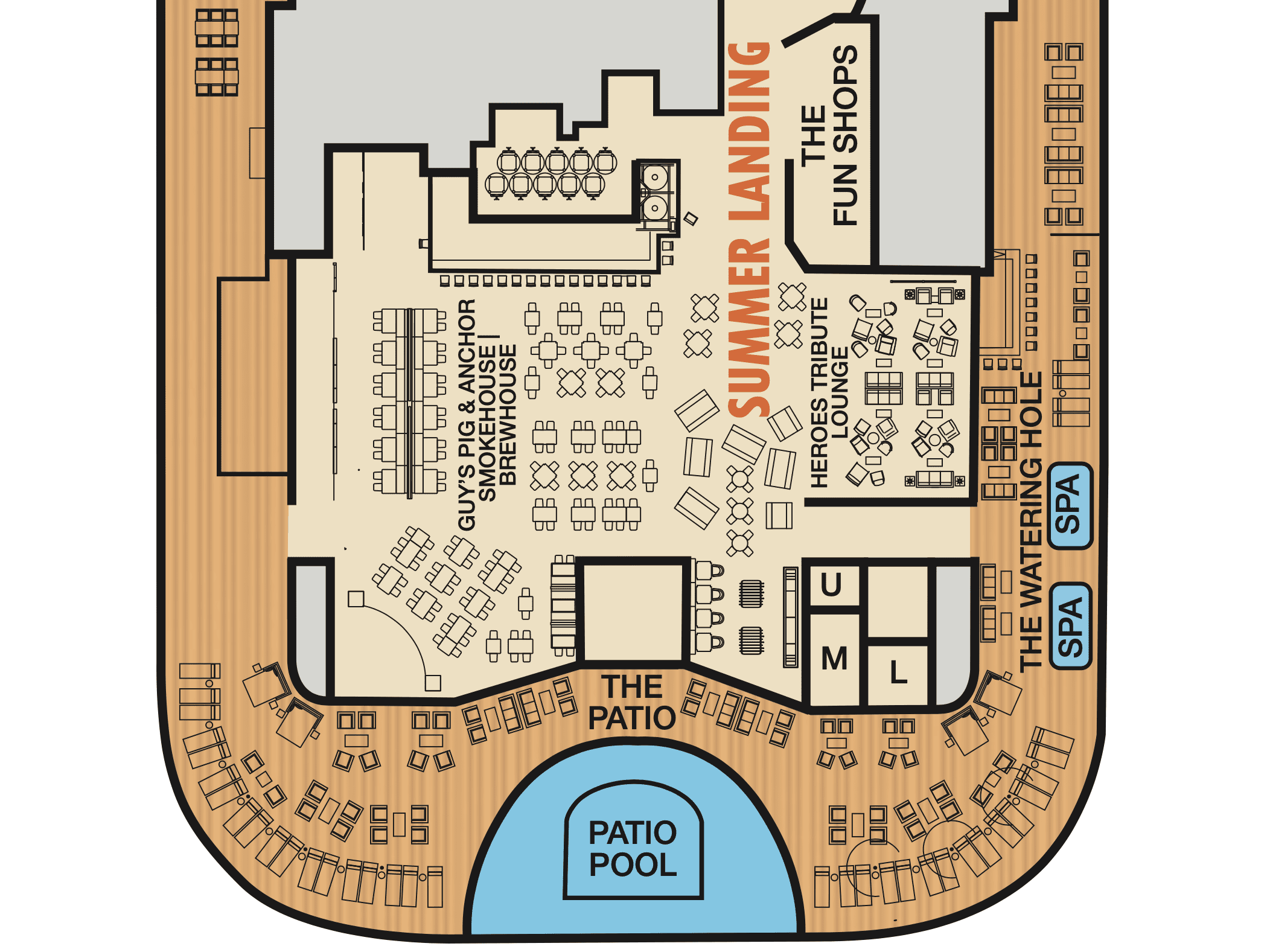 Heroes Tribute Lounge
First introduced on Carnival Panorama, this space is designed to honor both past and present veterans. The space offers comfy couches, big-screen televisions, a Swirls ice cream station, and military memorabilia.
It's a very nice spot to relax, meet up with friends, and watch some sports. The lounge features a special Heroes Tribute bar menu and souvenir pint glasses.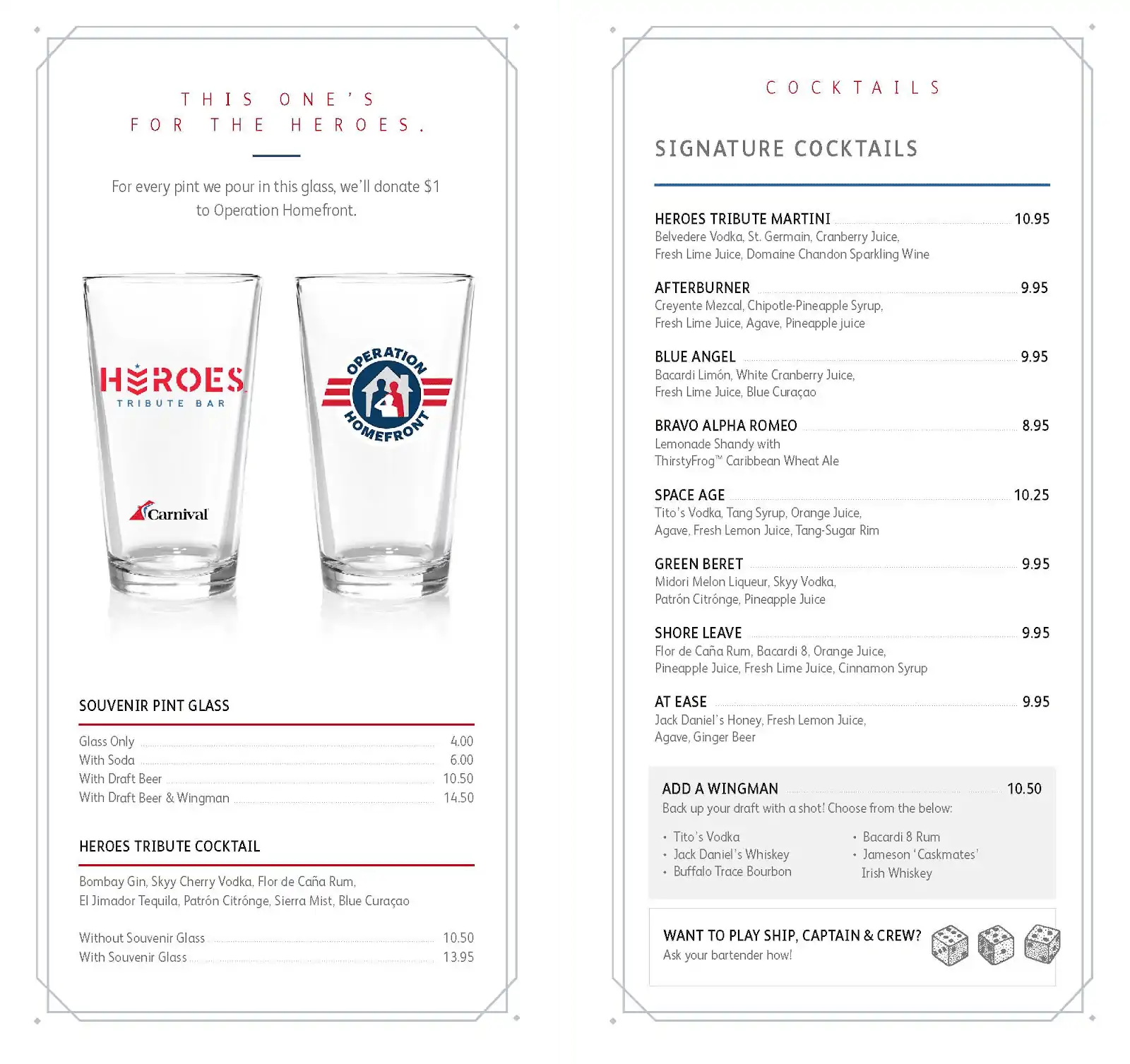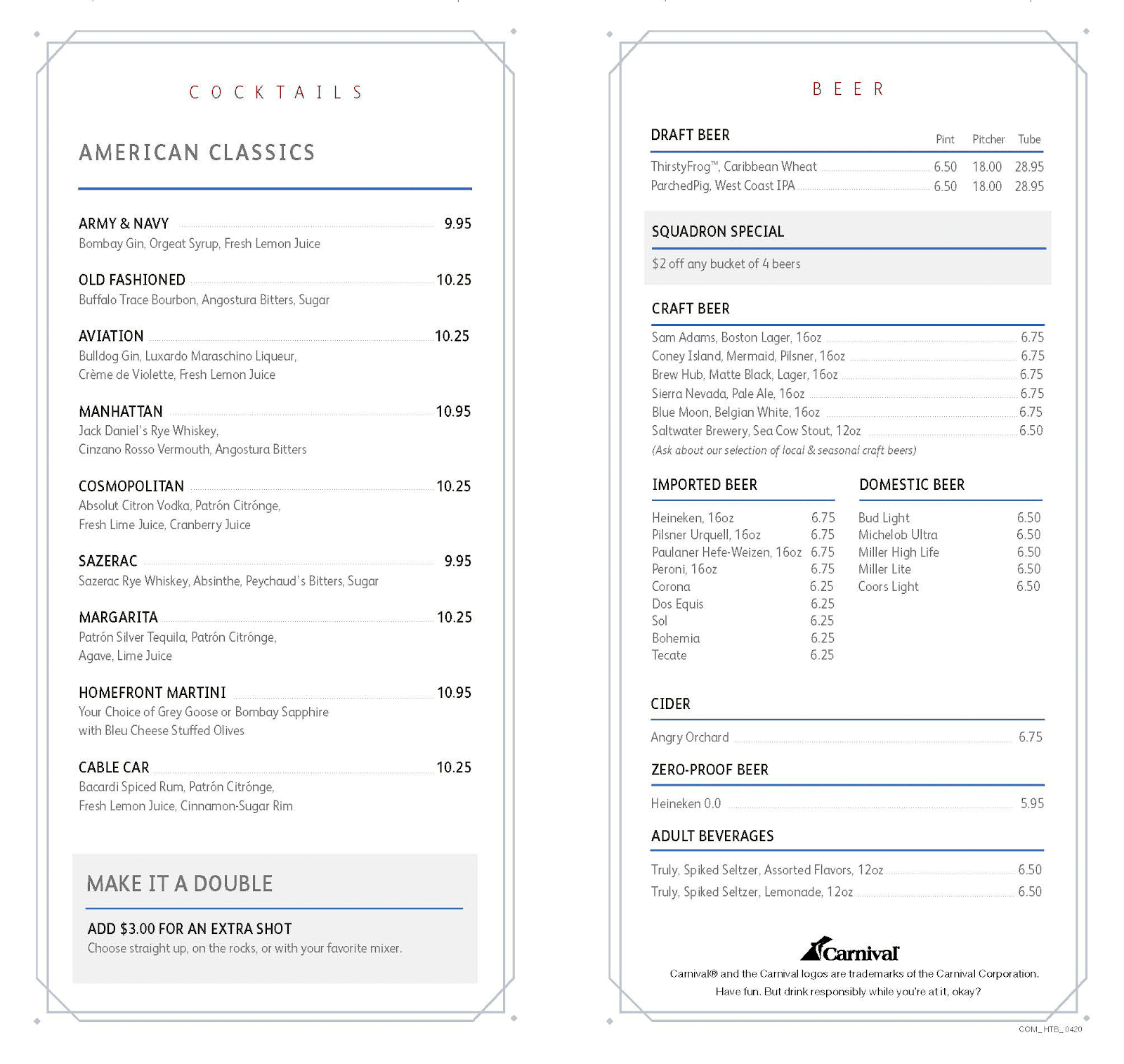 The lounge doesn't have its own bar, but it's just a short walk over to the Pig & Anchor Brewhouse to order from this menu. For every drink purchased with the Heroes Tribute pint glass, Carnival donates $1 to Operation Homefront, a non-profit that supports military families.
It was cool to see this area utilized by both military personnel and those who appreciate their service during the course of our sailing.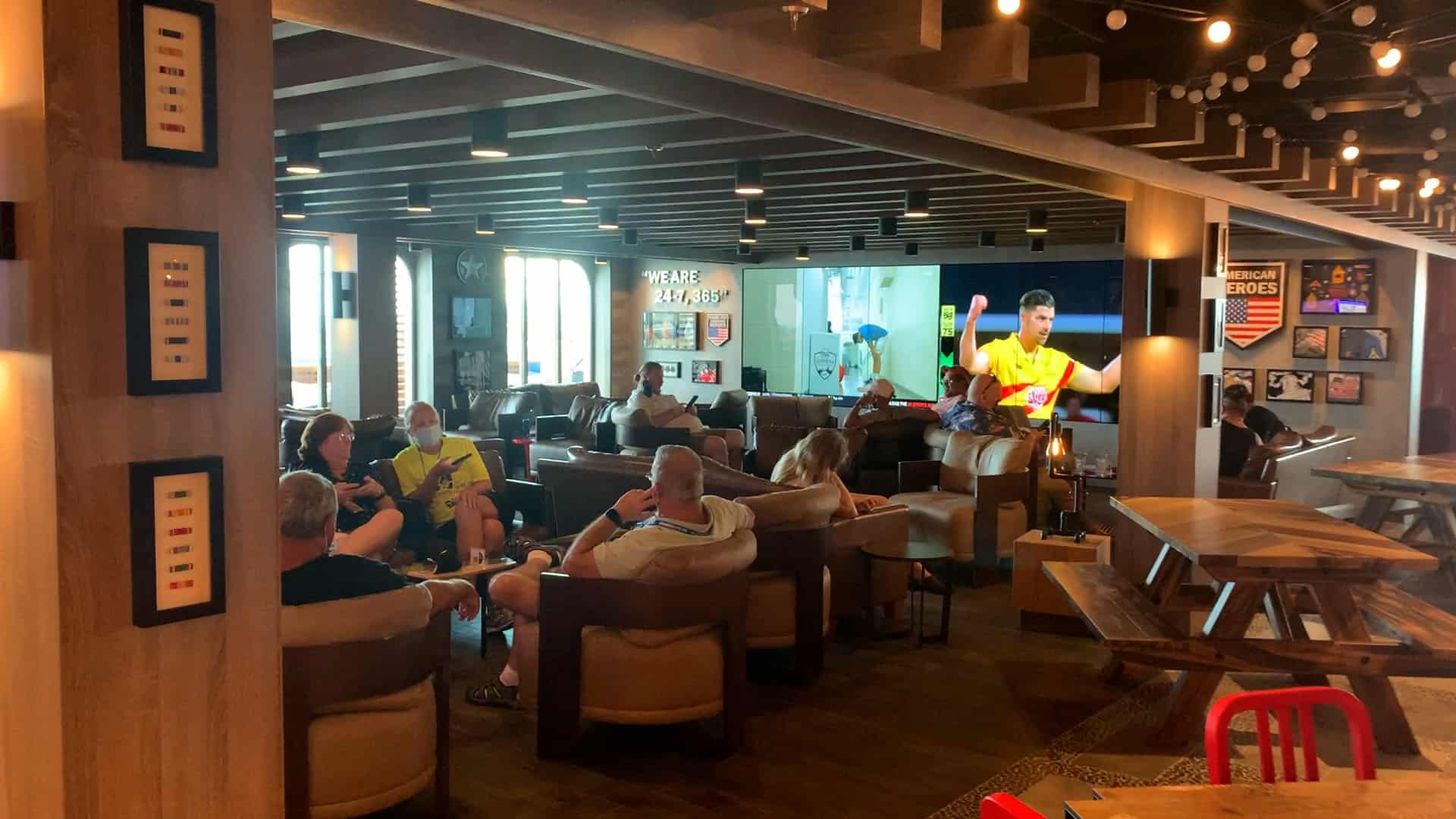 Mardi Gras Dining Guide: Which Restaurants Are Complimentary?
Guy's Pig & Anchor Smokehouse|Brewhouse
Ever since being introduced on Carnival Horizon, this restaurant — part of the line's ongoing relationship with celebrity chef Guy Fieri — has proven incredibly popular. With bands performing at night and a BBQ-centric menu being served at both lunch and dinner time, it's no wonder Guy's has been given such prominent placement on Mardi Gras. 
Guy's Pig & Anchor Smokehouse has been expanded and now offers a complete dinner menu, which (subject to change) is currently a complimentary dining option aboard this particular ship.
The dinner menu features a variety of barbeque meats, one featured entrée each night, tasty sides, and a few delicious desserts. It's also the only restaurant onboard where you can order all of the Parched Pig beer varieties.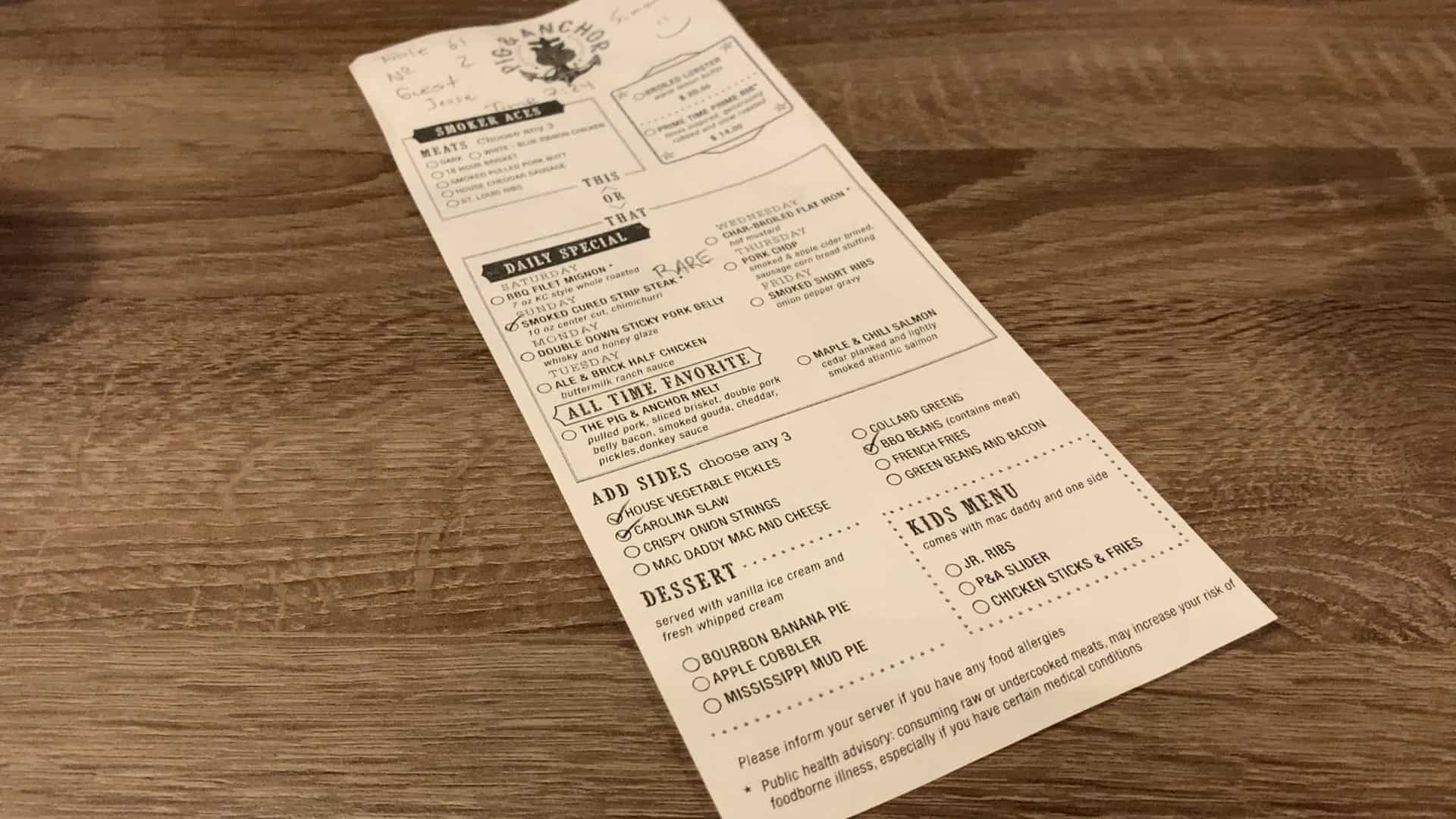 Ordering is really easy because diners are given a paper menu on which t0 mark off exactly what they want. I tried the Smoked Strip Steak (which I highly recommend) and Pork Belly when I was on board.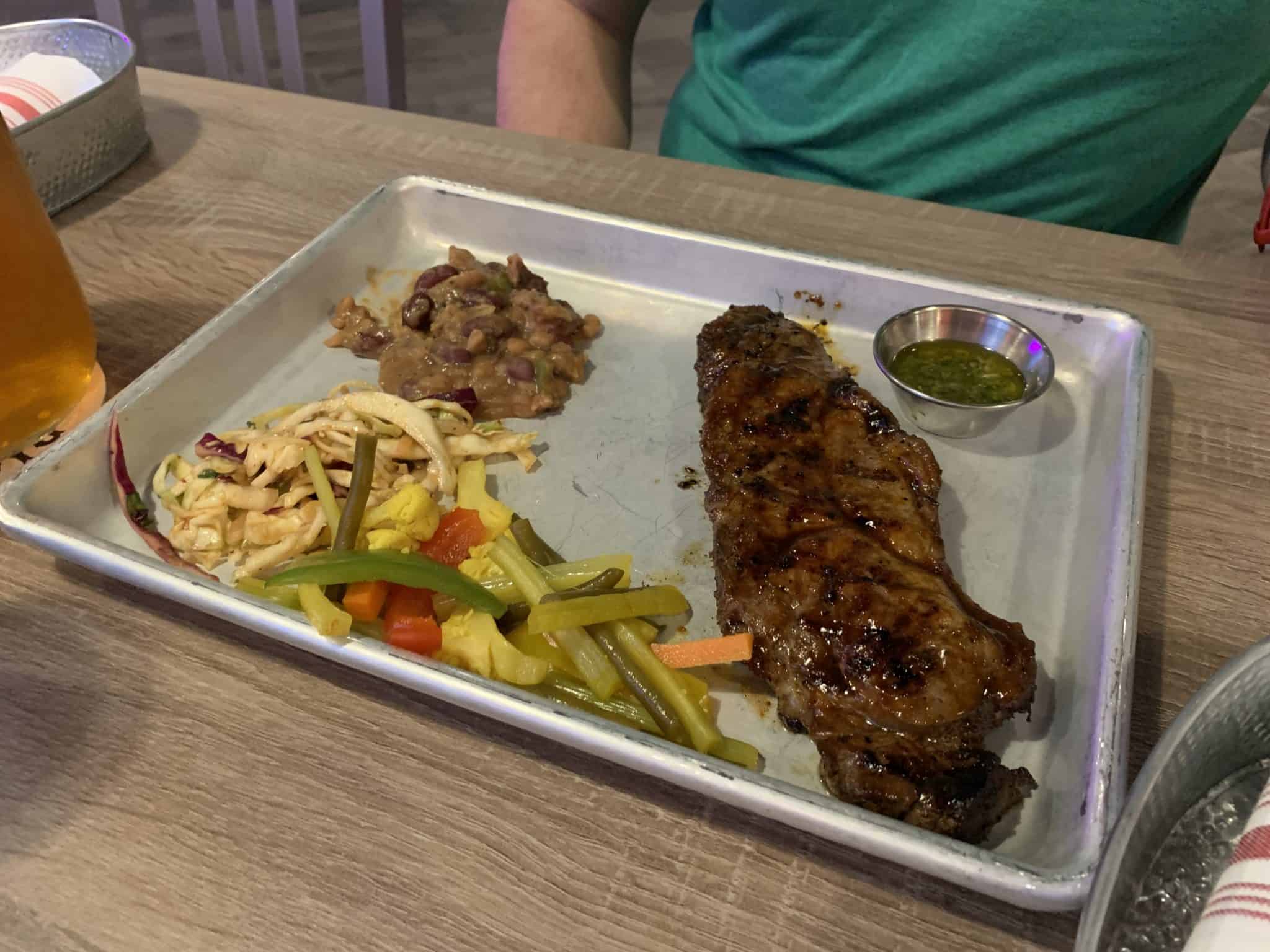 I also highly recommend the Mississippi Mud Pie for dessert — it's just as good as Carnival's popular Warm Melting Cake except it's cold instead of hot.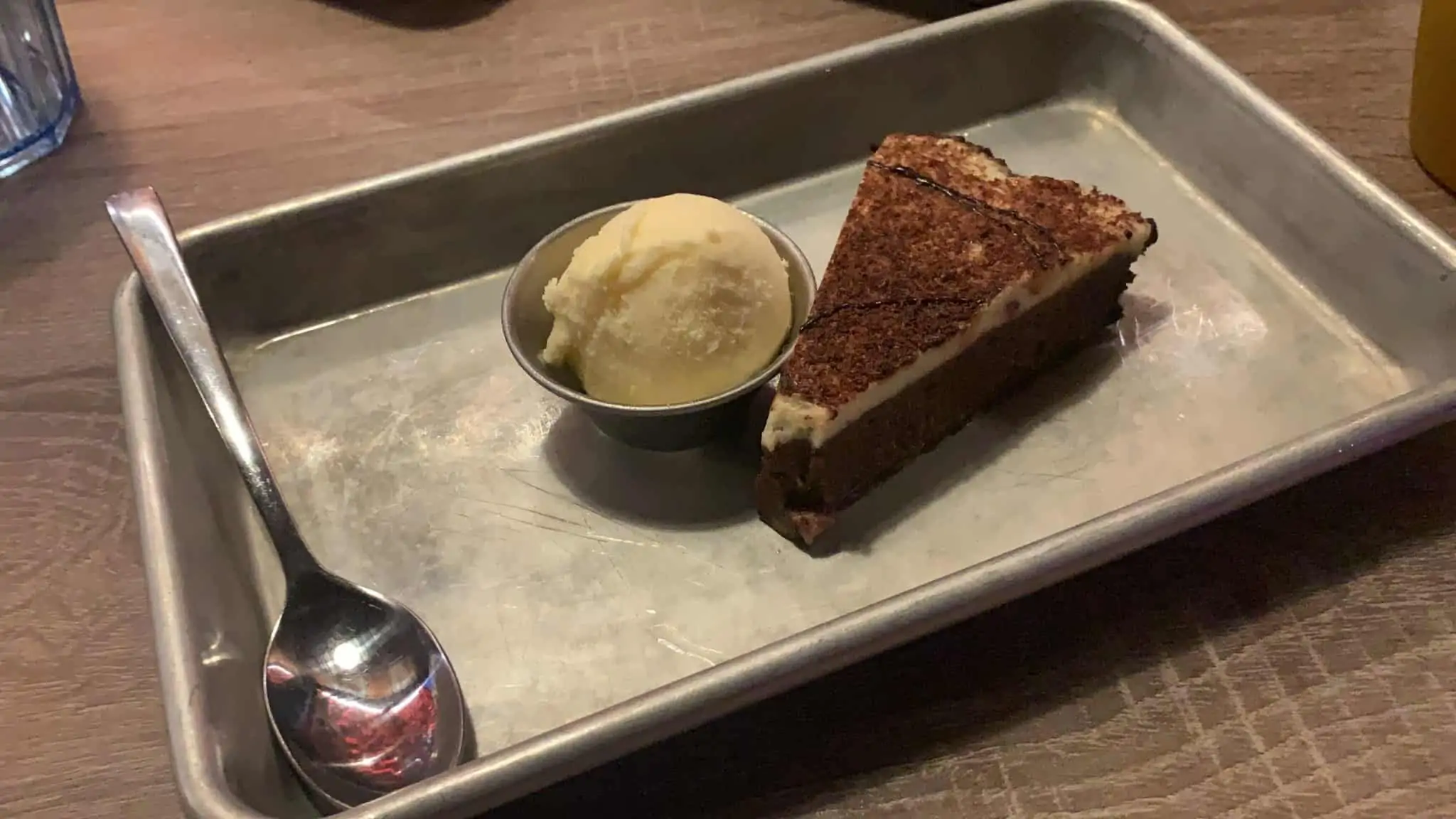 You'll also find live music here that's enjoyable but a little loud during dinner and into the night. It's great if you want to hang out and drink, but it's not conducive to an intimate conversation over dinner.
In my opinion, Carnival should consider starting the band later and letting them play past midnight, which seemed too early to stop the party.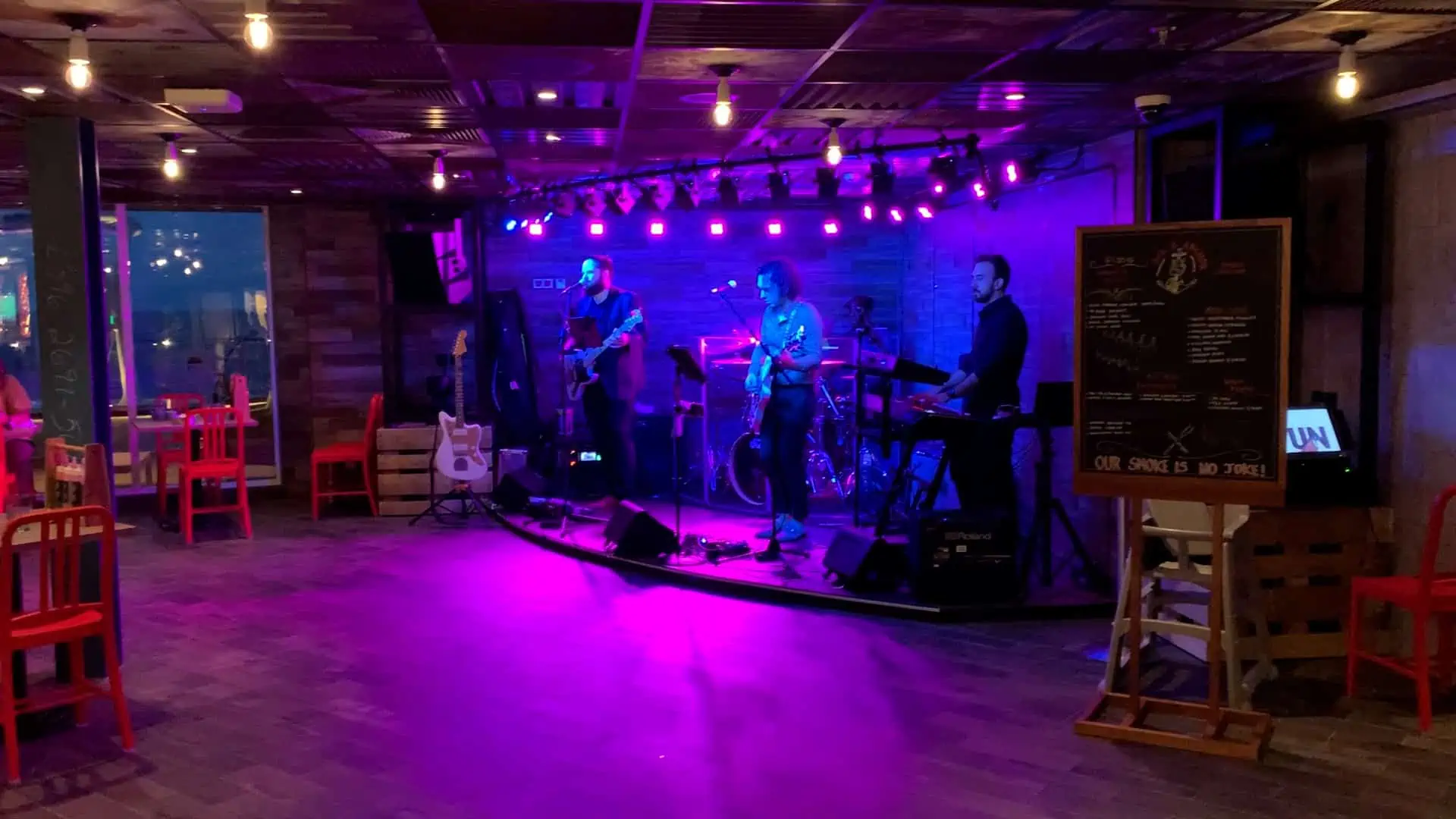 Guy's Pig & Anchor Smokehouse lunch is the same as you can find on Carnival's Dream and Vista-class ships. It's located on the port side of deck eight and is a crew-served buffet.
You tell them what kind of meats and sides you would like and they will plate it for you.  Like on previous ships, this is a complimentary lunch option.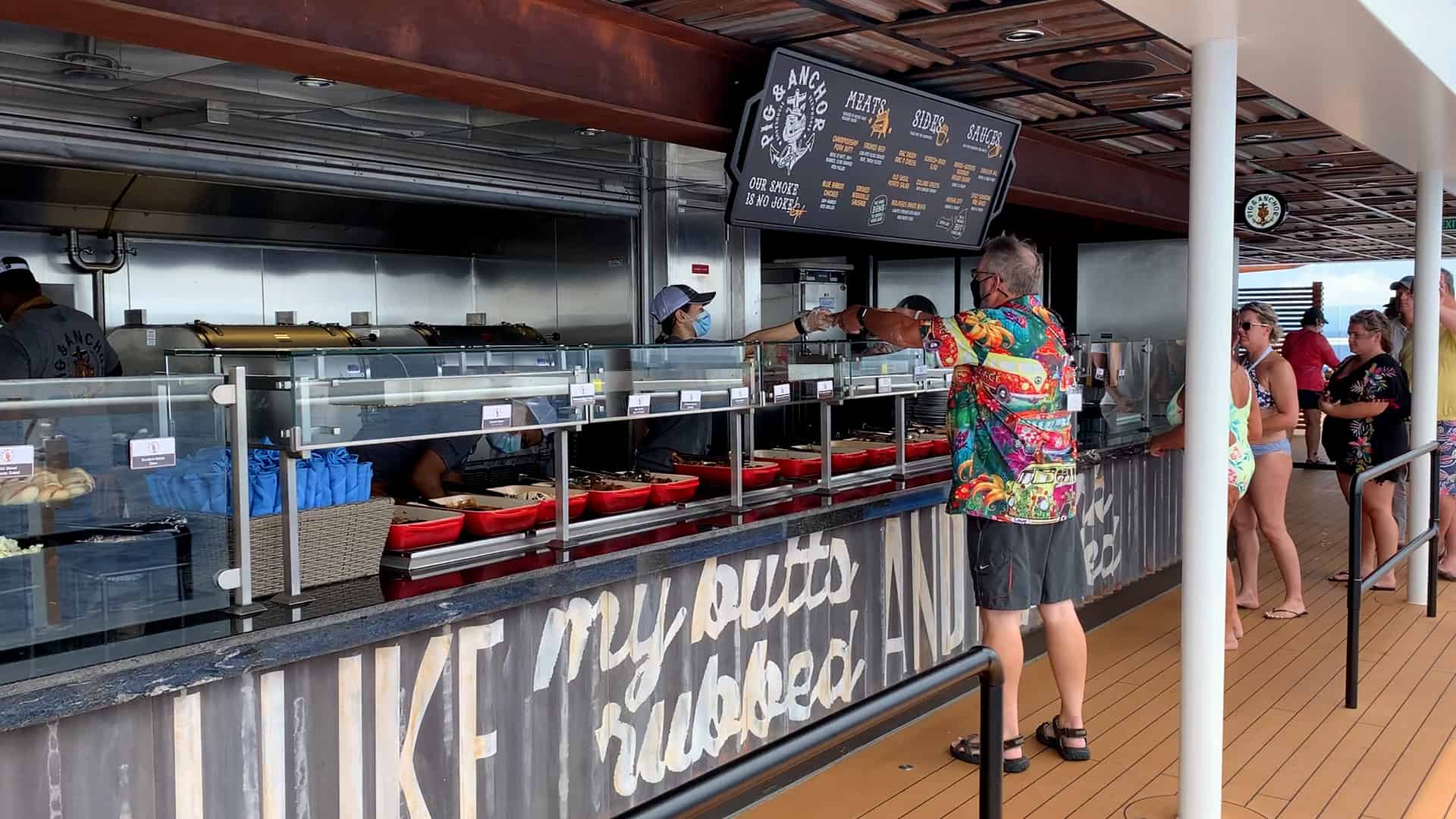 A really nice feature of both lunch and dinner is the variety of barbeque sauces you can add to your meats. You will find a new selection of sauces at dinner that adds some variety to your dining experiences at Guy's Pig & Anchor.
Breakfast at Guy's Pig & Anchor isn't anything special. It's regular breakfast food served buffet style, similar to what you will find in the Lido Marketplace. While there are fewer options, it's worth checking out if you want to avoid the crowds at the Lido buffet.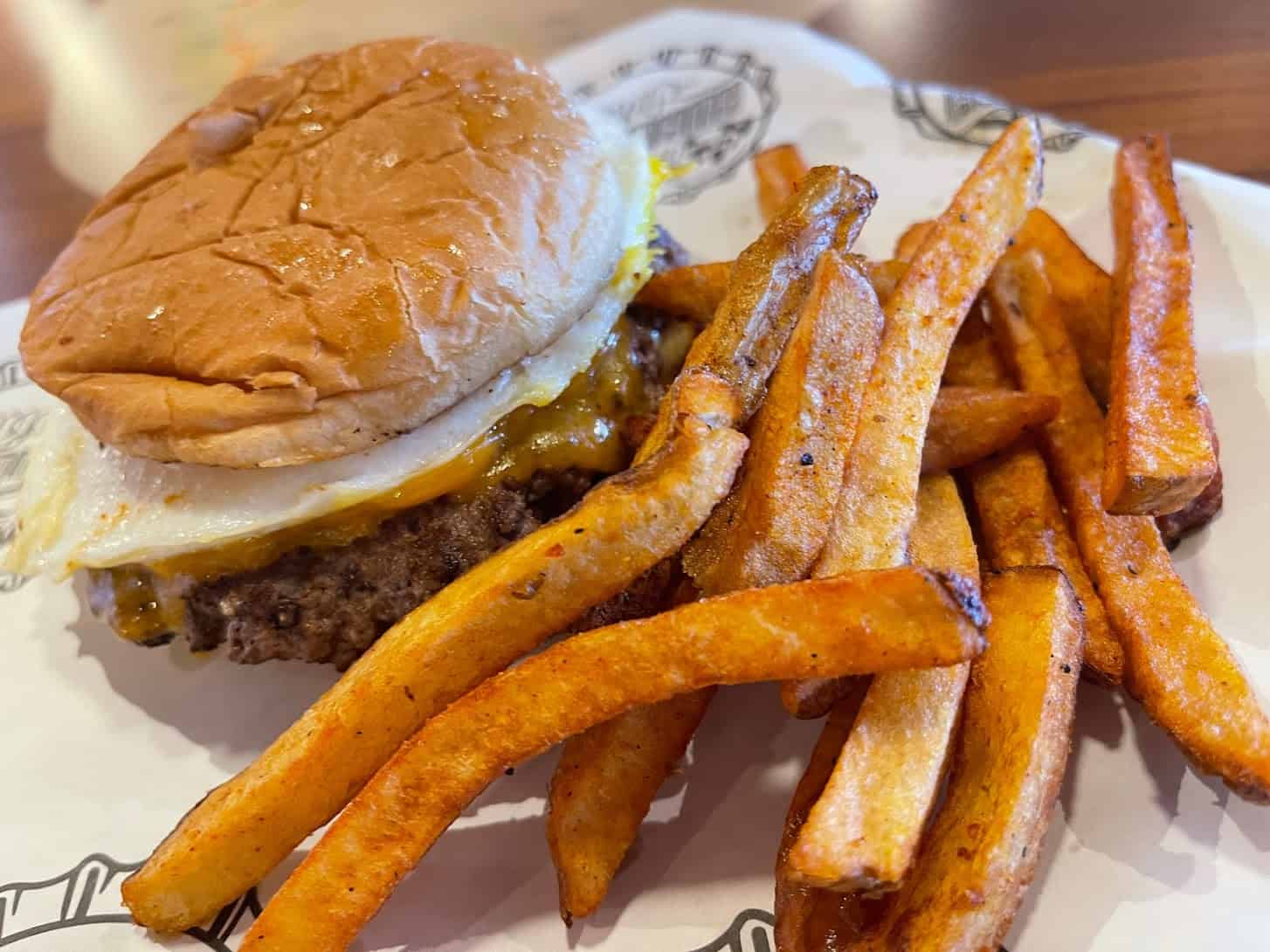 If you want to get a specialty coffee like a latte or a cappuccino in the morning, get it from Bar Della Rosa (in the La Piazza zone) before hitting Guy's for breakfast. There was no specialty coffee service on our sailing service, which seems like lost a lost revenue opportunity.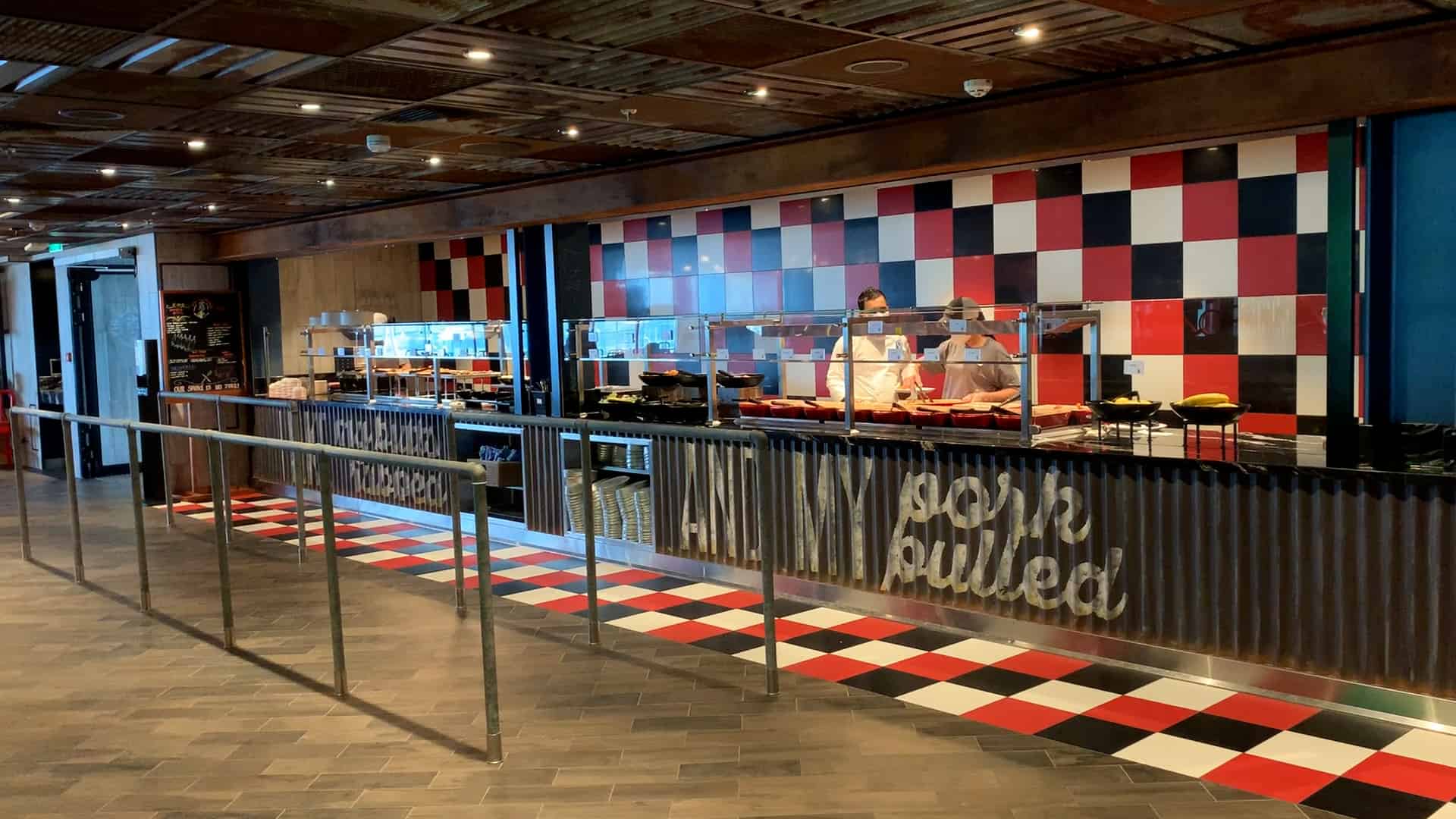 If you like beer, you will not want to miss out on the fresh craft beers from the Brewhouse. The draft beers are poured straight from the beer cave, where they were brewed just days beforehand. There is also an opportunity to participate in a tour of the onboard brewery, which includes a generous volume of sample beer and a souvenir pint glass for about $25 per person.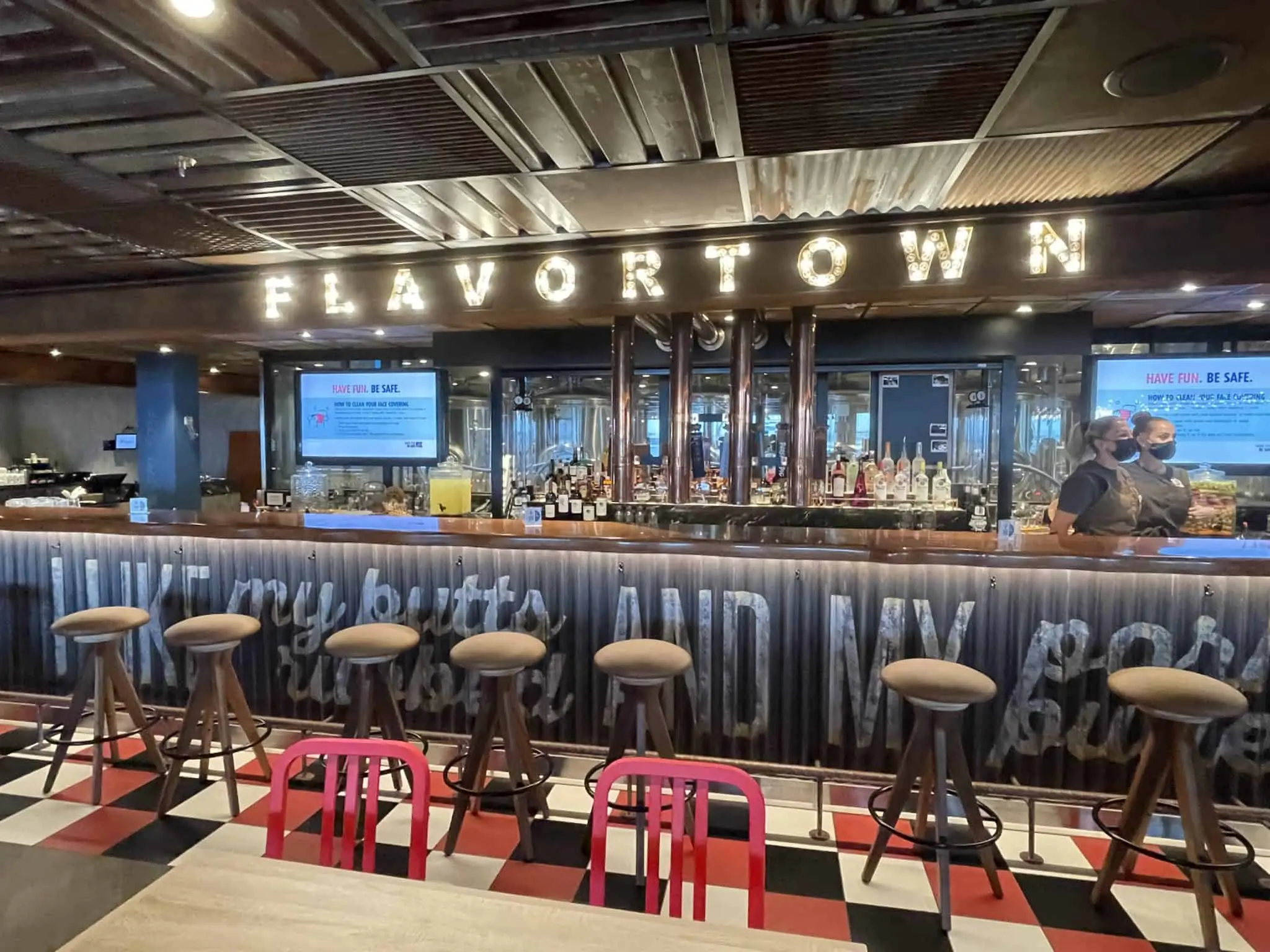 MENU: Guy's Pig & Anchor Smokehouse Menu
If you want to cut down on the cost of your drafts, you can buy a beer mug or a growler which  can be refilled at a discounted rate. And yes, you can bring them back on board in the future and keep the savings going.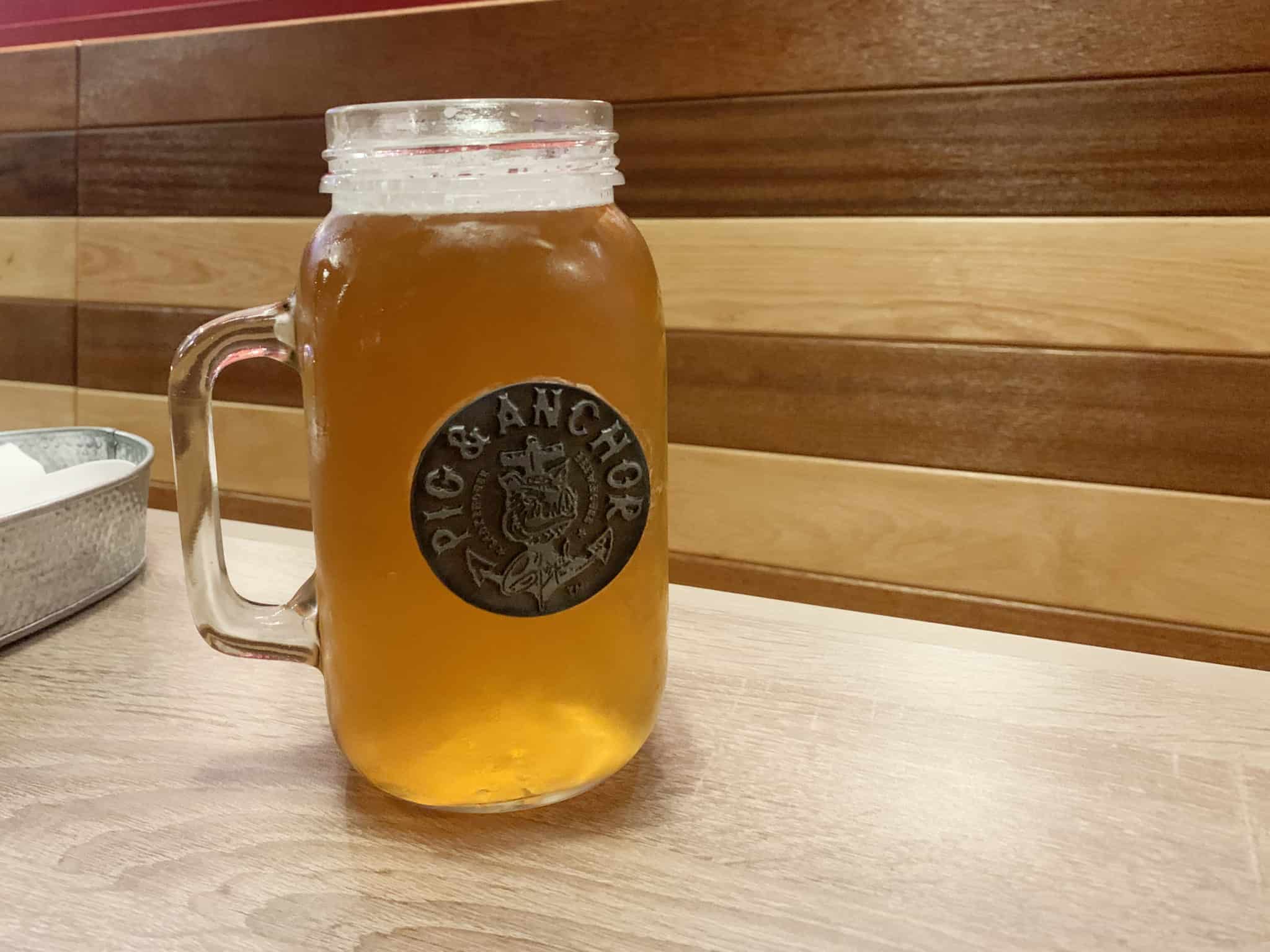 The Patio Aft Pool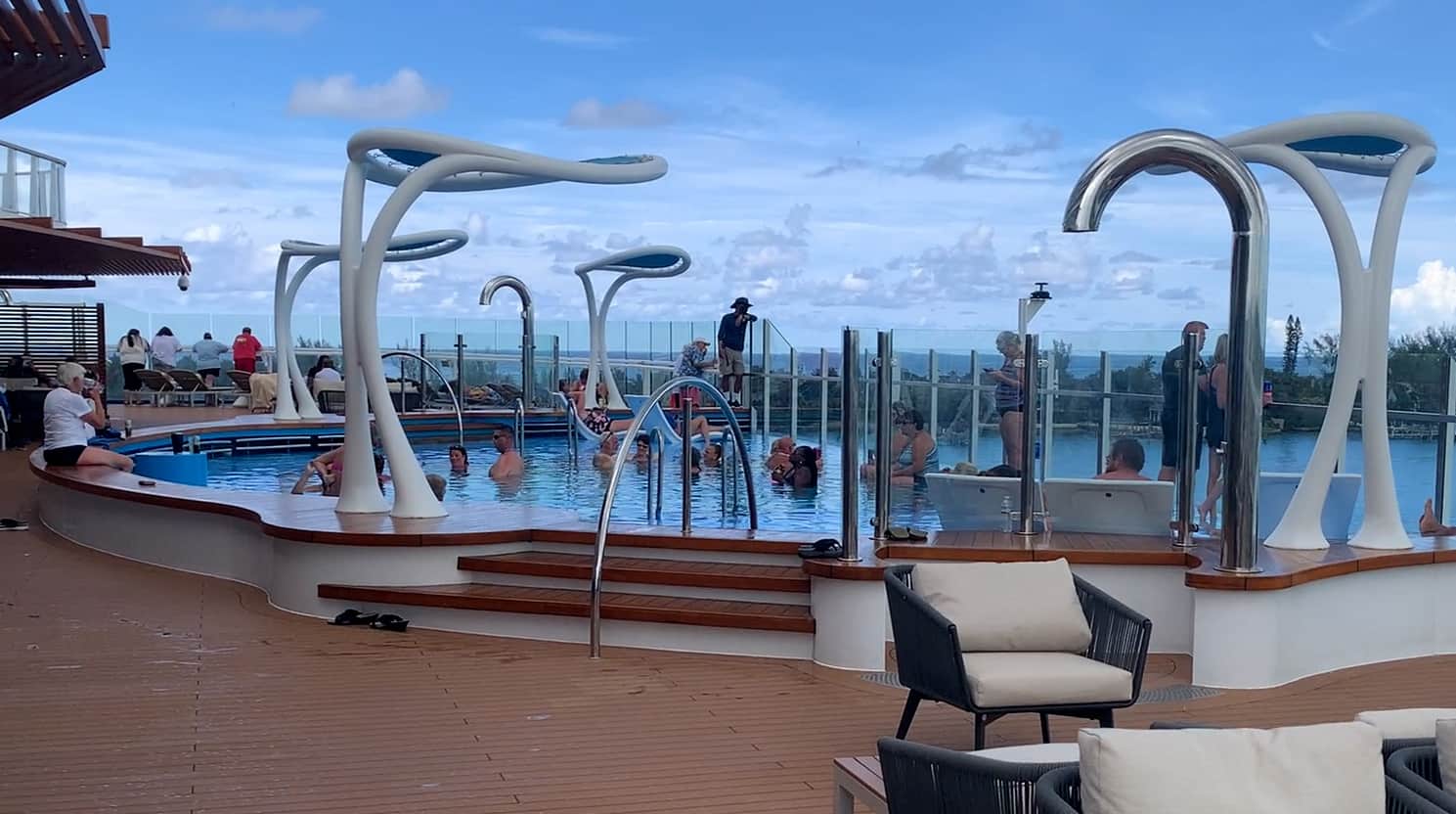 The inside of Summer Landing is great but the outside is where you can really enjoy some fun in the sun while connecting with the ocean. Directly outside the doors is the Patio Pool which is almost like an infinity pool that butts up right to the very back of the ship.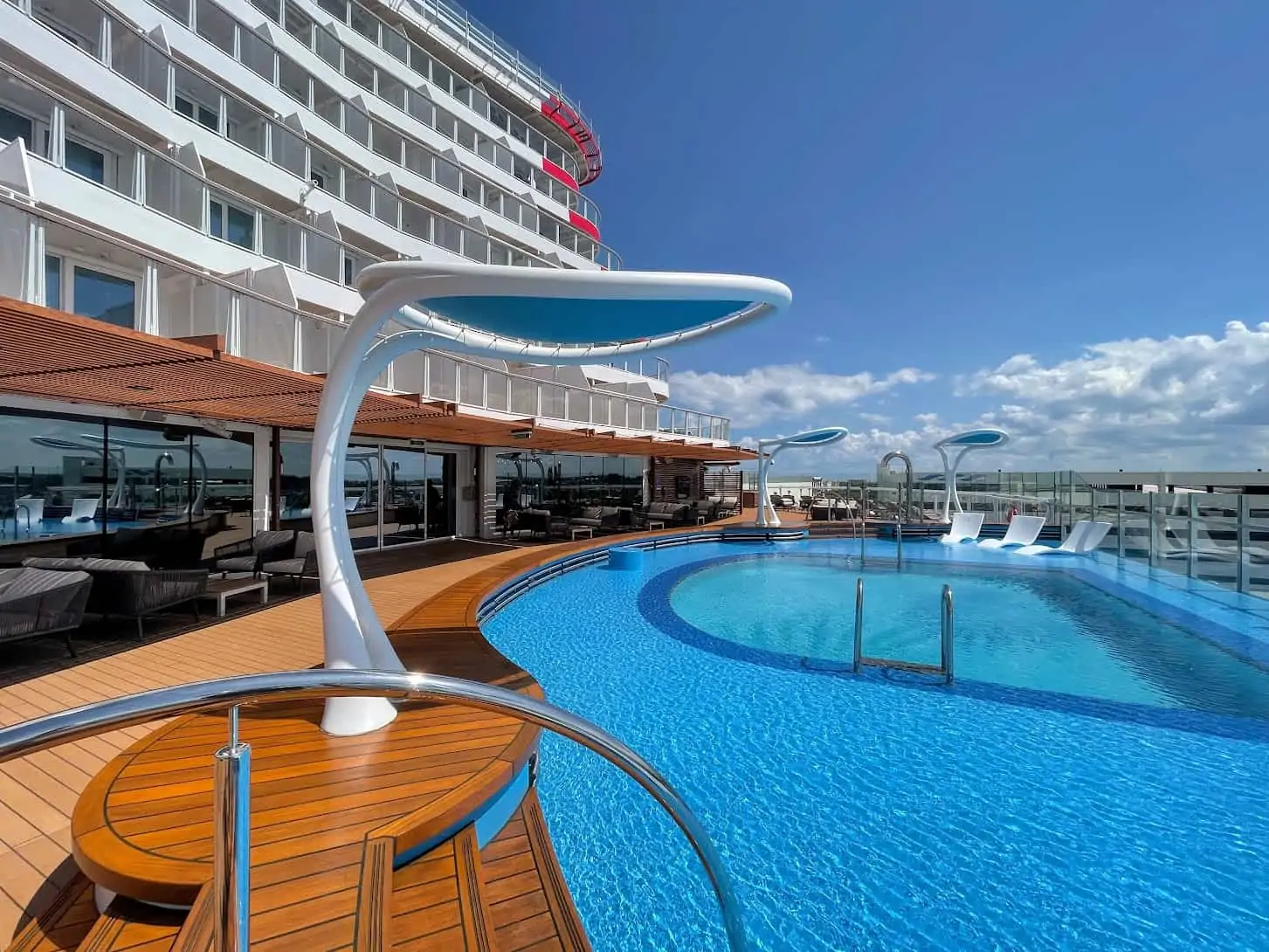 I really liked what they did with this pool, which has a large shallow area that's about one foot deep with lounge chairs designed to sit in the water. If all the lounge chairs are taken, it's also nice to sit right in the water or on the edge with just your feet in — especially if you like warmer water. 
This is a great place to hit on the first day or two, as many people gravitate toward the Lido pool and don't even realize this one exists, making it far less crowded. As people discover it during the course of the week, it slowly becomes more popular.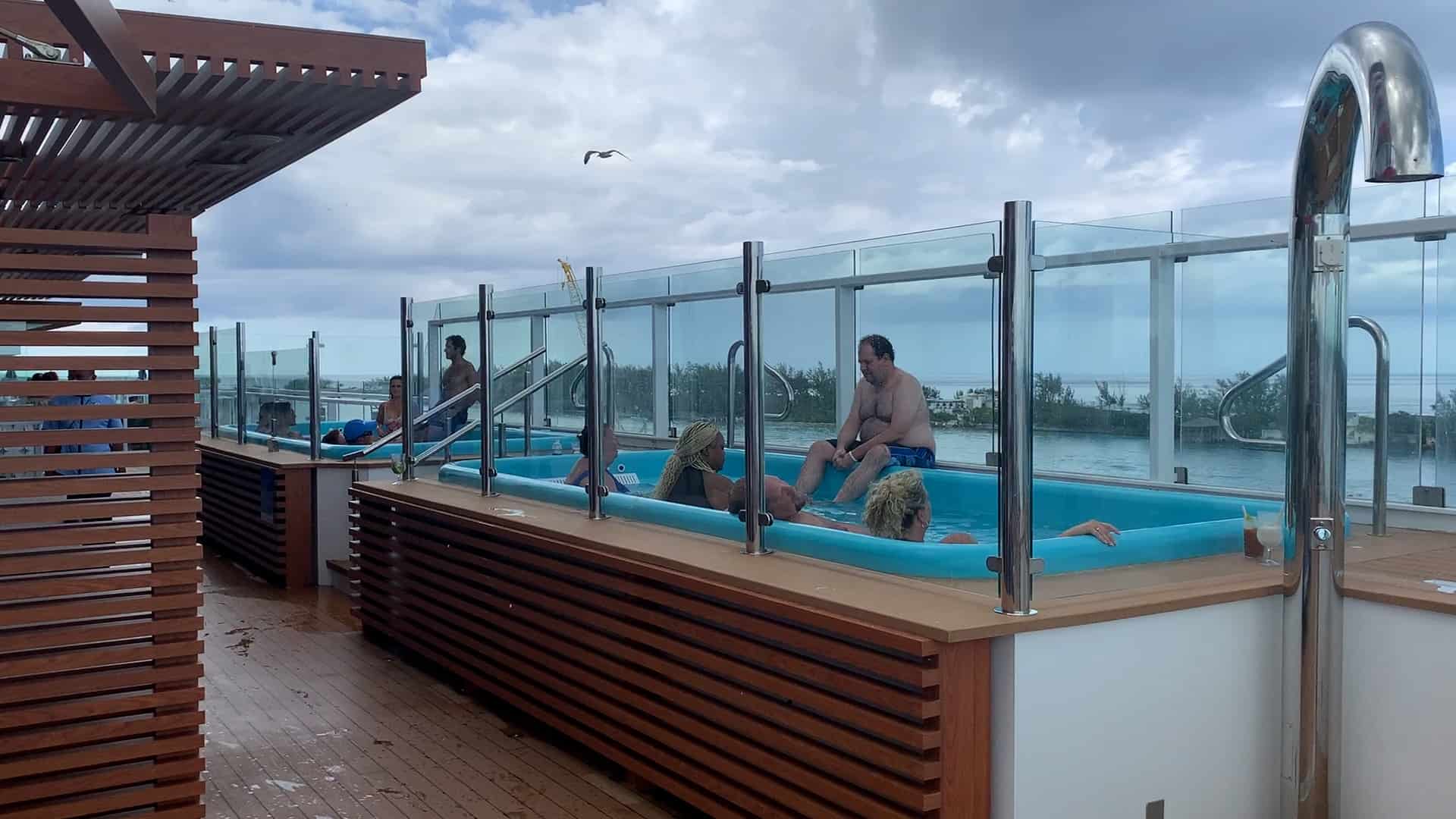 The hot tubs are nice and big and are off to one side of the ship, which means that they're actually in the shade early in the morning or in the evening, depending on the orientation of the ship. 
TRIP REPORT: Final Day on Carnival's Mardi Gras
On each side of the pool is a permanent umbrella fixture and shaded seating. Be very careful when walking by the pool, with the ship still being new, the wood around the pool can get very slippery.
The Watering Hole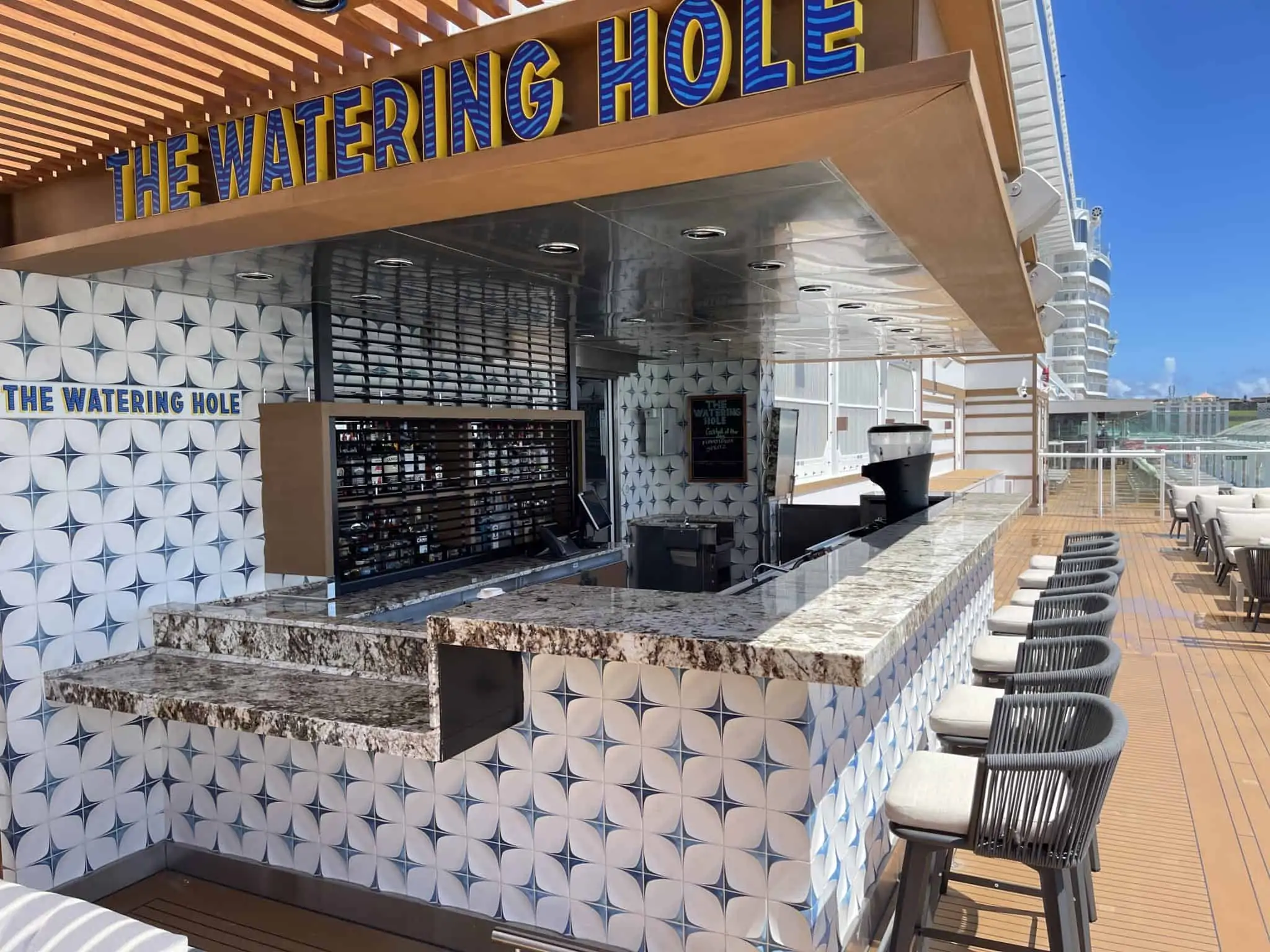 Mardi Gras is jam-packed with new-to-Carnival bars and restaurants, including this Summer Landing venue. Located on the starboard side, it's an outdoor bar with a short-but-sweet menu. It's conveniently located right next to The Patio's hot tubs and all of the drinks are simply priced at $9.95 (as of September 2021).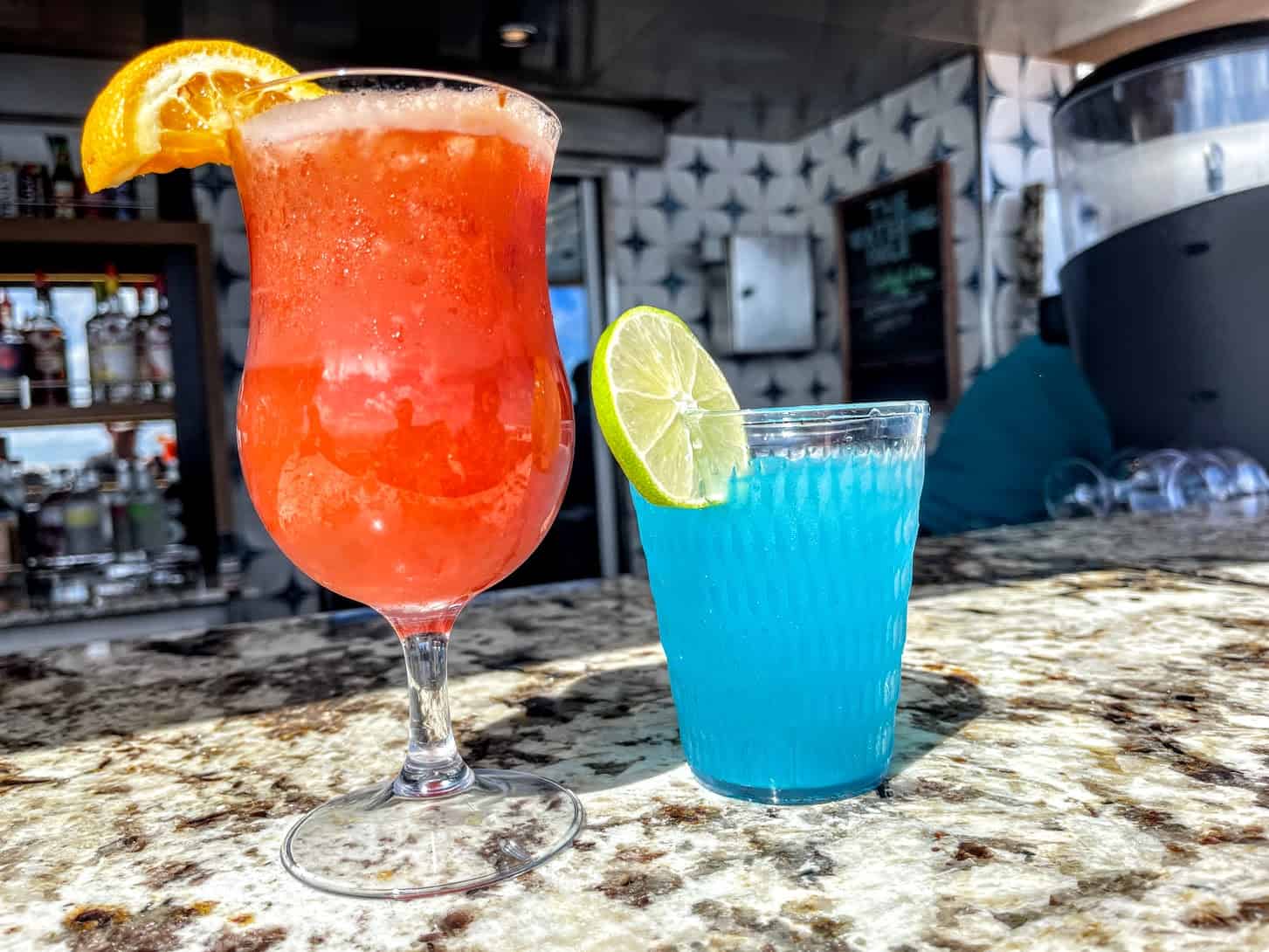 If it's too hot or humid to drink outside and you're not feeling the pool or hot tubs, take your drink inside to the Heroes Tribute Lounge or Guy's Pig & Anchor, both of which offer plenty of seating options.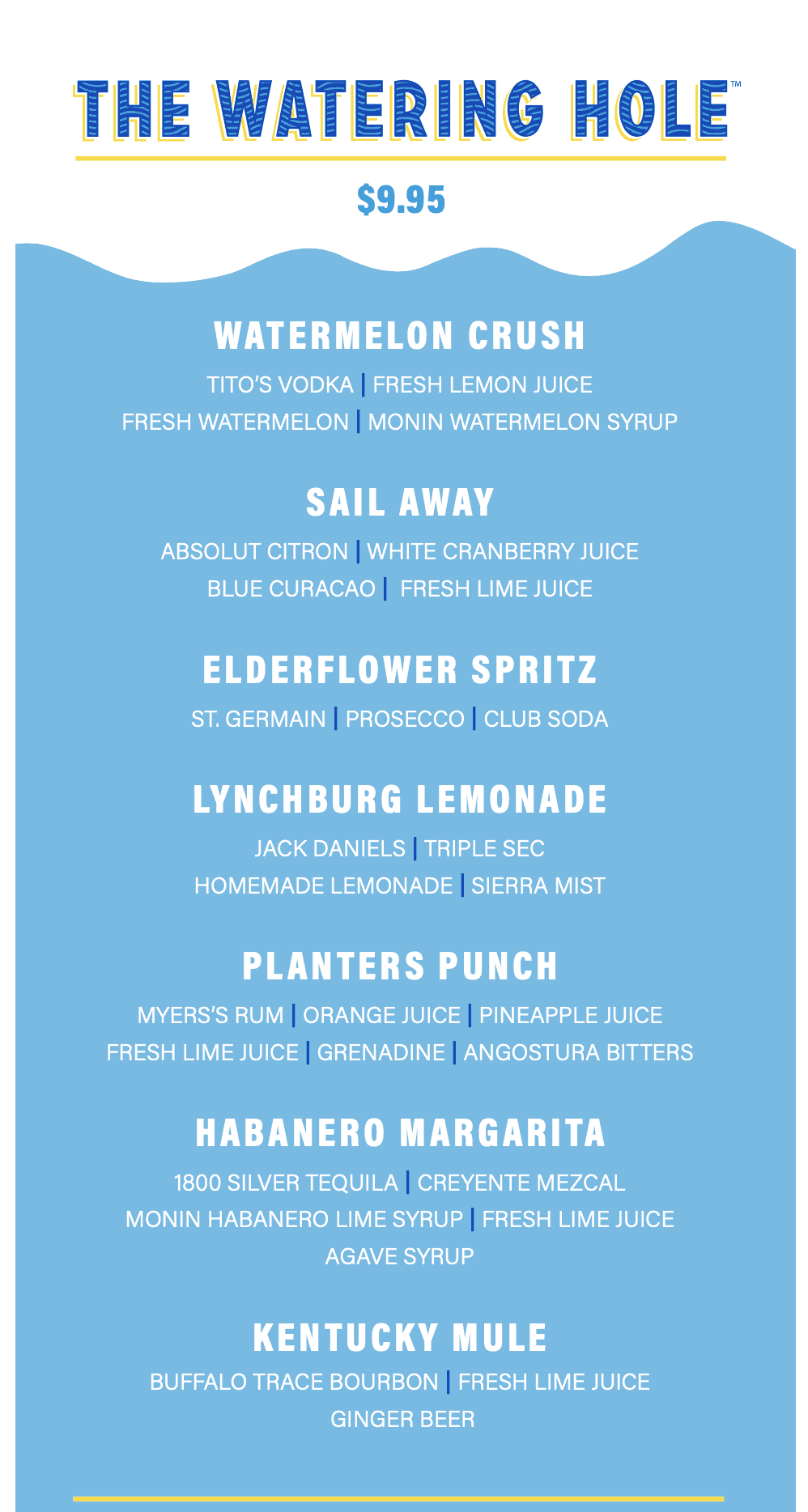 Some of our favorites were the Watermelon Crush (Tito's, Fresh Watermelon, and syrup), Elderflower Spritz (St. Germain, Prosecco and club soda), and Sail Away (Absolute Citron, Blue Curacao, and juice).
Final Thoughts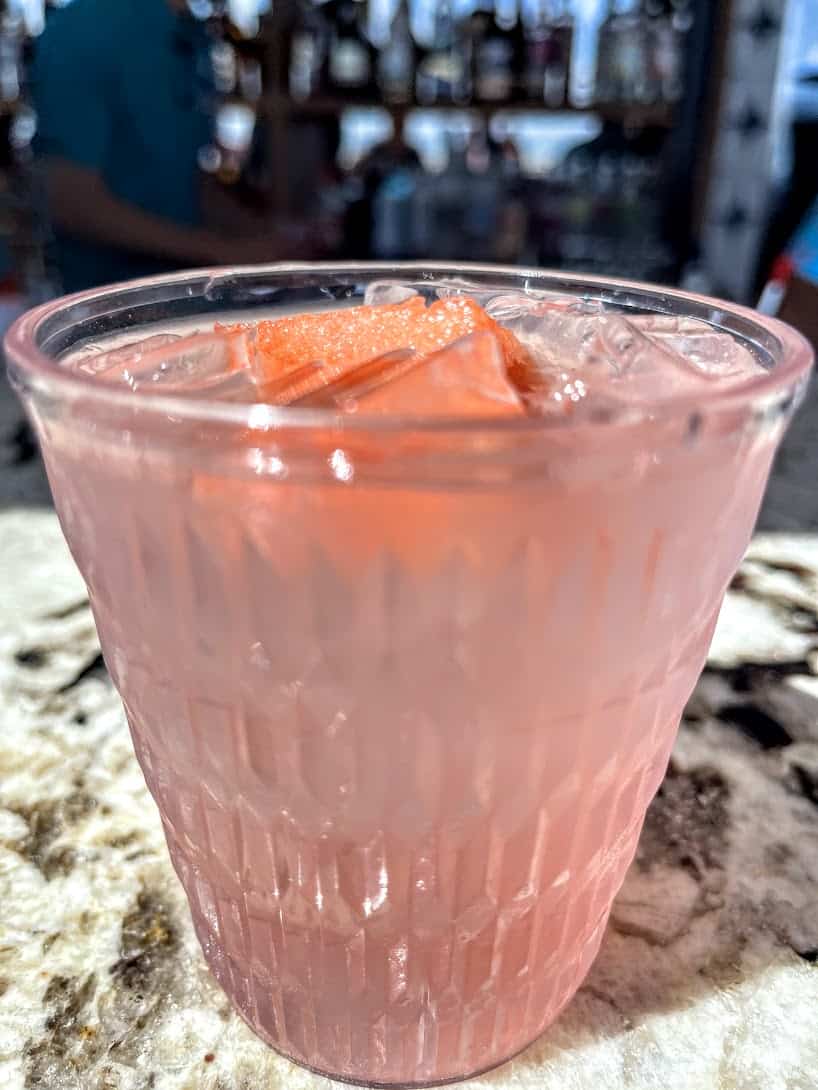 The Summer Landing zone is an overall win on Mardi Gras. The way the space is designed provides ample access to both sun and shade, meaning no matter which you're looking for you can find it while still remaining connected to the ocean thanks to the amazing views from nearly every inch of the outdoor space.
Before sailing, I was skeptical about how the zone concept would actually work on the ship, but now that I've seen it outside of a press release, I'm very impressed.
READ NEXT: 8 Tips For Preparing to Cruise in 2021
Pin it!