Back in 2012, Carnival Cruise Line used Carnival Breeze to launch a venue that their guests were longing for – an outdoor barbecue restaurant. The venue, then named Fat Jimmy's Seaside BBQ, would be open on sea days and serve up a variety of meats and home-cooked side dishes.
Since then, Carnival has expanded their BBQ experience as well as their partnership with Celebrity Chef Guy Fieri, with the result being Guy's Pig & Anchor Bar-B-Que Smokehouse. As of now, the venue can only be found on the Carnival Magic, Dream, Breeze (April 2017) and Vista (as well as the latter's upcoming sister ship, the Horizon.).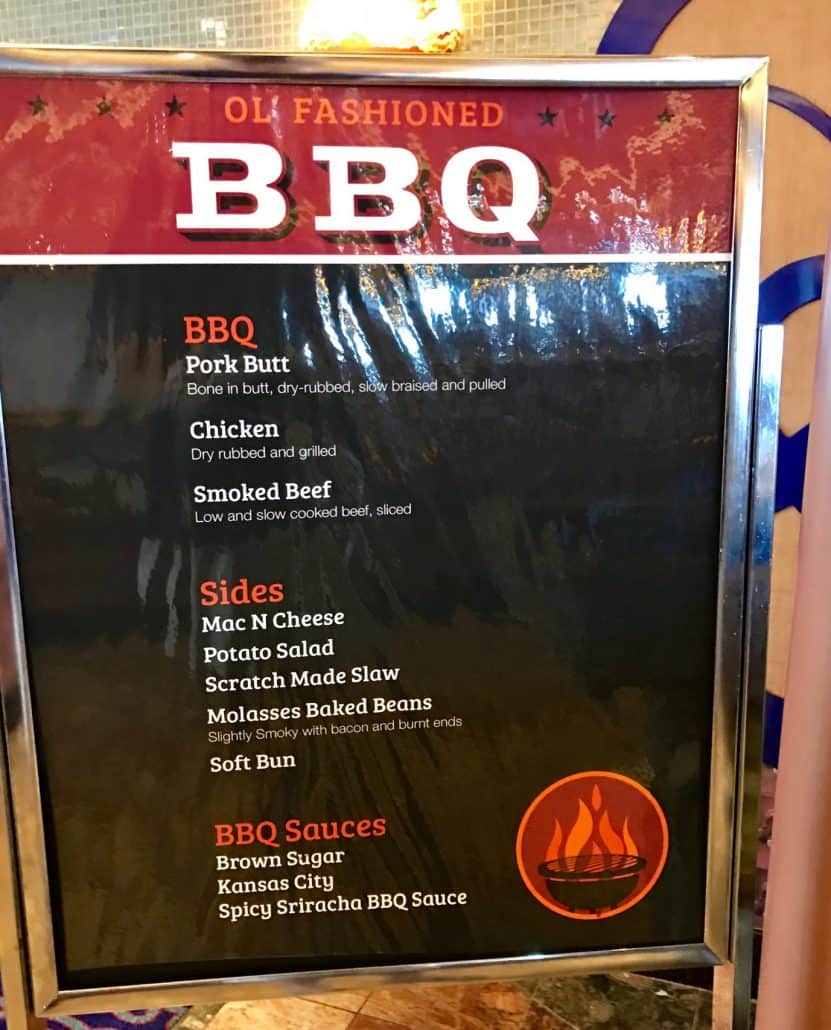 On most other ships in the fleet, BBQ lovers can satisfy their cravings at an eatery called Ol' Fashioned BBQ. Both offer essentially the same menu, with Guy's upping the ante by adding andouille sausage to the mix. Of course, this BBQ lover had to give it all a try, so this is my review.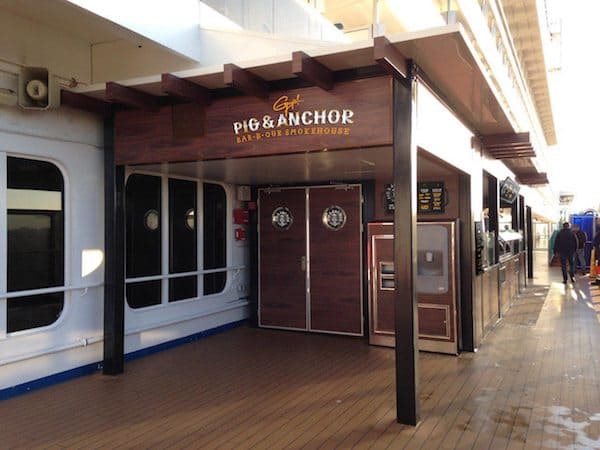 The Location
Where you should head for BBQ depends on what ship you happen to be sailing on. If you're on a Dream or Vista-class ship, the BBQ joint will be outside. When I recently sailed on Carnival Liberty, her BBQ venue had set up shop where the Fish & Chips station had previously resided on the upstairs section of the Lido buffet. Thanks to the fact that it was a bit removed from the rest of the offerings, this spot proved to be a hidden gem.
On our cruise, the BBQ joint was open every day and there was never much of a wait to be served. The longest we waited was a few minutes. However, on the Dream-class ships where the venue is located outside, expect to stand in line for your BBQ. In fact, you'll want to get there very early in order to avoid waiting in line all afternoon.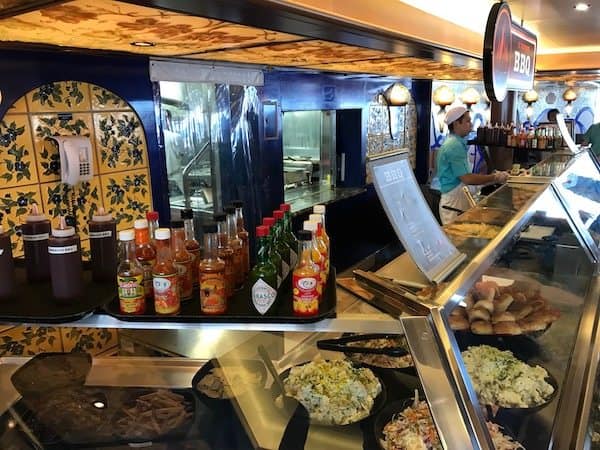 Food
It's no secret that I love BBQ. Anywhere I travel, I have to check out the BBQ scene. So when I found out that Carnival Liberty had a venue onboard, I was excited. And the food didn't disappoint.
The menu offered pulled pork butt that was dry rubbed and slow braised, grilled chicken, and a smoked beef. All the meats were seasoned well and served up in generous portions. You could pick one, two, or three meats. I went with the trio to see how consistent the meats were, and they were pretty spot-on every day.
The restaurant also offered a nice selection of sides that included mac 'n' cheese, potato salad, homemade cole slaw, baked beans, and rolls. I was impressed with all of the sides except the baked beans, where they opted to use kidney beans, giving this dish what I found to be an odd taste.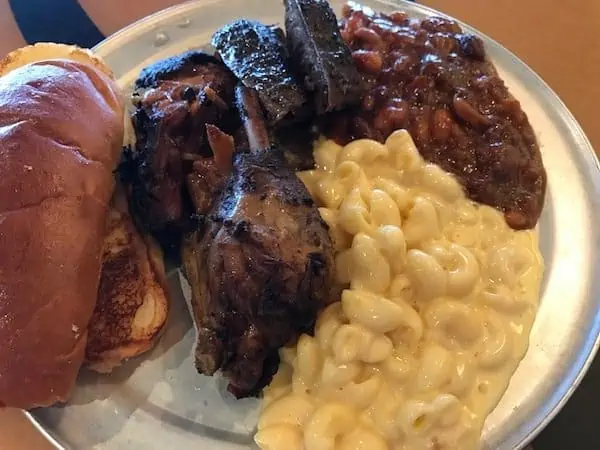 Of course, the true measure of a BBQ joint comes down to the sauces, and there were three types available here: brown sugar, Kansas City, and spicy sriracha. The spicy sauce had a kick to it and was unique. All three had great flavor, but for me, the real winner was the sriracha.
Final Thoughts
Carnival gets high marks from me just for having a BBQ shack on their ships. The fact that they have legit BBQ meats, filling sides, and a variety of sauces makes it that much better. I recommend getting a small sampling of all three on the very first day so you can determine what you want for the rest of the cruise. If you're a BBQ fan, you'll love this. If you're not, give it a try. It's not often you can say, "I ate at a barbecue restaurant on a cruise ship!"
Featured photo: Carnival