When Carnival Cruise Line decided that one of the "zones" on Mardi Gras was going to be New Orleans themed, they knew there were several things they needed. Cool bars, jazz music… and a restaurant featuring the food of celebrity chef Emeril Lagasse.
Thanks to the potent potions whipped up at the Fortune Teller's bar, the jazz emanating from the Brass Magnolia, and Emeril's Bistro 1396, the ship's French Quarter zone is so evocative of the legendary city that if didn't know better, you might just think you'd stepped off the ship and onto the streets of New Orleans.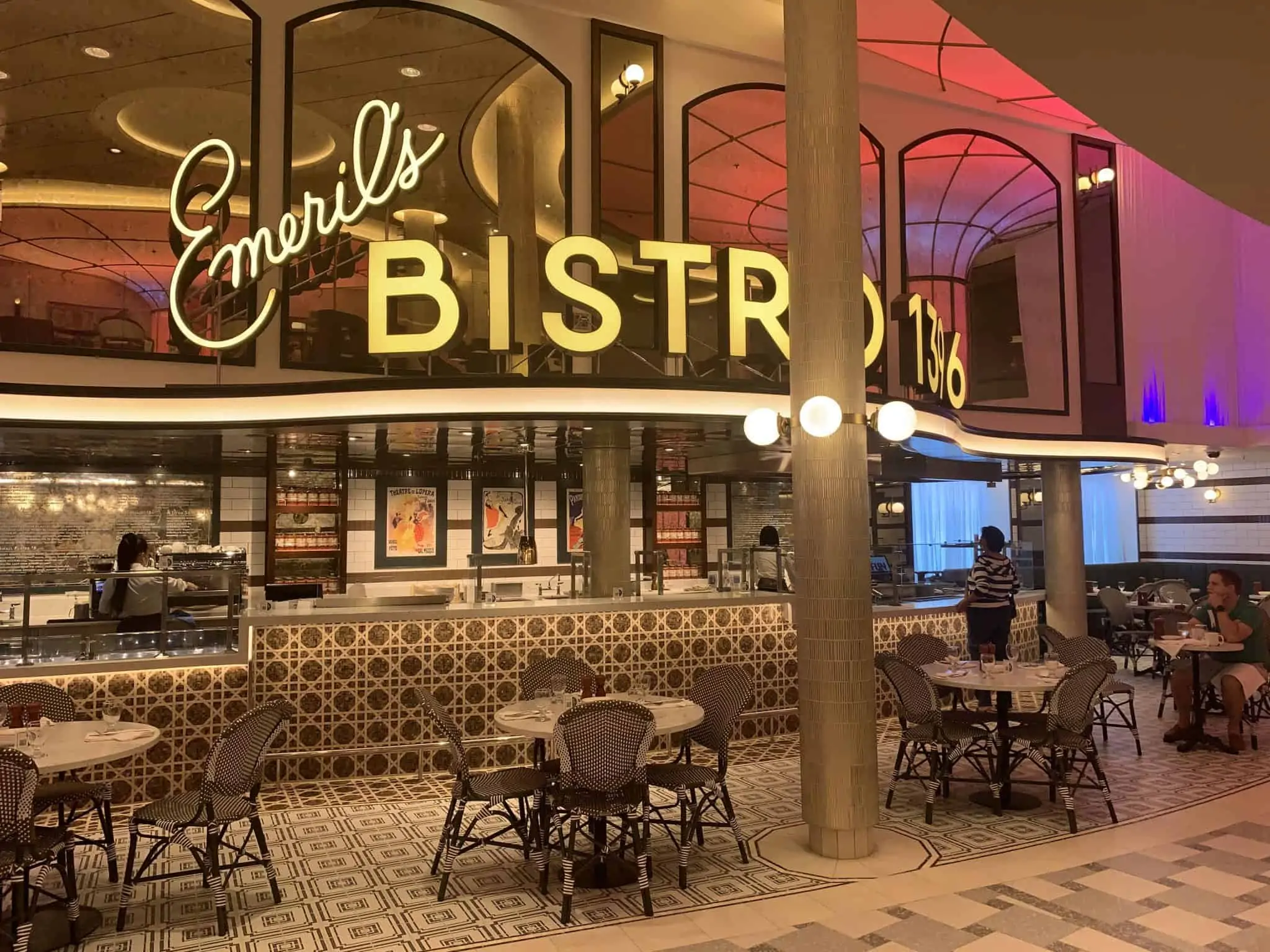 Located on deck 6 mid-ship, Emeril's Bistro 1396 is hard to miss as its decor spans up into deck 7 with bold lighting that changes colors all day long. Seating for the ever-popular Alchemy Bar overlooks the intentionally gaudy, albeit smallish, eatery.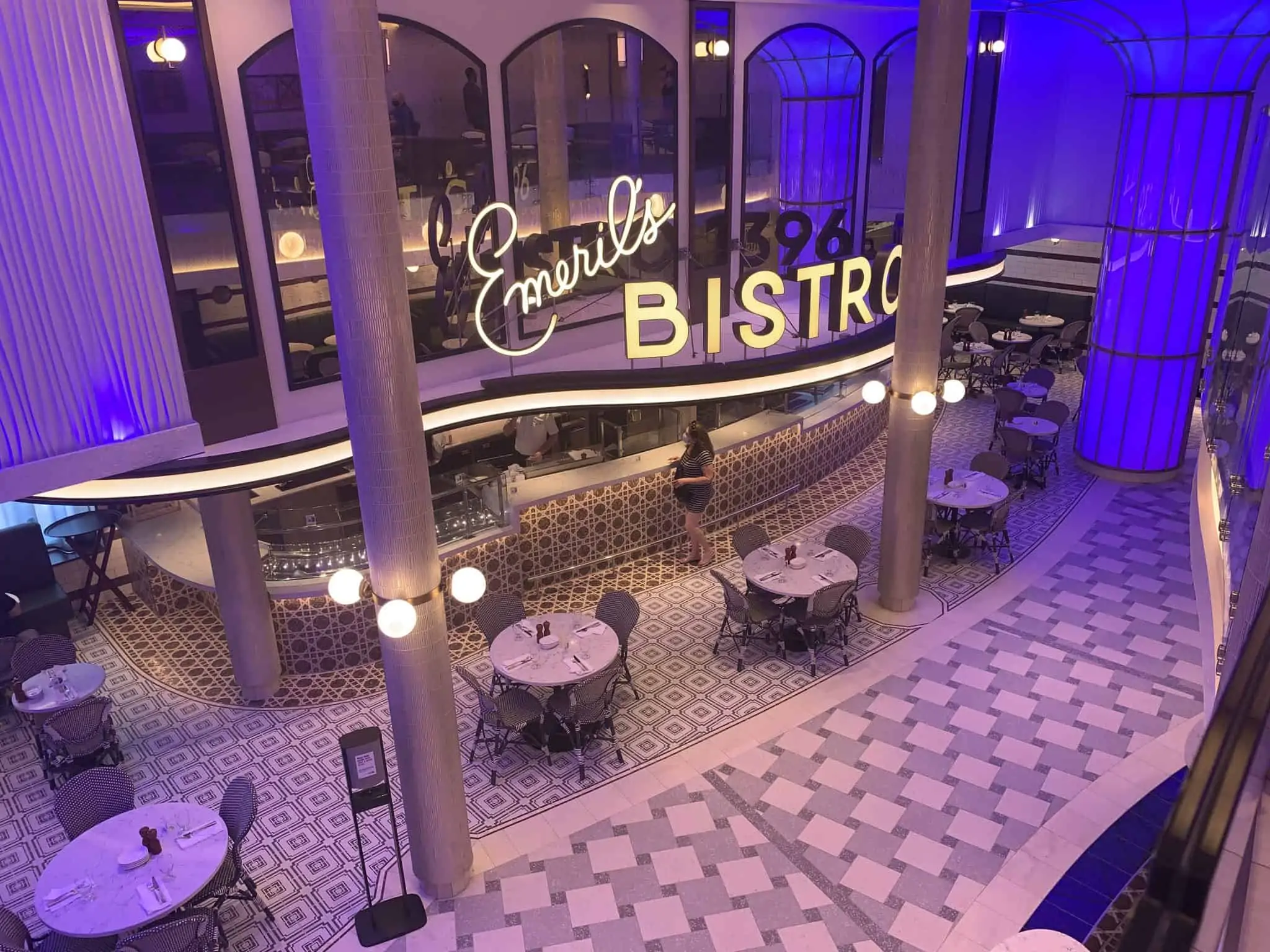 The menu at Emeril's Bistro, created by the chef himself, consists of $5 Small Plates, variously priced "A Little More" entrees, $4 desserts, $4 breakfast items, $3 kids meals, and a market-priced seafood bar. (All subject to change, of course, and not available on Carnival's website.) 
READ MORE: Menu for Emeril's Restaurant on Carnival's Mardi Gras
I only tried a few items, but all of them were so much better than I expected and reasonably priced for the portions served. In fact, I wound up visiting the venue twice because I was so impressed. 
My first visit was for breakfast. It was a bit confusing because the tables were all set with glasses and flatware and had the little QR codes on them to pull the menu up on our phones. But we actually had to order at the counter. There are also menus on the wall behind the counter and a QR code on the counter.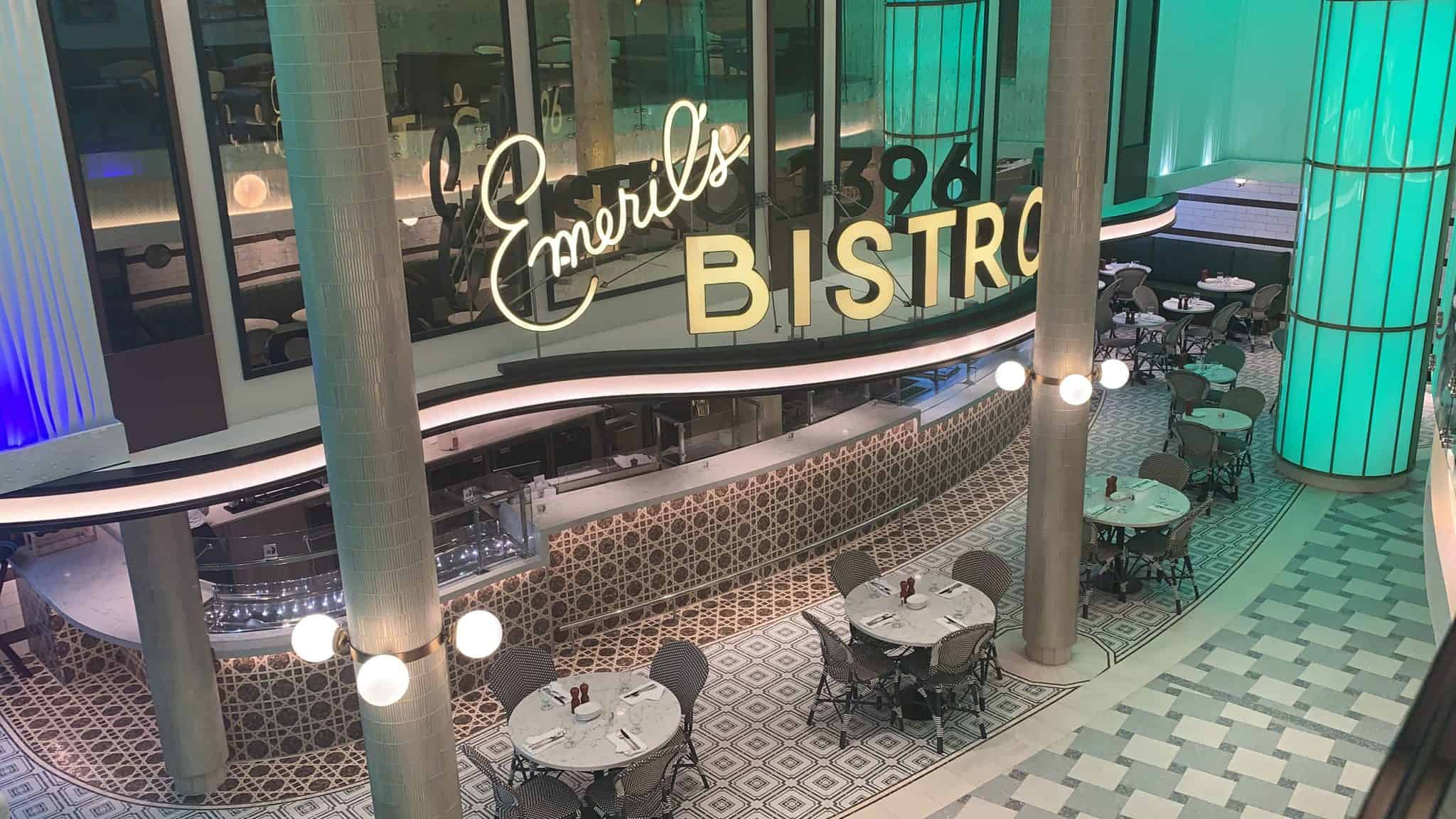 In retrospect, it was nice to be able to settle into a table, pick what we wanted to eat, and then go up and order. After placing our order, we were given a card with a number which we put on our table so they would know where to bring the food when it was ready.
We ordered the Sweet Potato Waffles as well as the Shrimp and Grits. The Sweet Potato Waffle (the portion is technically just one large waffle) was basically a dessert, but that's what some of us want for breakfast, isn't it? The "whipped cream" was more like frosting and it was delicious. One thing to note: if no one told me, I wouldn't have known the waffle contained sweet potato.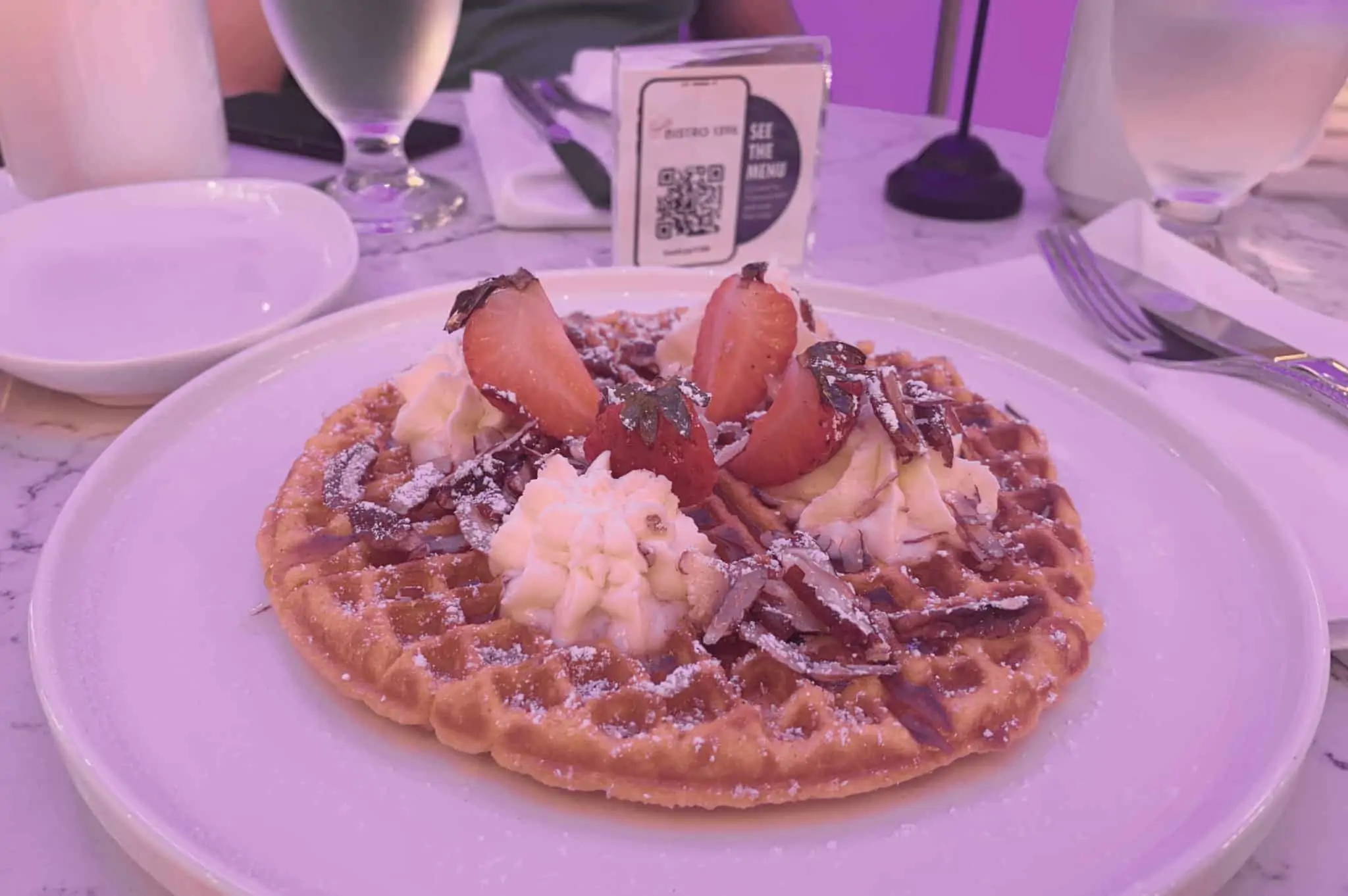 The Shrimp & Grits were also delicious, and I was impressed with how many perfectly-cooked shrimp were packed into what seemed like a small bowl. There was also a ton of sausage, just the right amount of grits, and a tasty, spicy tomato sauce on top.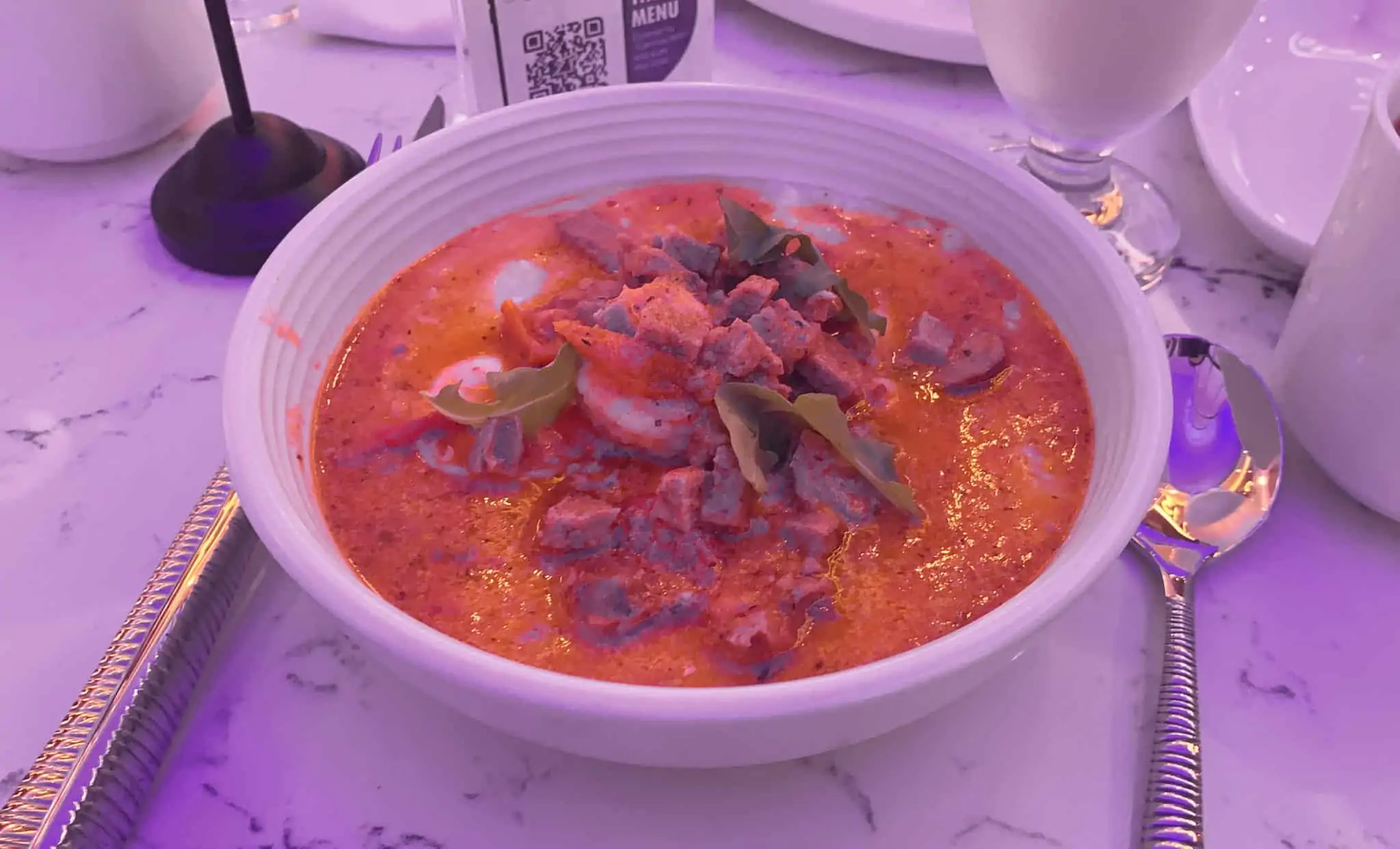 Pro-tip for all Instagrammer: Wait for the lighting to change before snapping your photo. The pink had to be edited out of my breakfast photos so they'd look right. 
My original plan was to only eat at Emeril's once, especially given that there were so many other places to try on board the ship. But the food was so delicious and the prices so reasonable that I had a feeling I'd return later in the trip. 
Sure enough, a few days later, I stopped by to check on the "market prices" of the seafood bar, since that wasn't listed on the menu. They weren't what I would call cheap, but they also weren't unreasonable for fresh shellfish.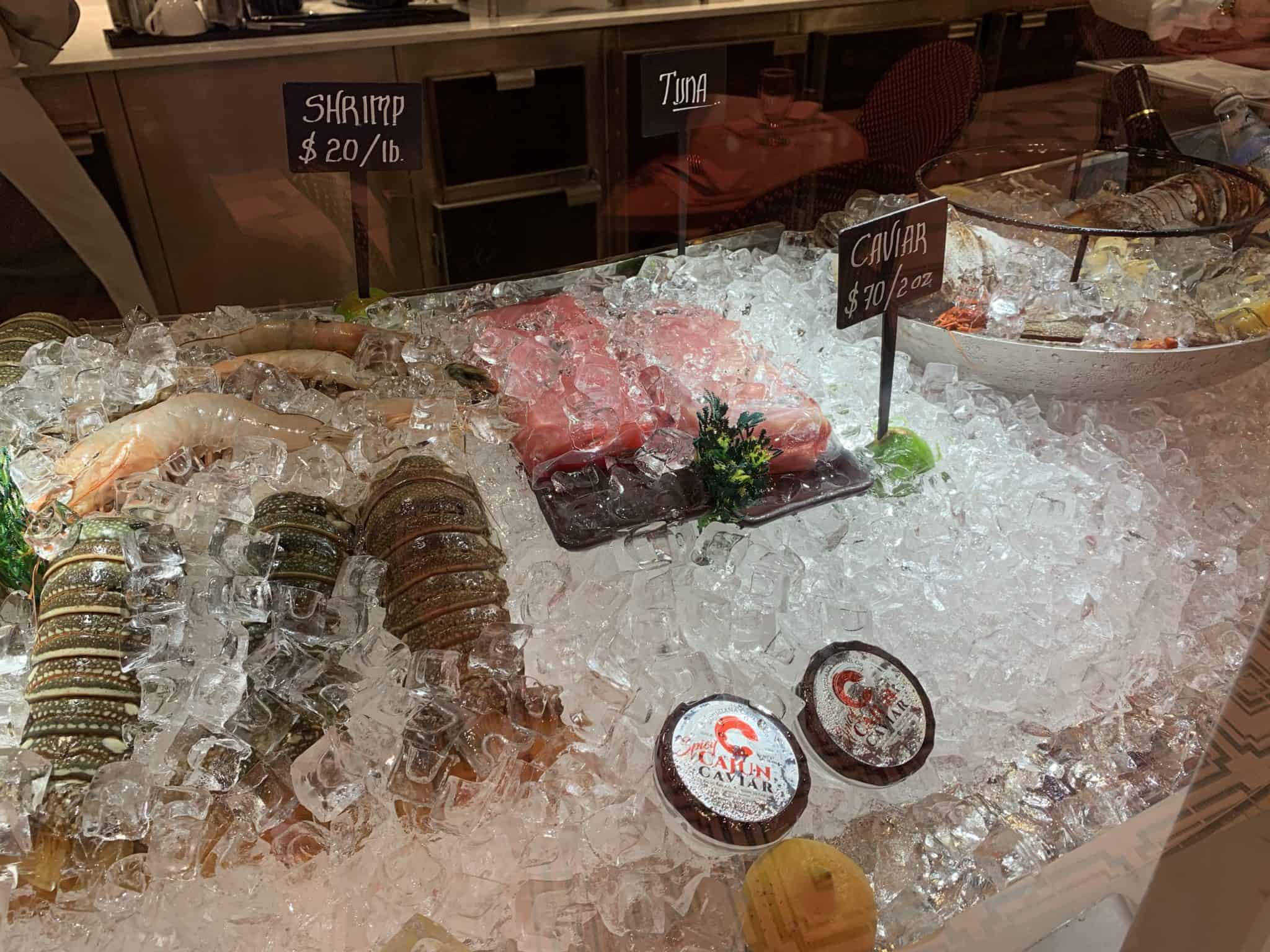 On the last day of the cruise, we decided to head back to Emeril's for dinner. We each got just one item because we also had to fit in some sushi from Bonsai Sushi. There are just so many complimentary options on Mardi Gras, it was actually hard to bring myself to spend money on food. But the fact that we did tells you how good it really was.
This time, we knew to order at the counter, so there was no confusion and it was a seamless process. We selected one item from the "Small Plate" section of the menu (Sizzling Cast Iron Shrimp Scampi) and one from the "A Little More" section (Roasted Duck and Andouille Sausage Gumbo).
The shrimp scampi was amazing. The shrimp were huge and the dish came with several pieces of garlic bread. I definitely felt like I got my money's worth. Even after the shrimp were gone, I continued to enjoy the dish by dipping my bread into the sauce. One caveat: I didn't like that when delivering our order, they faced the pan's handle toward me. I'm clumsy, so even though they warned me, there was a good chance I was going to burn myself. Caution on that one if ordering for kids!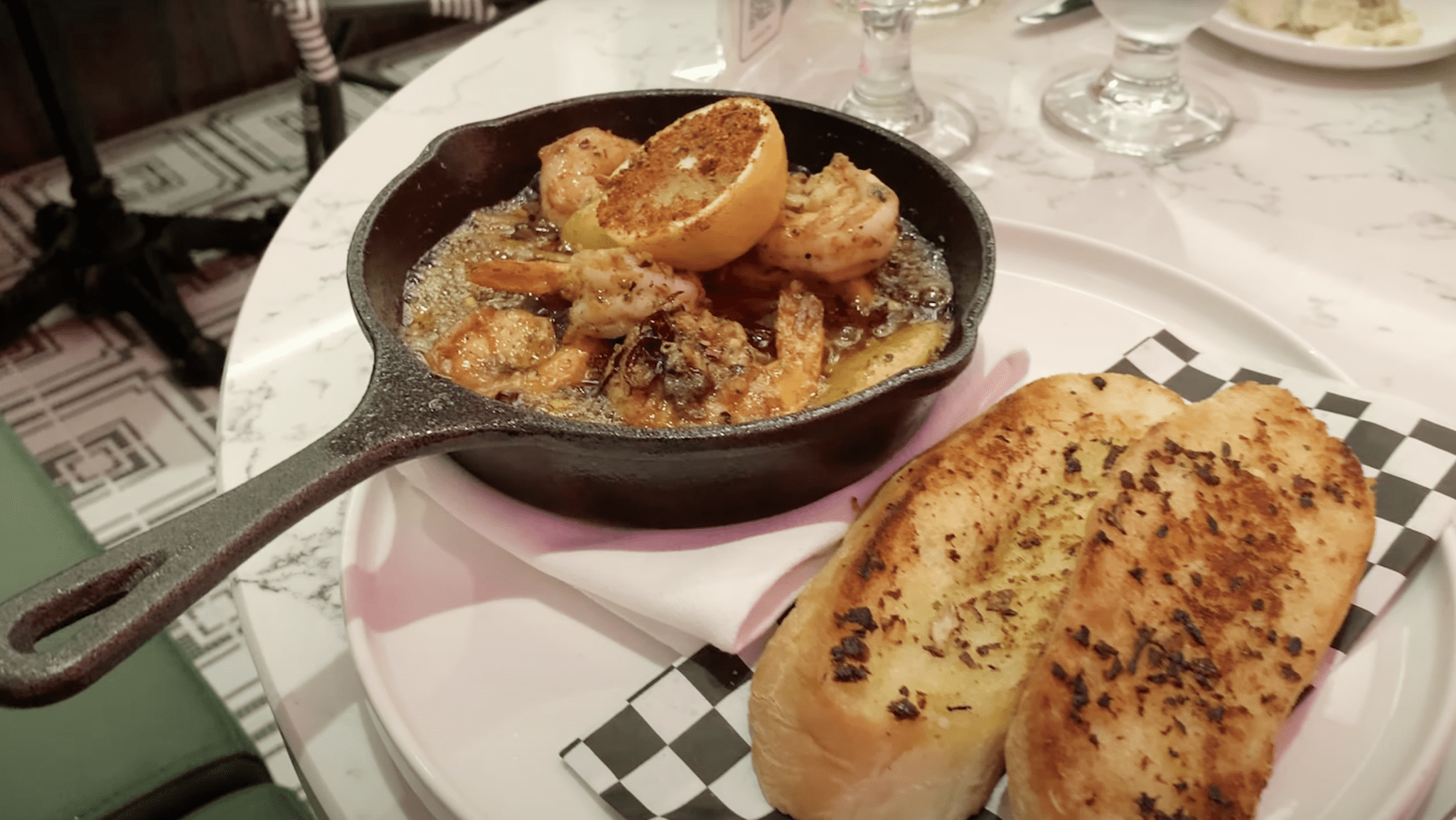 The gumbo was also incredible. Using duck instead of the standard poultries made this gumbo unique and added a richness to it that I didn't expect. Trust me, it's not as boring as the photo makes it look. Just the opposite, really! The potato salad that came with it wasn't as good as everything else, but it went well with the gumbo and filled out the meal a bit.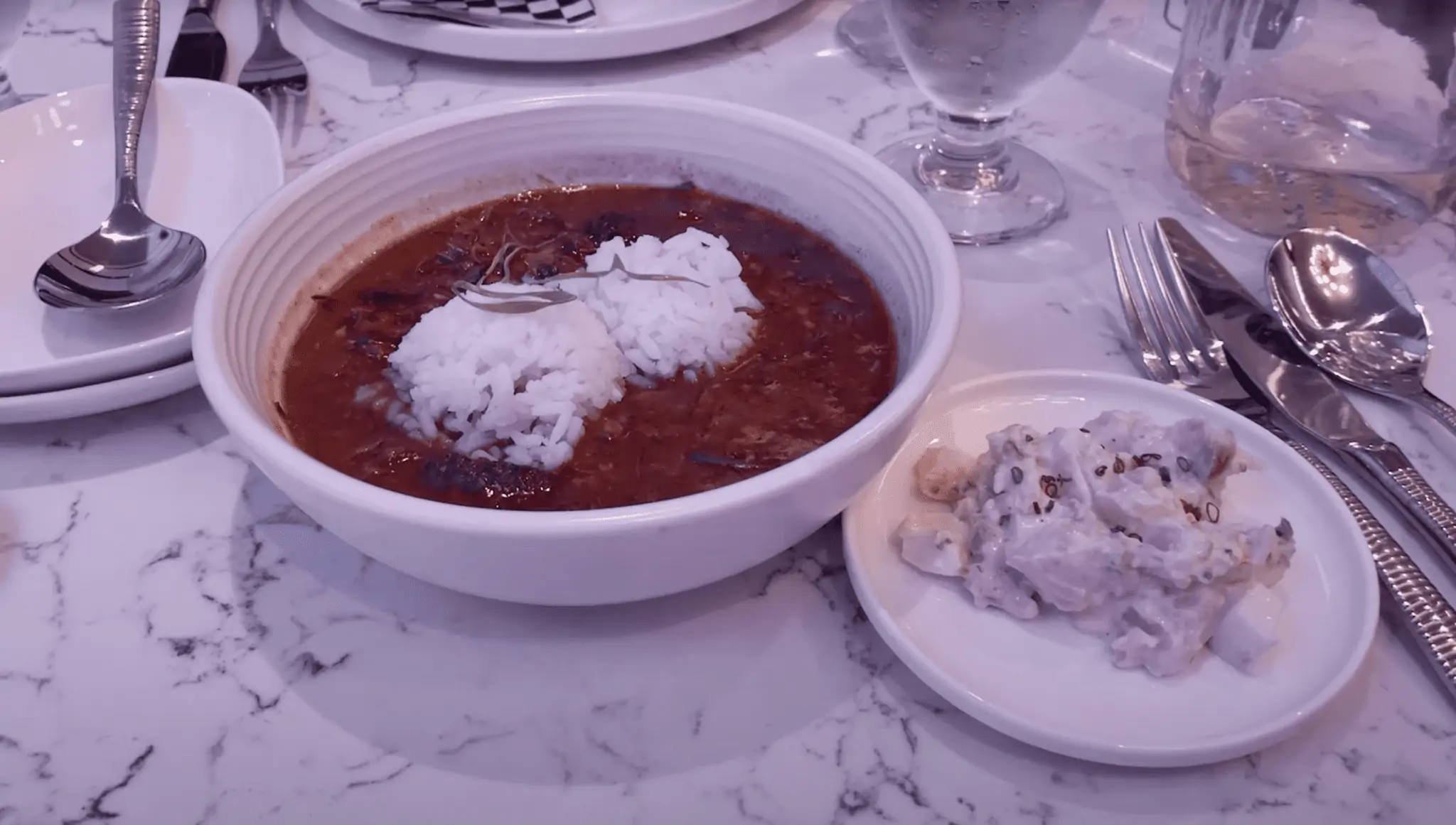 READ MORE: A Picky Eater's Guide to Dining on Carnival's Mardi Gras
We weren't hungry after our meal, but we'd also had some sushi beforehand, so I can't actually say that one item per person makes for a full meal. The good news is that if you're trying to keep your spending low you can head up just two decks and round out your meal with a panini or a couple slices of pizza!
In addition to the delicious food on the menu, you can also order wine, beer, or espresso-based drinks to go with your meal. If you're like me and want coffee with your breakfast but don't want to pay more, I recommend bringing it with you from elsewhere on the ship. The prices for coffee weren't posted and I didn't think to ask since I wasn't going to order one.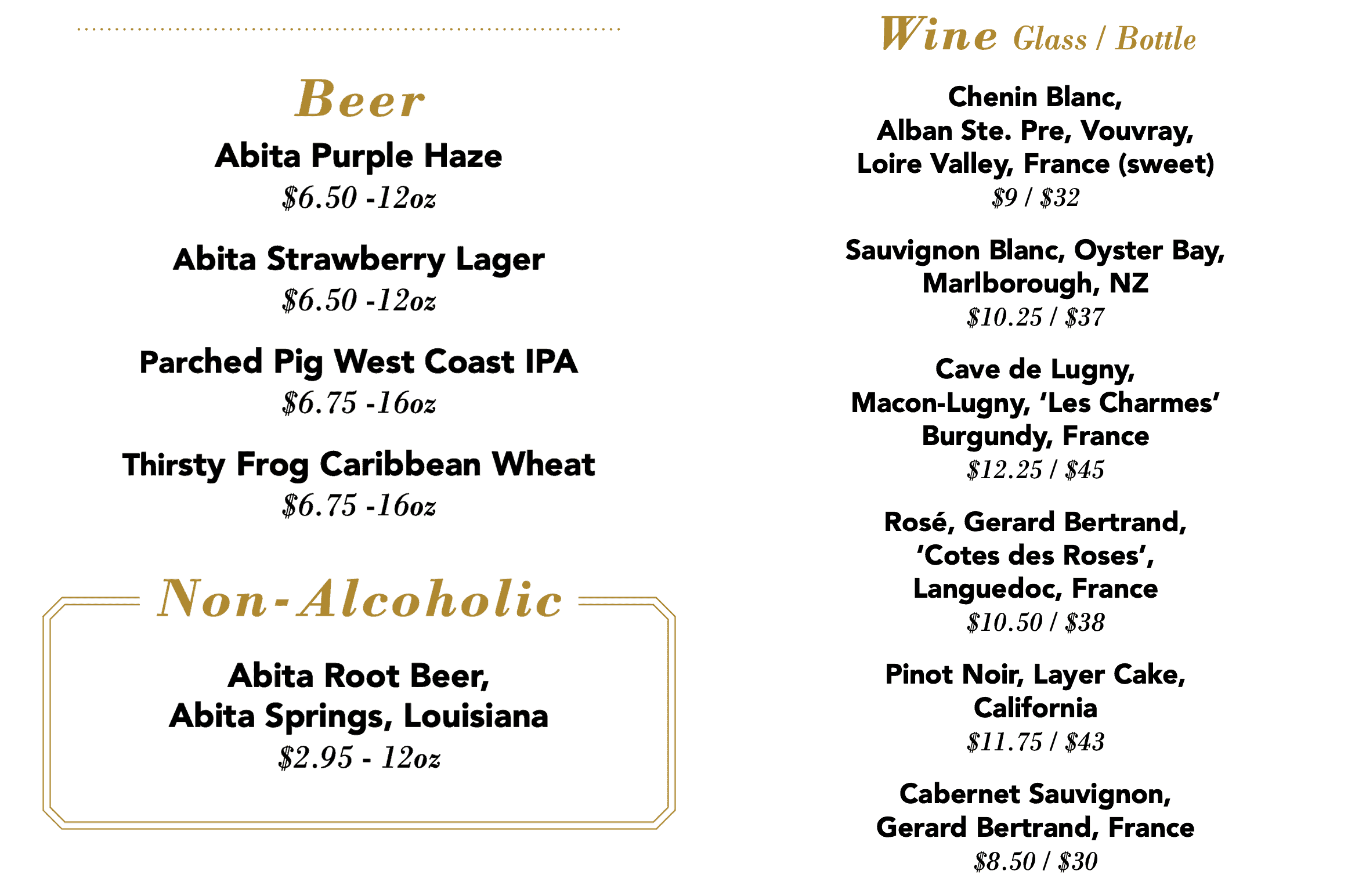 Wine can be purchased by the glass or by the bottle, and they have both New Orleans beers and Carnival beers to choose from. We'll probably have to get one of the NOLA ones next time we're on the Mardi Gras and grabbing a meal at Emeril's. 
A really nice touch at dinner is the live music that can be heard from next door at the Fortune Teller bar. Emeril's Bistro really is a gem that was under attended when I was on board. I expect that as word of mouth begins to spread, the joint will be jumping all the time.
Emeril's Bistro is open for breakfast from 8 am to 10:30 am, and then reopens with the rest of the menu from noon until 10 pm. I liked that I could have breakfast later in the morning here and that it's open later than some of the other dinner options. Sometimes there's a comedy show you just can't miss, you know?
READ NEXT: Mardi Gras Dining Guide: Which Restaurants Are Complimentary?
Pin it!