On every cruise line, there are specialty restaurants that you really look forward to. You might even save them for a special occasion or your final night on the ship, just to end the cruise on a high note. For me, the Pinnacle Grill – featured on many Holland America ships – is one of those restaurants. During a recent trip on the ms Eurodam, I swung by for dinner one night.
Making Pinnacle Grill Reservations 
There are a couple of different ways to make dining reservations for the Pinnacle Grill. You can dial 88 from your cabin's telephone,  stop by the restaurant's front desk and see a hostess, or make a reservation via the app when you're logged onto the shipboard Navigator, which is free to use when connected to the ship's internet.
The cost is $35 per person, and trust me when I say you should definitely make a reservation. This place is popular, and it fills up fast. We went to make reservations on a Sunday and found that there was nothing available until Thursday evening at 6:30 p.m. Proving that beggars can't be choosers, we immediately booked the table… and then looked forward to it all week.
Scouting the Menu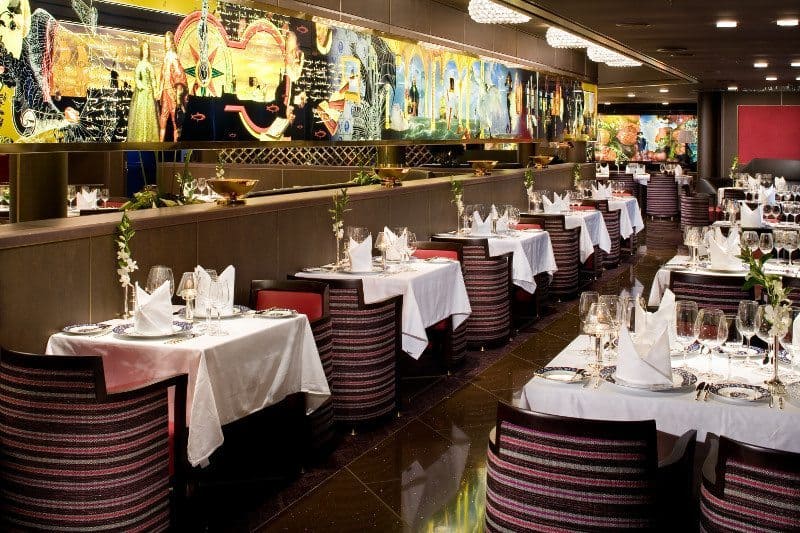 Long before we dined at the Pinnacle Grill, I was stalking the menu. I viewed it online, I stopped by the restaurant during the week to check it out in person and then, when finally we sat down for dinner, I continued mulling over the choices. Everything on the menu sounded amazing, and I suspected I might even wind up getting two entrees. They charge an additional $15 for a second entree, but sometimes, a guy's just got to splurge… especially in a steakhouse.
The choices weren't going to be any easier when it came to the appetizers either. Among those that jumped out at me? The lobster bisque, the jumbo shrimp cocktail, and the spinach salad.
The main course section of the menu features entrees divided up by "land" and "sea." On the land side, you'll find exactly what you'd expect, with options like steak, pork chops, and lamb. There are also vegetarian options, including wild mushroom ravioli. (But come on… what kind of sadist takes a vegetarian to a steakhouse?) And if you really have an appetite, you can go for the President's Cut. Weighing in at 36 ounces, this bone-in rib eye (a cut hand-selected by Holland America's president, Orlando Ashford) comes at an upcharge of $59 and is big enough to be shared. (Unless you're really, really, really hungry, in which case… have at it!)
Over on the sea side of the menu, there's lobster, shrimp scampi, Alaskan King crab legs and more. Dessert options include a Not-So Baked Alaska with Ben and Jerry's ice cream, creme brûlée, souffle and ice creams.
Read More: Holland America's Pinnacle Grill Menu
The Pinnacle Grill Dining Experience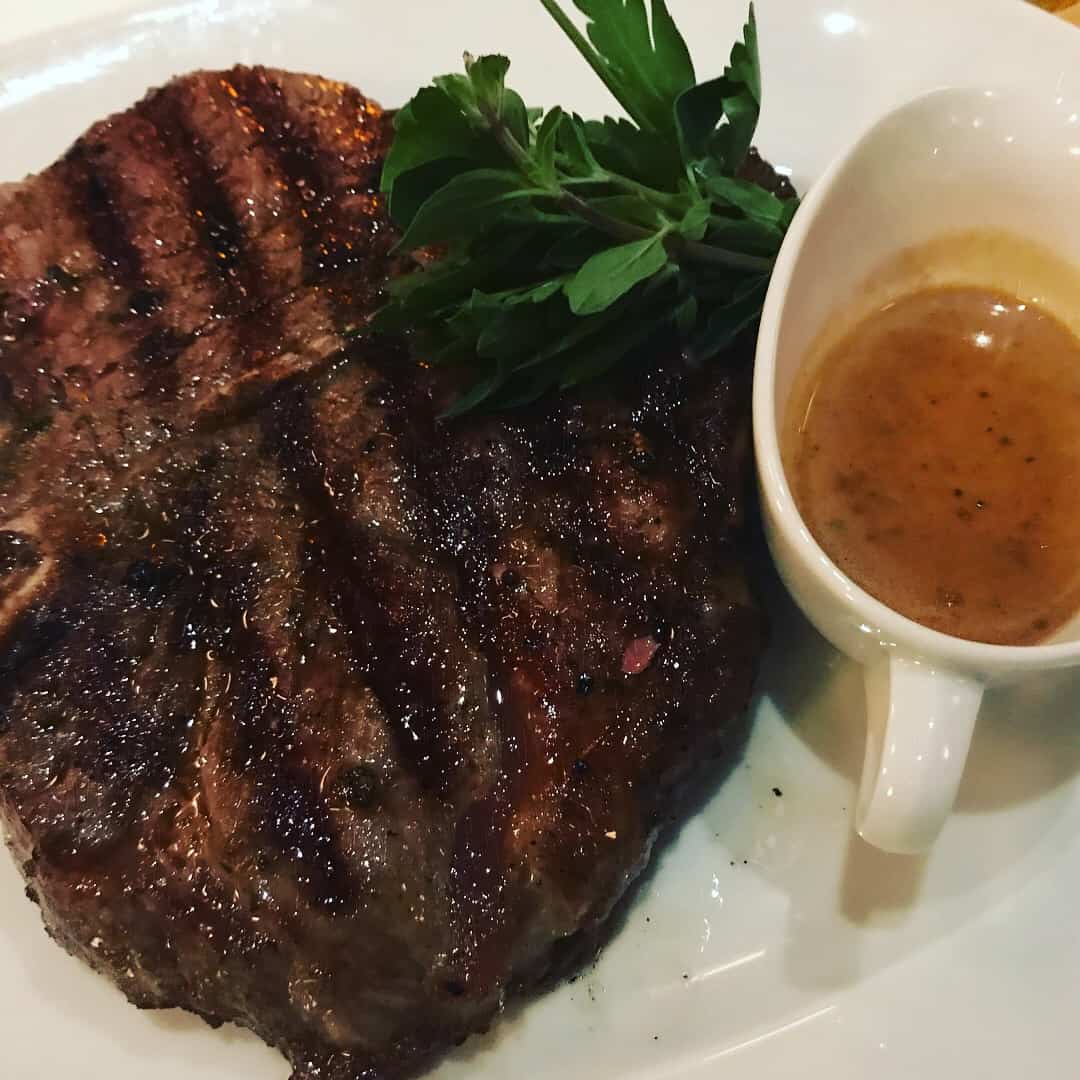 We got to the Pinnacle Grill at 6:30 p.m. and were seated immediately. Entering the dining room, I noticed that most of the spaces allocated to booths are more intimate and reserved for couples. Four guys with appetites? We were seated at a great table in the center of the room and given menus. I still wasn't sure what I'd be ordering. It was sort of like when the teacher hands you a test and, despite having studied, you're not sure you know the answers!
One of the servers welcomed us, offered suggestions and asked if we had any question. "How much," I asked, "is the upcharge to add Alaskan king crab legs to my entree?" At $15 — less than they'd be back home — I was sold. I'm not a big wine drinker — I can tell a red from a white, although things get confusing when you start talking about rosés — so we settled on a $59 bottle of Portrait Barossa Shiraz.
So what did I wind up ordering after days of mulling over my options? I went pretty traditional. Jumbo shrimp cocktail appetizer, a 23-ounce porterhouse, and the aforementioned crab legs. Like most people, I've rarely ever eaten creamed spinach outside a steakhouse, but again, it's sort of part of the true steakhouse experience. So I went with that and asparagus as sides, with a creme brûlée dessert to top off the meal.
Most Memorable Dish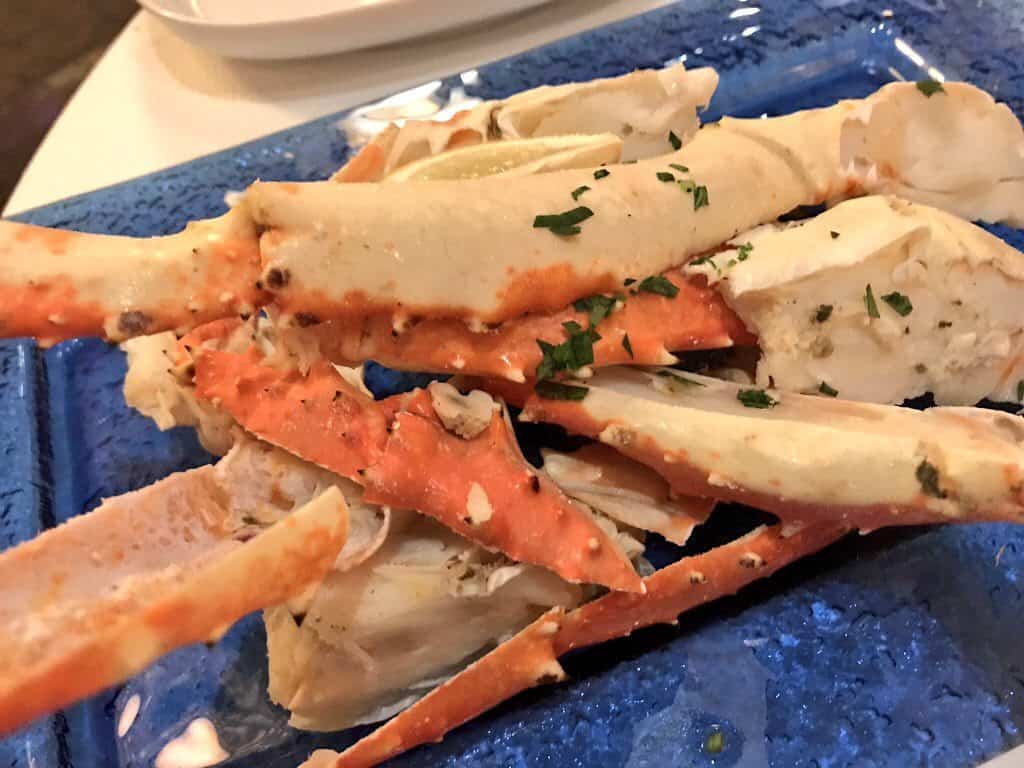 I'm going to go with the Alaskan King Crab Legs. Is there anything better than crab legs dipped in steaming-hot butter? (Okay, maybe lobster, but…) As a big fan of seafood, putting a plate of these in front of me was all it took to make me happy. It didn't hurt that they accompanied that 23-ounce porterhouse, perfectly prepared (medium rare) and beautifully seasoned.
Final Thoughts
You know how sometimes when you're eating in a main dining room, you settle for food that might not be the hottest or prepared exactly the way you might like it? I think that when you eat in a specialty restaurant and are paying extra for the meal, the game needs to be upped. That was certainly the case here. Everything came out hot and perfectly prepared. Well, almost everything. I didn't much care for the creamed spinach. The taste was fine, but it was almost like a puree, which was a different consistency than I'm generally used to in steakhouses. Whether it was an off dish or simply the way this particular chef likes to prepare the spinach, I don't know. It's not that it was inedible or even bad, just… different than what I'm used to.
The wine, food, and great company combined to make this yet another top-notch Pinnacle Grill dining experience. If you're a fan of steakhouses, this is one at-sea venue that's definitely worth checking out.
The Pinnacle Grill can be found on all of Holland America's current ships. The restaurant also offers lunch at $10 per person, and the menus are known to change regularly to reflect the freshest available ingredients.