Royal Caribbean is officially getting into the world cruise game.
The large ship line just revealed its inaugural Ultimate World Cruise — a 274-night adventure that will visit all seven continents, over 150 destinations in 65 countries, and 11 wonders of the world.
Not only is this Royal Caribbean's first world cruise, but it's also the longest one in the industry thus far. It will take place aboard Serenade of the Seas, setting sail from Miami on December 10, 2023. It will conclude in Miami on September 10, 2024.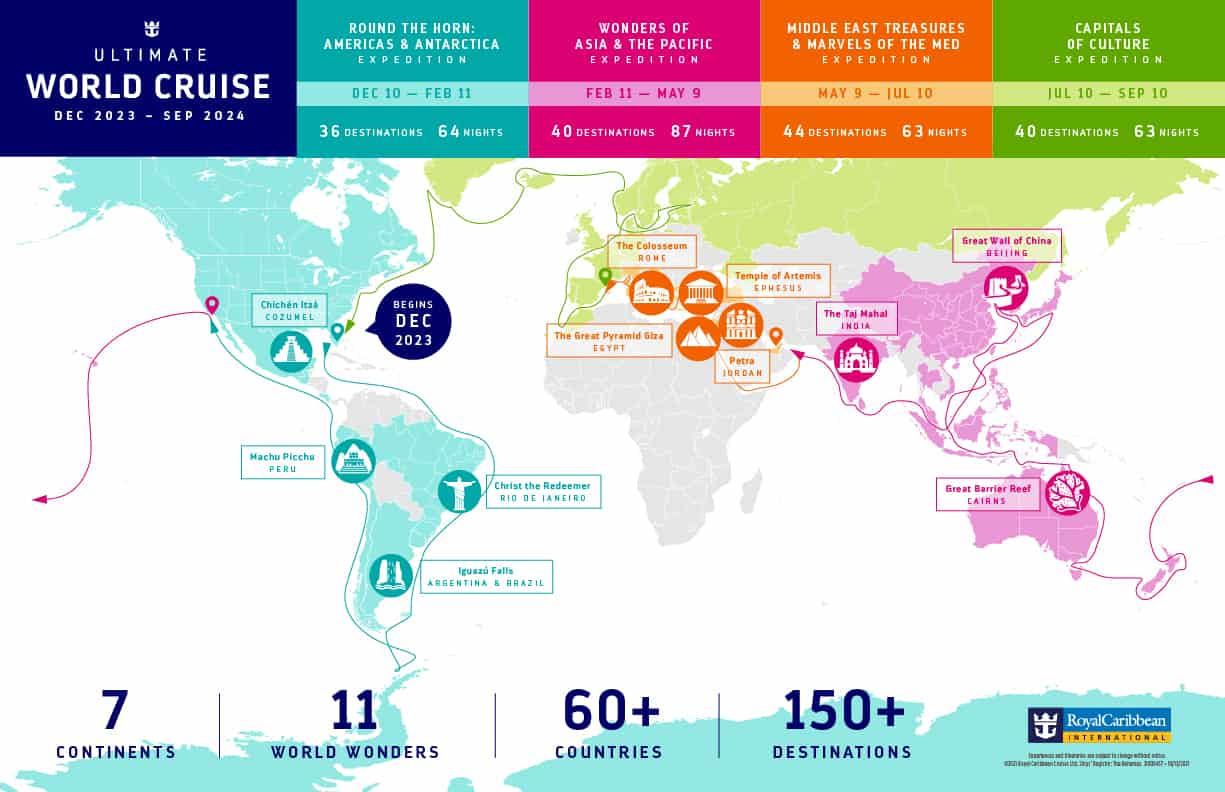 57 destinations on the route will be new to Royal Caribbean, and exclusive to this world cruise itself. Highlights include Casablanca, Morocco; Qaqortoq, Greenland; and Shimizu, Japan — the gateway to Mount Fuji.
"This is the world cruise of world cruises," said Michael Bayley, president and CEO, Royal Caribbean International.
"Now more than ever, people have resolved to travel the world and make up for lost time. Royal Caribbean is making that a reality with the ultimate vacation that welcomes those seeking adventure and exploration to taste, dance and dream with us around the world. To travelers asking themselves where they should go next, we say everywhere."
Travelers can book the full Ultimate World Cruise, or choose from four segments of the voyage: the Americas, Asia-Pacific, Mediterranean, or Northern Europe.
Round the Horn: Americas & Antarctica Expedition
December 10, 2023 through February 11, 2024 — 3 continents, 36 destinations
The first segment of the voyage will focus on the Americas and Antarctica, setting sail from Miami and first stopping in a variety of Caribbean destinations before heading to Antarctica and around Cape Horn.
Passengers can take in four wonders of the world in Central and South America, including Chichen Itza in Cozumel, Christ the Redeemer sculpture in Rio de Janeiro, and the largest waterfall system on the planet — Iguazu Falls near Buenos Aires, Argentina. Machu Picchu awaits in Peru, one of the most iconic symbols of ancient Inca civilization.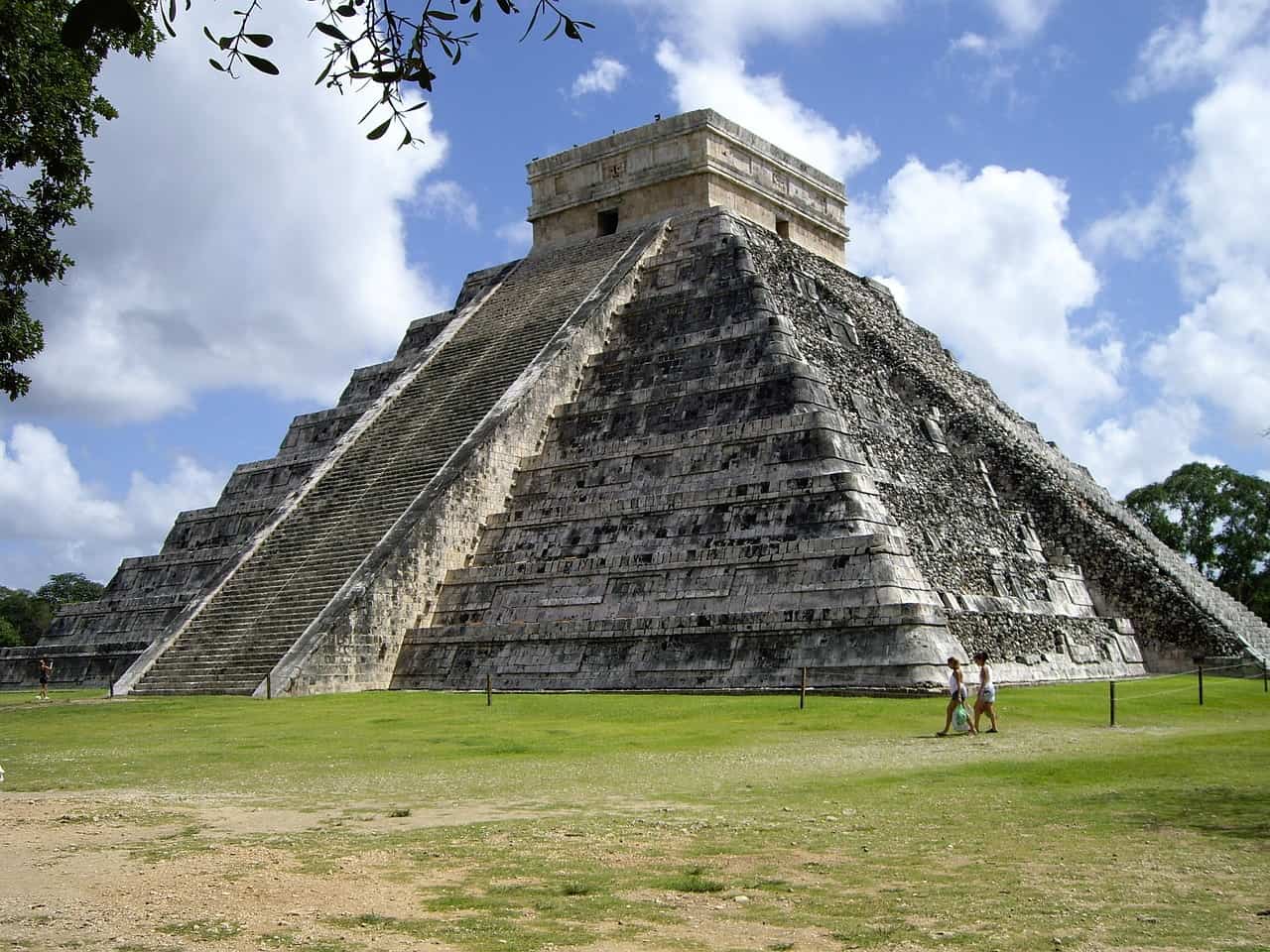 Wonders of Asia and the Pacific Expedition
February 11 through May 9, 2024 — 3 continents, 40 destinations
Guests will explore Oceania, Asia, and beyond on the next leg of the journey. They will discover beauty and adventure in Hawaii before sailing to More and Tahiti for blue skies and crystal-clear waters.
The thrills will continue with an exploration of New Zealand before taking a deep-dive into Australia's Great Barrier Reef. Pristine natural beauty in Bali is soon followed by two of the most iconic manmade wonders: the Great Wall of China and the Taj Mahal in India.
Rounding out the expedition are adventures in places including Tokyo, Osaka, and Okinawa, Japan.
MORE: JetBlue Taps Cruising Market With Flight + Cruise Packages
Middle East Treasures and Marvels of the Med Expedition
May 9 through July 10, 2024 — 3 continents, 44 destinations
This leg begins in Dubai before heading into the Mediterranean, visiting destinations including Jordan's lost city of Petra, the Pyramids of Giza in Egypt, the Temple of Artemis in Ephesus, and the Colosseum in Rome.
Other places to explore include Greece's Olympia, the site of the first Olympic games; Split, Croatia; and Cannes and Provence in France.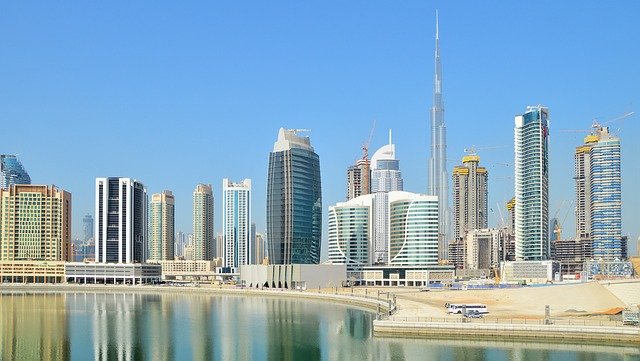 Capitals of Culture
July 10 through September 10, 2024 — 3 continents, 40 destinations
The final stretch of the Ultimate World Cruise is an immersive, cultural experience that begins in the Mediterranean and heads north.
Travelers can enjoy Barcelona's architecture and savor flavors across continents, such as lunch in a Parisian bistro and a dinner of tagine and mint tea in Morocco. Museums, theaters, and galleries line the streets of St. Petersburg, Russia, while majestic fjords await in Norway.
Guests can enjoy the geothermal waters of the Blue Lagoon in Iceland before visiting New York City on their way back to Miami.
Included Amenities
Passengers who book the full Ultimate World Cruise will enjoy a number of included amenities, such as business class airfare, premium transportation, and an evening of festivities and accommodations at a five-star hotel before setting sail.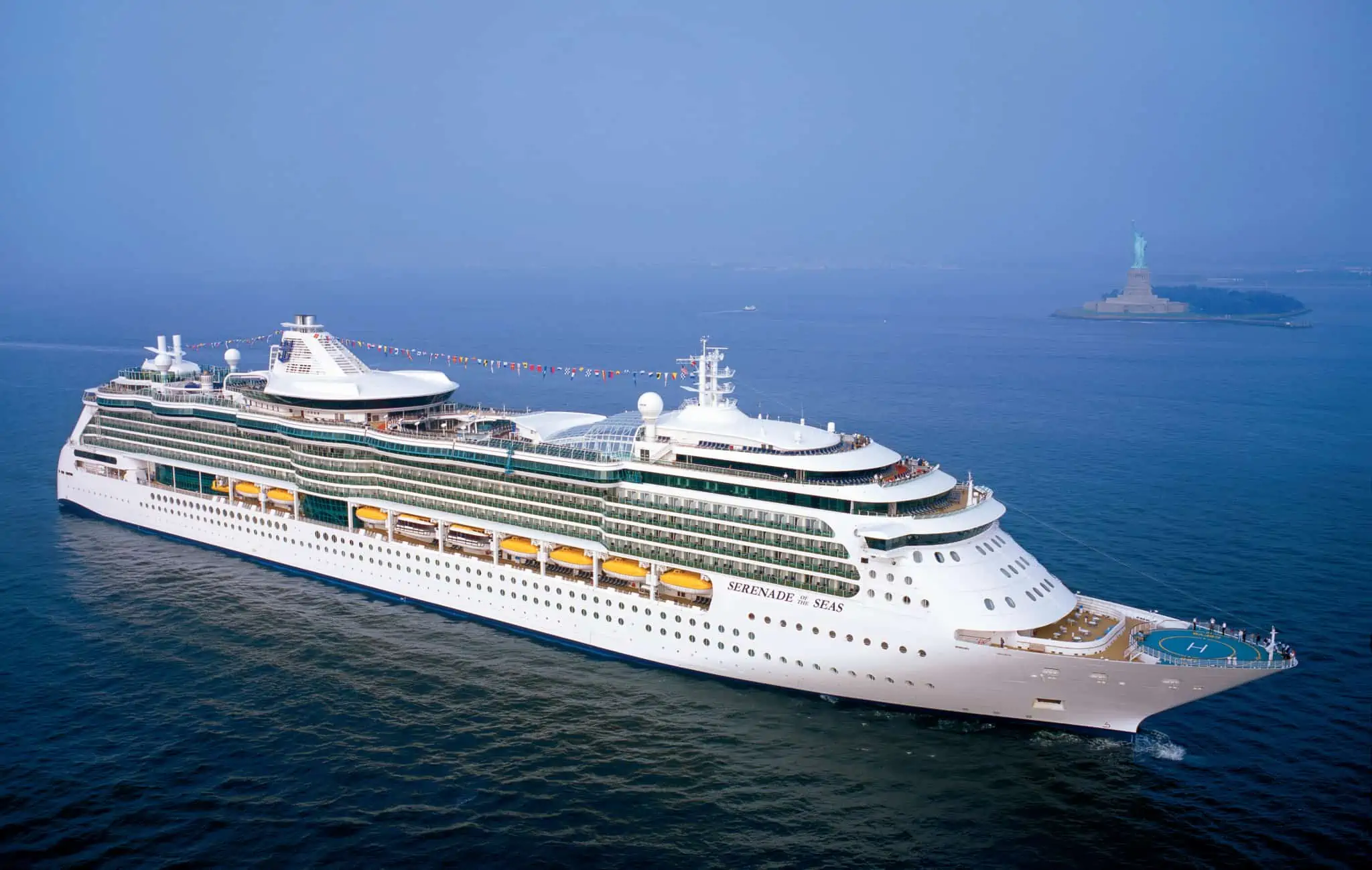 Crown & Anchor Society Platinum Status members and above will receive a bonus Seven New World Wonders shore excursion package plus other perks including a Deluxe Beverage package, wifi, laundry service, and more.
Bookings must be made by phone at Royal's dedicated line for the Ultimate World Cruise at 800-423-2100, or through a travel advisor.
Prices for the full voyages start at $61,000 per guest.
READ NEXT: Viking Announces Two Identical World Cruises For 2023-24