Santa was zipping through the sky yesterday not on his sled, but on the roller coaster that tops Carnival Cruise Line's new ship, Mardi Gras.
Something You Don't See Every Day
Workers at the Meyer Turku shipyard in Finland were putting the finishing touches on Mardi Gras when they heard a particularly distinct laugh coming from somewhere above their heads. This wasn't your typical guffaw or titter, but rather the kind of hearty "Ho, ho, ho" which is pretty much associated with only one person on the planet.
Looking up, they were taken aback to find that Santa had snuck on board in order to take BOLT, the roller coaster which soars above Mardi Gras' lido deck, for a spin. Given that Mardi Gras is still several months away from entering service, Santa's joyride was technically an unauthorized visit. But those on board couldn't help smiling as they heard Santa shriek when the motorcycle-like ride vehicle entered the hairpin curve which circles the iconic deck-topping funnel.
After all, who's going to put Santa on the naughty list when he's just having a little (mostly innocent) fun?
READ MORE: Carnival Cancels Through February 2021, Mardi Gras Cruise Delayed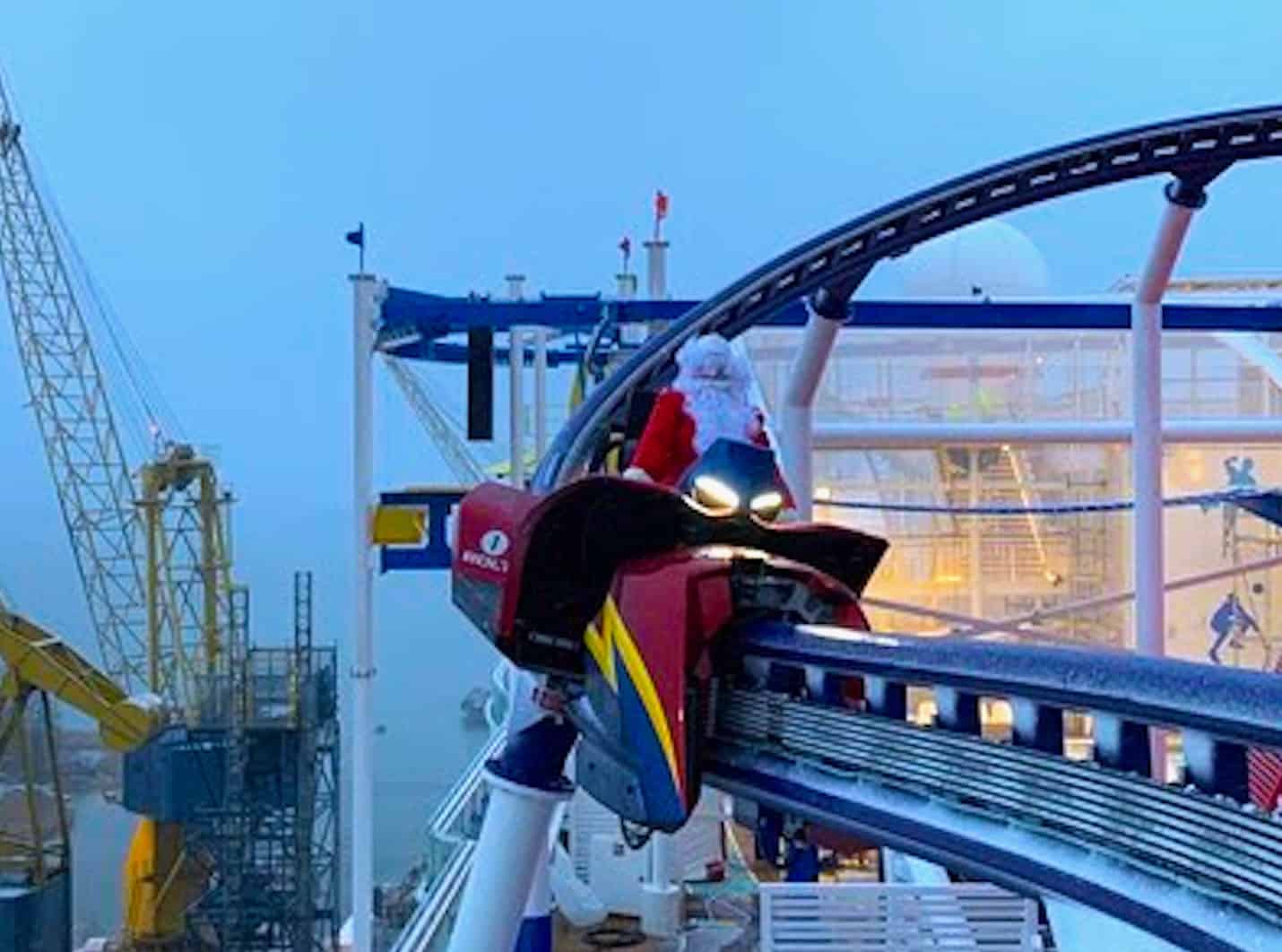 What's Next For the Ship
With Saint Nick's big day just around the corner, the shipyard's workers turned a blind eye, deciding he'd definitely earned a little bit of fun. "Never in my wildest dreams would I think a roller coaster could be on a cruise ship," Santa admitted when finally he could be coaxed off the ride. "It's something we'll be talking about at the North Pole for a long time!"
Jumping onto his sleigh — itself a pretty darn impressive ride — Santa went back to his workshop, admitting he'd been mightily impressed by the "elves" putting the finishing touches on Mardi Gras. (We hear he may even be planning to poach a few of them for his own workshop.)
As for Mardi Gras, the ship is expected to be delivered to Carnival later this week, after which she'll begin preparing for her debut in the spring of 2021.
RELATED: Watch Carnival Ship Mardi Gras Complete Sea Trials [VIDEO]