Costa Cruises and the Port of Savona, Italy celebrated their 10 millionth cruise guest on this past Saturday, November 21, less than two decades since Costa Riviera made the first call at the port in 1996.  The passenger, Paola Braschi from Genoa, Italy, was presented with a cabin on Costa's "Around-the-World" cruise.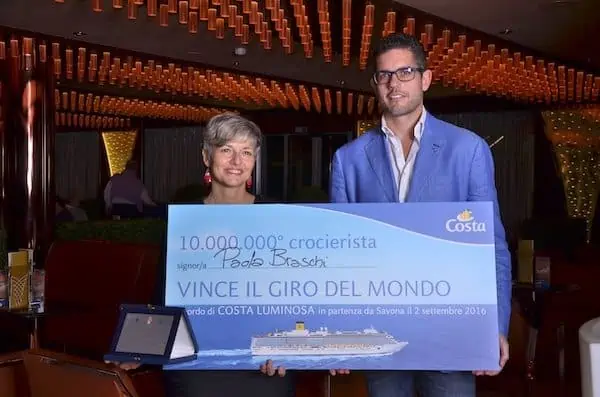 Braschi was sailing on Costa Diadema with her family.  She will return to Savona on September 2 of next year to depart on Costa Luminosa's 98-day world cruise.  The world cruise is a voyage that circumnavigates the globe with calls on five continents.
The municipality of Savona honored Paola Braschi with a pass that grants her free admission to the Civic Museums Savona through 2016, giving her the opportunity to discover the artistic and cultural heritage of the city.
Since 1996, the amount of cruise passengers arriving in Savona has increased yearly, thanks to Costa's presence.  According to CLIA Europe, in 2014 Savona was the fourth leading cruise port in Italy, with about 1 million passengers.