When Carnival Cruise Line's new megaship Mardi Gras at last debuts, it will feature several new restaurants, including one called Big Chicken. Created by Carnival's Chief Fun Officer Shaquille O'Neal, the venue features — as you might guess by the name — a whole lotta chicken, and we're about to do a deep-dive into the menu.
Note: in addition to Mardi Gras, sister-ship Carnival Celebration will also include a Big Chicken onboard, as well as the soon-to-be-transformed Carnival Radiance.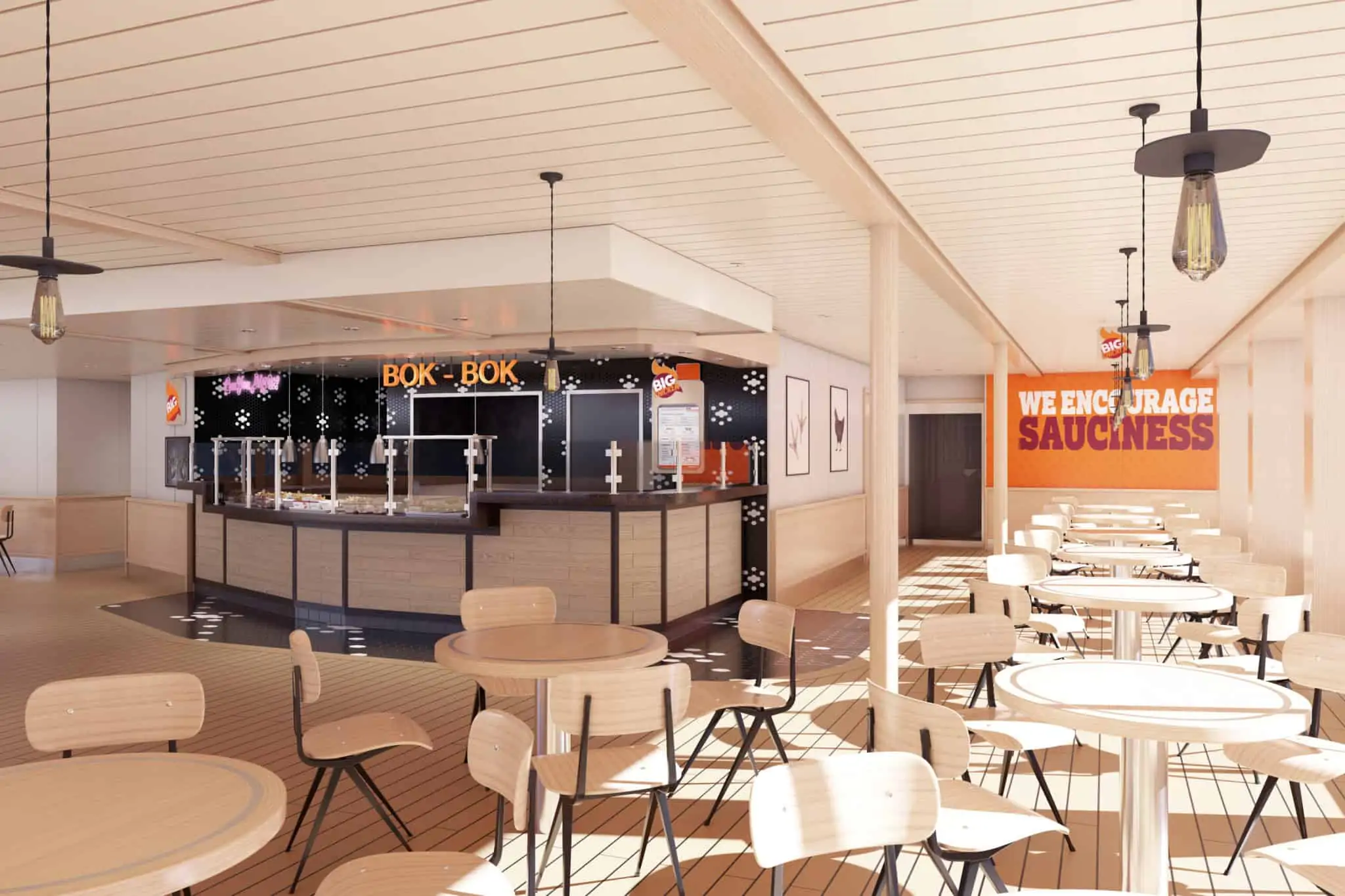 Chicken, Chicken and More Chicken
To put the items served at this restaurant in terms most Carnival cruisers will understand, Shaq has basically made himself the Guy Fieri of chicken. Because just as Guy's Burger Joint is all about the burgers, Shaq's venture is all about the birds. What promises to be the most popular items — all of which are included in your cruise fare — are the sandwiches. And just like at Guy's poolside joint, they come with catchy names and tasty toppings.
READ MORE: First Look at Emeril's Mardi Gras Restaurant
The sandwiches can be made with dark or white meat, and if you're wanting to cut a few calories, you can also request grilled (as opposed to deep-fried) chicken. The menu also notes that "our exclusive Naked Truth premium chicken is preservative free and humanely raised with no cages, no hormones and no antibiotics, ever for a Shaq-size flavor that's oh-so good."
The four basic sandwiches are:
M.D.E. (the Most Dominant Ever) which comes with Shaq sauce and pickles
Shaq Attack (featuring pepper jack cheese, jalapeño slaw, and spicy chipotle BBQ sauce)
Shaq Daddy (with swiss cheese, Carolina honey, country ham, and a mustard BBQ sauce)
The Big Aristotle (topped with muenster cheese, crispy fried onions, bacon, and sweet & smoky Memphis BBQ sauce)
Not in the mood for a sandwich? The menu also features a fried chicken basket or chicken strips. Under "sidekicks," you can order potato salad, house made sweet & spicy pickles, or jalapeño slaw.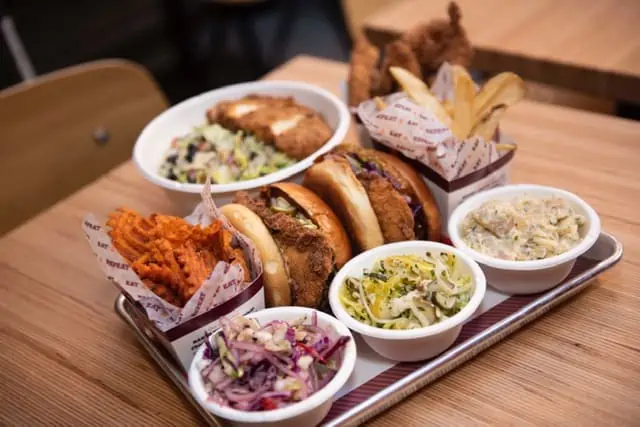 What's For Breakfast?
Not only will Big Chicken be serving up breakfast, but — perhaps having anticipated that some folks may have been out late the night before — it will be served up until 3 p.m. Believe it or not, the breakfast selection actually includes two non-chicken items… including one that is perfect for vegetarians!
The breakfast offerings are:
Chicken & Biscuit (with a chili honey glaze syrup)
Biscuit & Egg (served with either sausage or bacon, egg, and cheese)
Three Cheese Omelette (with cheddar, Monterey jack, and Swiss)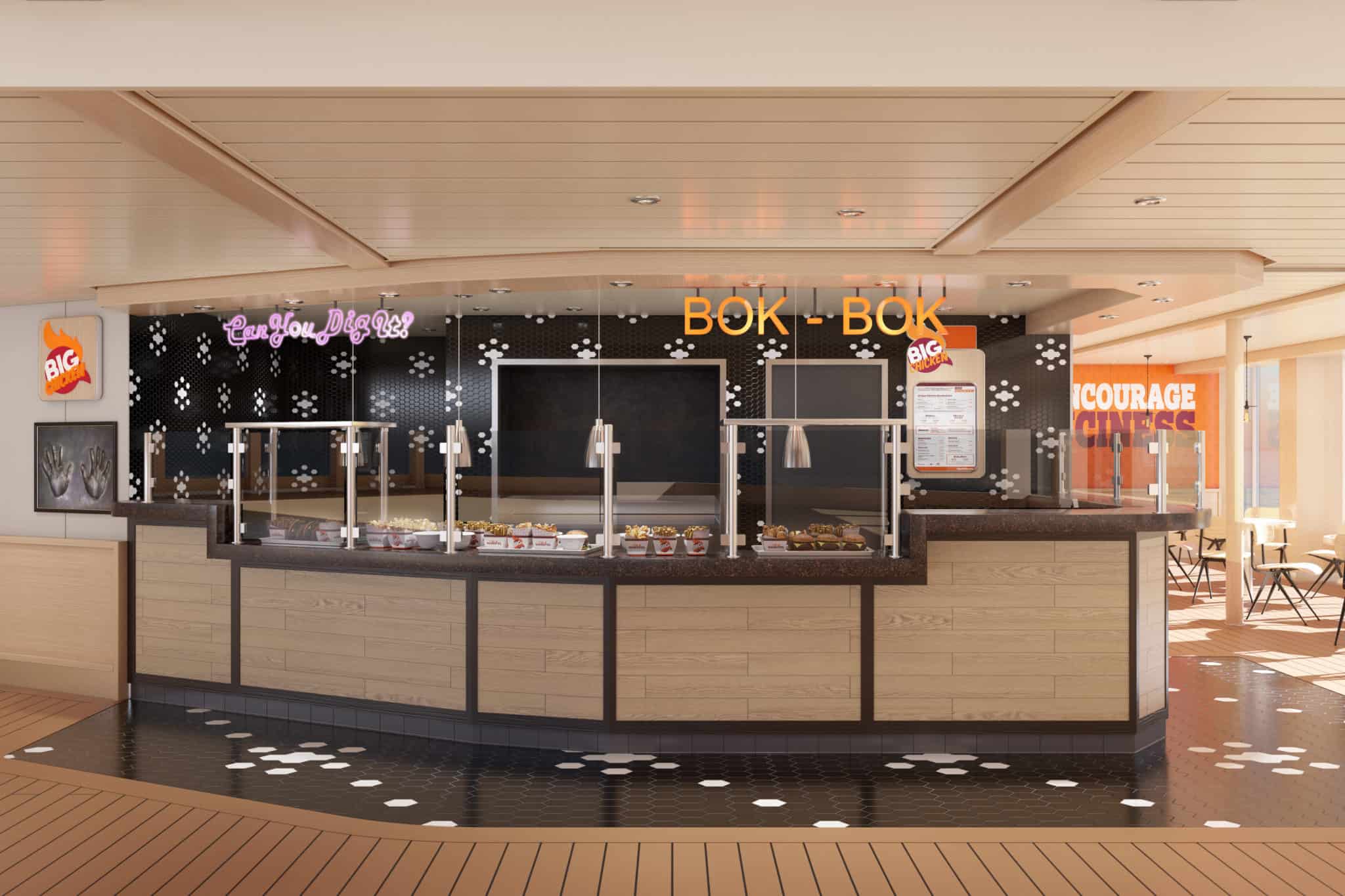 On Mardi Gras, Big Chicken will be located on deck 16 aft, conveniently enough near the Tides pool and its bar. This also puts the new establishment just past the Lido buffet, meaning plenty of seating (as well as other food options) will be nearby. Also new to the Lido deck will be Street Eats, a trio of walk-up, window-service spaces designed to remind patrons of push-carts and food trucks. Street Eats will offer a rotating variety of tapas-like foods, all of which are included in the cruise cost.
Finally, the Lido deck's pool area will be anchored by another Carnival first: a two-story RedFrog Tiki Bar offering libations such as a Polynesian Punch, a Jungle Bird, and a Red's Rum Jumper. This also promises to be the perfect spot — especially the upper level — from which to watch all of the goings on unfolding around the pool.
READ MORE: First Look Inside Carnival Cruise Line's Mardi Gras [PHOTOS]