Silversea Cruises has revealed details on eight signature restaurants that will be found on its new ship Silver Nova.
Each restaurant will incorporate all-new design features, facilitated by the vessel's asymmetrical design — a first for Silversea. Decks three, four, and five will be home to the indoor restaurants, while The Marquee on deck ten will house the ship's two outdoor dining options: Spaccanapoli and The Grill.
Here's a rundown on Silver Nova's eight restaurants.
La Terrazza
La Terrazza is the largest of the ship's restaurants, with a capacity of 340. It will be comprised of both indoor and outdoor spaces on deck four, serving breakfast, lunch, and dinner with open seating.
The venue has been reimagined with a new aesthetic that incorporates a vibrant color palette. It will feature floor-to-ceiling windows and a terrace for up to 90 people.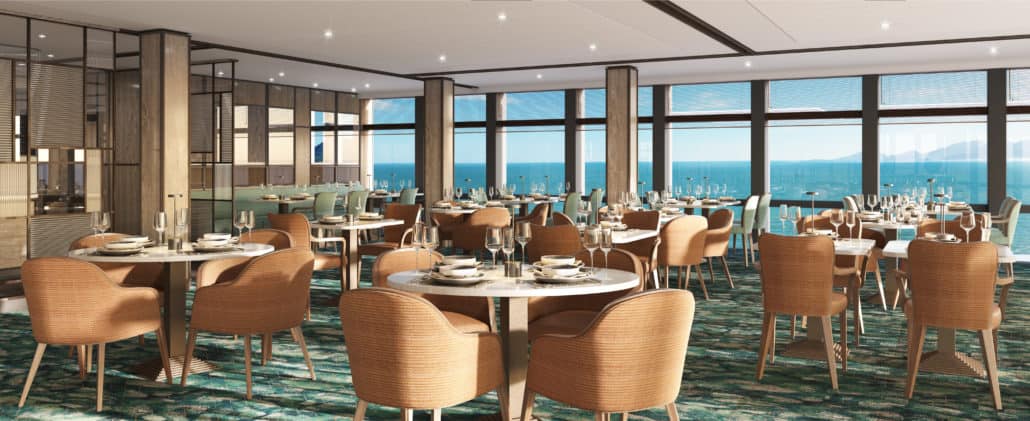 During the day, La Terrazza will feature a large buffet area. At dinnertime, the venue's decorative, fluted glass screens will enclose the space for a more intimate experience.
Silver Nova's asymmetrical design will enable a new shape for La Terrazza, as the venue will have a curved layout on the port side and run to the ship's aft on the starboard side.
Atlantide
Atlantide will accommodate 270 passengers for breakfast, lunch, and dinner on deck three. While it isn't the largest dining venue on board, it will be the most spacious. It will feature a new layout alongside its iconic warm tones to maintain its signature aesthetic.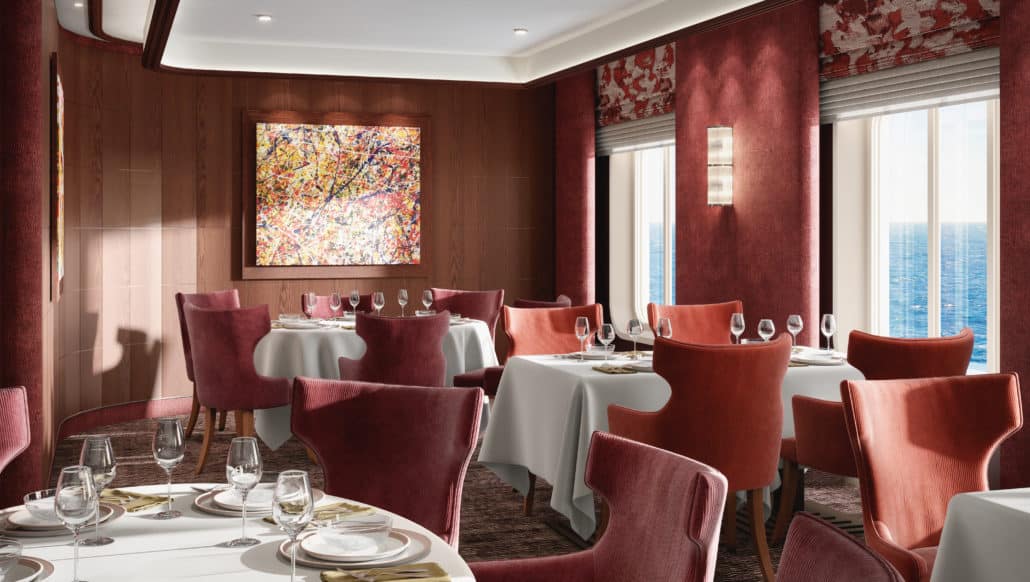 Modern architectural details and materials will elevate the space, with fluted glass, metal trim, and natural stone flooring.
S.A.L.T. Kitchen
When S.A.L.T. Kitchen launched on Silver Moon, it became the first large-scale regional restaurant at sea.
On Silver Nova, the venue will be on deck three, holding 160 people and having the ability to accommodate larger groups. High ceilings and large windows will create a sense of openness and plenty of natural light.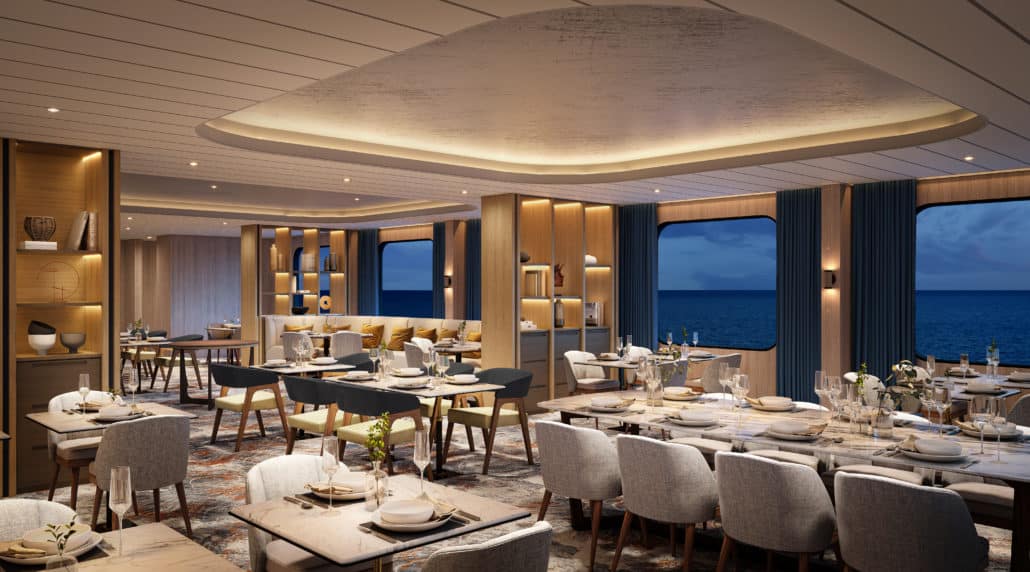 S.A.L.T. Kitchen will offer a menu inspired by each destination, from the Terrain menu — which adapts according to the port of call — to the Voyage menu, which includes the best recipes of each sailing.
La Dame
Silversea's signature French restaurant will host 70 guests on Silver Nova, in an elegant setting on deck four.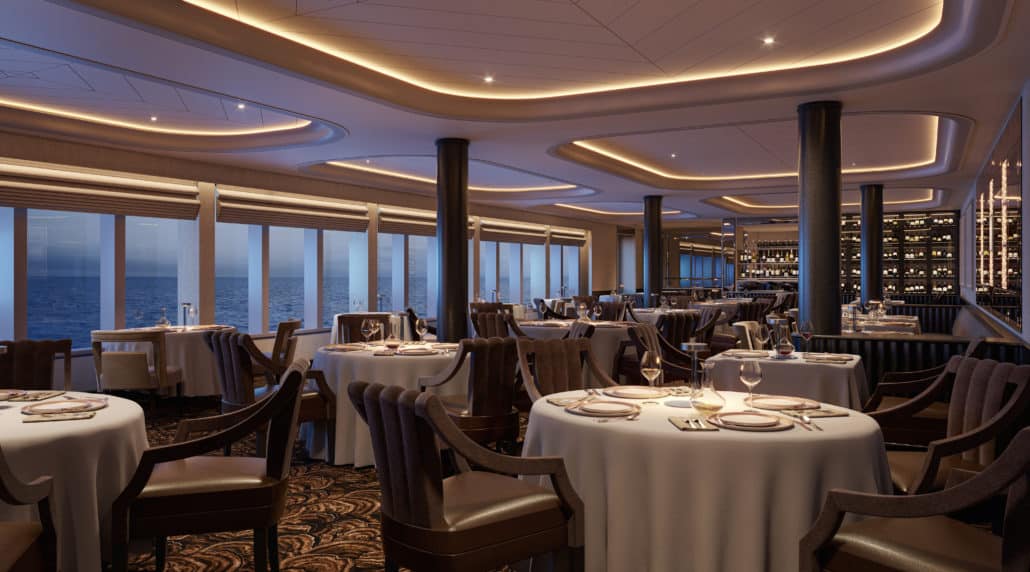 The venue will feature high ceilings and sizeable windows that offer sweeping views from every seat. The color palette will be contrasting bright and dark tones, and handmade Lalique crystal panels and a Hirondelles crystal chandelier will greet guests upon arrival.
Silver Note
Inspired by jazz clubs of the 1920s, Silver Note will welcome up to 54 passengers for dinner each night with a new design and layout.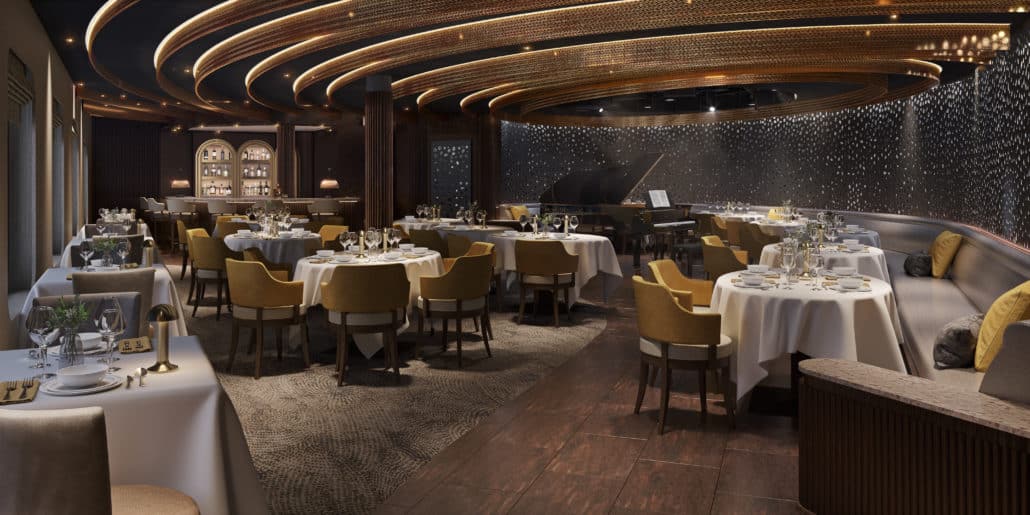 Perfect for a meal or post-dinner cocktail, the intimate setting on deck five will feature a dark color palette with gold metal and velvet accents. Lighting installations on the ceiling and a wrap-around wall will put focus on a central stage, which will host a piano for live music performances.
Silver Note's bar will also be enhanced on Silver Nova, with a fresh design and plenty of seating.
MORE: Carnival's Mardi Gras Rescues 16 Stranded Boaters
Kaiseki
Kaiseki will serve Asian cuisine in a minimalist, Japanese-inspired setting on deck four, accommodating 40 guests.
Modern design features will enrich the space from its entrance — which will act as a symbolic gateway to Japan — to its decoration, which will incorporate authentic washi paper, marble, and wooden materials.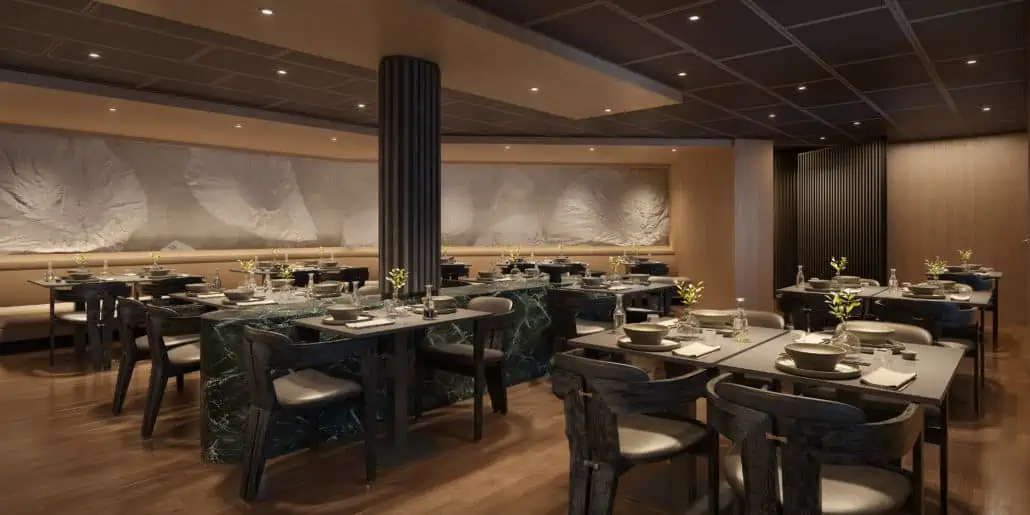 Primarily serving Japanese fare, Kaiseki will also offer Vietnamese, Thai, Indian, Korean, and Chinese cuisine from an a la carte menu.
The Marquee (The Grill & Spaccanapoli)
Deck ten will be home to The Marquee — a new food and drinks venue with beautiful views on the port side.
The al fresco venue will welcome up to 220 guests, incorporating two of Silversea Cruises' signature venues: The Grill and Spaccanapoli.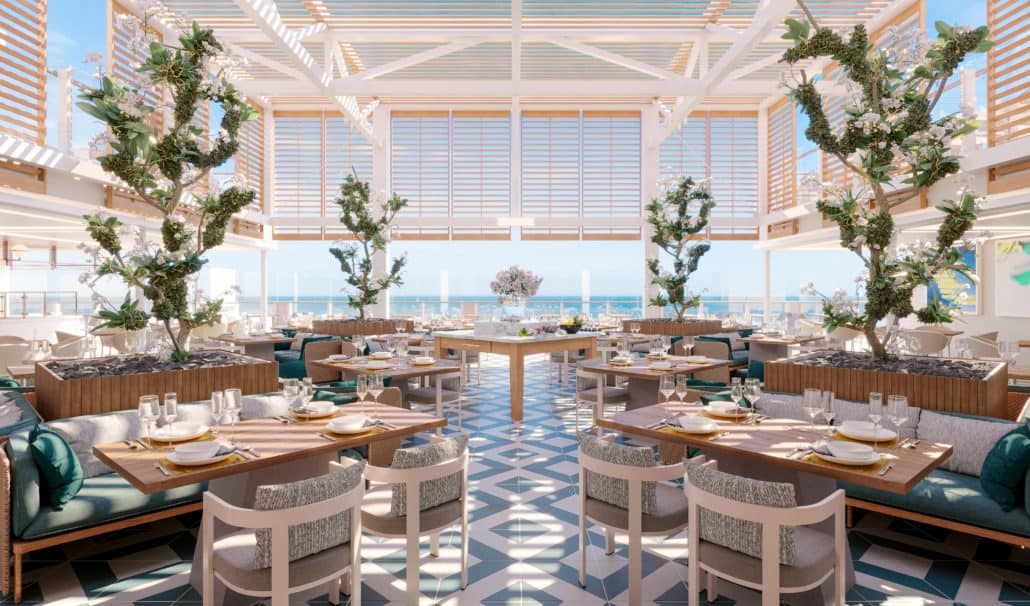 The Grill offers the cruise line's trademark "hot rocks" culinary concept, while Spaccanapoli serves what many consider to be the best pizza at sea.
Due to its proximity to the swimming pool, The Marquee welcomes passengers in a relaxed setting, serving casual fare by day and offering dinner under the stars by night.
Other Silver Nova Information
In addition to the above restaurants, the ship will host up to 70 guests in the vibrant Arts Café — a casual space to enjoy snacks and drinks. Relocated to the center of the ship, Arts Café will benefit from plenty of natural light due to a double-height atrium.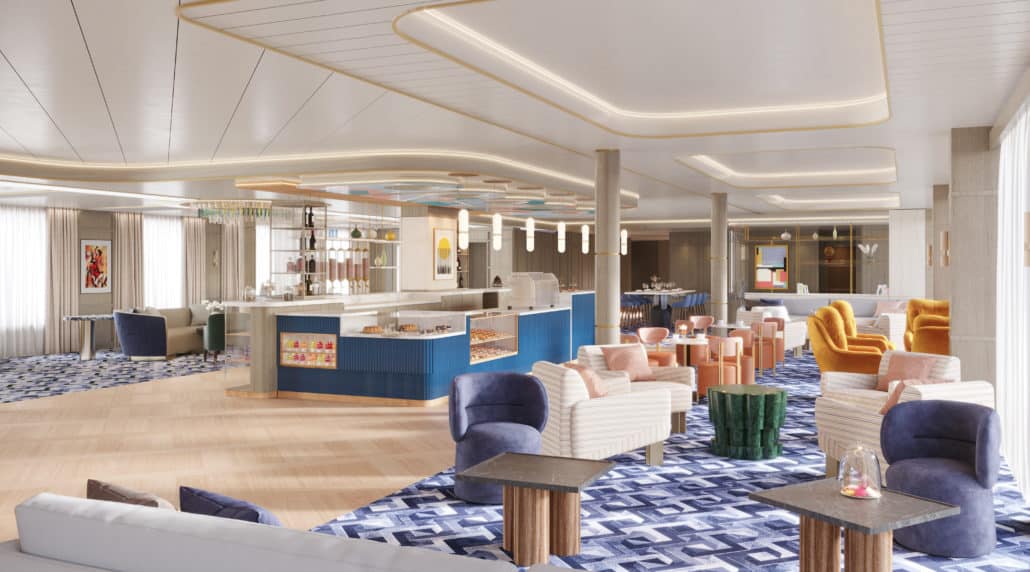 Included in-suite dining will also available around the clock, enhanced by the Otium dining menu which includes snacks like lobster and caviar in brioche rolls and a range of gourmet popcorn.
Silver Nova will be one of the most spacious cruise ships ever built, with the highest space-to-guest ratio in Silversea's fleet. The vessel will be 54,700 gross tons and carry 728 guests.
The ship is set to launch in 2023, and be the first cruise vessel to be free of local emissions while in port by using fuel cells and batteries.
READ NEXT: First Look: Silversea Cruises' Luxury Ship Silver Moon