To the casual observer, Carnival Valor and Carnival Breeze might appear to be basically the same ship. After all, both sail under the same corporate flag of Carnival Cruise Lines and are on the older side when compared to ships like Vista or Horizon.
No two cruise reviews or ships are exactly alike. So what are the differences between Carnival Valor and Carnival Breeze? And more important, which one is right for you? 

The Ship Stats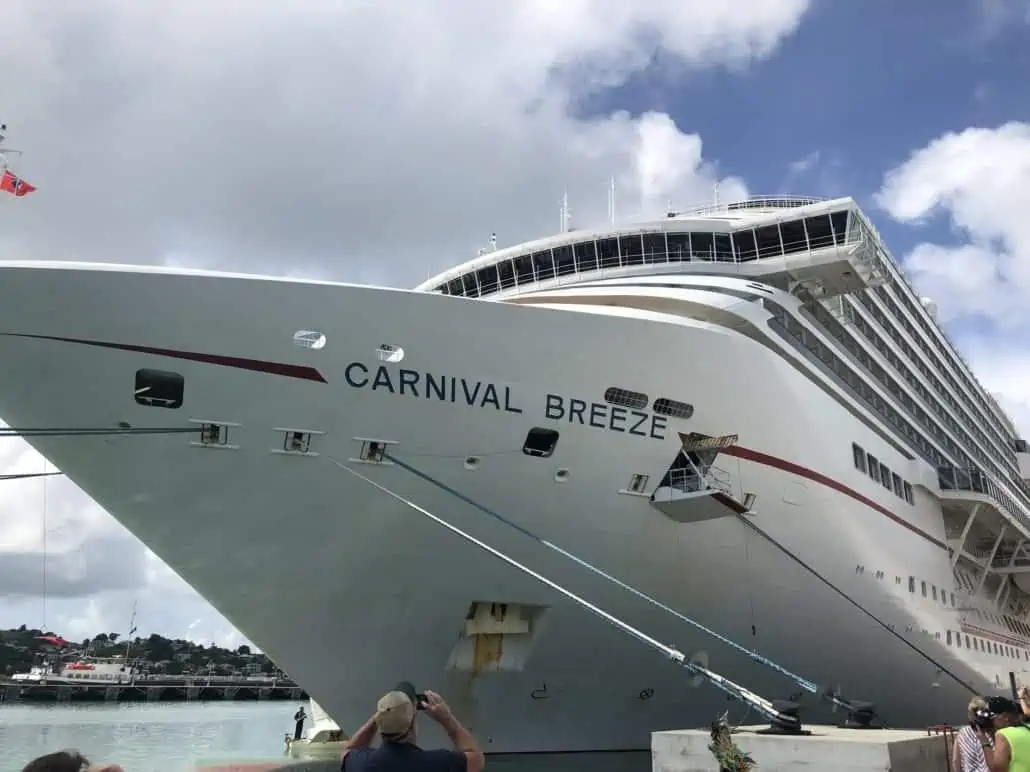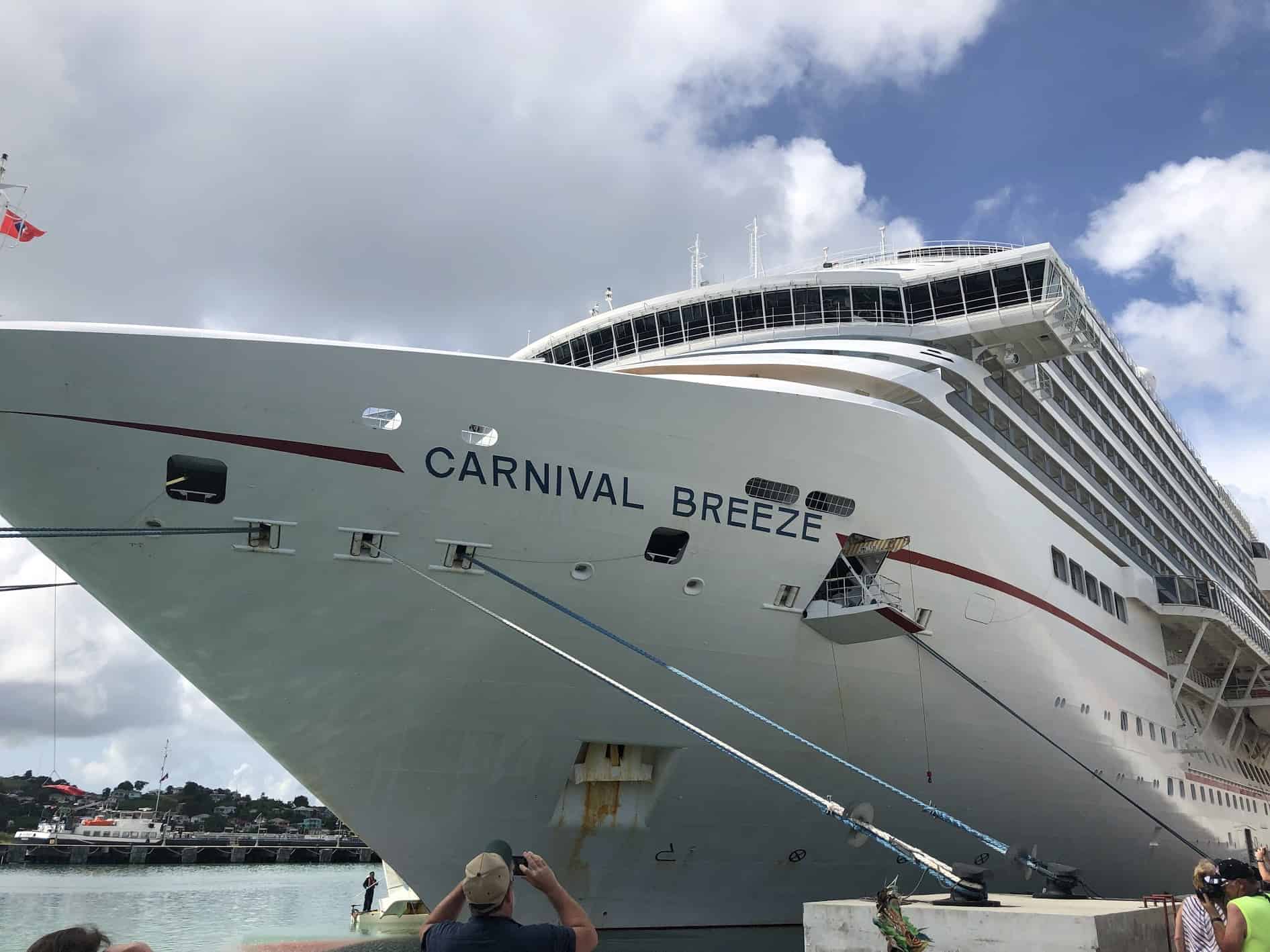 Before we dive in, let's do a side-by-side comparison where the basics of these vessels are concerned. Carnival Breeze debuted in 2011 at 130,000 gross tons as the final ship in the Dream class, so she's the most enhanced in design for her class. She carries over 4,700 passengers and 1,350 crew.
Both of these vessels have the Fun Ship 2.0 features, including the Guy Fieri burger joint, stage shows and basic areas like mini golf, hot tubs, and some sort of water park. 
As the third of five ships in the Conquest class, Carnival Valor launched in 2004. At 110,000 gross tons, she regularly carries more than 3,700 passengers and 1,100 crew.
So right off the bat, we know that Breeze is newer and larger. But let's go beyond the physical and get into what makes each of these vessels unique.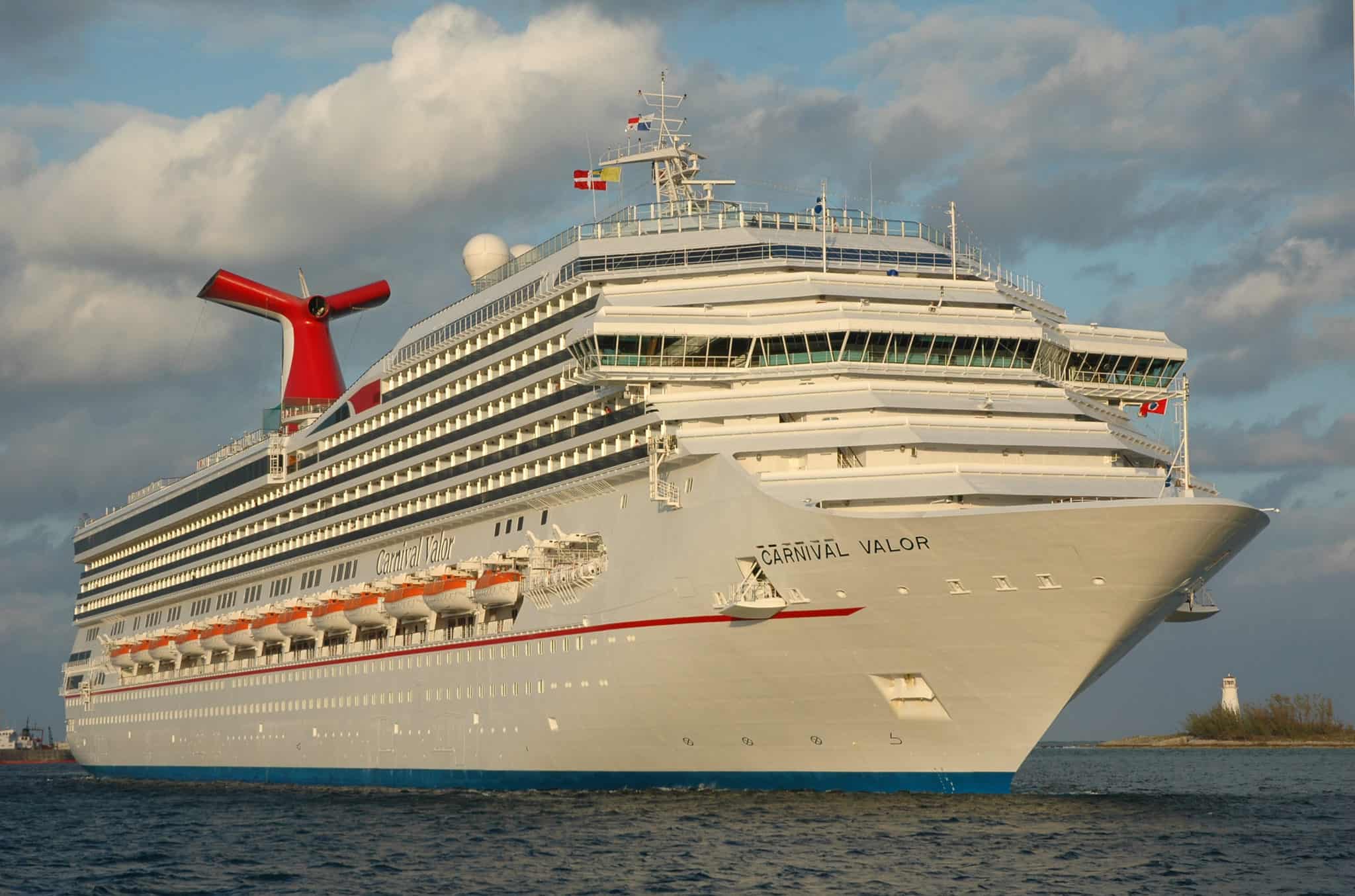 Dining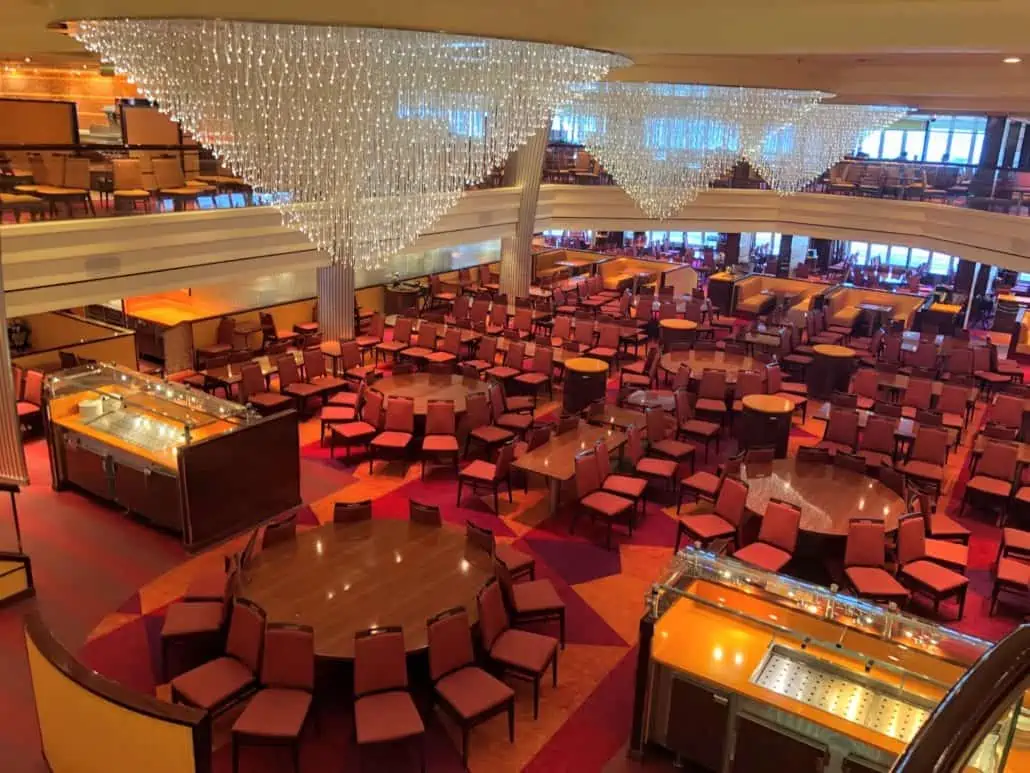 When it comes to dining venues, Valor and Breeze are nearly neck and neck, though I might have to give Breeze a slight edge.
We've talked on the show before about how Carnival works hard at keeping food consistent across the fleet, meaning you're getting the same tastes and quality from ship to ship. The Guy's Burgers and BlueIguana burritos and tacos on Valor are just as good as the ones you'll find on Breeze, both found by the pool area.
The same goes for the food in the main dining rooms or served during the sea day brunch.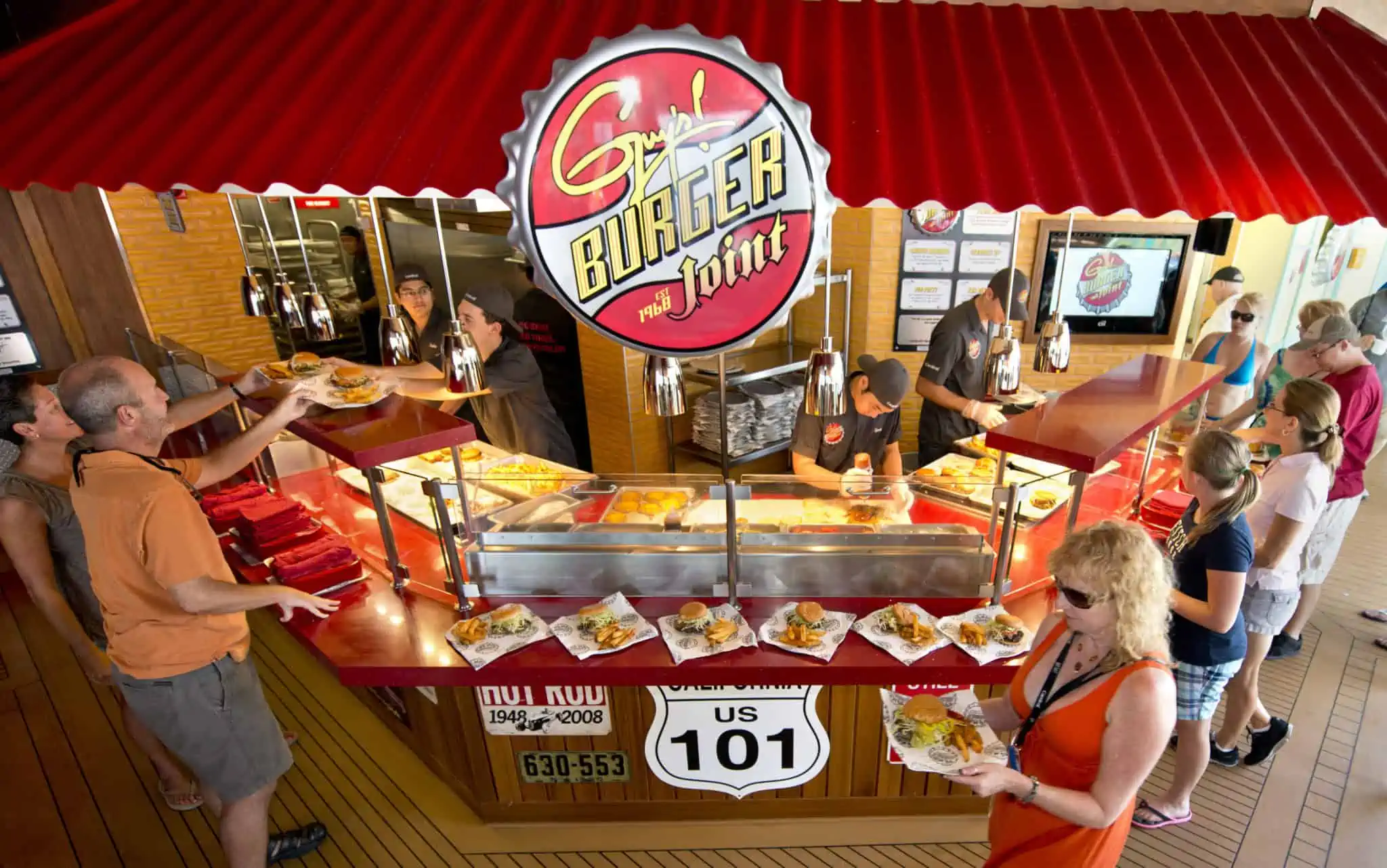 Wander around the ships, and you'll find that both have a Seafood Shack and each offers sushi (although it's served at Sushi at Sea on Valor, while Breeze has an outlet of the popular Bonsai Express on board).
Both also offer BBQ, although Breeze serves it up at Guy's Pig & Anchor Smokehouse while on the Valor, it's not offered at a branded venue (despite Fieri's sauces being available). Guy's Pig and Anchor Smokehouse on Carnival Breeze does have the tendency to have a long line on sea days.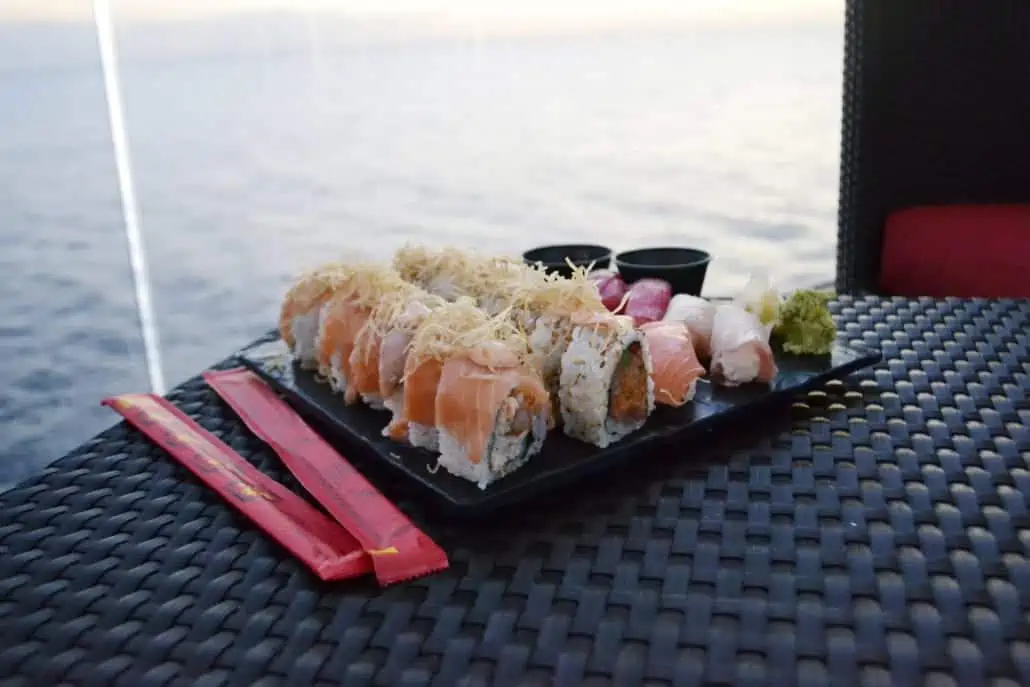 In other words, the two ships are practically identical on the food front. That said, I found there to be one notable exception: The food, service and overall experience I enjoyed at Fahrenheit 555 on the Breeze were better than those I had in the Valor's Scarlett's Steakhouse.
READ MORE: Review of Carnival's Steakhouse
Carnival Breeze also scores points with me because of the Italian restaurant Cucina del Capitano (a personal favorite), the pub grub at RedFrog Pub, and extra touches such as the fact that you can grab a continental breakfast from the former Taste Bar area in the Ocean Plaza area, perfect for those days when you just don't have time for a sit down meal or the patience to deal with a potentially crowded buffet.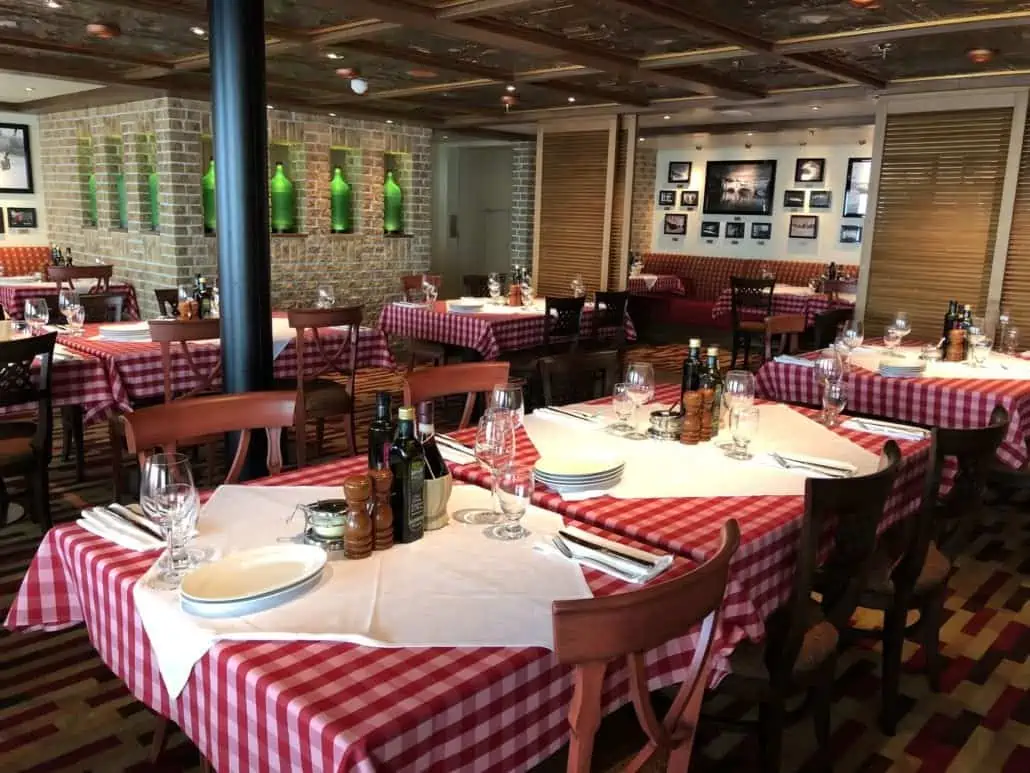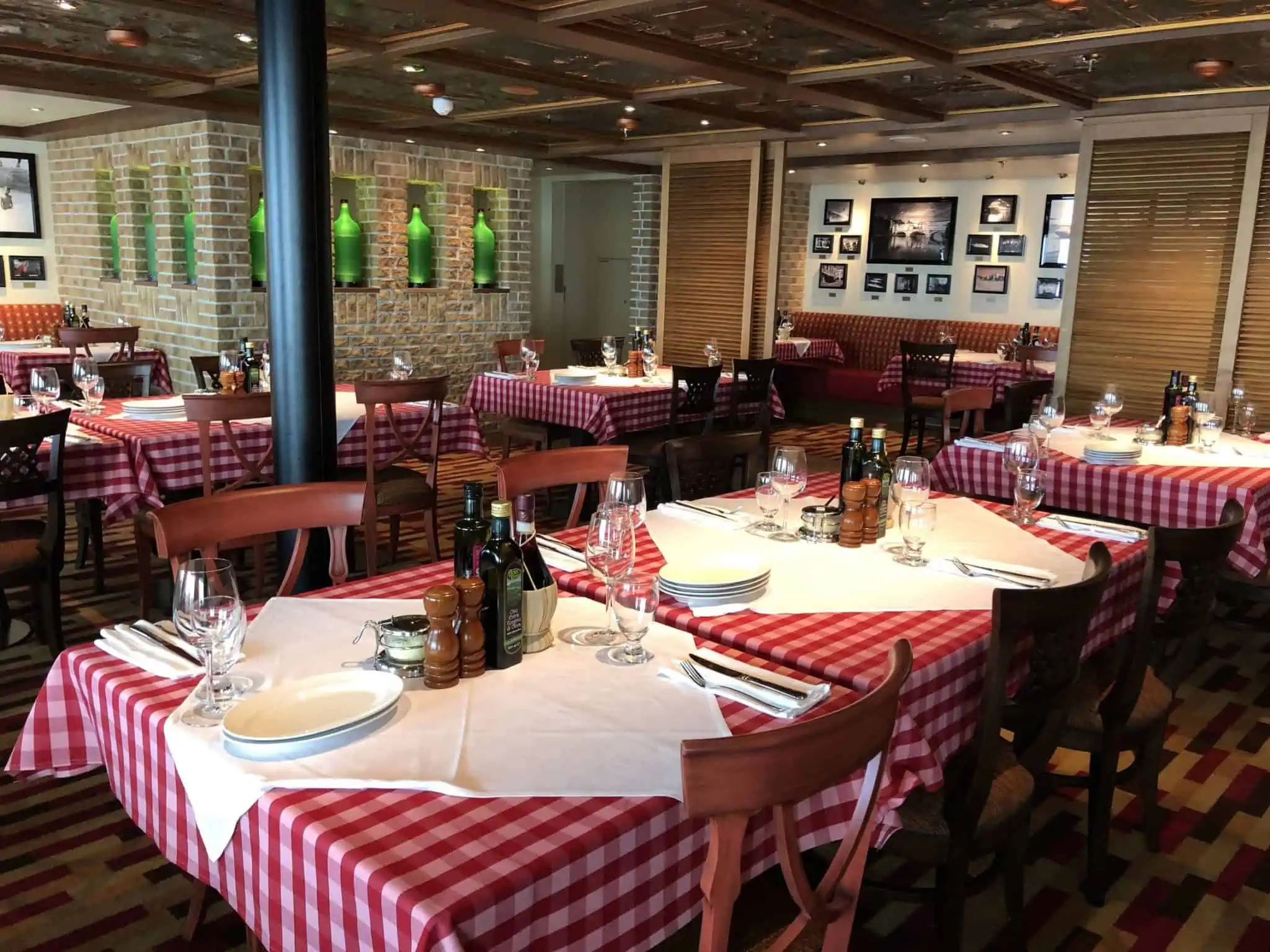 Long story short: While both ships have plenty of options to assure that you definitely won't go hungry, the Breeze comes out slightly ahead in my book where food is concerned. Plus, there is always room service. 
Onboard Amenities and Activities
It's no surprise that the Breeze was voted 'Best Ship for Families' among USA Today readers. From the WaterWorks park and Sports Square area (complete with a ropes course) to the Thrill Theater and Cloud 9 spa, the Breeze offers something for everyone. The wide variety of things to do also means that on sea days, folks are spread out across the ship, allowing it to never feel crowded.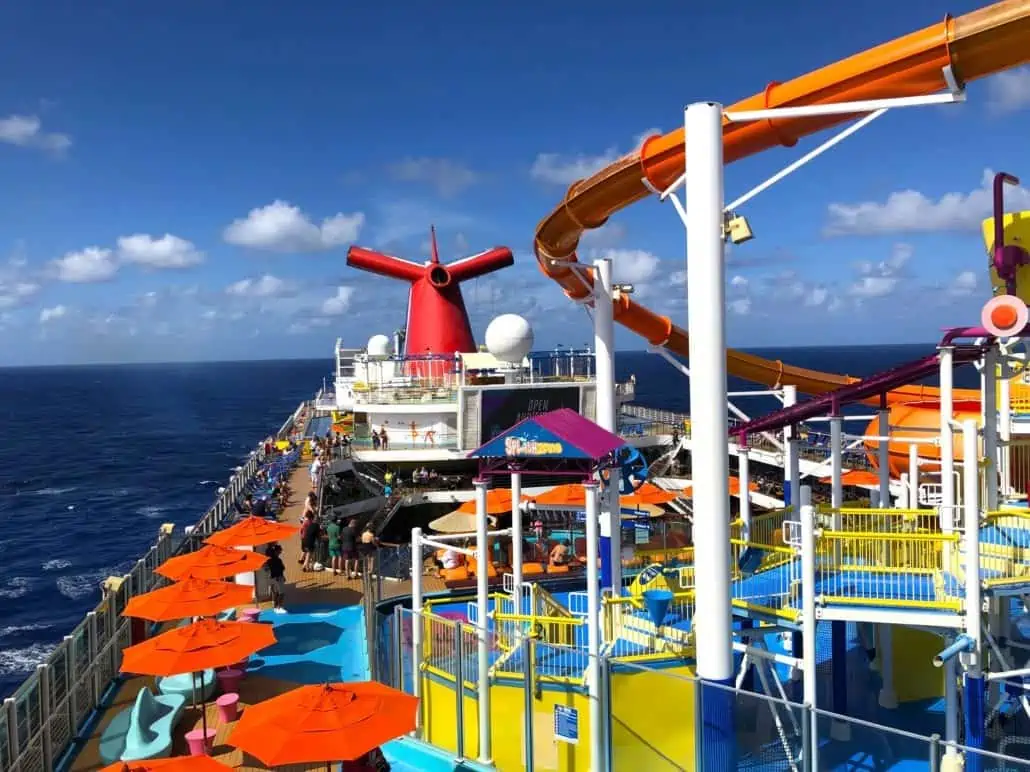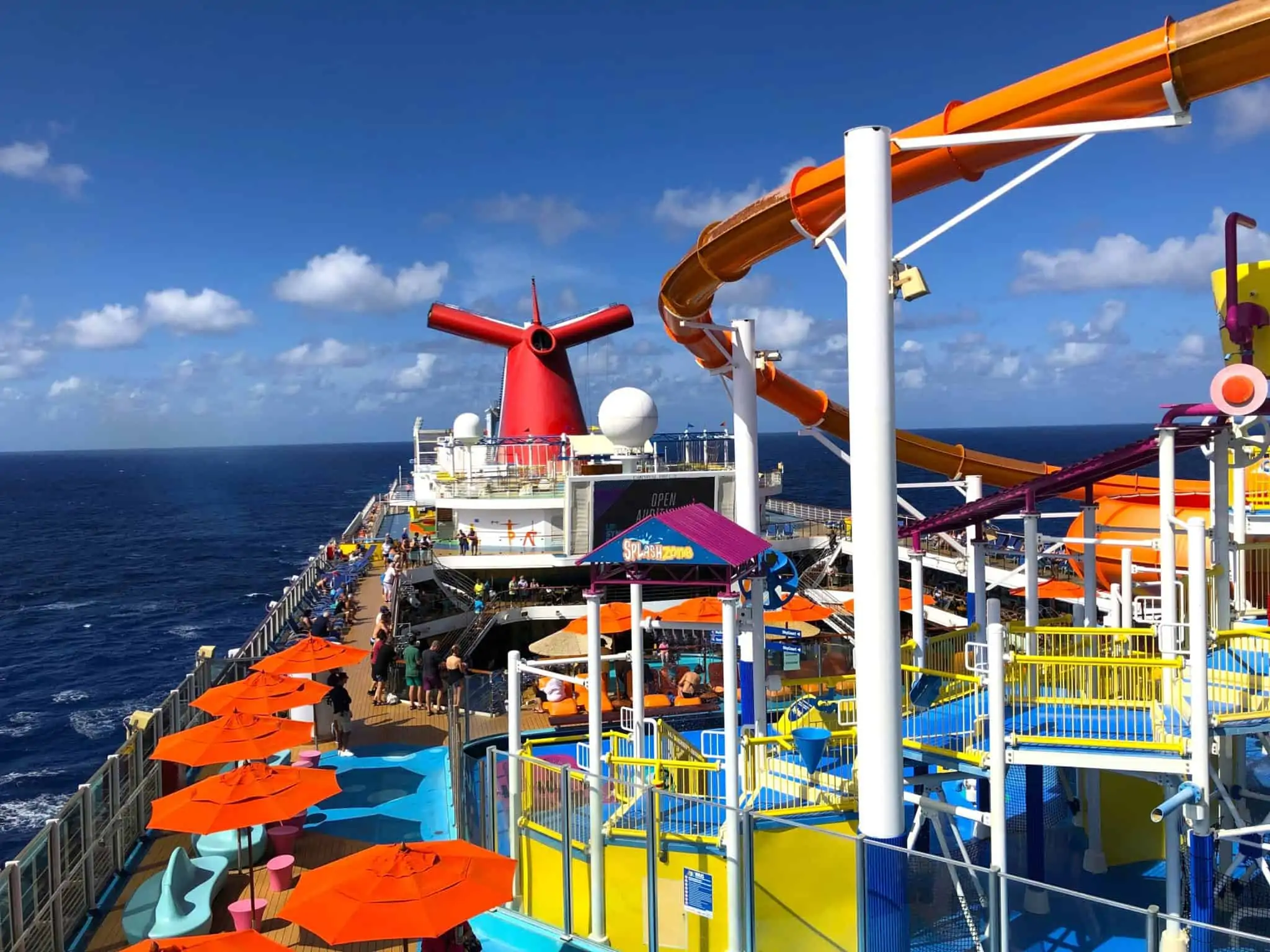 Both Breeze and Valor offer a pretty great selection of entertainment options, including Playlist Production shows, comedians and live music in various venues around the ship. There are also the usual activities you expect to find on a ship — think Bingo, trivia, etc — and how much you enjoy them can depend on numerous factors, including the energy level of the member of the cruise director's staff who is overseeing them. The same goes for some of the kids programs offered on board both ships. 
READ MORE: 21 Carnival Valor Tips and Tricks
If there's one entertainment-related area where Breeze loses a few points in my book it's with regard to the lack of ventilation in the casino. As a result, the smell of cigarette smoke wafts far beyond the casino's borders. Worse, cruisers are practically forced to walk through the smoke-filled casino thanks to the course the main promenade takes.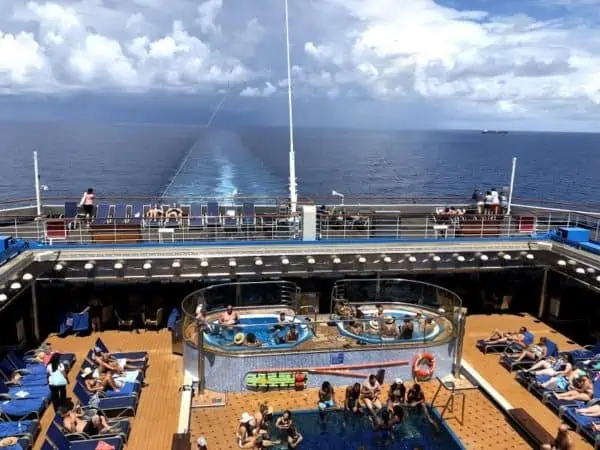 Ironically, the Breeze sort of regains some of the points lost by the smoky, enclosed casino thanks to its open-air aft pool. It's the perfect place to soak up the sun without being a part of the madness which can sometimes encompass the main lido deck area. The aft pool on Valor has a retractable roof which may make serve it well during inclement weather, but creates a serious lack of air circulation which leaves the whole area feeling muggy and stifling at times.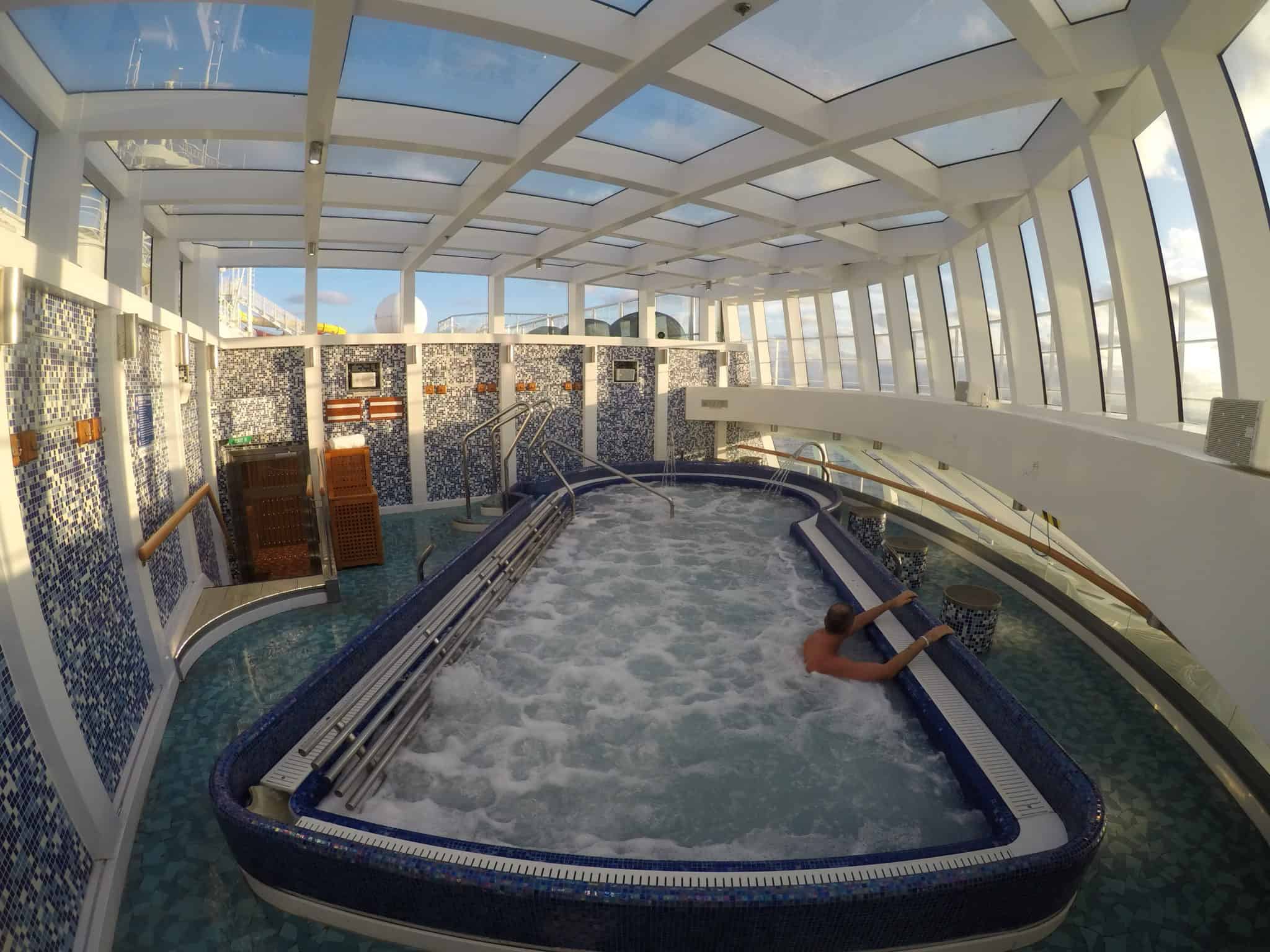 But if you're like me, the thing which might sway you one way or the other in this particular category is the Cloud 9 Spa. If so this is an easy call. Why? Simply put, Breeze has one and Valor doesn't (although it does have some standard, complimentary steam rooms and saunas).
If you've never tried the thermal suites and thalassotherapy pool of a Carnival Cloud 9 spa, you need to start spoiling yourself. Trust me, you don't know what you've been missing. 
Entertainment Spaces
While we talked above about some of the many forms of entertainment you can find on Carnival ships, it's worth taking a separate look at the spaces in which they unfold. Because environment can play a big role in the overall entertainment experience. Think about it: If you go to a movie theater to see a romantic comedy, you don't want to hear the explosions from the action movie playing next door to bleed through, right? Well, the same holds true on a cruise ship. 
With that in mind, Valor has a bit of an edge over Breeze when it comes to the design and layout of their respective entertainment venues. Both ships have the Punchliner Comedy Club.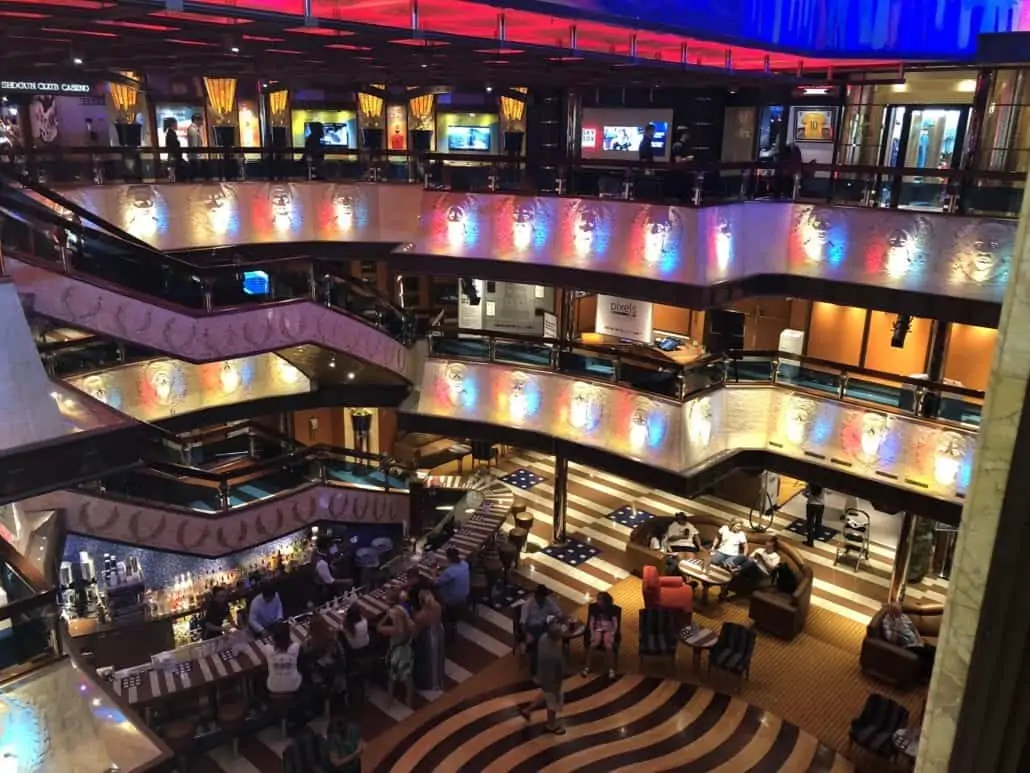 The Ocean Plaza area on Breeze is a great idea, but everything's just a little too close. As a result, when a band is cranking on the Ocean Plaza stage, folks sitting in the Alchemy Bar have to practically shout conversations to one another and lean across the bar to give their drink order to the mixologists. And frankly that's not really the right vibe for Alchemy Bar, which is all about soothing elixers and healing cocktails. 
READ MORE: 39 Carnival Cruise Tips
Valor, on the other hand, relocates the live band and dance floor to the casino, and it's a perfect fit. After all, when you think about a sort of loud, party-like atmosphere, you definitely think of the casino. This ship also has an Alchemy Bar, but it's given a space where people can chat over drinks and enjoy a slightly more subdued atmosphere.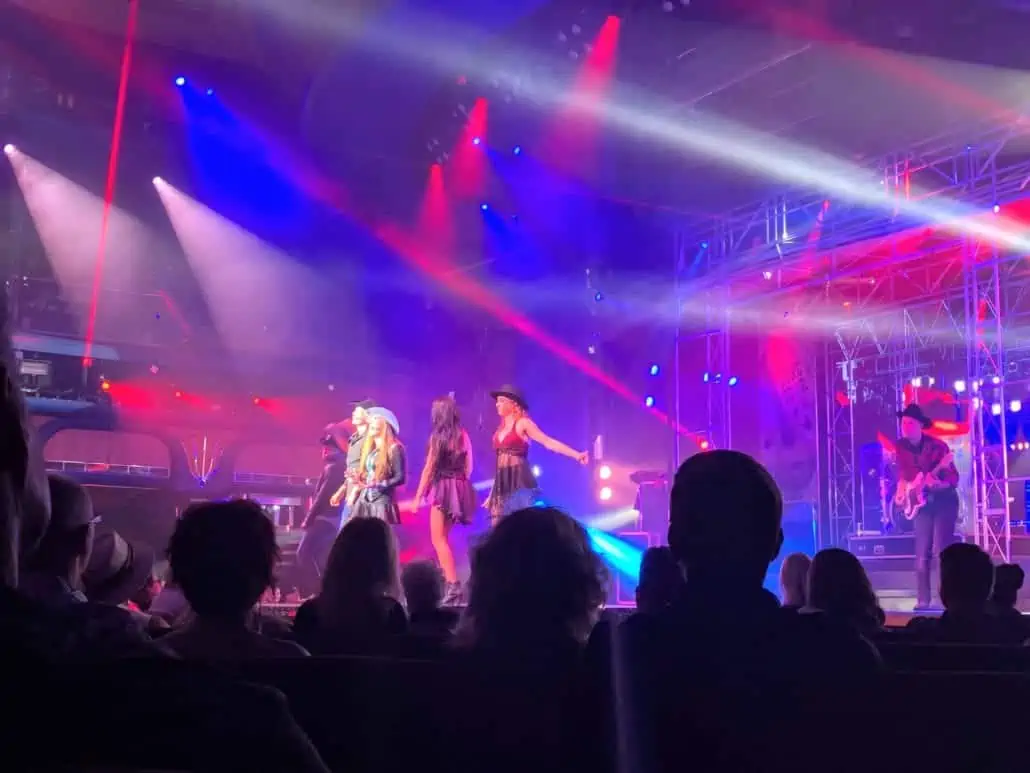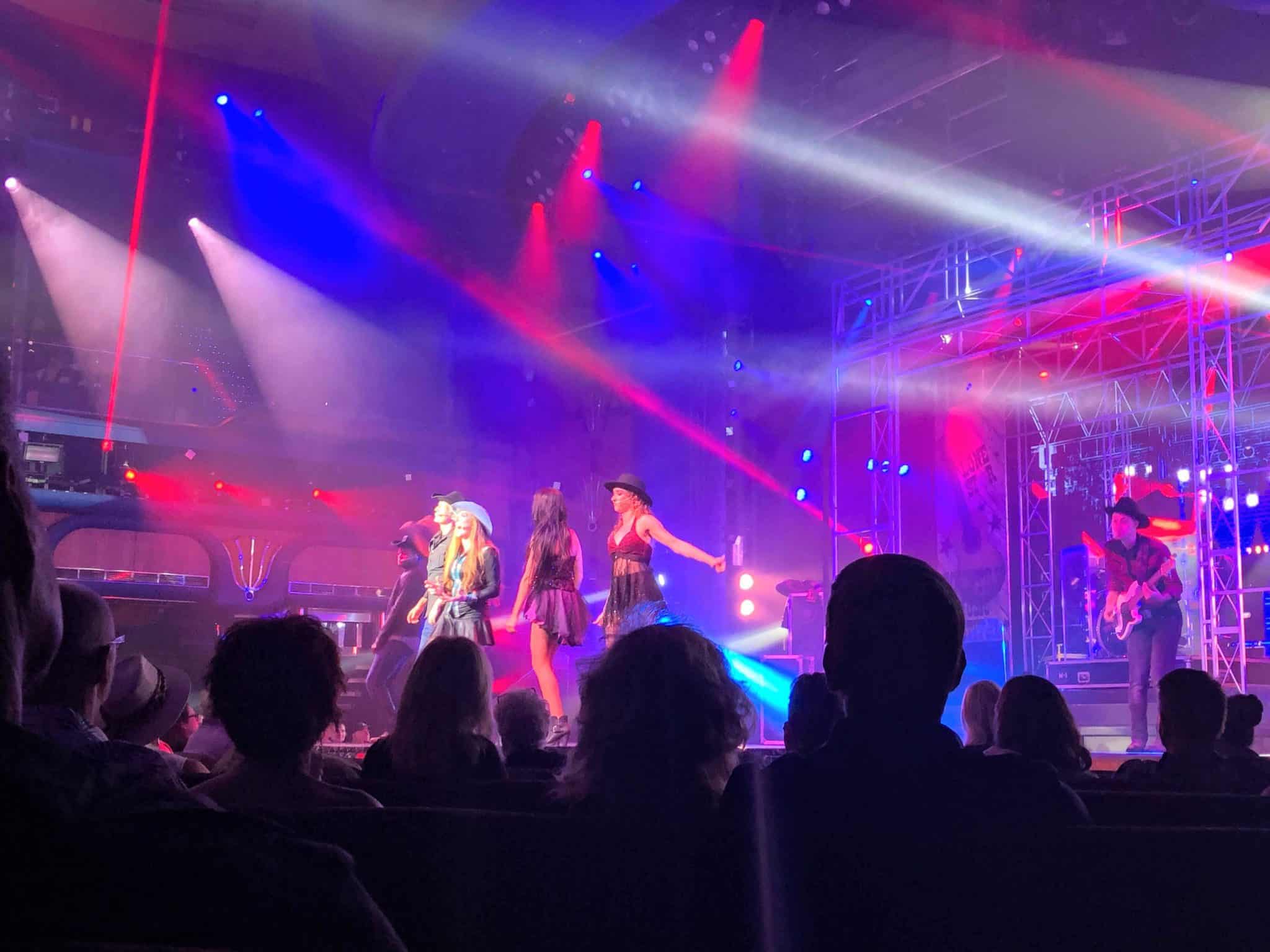 As for the theaters in which both ships present Playlist Production shows, the second-tier seating on Breeze is awkward and uncomfortable. The rows of couches on this level are pushed together so tightly that there seems to be less legroom than you'd find on an airplane, so be sure to arrive at a show early to get a seat on the first level.
Finally, the piano bar has its own dedicated space on Valor versus being open along the promenade on Breeze. Both styles have their pros and cons, but I feel as if Valor's piano bar feels more intimate and, by extension, a bit more freely. While I have no scientific data to back this up, I'm pretty sure people are more likely to sing along at the top of their lungs on Valor, knowing that passers by aren't going to be listening and judging the way they can on Breeze. 
Staterooms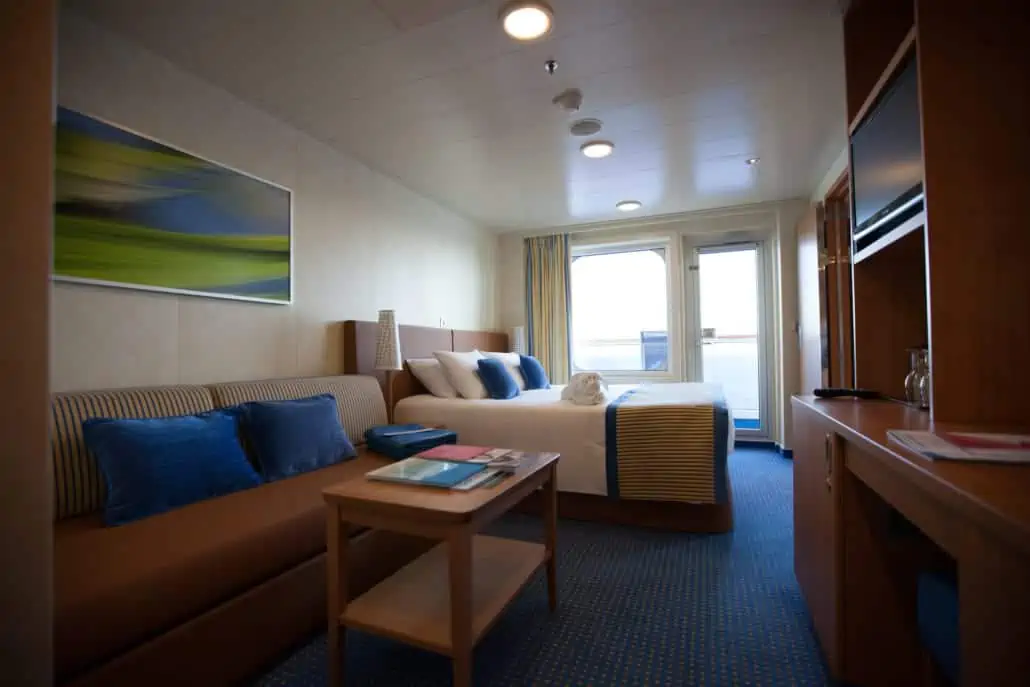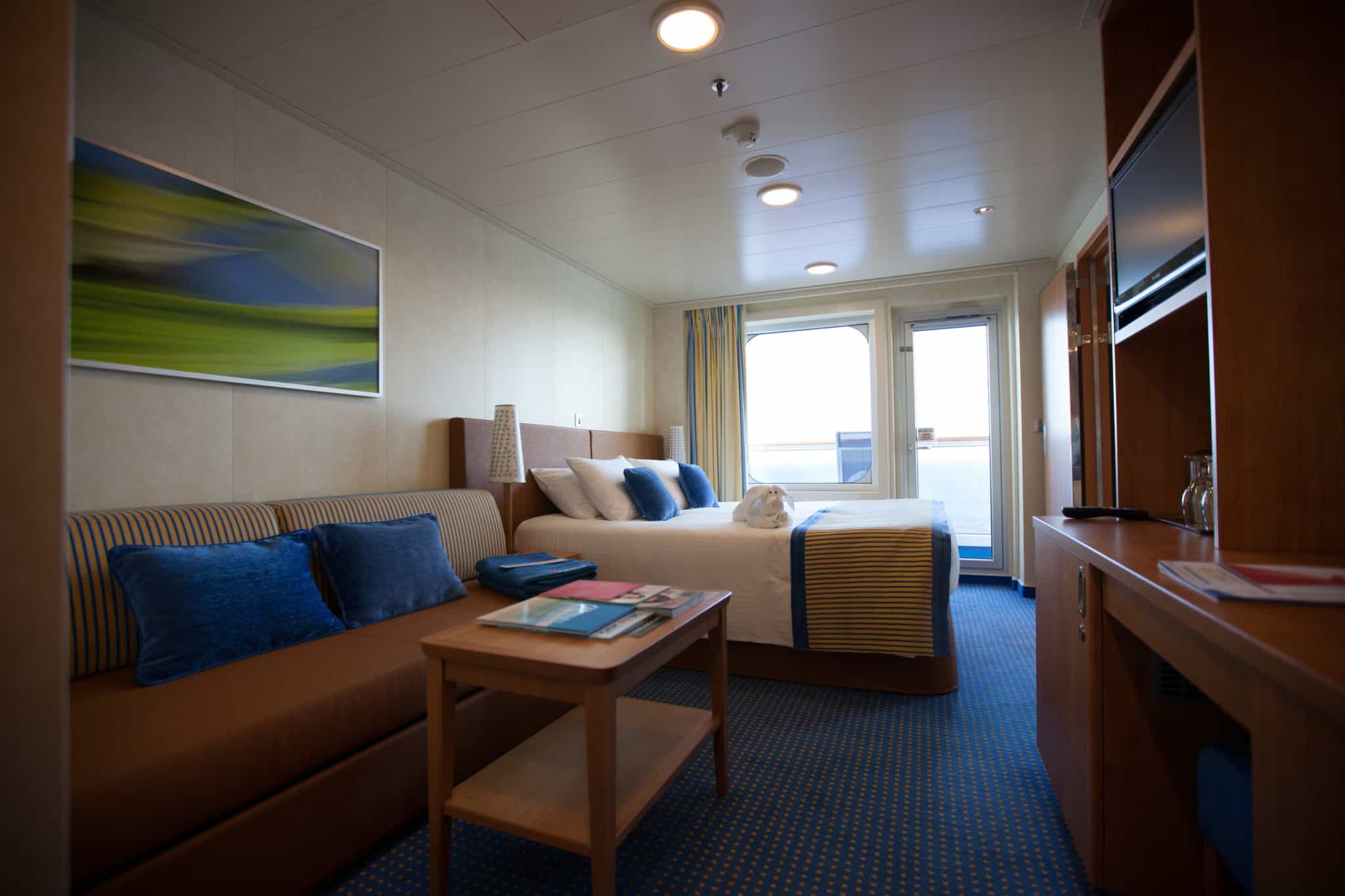 The Breeze pretty easily takes the cake in this category, although that has as much to do with the fact that she's a newer ship as anything else. While staterooms do often get spiffed up during drydocks, they aren't usually at the top of the list. (That honor usually goes to public-facing spaces and newly-added venues.) 
Breeze's lighter, blue-toned, Key West-themed decor gives her staterooms a lighter and more spacious feel than what you find on the Valor, despite cabins being essentially the same, size wise, when compared in comparable categories. Some slight differences in cabin design — such as moving the TV mount from over the vanity to along the wall — also help to make the rooms on the Breeze feel larger and more open.
Final Thoughts
At the end of the day, you can't make a bad choice by cruising on either of these ships. Carnival Breeze might be considered more family-oriented due to the greater variety of "fun for all ages"-type activities offered onboard. However, that doesn't mean you should count out Carnival Valor for your next family trip. Hopefully, our look at the differences between the two ships might help you figure out which ship is right for your particular needs when it comes time to book your vacation.
Watch Carnival Breeze Video Tour (2019)