Excellent steakhouse cuisine is nothing new to Carnival Cruise Line ships. Ask experienced cruisers if they should pay the cover charge required to dine at the steakhouse on any Carnival ship, and you will be met with a resounding, "Yes! Go!"
With the brand-new menu on their most recent ship Carnival Horizon, how does the newest outpost of Fahrenheit 555 compare to its siblings? We stopped by during the ship's transatlantic sailing to find out.
The Fahrenheit 555 Dining Experience
We had a reservation on the first evening of the cruise which qualified us to receive a free bottle of the house merlot or chardonnay, or 50% off any other bottle of wine on their list. We opted for the free merlot because I'm not picky and that happens to be my favorite variety, anyway.
Reservations aren't completely necessary but it's a good idea to make one, especially for a larger group, in order to get the time and day that you prefer. The wine promo I mentioned applies to the first and second day of every sailing, so if you want to take advantage of that, I'd definitely recommend a reservation.
The steakhouses are meant to be a fine-dining experience, and it feels it every step of the way. They took our dinner order, with each of us being allowed to order an appetizer, salad, a couple of side dishes and an entree.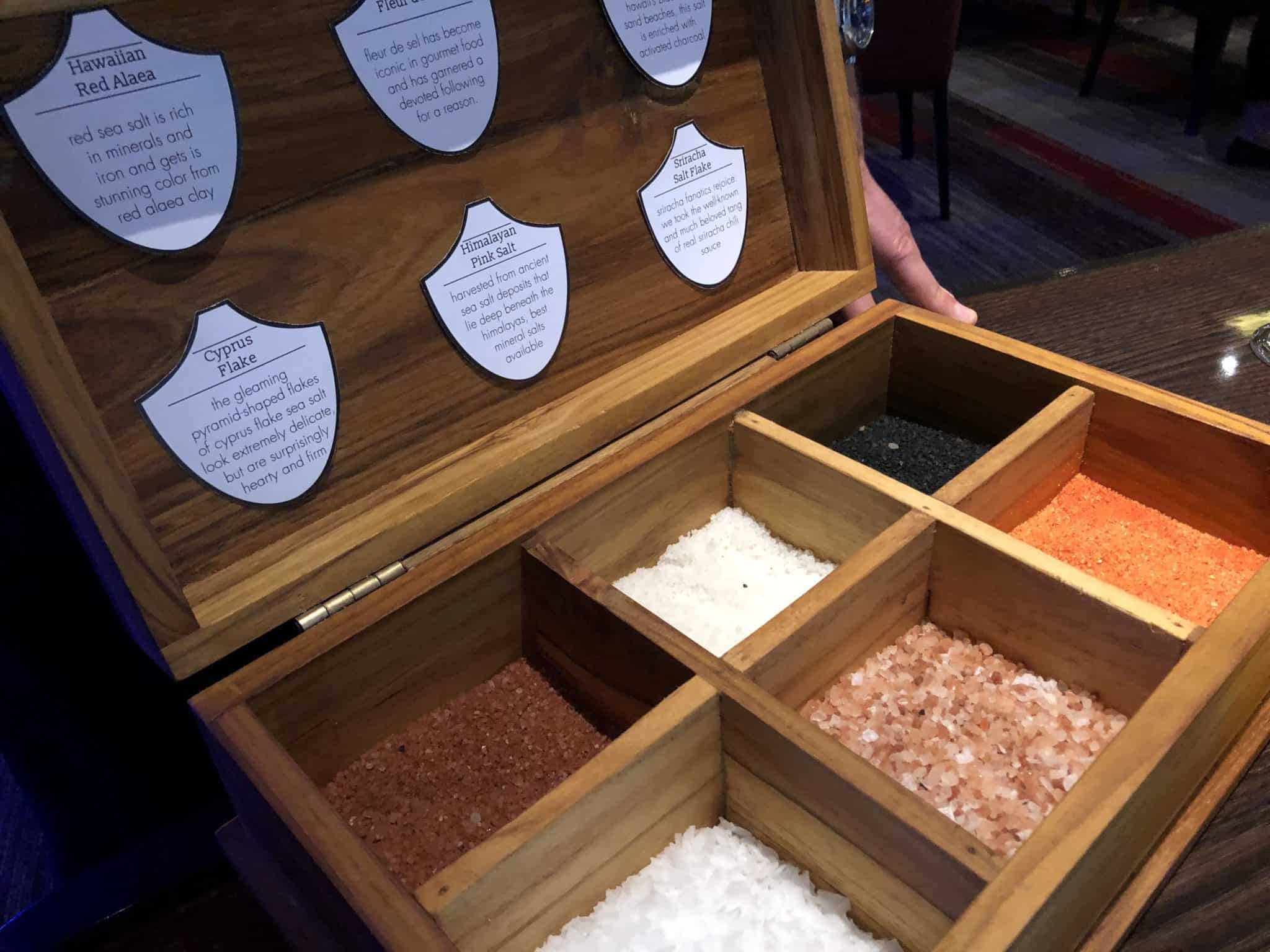 Because we ordered steaks our server returned with a salt-box so that we could select which of the different salts we wanted our meats seasoned with. I'm not sure I could tell the difference, but it was still fun and different from your typical dining experience.
What's on the Menu?
Read the Fahrenheit 555 steakhouse menu here.
After we picked the salt for our steaks, our server brought out a bread selection with two kinds of butter. We opted for one each of the bread options.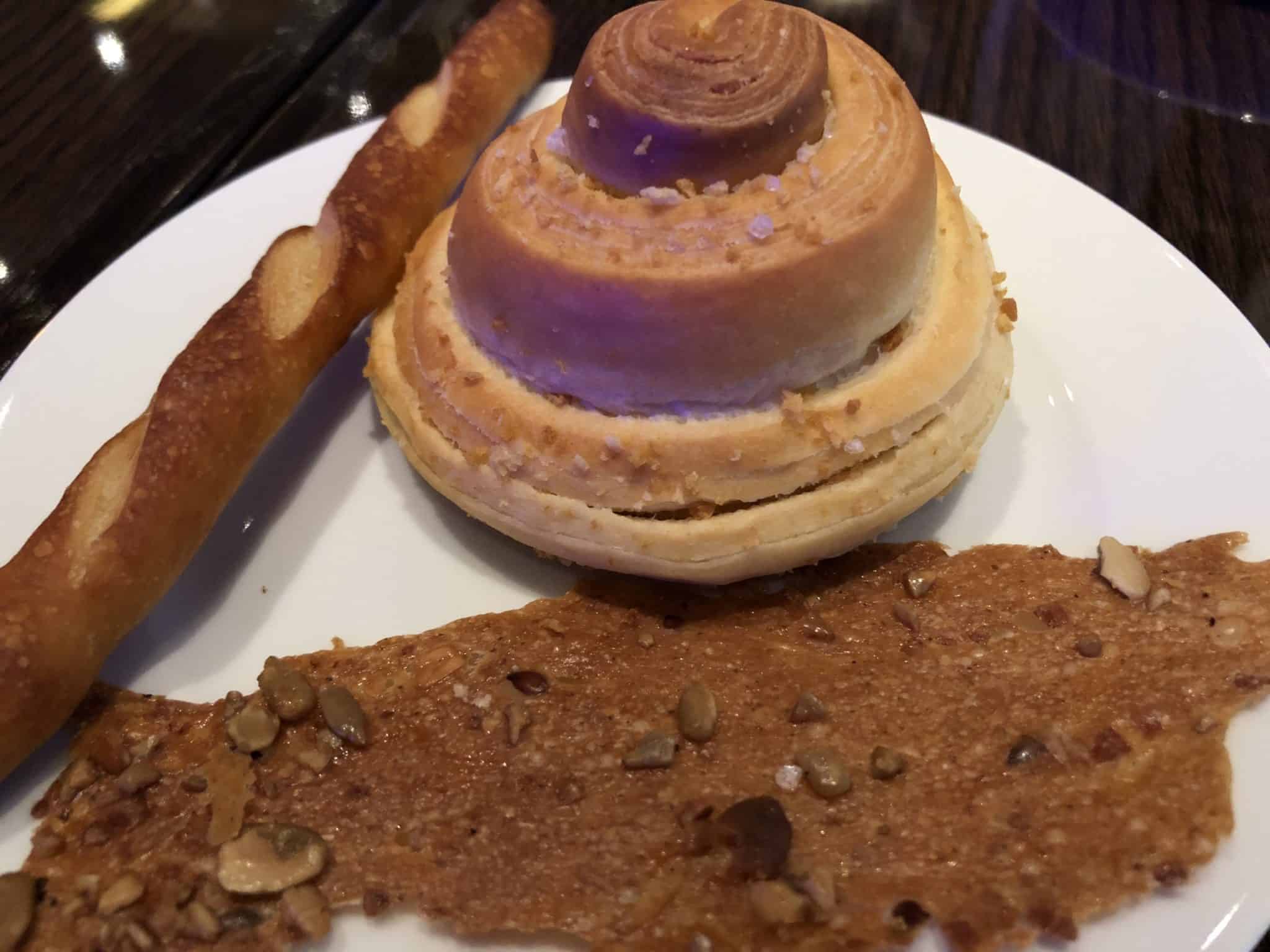 Next came the amuse-bouche, which was a tiny one-bite cheeseburger complete with tomato and pickle. This was easily one of the best burgers I've ever had. I believe they rotate the amuse-bouche offerings, so you may get something completely different.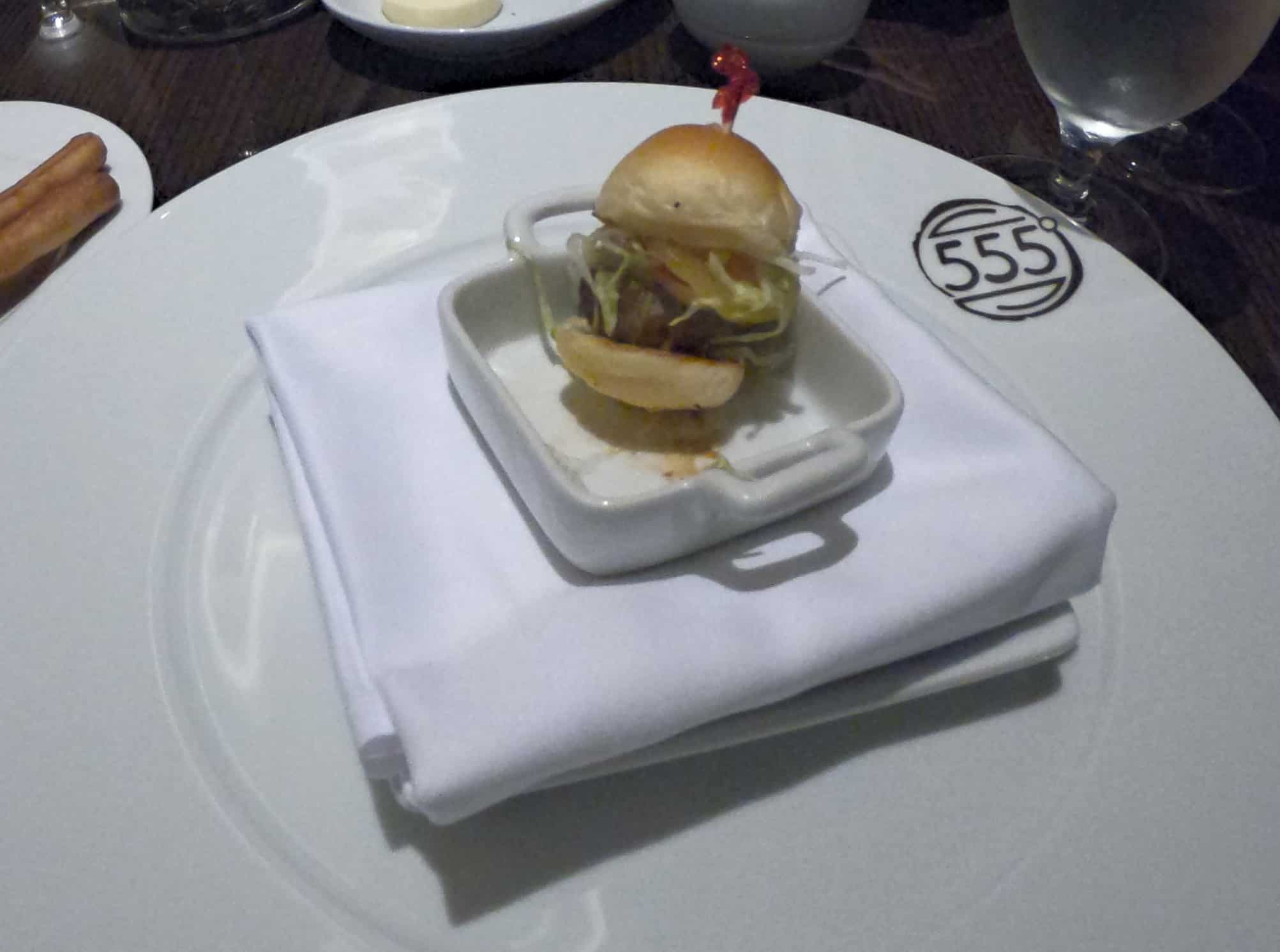 The people seated at the table next to us ordered the Smoke & Ice Fresh Oysters. It is served on ice, under a glass dome which is filled with smoke, making for a pretty memorable presentation! Then came our appetizers. We ordered a Caesar salad and the mushroom risotto.
The Caesar salad was pretty standard, but was exactly what I wanted since I was still a little full from lunch. As for the risotto, it was just amazing. I would have gotten a second order if I wasn't so full, but only regretted not doing so until our entrees came.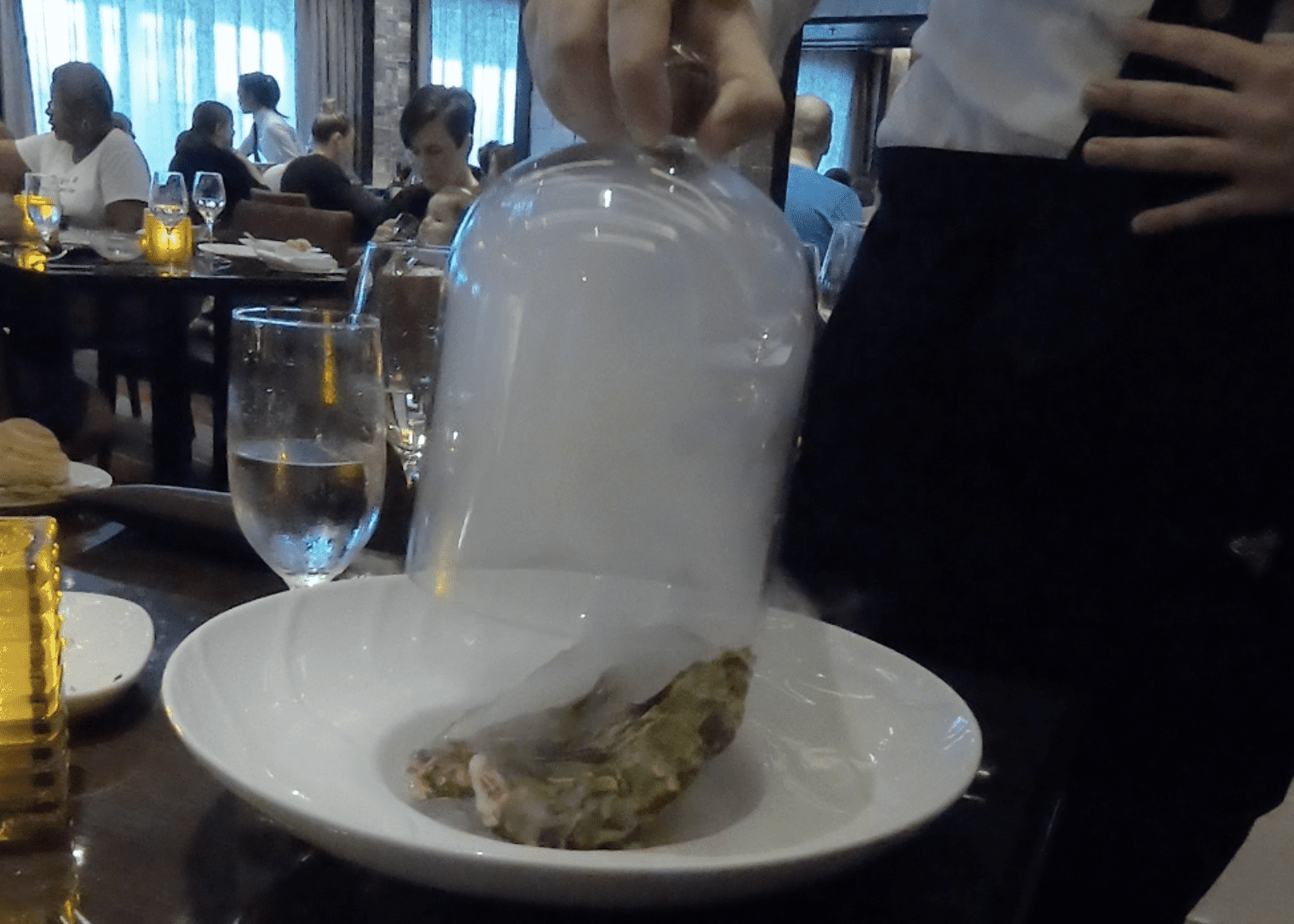 For our entrees, we got a Grilled Prime Cowboy Steak, a massive 18 oz Rib Chop Steak, and the Surf & Turf (featuring half a Maine lobster tail and a small grilled filet mignon). There are five sauces to choose from, so we went with the bearnaise sauce for the cowboy steak and the red wine sauce for the filet minion.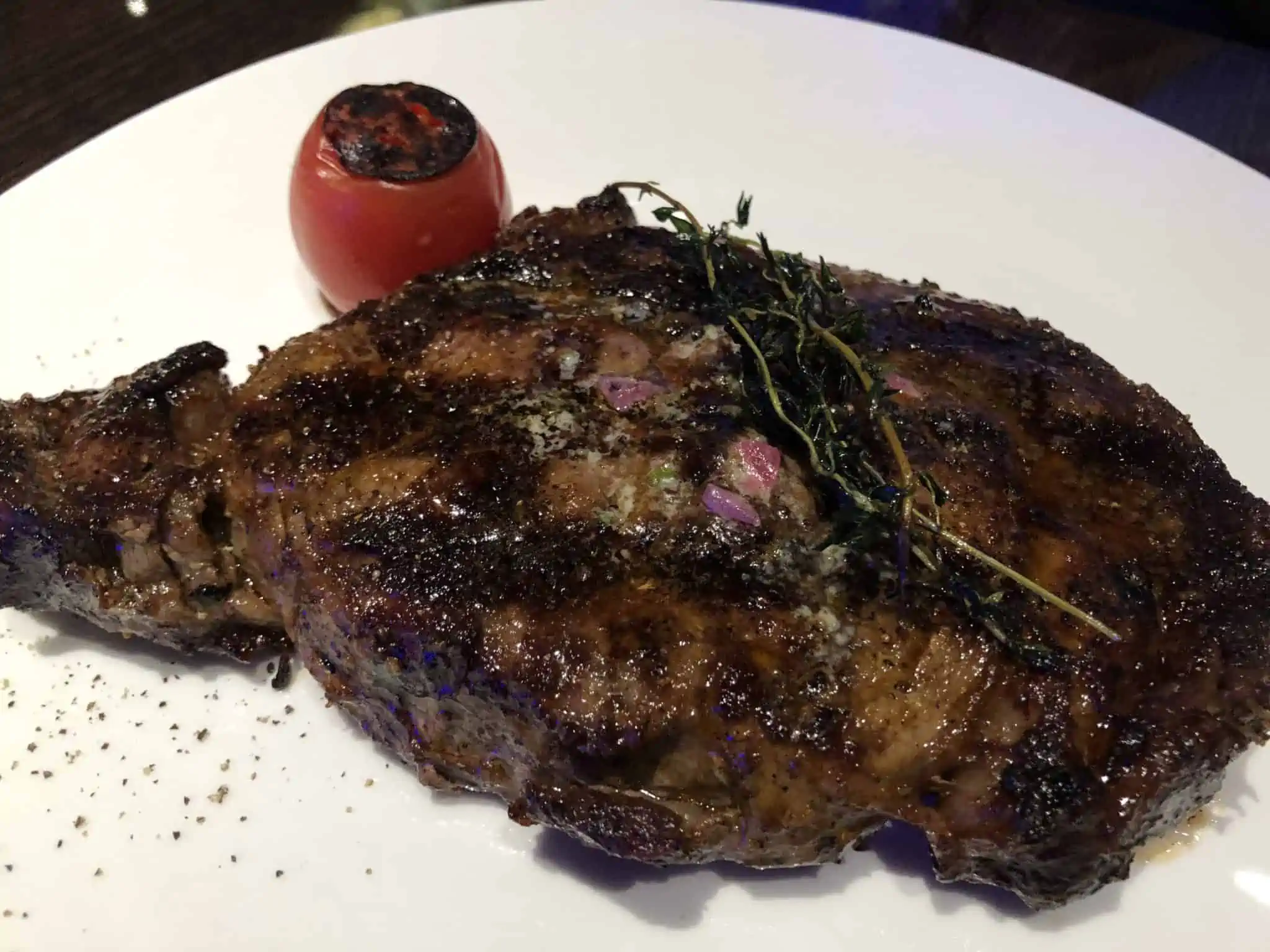 We both like our steaks cooked medium-rare and were impressed that that is actually how they came out. Such a rarity, even at restaurants which primarily serve steak. Both steaks were delicious, as was the lobster, and somehow none of the 18 oz one remained on the plate!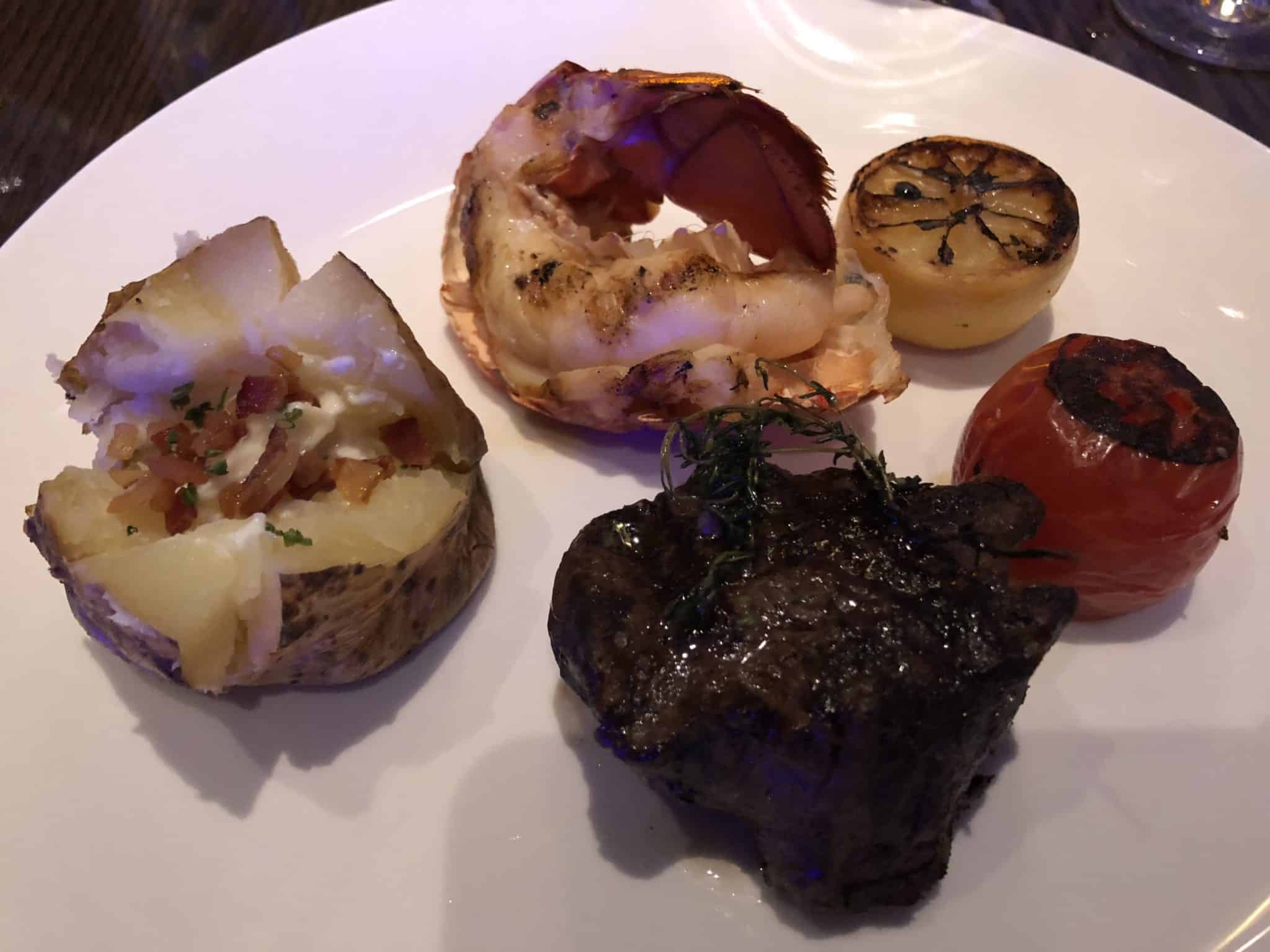 In addition to our entrees, we ordered a baked potato, mac n' cheese and onion rings as sides, all of which I would get again. The baked potato was so cute, served with little dishes of sour cream, bacon, chives and butter.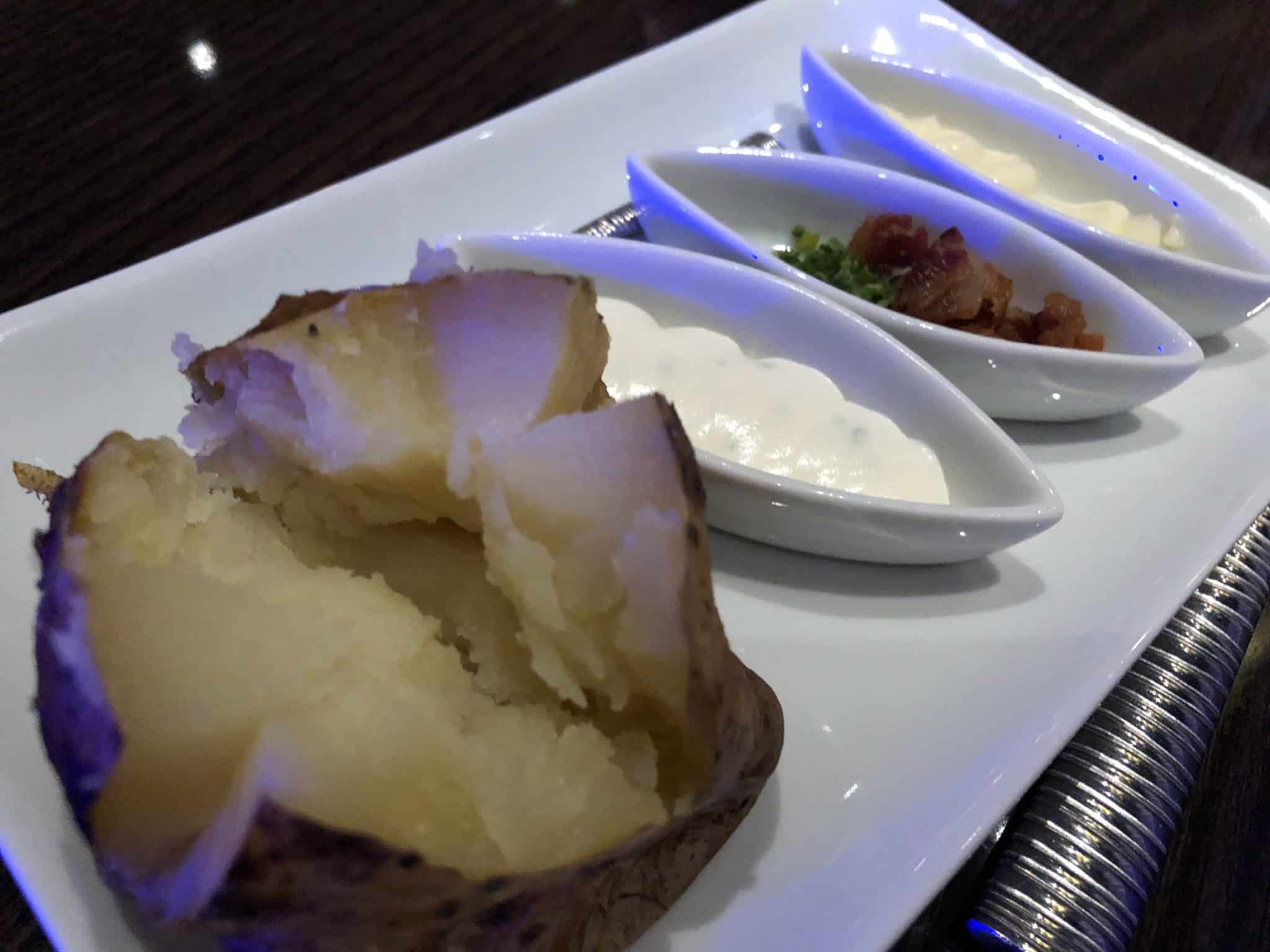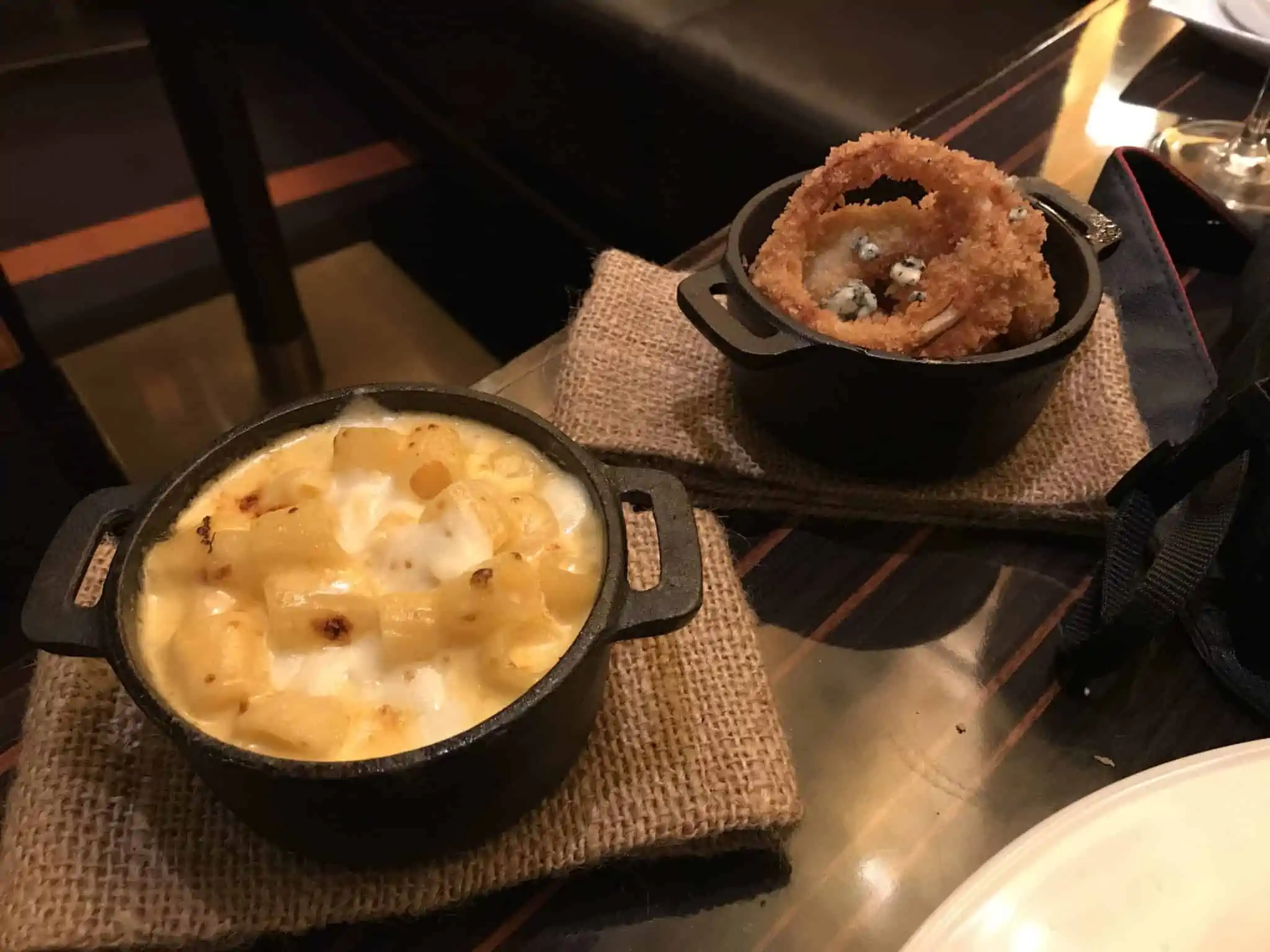 Finally came dessert. We were given a menu and our server described the Chocolate Sphere as being chocolate, filled with chocolate, covered in chocolate. As for the Art at Your Table… well, here's a photo, which will provide a clearer picture than any description could!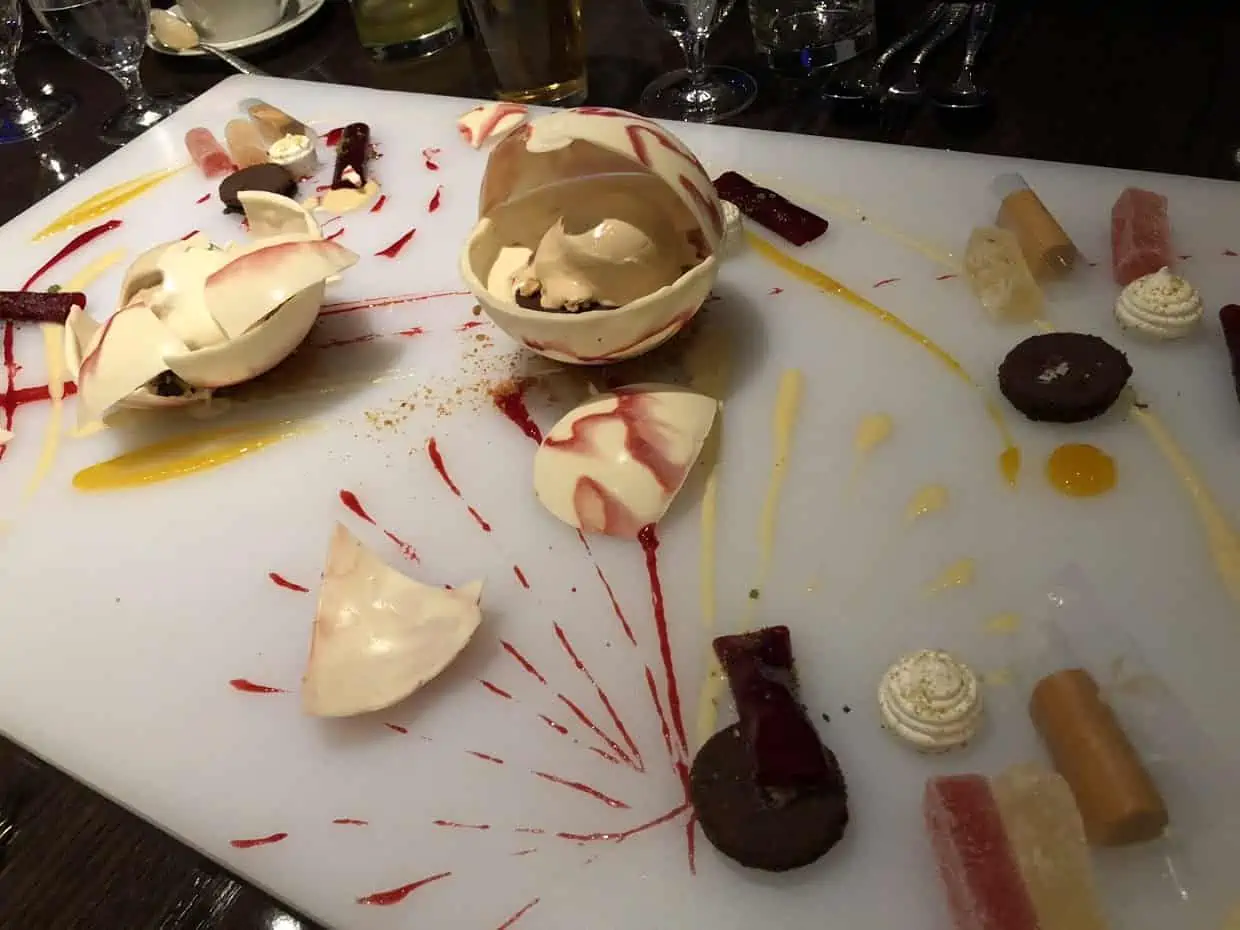 So the chef comes out with a bunch of dessert-y food items that can be used to make a mural/collage and then includes some sort of white chocolate sphere that he breaks open to reveal the tasty goodness inside. They will only do one per table (you know, so the chef can cook dinner for the other patrons), and, having watched a video of this particular dessert before sailing, decided to opt-out of the table art,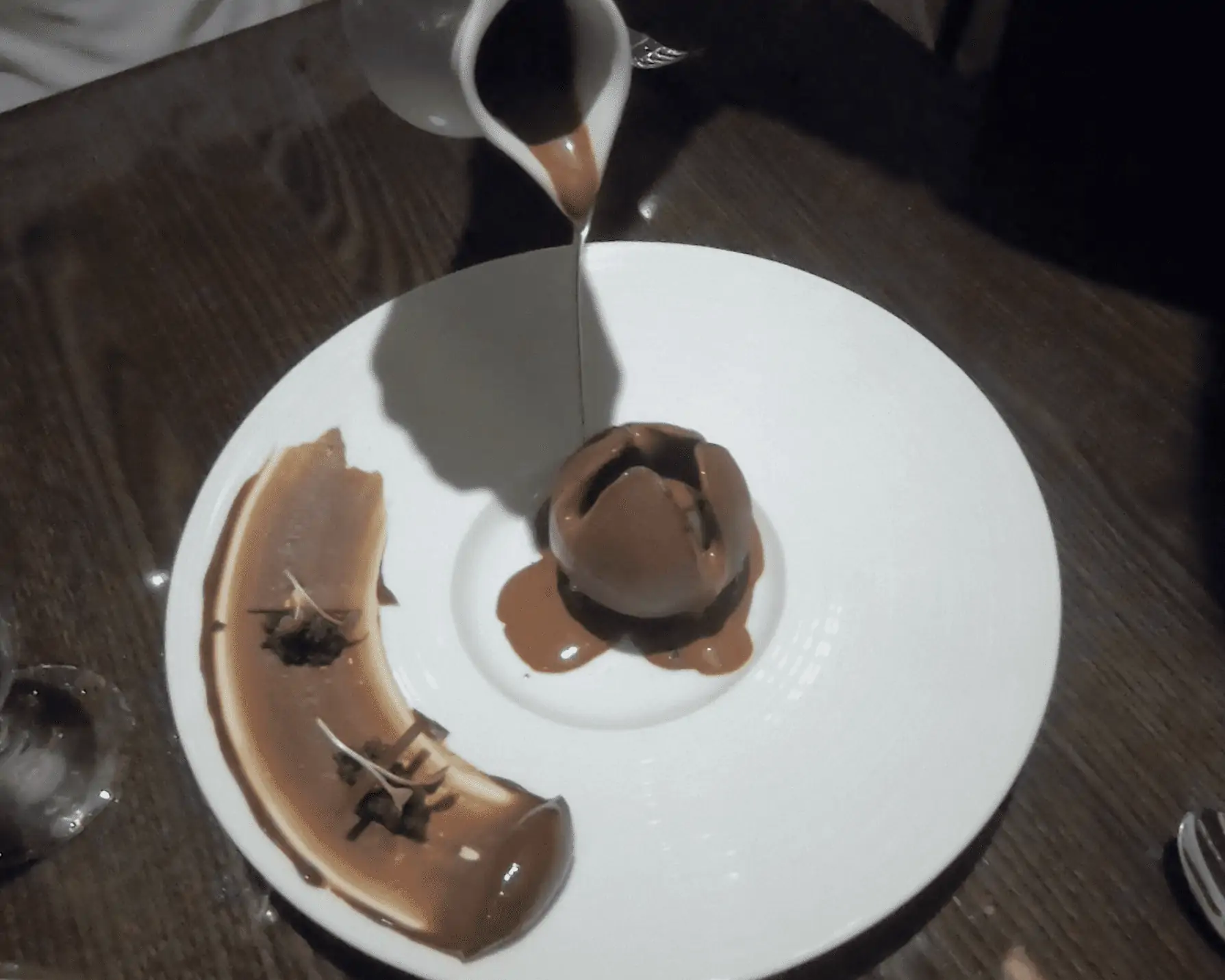 Instead, we chose to share the Chocolate Sphere — being too full at this point to think about two desserts! — and it was so good, there are no words. Our server delivered the sphere of chocolate and poured melted chocolate over it, revealing the smooth chocolate-praline filling inside. We didn't have a way to try the art-dessert, but I would pick the chocolate sphere over it every time.
Is the steakhouse worth the cost?
As of May 2022, the per-person charge for a steakhouse dinner is $42, which includes the gratuity (but you can add more if you are feeling generous). Personally, I'm so-so on saying it's worth the cost. While the food is always phenomenal, I like Carnival for its affordability.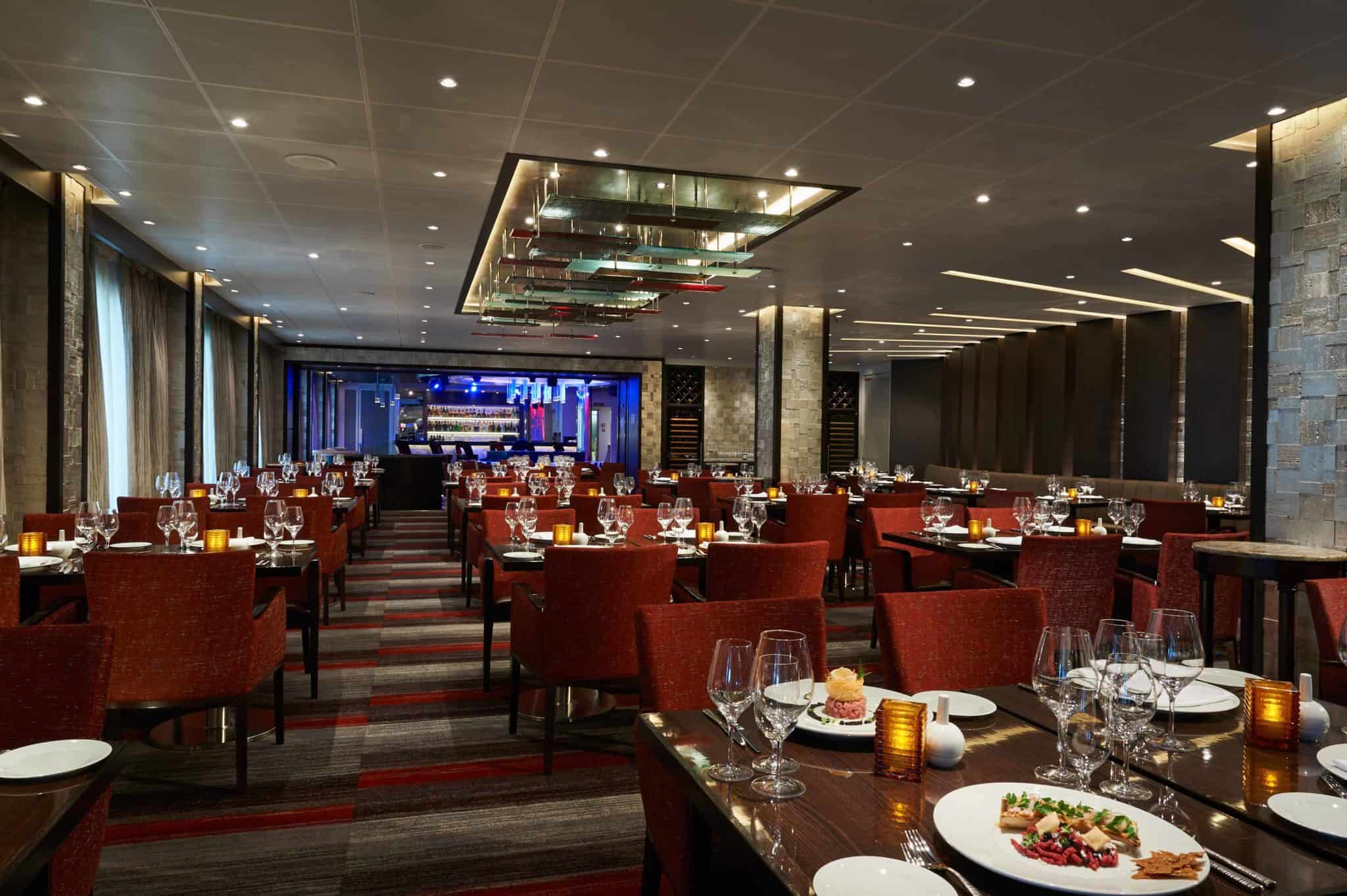 My feeling is that it's worth it if you go on one of the nights that they have the wine promo (assuming you don't have the CHEERS! package already), and if you are celebrating something. There is nothing so-truly-spectacular about it that I would, under other circumstances, want to spend an extra $38 over going to the Main Dining Room. However, I know for a fact that there are many others who would disagree with me and say, "Yes, it is definitely worth the price."
Final thoughts of Fahrenheit 555 Steakhouse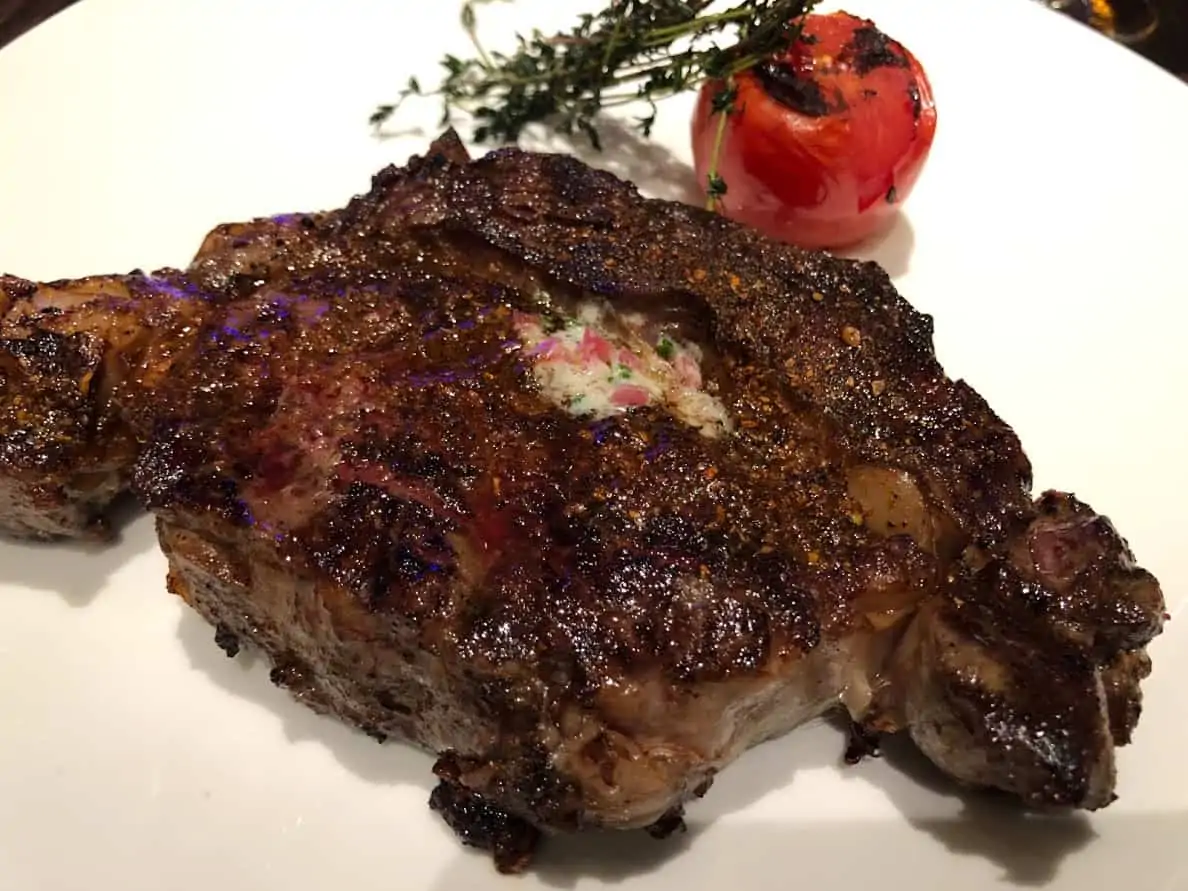 I like the new menu, even though they changed all the desserts and the chocolate sampler that I loved last year on the Vista is gone. The mushroom risotto more than makes up for any other changes!
I had read that the back wall of the restaurant opens so that there can be live piano music from the piano bar, but we were either too far away to hear it, or their cocktail music player was off that day. Sounds like a nice touch.
Read More: 7 Reasons to Dine in Carnival's Steakhouse
One thing I didn't like about the new steakhouse was the layout of the restaurant. We had previously dined at the Fahrenheit 555 on the Vista, which had a different layout. On the Horizon, they removed all of the dividing walls, seemingly to maximize opportunities for large groups. While this is great for groups who sail together, it lacked the intimate feeling I observed on the Vista, possibly lessening the experience for couples or small groups who are celebrating something.
Nonetheless, Carnival once again hits it out of the park with Horizon's Fahrenheit 555 Steakhouse.W
Want to read more from our special guest columnist Lauren Rodgers? Visit her blog, Lauren of All Trades.