When the Mardi Gras joins Carnival Cruise Line's fleet in fall of 2020, it'll introduce several new-to-Carnival concepts, including Loft 19: a top-deck sanctuary. And already, it's one of the most hotly-debated topics on Facebook pages and message boards around the net. Here's what we see as some of the pros — and cons — to the area.
What Is Loft 19?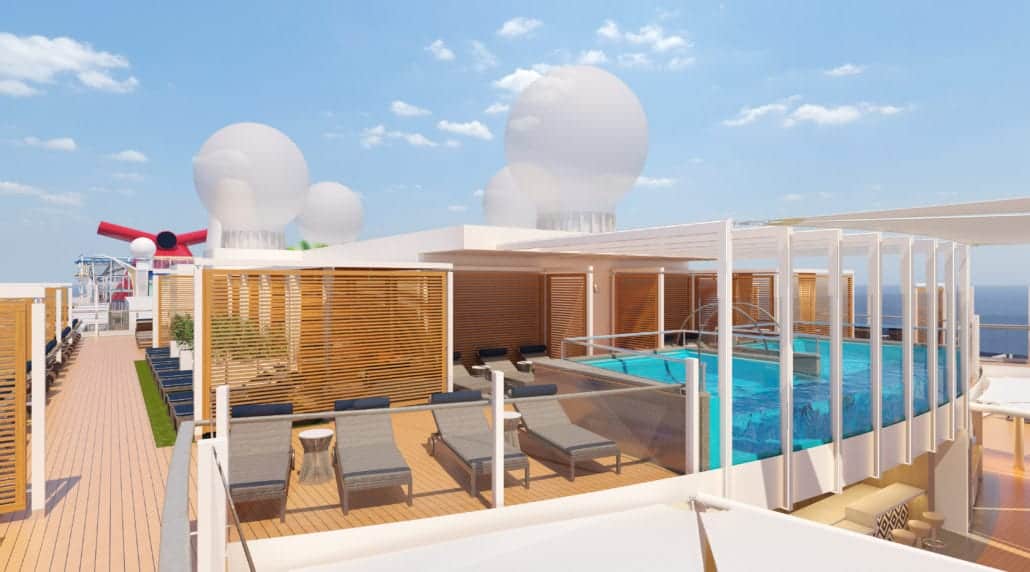 With information about the new area still a bit limited, we thought it would be worthwhile to look at what is known, especially since how much access a Mardi Gras passenger has to Loft 19 will be directly tied to the type of stateroom they're staying in. It's worth knowing what Loft 19 has to offer, who'll get in for free, and who'll have to pay — and how much — so you'll have a better understanding of the space and be able to decide whether booking a suite with automatic access is a good option for your family.
Before we examine the pros and cons, as we see them, let's take a quick look at what Loft 19 is… or should we say, will be? Here's how Carnival describes the area in its press materials,
"Located on the ship's highest deck, Loft 19 is a brand new concept for Carnival Cruise Line — a secluded retreat modeled after the world's finest resorts with full bar service, a private pool surrounded by sun loungers and spacious cabanas, available for rent."
As for those for-rent cabanas, they will be "stocked with beverages, plush robes and chilled towels, fresh fruit, lunch delivery, and dedicated concierge service."
Is Carnival's New Retreat Right For You?
As reaction has shown, there are two ways to view Loft 19. For some, it promises to be a respite from the rest of the world, which they will happily pay extra to gain access to, whether by booking a suite offering admission as a perk or renting one of the cabanas. To others, it's another example of a cruise line nickel-and-diming them by offering access to parts of the ship only to those willing to pay a fee.
The fact of the matter is that Loft 19 will likely turn out to be both. That said, let's look at what we see as the pros and cons in, as best we can muster, a point/counterpoint fashion. Ready?
PRO: Access to the area will be complimentary for guests booked in any of the 32 Carnival Excel suites. Guests not staying in one of the Carnival Excel Suites will be able to gain access to Loft 19.
READ MORE: Take A Look At Carnival's New Premium Suite Level
CON: Said access will come at a price… and that price will include a cabana. And how much will those cabanas cost? A full-day pass, allowing access from 8 a.m. to 8 p.m., will run $50 on port days, and $150 on sea days. Want week-long access to a cabana? That can be had for $900 per cabana. All prices are in addition to an 18-percent gratuity.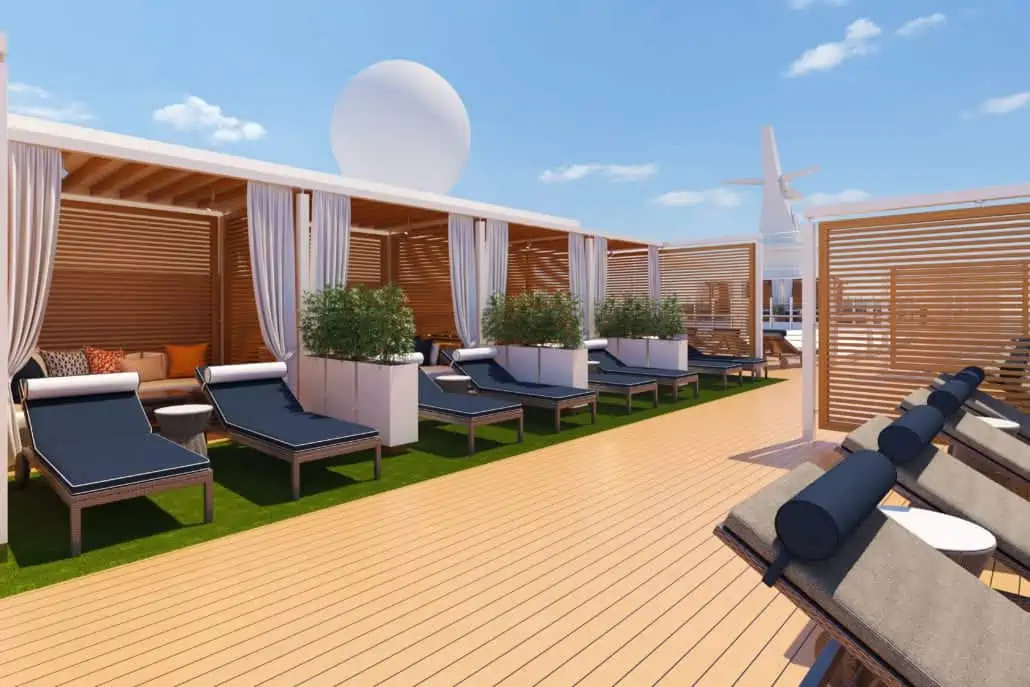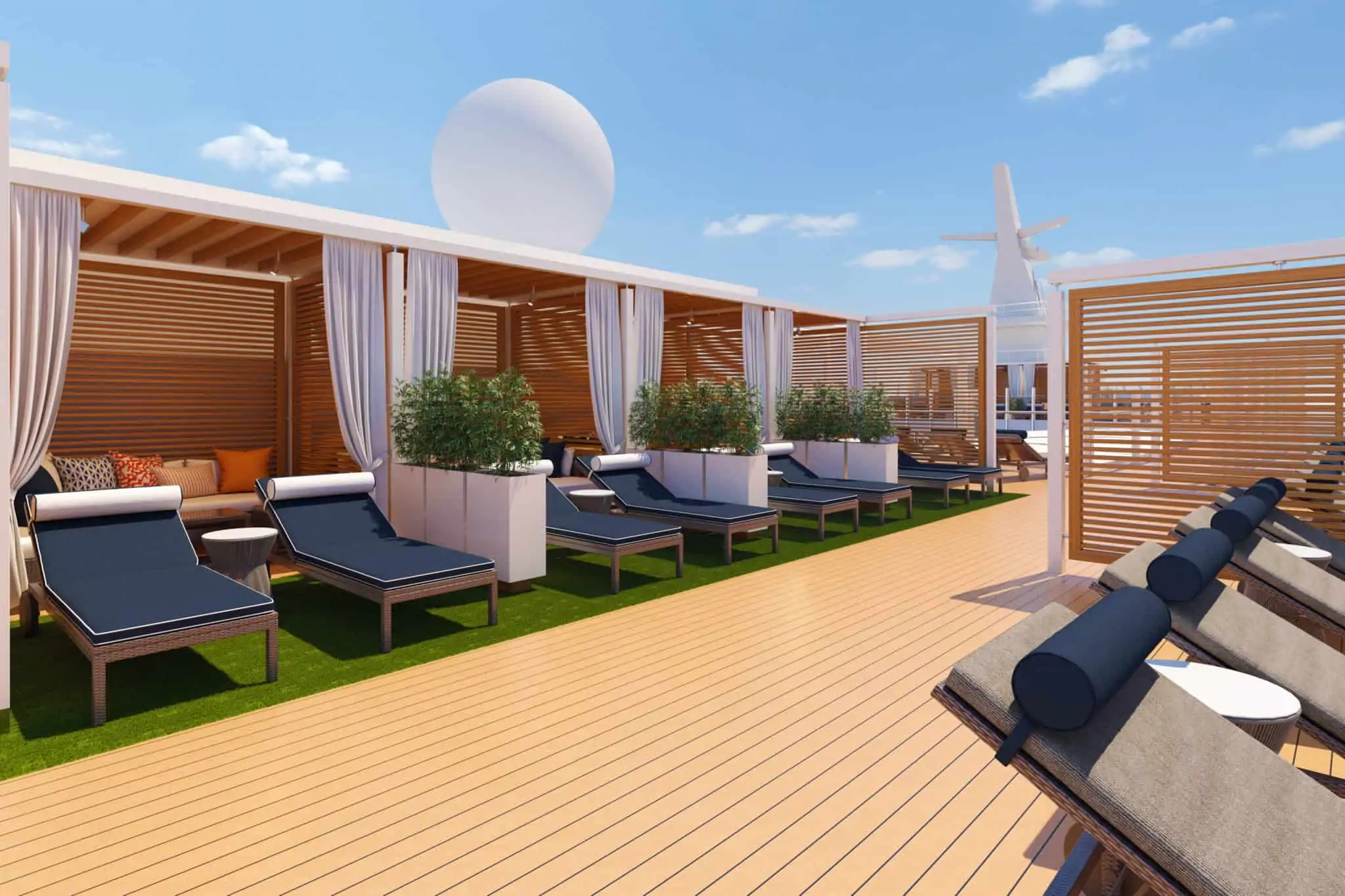 PRO: Those staying in the 32 Carnival Excel Suites will have priority access to cabana reservations.
CON: Given that Loft 19 only contains 12 private cabanas, the fact that excel guests get the first crack at them on any given day could majorly impact the ability of other guests to rent one. And of course, there are an awful lot of other guests who might potentially be looking to slip into one of the dozen hot spots.
PRO: The top-deck area will, by nature of its limited access, offer a great escape from the rest of the ship. It features a private pool and lots of lounging options, not to mention a bar, so it should easily become a wildly popular retreat.
CON: Given that the ship already has a Havana area which is only available (during daytime hours) to guests booked in Havana staterooms, this is yet another area of the Mardi Gras which will have restricted access.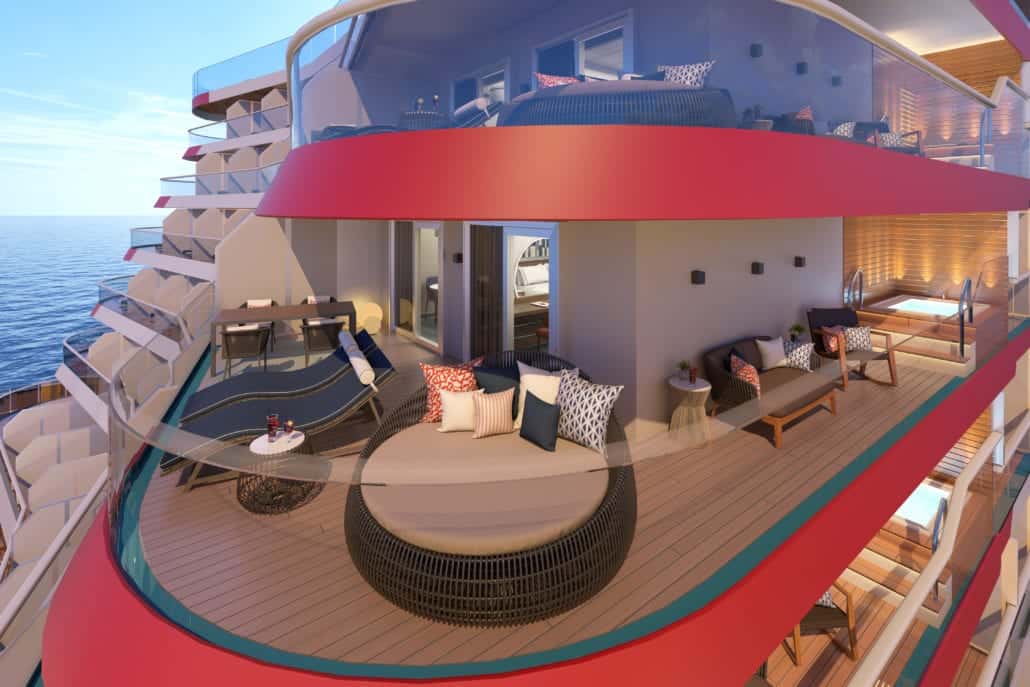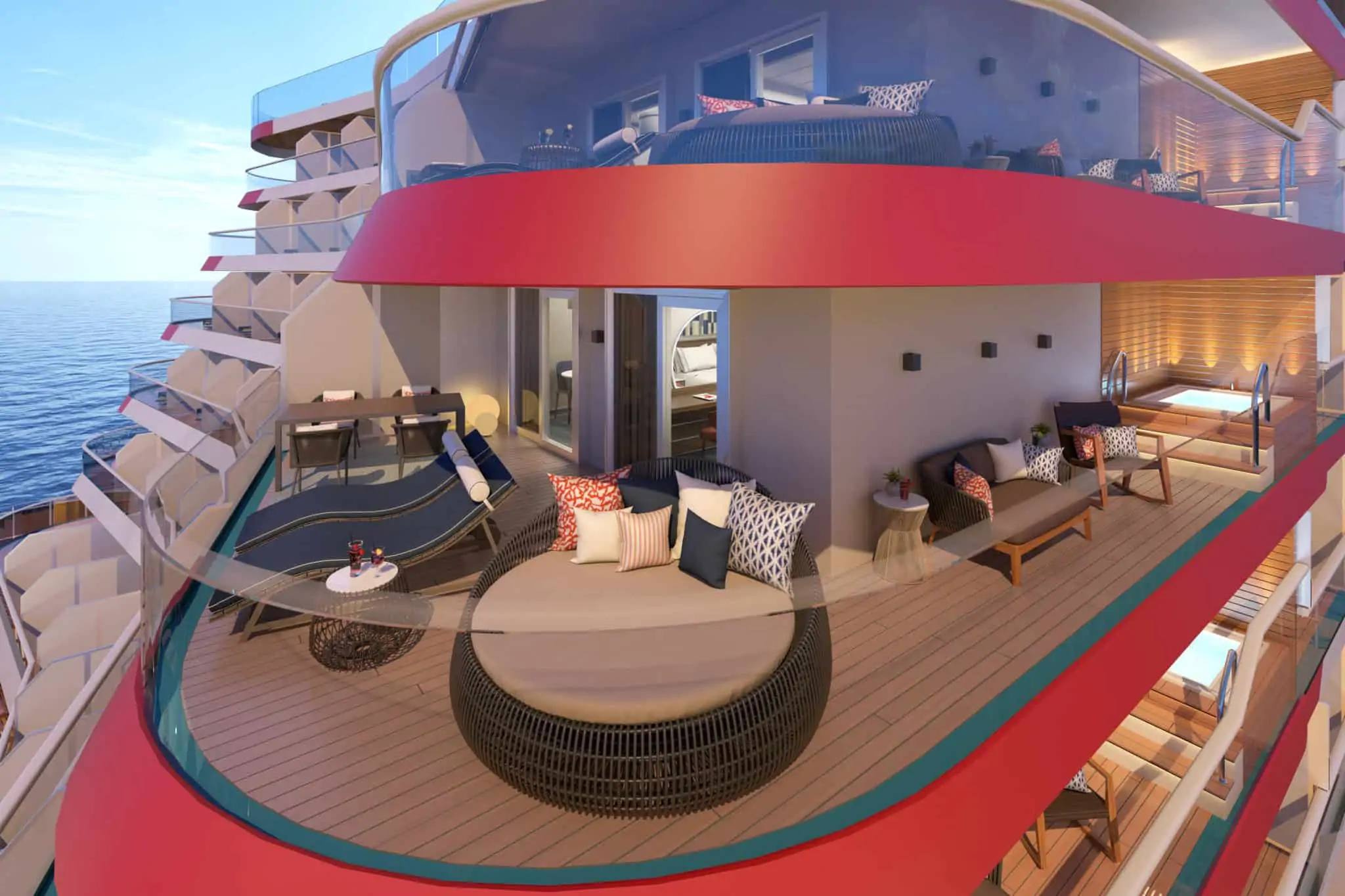 PRO: Children will have access to Loft 19, as long as their parents are staying in a Carnival Excel suite (of which several have room for up to five guests) or have rented a cabana.
CON: Children will have access to Loft 19. More than a few would-be Mardi Gras passengers made it clear they weren't thrilled at the notion they might pay a premium price to enjoy some quality time at Loft 19 only to have it potentially ruined by unruly children. That said, it's worth remembering that Mardi Gras will also have the very popular Serenity deck, which is for the exclusive use of adults at all times… and completely free!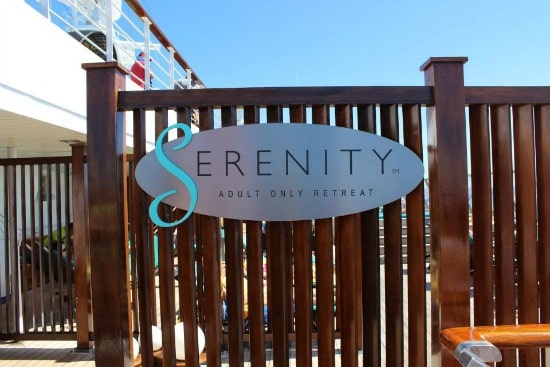 How Other Lines Handle Similar Areas
While Loft 19 is a new-to-Carnival concept, they certainly aren't the first cruise line to create a premium experience that comes at an additional fee. In fact, Carnival is actually among the last of the mainstream lines to do so!
On many Norwegian Cruise Line ships, they offer a special class of staterooms which are located in what's known as The Haven. The area comes with its own pool and courtyard and, on the larger ships featuring the space, a private restaurant and bar, all of which is accessible (by special key card) only to those paying to stay within the compound. You can also find Vibe Beach Club — an adult's only, pay-to-access space — on the larger Norwegian ships.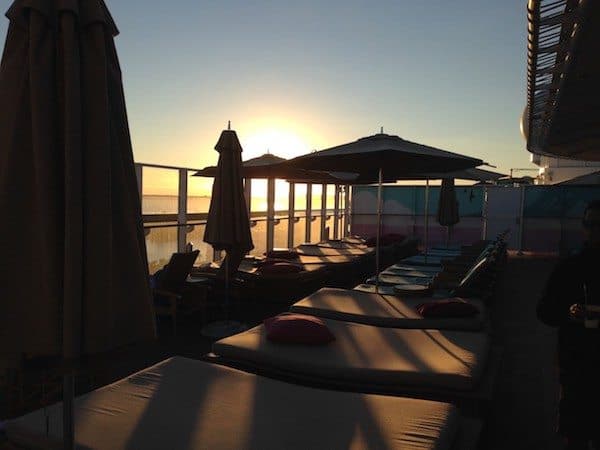 The trend isn't likely to reverse anytime soon. In fact, Royal Caribbean's upcoming Spectrum of The Seas will be the line's first ship to offer a new class of premium suites which will require keycard access and feature a private lounge, restaurant, and outdoor space. Sound familiar? Whereas Carnival's suite-centric retreat will be Loft 19, a similar concept will be known as The Balcony on Royal Caribbean.
The big question is whether or not Carnival's core audience — which has always been families — will take to the suites and Loft 19 concept. Or might Mardi Gras, which is in many ways a complete departure from past Carnival ships, manage to satisfy longtime fans of the line while also attracting a new clientele? Ultimately, only time — and those ubiquitous post-cruise surveys — will tell!
What do you think of Carnival's new suites and Loft 19 area? Will you rent a suite which guarantees access? Would you consider paying to rent a cabana for the day?
Watch Carnival Mardi Gras Deck Tour