By Don Bucolo
Not sure where to dine on your next Royal Caribbean cruise? Each ship offers a variety of different dining options, with some ships serving up additional specialty restaurants or unique venues. To help you get started, we have a look at the top 9 Royal Caribbean restaurants.
Top 9 Royal Caribbean Restaurants 
1. Windjammer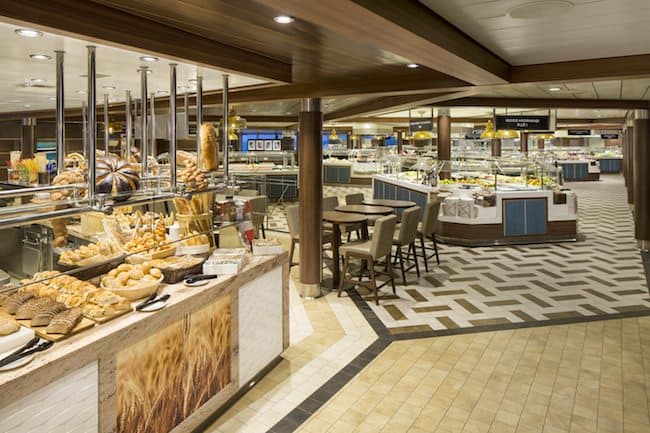 Located on the pool deck, this casual restaurant serves up food all day long. From early morning breakfast with a wide selection of hot and cold items, to lunch featuring sandwiches, a salad bar, hot grill, and several entrees, to the rather diverse and impressive dinner spread, this is the place to go whenever the hunger pangs strike. Depending on the ship, you may even find some hidden delights, like warm cookies. Check the Cruise Compass for various meal times, and don't worry about the dress code, as beach attire is more than welcomed.
Cost: Complimentary
2. Main Dining Room
With superb service, a stylish three course meal awaits you nightly at the main dining room (MDR). Also open on several days for breakfast and lunch, you will undoubtedly visit the MDR on your cruise. Choose from options like prime rib, lobster tail, lamb shank, and more with a menu that rotates nightly. Don't worry about the tab, as you can order as many starters, entrees, and desserts as you want, and nearly all of it is included in your cruise fare.
Cost: Complimentary
3. Sorrento's
Found on many of the line's larger ships, including the Freedom, Oasis, and Quantum classes, this is your homestyle pizzeria at sea. Found in the Promenade (or Esplanade), Sorrento's offers a variety of pizzas during the day and evening hours. On some ships, you even have the option to make your own pie, where you can select the toppings to have a custom personal-size pizza made just the way you want it.
Cost: Complimentary
4. Johnny Rockets
A little bit of doo wop goes great with a side of fries. This casual eatery found on many Royal Caribbean ships delivers a dose of nostalgia, along with popular quick serve food like hamburgers, chili dogs, and the chain's famous milkshakes. For a small upcharge, you can choose as many items as you like when you dine in for lunch or dinner. On some ships, Johnny Rockets even serves a complimentary breakfast.
Cost: $6.95 per person
5. Chops Grille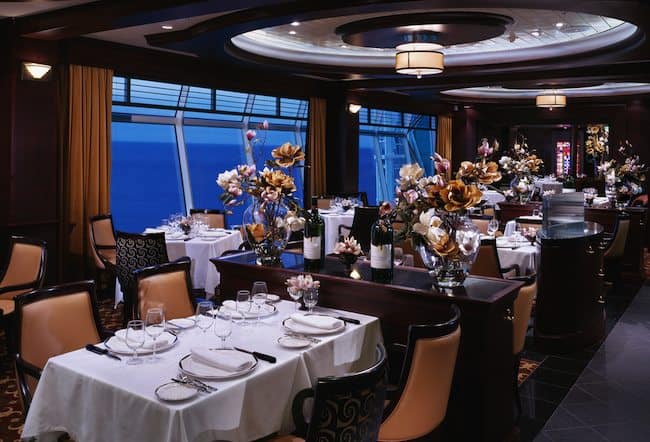 One of the line's staple specialty restaurants, this fine dining establishment is not covered in the cruise fare, but it is certainly worth the upcharge. Perfectly grilled cuts of beef are the showcase here, including dry-aged steaks. Choose from a filet, rib-eye, New York strip, and premium seafood entrees and appetizers like jumbo shrimp cocktail. Don't forget to top off the night with some dessert, like the heavenly red velvet cake.
Cost: $35-$39 per person
6. Park Café
First introduced on the Oasis-class ships, this casual, complimentary venue has been popping up on many Royal Caribbean vessels following refurbishments. This delicatessen offers hot and fresh to-go style food. In the morning, breakfast sandwiches, bagels, oatmeal, fresh fruit, and granola are available to fuel your day. For lunch and late day snacks, paninis, custom salads, and the line's signature kummelweck roast-beef sandwich, carved right in front of you, are sure to satisfy.
Cost: Complimentary
7. Wonderland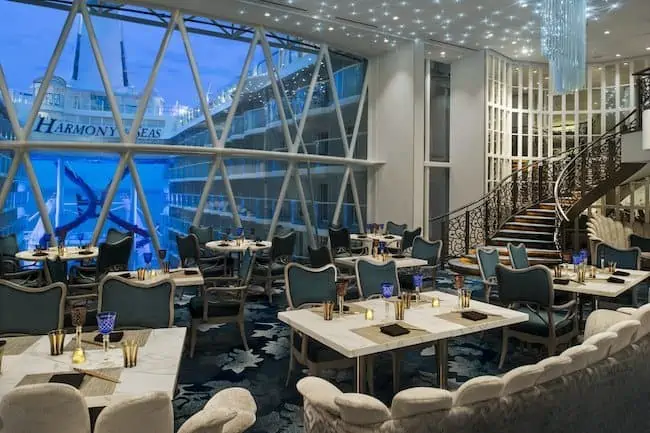 Introduced on the Quantum-class ships, and found on the line's newest Harmony of the Seas, this specialty dining restaurant offers a tasting menu that is anything but ordinary. At this whimsical restaurant with an Alice in Wonderland theme, presentation and taste unite to offer one of the most unparalleled dining experiences found at sea. This is one restaurant you need to see to believe. So, venture down the rabbit hole to experience your own culinary adventure.
Cost: $45 per person
8. Sabor
You don't need to travel to Central America to enjoy some authentic Mexican cuisine. Found on Freedom of the Seas, Navigator of the Seas, and all three Oasis-class ships, this a la carte specialty restaurant delivers some true Tex-Mex dining. With fresh tortilla chips and salsa, as well as handmade guacamole, be sure to save some room to dive into other some tempting treats including the spicy tuna tacos, quesadillas, and the chocolate and banana chimichangas.
Cost: À la carte
9. Jamie's Italian Restaurant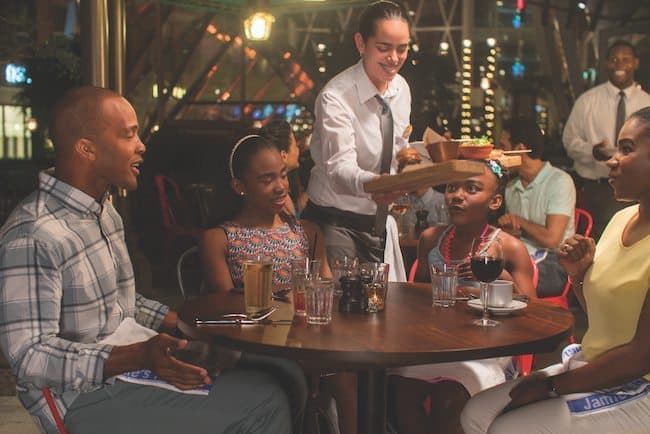 Found on select Quantum and Oasis-class ships, the line's newest specialty restaurant offers some casual Northern Italian cooking from celebrity chef Jamie Oliver. While dining here, it is almost mandatory that you try one of the Planks – a delectable, oversized meat and cheese board. The venue also serves pasta that is made right on the ship, and a variety of additional entrees and desserts. You will sum up your dining experience in two words- "Molto buona"!
Cost: $30 per person
We suggest you review exactly which restaurants are on your ship and make pre-cruise reservations where applicable so you can be prepared for one epic dining experience.
What are some of your favorite Royal Caribbean Restaurants?
Don Bucolo is the editor of Eat, Sleep, Cruise and can be found at EatSleepCruise.com.
Photos: Royal Caribbean