Today is our second "Fun Day at Sea" before visiting back to back Eastern Caribbean ports for a bit.
Since I keep forgetting to set my room service request outside my door before I go to sleep, I've been walking upstairs to the Lido Marketplace for coffee every morning before my workout. Luckily, since we booked deck 10 aft, we are only two flights below the food. It's actually a perfect location.
Even though today is a sea-day, there wasn't a brunch in the main dining room. Instead, they had the regular port day breakfast menus. I suppose with two sea days back to back, you only get one day of brunch.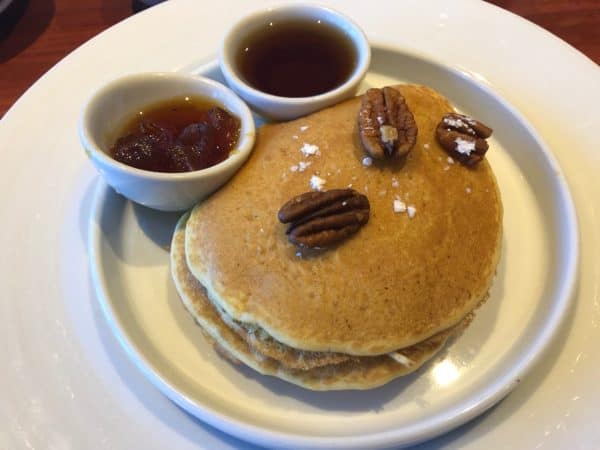 This morning the crew members in the galley were carving a Carnival cruise ship out of ice, and it was really cool watching them do it!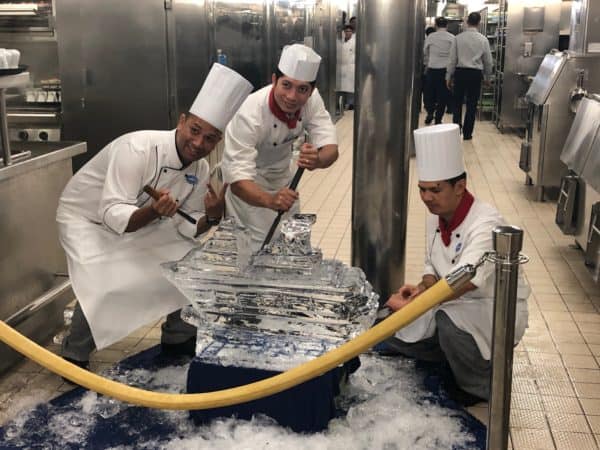 Q&A with John Heald
It was a packed house for the question and answer session with senior cruise director John Heald. It's always fun sitting in these sessions because you never know what people will ask or say.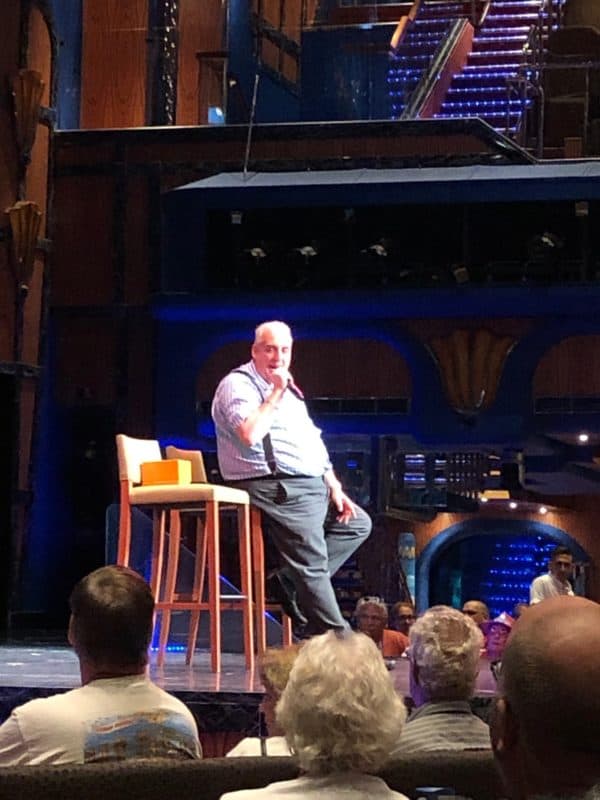 A couple of hot-button issues were:
Carnival's VIFP loyalty program.
The internet price going up for the social media package.
No tablecloths in the main dining room.
Some of these issues may sound silly and like people are just complaining; however, while that may be the case, some points are actually valid. There are nearly 500 thousand platinum-level members with Carnival Cruise Line. They need to develop a level between platinum and diamond or make a diamond-plus level.
Interview with John Heald
Every time I'm on a sailing with John, I try to nail down a couple minutes with him to catch up and see what's going on in his world. I probably took more of his time than we scheduled, but it's because he's so easy to talk to.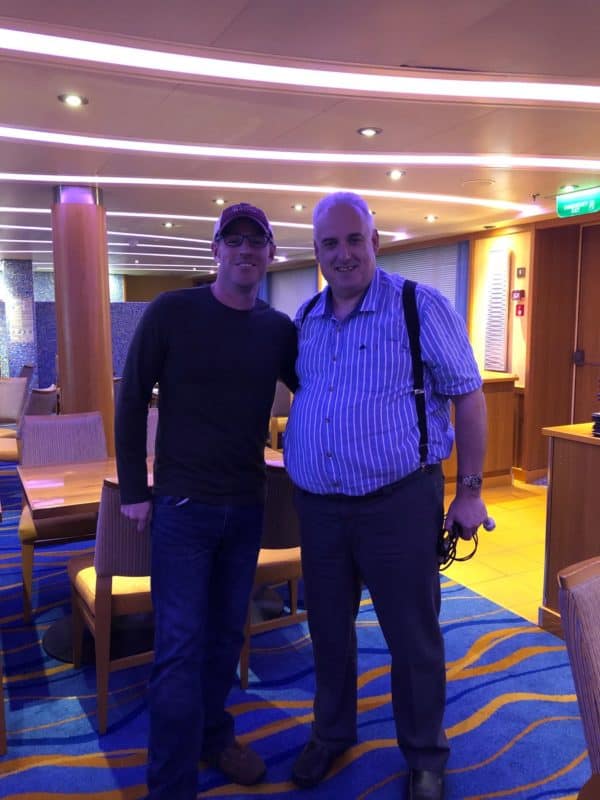 We hit on the subject of the social media package price increasing by 60%. The internet on this ship is far from good. Some people think when you're on a cruise ship you should unplug, and I get that. However, I also think if a guest pays for a product, the cruise line should deliver on their end.
This ship, Carnival Breeze, is scheduled is get the internet upgrades in December. So it'll put the connectivity speed right up there with Carnival Horizon and Carnival Vista.
Spa Pass
In all my cruises there is one thing I can say I've absolutely never done – go to the spa. To be fair, I've never had a massage because I'm too ticklish. So this week, I'm trying out the spa-pass on Carnival Breeze. It's actually called the Thermal Suite pass, and let me just tell you, if you board the ship stressed and need to decompress, this is your ticket.
At first, I was hesitant of doing it. I'm extremely ADD and cannot sit still, so the idea of sitting still just for the sake of sitting still didn't seem too appealing to me.
They have this thalassotherapy pool, which is a jacuzzi on steroids. It's based on the concept of a natural-bubbling spring. There are seats all around it and jets that hit you from underneath the water and from the side of the pool. It was amazing.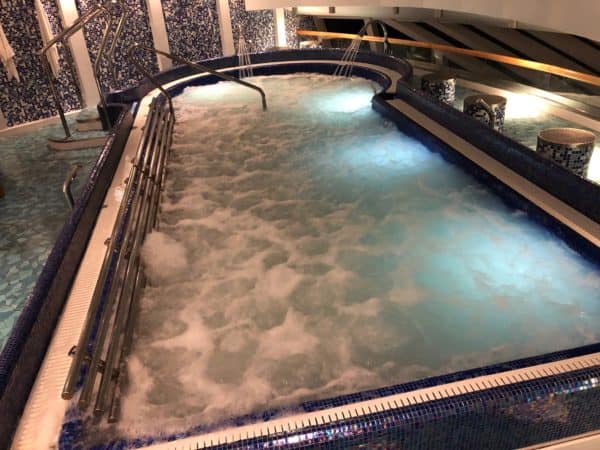 I have not had a chance to get into the saunas or steam rooms yet, but hopefully will soon. Though I did try the heated thermal chairs.
The heated thermal chairs took every bit of soreness out of my legs from running all week. The spa also has an aroma laconium-steam bath, which can be compared to a hybrid of a sauna and a mild-steam room.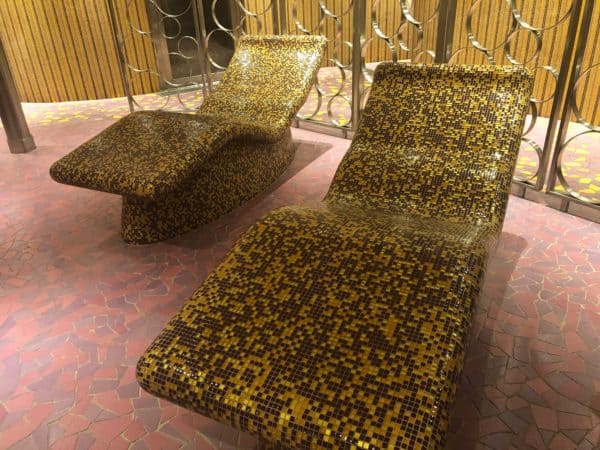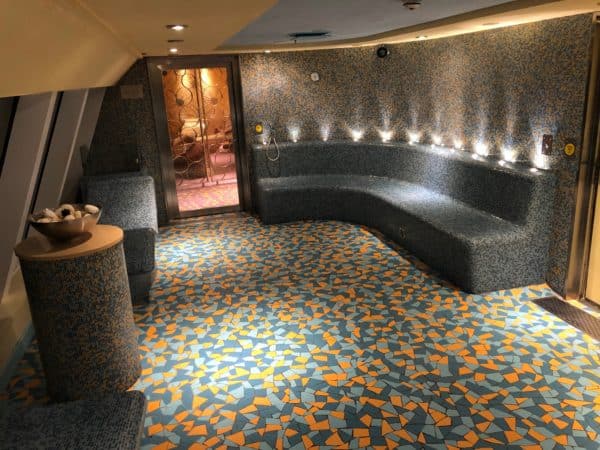 I'll write more on this soon and give it a full review. As I sit here on the back of the ship writing, I'm doing it all from memory.
Listener Question: How has the ship been during sea days?
The ship is full, but there doesn't seem to be a lot of lines or crowds. You're going to have your typical lunch rush in Lido Marketplace, but aside from that, there hasn't really been any areas of mass congestion. Since this cruise has an older demographic, a lot of people are using the elevators, so they seem to be popular.
The Entertainment Director is doing a really good job keeping a lot of activities going on around on the ship. There are two different showtimes, and the comedy shows overlap them. This was, there isn't a madhouse of people at each show.
Tomorrow is St. Thomas. We are heading to St. John on our own.