Today was a Fun Day at Sea and it might've been the most relaxing day on a cruise that I've ever experienced.
The day started with a run in the gym. Since I'm training for a couple of big races, I'm trying to stick to a running schedule while onboard. The gym is a pretty good size and located all the way forward. I always try to get a treadmill by the window because running with a 270 degree of the ocean is not only refreshing but motivating too.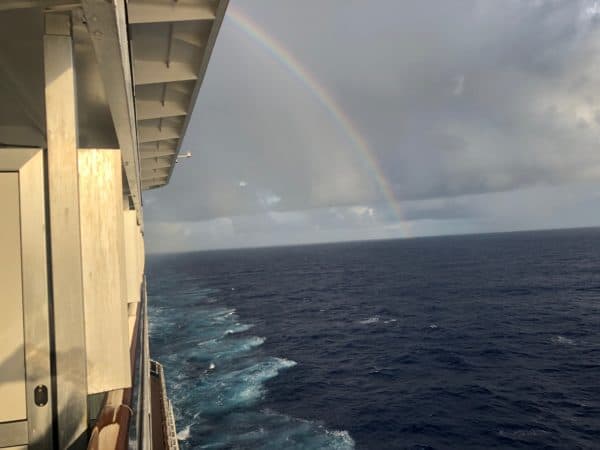 Sea-Day Brunch 
Carnival launched their sea-day brunch on this very ship back in 2012. Back then, it was called the Punchliner Comedy Brunch, with comedians performing early morning for those who were dining – bad idea. People do not want to be bothered that early and the comedians openly hated the concept. They eventually ditched it. So now it's an amazing lunch with a ton of breakfast and lunch options. It runs from 8:30 a.m. to 1:30 p.m.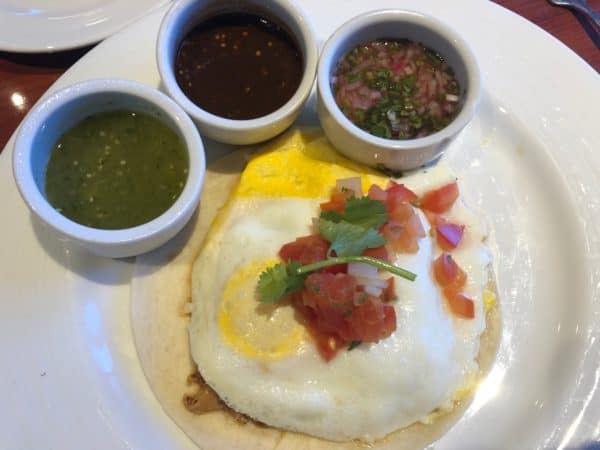 I went with the Flaming Tomato Soup and the Huevos Rancheros.  Some folks got breakfast, some got lunch, and some got both. Whichever way they went, everybody was pleased with what they ordered and it was nice to talk cruising with some folks from New York, North Carolina, and Tennessee.
Sea-Day Fun 
One thing about these longer sailings is that there are very few kids onboard. As I'm writing these I can only think of two instances in the past three days that I've seen kids, and they were all well behaved and with their parents. If you're looking for a cruise that doesn't have a lot of kids onboard, these longer cruises are the way to go.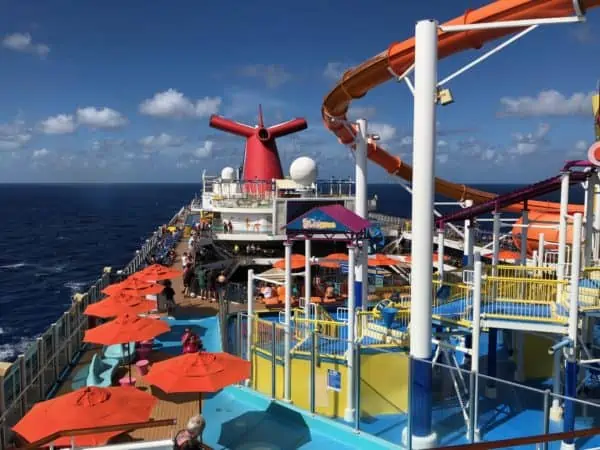 The midship pool, aft pool, and serenity area were all wide open. I wrote yesterday's trip report from a clamshell in serenity.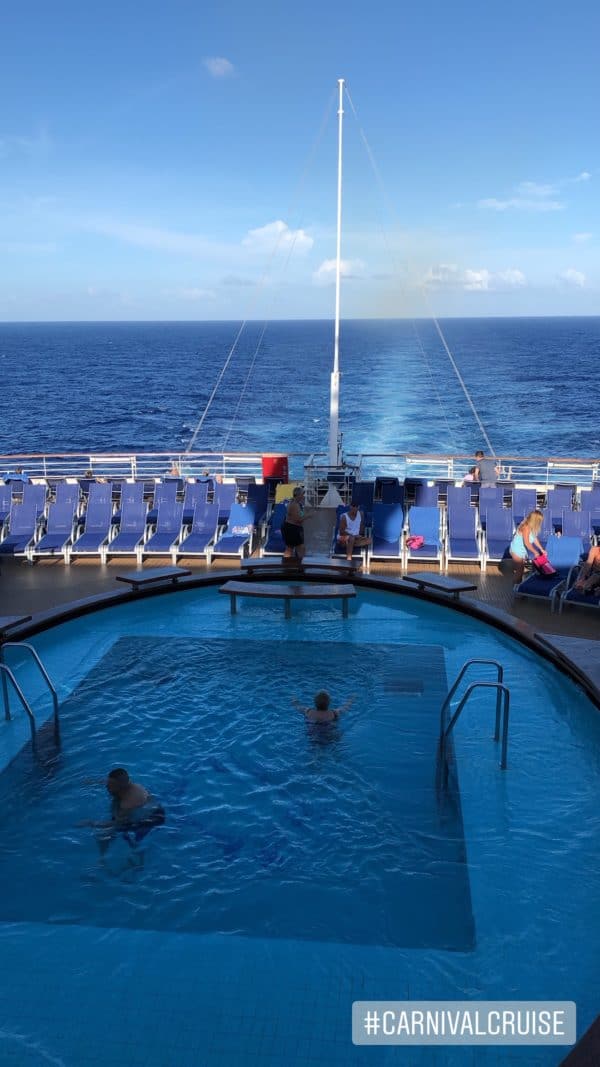 Kitchen Tour 
I'm working on a piece right now about cruise ship kitchens, and how cooking 4,000 meals in a matter of a few hours, during traditional and anytime dining times, is nothing short of organized chaos.
At 5 p.m., we met the maître d' in the Blush Dining Room to get a kitchen tour. I was expecting a brief walkthrough but was surprised with far more than that. We tasted every single item from the elegant-night menu.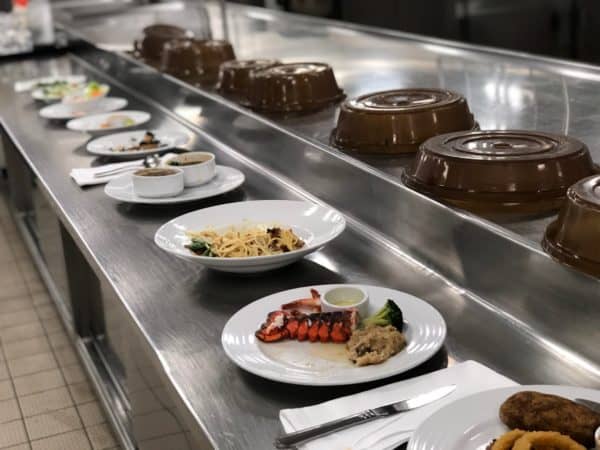 Fun Fact: The kitchen goes through 3,500 lobster tails on formal night. It was mind-blowing watching them.
To be honest, there was a little guilt after tasting 12 dishes, so I went to the gym to run three miles before our 8:15 dining.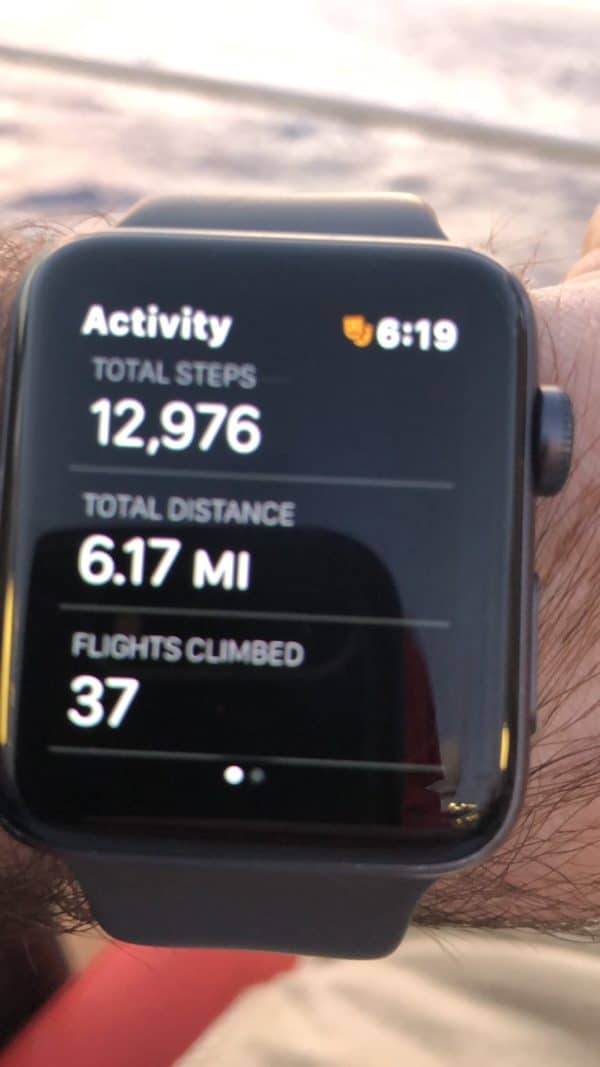 Lobster Please  
The main dining room was half-empty again tonight. As I mentioned yesterday, most passengers are doing early dining or anytime dining – and I'm perfectly fine with that. The service has been on fire here!
We told the server that we wanted prime rib, fish, and a side of lobster. The server brought out a plate of lobster for us and it was perfect. We both had our respective meals, with our lobster tails as the side dish. Looking at the lobsters next to each other on the plate makes you realize how small they are.
The good thing is, you can order as many as you'd like. After our lobster in the kitchen earlier, and then feasting tonight, we had our fill.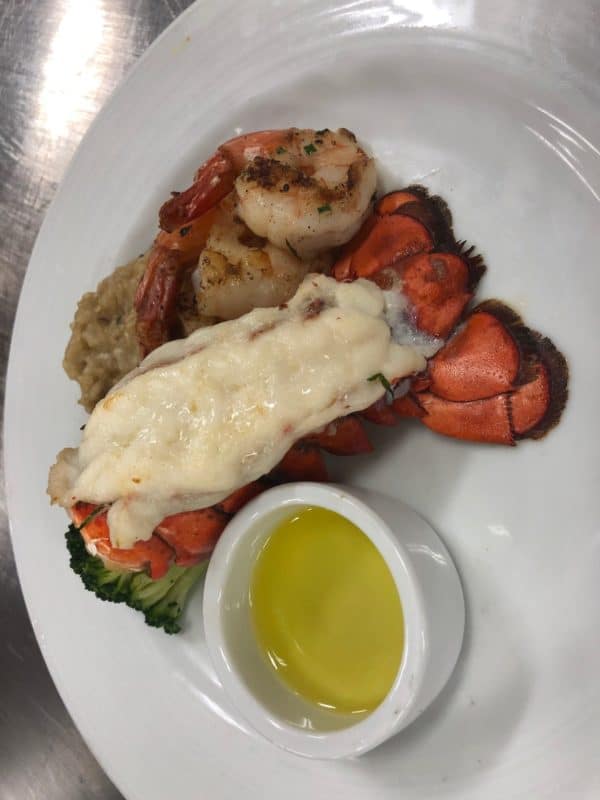 Fun Around The Ship
After dinner, we headed to a comedy show and followed that with a trip to the piano bar. I'm going to hold my judgment on the comedian until I see him one more time. I think he may have been having an off night – we all have them.
The Piano Bar was one giant sing along. With the way the room is set up, it holds more people than the older ones on other classes of ships.
In my opinion, the Dream-class ship has the best piano bars.
Listener Question:
What makes a Carnival Journeys sailing different from a longer cruise?
These Journeys cruises are ones that are 10 days or longer. They have throwback days to the 80's and early 90's, back before everyone was tethered 24/7 on a cruise. My favorite part of the Journeys cruise is the midnight buffet they hold for one of the nights. You can find out more about the Journeys sailings here.
Tomorrow is St. Thomas, and we are going over to St. John. I can't wait.
Until then…