Just like I've done the past few days, I started the morning by hitting the gym. Once that was out of the way, I stuck with my established routine of heading to the Lido Marketplace to grab a plate of fruit and a cup of coffee. Noticing that the sun was starting to rise (talk about perfect, and accidental, timing), I lingered to take it in.
Nothing compares to seeing the sun rise or set in the Caribbean.
Hello, St. Thomas!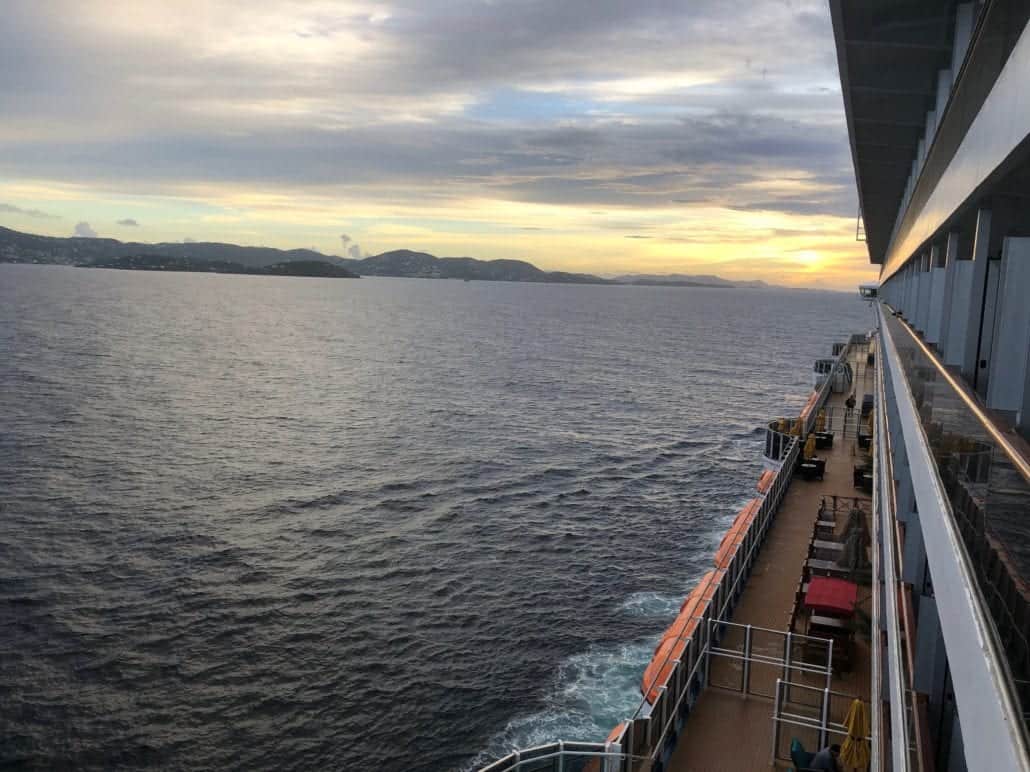 Before long, we'd arrived in St. Thomas. Some days, there are a whole lot of ships visiting, but it turned out that today, we'd have the island all to ourselves.
I have to admit, St. Thomas holds a special place in my heart. The first time I visited was in 2014 on the Carnival Liberty. Fast-forward three years and, in the wake of Hurricane Irma, I was on one of the first ships to visit the island – doing a show about the recovery process. Although St. Thomas was welcoming visitors, it was heartbreaking to see the damage that had been done, the businesses that remained shuttered and – especially once we ventured away from the port – the destruction residents were clearly still dealing with.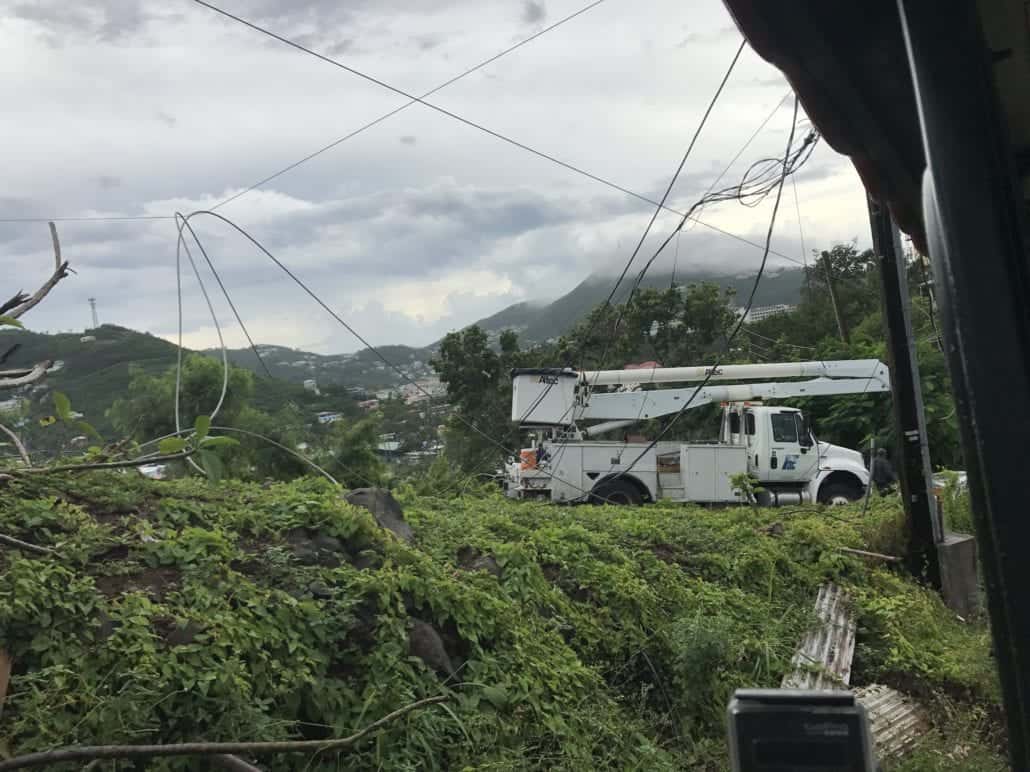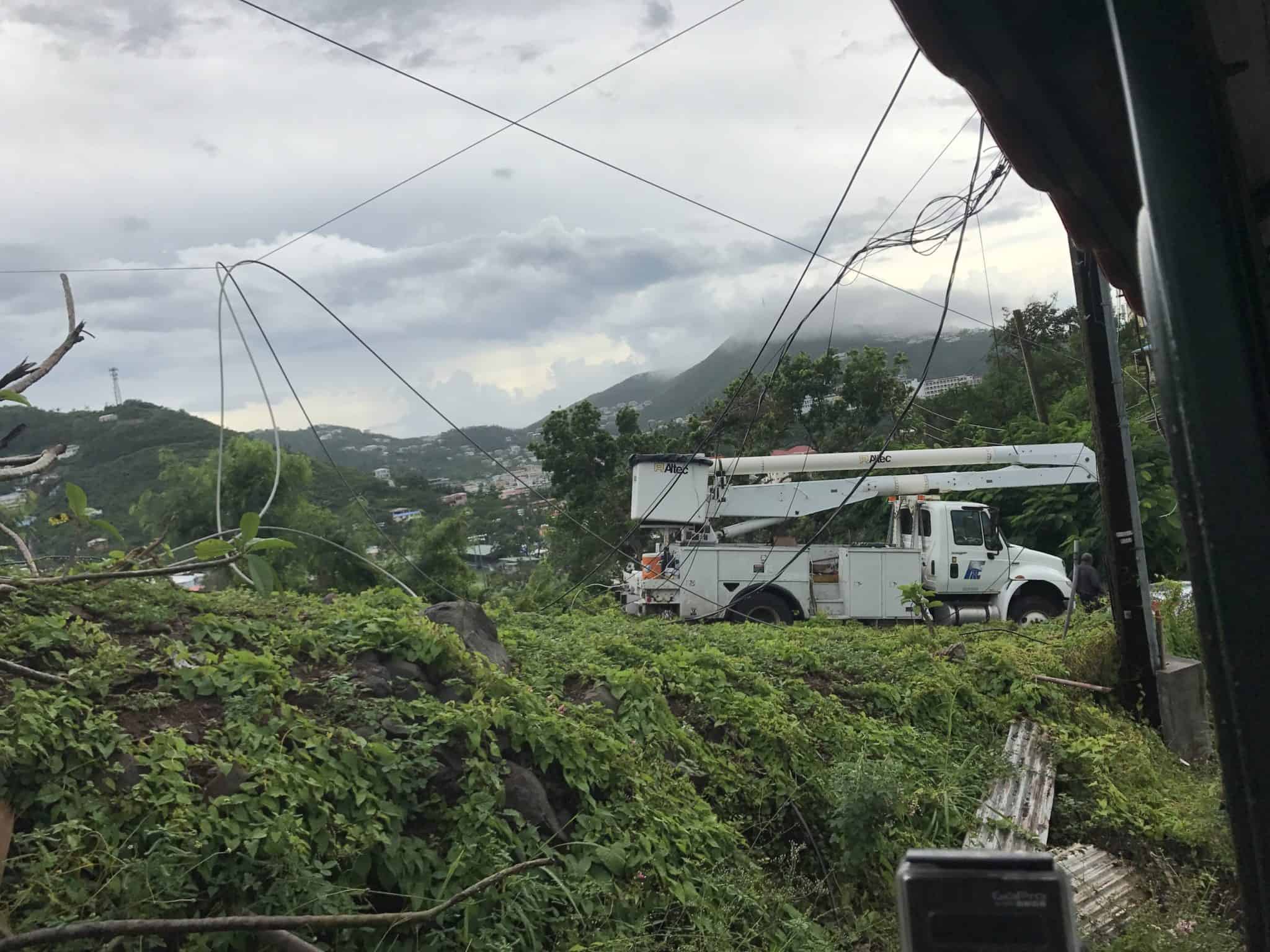 Fast-forward to today, and the island seems, finally, to be coming back to life. They aren't a hundred percent there yet, but the progress made since my last visit was as obvious as it was impressive. There are still some wind-damaged buildings but overall, there is a sense that things are returning to normal.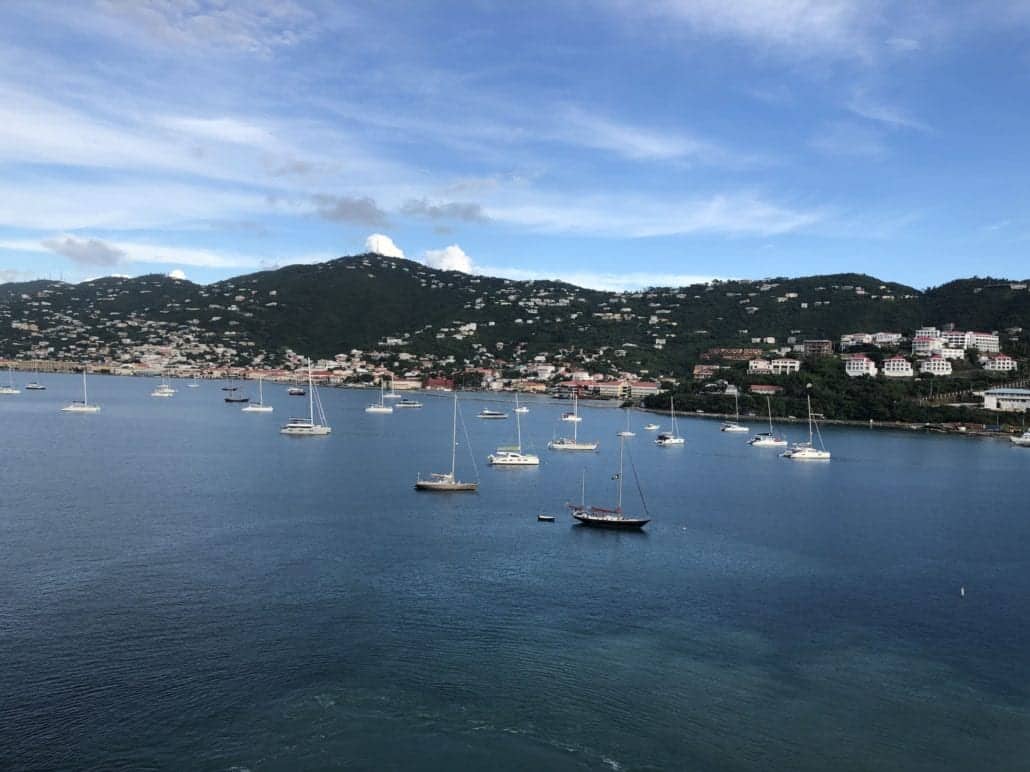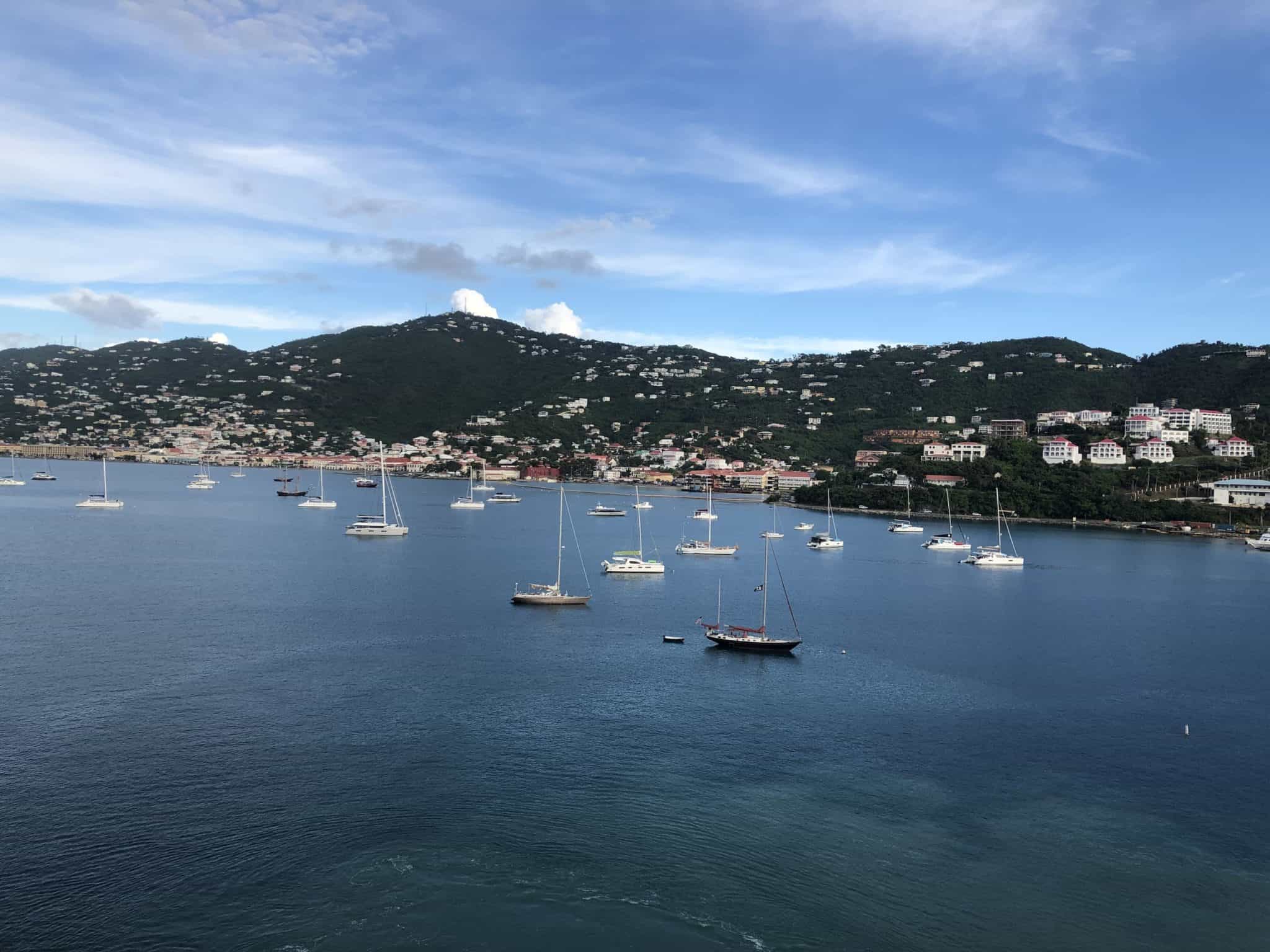 Make Your Own Adventure
We created our own excursion today – a boat ride over to St. John to visit Trunk Bay for a few hours. If you've never been to Trunk Bay, it's a breathtaking beach that is one of the most photographed beaches in the world – so they claim. It's also part of the United States park system. Getting there is pretty easy, and you can do it yourself. The cruise ship excursion to Trunk Bay will cost you about 70 dollars, and the ferry leaves straight from the cruise pier so it's definitely convenient.
Sometimes, if you opt to do things on your own you can take in some of the local cultures, have a little bit of an adventure, and save some money in the process.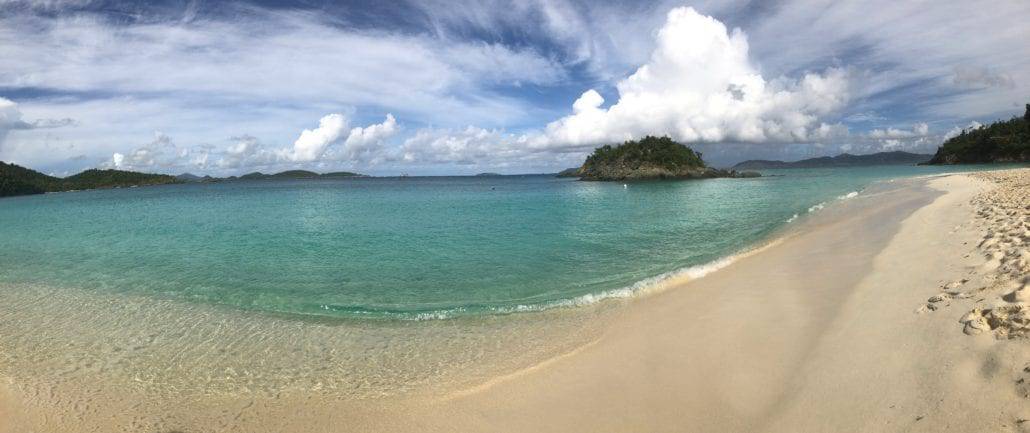 This is how we got there:
Took a cab from Havensight Cruise Terminal to Red Hook Ferry Terminal ($6)
Took a ferry from Red Hook to Cruz Bay, St. John ($8)
Hopped an open-air jeep from Cruz Bay to Trunk Bay ($6)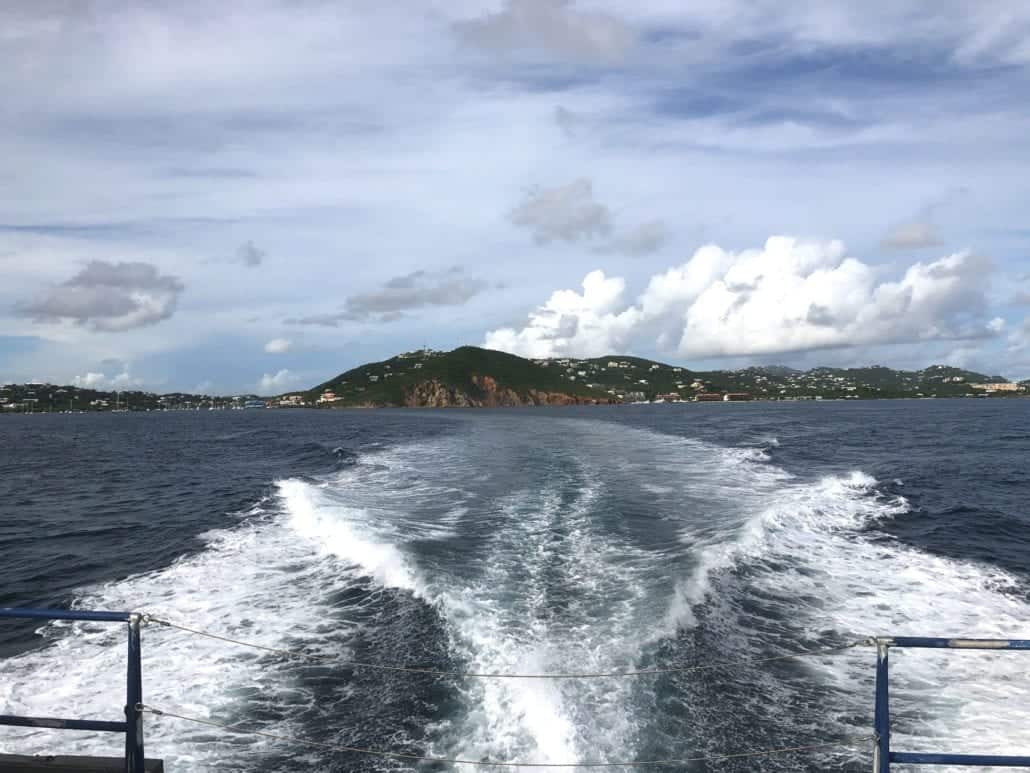 While Trunk Bay is beautiful, evidence of the damage done by the hurricane still remains. Massive trees were taken out, buildings were knocked down, and only the snorkel shack remains. On a nearby cliff, all that remains of a house that once perched there is a piece of the foundation. One of the workers at the beach told me that at the height of the storm, she clocked winds of 200 mph at her house and that waves at the beach were as high as 25 feet.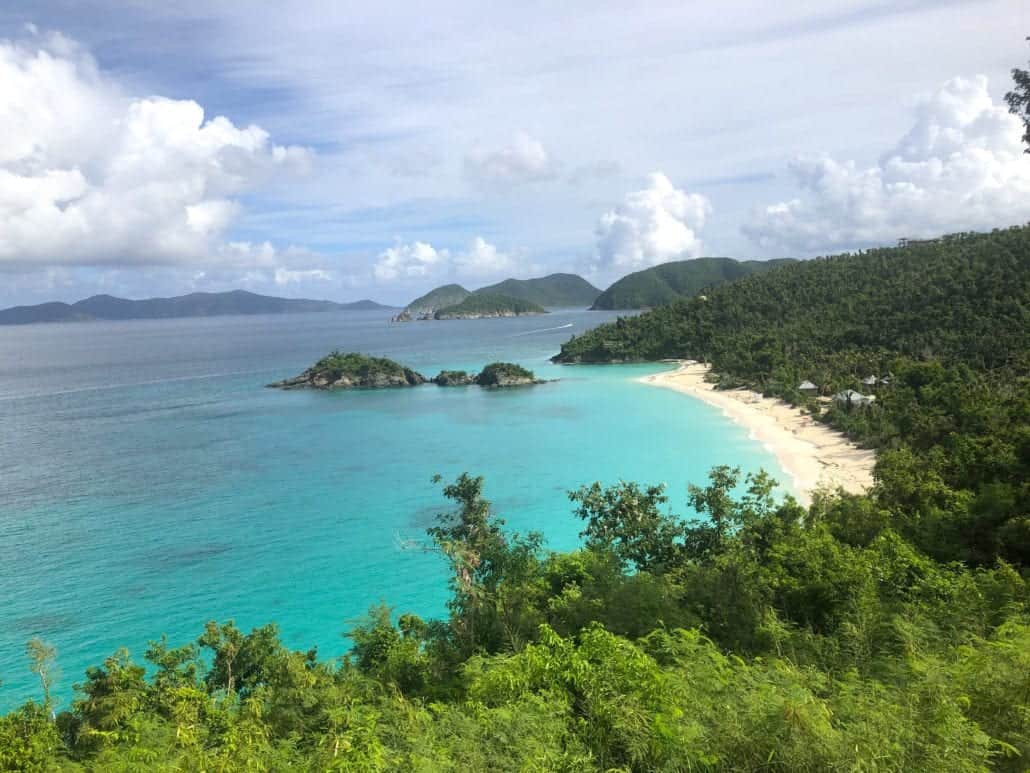 The underwater, marked snorkeling trail is stunning. We were lucky enough to get there before the clouds rolled in, so the sun really made the colors of the coral and fish pop.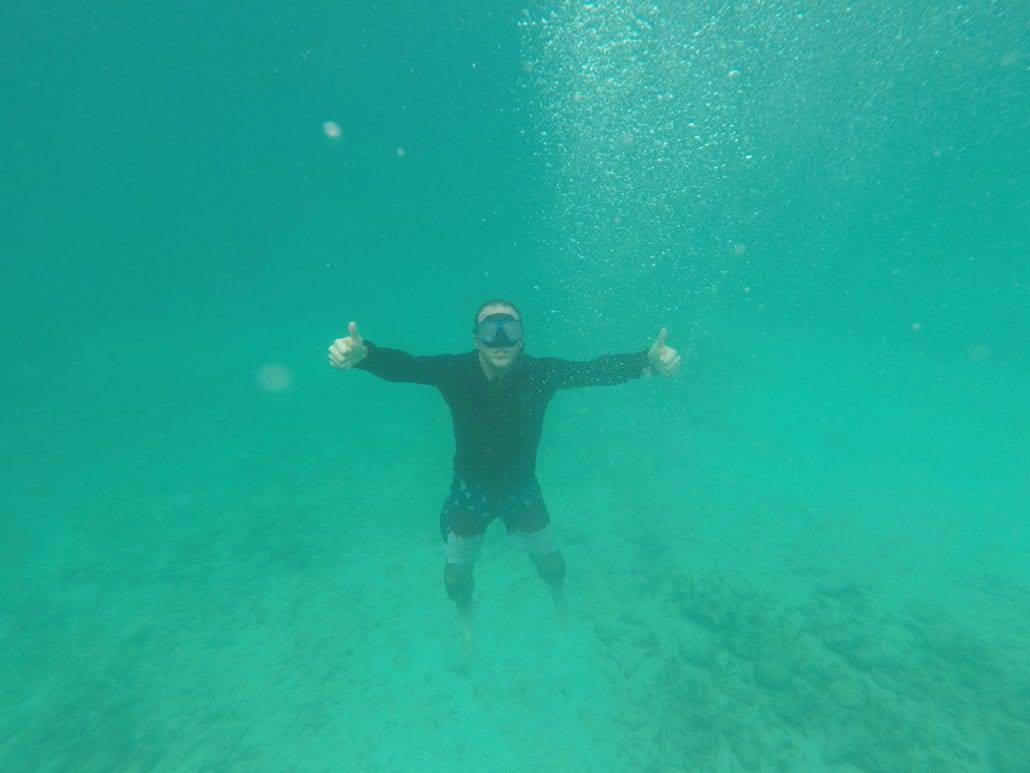 After a couple hours at Trunk Bay, we hopped in an open-air taxi and headed back to Cruz Bay. Once there, we headed to Woody's, a local bar frequented by none other than country star Kenny Chesney. There was just enough time to grab some fresh seafood and down a couple drinks before catching the 2 p.m. ferry back to St. Thomas.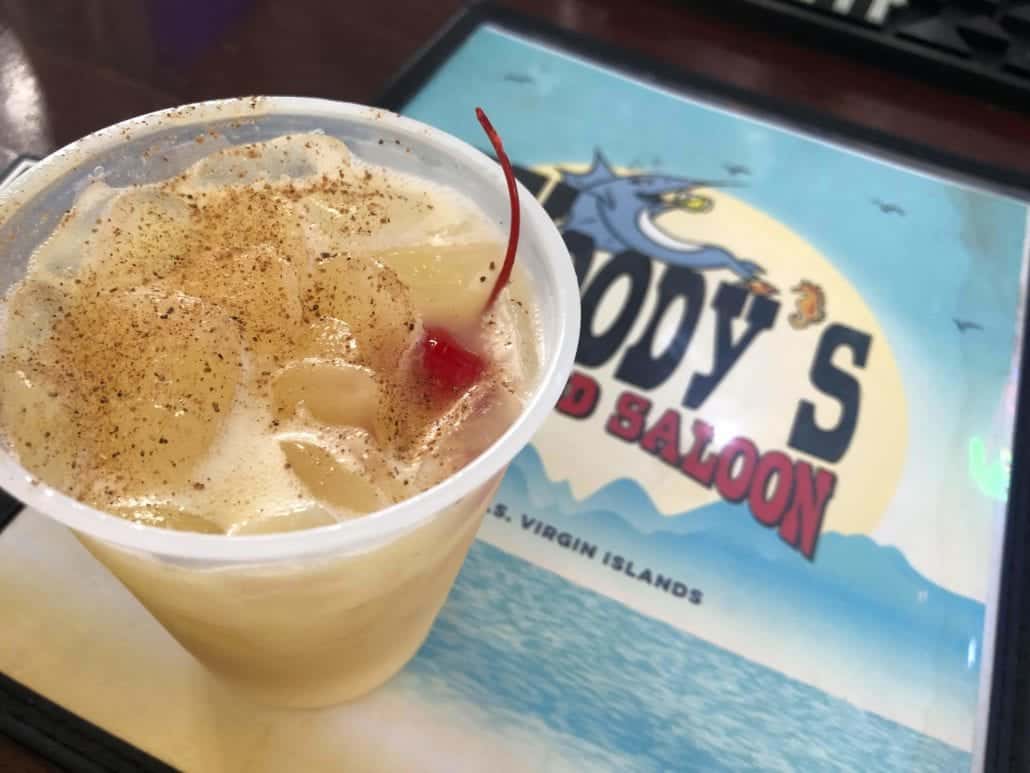 We were going to walk down to Señor Frogs, for old time sake, but it looks like they never recovered from the hurricane. The former hot spot is now closed. The water in the pool was green, and even the chain's website no longer references this location.
Dinner and a Show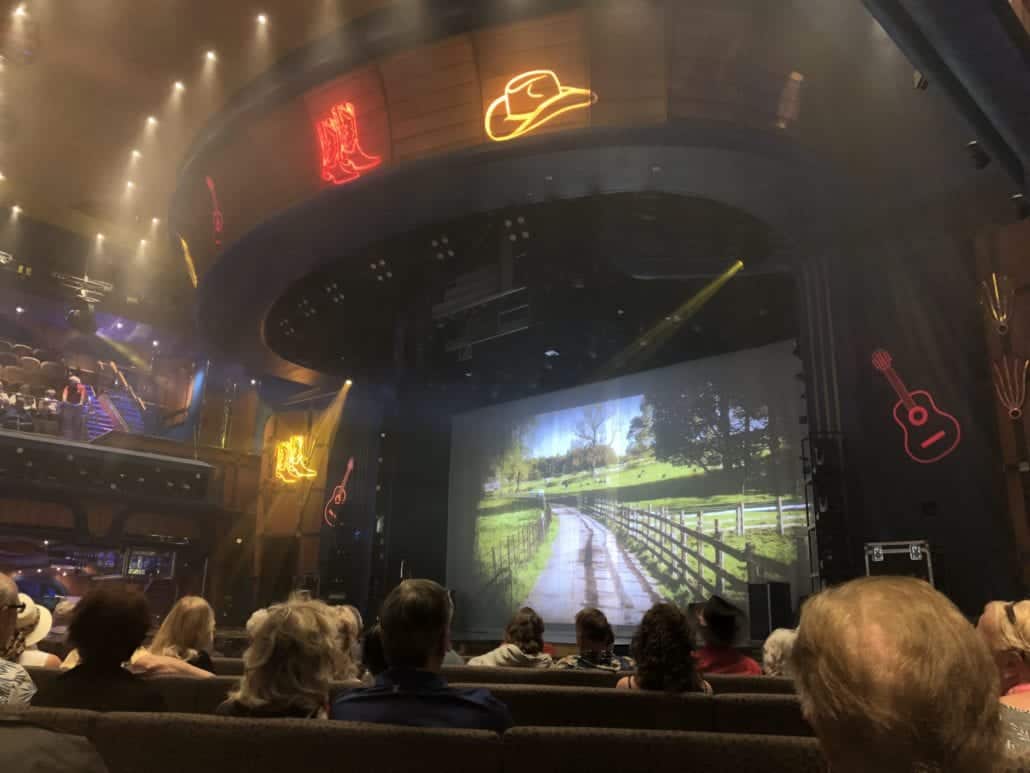 We headed back to the ship so we could hit the early show, Country Roads. As regular readers know, I'm a big country music fan. While I appreciated the music, I wasn't so thrilled with the fact the entertainers faked playing instruments and performed to what the program notes refer to as "tracked vocals."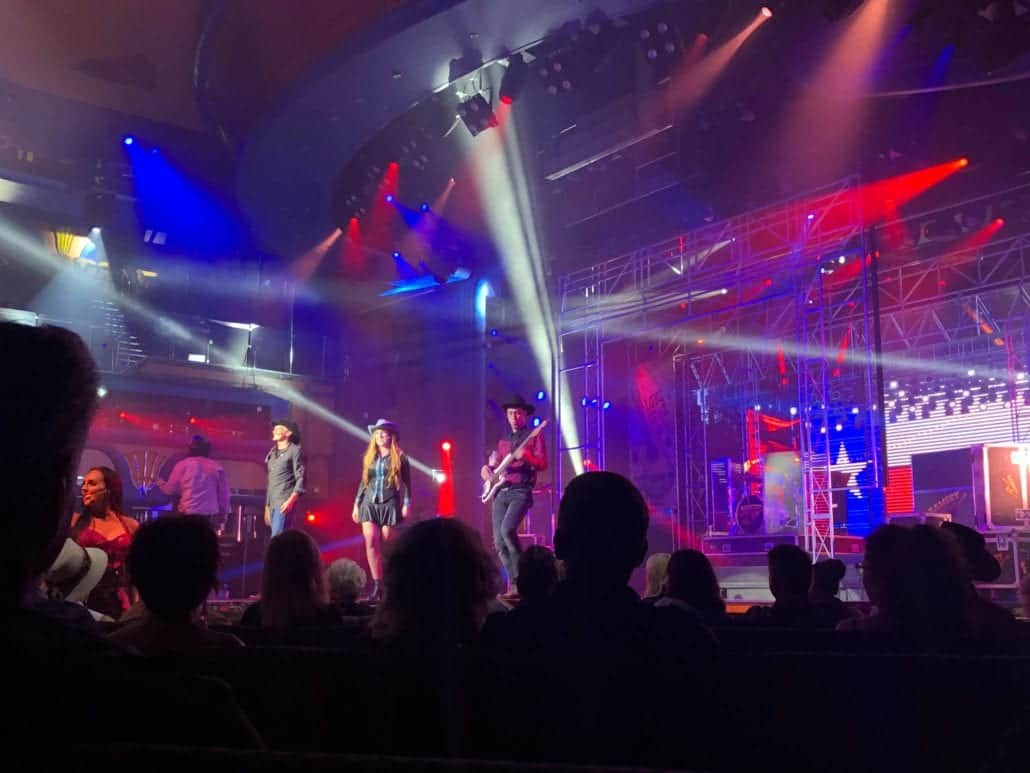 Parts of the show were okay, but others were so bad they might just as well have been playing with blow-up guitars. If I wanted to see lip syncing, I would re-watch Mariah Carey's New Year's Eve performance. Over the years, I've seen some fantastic Playlist Productions, but this one wasn't up to par.
We dined again in the main dining room. I have to say, it's a bit odd eating so late. At home, I normally eat dinner by 6 p.m. and on cruises I normally request the 6:15 p.m. early seating. However, because we booked this cruise so late, we were stuck with late dining.
The one good thing about late seating was that if you just wanted to grab a quick meal, it was easy to be seated, fed, and out the door in 30-45 minutes.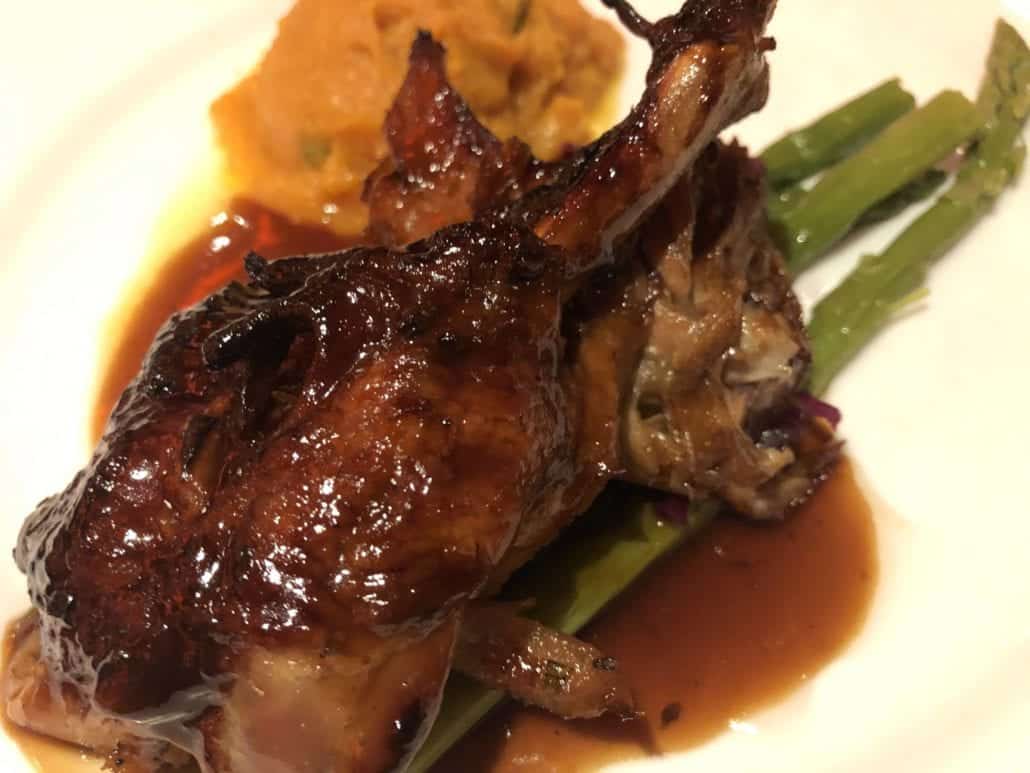 While the first few nights in the dining room we had great meals, tonight's wasn't quite as good. Though the duck sounded fantastic, it turned out to be surprisingly dry. But hey, every now and then, you wind up getting a less-than-great meal. However, as always, the Warm Chocolate Melting Cake was amazing!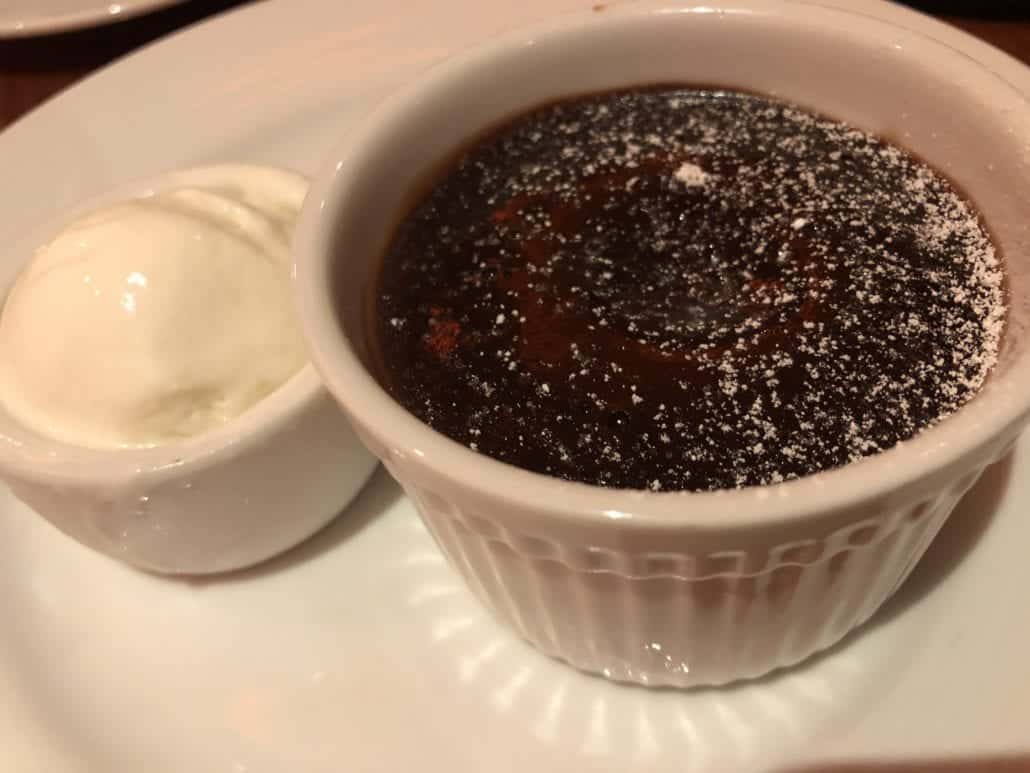 The good news is, you're on a cruise ship. So if you want something else, you can order another meal or seek one out elsewhere. We'll see how the rest of the week goes, given that as of now, the plan is to eat in the dining room most nights (although we're also going to hit the Steakhouse an Cucina del Capitano at some point during the trip).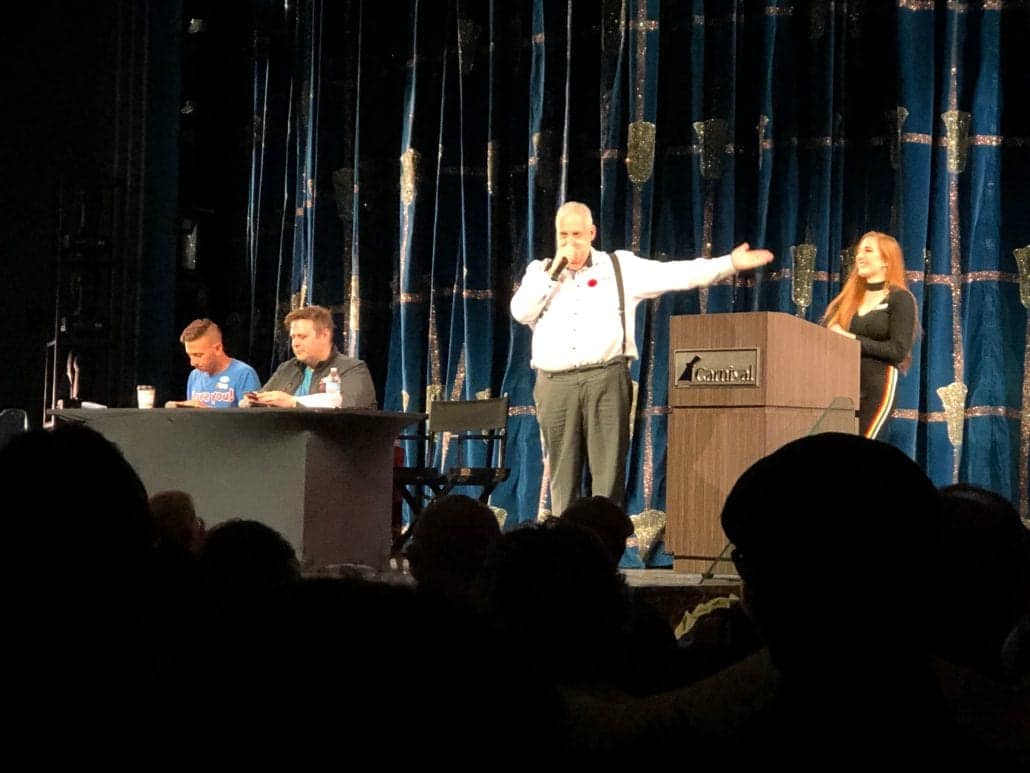 Brand Ambassador and all-around fun guy John Heald was hosting a show called Liars Club, during which he would give a word and three people had to offer up definitions. Two of the definitions were lies, with one being accurate. It's a clever game, but the best part of the show was the back-and-forth between Heald and Calvin, the entertainment director.
Reader question: How smoky is the casino?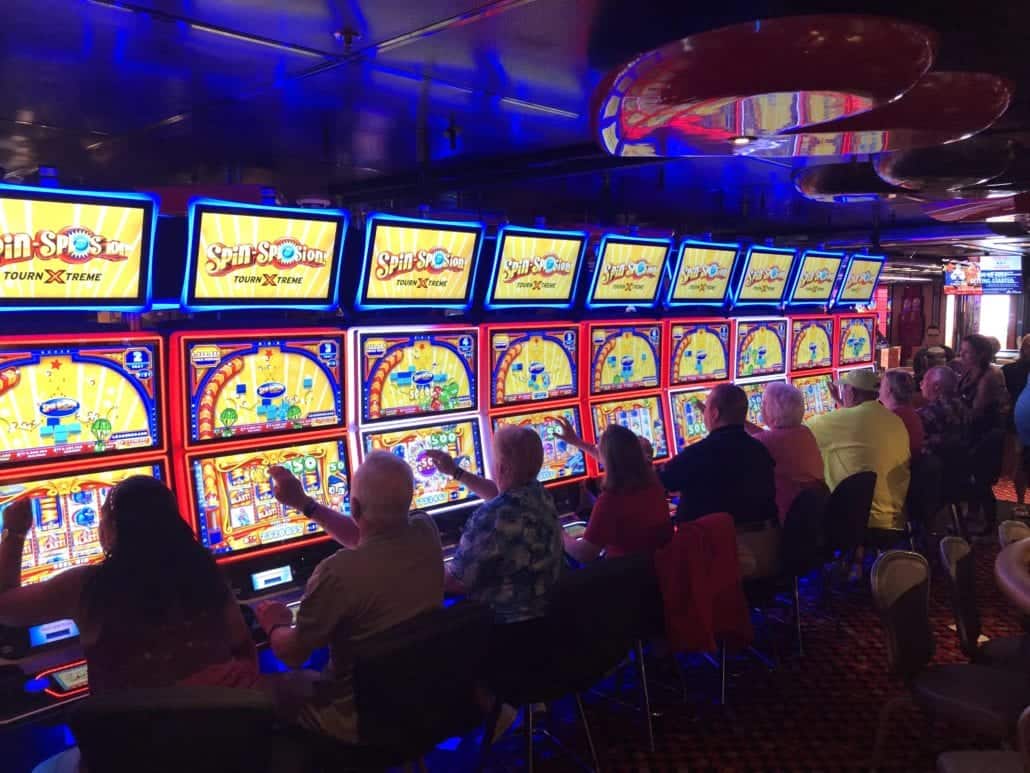 I don't smoke, but I'm usually not too bothered by the smoke in the casino on most ships. However, on this ship… it was pretty bad. This was one of their "premiere casino" cruises – meaning that, thanks to various promotions, there were a lot of gamblers on board. And of course, the more gamblers there are in the casino, the smokier the place gets.
That said, this was downright awful. I walked through once and that was enough for me. The casino is on deck five, mid-ship. If I needed to get from the front to the back of the ship I would go down to deck four and walk the passageway, or go up to deck six for the bypass.
Tomorrow we're in Antigua.