Today Carnival Sunrise arrived in Nassau, Bahamas. We didn't get into port until noon, so that left plenty of time to sleep in, grab some breakfast in the main dining room, and attend the military appreciation gathering before we even arrived.
Breakfast Of Champions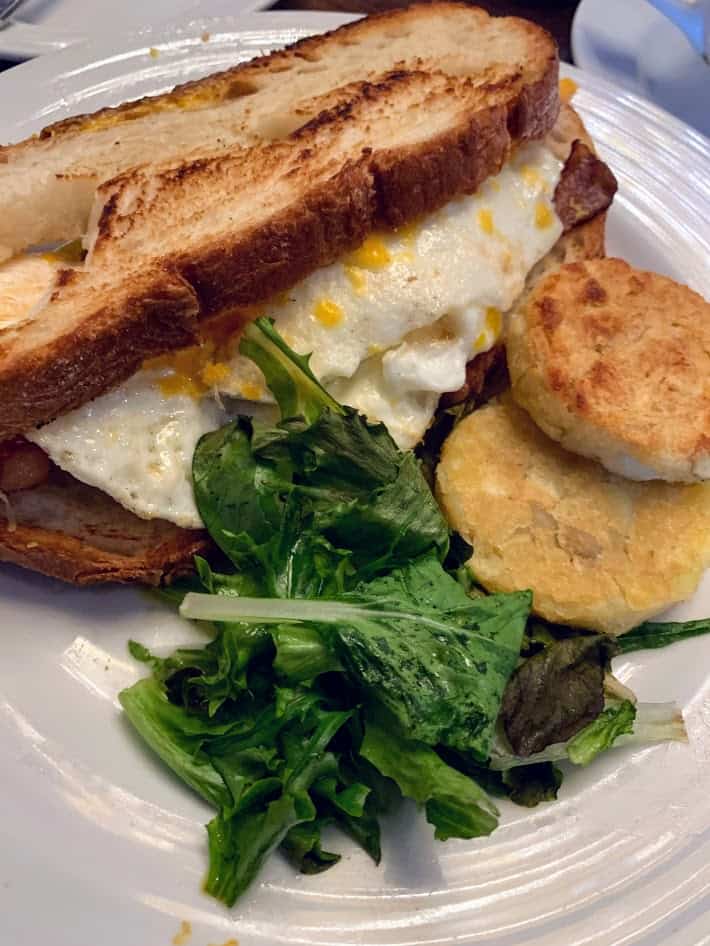 Nothing says vacation to me like heading to the dining room and letting someone serve me breakfast. On days when the ship isn't going to be visiting a port, I hold off until it's time for the Sea Day Brunch to be served.
But on port days, Carnival ships offer the American Table Breakfast Menu. It's basically a beefed-up version of the old main dining room menu that Carnival once had. It has some nice options, including vanilla french toast and short stack pancakes, and some healthier options like a breakfast board with a boiled egg and yogurt.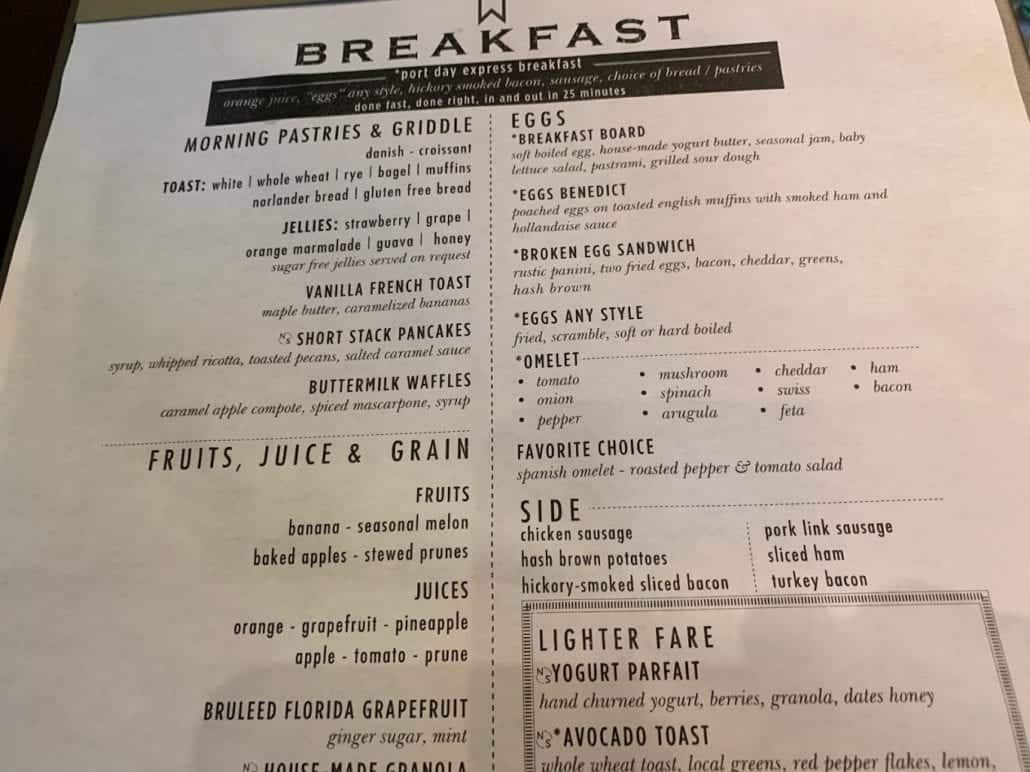 Knowing that I was going to be meeting up with friends in Nassau for a day of drinking, I went with something a little more filling — and one of my favorites — the Broken Egg Sandwich, which is basically a fried egg with bacon, cheddar and greens on a panini.
Breakfast service was pretty quick today, so we were in and out in no time. When planning your meals in the dining room, keep in mind that a lot of people sleep in while on a cruise, so the earlier you go, the better. If you try to roll in there during the last half-hour or so of breakfast service, you might find yourself waiting a little bit.
A Chance To Say "Thank You"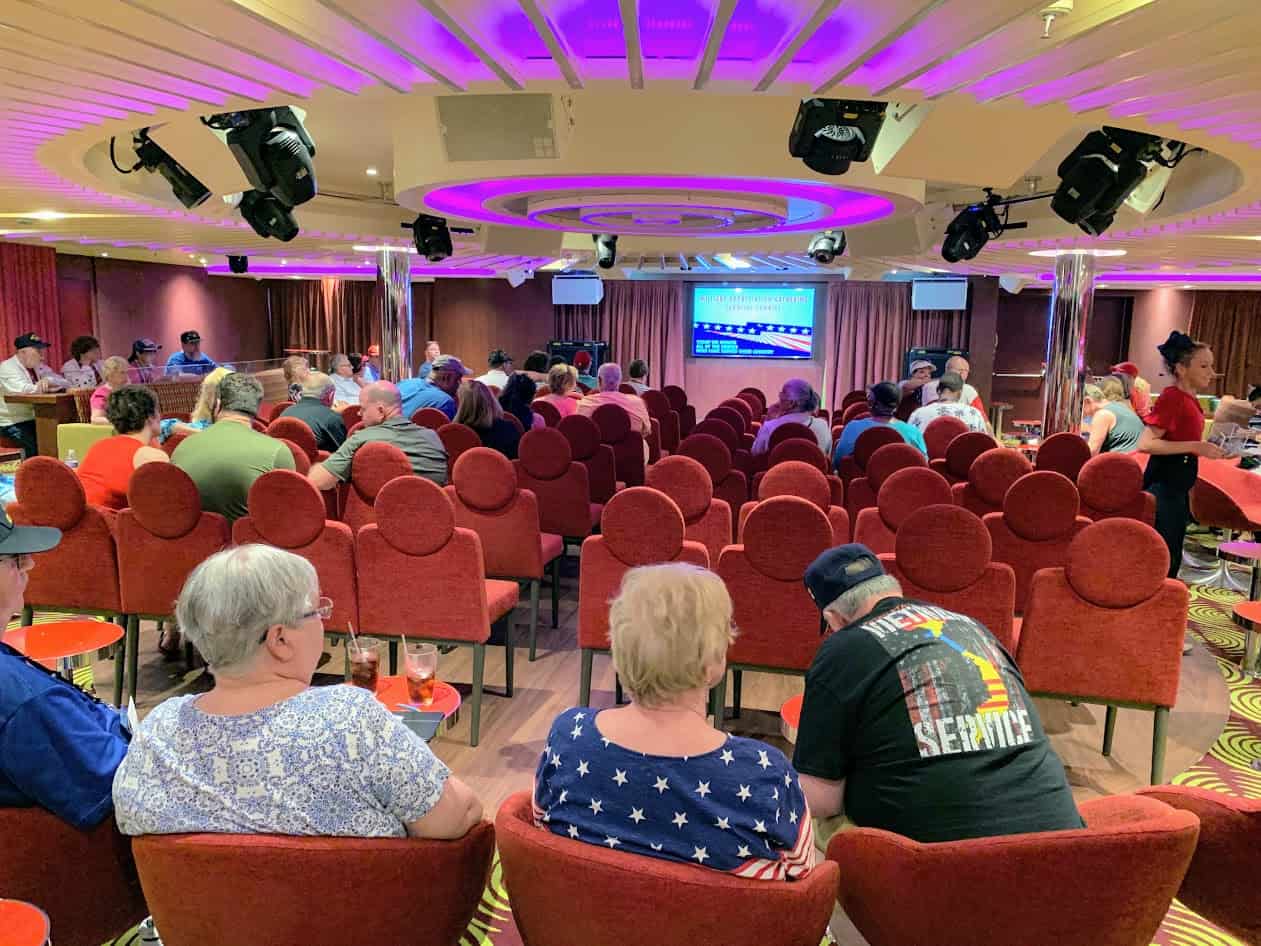 Carnival started the military appreciation gathering back in 2015 with just a few people, and it quickly became a large event. On some sailings, there are so many attendees it has to be held in the main show theater on the ship. On this sailing, it was held in the Limelight Lounge (which doubles as the Punchliner Comedy Club most evenings).
Today's gathering was nice. It's always humbling to hear veterans tell their stories. What really gets me is when World War II vets share their experiences. There aren't a whole lot of these brave servicemen and woman left, so events such as this one help to ensure that their stories aren't forgotten. No two events are exactly the same, but each one is special.
This one proved to be an emotional roller coaster as we went from laughing as the various branches of the military did a little rib-poking at one another to holding back tears when one woman spoke of the heartbreaking moment when a knock on the door heralded news that her husband had passed away on the battlefield.
Do yourself a favor and, the next time you're on a Carnival ship, seek out the Military Appreciation Gathering. Better still, make attending a family event. Not to get on a soapbox or anything, but it's important that we never forget the sacrifices that have been made by those who came before us.
Finding A New (To Me) Place To Hang In Nassau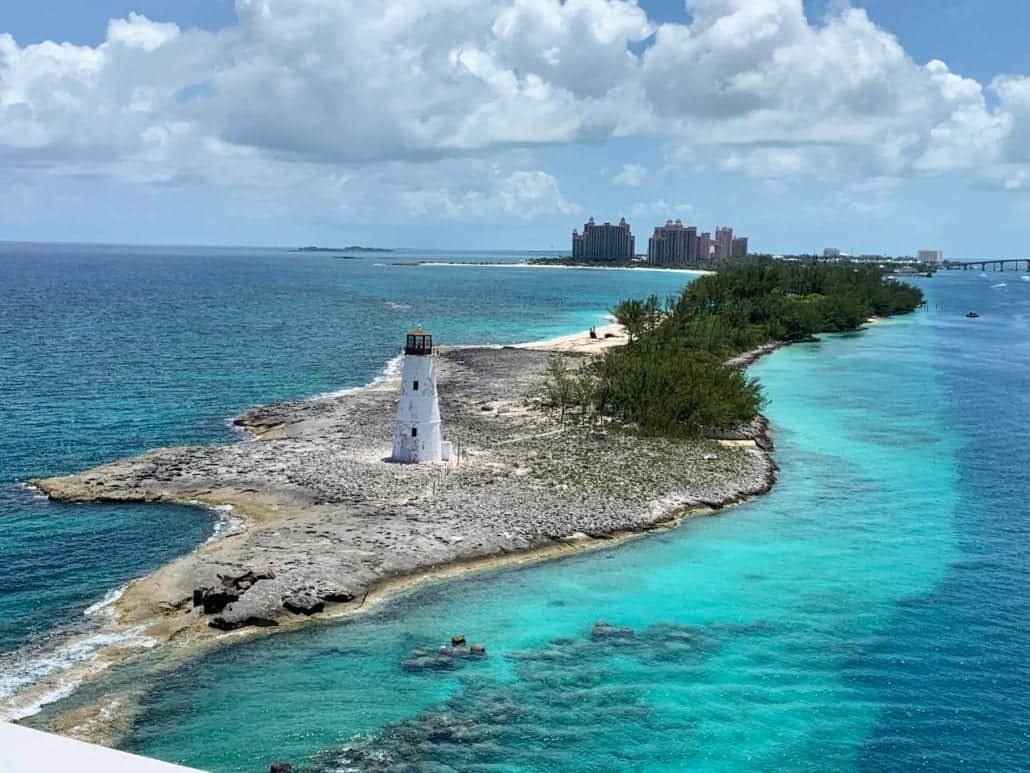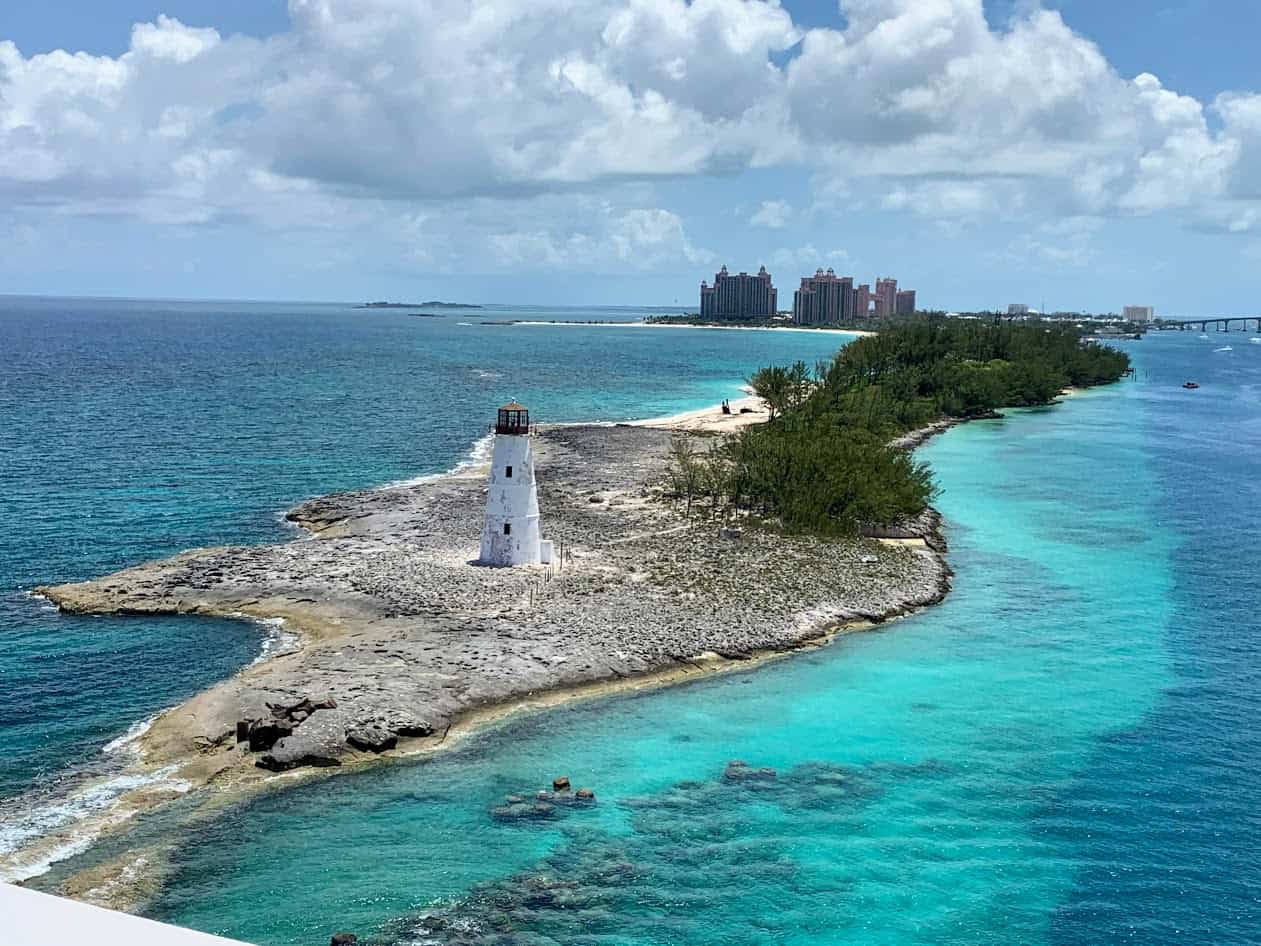 At breakfast, I was asking people what they were doing in Nassau and a lot of people said they were staying on the ship. This is something you hear more and more these days, which is one of the reasons there's so much talk about the need for the port to step up its game. I've been going to Nassau since the 90s, and it hasn't really changed much… except that back then, you could swim in the pool at Atlantis for free, and it'll now set you back around $169.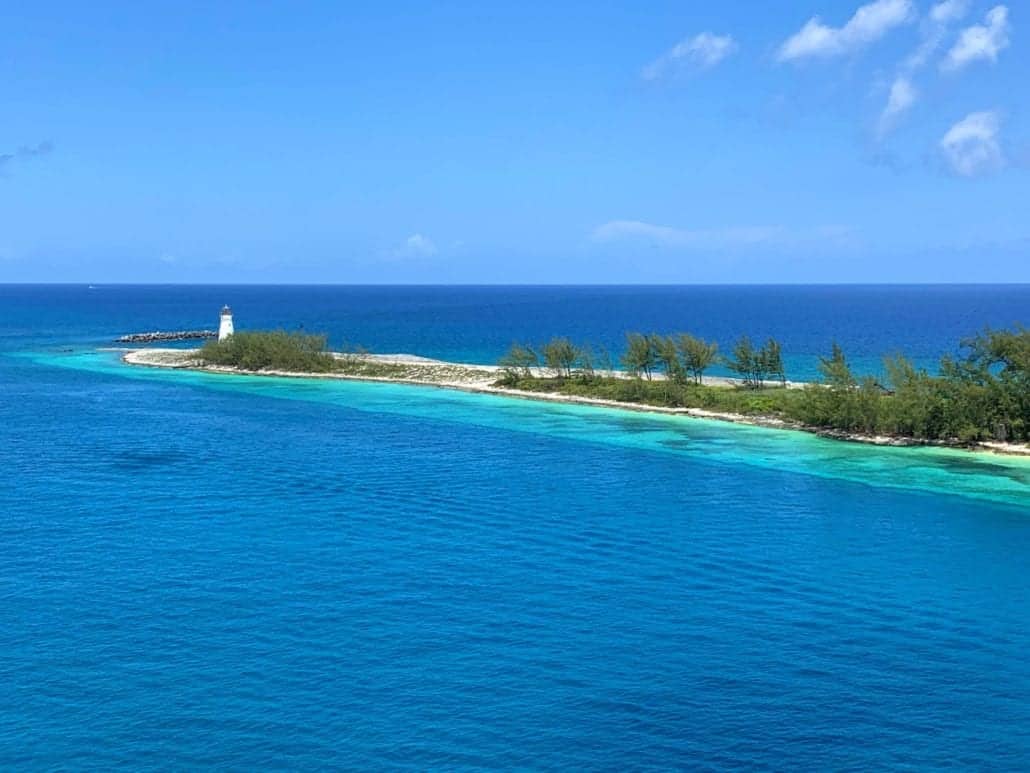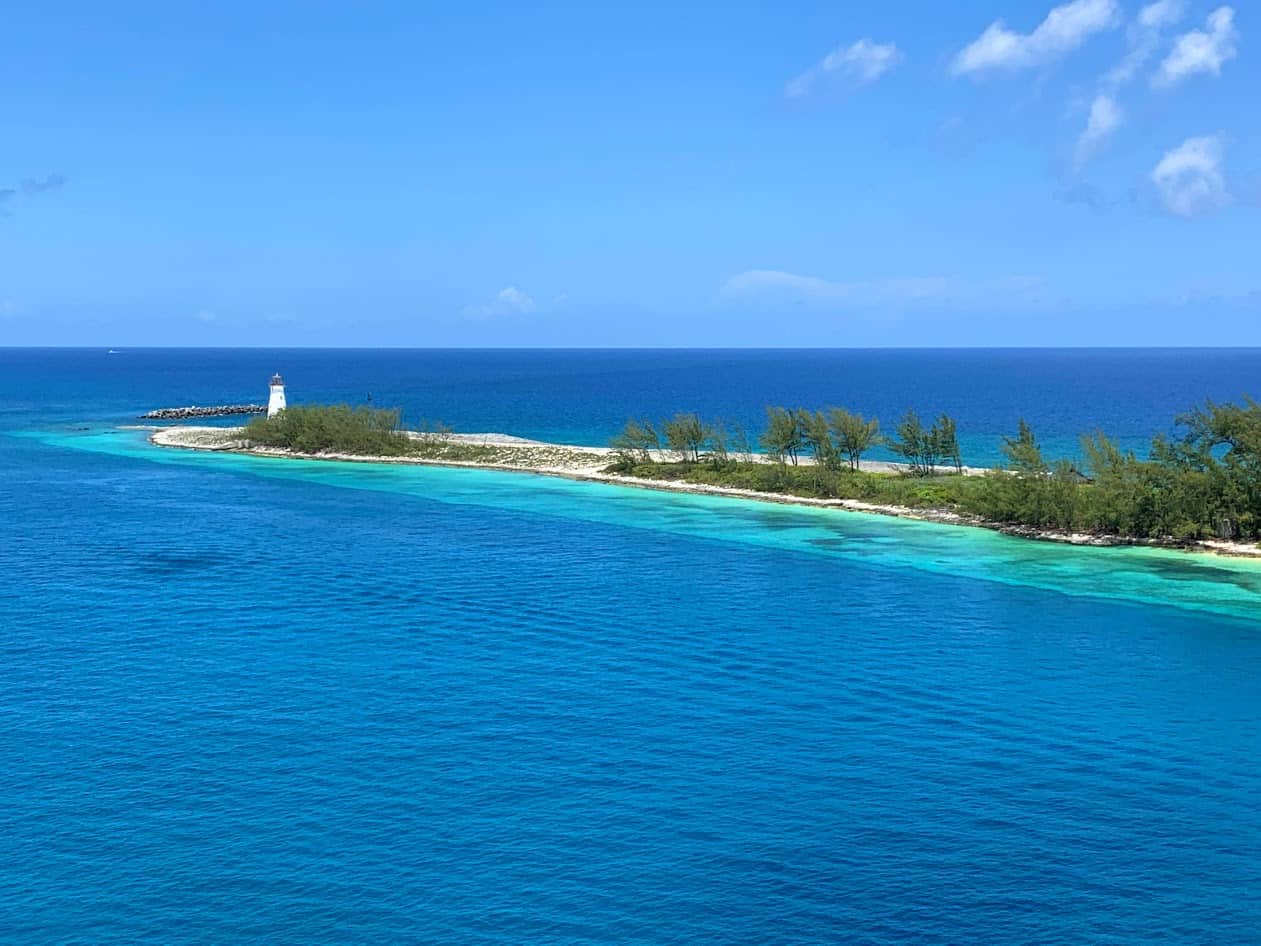 This visit, I was heading ashore to meet friends who happened to be arriving at the same time on Royal Caribbean's Navigator of the Seas. Now, say what you will about Nassau — good, bad or indifferent — one thing it has going for it is the spectacular views as you sail into port on a sunny day. There are certain ports for which you always want to be on deck when the ship is arriving or sailing away. New York City is one, and Nassau is definitely another.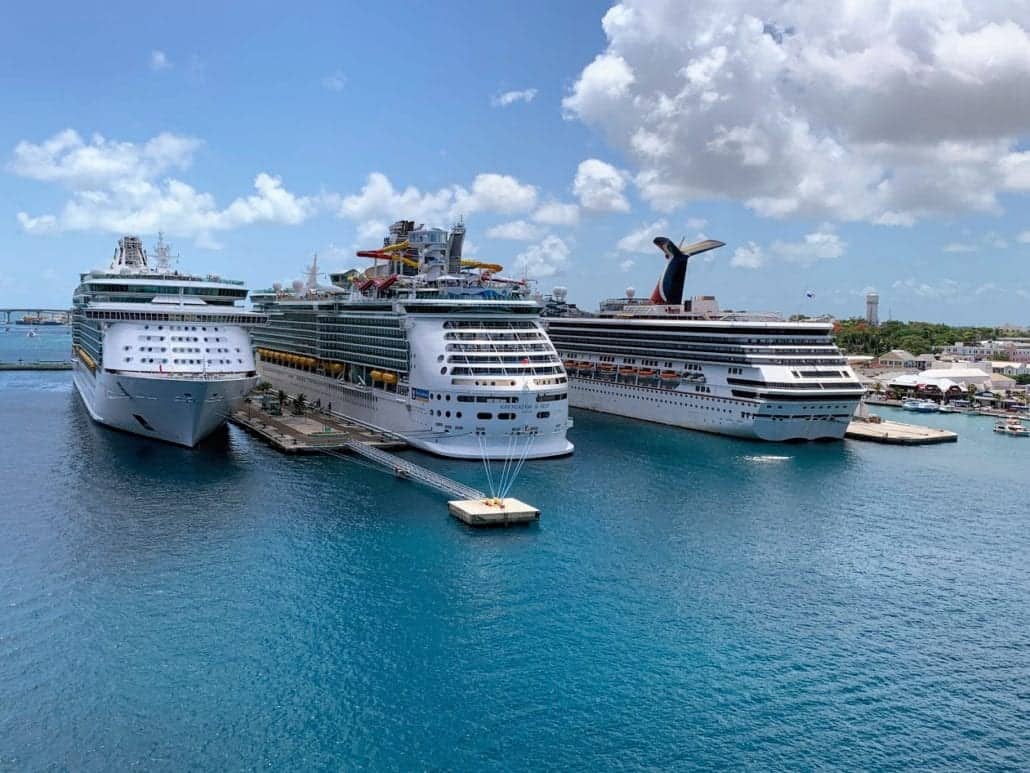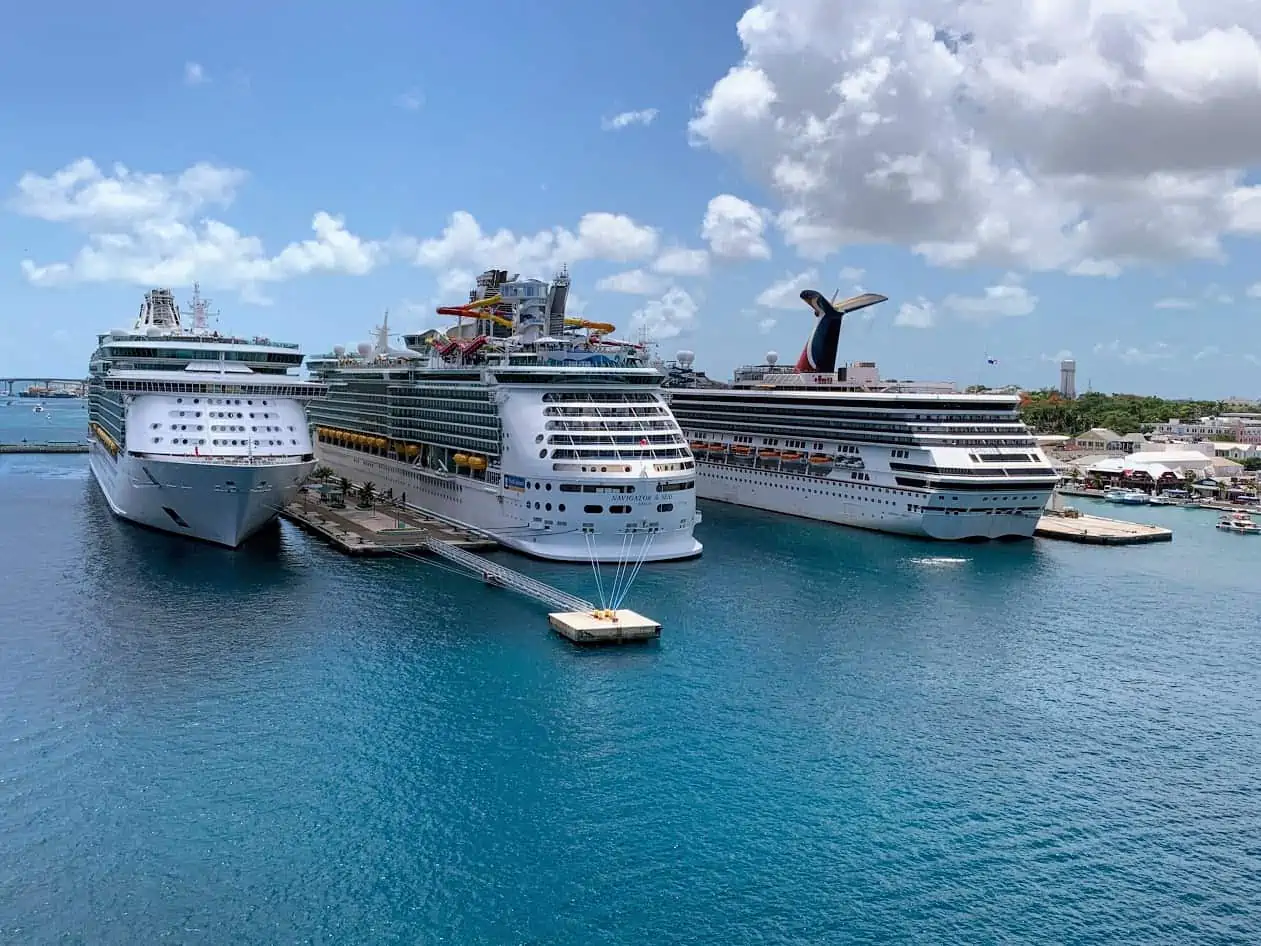 I wanted to fly my drone to get some photos of all the ships in port that day, so we walked down to Junkanoo Beach. It's like the hustle never stops in Nassau… if someone isn't trying to put you in a taxi at the pier, they're trying to rent you a lawn chair at the beach. We walked all the way down to the end of the beach at Junkanoo where people wouldn't bother us. We stayed there for around an hour and then found a hidden gem that I've never seen before, the Never Say Never Again Bar and Grill.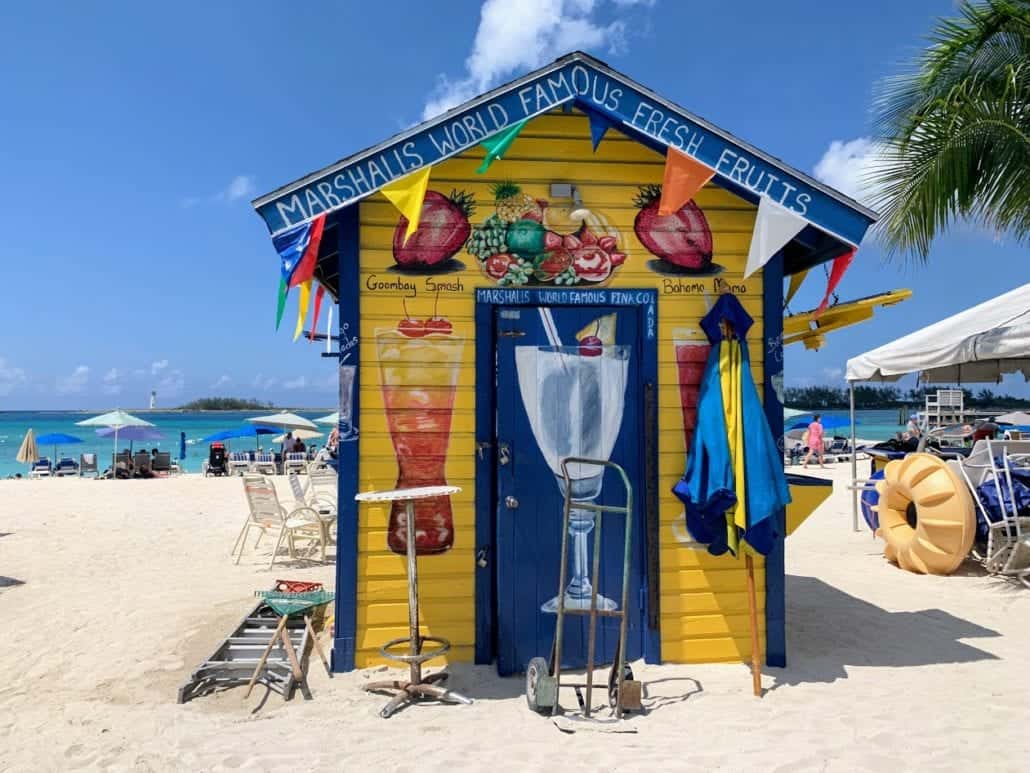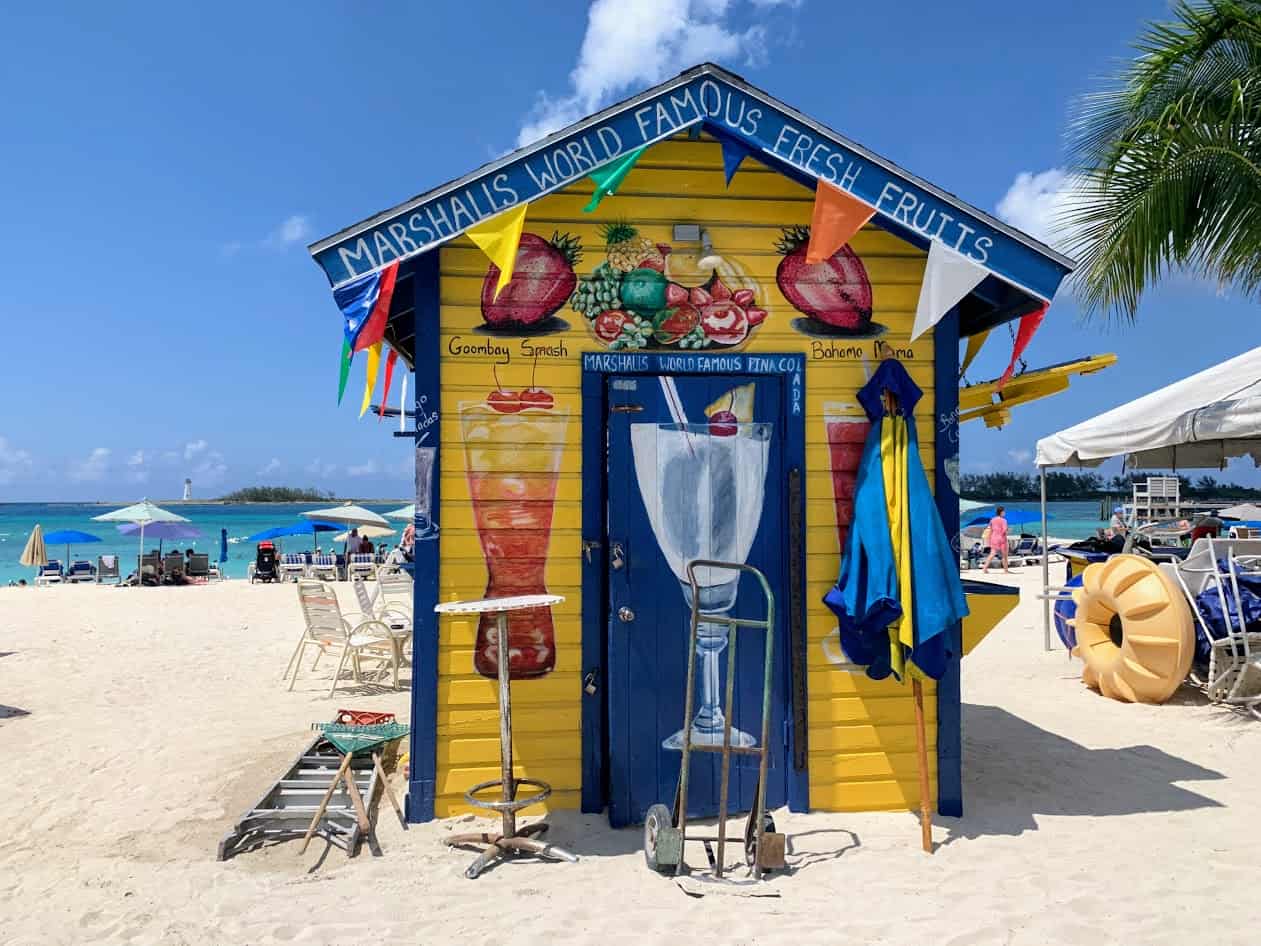 Drinking in Nassau can be pricey (although I guess it all depends on what you're used to paying back home).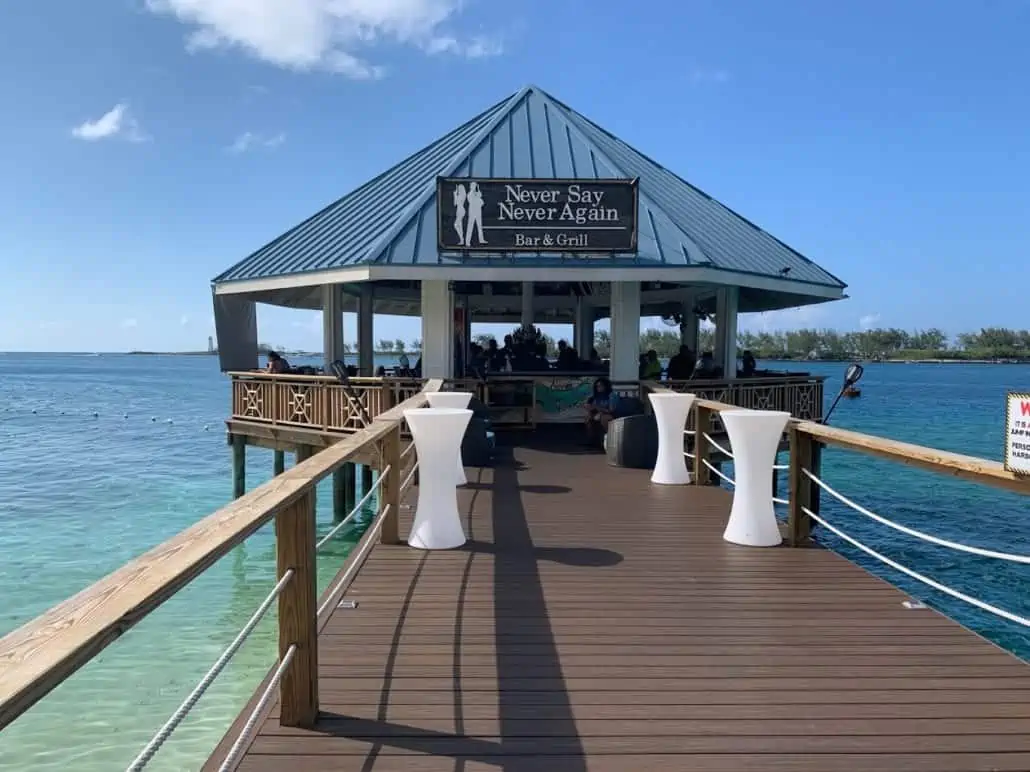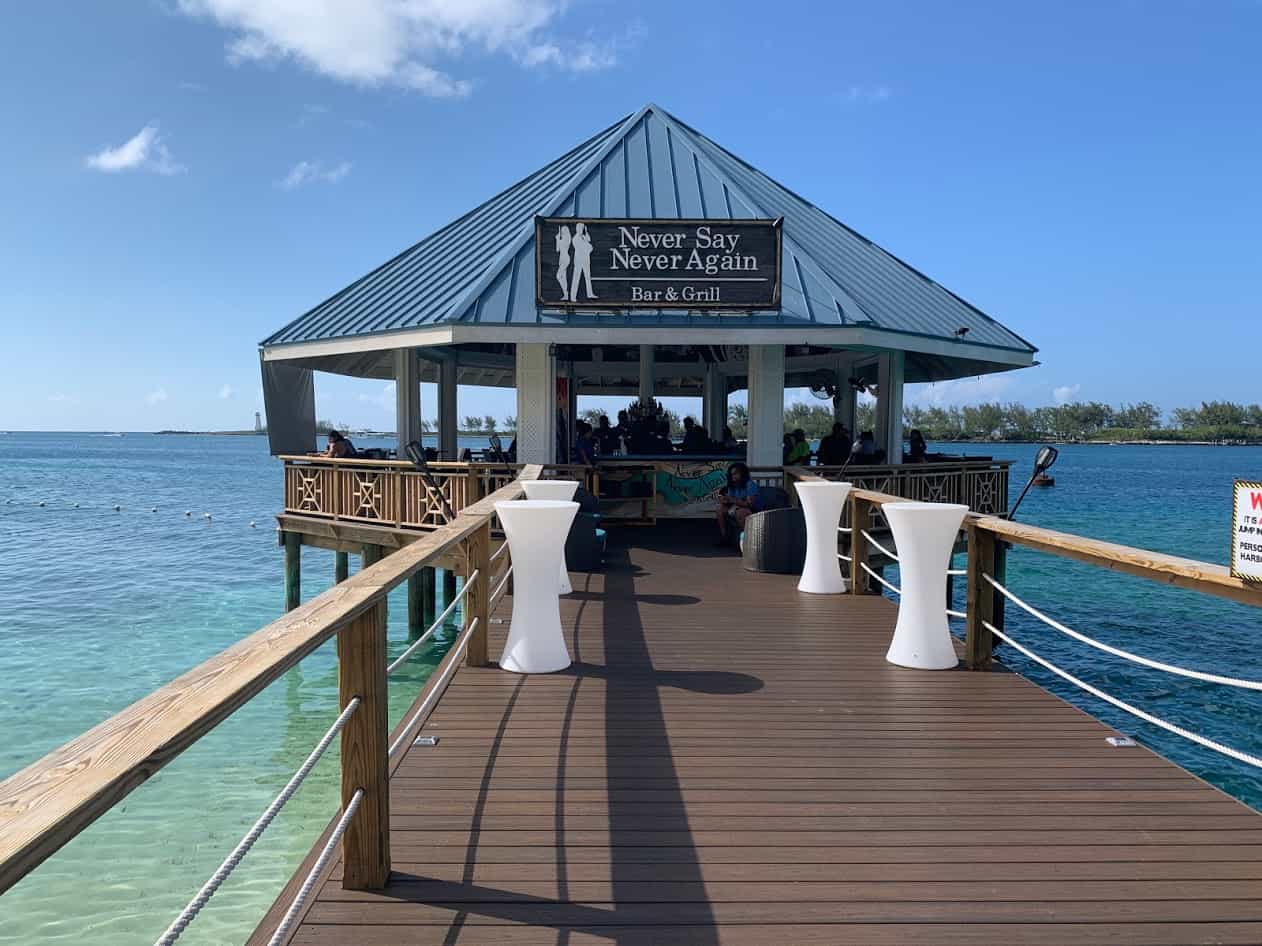 Make your drink a double here, and it'll probably cost you about $22. Beers run around $7 a pop. But the company was great, the bar (which is an offshoot of Senor Frogs) offered lots of cool places to hang out, and, as an added bonus, it proved to be a great spot from which to watch ships leaving the port.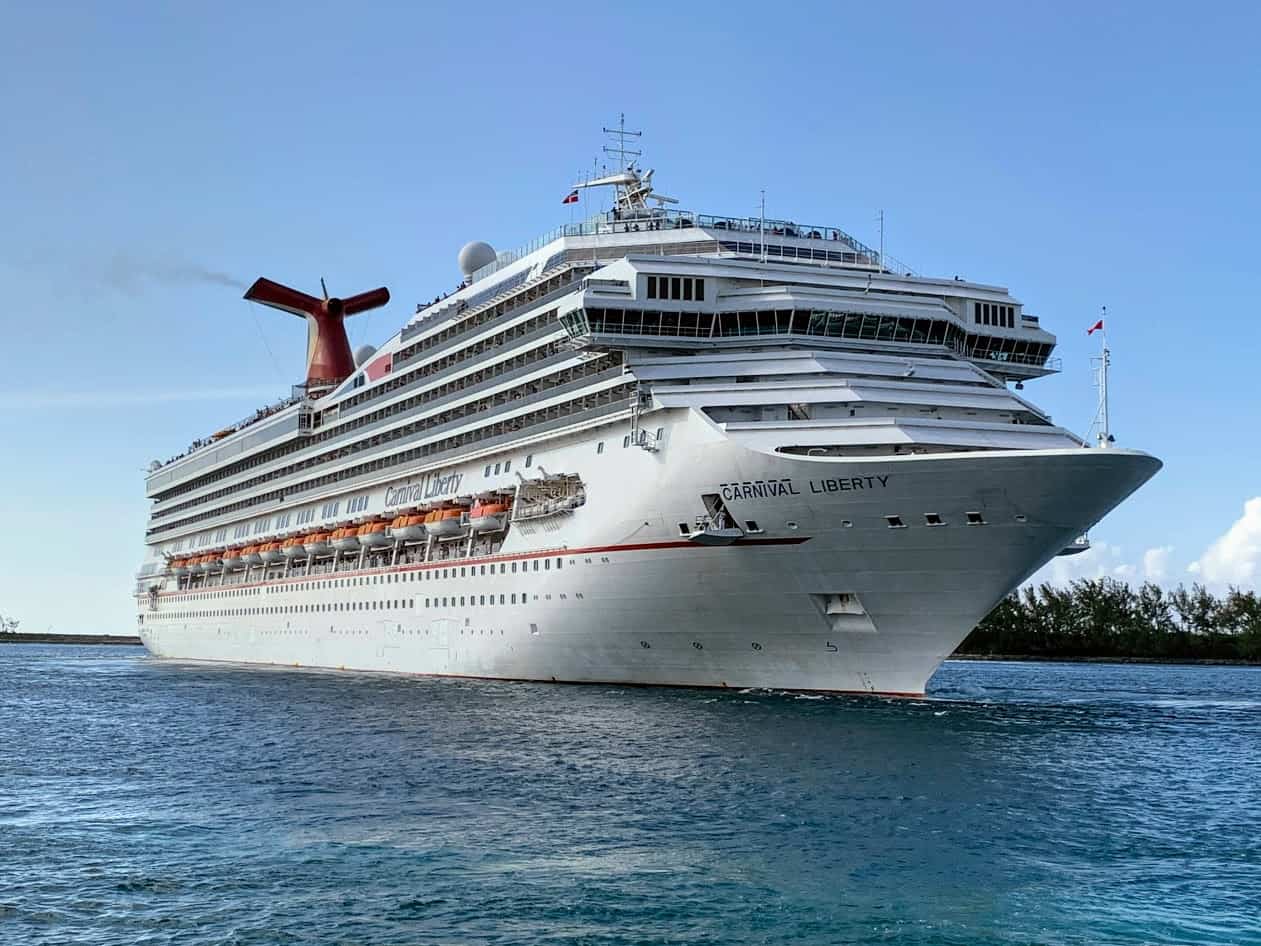 While there, we got to watch Carnival Liberty set sail and turn around in the harbor, a sight that's always awesome to see from a good vantage point.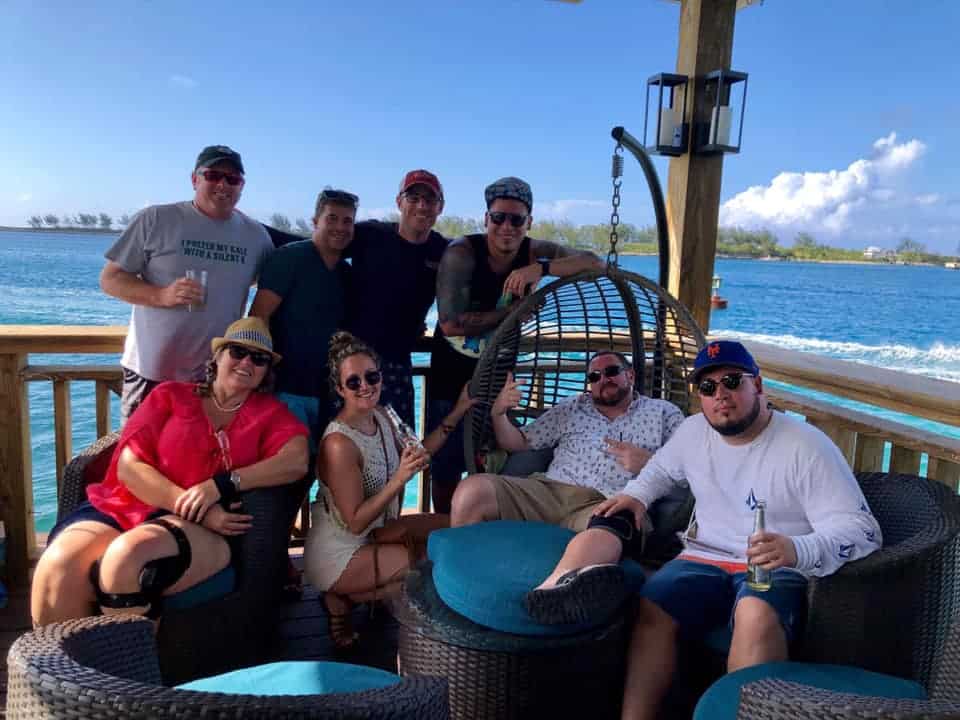 Fun fact: The Never Say Never Again is a recreation of a bar originally built in 1983 for the James Bond movie of the same name.  We spent about four hours at the Never Say Never Again bar, and I'd rather not think about how much we probably dropped, money-wise, before heading back to the ship where the drinks were free… or at least covered by the CHEERS! package!
Dinner & A Show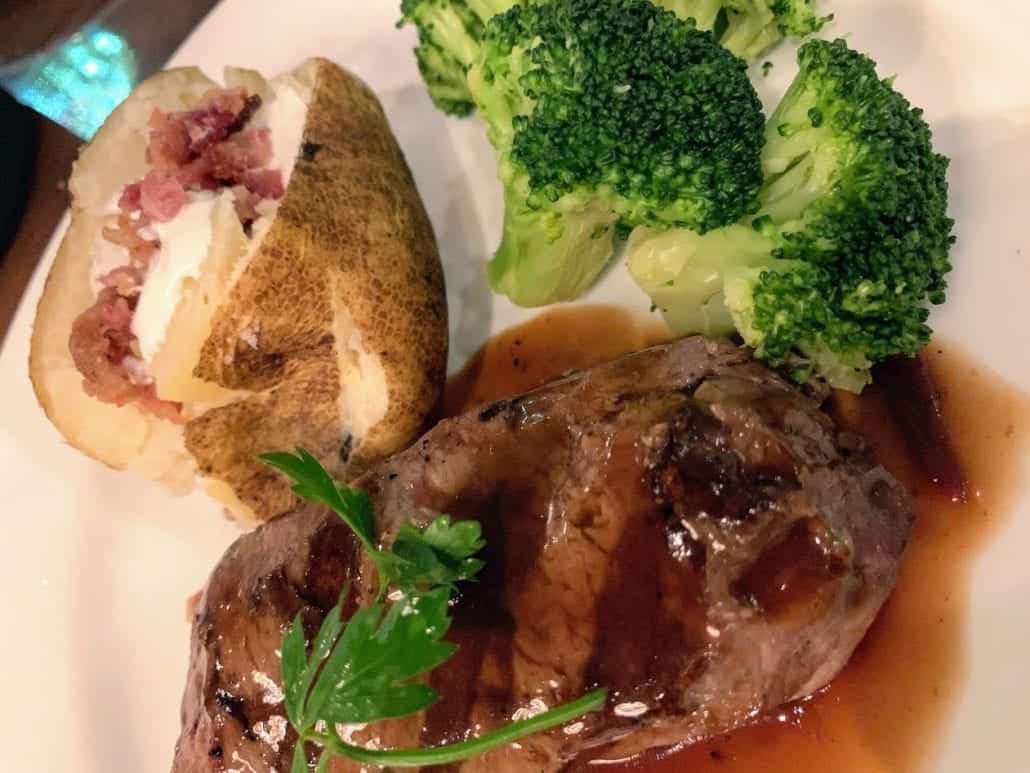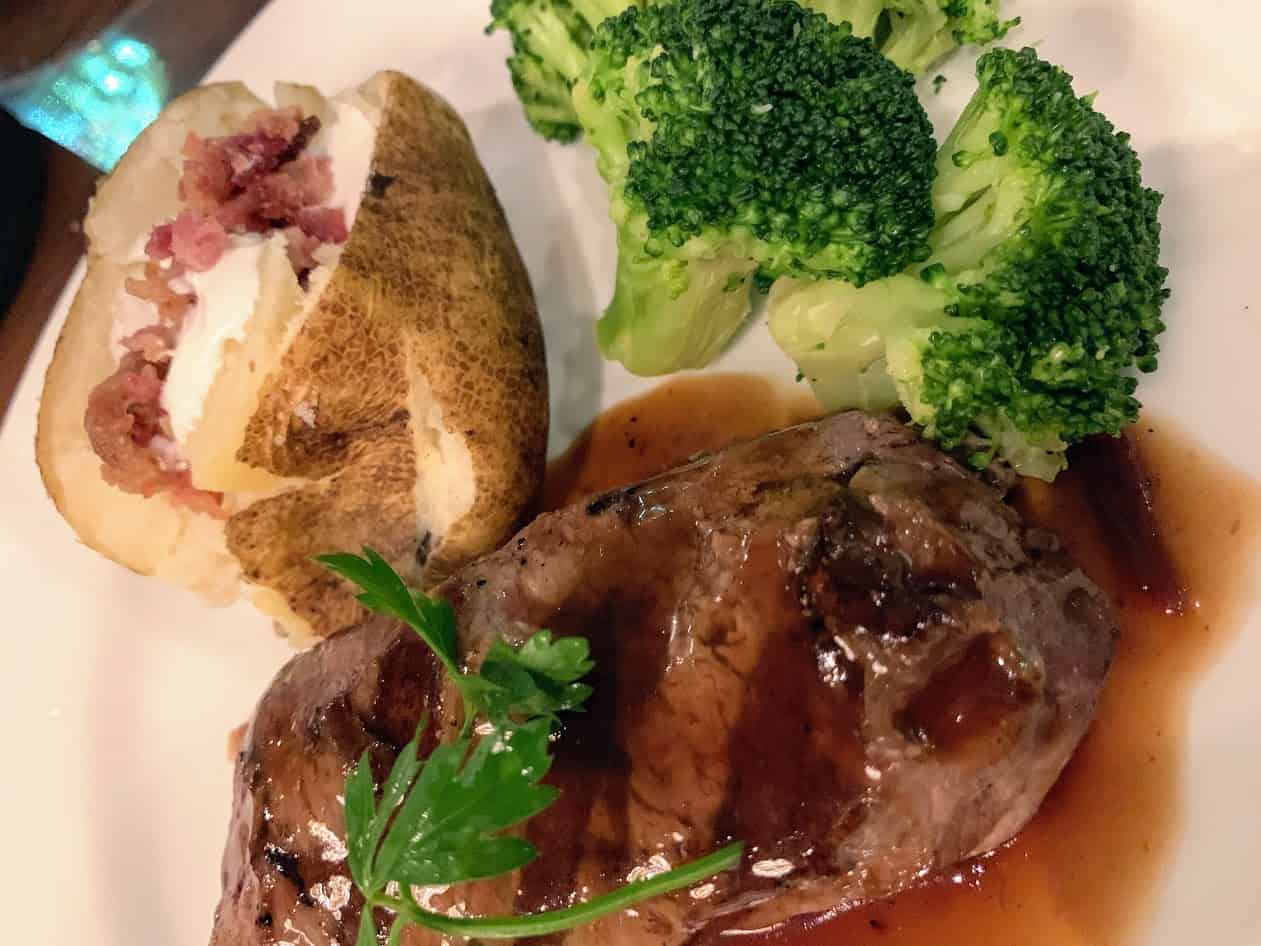 Dinner service in the main dining room seemed a lot better tonight than the previous night. Also, as soon as we checked in for Anytime Dining at the podium on deck 5, they were able to immediately assign us a dining room and table… no waiting. This probably had to do with people being worn out from eight hours in Nassau and not wanting to get dressed up to grab dinner. I'd be willing to bet the buffet and places like the Seafood Shack or Pizzeria del Capitano were slammed.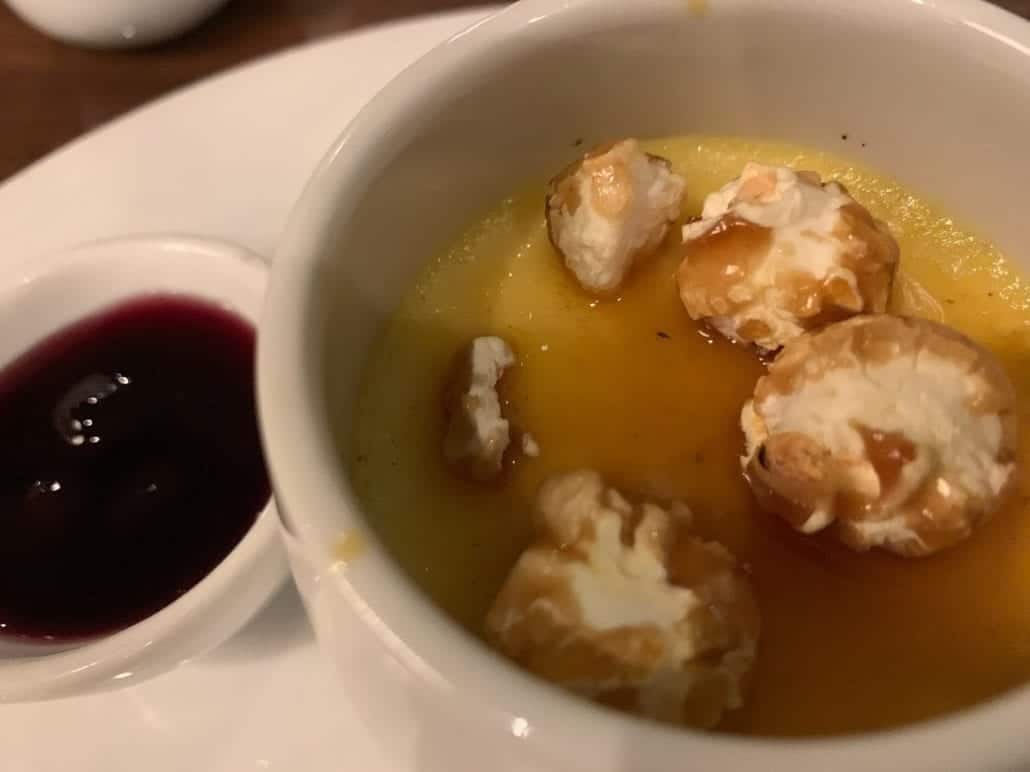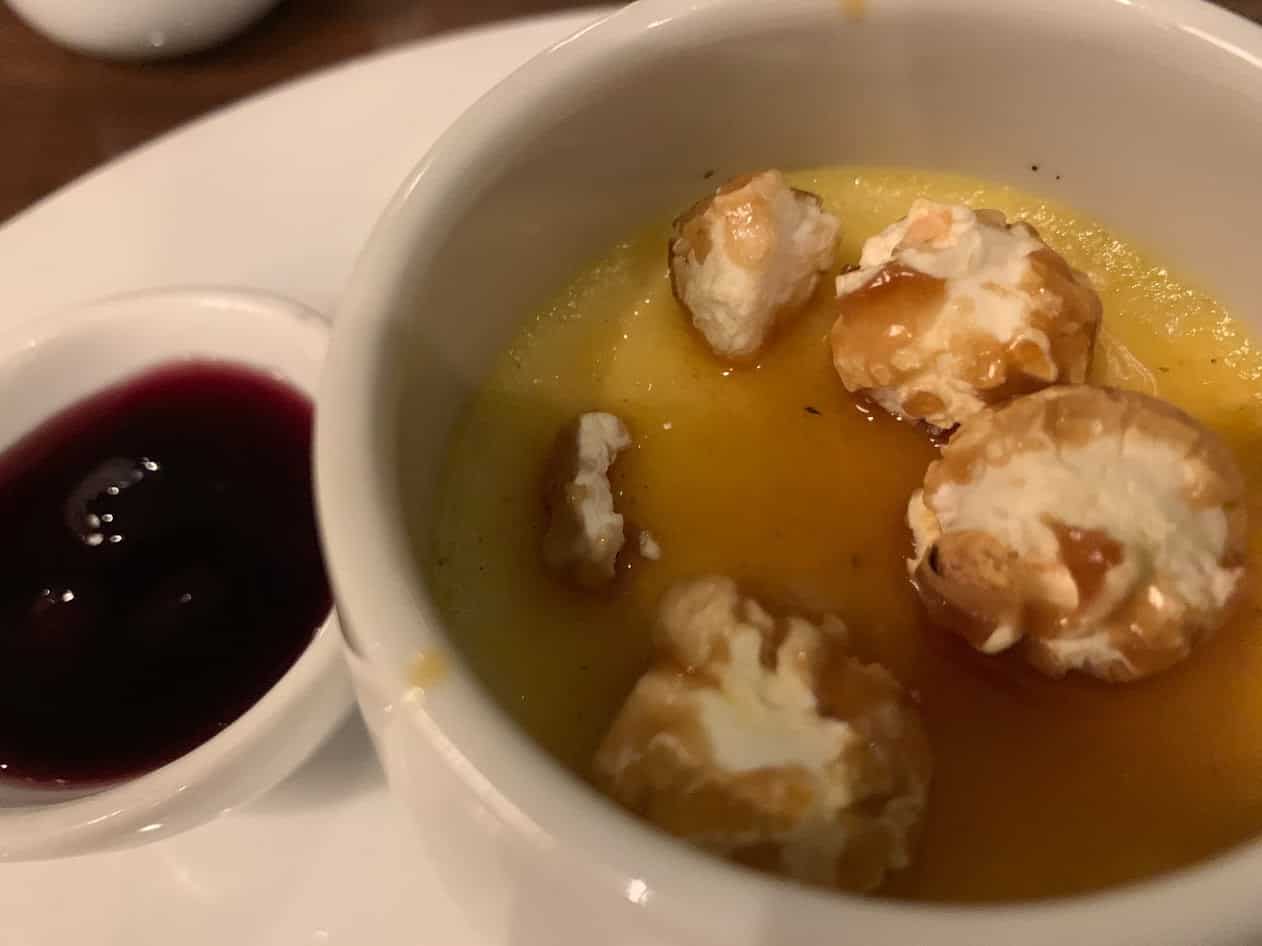 We've talked in the past about the differences between Anytime Dining and Traditional, but here's one I never really thought much about before: The show put on by the servers. With Traditional dining, showtime comes after dessert. Everyone's being served at the same time, so the show sort of serves as a finale to the meal. But with Anytime Dining, the show can seem sort of random. You might be walking into the dining room when it gets underway, or it might happen halfway through your meal.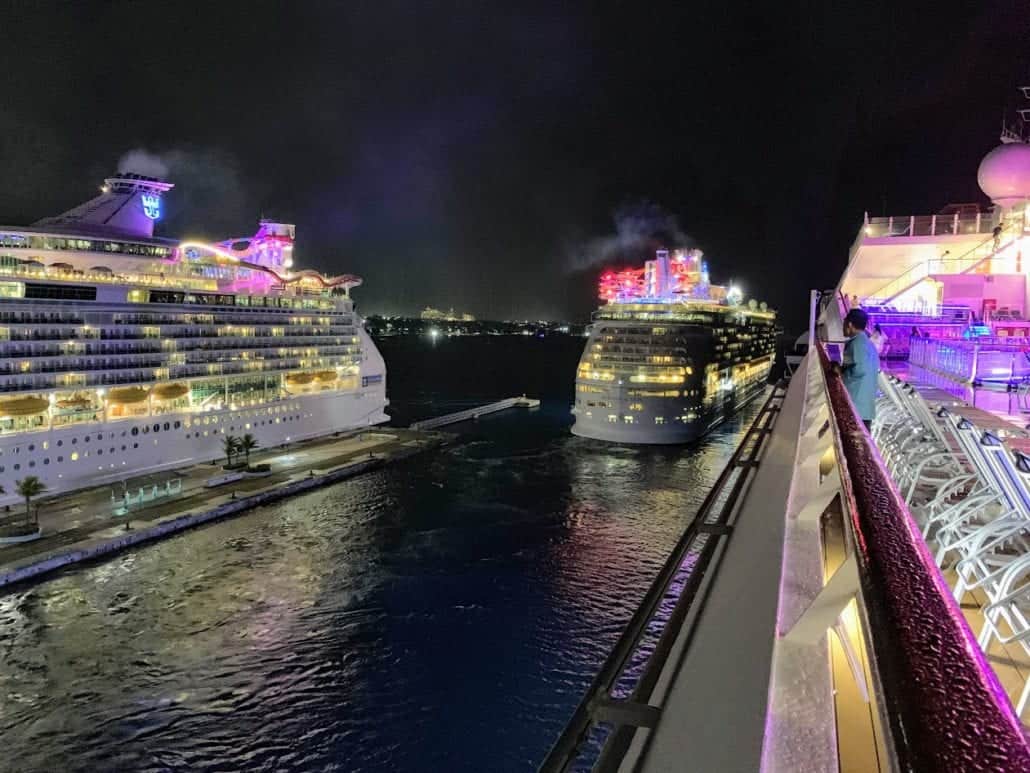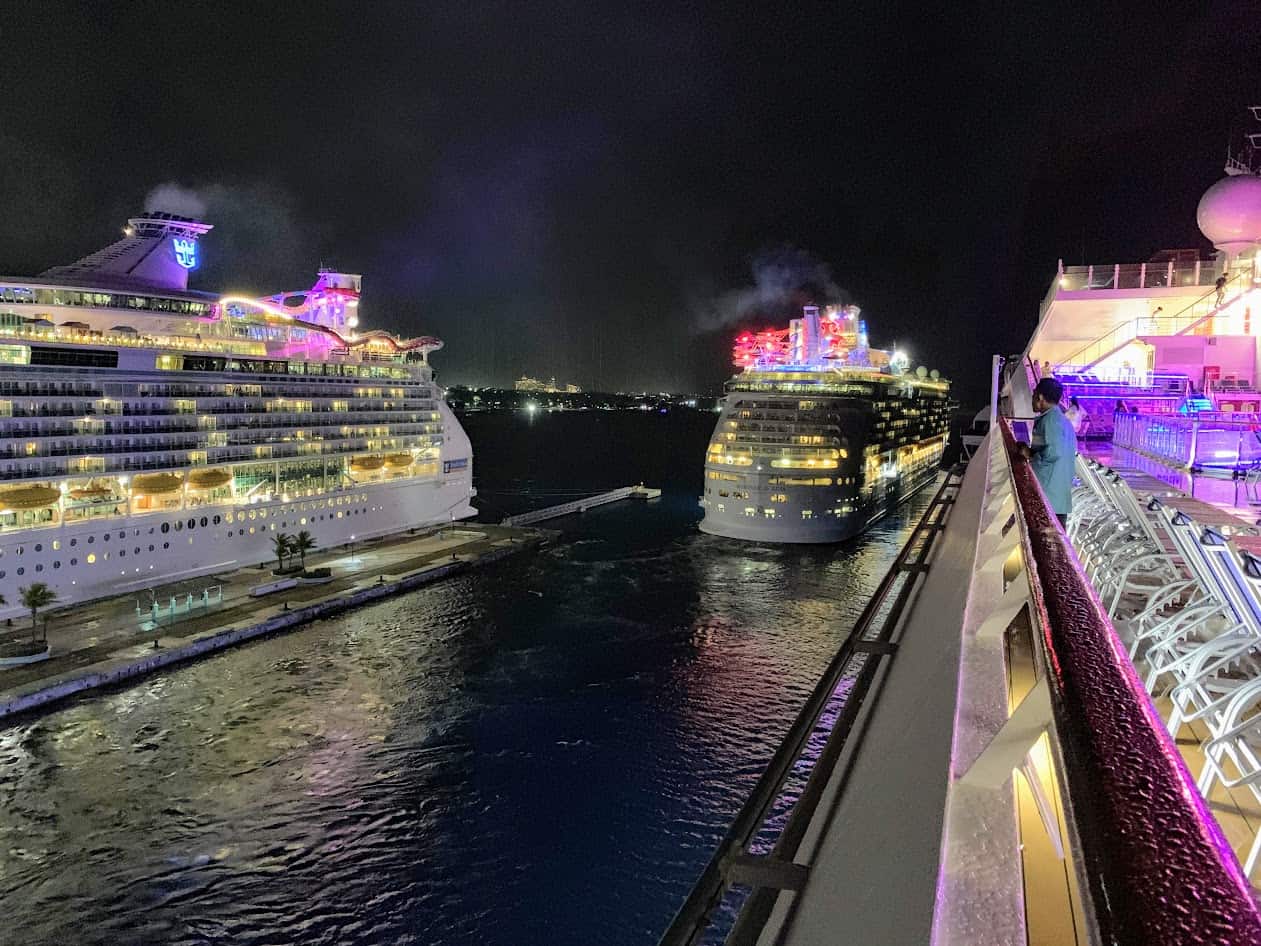 We finished dinner (I went with the flat iron steak with a baked potato and a side of broccoli) just in time to be on deck for the sail away. There were still two other ships in port at that point. Mariner of the Seas left just before us, followed by Navigator of the Seas. It was nice sailing away from Nassau in the evening, as it has a completely different feel than it had when we cruised in this afternoon.
Party Time!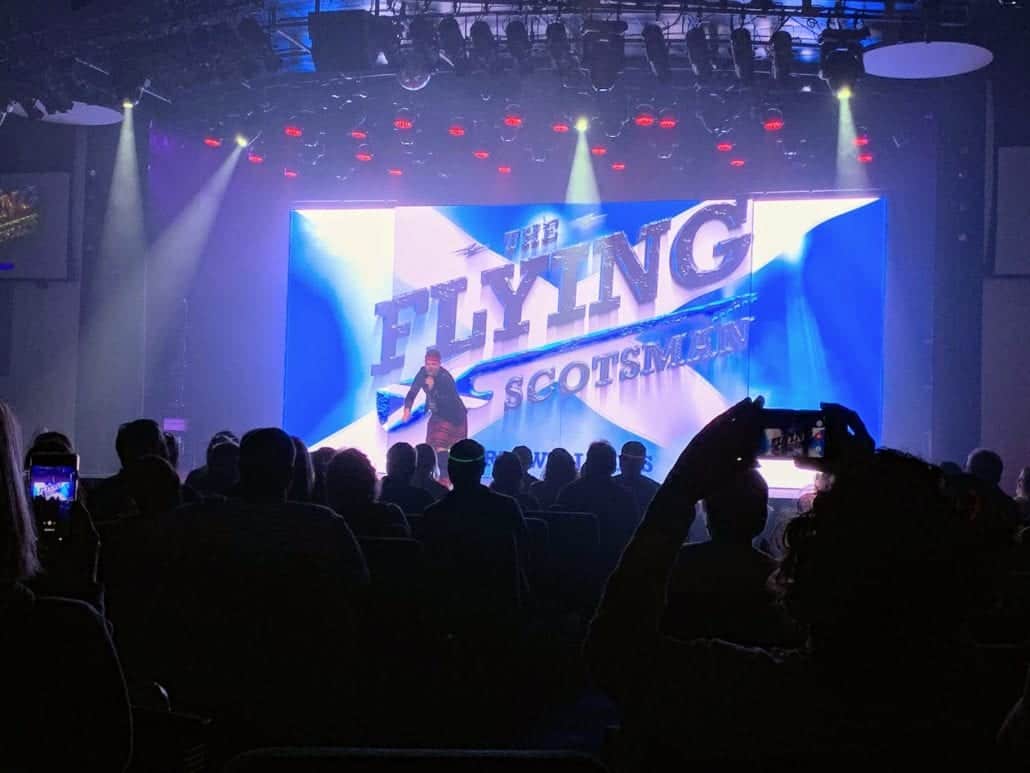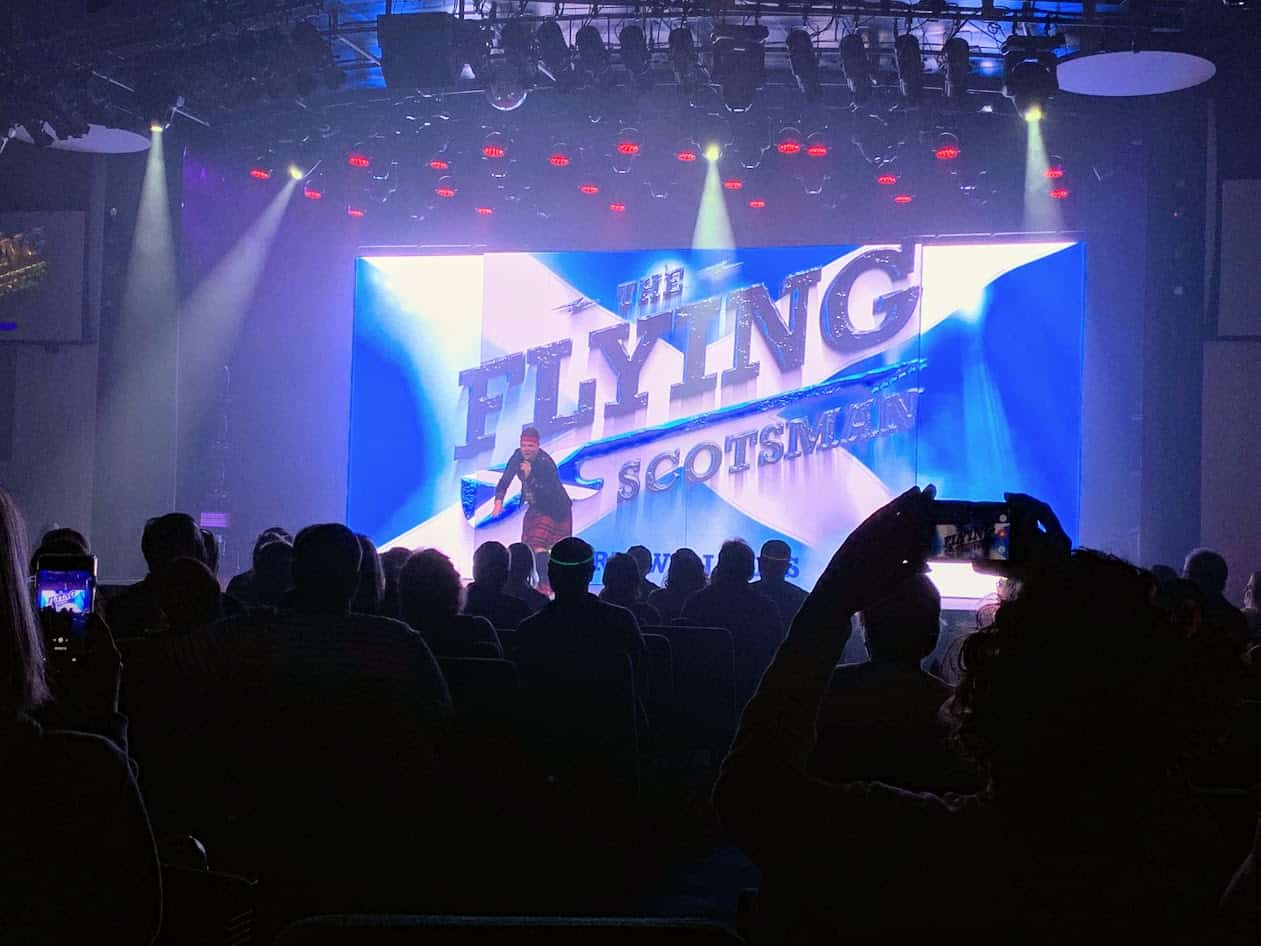 The show in the Liquid Lounge was basically headlined by our cruise director. Turns out, The Flying Scotsman has some killer vocals, especially when he's doing cover versions of Queen or AC/DC. Afterward, the Mega Deck Party was insane. People were dancing their butts off from the Lido deck all the way up to deck 12.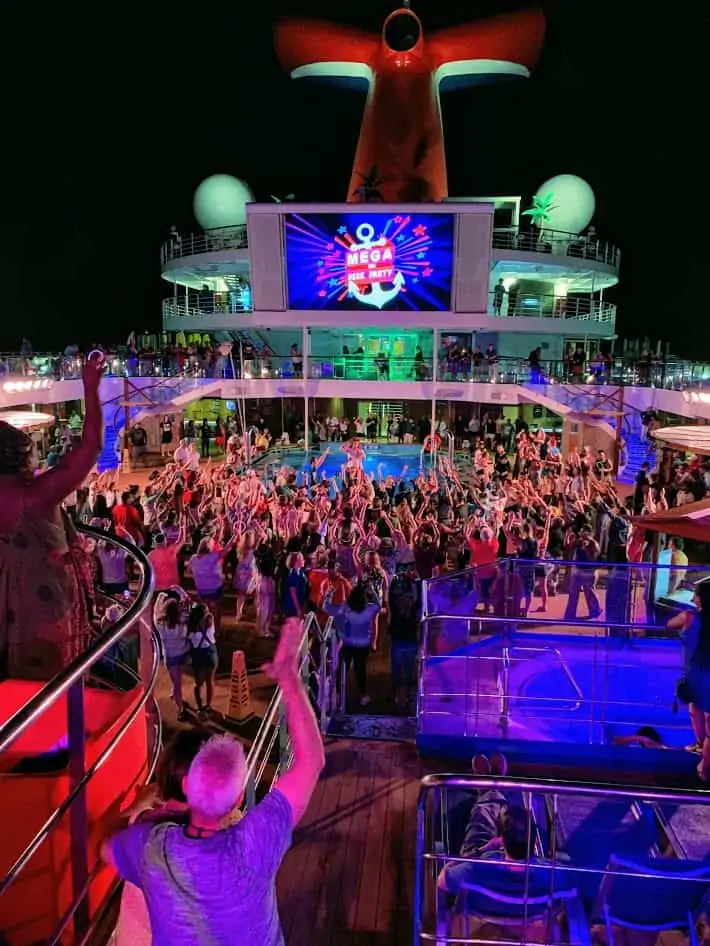 I'm not really into crowds, but even I was caught up in the party for nearly an hour! The crowd was really feeding off the energy being put out there by Chris, who gave it right back to them. The charged-with-fun atmosphere reminded me of a Garth Brooks concert… but with less country music and more dancing.
By midnight it was back to the cabin… after a quick swing through Pizzeria del Capitano.
Pro Tip: If you want pizza before the deck party, leave the deck party a few minutes early and head back there. Otherwise, you'll be in line that could take 30 minutes or more. 
Tomorrow: Another Day in Paradise (aka Half Moon Cay)
Catch up on our daily trip reports below:
Day 3: Nassau, Bahamas
Day 5: Freeport, Bahamas
Day 6: Sea day
Day 7: Norfolk