Today was our first day at sea aboard Carnival Panorama as we trek toward Ensenada, Mexico. Something I didn't realize until I turned the in-cabin television to the channel on which they show a map and the ship's progress is just how short a trip it really is from Long Beach to Ensenada. In order to squeeze a sea day in, we've basically been doing circles out in the ocean. Hey, that's fine with me, because it was a beautiful day to be toolin' around with nowhere to go and nothing to do.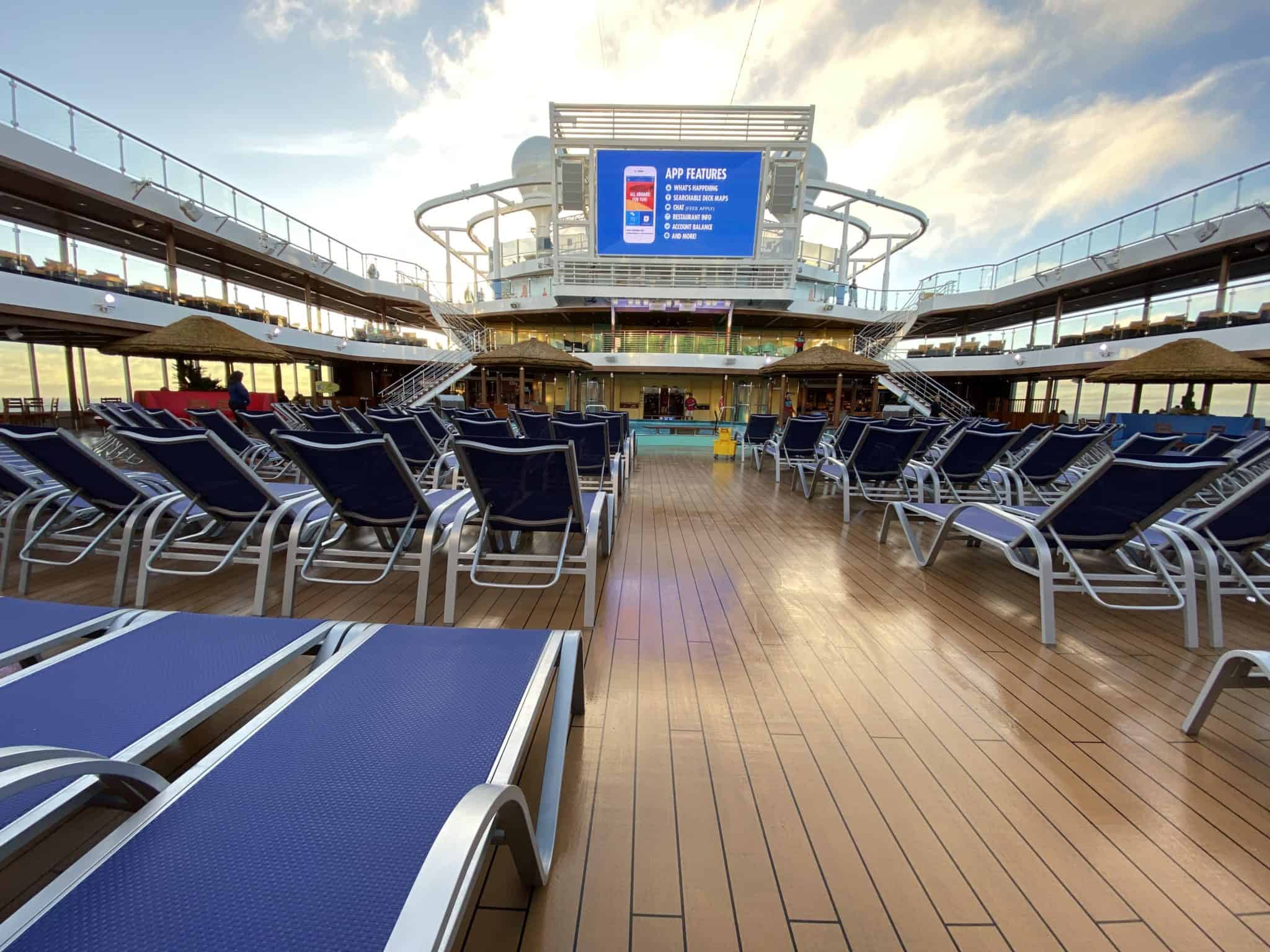 Actually, I shouldn't say "nothing to do," because we hit the ground running this morning! In order to experience as much of what Panorama has to offer in the shortest time, our schedule for today was pretty jam-packed! It'll be a lot easier for people on future sailings to kick back and relax without missing anything, because they'll have a whole week as opposed to our three-day trip!
One of the things I was really excited about was getting the chance to take the new culinary studio, known as Carnival Kitchen, for a spin. Normally, the various classes will be taught by the on-board chefs and their associates, but this being the inaugural, we had a real treat: Our class was taught by none other than Emeril Lagasse! (Although he doesn't have a restaurant on this ship, his Emeril's Bistro 1396 will be featured on Carnival Mardi Gras.)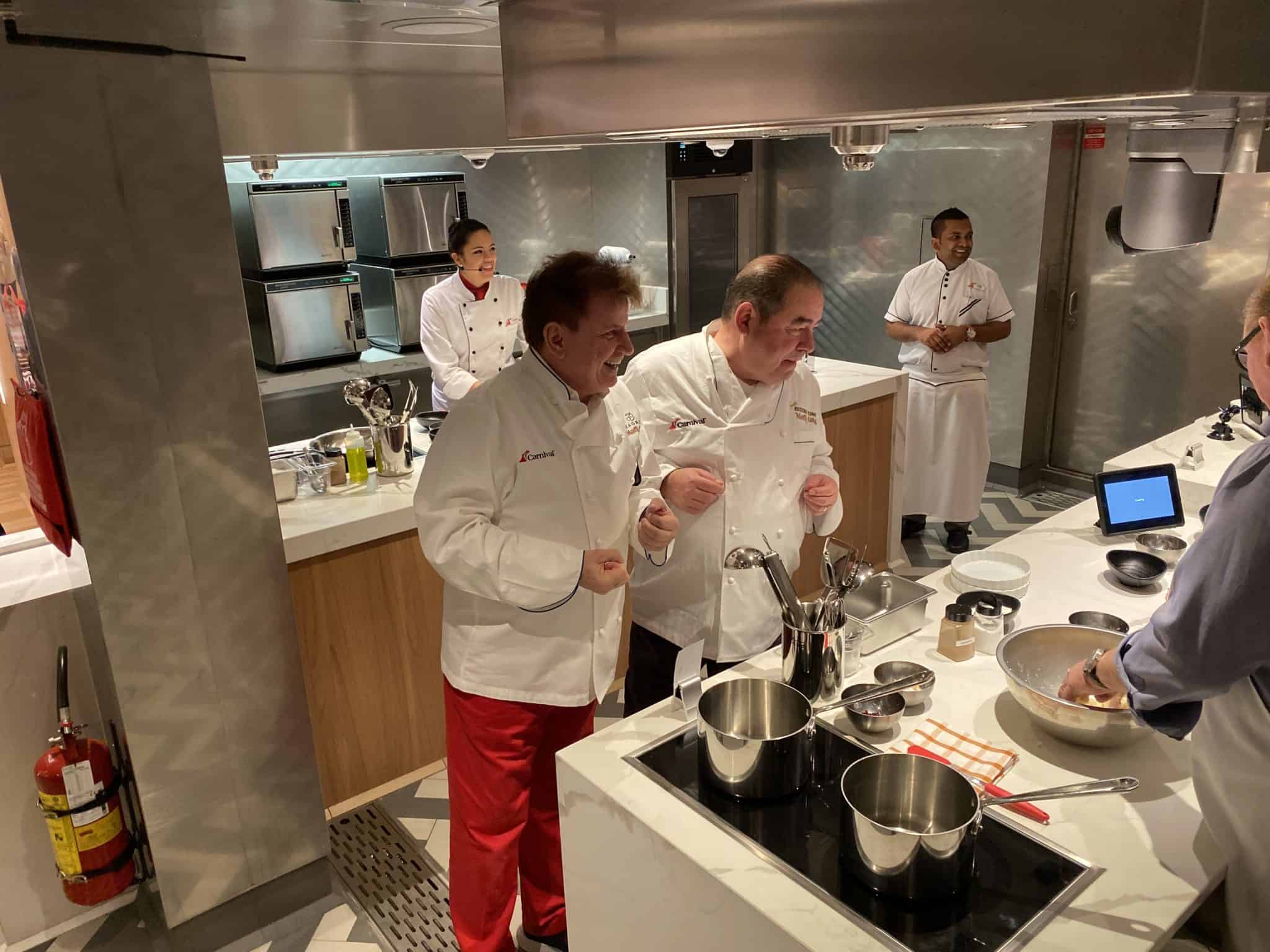 Guests are able to sign up for cooking classes throughout the voyage, although they advise doing so as soon as possible, as they're very likely to sell out quickly! There are classes in everything from sushi rolling and pizza making to cupcakes and pasta. The classes could vary by sailing, but among the ones which are in the regular rotation are ones that'll teach you how to make great food for a tailgate party, and even how to throw an elegant affair.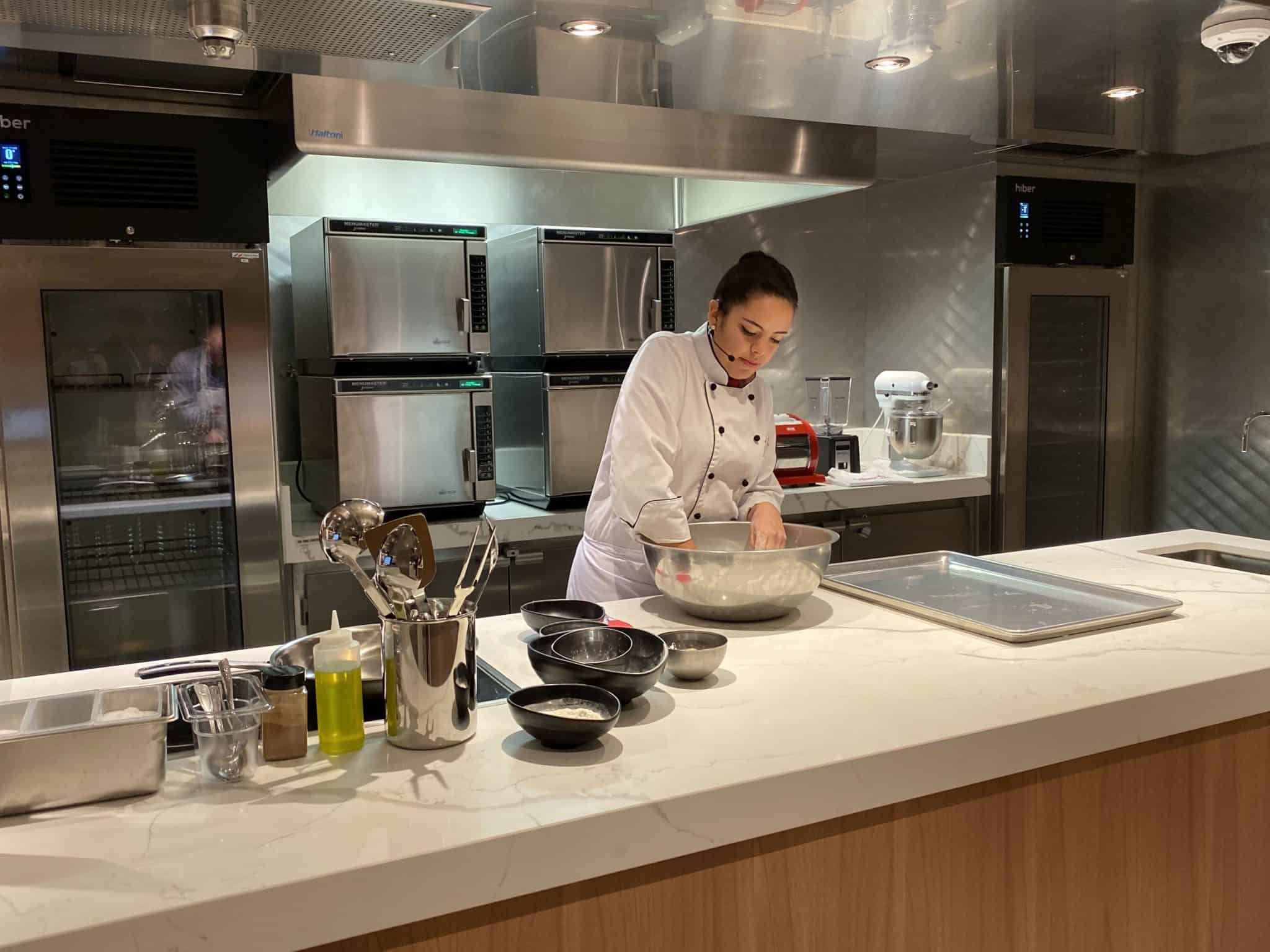 I was a little nervous to find out exactly what we'd be making, and relieved to discover it would be apple pie! So here's how the classes work: Each guest who signs up gets their own work station with all of the necessary ingredients, utensils, and a digital tablet that live streams what the chef is doing. And this isn't something where they do the work for you. During the class, we made everything from scratch, from the pie crust to the filling!
It was a little intimidating baking in front of one of the most popular chef's in the nation, but everyone did fine. Emeril may have a huge personality on camera, but he was quiet and reserved during our class. It was such a cool experience.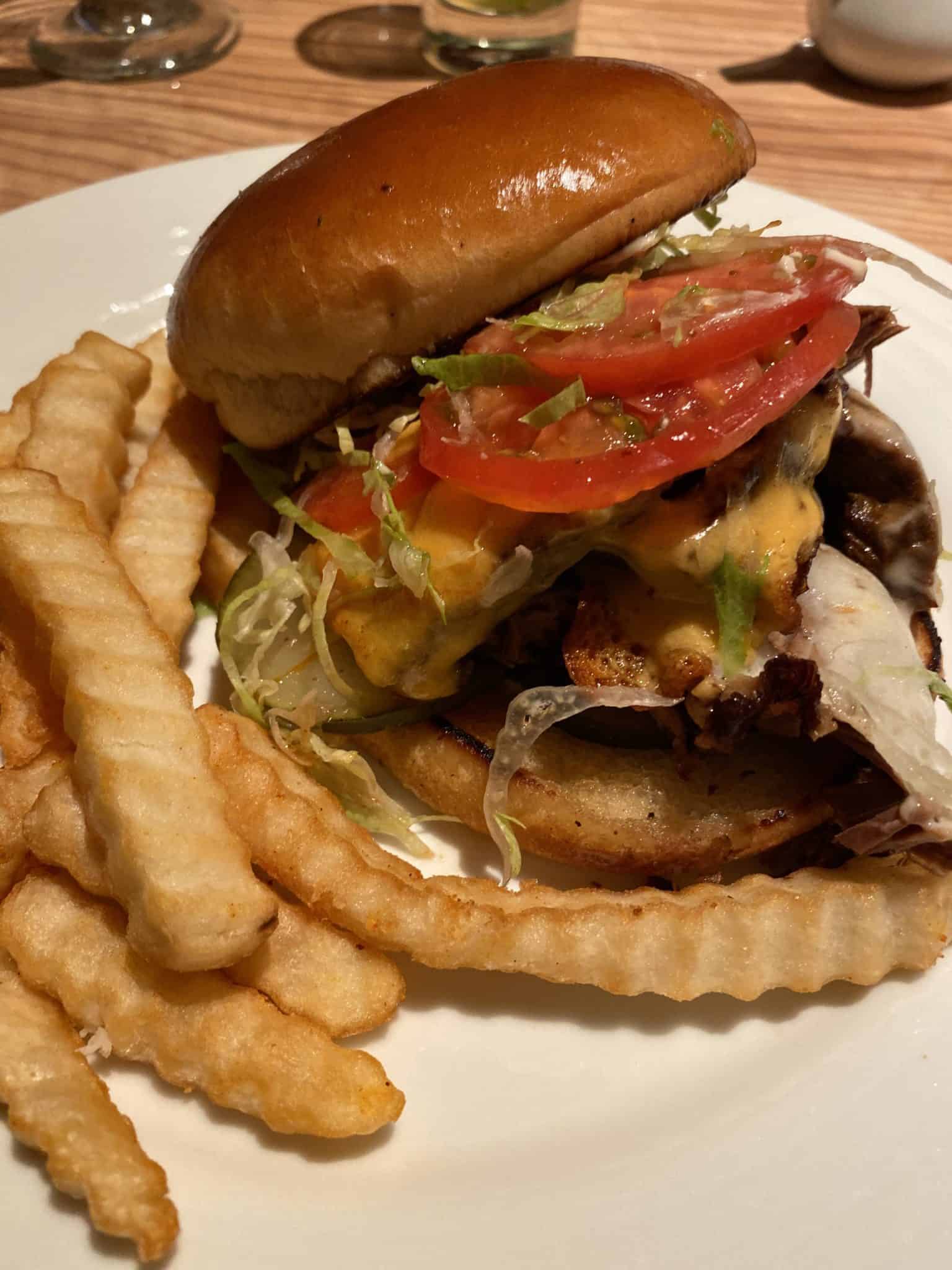 Since we didn't get to eat our pie — they actually baked them after we left — we went from class to sea day brunch. I've had more than a few brunches on Carnival ships, but what I had today might have been the beset thing I've ever ordered during a sea day brunch. I went with the Aft Deck, which was smoked brisket, cheese, pickle, a batter-fried onion ring and BBQ sauce. This was hands-down awesome! I'm not sure if Guy Fieri had any influence where this was concerned, but either way, great work.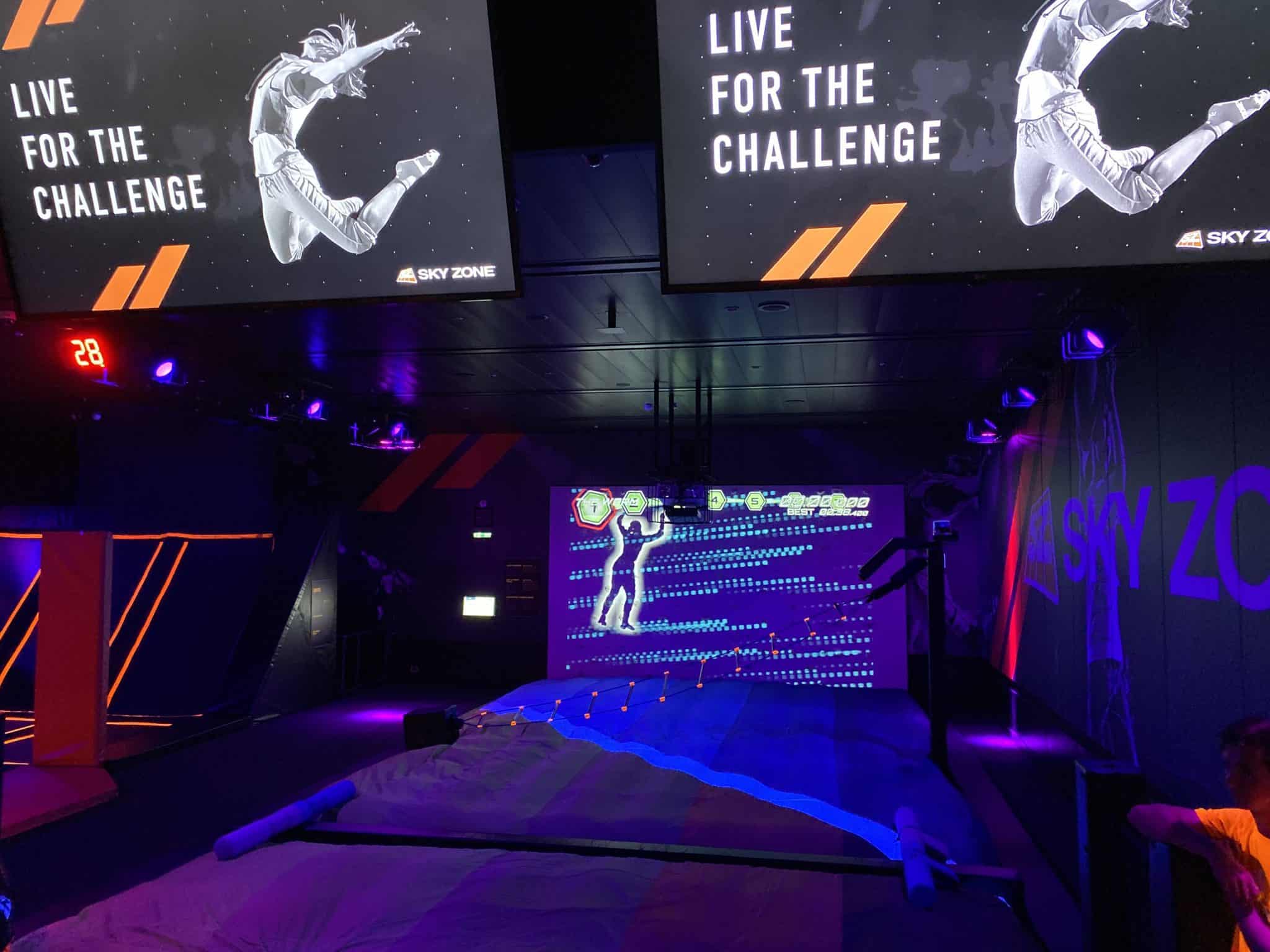 If there was one downside to chowing down on that fantastic sandwich, it was that immediately afterward we headed over to the Sky Zone trampoline park! Location wise, this is where the IMAX theater was on other Vista-class ships. By ditching the theaters, they were able to add not only this attraction, but also some extra cabins.
The Sky Zone experience was so much fun. If you have little ones and want to drain their energy, give them an hour in the trampoline park.
You start by putting on a bright orange Glow Party shirt and special grip socks. We did the glow party as well as a more general bouncing session. The glow party costs $18 per person, and the trampoline park (with the lights on) will run you $12 for the hour.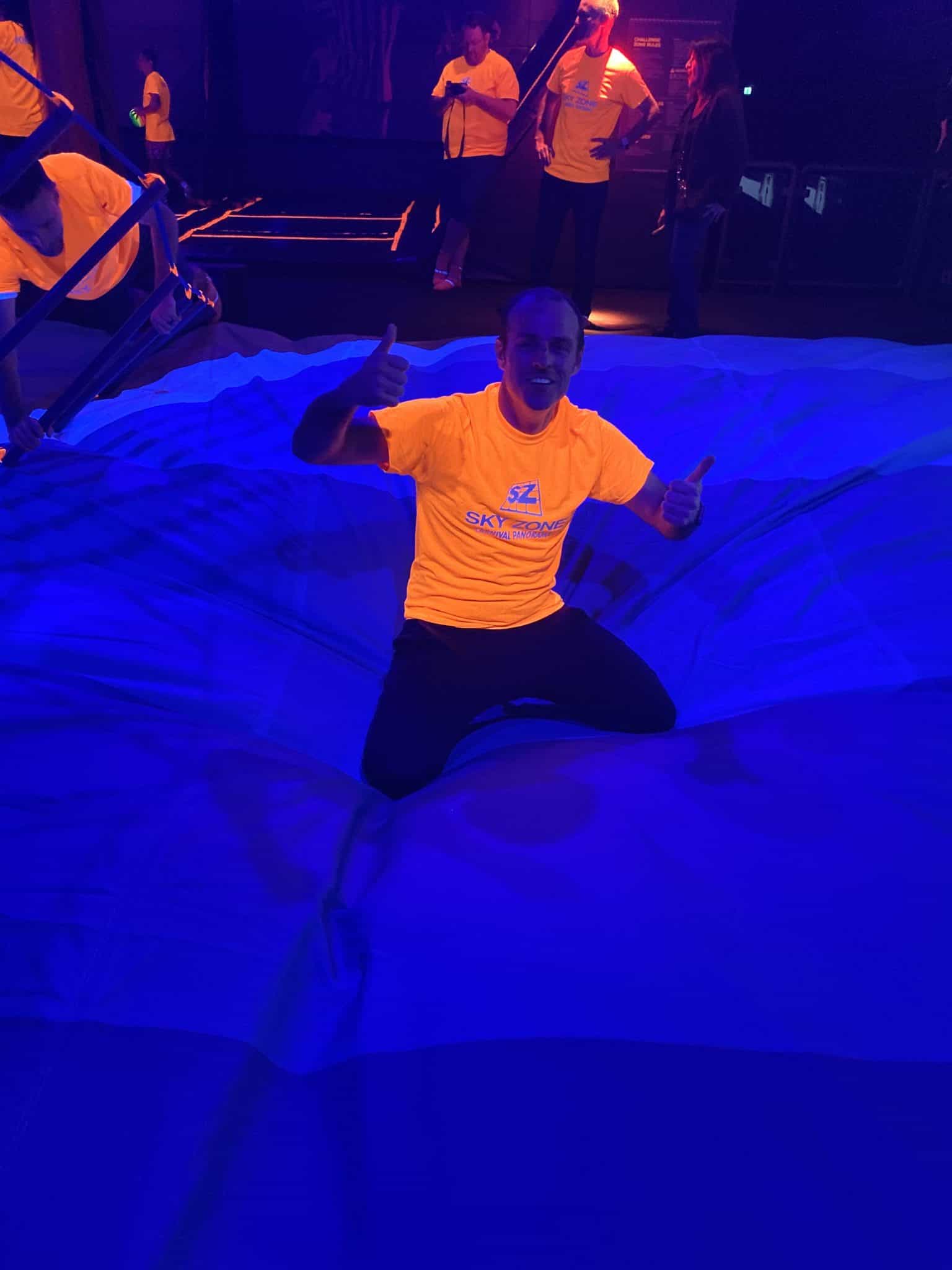 We played a friendly game of dodge ball, got to slam dunk with the help of the trampolines, then did a rock climbing wall, a rope ladder, jousted, and ended with a competitive game of tug of war.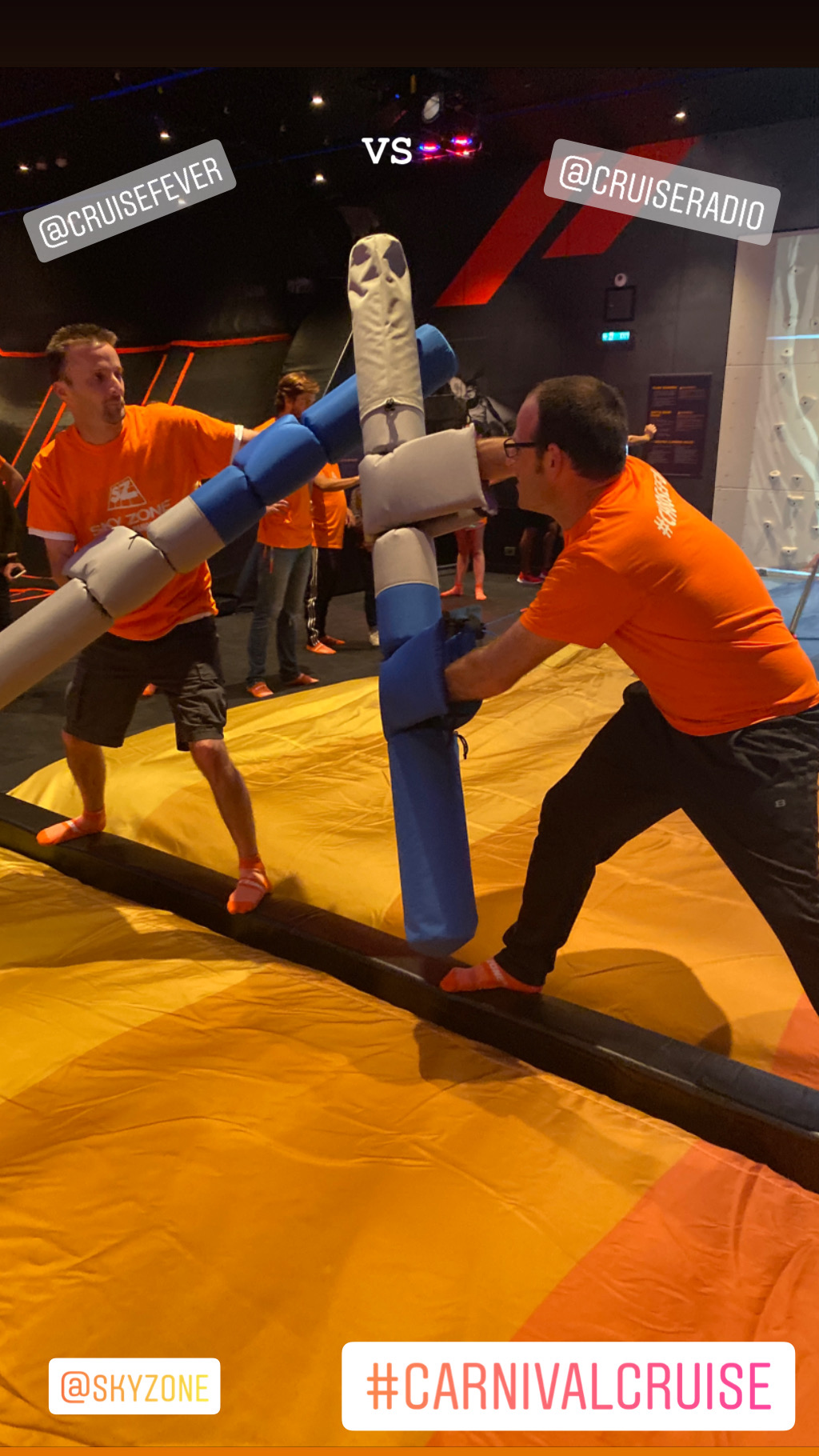 Tip: If you wear glasses, leave them in the locker before going out to bounce on the trampolines. Sometimes I forget that I wear glasses, and they went flying off at one point. Just the thought of someone accidentally bouncing on my glasses and me having to spend the rest of the cruise without them was enough to teach me this valuable lesson!
While our Sky Zone adventure was going on, the Groove for St. Jude was taking place on lido deck. During the event — which is held on every cruise — they raised $4,000 between T-shirt sales and auctioning off inaugural coins.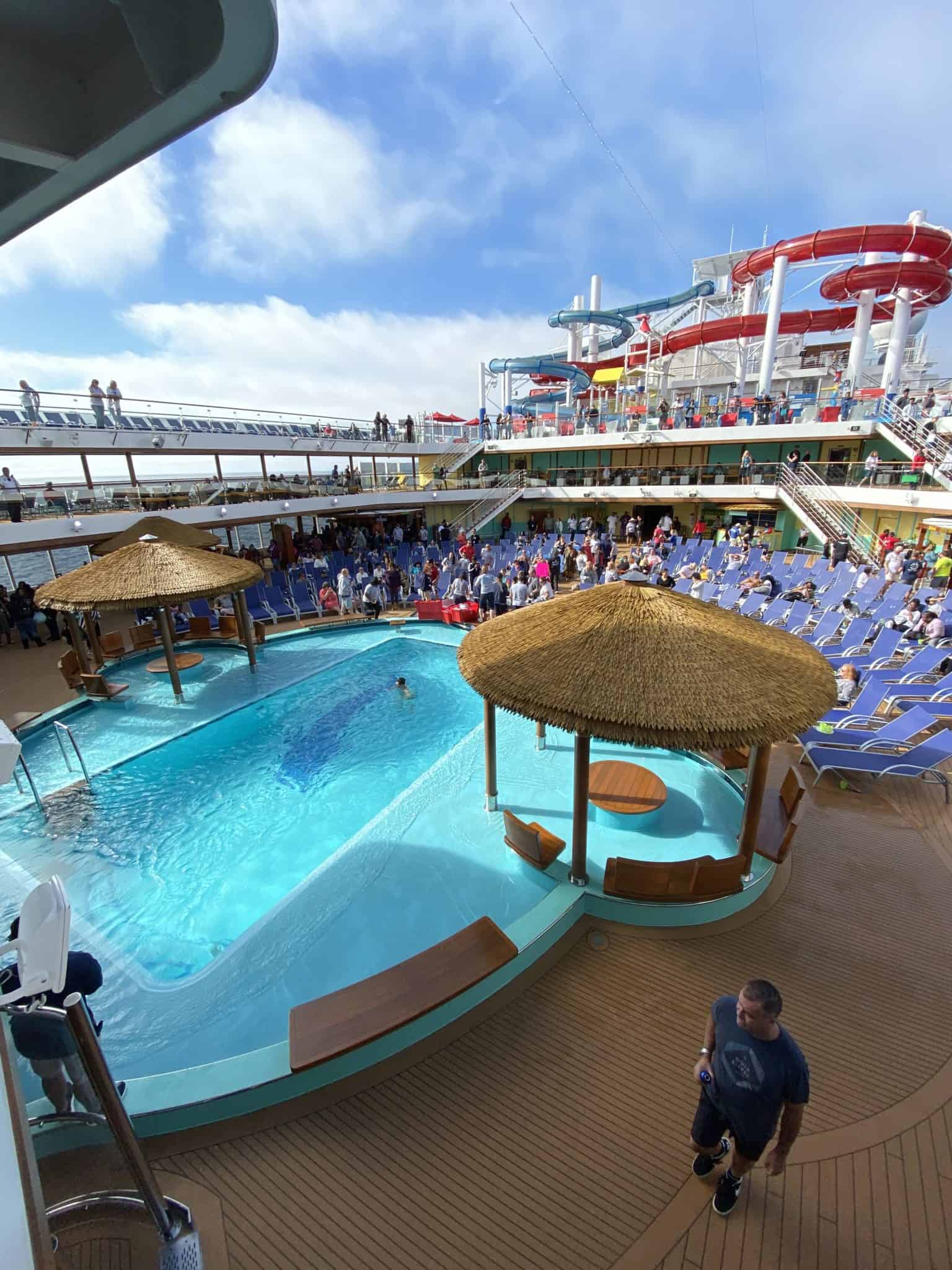 Dinner tonight was in Fahrenheit 555 Steakhouse. I went with the surf and turf. My go-to meal in the steakhouse has long been the Cowboy Cut ribeye, but I didn't have as big an appetites as I usually do thanks to that great brunch sandwich. Truth be told, that never happens, so I figured this was a good opportunity to shake things up and try something different.
The service was solid and it was about a 90-minute experience, from start to finish. It probably would have been closer to the two-hour mark if we'd gotten dessert, and that's around what most people probably expect when they go out for a meal like this.
They did have the divider open between the Piano Bar and the Steakhouse, so we could hear some nice, light music throughout the evening. If you've ever been to the piano bar, you know things can get pretty rowdy in there! But we were having dinner early enough that no one was in there being overly loud, and the music was on the softer side. I remember having the sound from the piano bar be intrusive during a Steakhouse dinner on the Carnival Horizon. I suppose that's why they have the divider to begin with, so they can simply close off the piano bar when things really get going over there!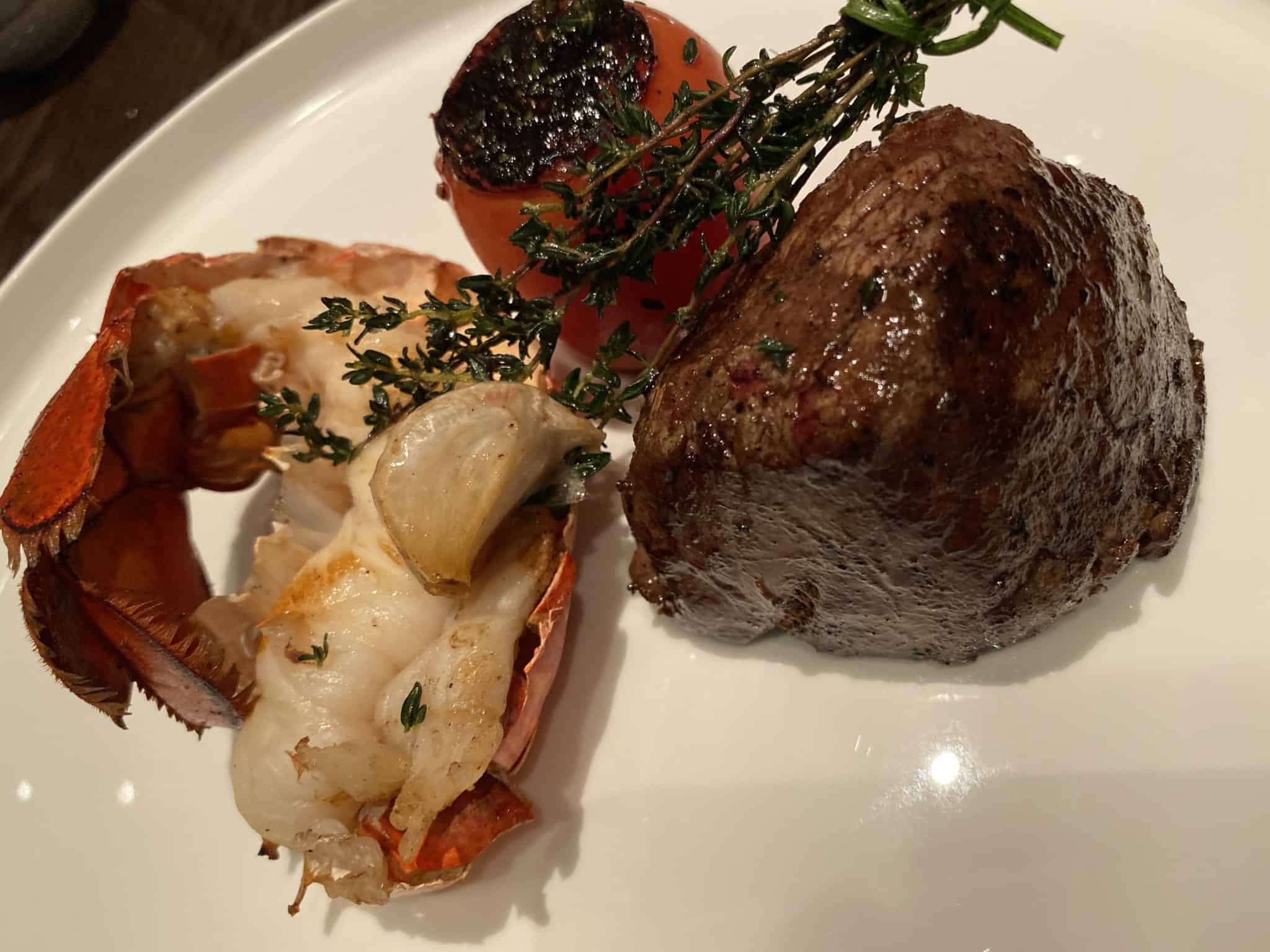 We were able to catch the new Playlist Production show called Broadway Beats. It was solid. To be fair, I've been on six ships over the past two months and I've seen some really good entertainment. Kinky Boots on Norwegian Encore was epic, and the MSC Meraviglia's cirque show, Sonar, was out of this world. It wouldn't really be fair to compare Broadway Beats to those shows because they're both legit, touring productions. Kinky Boots won a slew of Tonys during its recently-concluded Broadway run.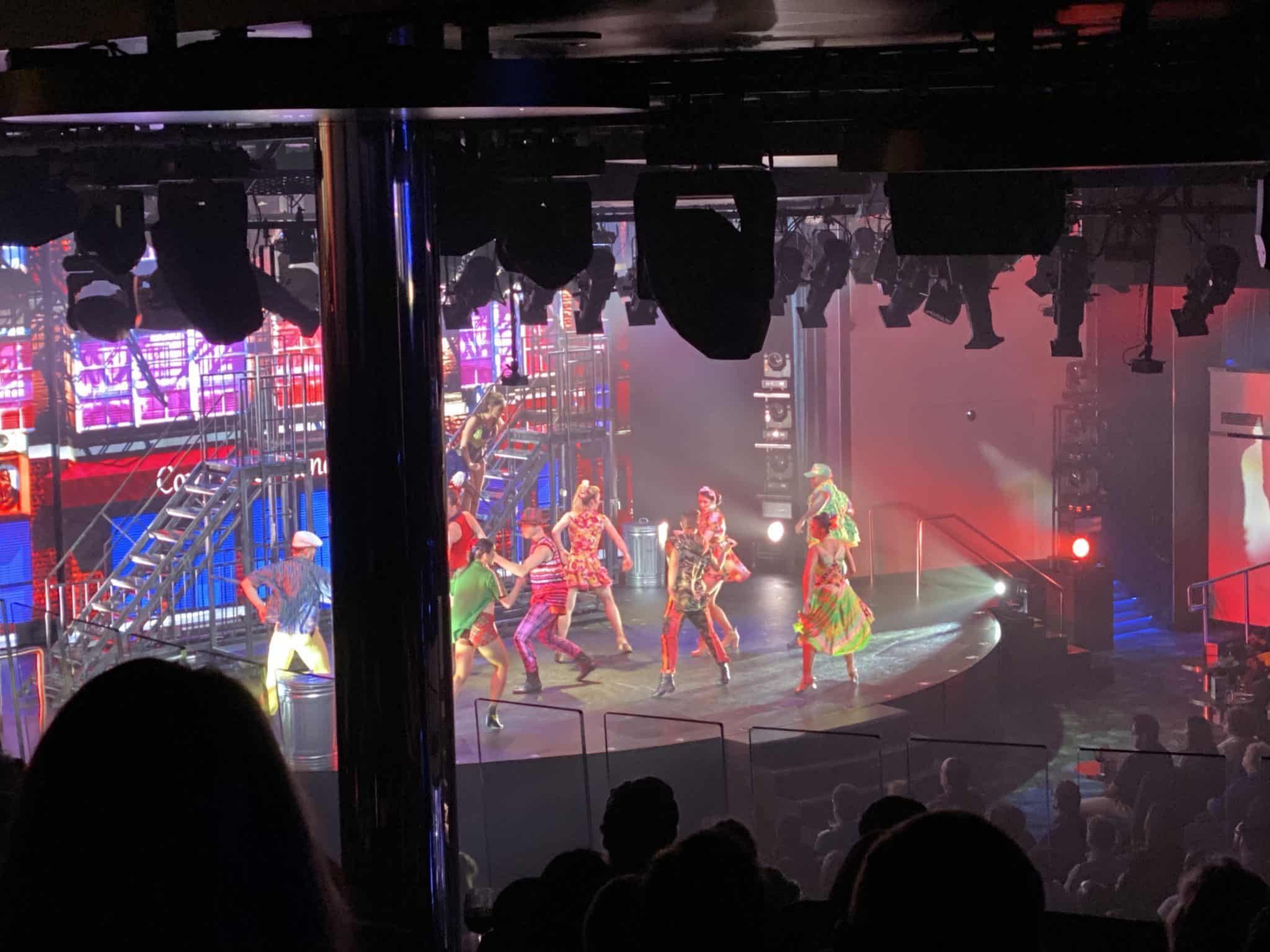 The show we saw last night — the other original Playlist Production, Rock Revolution — was decent and real musicians, which is always a plus. The performer who sang Janis Joplin's Piece of My Heart was rough. It's hard to pull off Joplin unless you're Steven Tyler of Aerosmith or Adam Lambert. That's part of the problem with this type of production: They aren't actual musicals — like Kinky Boots or Rock of Ages — so much as a collection of songs strung together without an actual storyline to connect them.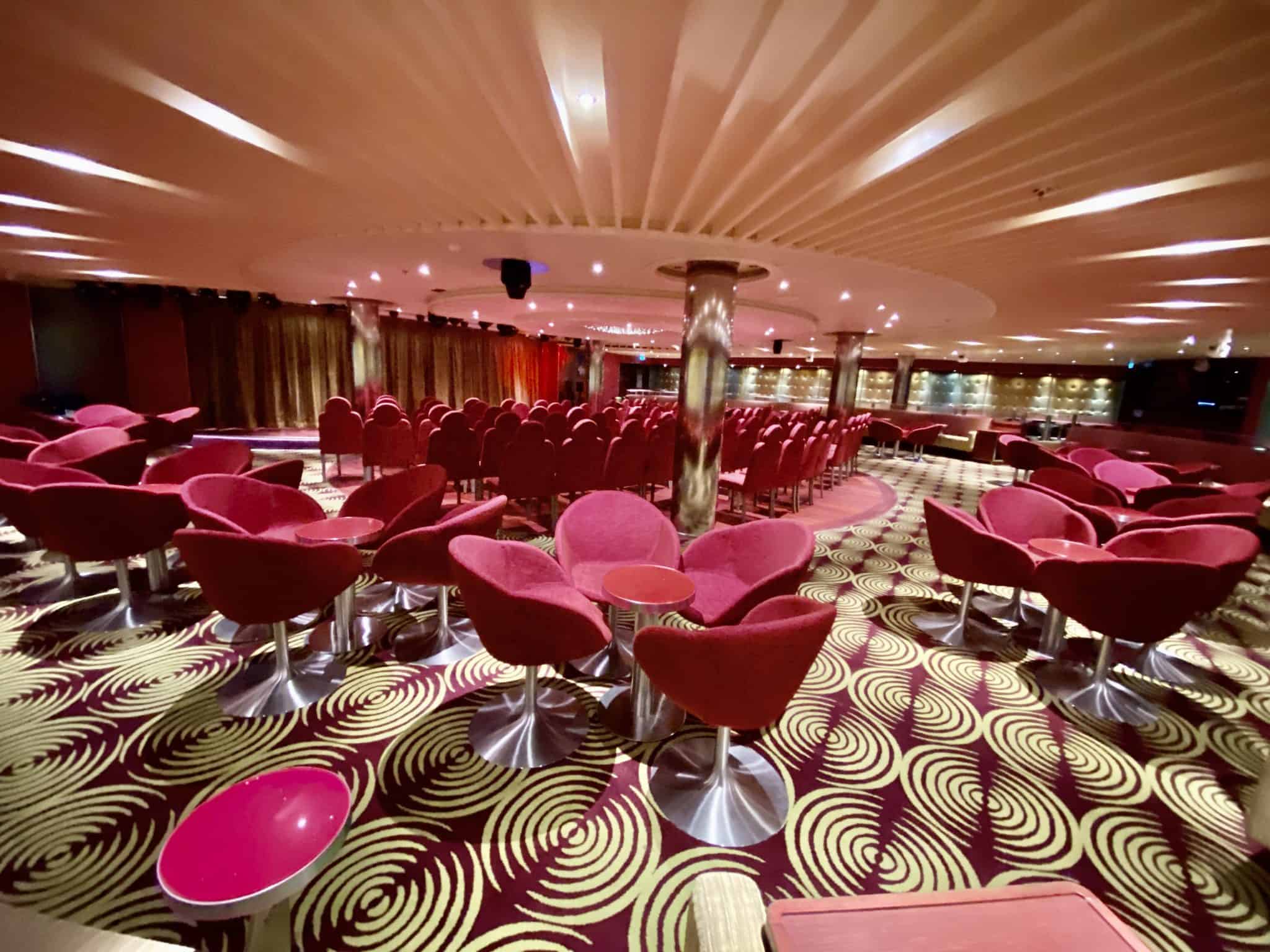 After the show, we headed to the Limelight Lounge, which turns into the Puncherliner Comedy Club after dark, and still later morphs into the dance club. The comedian onboard is Tony Esposito, a Carnival favorite. He's been on a few ships that I've sailed on over the years.  A lot of his humor was southern-type comedy, based on where he grew up. They say comedy works best when you joke about what you know, and this brought a lot of laughs.
Tomorrow we arrive in Ensenada, Mexico. I don't have any plans there because I need to photograph the ship empty and take some video while it's empty. That means I'll just have to come back to the west coast for a Mexican Riveria cruise.