A review and photos of Carnival Panorama. This is the last ship in Carnival Cruise Line's Vista-class that was launched in November 2019 and is currently sailing from Long Beach, California. This is the first new ship to debut on the west coast in over 20 years.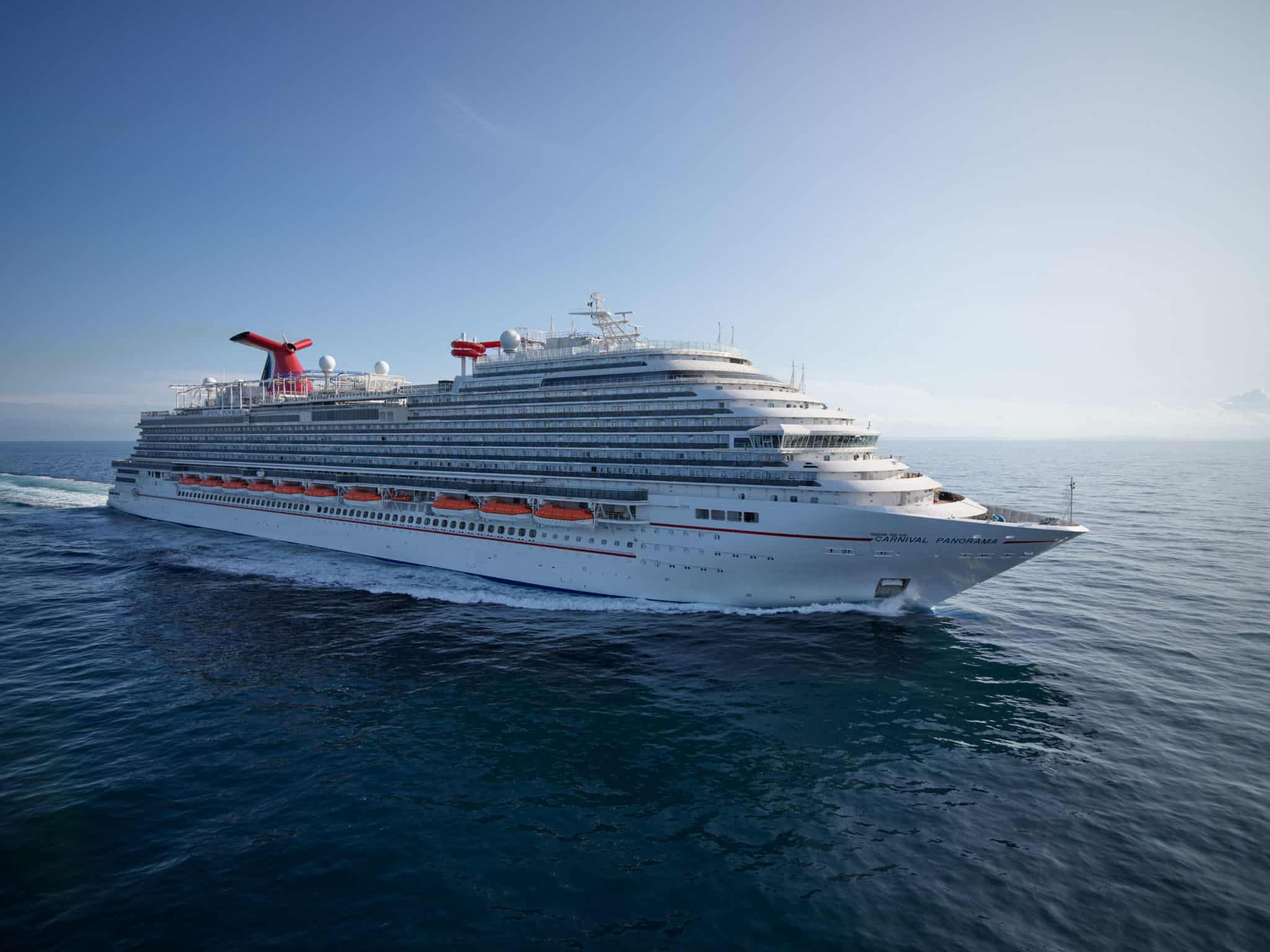 Carnival Panorama, launched at the tail end of 2019, may be the last of the Vista-class ships, but it also features several firsts for Carnival Cruise Line. Like sisters, Carnival Vista and Carnival Horizon, this ship has a lot to offer. But is Panorama right for you?
READ MORE: 15 Carnival Panorama Changes [PHOTOS]
Hopefully, by the time you finish reading our in-depth review, you'll have the answer to exactly that question.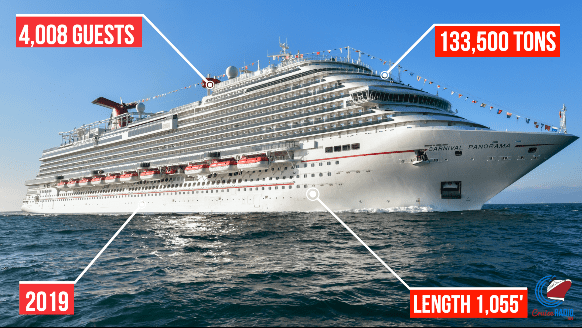 Carnival Panorama Facts 
Length: 1,055
Guest capacity: 4,008
Gross registered tonnage: 133,500
Inaugural cruise: December 11, 2019
Notable Features 
SkyRide
Carnival Kitchen
Sky Zone Trampoline Park
Heroes Tribute Bar
Choose Fun WaterWorks aqua park
Overview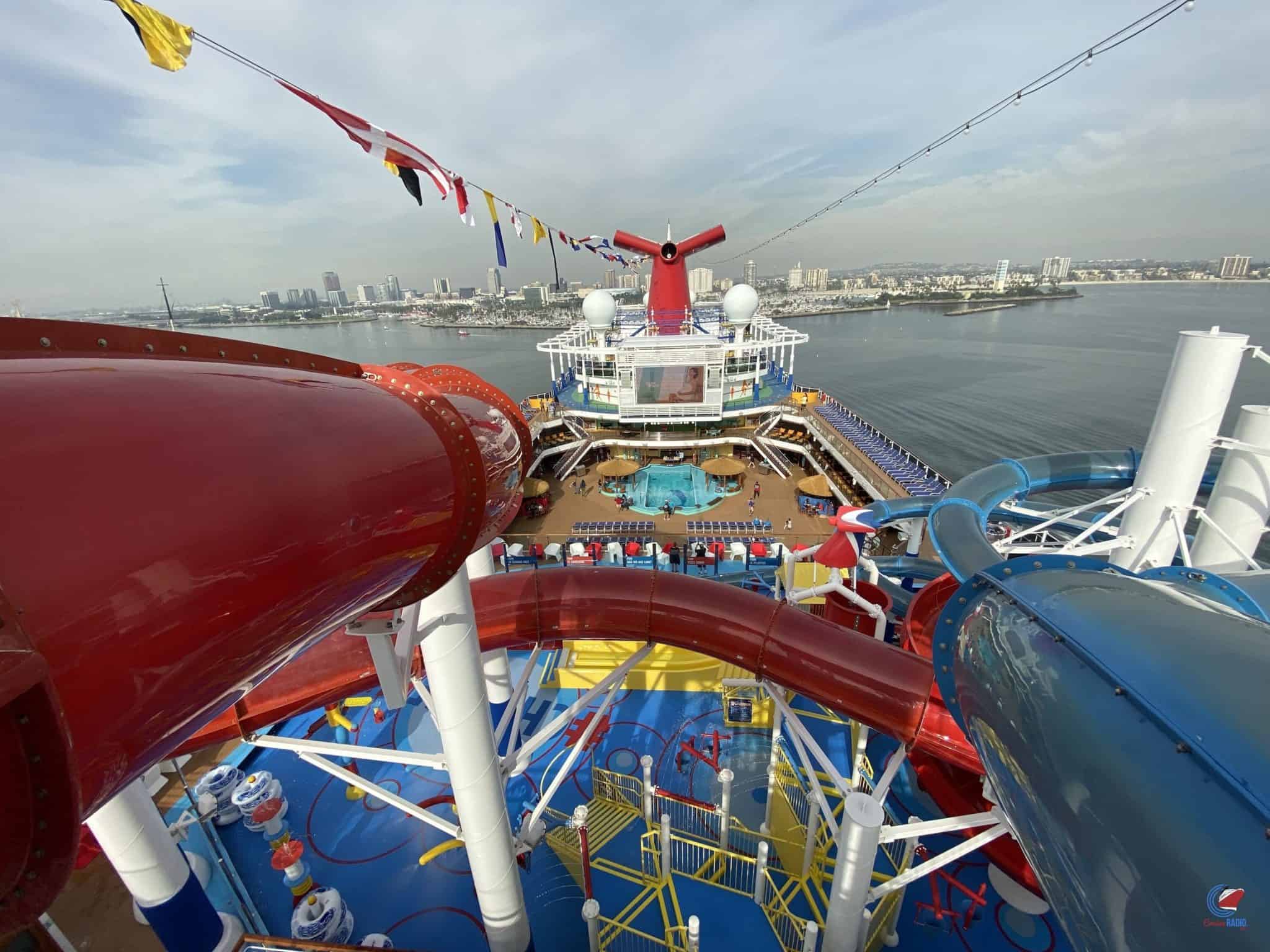 Even though Carnival Panorama is the same size as her two previous sisters, the ship touts some new-to-Carnival features that have already proven to be winners. The ship also incorporates technology in ways big and small, from the drones which play a starring role in Playlist Productions to the all-digital, print-on-demand Pixels photo gallery.
That's not even counting the below-deck operational tech improvements passengers will never really know about even as they improve the quality of their cruise experience.
Public Spaces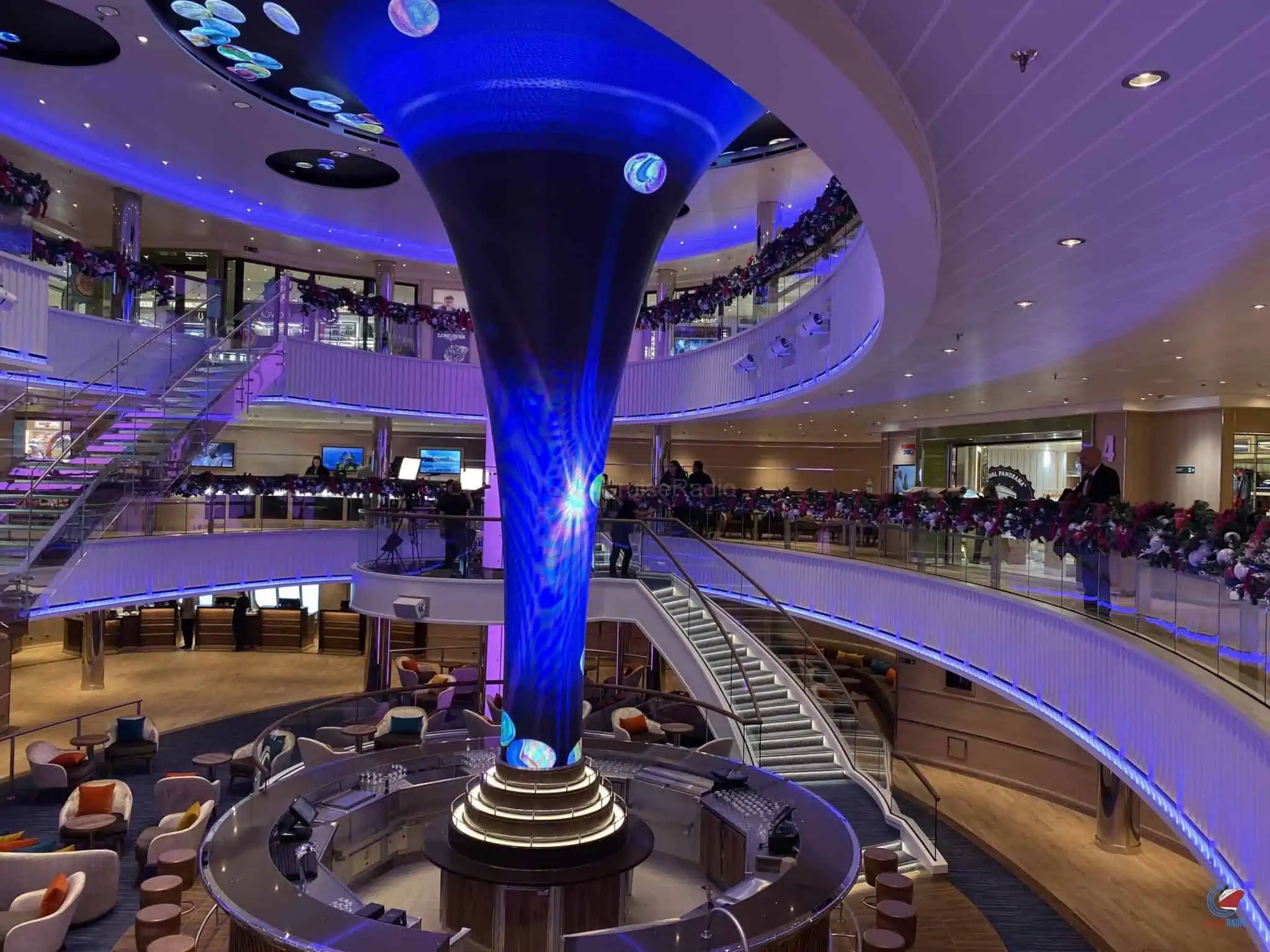 If you've sailed other ships in the Vista-class, this ship will almost instantaneously feel familiar, as the layouts are very similar. Likewise, if you've sailed other Carnival ships, you'll largely know what to expect, from the poolside Guy's Burger Joint to the recognizable half-moon shape of the Alchemy Bar.
Read More: Carnival Panorama – Embarkation Day 
Like Carnival Horizon, Panorama does not have a RedFrog Pub, which can surprise some who have come to associate the venue with Carnival. However, they'll quickly find that the Pig & Anchor Smokehouse Brewhouse fills all their pub needs and more.
Elsewhere, this ship's Cherry on Top is different from Horizon and Vista in that it does not have an ice cream shop.
Instead, you'll find more merchandise here, including the Dr. Seuss At Sea collection. In fact, Panorama offers the widest variety of shopping outlets ever to be found on a Carnival ship.
As have become the norm with many cruise ships, the majority of the shopping, restaurants and bars are centrally located.
With Carnival Panorama, deck four and five are the areas in which you're likely to spend a great deal of time, since this is where you'll find the casino, several specialty restaurants: Guy's Pig & Anchor Smokehouse Brewhouse, the show theaters and more.
Staterooms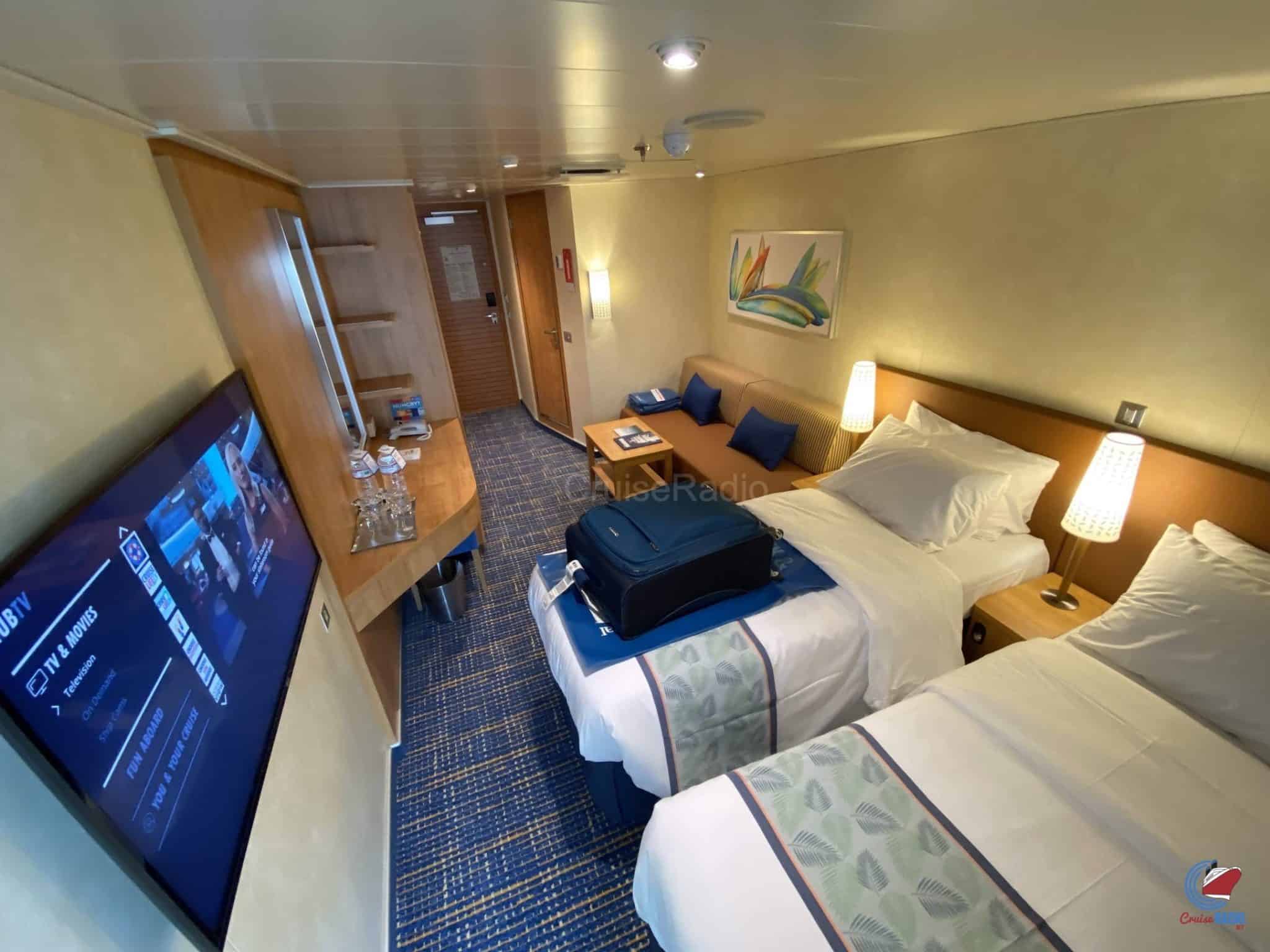 As with many of the venues you'll find onboard, staterooms on Panorama are going to be familiar to this cruise line's passengers.
Carnival knows the value of familiarity, and that if something is broken, you don't need to fix it. Sure, you might give it a tweak here (adding USB ports) or there (updated artwork), but for the most part, things stay the same from ship to ship.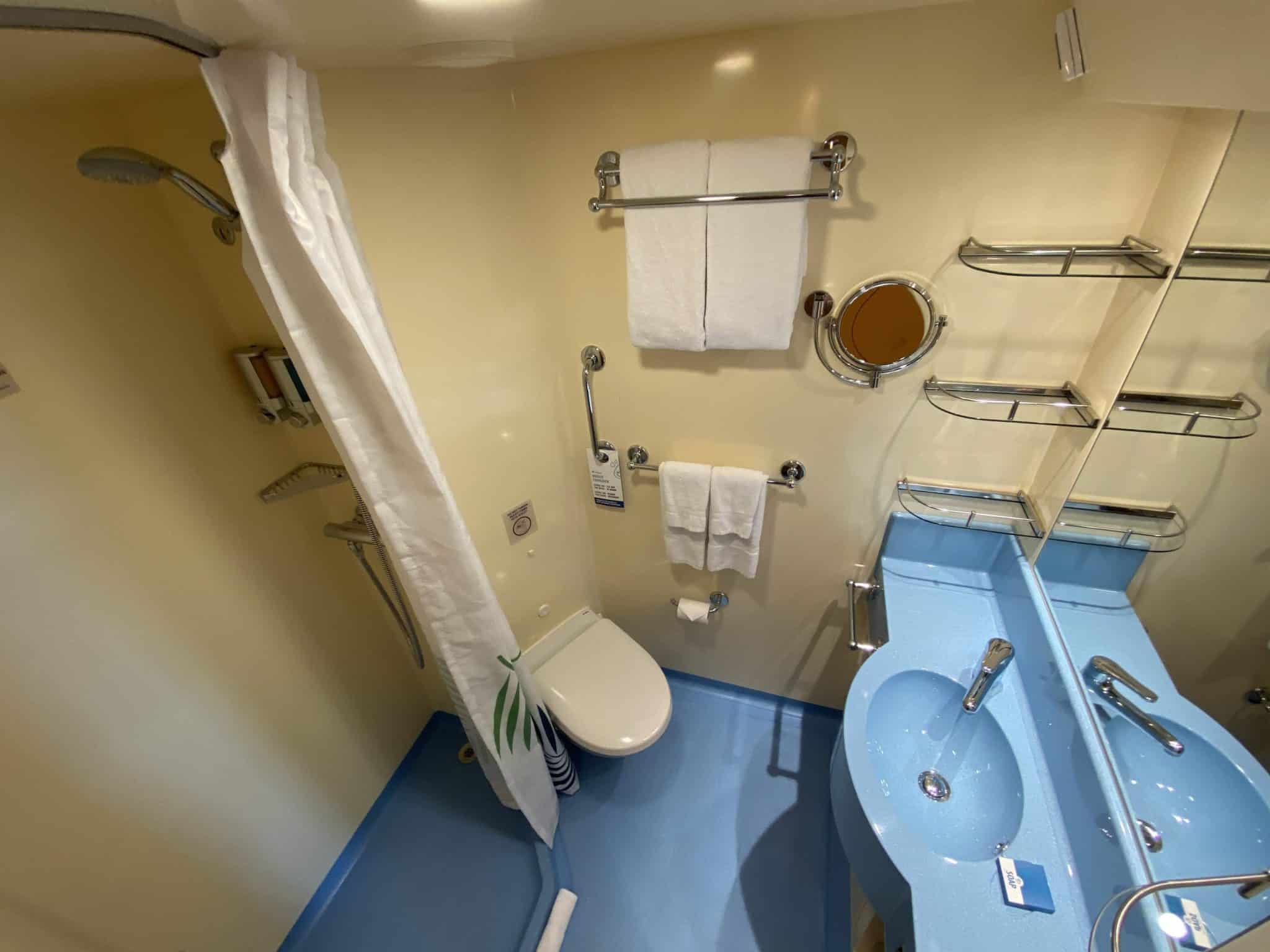 Panorama is no exception. Here, you'll find two USB ports and two plugs in each stateroom, along with a European power outlet.
The bathroom is pretty standard, although we were disappointed to find shower curtains as opposed to a glass door. Thankfully, that is one major change we'll see in staterooms starting with the launch of Mardi Gras. 
Stateroom categories include:
Interior
Oceanview
Balcony
Cove balcony
Havana Suites
Cloud 9 Spa suites
Family Harbor Staterooms
Carnival Panorama has approximately 40 more staterooms from her sisters. Despite this increase in the number of passengers, the ship manages to easily disperse them by having a wide variety of public spaces, both indoor and outdoor.
Family Harbor Staterooms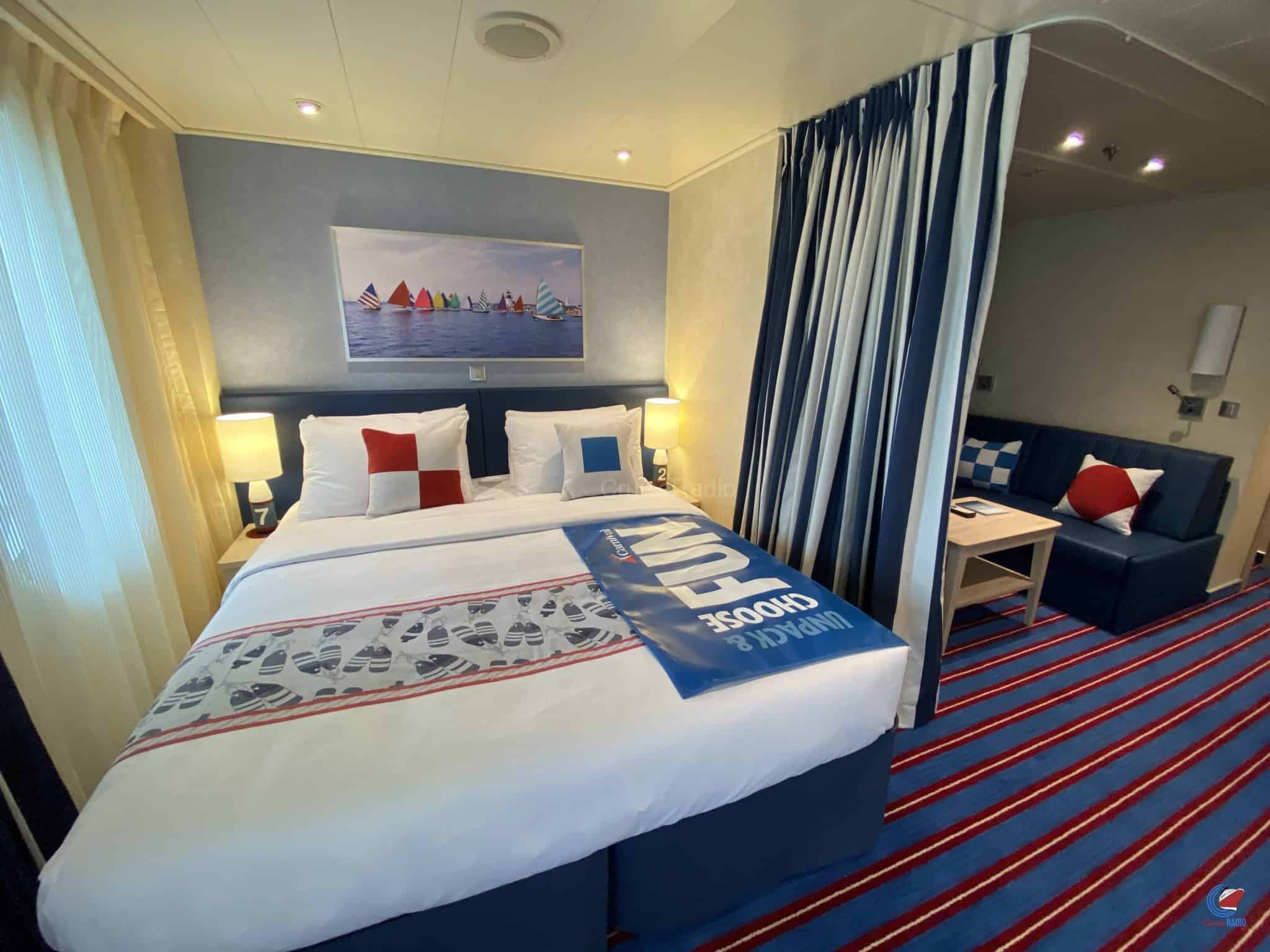 Carnival is very proud of the fact that they carry more families than any other line. And it was with those families in mind that they designed the Family Harbor staterooms, which come in a variety of categories, from interior all the way up to the popular Family Harbor Suite With Cove Balcony.
This latter category features two bathrooms, as well as a dividing curtain between the bed and the sleeper sofa to give everyone a bit more privacy than they'd have in a conventional stateroom.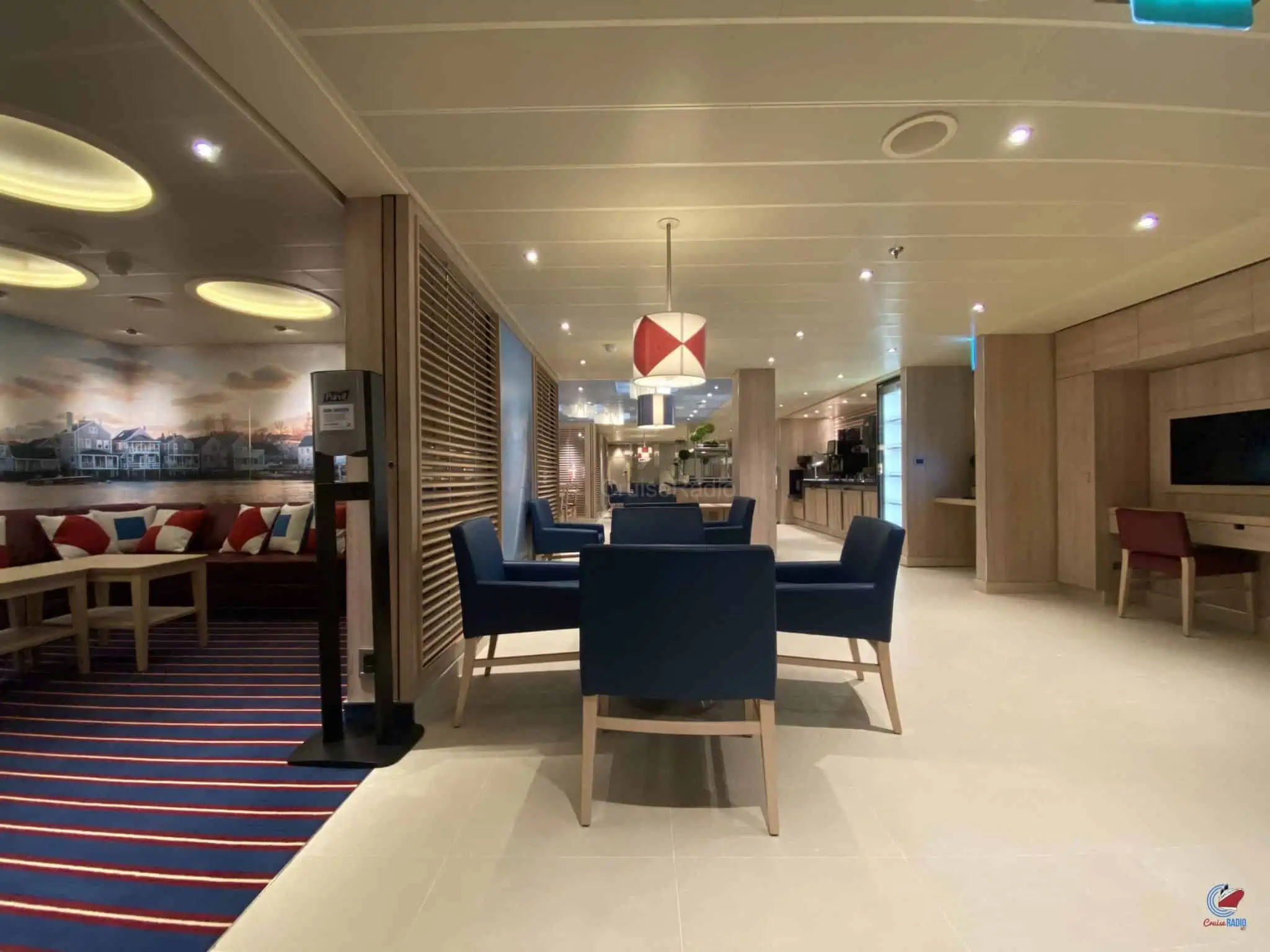 All Family Harbor staterooms have access to the Family Harbor Lounge, where you'll find gaming units, an ice cream machine, board games and more.
At various times of the day, you'll also find food items, such as a continental breakfast in the morning and cookies and milk each evening.
It's a fantastic place for families to hang out, giving them a space beyond the confines of a stateroom. It's also a good place for families to meet others with similarly aged children.
And access to the lounge is keycard restricted, allowing only those who are staying in Family Harbor staterooms to enter. There's no fear of unwanted people wandering in.
Havana Suites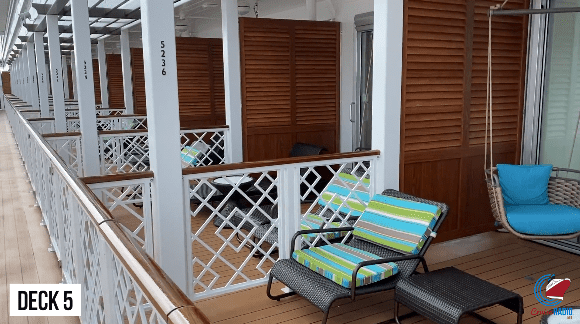 Ever since its introduction on Carnival Vista, the Havana staterooms, suites and retreat have been extremely popular. Everything about them is special, from the decor to the fact that guests staying in Havana staterooms have exclusive access to the Havana Retreat.
Until recently, non-Havana guests were allowed to enter after 7 p.m. But in order to make sure that guests paying to stay in the Havana area got their money's worth when it came to exclusivity, the Havana Retreat is now off-limits to outsiders at all times.
Make no mistake, the Havana Retreat is definitely a special area, especially for those looking for something a bit quieter than the lido deck.
Here, you'll find a pool, two oversized hot tubs and a selection of clamshells and loungers; moreover, this area is only available to those staying in the Havana staterooms, the retreat is never crowded.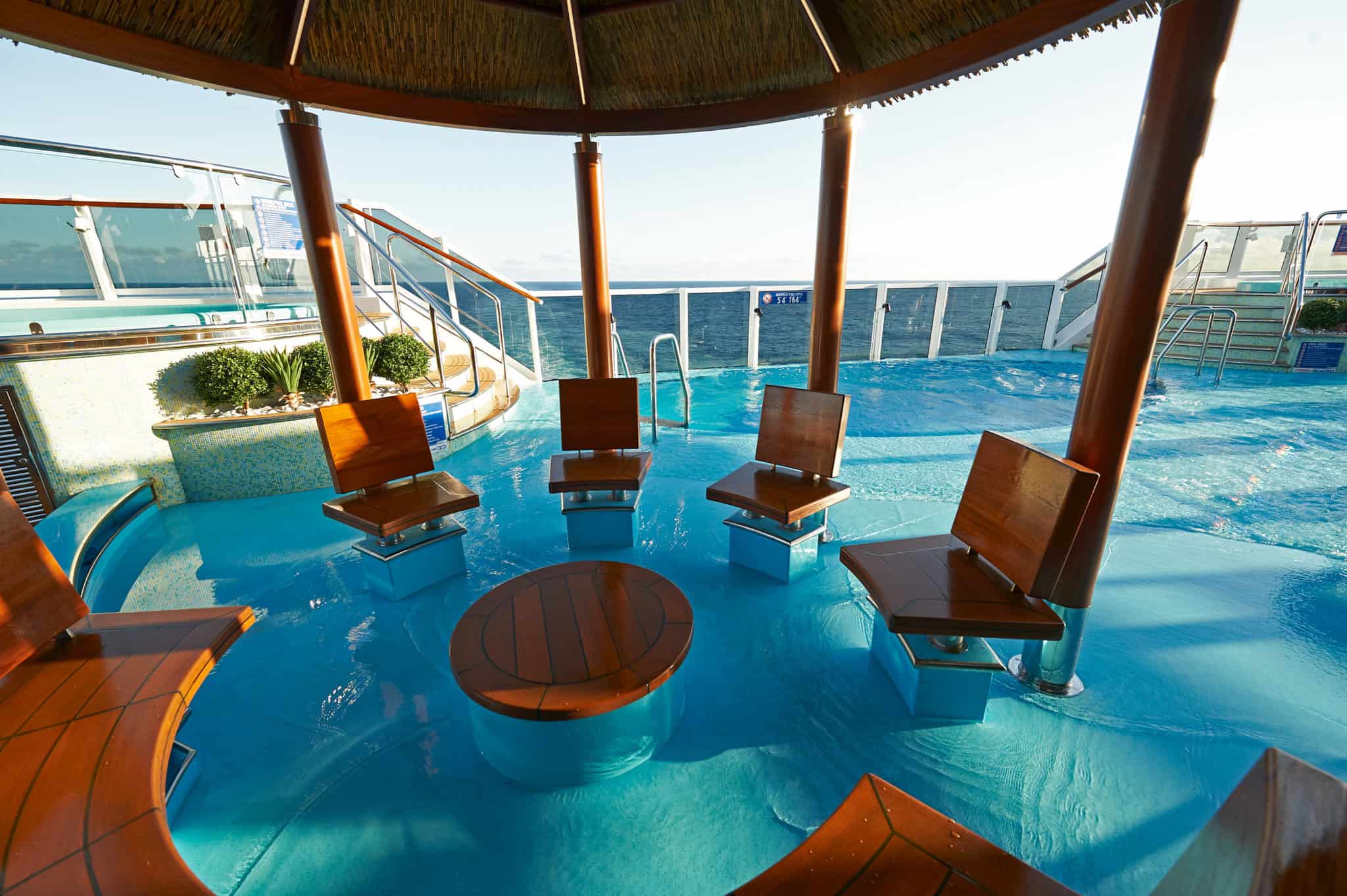 As for the Havana staterooms themselves, they come in everything from interior to suites. It's worth noting that the popular Oceanview Havana Cabana staterooms with Patio Cabana are not traditional balconies.
They are set back a bit from the ocean, overlooking an outdoor promenade instead which is only accessible to other Havana guests. This means that while you get one of those very cool lanais, you won't have as much privacy as you would with a standard balcony.
Bars and Entertainment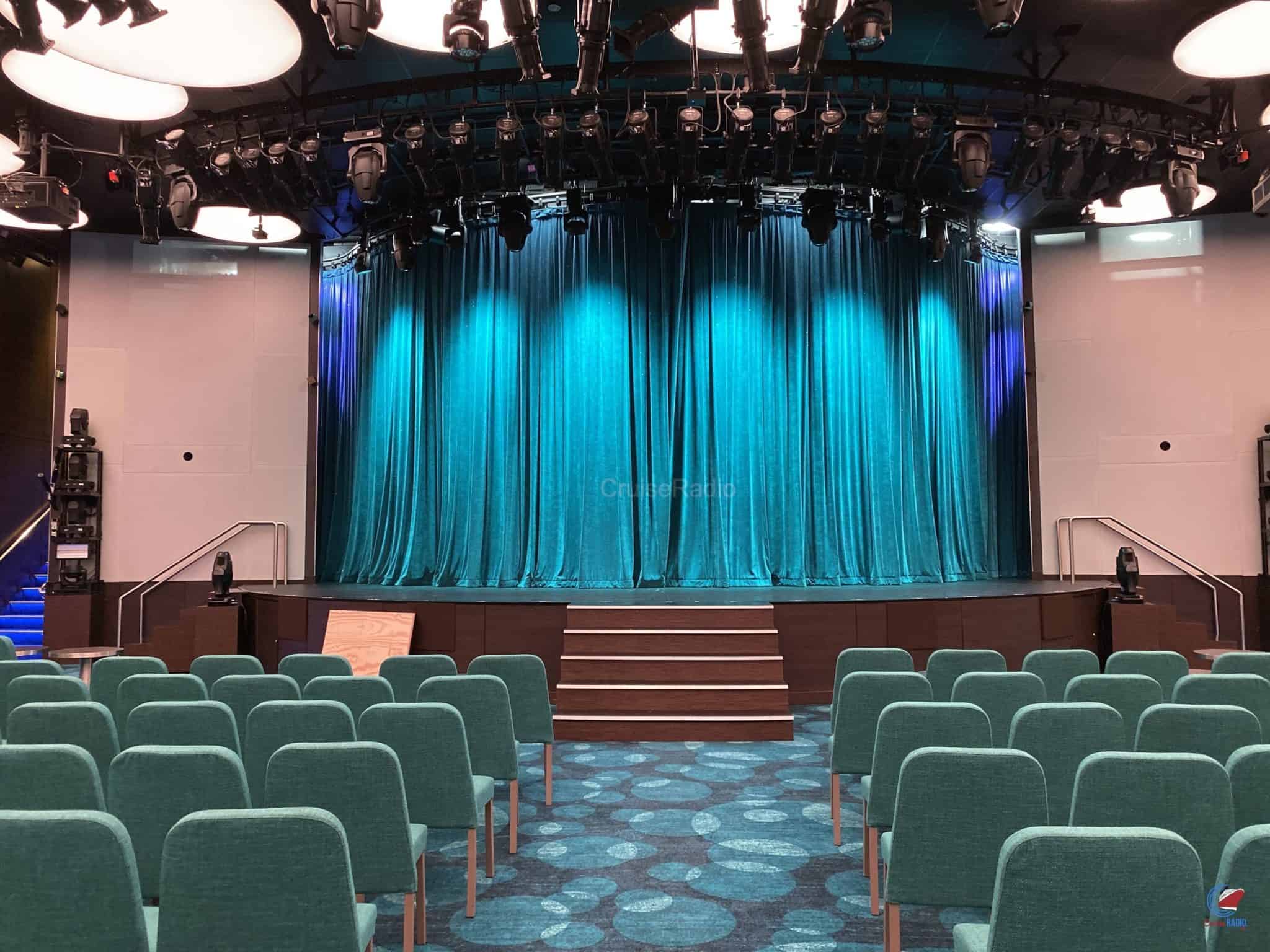 The Liquid Lounge is the main show theater on Carnival Panorama, panning decks four and five. Having seen several shows in the theater from various vantage points, I've come to the conclusion that you'll have a better experience during the big production shows if you sit on the lower level.
The ship features two unique Playlist Productions. Broadway Nights is set in New York City and, as you might guess from the title, focuses on musical numbers from popular Broadway shows. Rock Revolution is a concert-style show which is set during the infamous 1969 Woodstock Festival.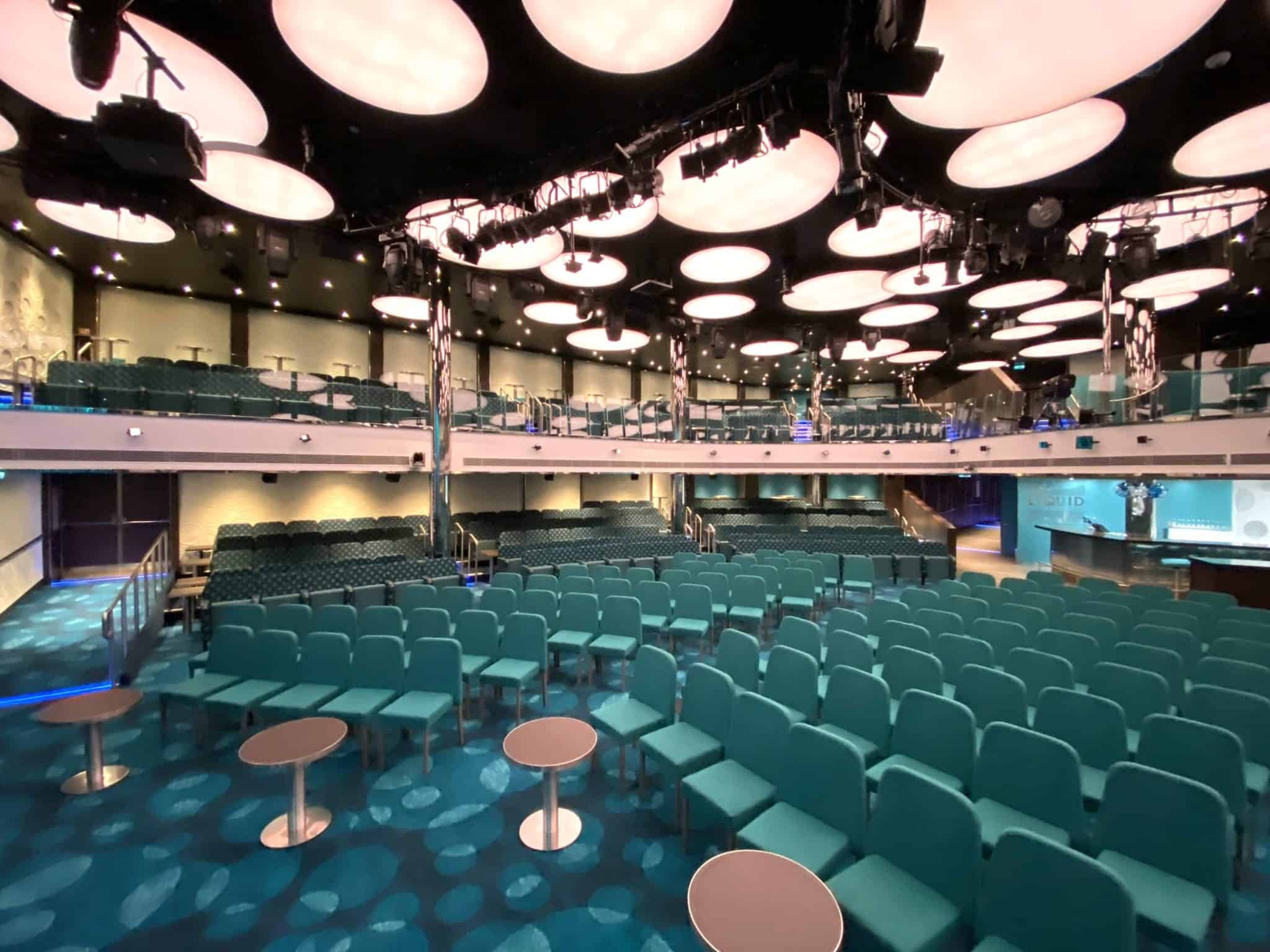 Like other Playlist Productions, the shows are jukebox musicals, making them more focused on a collection of songs than plot. Rock Revolution is a bit more of a "spectacle", production-wise, as it incorporates drones and live musicians.
The Limelight Lounge on deck four is a smaller theater that is home to the Punchliner Comedy Club and nightclub. During the course of a typical sailing, the space is also used to host a variety of activities, including karaoke.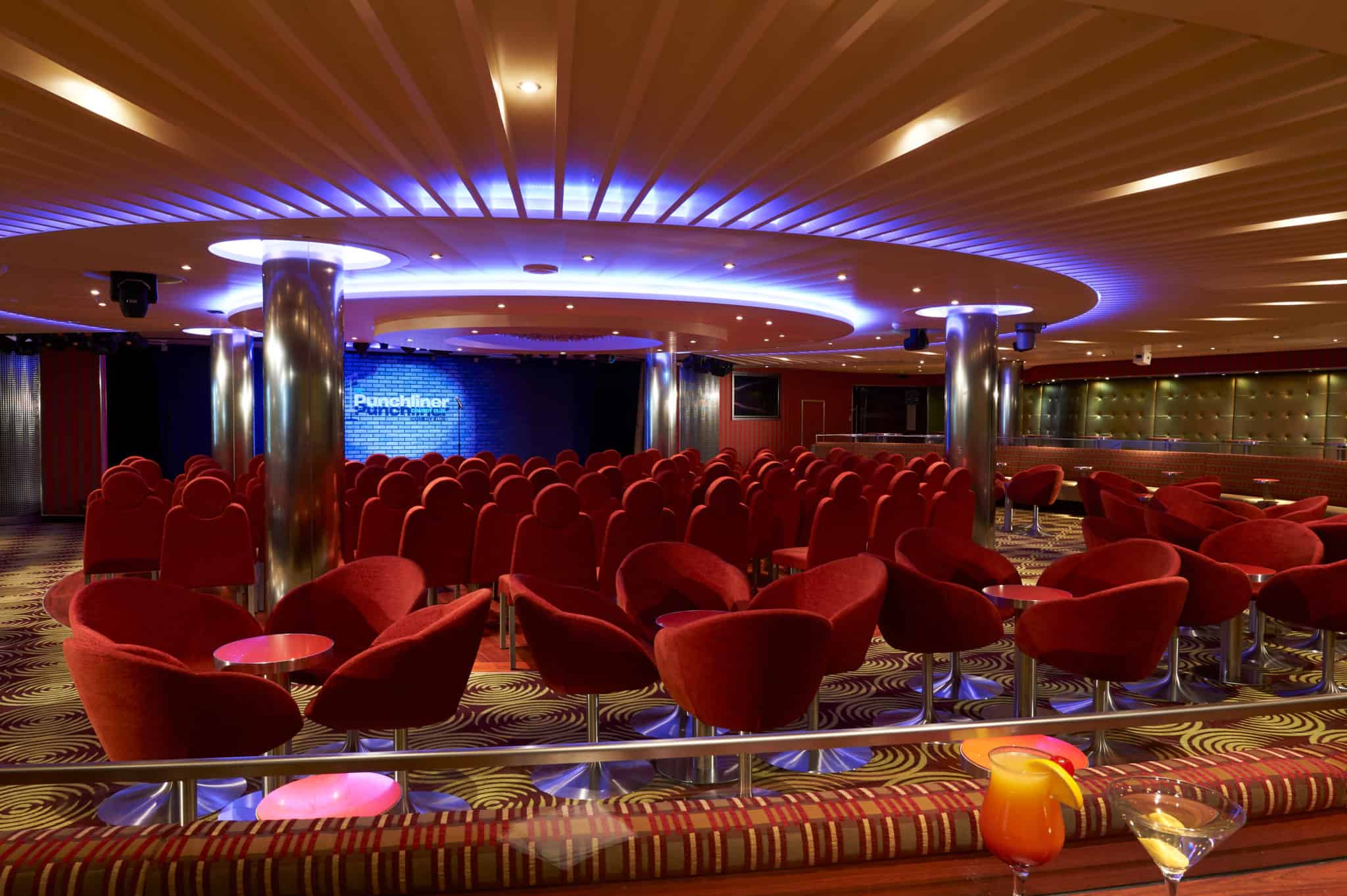 The casino has a wide selection of slot machines and table games, both electronic and with live dealers. Right in the center of the casino is the bar, where you'll also find a smaller (but still impressive and hypnotic) version of the LED Dreamscape centerpiece which anchors the atrium.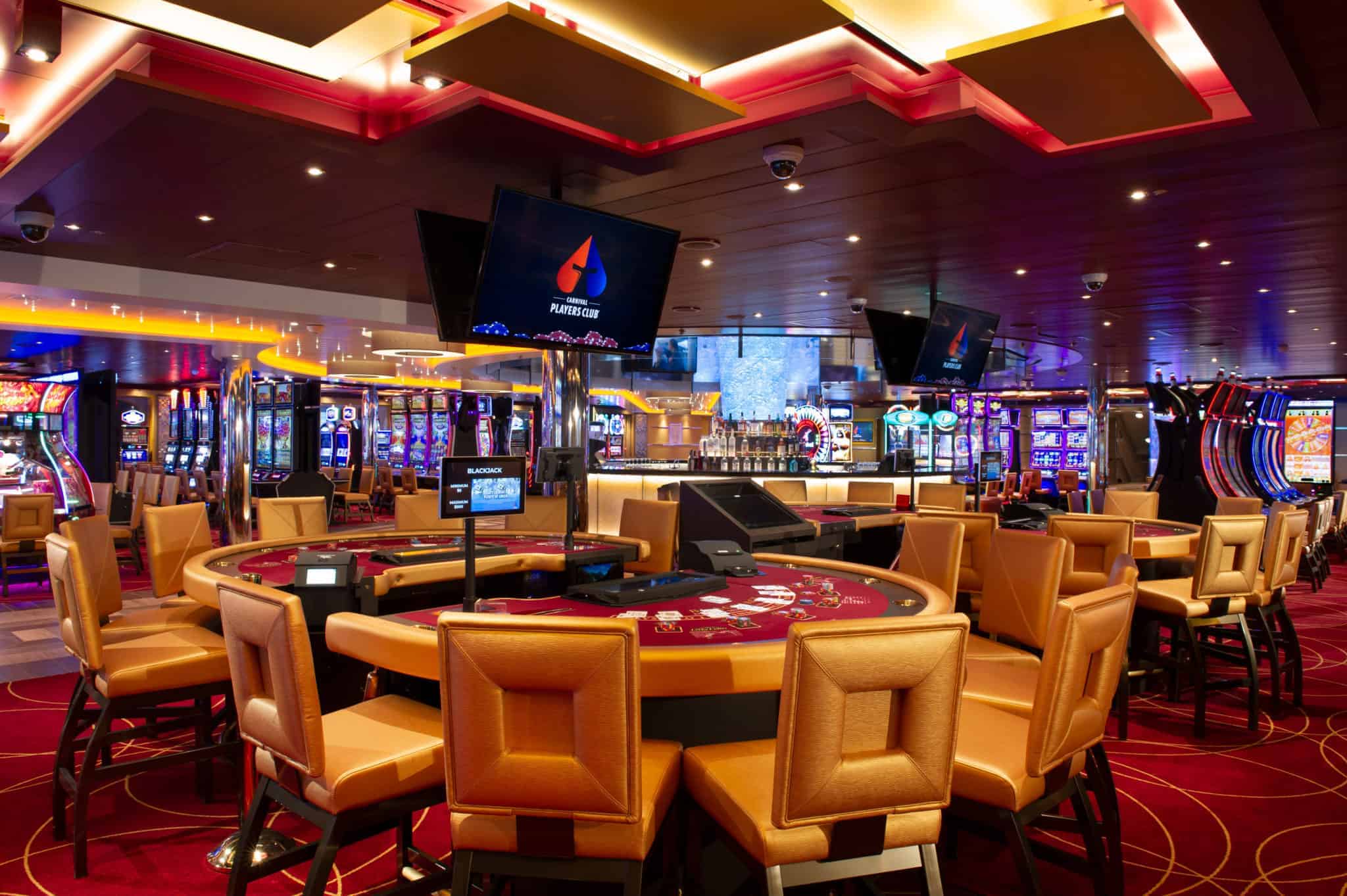 As on the Carnival Horizon, The Pig and Anchor Smokehouse & Brewhouse is a popular venue, especially once the sun begins to set.
Whether you're looking for great BBQ, specialty cocktails or live music, this is sort of your one-stop-shop. More than a few people stop in for a quick drink and wind up staying until the wee hours.
READ MORE: Carnival Debuts Heroes Tribute Bar
In a first for Carnival, The Heroes Tribute Bar honors those who served and serve in the Armed Forces with unique cocktails and a color scheme that could only be described as patriotic.
While this did replace the SkyBox Sports Bar, you'll still find wall-to-wall TV screens and the sports ticker to keep you up to date on your favorite teams.
Another place that really gets going in the evening is The Havana Bar. Don't be confused by the name… this popular spot is open to all guests all the time.
During the day, it mostly handles overflow from the Lido Marketplace and other dining venues. But at night, this Latin-inspired bar serves up Cuban cocktails and the kind of music that even those of us with two left feet can't help shaking our groove thing to.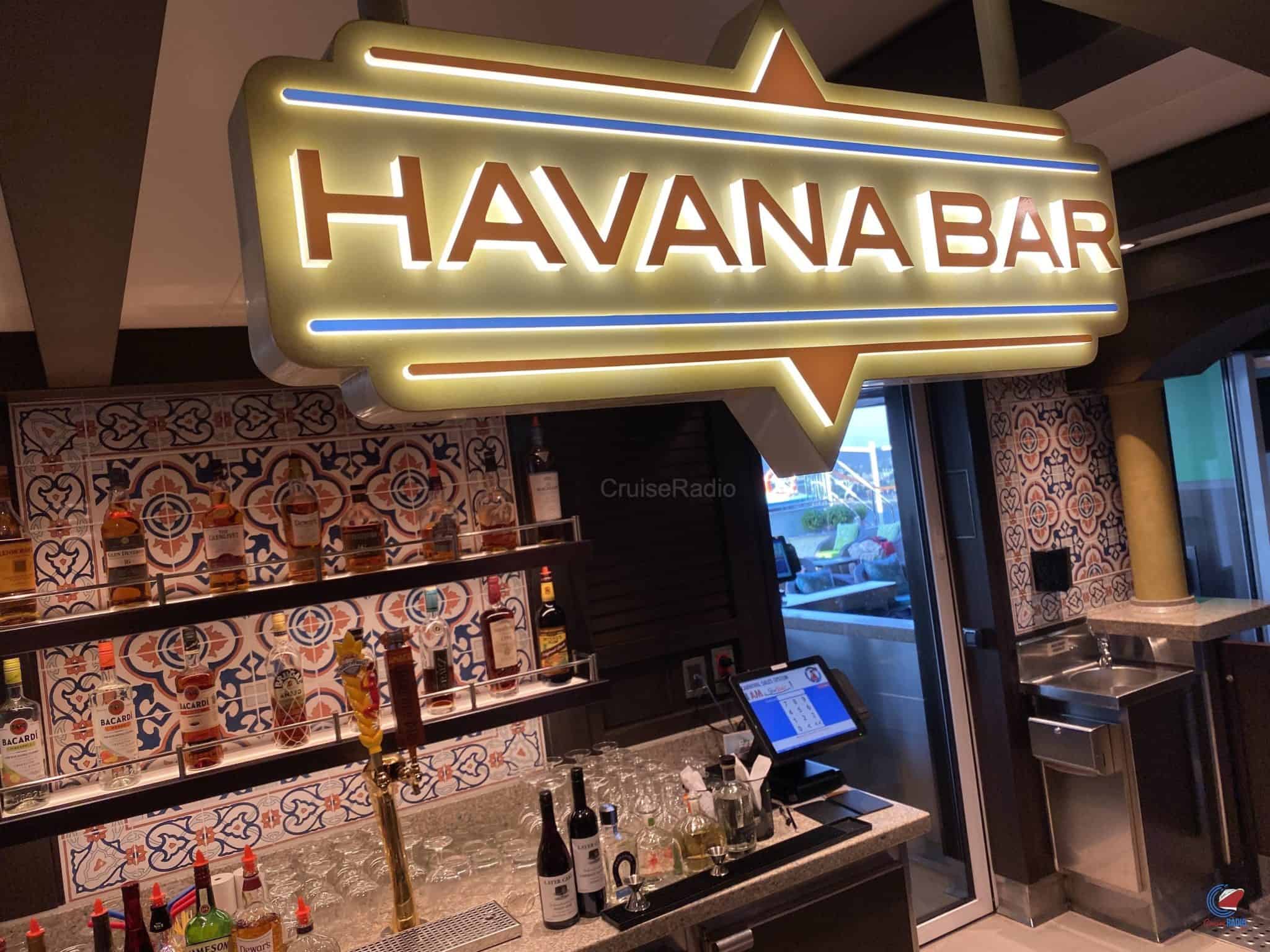 If you have the CHEERS! drink package, one thing you won't have to worry about is finding a place to use it. From the poolside of RedFrog Rum and BlueIquana Tequila bars to the Library Bar and Piano Bar 88, there are over a dozen different watering holes.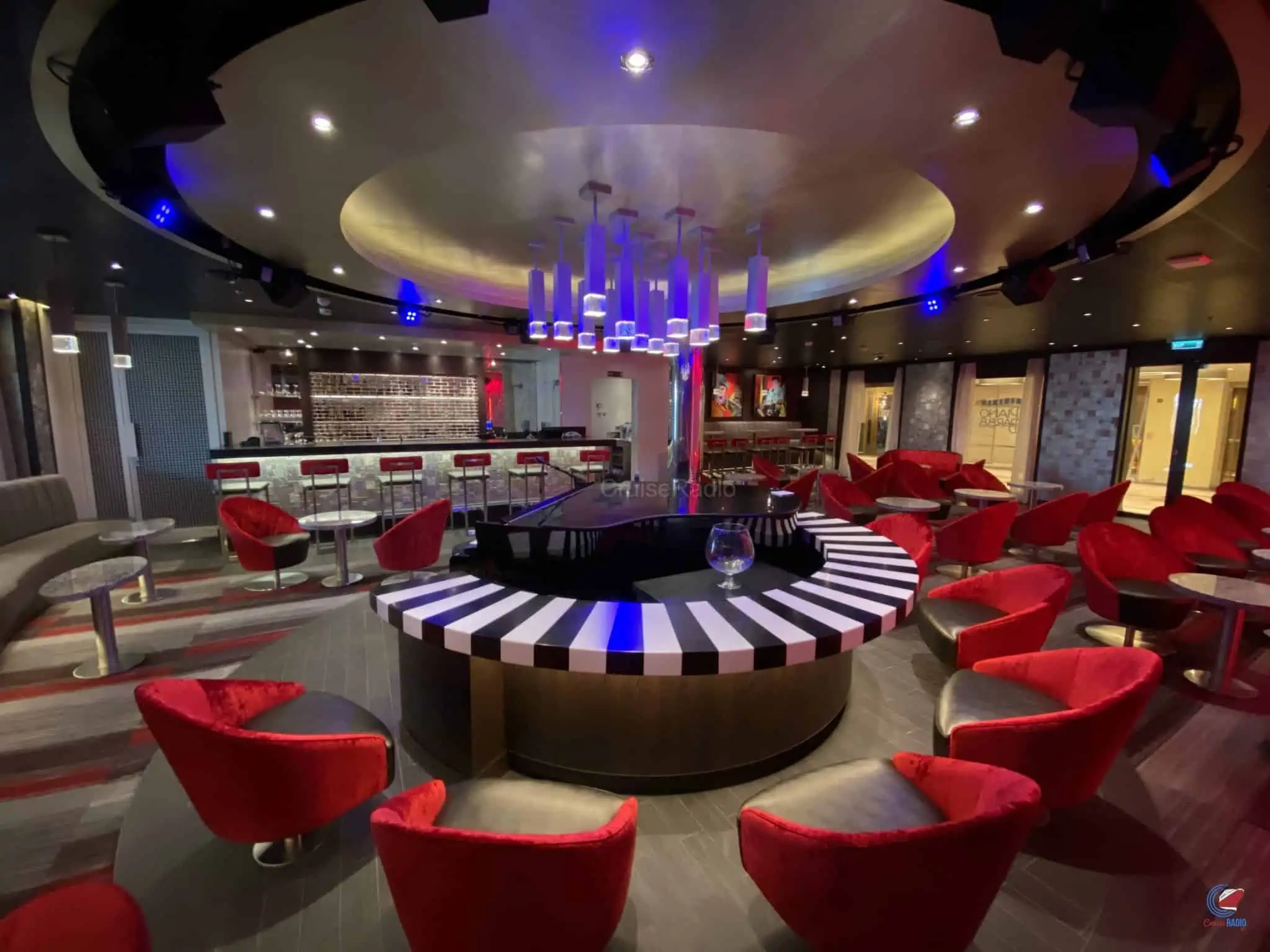 Our personal favorite? The Alchemy Bar, where specially trained mixologists whip up "the cure for what ails you."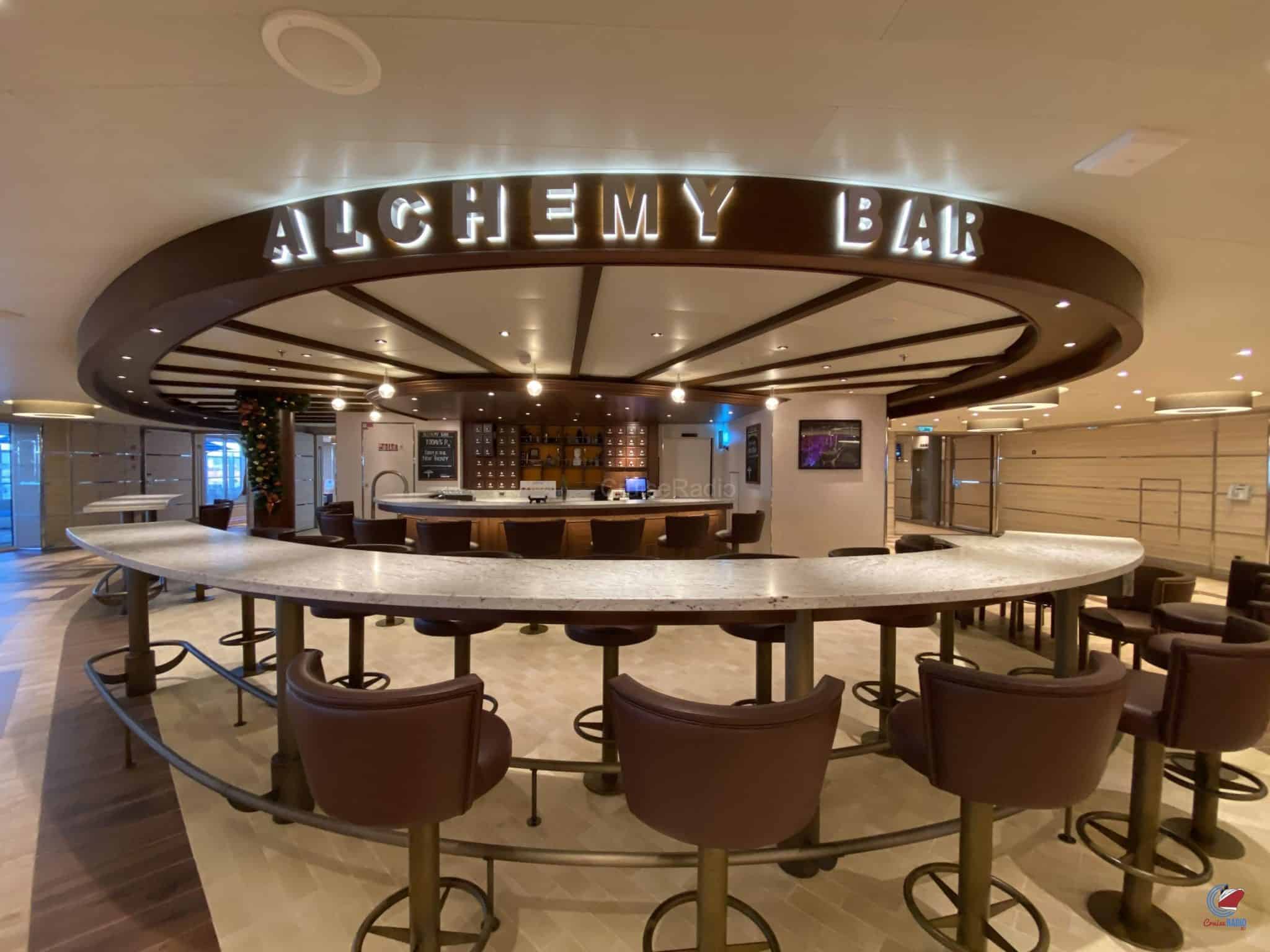 Smoking wise, the casino is the only spot indoors where guests can light up. Outside, guests can smoke on deck 11, starboard side, aft, and deck five, starboard side, forward.
If you're sensitive to smoke, you may want to consider taking deck five to the Heroes Tribute Bar or the Limelight Lounge to avoid having to walk through the casino.
Dining
Carnival Panorama has two main dining rooms, each of which features the same menu and offers both traditional and anytime dining times.
READ MORE: Menu Guide to Carnival's Main Dining Room
The Horizon dining room is located on deck 3, while The Vista dining room spans the aft section of decks three and four.
Both serve pretty traditional cruise fare, and there's a special section of the menu devoted to dishes representing the port you're sailing into or out of. With the ship being based in Long Beach, California and sailing to the Mexican Riviera, there is likely to be a Mexican influence on the menu.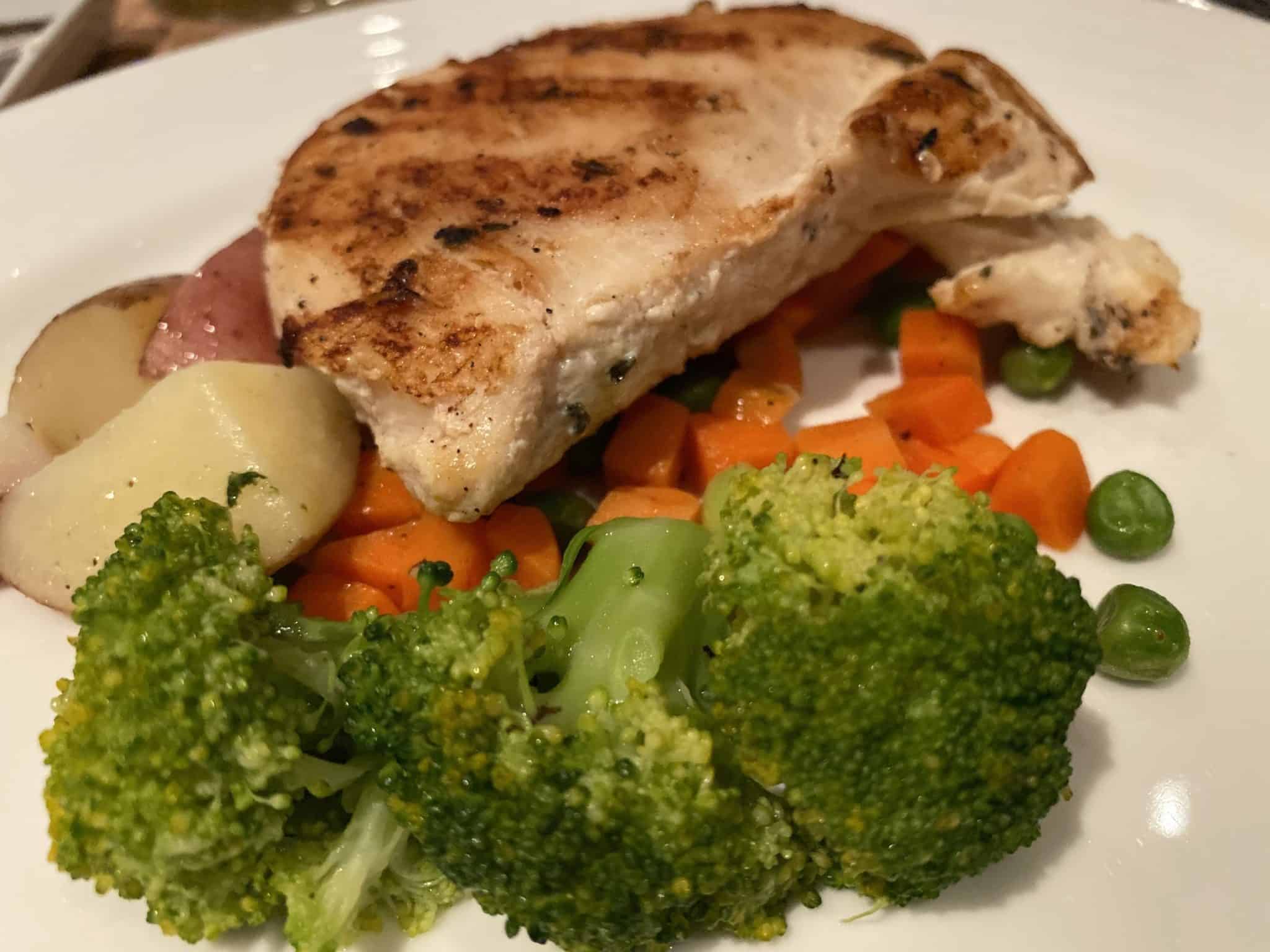 Carnival now allows you to check-in for Your Time Dining on the Carnival Hub app. This means that instead of standing in line, you can simply request a table on the app and receive a notification on your phone when the table is ready.
Based on the nightly lines of people waiting for a table assignment, it's clear that many don't realize this option is available to them.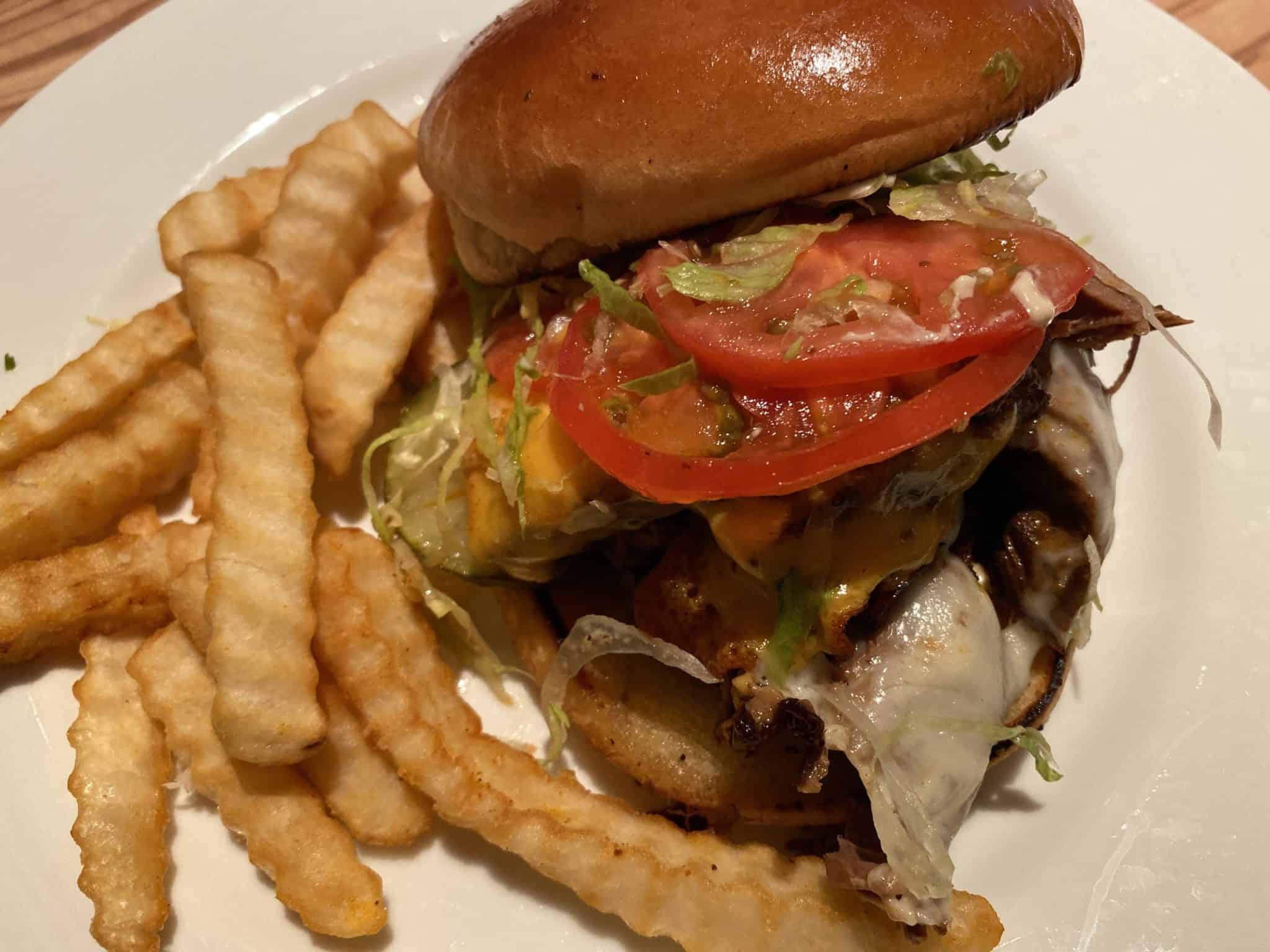 During the ship's Fun Day at Sea, a special Sea Day brunch is served in the main dining room. The massive menu offers everything from breakfast favorites to classic lunch dishes.
Although you will find a selection of items that come with an additional fee, the vast majority of items are free of charge.
Lido Marketplace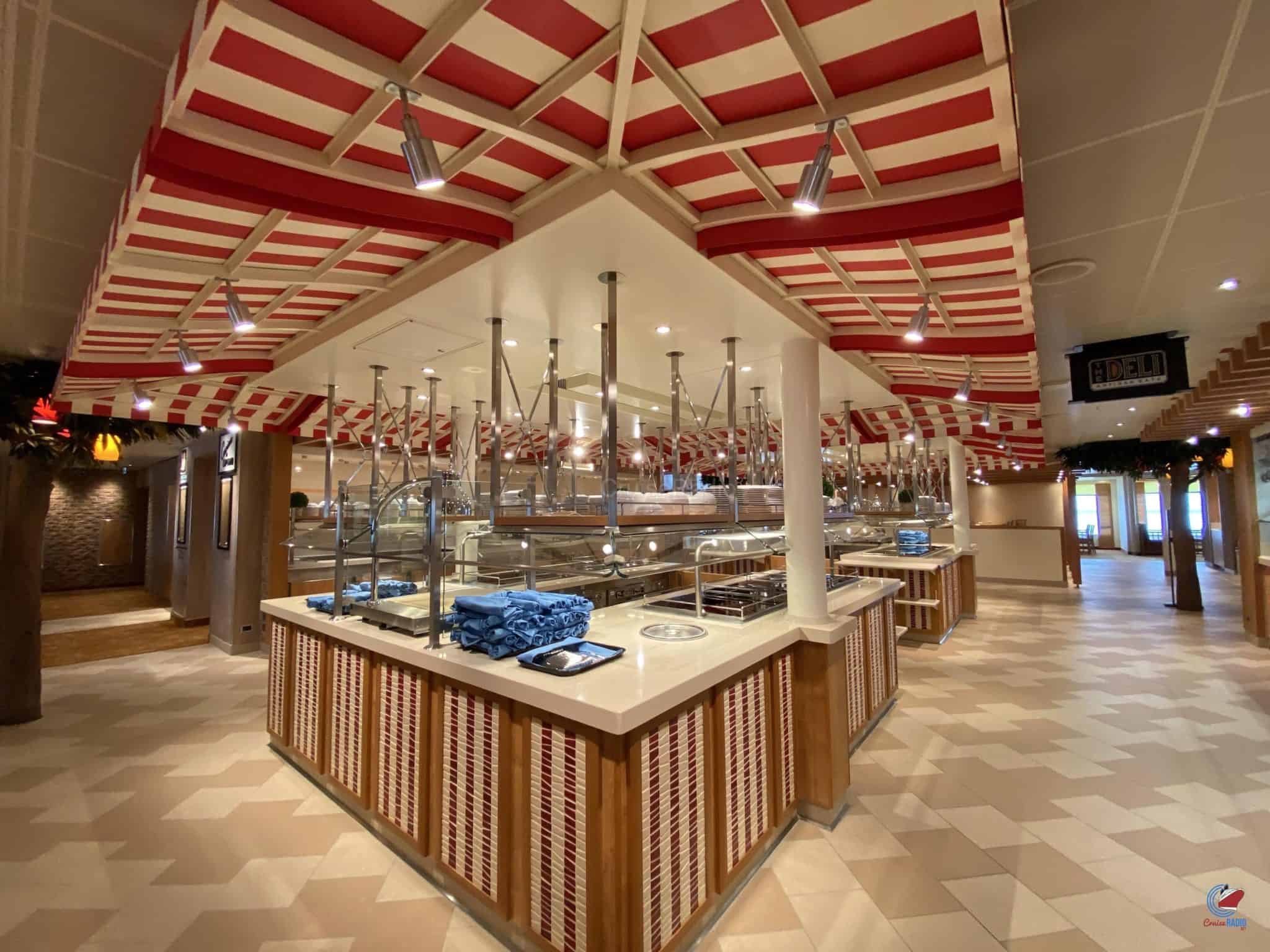 Located on deck 10 is the buffet where guests will flock in the morning and for lunch. The buffet has two sections that basically mirror one another.
You'll find a nice sized salad bar, meat carving station, your basic hot dishes, a dessert station, the Carnival Deli, ice cream machines, and a complimentary gelato stand.
Seating in the Lido Marketplace is plentiful, basically forming a giant rectangle around the food stations. There are also tables set up by both the midship and aft pools.
Two of the more popular dining spaces onboard, Guy's Smokehouse Brewhouse and Guy's Burger Joint, are a result of Carnival's relationship with celebrity chef Guy Fieri.
The Smokehouse serves complimentary BBQ on embarkation day and on sea days until 2:30 pm, while the Burger Joint is open every day until 6:30 pm.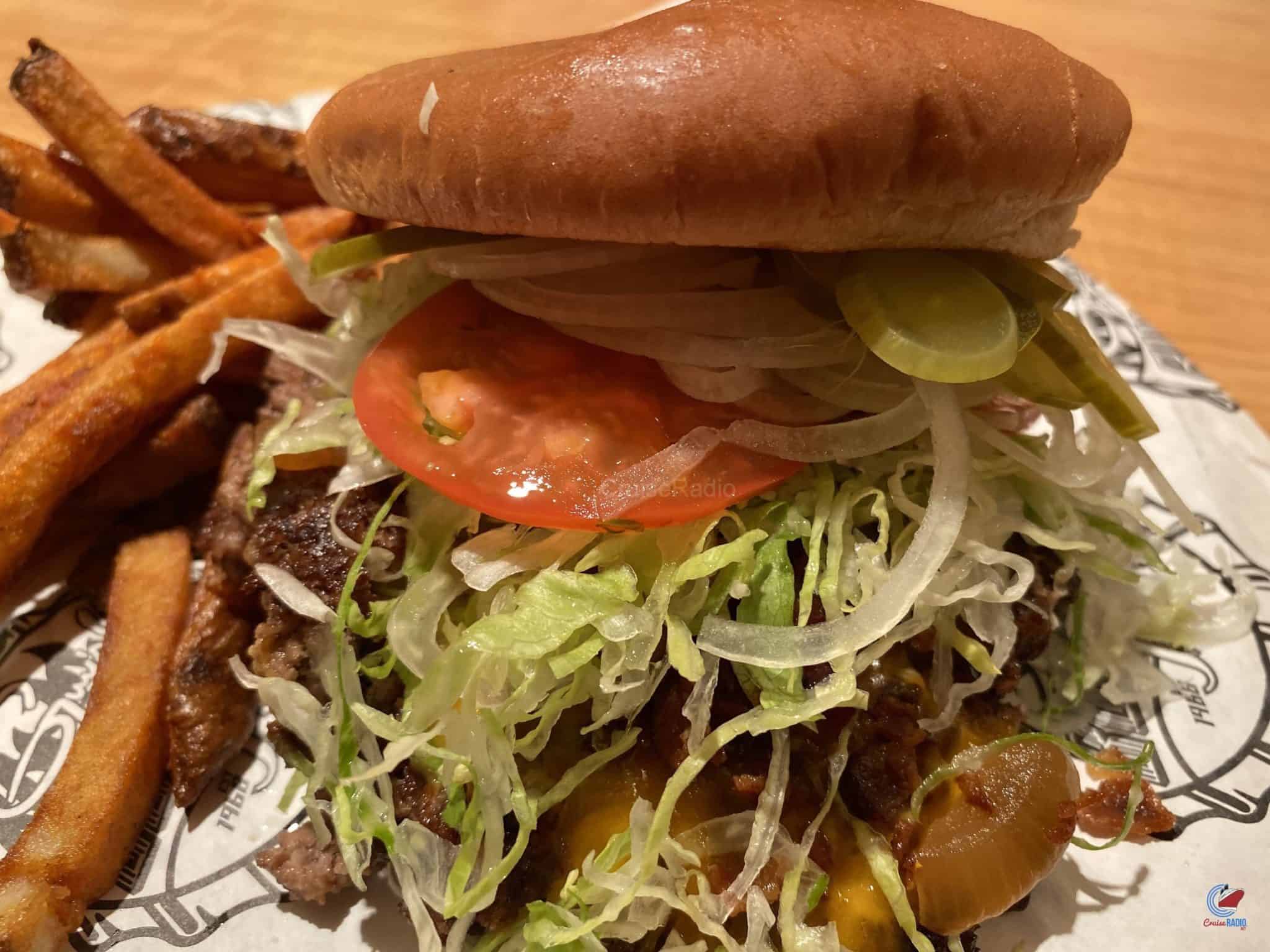 The BlueIguana Cantina is located just opposite of the Burger Joint and serves up burritos, tacos, and taco salads. In the morning, make sure to drop by for a breakfast burrito, arepas, or huevos rancheros.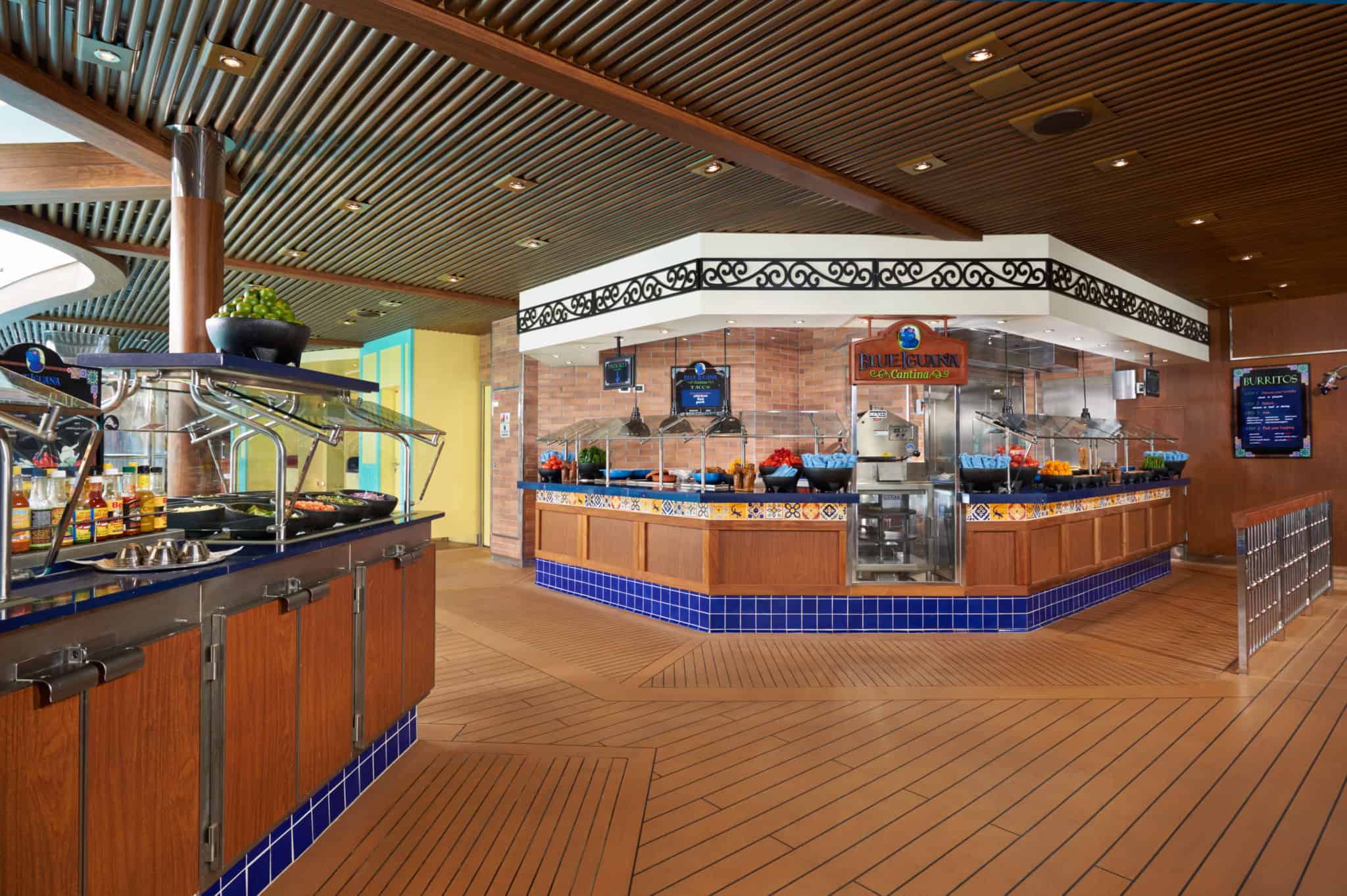 Both the Pizza del Capitano and Seafood Shack are located on deck 10 aft. The pizza place is complimentary with the option to have it delivered anywhere on the ship, via the Carnival Hub App, for a $5 charge.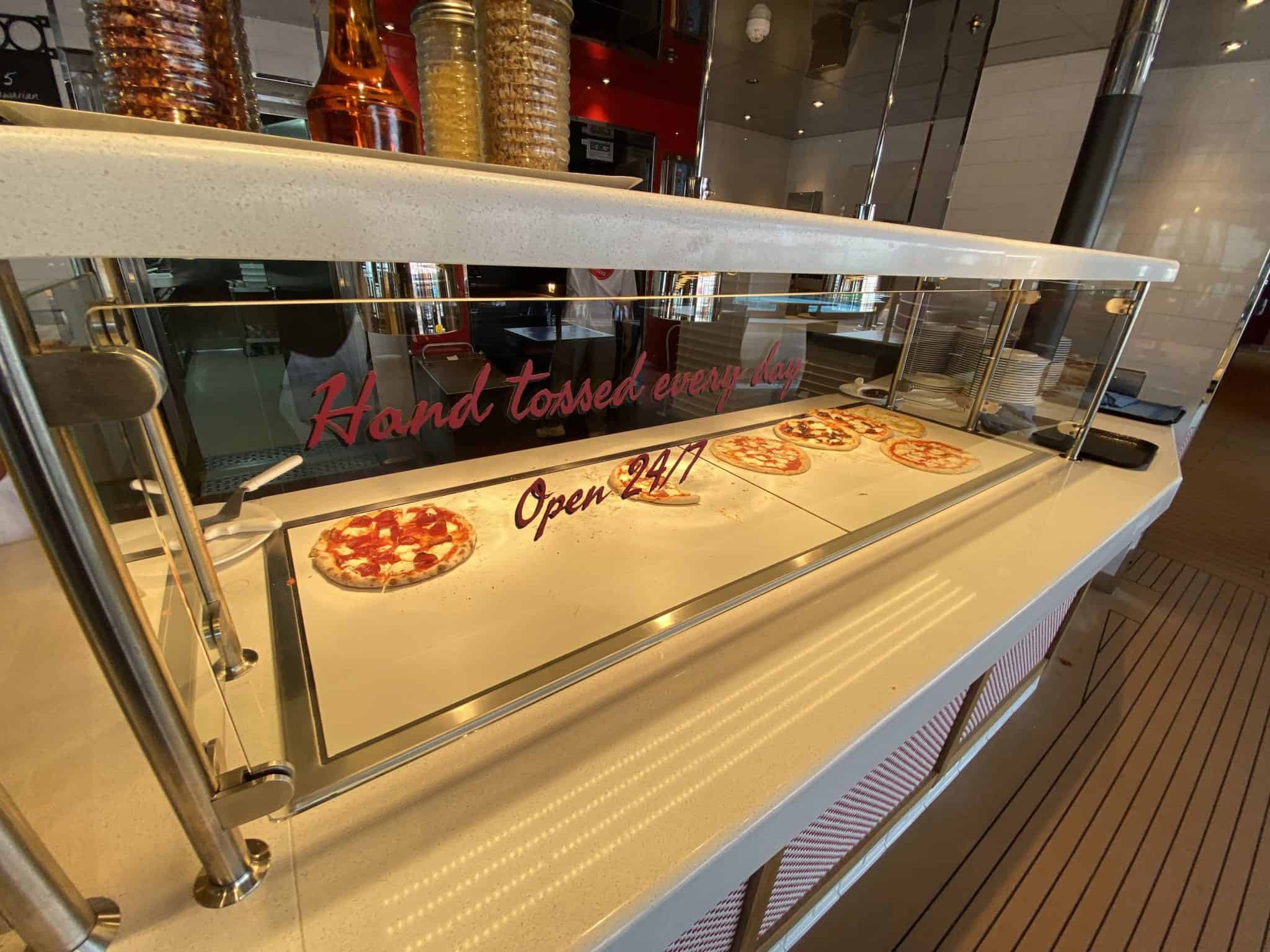 The Seafood Shack is reminiscent of a New England style eatery with favorites like the lobster roll, steamed crab legs, and shrimp baskets with fries. Pricing here is ala carte.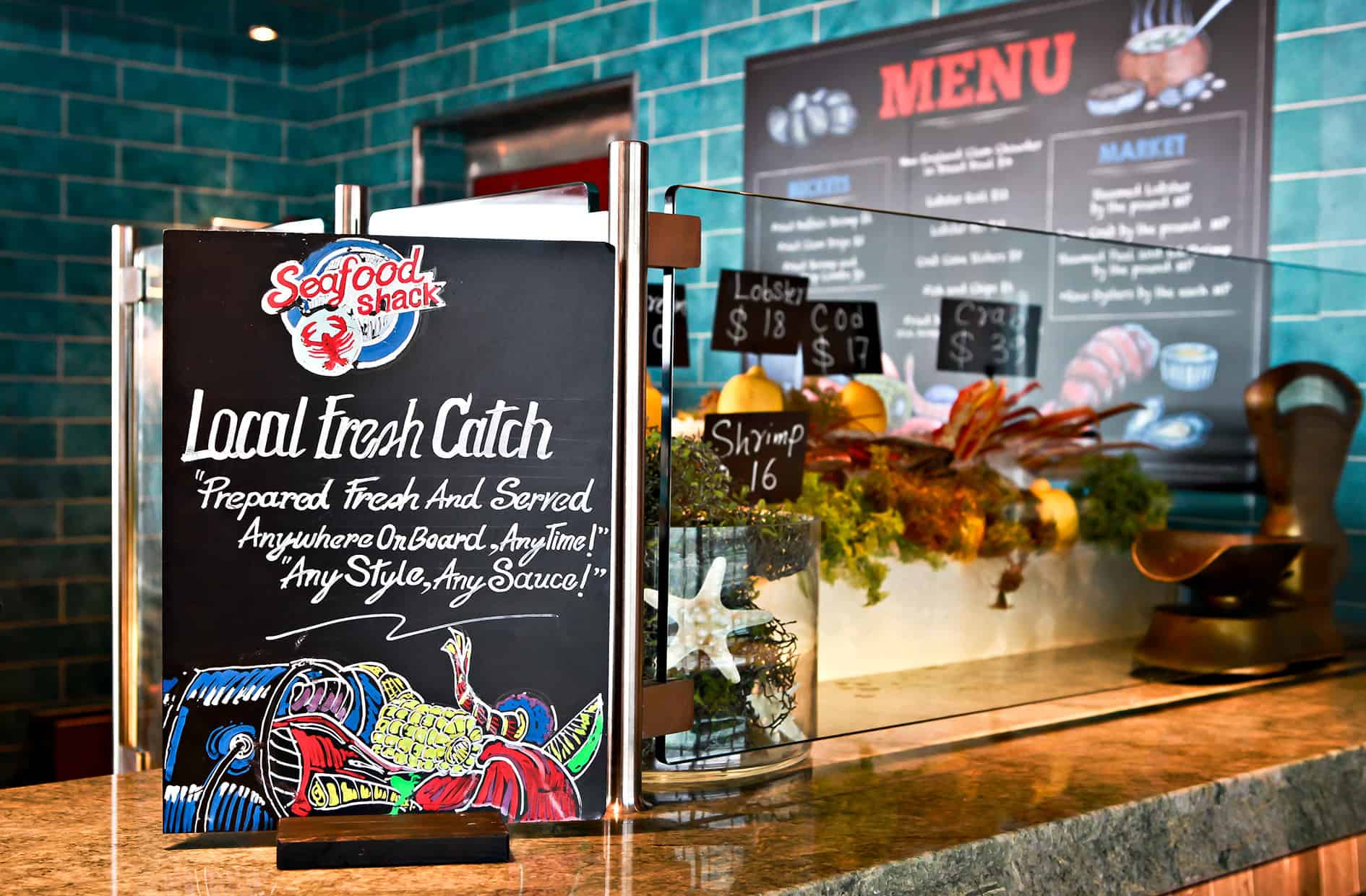 Carnival staples such as Bonsai Sushi (a la carte), Fahrenheit 555 Steakhouse ($38 per person), Cucina del Capitano ($15 per person), and JiJi Asian Kitchen ($15 per person) are also found on board.
Activities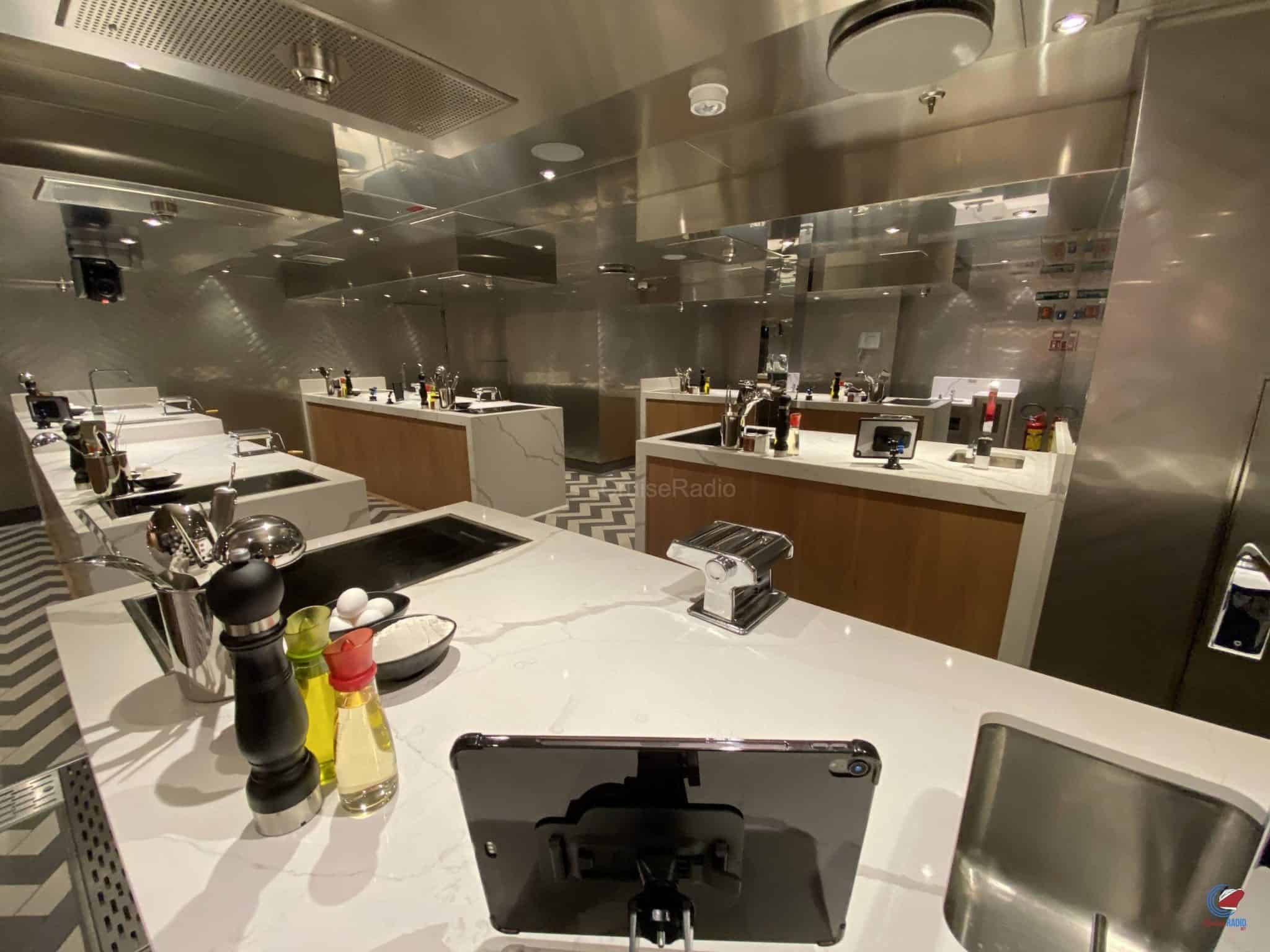 Brand new to Carnival Cruise Line is Carnival Kitchen, a hands-on culinary studio which allows guests to try their hand at making some of the line's most popular dishes.
Members of the onboard culinary team lead a wide variety of classes including pizza or cupcake making, great food for a tailgate party and more. They also offer longer classes after which you sit and enjoy a meal you've prepared.
READ MORE: Review – Carnival Kitchen on Carnival Panorama
Classes run between $39 and $59 per person, and they fill up quickly, so I'd advise looking to see what's offered and, if something strikes your fancy, sign up as soon as possible.
Sky Zone is another first for Carnival. This trampoline park allows guests to bounce their cares away in a 3,000 square foot play zone.
Guests can take part in an open-bounce session for an hour, during which you can dunk basketballs, climb a rock wall, test your coordination on a rope ladder, or take part in a friendly game of tug of war or jousting.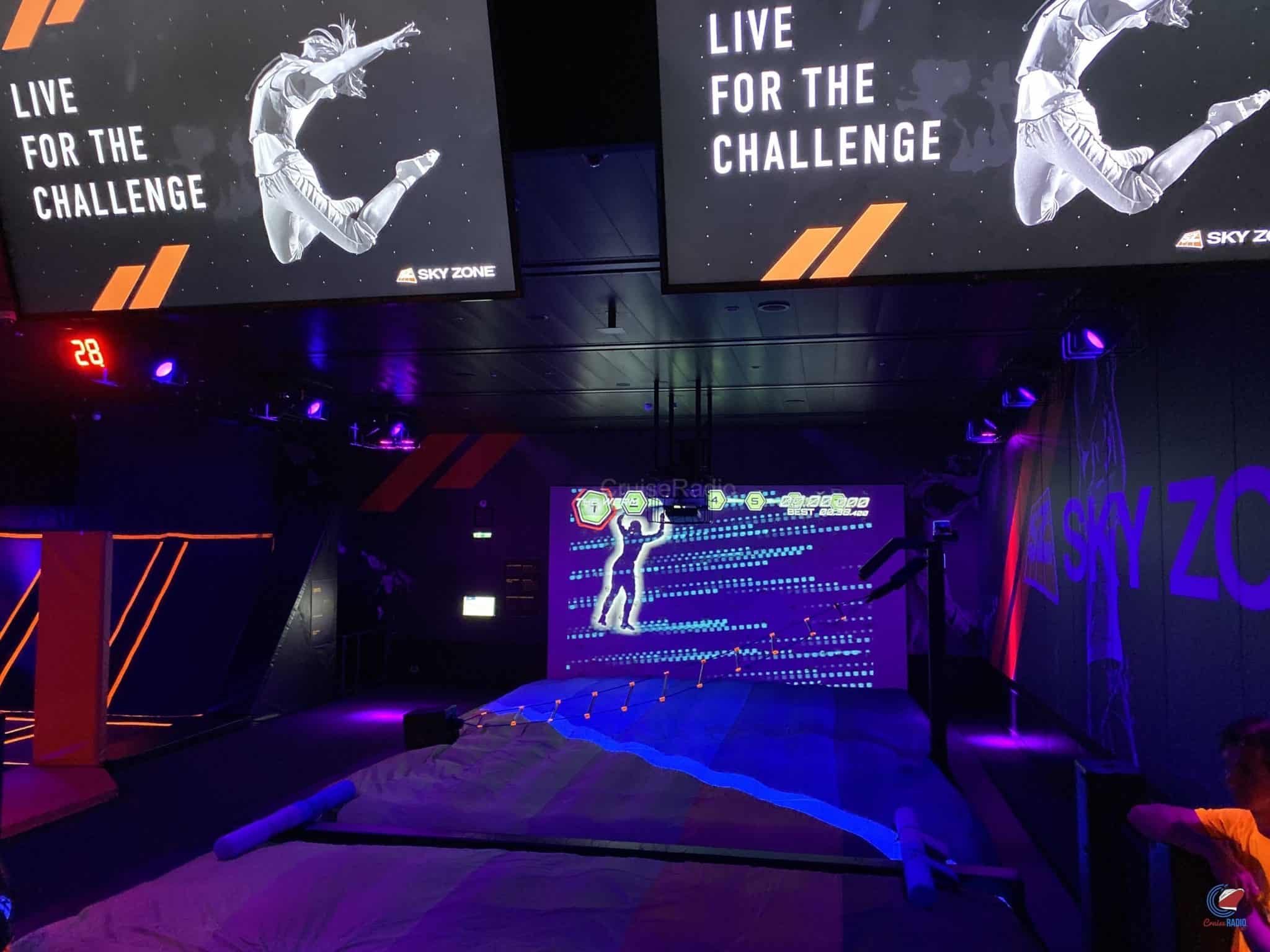 The open bounce session is $12 for an hour, while the glow party costs $18. If you're worried about your little tots, there are actually special sessions specifically for them and their accompanying adults.
Outside Decks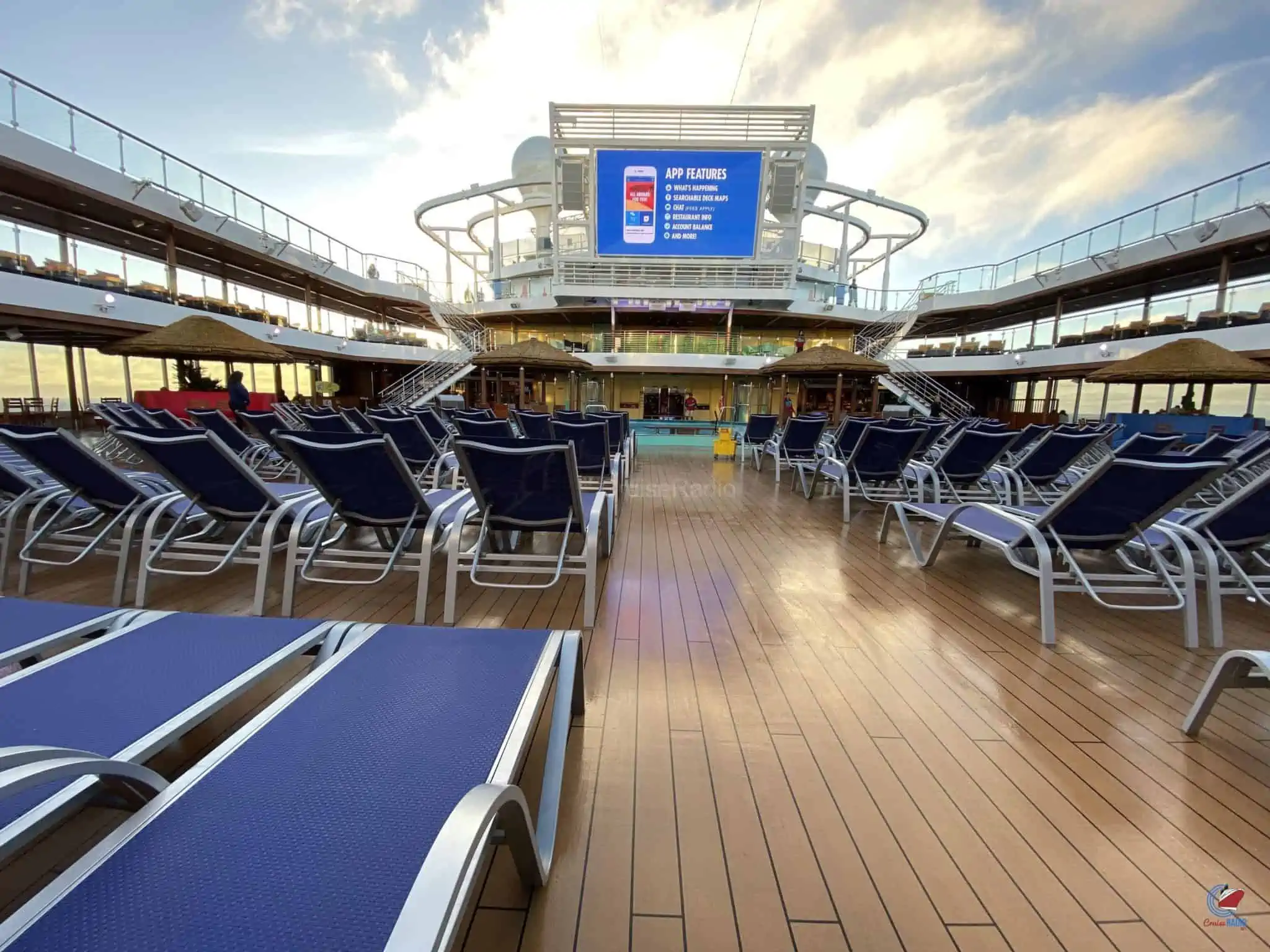 As with all the Vista-class ships, Panorama has plenty of outdoor areas where you can relax and really connect with the ocean. The midship beach pool on deck 10 has two shaded areas in which to sit and splash your feet while avoiding the direct sun.
There are plenty of loungers located around the pool as well as on the two decks that overlook the watering hole. And if you're hungry, you won't have to look far for food because Guy's Burger Joint and the BlueIguana Cantina are both located poolside.
The aft pool on deck 10 is nice in that it offers not only killer views, but also a respite from the more crowded (and more boisterous) main pool. It has hot tubs on either side, making it the perfect spot to head for a soak, especially on a sea day.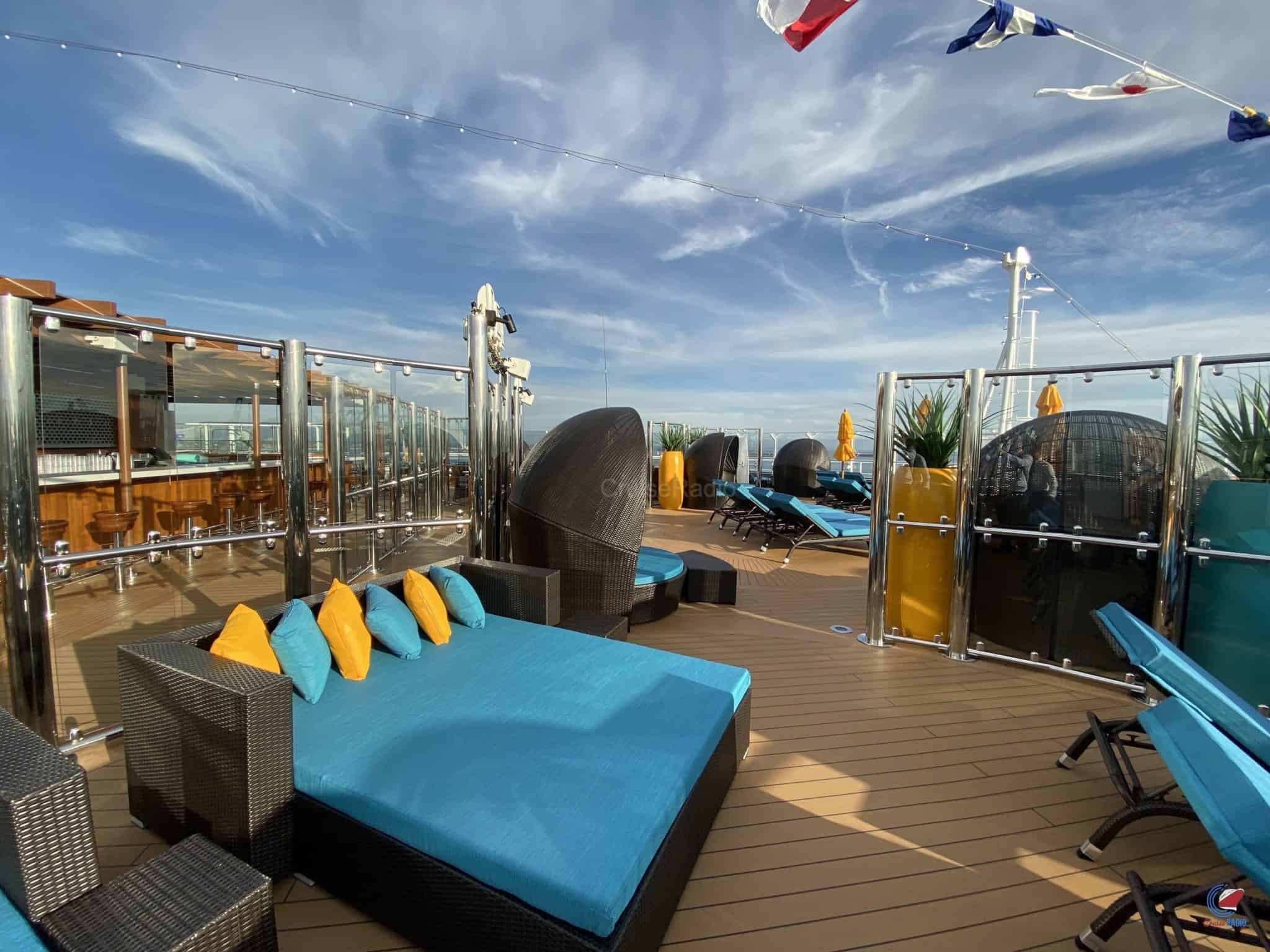 As I mentioned earlier, Carnival is proud to carry more families than any other line. But at the same time, they recognize that sometimes, you need a little adults-only time. The Serenity area provides that escape for the 21-and-over crowd, with lots of loungers and daybeds, two oversized hot tubs and, of course, the Serenity Bar.
Up on deck 14, you'll find SportSquare, aka the place to go if you want to burn off some calories (or help your kids burn off some energy). There's a ropes course, some work out equipment, a jogging track, a mini-golf course and more. This is also where you'll find one of the more popular outside attractions, the SkyRide. This suspended bike has you pedaling along a track over 150 feet above the ocean.
Cloud 9 Spa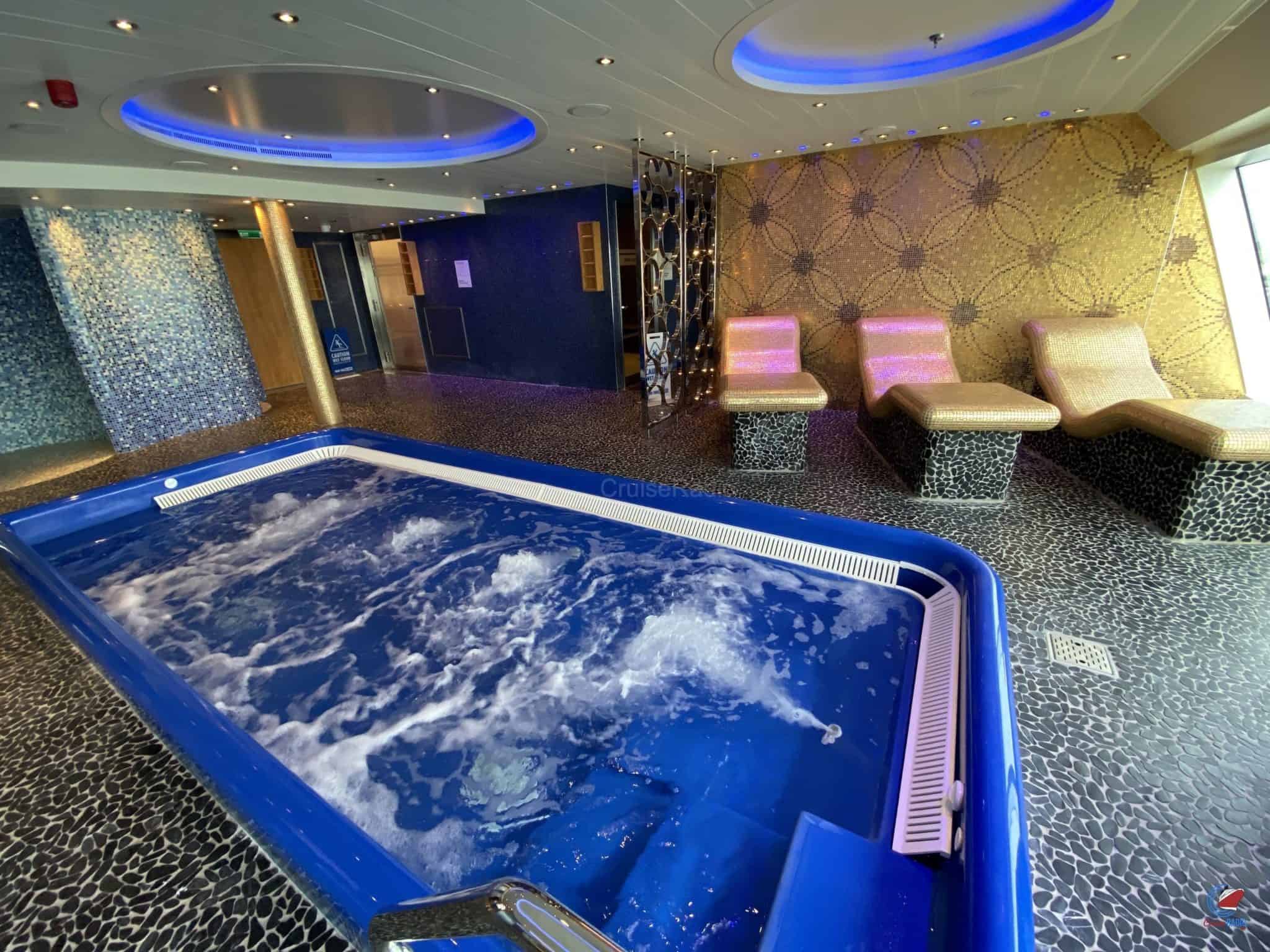 Within the two-deck Cloud 9 Spa, you'll find treatment rooms, a salon, a fitness center, and a thermal suite.
The Cloud 9 Spa offers your typical menu of services such as facials, body wraps, massages, anti-aging treatments, and even Botox injections. The salon onboard offers pedicures, manicures, hair styling, and hot shaves.
One of the popular spots on Carnival Panorama is the thermal suite within the Cloud 9 Spa. Here you'll find both dry and steam heat chambers, a mineral pool and heated loungers.
This is the ultimate spot for rest and relaxation during sea days. You can buy a day- or week-long pass for the thermal suite. Keep in mind it's capacity controlled so only a certain amount of passes will be sold per voyage or day.
Kids and Teen Spaces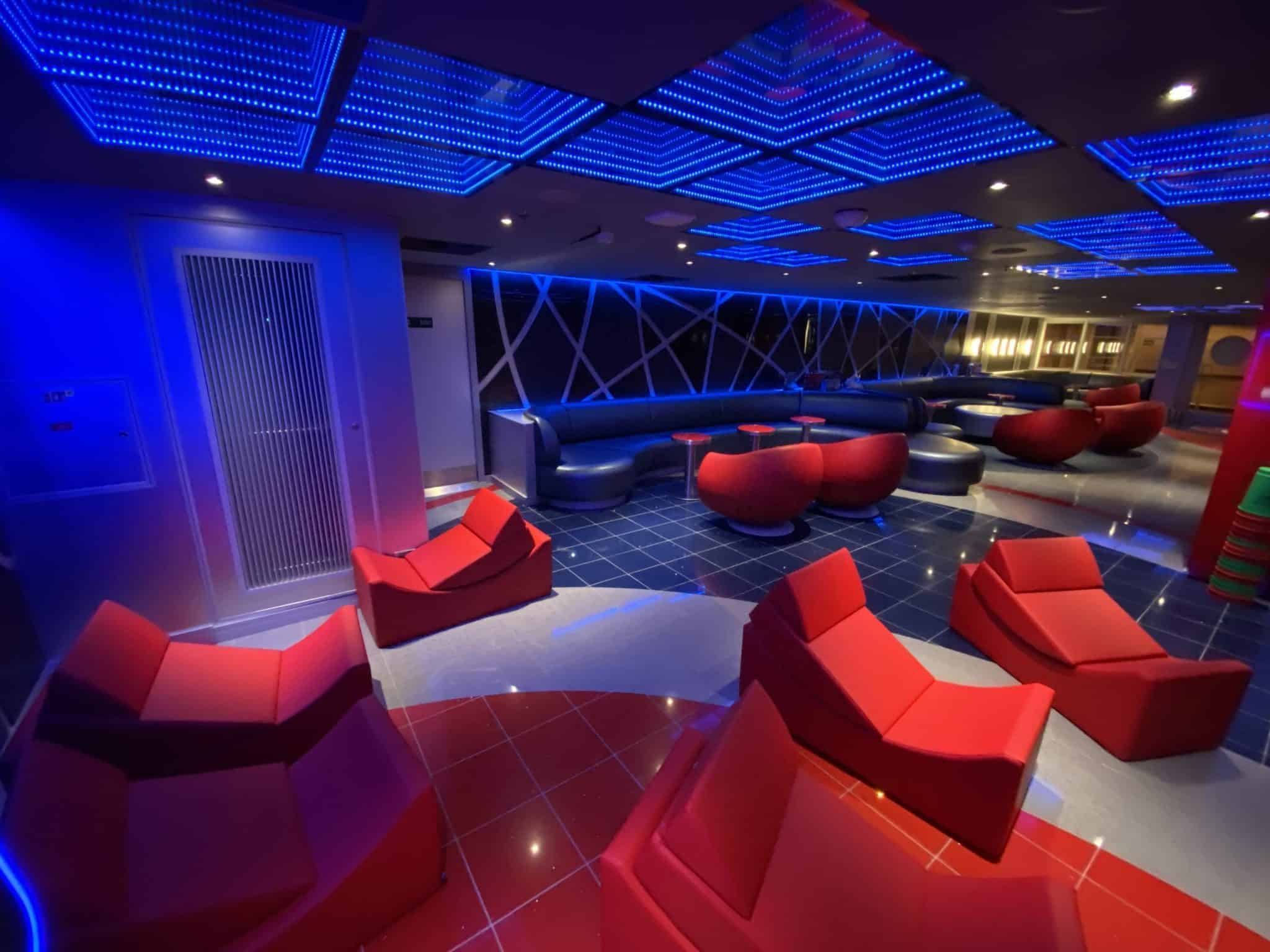 Camp Ocean kids club is dedicated to kids ages two to 11, while Circle C is for the 12-14 year olds and Club O2 is for the 15-17 set. Each offers age-appropriate activities, and is run specially trained youth program members and counselors.
With Carnival being a cruise line dedicated to families, it's not surprising that their various programs routinely receive high marks, especially from the people who matter most: the young guests and their parents.
Final Thoughts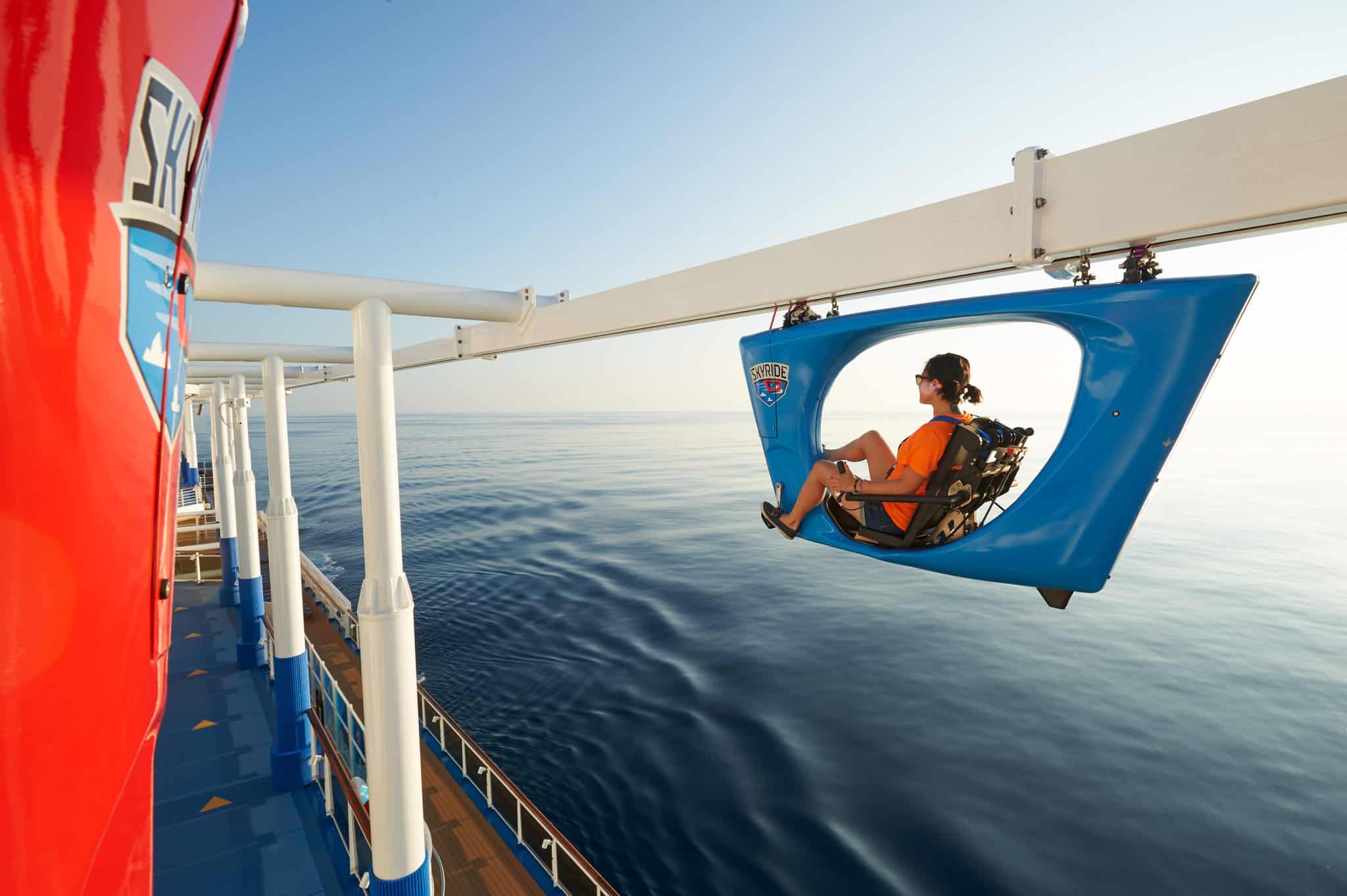 Vista-class ships have proven popular since their inception, and Carnival Panorama is a great addition to the lineup.
Additionally, because this is the first newly-built ship they've based on the West Coast in over two decades, it means Californians (and those from the surrounding areas) will have an opportunity to experience one of the biggest ships in Carnival's fleet without having to venture too far away from home.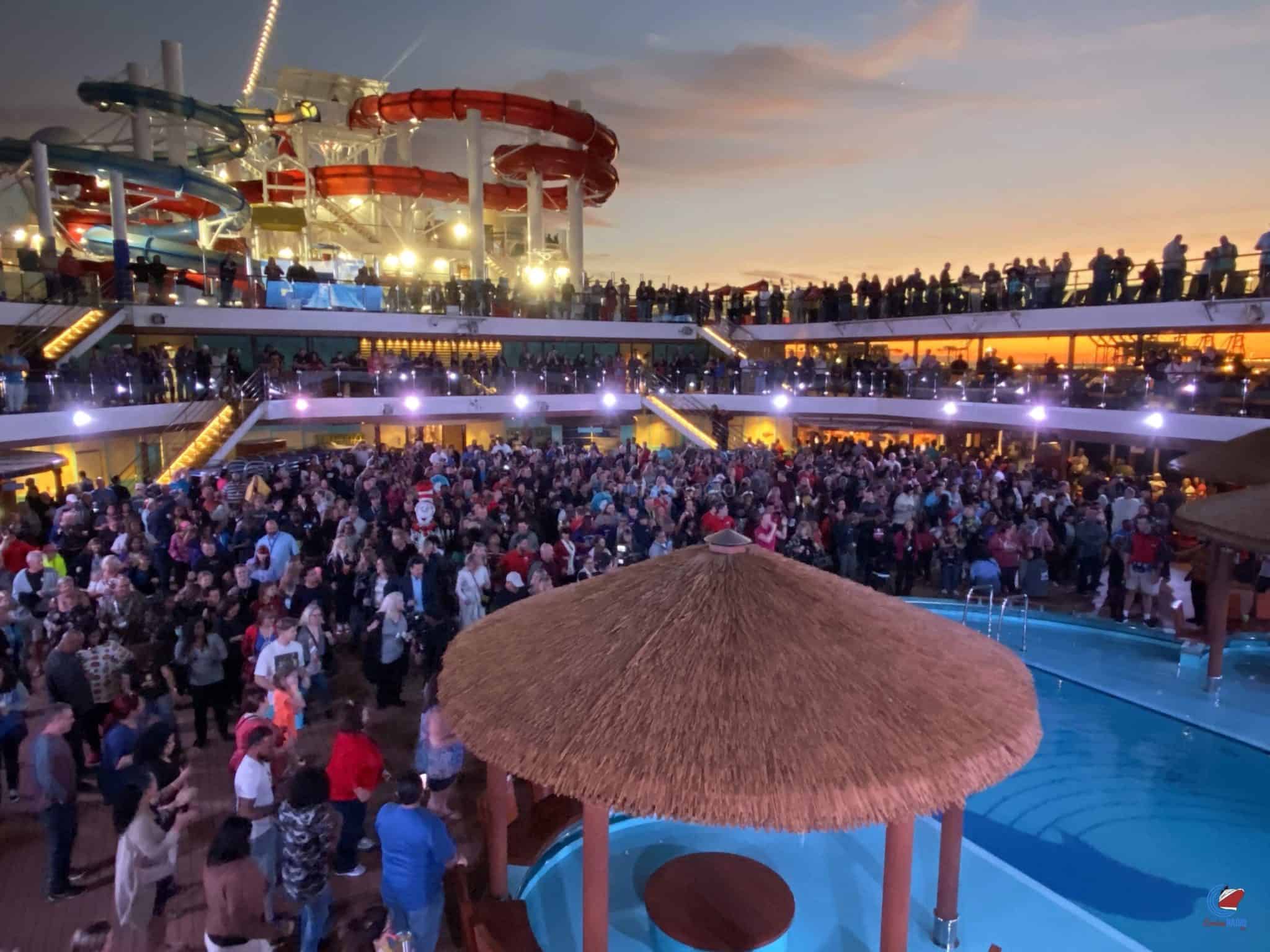 Panorama is a ship for those who are looking to experience as much as possible while on a cruise. If there are people for whom this wouldn't be a great fit, it's probably those looking for something a bit more intimate or low-key. Panorama is big and exciting and bold, but if there is one thing it's not, it's low-key.
The ship excels at giving Carnival cruisers everything they've come to expect while adding a few new twists, such as the Carnival Kitchen and Sky Zone trampoline park.
Carnival Panorama is sailing year-round seven-night Mexican Riviera voyages to Cabo San Lucas, Mazatlan, and Puerto Vallarta.
Carnival Panorama Tour (2019)