Today's sea day aboard the MSC Meraviglia started with a three-mile run in the gym. I'm planning to run a marathon next spring and with my schedule, I had to start the training program really early.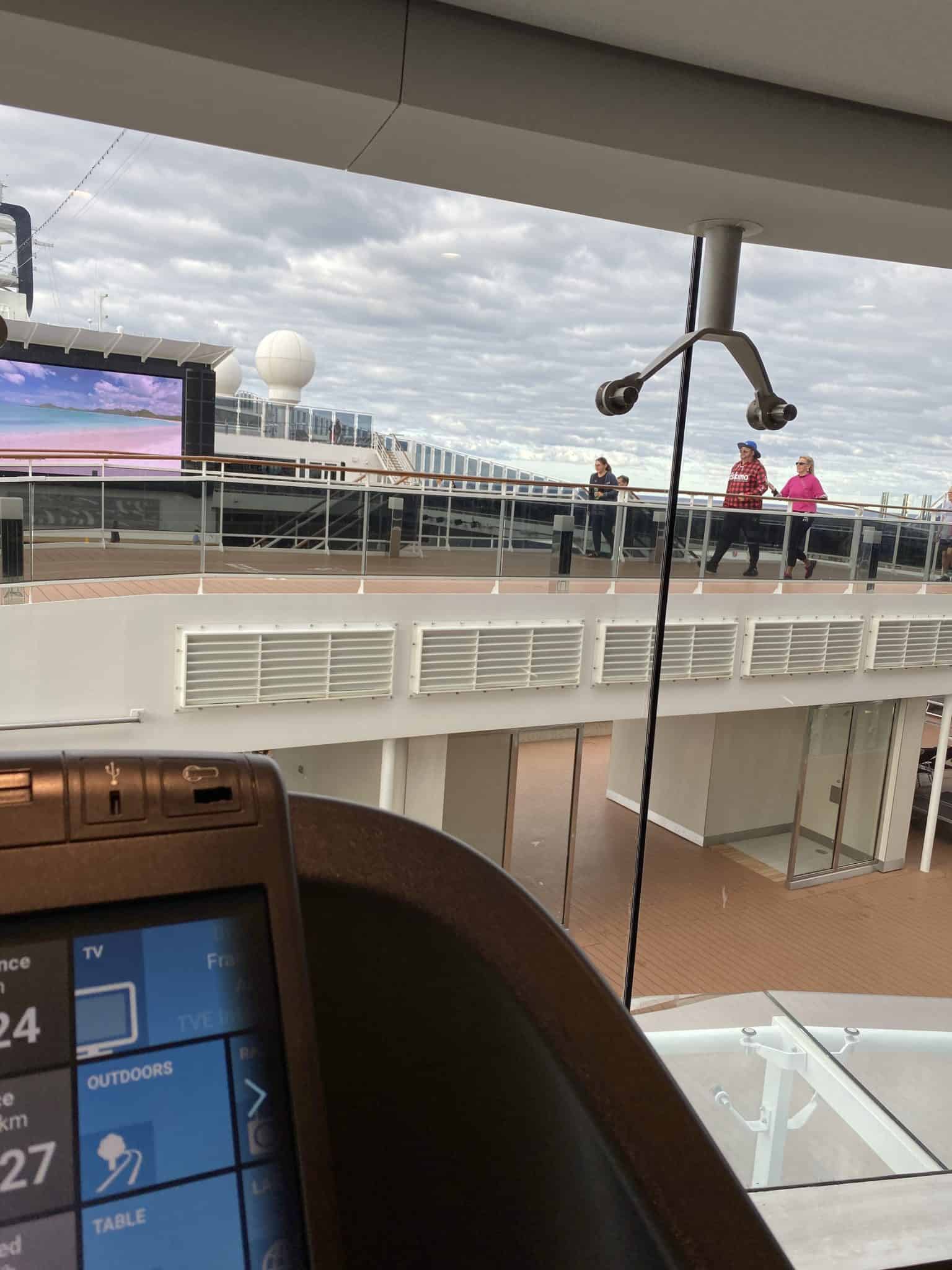 For some reason the treadmills only let you run for 25 minutes and then there's a hard stop. Kind of annoying for someone who wants to run for an hour. To be fair, you can break it up. It could be a capacity thing.
We took a stroll by the buffet this morning before deciding to go check out the main dining room before it closed. Breakfast-wise, The Waves Restaurant on deck five is the alternative place to have breakfast.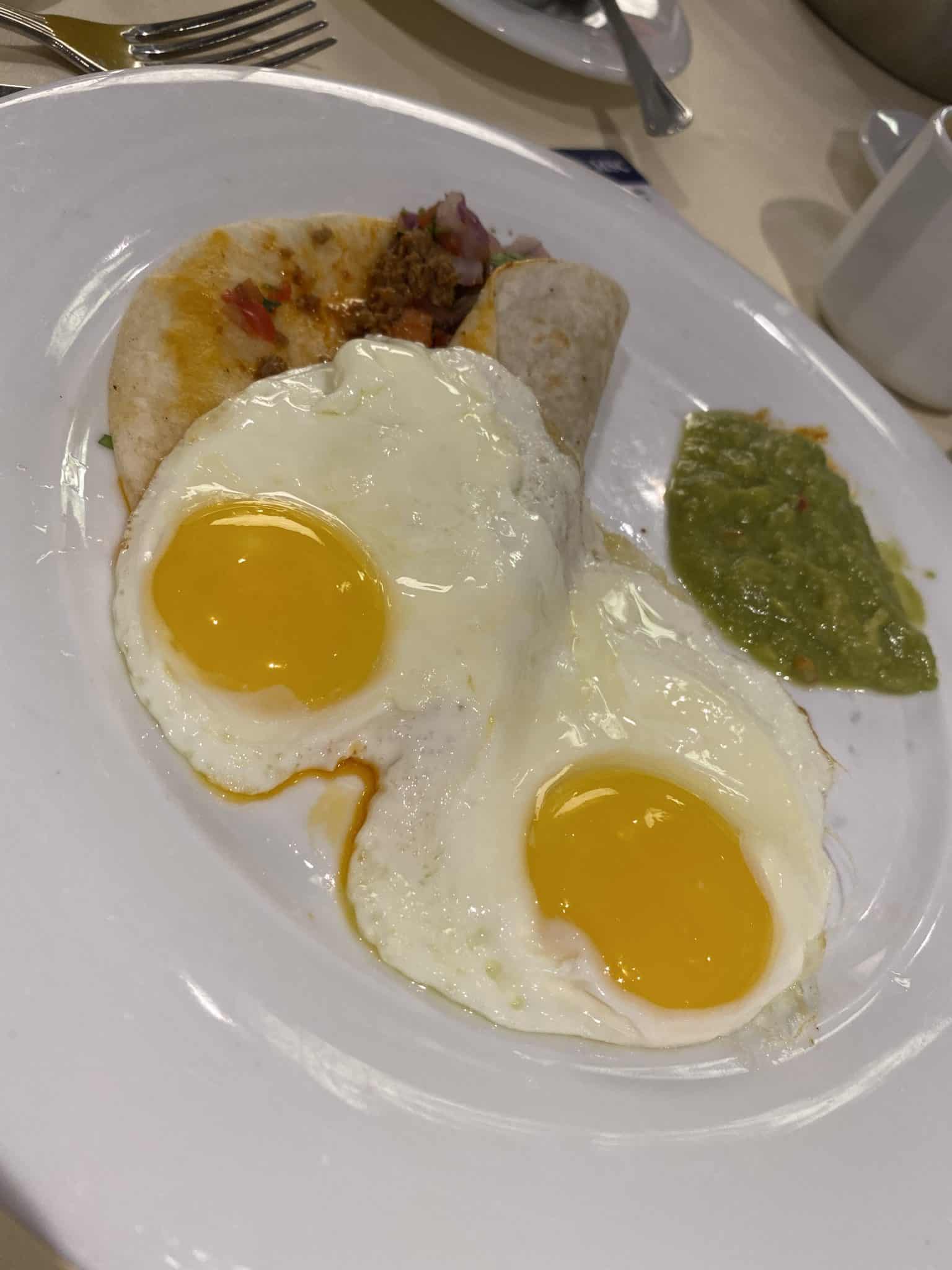 The dining room usually serves breakfast for about two or three hours in the morning, with a hard cut-off time somewhere around 9-9:30. The breakfast service was every bit as good as last night's dinner service. This morning, we went with huevos rancheros and a side of hashbrowns.
The Cruise Critic meet and greet was at 10:30, so we dropped in there to check it out and see what it was all about. It was held in the aft lounge where the Cirque show is performed nightly.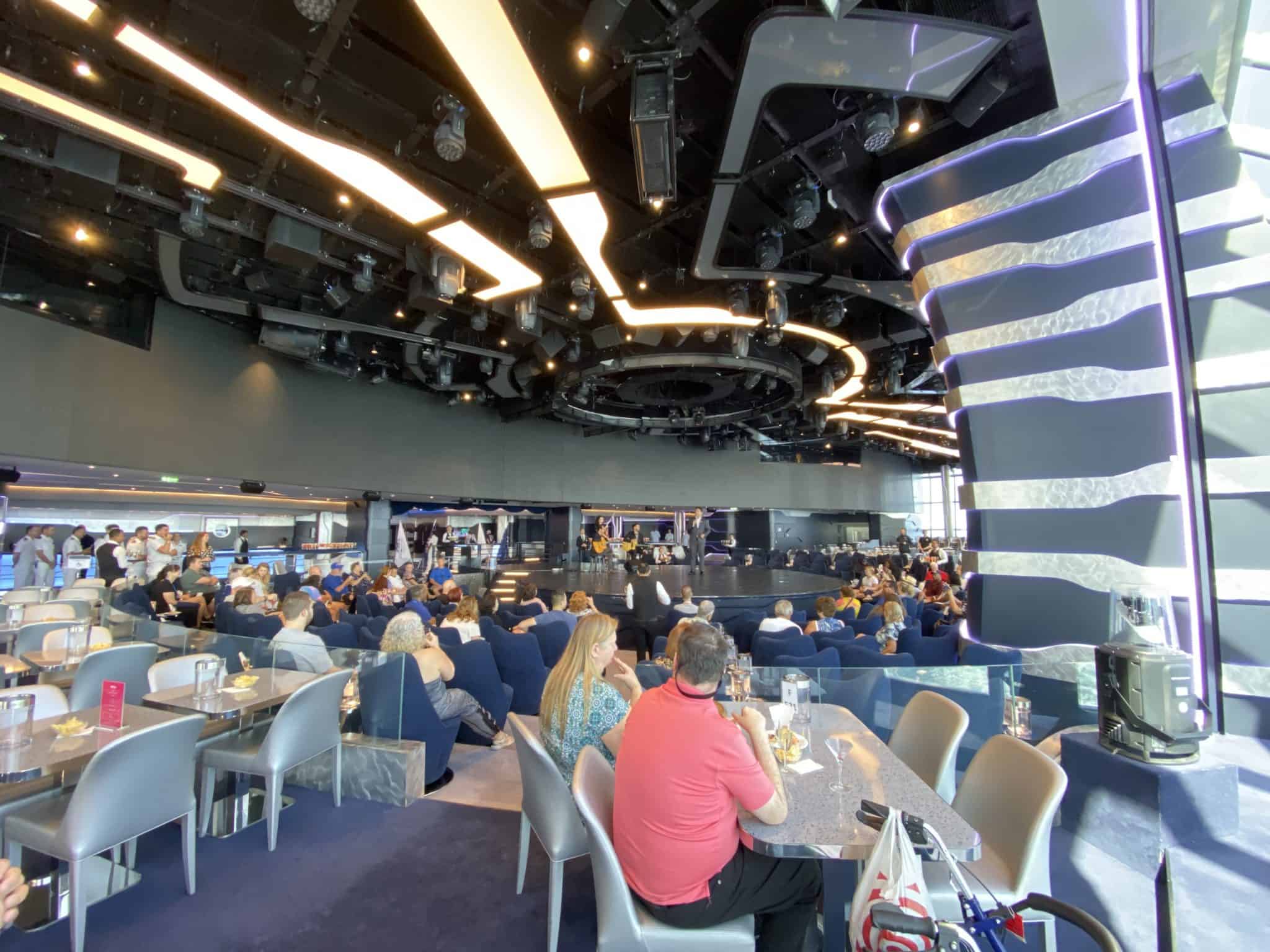 About 100 passengers showed up, and, as usually happens at these events, the ship's officers put in an appearance. They presented a cake with the Cruise Critic logo on top, offered complimentary drinks and said they were grateful to the site's members who took part in the roll call.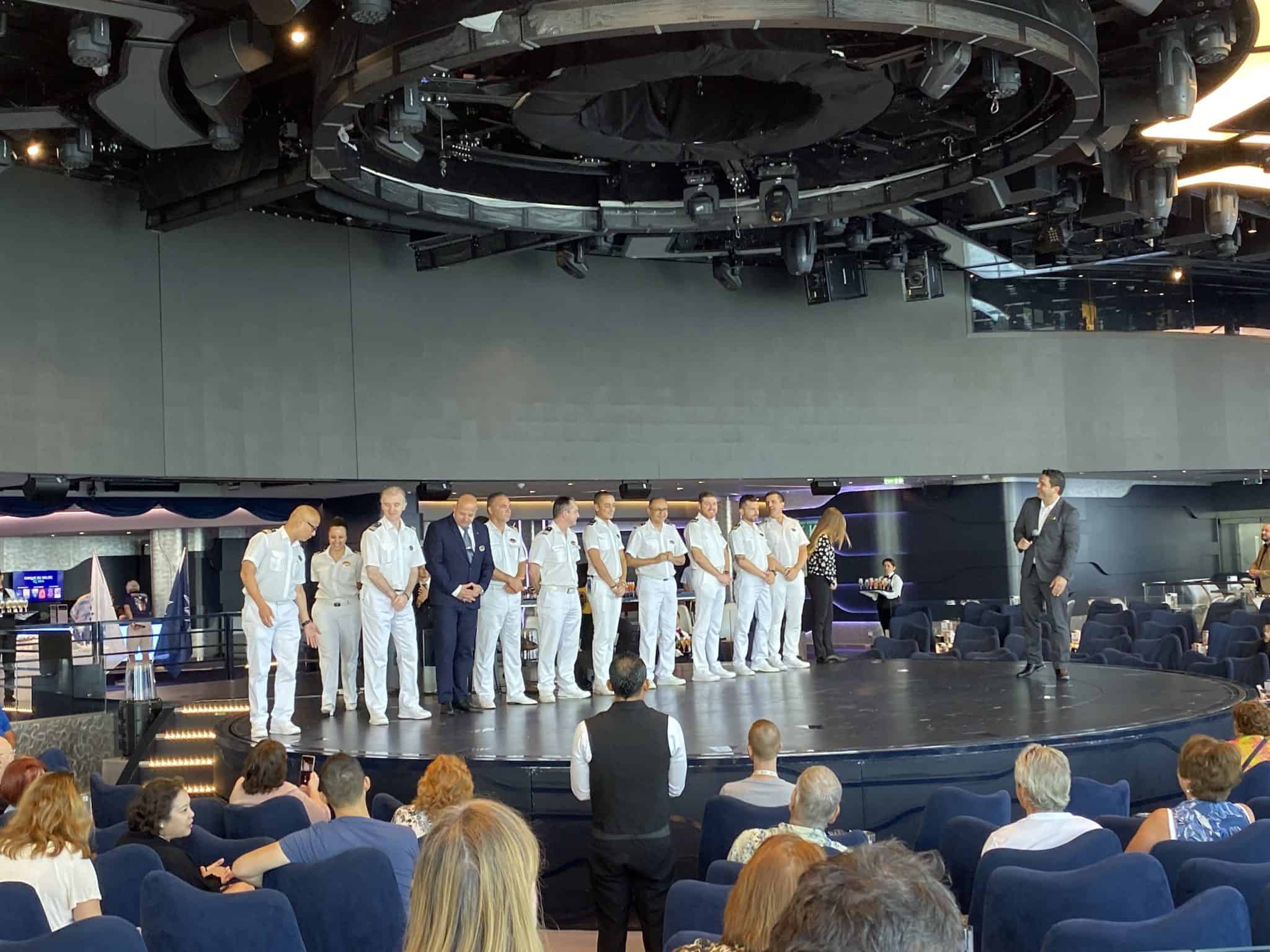 The cruise director, who hosted the event, said this was the first Cruise Critic Meet & Greet they'd held in the lounge. They did a ship officer parade and presented a cake that had Cruise Critic on it. They were very grateful for the members that signed up the roll call and the cruise director said this was the first Cruise Critic Meet and Mingle held in that lounge.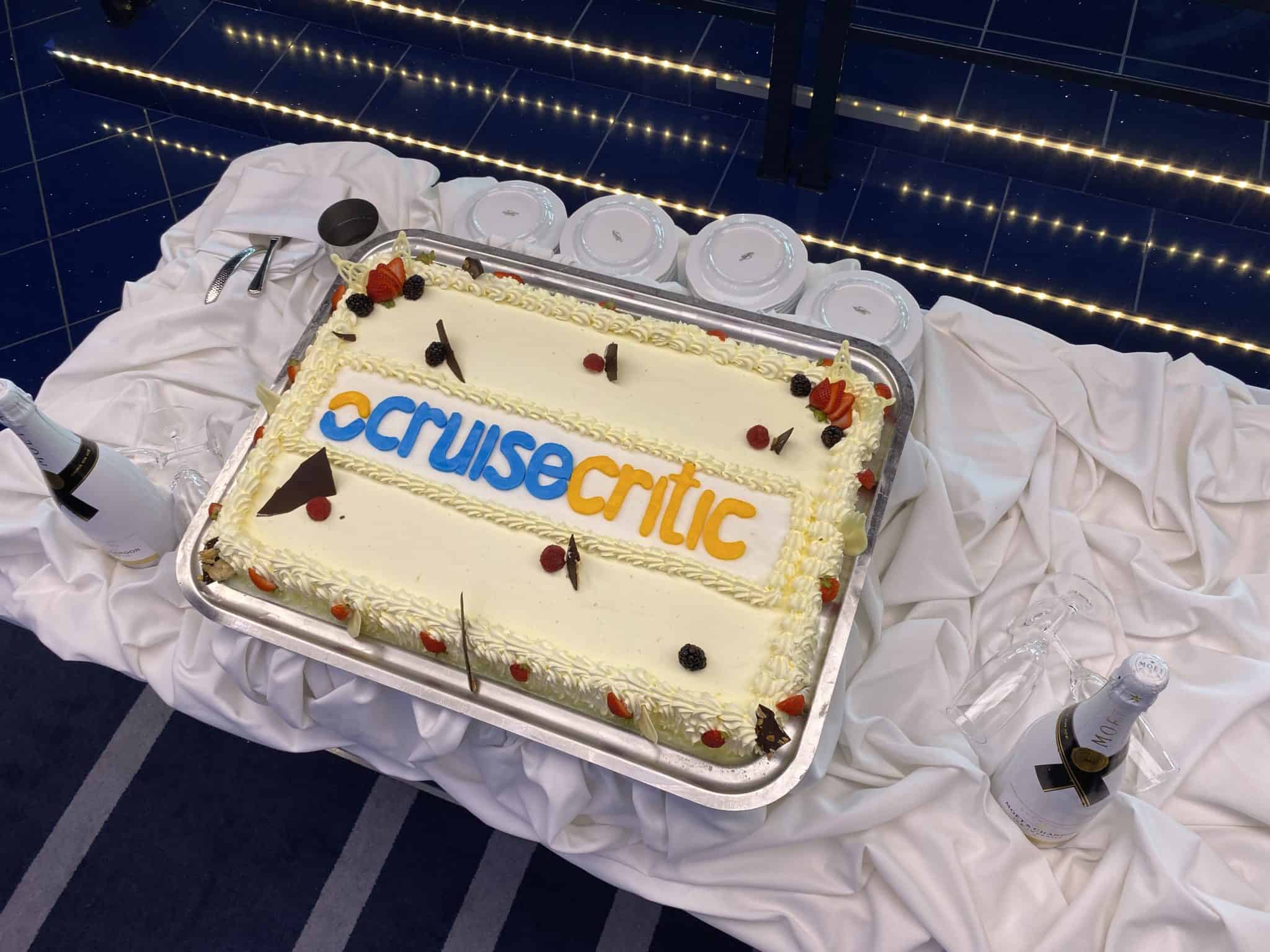 After the meet-up, I had to head to the promenade in order to interview Ken Muskat, Chief Operating Officer of MSC Cruises USA. You'll be able to hear our chat about the ship — including what makes her different from other ships sailing out of Miami, their loyalty-match program and more — on this week's episode of Cruise Radio Rewind.
One of the questions I'm always asked about a new ship, and something I'm always anxious to find out myself, is how crowded it feels during sea days. After all, that's when everyone is on board, looking to be fed and entertained. When you're talking about a ship that carries between 4,500 and 5,800 (depending on occupancy levels), that's a lot of people.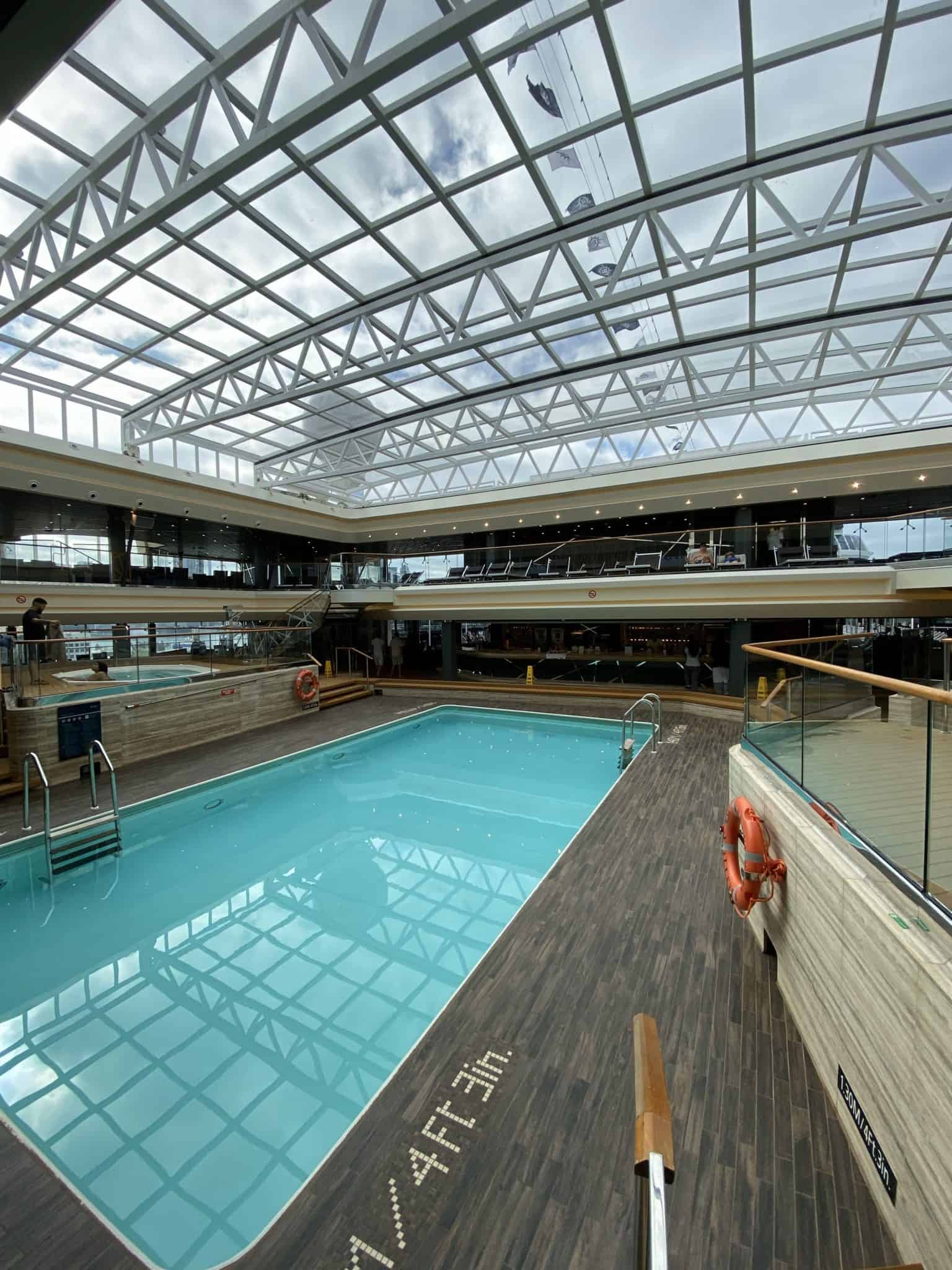 The first pool is the solarium, located on deck 15 forward, which has a pool and some giant hot tubs. It also has a retractable roof, making it perfect for days when there might be less-than-ideal weather.
Then you'll come across the main pool outside which is easily double the size of most modern-day cruise ship pools. I was honestly surprised by just how big it really is. Sometimes pools seem to be an afterthought for cruise lines, with the pools getting smaller to make room for the next "big deal" attraction. That's definitely not the case here.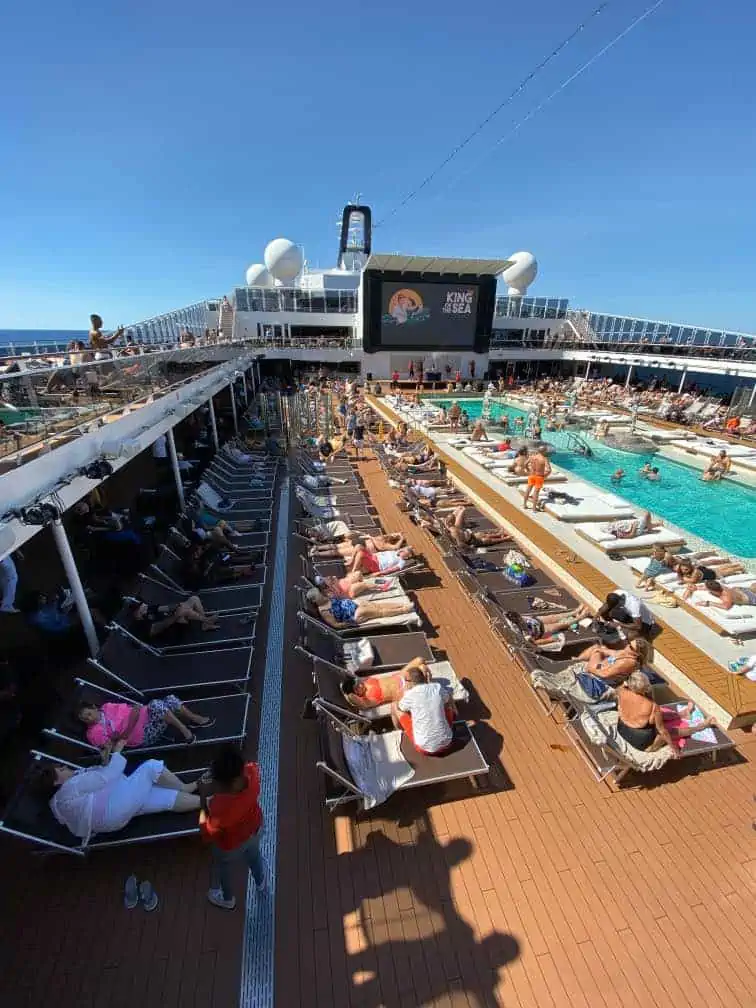 Remember in yesterday's trip report, I mentioned the couple who had switched from Norwegian to MSC because they felt as if NCL's pools didn't measure up? Seeing the pool aboard the Meraviglia, I understood exactly why they made the switch.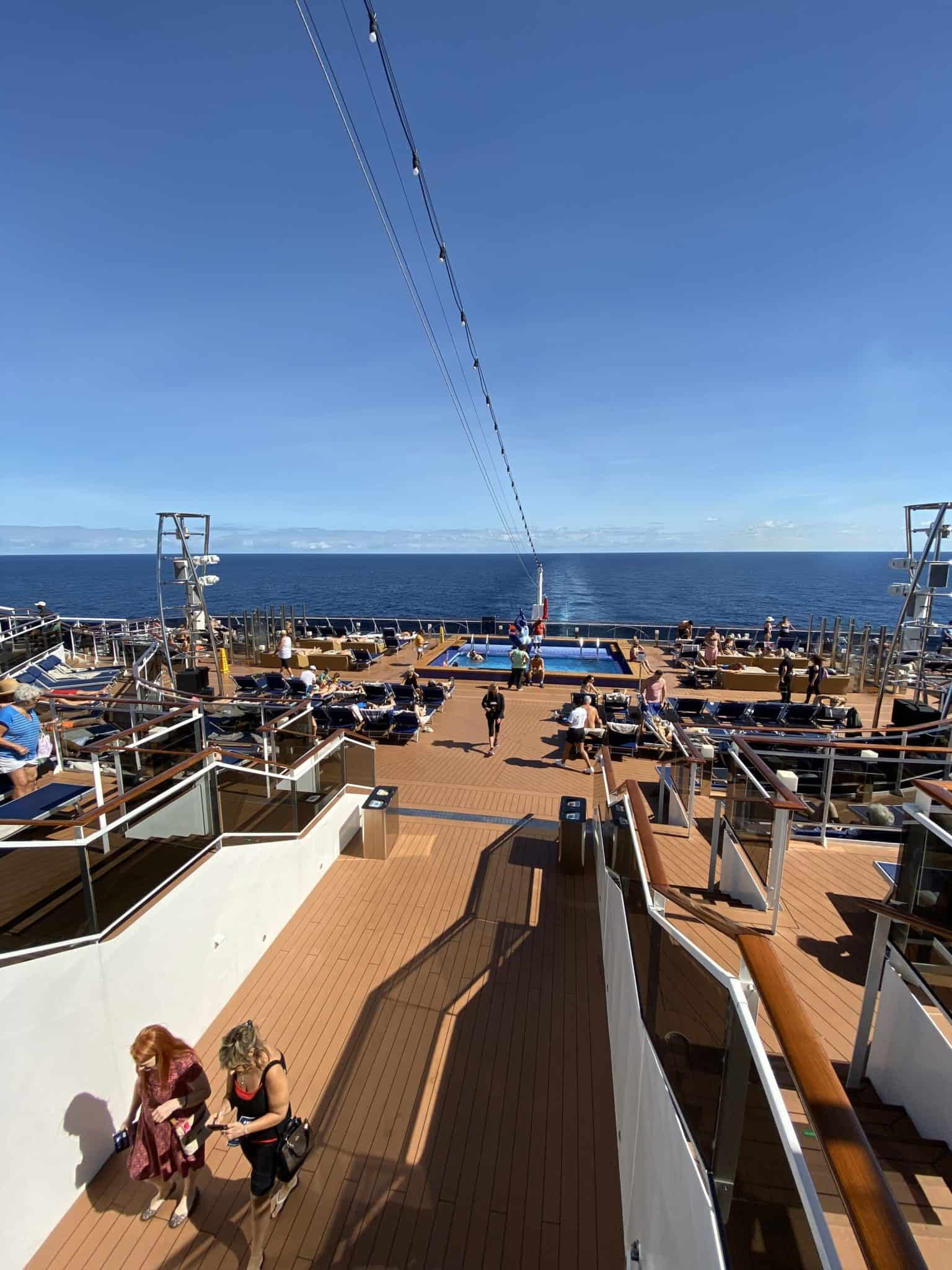 The aft pool space also has quite a few loungers around it, giving you a great view of and connection to the ocean. This pool isn't as large as the midship pool, but it's a decent size and a great location.
Of course, the Yacht Club, which is MSC's ship-within-a-ship concept, has its own pool deck. The pool and privacy could be compared to The Haven area on Norwegian Cruise Line.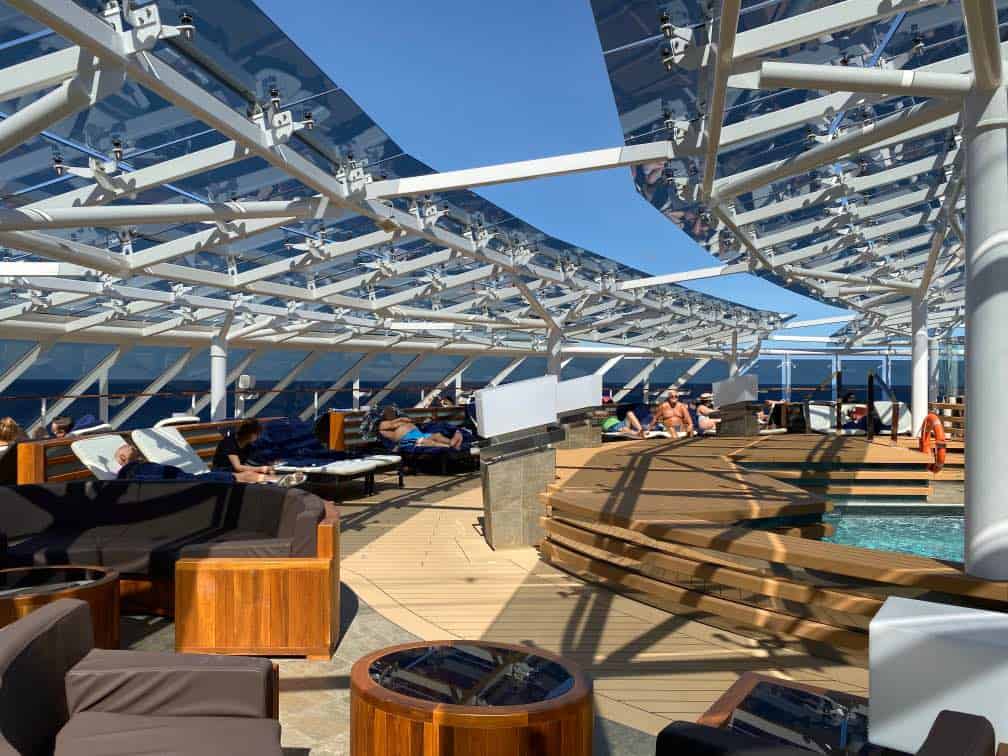 If you want to be near the pool but don't necessarily need to be right in the heart of the action, you can go up a deck and find plenty of loungers overlooking the pool.
This ship was designed to allow guests to get the most out of every space, both inside and outside. Another stand-out feature for me is the connection this ship gives you to the water when you're outside.
Fun Fact: When MSC Meraviglia was launched in 2017, she was the sixth-largest ship in the world.
At lunchtime, we went full-tilt pizza. This is an Italian cruise line and I've taken the stairs the whole cruise, so why not? We tried a slice of every variety of pizza they had to offer, and it was solid. Pizza is so subjective, but I'd rank it up there with the best I've had at sea.
Need proof of just how subjective something like pizza can be? I heard a man tell his wife, "This pizza is good, but it's not Dominos." It made me laugh that Dominos was his barometer for amazing pizza but hey, to each their own.
Since we bought the drink package, I wanted to make sure we tried to hit every bar on the ship. As I mentioned yesterday, with the Easy Package, you are limited to drinks which cost $6 or less. And just so you don't worry about my liver, at some of the bars, I've been doing a cappuccino and bottled water, both of which are covered by the package.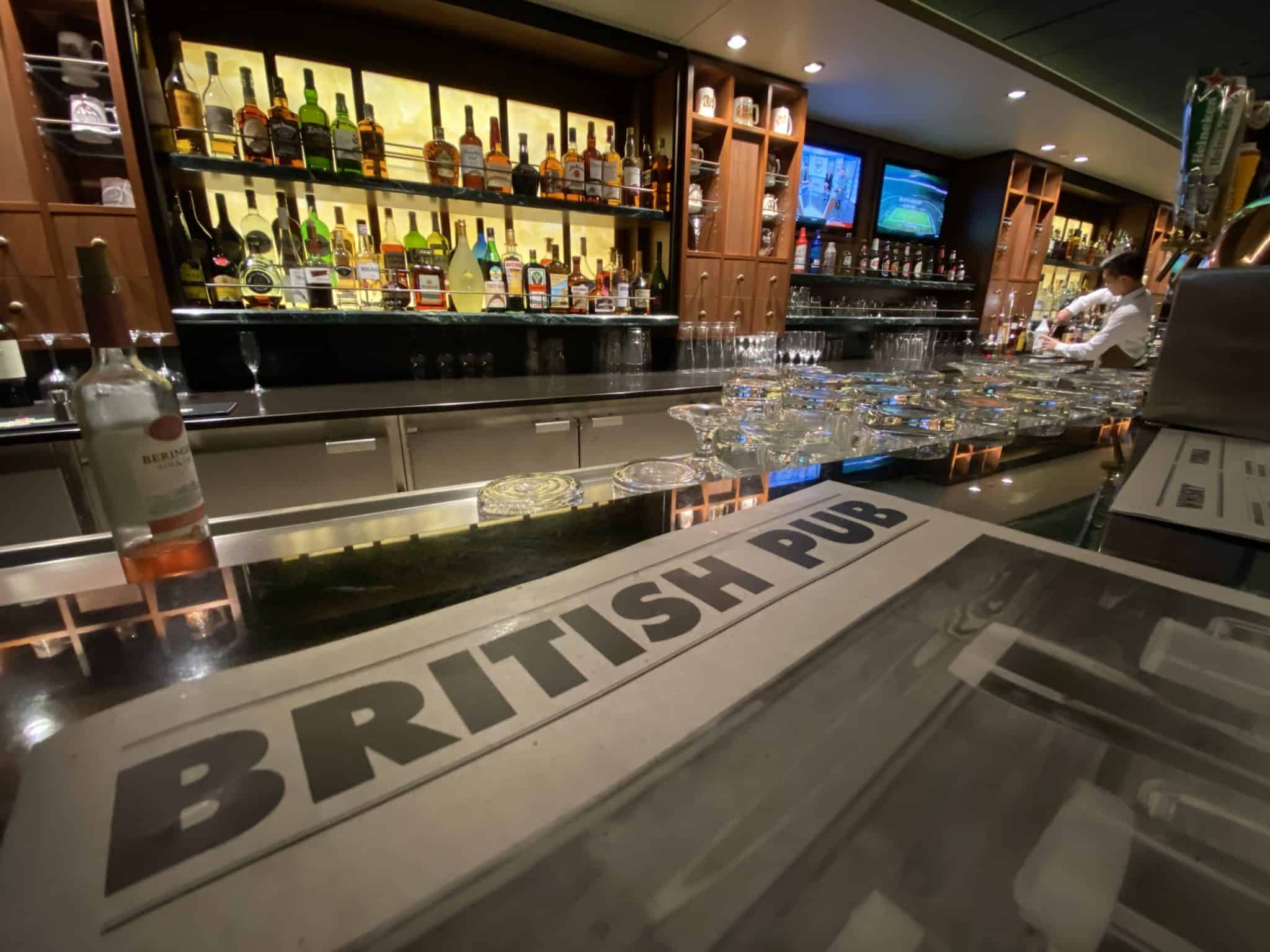 One impressive bar with a cool vibe was the British Pub. They have dozens of beers to choose from, mixed drinks, and the vibe is very authentic, at least for a cruise ship's take on the English staple.
Along with trying out all the bars on the ship, we wanted to check out as many of the restaurants as we could. It will be impossible to do all on a four-night, cruise but planned to do our darndest.
Tonight we did the Teppanyaki Japanese Steakhouse. This was a standard teppanyaki experience stretching over seven courses, from soup and salad to dessert.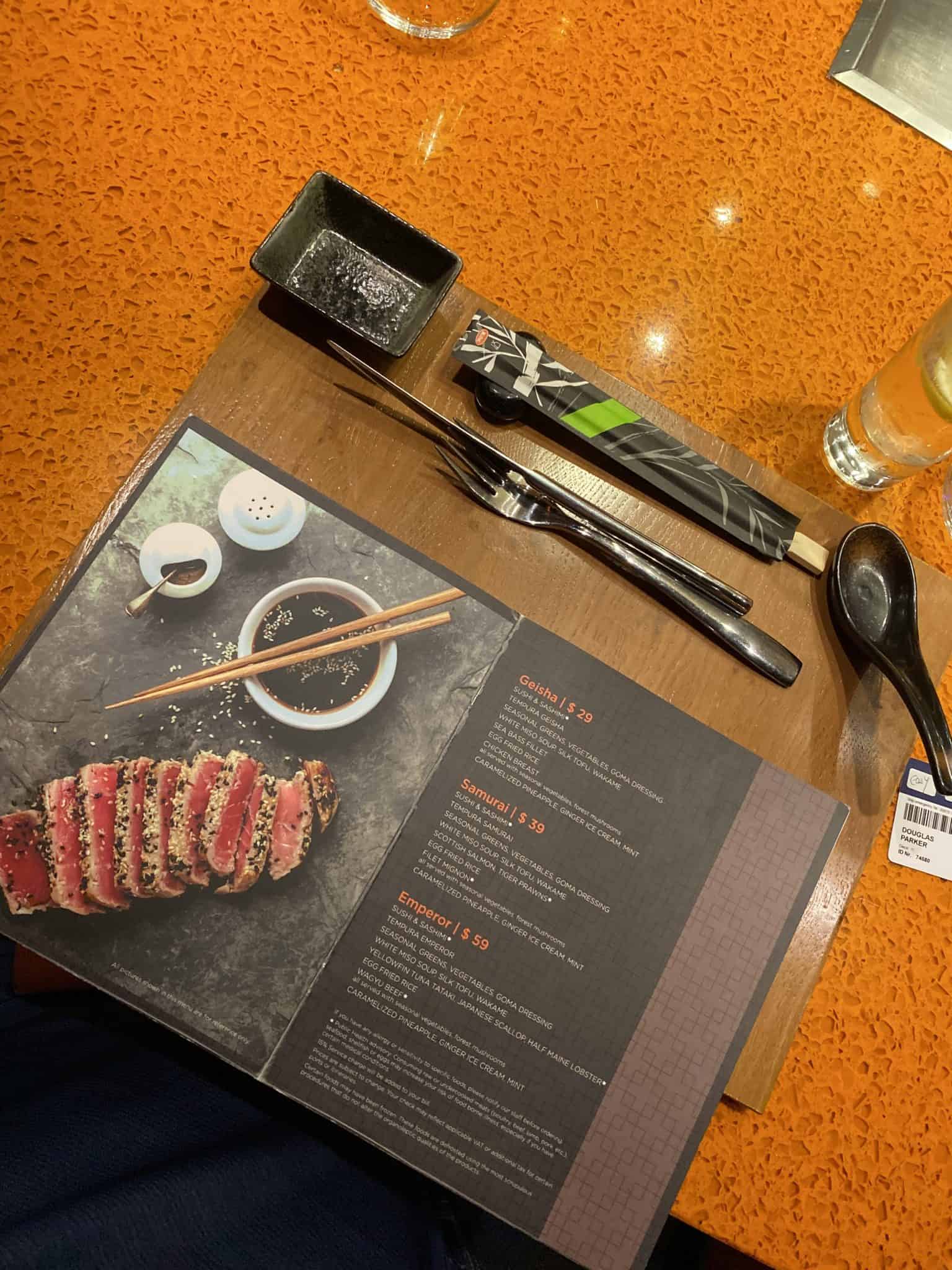 As is always the case with Teppanyaki, it's as much about the show put on by the chef as the food, and both were great. 
One thing to know: the drink package isn't accepted in every restaurant. So before ordering a drink, make sure it'll be covered so you don't get a surprise at the end of the meal.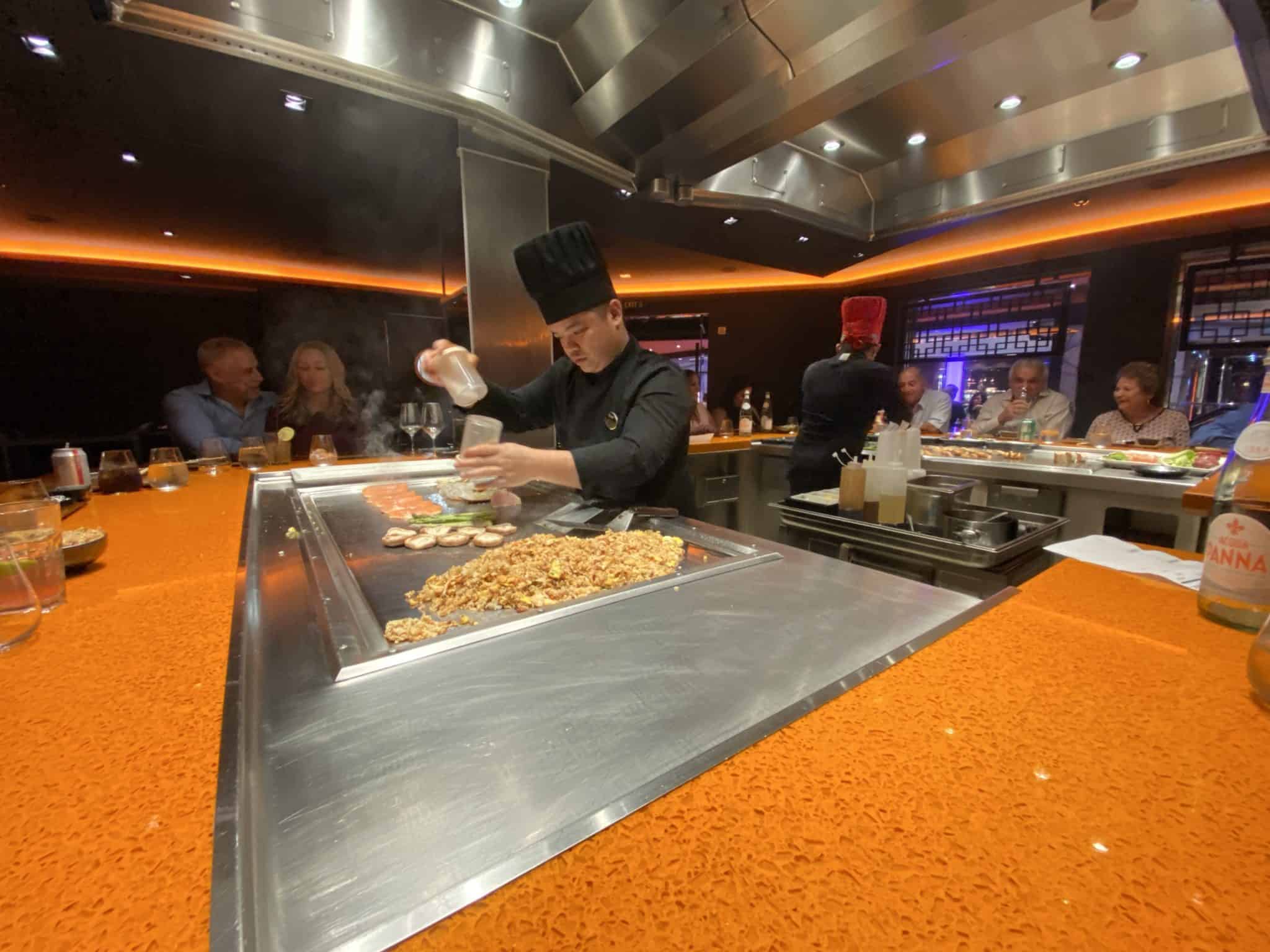 And remember, if you're in a place that doesn't accept the drink package, you can always just walk to one of the nearby bars that do. In this case, I just dashed over to the British Pub to get a vodka soda.
Different drink packages are valid in different venues, apparently. From what I was able to gather, the Easy Drink Package (which is what we bought) is not honored in any of the restaurants outside of the buffet area.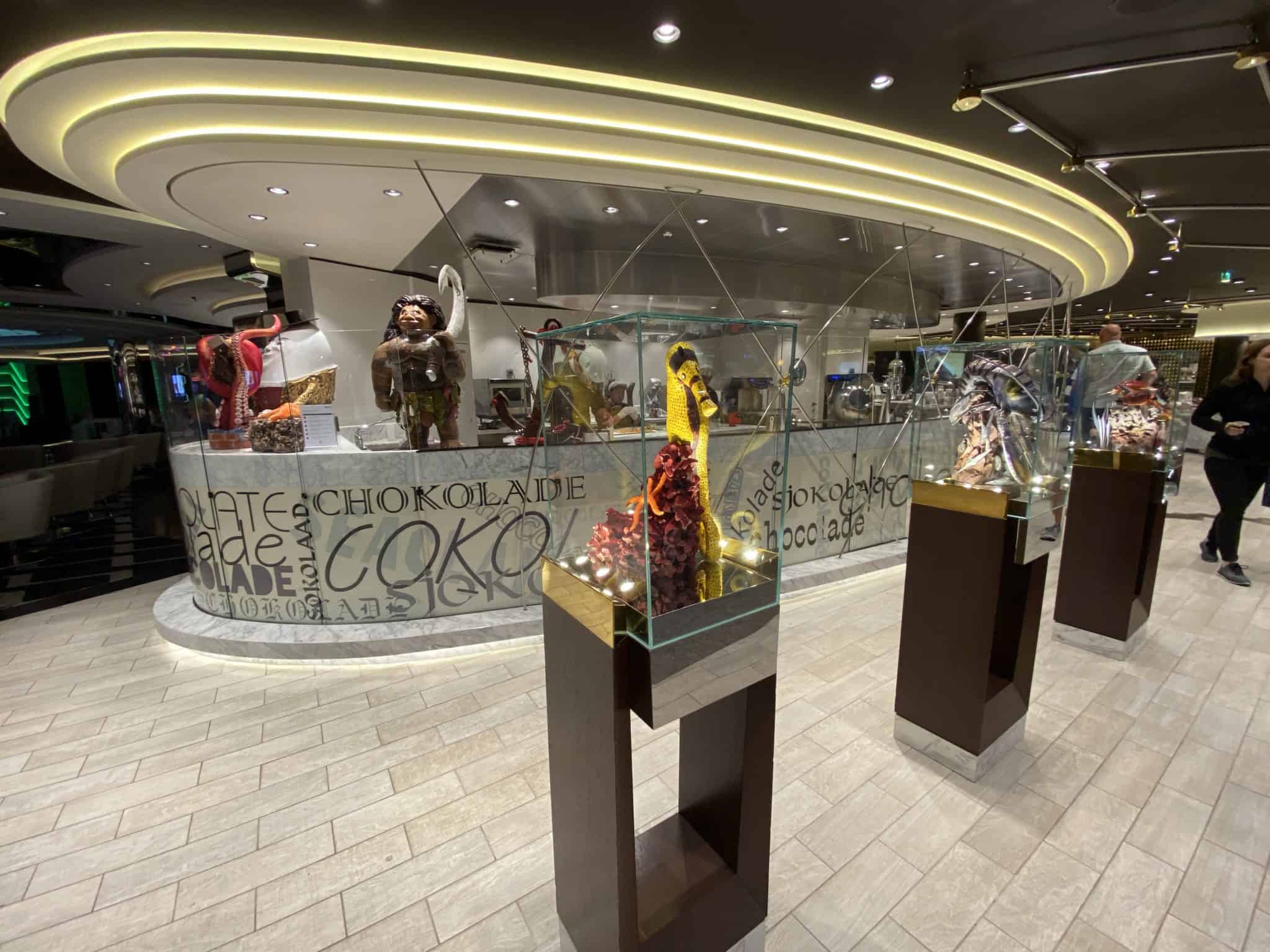 After dinner, we wandered over to the chocolate shop by Jean Phillipe, a world-renowned chocolatier. This is definitely not some cookie-cutter chocolate shop, though. This is more like something out of Willy Wonka & The Chocolate Factory, with a staff of people who aren't just making chocolate, they're creating art.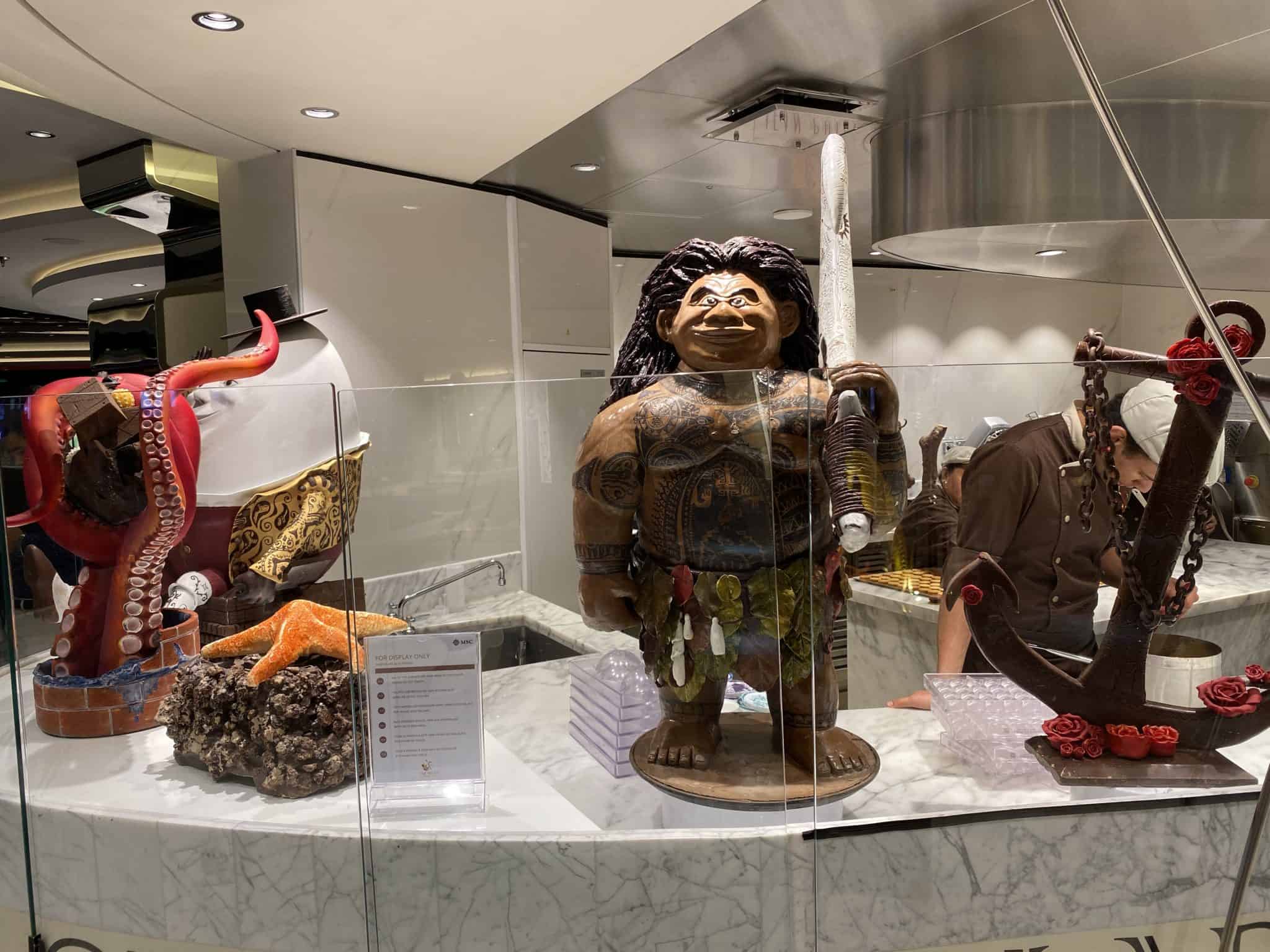 This place has a full-service production line with full-time staff members who make everything from chocolate shoes reminiscent of Cinderella's glass slipper to figurines. Want them to make something for your special occasion? That can be arranged.
Listener question: I see where there are only two banks of elevators on the ship. That doesn't seem like enough for 5,000 people. What's your experience?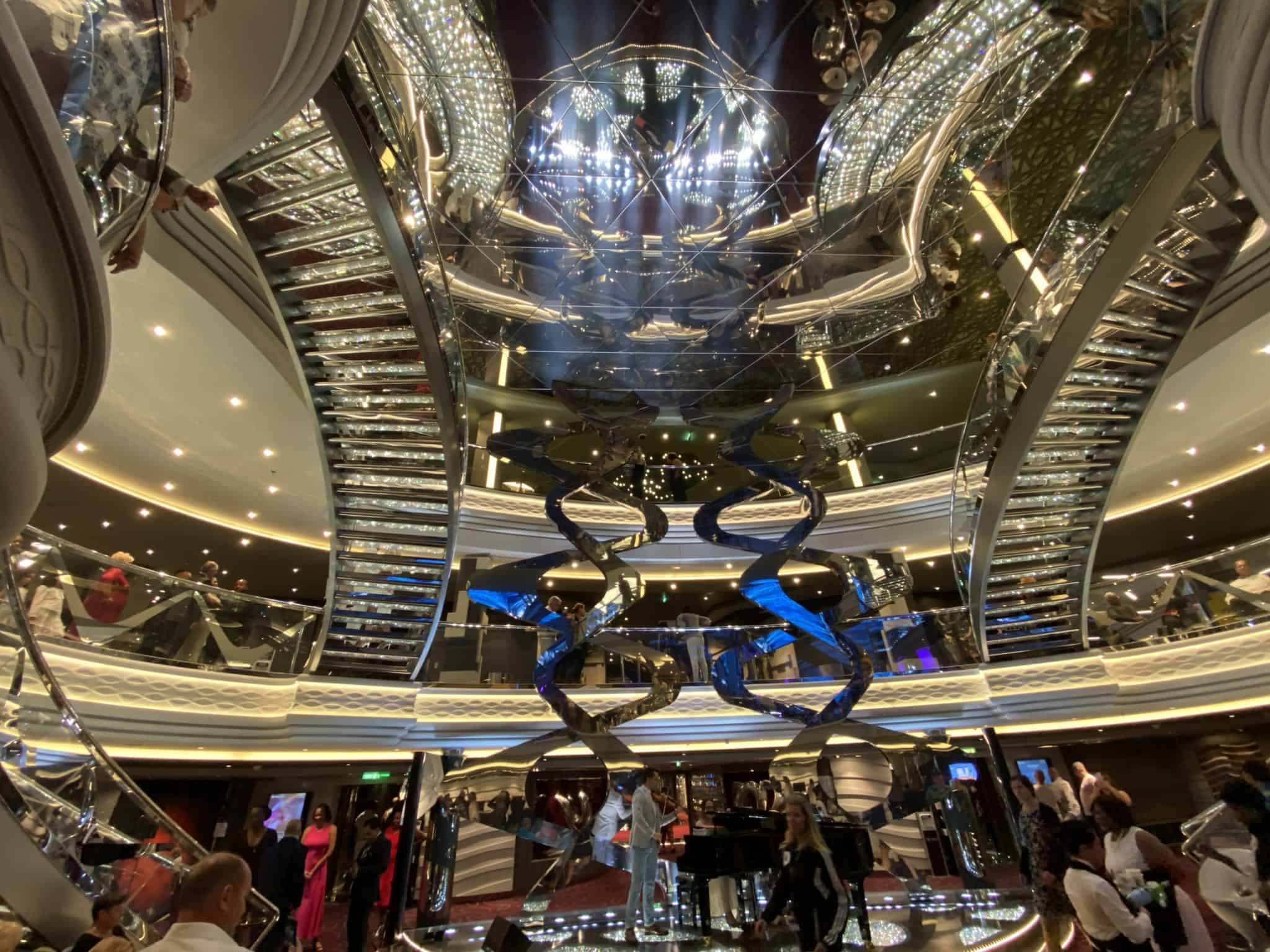 You're right, there are two banks of elevators on this ship. But this is a little different than what you might be thinking. On most ships, the typical elevator bank has four elevators on each side for a total of eight. Here, there are 10 elevators per bank, with five on the port side and five on the starboard side.
There's also a one-off elevator on both the port and starboard side. Truth be told, I avoid elevators whenever possible, preferring to burn off calories by taking the stairs. But I've been monitoring the situation and from what I can see, these seem to get the job done pretty well.
Tomorrow we are in Cozumel, where we're scheduled to be in port with five other ships. That should be eventful.