Today, I'm embarking on a cruise aboard MSC Meraviglia. It's been a few years since I last sailed with MSC Cruises, but I found the kind of rate you can't pass up.
It was also perfect timing-wise, because it arrives back in Miami on the day that I'm scheduled to board the Norwegian Encore.
A Slight Change Of Plans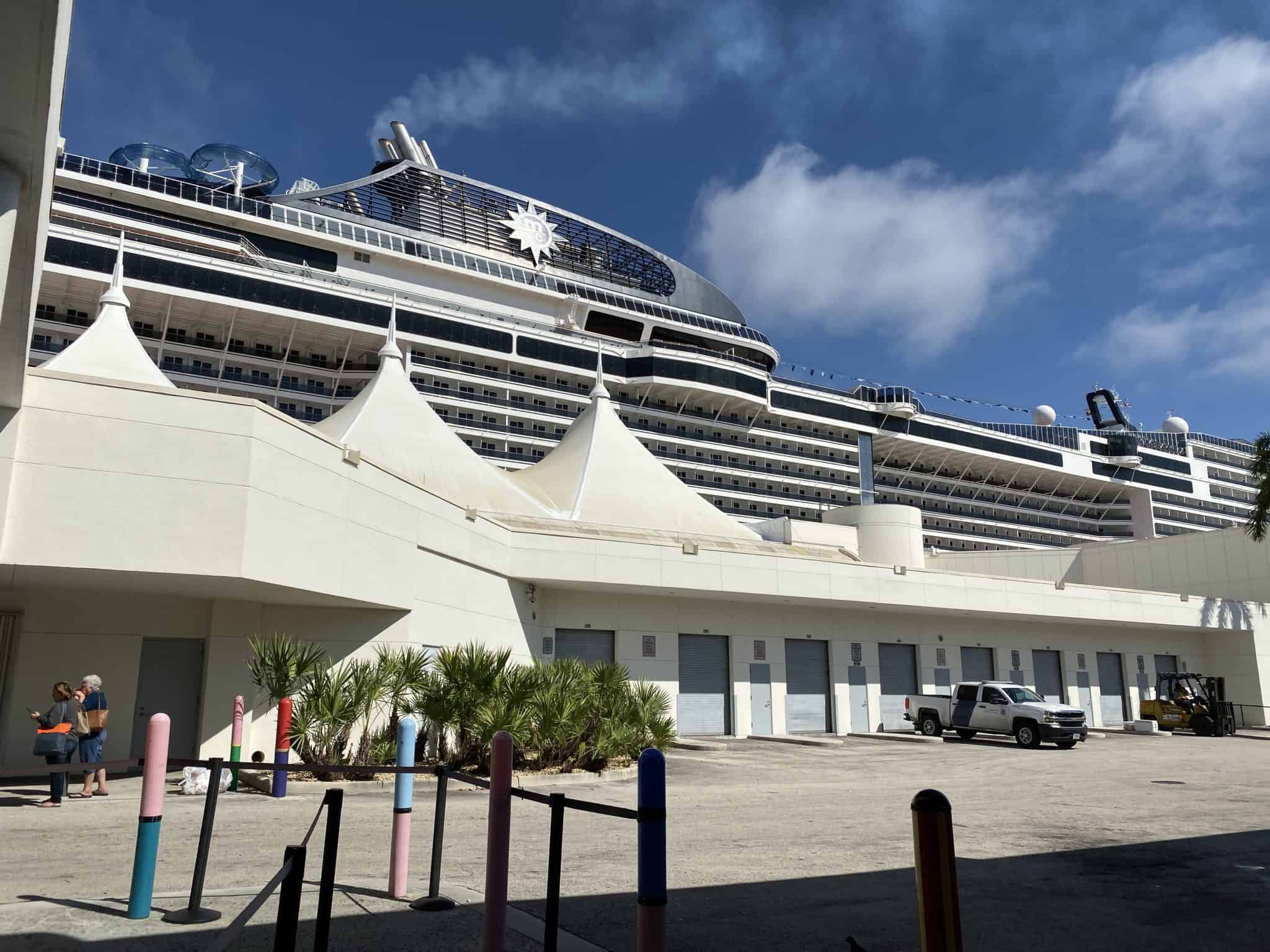 Originally, this sailing was slated to include one of the first stops at MSC's new resort, Ocean Cay. But because the island's grand opening has been pushed back to December 5, our itinerary was changed. We'll now be doing two sea days and visiting Cozumel, Mexico.
A letter in our stateroom explained that because of a technical problem, we'd be skipping Ocean Cay. They also issued a $100 onboard credit per stateroom for the inconvenience.
I'll admit up front that I didn't have high expectations for this sailing. The last time I sailed with MSC it was nothing short of a hot mess. The food, service, communication — everything was subpar.
But with the first day of this sailing behind me, I have to say: I have a completely different feeling about this cruise line.
We arrived at PortMiami around noon and checked our bags. We had a 1:00 PM arrival slot which I didn't notice until we got to the pier, so I was expecting to wait. Once we checked in, we received a boarding card for zone 16 and boarded at exactly the time we were slated to.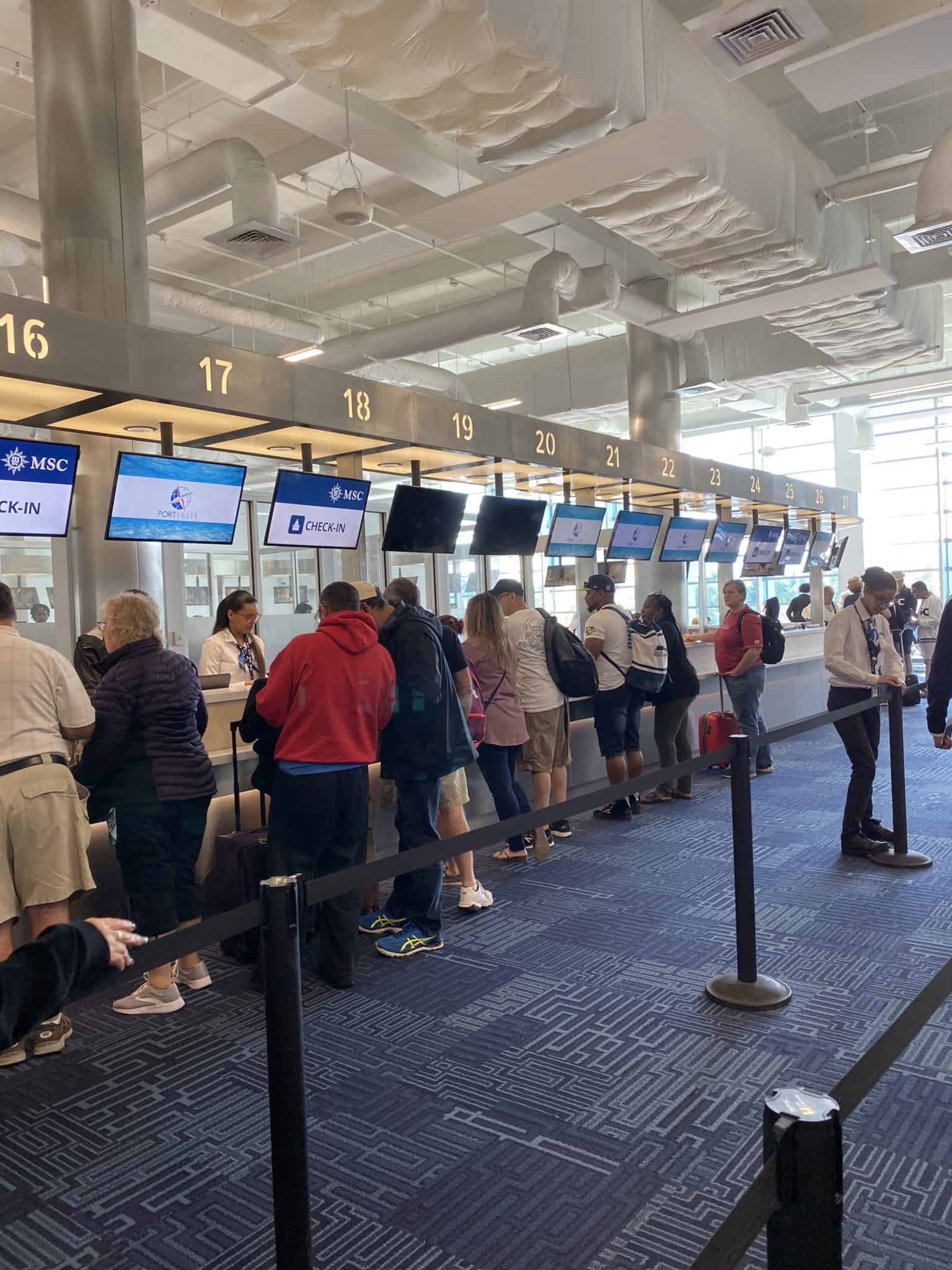 If I'd paid attention to our scheduled boarding time, we would have been able to walk right on as soon as we got there. 
The first impressions of MSC Meraviglia: absolutely stunning. The ship has the longest promenade at sea. It reminded me a lot of Royal Caribbean's Quantum-class ships, but with an LED ceiling and a lot larger.
First Things First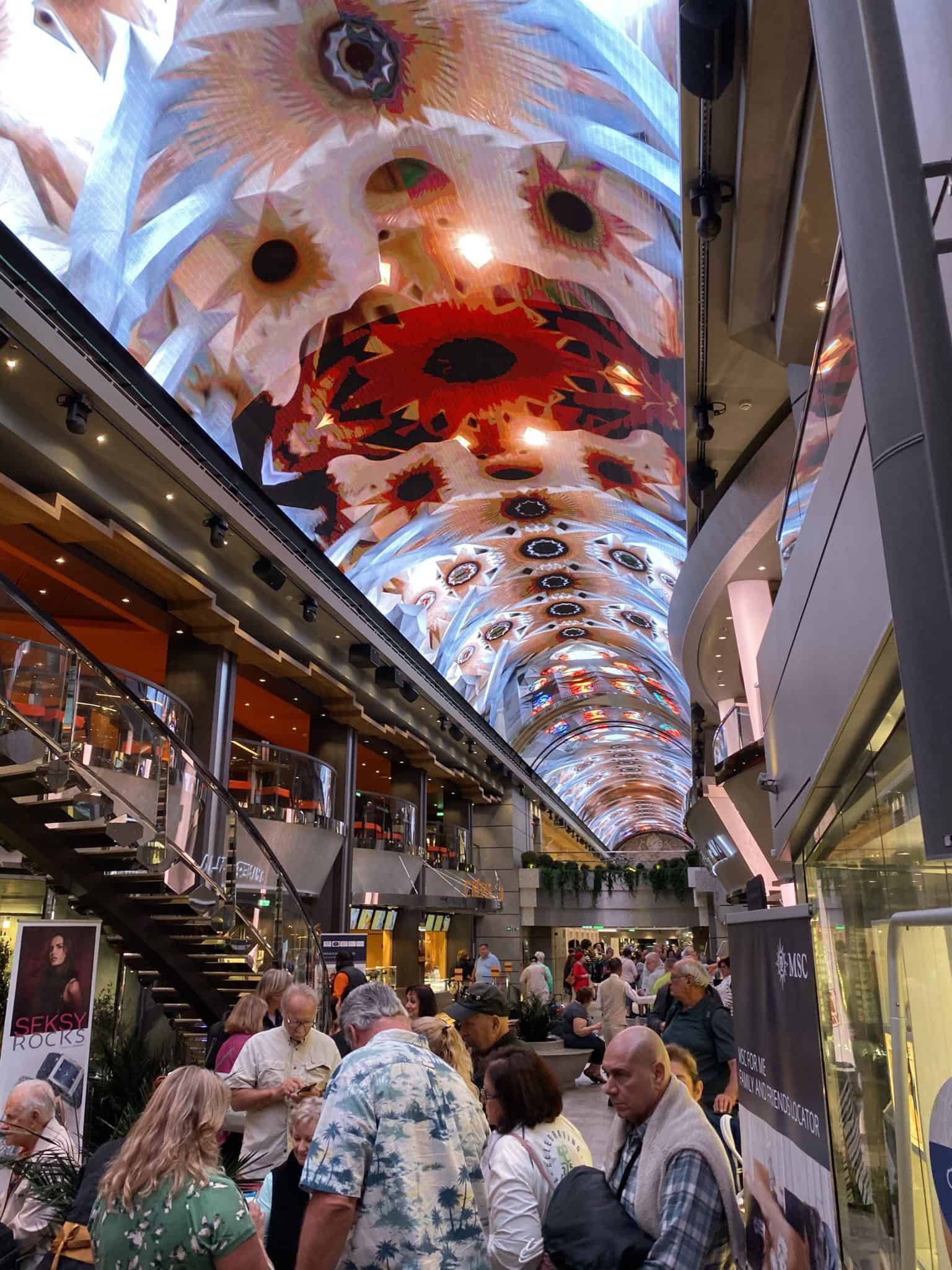 We were offered a drink package when we boarded. They offer several different levels at different prices.
The Easy Package, which ran $140, covered any drinks and beers under $6 each and, since all I really cared about was vodka, bottled water and coffee, this one was perfect.
One thing MSC does a little differently from the other cruise lines is that you have to set up an onboard account through the MSC Me app or on one of the terminals located throughout the ship.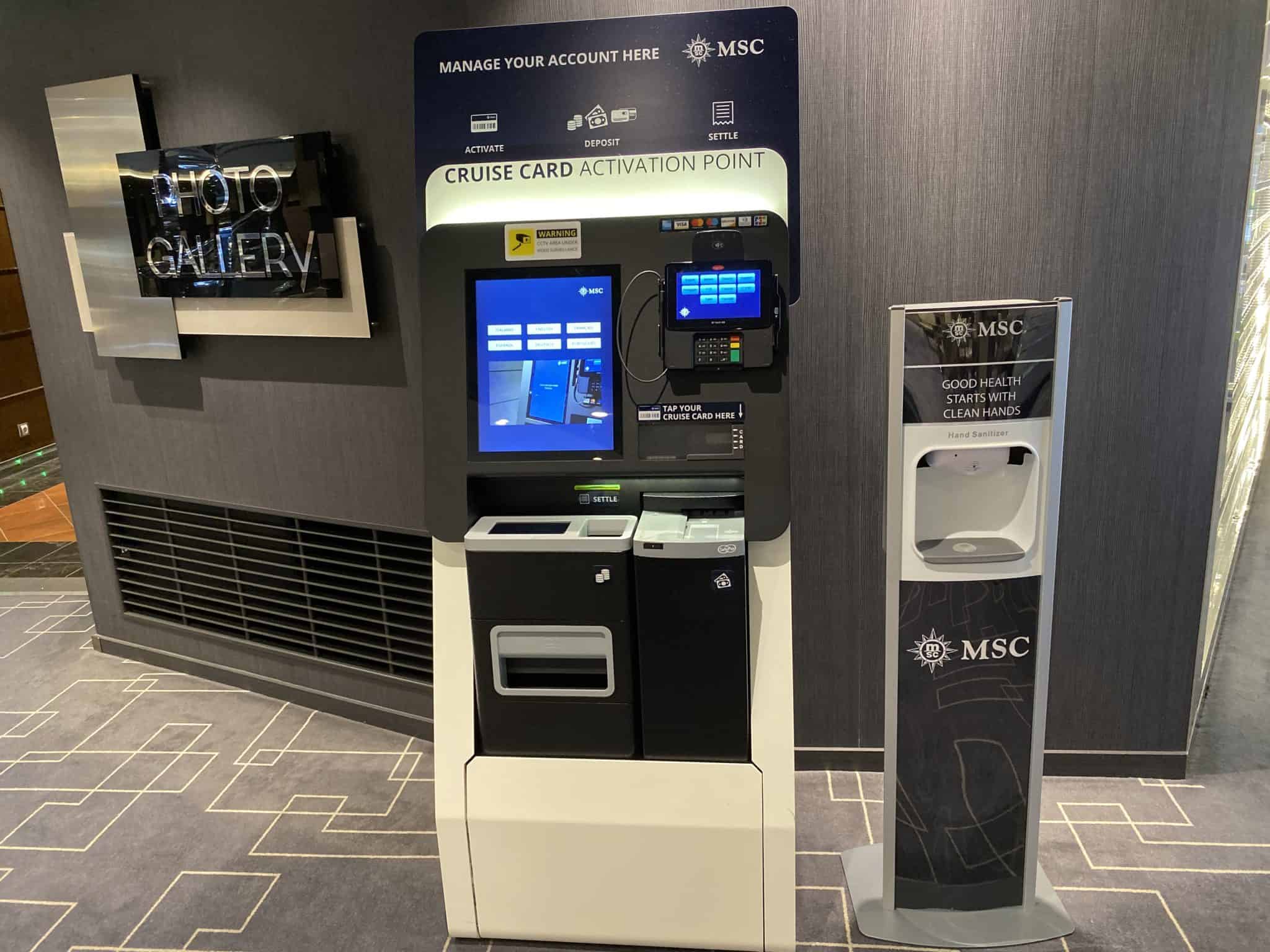 It's straightforward and intuitive, you just swipe your keycard and then your credit card. The put a hold of $300 on the credit card for this particular cruise.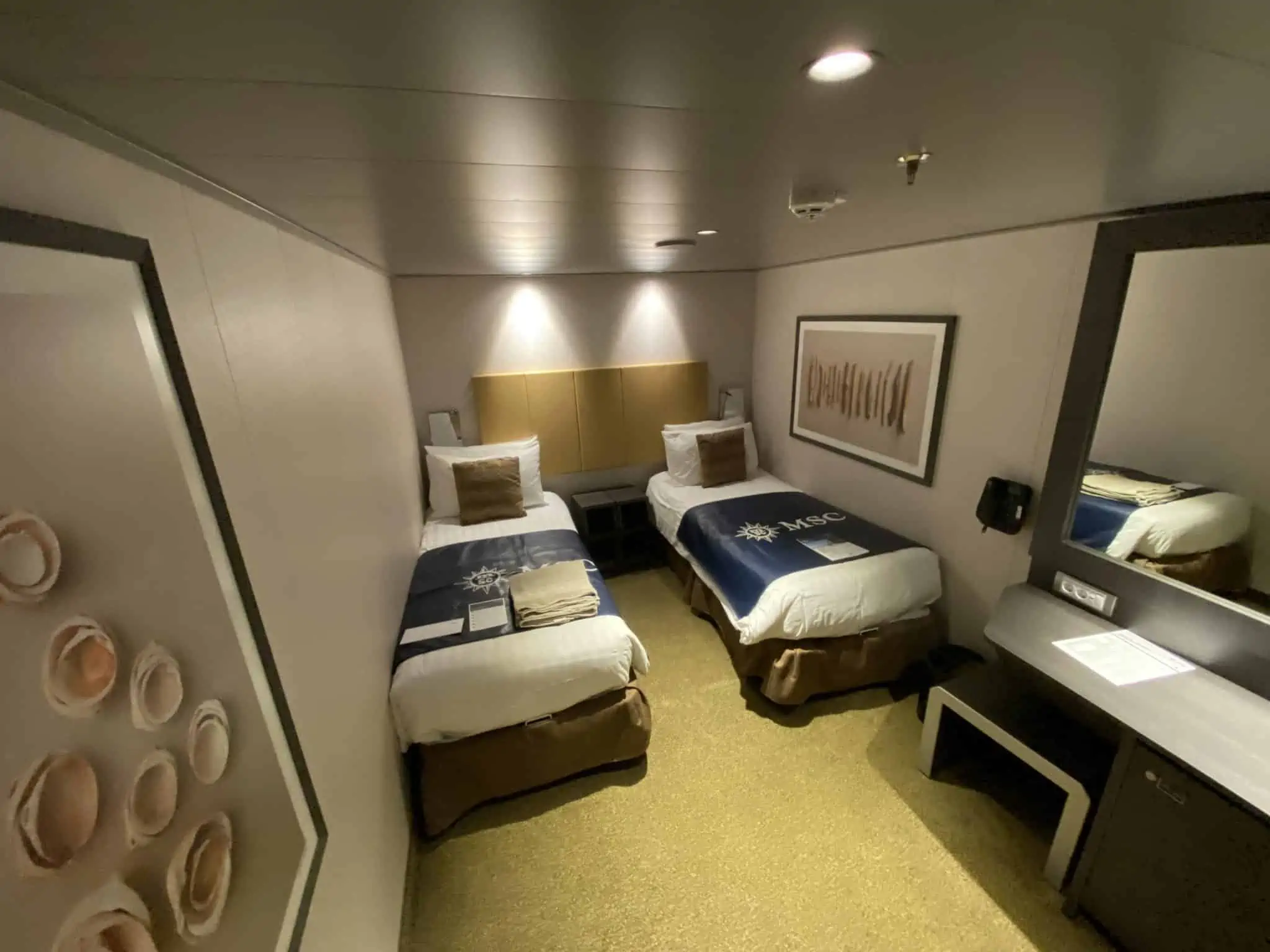 I'd booked an inside guarantee, and we got our stateroom assignment five days before we embarked. We wound up in an inside cabin on deck 11.
The room was surprisingly spacious for an inside with twin beds, a divided closet, a safe, and a decent-sized bathroom. Actually, the bathroom was bigger than I expected and, happily, the shower has a door, not a shower curtain.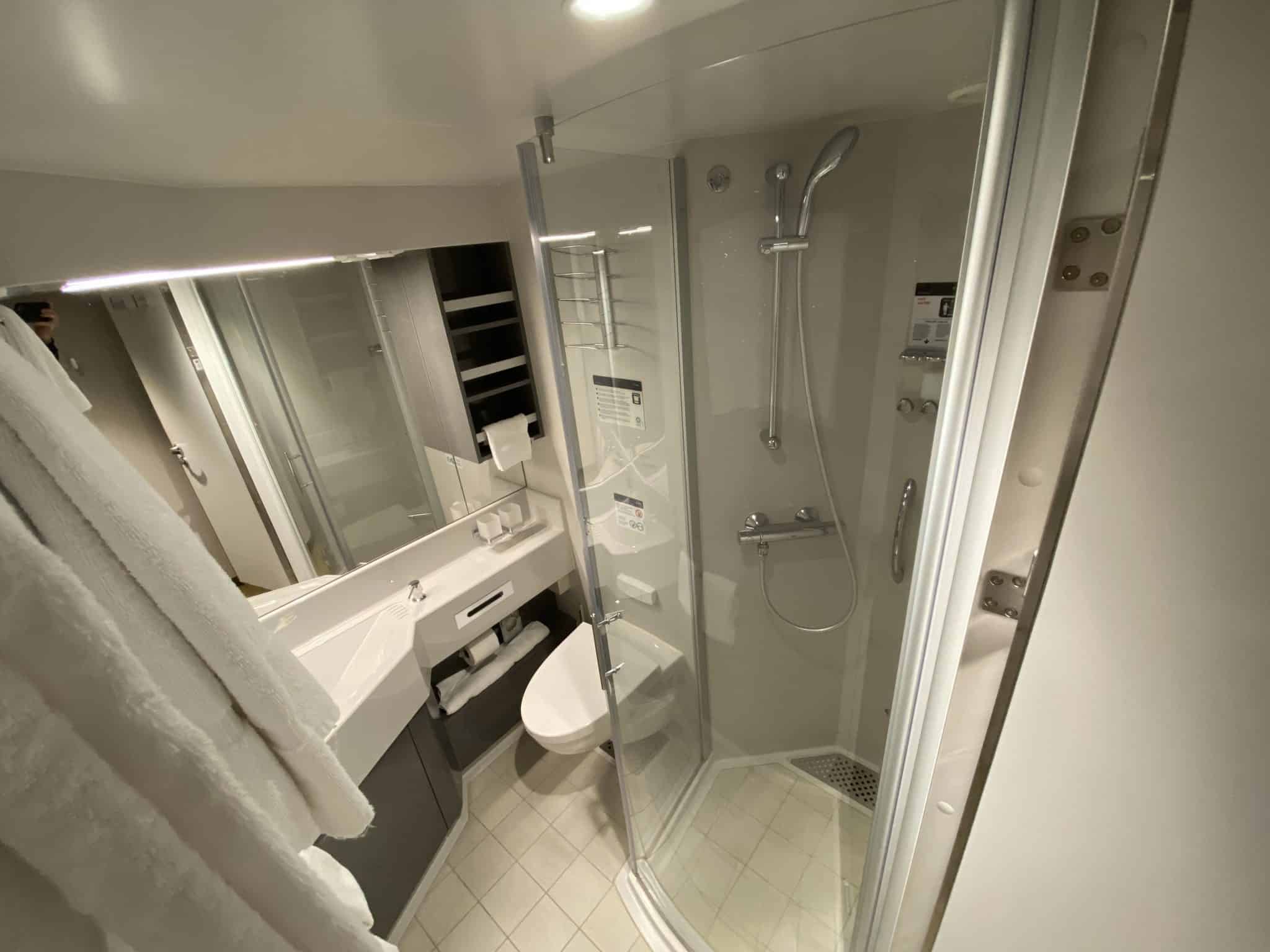 The AC in the room gets it really cool (which regular cruisers know isn't always the case). The only knock I have to give the room is the TV is pretty far from the bed. I actually had to put my glasses on to see the television. Then again, that might just be me getting older.
To be fair, the balcony rooms aren't set up like this. It might just be an interior thing.
The muster drill was held in the pub and was very quick, despite it being done in four different languages. Even with all the different versions, we were only there for 15 minutes.
The First Big Test: Dinner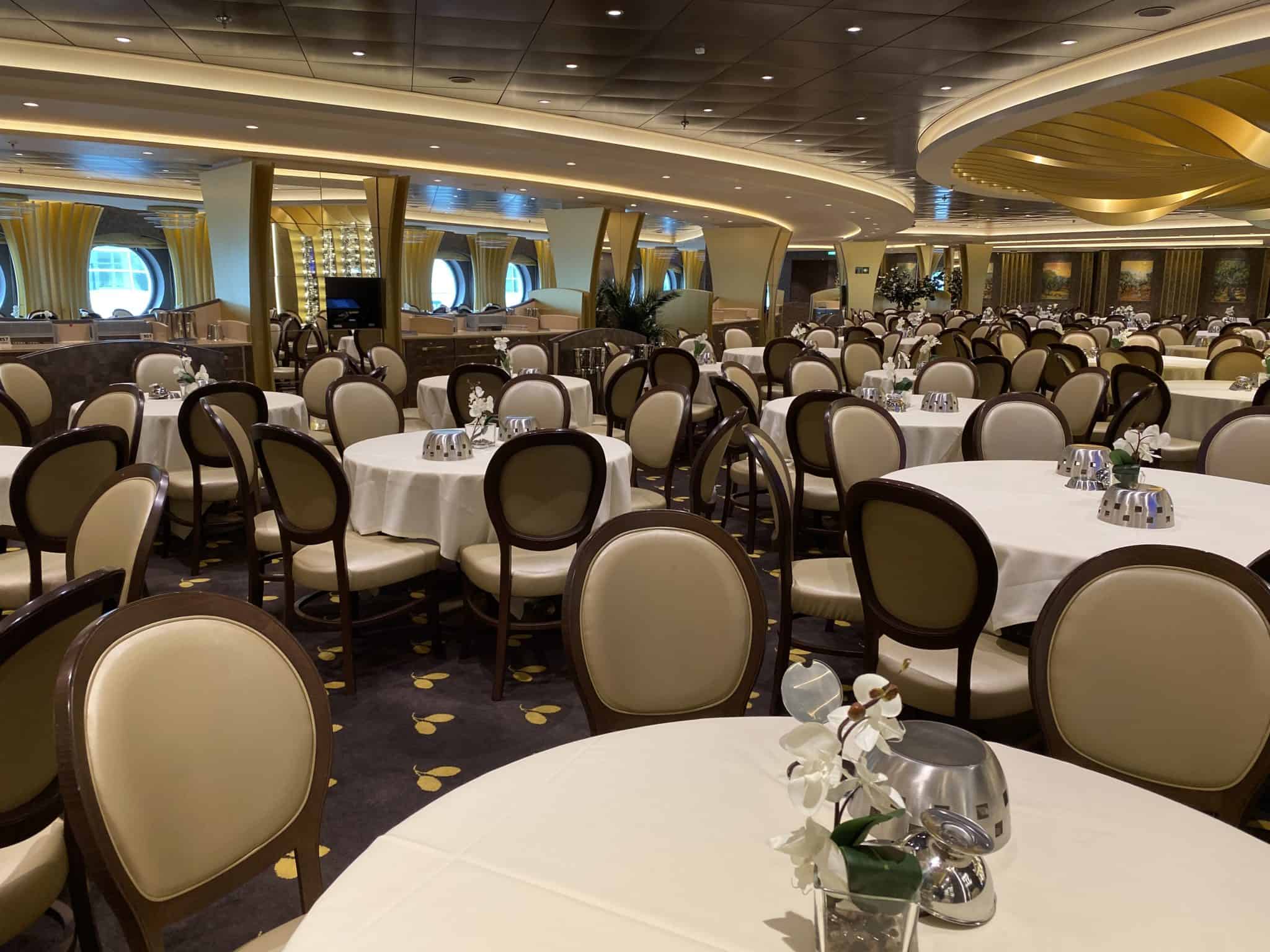 MSC  packages its cruises by what they call "experiences." For instance, the Bella Experience is the entry-level package, giving you the cheapest trip possible without any bells and whistles.
Other "experiences" offer a variety of additional perks (and a higher price tag), with their ship-within-a-ship area, the Yacht Club, being at the top of the heap in both regards.
Your dinner time and restaurant are determined by which package you have. We'd gone with the Bella Experience, and were assigned early dining (5:30 p.m.) in the Olive D'Oree restaurant.
I was blown away by everything, from the food to the service, especially when compared to what I experienced back in 2016.
It was like being on a completely different cruise line. Meal-wise, I went with the fire-roasted tomato soup, bay scallop ceviche, salmon and a vanilla creme for dessert.
Not only was the meal spot-on, but we were in and out by 6:45 p.m. Our tablemates were a couple from Miami Beach who said having sailed MSC Seaside a few weeks earlier, they wanted to try this ship.
Their cruise line of choice has been Norwegian, but with NCL reducing the amount of space dedicated to pools on their ships, they wanted to try something else.
Wanting to catch sail away, we asked our server if we could get desserts right after our entree, and they expedited it for us. 
Sailaway & A Show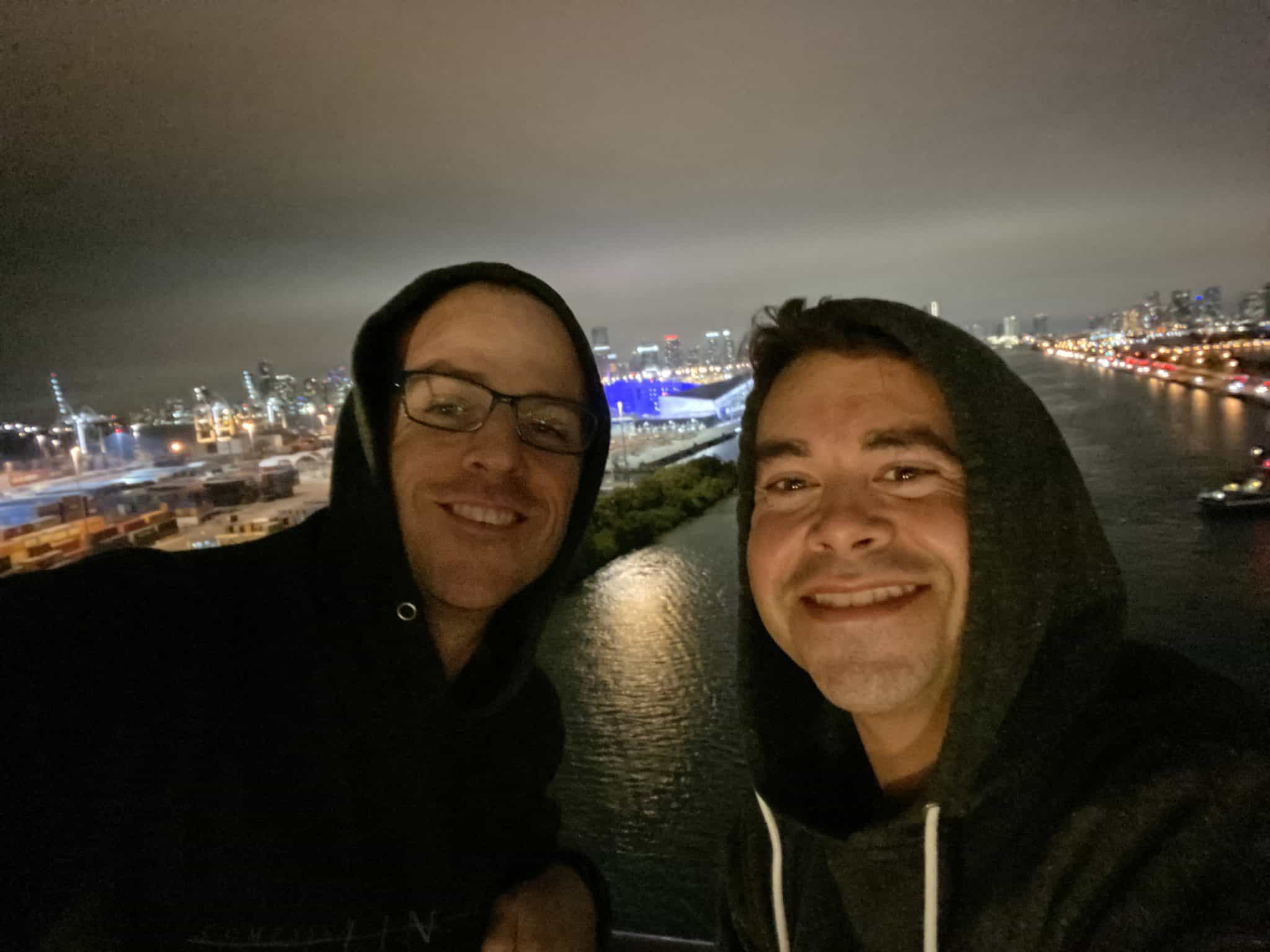 One thing about MSC is that it's very popular with Europeans. This exhibits itself in several ways, including that the ship leaves Miami at 7 p.m. as opposed to the more typical 4 p.m. departure. It was cool to experience the rare nighttime sail away from Miami, but it was chilly.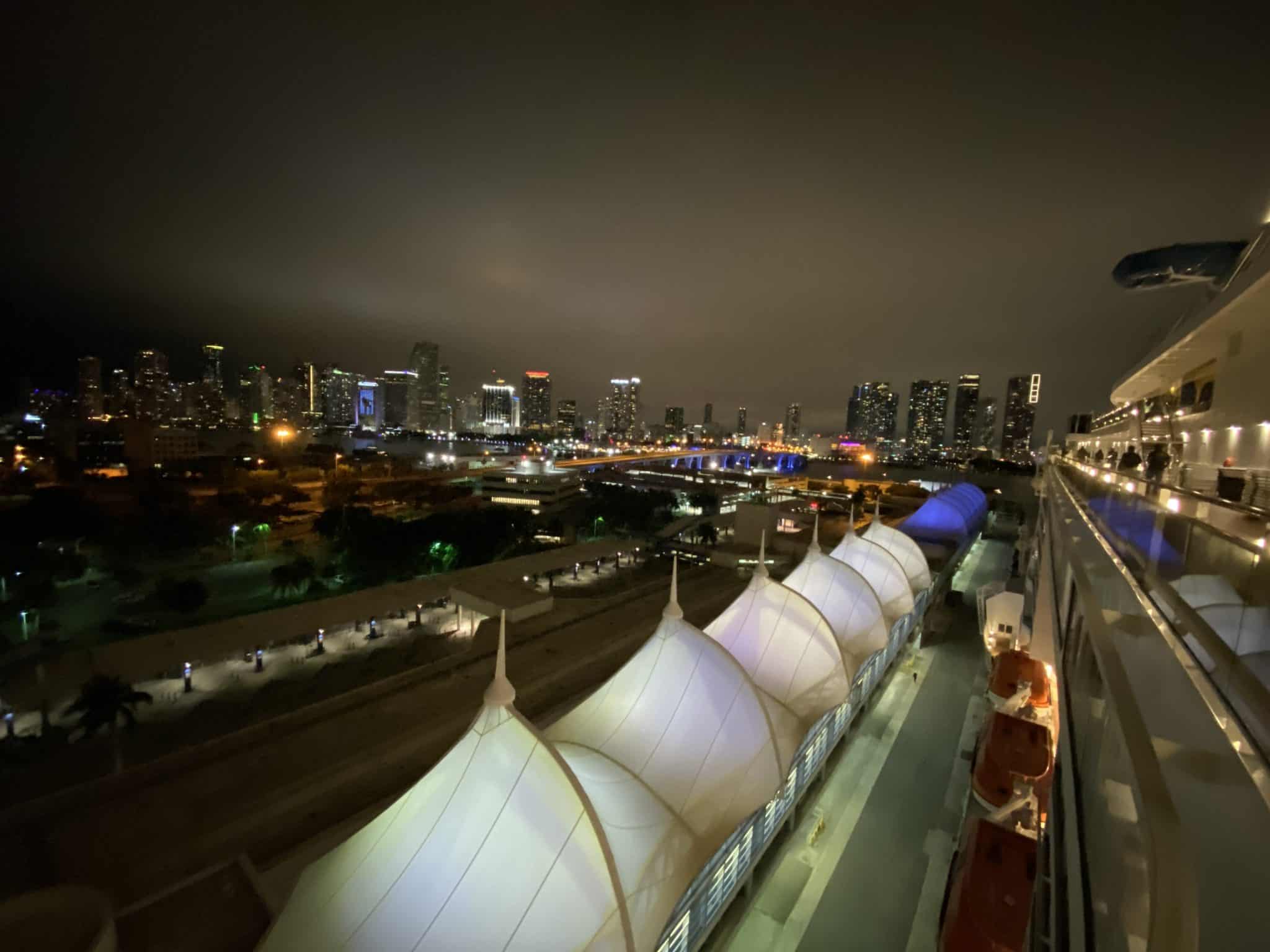 The temperature was in the upper 50s as we set sail. I only remember one other time when it was this chilly for a sail away in South Florida, and that was in January. Despite the chill in the air, it was a beautiful sail away.
As we left, we passed the Norwegian Encore which, like the Meraviglia, is new to Miami.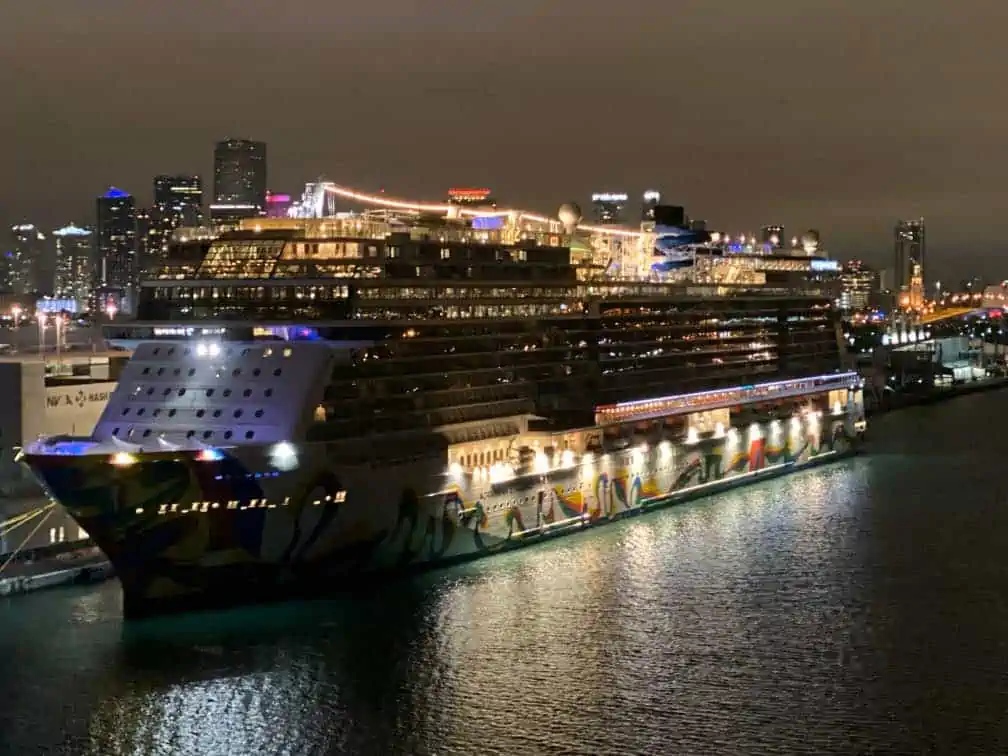 Like most modern cruise lines, MSC's smartphone app can be used to make reservations, check your onboard account and buy the internet package. They have a variety to choose from, including the social package which was priced at $39.99 for this sailing.
I went with the unlimited internet plan for $109. So far, it seems to be decent. I was able to stream Amazon Music and upload my Cruise Radio News audio files.
As you'd expect, the internet's quicker at night or in the wee hours of the morning, when most people are sleeping.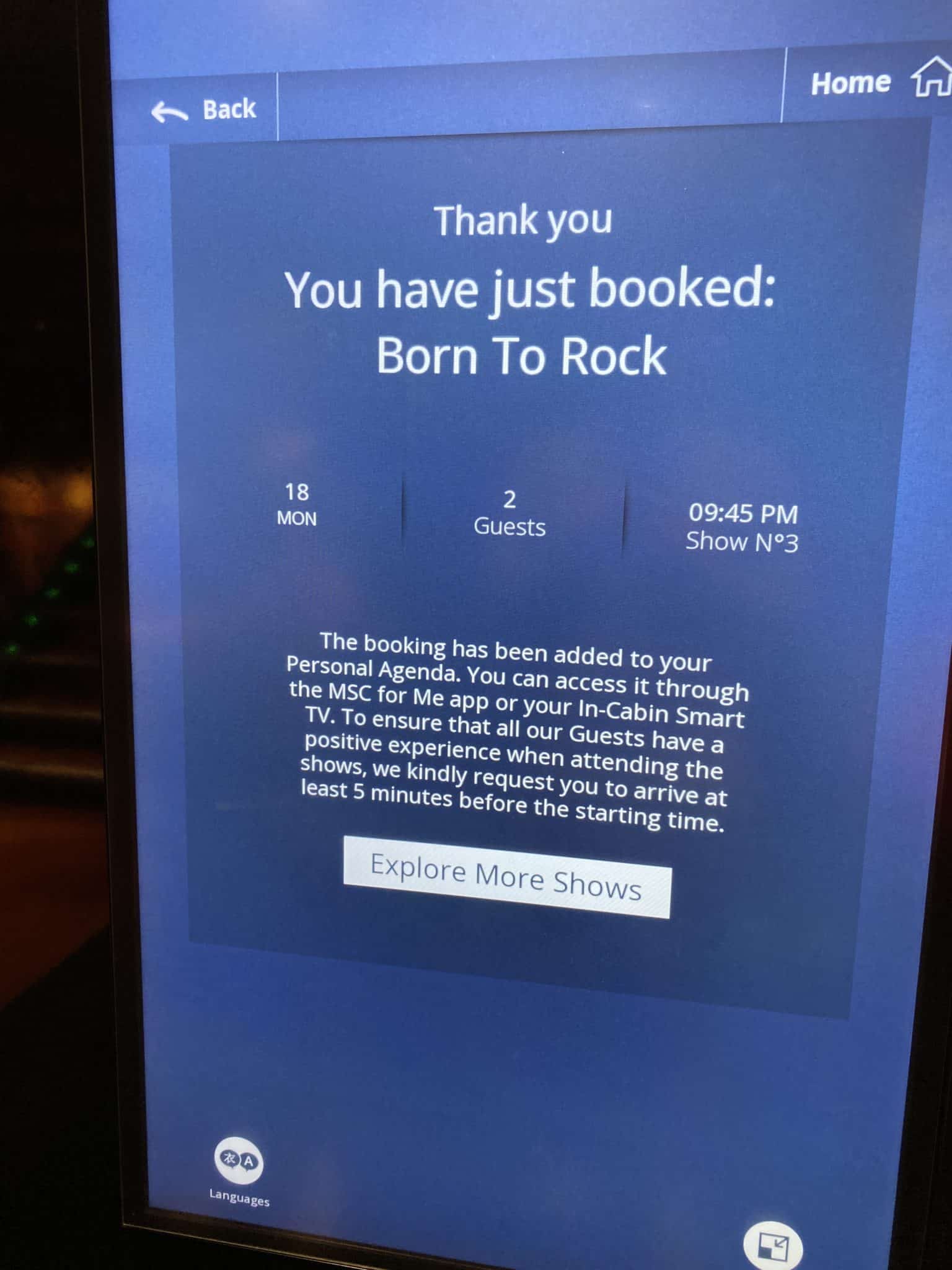 Speaking of the app, we also made our show reservations for the entire week on it. There's also digital, interactive signage around the ship, like on other lines, on which to make reservations for various events. They always remind of giant iPads.
Here's a tip, though: Only use one finger to navigate the digital signs. Otherwise, you'll wind up getting frustrated and walking away. Trust me, I speak from experience.
Tonight's show was called Virtual. The basic idea was that someone had gotten trapped inside a cellphone and, in trying to escape, kept launching apps instead. The cast members and the large LED screens worked in tandem, and I kept thinking that if you were tripping on acid, it would be one hell of an experience.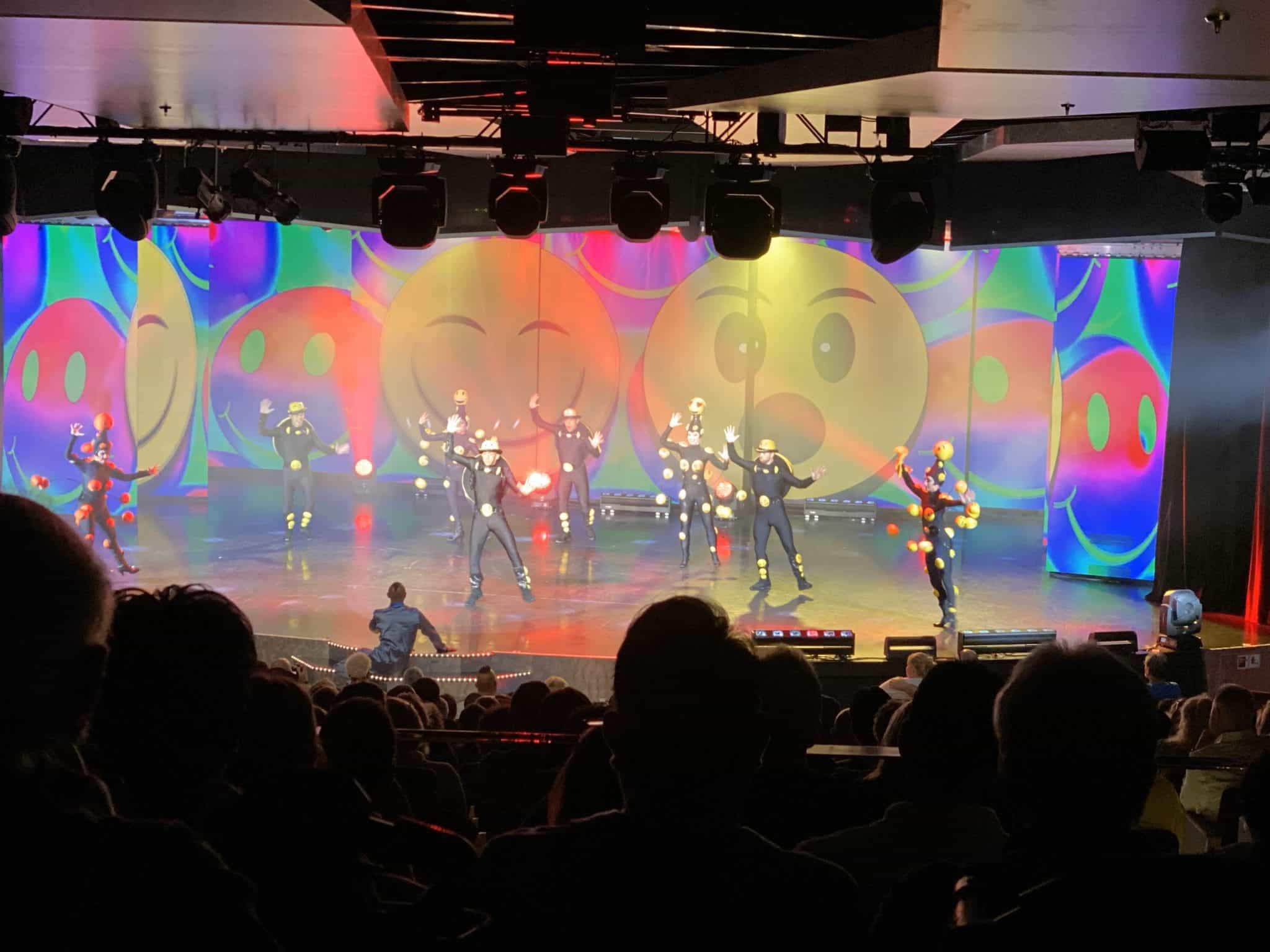 Speaking of LED, remember the promenade's ceiling that I mentioned being impressed by when first we boarded? They use it for an incredible show, set to music, that brings the whole area to life. We took a stroll and enjoyed the show before calling it a night.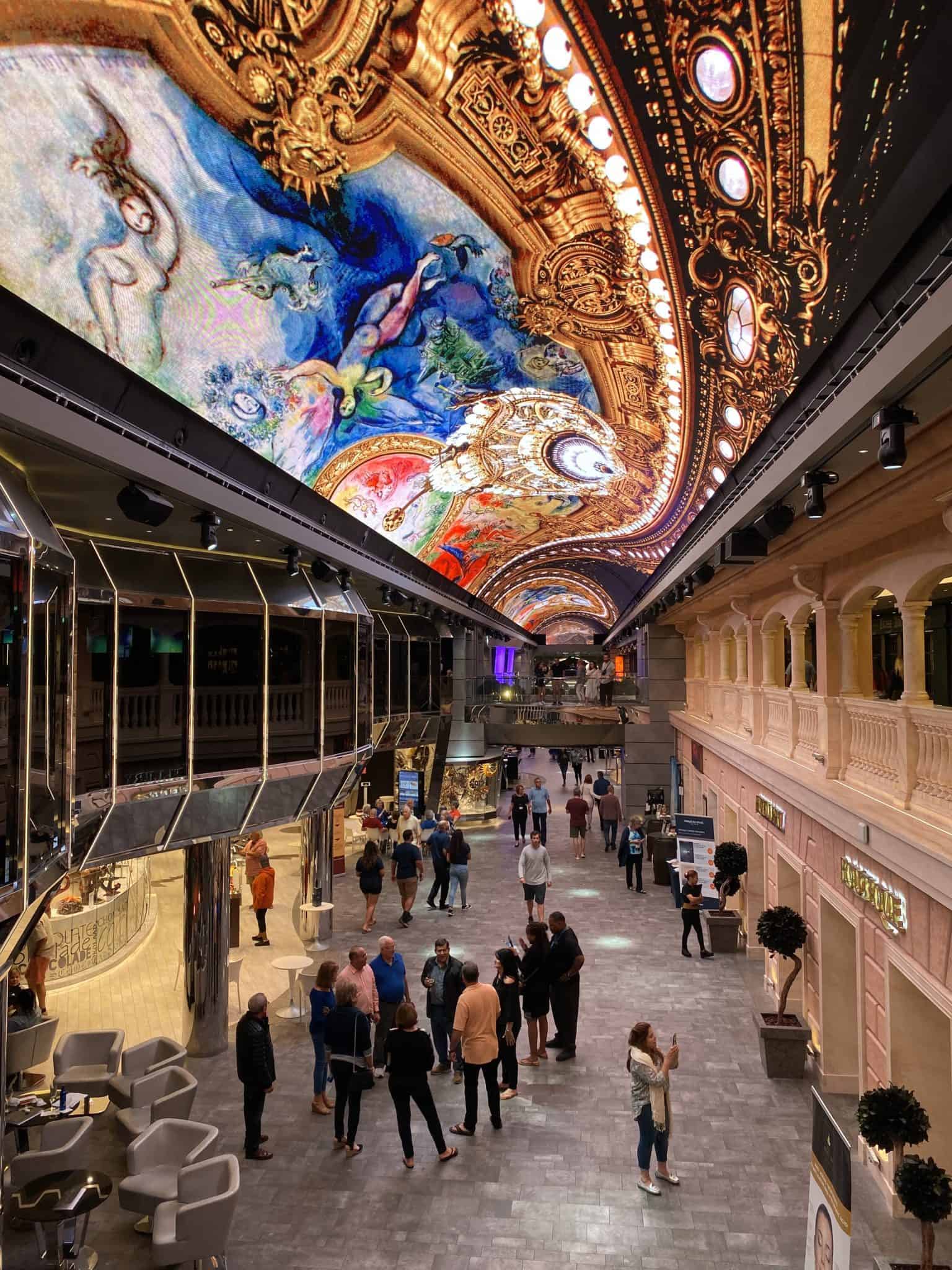 Listener Question via Instagram DM: We heard that MSC Cruises' main language is Italian and no one speaks English. Is that true? – David
As I mentioned earlier, this is definitely a ship that draws a more European crowd than you might find on other mainstream lines sailing out of North America. But because the ship is based out of Miami, English is the primary language.
Yes, you'll hear other languages being spoken, by both passengers and crew, and even during announcements. But English is the predominant language.
Tomorrow will be a great opportunity to explore the ship, as it'll be a sea day.