Our first full day on Viking Sky was spent in London at the same pier where we embarked yesterday. This meant that even though today was the first full day of the cruise, we didn't actually spend much of it on the ship because there was a city to see.
You can read yesterday's embarkation report here.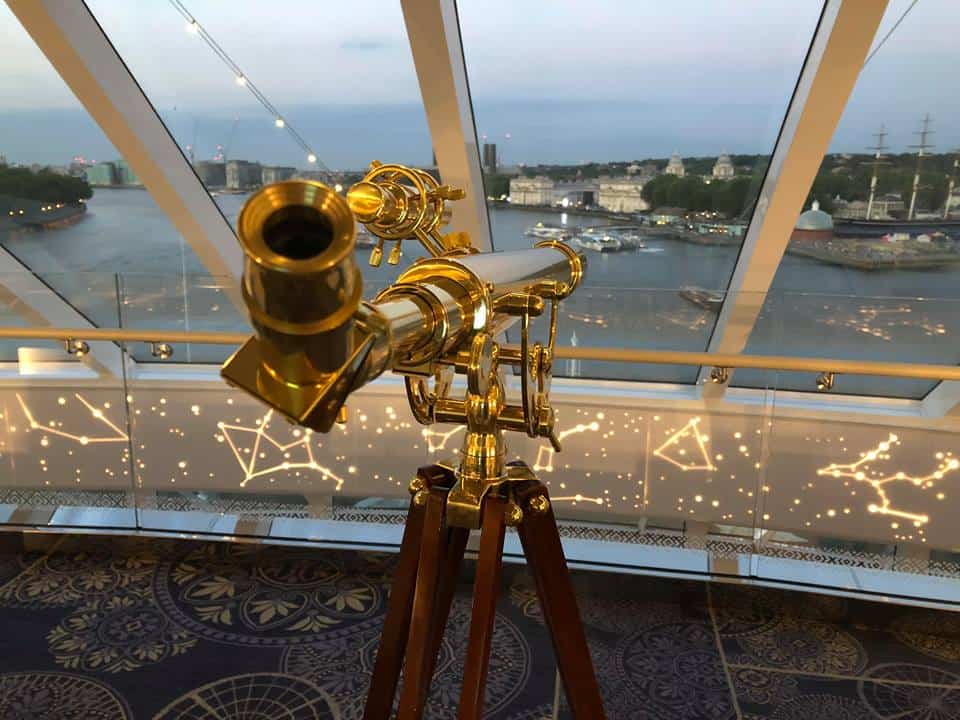 After waking up this morning around 7:30 am, we ate breakfast in The Restaurant. I had slices of pineapple, and it came with 6 large slices – that alone could have been my entire breakfast! I also ordered chocolate chip pancakes, and was very pleased to see that it came with only one. I'm one of those people that can't usually eat a huge breakfast, so smaller portions are always relieving to me.
Exploring London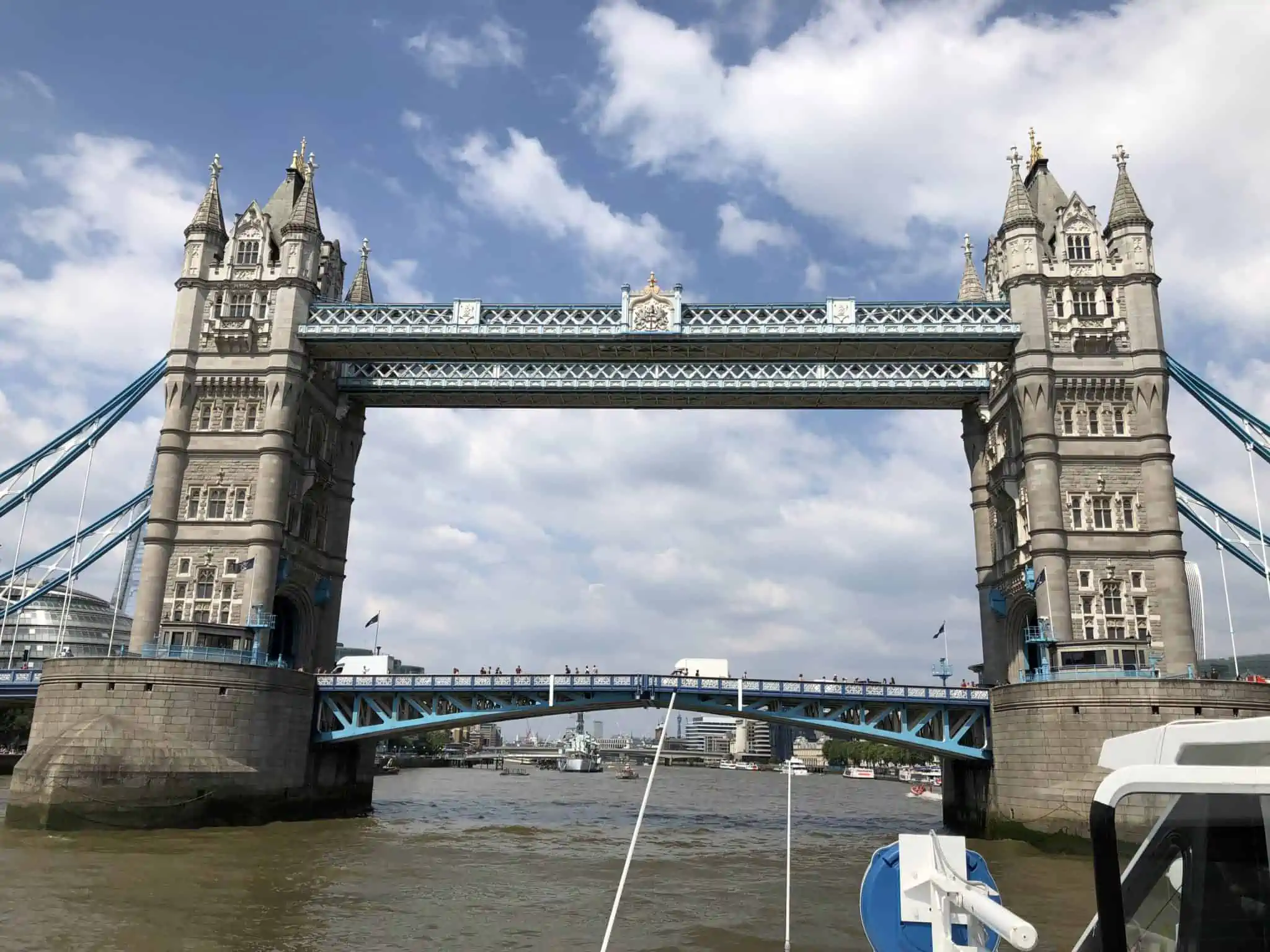 After breakfast, we got in line for the next tender off the ship. We decided to take a City Cruises boat down to Westminster Pier. You can pay a one-way fare or buy a round-trip, but since we weren't sure how the day would turn out we just bought a one-way. It was just under 13 pounds and had an open-air top deck as well as a slightly air-conditioned interior deck below. There was also a tour over the sound system about the Thames River and different landmarks we passed along the way. My favorite part was going under the Tower Bridge and London Bridge. Such iconic structures in London.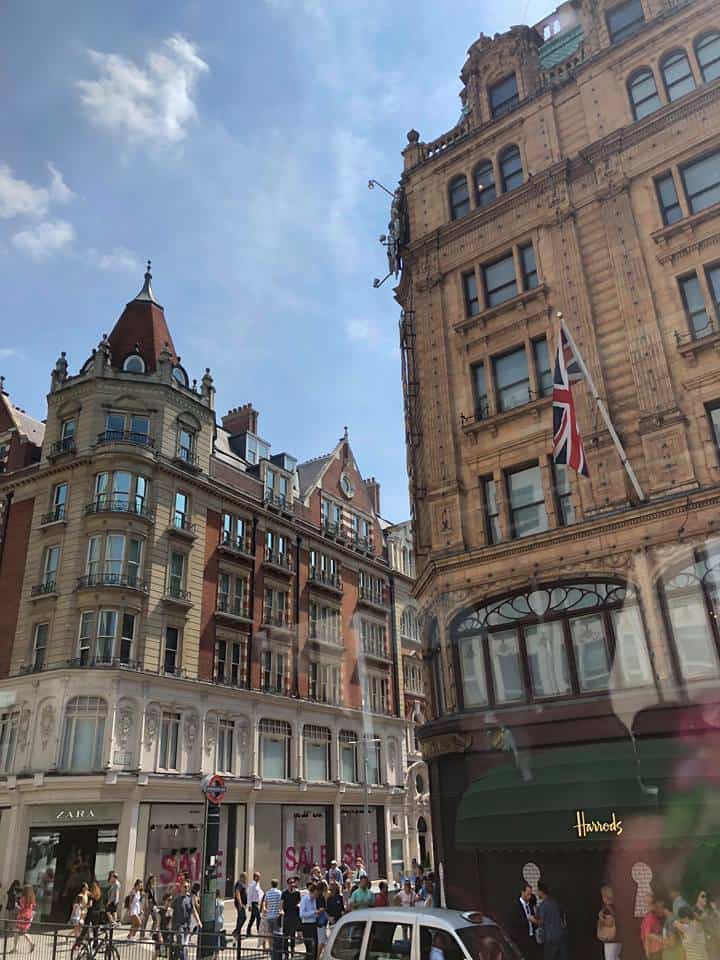 Once we arrived at Westminster Pier, we walked around the area, which includes Big Ben, Westminster Abbey, the House of Parliament, Parliament Square Garden, and the Imperial War Museums. The London Eye is just across the river from this area. Also, just across the street from Parliament Square Garden we found several red telephone booths on the sidewalk, if you're looking for an iconic London photo op! I had to take one too, of course. Further in we found St. James Park and decided to walk through. It features a little lake with a ton of ducks, geese, swans, and other waterfowl, and lots of people were spread out having picnics or chilling under trees to take a break from the hot afternoon sun. The UK has been in a heat wave for the past several weeks and we definitely felt it today.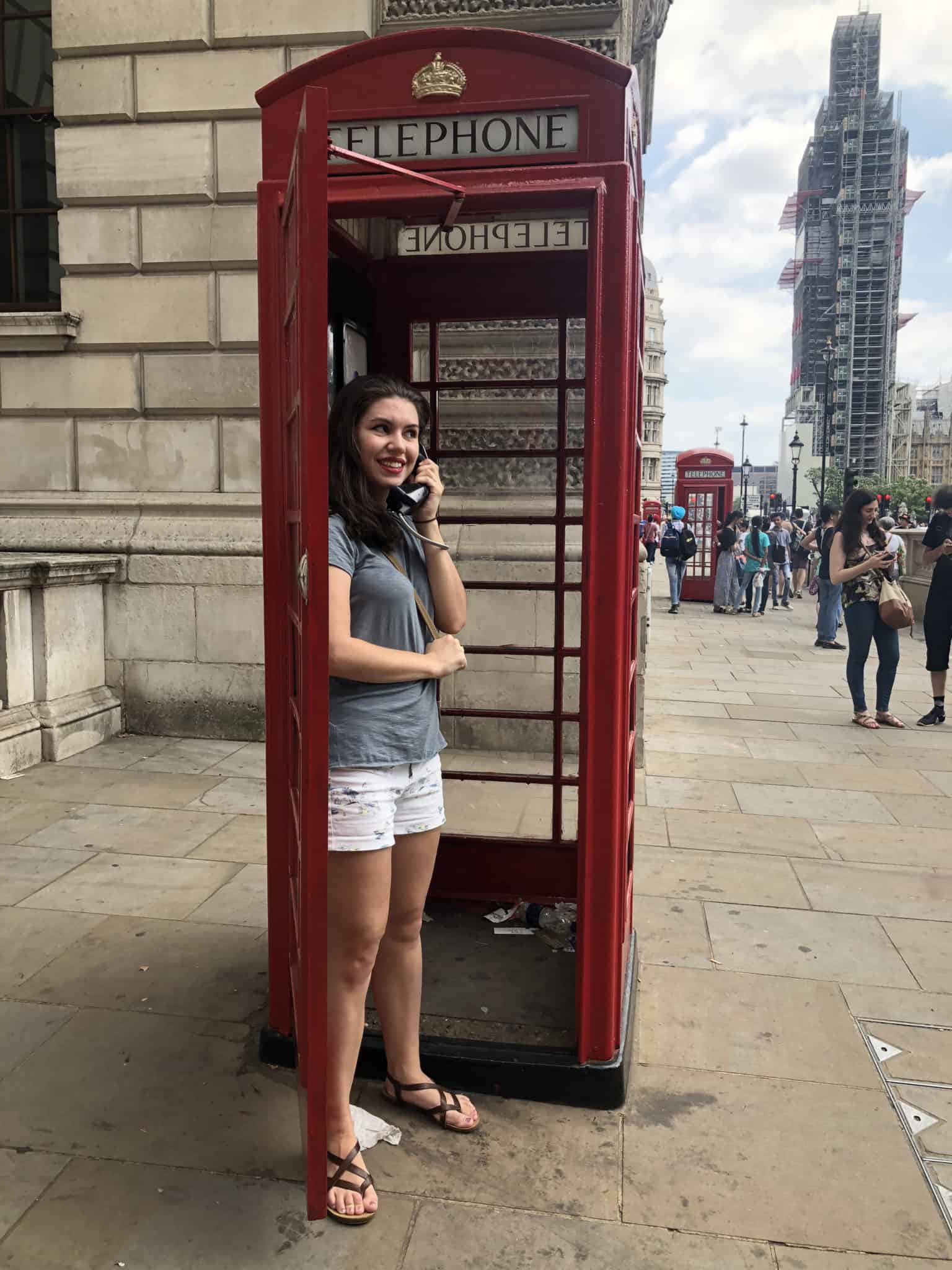 Coming out of the park you arrive at the Buckingham Palace grounds, so we were able to walk around there and see the palace from a short distance. I think one of the neatest things would be seeing the inside of the palace gardens someday – you can walk around the edges but tall walls prevent prying eyes from seeing inside.
Oxford Street
It sounds silly, but I was intent on visiting Primark if it was feasible during our short time in London. I hear a lot about it, and it's something we only have very few of in the United States, and none near where I live. It's an incredibly inexpensive and popular department store based here in the United Kingdom and includes clothes and shoes as well as things like homewares and accessories. So we headed to Oxford Street, which felt more like a street in Chicago or New York City than London.
Not only did we stop into Primark, but I also was able to take a peek into the Disney Store and buy a London-themed mug there. I got a similar one at the Disney Store in Venice, Italy when I was there last year, so I feel like it's a tradition now.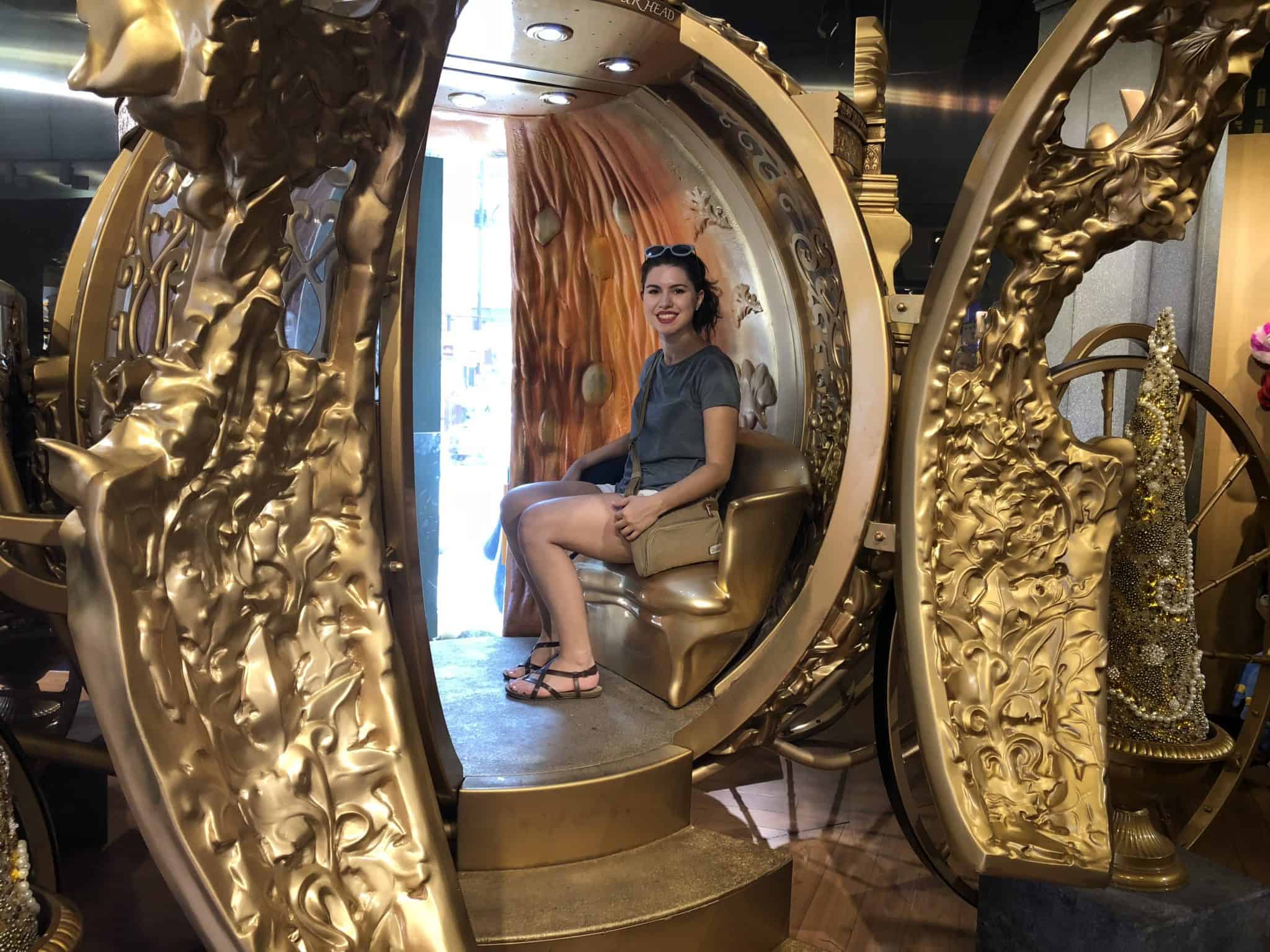 Public Transportation
After that, we ventured down into The Tube (London's underground train system) to make our way back to Westminster without having to walk the entire distance back. There was a little bit of confusion for our first time, but I can honestly say that I think The Tube is much simpler and easier to understand than the NYC subway system. It's a very straightforward form of public transportation and we easily made it back to Westminster.
From there, we decided to hop onto a faster boat back to Greenwich – a Thames Clipper, which is another form of London public transportation. Think of it as a bus on the river. They even take Oyster Cards, which is the pay-as-you-go, tap in, tap out pass to use a number of public transport in the city, including The Tube (though you can buy individual tickets for The Tube or Thames Clipper too, if you're just visiting). It was a smooth ride with a number of stops along the way back to Greenwich.
Fish & Chips
In our walk around London, we actually ended up skipping lunch. It wasn't really a conscious decision; it just ended up happening that way with all of our exploring. So once we got back onboard, we were starving and it was dinnertime. Tonight's destination feature on the menu was London Fish and Chips along with Bread and Butter Pudding for dessert, and I ordered both. They were delicious, but be aware. The bread and butter pudding has a strong alcohol flavor and doesn't mention that on the menu. I think it was whiskey and I didn't mind, but it's something to be mindful of if you don't like that kind of flavor.
Sail Away on Viking Sky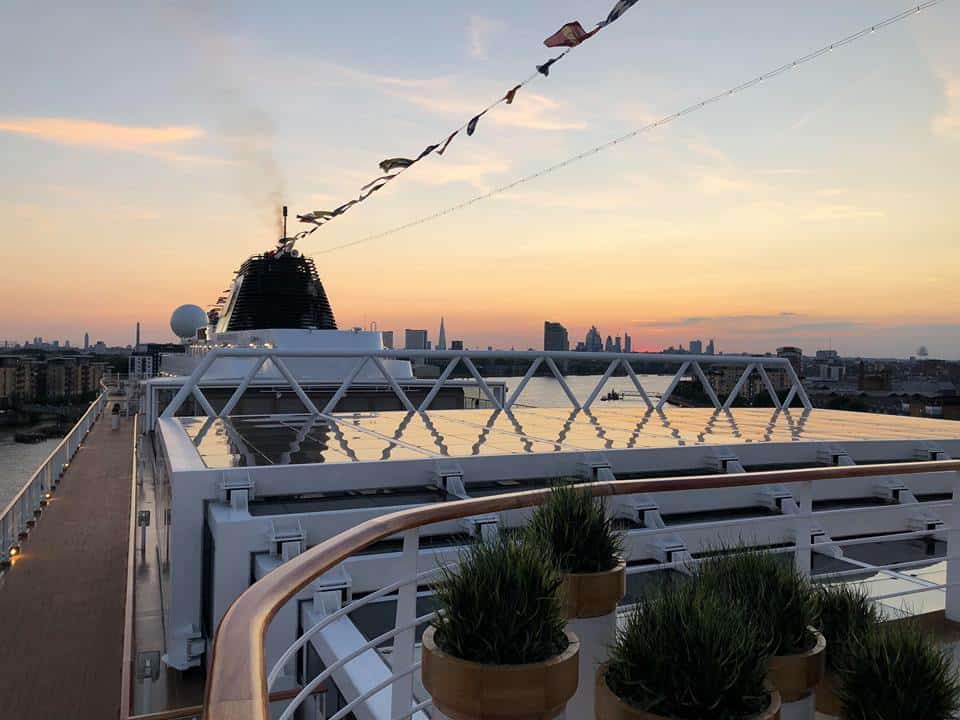 The ship started to sail down the river soon after we finished eating dinner, so the timing was perfect. The captain opened the crew-only forward deck on deck 3 to everyone for sail away, so lots of people crowded out there for prime views and photos. We sailed past the O2 stadium, cable cars that were so high in the sky and went right across the river, and the financial district of London with a tall cluster of skyscrapers. We stood outside watching for a while, but the wind was whipping and it was getting dark so we came back in.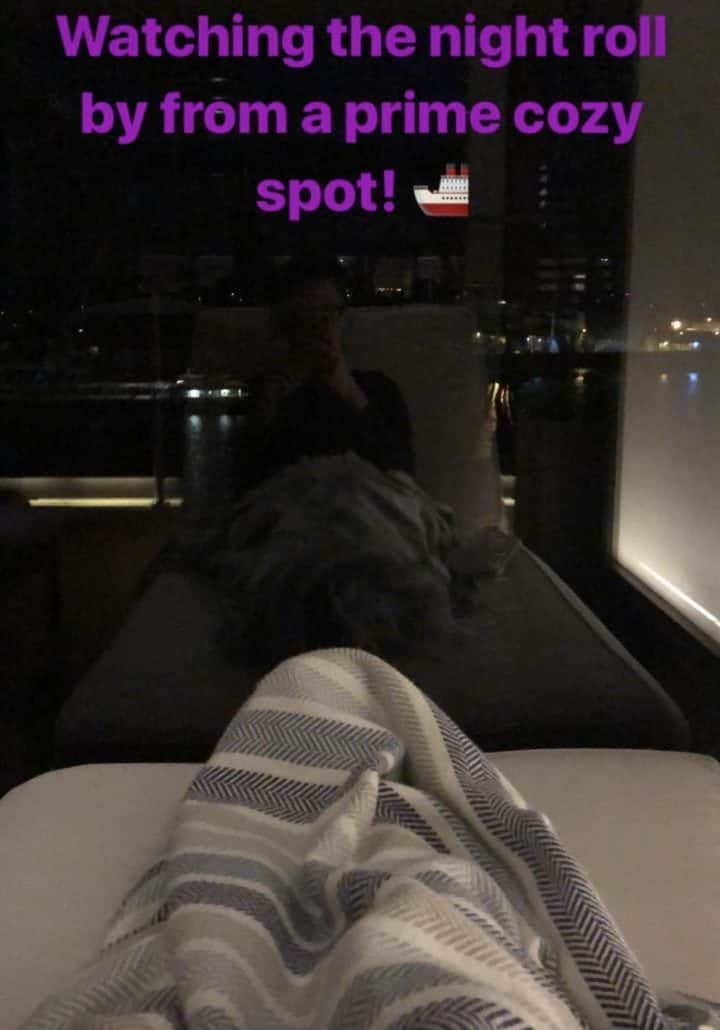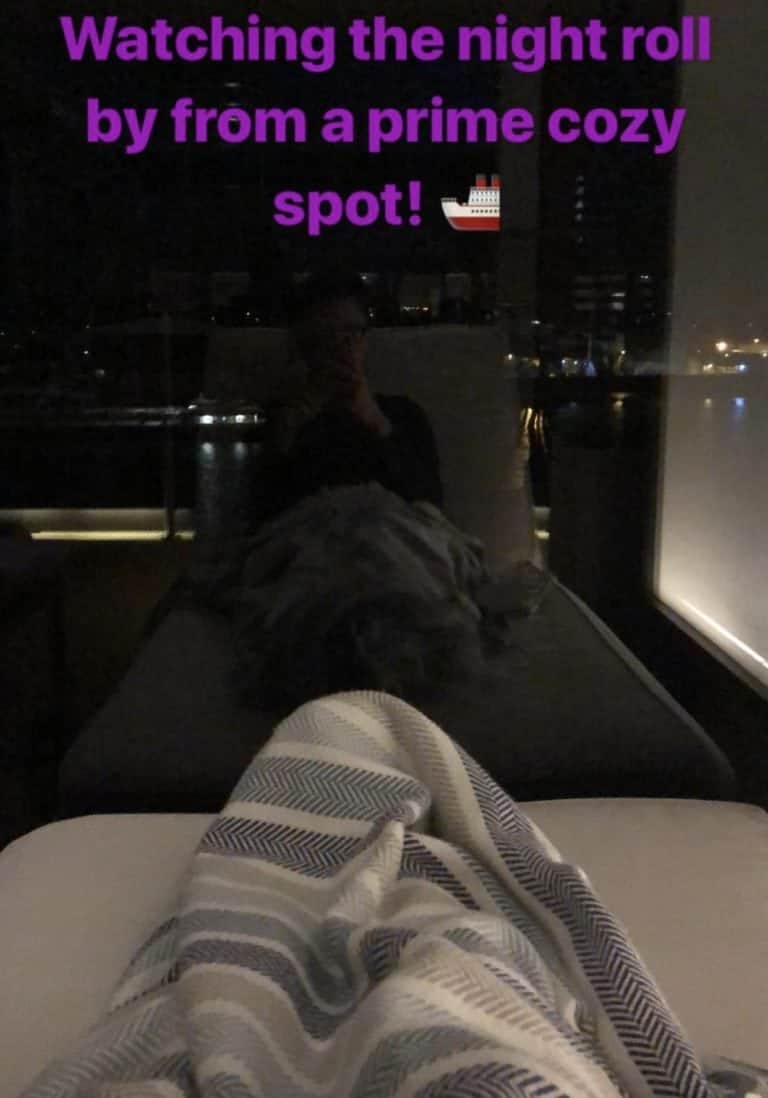 Now I'm sitting on the lido deck, which has a retractable roof that the crew closes when the weather is colder. It's chilly this evening so the roof is closed, and it's delightfully warm in here, and even a little bit humid from the glowing pool. I'm the only one on the entire deck and I decided to sit in a lounger facing the floor-to-ceiling exterior windows, so I can faintly see the lights from shore go by as we sail further down the river towards the ocean. There was even a blanket on the lounger so I curled up under it immediately.
It's time to sign off now and enjoy my cozy spot a little bit longer. Goodnight.
Full disclosure: Viking invited me on this cruise. As always, my thoughts and opinions are my own.