Today was a sea day, and even though it's just the beginning of the cruise it was very much needed! I've done much better getting over the jet lag than I expected, but it's still a tiny bit there and we ended up needing some extra sleep today.
You can read yesterday's trip report here.
We decided to order room service breakfast last night, so we filled out the door hanger and put it out just before 11 pm. We chose the latest breakfast slot possible, which was 9:45-10 am. It arrived this morning just before 10. Between my mom and I, we got an omelet, cold cuts plate, cream of wheat, yogurt, grapefruit, hot chocolate, and cranberry juice. It was delicious, and I was pleasantly surprised by the hot chocolate. I think it was made from scratch and tasted much better than the powdered stuff that comes in a packet.
After that, we ended up falling back asleep! I don't feel too guilty though, because it's only our second full day in Europe and we need to catch up from the lack of sleep during the night we flew over. Once I woke back up and got ready, I headed down to the pool grill for a hot dog and fries. The hot dog was quite long and I couldn't finish it, but it tasted great; they even lightly toast the bun just before serving. I took my plate over to a high top table on the lido deck, which was covered because it's gotten chillier the further north we've sailed. I suspect it will stay covered for the rest of the cruise. Once I sat down a server came over and I ordered a margarita, which was prepared at the nearby bar. It was such a pure margarita – I could tell it was handmade and not from a mix, which was very refreshing.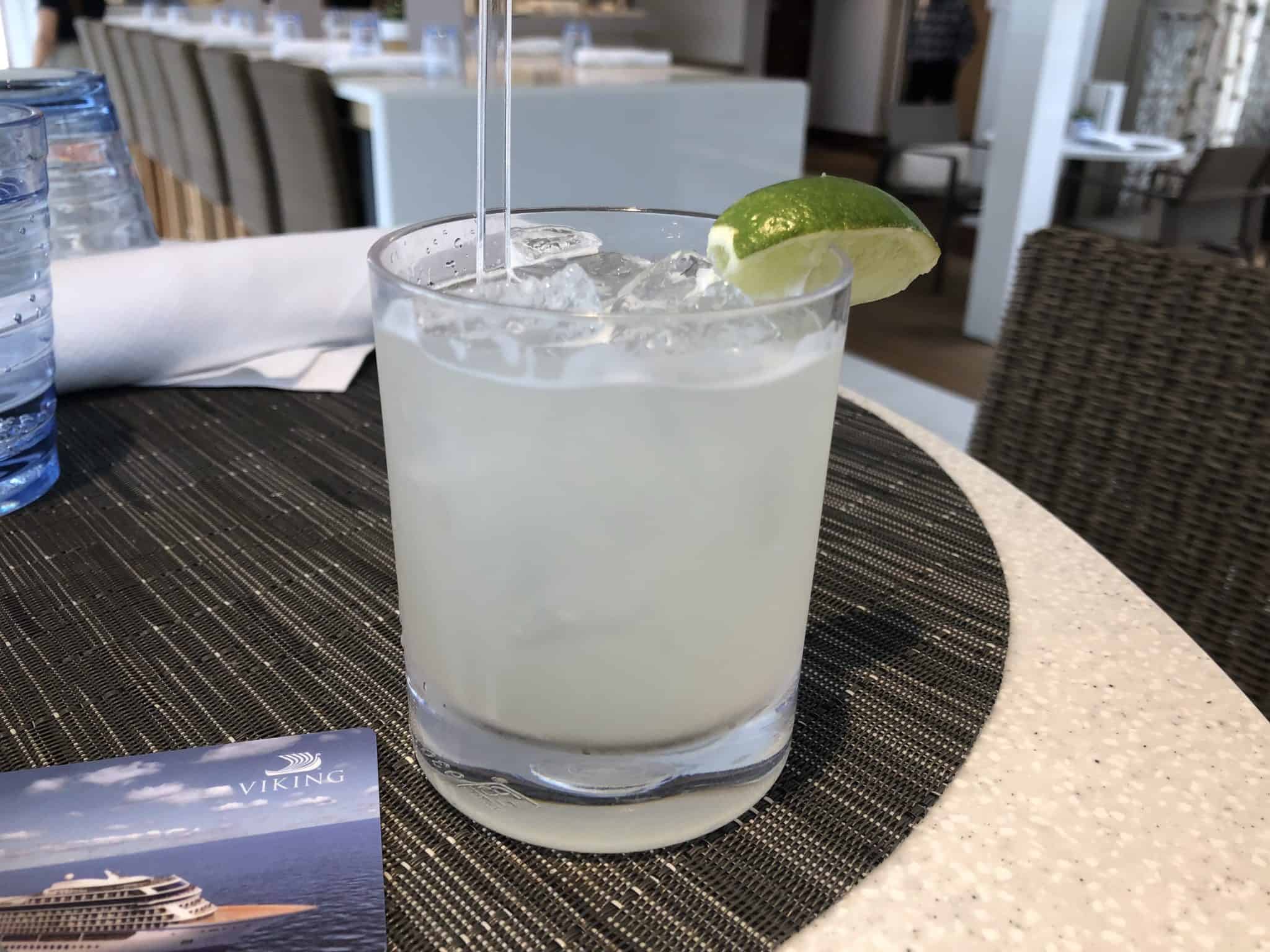 After eating, I decided to hit up a balloon-popping giveaway activity at the jewelry shop onboard. It was a bust though, because even though I got there a few minutes before the start time listed in the daily, the balloons had already been popped and the giveaway had been won. If there's an activity with a clear start time and it's time sensitive, it really shouldn't be starting early! In this case it's not a big deal, but it left me (and others that arrived when I did) walking away disappointed that we had missed the fun completely.
Port Talk
This afternoon there was a talk on tomorrow's port of call, which is Edinburgh, Scotland. It was held in the main theater and the cruise director told us about some of the city's history and showed beautiful photos from various points of interest on the large screen. Then one of the shore excursions staff members told us about the excursions that are being offered, and the cruise director came back afterwards to give us some logistical details, like tendering information and how the weather is going to be tomorrow. It was informative and I'm glad we went to see what a port talk was like, but I don't think I'm going to attend many more. They are recorded and available on the cabin TVs, so I'm probably going to watch the ones that interest me when I get ready for bed each night, and skip over the excursions portion since we already have all of ours booked.
Afternoon Tea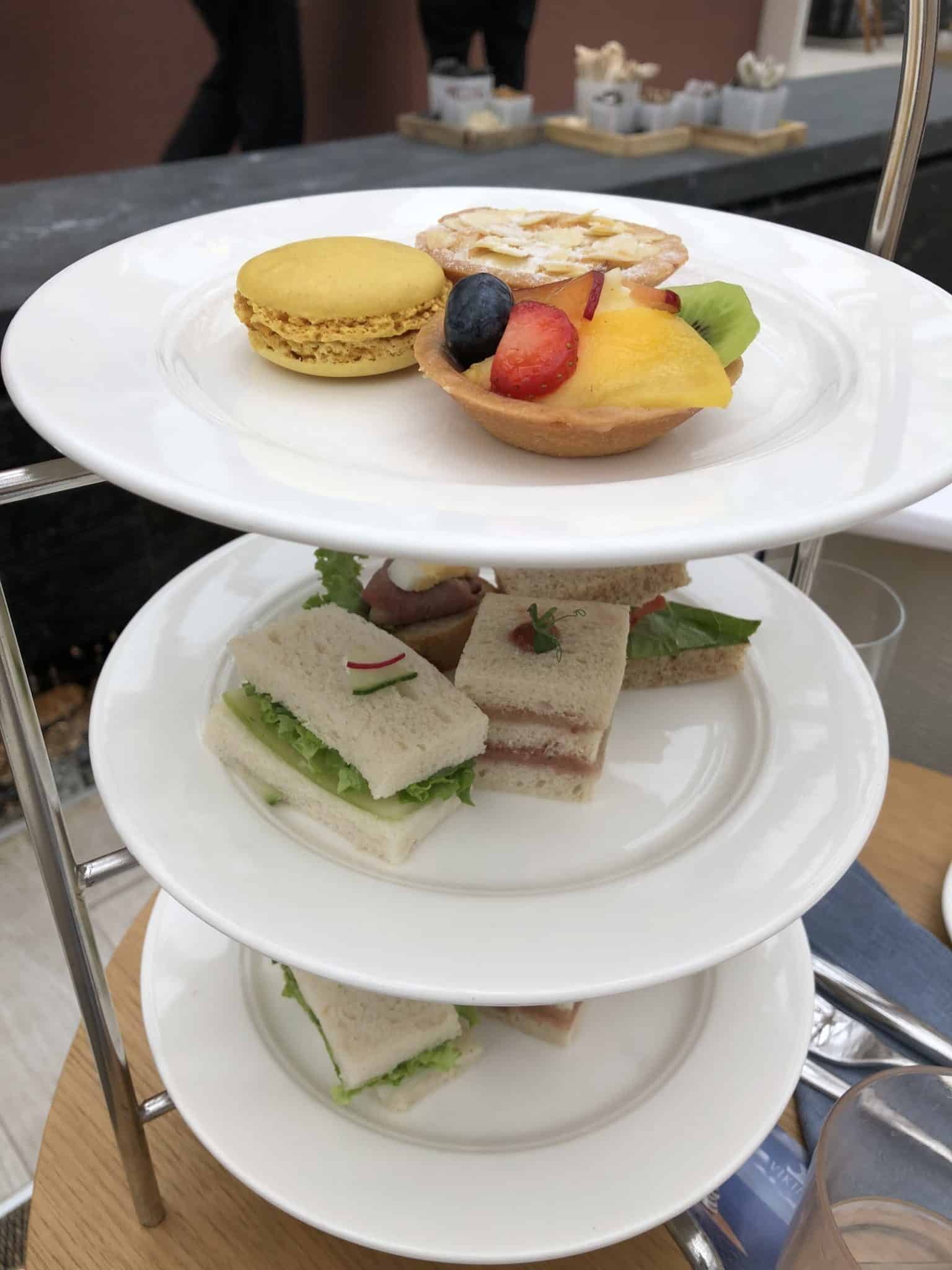 Afternoon tea is from 4 to 5 in the Wintergarden each day, and we made it partway through after the port talk. It was very busy, but we managed to find seats. Servers come over and bring a stand full of finger sandwiches and tarts, and ask if you'd like a scone with jam and butter.
The highlight is, of course, the tea, and there's a menu to choose which variety you'd like. I went for white mango tea and it was perfect for me: fruity and not too sweet.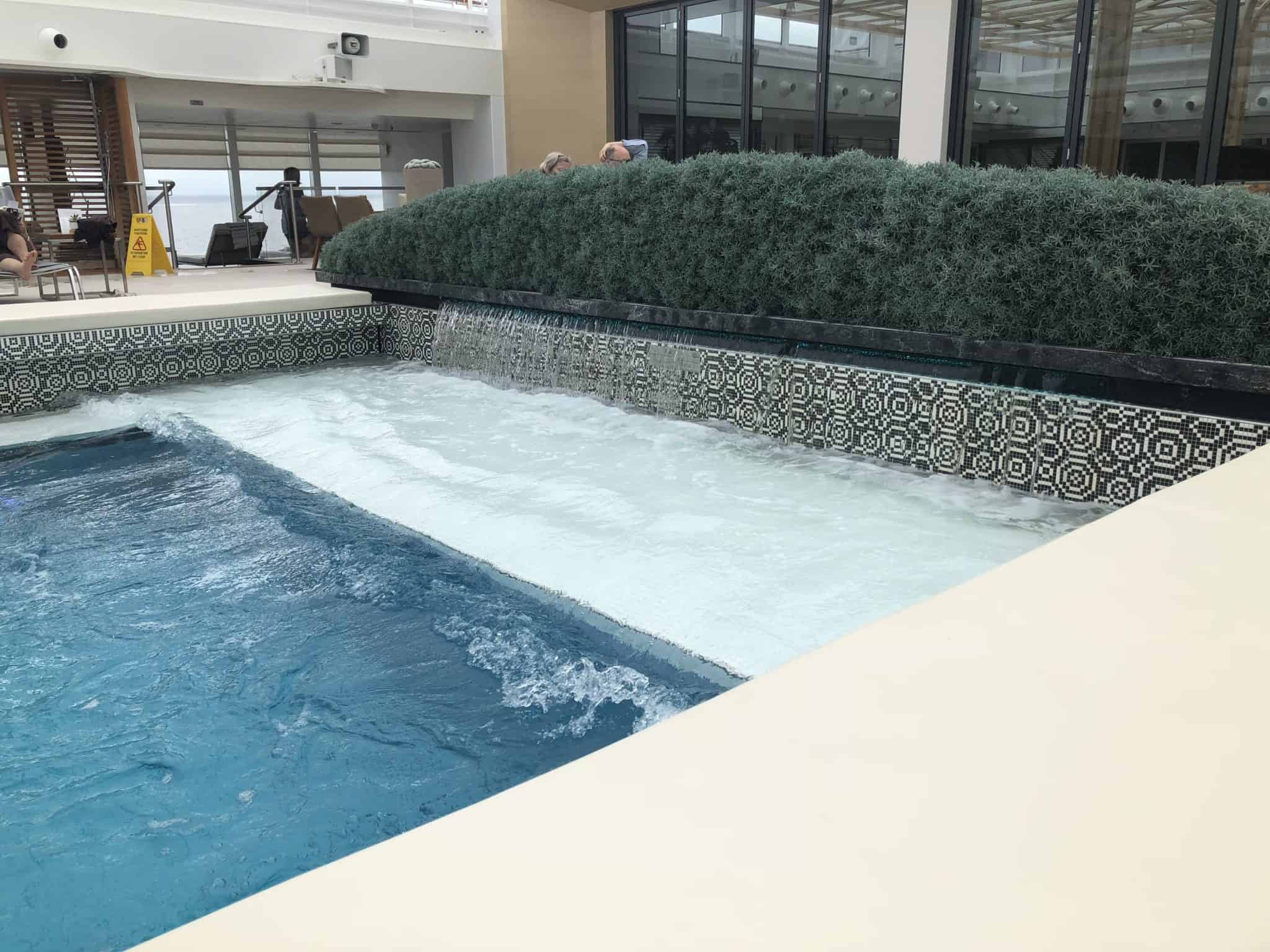 After tea, taking a dip in the pool sounded like a good plan. It was warm like bathwater and couldn't have been better for a chilly, cloudy day like today. There was hardly anyone else in the pool, or even on the lido deck for that matter, so it was really relaxing. The ship has been rocking quite a bit today, which created some waves in the pool. That might bother some people, but I loved it.
Dinner Time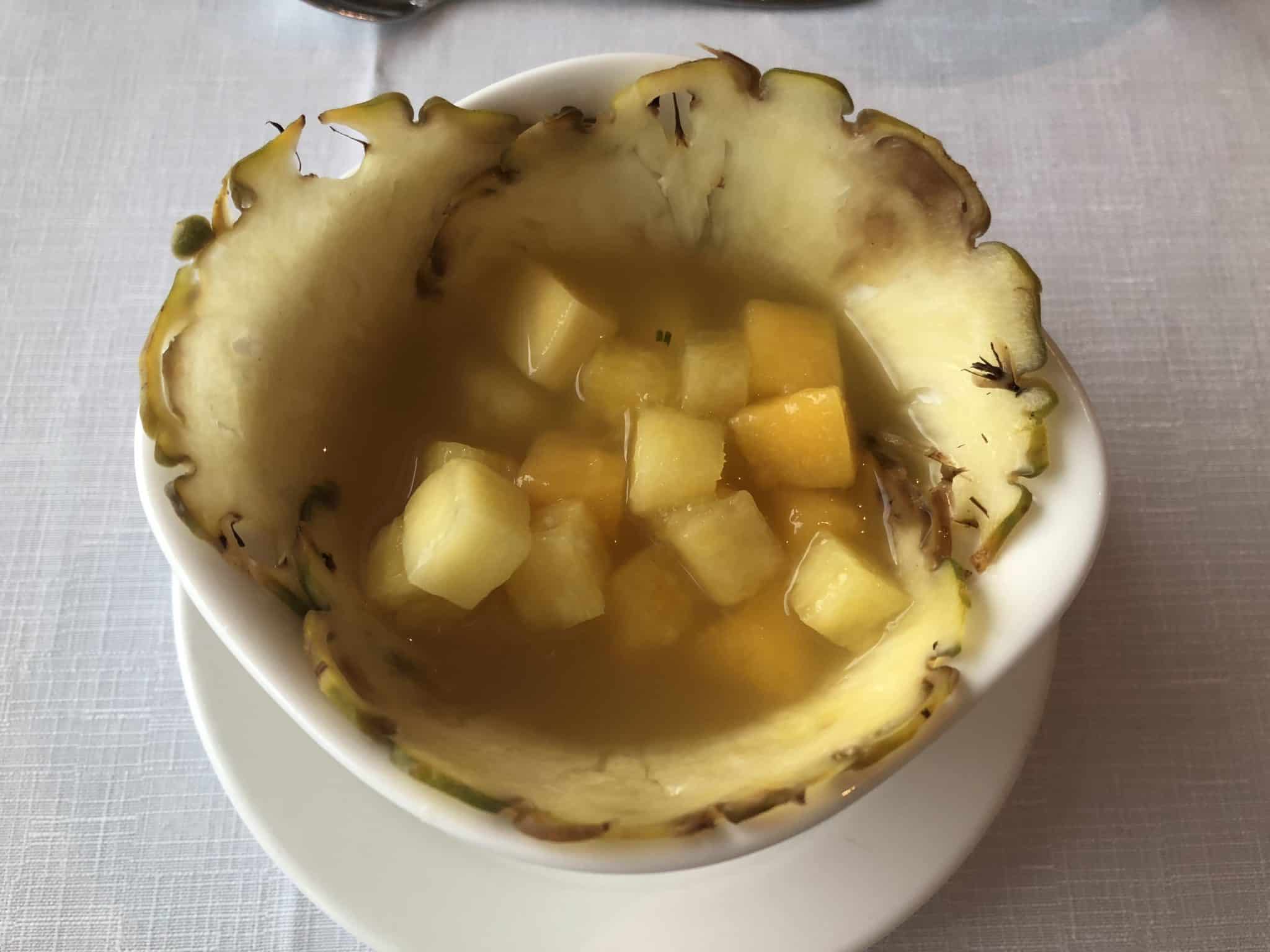 We ate dinner in The Restaurant again as usual, and ended up with the same table by the window that we had yesterday. We've been trying to stick with requesting the same server each night since she's become familiar with my mom's food allergies, and it's been working out great. Tonight the front desk at the restaurant already knew we wanted her section before we even had to ask.
Side note: I am beyond impressed by the crew on this ship so far. They are so friendly, always saying hello or asking how you are when you walk by, and various staff members around the ship have remembered our names even though we've only been onboard for a few days. Anyway, dinner was awesome tonight. I had a mango and pineapple fruit salad as my appetizer, and venison with mashed potatoes and cabbage and half a pear which I believe were both cooked in a sweet wine as my entrée. Banana pudding was for dessert, and it tasted even better than I expected it would.
I practically jogged out of the dining room between my entrée and dessert to go grab my camera and take a few pictures of the sunset, which had just peeked through after a day of almost all clouds. We were sailing away from the sun, so I got a few photos of it from the windy aft.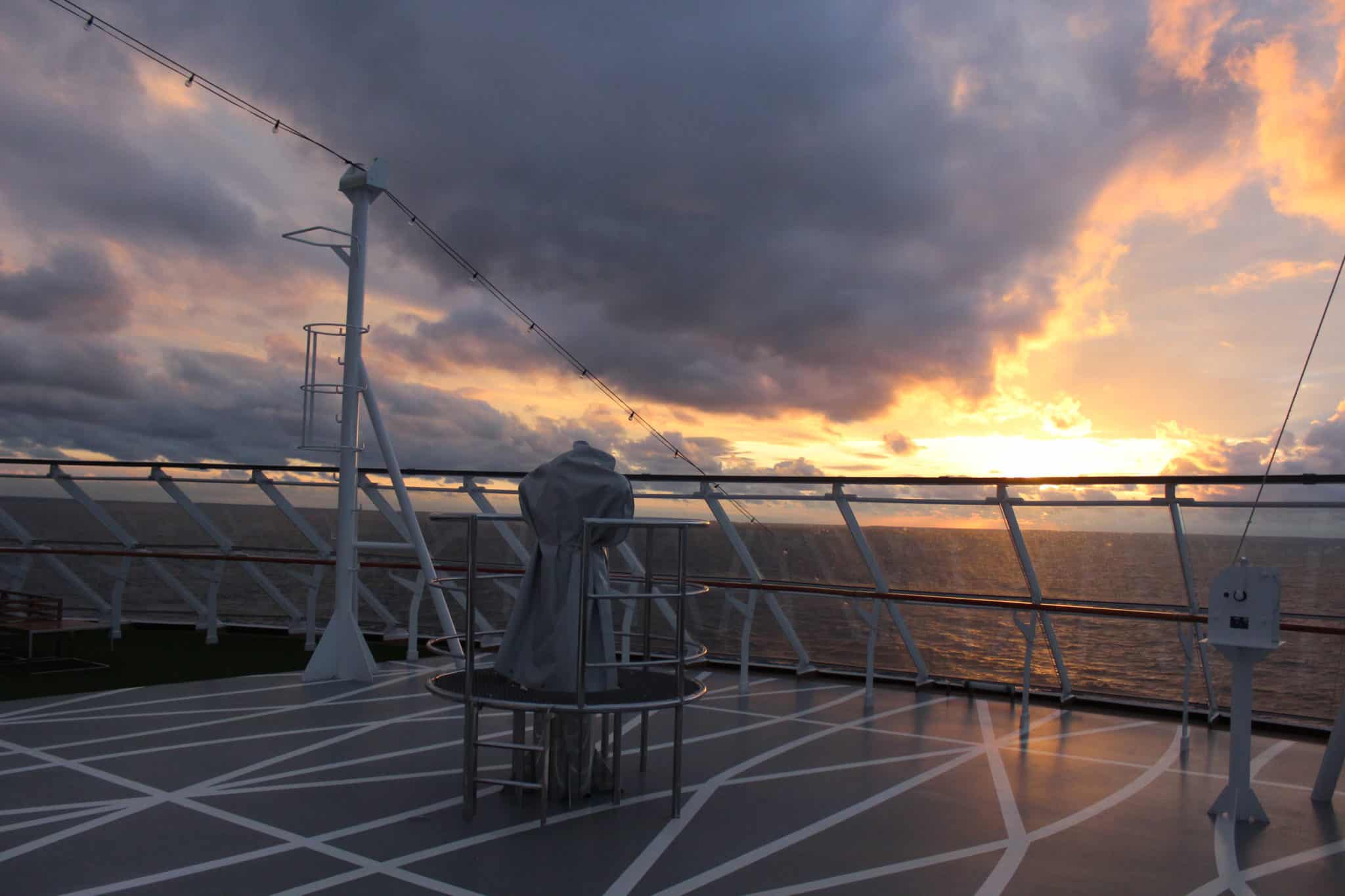 Torshaven Music
The resident guitarist was playing in the Torshaven Lounge tonight, so we stopped in to tap our toes for a little while. The lounge is dark and cozy, with chairs surrounding small tables and some couches along various walls. There's also a bar there, which specializes in Armagnac – a brandy that is produced in southwestern France. They have bottles from 1935-1965, and the menu lists some dates of importance from each year as well as the flavors from each particular batch. Viking boasts the largest collection of Armagnac at sea.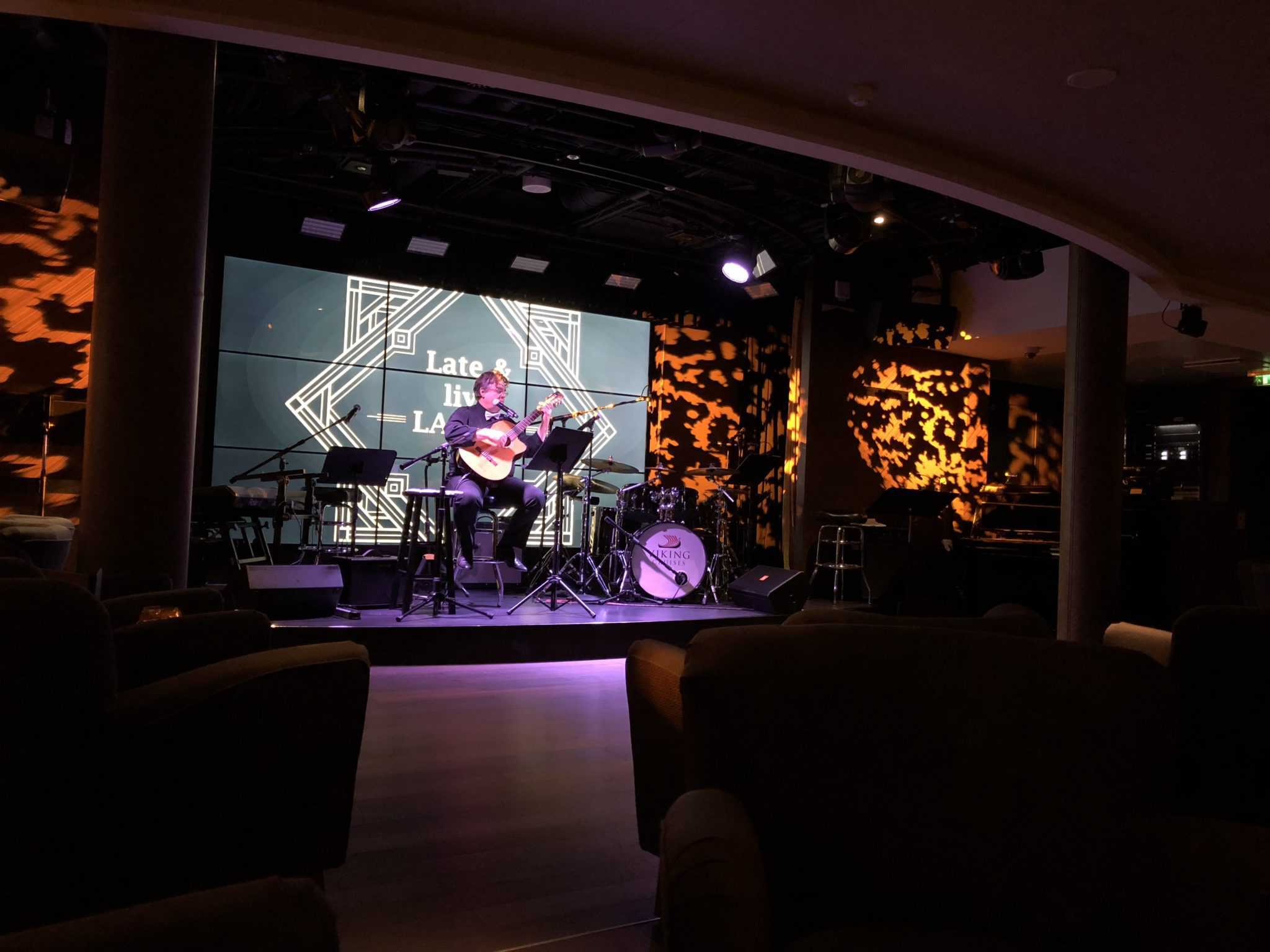 Now I'm cozy in my cabin, getting ready to turn out the light and have a good night's sleep before a fun port day tomorrow. Until tomorrow, goodnight.
Disclosure: Viking invited me on this cruise. As always, my thoughts and opinions are my own.