After traveling for about 24 hours, I've finally arrived at Viking Sky anchored in the Thames River in Greenwich, London.
We took a flight from Charlotte, North Carolina directly to Heathrow on American Airlines, which went smoothly. Customs was an absolute nightmare once we got there; it took us over two hours to get through. We used Viking's transfer, and multiple Viking staff members at the airport were telling us that it was because of the World Cup match between Sweden and England today. Brits take their football seriously, and so many customs agents (and people in every other profession around the country!) took the day off to watch, the line was seriously backed up.
You can read our pre-cruise thoughts here.
Viking Sky Transfer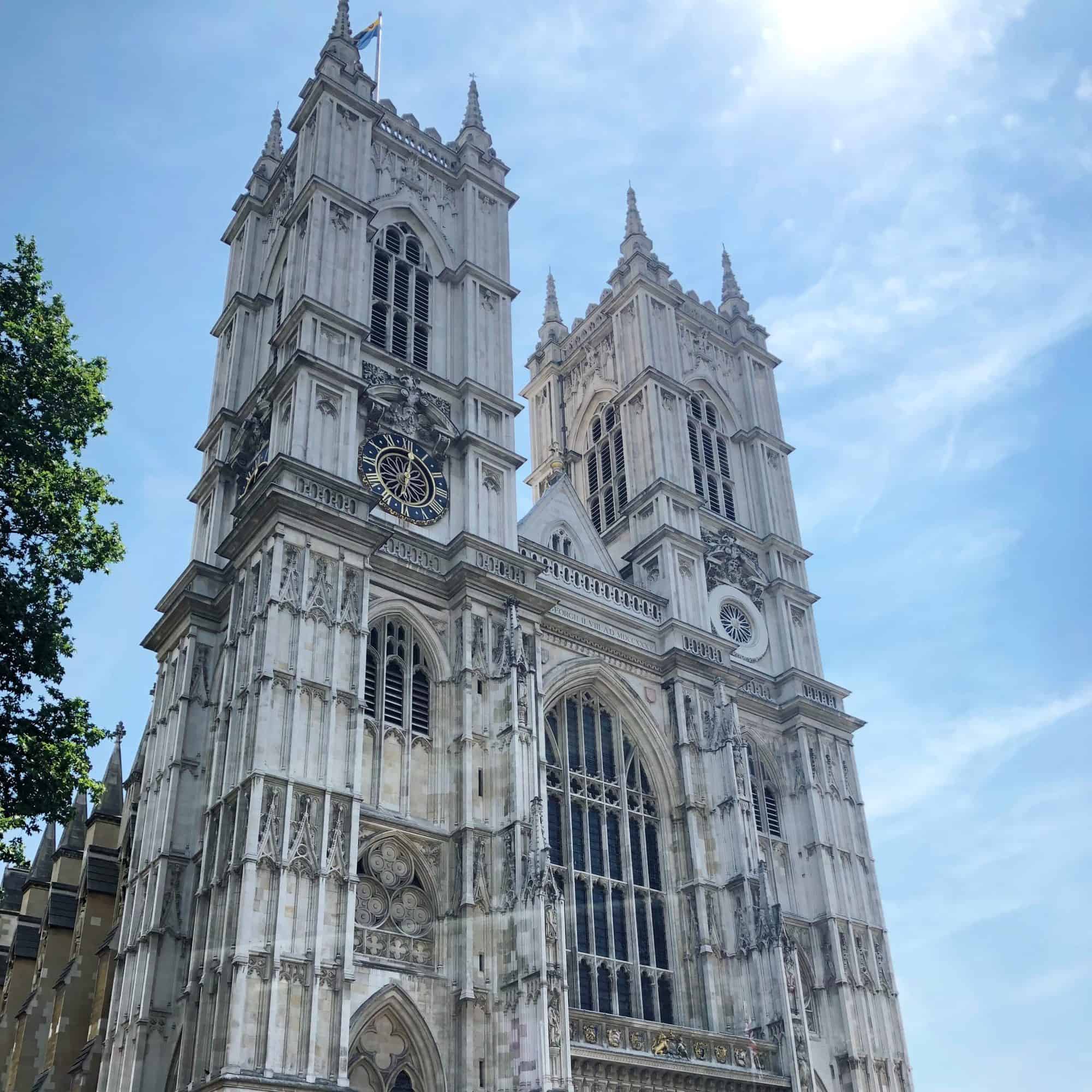 The Viking people were easy to find in the airport, and they directed us through to an area outside where we waited for our coach to arrive. It takes about 1.5 to 2 hours to get from Heathrow to Greenwich Pier, depending on traffic. I wasn't expecting a tour of any kind during the transfer, but we had a lovely tour guide and he told us all about the city, culture, and landmarks as we drove by.
We drove past Big Ben, the Natural History Museum, the grounds of Buckingham Palace, and – my favorite – Westminster Abbey. It was just as beautiful and grand as it looks in photos.
Arriving Viking Sky
We arrived in Greenwich and were directed to a large tent where we checked in and received our key cards, and then boarded a boat for the quick tender ride to the ship, which anchors offshore in the river.
Once on the ship, we headed to our cabin which luckily was ready right around the time we boarded at 2 pm. We dropped our backpacks off and headed up to the buffet for lunch. The buffet is called World Café, and has what you would expect at a cruise buffet but with a few extras and a higher quality. We were so exhausted, we ate in a daze before we headed back down to the cabin for a long overdue nap. They say not to nap when you're trying to overcome jet lag, but if we hadn't taken a short one we would have been completely useless for the rest of the evening!
Dinner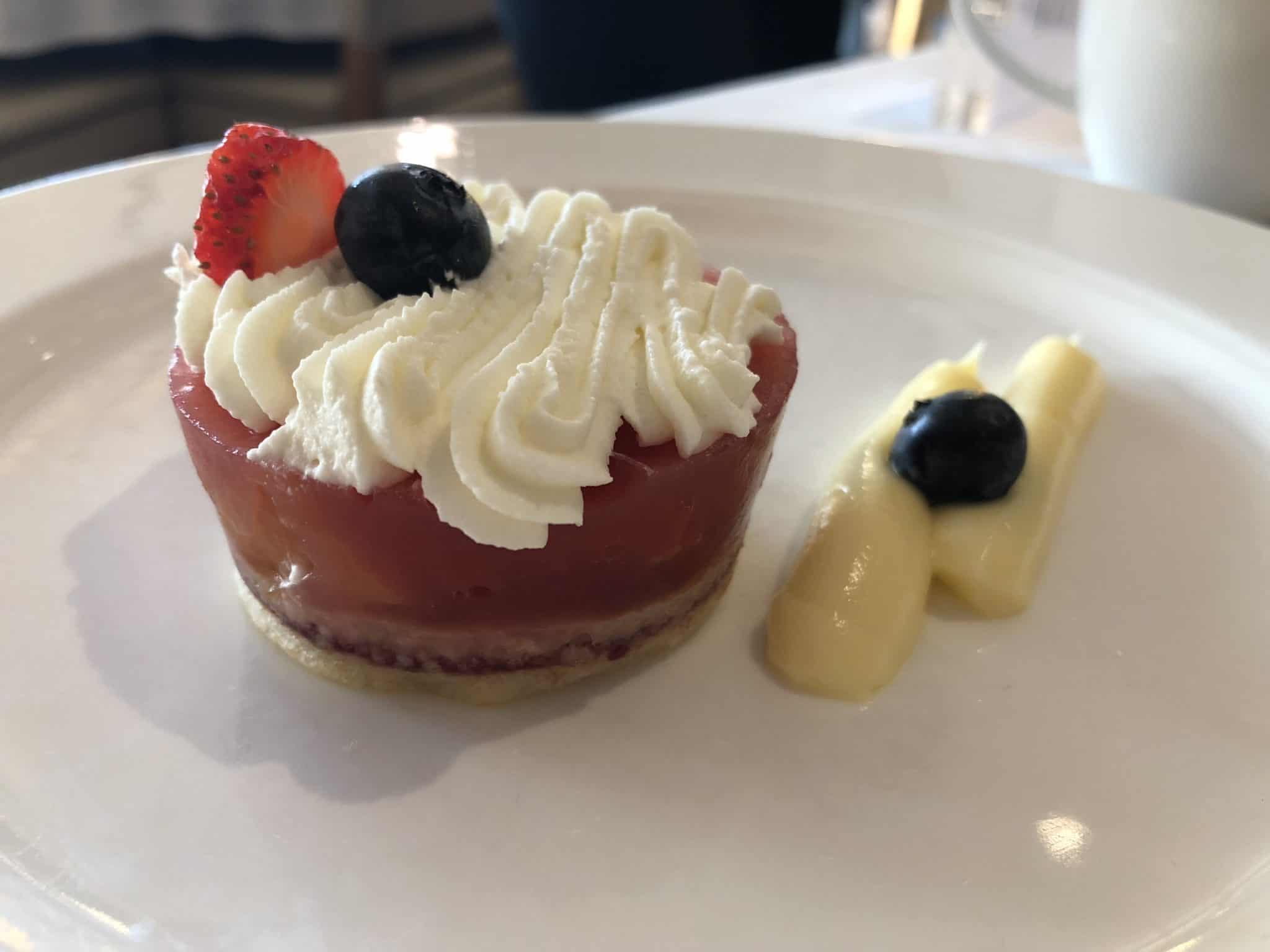 By the time we got hungry for dinner, not all of our bags had arrived in the cabin yet. We went down to The Restaurant (main dining room) in regular clothes and asked if it was okay we weren't following the dress code because not everyone had their bags. They said it was fine because it was the first day. My mom has multiple food allergies and so far it seems like they're going to be really great about accommodating her – she had a yummy salad and steak for dinner with crème brûlée for dessert. I had white bean soup, chicken, and two desserts – English trifle for the "destination" selection on the menu since we're in England, and a dessert called Chambord, which I assume had the raspberry liquor as the key ingredient. They both tasted delicious!
Exploring the Viking Sky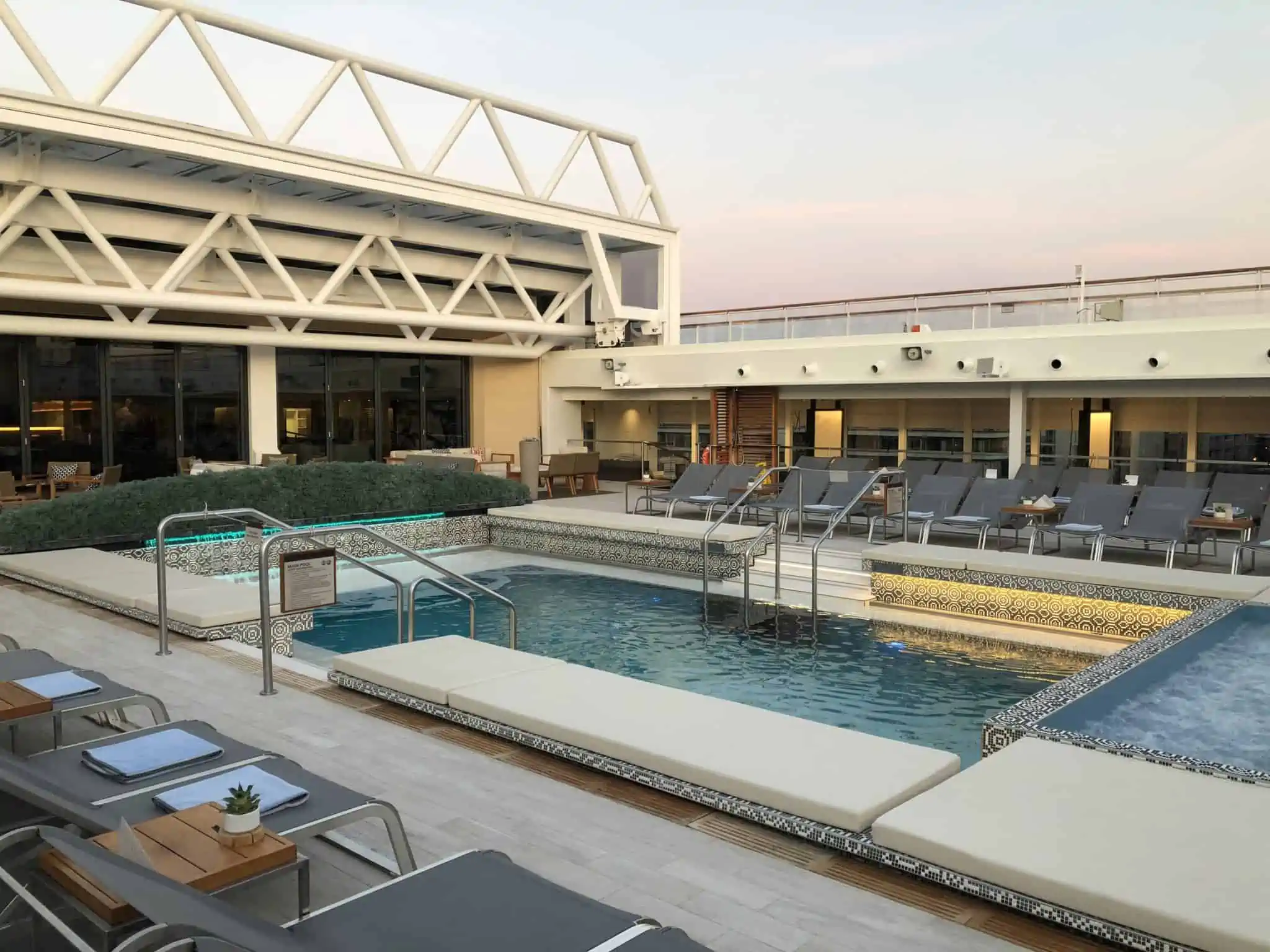 After dinner, we explored the ship deck-by-deck starting from the top. I'll share more on the ship in later posts, but two things stick out to me the most about the ambiance Viking strives to create aboard their ocean ships. The first is a close relationship with nature – there are plants (both real and tastefully artificial) everywhere, a water feature at the main pool, and fireplaces that look deceivingly real in several spots. Many decks feel like you're in someone's trendy backyard. The other is how cozy and home-like the ship is. There are couches, comfy chairs, board games, bookshelves, blankets, and pillows scattered all around – in outdoor areas, in lounges, in The Living Room (atrium)… everywhere. Everything is in a modern but comfy Scandinavian style, and I adore it.
Now it's time for bed; it's nearly 11:30 pm here and even though it's only 6:30 back home, my seemingly endless travel day with minimal sleep on the plane has me exhausted. Tomorrow is another day in London before we set sail after dinnertime, so we plan to be out exploring the city most of the day.
Goodnight.
Disclosure: Viking invited me on this cruise. As always, my thoughts and opinions are my own.