Our day in Bergen, Norway on Friday was a busy one for several reasons! We had two excursions, a bridge tour, and lots of packing to do because it was the last full day of the cruise.
You can read yesterday's trip report here.
I decided not to eat much of a breakfast because eating a substantial breakfast doesn't always agree with me. I don't know if it's because it's too early in the morning for my body, or if I'm not eating as healthy of a breakfast as I should, but even small breakfasts sometimes make me feel blah for the rest of the morning afterwards. Since we had a busy day, I wanted to feel okay, even if it meant being a little bit hungry. I did have my usual cranberry juice, though!
Dale of Norway
We headed out for our first excursion of the day – a tour of the Dale of Norway factory, where they make sweaters, coats, hats, and other wintertime apparel with mostly wool. It's one of the most famous sweater brands in Norway, and they actually have been dressing the Norwegian athletes in the winter Olympics since the 1980's. When you see them come out in the ceremonies wearing beautiful knit sweaters, those are from Dale of Norway.
The factory was an hour away from the port, so we had a nice drive past pretty hills and lakes, and through lots of tunnels. Norway, in general, is filled with road tunnels through the mountains, because oftentimes it's a lot easier to go through than over or around. Once we arrived, we were handed over to our guide from the factory who would show us around and tell us about the company and production process. It was so neat, we got to see the knitting machines at work, the design and sewing room, and a timeline of the company's history.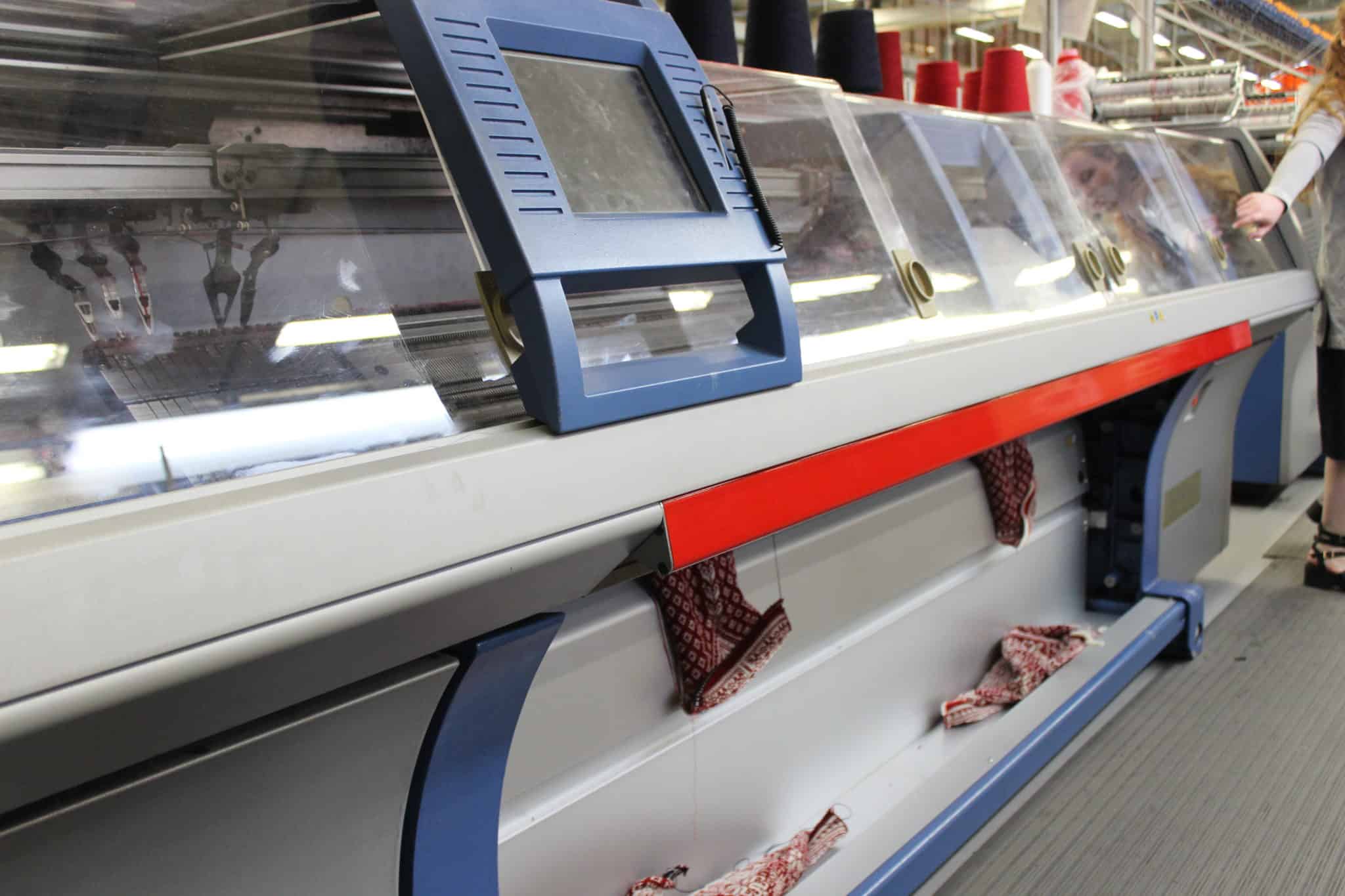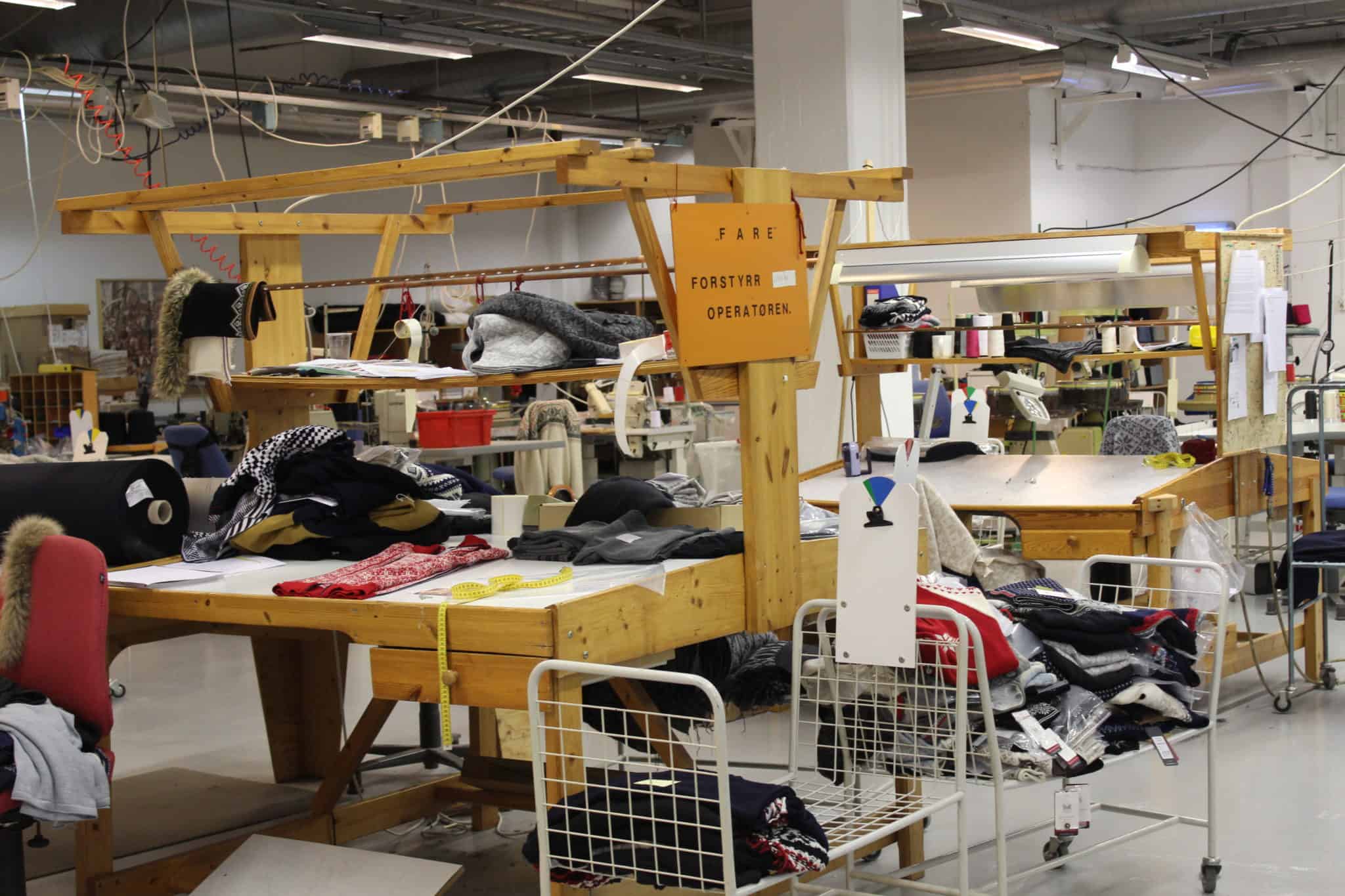 Afterwards, we had about an hour to shop in the factory's outlet store, which featured new, full-price pieces as well as discounted items. I bought a beautiful sweater that I think looks so classic and Norwegian. I can't wait until the weather gets cool again so I can wear it!
Bridge Tour
Once we got back to the ship, it was time for a tour of the bridge with Captain Gustafsson. The ships have bridge tours on every cruise I believe, but it isn't advertised so you have to ask about them at guest services. Besides my mom and I, there were only four other people on the tour on this particular day, but I think generally there are a bit more than that. We were really impressed, the bridge is so interesting and the captain went into a lot of detail with us about what things were and how navigating worked, and showed us lots of controls and screens. We also got to see his office and the bridge's situation room.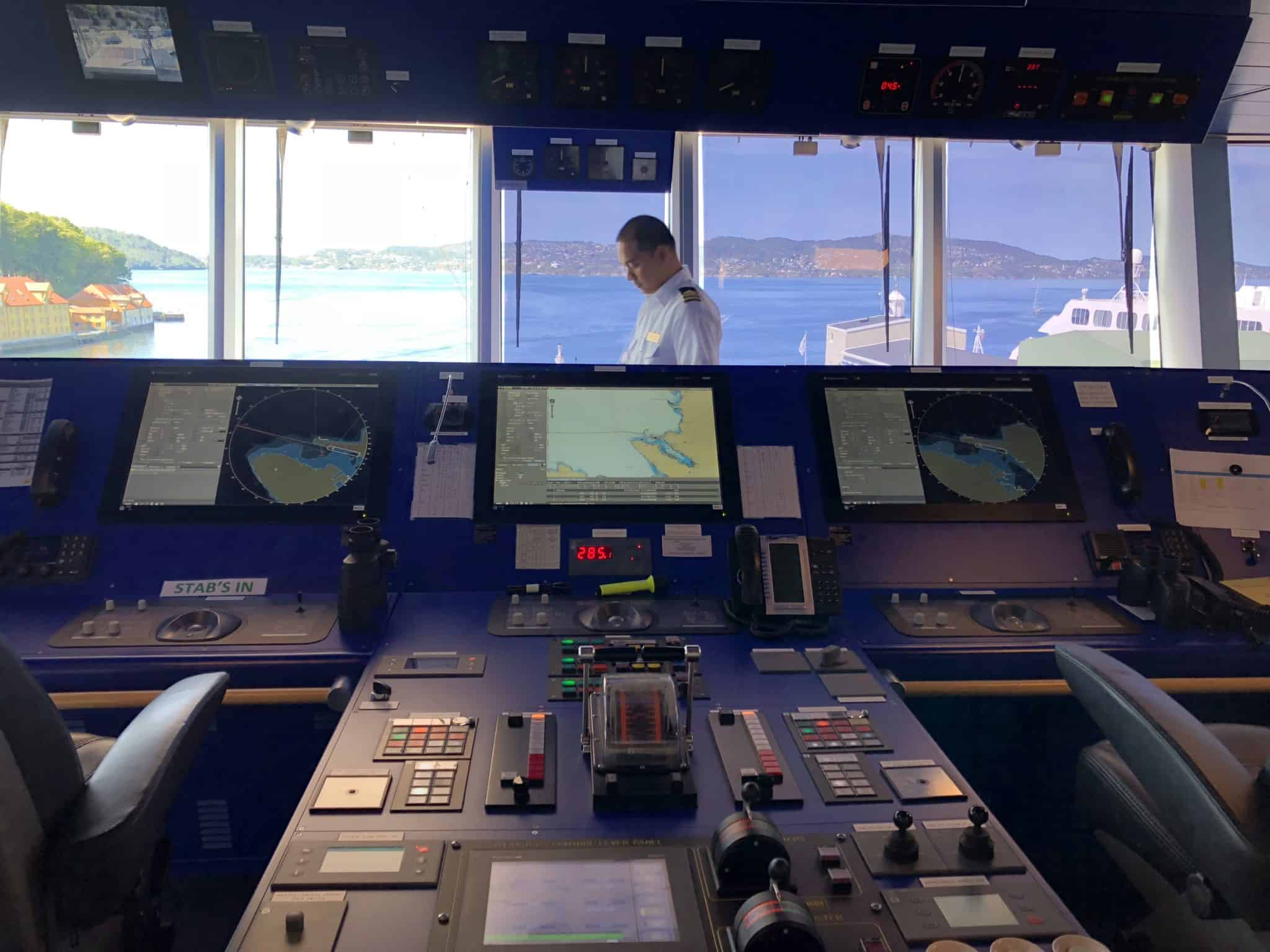 One thing I thought was funny but practical – the windows on the front of the bridge have windshield wipers! But when you think about it, it does make sense. Of anyone on the ship the bridge needs the best visibility possible, and if there's lots of rain it will hinder that. I got to sit in the captain's chair for a picture, which I think turned out really well. This was my first time ever seeing a ship bridge in real life, and I'd tour it on every future cruise if I could!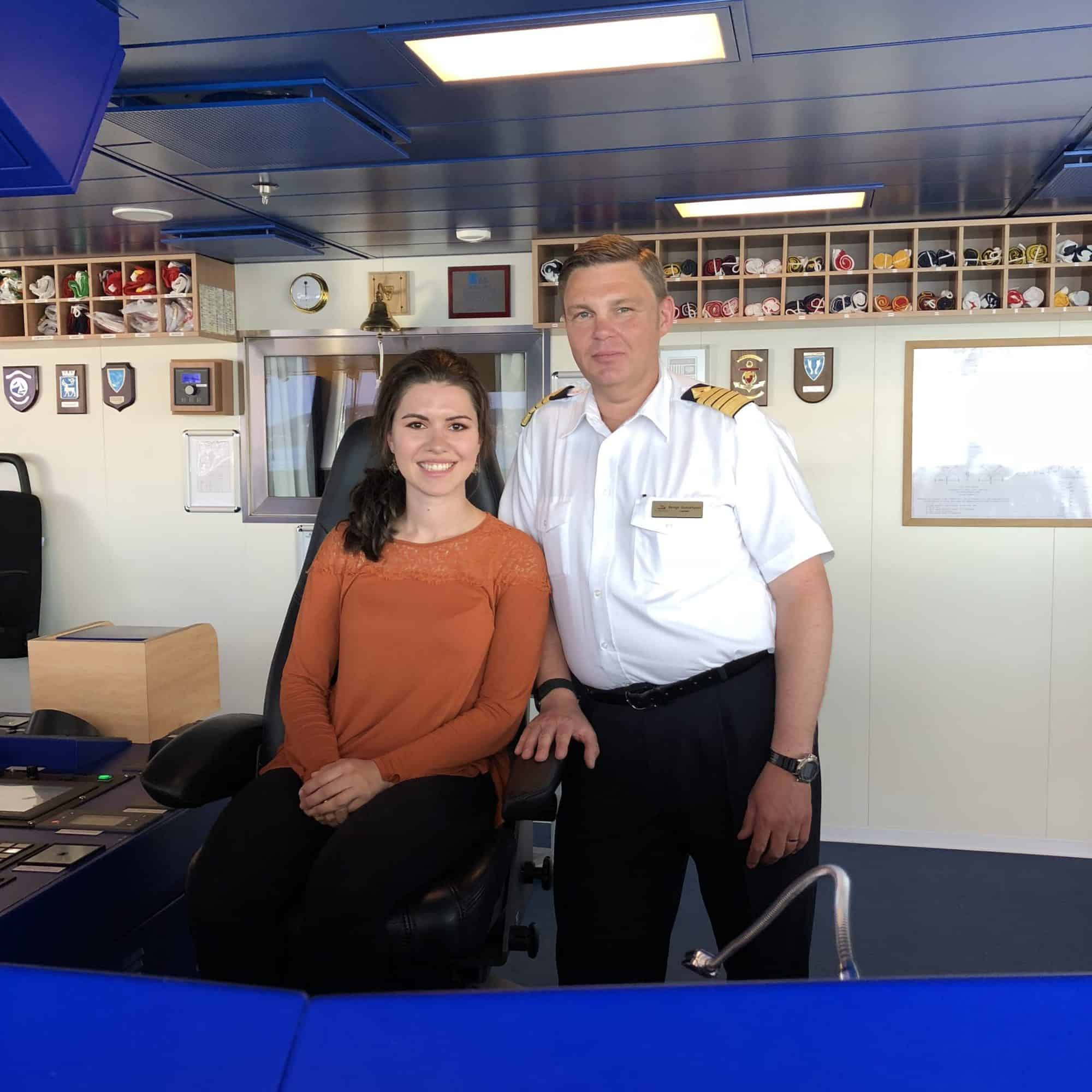 Lunch
It was so sunny and beautiful outside, which I hear is not the norm for Bergen. One of our tour guides told us that it rains well over 200 days a year there – Seattle is a sister city to Bergen and it actually rains there more than Seattle. Because of this, I just had to eat my last lunch on the cruise outside on the Aquavit Terrace. I loaded up on food from the buffet including a delish panini, and my mom got another bun-less Philly Cheesesteak from the Pool Grill. I really went all out with the desserts this time – I think I had about the same amount of dessert that I had actual lunch food. There was banana cream pie, a tootie fruitie cookie, a chocolate roll, and some kind of cheesecake shaped like a cone. It was sooo good.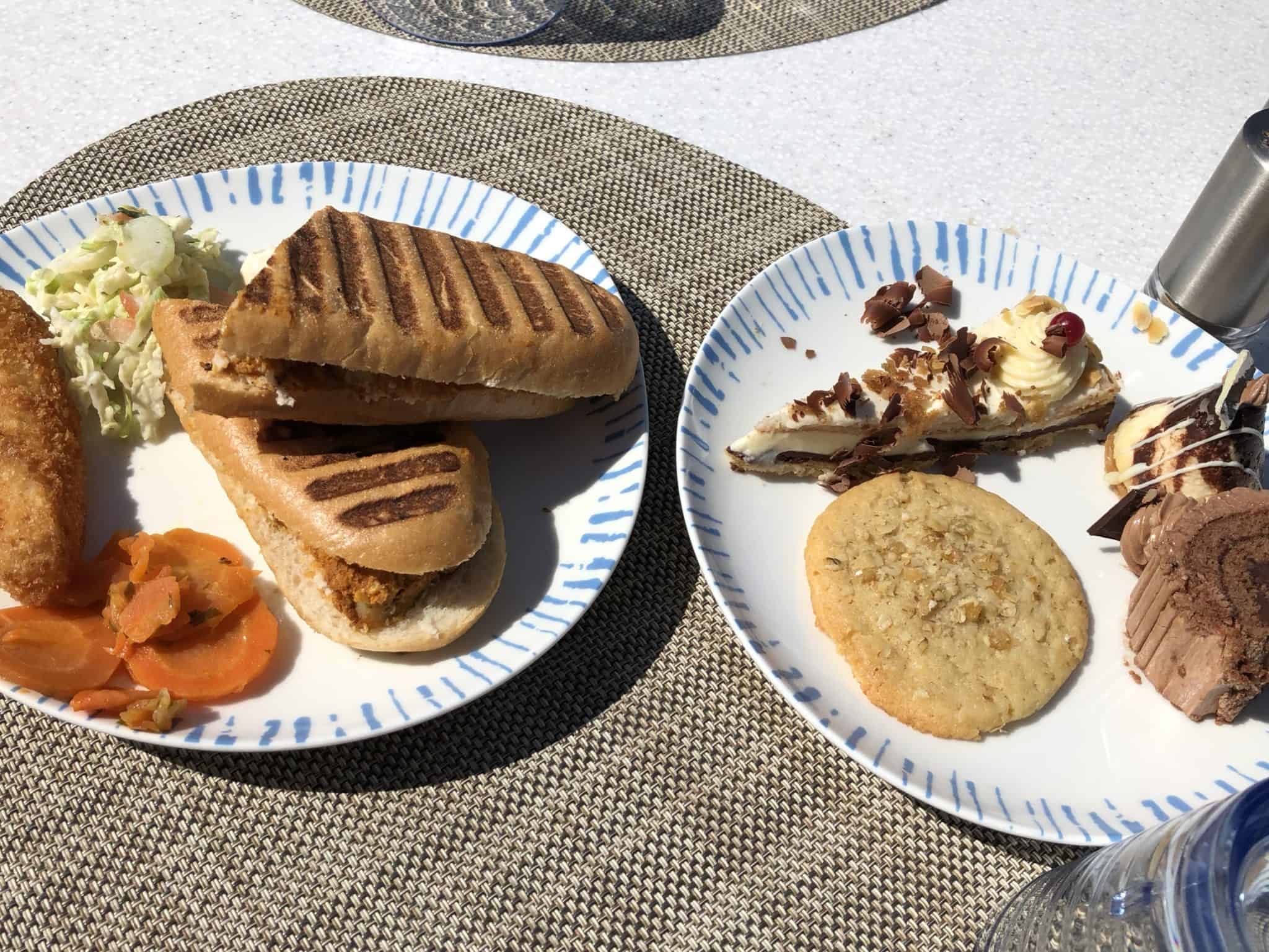 Panoramic Tour of Bergen
After eating, I took some photos of Bergen and areas of the ship before it was time to head to our second excursion, which was basically a highlight or panoramic tour of the city.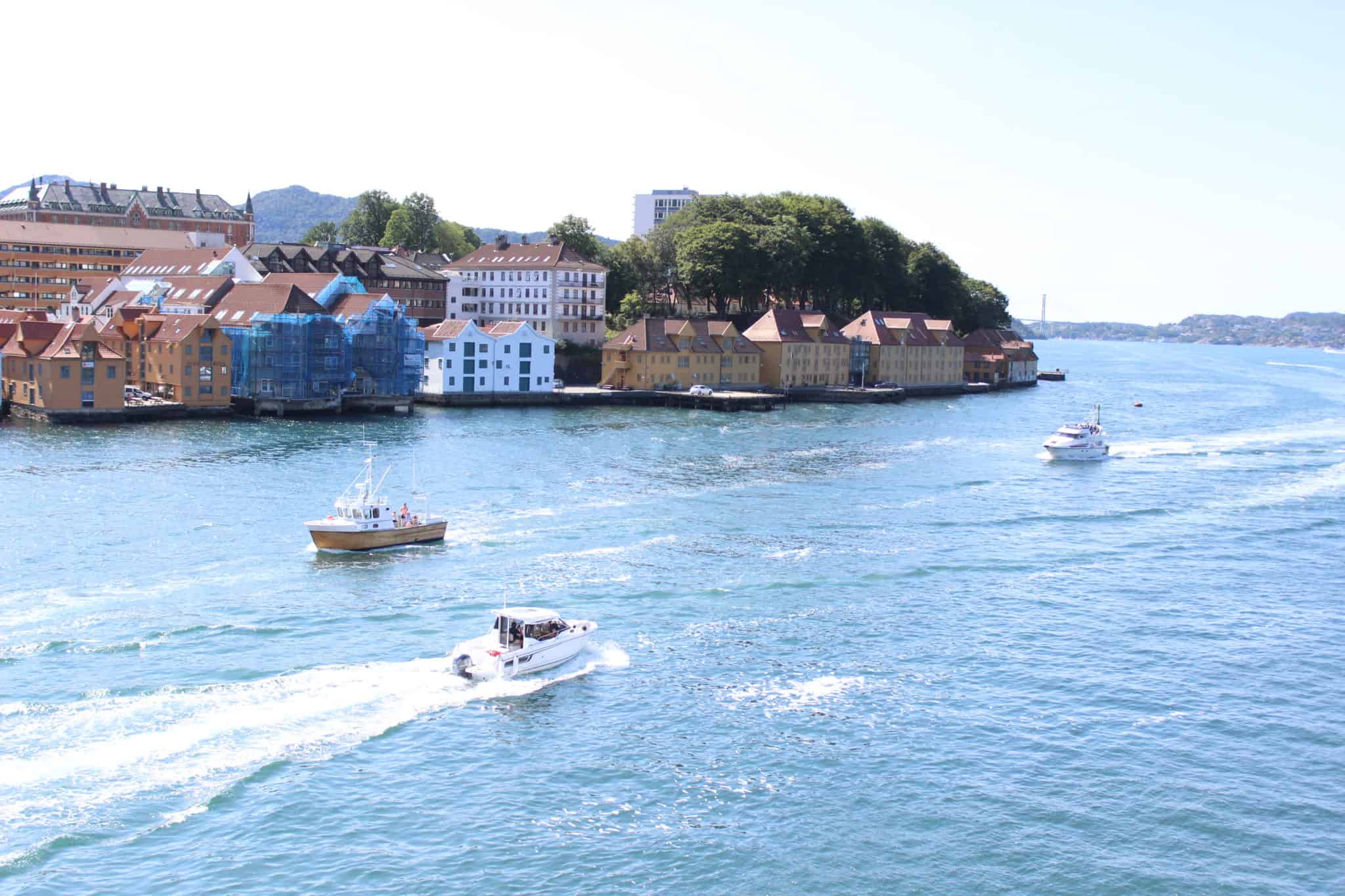 We drove around the city and saw the fish market and other points of interest including Bryggen, where we stopped to take photos from across the water of the famous UNESCO heritage site. We also went out to a stop on the road where we could see Gamlehaugen – the king of Norway's official residence in Bergen. We didn't really get close to it, but we could see it from there and the flag was up on the flagpole. That meant that someone from the Royal family was inside.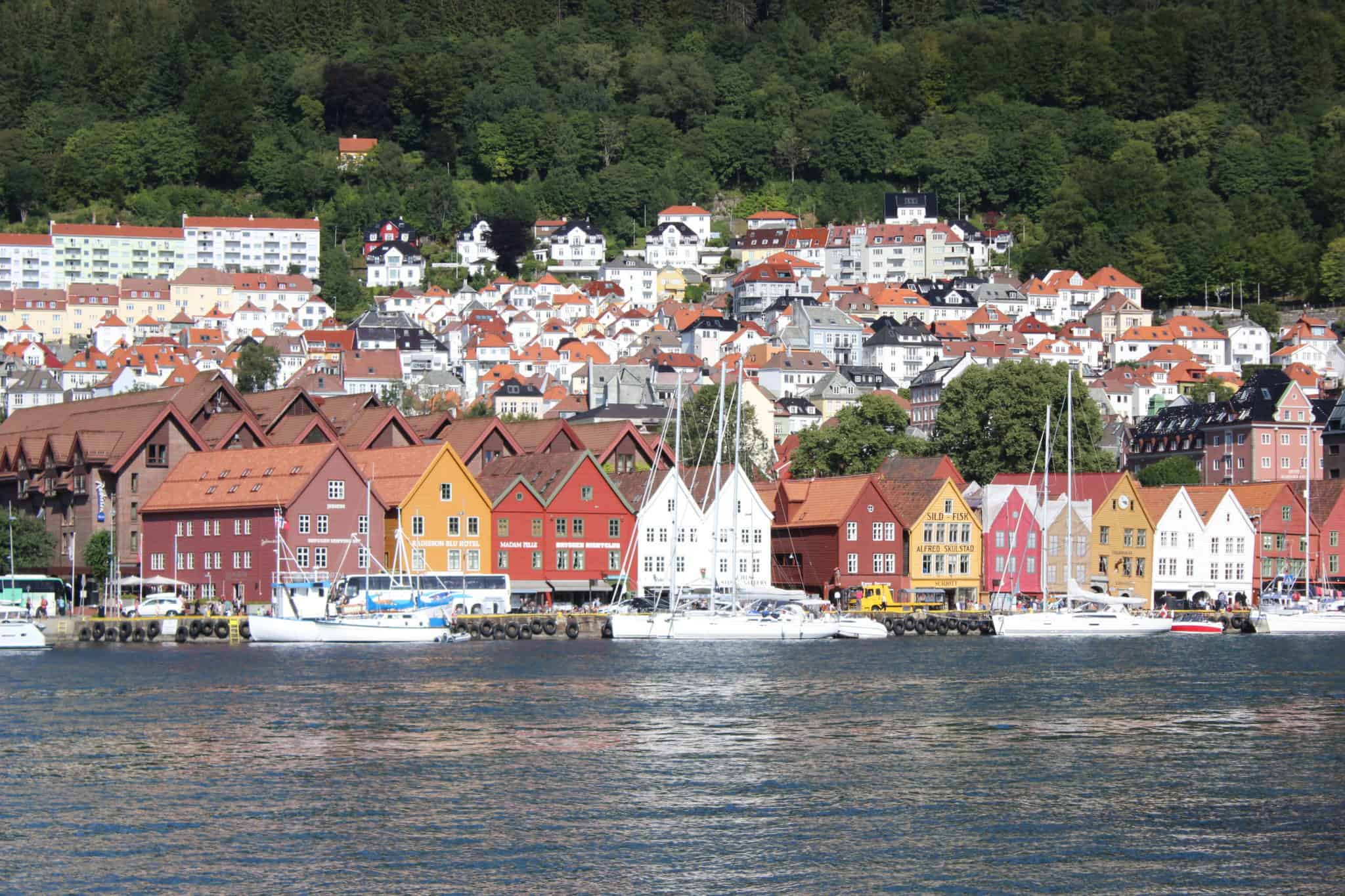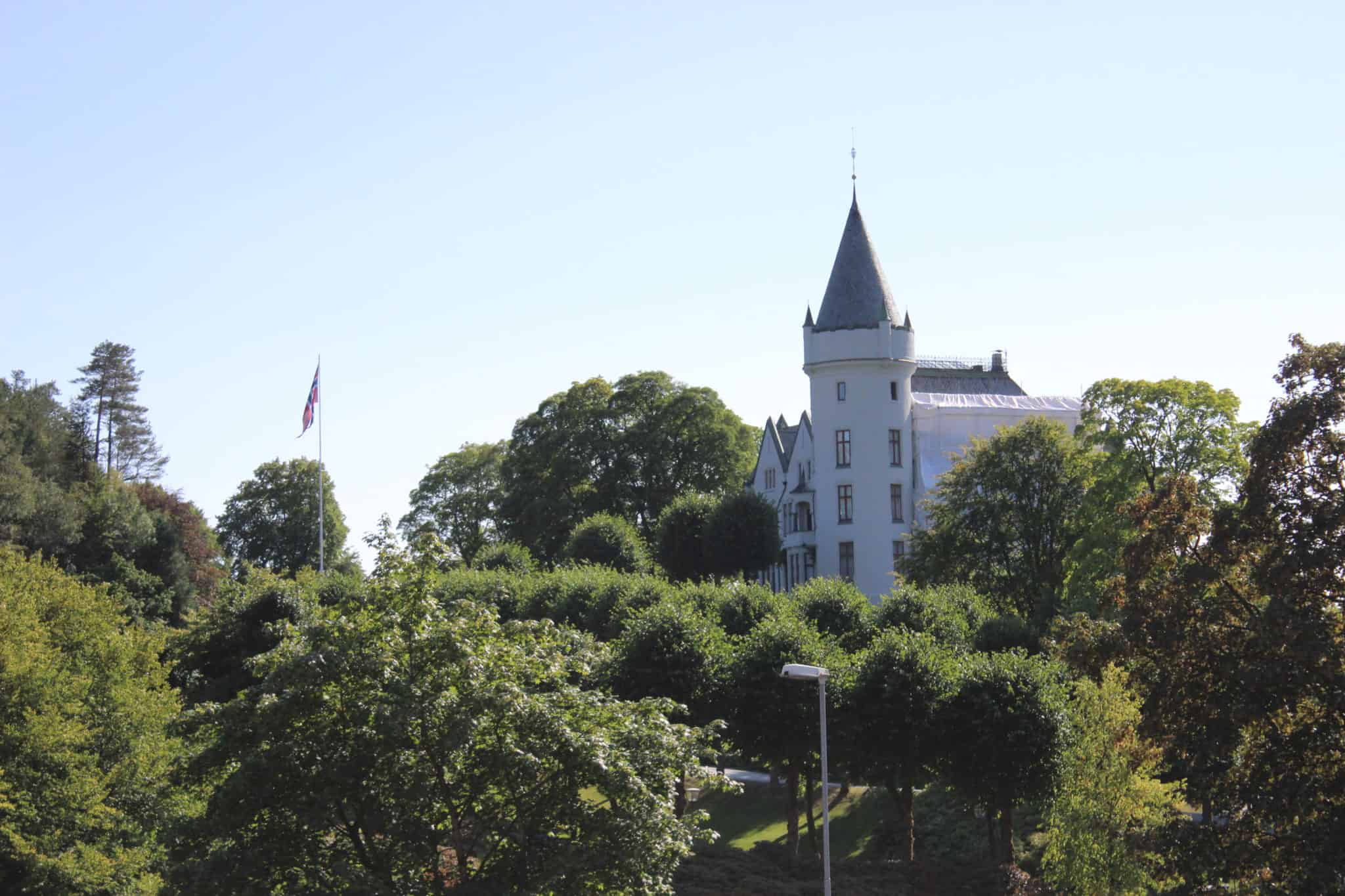 We also drove to a beautiful lookout point, where we could see our ships far to the left below, as well as houses directly below us on the slope towards the water that are very nice and very expensive – I could easily live in one of those!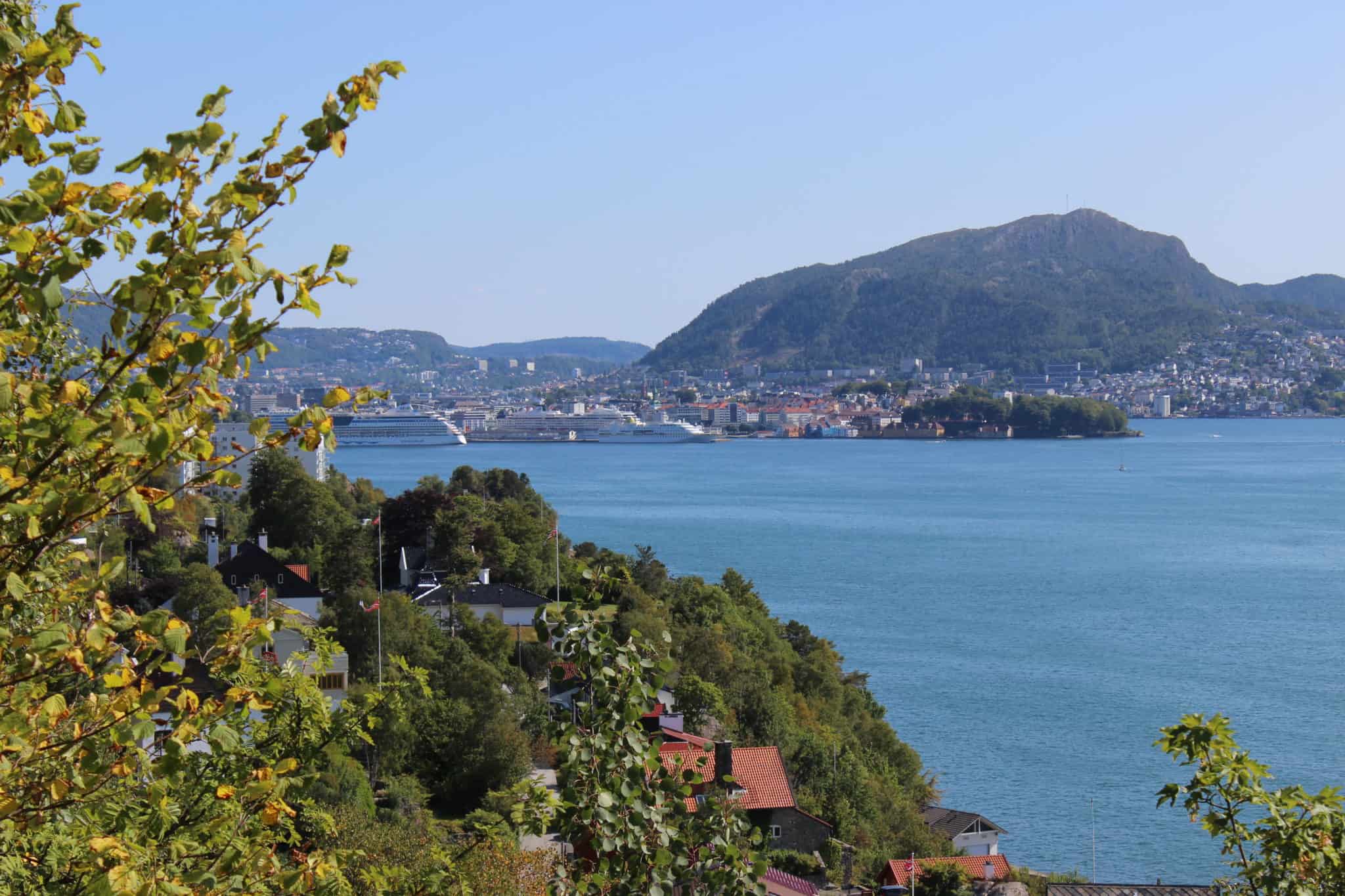 Jordbær
I've heard that the strawberries in Norway are way tastier than the ones here. I needed to find out for myself, so after our excursion, we set off to the nearest grocery store to find a package of fresh strawberries. It was only maybe a 5-10 minute walk from the ship to the nearest Rema 1000 grocery store, and they actually had containers of strawberries just outside the front door, so we didn't even have to look for them. They were delicious! So juicy and sweet. I'm glad we set out specifically to find some. (Oh, by the way, jordbær is the Norwegian word for strawberry. Bær in general means berry.)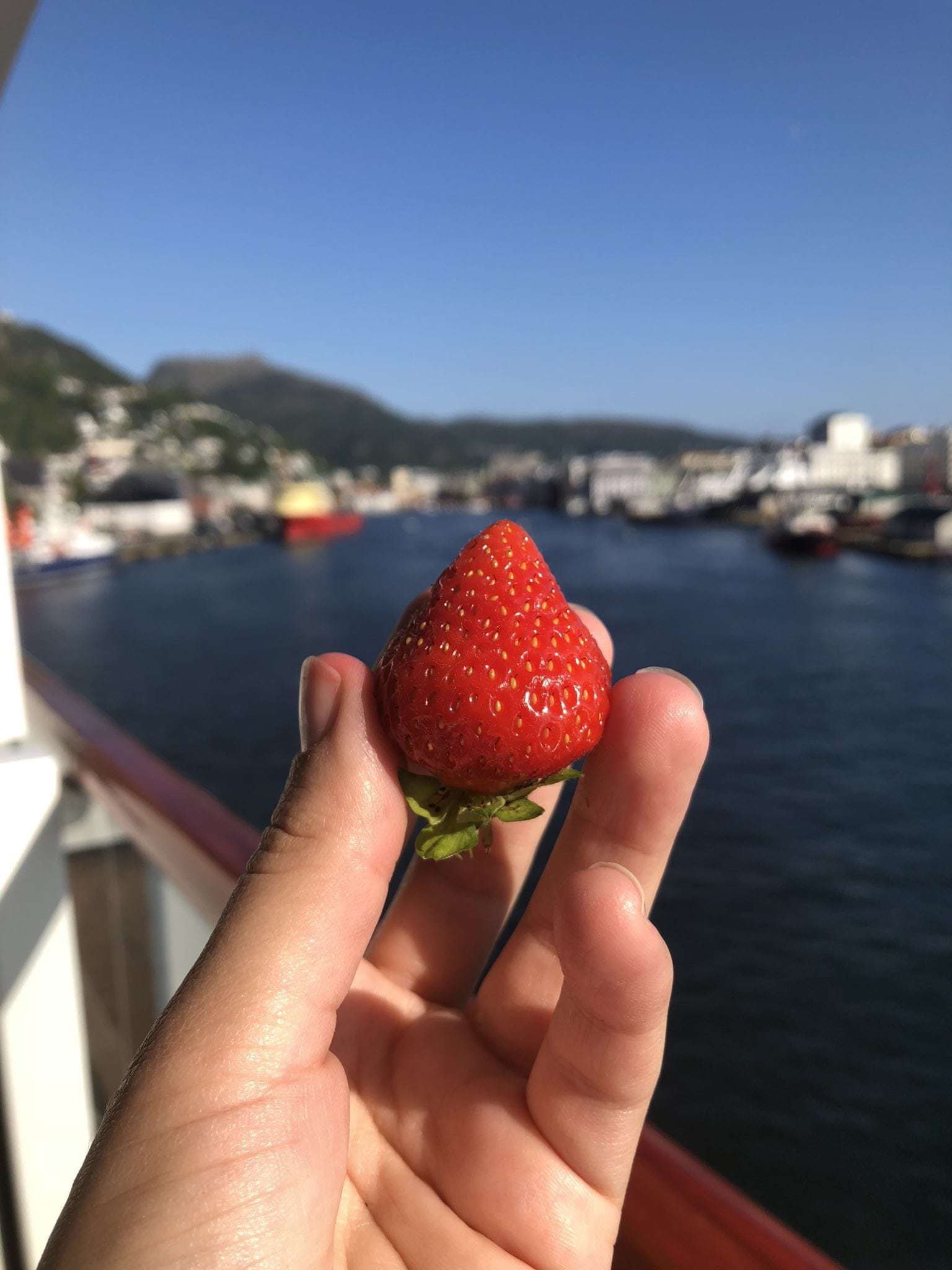 Dinner
After our small strawberry quest, it was time for our last dinner on Viking Sky! We were not ready to say goodbye to our amazing dining staff. I had a great meal though, my appetizer was one of my favorites on the entire cruise – brie cheese baked in a phyllo pastry with cranberry compote underneath on the plate and a pecan on top. For my entrée, I chose Norwegian meatballs with potatoes, and I got two desserts: Kyrstekake which is a Norwegian almond-filled prince's cake, and a chocolate volcano filled with lemon curd. It was the last night, so I definitely feel I was allowed to have two desserts. Both sounded awesome and they were!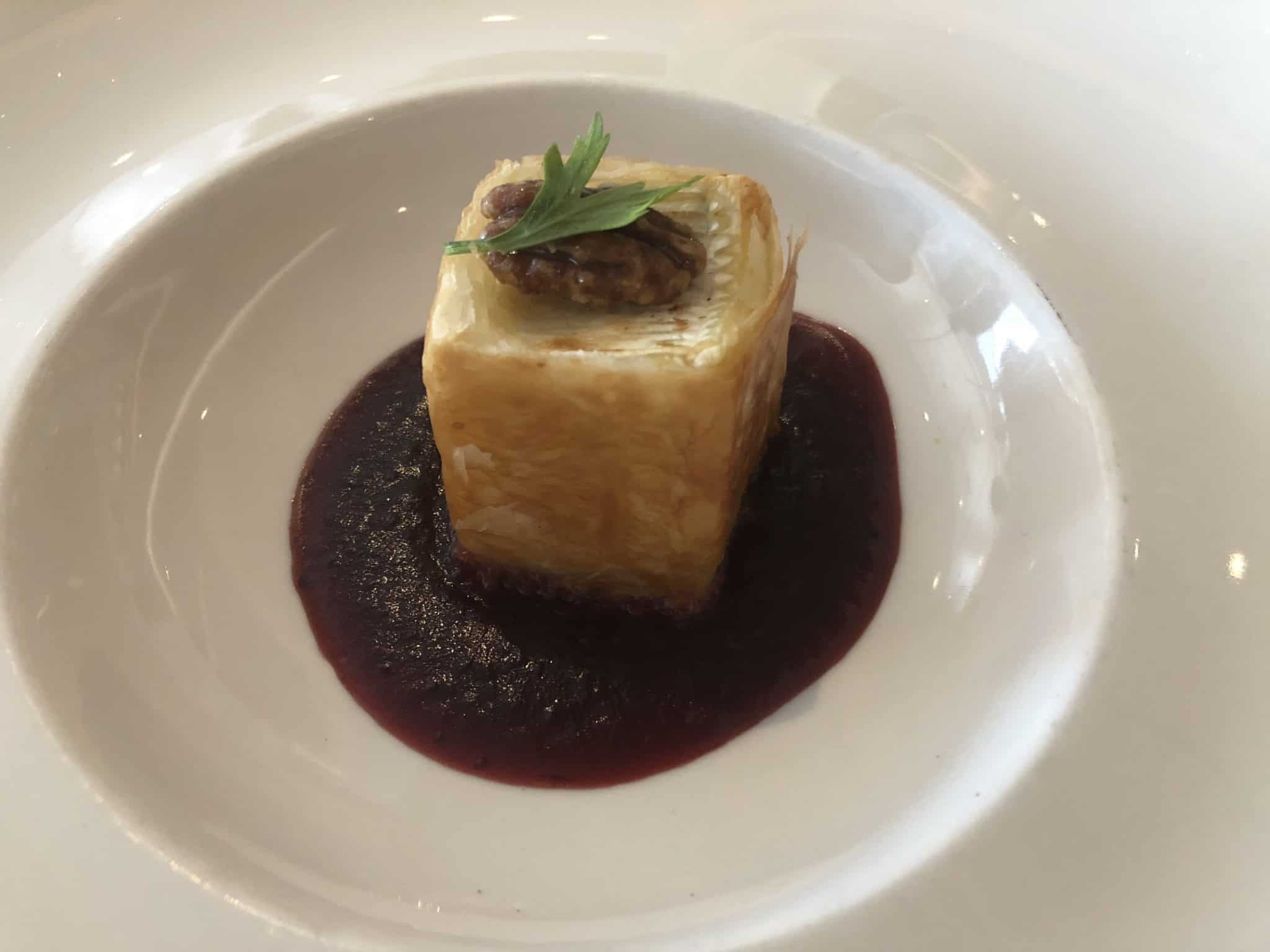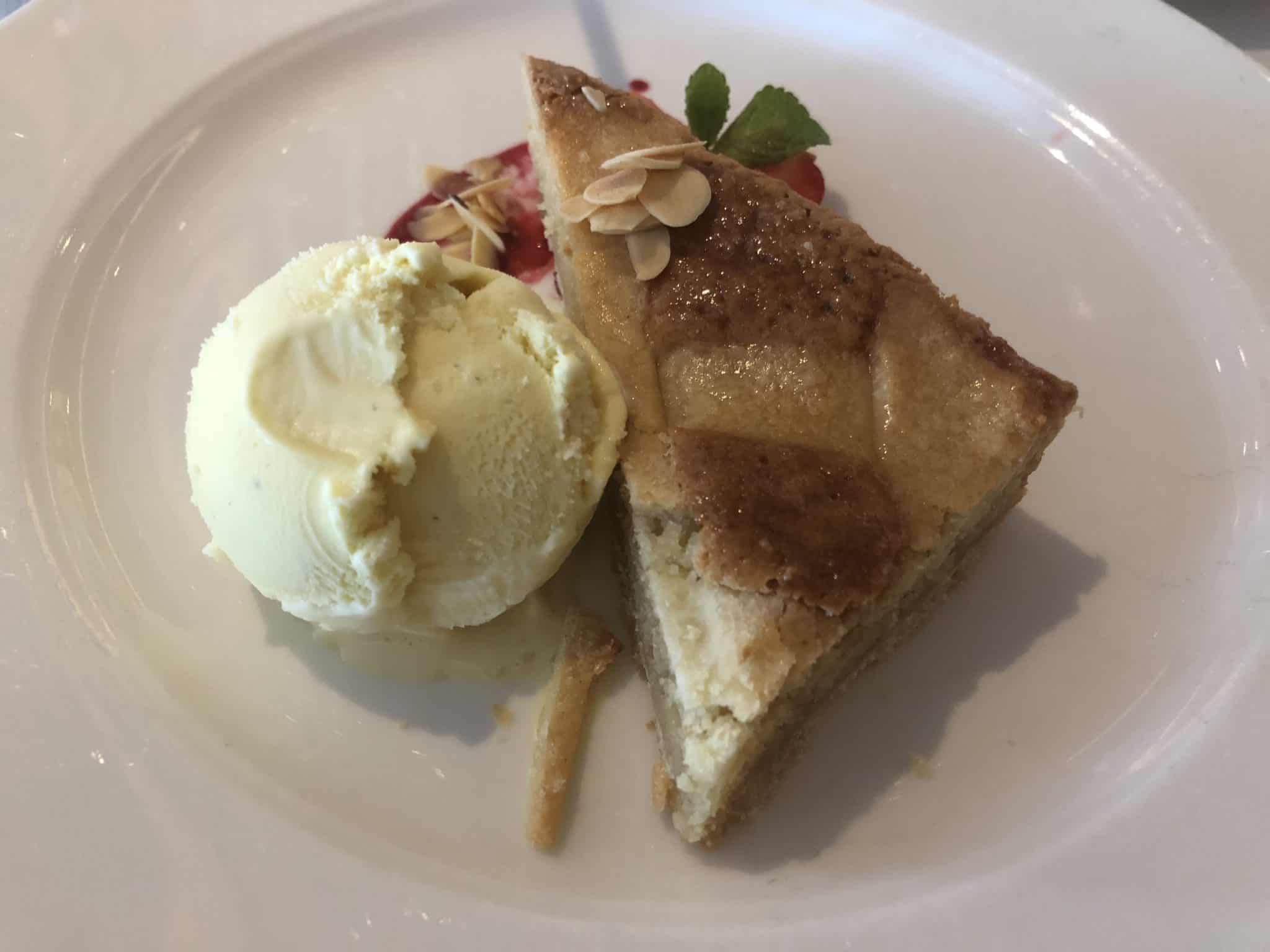 After dinner, our evening pretty much consisted of packing our suitcases. I hate packing up at the end of a vacation. Not only do you have to worry about forgetting something, but you also have to worry about getting your liquids into their appropriate bags (checked or carry-on) and making sure all of your souvenirs fit. That all ended up being fine for us but it's still a pain and makes the last day of any trip somewhat stressful. After packing, we went out to take some last photos of Bergen at night and of the almost-deserted public spaces on the ship. It was well past midnight and since debarkation is such an early morning for most people, I think everyone was either already sleeping or in their cabins still finishing up packing!
I wanted to cry thinking about leaving the ship and Norway and the wonderful people we had met along the journey. But I got a pretty good night's sleep that night and we made it to the airport in the morning without any issues.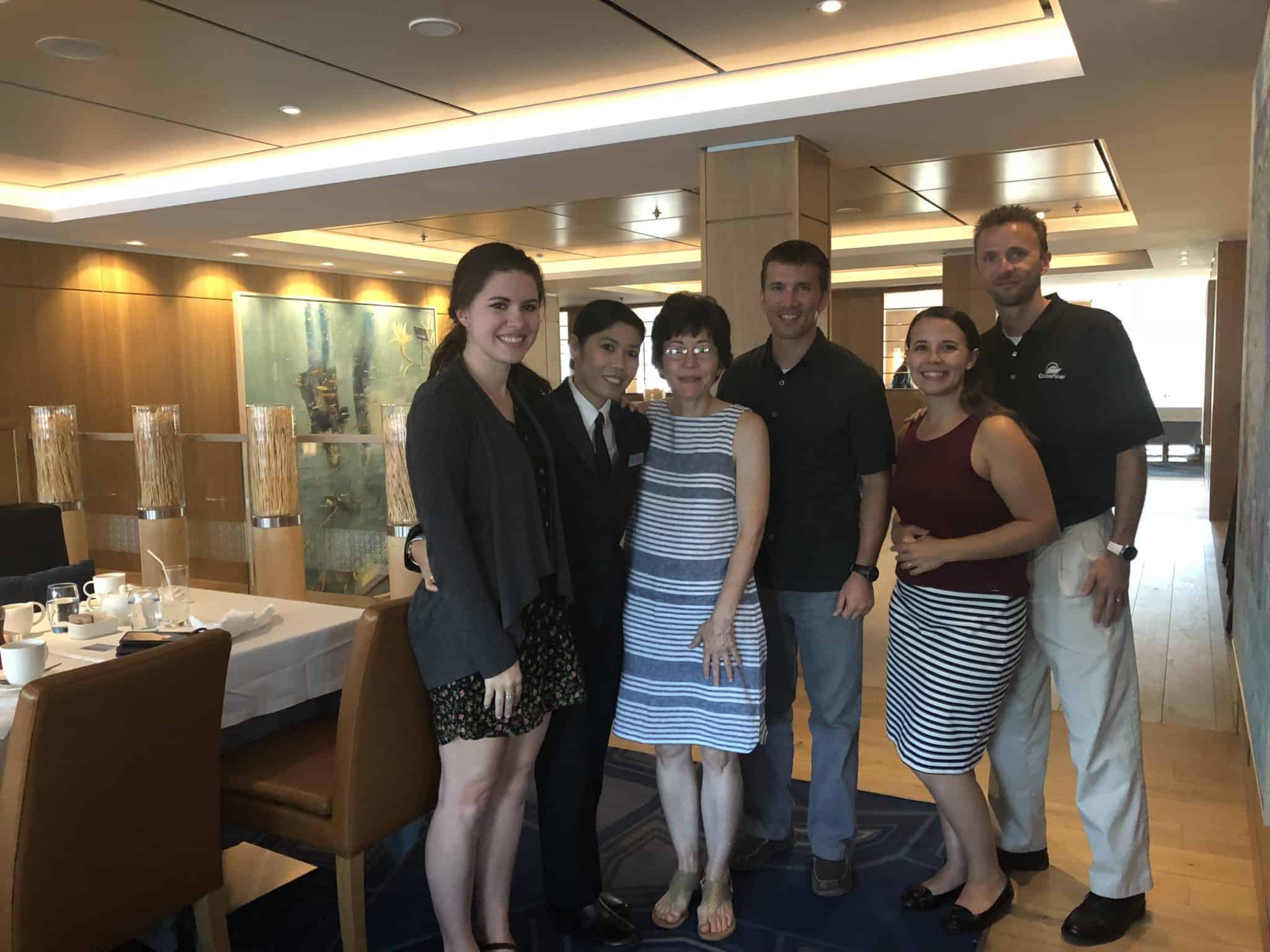 I hope you've enjoyed reading my daily blogs over the course of this trip! It was the best cruise I've ever taken and I can't speak highly enough of the itinerary (especially Norway), Viking, and the amazing crew they have onboard. Keep an eye out for future articles that I'm going to be doing about this incredible adventure.
Disclosure: Viking invited me on this cruise. As always, my thoughts and opinions are my own.