As part of its ongoing movement toward the resumption of cruising, two more Carnival Cruise Line ships are arriving into United States homeports this week so that their crew members can, if they choose, be vaccinated.
Carnival Liberty and Sensation Take the Next Steps

On Wednesday morning, Carnival Liberty arrived in Port Canaveral, Florida to begin the process of having crew members wishing to receive the vaccination inoculated. And on Friday, the 2,056-passenger Carnival Sensation is scheduled to arrive at the Mobile Alabama Cruise Terminal.
This will be the first time Carnival Sensation has been to the gulf city. The last cruise ship to dock there was Carnival Fantasy in mid-March. But with the Fantasy being among the ships in the Carnival fleet to have been sold over the past year, the Sensation will take her place in Mobile once cruising resumes.
Employees from USA Health, a local medical center, will board the Sensation to administer the shots. Three weeks later, the ship is scheduled to return to port in order for the second round of shots to be administered. While the ships are in port, crew members won't be allowed to disembark.
MORE: Two Carnival Cruise Line Ships Return to Galveston [Photos]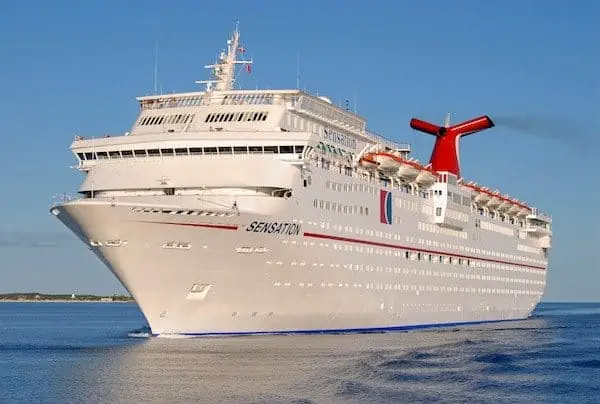 In a statement, Carnival said, "We appreciate the support of Mobile officials in our efforts to vaccinate Carnival Sensation crew members. We value the partnership of the port and city of Mobile and look forward to resuming sailing from the Alabama Cruise Terminal as soon as we can."
So far, no return date has been announced for either the Sensation or Liberty. Earlier this week, Carnival canceled all July sailings with the exception of those slated for Carnival Breeze and Vista — both of which are due to sail out of Galveston, Texas — and Horizon, which will sail out of PortMiami.
Last week, Carnival Vista and Breeze arrived at the port of Galveston ahead of a cruise rally to support the resumption of cruises and to vaccinate crew members of those ships who were looking to be inoculated.
READ NEXT: Norwegian Prima Dining, Itineraries, & Outdoor Spaces Revealed