You booked your cruise and are diving into the planning phase, but what about the cruise gratuities? One area that often prompts questions, even among veteran cruisers, is the topic of tipping and service charges. Let's clarify what you need to know.
This cruise tipping guide breaks down what's included in cruise gratuities and service charges, what to expect, and how to maximize your time and money.
Understanding Cruise Gratuities and Service Charges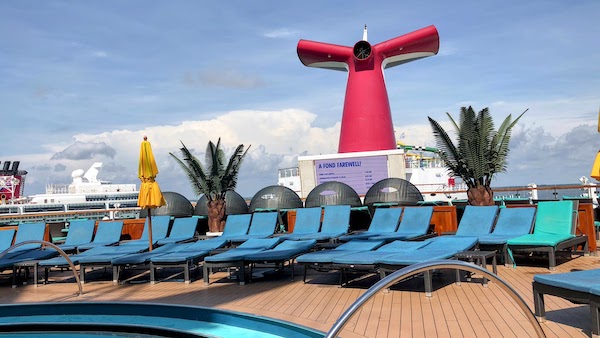 It's important to understand the tipping culture onboard. Most contemporary and premium cruise lines will automatically charge a daily gratuity to each passenger's account for the crew's service. In contrast, luxury cruise lines tend to take a more all-inclusive approach.
If you want to give extra appreciation for exceptional service, cash tips are appreciated and can be delivered directly to a waiter, porter, or stateroom steward.
Reviewing your cruise line's tipping policy before boarding is essential, as guidelines vary on how much is expected daily for cruise gratuities.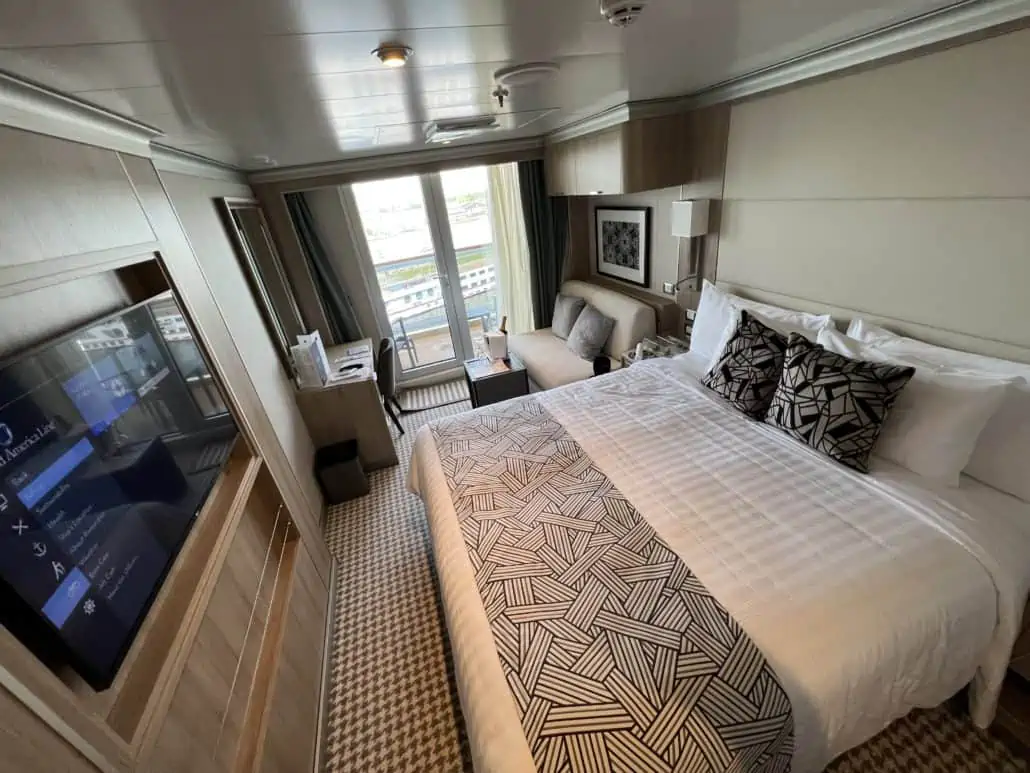 Remember that with the "pool system" (where tips are collected for multiple individuals or departments), crew members may not receive all of the automatic gratuities, so consider leaving additional cash tips for butler service, for example, or those who work behind the scenes, like the galley staff or laundry workers.
How gratuities are paid depends on the type of cruise line you are sailing. Luxury lines may include gratuities in the price of your cruise, while it's a separate charge on mainstream cruise lines.
There is also a difference in gratuity rates depending on your accommodations. Gratuity rates for standard staterooms are often less than suites.
Why Tipping Matters on a Cruise Ship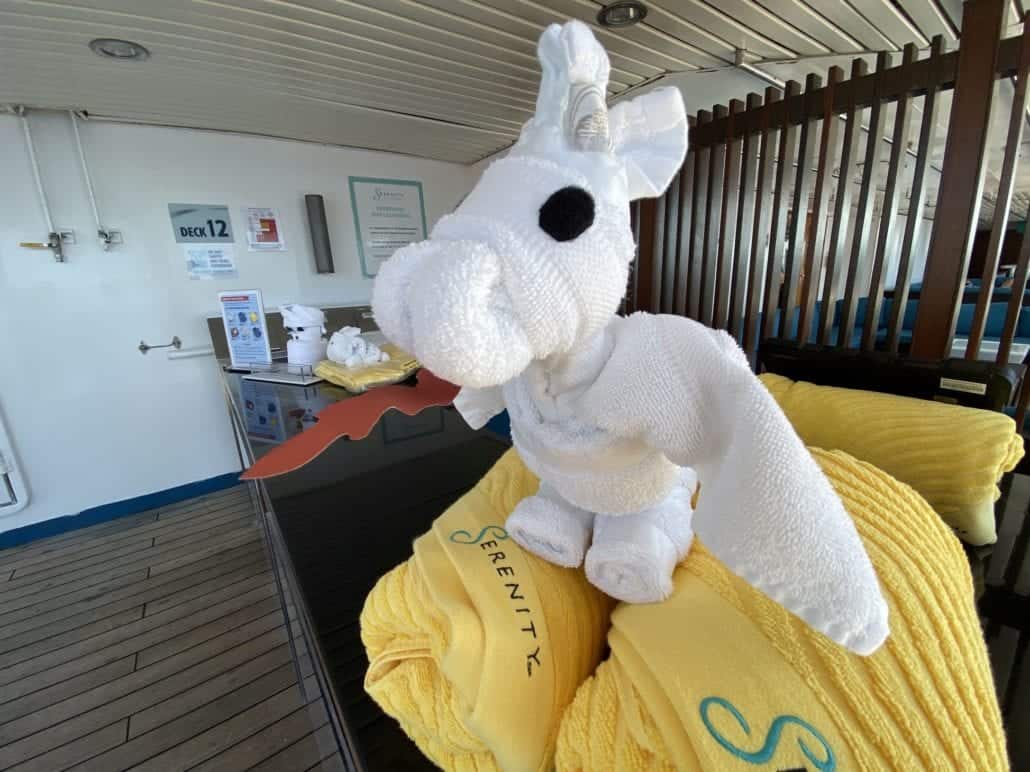 The role of tips in compensating cruise ship staff must be considered.
Tipping can impact the quality of service you receive on a cruise ship and support hard-working crew members who rely heavily on tips for fair compensation and often support their families back home. It's important to note that many low-level crew members rely heavily on gratuities as they are usually paid lower wages than other industries.
Many cruisers argue that cruise gratuities should be included in the cost of the cruise fare to ensure equal payment. Virgin Voyages is one of the few mainstream cruise lines that include gratuities and service charges in their sailing cost.
How Cruise Lines Charge for Gratuities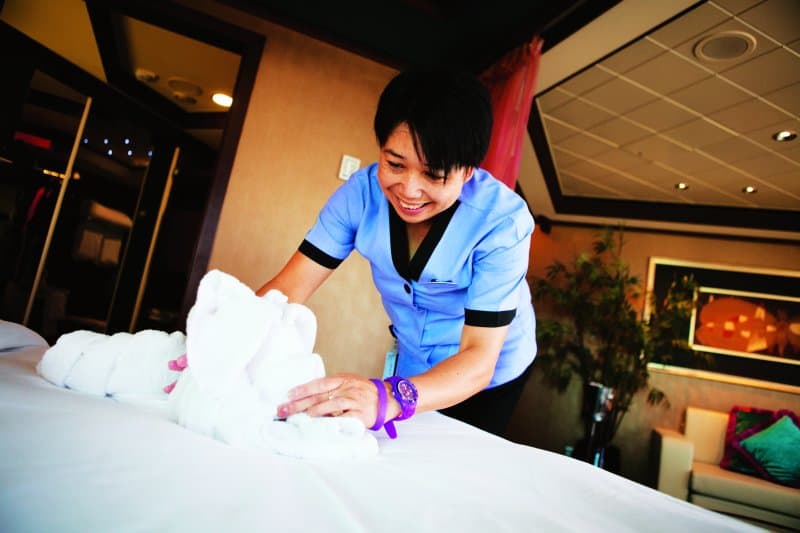 Automatic gratuity charges are standard on cruise ships and typically range from $15 to $20 per person daily. These charges are automatically added to your onboard account and distributed among the guest-facing crew members who provide services during your trip and select behind-the-scenes employees.
If you prefer to opt out or adjust these automatic gratuities, most cruise lines allow you to do so by simply visiting the guest services desk.
Cruise gratuity and service charge breakdown on standard cabins (September 2023):
| | | |
| --- | --- | --- |
| Cruise Line | Daily Cost | Week Per Person |
| Carnival Cruise Line | $16.00 | $112.00 |
| Royal Caribbean | $16.00 | $112.00 |
| Norwegian Cruise Line | $20.00 | $140.00 |
| Holland America Line | $16.00 | $112.00 |
| Princess Cruises | $16.00 | $112.00 |
| MSC Cruises | $14.00 | $98.00 |
| Disney Cruise Line | $14.50 | $101.50 |
| Celebrity Cruises | $18.00 | $126.00 |
Cruise gratuities are charged to guests, although the rate may be discounted for those 12 and under. Check with the cruise line for specifics during your initial research.
While automatic gratuity charges may be convenient for some passengers, others prefer alternative tipping onboard.
Cash tips can be given directly to crew members who provide exceptional services, such as room attendants or waitstaff. However, cruise lines encourage paying the flat per-day gratuity rate to support all workers, including those working in the laundry room, washing dishes, or cleaning the ship late at night.
Additionally, some cruise lines offer prepaid packages that include daily cruise gratuities in the overall cost of your voyage. It's important to consider which method works best for you and plan accordingly before setting sail on a cruise ship.
Who to Tip on a Cruise Ship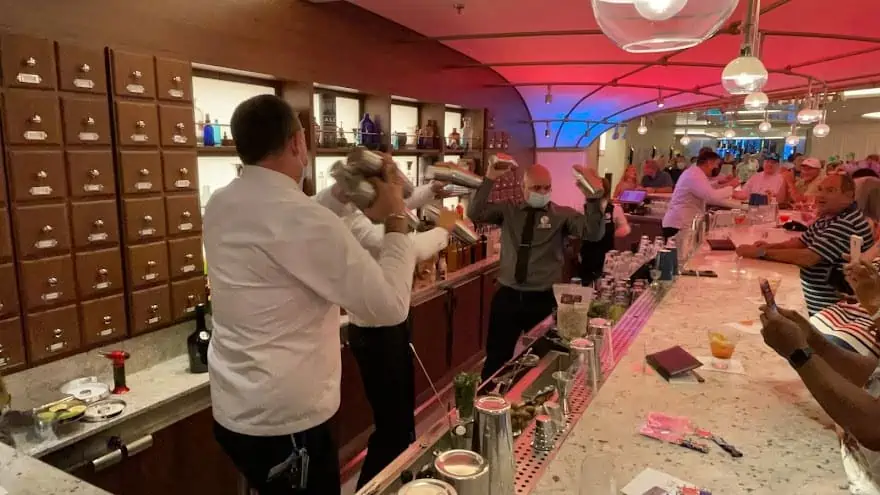 When tipping on a cruise ship, showing appreciation for the hardworking crew members who make your cruise vacation enjoyable is important. Stateroom stewards are the ones who keep your room clean and tidy throughout your stay, so it's appreciated–though not mandatory–to tip them an additional $5 per day per person.
The cruise lines separate gratuities into three areas: housekeeping, dining, and alternate services.
Bartenders and baristas may not be as visible as other crew members, but they still play an important role in creating a fun atmosphere onboard. While there typically is a separate gratuity for beverages, tipping these employees around $1-2 per drink is appreciated.
Housekeeping Team (Stateroom Steward)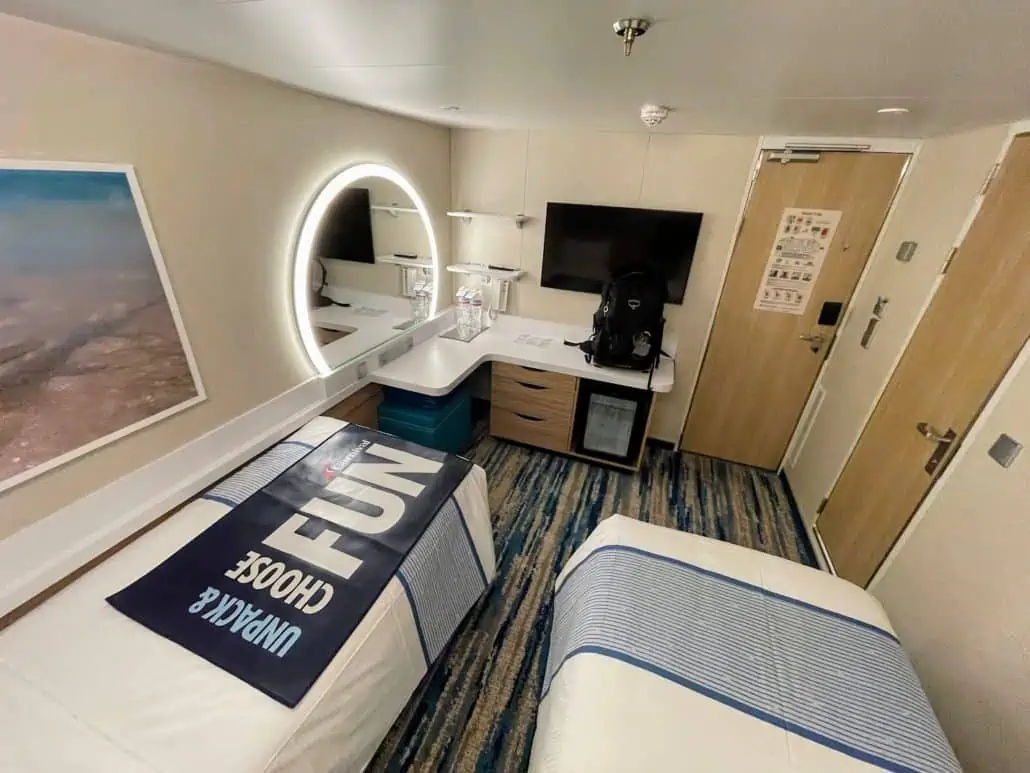 When tipping your stateroom steward or butler on a cruise ship, the standard amount is $5 per day. However, if you feel your stateroom steward went above and beyond in their service, feel free to increase the tip accordingly. The best time to leave a tip for your cabin steward is usually at the end of the cruise during disembarkation.
If you are unsatisfied with the service your stateroom steward provides, be sure to address any issues immediately. Speak directly with your steward or their supervisor or contact guest services onboard to resolve problems before leaving a lower-than-expected tip.
Dining Team (Servers)
When tipping your waitstaff on a cruise ship, knowing whether your gratuity is included in your specialty dining package is important. In most cases, a standard gratuity fee will be automatically added to your bill for each specialty restaurant meal. However, an additional tip is always appreciated if you receive exceptional service or dine at specialty restaurants where the gratuity isn't included.
For instance, the steakhouse on Carnival Cruise Line is $48 per guest, including the 18 percent service charge. At the same time, at Cagney's Steakhouse on Norwegian Cruise Line, you will pay for a la carte menu items plus a 20 percent added gratuity.
Alternative Services
When giving gratuities on a cruise, it's important to acknowledge that your money goes beyond the housekeeping and dining staff. "Alternative services" refer to positions that enhance your cruise but aren't covered by the automatic daily service charge. These services may include laundry workers, dishwashers, galley attendants, and below-deck positions.
Cruise Gratuities for Special Services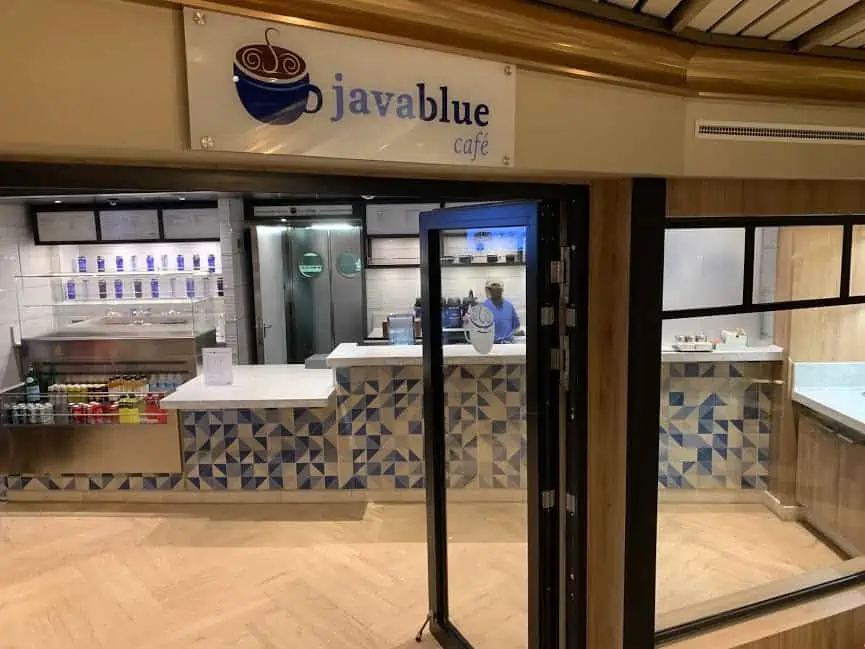 Spa treatments and shore excursions are popular diversions during your cruise, and each has its own set of tipping guidelines. Although tipping for most of the extra services these employees provide is not required, an additional tip is always appreciated.
Bartenders and Coffee Shop
When tipping on a cruise ship, bartenders and baristas are an important part of your vacation experience. Carnival Cruise Line, for example, charges an 18 percent gratuity for drinks – any additional tip is appreciated.
Spa Services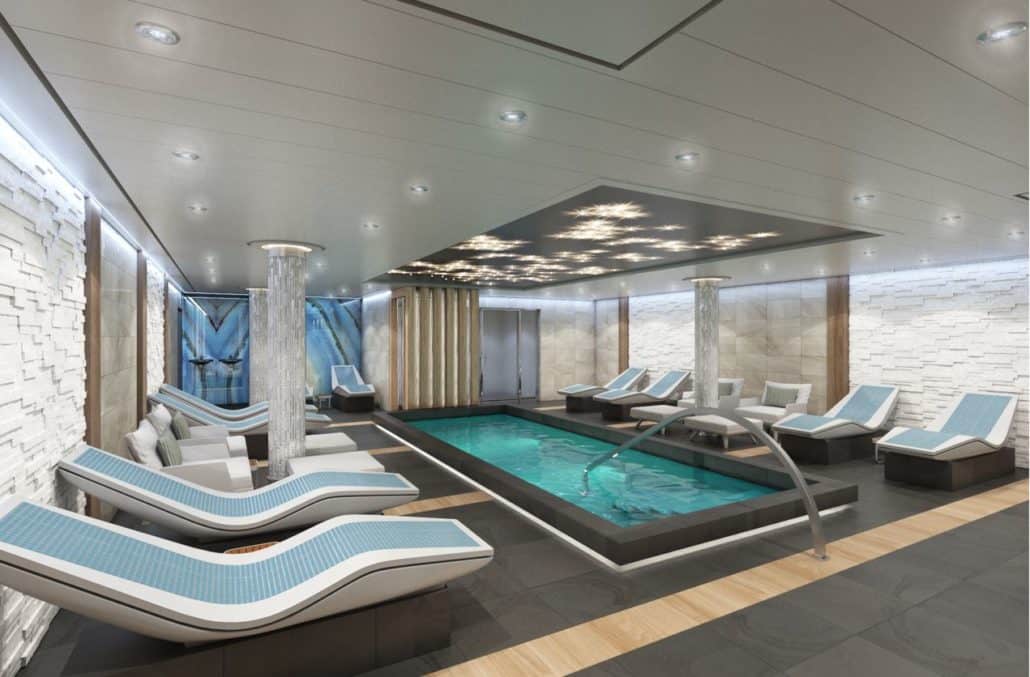 When tipping in the cruise line spa, it's important to remember that a standard gratuity fee is often automatically added to your bill each day. For instance, an added gratuity of 18 to 20 percent will be included if you purchase a massage or salon service.
An additional tip is always appreciated if you receive exceptional service during your spa treatments.
The amount you should tip varies depending on the cruise line and its specific policies. As a general rule of thumb, 15-20% of the total cost of your spa treatments is considered appropriate. It's also a good idea to tip your spa attendant separately if they go above and beyond in making your spa experience memorable.
Other Crew Members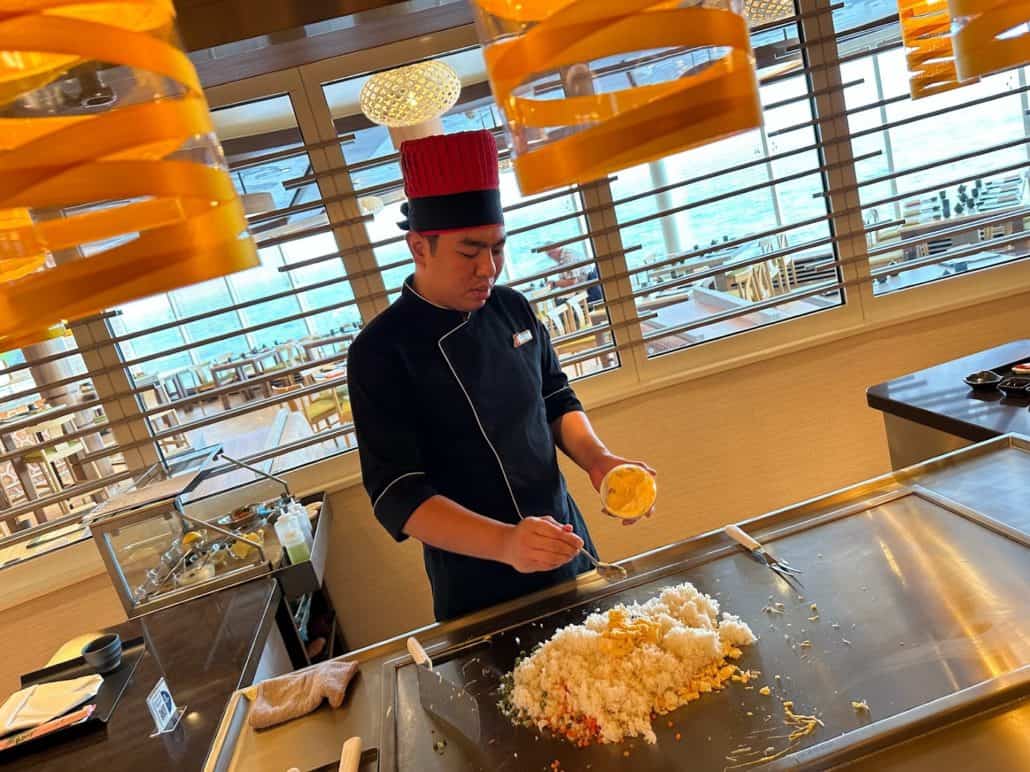 Many people wonder how tips work for other crew members on a cruise ship, such as housekeeping, laundry, or spa staff. While it may vary depending on the cruise line and its policies, these tips are often pooled together with the rest of the gratuities and distributed among crew members.
It's important to note that cruise lines — Carnival, Royal Caribbean, Norwegian, Holland America, Celebrity, Regent, and Disney — have mandatory gratuities that apply to all guests regardless of who they choose to tip.
Most allow you to adjust the amount given to each crew member – increasing or decreasing – based on your experience with them.
Factors Affecting Tipping Amounts
The amount you should tip can be affected by several factors, including the duration and type of cruise line you're sailing with – be it mass market, premium, or luxury.
Even the size of your stateroom or suite may also come into play when considering how much to tip, as these larger staterooms tend to have more amenities and even butler service. Lastly, the number of people in your party will also impact gratuities, as tips are paid per person.
Drink Package Tipping and Gratuities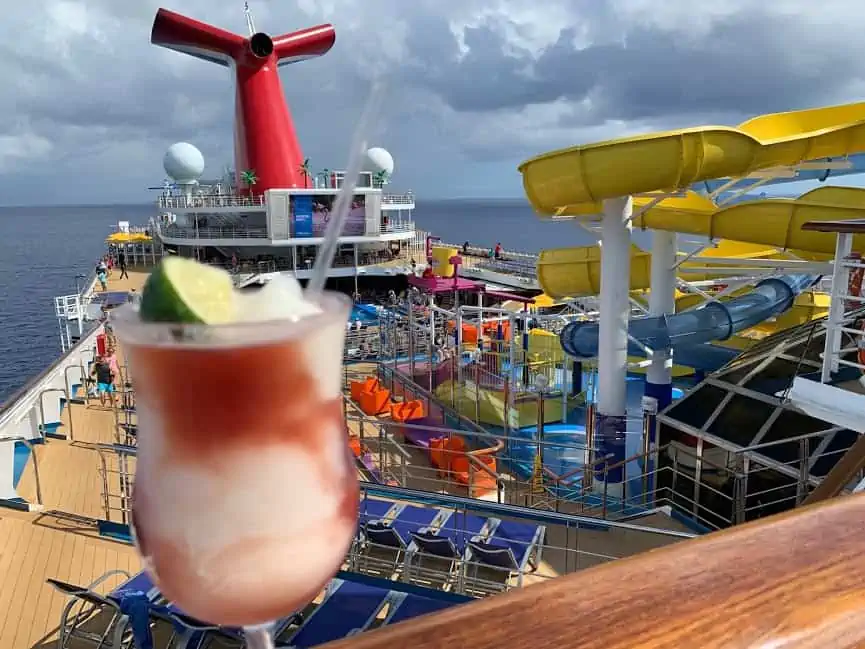 While most non-alcoholic beverages are included in your cruise fare, alcoholic drinks cost extra. Most premium drink packages include unlimited alcohol (or a 15-drink limit over 24 hours). If you purchase a beverage package, you must pre-pay the gratuity amount for the package's total.
Example: If the beverage package costs $59.95 per day and your cruise is seven days (a total of $419.65 for your week-long cruise), you will be charged the gratuities and service charges in addition to the package cost.
Here is a breakdown of Carnival's CHEERS! Beverage Package:

$59.95 x 7 days = $419.65

$419.65 X 18 percent gratuity = $495.19 total package price per guest of a seven-day cruise
Alternative Tipping Strategies
One alternative tipping strategy is to prepay your gratuities before departing on your cruise. This can help you budget for additional costs and ensure that all crew members receive their fair share of tips. Some cruise lines offer discounts or incentives for prepaid tipping.
Another option is to tip individuals directly instead of relying on automatic gratuity charges. This allows you to show appreciation for exceptional service and tailor your tipping based on personal experience rather than a set daily amount.
Remember that some cruise lines may not allow individual tipping, so check their policies.
Prepaid Tipping and Cruise Gratuities
Prepaid tipping is an option many cruise lines offer where guests pay a set amount for tips upfront.
The cost of prepaid tipping on a cruise ship typically ranges from $14 to $25 per person, per day, depending on the cruise line and stateroom type.
You can adjust the prepaid tipping up or down at guest services once you're on board.
Individual Tipping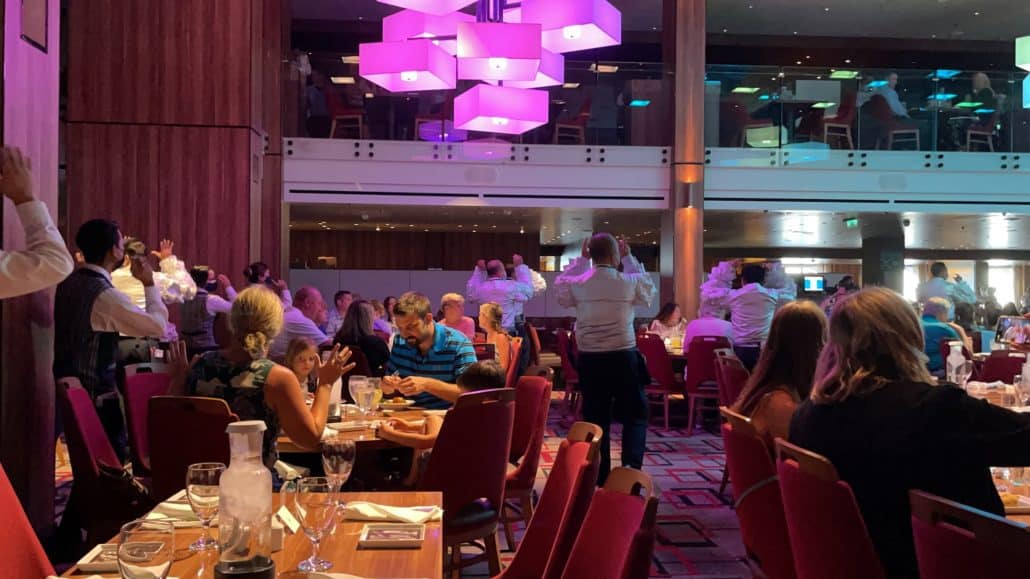 Tipping individuals on a cruise ship can be confusing, but it doesn't have to be. Here are some general guidelines you need to remember:
When should you tip individuals on a cruise ship?
It's customary to tip at the end of your cruise, either by leaving cash in an envelope in your room or adding it to your bill. However, if someone goes above and beyond during your trip (such as a particularly helpful stateroom steward), feel free to give them extra.
Is it appropriate to withhold tips from an individual if their service is poor?
If you're dissatisfied with the service, it's always best to speak with the management before deciding not to leave a tip. The crew member may have had extenuating circumstances outside their control that affected their performance or the service they could deliver.
In general, withholding tips is only recommended if there was no effort towards good service. Remember, crew members are not paid the same as in the U.S. and rely on tips for their livelihood.
Keep in mind that tipping is at your discretion. These are only suggestions based on cruise industry standards.
Included Cruise Tips as a Booking Perk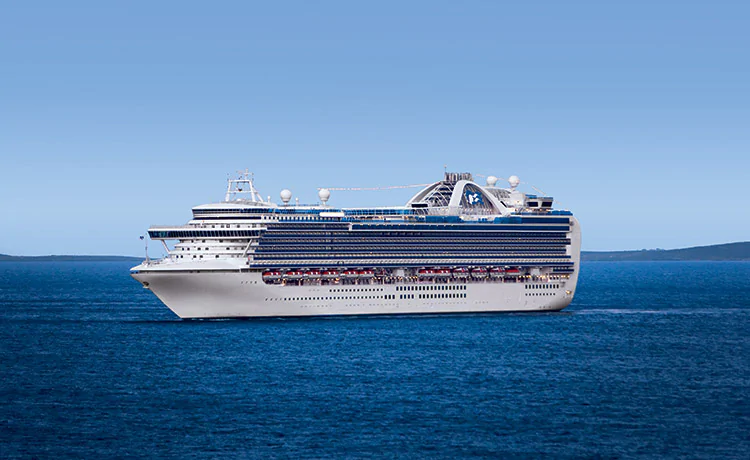 Many cruise lines are moving toward bundling gratuities and other add-ons as part of the overall cruise fare, allowing guests to feel like they're getting more value for your dollar.
Lately, we are seeing this practice not just with the luxury lines but also with premium operators like Holland America Line and Princess Cruises.
If opting for this, remember that while standard gratuities cover the basics like your housekeeping and dining teams, add-ons like spa services and specialty dining are typically not included.
Key Takeaways for Cruise Tipping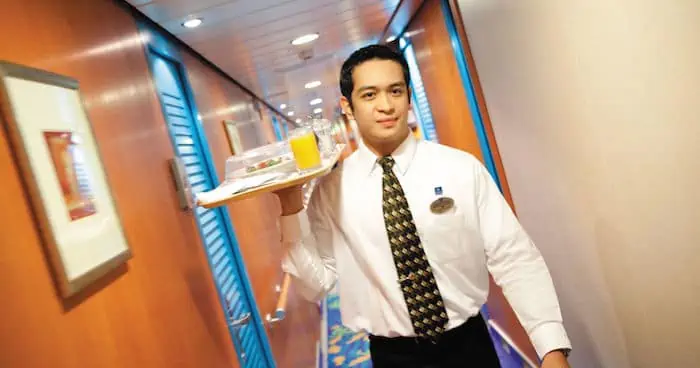 Every cruise line has different policies regarding tipping, so be sure to research before you embark on your journey. And most importantly, don't forget to pack extra cash for tipping, as not all crew members are covered under automatic gratuity charges.
Remember to budget for daily automatic gratuities. These fees are typically $15 to $20 per person per day and will be added to your onboard spending account if you do not pre-pay.
Don't assume you don't need to tip for additional services, such as spa treatments or drinks at the bar, as they may also include an additional service charge.
Consider prepaying your gratuities to save money and make it easier to budget for your cruise. When tipping in cruise ports, follow local customs, as tipping may not be expected or less than in the U.S. or Canada.
RELATED: Gratuities — How much is too much?
Frequently Asked Questions
Is it mandatory to tip the stateroom steward on a cruise ship?
Tipping your stateroom steward on a cruise is customary and appreciated for their housekeeping, turndown, and other services. The standard tip for a stateroom steward is $3 to $5 per person per day, but you can tip more for exceptional service. If you need additional guidance on how much to tip, you can ask your stateroom steward for a recommendation.
Is it cheaper to prepay gratuities on a cruise?
The cost is the same whether gratuities are paid onboard or before your cruise. The decision to prepay gratuities is ultimately yours. It may be a good option if you think it will help with budgeting and are confident in the service.
Can I remove my cruise ship gratuities?
Most cruise lines allow you to remove (or increase) prepaid gratuities, but remember crew members rely heavily on tips for their income as they make up a significant portion of their pay. Before removing gratuities, talk to guest service to see if there are any solutions to your particular issues.
Why don't cruise lines pay employees a salary? 
Unlike the U.S., cruise lines do not have to pay a minimum wage but instead pay their crew members a salary often supplemented with tips, plus free room, board, and medical care. This motivates employees to provide excellent service and keeps cruise prices more affordable by passing the cost of tips on to passengers.