Although I've been on several ships which offered painting classes over the past few years, it was never something I seemed to have time for. Well, when you do a transatlantic — which means a lot of sea days in a row — you find that you have time for all kinds of things you didn't on previous voyages.
That was the case while sailing Holland America Line's ms Rotterdam. On the first sea day, they offered an art class where you would paint in the style of Van Gogh. It's done through the cruise line's partnership with Painting to Gogh, which is an at-home painting course (or on a ship).
Since Vincent Van Gogh happens to be one of my favorite artists, I decided to give the class a try.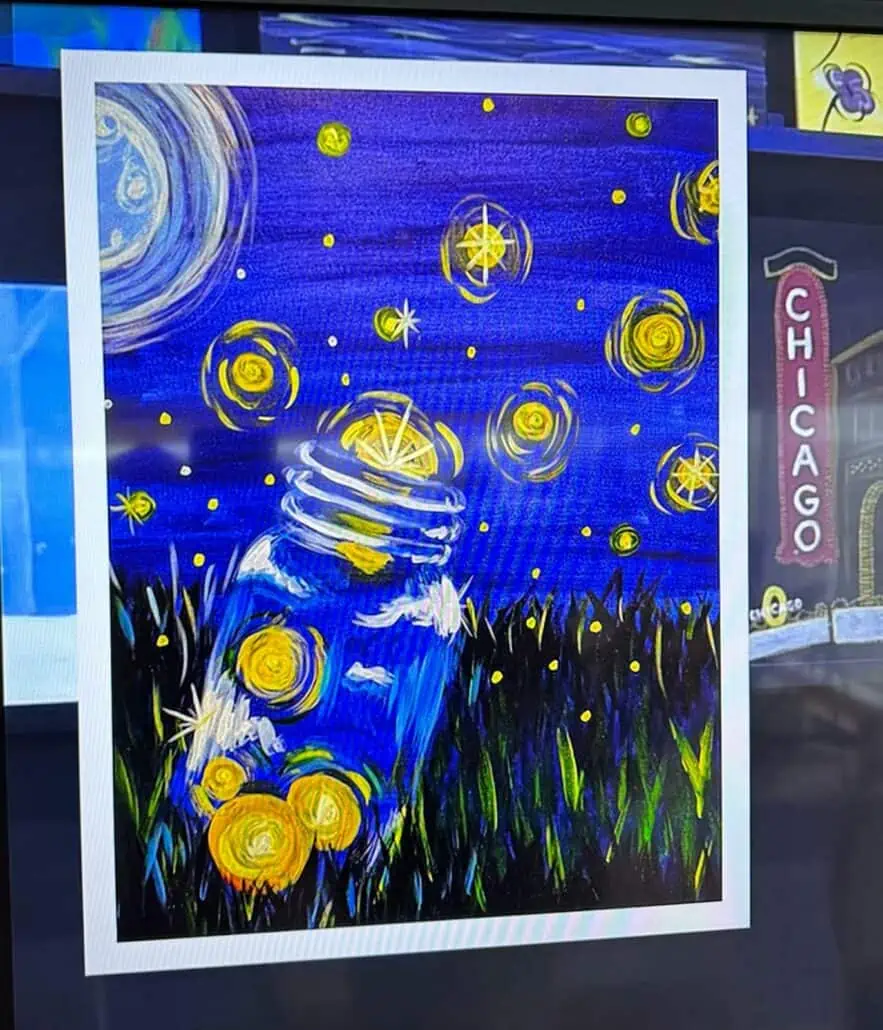 One of the reasons I've avoided classes like this one in the past is that I feared I'd end up surrounded by people who were way more talented and creative. But this year, I've been focusing on stepping out of my comfort zone whenever possible, and this seemed like a great opportunity to do exactly that.
So how did it go? Read on.
The two-hour lesson was taught in the Explorations Café — located in the Crow's Nest — and cost $25 per person. The charge covered everything you would need to create your own masterpiece, including the canvas, brushes, paint and, most importantly, someone to guide you through the artistic process!
While you don't get to keep it, they do provide an apron so that you don't get carried away and wind up painting your clothing. Coming from someone that can't go to a Mexican restaurant without wearing salsa, it was welcomed.
Getting Ready to Paint
Upon entering the classroom, there were several rows of tables with three guests seated at each and lots of elbow room. I wound up sitting in the back row so I could set up a camera to do a timelapse video of my work in progress. (Worst case scenario, I figured I could always delete the video evidence if things went badly.)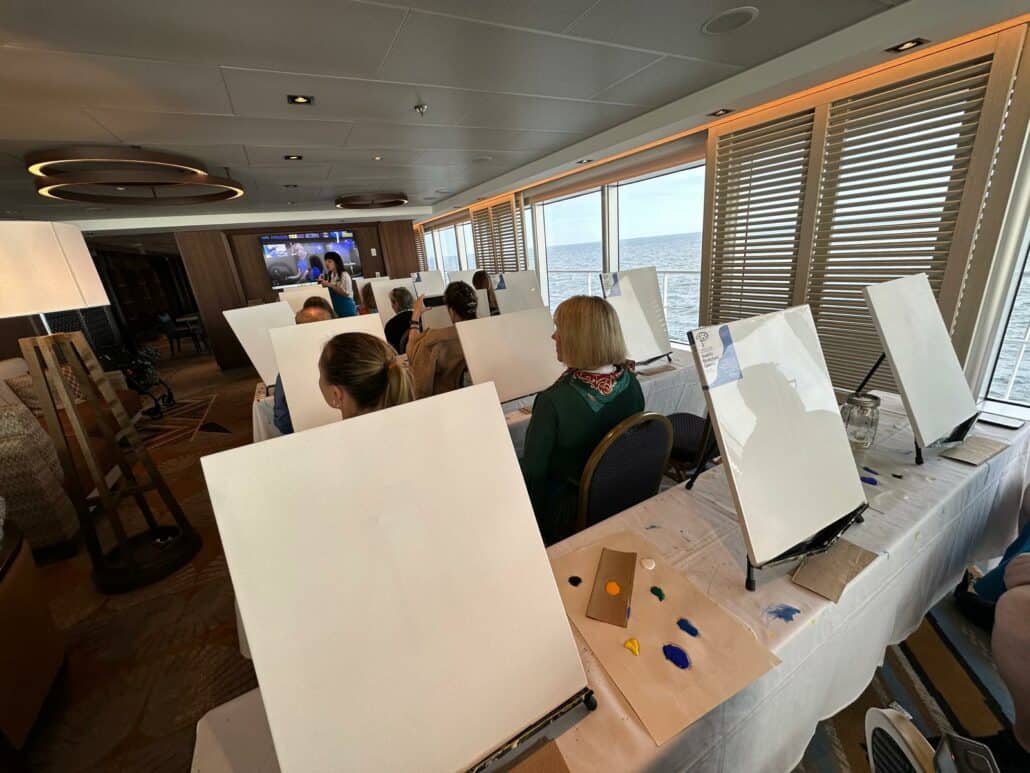 Our instructor, Marie from Peru, walked us through what would happen before we even started, giving us a good idea of what to expect. She also made sure to tell us that we were using acrylic paint, which meant if we got it on our skin, no big deal, it would wash right off. The same wasn't true for clothing, which was why they provided us with fancy blue aprons.
One really cool aspect was that as the teacher was explaining the process, she was accompanied by a video — shown on a large screen — in which an artist was seen using the techniques being discussed. During the class, I came to the realization that I'm much more of a visual learner, so I was thankful that at each step, I had a visualization of what to do, which she rewound as needed.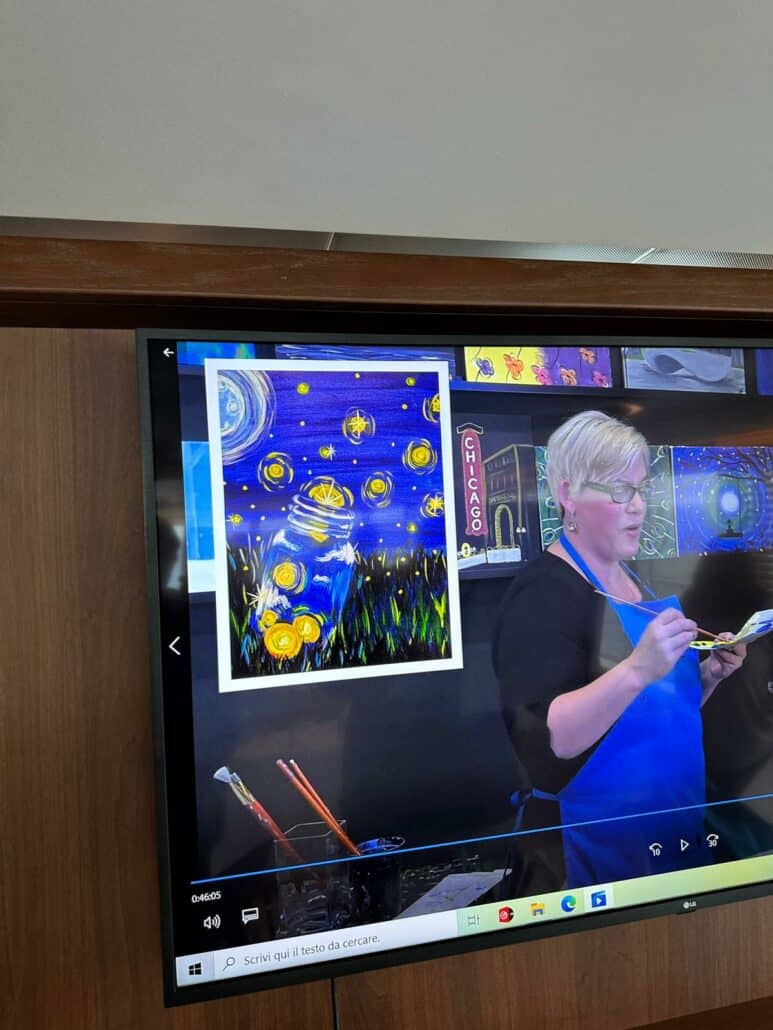 Let's Get Creative!
We unwrapped the plastic surrounding our canvas and dove right in!
For the project we were working on, which was Van Gogh's Fireflies piece, we had three brushes and seven different colors of paint. Each of the brushes was numbered, so you knew exactly which one to use every step of the way.
Throughout the process, the art teacher walked around to give us encouragement and pointers. I think she might have been going soft on me, but it was interesting to hear what she had to say.
Best of all, she tended to veer away from outright criticism in favor of making helpful suggestions. For example, at one point, she asked, "Have you considered putting a firefly there?"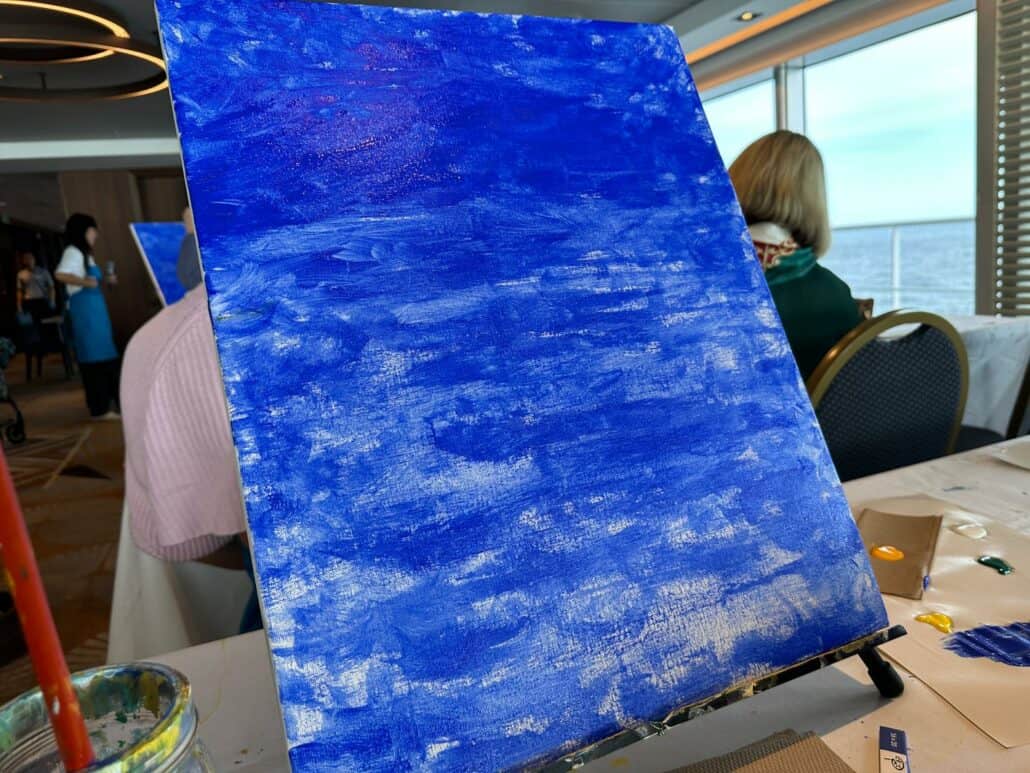 Stroke by stroke, the painting started coming to life. I entered the classroom half convinced that I would walk out with an embarrassing mess and a good story to tell. So it was kind of mindblowing to see the white canvas morph into something halfway decent — maybe even more than halfway — as the shades of blue melted into one another, the moon emerged, and the fireflies came out to play.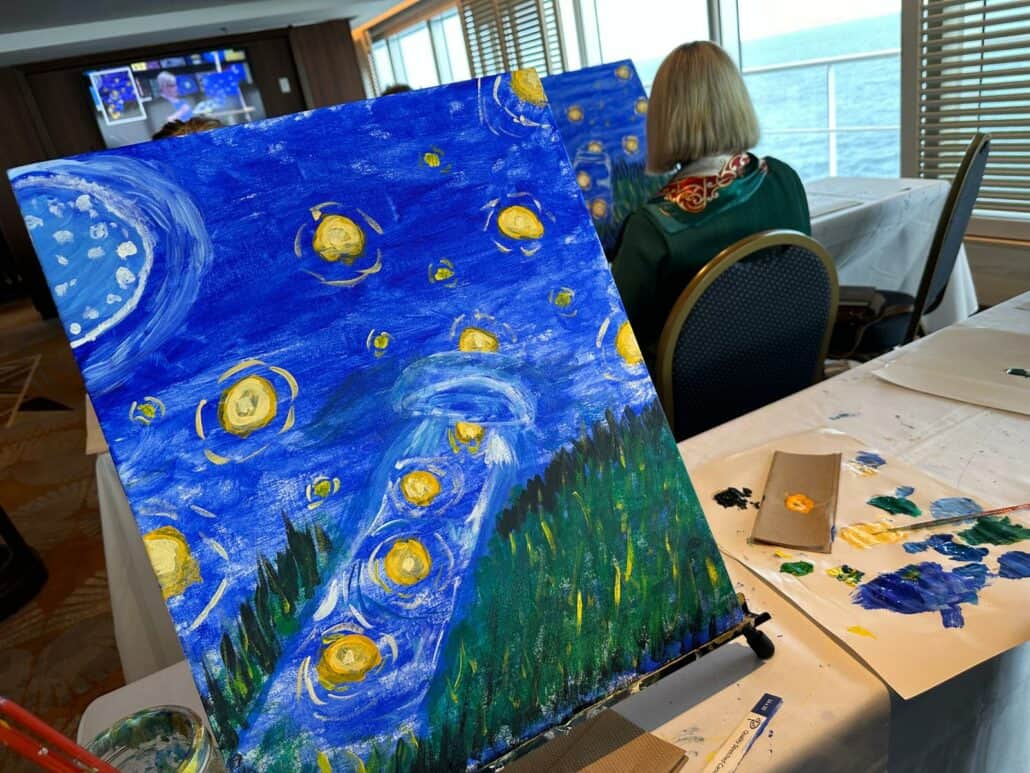 Wrap Up
Going into the class, I was both intimidated by my lack of artistic abilities and nervous because I suspected my classmates would put me to shame. As it turns out, most of us were on pretty equal footing, with them still having a slight edge over me.
Sure, there were a few students of art, who'd clearly spent some time putting brush to canvas in the past, but most of us were cruisers looking for a fun new experience and a way to pass a few hours on a sea day.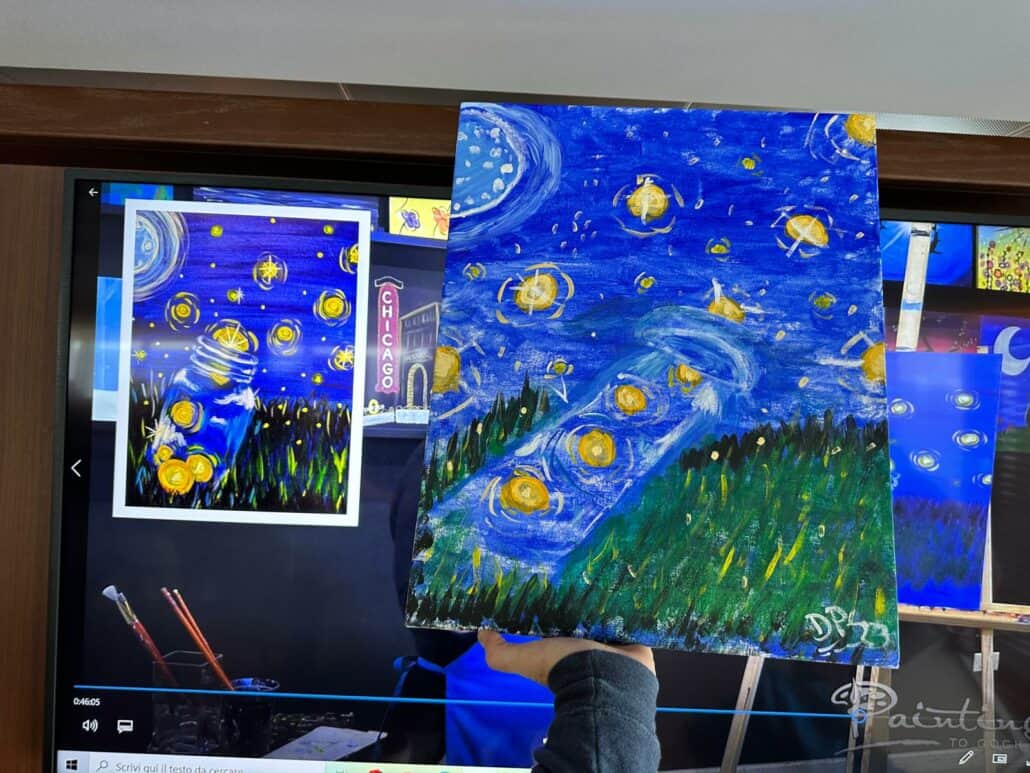 My Personal Thoughts
Would I sign up for another class on a future voyage? If they were doing a different painting, I think I might. It was fun, and at the end of the class, you wind up with a pretty unique souvenir.
My only concern now is how I'm going to get my masterpiece from the Netherlands to Florida. Maybe I'll sell it to the Van Gogh Museum when we dock in Amsterdam.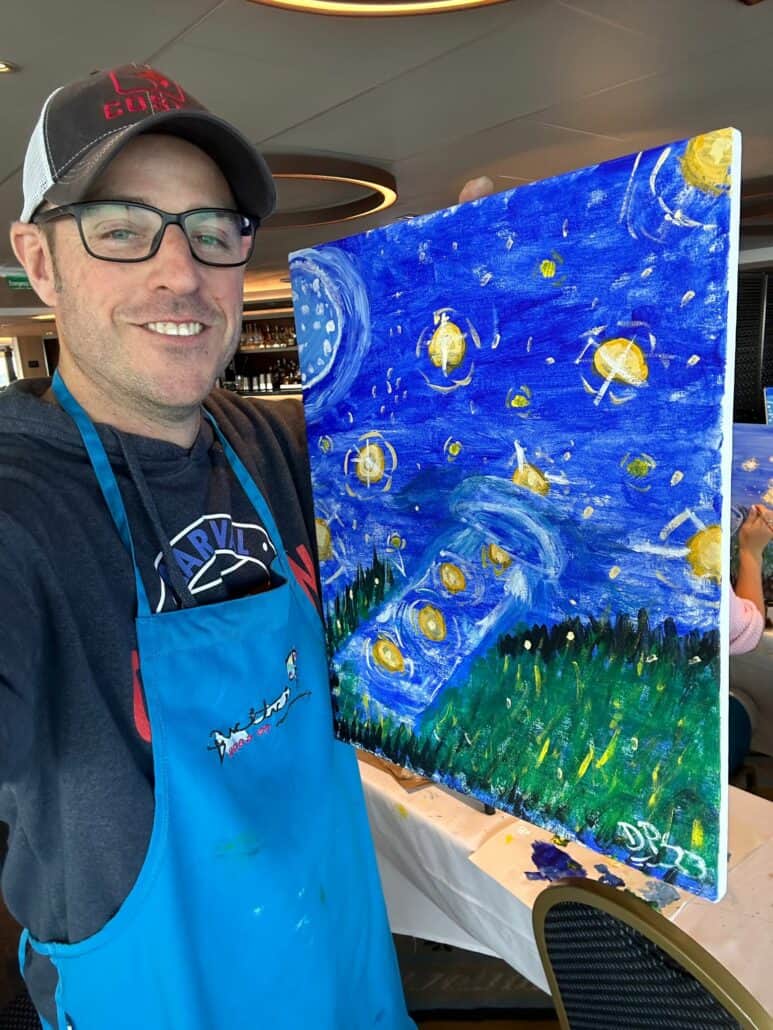 From a personal development stand, I'd give it a 10 out of 10. For the first time this year, I stepped out of my comfort zone on a cruise ship and didn't let my fear make me miss out on something.
Next up for me: Pickleball.
READ NEXT: ms Rotterdam Comprehensive Review
Pin it!