Holland America's Rotterdam, delayed by COVID, made her maiden voyage from Amsterdam in October of 2021 and then sailed initially in the Caribbean. In May of 2022, she again sailed from Amsterdam, visiting her namesake city, Rotterdam. She is the 7th ship with this name and she wears the name well.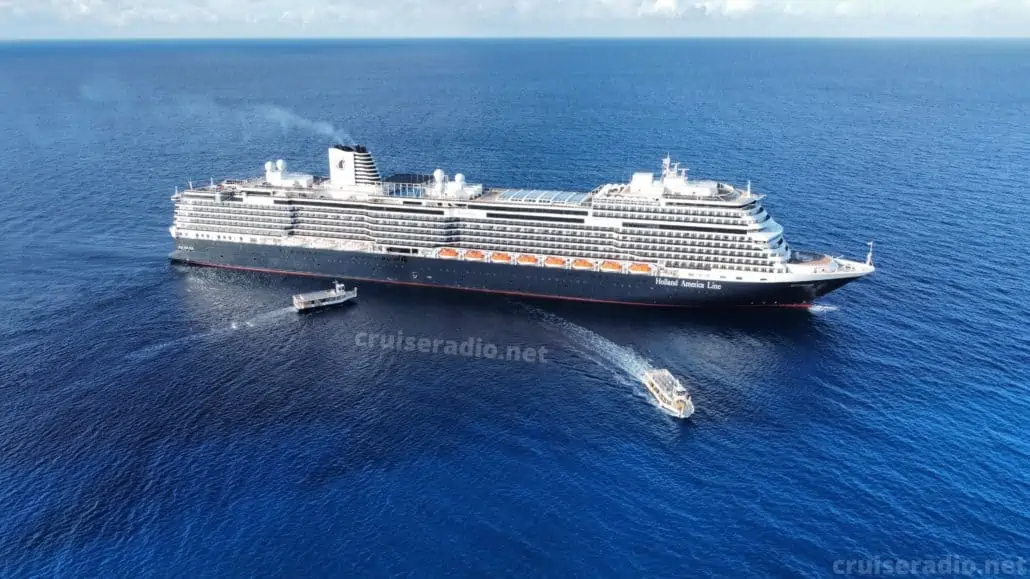 ms Rotterdam Ship Stats
Built: 2021
Size: 99,836 gross tons
Measurements: Length – 984 feet, width – 114.8 feet
Staterooms: 1,340
Capacity: 2,668 (double occupancy)
Crew: 1,048
Overview
Rotterdam was christened in 2022 with Her Royal Highness Princess Margriet of the Netherlands serving as godmother. Music continues to be a theme on the latest Holland America vessel, with a variety of styles performed. Classical, classic rock, jazz, and blues are all heard throughout the ship. With many decks named after composers and much artwork relating to music in some manner, the significance of the art form on board cannot be forgotten.
While music is a focus, there are other features that make this ship a good choice for singles, couples, and families. I sailed roundtrip from Amsterdam with ports of call in Rotterdam and Norway.
Holland America has dropped its vaccination mandate, as well as pre-cruise testing requirements for vaccinated guests, but it's best to check the line's website for current policies as protocols are ever-changing.
Layout
Rotterdam is simple to navigate. Most of the music venues are on the Plaza Deck, while dining is on Deck 2. At the top of the ship are the pool deck, Lido, and sports decks.
Staterooms are sandwiched in between.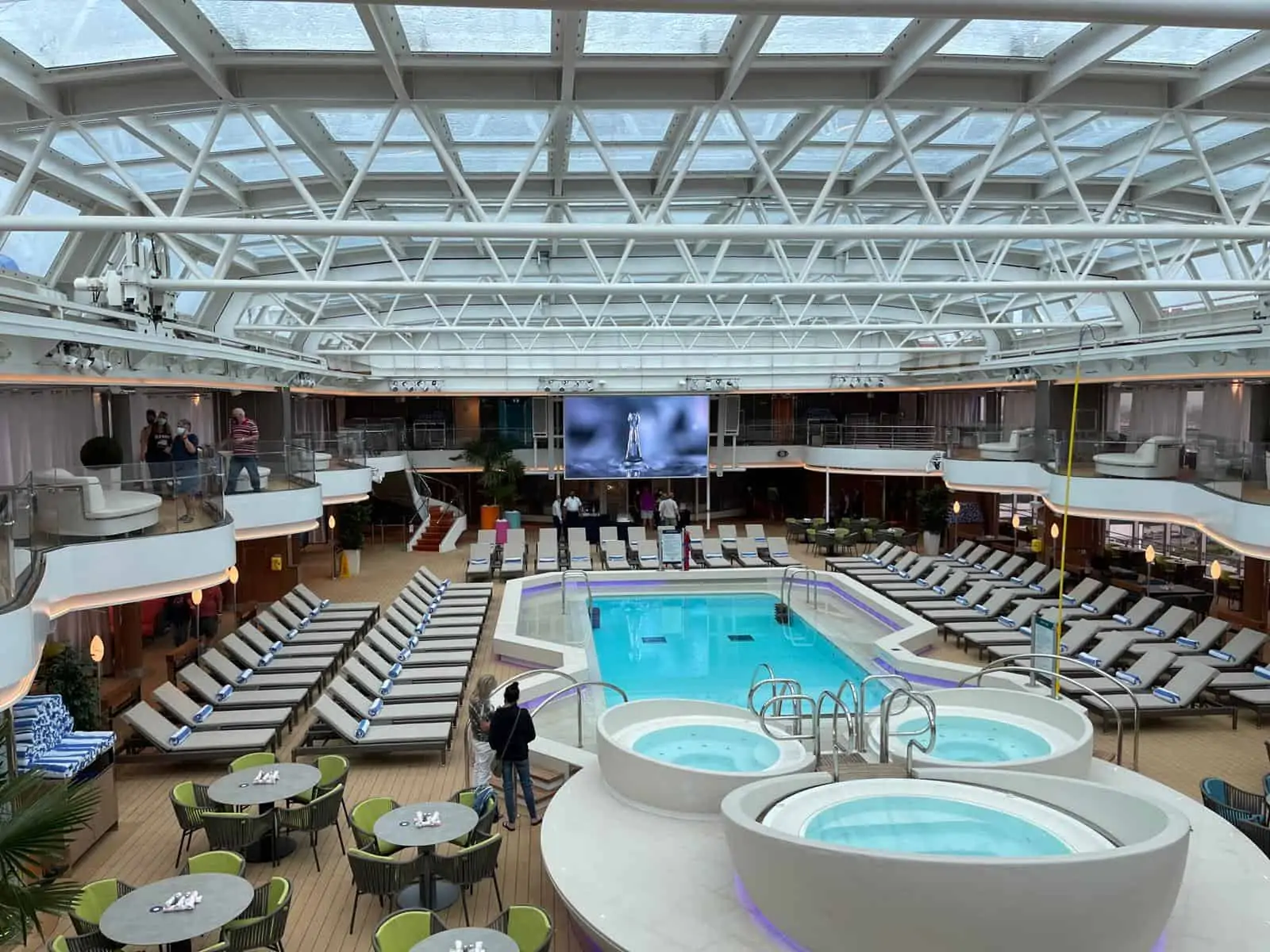 MORE: 9 Cruise Concepts That Didn't Quite Catch On
Staterooms
Staterooms range from interiors all the way to suites. I stayed in a Verandah stateroom, 6173, on Deck 6. This deck happened to be named after Mozart, which made me think of my personal connections to this composer's music.
Inside the stateroom, I found everything that I would need for a comfortable week-long stay. The atmosphere and its neutral décor created a calming space. Light woods, some whites, and some pops of color — like in the balcony drapes — kept the room from feeling too plain.
My room had a small desk, perfect for using a laptop and keeping track of the daily newsletters. Thought had been given to the number of USB ports and power outlets. Having USB access on both sides of the bed just makes sense.
A loveseat had plenty of space for sitting with a small coffee table in front of it. Above the loveseat were cabinets that, for a shorter person, were a bit hard to access. Life jackets were stored in part of that cabinet.
The balcony had a good amount of space with room for loungers. My friend stayed in the cabin next door, so we requested that the divider be unlocked and opened so that we would have better space for photographs. Opening the divider also made the balcony area seem quite large. One really unexpected benefit of that came when some unnamed person forgot her room key. It was so easy to walk through the balcony and into my room to collect my card. Fortunately, my balcony door was unlocked.
This stateroom also had a connecting door, which remained locked.
Finding space for unpacked clothes was easy, as it seems that this cabin had plenty of storage options. One surprising thing was that certain drawers were not very deep at all, but there were deeper drawers to compensate.
The bathroom had contrasting marble-designed floors and walls. The walls had a white background with dark veins running through, and the floors had dark marble with lighter veins running through. The combination of the wall and floor treatments really added a touch of elegance to the look of this bathroom.
Noticeable additions to this bathroom were grabbing bars in the shower and behind the toilet and a shaving bar in the shower. A person who might need extra space should not find this bathroom as confining as those on some ships. It's nice to conserve space, but it seems that some bathrooms need a tool like a shoe horn to help guests fit into the minuscule space that some ships have for bathrooms.
Dining
With options from casual to formal, ms Rotterdam's designers and culinary experts put a lot of thought into pleasing a variety of tastes. The Lido has a multitude of options for those cruisers looking for something quick and casual.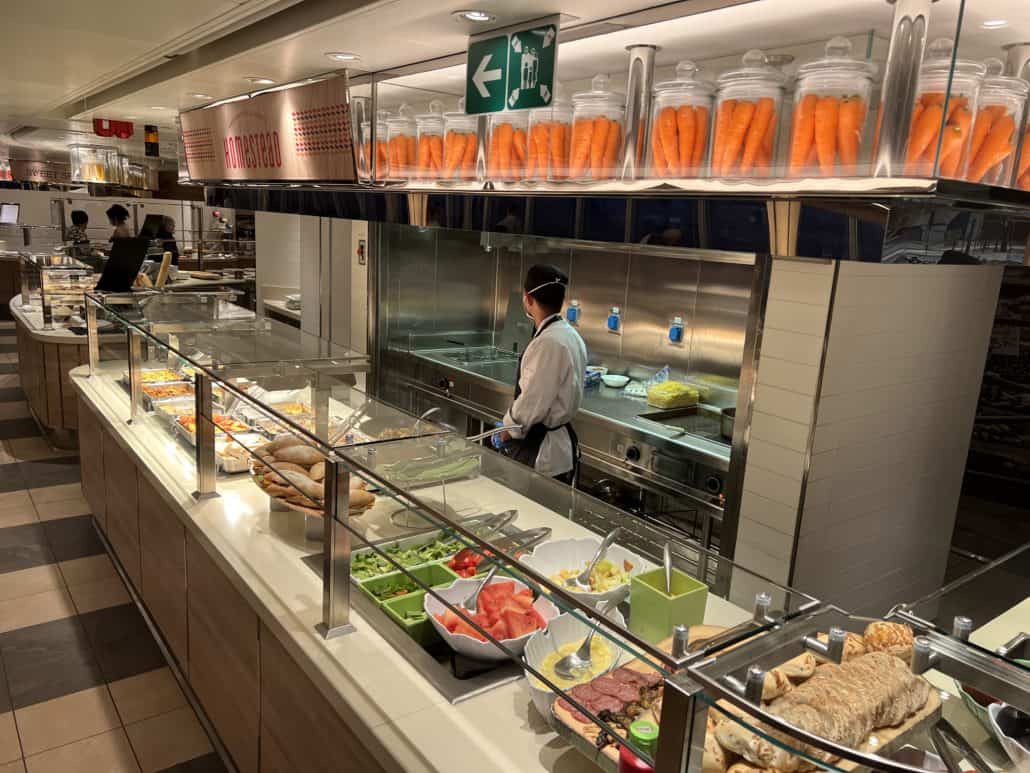 If you want to focus on just one item, like hamburgers, Dive-In is the place to go. In addition to the large hamburgers and fries that they serve, they also cook hot dogs. Another quick option is pizza.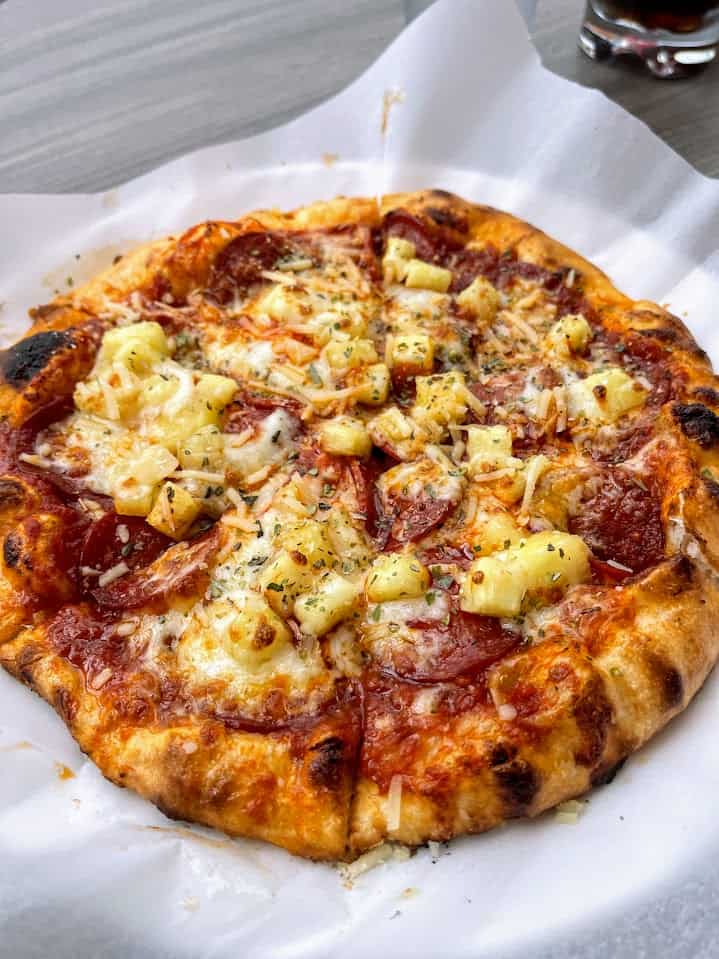 Taking food up a notch are several venues also with a theme. Pinnacle Grill is the steakhouse familiar to those who have sailed with Holland America.
In fact, all of the dining venues are found on most of the HAL ships. Guests looking for a restaurant with an Asian flair enjoy Tamarind, while those seeking seafood and creative dishes head to Rudi Sodamin's Sel de Mer.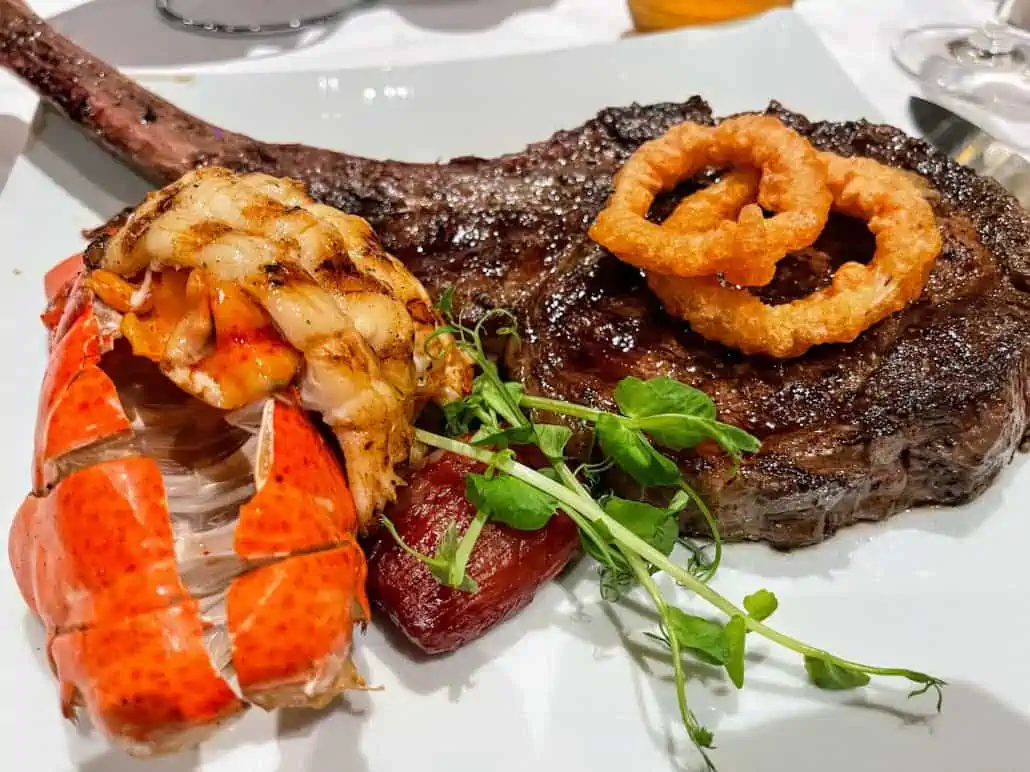 MORE: 9 Hits And Misses of Holland America's Rotterdam
Entertainment
Music Walk is at the heart of it all. With a mix of music including blues, classical, classic rock and piano, all the music that you love is available on Deck 2. If, like me, you appreciate a variety of musical styles, it's a simple matter to hop from one venue to the next.
On the World Stage, BBC Earth shows combine outstanding visuals appearing on the circular 270 degree, two-story screen that comprises much of the theater space. To accompany the photos and videos, musicians play live on the stage. These shows evoke a real sense of place and tell engaging stories of the natural world.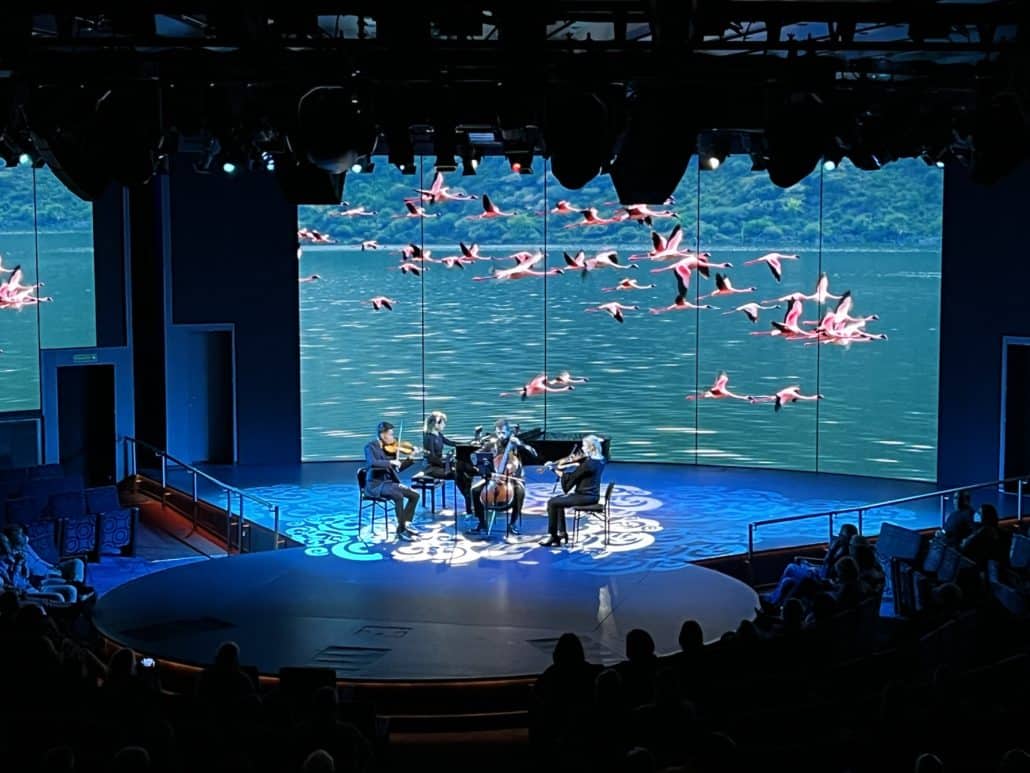 One favorite venue on ms Rotterdam is the bright library, something that seems to be disappearing from many ships. The selection of books impressed me, as did the entire feel of this comfortable and quiet space.
Public Areas & Watering Holes
Many of the music venues have nearby bars, so it's nice to enjoy music with easy access to refreshments. One of the new bars on board illustrates Dutch maritime history through its cocktails. Half Moon Bar, new in the fleet, offer a menu with an accompanying description of its customized drinks. Some of the drinks created here can be found at other bars on the ship.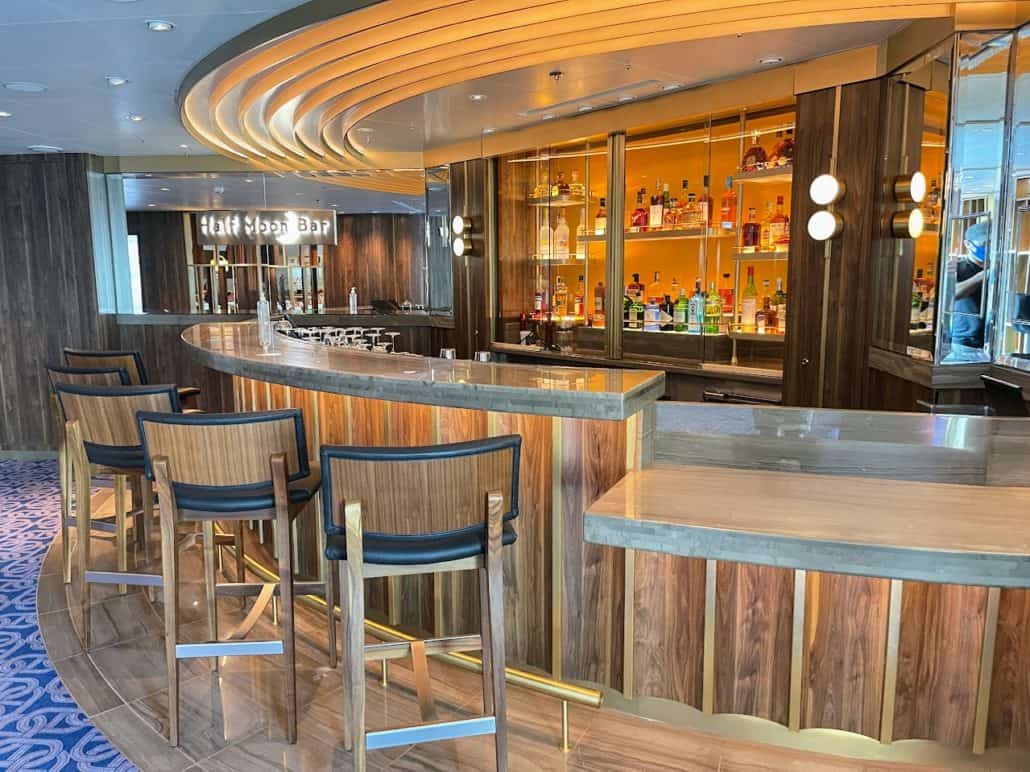 Just because a bar is located in a dining venue doesn't mean you can't enjoy it without having a reservation in the restaurant it is associated with. Such is the case with the Tamarind Bar, which often enticed guests with martini tastings and special pricing on the martini being featured.
Fitness Center & Spa
I didn't have a chance to use either the spa or the fitness center, but they offer what most guests expect to find on a ship this size. According to Holland America, these are a few of their offerings: Ryde Indoor Cycling room, TRX Suspension Training room, saunas, massage rooms including couple's massage rooms, dry float suite with massage option, thermal suites with hydro-therapy pool, steam & aromatic room, heated ceramic lounges, in-suite showers, relaxation area, manicure and pedicure area, beauty salon/barber shop, and Medi-Spa.
Closing Thoughts of ms Rotterdam
Experiencing a brand-new ship counts among my favorite cruising experiences. Holland America's ms Rotterdam is no exception. It had been several years since I had sailed on Holland America, and I waited far too long to return. As a music lover, I appreciated the variety of music found in the different venues on Rotterdam. Maybe even more important, I appreciated that music existed as an art form for the enjoyment of the guests. Too many ships play loud music without purpose. Being able to have a conversation while enjoying purposeful music creates a perfect atmosphere for me.
Having enjoyed sailing on Holland America ships for many years, even when decades younger, I want to emphasize that this brand is not exclusively for an older demographic but for a cruiser who appreciates a place to feel refreshed with music, good food, and a peaceful atmosphere.
I am looking forward to introducing my grandchildren to cruising on a line like Holland America, which, by the way, does have Club HAL for children.
READ NEXT: Trip Report, Day 1: Embarking Holland America's Newest Ship, Rotterdam