If you're sailing on Carnival Freedom soon, come hungry because this ship is bursting with options for grabbing grub. Here are 19 choices for finding food aboard the ship.
1. The Freedom Restaurant
You may casually refer to this as the "lido buffet," but it certainly has no shortage of food selections. From an omelet bar at breakfast to "The Sweet Spot" dessert bar, one could conceivably eat at the buffet for every meal of every day given its depth of variety and quality in flavor. However, we can't say we recommend that when there are so many other amazing options for eating on the ship.
2. Posh and Chic Main Dining Rooms
The main dining rooms are the culinary staples of any cruise ship, and Carnival Freedom does not disappoint. The American Table menu is set to impress, and the food is all top-notch. Come hungry!
3. Sea Day Brunch
Served by waiters in one of the main dining rooms, the sea day brunch is a can't-miss. You're treated to a full menu of starters, eggs, entrees, and desserts along with coffee and juice (and even bloody marys). Forget fighting the buffet lines; let the waiters serve you.
4. Sun King Steakhouse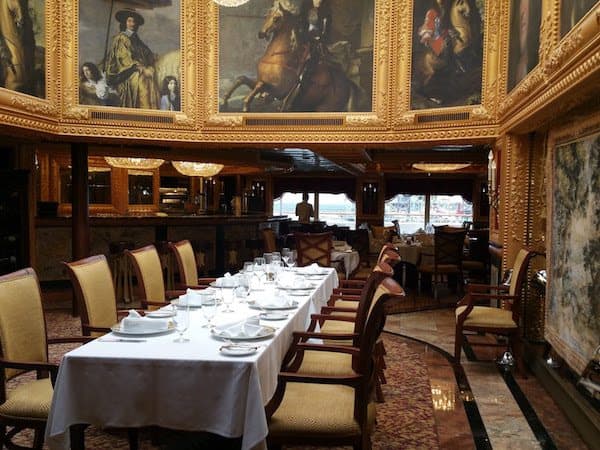 For just $35 per person (and now $10 for kids), the steakhouse serves an intimate, four-course meal with exemplary cuts of steaks.
5. Guy's Burger Joint
Guy's Burgers is an undisputed Carnival cruiser favorite food stop, and it certainly lives up to its hype. "The best burgers at sea" and the seasoned fries are free and available from noon to 6 pm every day, so you'll have plenty of opportunities to grab a plate and try all the different toppings, like Guy's signature "donkey sauce."
6. Blue Iguana Cantina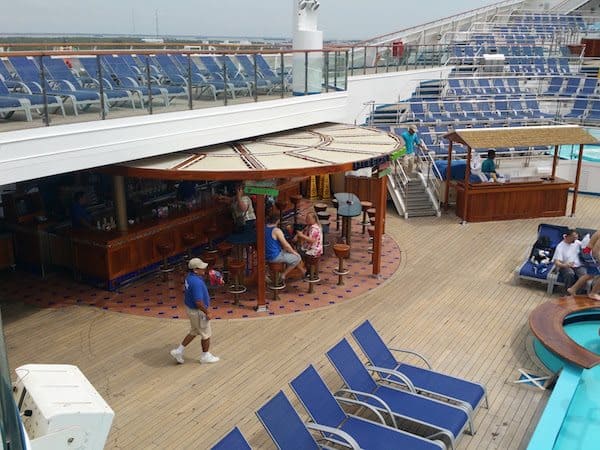 To get your burrito fix while onboard, don't miss Blue Iguana Cantina, where you get your choice of tortilla, type of meat, fillings, and toppings.  Be sure to stop by one day for breakfast, too, as the breakfast burritos filled with eggs, hash browns, and chicken sausage (or "iguana," as one crew member tried to tease me) are better than any I've tried on land!
7. Fish N' Chips
Found only on select Conquest-class ships, Fish N' Chips is located on Deck 10 just above the aft pool. However, this line doesn't just have fried fillets and French fries. The menu also serves up items like ceviche, fried oysters, and bouillabaisse, among others. And best of all, this seafood stop is totally free.
8. Green Eggs and Ham Breakfast
Although very kid-oriented, the Green Eggs and Ham breakfast is a must-try. Yes, your eggs actually come out green! Or you can pick the French toast covered in Fruit Loops, which you can finish off with some Dr. Seuss "moose juice."
9. Mongolian Wok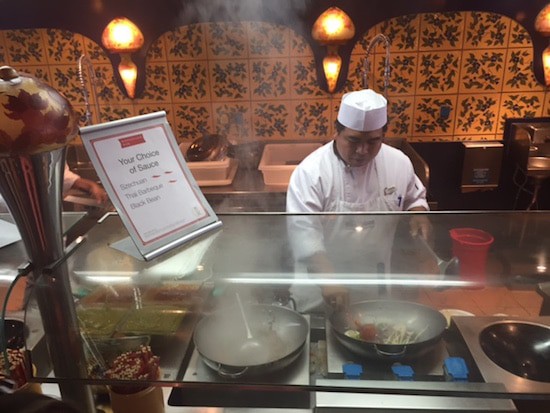 If you were wondering if Carnival Freedom had any Asian food on board, the answer is yes. Mongolian Wok will satisfy any stir-fry cravings during your cruise with its customized bowls of whatever noodle, veggie, sauce, or meat combos you can dream up.
10. Deli
The Carnival Deli dishes up both hot and cold deli sandwiches, including a pastrami on rye, corned beef on rye, a grilled Reuben, and an arugula, pepper, and mozz sandwich on ciabatta. The best part is the Deli is open 11 am to 11 pm, so you can hit it up for several meals throughout the day.
11. Pizza Pirate
Next to the quiet aft pool on lido deck, pizza pirate is open 24/7 and is completely complimentary. Free pizza at any hour of the day? Sign me up!
12. Taste Bar
Aptly named, The Taste Bar is located along the thoroughfare of the promenade deck and offers cruisers a taste of tapas-sized food items that you could find on other Carnival ships so you can see what other ships have to offer. I wonder if it's a coincidence that it's located right next to the "Future Cruise" desk…
13. Coffee Bar
While you're grabbing your java at the Coffee Bar, keep your blinders on if you don't want to be tempted by the window display of cakes and desserts. Or, go ahead and give into temptation. The desserts are a small extra fee, but they are well worth your money because the slices are huge!
14. Swirls Soft Serve and Froyo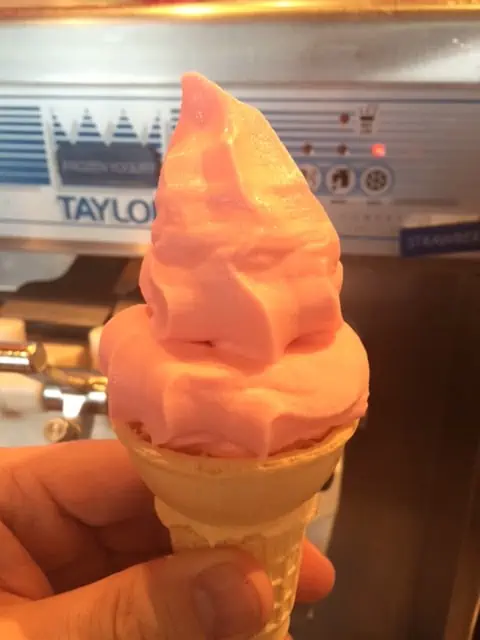 Tucked into small nooks toward the back of the lido deck, the ice cream and froyo machines offer 24-hour self-serve soft serve ice cream and froyo for whenever you feel like a cold snack, be it 3 pm or 3 am.
15. Tea Time
On sea days, you can always attend the Tea Time hour, which is typically 3-4 pm in one of the main dining rooms. The cup of specialty herbal hot tea is only $1.95 (or free if you purchased the Cheers! package), but included in that price is an array of desserts and pastries that are served to you by the dining room wait staff.
16. Steakhouse Cooking Demonstration
Check your Fun Times schedule to see when the steakhouse chefs will be demonstrating how to cook some of the steakhouse favorites, and then stop by to get some free tasters and a list of recipes. Just be sure to get there a little early to get a seat up front so you can see all the action.
17. Select Bars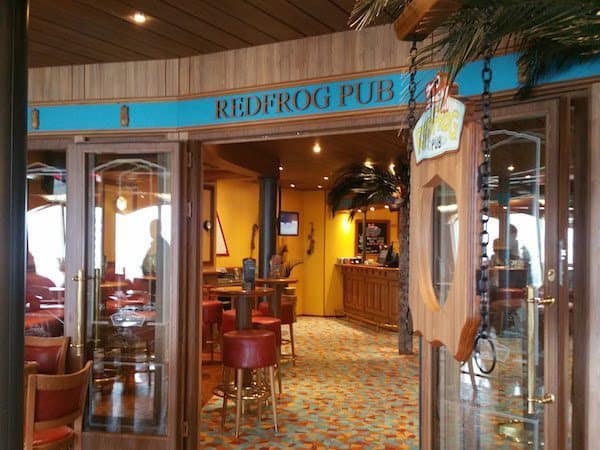 If you're looking to snack while you drink, Carnival Freedom has no less than three bars where you can do so. If you're trying out the elixirs at Alchemy Bar, the mixologist will be happy to give you a (free) plate of olives, cheese, and nuts to munch on if you ask. If you're headed to RedFrog Pub for the board games and beer pong tournaments, be sure to try out the crispy plantain chips (also free). And last but not least, the SkyBox Sports Bar serves hot soft pretzels and peanuts in the shell.
18. Cherry On Top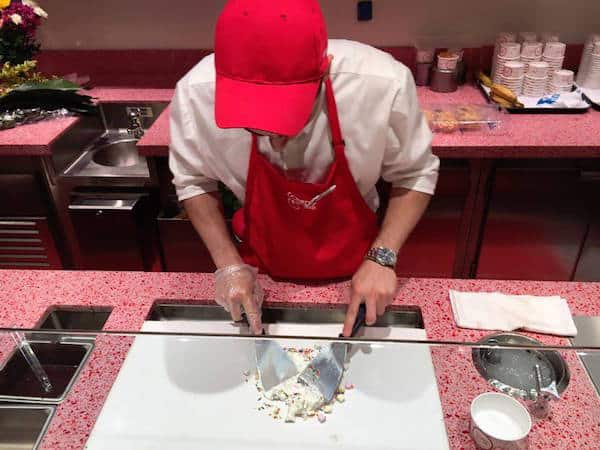 Okay, so this may not be a place to eat a meal, but it's the perfect place if you need to satisfy your sweet tooth. Just be sure to bring your Sign & Sail card, because the candy isn't free. (Could you imagine if it were??)
19. Room Service
Lest we forget the tried-and-true option of room service, keep in mind that you can have food brought to your stateroom at any time of the day. The continental breakfast and a variety of hot and cold sandwiches, salads, desserts, and beverages are always complimentary. However, there's an expanded fee-based menu that includes items like chicken wings, fried shrimp, and a banana split, but none of the extra items costs more than $6.
Pin this: