One of my favorite things about compiling this collection of Carnival Sunshine tips is that it proved to be a true labor of love. Over the years, I've spent over 60 days on this ship. I've had the pleasure of introducing her to others, who came to appreciate her as much as I have. And that's because, despite being one of the older ships in Carnival's current fleet, the Sunshine is very unique.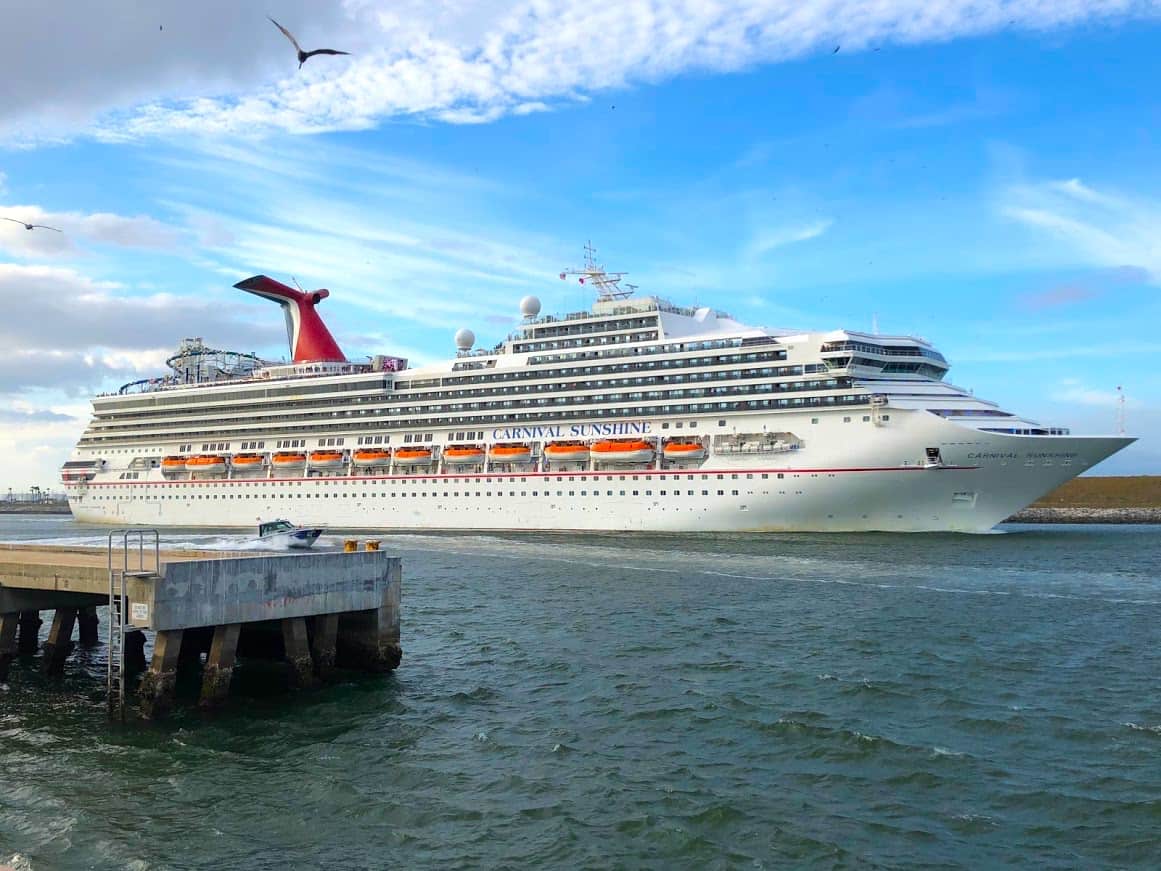 Hard as it is to believe, when first introduced back in 1996, Sunshine (who was known as the Carnival Destiny at that time) was the largest cruise ship in the world. For the sake of comparison, she weighed in at around 100,000 gross tons… while the current record holder is Royal Caribbean's Symphony of the Seas, which weighs a stunning 228,000 gross tons.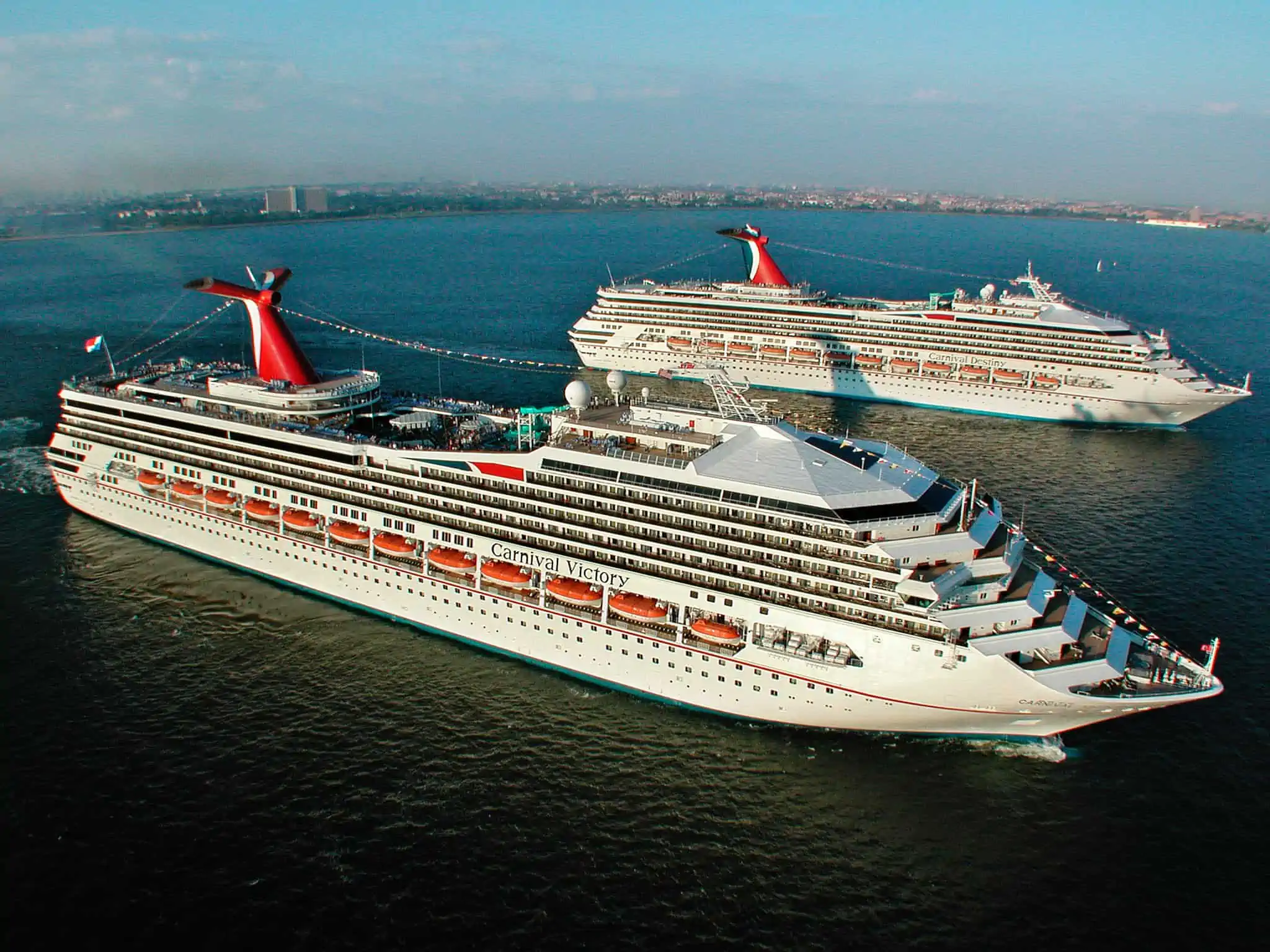 In 2012, the Destiny underwent a massive $155 million transformation, emerging as the Carnival Sunshine. Although born as the first of the Destiny class, the ship would, after the name change, be considered the first and only member of the Sunshine class. And when Carnival rolled out the Fun Ship 2.0 features, Sunshine was the very first to receive them.
If you're getting the impression that this ship holds a special place in my heart, you would most definitely be right. So obviously, I want you to enjoy your time on the Sunshine as much as I have. With that in mind, here are some tips, tricks, and pointers. Some are unique to this ship, while you'll find that others can be applied to other Carnival vessels, too.
1. There are "secret" staterooms on board.
One of the biggest decisions you make after booking any cruise is what type of stateroom to choose. Well, Carnival Sunshine features several that are definitely sought out by those in the know. Those classified as 4J/4K are considered interiors, but actually, have a picture window (albeit with a partially obstructed view). Then there are the 6J/6K categories, which are forward-facing oceanview staterooms featuring floor-to-ceiling windows that have to be seen to be believed. There aren't many of these rooms on board, and they sell out months in advance… so if you're interested, book 'em quick.
2. Deck three has some of the best "quiet spots" on board.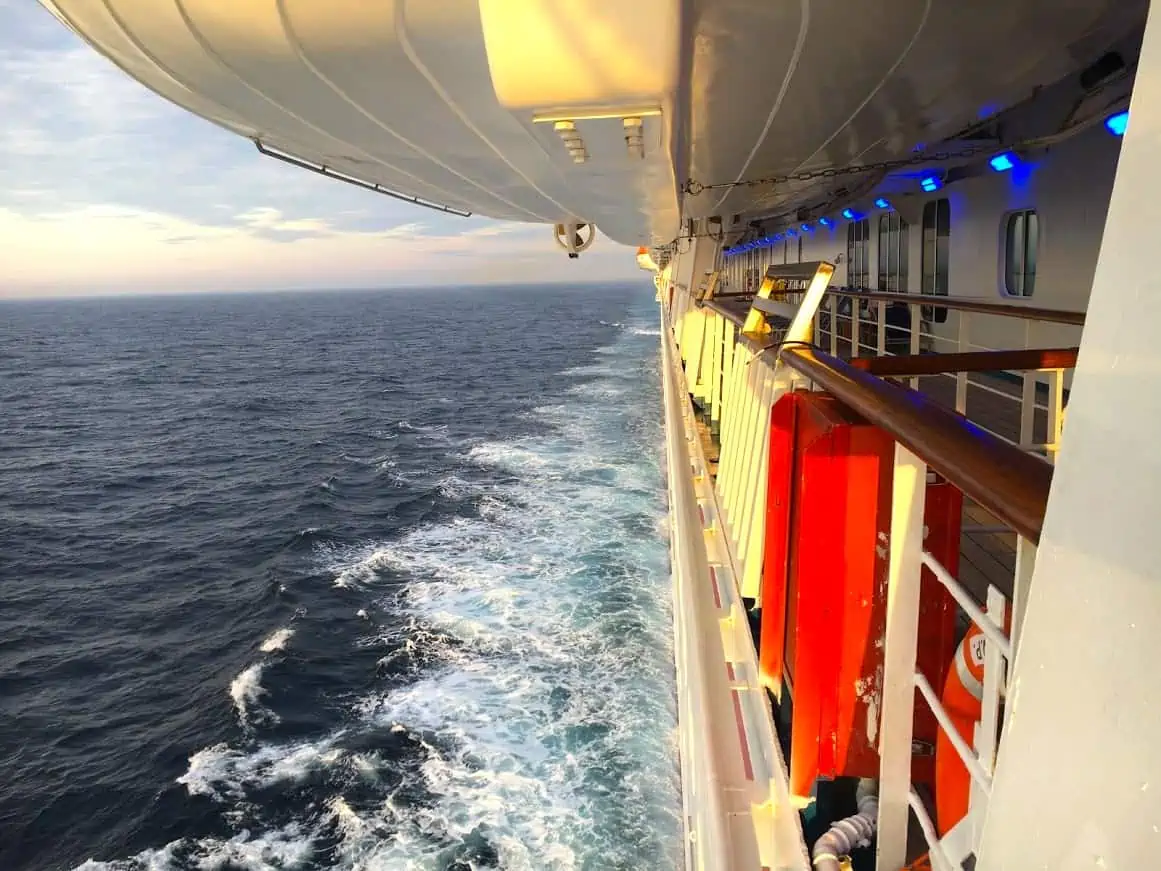 Sometimes, you want to hang out at the pool with all the party people. Other times, you want to slink off to read your book or stare at the ocean. When I'm seeking a place to do a little navel gazing (read: napping), I hit deck three. On both the port and starboard sides, there are deck chairs set up and, because they're on a lower deck and closer to the waterline, you can really connect with the ocean. Keep in mind that smoking is allowed on the port side (that's left, to you landlubbers), so stick to the starboard (right) side if you're a non-smoker.
3. The atrium is wonderfully old-school.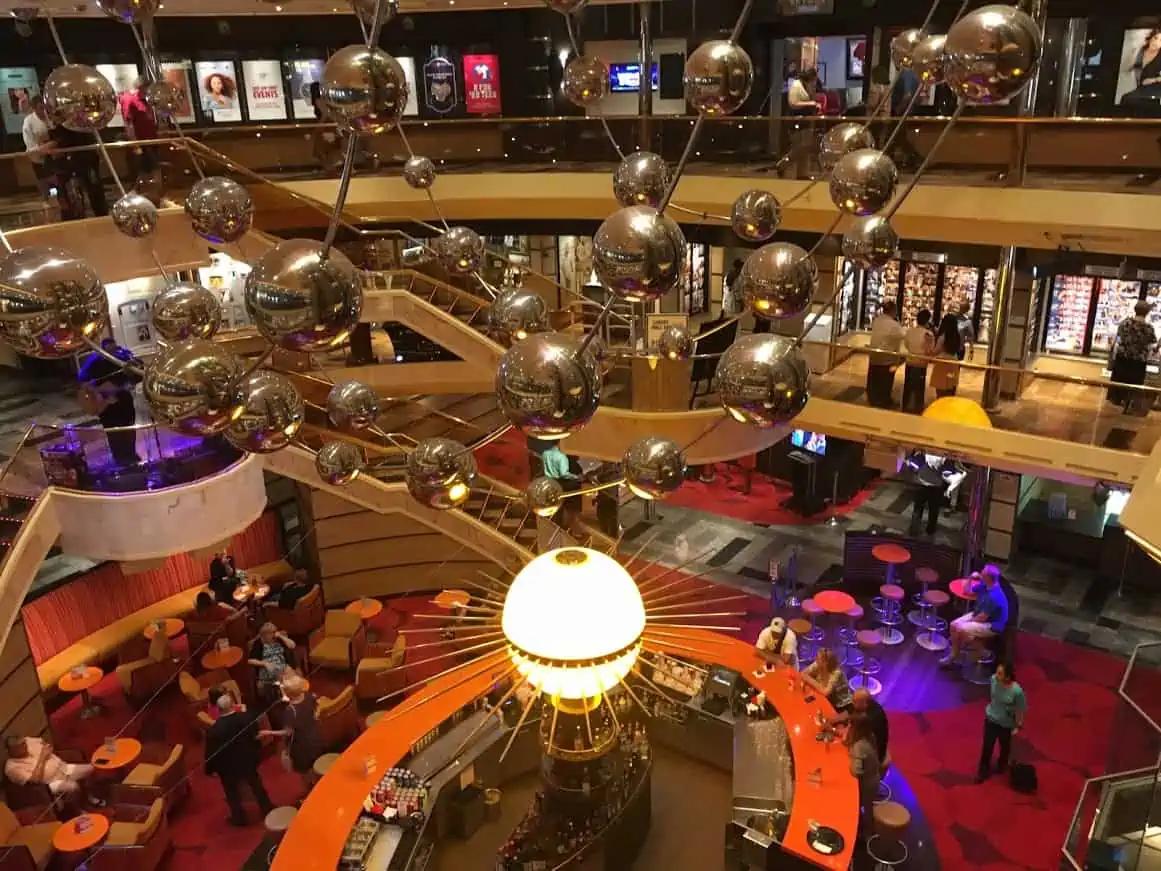 Newer Carnival ships like the Vista and Horizon have modern bells and whistles, including those incredible LED dreamscape funnels. But I can't help being partial to Sunshine's atrium, which is a throwback to the age of glass elevators and decor that is just-this-side of tacky. I've also found that some of the friendliest bartenders tend to work here, perhaps because it's a spot that so many passengers wind up hitting sooner or later.
Read More: 10 Tips for Carnival Cruise Line
4. Havana Bar is a perfect lunch spot.
This space has something of a split personality… in the best way possible. At night, it comes alive with people dancing and drinking and having a good time. But during the day, it's a fantastic spot to enjoy your lunch. "Havana Bar is the best-kept secret on the Sunshine," one reader told me. "It's usually day four before most people realize that's where the omelette station is. Oh, and you can get Cafe Con Leche!" Located just outside the Lido marketplace, the Havana Bar has tons of extra seating, which comes in handy when both JiJi Asian Kitchen and Cucina del Capitano are closed.
5. Take your time getting to the sea day brunch.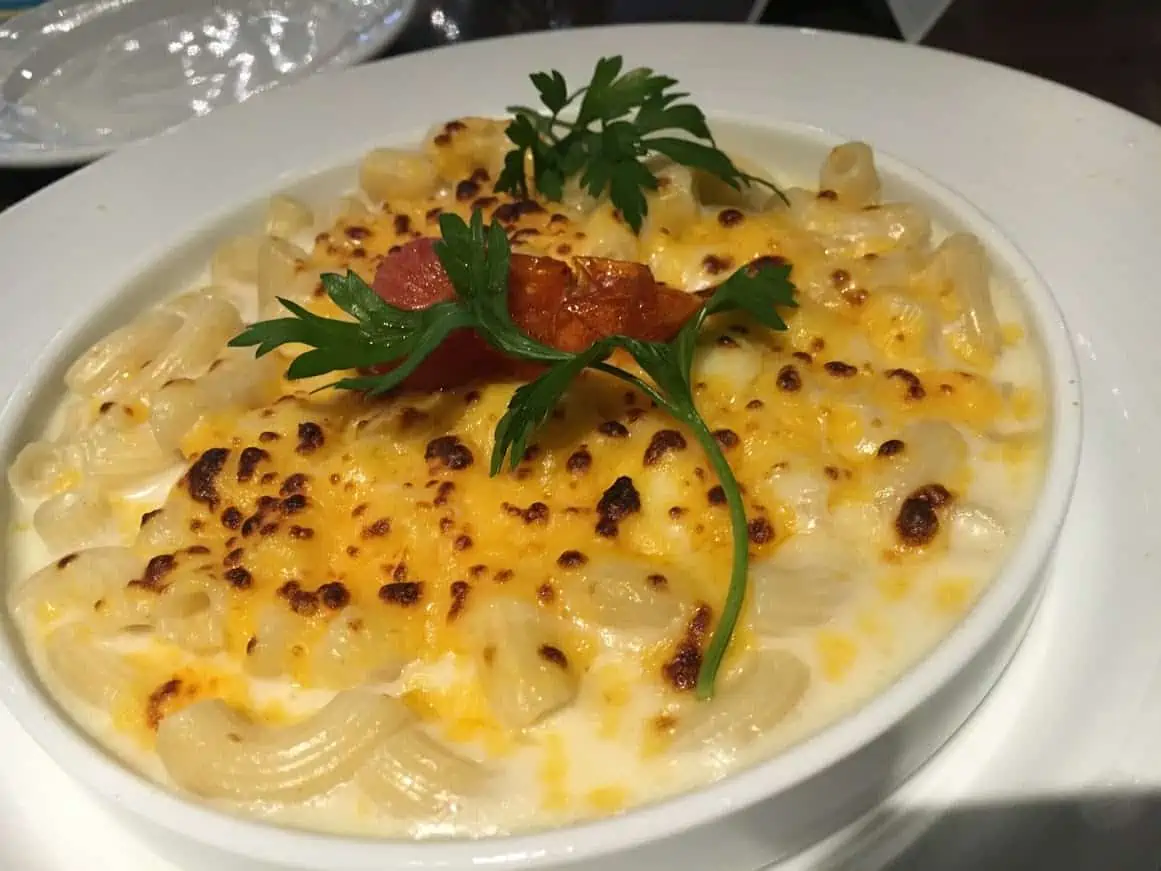 Don't get me wrong: You definitely should not miss the seaday brunch, no matter which Carnival ship you're sailing on. But go ahead, dawdle. People who get there early will wind up standing in line waiting for the doors to open, and it takes a while for all those folks to be seated.
Meanwhile, maybe it's just my bias toward this ship showing, but there's something special about brunch on the Sunshine. Maybe it's because I'm not usually in the main dining room during the daytime, so having daylight streaming through the windows makes it feel like an entirely different venue. Oh, here's another tip… think of it as a bonus: If you want to sit alone, just let the hostess know when you're checking in. Their default setting seems to be seating people in groups, but unless it's ridiculously crowded, they'll usually be able to accommodate your request.
6. You can get a free bottle of wine in the steakhouse.
Traditionally, fewer decide to have dinner in the steakhouse on the first night than any other night of a trip. For some people, it's because they worry their luggage might not arrive in time. Others figure they'll be exhausted and want something simple that first night. And for many, they save the steakhouse for that special, final night's dinner. So as an incentive to get people into the restaurant on embarkation day, Carnival offers up a free bottle of wine. The steakhouse is already a pretty great deal at $35 per person, but when you throw in a bottle of wine… it's is an offer too good to pass up.
READ MORE: 7 Reasons To Dine In Carnival's Steakhouse 
7. JiJi Asian Kitchen and Cucina Del Capitano are definitely worth the price.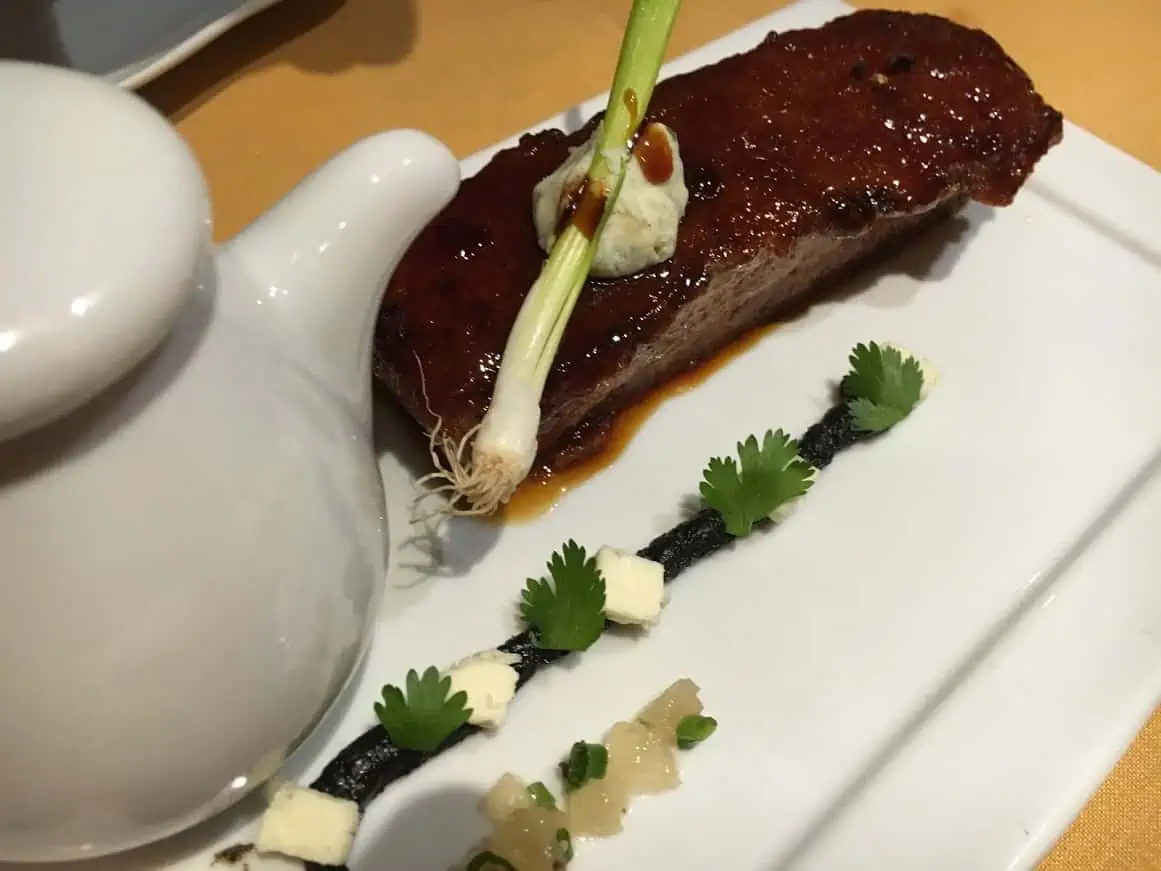 I know a lot of folks avoid specialty restaurants, figuring there are plenty of free options available… why pay? And while that's true, skipping these two places would be a real mistake. Each costs only $15 per person and, while they offer wildly different experiences, they have one thing in common: really good food. JiJi Asian Kitchen has a limited but perfectly curated menu, while Cucina features exactly what you'd expect to find in an Italian restaurant (although I'm still puzzled as to why they took the tiramisu and cannoli off the dessert menu). Every single time that I've had dinner at Cucina, I've walked away so full that any shot I had of enjoying nightlife aboard the ship was spoiled, as I wanted nothing more than to head back to the stateroom and slip into a food coma.
8. JiJi and Cucina also offer killer lunches… which are free.
If you don't want to splurge to eat dinner at these restaurants, you can grab a complimentary lunch at both. JiJi has a Mongolian Wok station set up, where you pick the ingredients and the chef cooks it up, while Cucina offers lasagna, pasta, salad, and bread. Be warned: Both venues get packed at lunchtime, so plan accordingly. Also be warned that once you try these places for lunch, you'll definitely want to come back for dinner.
9. Hit the water park on a port day.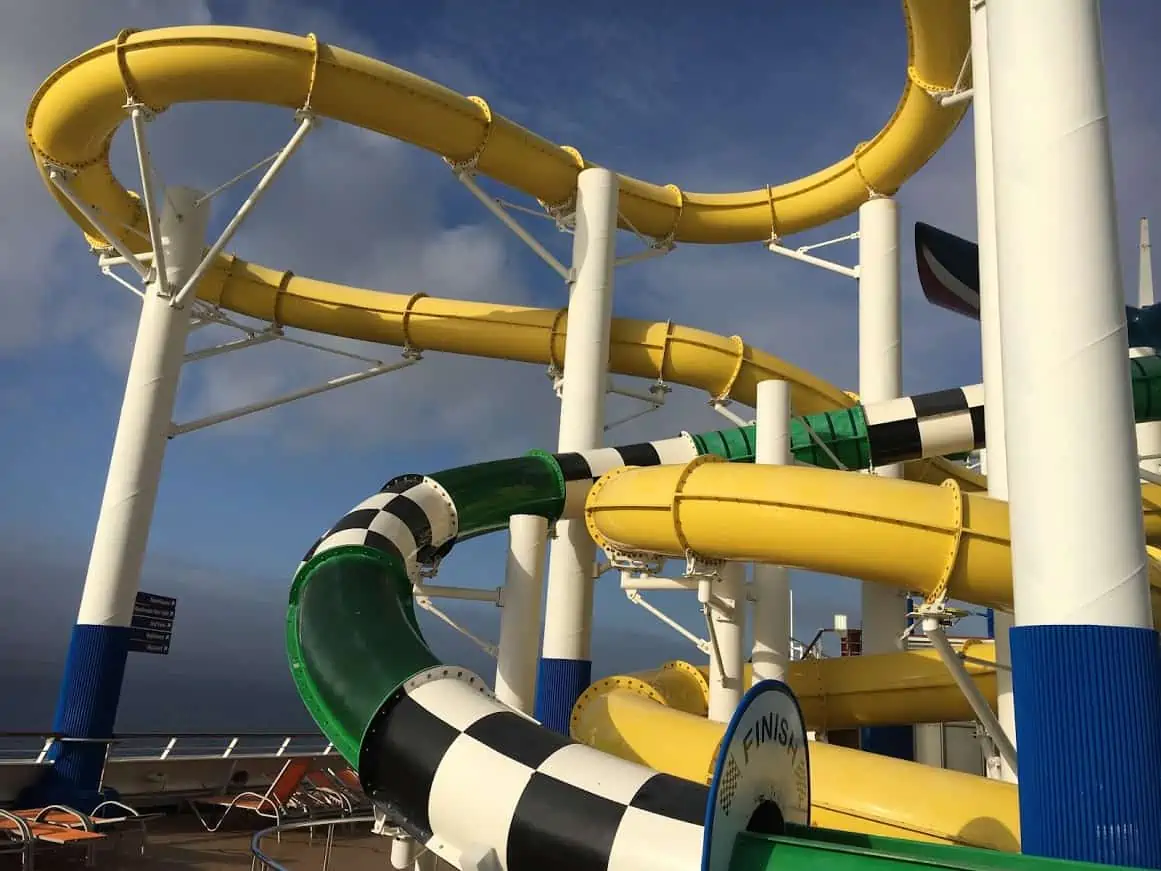 Carnival carries more families than any other cruise line in the world. And that means they also carry more kids. So if you want to hit the waterpark in general — and the racing slides in particular — without waiting in lines, your best options will be to go early in the morning, closer to the time when the features will be closing, or while the ship is in port.
10. The Serenity pool is unlike any other in the Carnival fleet.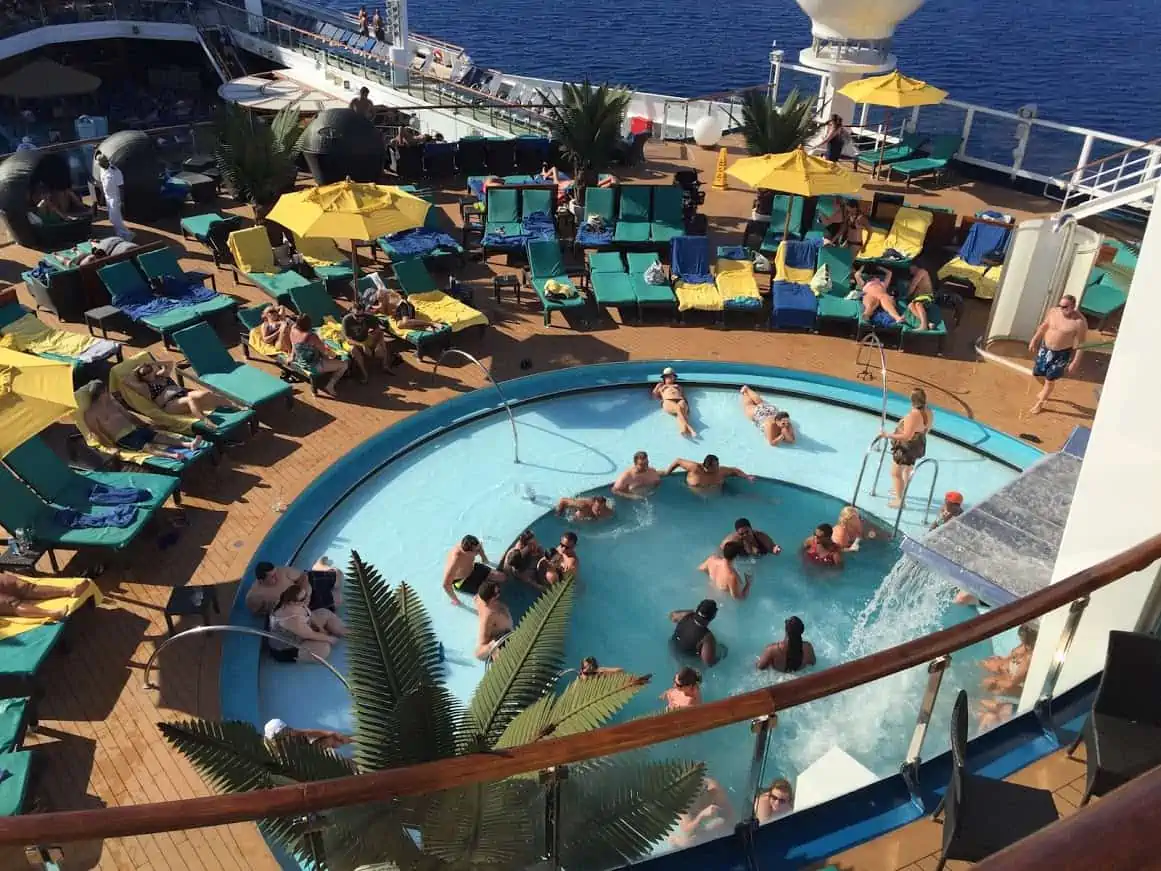 There's a lot to love about the Serenity deck on Sunshine. For one thing, there's that beautiful, deck-spanning waterfall. And while the pool into which that water falls isn't huge, it does have the added benefit of being (like the entire Serenity area) child-free. But what makes this watering hole genuinely unique is that it is the only freshwater swimming pool on any of the Carnival ships.
11. Serenity can be whatever you want it to be.
The Serenity deck has a split personality… in a good way. Because it is so large and spans three decks, you can basically cater your Serenity experience to be what you want it to be. Part of the Serenity area overlooks the Lido deck, meaning you can hear the music and fun being had around the pool. But if you want a quieter experience, simply go up a deck and head toward the front of the ship. There, you'll find plenty of comfy loungers and clamshells, all completely removed from the party atmosphere of the Lido deck.
12. Arrive early for the adult comedy shows.
Like many of the Carnival ships with the Limelight Lounge theater configuration, there are poles which can block your view. For prime seating, you'll have to get there a little early and line up outside the theater. They normally open the doors about 30 minutes prior to showtime. I know, I know, nobody wants to wait in line on their vacation. But for the right entertainer, it's worth it.
13. You don't have to sit in a bad seat.
If you arrive late and the only places left in the Limelight are crappy seats, but you really want to see the show, consider sitting at one of the tables which are off to the far left and far right of the stage. You won't be able to see the stage itself, but there are TV screens onto which the performance is broadcast. They're not great, but they might be better than nothing… or sitting behind a pole.
14. Alchemy Bar is the perfect spot for pre-dinner drinks.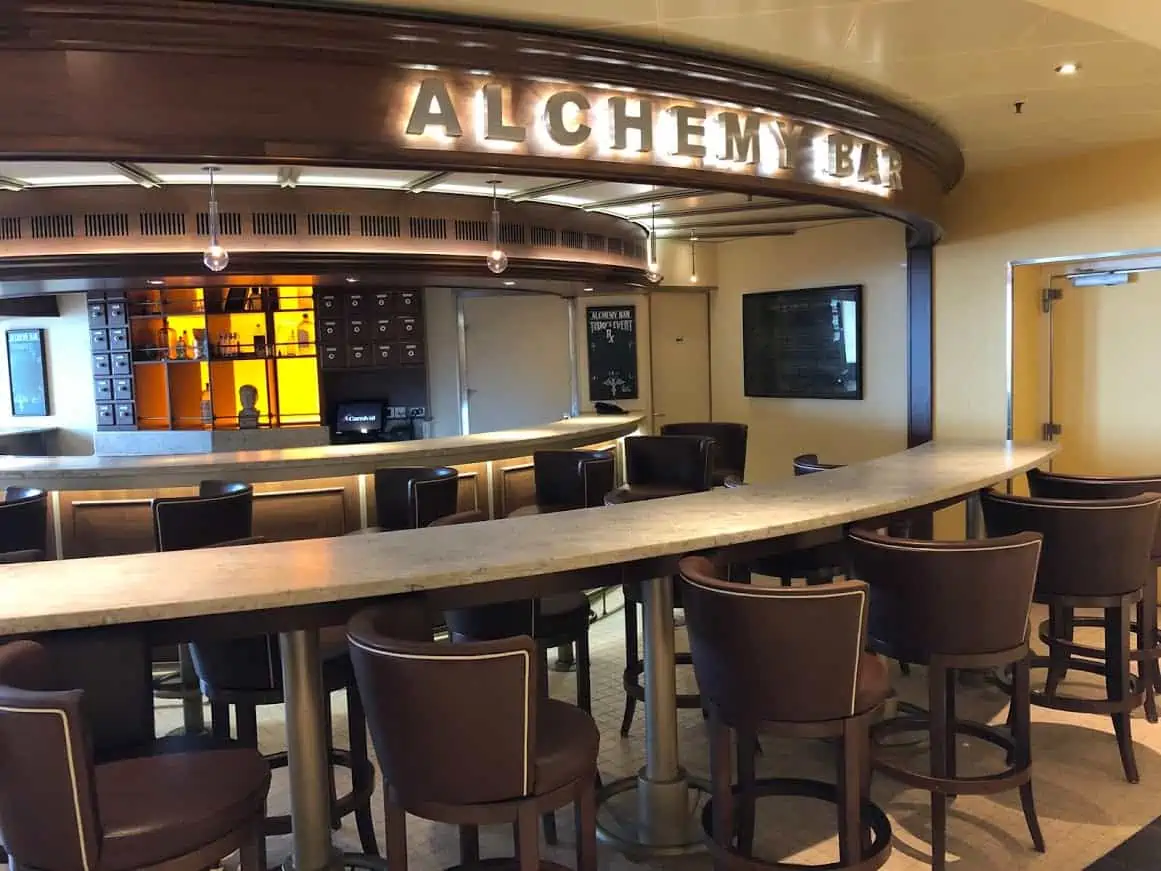 When it comes to Carnival Sunshine, Ocean Plaza is like that four-way intersection in the middle of a small town. Sooner or later, everyone winds up passing through. So what better place to meet for pre-dinner drinks and a little people watching than the Alchemy Bar, which is perfectly situated at the heart of Ocean Plaza. The handmade cocktails here are delicious, and they're covered by the CHEERS! package. This is not, however, the place for beer drinkers. Never fear, because the RedFrog Pub is also located right off Ocean Plaza.
Read More: Review Alchemy Bar on Carnival
15. Grab breakfast (and coffee) away from the madness of the buffet.
Speaking of Ocean Plaza, this is also the place to be if you want to grab a decent breakfast without sitting down in a restaurant or diving into the madness that can be breakfast at the Lido Deck Marketplace. Here, they have a nice little buffet set up with eggs, bacon, sausage, oatmeal, cereal, and coffee. And if you want espresso, the Java Cafe is only a few steps away. Rarely is this breakfast area crowded… mainly because a whole lot of people don't know about it.
16. Ocean Plaza also features a limited lunch selection.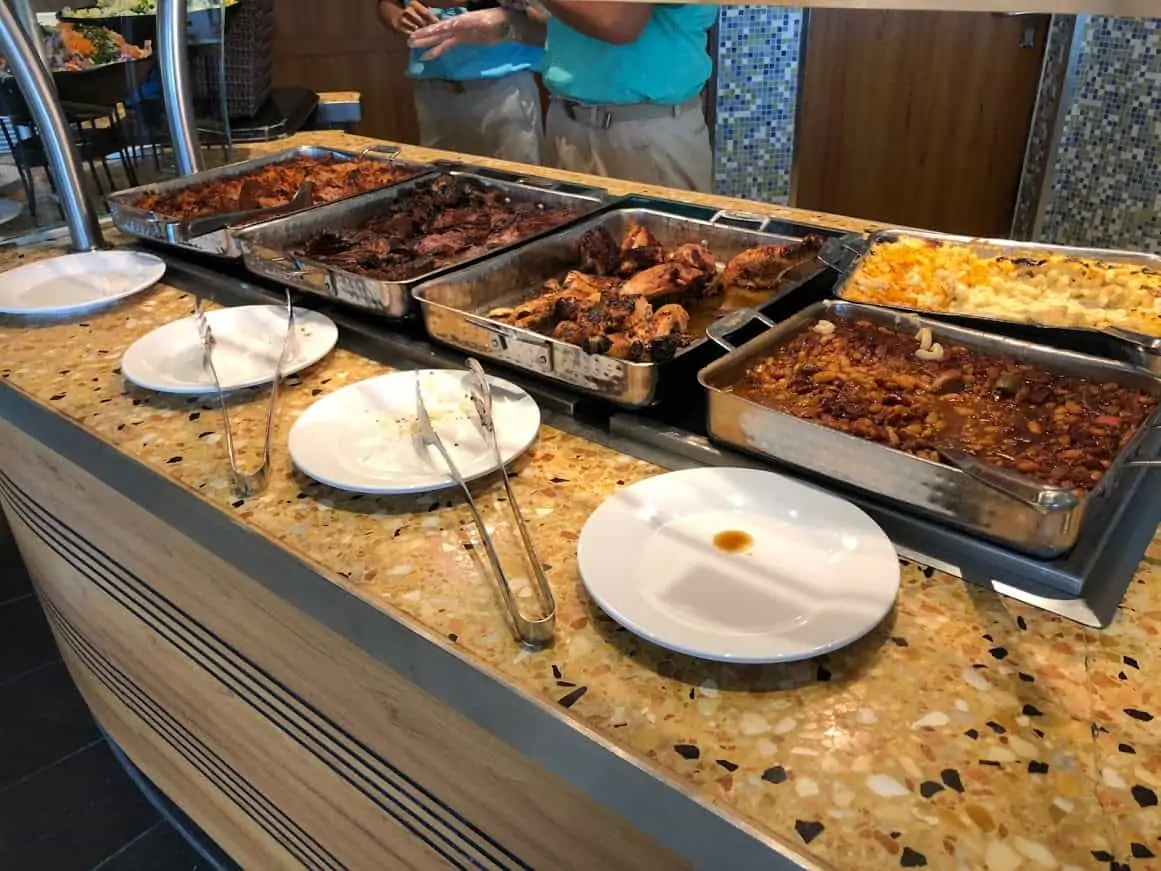 You can also avoid the buffet at lunchtime by coming to Ocean Plaza for a bite to eat. It's not a huge selection, but it's always tasty. For example, on embarkation day they usually set up an Old Fashioned Barbeque station. Is it as good as what you'll find at the Pig & Anchor on Carnival Horizon? No, but it'll definitely satisfy your hunger.
17. Catch a movie while hanging out in a hot tub.
Every night, there will be a Dive-In movie playing on the Lido deck's ginormous screen. The selection is usually pretty decent and can feature some surprisingly-recent hits. My favorite movie-viewing spot? From one of the hot tubs, several of which are located in prime viewing spots.
18. The movies make a great date night!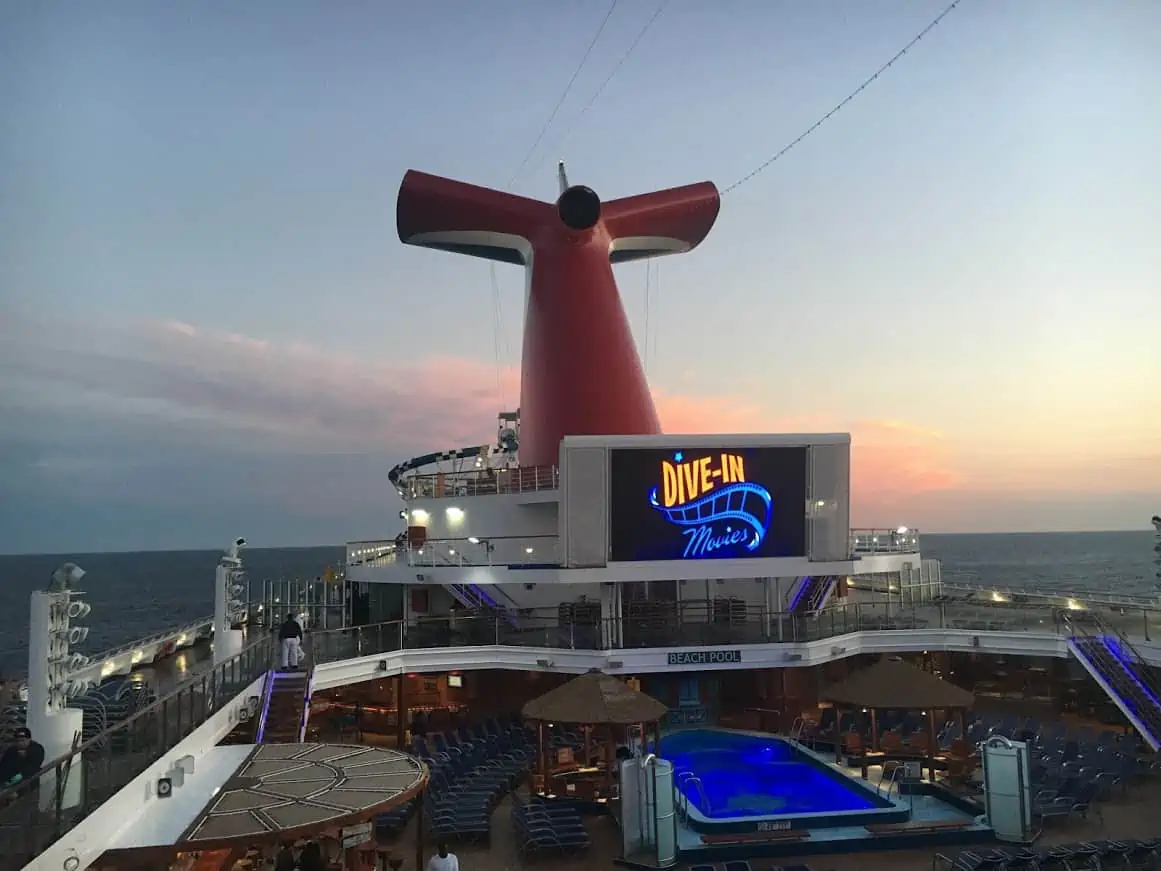 While I enjoy watching the Dive-In Movies from a hot tub, most folks pull up a lounger. Crew members will come around offering blankets and free popcorn, which makes this evening beneath the stars a great opportunity to snuggle with the one you love. Want to make a full-blown date night out of it? Time dinner — whether in one of the specialty restaurants or the main dining room — so that you can wander from your meal to a lounger and end the evening under a beautiful sky.
19. Time your buffet visits, especially lunch.

The buffet on the Carnival Sunshine is pretty well designed, but let's face it: Any buffet on any ship can be a nightmare during peak hours. The best time to hit the Lido Deck Marketplace is after 1 p.m. Before that, especially on sea days, it's a zoo. Or avoid it altogether by hitting one of the places we mentioned earlier, including Ocean Plaza, Cucina, or JiJi.
20. Visit the casino early in the morning to (sort of) avoid the smoke.

Cruise ships casinos get smokey — that's just a fact of life on the high seas. It's going to be pretty much impossible to avoid the smell of smoke while in the casino, but there are ways to lessen its impact. For one thing, pick machines or tables that are as far away as possible from the Casino Bar, which is where a lot of smokers congregate. Look for the non-smoking section (or non-smoking tables), but keep in mind that as it's an open-air casino and they aren't in a separate area, so this isn't going to make a huge difference. Another suggestion is to hit the casino as early as possible, since there tend to be far fewer smokers around during the first few hours of the day.
21. Arrive at Liquid Lounge early.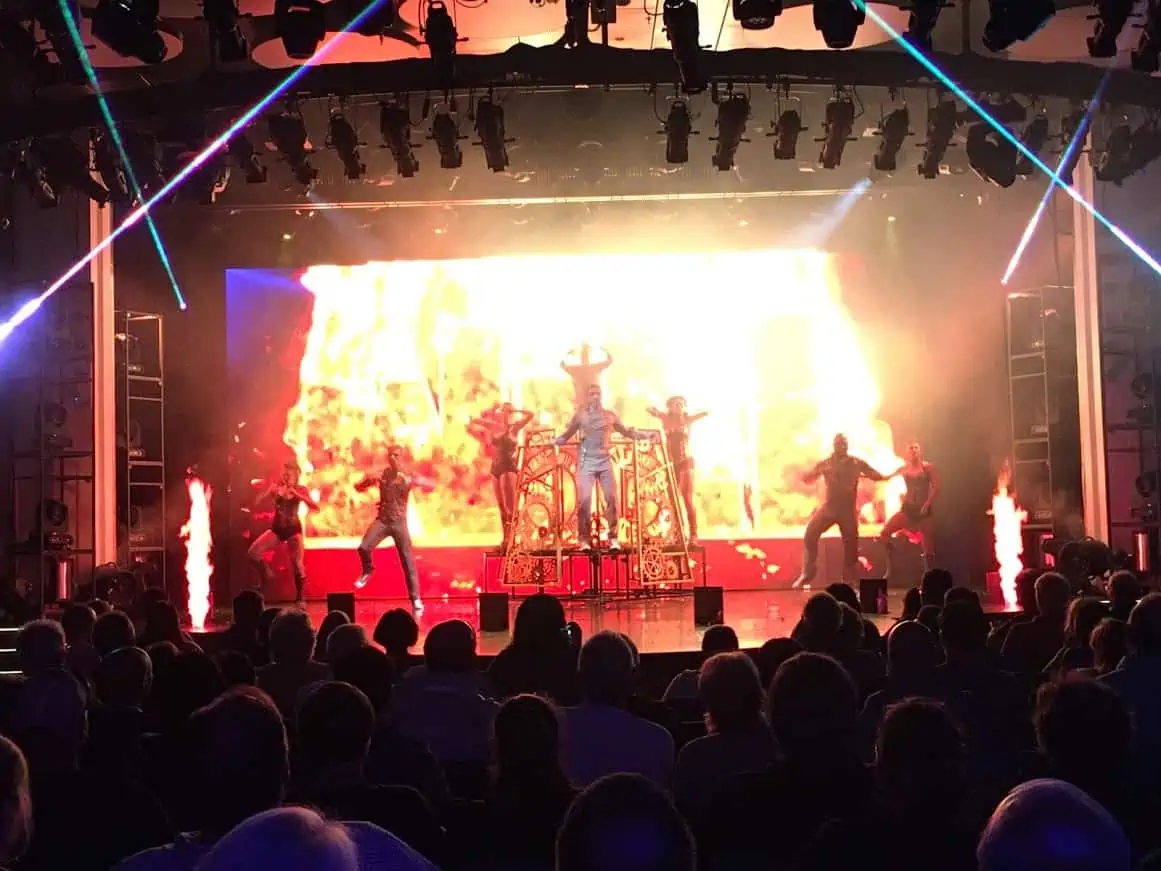 The key to getting good seats? Arrive early. Guests who arrive late often find themselves with those dreaded obstructed-view seats. On the Carnival Sunshine, you enter the theater from either deck four or deck five. Keep a close eye on your Fun Times guide so you can see what production show is playing and at what time. It's worth noting that there's a nice bar with plenty of seating on deck four of the Liquid Lounge.
22. BlueIguana Cantina serves a mean breakfast.
There are two kinds of people in this world: Those who think the words "breakfast" and "burrito" don't belong in the same sentence, and those who jump-start their day by grabbing one at BlueIguana. I'll admit, they're a little too heavy for me, but if you like a hearty breakfast (or need to store up some energy for that active shore excursion), this will definitely hit the spot.
23. Don't count on the internet being as good as home.
While some of the newer ships have better internet, that's definitely not the case on the Carnival Sunshine. If you're looking to post photos to Facebook or tell everyone on Twitter about your awesome trip (#JealousMuch?), you'll be fine. But if you're hoping to binge the latest Netflix series… good luck. As you might expect, the internet will be faster early in the morning or late at night, when fewer people are trying to access it.
24. The RedFrog Pub has a snack you will become addicted to.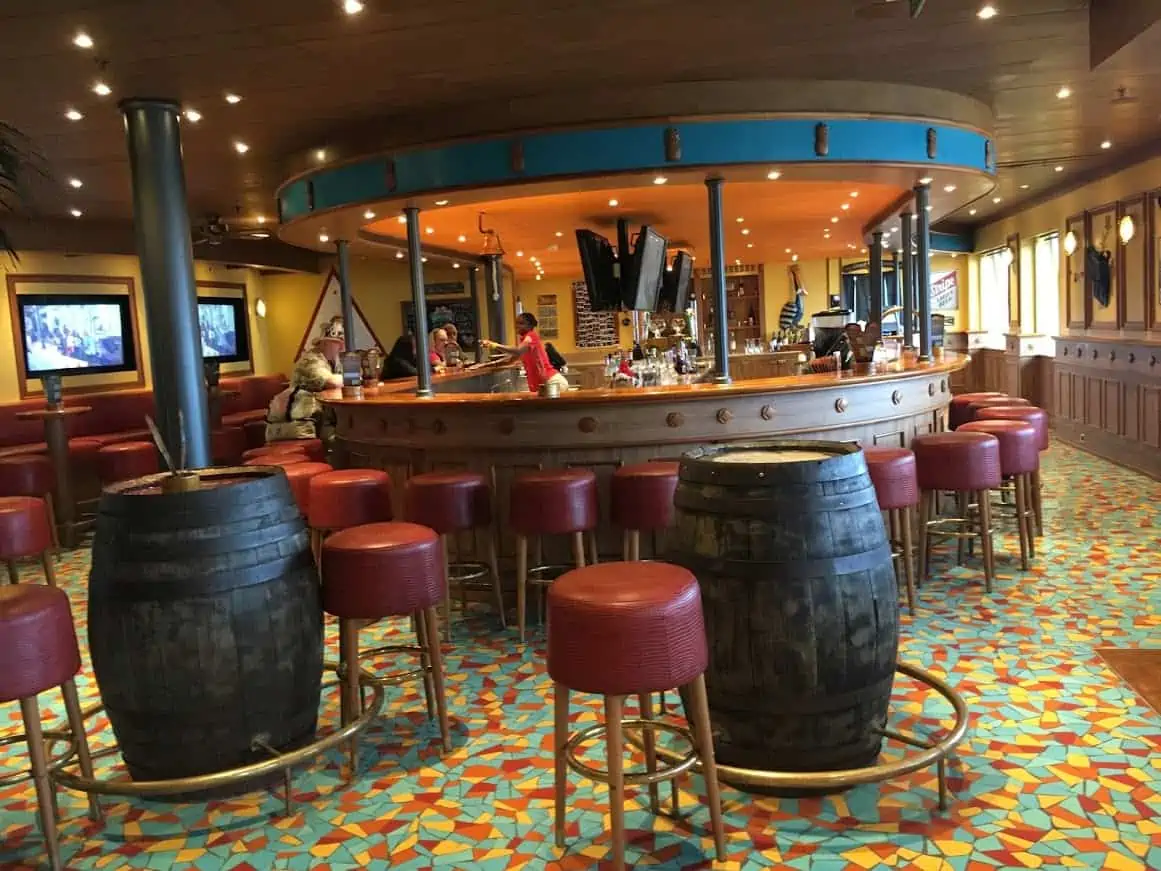 While there are a few ships in the Carnival fleet which serve food in their versions of the RedFrog Pub, Carnival Sunshine isn't one of them. But if you're looking for something to nosh on, ask the bartender for some wasabi peas. Then prepare to eat a lot of them, because those suckers are addictive as heck. Better still, they're free.
25. Deck three is a great location, stateroom-wise.
If you want an affordable and centrally-located cabin, see what's available on deck three. Here you'll be right off the main atrium and just a quick flight up to the theater and two flights up to the main promenade on the ship. Deck three also has outside access with plenty of loungers and chairs.
26. Your business card will come in handy.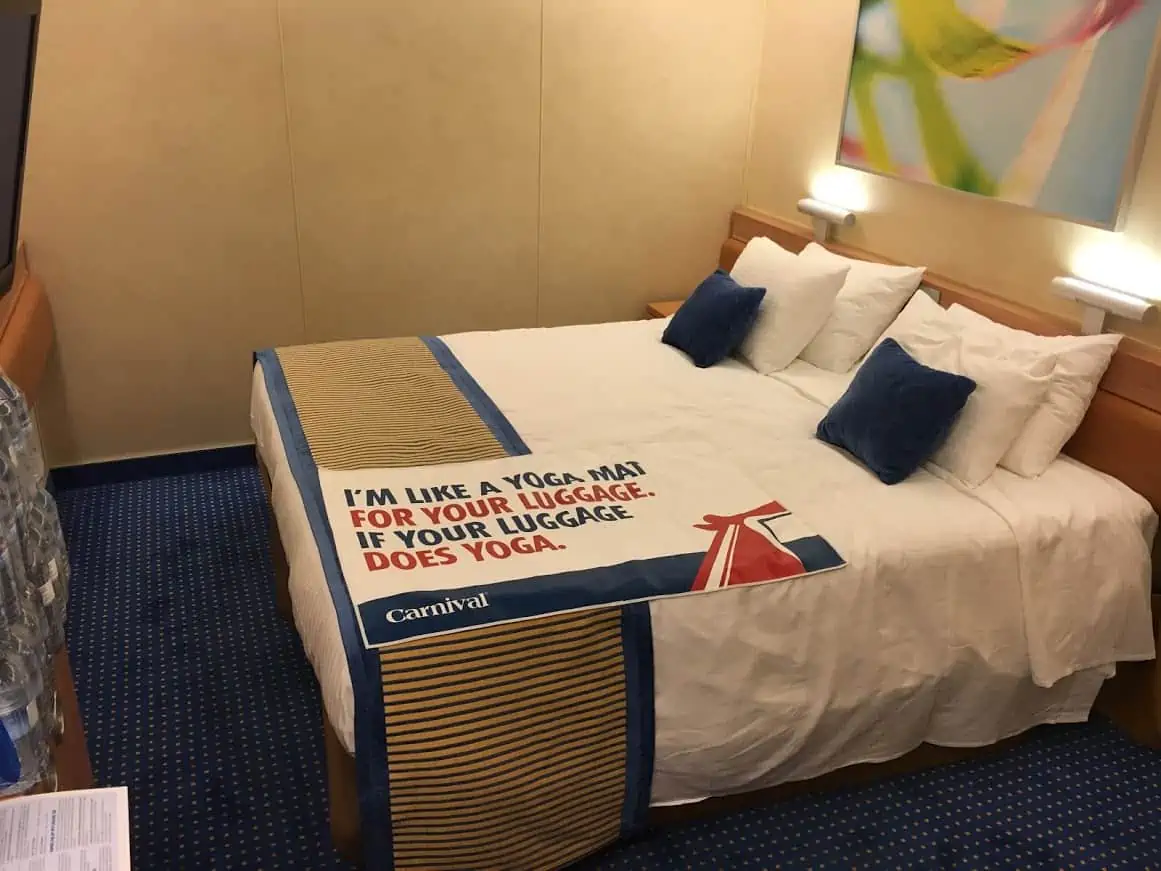 Sure, it's always good to have a business card on you in case you have the opportunity to do a little networking. But more importantly, you'll want one for your stateroom. See, the cabins onboard Carnival Sunshine are energy-efficient rooms, meaning that in order for your lights and electrical outlets to work, you have to have your keycard in the door. On some newer cruise ships, only your keycard will work. But on Carnival Sunshine, a business card will do the trick. (And as someone who has, on more than one occasion, walked out of the room only to realize — just as the door clicks shut — that my keycard is still in that activate-the-lights slot, this is very good news.)
27. Yes, the ship has laundry facilities… and you should avoid them.
Oh, I'm not saying you shouldn't do laundry during your cruise. On the contrary, it's great that the Carnival Sunshine still has self-serve laundry facilities, given that fewer and fewer ships these days do. I'm suggesting you avoid booking a stateroom near them. Between the slamming doors as people enter and leave and people talking loudly (to be heard over the dryers) in the room itself, this area can be pretty noisy. They aren't listed on most deck plans, so you might have to call Carnival or ask a travel professional to help you steer clear of cabins around the laundry rooms.
28. Serenity towels are nice… but do you really want to "buy" one?
The towels on the Serenity deck and big and fluffy and great to wrap yourself in… which is probably why they make you sign them out. Fail to return the towel, and you'll find a $22 charge on your Sail & Sign card.
29. If there are restaurants on your "must-do" list, plan for them.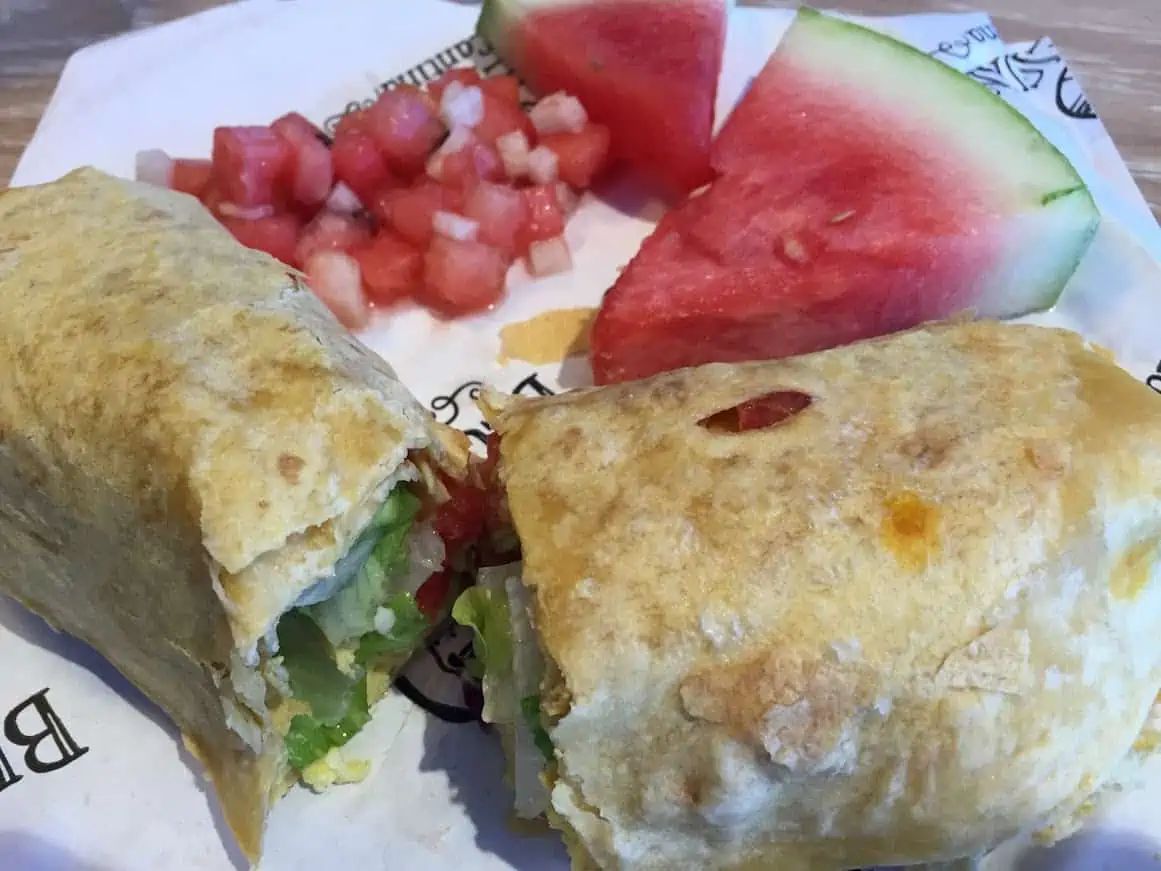 You know the old saying: Don't put off until tomorrow what you can do today. If you've got a restaurant that you absolutely, positively must eat at while on board the Carnival Sunshine, make a reservation. A reader recently told me about how they'd been looking forward to dining at the steakhouse all week… only to, on the last day, find out that the place was booked solid.
30. Not every elevator goes where you want it to.
Nearly everyone learns this lesson the hard way: There are only two elevators which actually go to decks 11, 12 and 14 in the Serenity area. On the plus side, if you wind up having to take a lot of stairs, you'll burn off some of those extra buffet calories.

31. Scout out the accessible bathrooms in advance.
The good news: There are plenty of accessible bathrooms on the Carnival Sunshine. The bad news? That's only useful if you know where they are. If you have mobility issues, make sure to check out the deck plans of the ship in advance. The stalls in the general-use bathrooms are definitely too narrow to navigate if you have a scooter or a wheelchair. Rather than go back to your room every time you need to use the restroom, take a few moments to familiarize yourself with the layout so you can save yourself some time and trouble.
32. You can bring your own wine.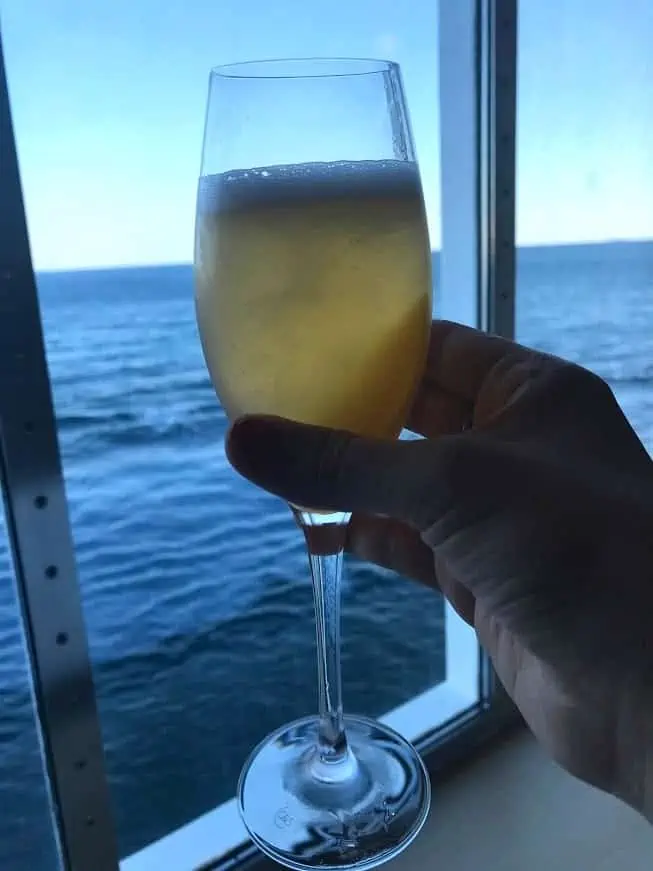 You wouldn't believe how many people assume they can't bring their favorite bottle of wine on board… and who later get very upset after finding out they could have. Here's the deal: You are allowed to bring two bottles of wine per stateroom. Yes, there is a $15 "corkage" fee per bottle, but we've found that it's pretty loosely enforced (plus you can avoid the fee by just drinking the wine in your cabin). Want to bring four bottles of wine? You didn't hear it from us, but we've been told the best way to do so is by putting two bottles in your bag, two in your travel partner's… and then going through separate security lines.
33. The only way to beat the chair hogs is by staking your claim early.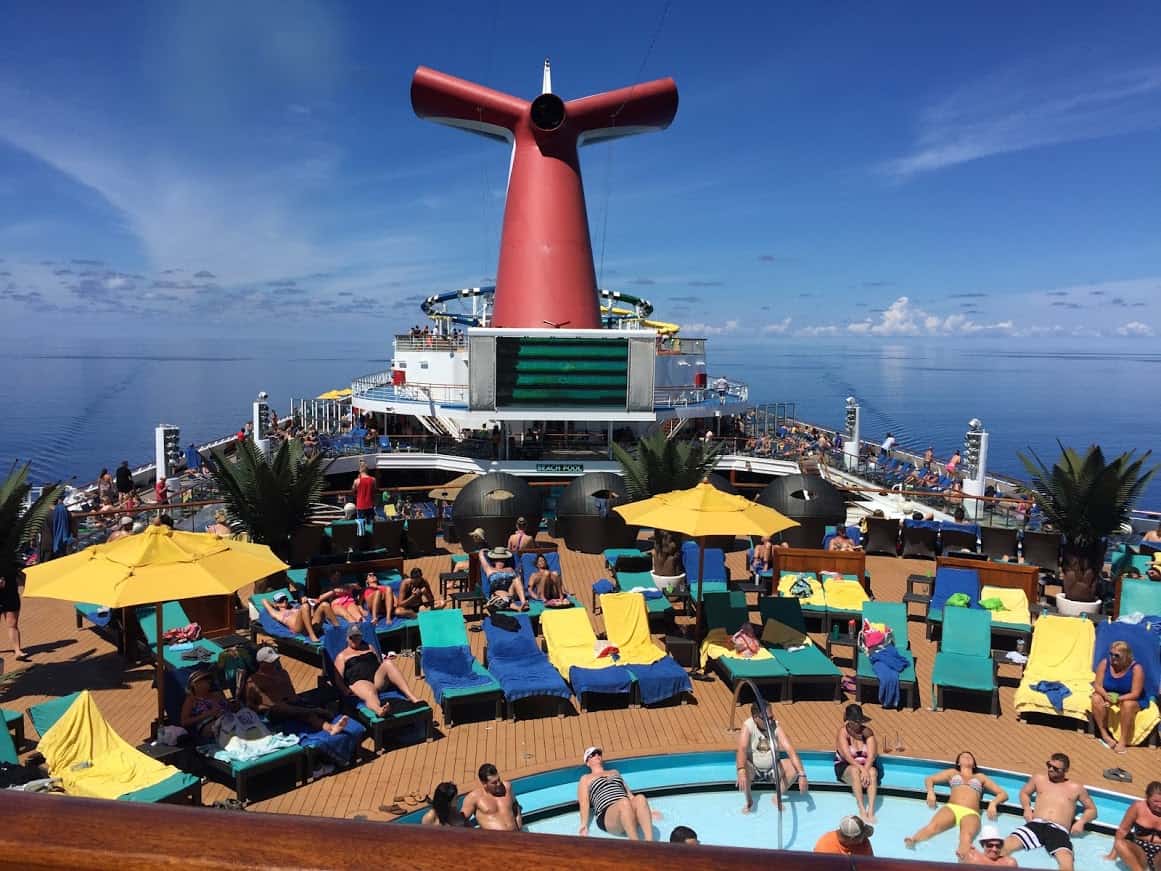 The good news: There are a lot of deck chairs on the Carnival Sunshine, and they're spread out in numerous locations. The bad news: chair hogs continue to be a real thing that we can't seem to get rid of. (Maybe someone should start a GoFundMe page dedicated to the eradication of this pesky species.) Even the Serenity deck is not immune to their presence. And while I've heard reports of (and even occasionally seen) attendants removing abandoned belongings, the best way to beat chair hogs at their own game is by getting up early, heading to the pool and enjoying your day.
34. The RedFrog Pub's Happy Hour is (forgive the pun) hoppin'.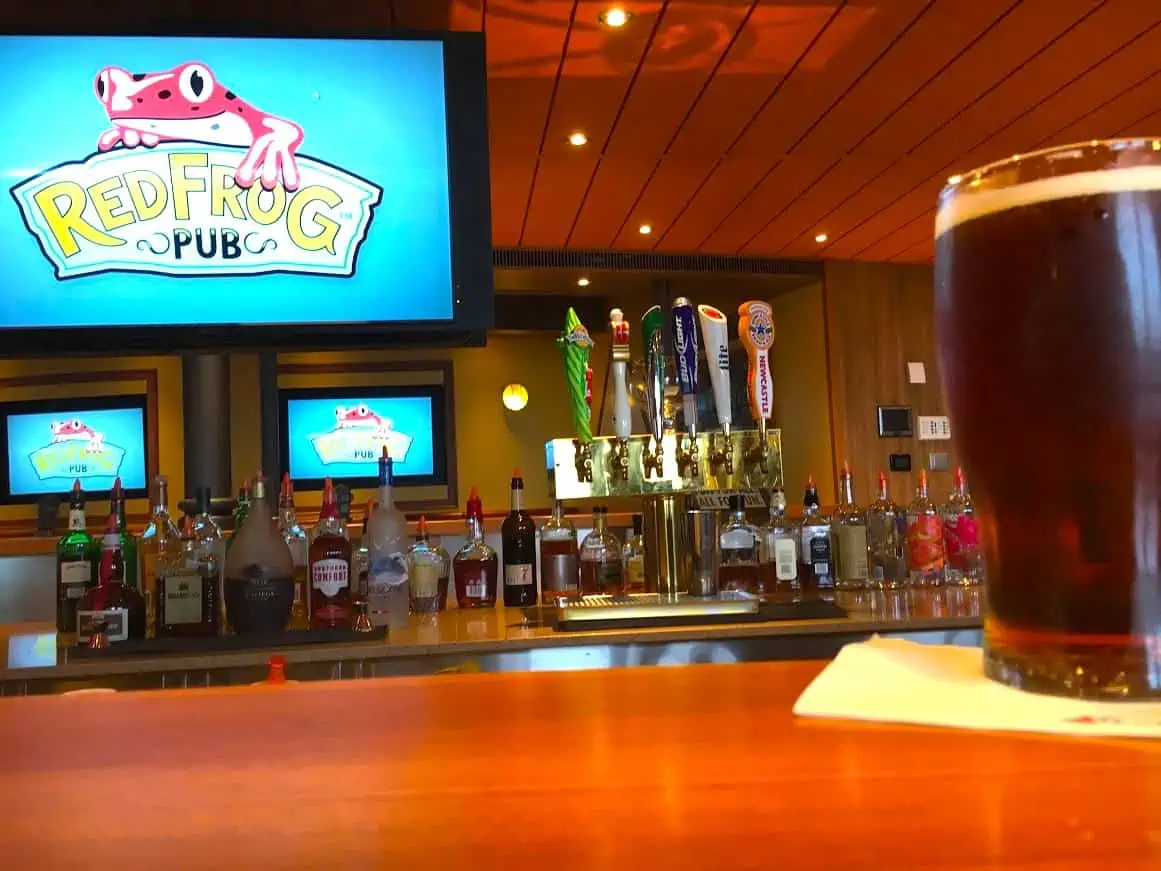 Just about every day, this popular watering hole has some kind of Happy Hour special. It's not like they're giving drinks away, but if you can save a little on drinks you were going to consume anyway, why not, right? Keep an eye on the Fun Times for drink specials that might pop up here and elsewhere on the ship.
35. There are some fun games waiting to be played in the pub.

Since you're going to be hitting the Pub for Happy Hour, why not play a few games, such as tabletop shuffleboard? And sometimes, the Pub plays host to Beer Pong tournaments, which are a total blast. And who doesn't want to have bragging rights to having won the Beer Pong tournament on their cruise?
36. The Behind the Fun Tour is a must for cruise ship fans.
Want to go through some of those doors marked "Crew Members Only"? Then this is definitely the tour for you. It offers a glimpse behind the scenes into what makes a cruise ship tick. During the 2.5 hour tour, you'll see areas like the navigation bridge, engine control room, and other spots that are generally off-limits to passengers. The tour is usually offered on sea days, and it's only available to a limited number of guests. Check the Fun Times or ask at Guest Services for details.
37. Give yourself time to get where you need to go.
You'd be surprised how many first-time cruisers wind up being late to everything from dinner reservations to shows because they don't give themselves enough time to get from their stateroom to the venue. Remember to factor in things like crowded elevators, shopping spouses ("Oh, I just want to stop in here for a quick sec.") and getting turned around on occasion.
38. Consider signing up for the Chef's Table.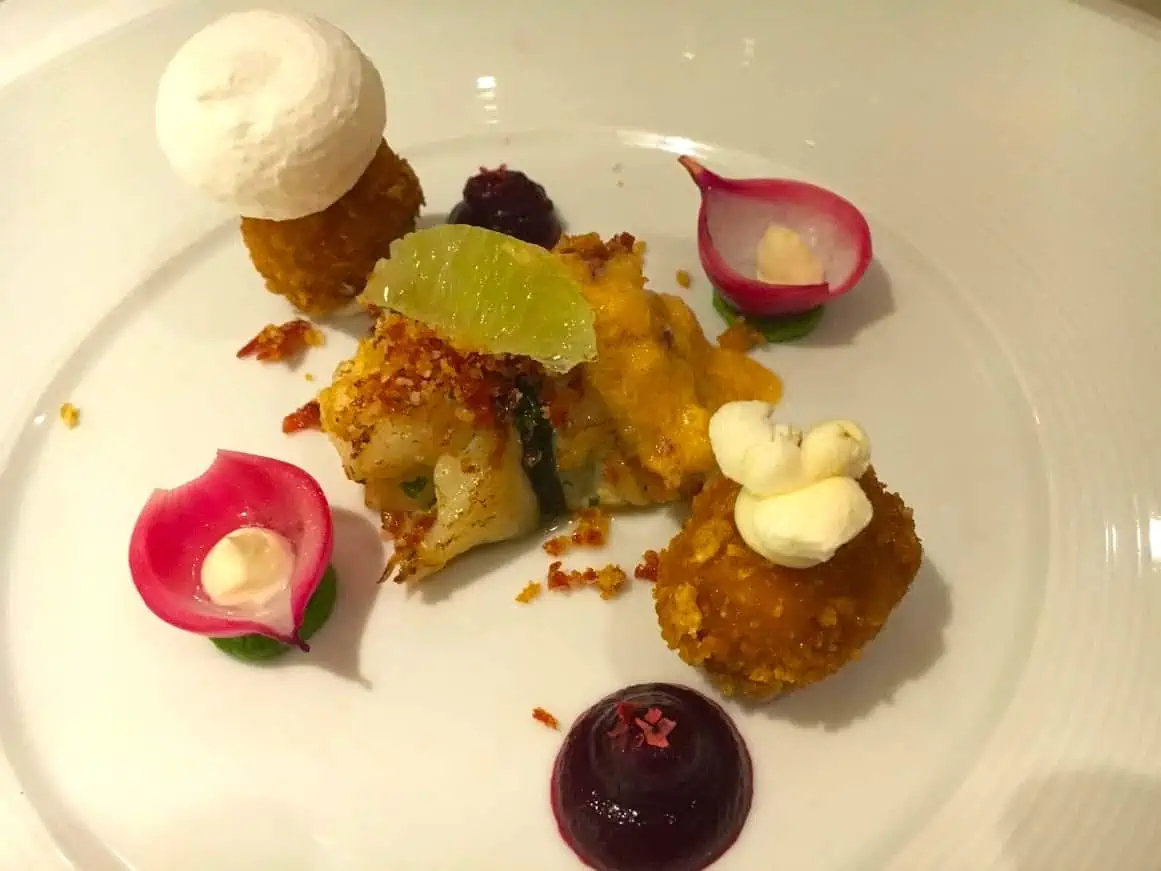 If you're a foodie (or are traveling with one), this is a must. From the galley tour (during which you're offered several delicious appetizers and taught how to make a signature dessert) to the incredible meal (I lost track of how many courses we were served) and wine pairings, this is an evening you won't forget.
Read More: 5 Reasons to Experience the Chef's Table
39. Buyer, beware.
At least once during your cruise, there will be a very big sale. The way it is promoted, you will think it's a combination of Macy's on Black Friday and a Going Out Of Business sale at Filene's Basement. What it really is a great chance to get some cheap souvenirs for the folks back home. Need a Carnival-branded T-shirt for Uncle Billy? This is the time and place to pick it up. But exercise caution when it comes to stuff like jewelry and watches. Mama was right when she said, "If it sounds too good to be true, it probably is." I once bought a watch that seemed pretty great… until it stopped working a month later.
40. Guy's Burger Joint is really as good as they say.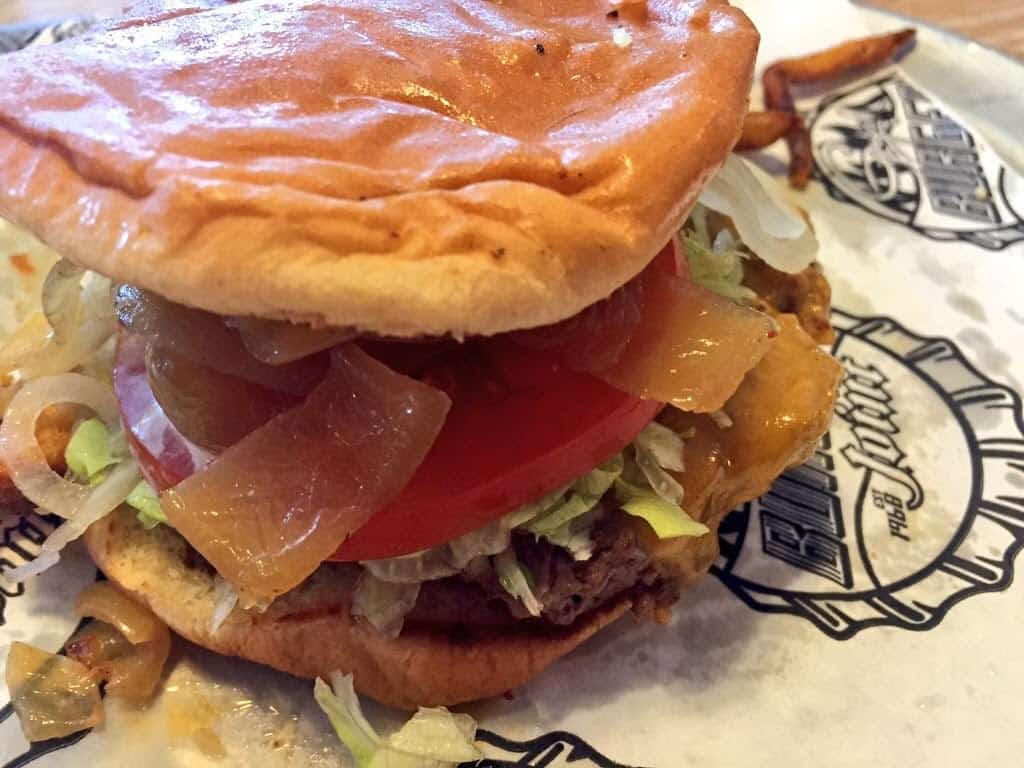 Listen, I hear you. Heck, I once was one of you, muttering, "It's just a dang burger. What's all the excitement about?" And then I tried one. Technically, I should say I tried two, because the moment the first one was gone, I ordered another. I don't know what's in them, and I probably don't want to know. What I do know that just sitting here writing about them makes me realize I need one ASAP.
41. Bring singles for tipping… and spread them around generously.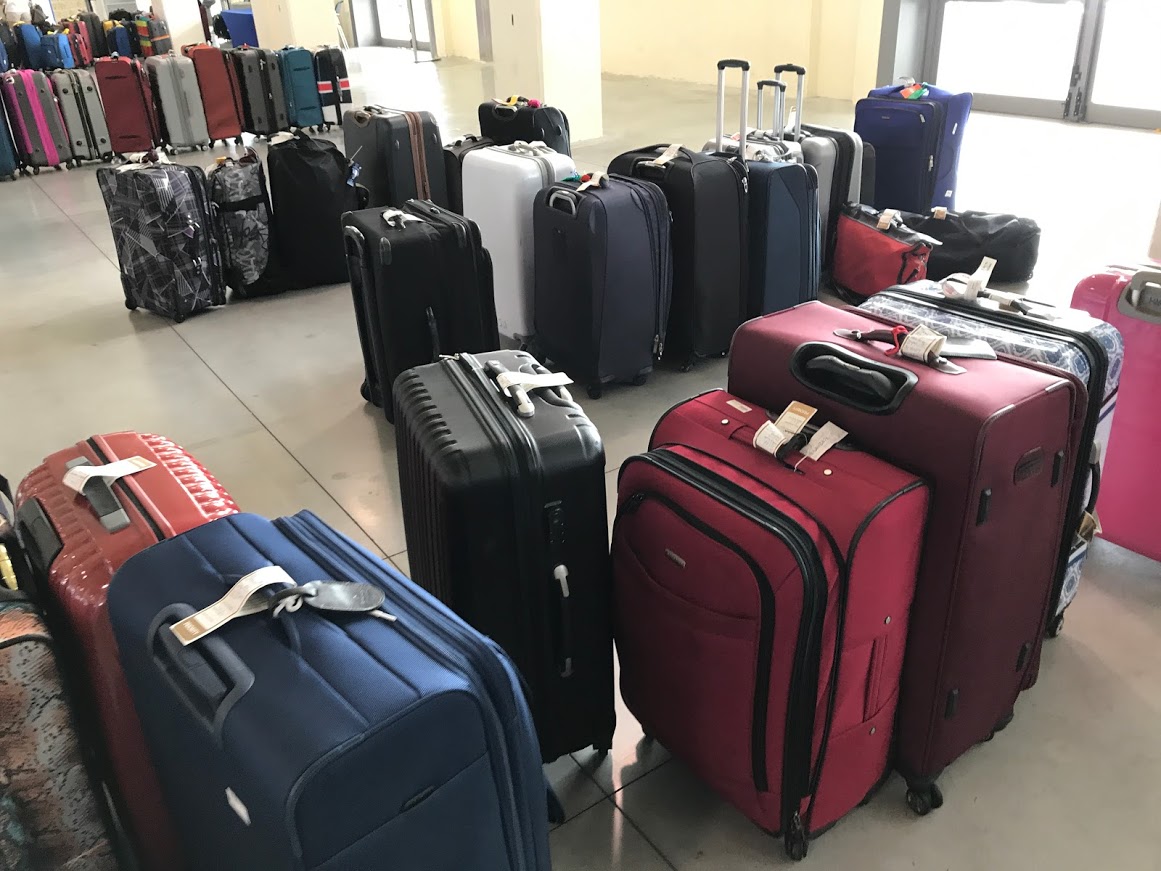 When I arrive at the pier and hand my luggage over to a porter, that man or woman gets a tip. (Take care of the porters and they will take care of you. Stiff the porters and your bag may be put on Carnival Liberty instead of Carnival Sunshine.) And from that point forward, the entire time I'm on board I hand out dollar bills like a drunk guy at a strip bar. Because I know that one of the reasons I've had so many amazing experiences on the Carnival Sunshine is thanks to the hard-working crew who make the magic happen. That's why you will never, ever see me lining up at Guest Services to ask that they remove the automatic gratuities from my bill. And I'm going to believe, true or not, that you wouldn't be caught dead doing that either.
Read More: 7 Confessions of a Cruise Baggage Handler
These are some of the Carnival Sunshine tips that I've gathered over the last five years of sailing Sunshine. Do you have any to share? Feel free to leave them below to be included in the article.
Carnival Sunshine Stateroom Video