The cruise terminal is like a well-oiled machine. It not only takes the crew members on the ship to ensure a great cruise vacation, but also pierside workers like embarkation staff, parking attendants, line handlers, and baggage handlers.
When talking to baggage handlers over the past year, a lot of them had many things in common.
7 Confessions From Cruise Line Baggage Handlers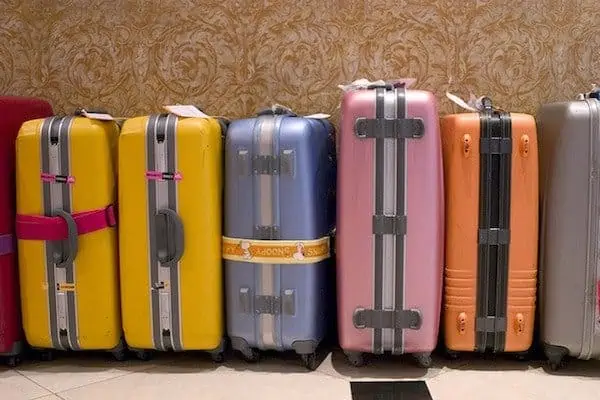 1. $1 Per Bag is Customary
When I was talking to a porter, I overheard someone say, "Why should I pay someone to move my bag four feet?!" Yes, the bags go in bins, but even then, they have to be crated, sorted, and driven onto the ship. $1 per bag is generally customary.
2. Checked Bags Get X-Rayed
Think before you stow your bottle of alcohol in your checked luggage; it gets screened piece by piece. Think twice before sticking that whole bottom of rum in your bag, it could get flagged. But it's not only alcohol, they are also looking for items such as irons.
3. Also, Sniffed by Dogs
It is not uncommon to see a U.S. Customs and Border Patrol agent and their K-9 dog stationed at a luggage access point. These dogs are trained to detect drugs, weapons, and believe it or not, even fruit (it is illegal to bring fruit back into the states after your cruise).
4. They Do Not Control Baggage Arrival Time
Your bag can be delayed getting to your stateroom for a number of reasons: it gets caught up in customs, a backlog at the loading zone on the cruise ship, crew members aboard the ship are behind on delivering, or your bag could've had something inside and got pulled for inspection (usually booze).
5. Protect Fragile Items
Your bags are tossed and stacked into a big metal crate. Where your bag is stacked determines how much it will get squished and squeezed. Pack fragile items toward the center of the bag or inside your shoes. "The bottom bag could have over 1,000 pounds of pressure on it," a porter recently told me.
6. Most are Union Workers
Depending on where the port is, most dock workers are union and make really good money. In some of the larger ports they make up to six figures annually.
7. Cruise Lines Can Delay Disembarkation
When disembarkation is very slow and seems like it's taking forever, it's not the dockworkers' fault.
The cruise ship is allotted so many U.S. Customs agents per ship. Anything over that amount the cruise line has to pay for. So, it's up to the cruise line how many extra customs agents are added during disembarkation.
Customs agents can go on break whenever they'd like. "So when the bags are delayed, it's not our fault," one baggage handler told me.
Do you tip your baggage handler for taking care of your bags at the pier? Tell us.