If you have the "I don't care where my room is, I just want to be on the ship" attitude, then let me introduce you to a Guarantee Cabin. This is sometimes known as a GTY or, depending on the line, a room sold under a "sailaway rate" heading.
Guarantee cabins can be a great deal if you don't mind letting the cruise line decide where you'll be staying. As long as you're not particular about location, these staterooms can be a really good bargain, especially since you sometimes wind up getting more than you paid for!
Here are five potential benefits of booking a Guarantee Cabin:
1. They Cost Less
GTY cabins are great for bargain hunters because they're typically a lot lower than an assigned stateroom. See an example below from an upcoming sailing on Norwegian Getaway.

2. There's Always The Possibility of an Upgrade 
You could be booked in a higher category stateroom than what you initially purchased.
On my last cruise I booked an inside GTY stateroom and they upgraded me to an ocean view without having any status with the cruise line. So anyone can get upgraded.
3. You Get Only What You Need
If you're one of those people that don't spend an awful lot of time in the cabin, it probably doesn't matter to you where you sleep. You can book a GTY cabin and just go where they assign you.
Suite or inside, you don't spend much time in the cabin anyway, right?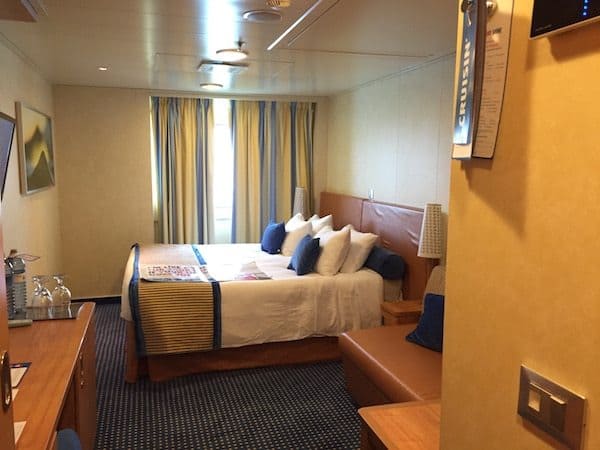 4. You'll Never Get Less
One of the good things of a GTY booking is that you can go up categories. You'll never get a lower category stateroom than what you book. If you book an ocean view GTY, you'll have at least an ocean view room. You can however be upgraded past that category.
5. You Can Explore New Areas
You can be put anywhere on the ship. Parts of the ship that you never know existed. That can be a good thing if you're fairly new to cruising. I've found some of the best staterooms by booking a GTY room and letting the cruise line deiced where to put me.
Is a GTY stateroom for everyone? Absolutely not.
If you care where your stateroom is, a prone to motion sickness or need to be next to your family in an adjoining stateroom – this may not be for you.
However, if you're an adventurous bargain hunting cruiser, this is absolutely for you.
Pin this!