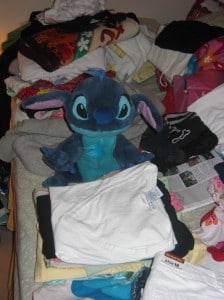 Most vacations – especially cruises – are planned out months in advance. They're planned, paid for and anticipated long before you ever set foot on a ship.
So if you're anything like me, it's suddenly about a week before your cruise and you start to panic! Because nothing's ready to go on vacation, nothing's packed and everything's got to be done right now.  Part of my last minute rush to get on vacation always involves a last minute run to Target (or insert your favorite store here) to get those last few items. So to help make both your vacation prep and mine easier, here's a shopping list you can use well before the last minute.
1. Snacks and Gum
I don't buy nearly as much food as I would on a normal grocery run, but I want to make sure I have some snacks for the flight and cabin. I usually grab fruit snacks, cereal and protein bars and portable applesauce pouches. Think dry (no refrigeration), small and easy to carry. And don't forget the gum – especially if you're flying!
2. Travel bottles
I can't even tell you how annoying it is to start packing your toiletries and realize you have no empty or available travel bottles. Then I have to either carry the entire large bottle or make another trip to Target. Do yourself a favor and stock up on a few extra travel bottles – they're usually really cheap and when you're packing at 2 AM, you'll be really glad you have them.
3. Magazines
When I travel, I love to splurge and get the latest magazines. I normally don't indulge, but on vacation I sure will. Here's a money saving tip: when you buy magazines at a big box retail store, they usually discount them 10-20%. You'll pay full price at the airport.
4. Pet supplies
Since you won't be there to take care of your beloved pets, make sure you leave enough supplies for your designated care taker. Pick up some extra food, treats, cat litter, etc. If Fluffy likes it, make sure you have more than enough to last your entire vacation.
5. Prescriptions
This probably should have been the first one, but always check your prescriptions before you head out of town. It's possible to get refills out of town, but so much easier to just pick them up from your local pharmacy before you even leave town.  And  always take enough with you to last for several days past your cruise (just in case!). And don't forget the seasick pills if you need 'em.
What else do you have to get before you go on vacation? What do you often forget when packing for vacation?
Pin this!