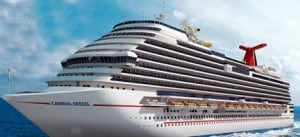 Carnival posted a virtual tour of their upcoming 3,690-passenger Carnival Breeze.
The ship floated out of dry-dock in Italy last fall and is in the process of final touches and sea-trials before she's handed over to Carnival this summer.
She will tout the Fun Ship 2.0 features and have one of two rope courses at sea, like sister ship, Carnival Magic.
Carnival Breeze is scheduled to enter service June 3, 2012, with a special 12-day cruise from Venice to Barcelona, positioning the vessel for a summer schedule of 12-day Mediterranean cruises.  Following its trans-Atlantic crossing, Carnival Breeze will launch year-round six- and eight-day Caribbean cruises from Miami November 24, 2012, becoming the largest Carnival ship to ever sail from that port.
Take the Virtual Tour of Carnival Breeze!
Sign-up for our Daily Updates here.