On Wednesday morning, Carnival Cruise Line confirmed the sale of two more Fantasy-class ships, the Carnival Fascination and Carnival Imagination.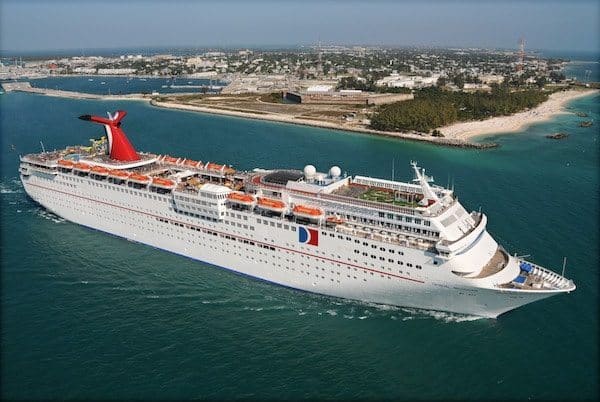 The sale of Carnival Fascination (launched in 1994) and Carnival Imagination (introduced in 1995) is in line with Carnival Corporation's plan to accelerate the removal of less efficient ships from its fleet while simultaneously increasing their liquidity.
Carnival Imagination has already reached the shores of Western Turkey, where she will be scrapped, while Fascination is currently berthed in Cadiz, Spain.
READ MORE: Carnival Cancels Return Of Four Ships Until Early 2021
Cadiz is a port largely used for dry docks and is where Carnival Victory sailed to undergo her transformation to Carnival Radiance. The Radiance transformation was halted by the health crisis in order to save Carnival Corp. money.
This latest news follows the sale of Carnival Fantasy and Carnival Inspiration, which took place in July. Both ships have already begun the dismantling process at the scrapyard in Turkey.
Once the ships reach the scrapyard, they are beached and dismantled. The steel will be melted down and turned into rebar support for concrete and structures. The interior items such as furniture and electrical items could be sold to local businesses or otherwise repurposed.
LAST LOOK: Remembering Carnival Fantasy 
When cruising resumes for Carnival Cruise Line, the company will operate four upgraded Fantasy-class ships – Carnival Ecstasy, Carnival Sensation, Carnival Elation and Carnival Paradise – which feature additional balcony staterooms as well as enhanced dining and entertainment options that are part of the line's Fun Ship 2.0 enhancement program.
In mid-September, parent company Carnival Corporation announced they would be selling three more ships than they'd originally planned, taking the total sold to 18. Although a couple of ships were already planned to be sold before the health crisis, a majority of the 18 sales are related to the industry-wide shutdown.
To date, the Carnival Cruise Line arm of Carnival Corporation has only eliminated four of its ships. Sister brands Holland America Line has offloaded four, while European brands Costa Cruises and P&O have also seen fleet reductions.