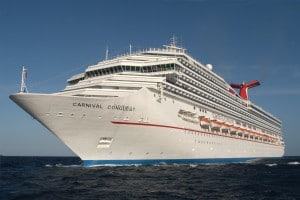 The 2,974-passenger Carnival Conquest earned a perfect sanitation score of 100% last week, which is outstanding for a cruise ship.
By law, the United States Public Health Service (USPH) spot checks US home-ported vessels twice a year on food handling, preparation, storage, as well as drinking water and pool/spa water. The USPH inspection is comprised of 42-items.
Launched in 2002, Carnival Conquest does year-round 7-night Caribbean sailings from Galveston and will reposition to New Orleans later this year.
Photo credit: Carnival News