As Carnival continues working to get its crew members home, some took part in tradition many of us are familiar with: the back-to-back cruise.
Sure, in this case, it involved two different ships and a cross-country trek via bus, but the basic idea was the same.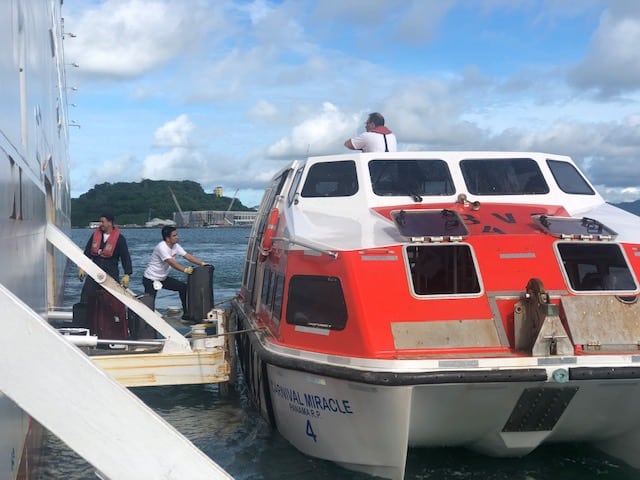 Crew Members Are On Their Way Home
The latest repatriation efforts required the cooperation of numerous Panamanian officials, including that nation's Ministries of Foreign Affairs and Health, the Minister of Maritime Affairs and the Panama Maritime Authority. But with their help, Carnival was able to get many of their hard-working crew members that much closer to home.
READ MORE: Carnival Exec Admits, "I Don't Know When We'll Sail Again"
Their cross-country adventure began when the Carnival Miracle made the latest stop on its repatriation tour, arriving on Panama's Pacific coast. Once cleared, around 100 team members disembarked and made their way to waiting buses, which took them on the 90-mile journey to Panama's Atlantic Coast.
Once there, the crew members prepared to begin the next leg of their journey home, this time aboard the Carnival Glory. Currently docked on Panama's Atlantic coast, the ship is now awaiting the arrival of crew members from several other ships.
Once everyone has boarded, The Carnival Glory will set sail for Curacao, where crew members will board chartered and commercial flights back to their home countries.
There's Still More Work To Be Done
"Panamanian officials truly went above and beyond in helping our team members transit their country and to facilitate their return home," said Christine Duffy, president of Carnival Cruise Line. "For that, we are truly grateful. We would like to express our most sincere appreciation and thanks to many government agencies, local maritime partners and private operators for their role in making this cross-country transfer happen."
READ MORE: Good News For 3,000 Carnival Crew Members
She added, "Efforts like this reinforce the benefits strong partnerships play in maritime operations and safety."
So far, Carnival mas managed to help nearly 20,000 team members — from across the 27 ships in their fleet — find their way home. The company is hoping to complete the task sometime in the next few weeks. Meanwhile, Carnival — like all of the major cruise lines — is working with the Centers for Disease Control and other agencies toward determining when their ships can return to service, as well as what health and safety protocols will be need to be put in place in order for that to happen.