July was a big month for the cruise industry as we saw multiple cruise lines return to service across the globe. It was a really big month for Carnival Cruise Line in particular, as its new mega-ship Mardi Gras entered into service on July 31.
Friday we got a sneak peek at all she had to offer during a special party thrown by Carnival, but the few hours we'd spent on board were sort of a whirlwind of ribbon cuttings, food tastings, and glances at the map to try and figure out where we were.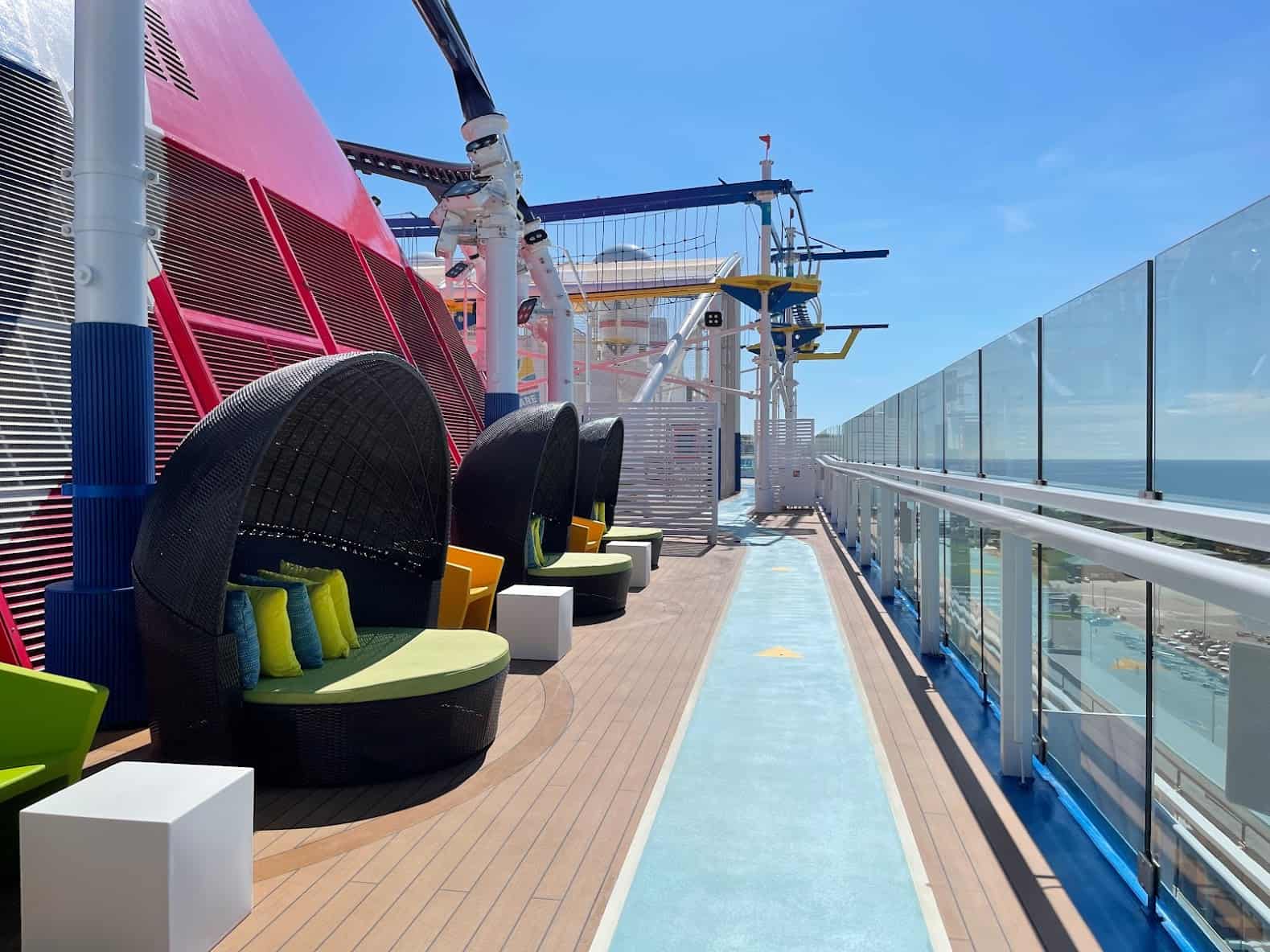 I've been on almost every ship in the Carnival fleet over the years and know them well enough that I could almost navigate them blindfolded. But Mardi Gras is a different story.
You've heard me and others talk about how this is a "game-changer" for Carnival, and it's really not an exaggeration. Everything about this ship is different, including the things that are the same.
For example, you know I love Guy's Burger Joint. It's usually one of the first places I head after boarding, and I know to just wander over to the Lido Deck and it'll be there, next to the pool.
Not on Mardi Gras! Here, it's one deck up from the main pool, having been relocated to make room for the new trio of Street Eats "windows." But more on that later this week…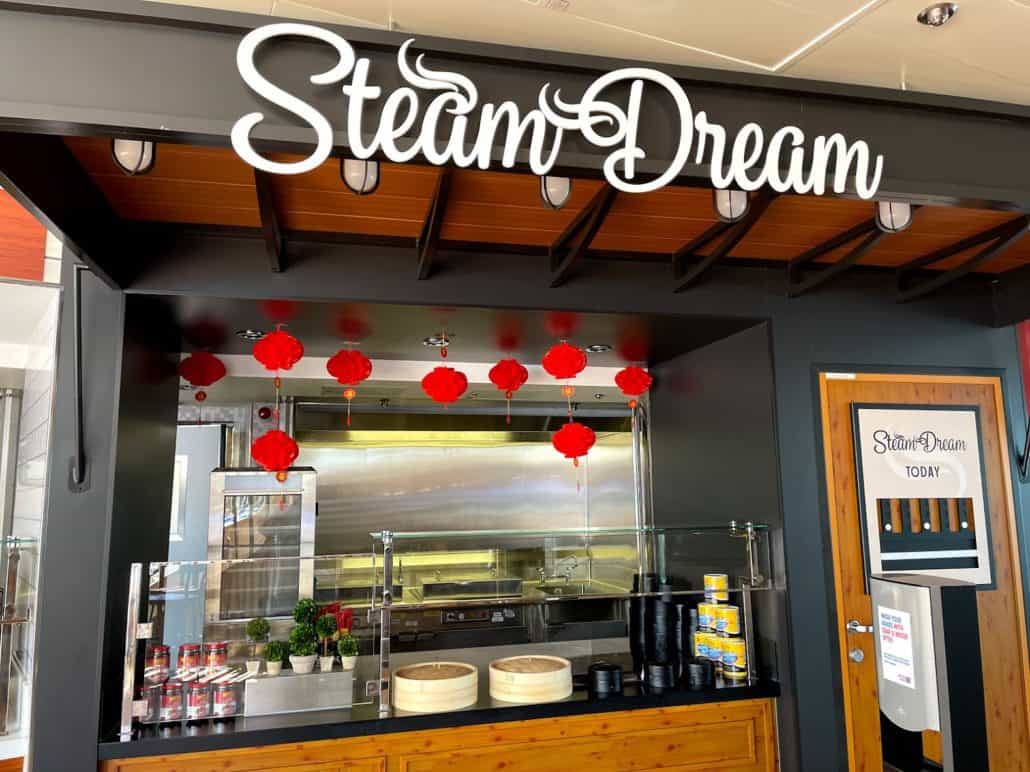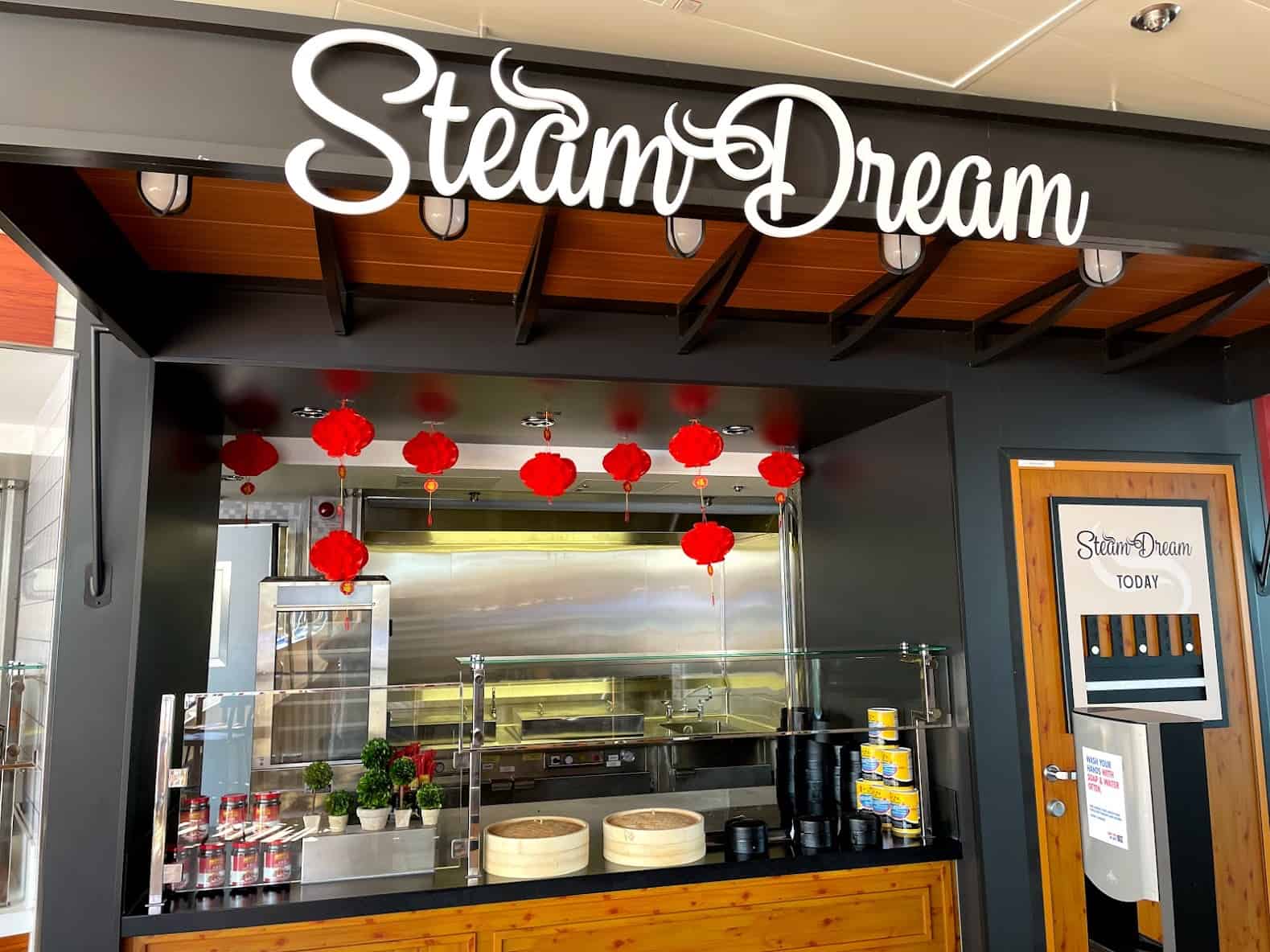 READ MORE: Photos From Carnival's VIP Mardi Gras Party
The point is, this ship takes what you know and shakes it up. It's sort of like that thing brides and their attendants do before a wedding: "Something old, something new, something borrowed and something blue."
The old is familiar venues like Guy's, the BlueIguana and the Alchemy Bar. The new is everything from the roller coaster Rudi's Seagrill (at which I'll be eating tonight). In the "something borrowed" category we have the six "zones," which is similar to the "neighborhood" concept on Royal Caribbean's Oasis-class ships.
And the something blue is the ocean on which we'll be sailing and the beautiful new livery, which if we're being honest is a major improvement over the former white hulls, which were sort of bland and showed a ship's age a little too easily.
One thing that hasn't changed is the fact that you're still boarding a Fun Ship… and that was especially true today. After an incredibly seamless embarkation process that saw us stopping just once to show our paperwork, we were walking up the gangway and onto the ship. The second we stepped on board, masks came off, music was playing and drinks were flowing.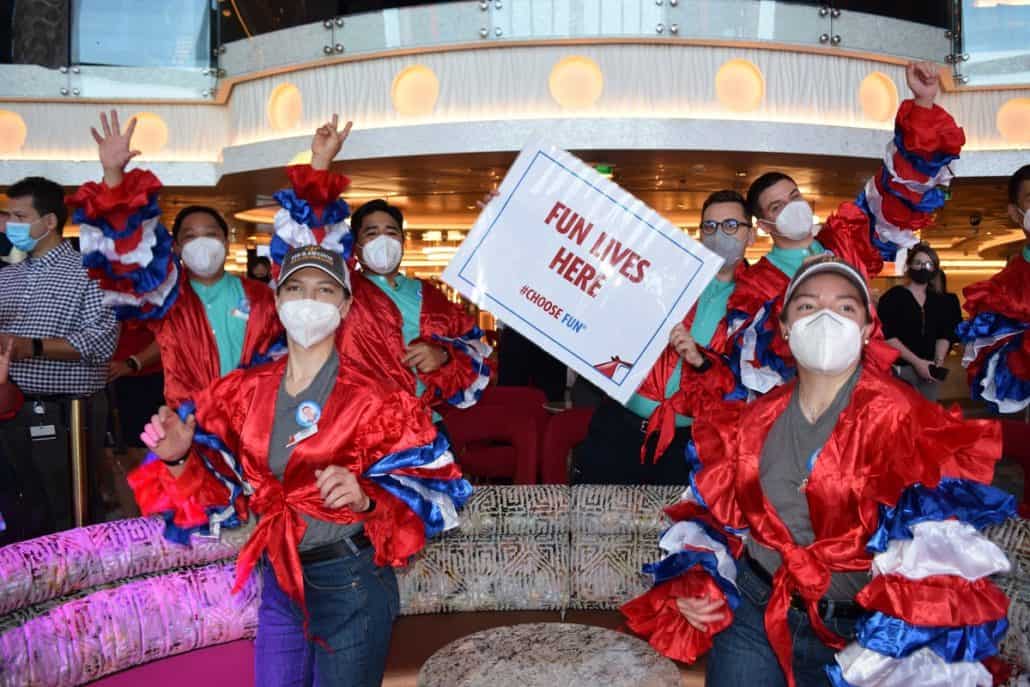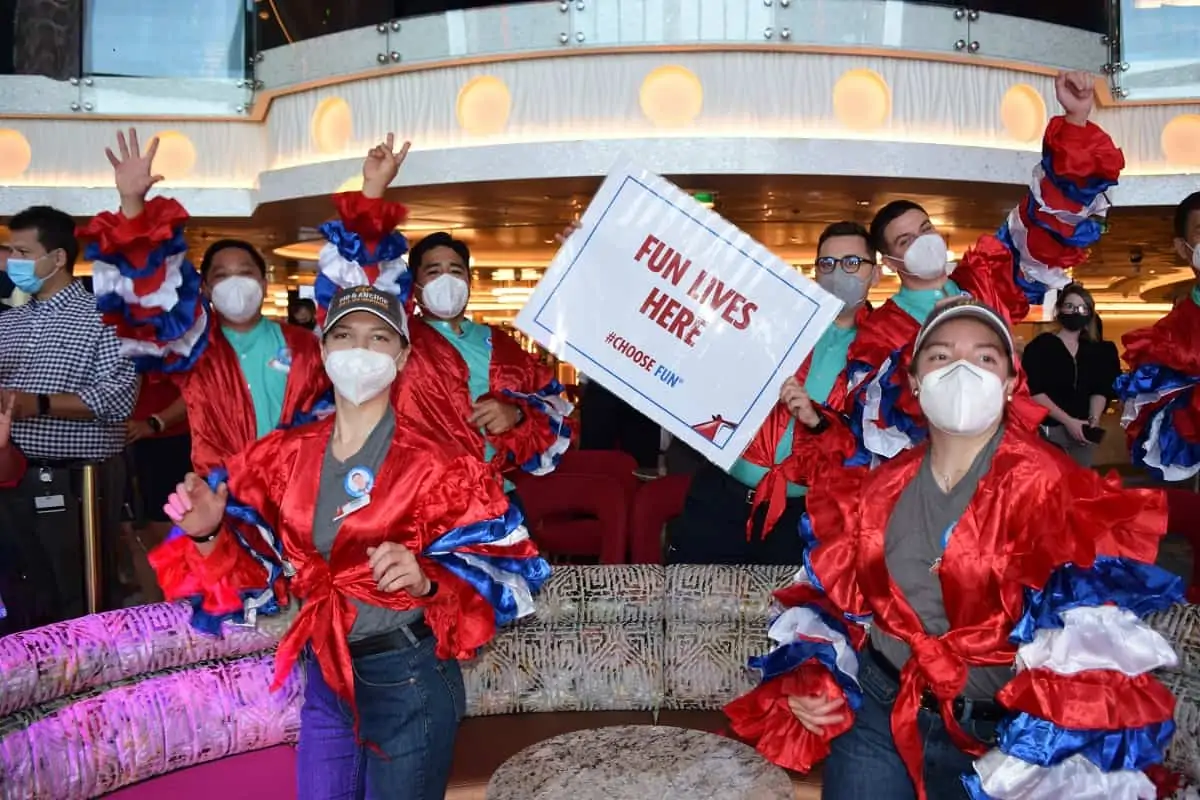 Yes, the crew are required to remain masked at all times. And while some people on message boards have complained about this, it's not too tough to tell that the crew is thrilled to be welcoming guests again.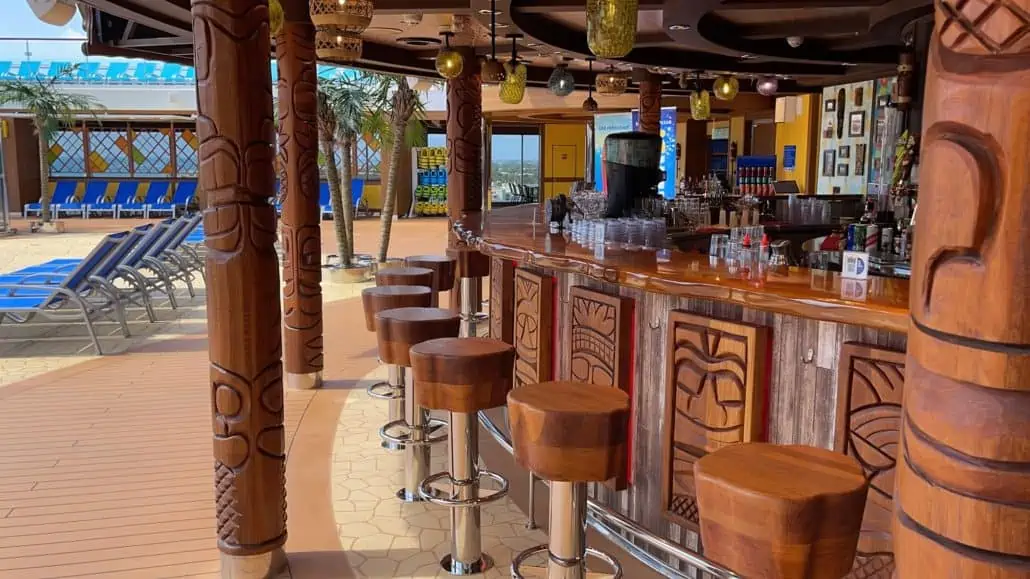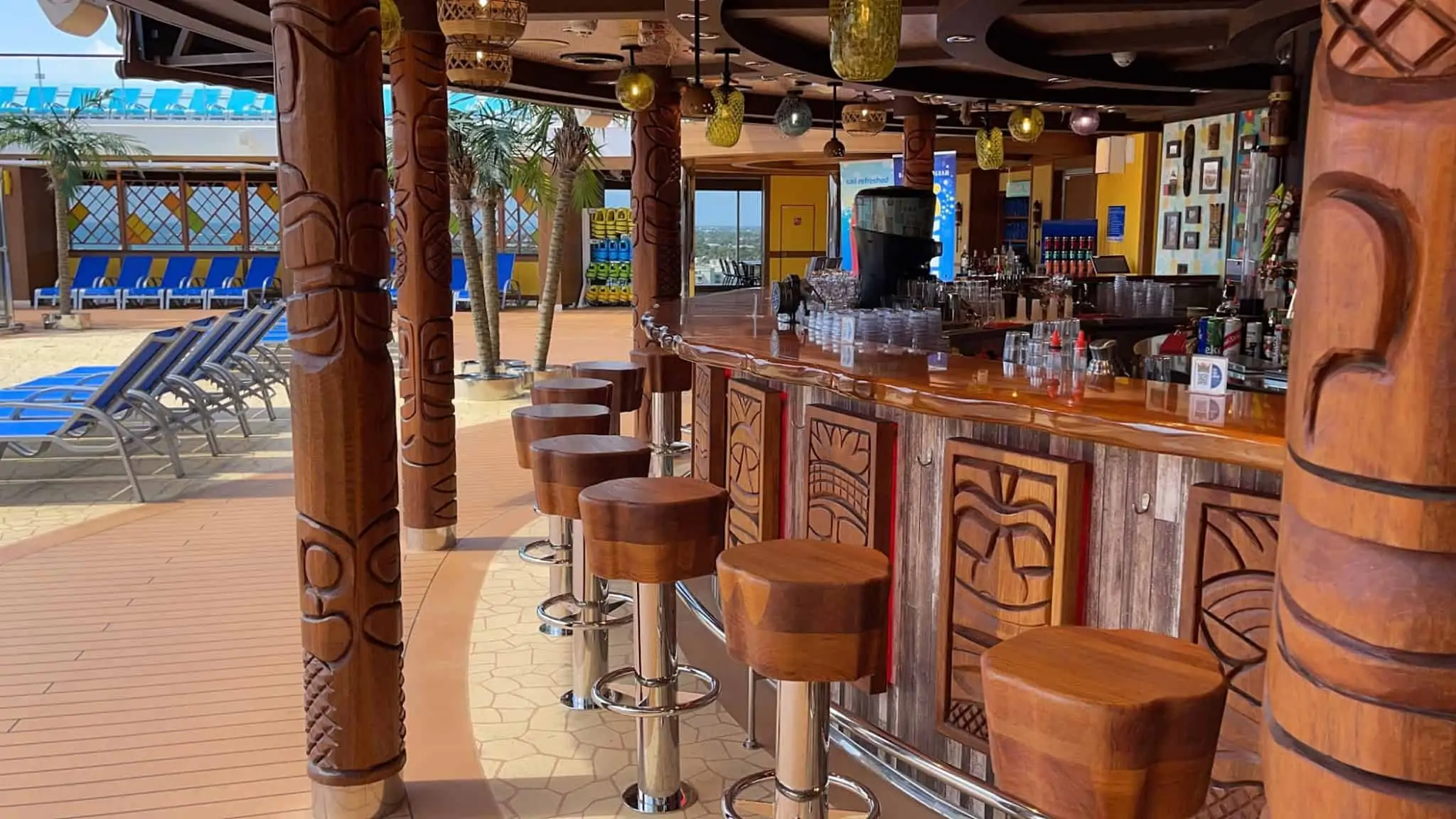 The ship wasn't going to set sail until around 6:30 p.m.,  so we had all afternoon to explore before that happened. Our first stop? The new RedFrog Tiki Bar on the Lido Deck for a Fun Ship Special.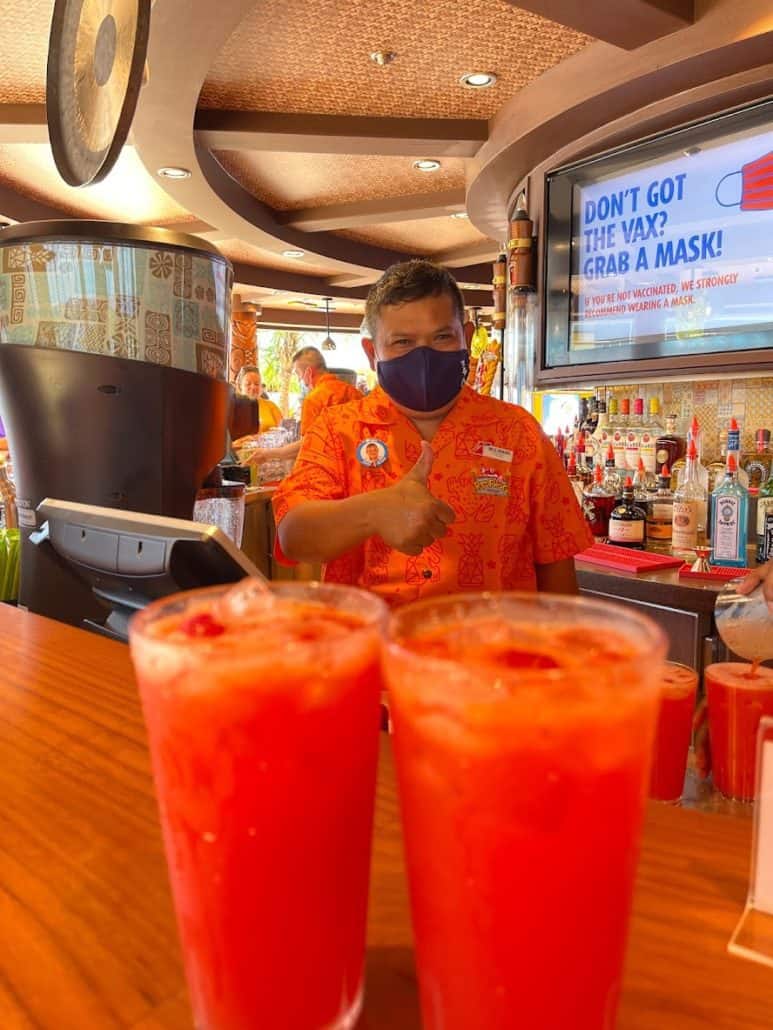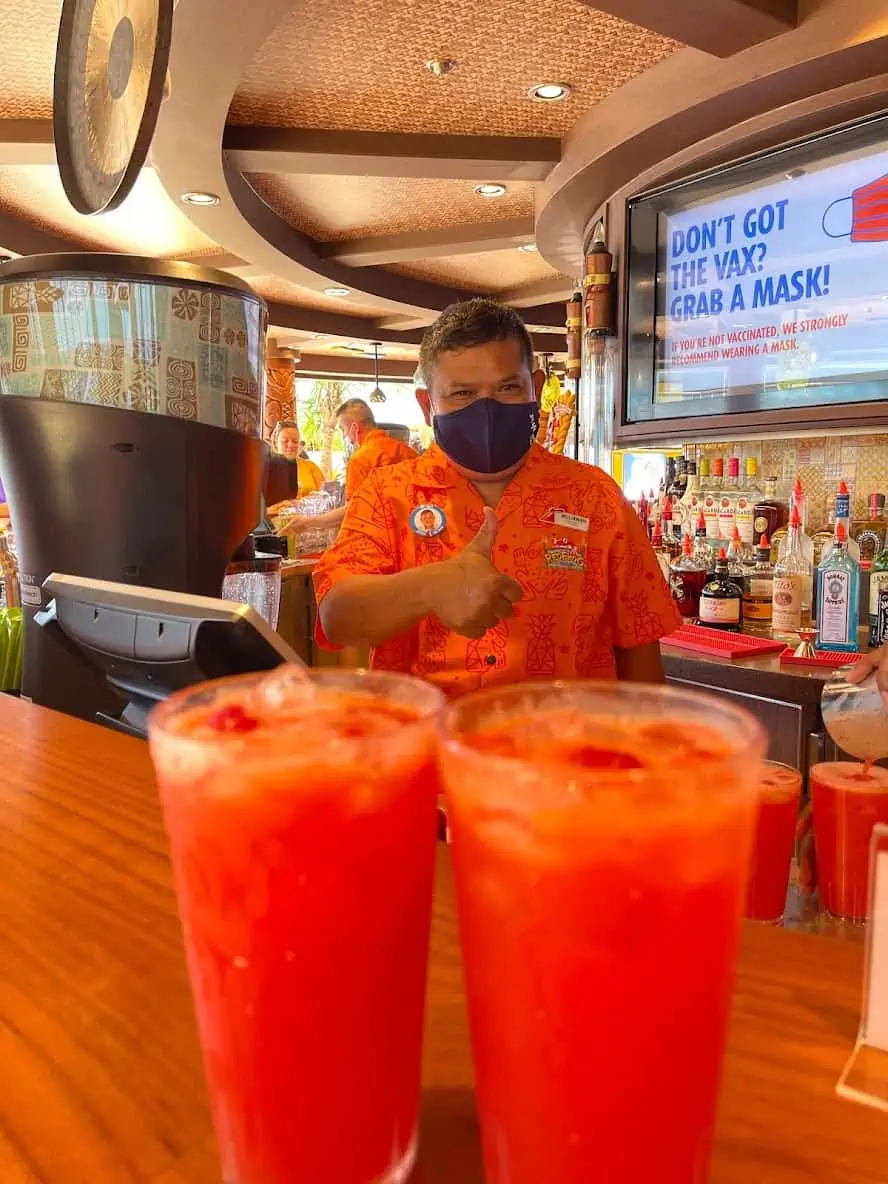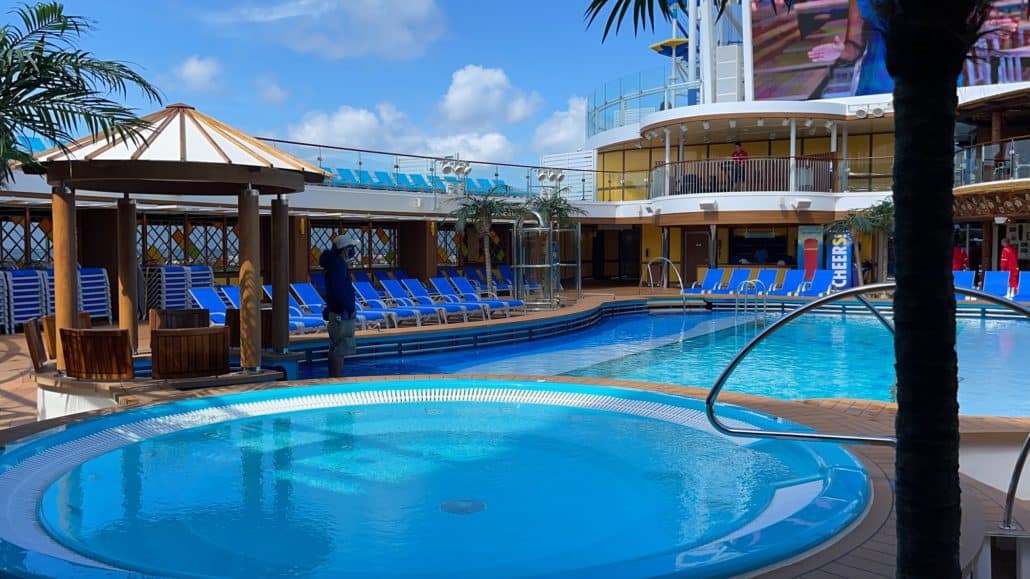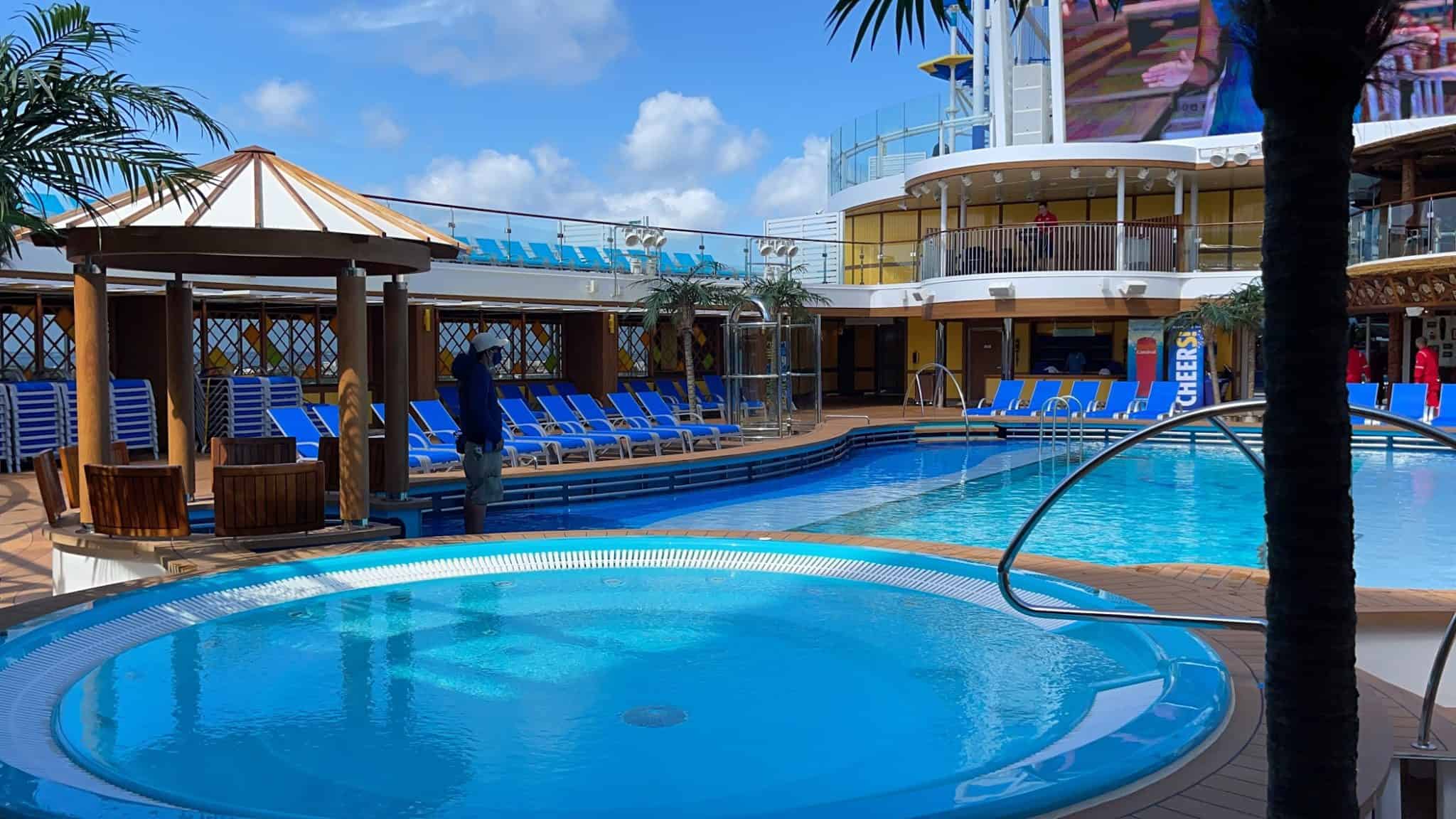 You can tell we were on the ship pretty early because look, not a chair hog (or the items they inevitably leave behind to save their spot) in sight. We also strolled over to check out another of the pools at Summer Landing.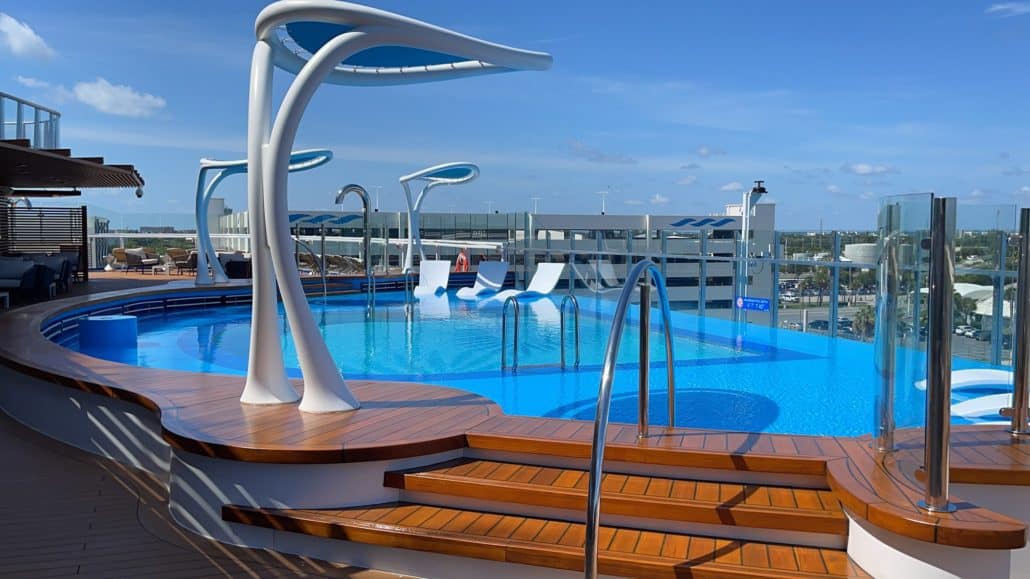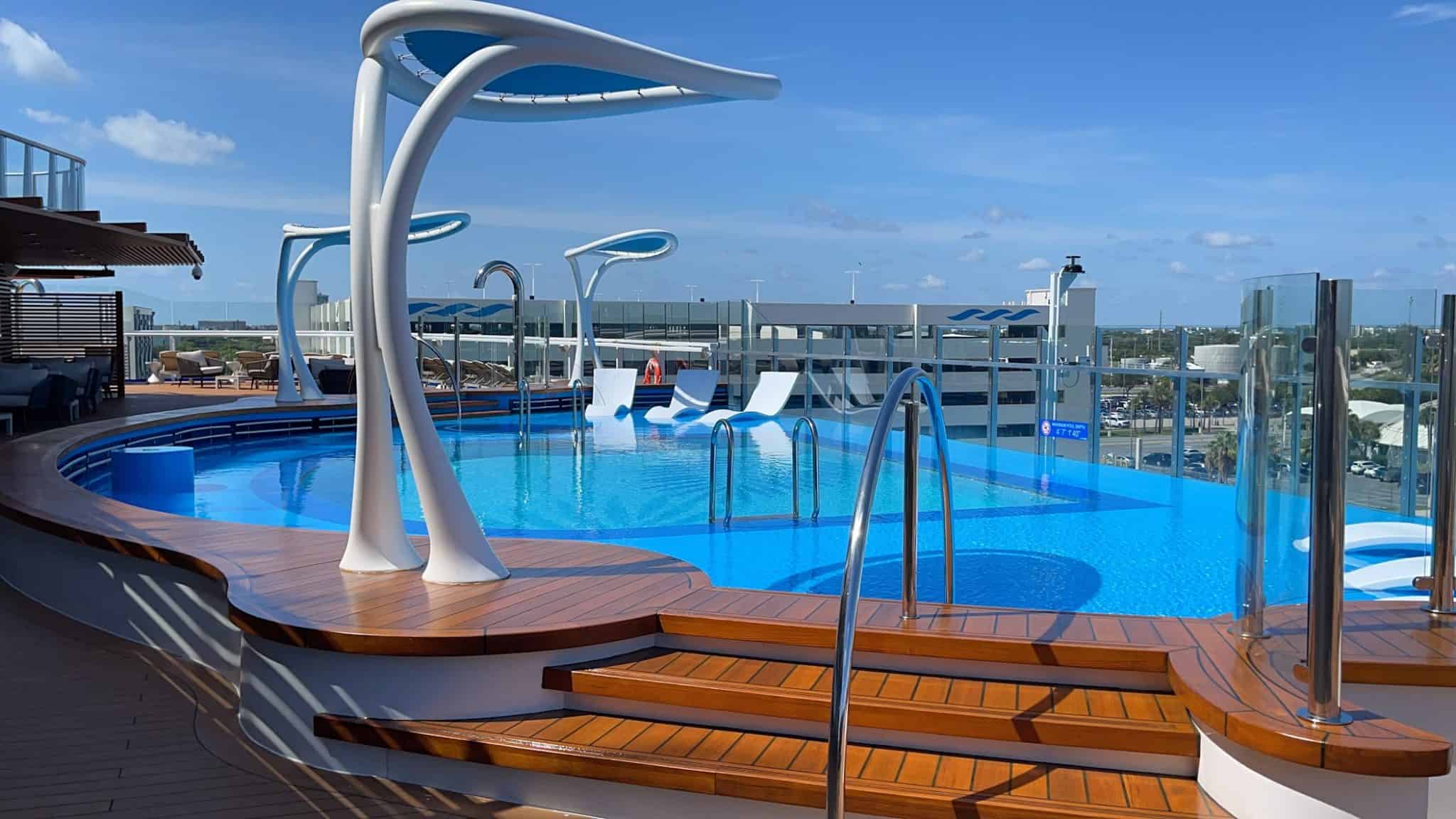 We were going to head to the Fortune Teller's Bar (in the French Quarter zone) next, but realized that before doing that, we needed to complete the muster drill. Carnival's new policy (which is kinda brilliant) is to cut off your Sail & Sign card (including your access to booze and shopping) after two drinks until after you've completed the safety drills.
Having already watched the required videos, all I needed to do was report to my station and get what basically amounted to a personal explanation of how to use a life jacket in case of emergency. Two minutes later, we were off to our next stop.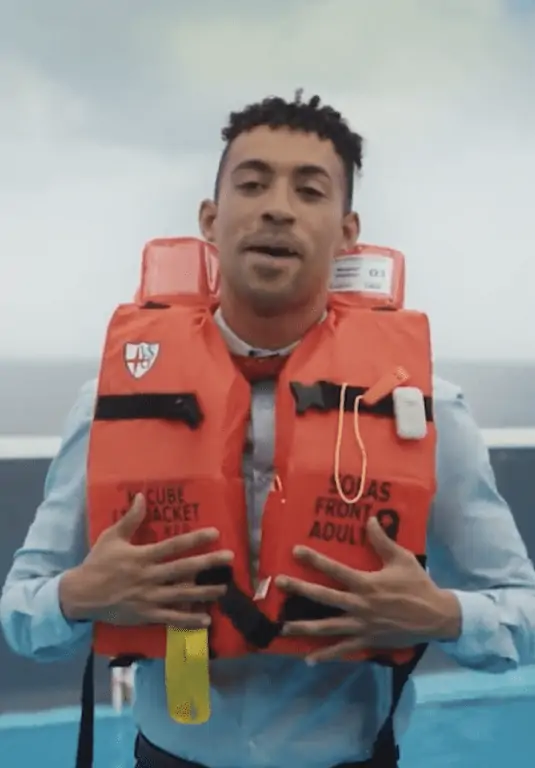 From the moment that Eddie Allen, Vice President of Beverage Operations first told me about the Fortune Teller's Bar, I was intrigued. You can't really have a French Quarter-themed section of your ship without some serious cocktails and a little bit of magic, both of which come together in wildly unpredictable ways here.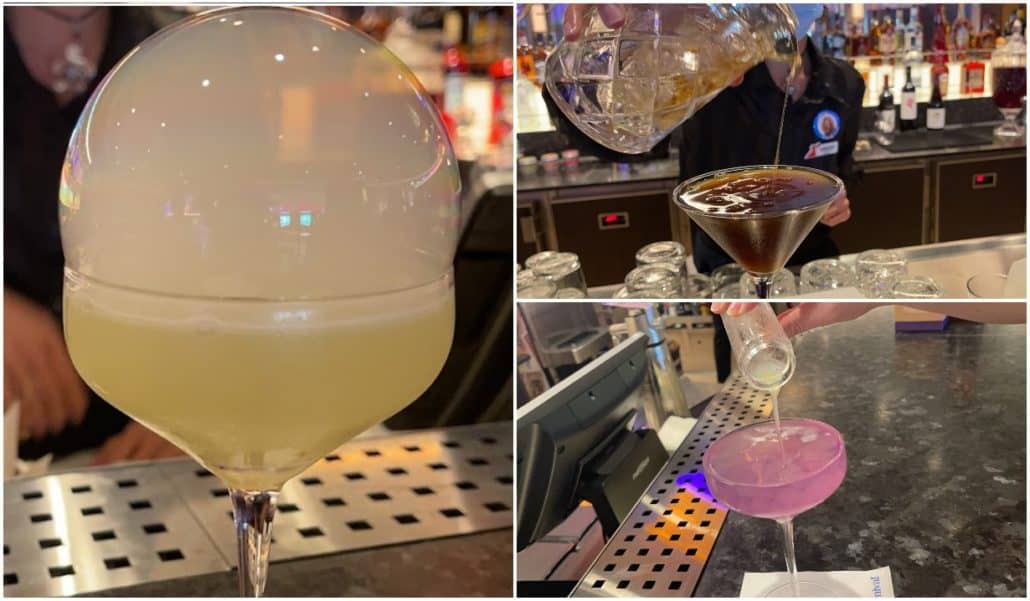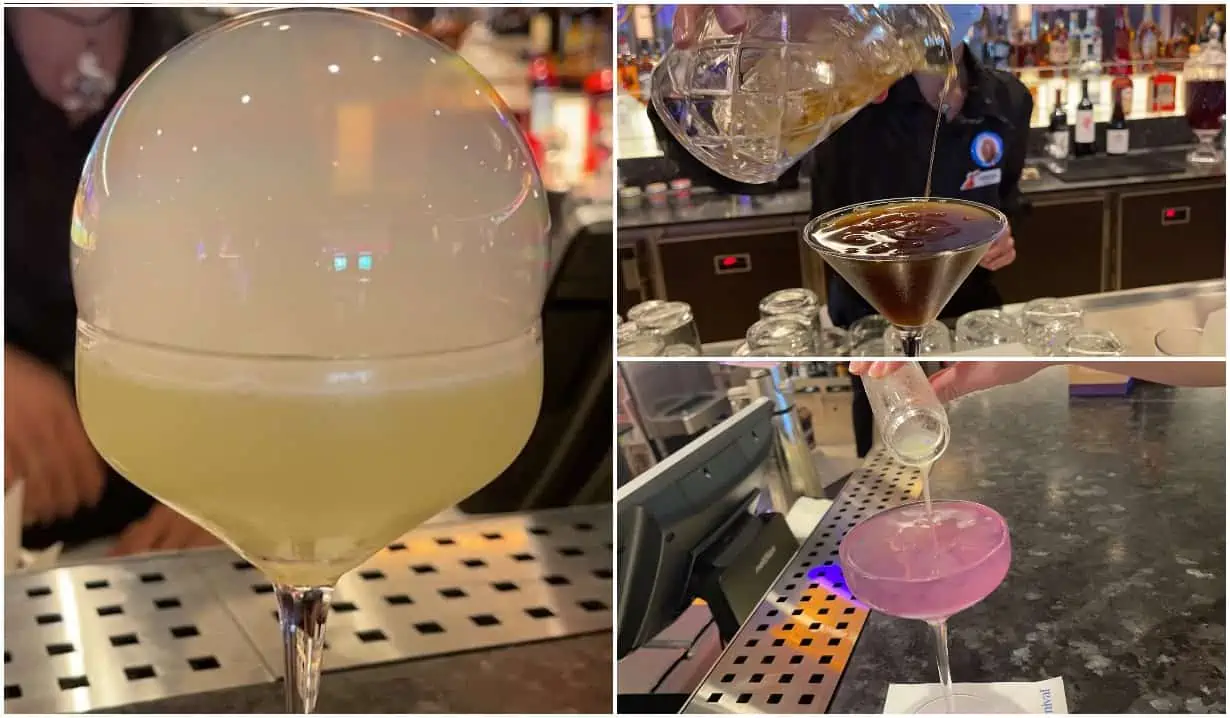 It was right around this point that I forgot we'd have a whole week to try everything the ship has to offer, including the many (many, many) specialty cocktails that were rolled out specifically for Mardi Gras. I was treating this like a sprint instead of the marathon it would be.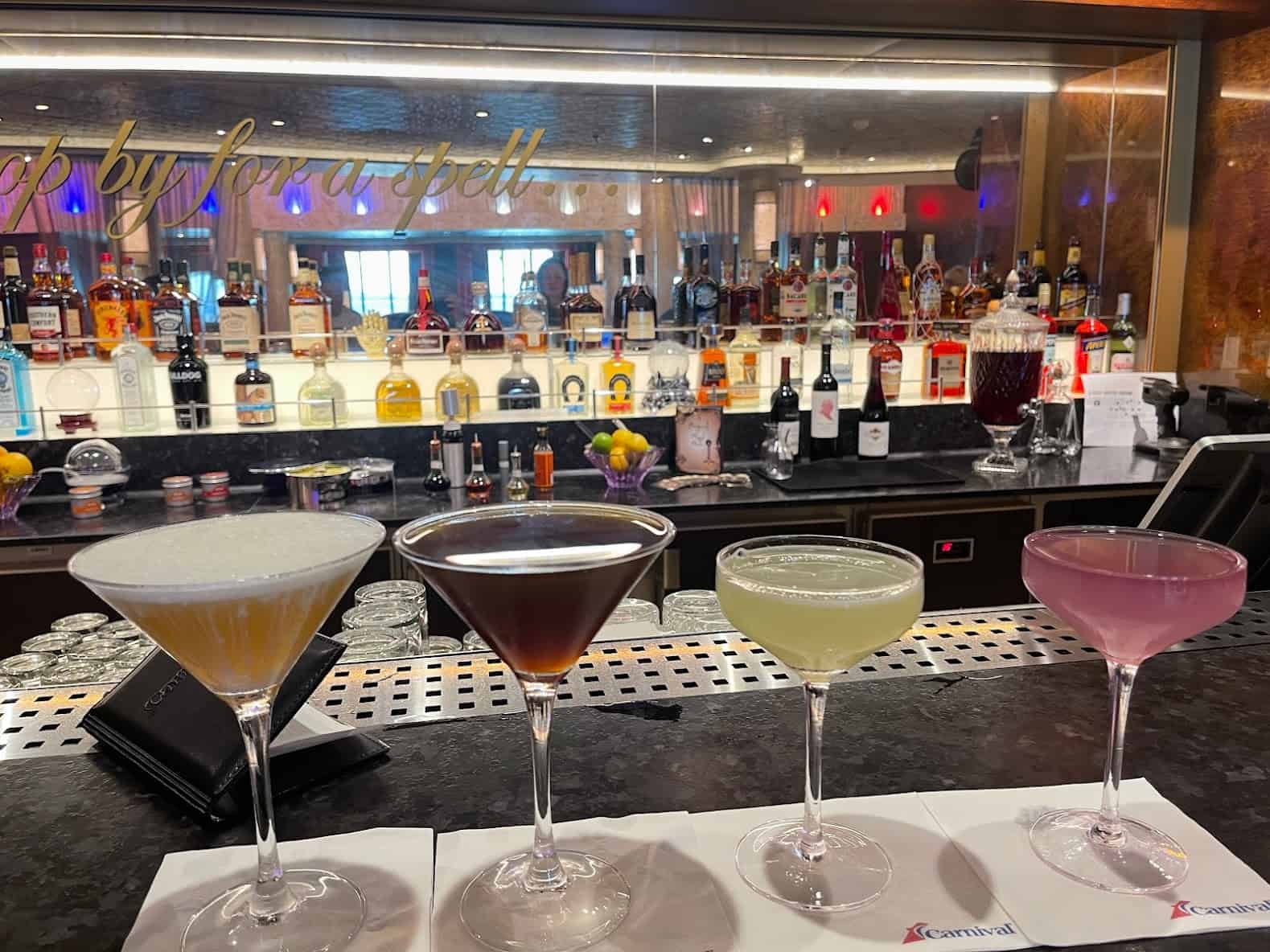 But you know what they say: In for a penny, in for a pound! So after making sure to feed the machine by swinging by Big Chicken (the Shaquile O'Neal grab-and-go restaurant on board with some seriously good sandwiches that are going to give Guy's Burger Joint's offerings some stiff competition, especially since both are complimentary)…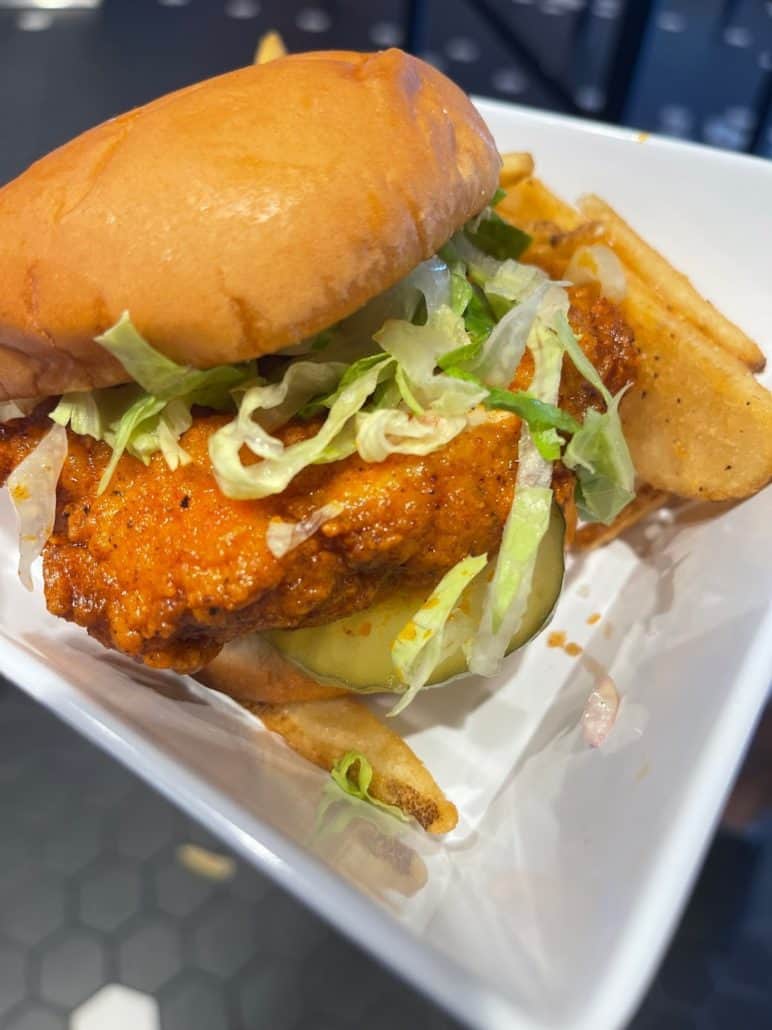 … we were ready for the next stop.
Like the Fortune Teller's Bar, the Alchemy Bar is the kind of place you go when you want something different than you'll find at all the other bars on board. They don't serve wine, they don't serve beer and don't even think about asking for a soda. The mixologists here don't sling drinks, they craft cocktails.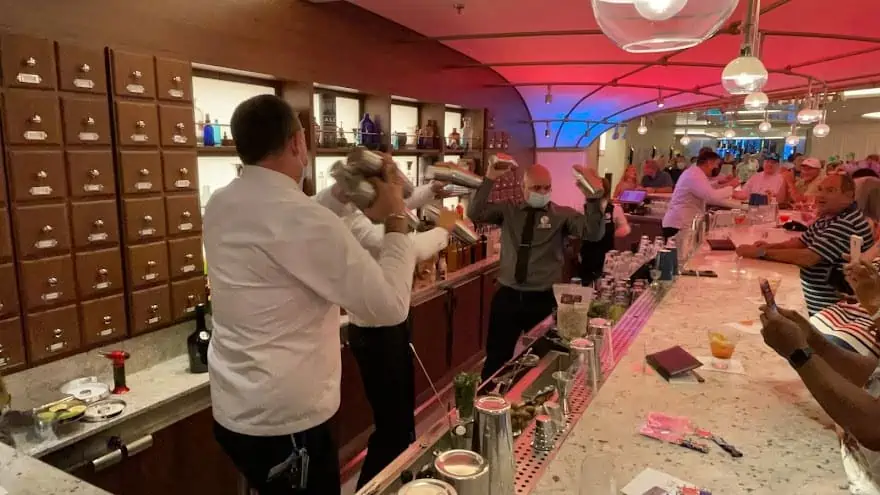 It was around this point that I realized we still had a few hours until sailaway and that left plenty of time for a nap. Which makes me realize now that I haven't yet shown you my stateroom. So when I booked this sailing, I went with an inside stateroom because it was the most afforadable.
Regular readers know that I'm not really someone who spends a lot of time in the cabin, so this was fine for me. And I have to say, the inside staterooms on this ship are beautiful.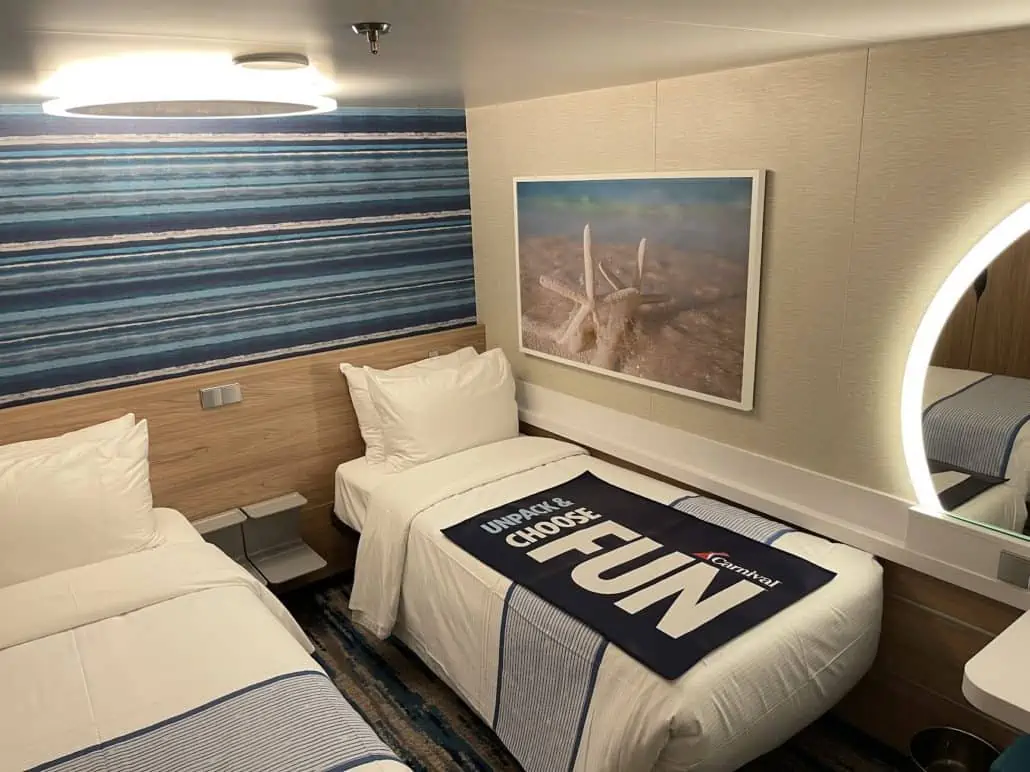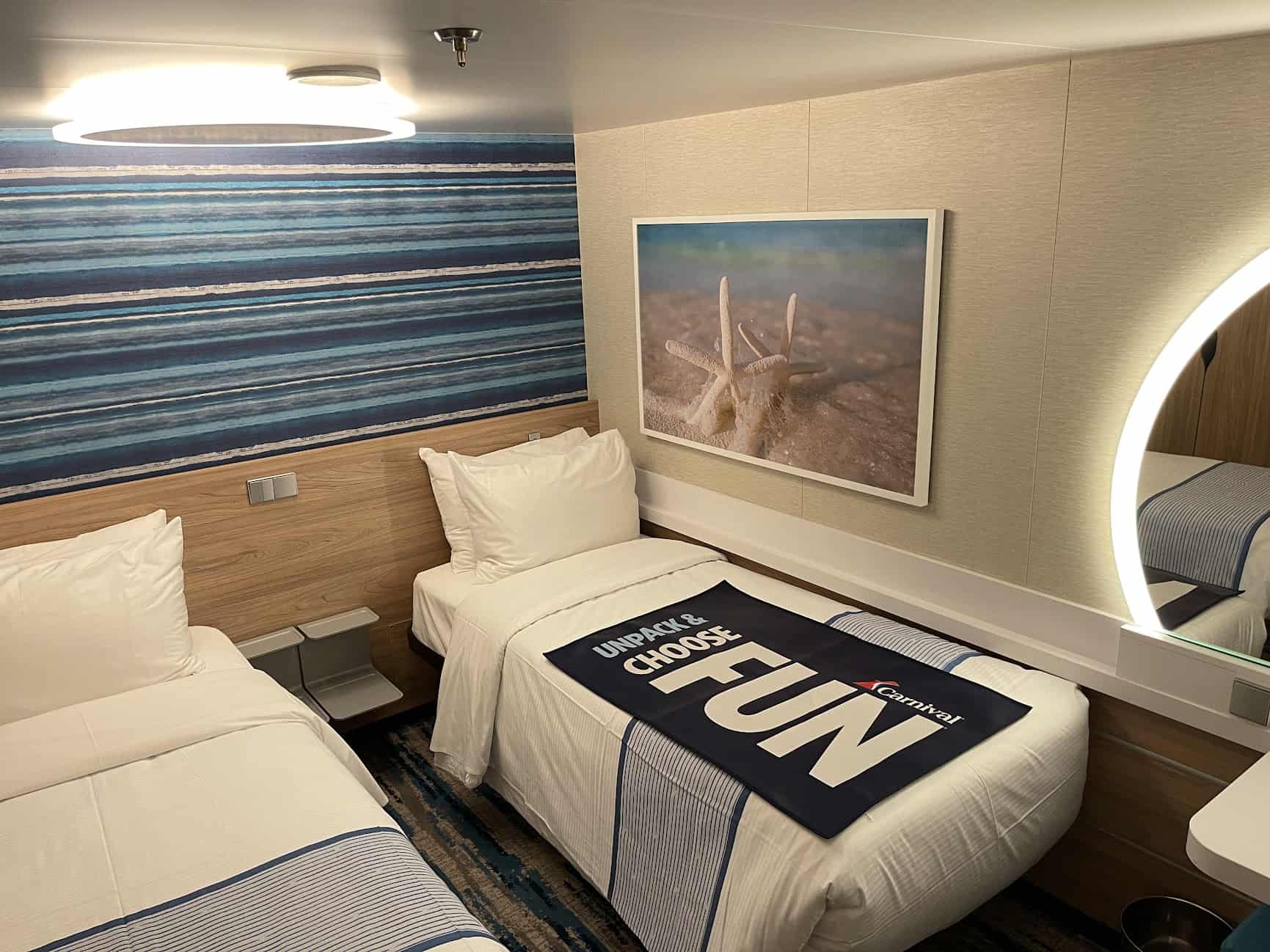 I've always thought that blue was the perfect accent color for cruise ship staterooms. After all, most of us are there because on some level, we love the ocean, right?
From the runner on the bed to the artwork, everything gives you that nice, calm blue. I also really like the light circling the mirror. It's a simple design touch, but again goes to show how much thought went into details and how the end process of that was a general elevation.
I'm also a very big fan of the fact that even interior staterooms have actual shower walls and doors as opposed to plastic curtains. I've never been a fan of shower curtains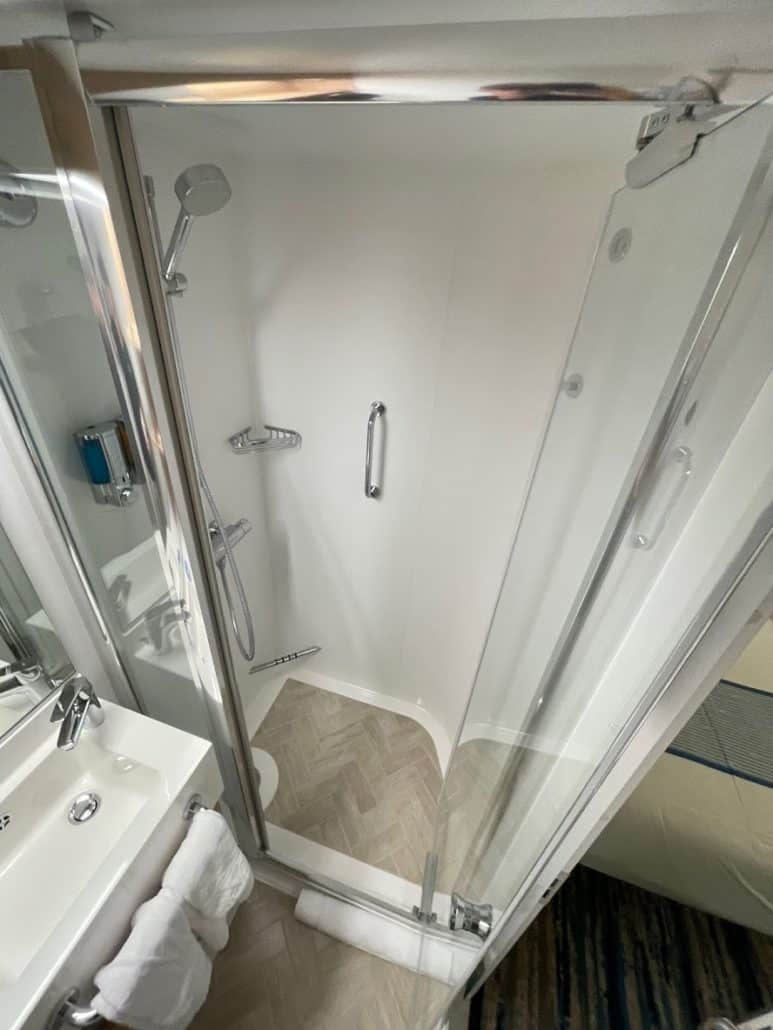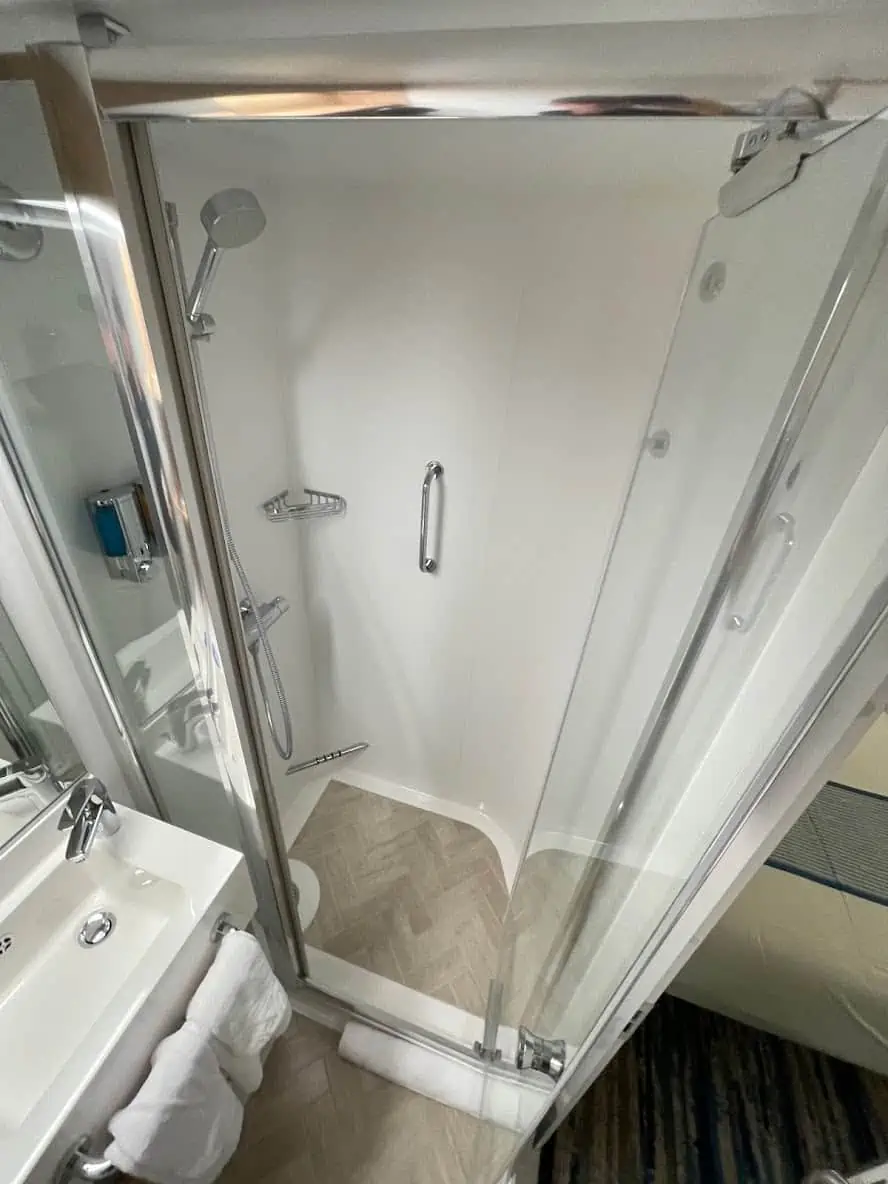 All in all, this is probably the nicest inside stateroom I've ever stayed in, complete with a whole lot of nice little touches like numerous USB ports and a cool little reading light beside the bed.
Although truth be told, I shouldn't say that I "stayed in" this room, because since the ship was sailing at reduced capacity, Carnival offered to upgrade me to an ocean suite.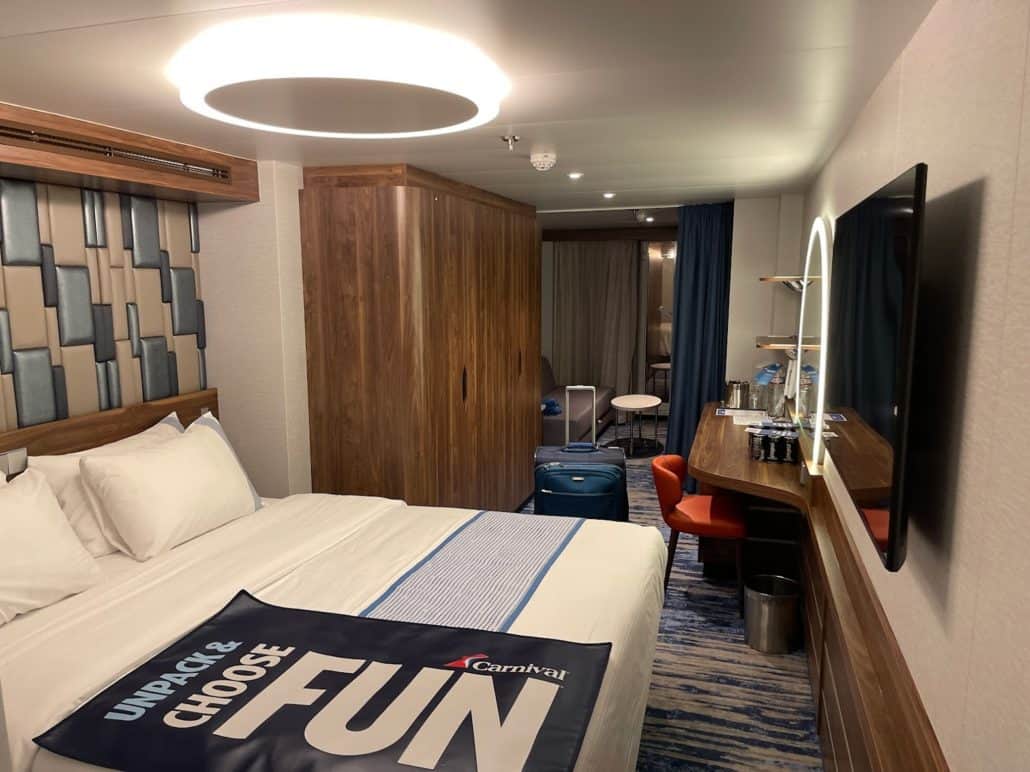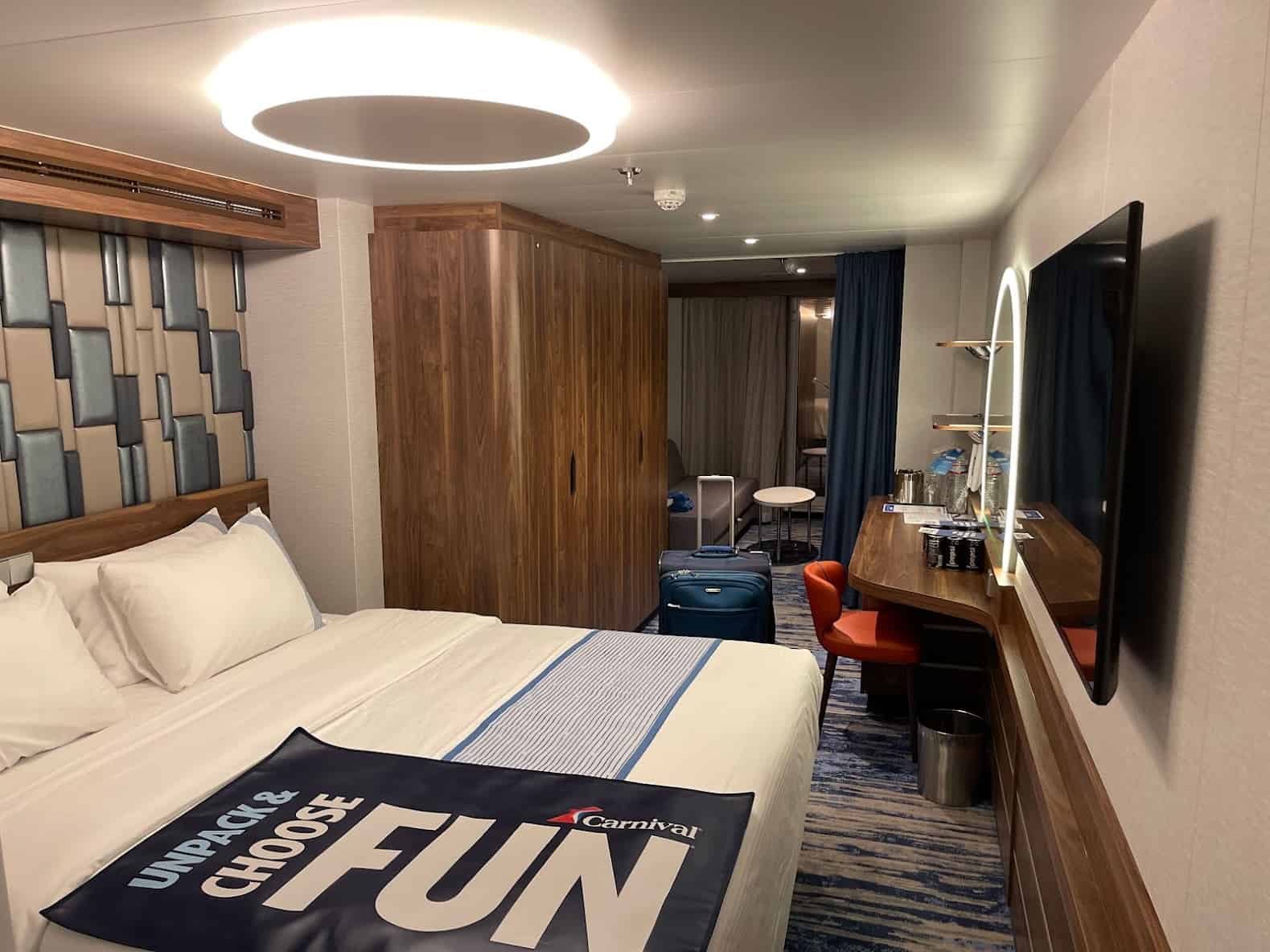 By now it was time for sailaway, so I headed for a quiet spot toward the front of the ship. Despite the fact that this is the fourth cruise I've done in the past five weeks, I'm still incredibly aware of how meaningful this particular trip is.
Not only is it the first sailing of a new ship, which is always special, but it's also the first ship to be sailing out of Port Canaveral with paying passengers on board.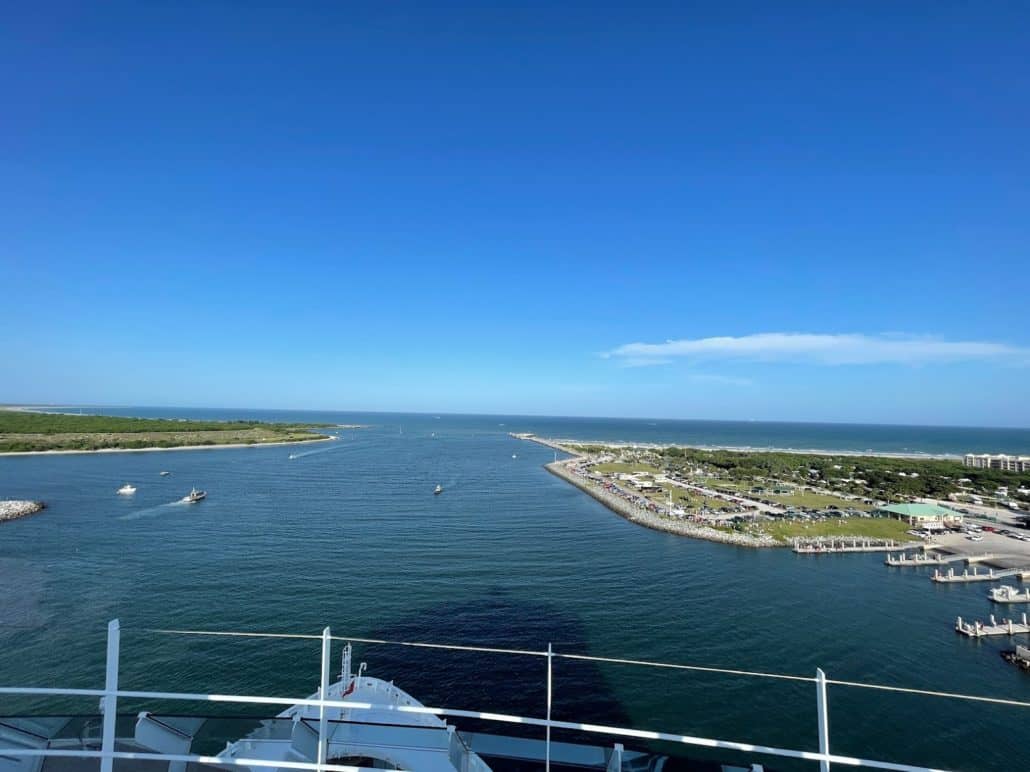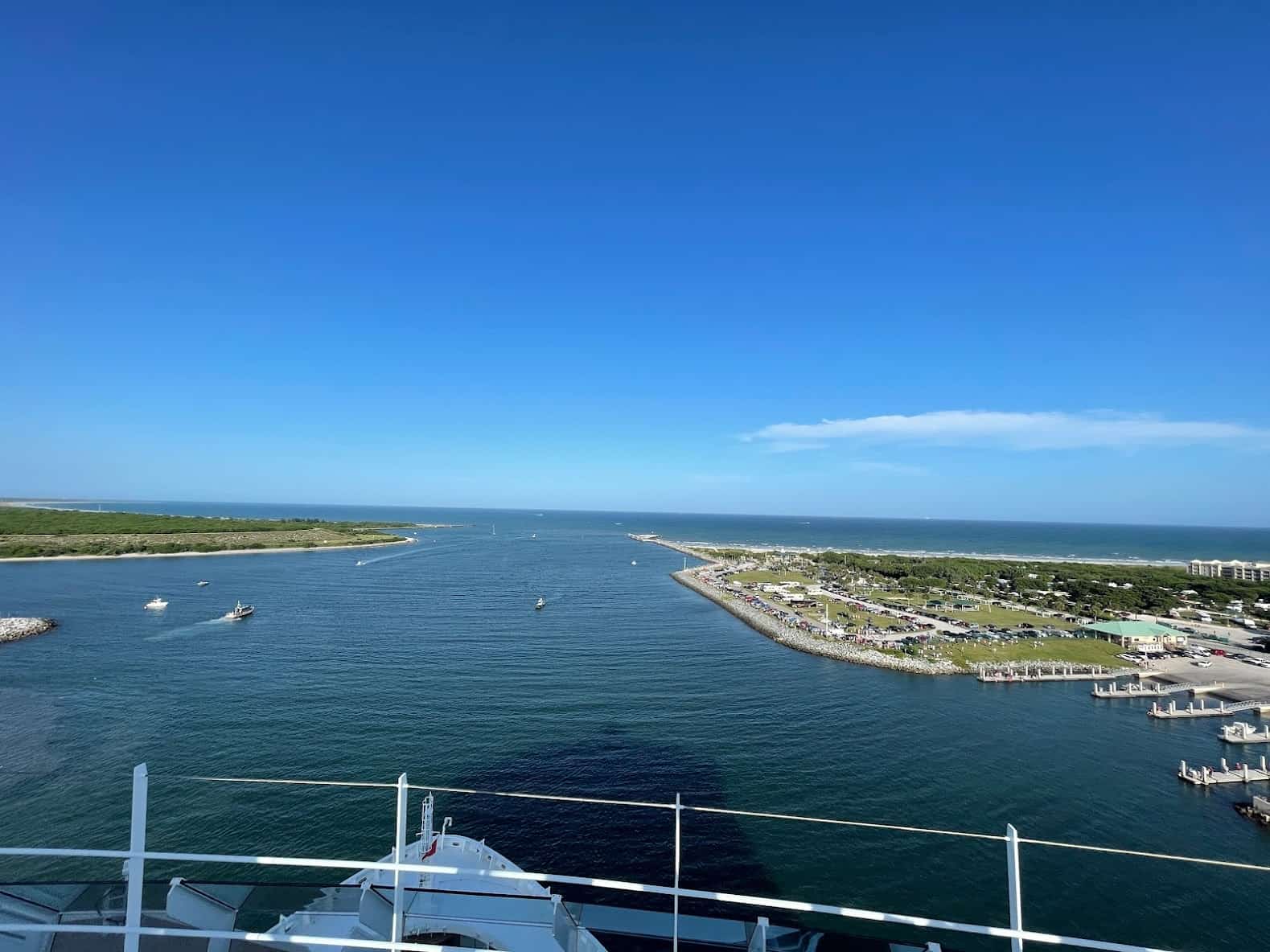 Obviously, that's a big deal for Carnival, given that they had basically no revenue during the shutdown. But it's also huge for Port Canaveral and all of the people whose livelihood was impacted by the fact that there were no ships sailing, no tourists spending money… this ship — and all the ships that will follow — sailing out of Port Canaveral will have a huge impact on the local economy of not only this particular port, but all those we're going to visit.
Before long, it was time to head down to Brass Magnolia — another of the new bars in the French Quarter — were a great little jazz trio was playing. I didn't get their name or their picture so, as I keep saying, yet another reason for you to stay tuned as the week goes on.
A group of us then headed for dinner in Rudi's Seagrill. While chef Rudi Sodamin has had restaurants on ships within the Carnival Corporation (specifically, Holland America) this is his first on a Carnival Cruise Line vessel. It's really appropriate that this being a Fun Ship and all, the first thing you see when you sit down at the table is these beautiful plates which give a bit of a hint as to what you can expect.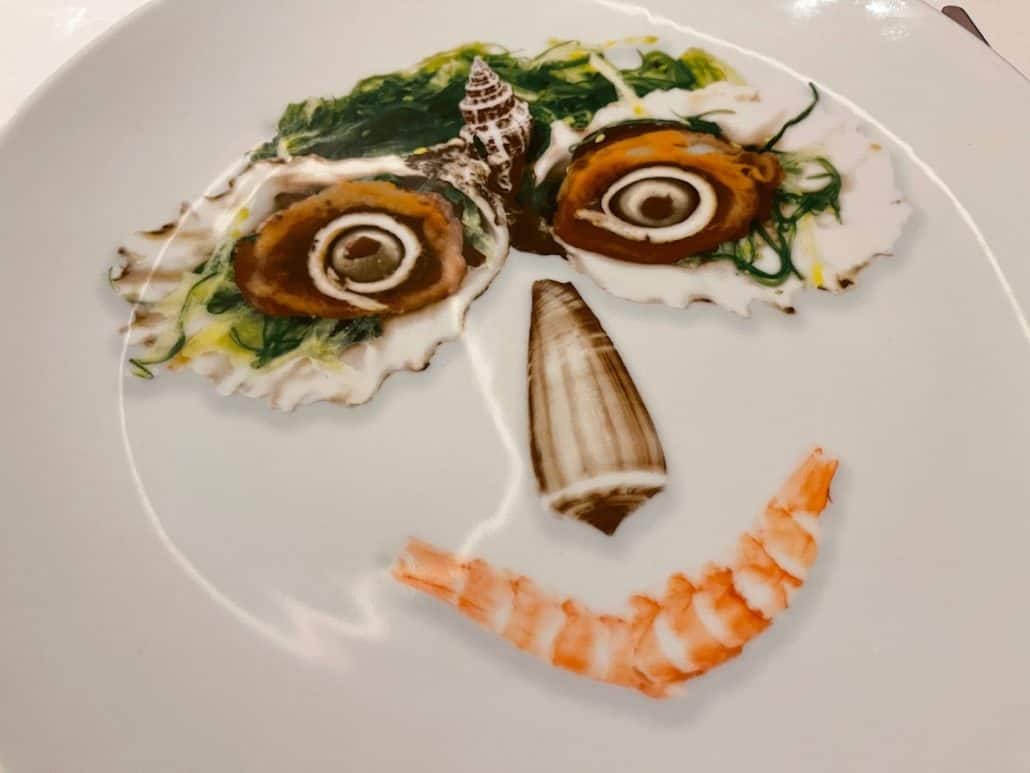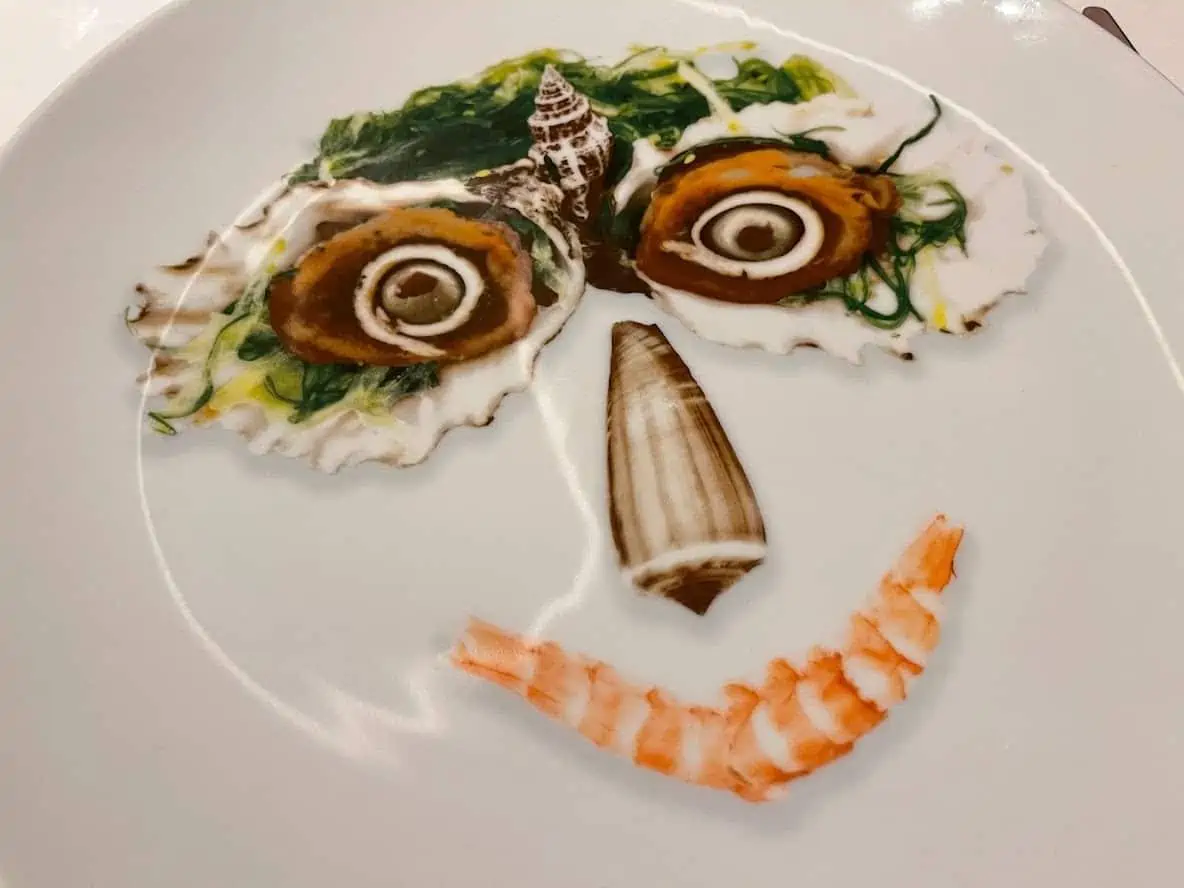 The name probably tipped you off, but this is a seafood restaurant. That's not all they have on the menu — meat lovers can get a pork chop or a steak, for example — but seafood's definitely what you come here for. The cost is $38 per guest and if the meal I had is any indication, well worth it. I went with the muscles and a fantastic stuffed lobster.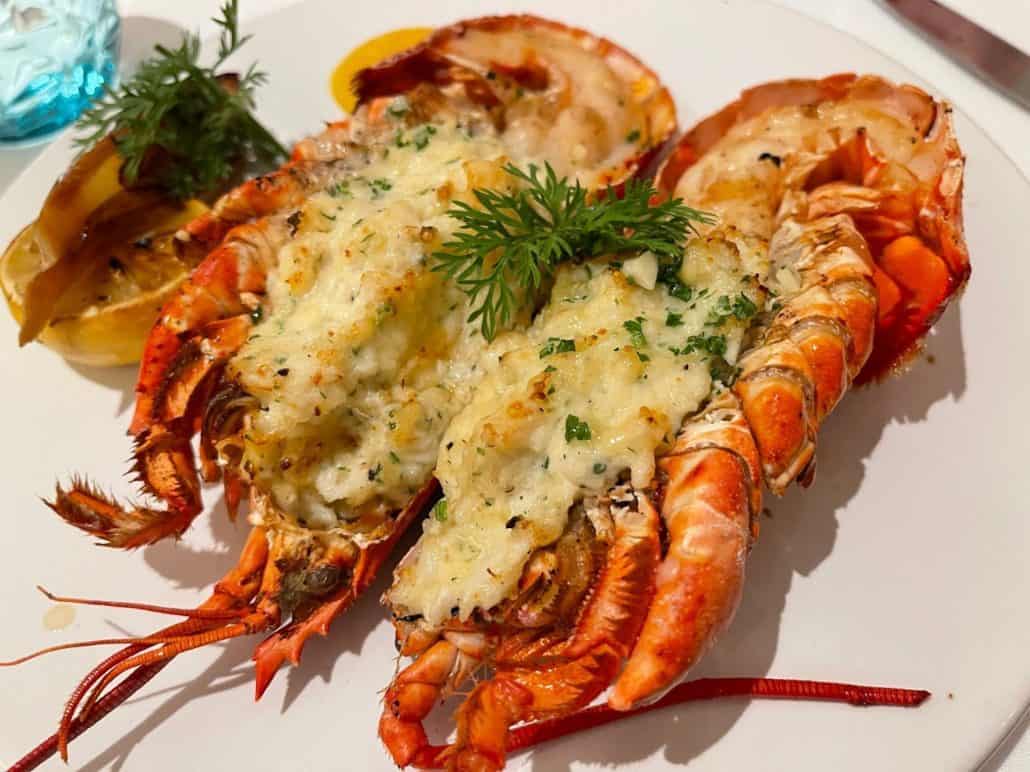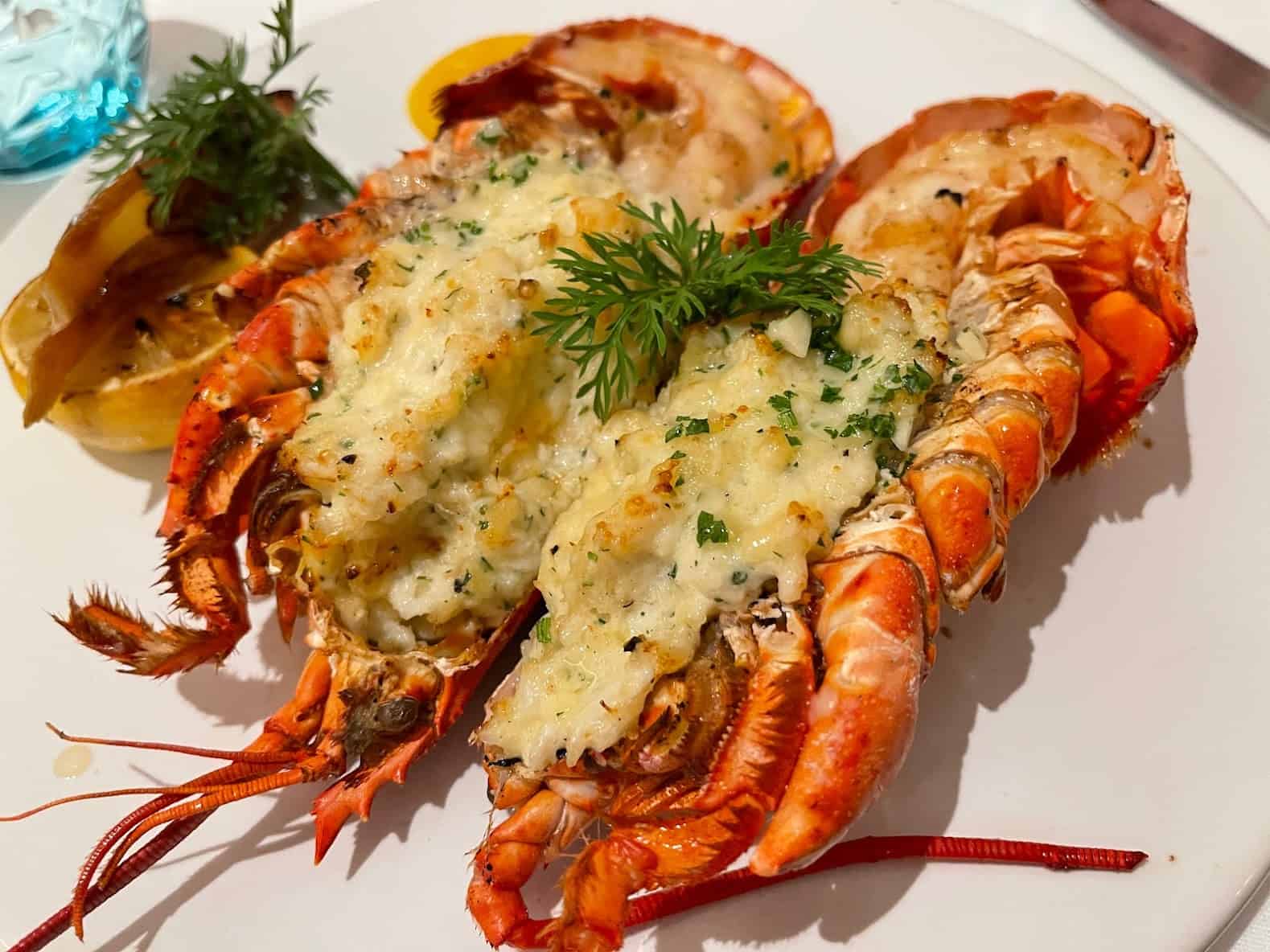 Although I didn't get the lobster mac and cheese, you have to see the way it's served. It comes in this very cool serving dish…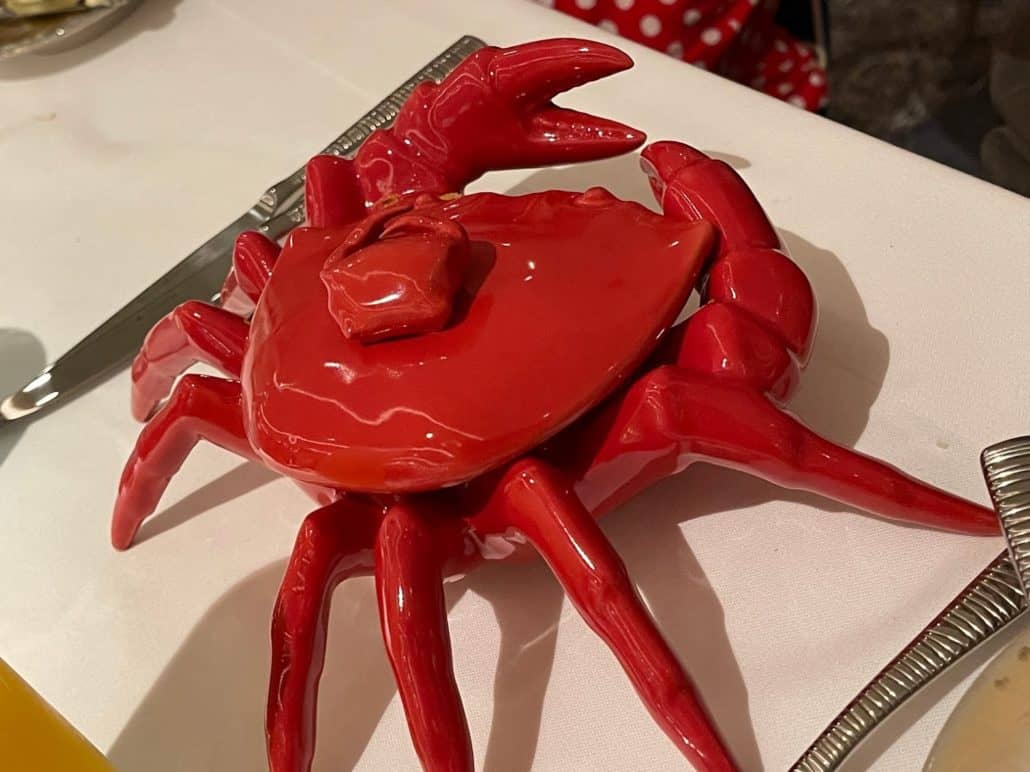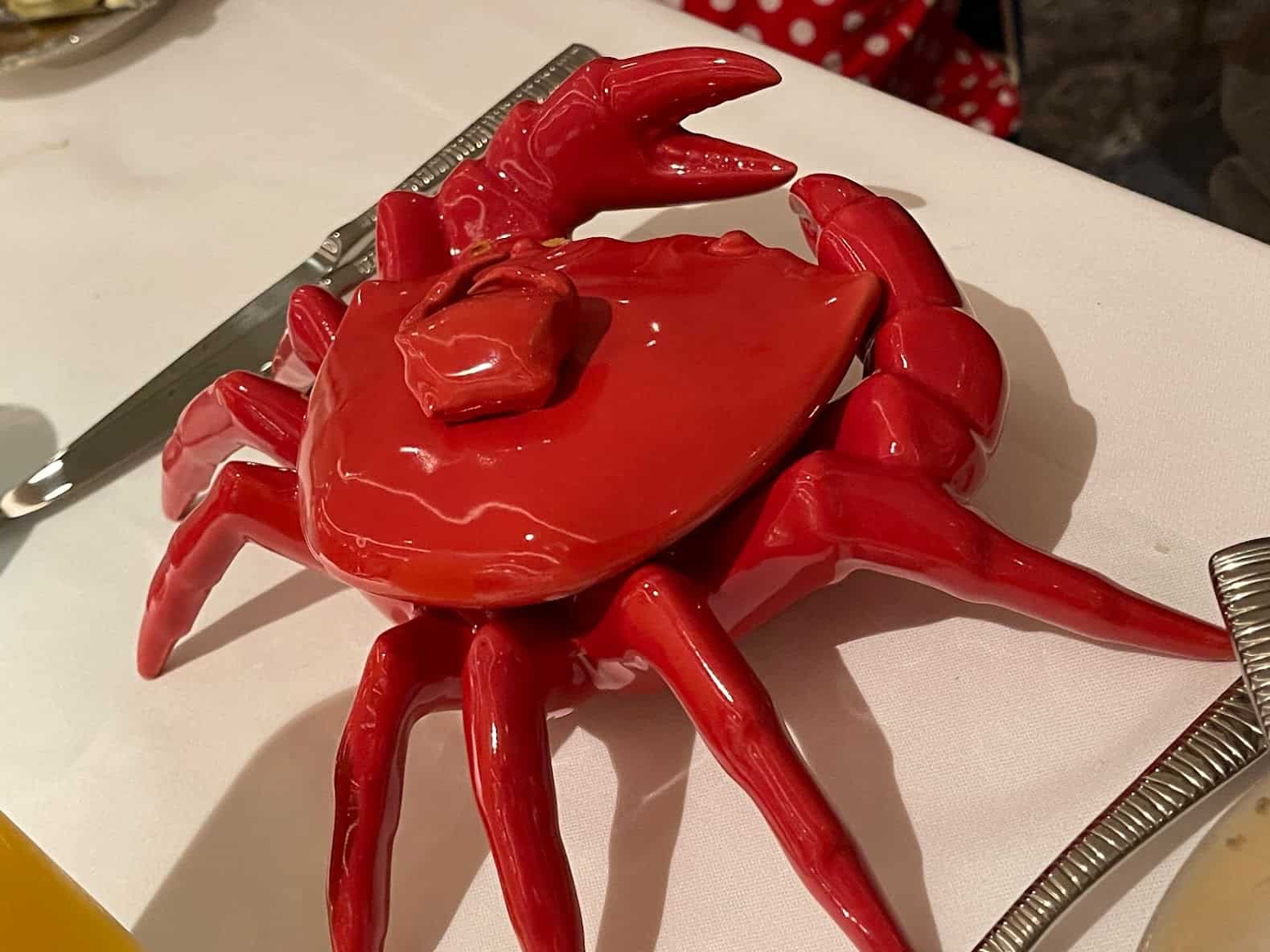 … which you open before diving in. I wonder if they sell these in the gift shop? While it would be tough to take them home in your luggage without breaking off the legs (especially if you were getting enough for, say, a family), I bet they'd fly off the shelves.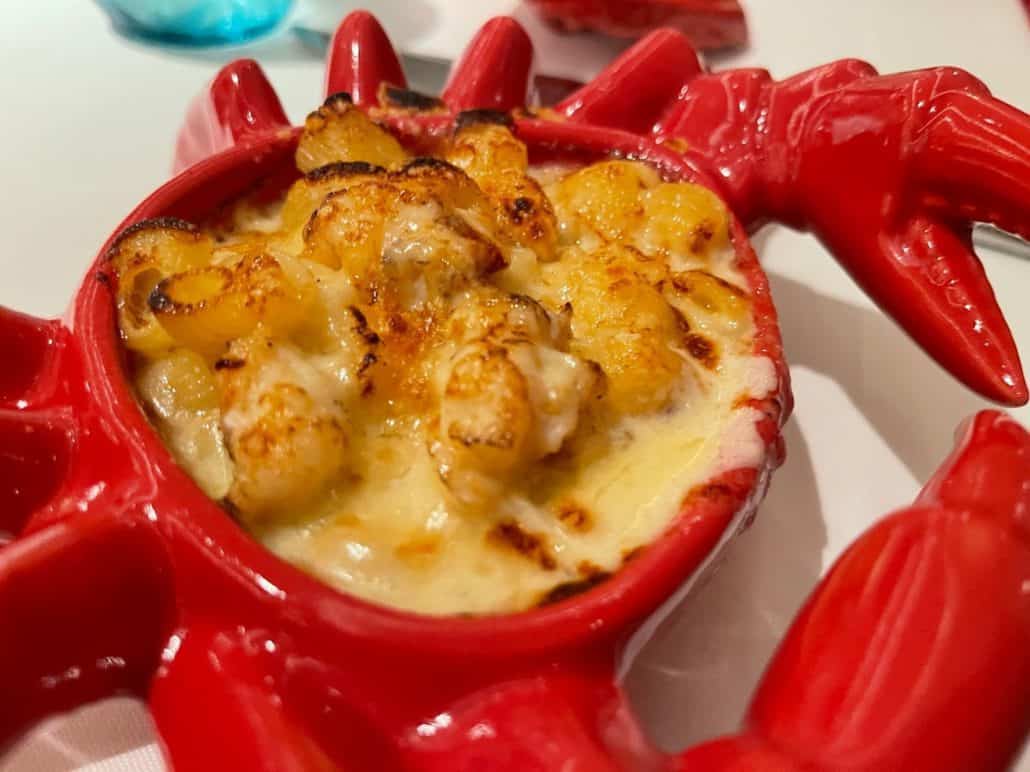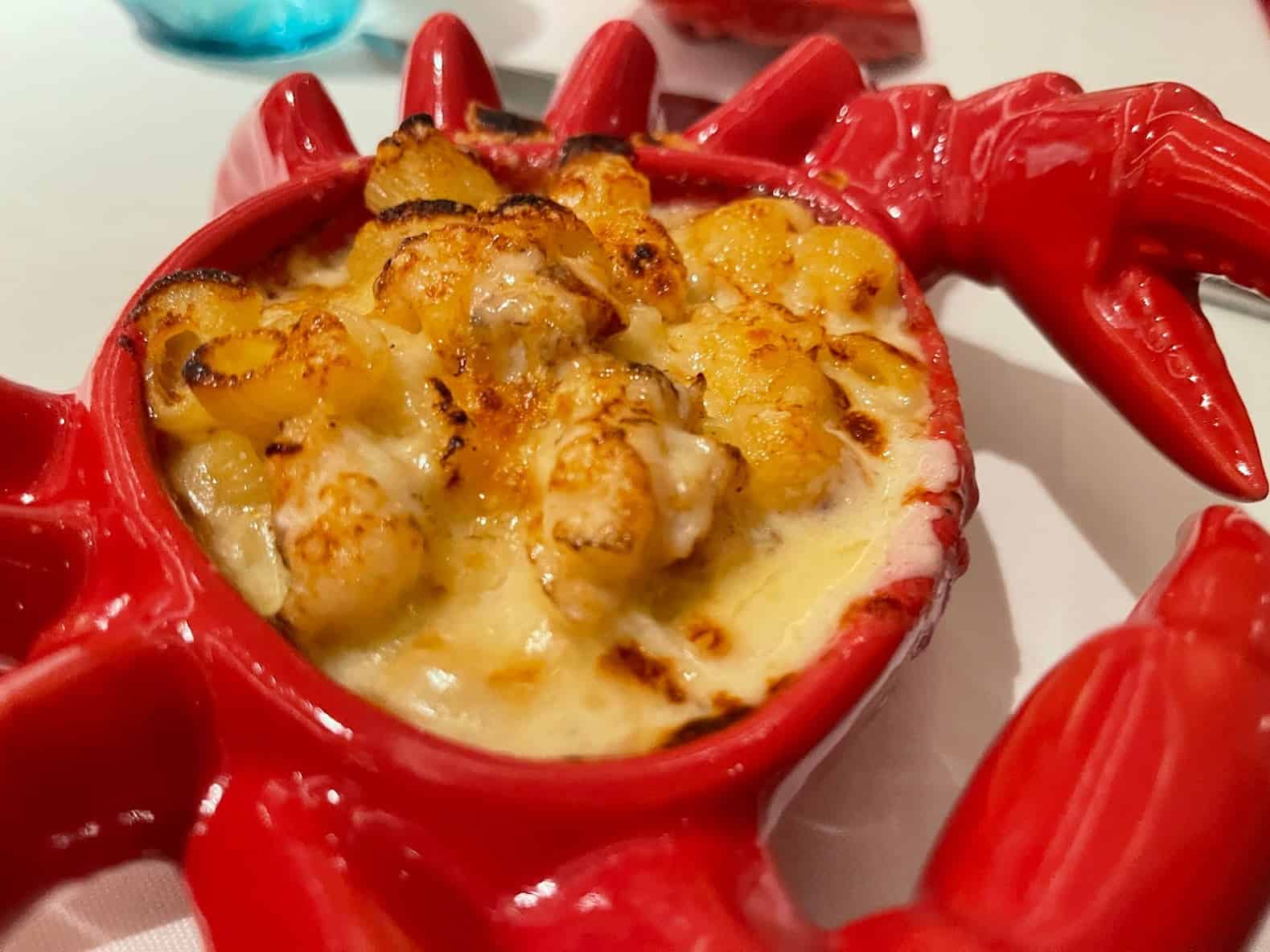 I wound up skipping dessert (which you know is not at all like me!) because we were running a little late and I wanted to catch the Playlist Production, Evolution of Rock. (And again, regular readers know that's not really like me, given that I'm not much of a show guy.) Evolution of Rock was pretty much what you expect from these kind of shows.
Some singing, some dancing, some special effects. I have to give it props for keeping me interested long enough to stay to at least the halfway point. If you've ever seen a show with me and seen the way I start to twitch about 15 minutes in, you know this is a pretty positive review.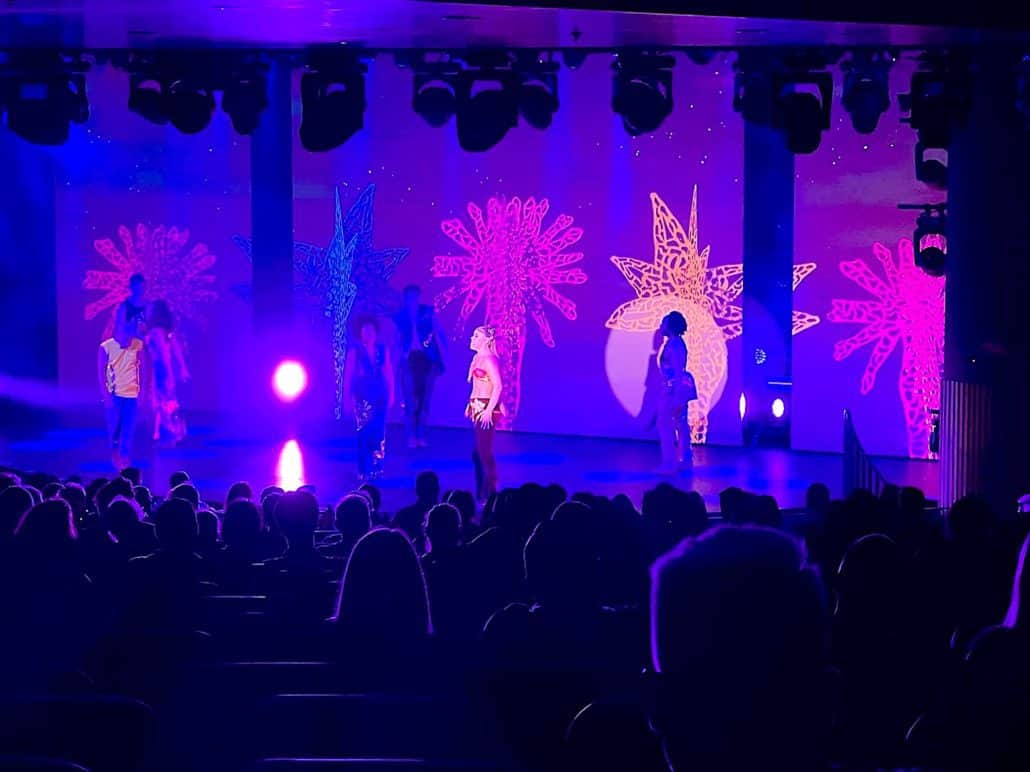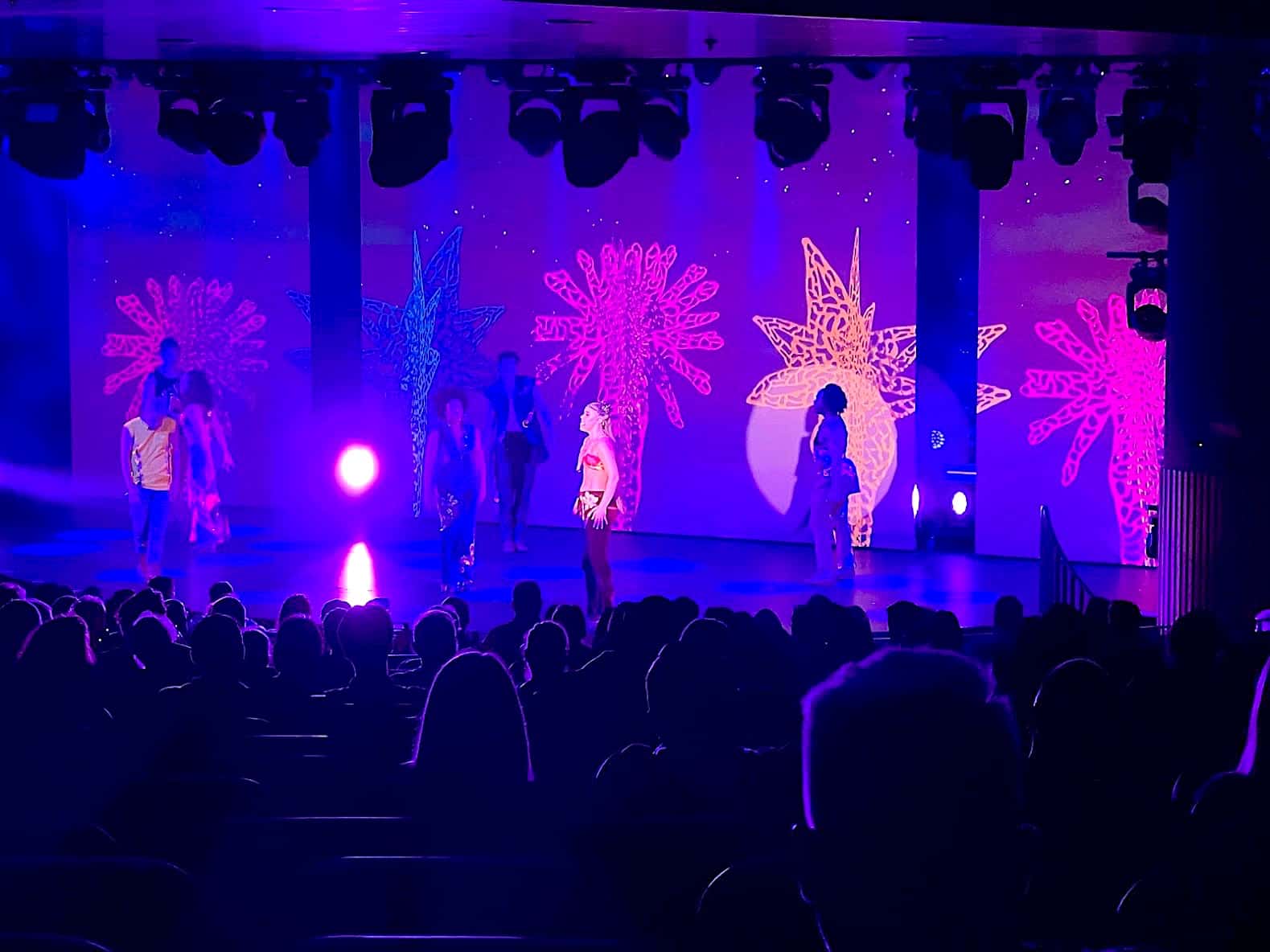 After that, it was over to the atrium — which at night serves as another show venue — to catch Chris Williams (aka the Flying Scotsman) hosting the Welcome Aboard Show.
Truth be told, as this was the late version of the traditional first-night presentation, there weren't an awful lot of people in attendance. That didn't stop Chris and the rest of the team from bringing as much energy as if the place was packed to the rafters.
By this point I was pretty exhausted and ready to call it a night. And even as I was heading back to the stateroom, I realized just how much of the ship I hadn't seen… which makes me realize as I'm typing this how much of it I haven't shown you!
We haven't even started to explore!
Fortunately, tomorrow's a sea day which means we'll have plenty of time to poke around.
So until then…
Don't miss my next Mardi Gras trip reports: