By day three of most cruises, I've somewhat settled into a pattern. I think that's true for a lot of people. The first day we wander around a new ship feeling like we'll never get our bearings. On day two, we catch ourselves about to go the wrong way.
"Nope, the Alchemy Bar is that way. I remember now," we'll tell ourselves.
By day three, we're walking around pretty confidently, at least between the spaces on the ship that have become our regular haunts.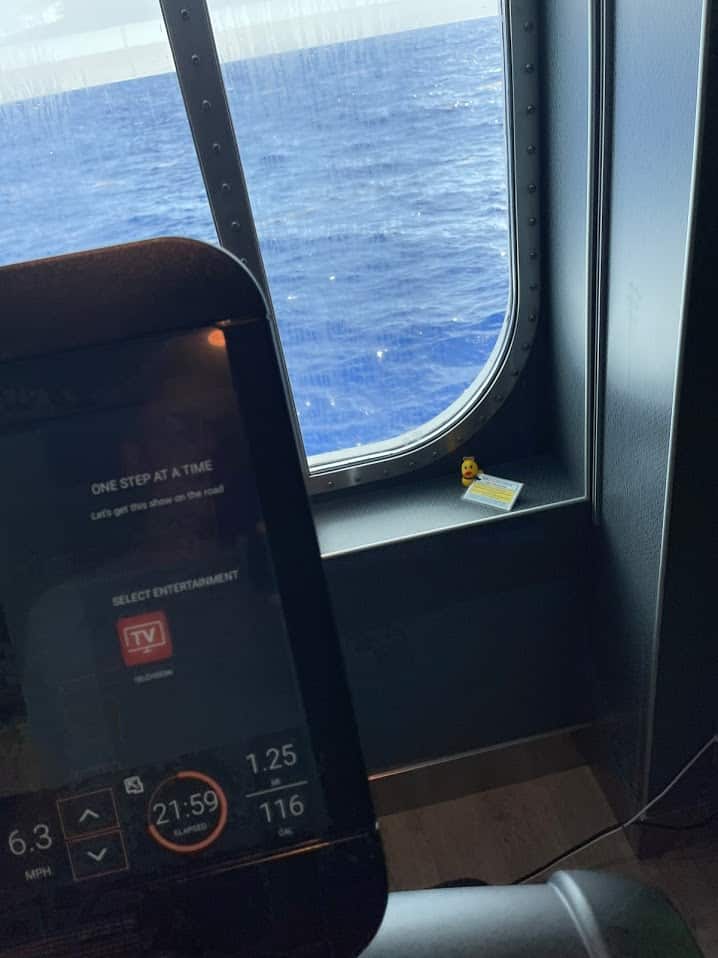 This morning, for example, I made it to the gym without having to consult a map.
Had an amazing workout — ran five miles, did some ab training — probably because the little guy in the picture above was coaching me from the sidelines. Yup, there are definitely ducks on board.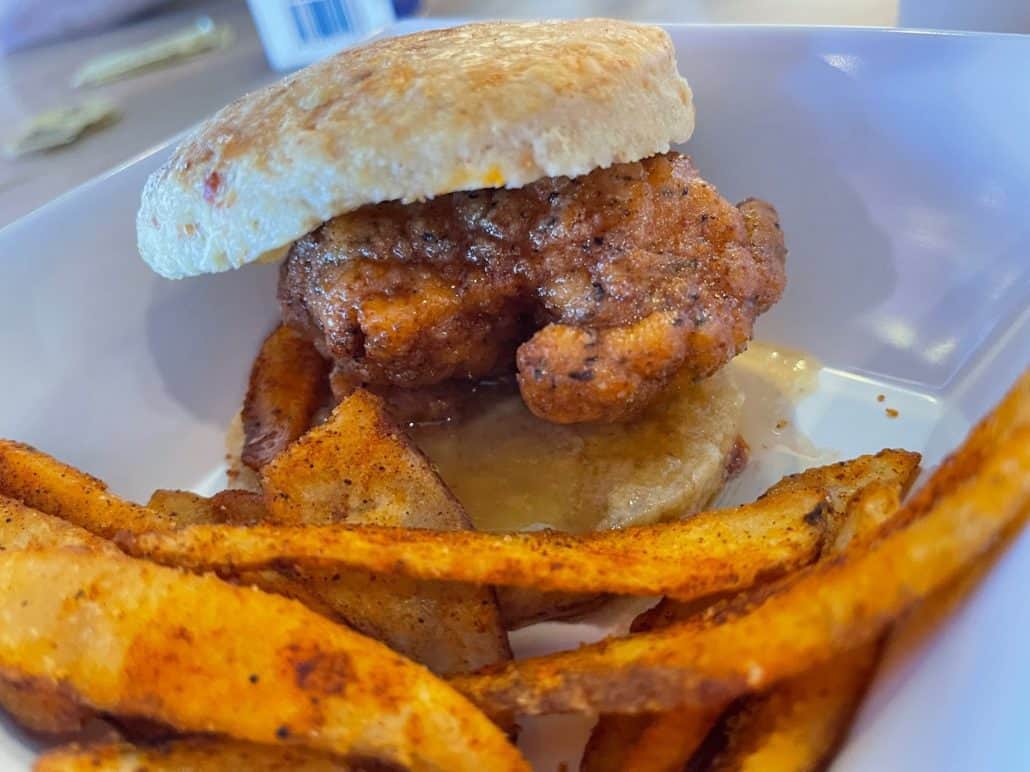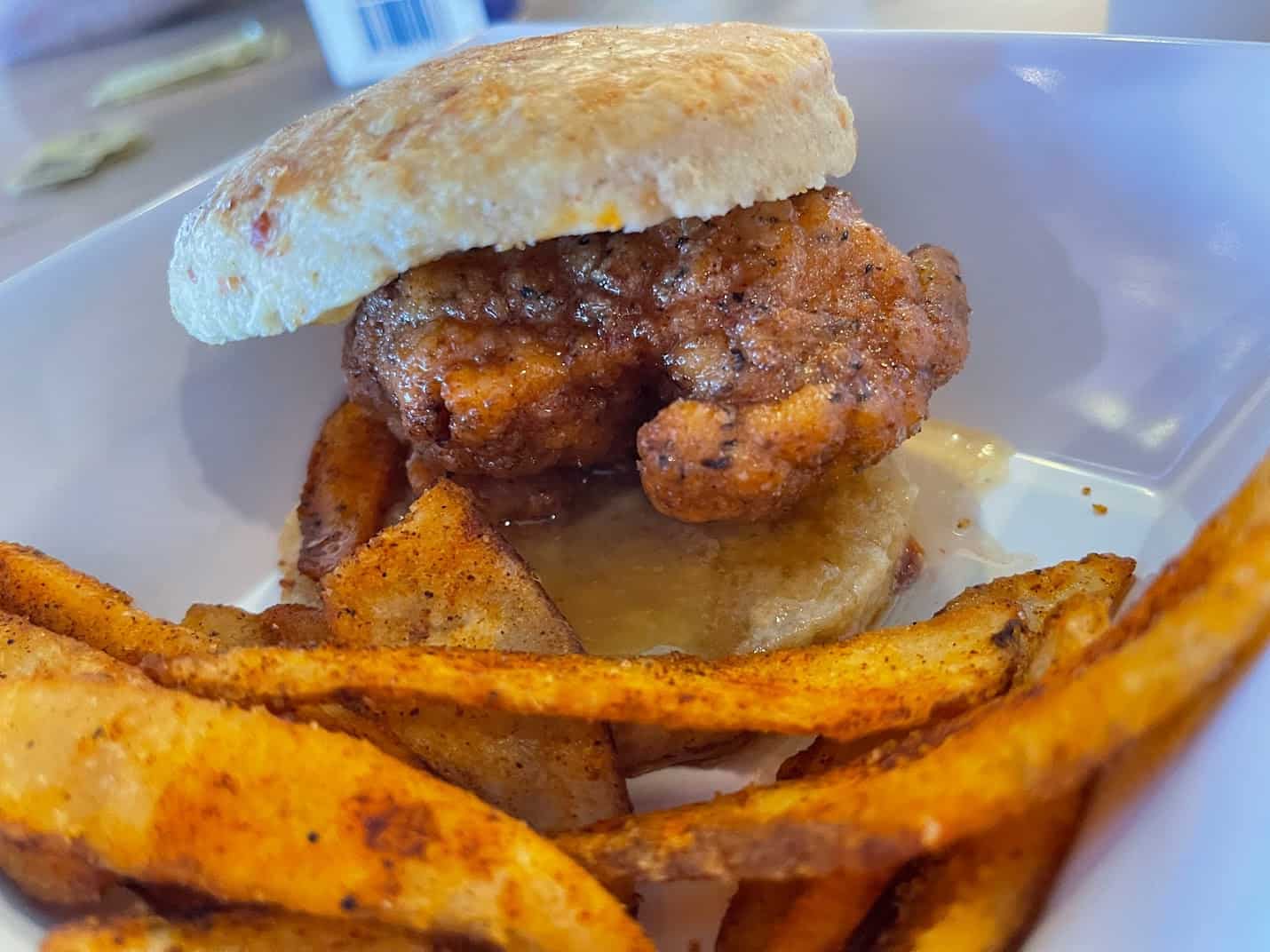 Having worked up a heck of an appetite, I headed to Big Chicken for the first of two breakfasts. I feel as if Mardi Gras might just have more places in which to grab breakfast than any other ship I've been on. The sandwich above is the honey chicken biscuit and it is pretty friggin' spectacular. I probably would have eaten two except I had to leave room for my second breakfast. I should probably warn you that what you're about to see is not pretty. But rest assured that no photographers were harmed or eaten in the making of this trip report.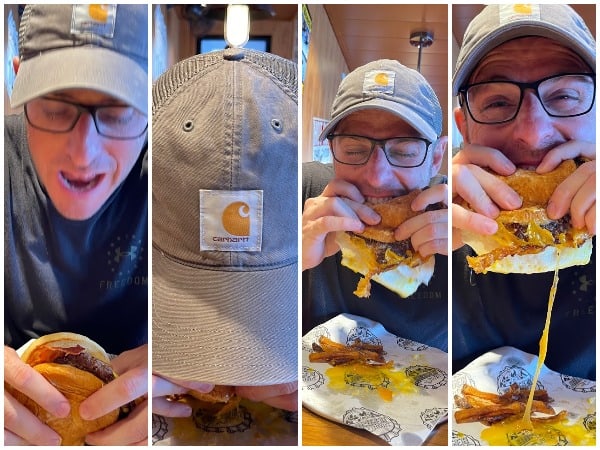 The All American sandwich at Guy's Burger Joint ain't pretty to eat, but it sure is good. It's the kind of thing where all you can really do is sort of dive in and eat like nobody's watching… which you kinda hope they aren't, but don't much care. It's just that good.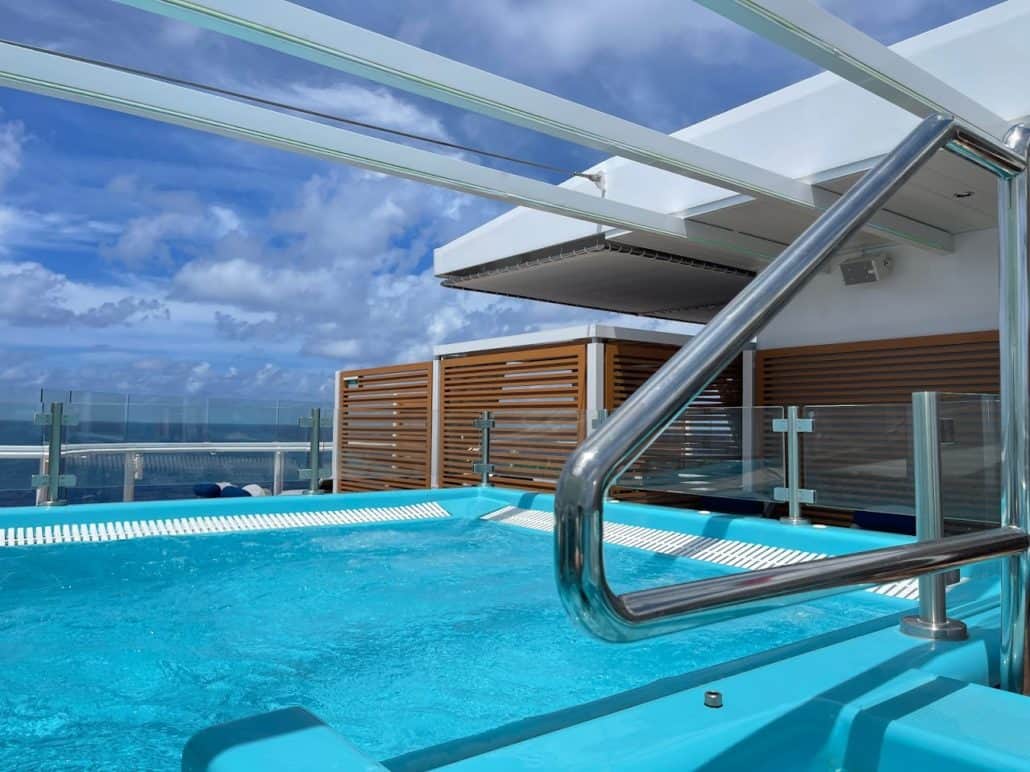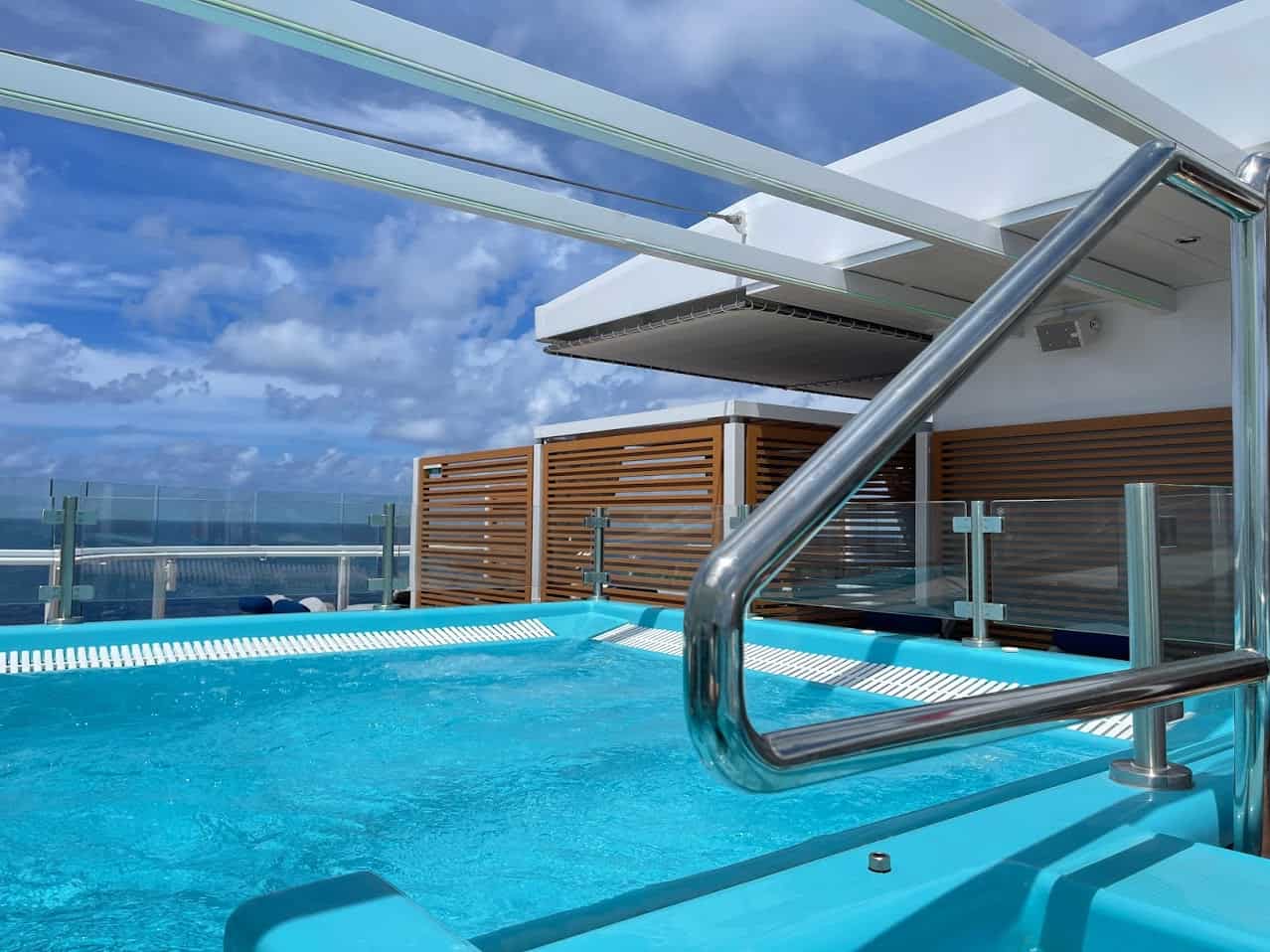 Fully stuffed, it was time to head to Loft 19, which you'll remember is the retreat set aside for Excel Suite guests and those who opt to buy a day- or week-long pass. One of the features is a huge hot tub with a great view.
There's not a pool in the Loft 19 area, so I went down one deck to the Serenity area, swam in the pool there for a bit, then came back up to the hot tub in Loft 19. Not a bad way to spend a few hours!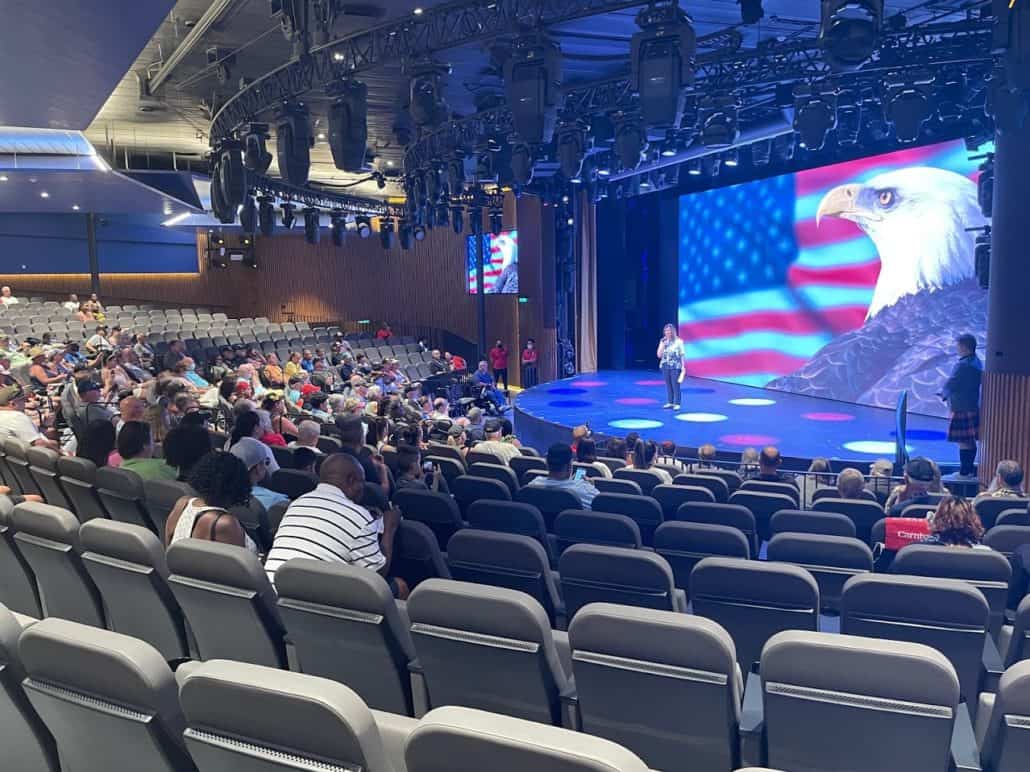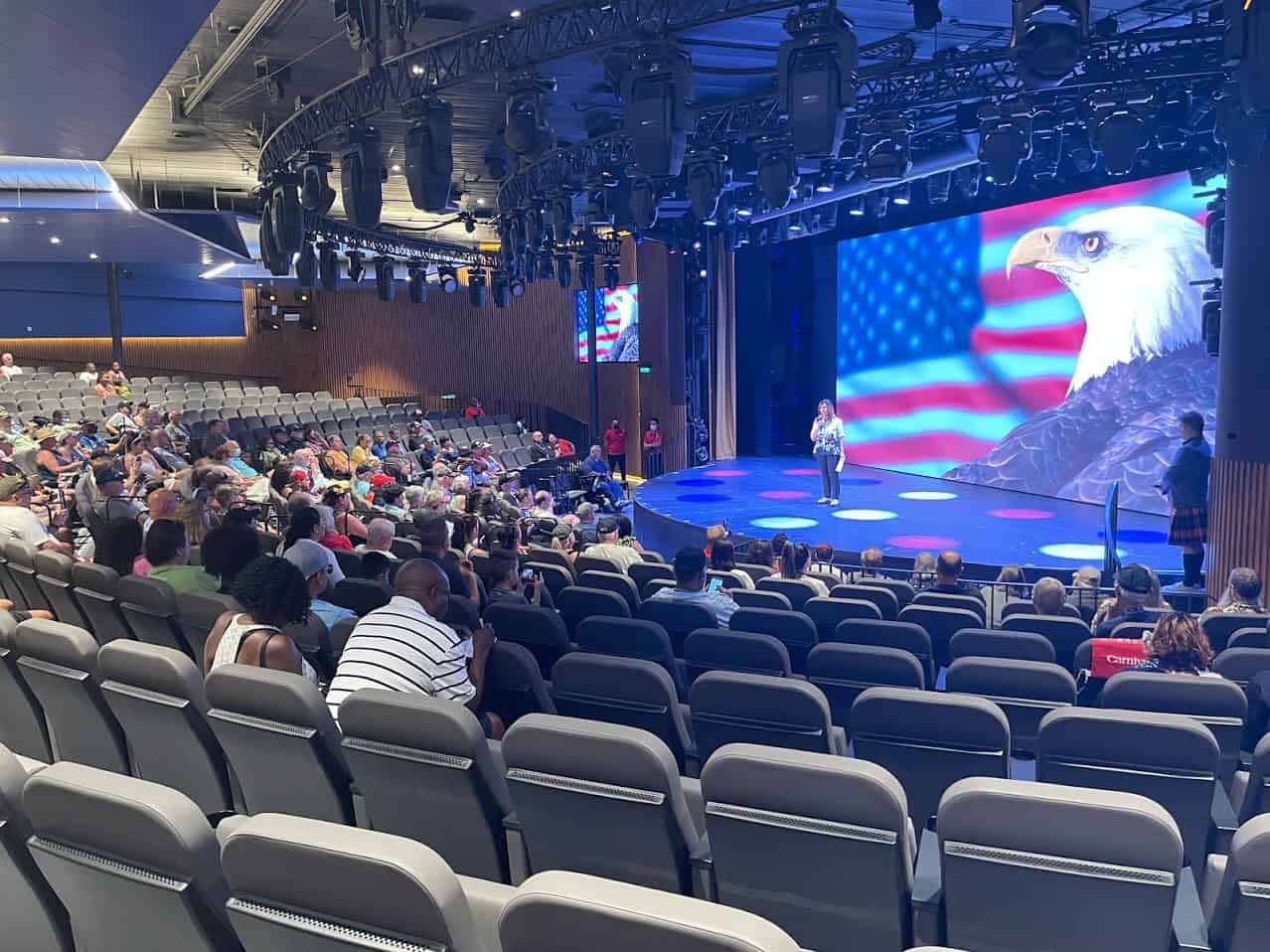 An early version of the week's schedule said that they would be holding the Military Appreciation event in the new Heroes Tribute Lounge. On the one hand, that makes sense, given that the lounge honors those who've served in the military, as does the event.
But my concern was twofold: I've seen how many people often attend these events, and while Heroes has additional seating thanks to the nearby Guy's Pig & Anchor, that area might be filled with people laughing and enjoying themselves, unaware of the more somber event taking place nearby.
But fortunately, it was ultimately moved into the theater where, as you can see, a good-sized crowd showed up, with a nice mix of both veterans and those who are appreciative of all they've done for this country.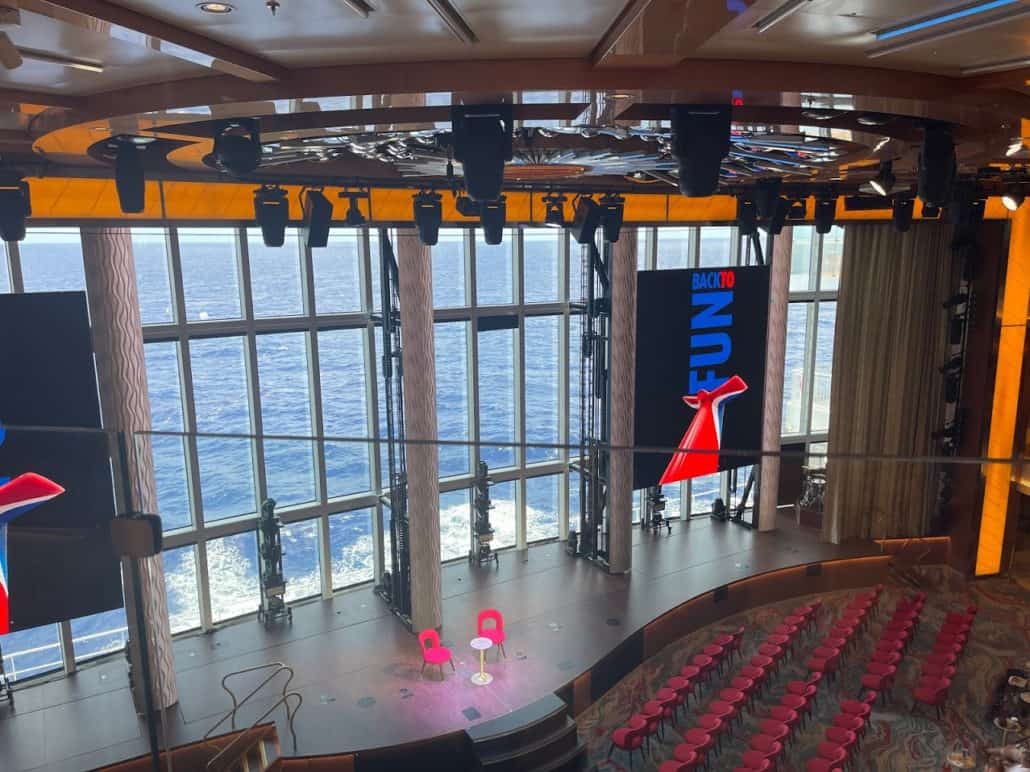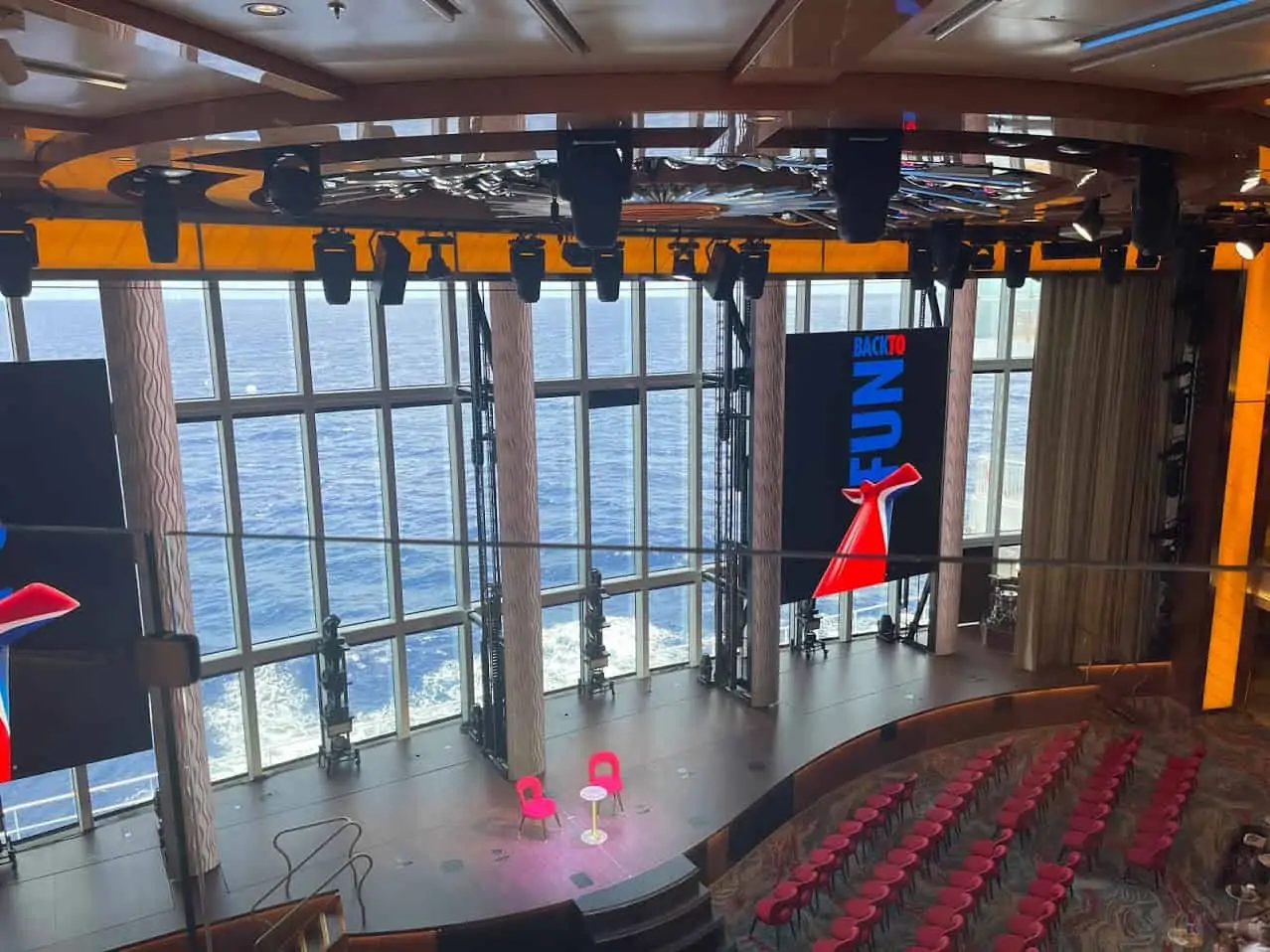 One of the things I haven't really had a chance to show you yet is the stunning views in Grand Central when the wall of windows isn't covered by the screens used during the various events this space hosts at night.
We came to the atrium for a Q&A session with Brand Ambassador John Heald and Carnival Cruise Line President Christine Duffy, and while there was plenty of seating on the floor, we headed for seats much higher up in order to take in the views.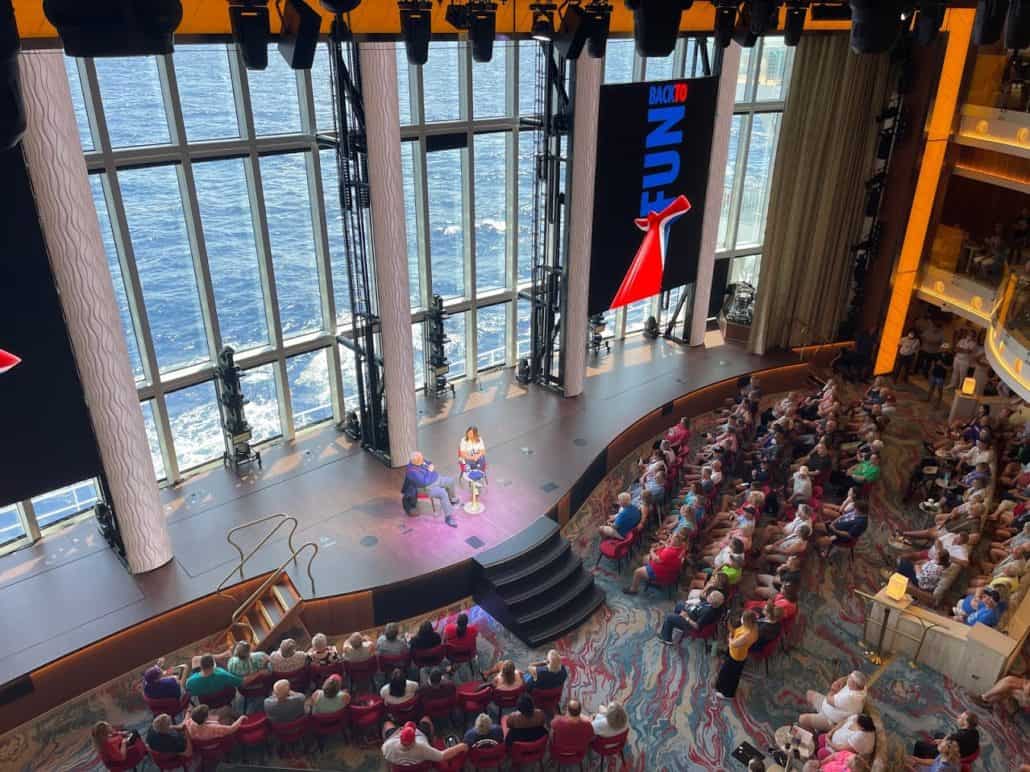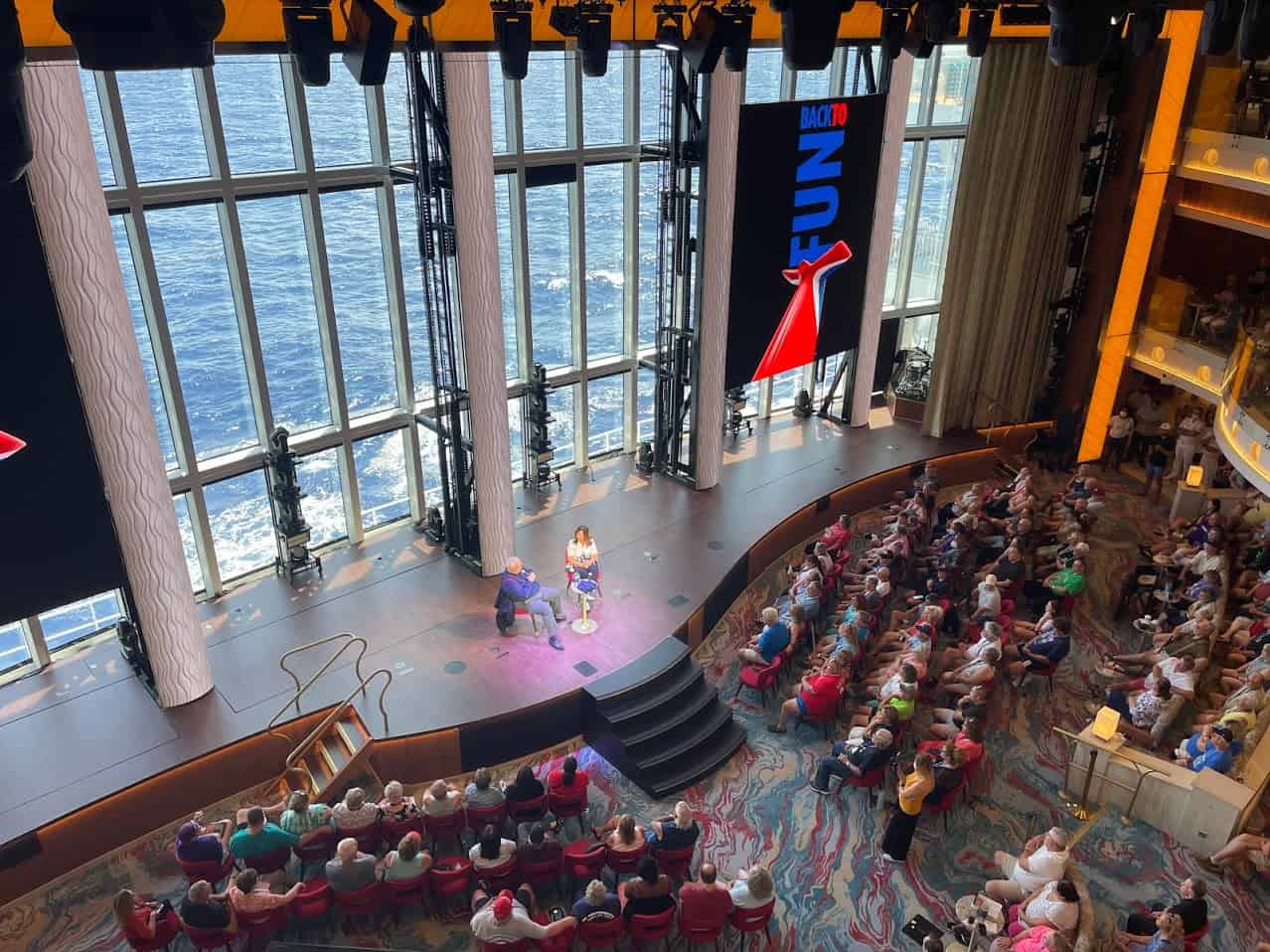 By the time the Q&A started, the space had, as you can see, really filled up. There was a lot of information presented as Duffy fielded questions about everything from new ships in the pipeline to the cruise line's policies regarding vaccinations, which has obviously been a controversial topic over the past few months. As she's said in the past, Duffy reiterated that as far as Carnival is concerned, it's all about keeping passengers, crew, and the ports they visit safe and at the moment, that means people need to be vaccinated.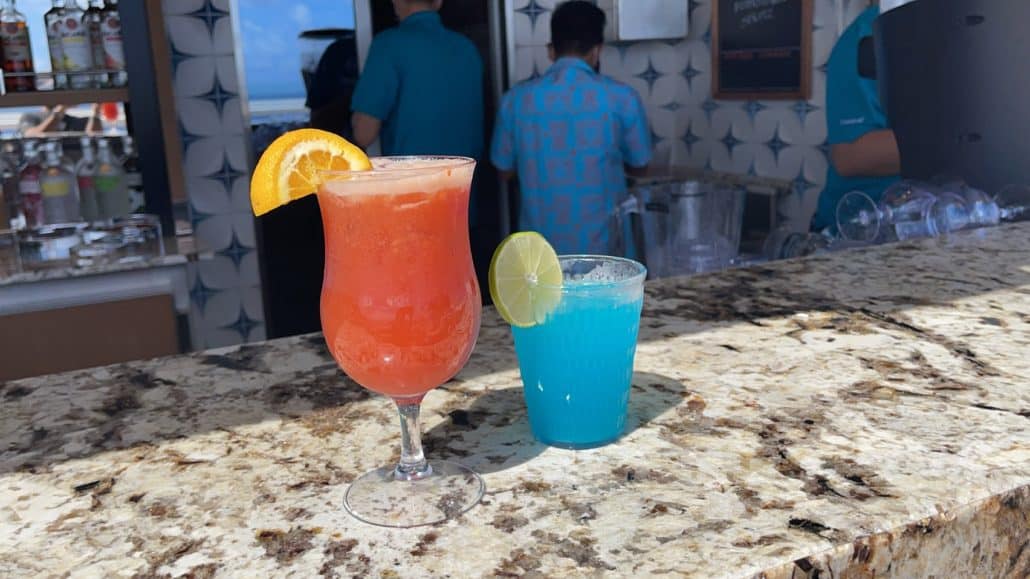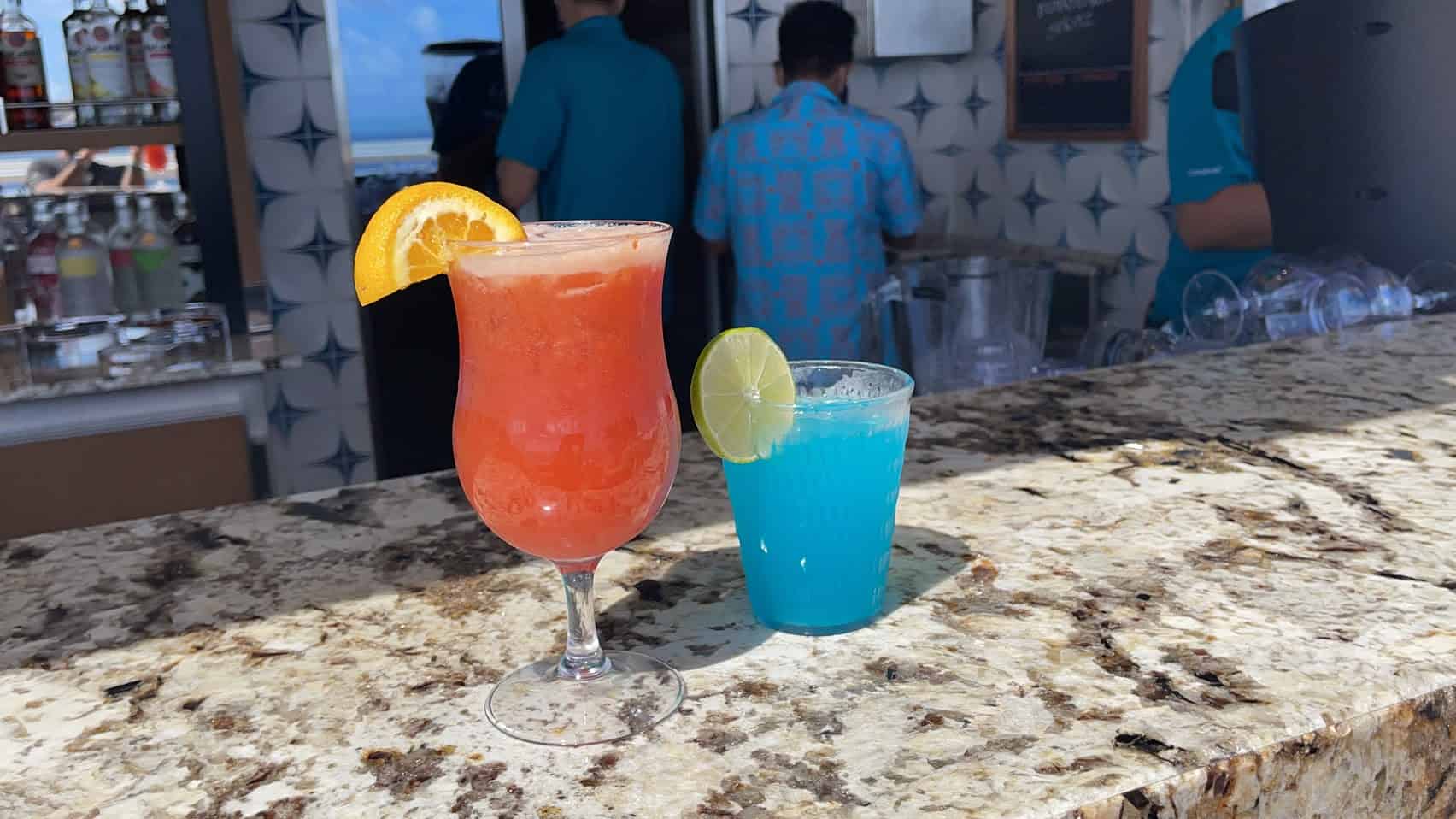 That afternoon there was a party in the Summer Landing zone billed as a "Backyard Bash." The whole thing was barnyard-themed with dancing, cornhole games, and even some square dancing.
We checked it out, then wandered over to another new bar called The Watering Hole.
One of the best things about this place (aside from the killer Planters Punch) is that it's one of those bars with a great view. Come for a drink, stay to stare at the ocean (and have another drink).
Feeling a little peckish, we swung by for some pizza and then did something that I almost never do unless I'm on a cruise ship: hit the arcade. I don't know why, but just about every time I'm on a ship in general and a Carnival ship in particular, I wind up hitting the arcade.
Usually, they have one or two days during the week when you can play at a reduced rate, and you know I keep my eyes glued to the HUB app to find out when that will be. What can I say… pizza and the arcade? I'm a big kid at heart.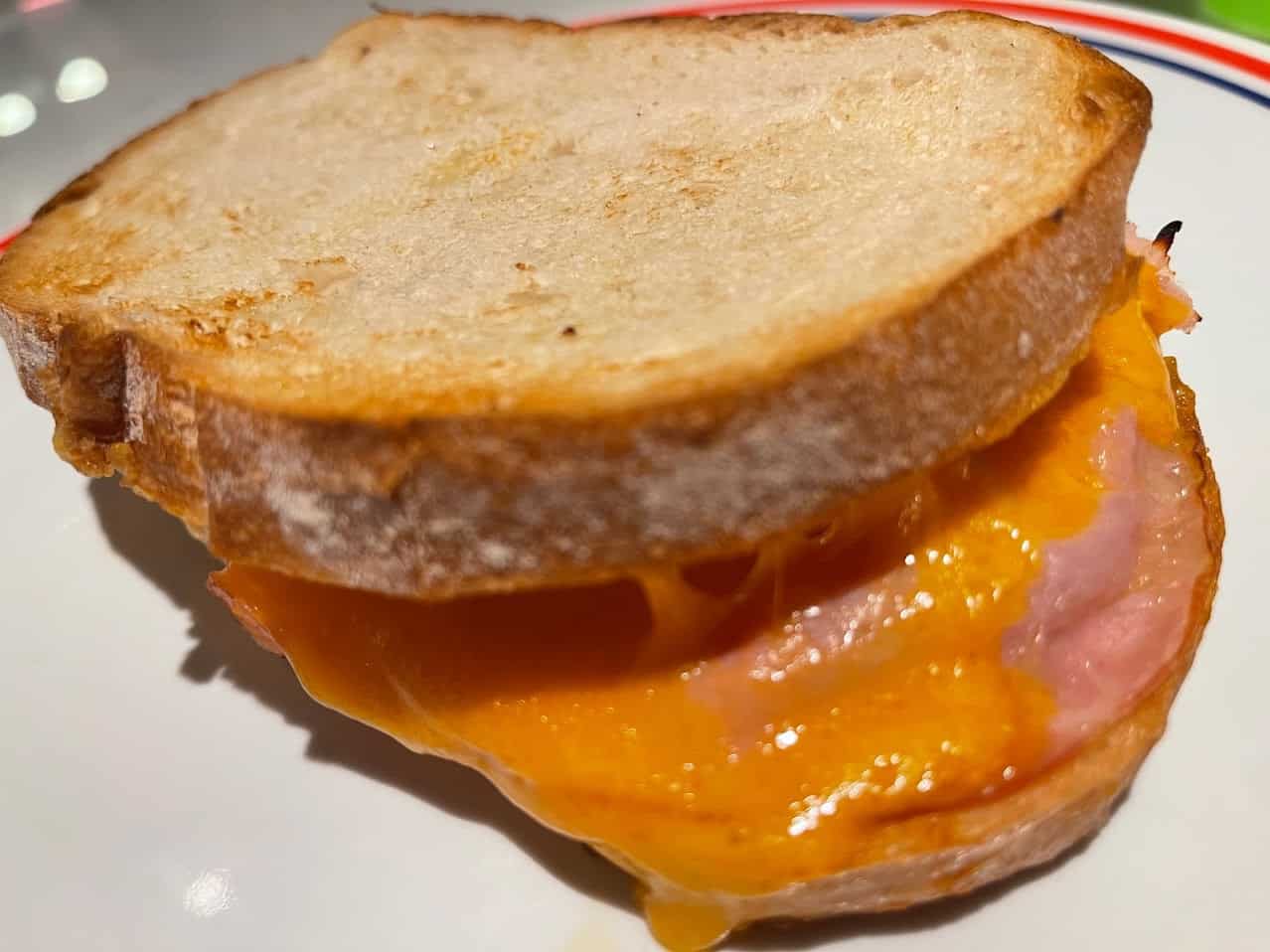 Dinner was a little bit of a challenge, truth be told, because there were people waiting to eat pretty much everywhere. I think one of the problems might be that many passengers aren't aware of some of the dining changes made on this ship.
They don't know they can eat at Cucina Del Capitano without a charge, for example, or that they can head there and order off the same menu as the main dining room if they want. It's not like you're going to go hungry, especially given how many food venues there are (not to mention how many are complimentary), but there are clearly a few messaging kinks that need to be worked out.
Eventually, we grabbed sandwiches at Piazza Panini. Decent, not great, but it kept the machine going for the rest of the night.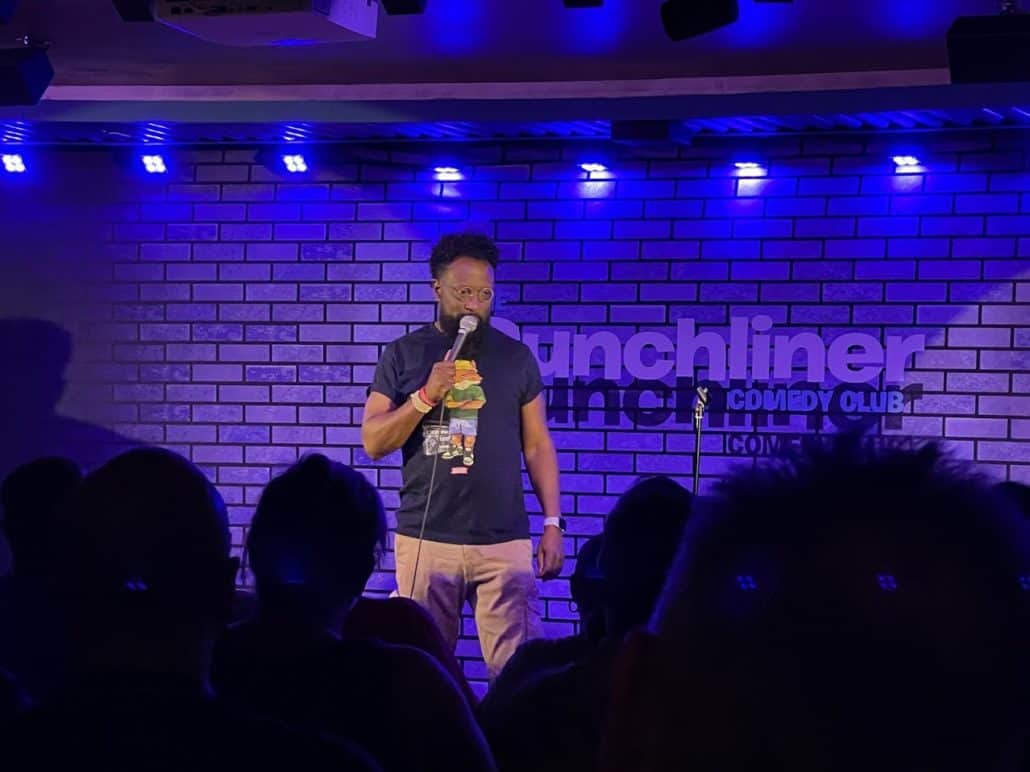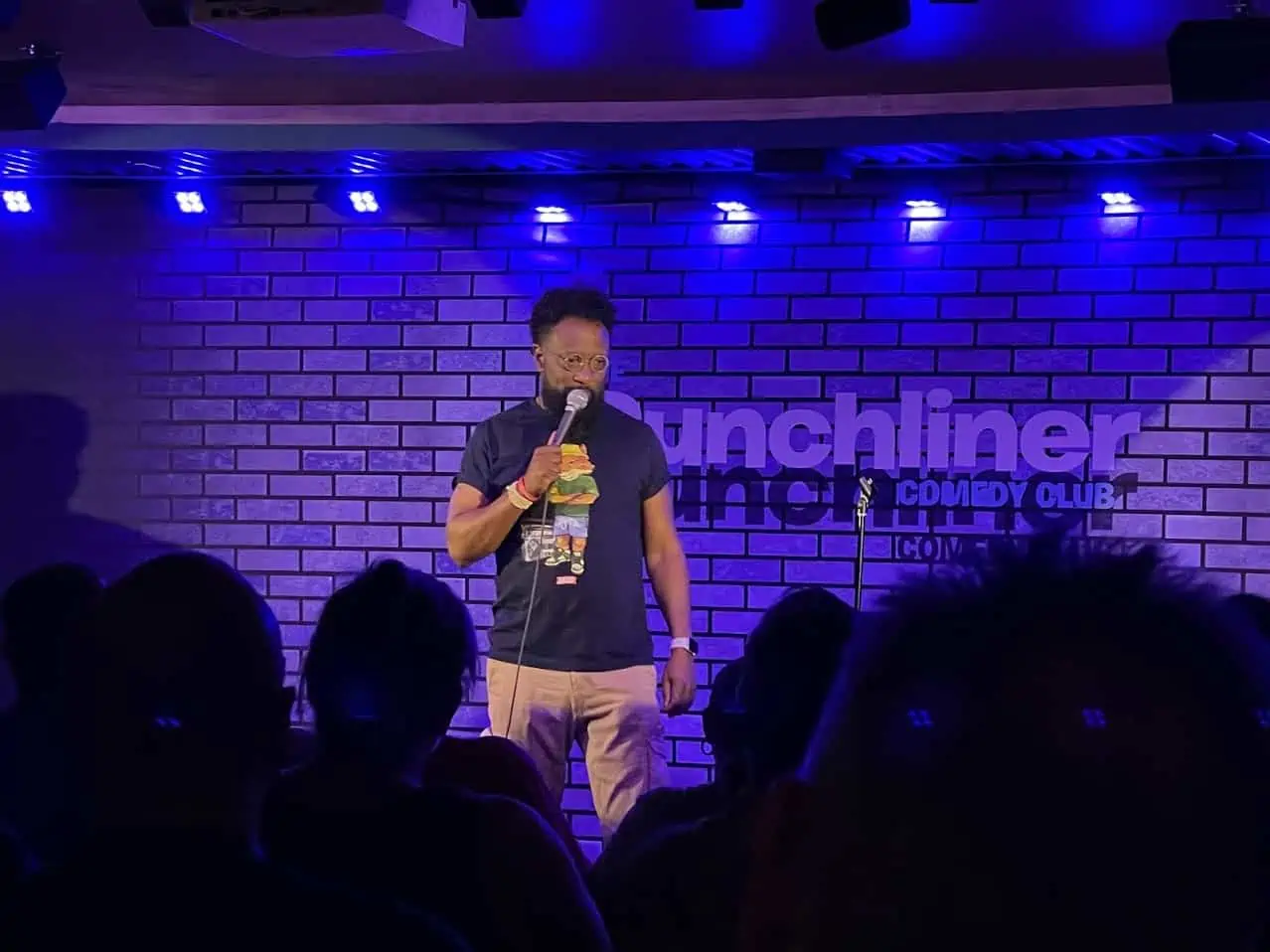 You've heard me say over and over that I'm not really a guy who sits through shows. The exception? Comedy shows. I love a good (or even mediocre) comic, so we headed to the Punchliner Comedy Club to catch Billy Washington's act… and man, was I glad we did. He was firing on all cylinders and had the audience in stitches. Heck, at one point he even broke out a keyboard and incorporated it into his set.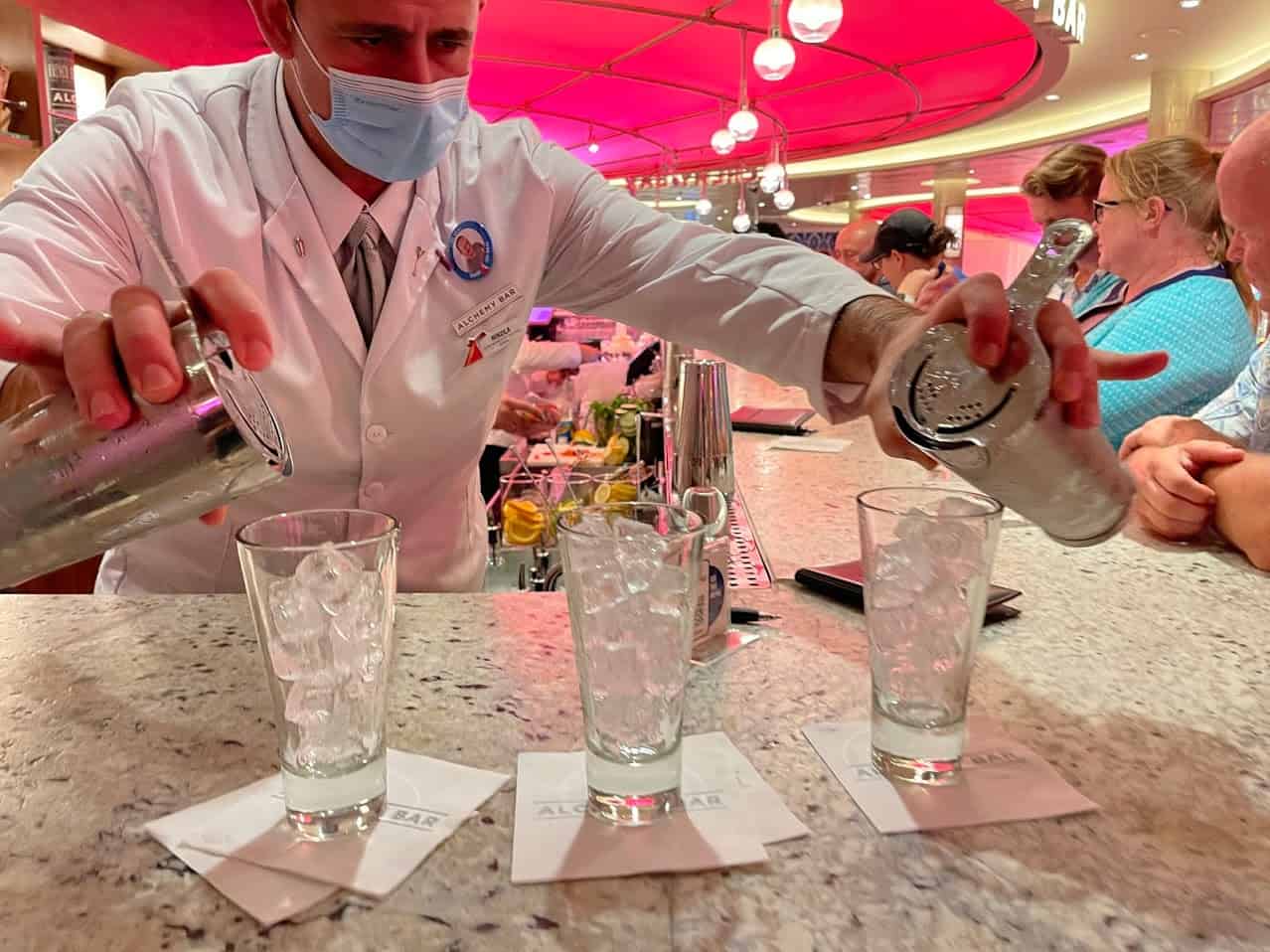 I kinda wanted to swing by The Brass Magnolia, but we were planning to watch the Family Feud show in the theater, so instead we swung by the Alchemy Bar to grab a couple of Cucumber Sunrises.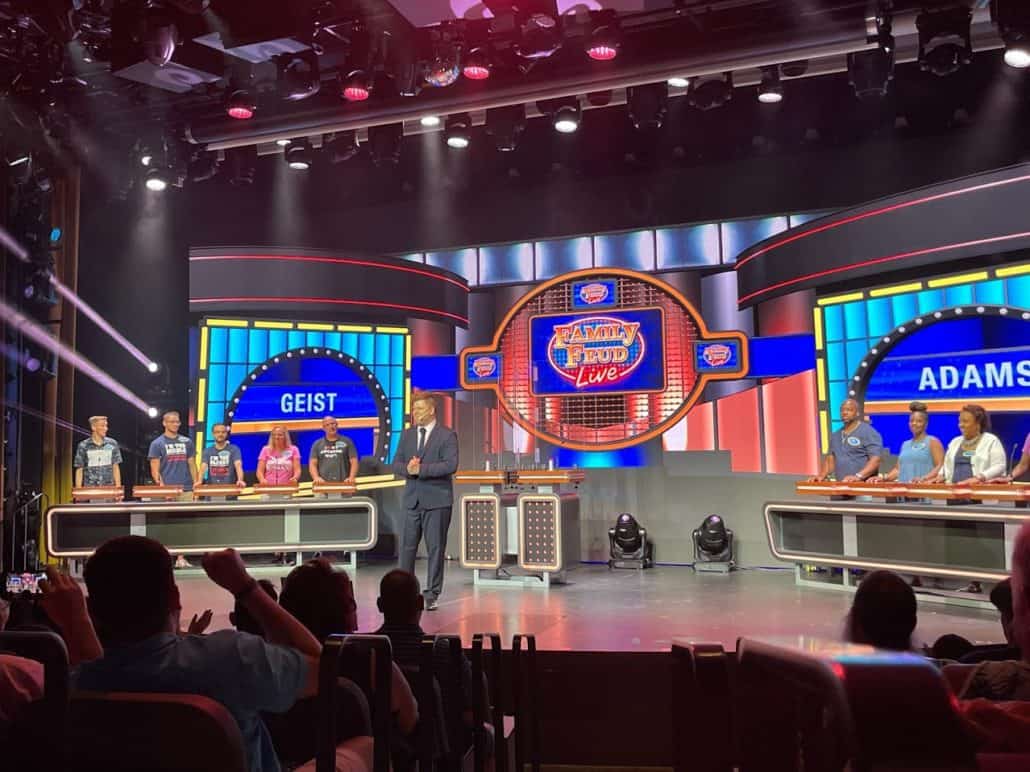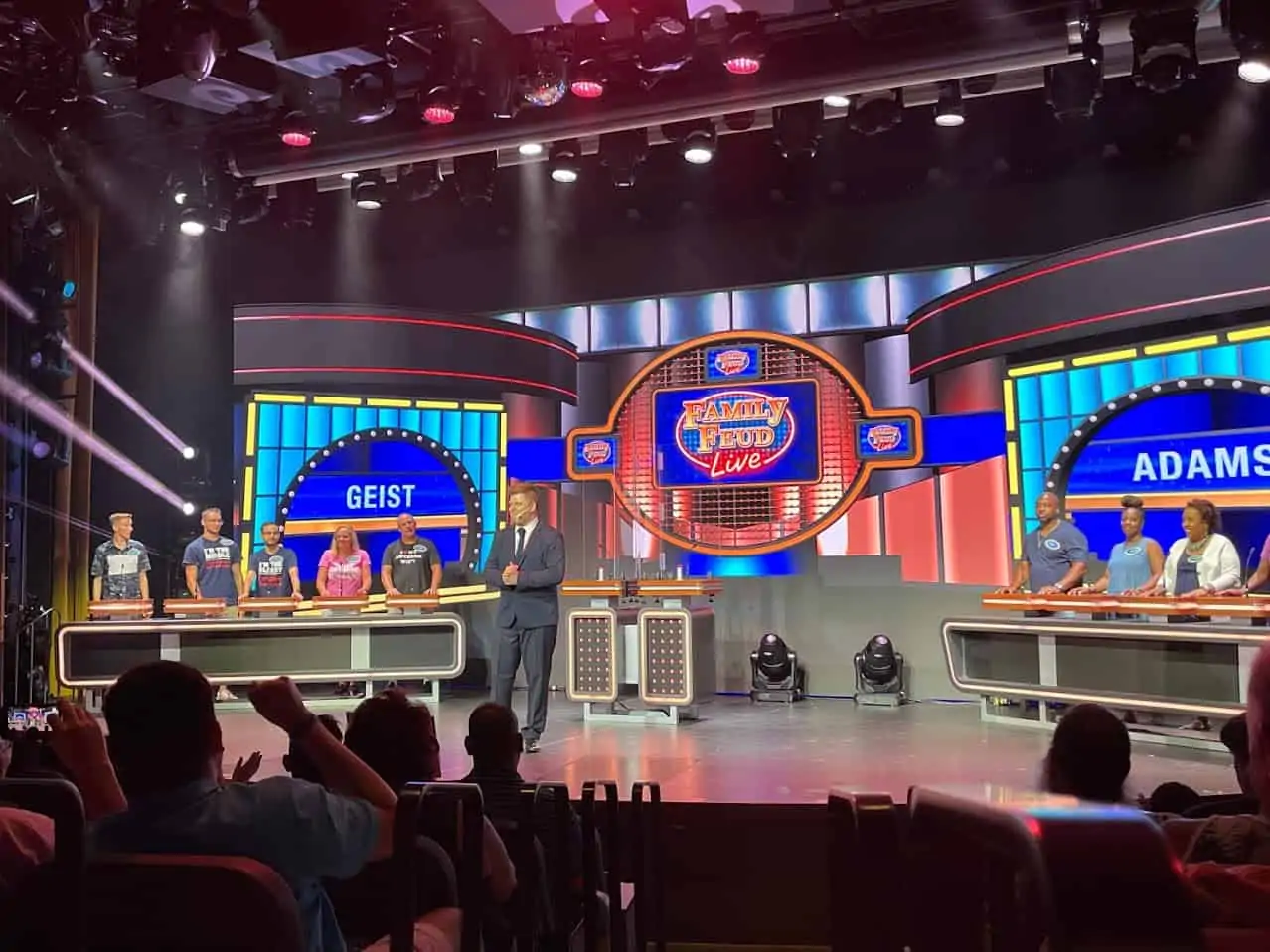 So let's talk about Family Feud for a second. If you were to look at the picture above quickly, wouldn't you swear you were watching the TV show? That's how fantastic the set is. They really got this right.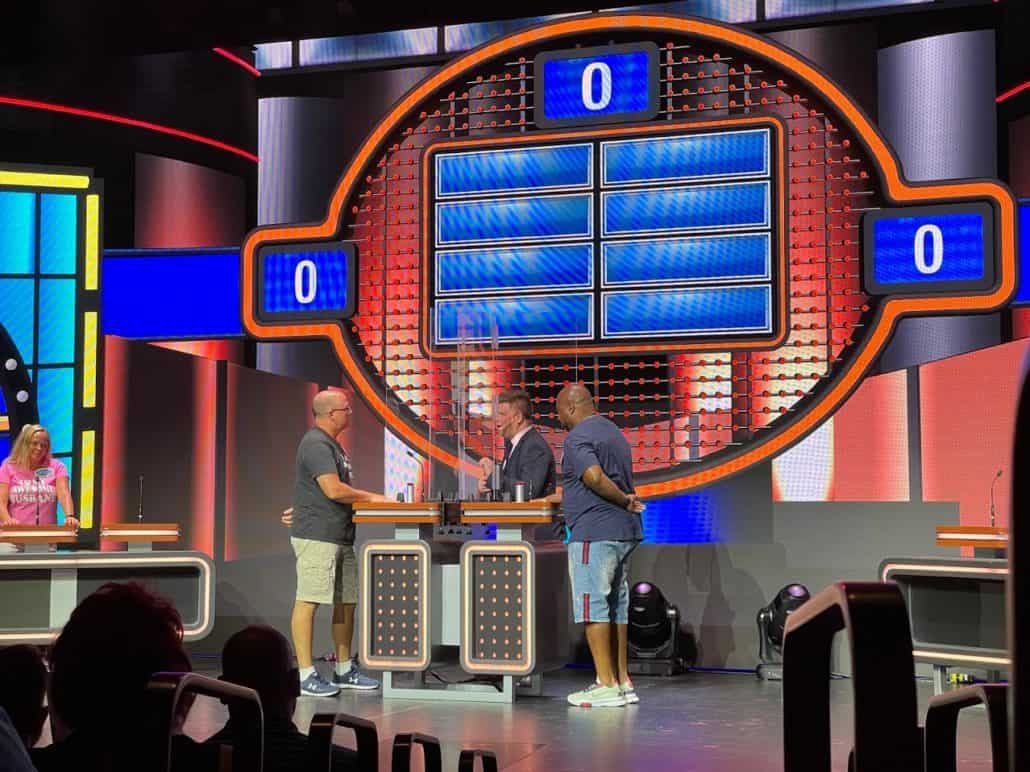 The show itself is fast-paced and fun. I suppose how fun probably depends on the families picked to take part, but I suspect they do a pretty good job of finding people they know will be able to deliver once they're up on that stage. The energy for this is kept high, which is important for the audience, who wind up feeling very much a part of the show.
At this point, I was pretty beat, so I called it a night.
Tomorrow we're making our first port visit. I was going to say that this will be the first time Mardi Gras visits San Juan, but I suppose that's going to be true of everywhere we visit during this sailing, isn't it?
In any case, until tomorrow…
Check out my other Mardi Gras trip reports: