Waking up at sea never gets old. I'm pretty sure I could easily be one of those people you read about who, when they retire, live out their lives on cruise ships.
That was my first thought as I stepped out onto the balcony of my Ocean Suite stateroom on Mardi Gras, which as you probably know is currently on her maiden voyage.
This was going to be a sea day, giving me another chance to explore. Which is good, because she's a big ship and there's a lot that I have yet to experience. Heck, I'm still finding my way around.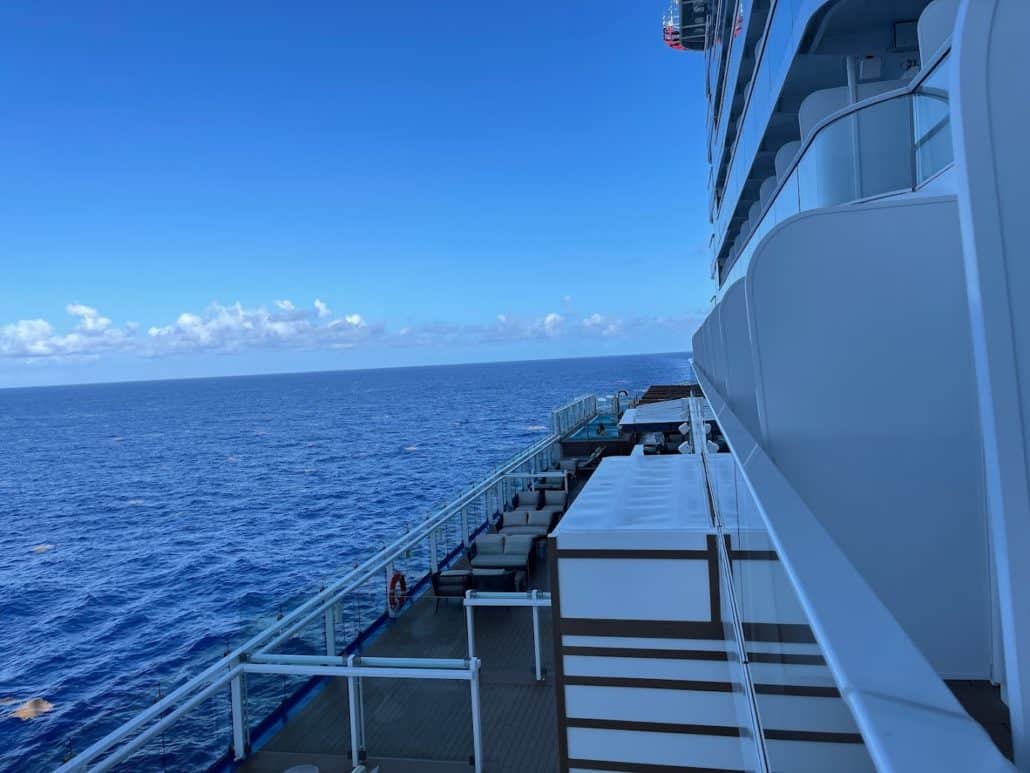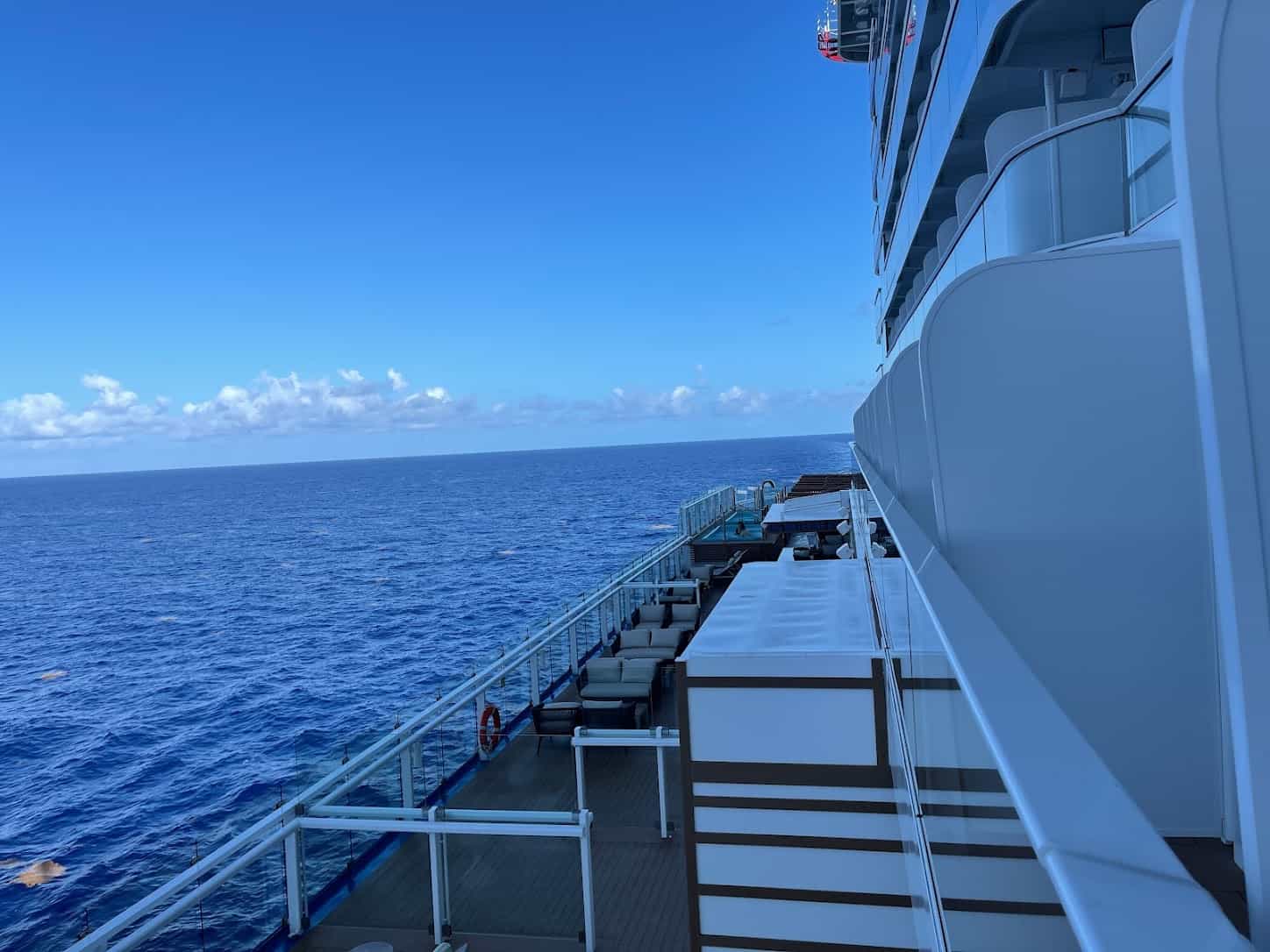 Sea days tend to be eating days, so I made sure to head to the gym first thing. As with all ships right now, Mardi Gras is sailing at a reduced capacity, so it's a little bit tough to judge just how well she'll handle crowds when eventually sailing fully booked.
But the gym is a big space with lots of equipment and machines. And, as with the best cruise ship gyms, it has a wall of windows so the space feels bright and airy, plus you have a view while working out.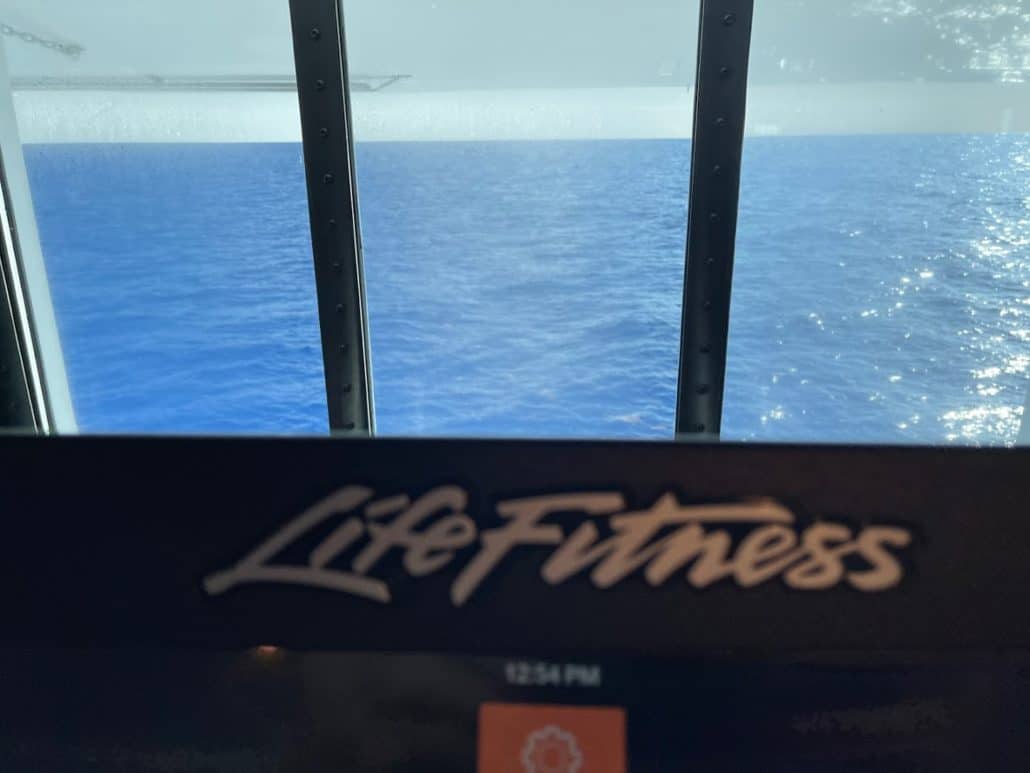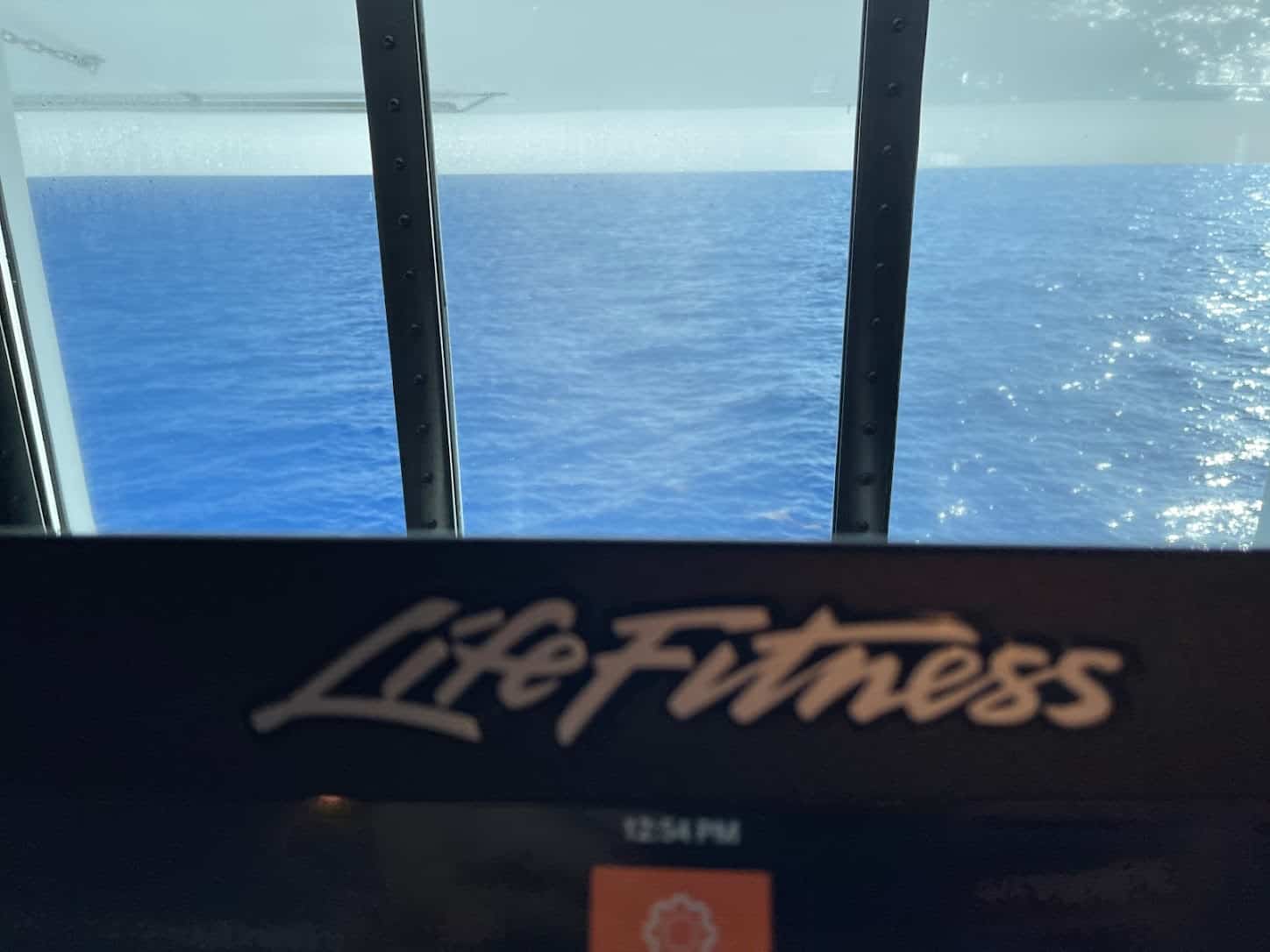 If the gym was a stateroom, they'd have to list it as a "partially obstructed ocean view" because the lifeboats are directly above. But it's still a lot better than the view from most gyms, so I'm not going to complain.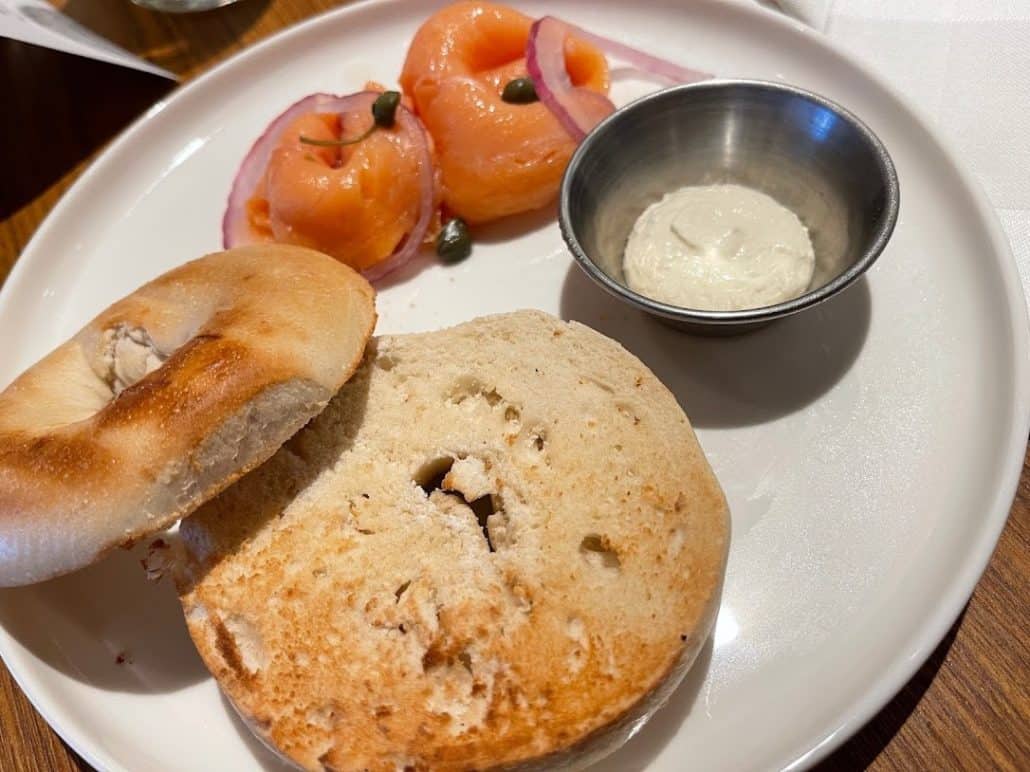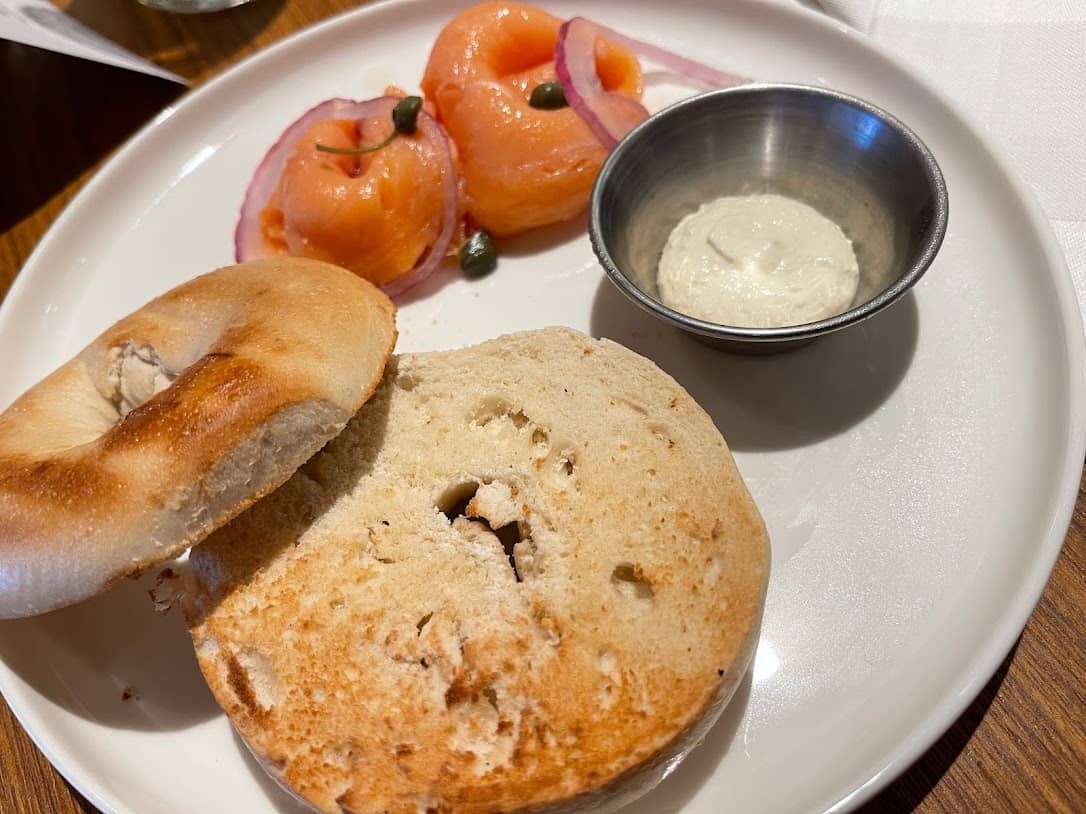 It's a good thing I hit the gym, because this was going to be a two-breakfast kind of day. First, we went to Cucina del Capitano.
What a lot of people don't realize is that on Mardi Gras, you can head to this restaurant — normally, as the name implies, an Italian eatery  — and order breakfast from the same menu you will find in the main dining room.
It's a great way to disperse the crowds who are looking to eat breakfast. Plus, because a lot of people haven't caught on to this yet, if the main dining room has a wait, you can head to Cucina del Capitano, which likely won't.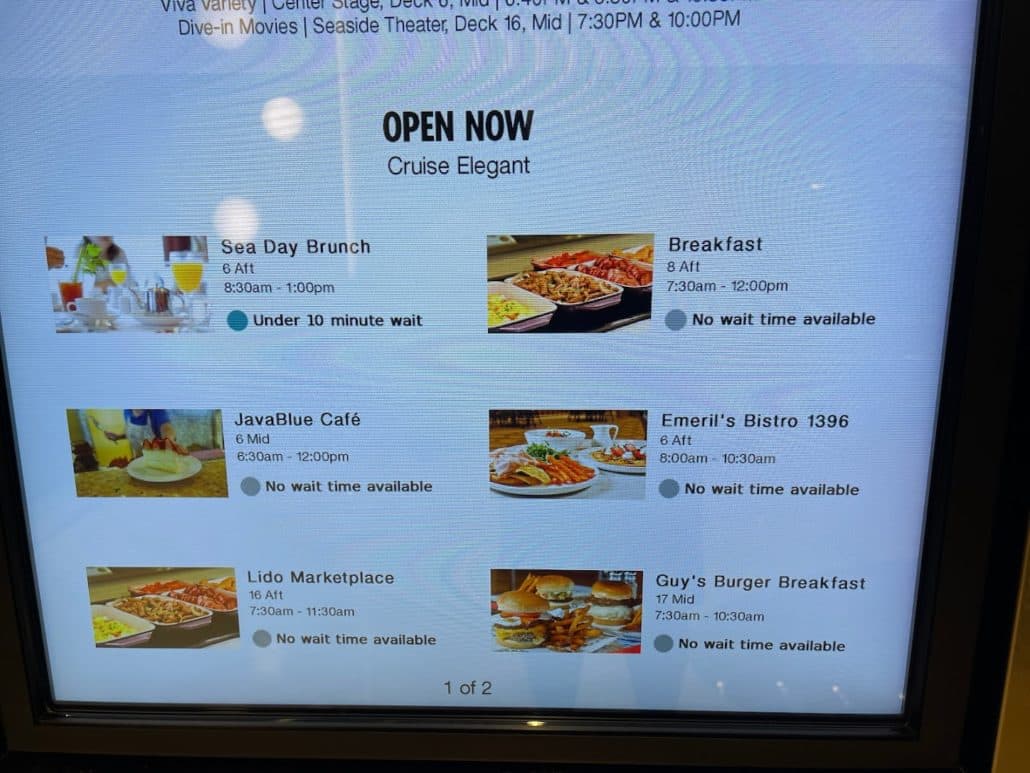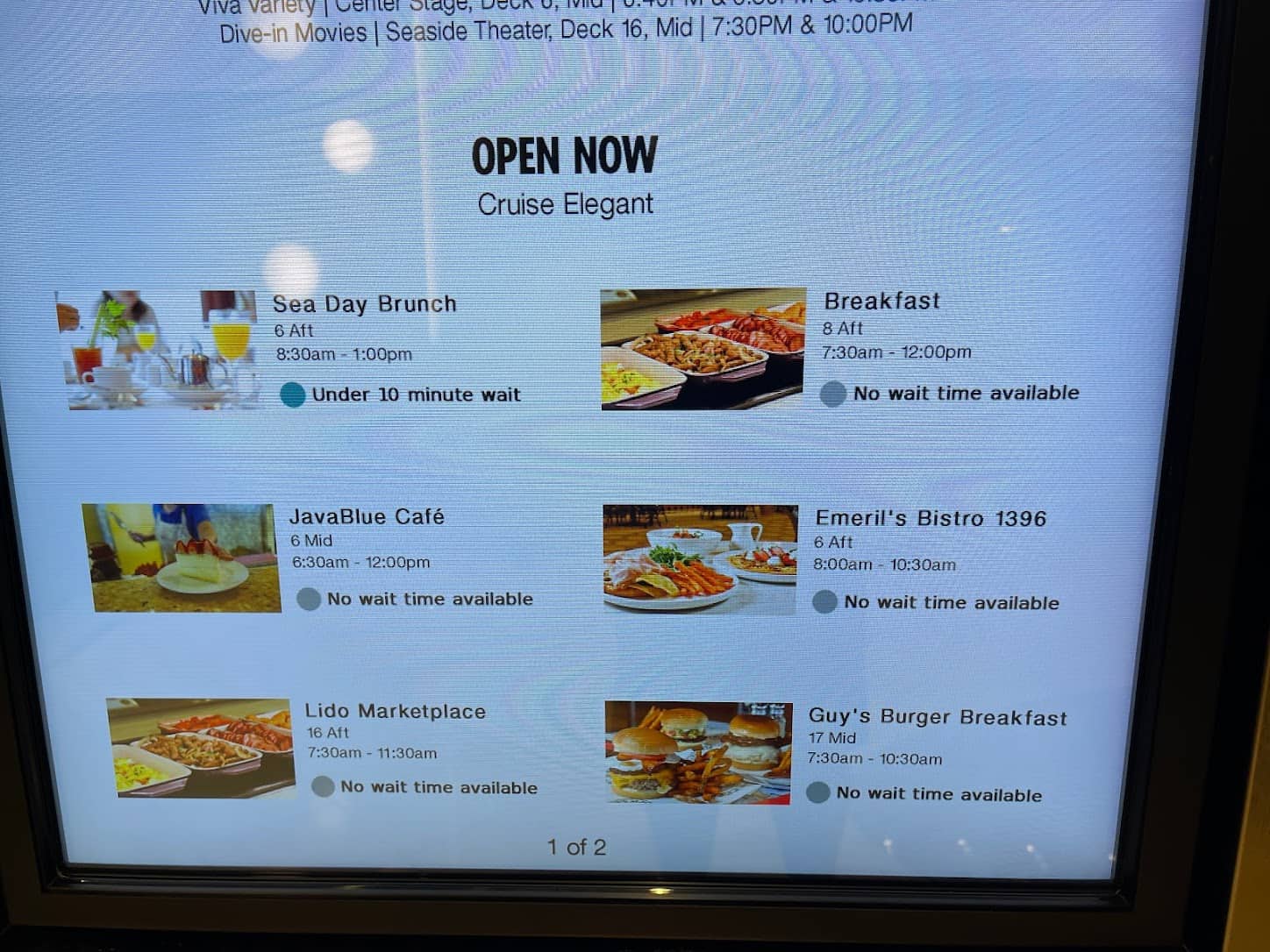 There's plenty of signage around the ship to tell you which venues are open for what meal (and what the wait time is), and you can also access this info on the HUB app.
Yes, they serve a sea day brunch, and I know some of you are probably shocked that I didn't hit that, as it's one of my faves. But I had something else in mind for breakfast. Er, second breakfast.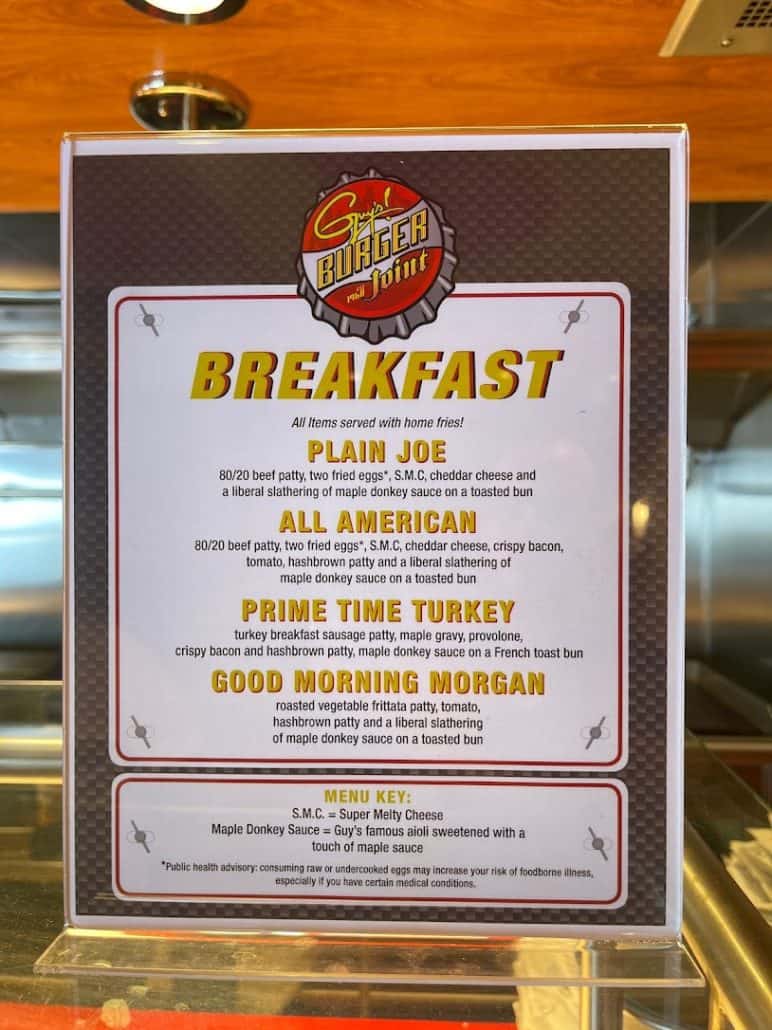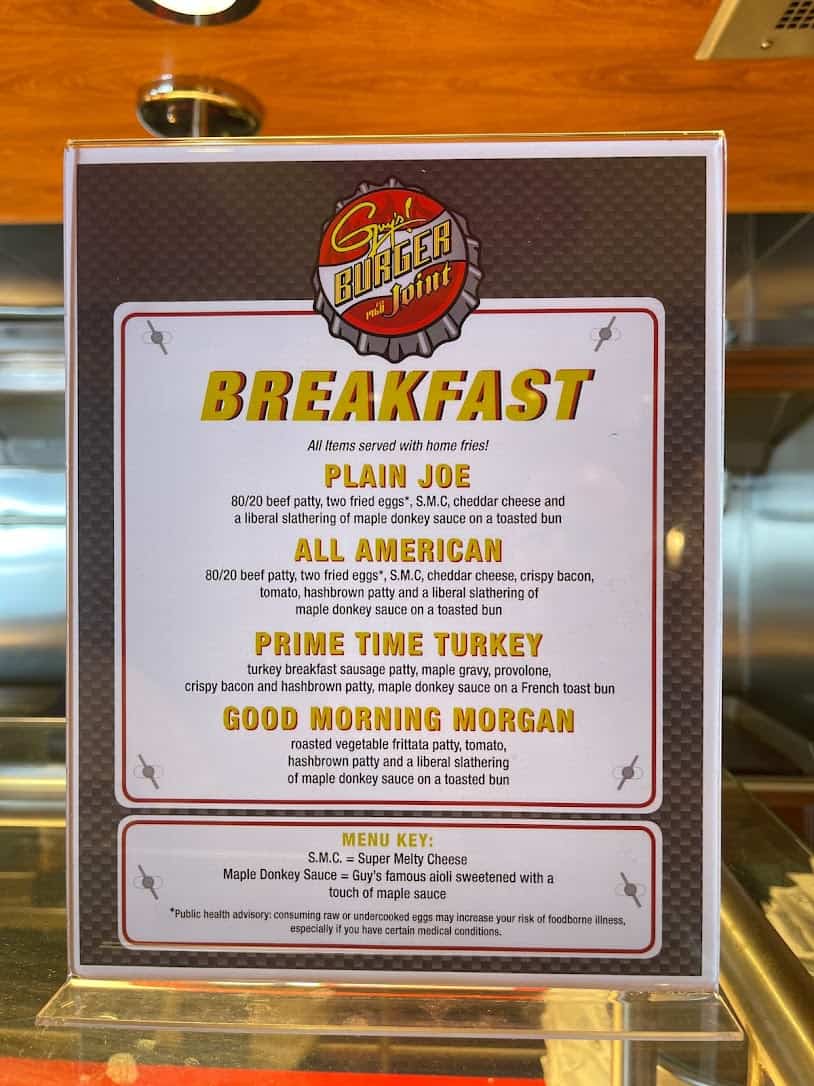 Guy's Burger Joint serves breakfast on the Mardi Gras and while I'm not 100 percent certain that I need another excuse to eat at this particular calorie-busting spot, I had to give it a try.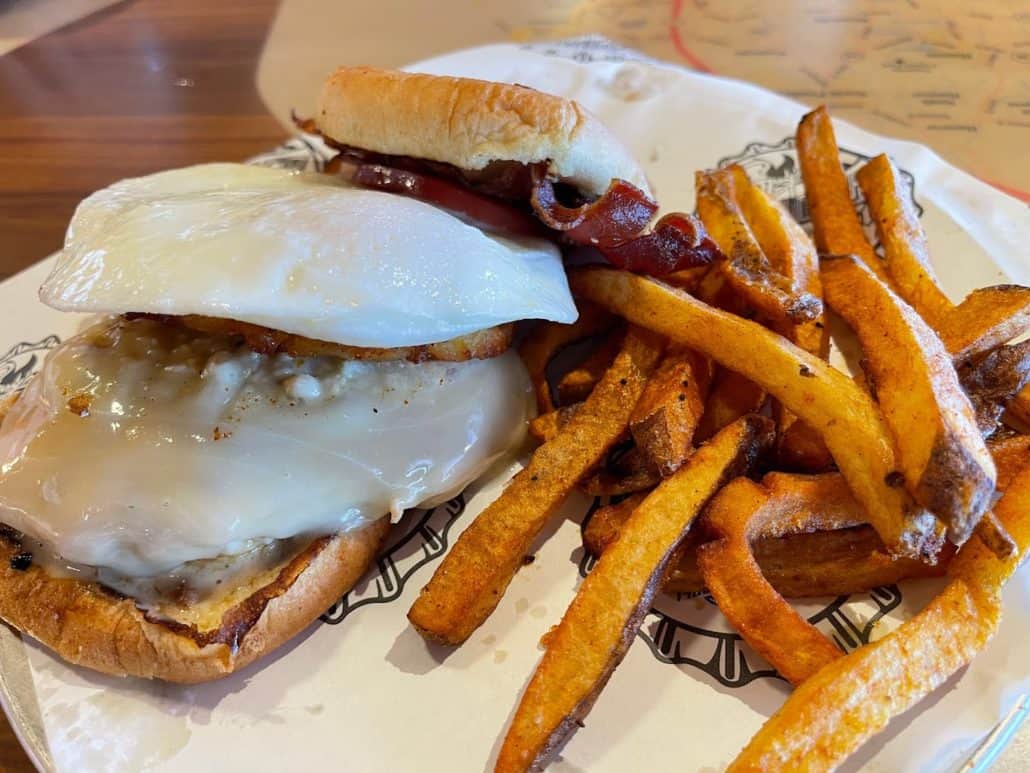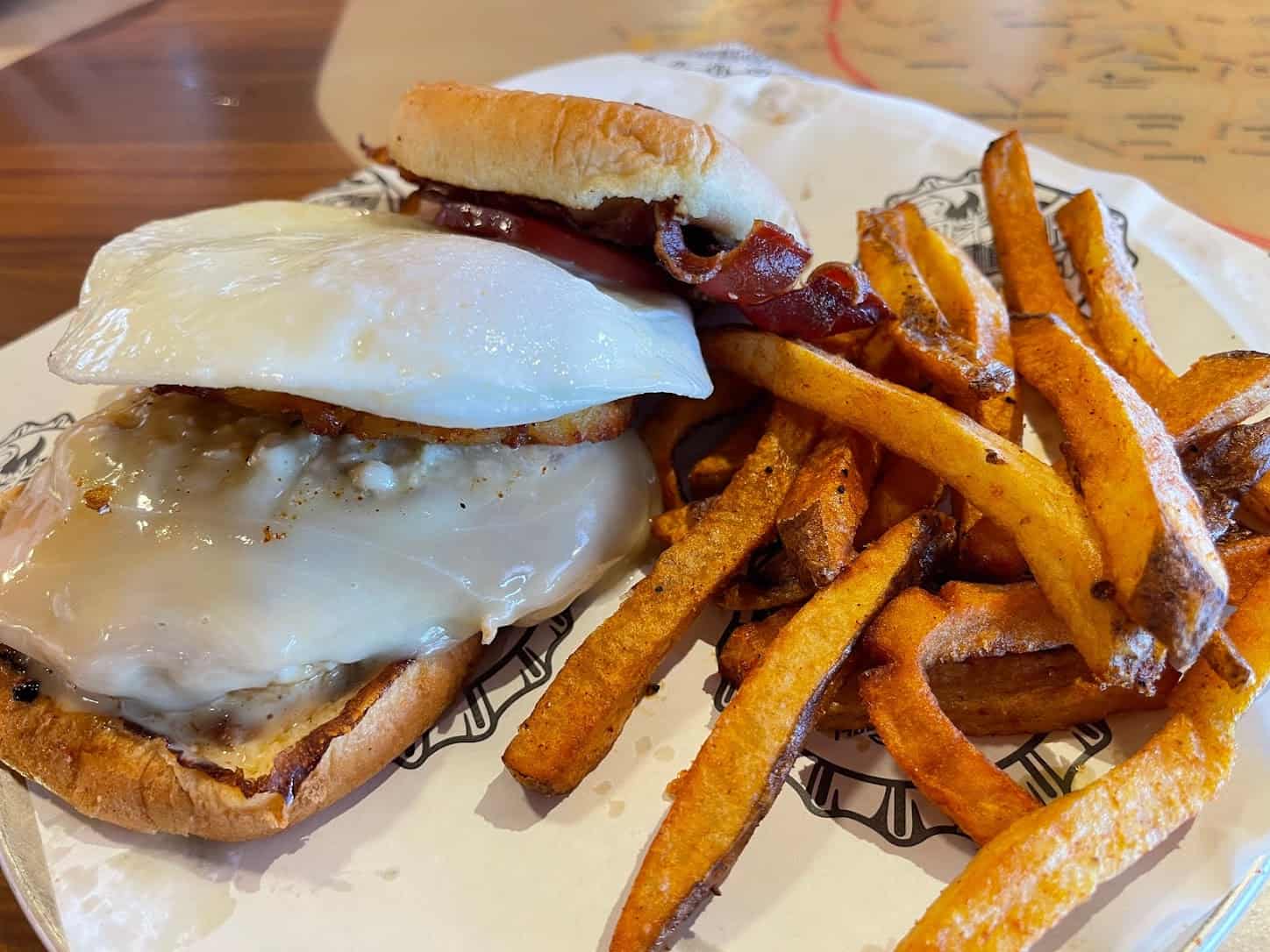 I went with the All American, which is a beef patty, two fried eggs, "SMC" (super-melty cheese), a hashbrown patty, bacon, tomato and maple donkey sauce served on a bun.
And yes, it's as delicious and filling and no doubt bad for you as it sounds. Everything here comes with a side of home fries, which I'm pretty sure are just the same fries you get with the burgers later in the day. But seeing as those fries are awesome, that's not really a reason to complain.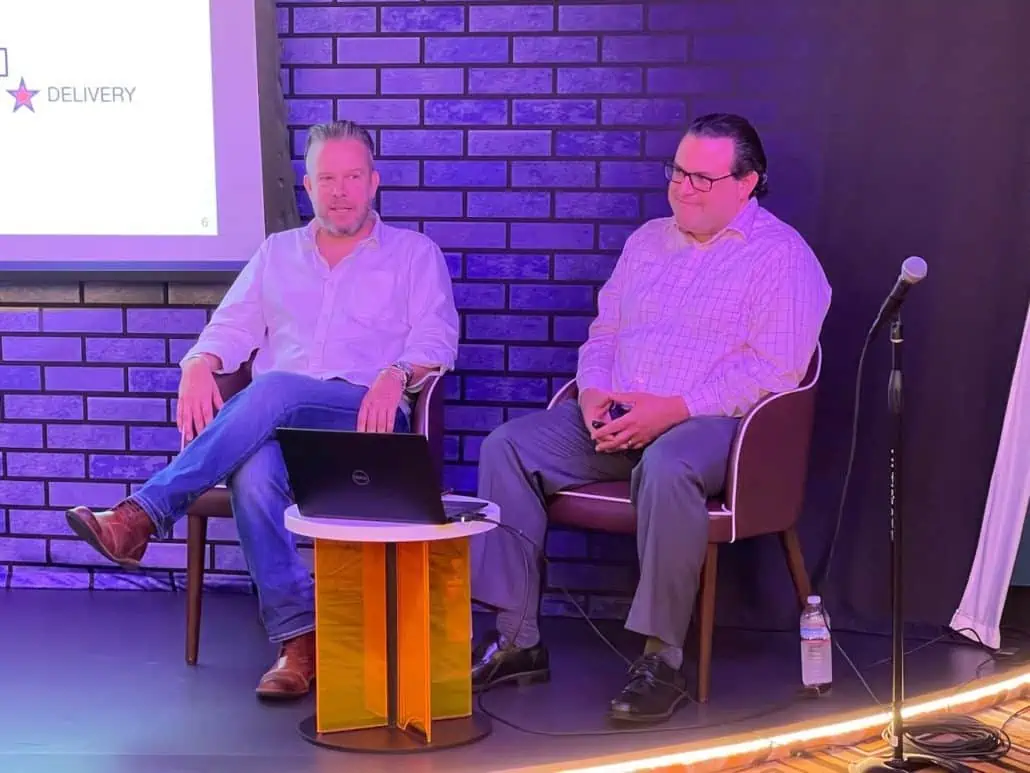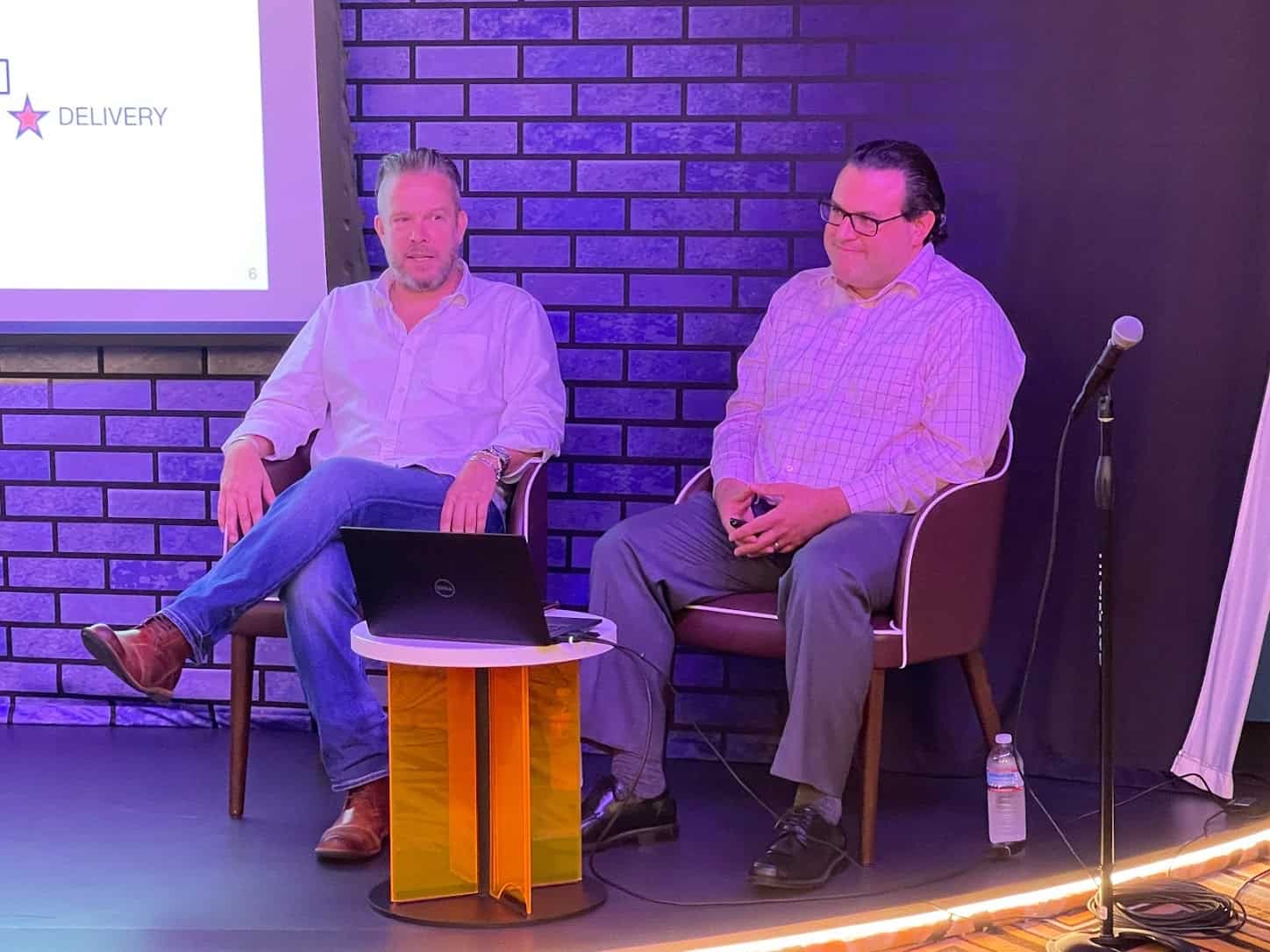 One of the great things about doing the inaugural voyage of a ship is that there are almost always Q&A sessions with people who played key roles in the design or delivery of the ship. Today, Glenn Aprile (Director of New Builds and Product Development) and Petu Kummala (Senior Director of Interior Design and Architecture) gave the kind of presentation that every cruise lover dreams of attending.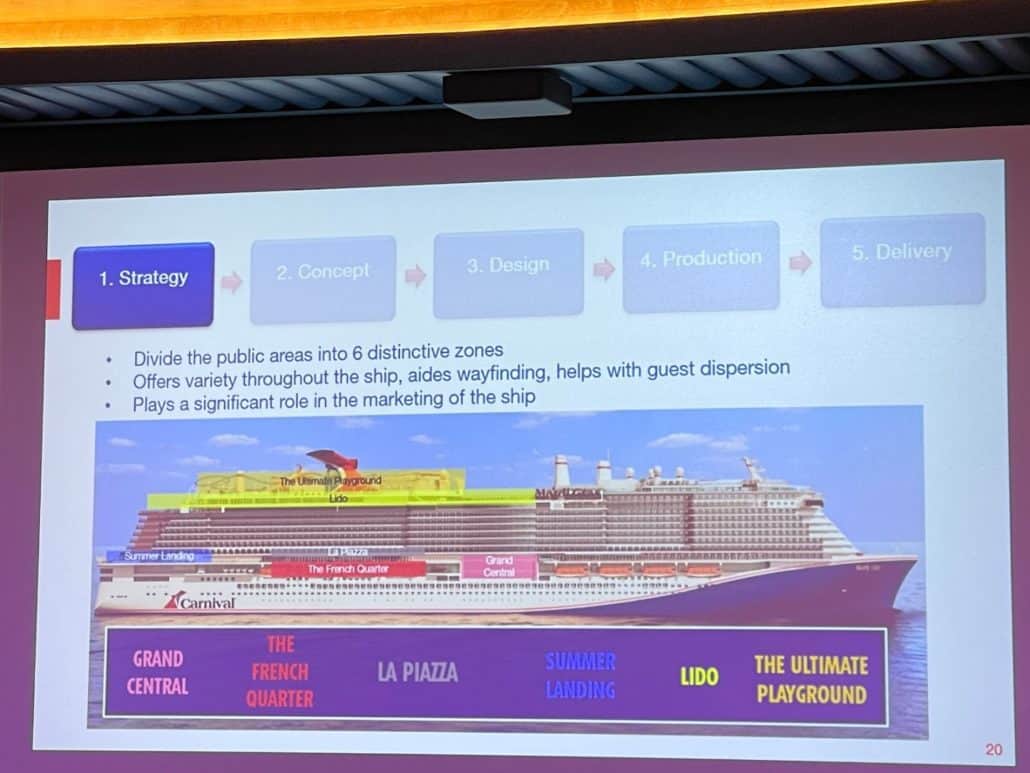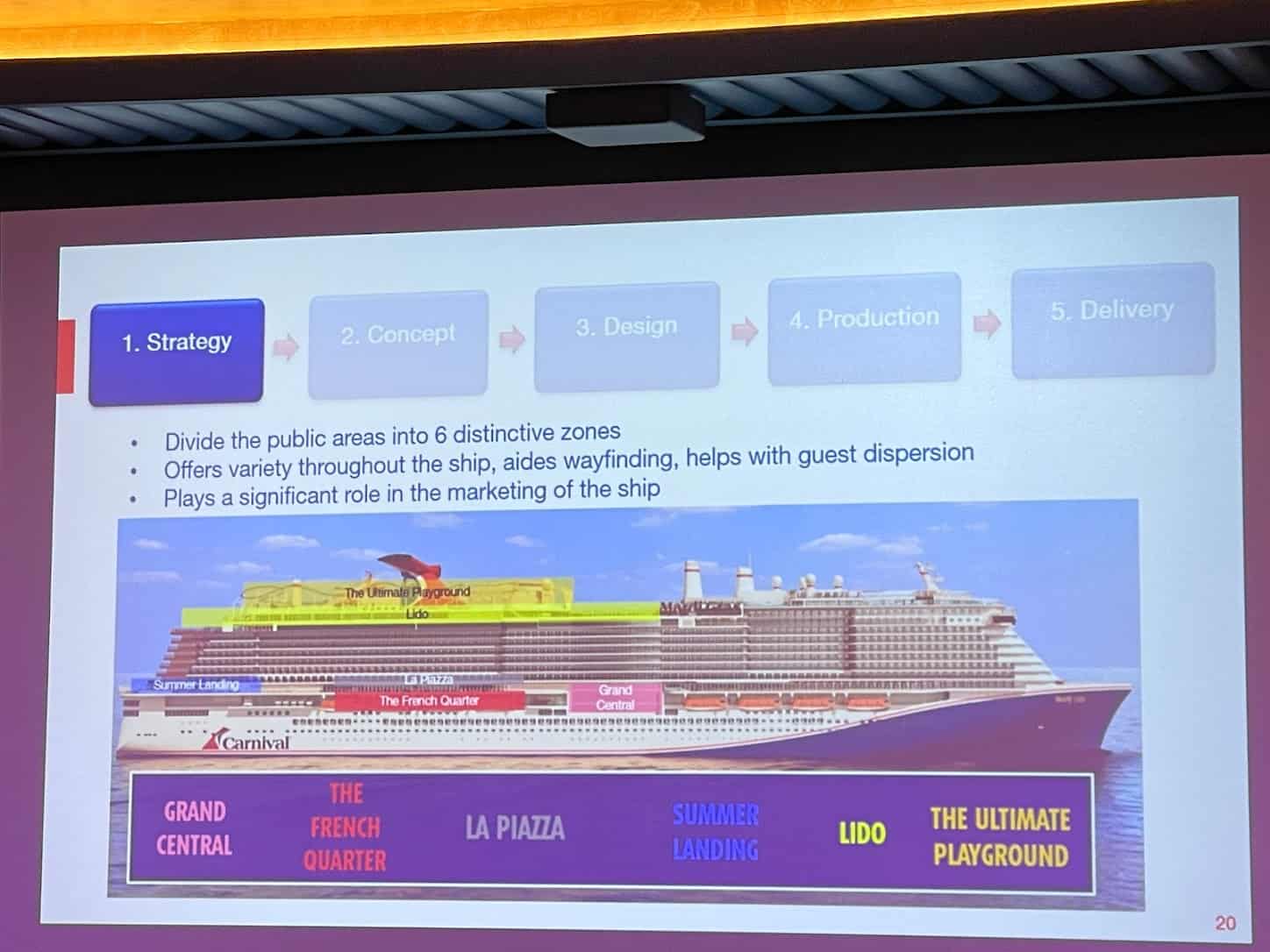 Not only did they explain every step of the design process — from the idea behind the various zones to minor details which would be incorporated — but they also shared with us a few of Mardi Gras' very cool secrets. (Yes, I'll be sharing those with you in a future post… so make sure to check back!)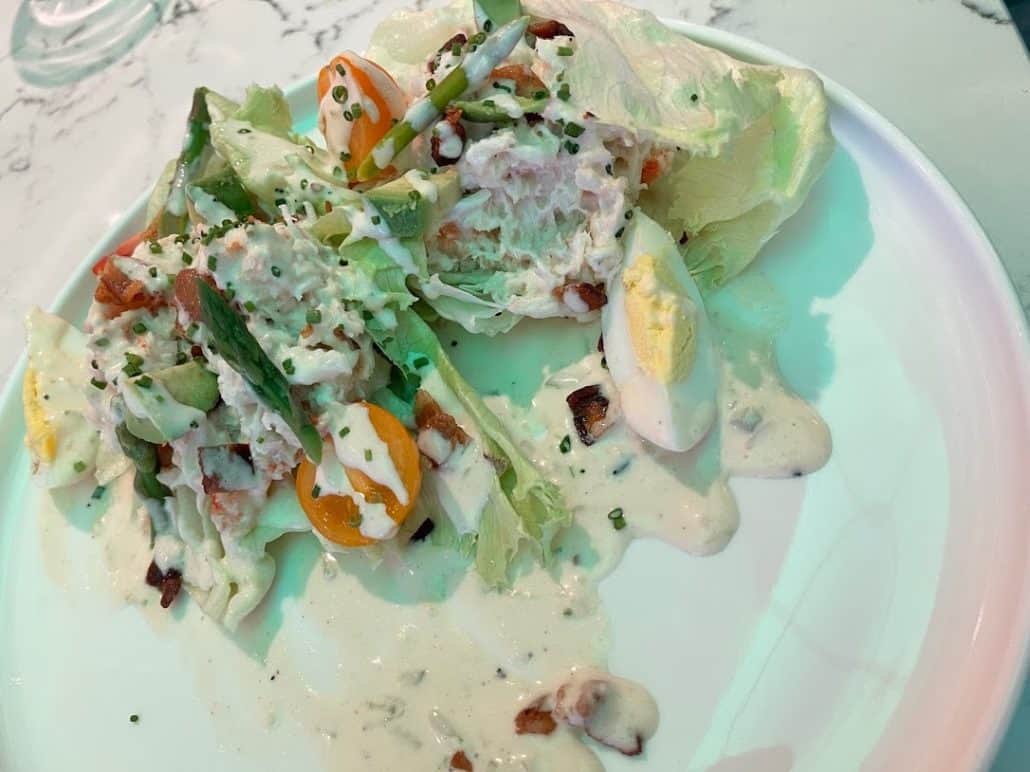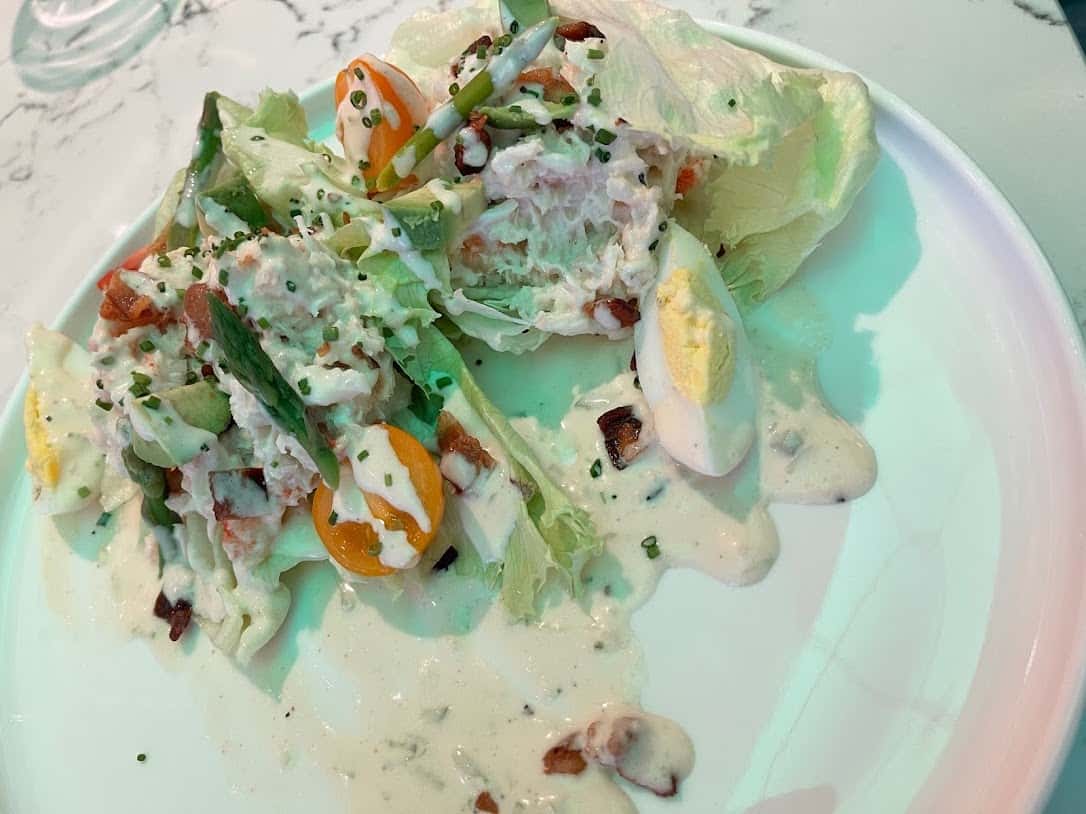 Because it had been at least a couple of hours since my last feeding, we wandered over to Emeril's Bistro 1396.
As you probably know by now, this is Carnival Cruise Line's first venture with celebrity chef Emeril Lagasse, located (of course) in the French Quarter zone.
We sampled several of the dishes, all of which were priced a la carte. Above is the Crab Louie salad, and below the New Orleans style barbecued shrimp (one of the chef's specialties). And yes, those are miniature biscuits alongside the shrimp!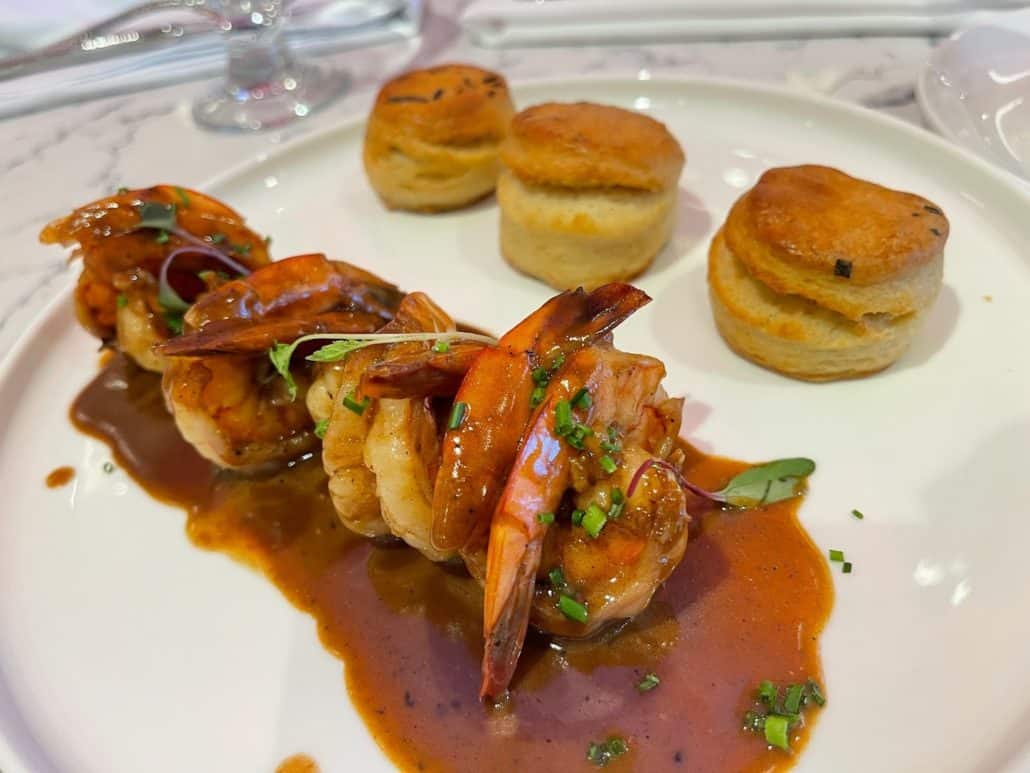 You can't eat at a New Orleans-themed restaurant without trying two southern specialties, so of course we ordered the red beans and rice…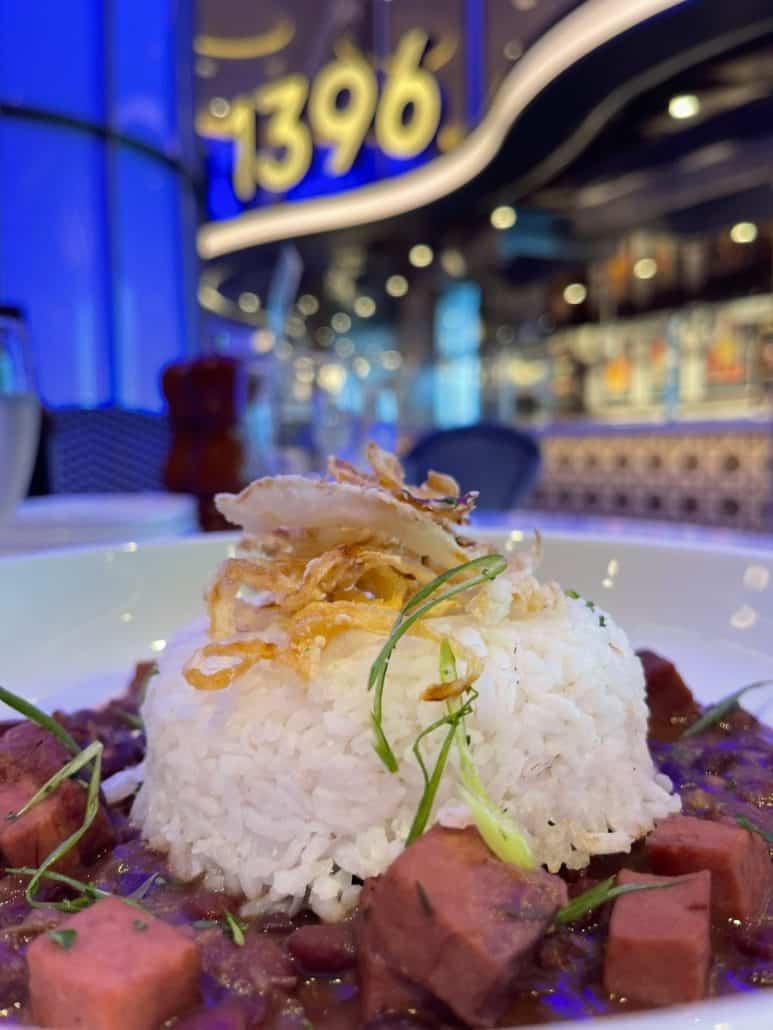 … as well as Emeril's Signature Jambalaya. You order the dishes at the counter and they deliver them to your table, and everything is very reasonably priced.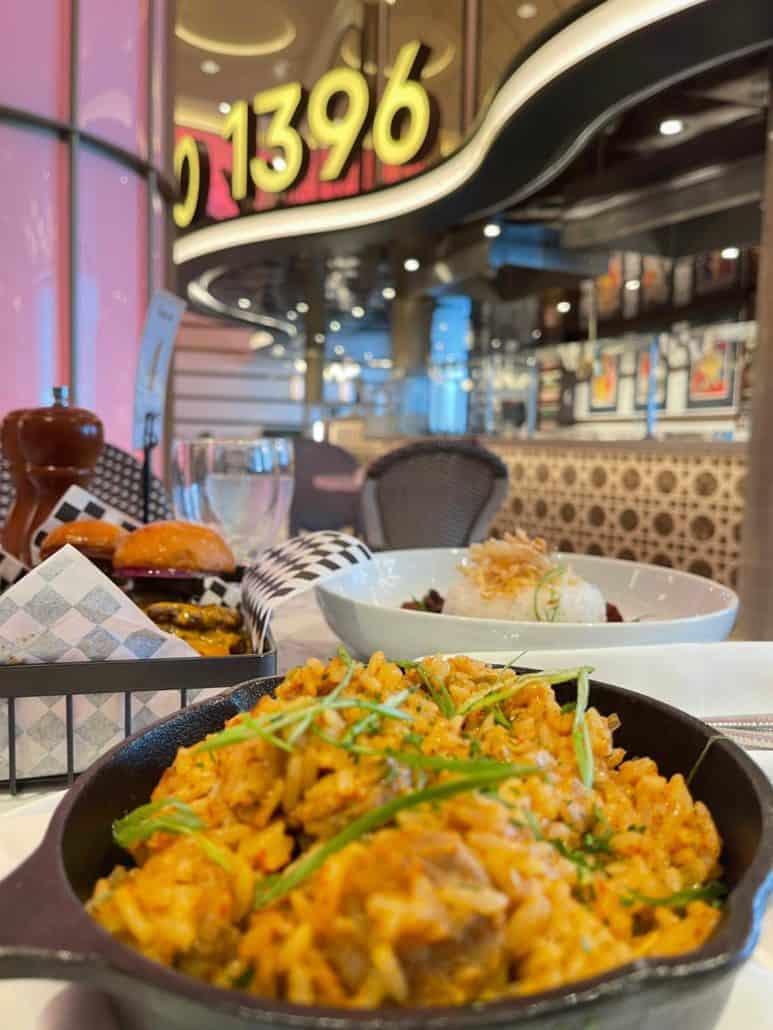 At this point, despite kinda wanting to take a nap, I knew that what I really needed to do was get some work done. Believe it or not, these trip reports don't write themselves!
I wandered down past the Lido Deck, checking out the action at the RedFrog Tiki Bar and around the pool on my way to Loft 19.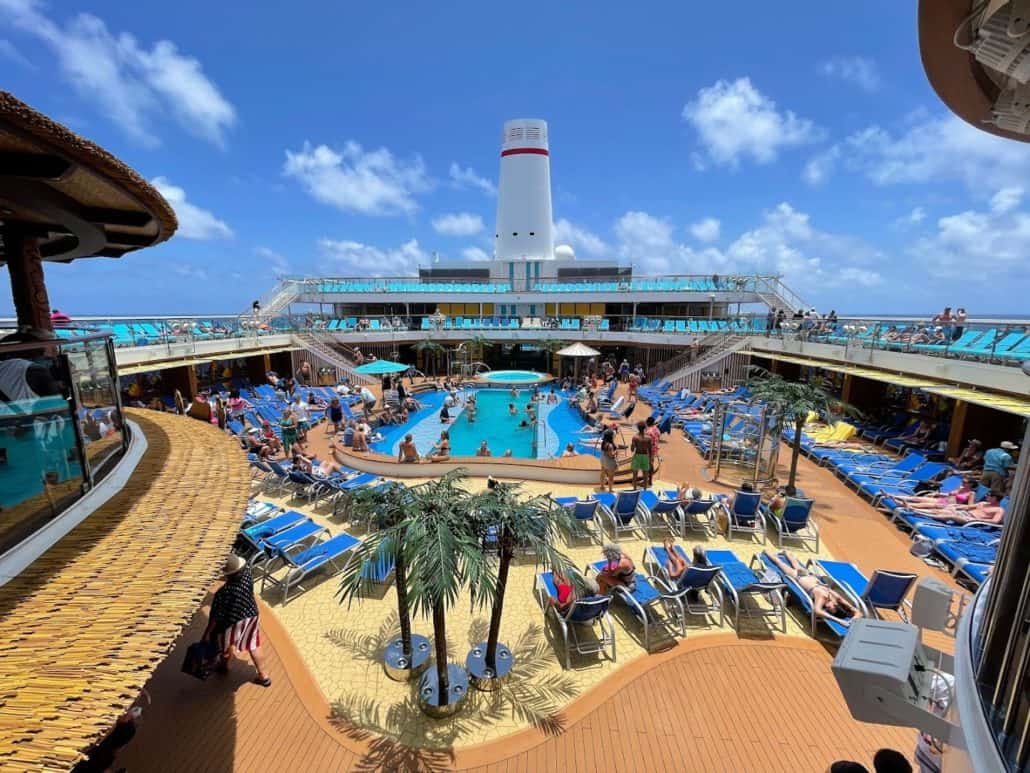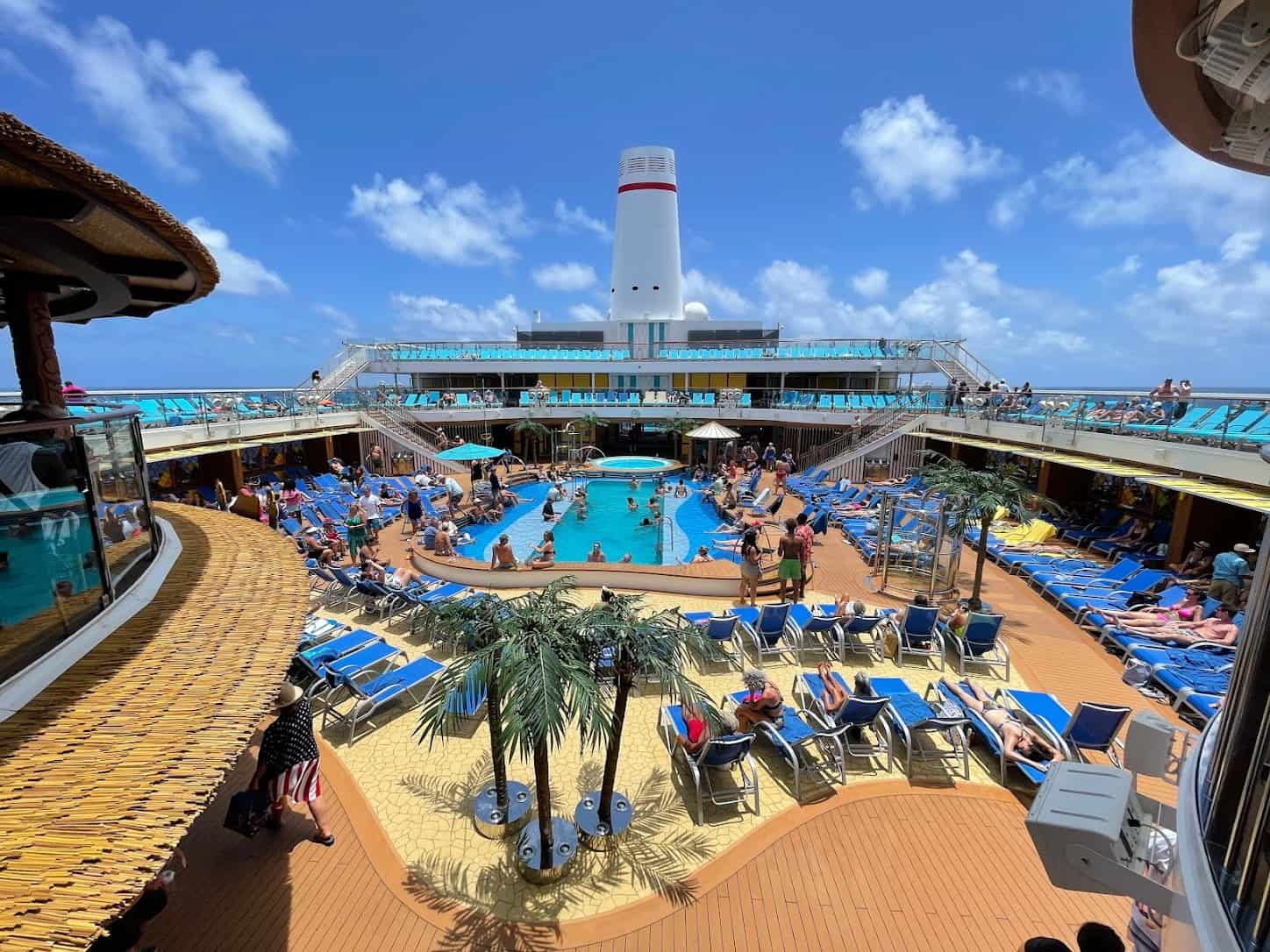 Loft 19 is another new-to-Carnival concept, and it's a really gorgeous space. Guests staying in Excel Suites automatically have access to Loft 19 for the duration of their cruise, although this does not mean they have access to the cabanas. Those are available for rental (current price: $2,000 for the week or $500 per day), with suite guests getting first priority.
READ MORE: Everything You Need To Know About Loft 19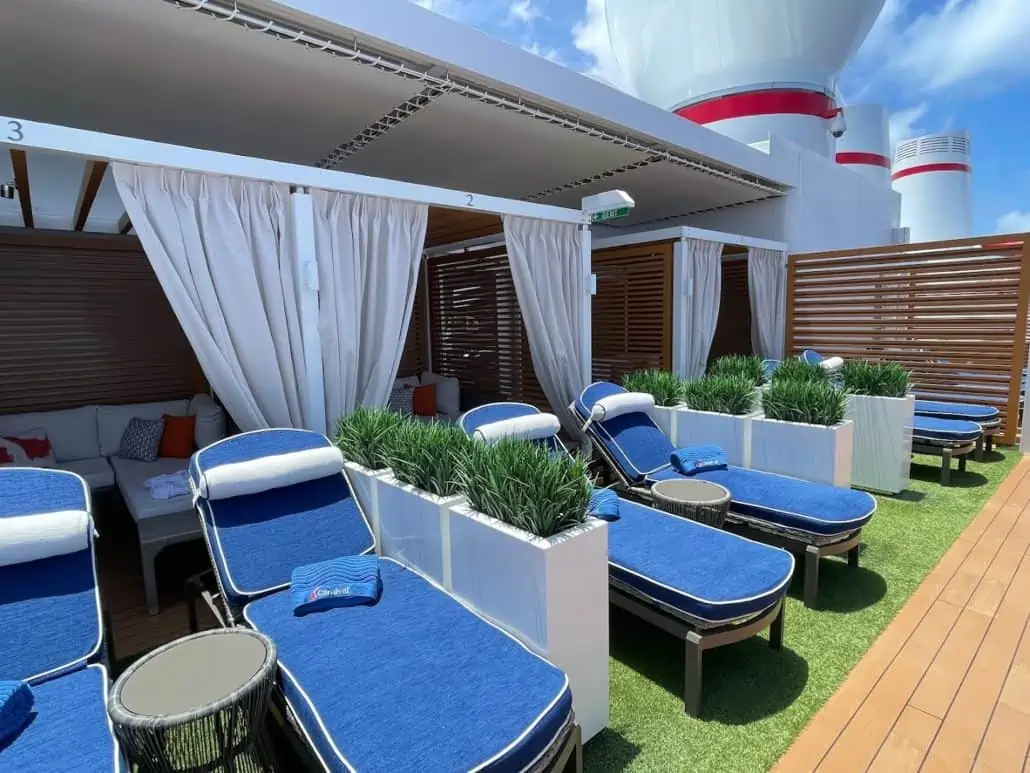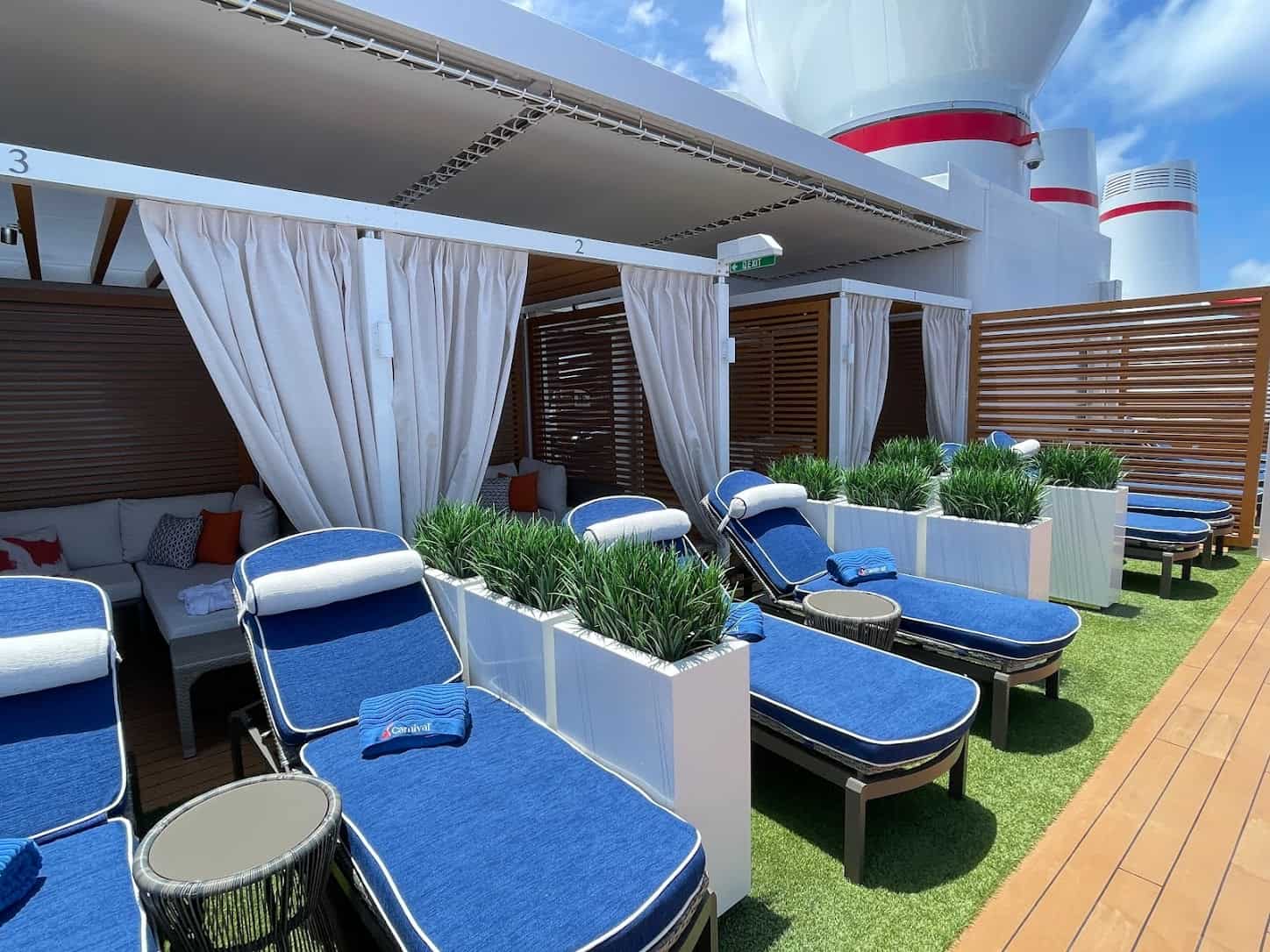 Right about now, you're probably saying to yourself, "Wait, you're in an Ocean Suite… do those qualify for access to Loft 19?" And the answer is no, they don't. But I've been granted access and hey, I am not one to look a gift horse in the mouth.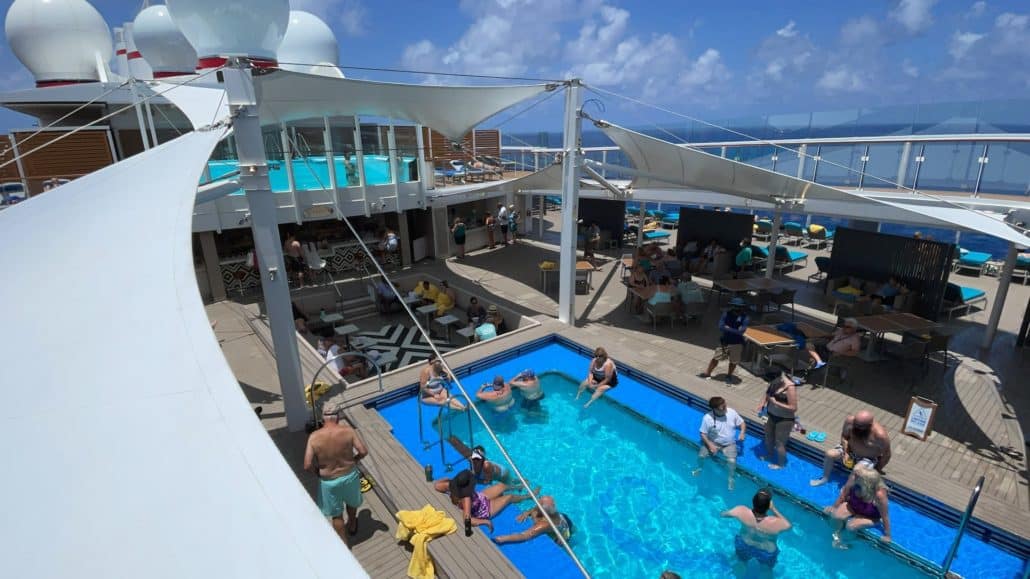 Unlike the Serenity Retreat (which is one deck below), children are allowed access to Loft 19, but only if accompanied by an adult.
Everyone entering Loft 19 must be wearing a wristband which proves they're allowed to be there… and yes, they really do enforce it. I saw at least two people kindly but firmly told that the area was off-limits. I spent the rest of the afternoon in Loft 19, getting a lot of work (and a little napping) done.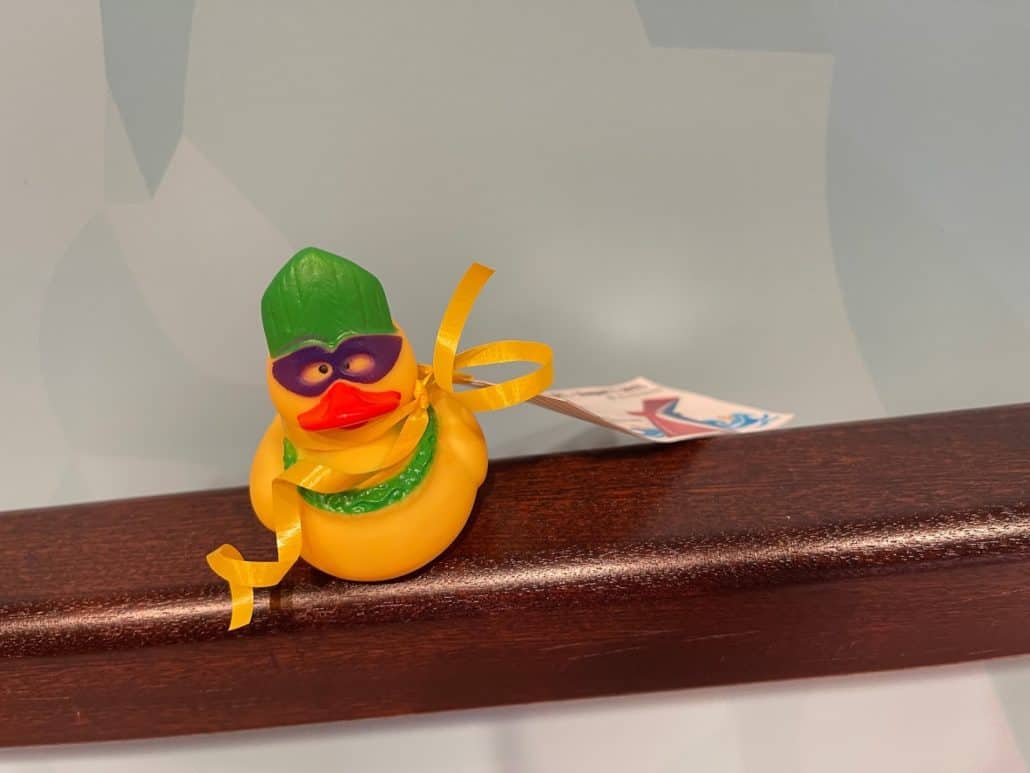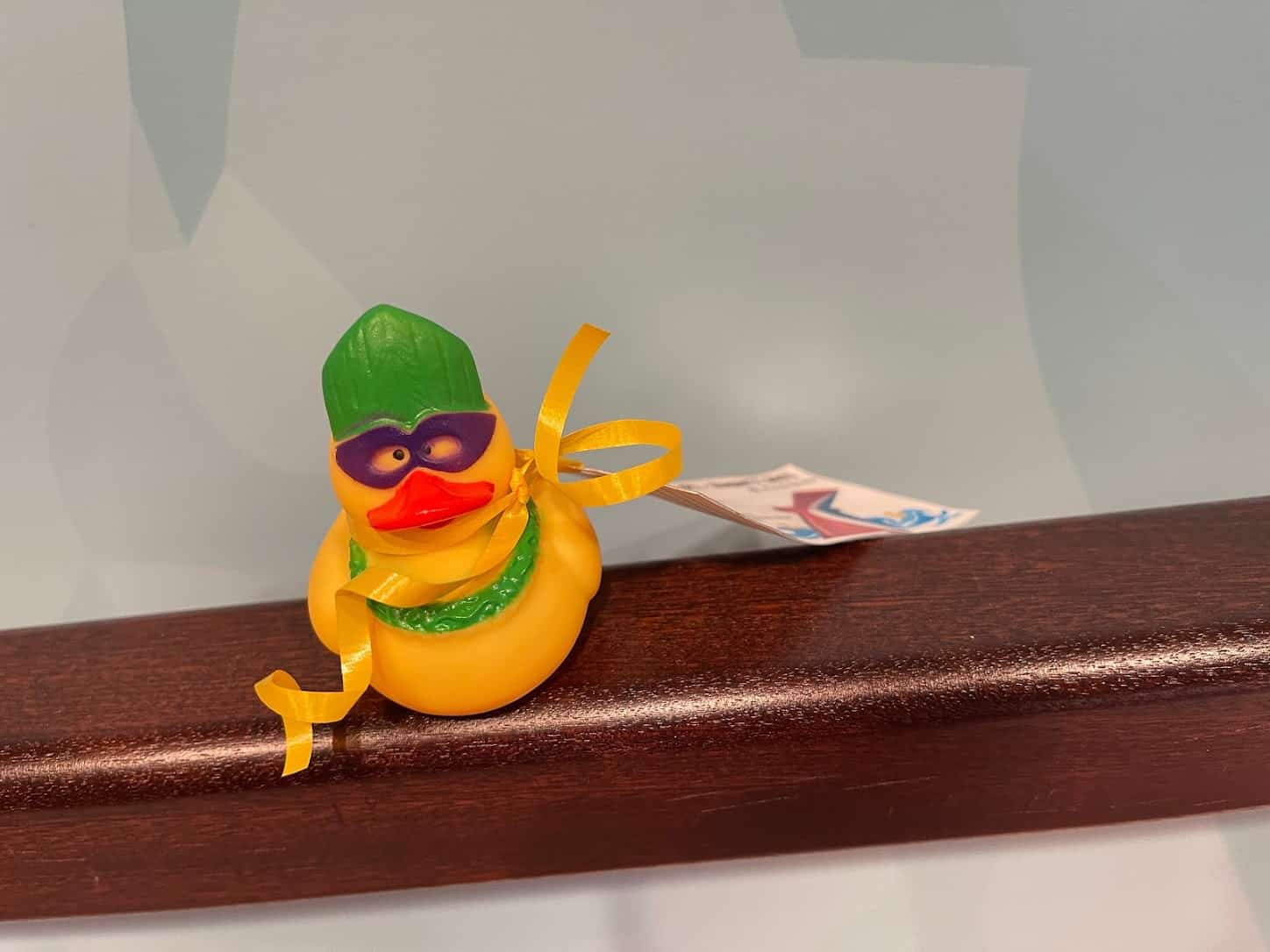 I'm happy to report that as I headed back to my room before dinner, I spotted this guy. Yes, ducks made it onto the maiden voyage of Mardi Gras. I left this one where he was.
While I've brought ducks on ships in the past and had fun hiding them, I didn't bring any this time around.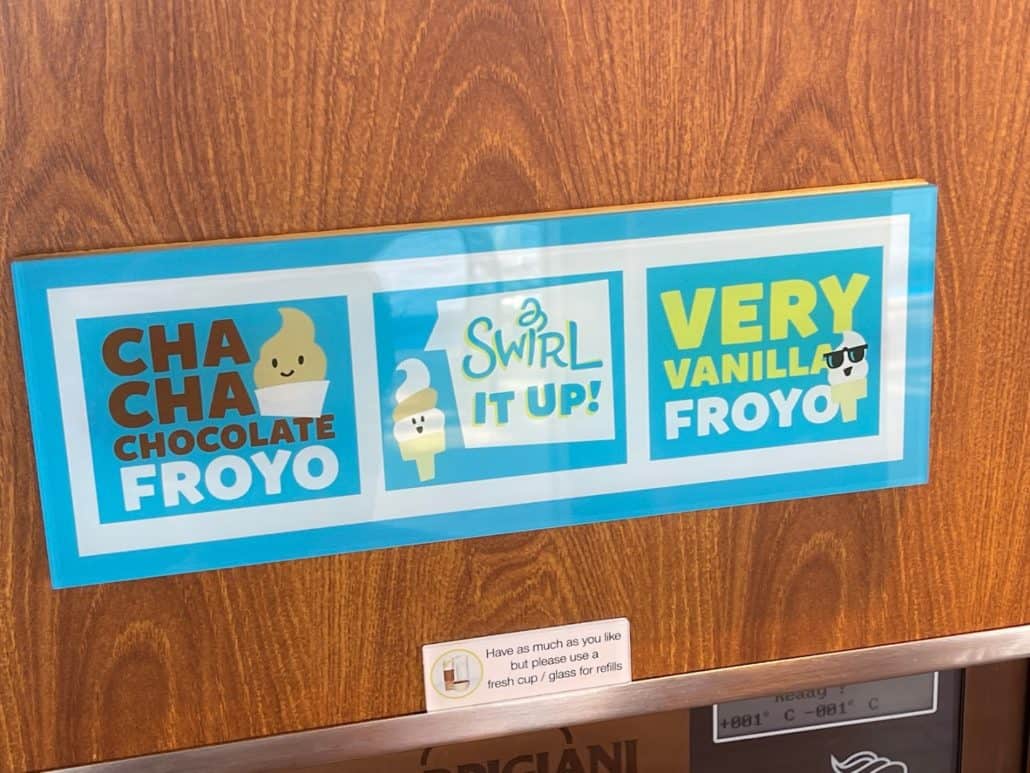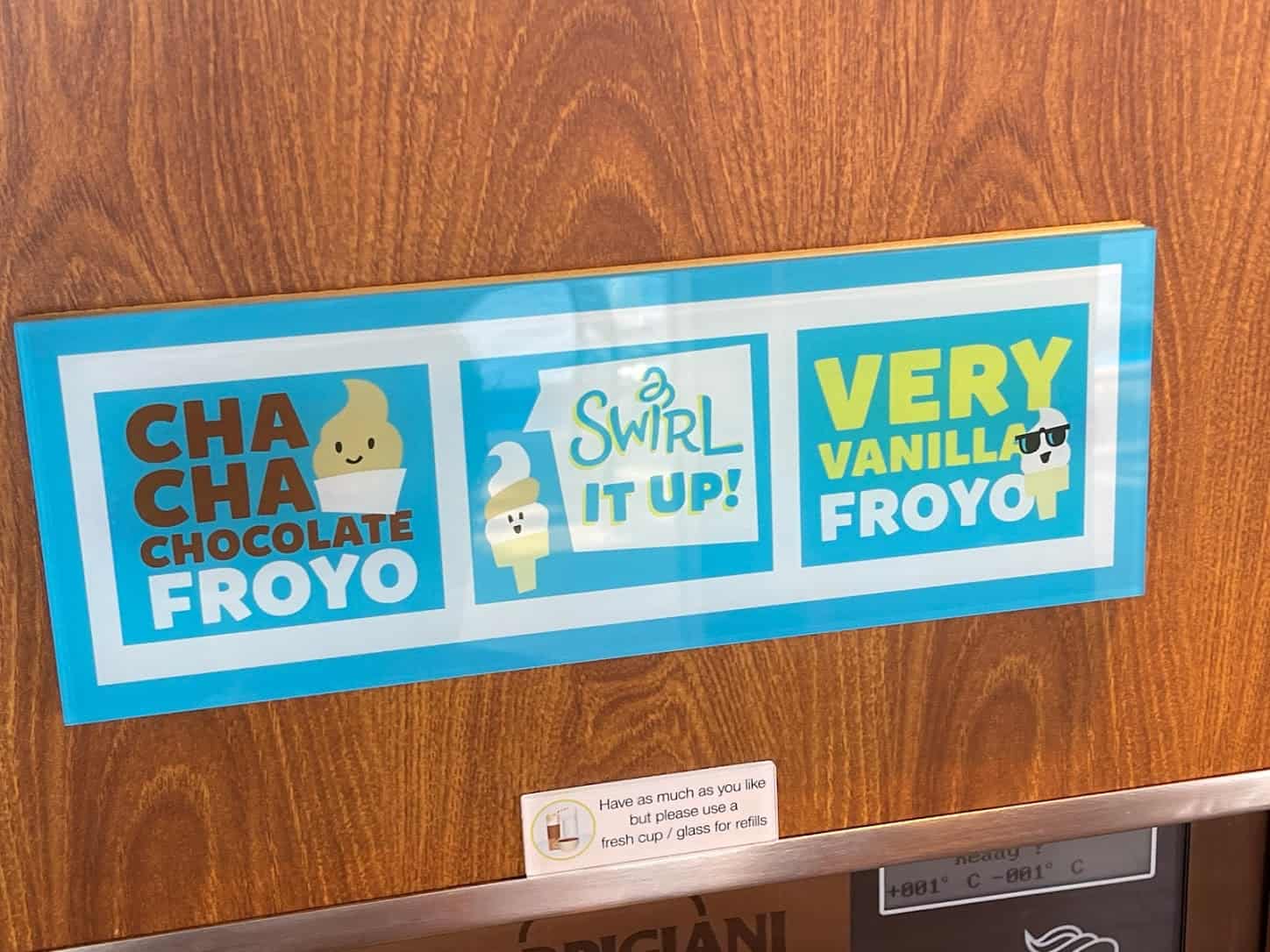 I'm also happy to report that there are at three different self-serve FroYo stations that I've found so far: One just outside the Heroes Tribute Bar, one at the buffet, and a third by Guy's Burger Joint.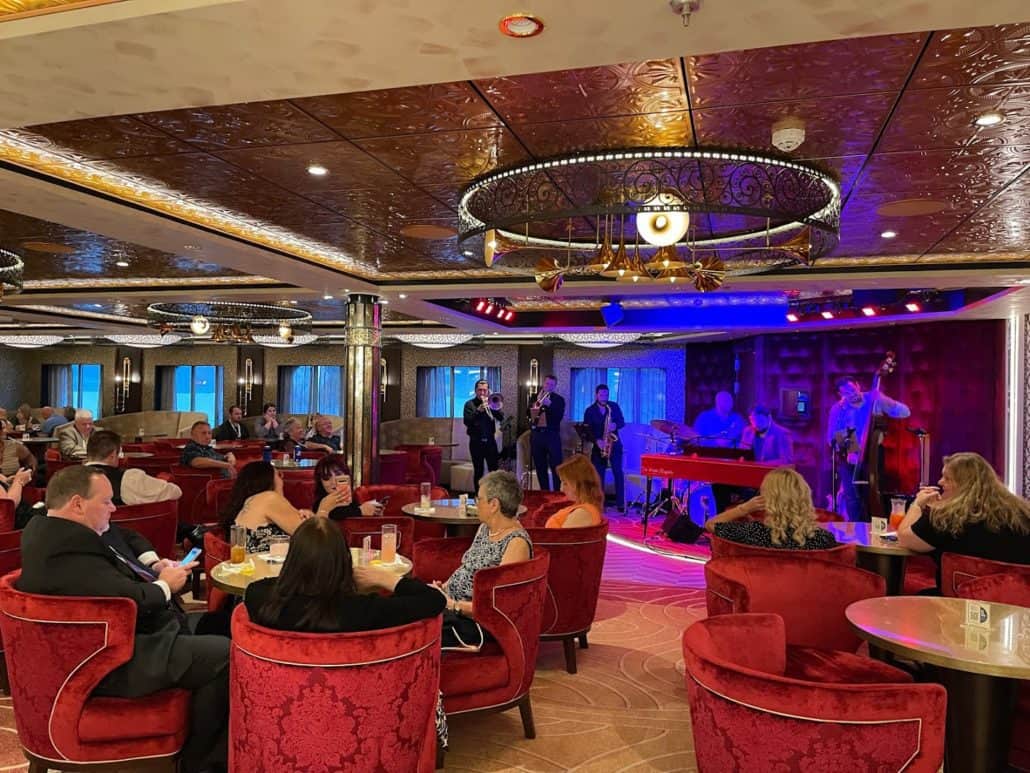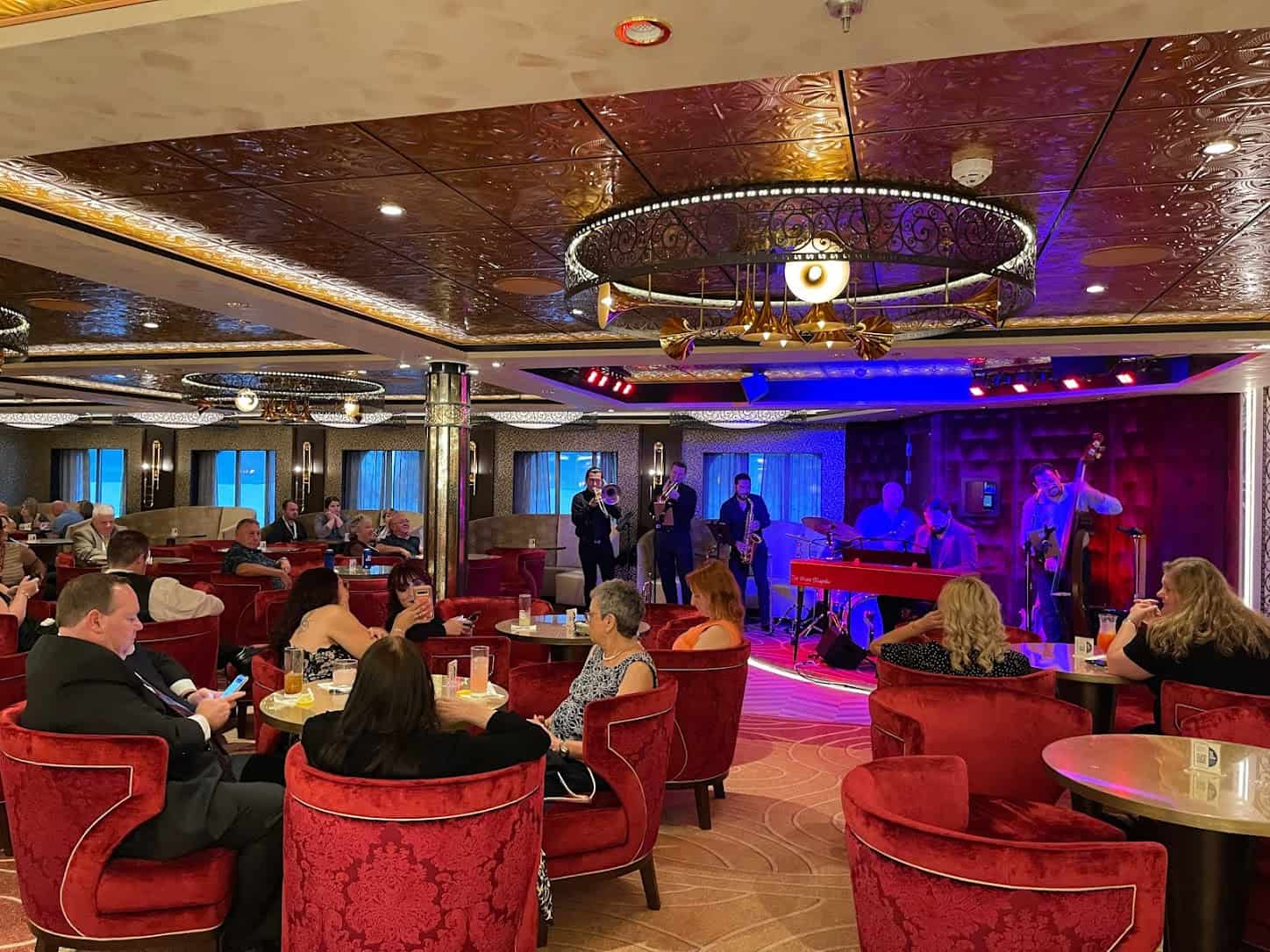 Before dinner, we stopped for a drink at The Brass Magnolia, the jazz bar located in the French Quarter. I have to say, everything about the French Quarter — from the Fortune Teller's Bar to Emeril's Bistro to The Brass Magnolia — is a win in my book.
Already, this has become one of my favorite hangouts on the ship.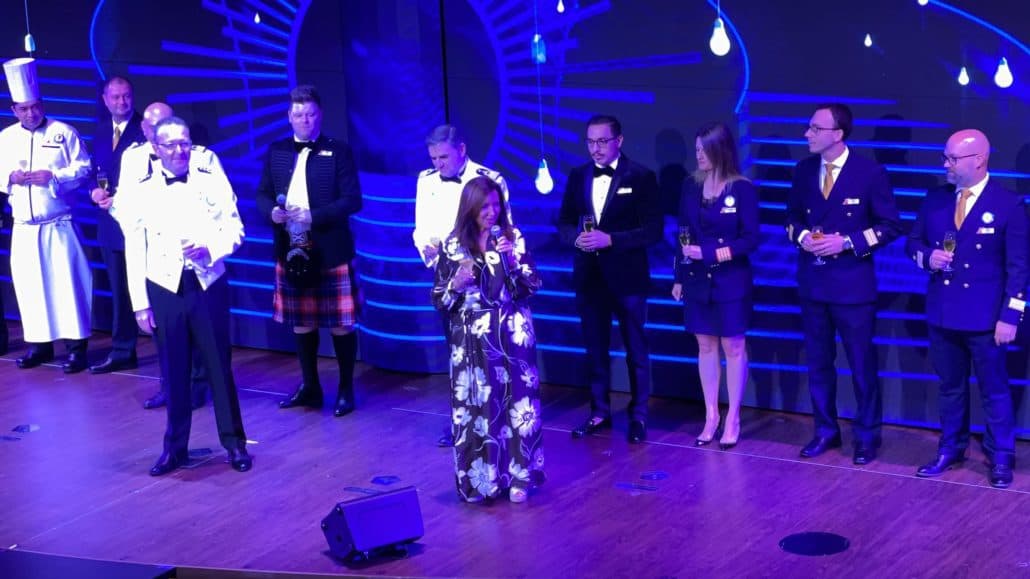 Eventually, we took our drinks and headed to Grand Central (aka the atrium) for the Captain's Celebration, during which Carnival Cruise Line's president, Christine Duffy, got up on stage to speak.
Duffy has been very accessible during this cruise, and I don't just mean to members of the media who are sailing. She's been everywhere enjoying the ship, meeting guests, and taking a well-deserved victory lap.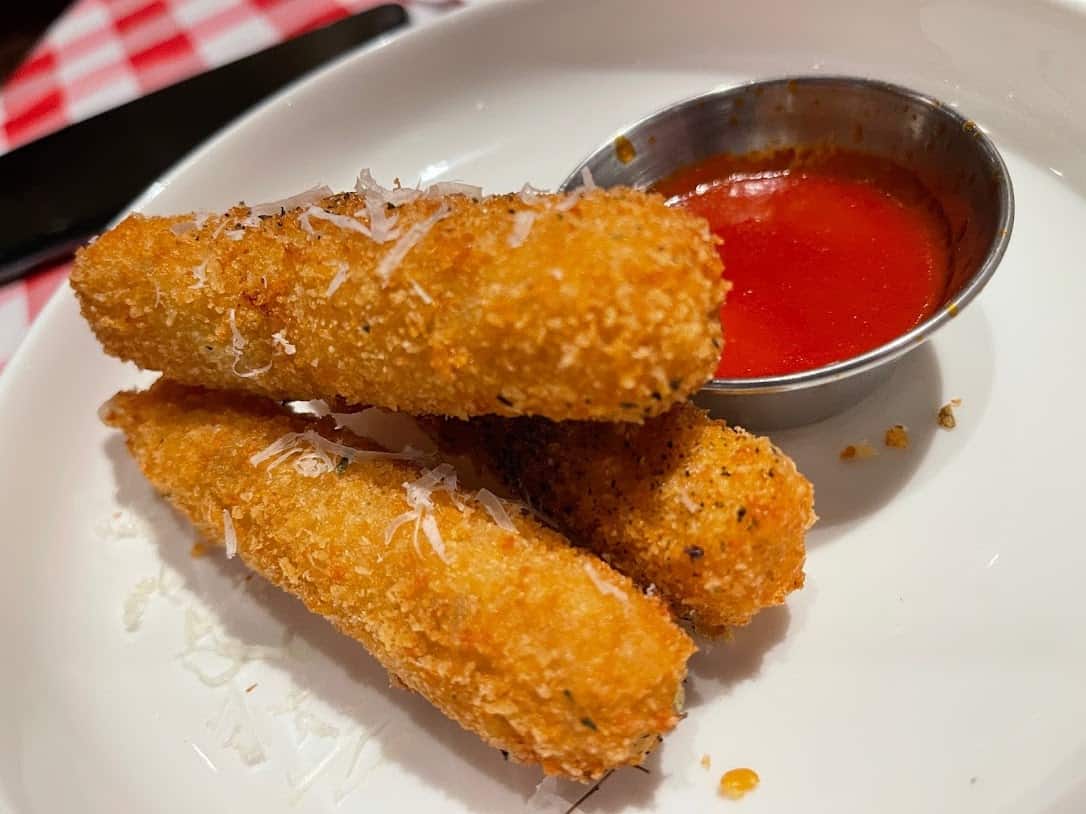 Afterwards, we went to Cucina Del Capitano for dinner. There were a couple of interesting things to note here. While on other ships, this is a venue that carries a fee (I believe it's $15 per person, but don't quote me on that), on Mardi Gras it is currently complimentary.
Also, you can order off either Cucina's menu or the one offered in the Main Dining Room. As with breakfast, this is Carnival's way of helping to minimize crowds (and wait times) in The Palm and The Flamingo, the two main dining rooms.
It's also smart because if you have someone who is in the mood for the Italian fare Cucina specializes in and someone who's not into that, everybody's happy.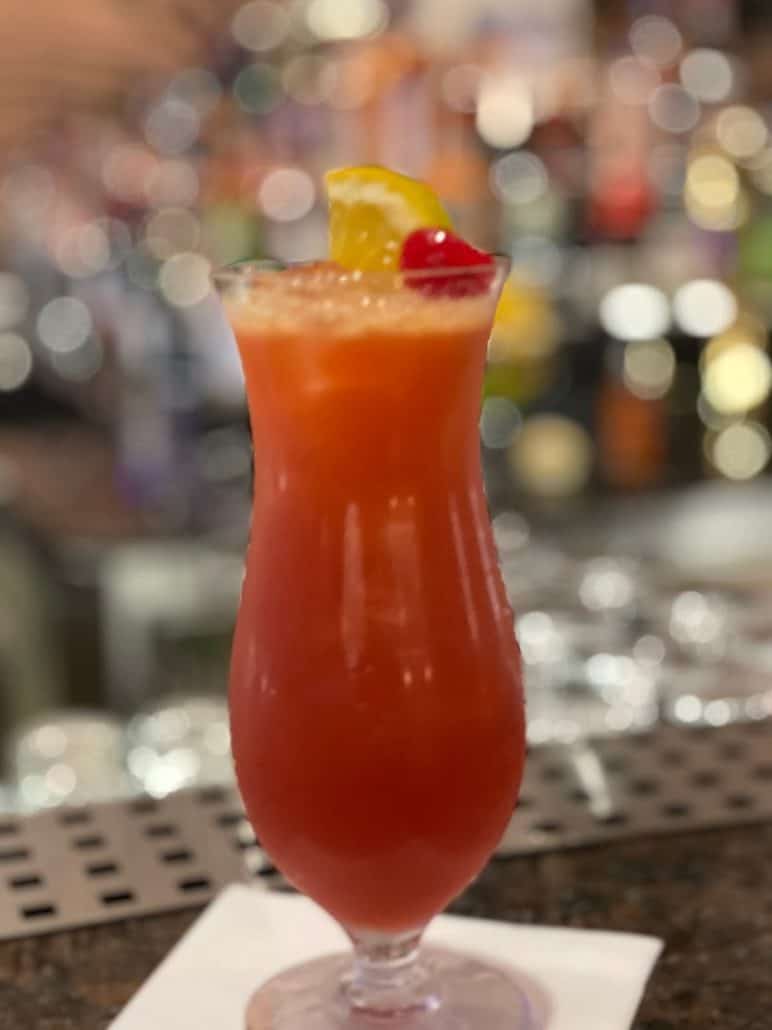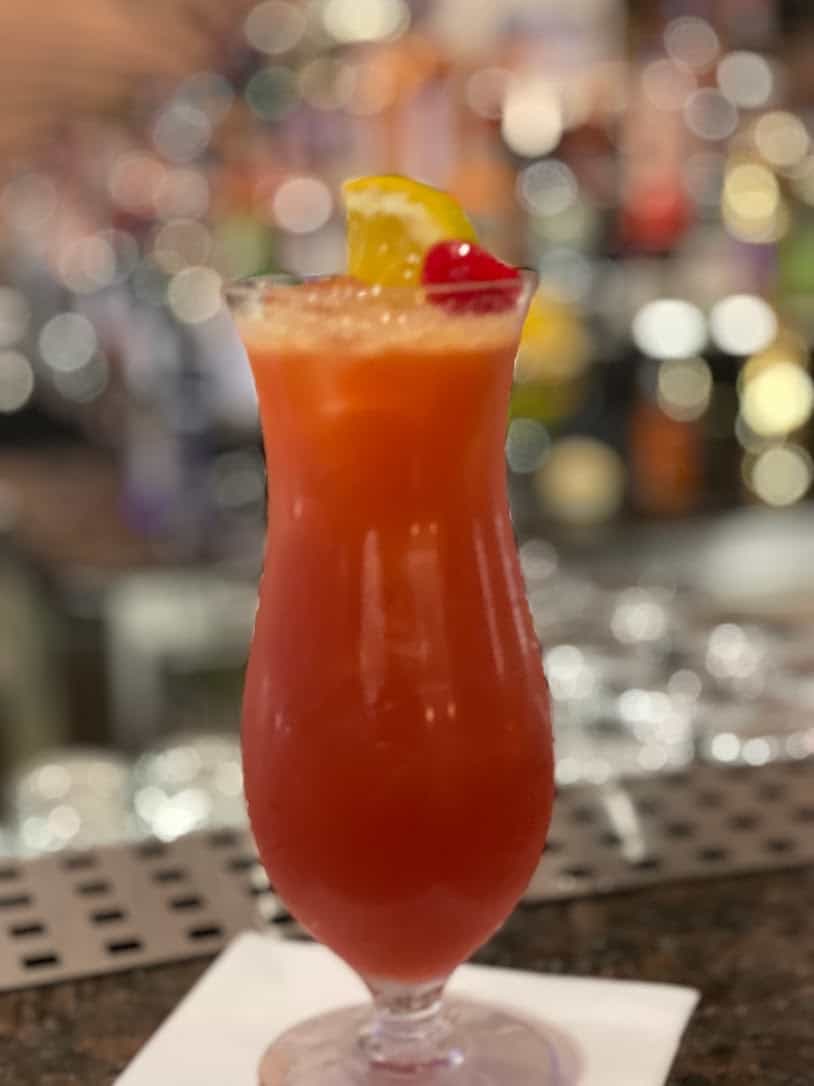 After dinner, it was back to The Brass Magnolia. Last night, we listened to a jazz trio here, while tonight it was the electric violins. The vibe here was so good that we wound up sticking around for an hour and a half, just enjoying everything about the space (including the very tasty, very strong Hurricanes, which a friend tells me is basically the signature drink of New Orleans).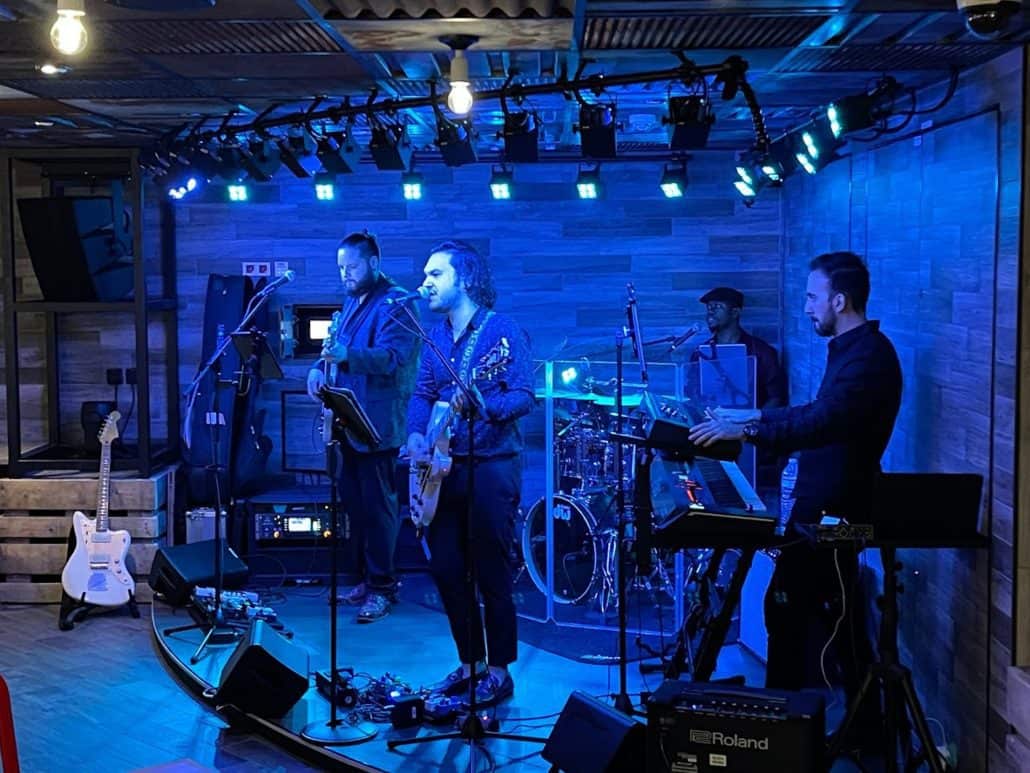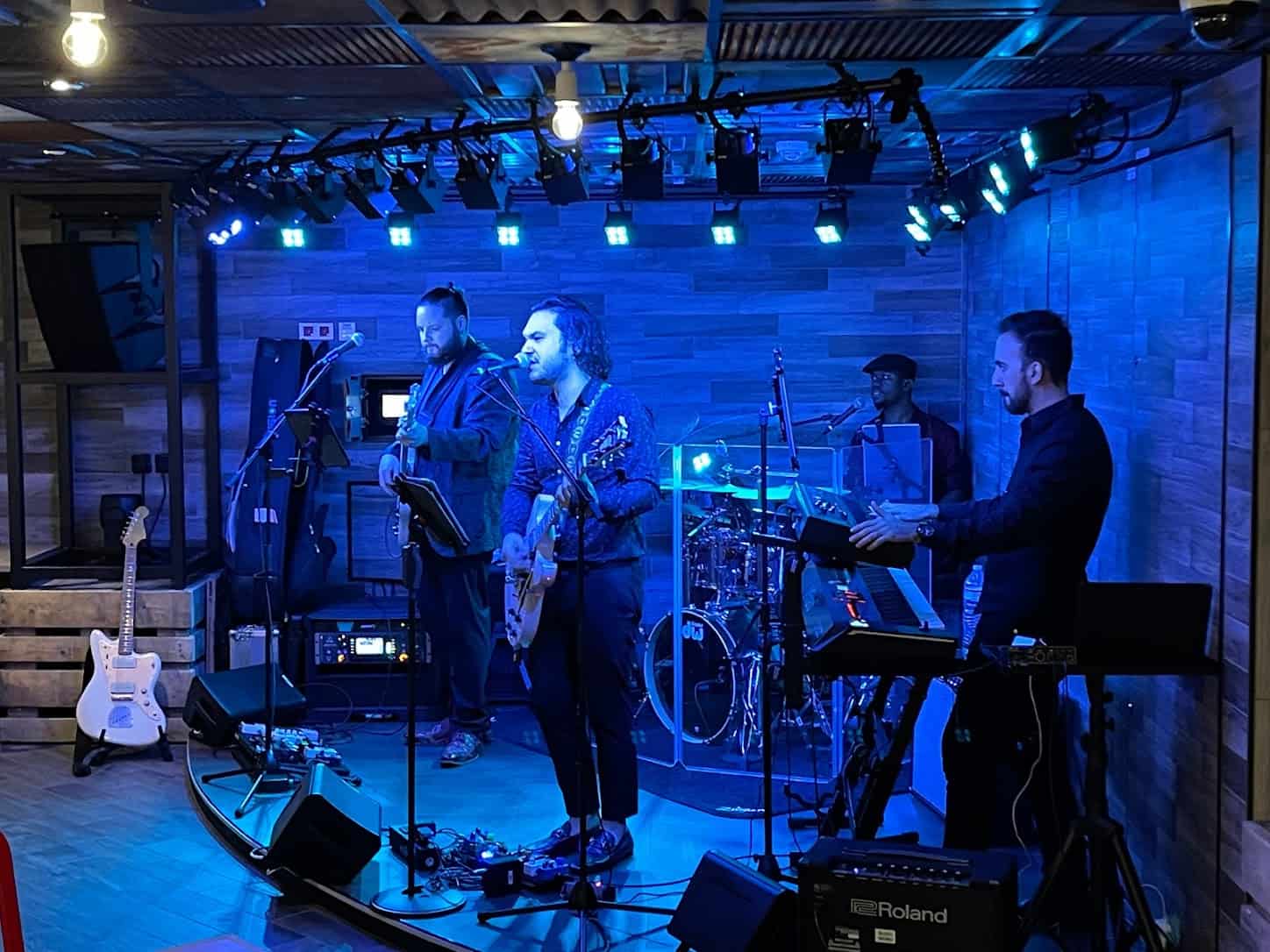 Finally, we ended the night by making our way over to Summer Landing and Guy's Pig & Anchor Smokehouse to listen to a great rock band do their thing. How good was the entertainment tonight? So good that the guy who you know often crashes right after dinner was out until midnight. That's gotta tell you something.
Tomorrow's another sea day, where we'll share more about the ship and all she has to offer. Then on Tuesday, we will hit our first port of call: Puerto Rico. I'd say it's a big deal that it's Mardi Gras' first time calling on this particular port, but I guess that's going to be true of everywhere we go, isn't it?
Check out my other Mardi Gras trip reports: