There comes a point in every cruise when you realize that it'll soon be coming to an end. You don't want to think about it, but it sort of creeps in.
Maybe you find yourself thinking about who's going to pick you up after embarkation or realize you only have two more days to try and snag that hard-to-get specialty restaurant reservation.
After four cruises in a month, I'll admit that part of me is ready to spend a little time at home… but then I woke up on this, our final sea day (we visit Nassau tomorrow), stepped out on the balcony to see the view, and changed my mind.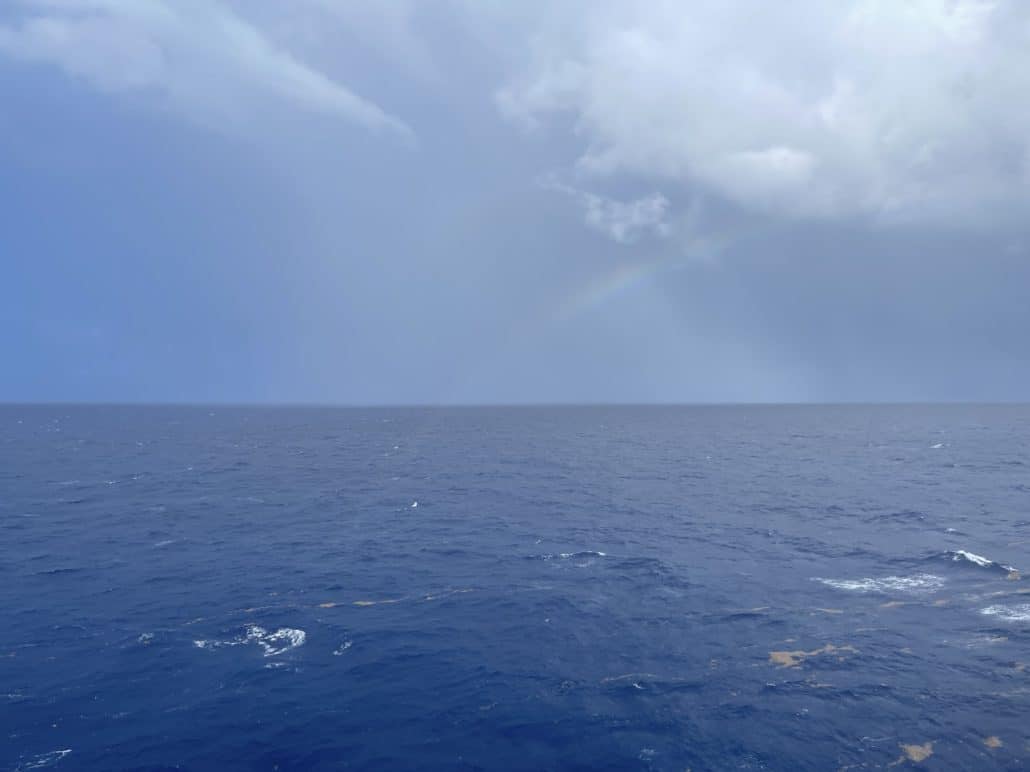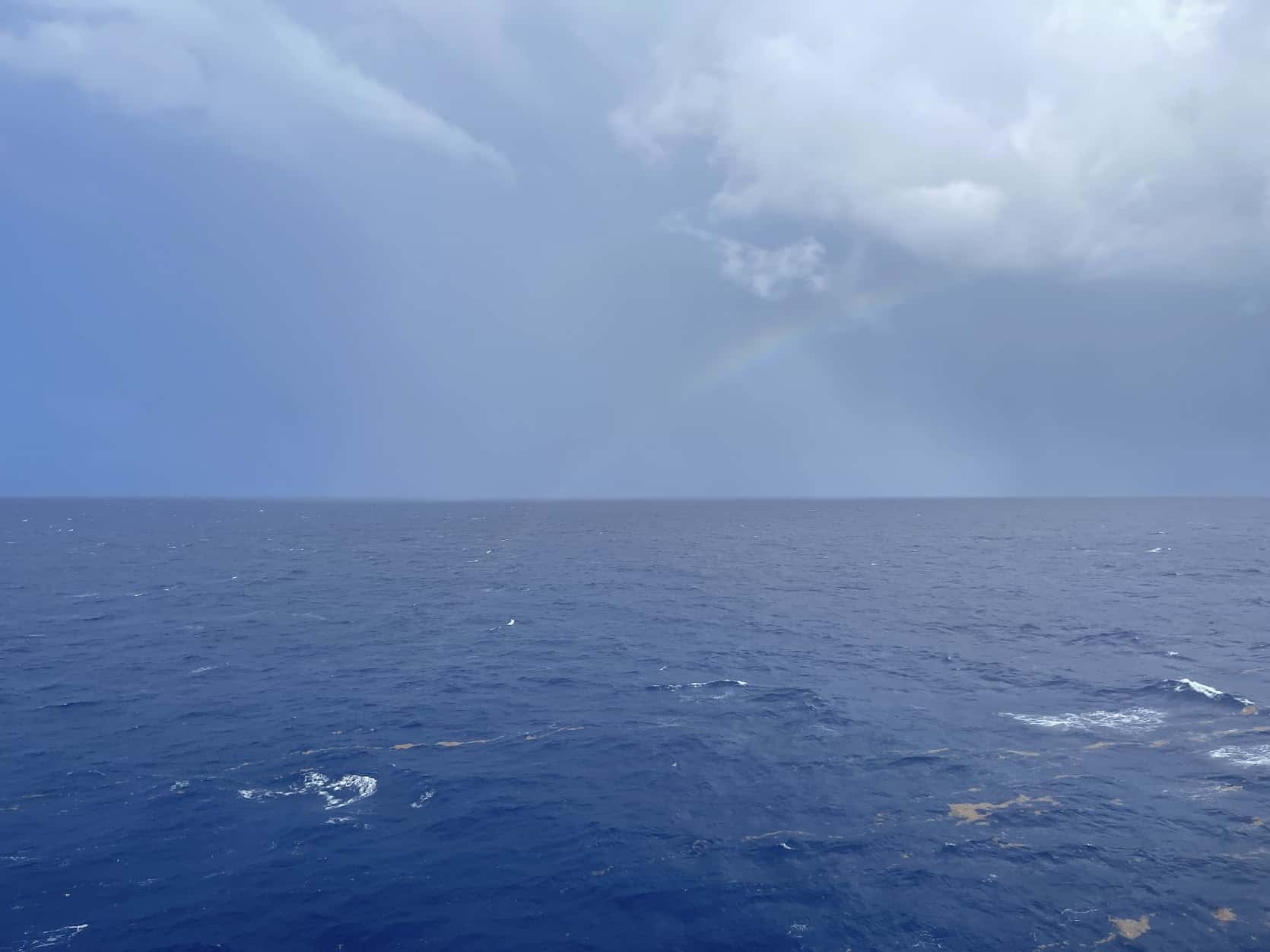 Yeah, home can wait a few more days. For now, I'll continue to happily let people serve me breakfast as I look out the window at seas that are a little choppier than most we've experienced this trip.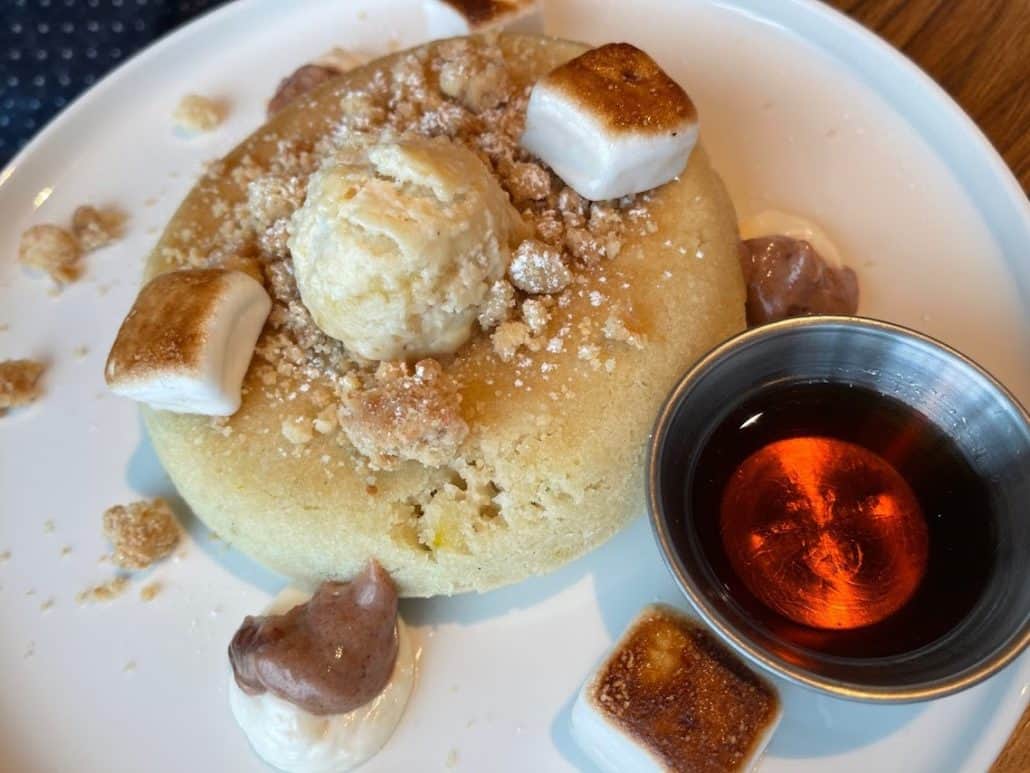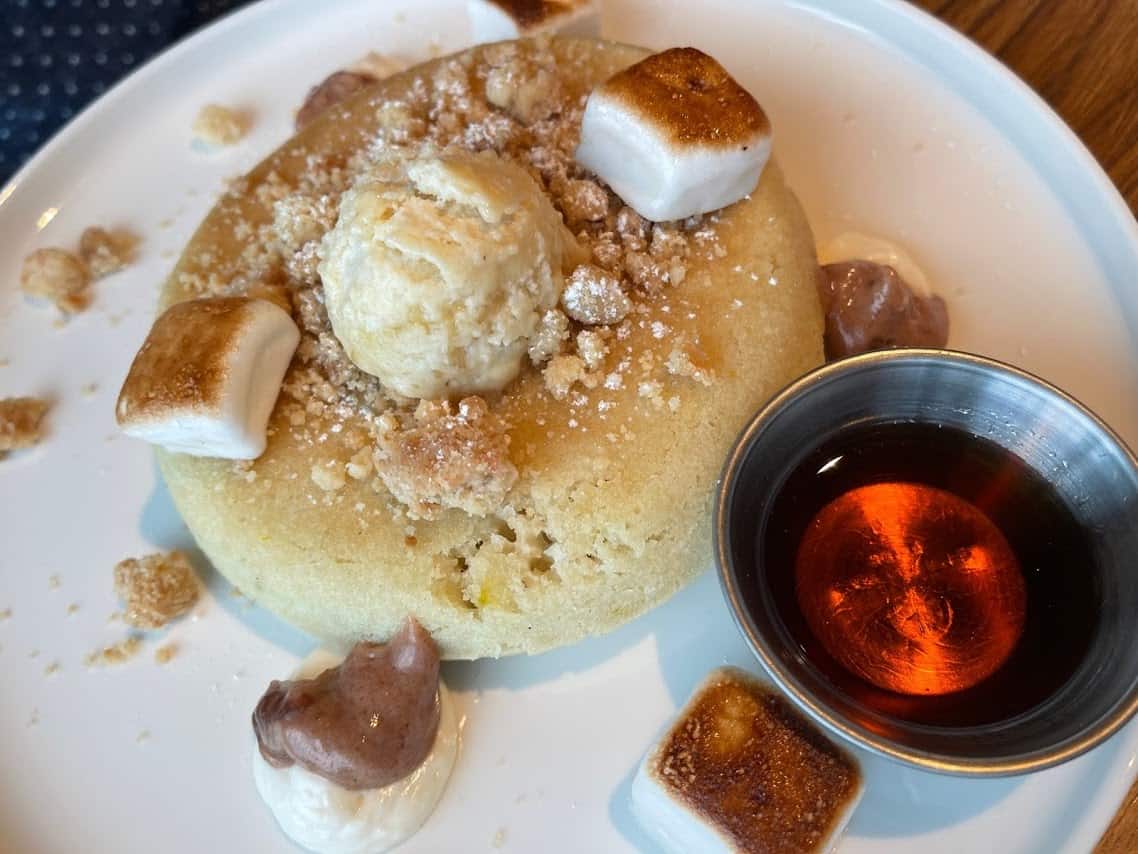 Although this was a sea day, it would be a little special because a group of us were being given a behind-the-scenes tour which would show us the inner workings of the ship.
We checked out the LNG engine and saw some of the equipment used to process recycling and otherwise make this ship the most environmentally-friendly vessel in the Carnival fleet.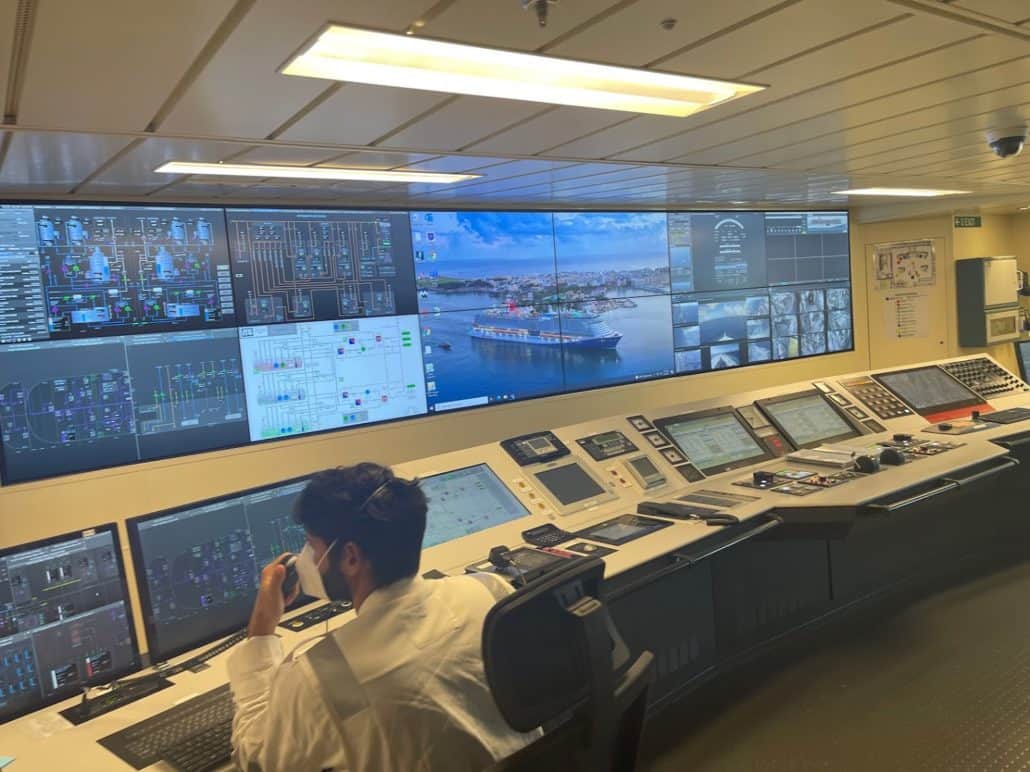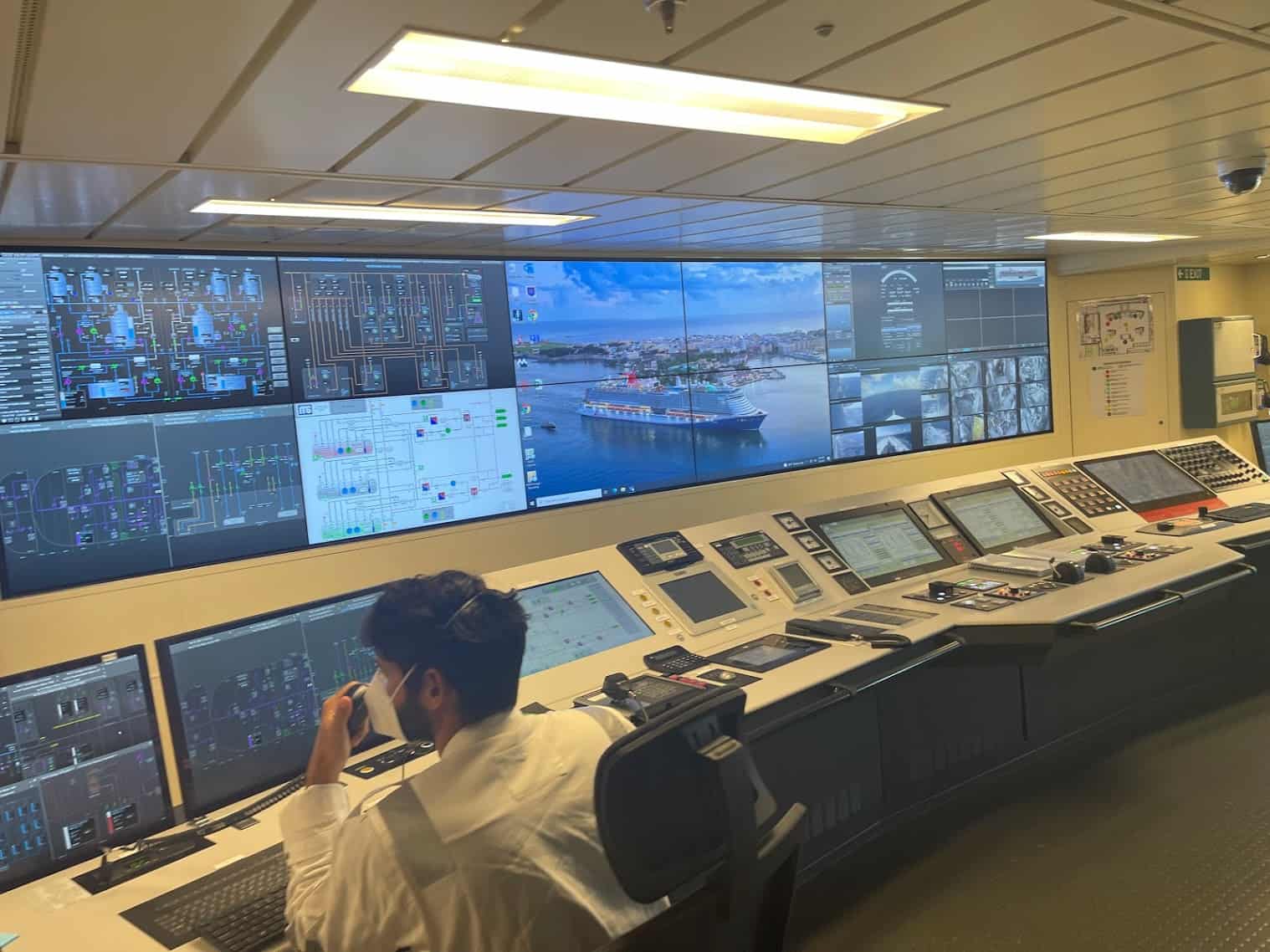 Obviously, getting an opportunity to peek behind the curtain like this is rare, and it's also something I'll always jump at the opportunity to do.
In a weird way, it reminds me of Walt Disney World and the "utilidor" system that runs beneath the Magic Kingdom. However, this space on a cruise ship is called I-95 (like the interstate on the east coast).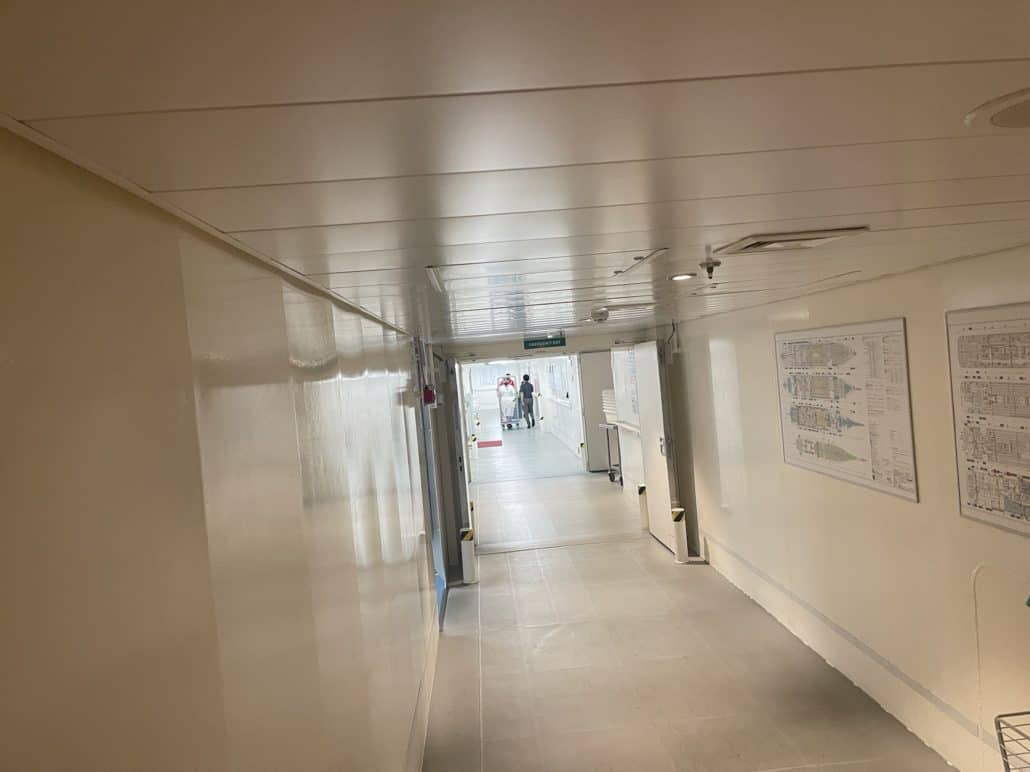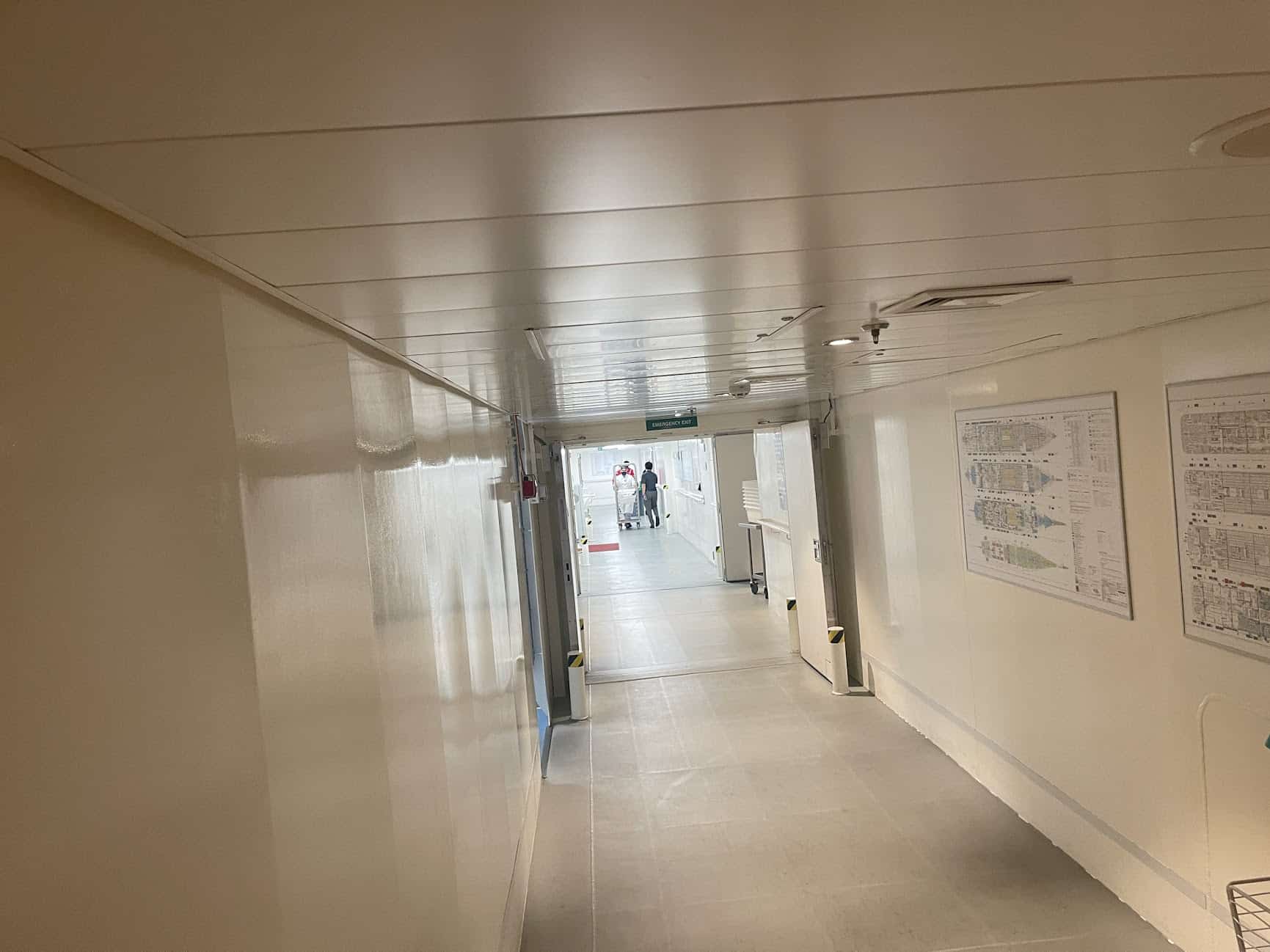 Also, not for nothing, but how cool are these work uniforms the crew wear in the engine room? I won't lie… I kinda want one.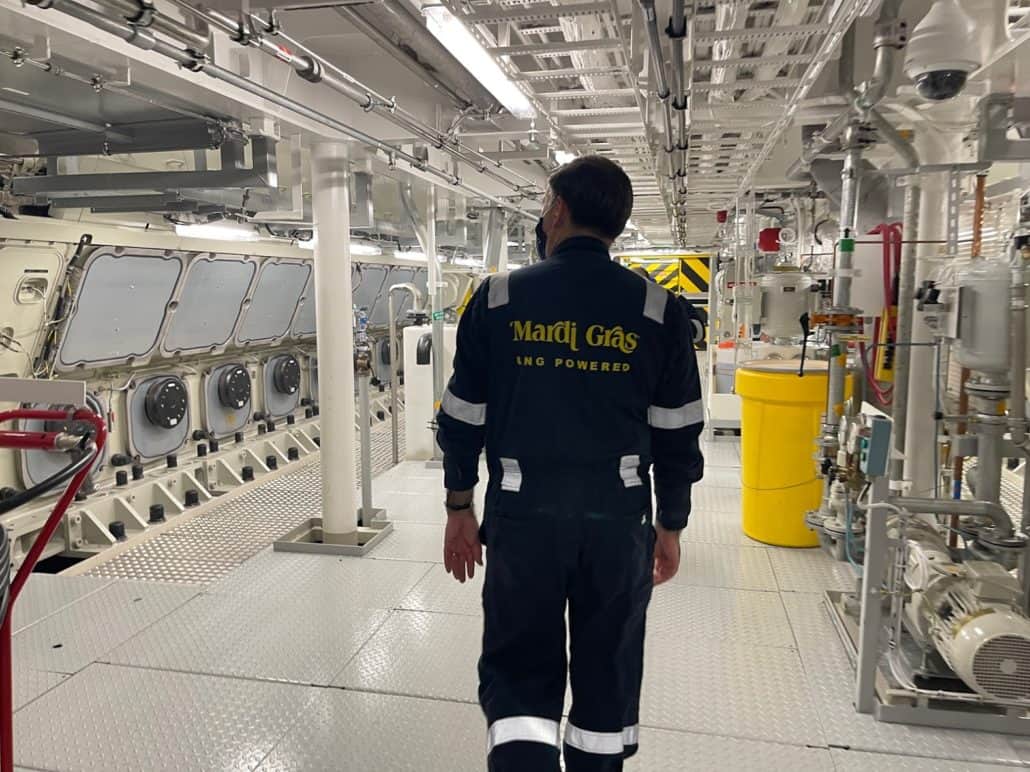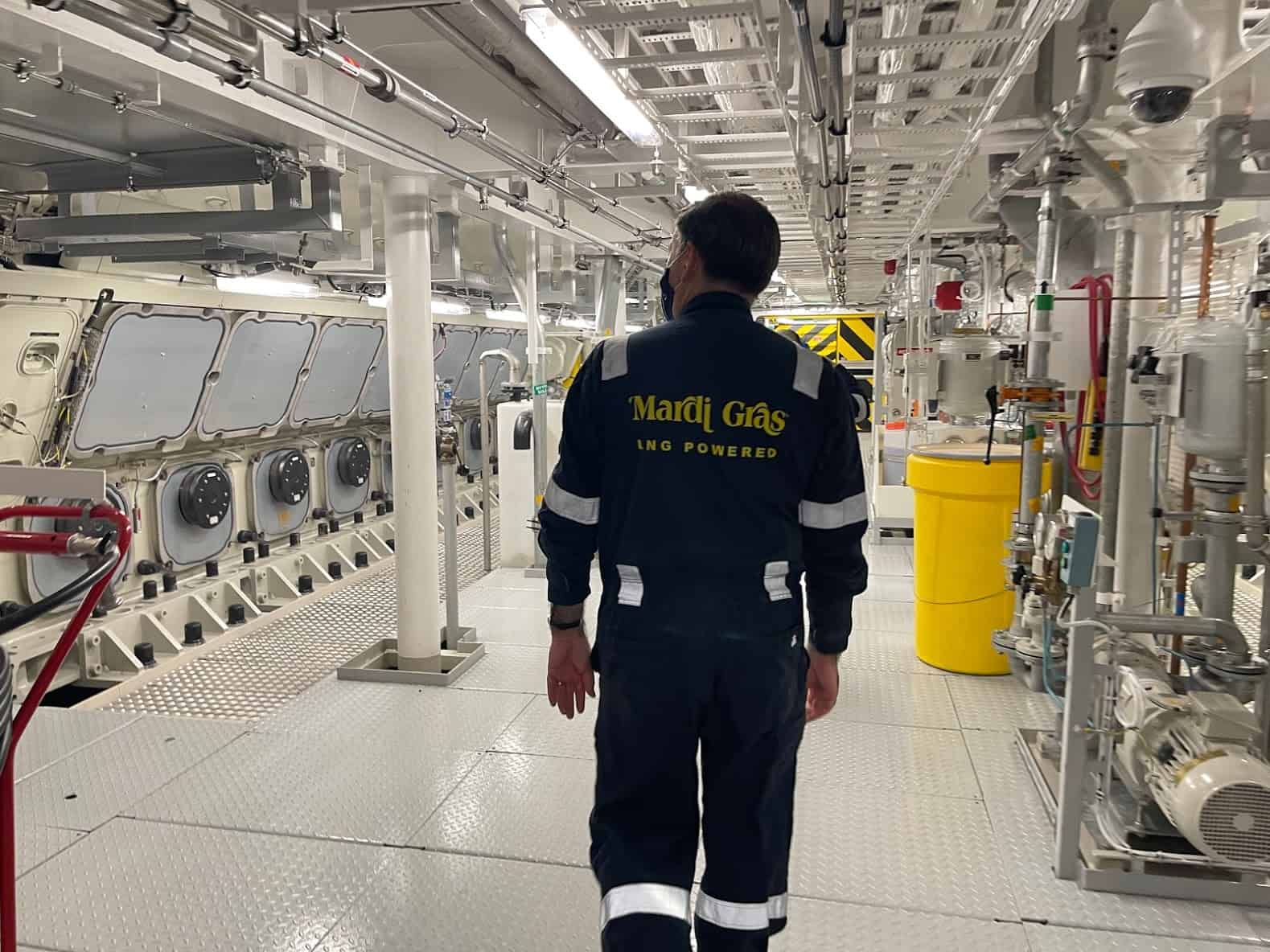 Later, there was another Q&A session with Carnival Cruise Line President Christine Duffy. As I've mentioned before, she's been extremely present on this sailing. I've been on sailings where an executive is on board for the first day or two and then ducks off the ship to fly home, or where they're on board but rarely seen. Duffy has been everywhere, talking to everyone. It's kind of refreshing.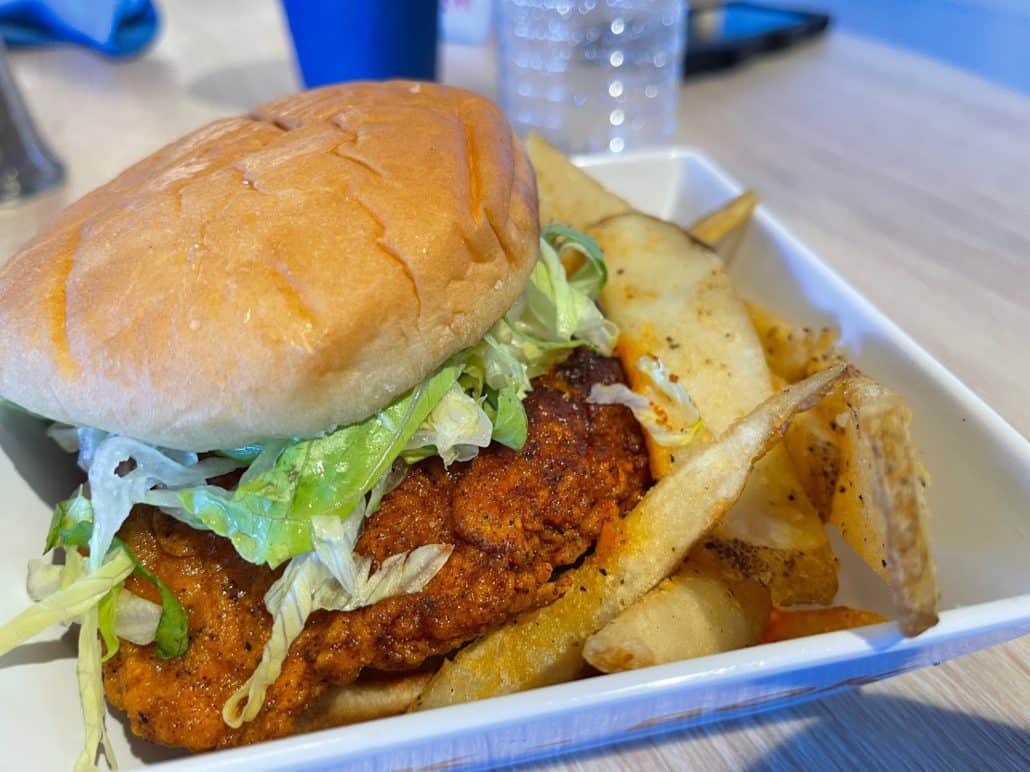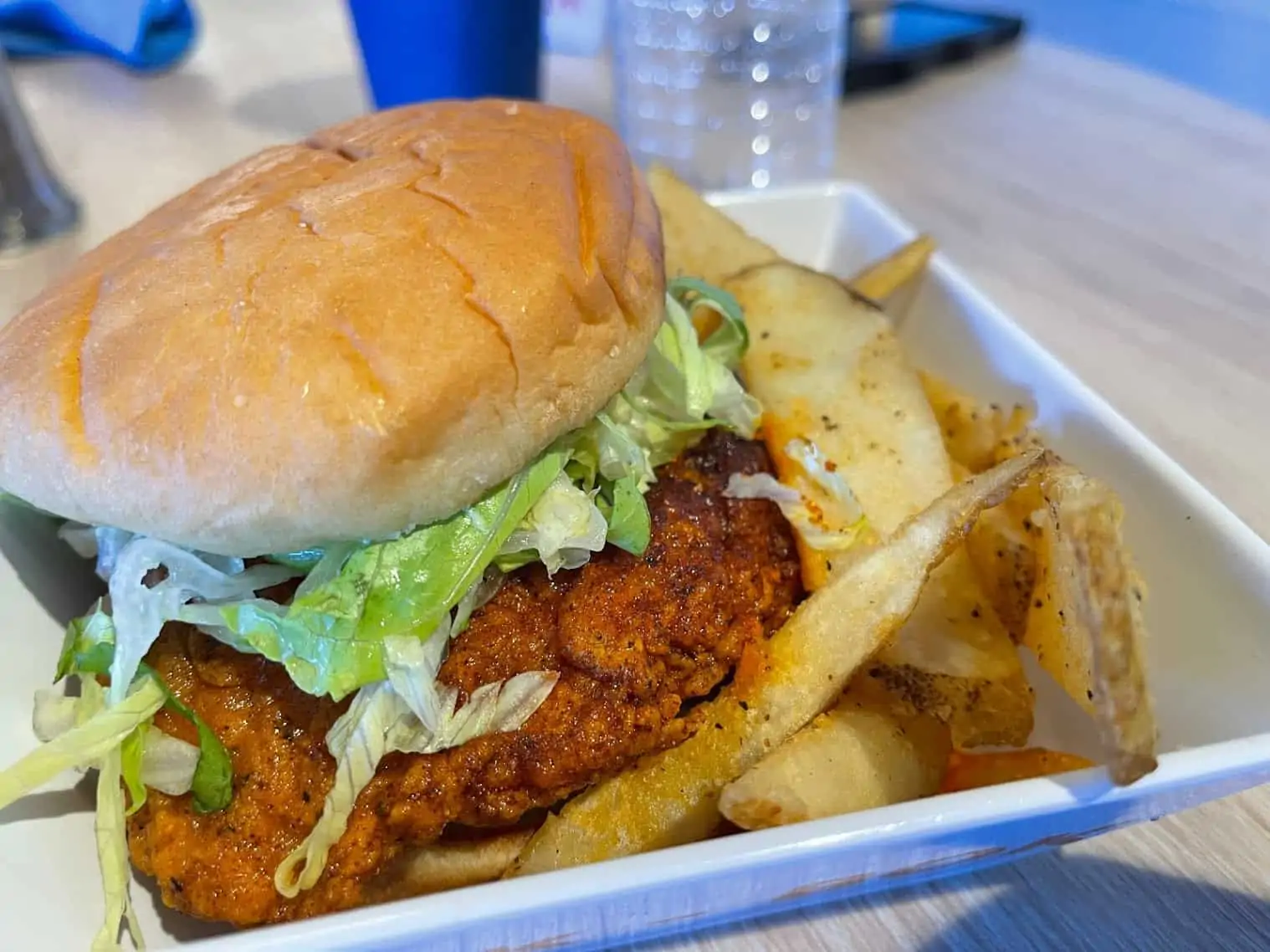 Looking for a little lunch, I headed up to Big Chicken. Given that this is right next door to Guy's Burger Joint — which means I passed on Guy's to grab some more of Shaq's chicken — tells you how good this place really is.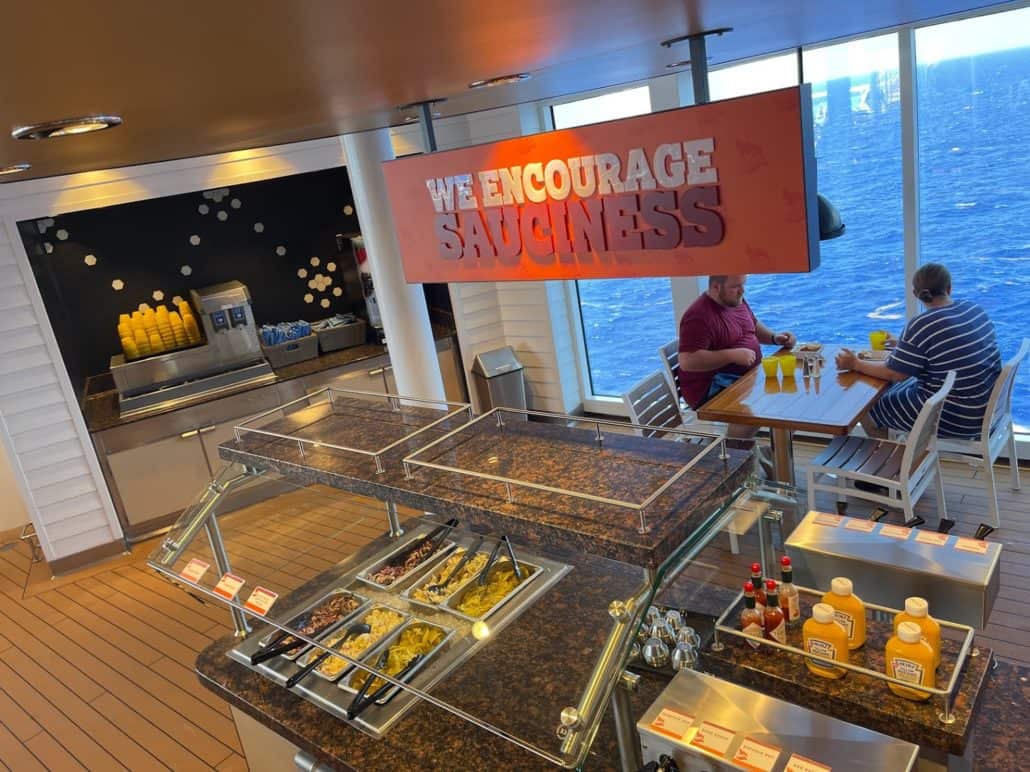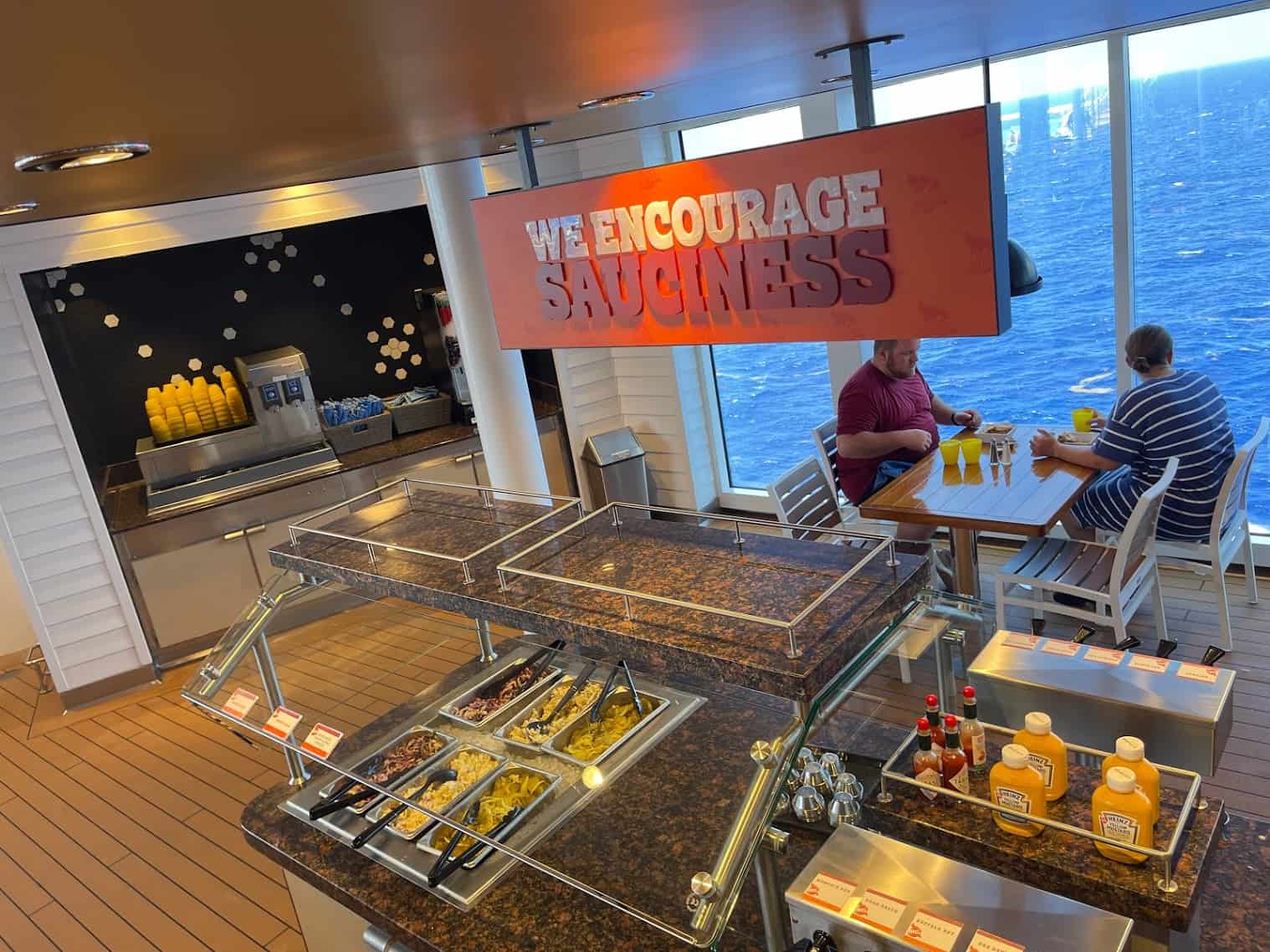 Like at Guy's, Big Chicken has a fixings bar where you can add various toppings to your sandwich. It's not quite as elaborate as the selection you'll find at Guy's or BlueIguana Cantina, but it does the trick.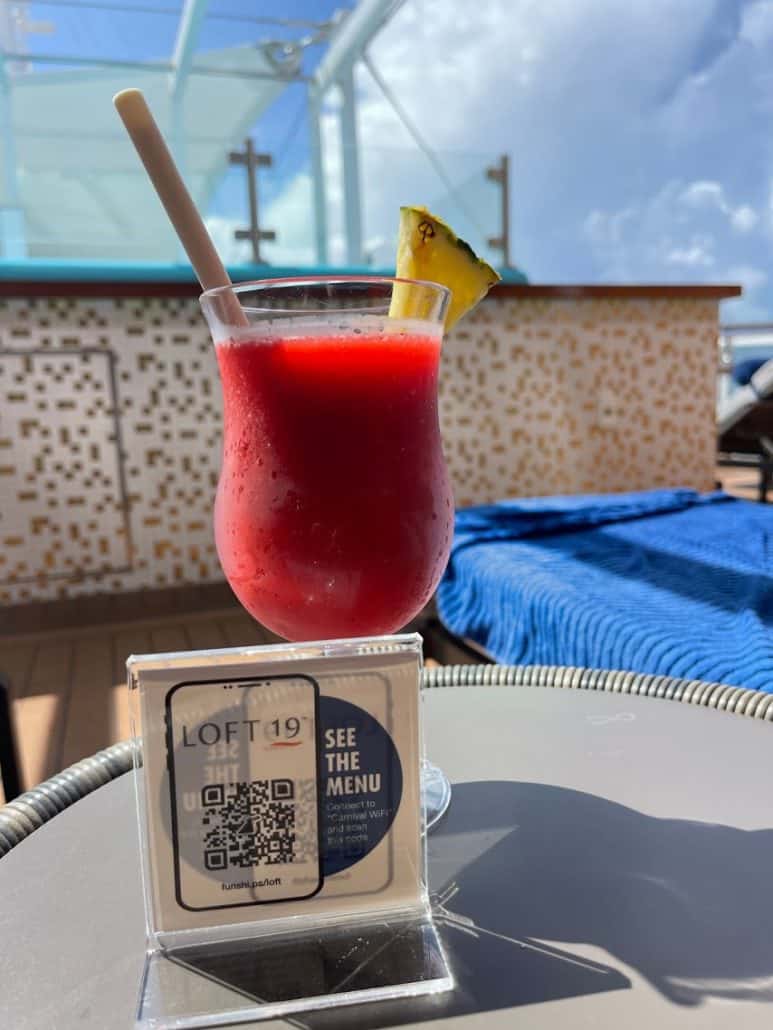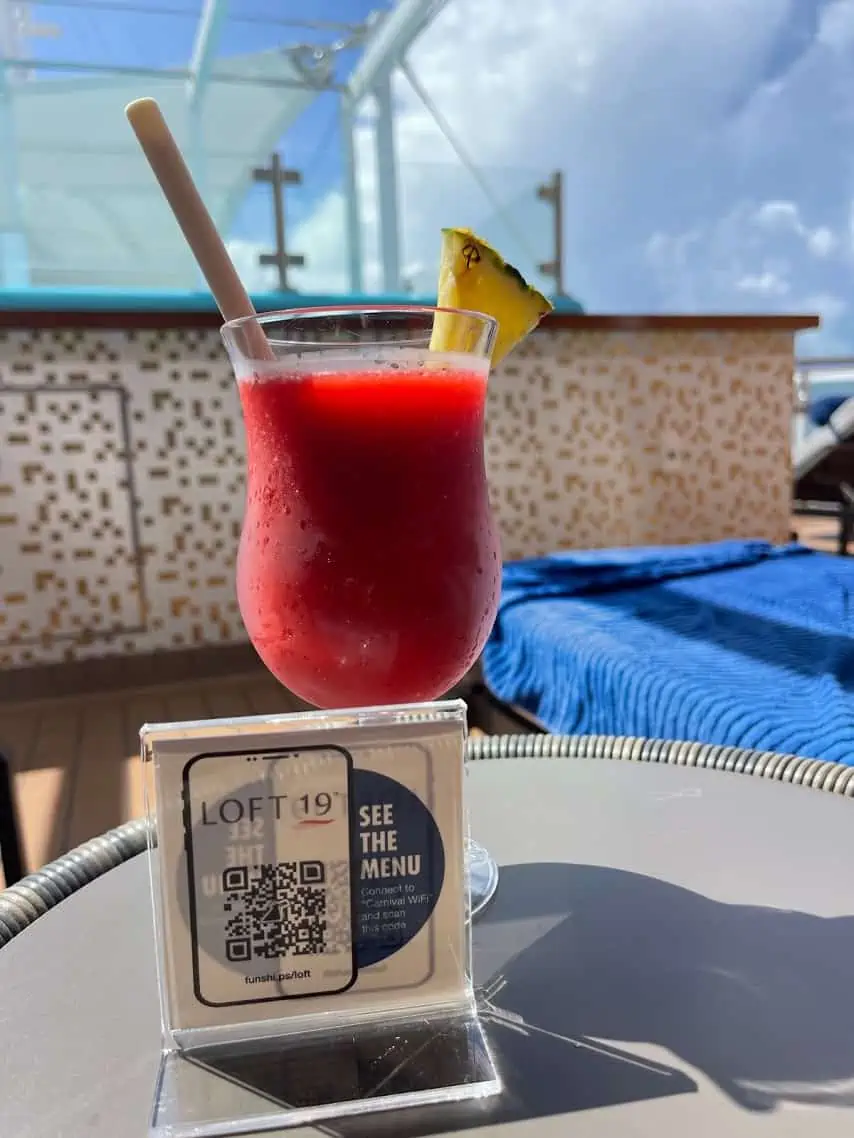 I headed up to Loft 19 to grab a drink before meeting friends at Serenity, which is one deck below. I've got to say that Loft 19 is definitely one of my favorite places on this ship. It's got a great vibe, is never crowded, and is the perfect place to relax or, if you're like me, get a little work done.
One day, I spent a few hours going from my lounge chair — these ones have extra thick cushions and are super comfortable — to the hot tub and back. occasionally, I'd go down to the Serenity deck to cool off in the pool, then head back up to Loft 19.
And as I mentioned earlier this week, they definitely check for wristbands to make sure nobody who shouldn't be there is crashing the party.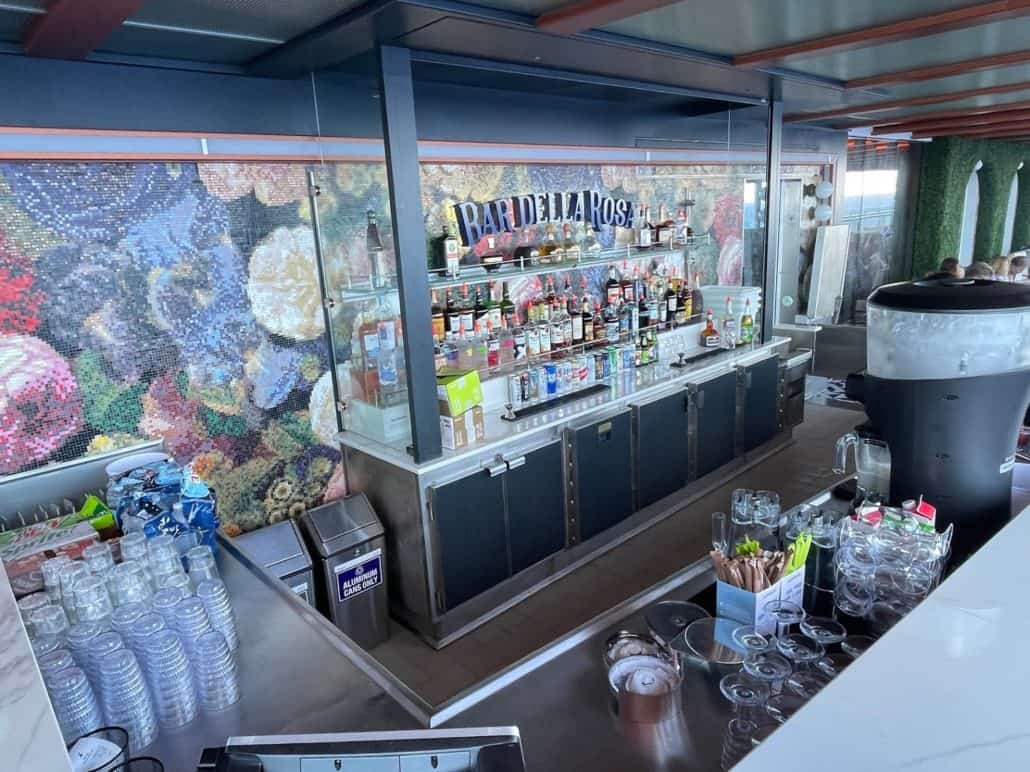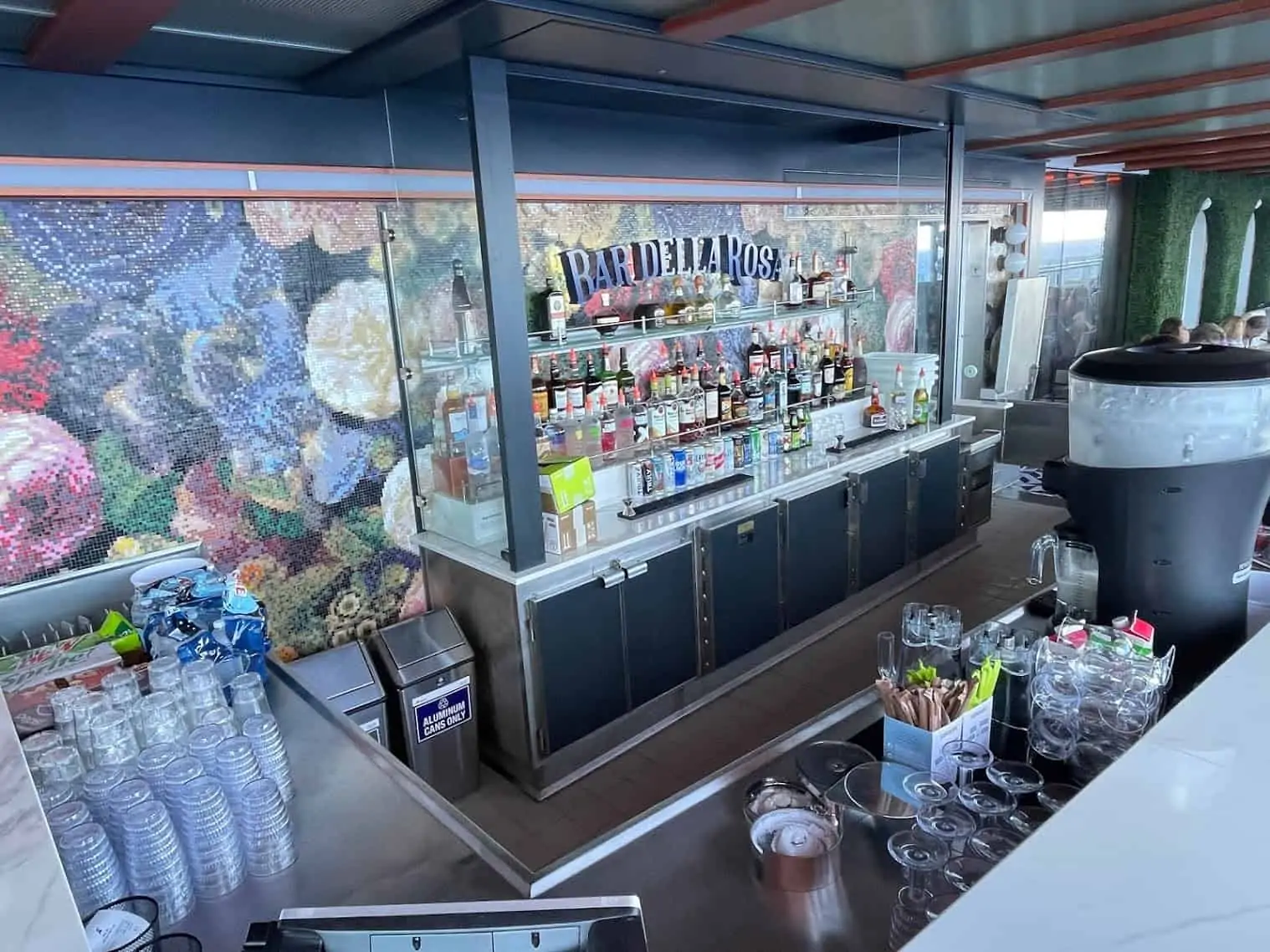 After getting together with people on the Serenity deck, we set out on somewhat of a mini pub crawl. It's amazing how easily a quick drink can turn into a group of people wandering from bar to bar, especially on a sea day.
We checked out a few places including the Tiki Bar, the Tides Bar on deck 16 aft, and Bar Della Rosa which is in the La Piazza zone but outside. It's a fantastic bar with some comfy seating nearby and, as  the best bars on this ship have, a killer view of the ocean.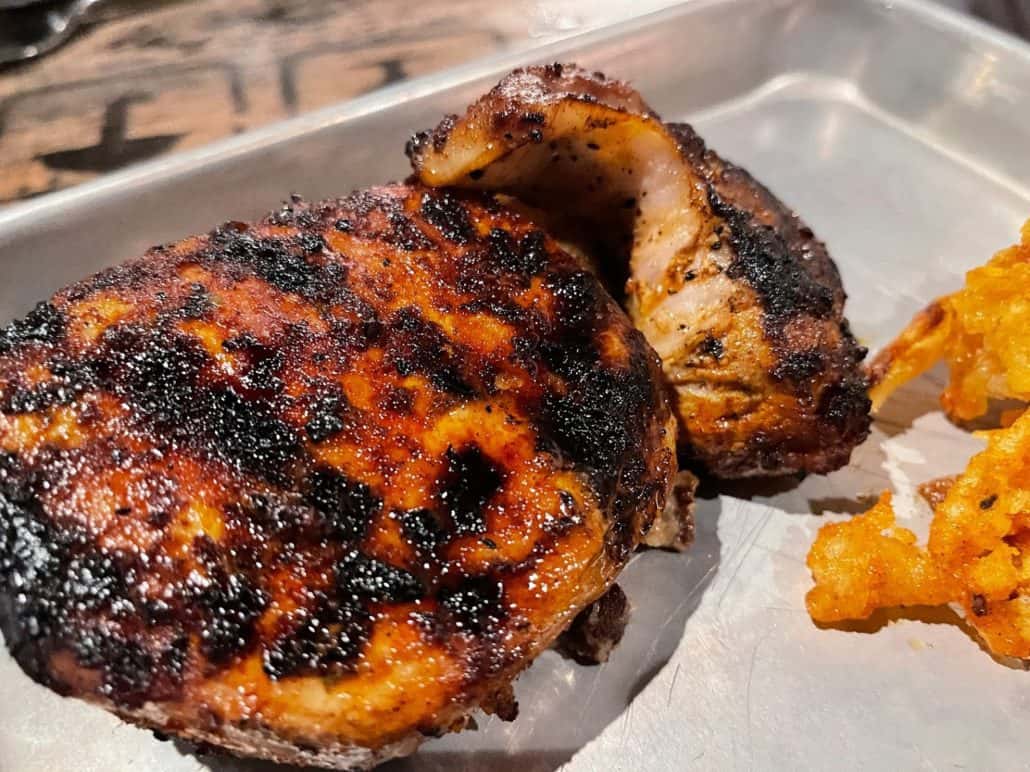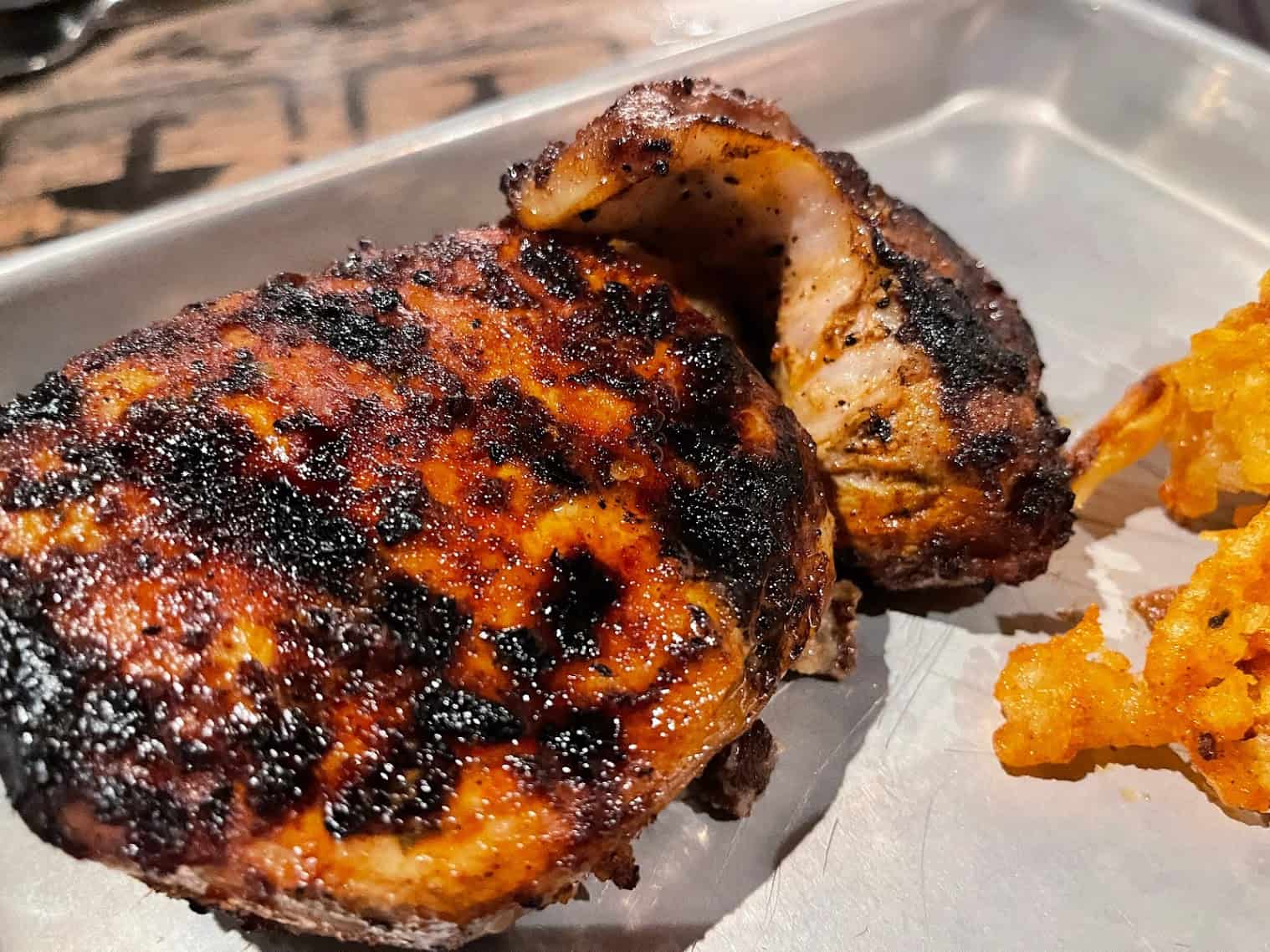 At dinnertime, we headed for Guy's Pig & Anchor Smokehouse | Brewhouse. Remember, on Mardi Gras, this is a complimentary venue right now.
People clearly still haven't really figured this out, because there wasn't nearly the crowd you'd expect. I had a delicious piece of salmon with a bunch of sides, but man, was I tempted by the pork chop (pictured above) when my friend's dinner arrived.
I seriously considered ordering that, too.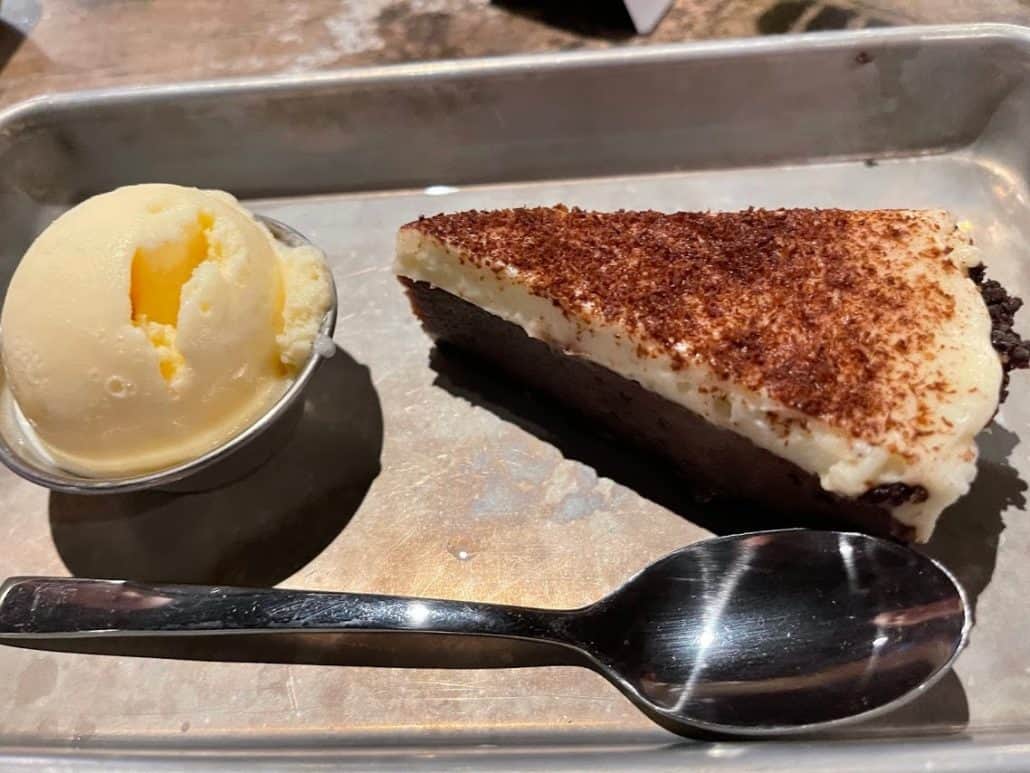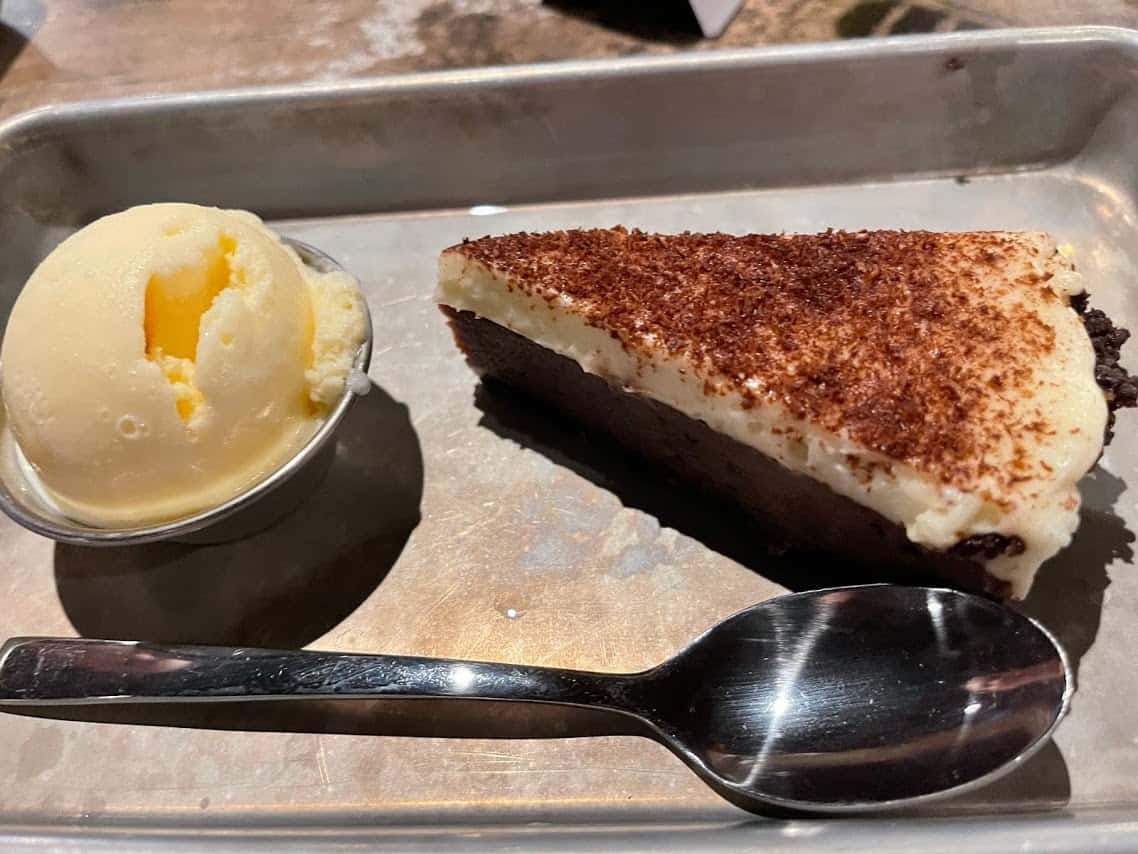 Because I didn't order the pork chop, I rewarded myself with a piece of Mississippi Mud Pie.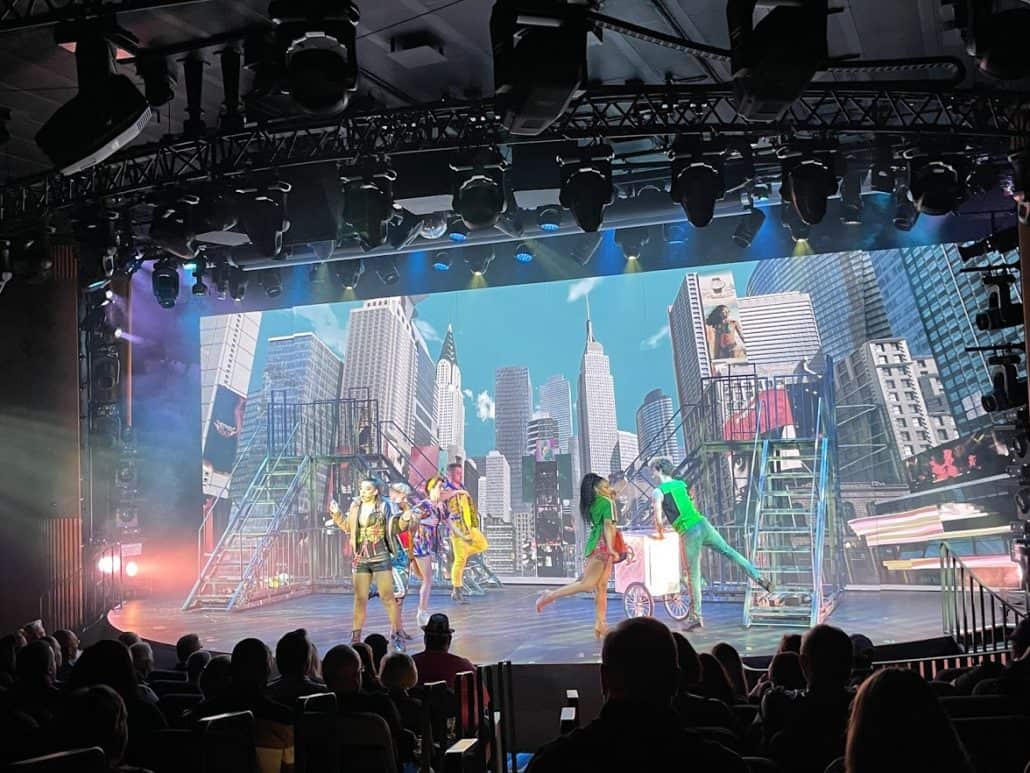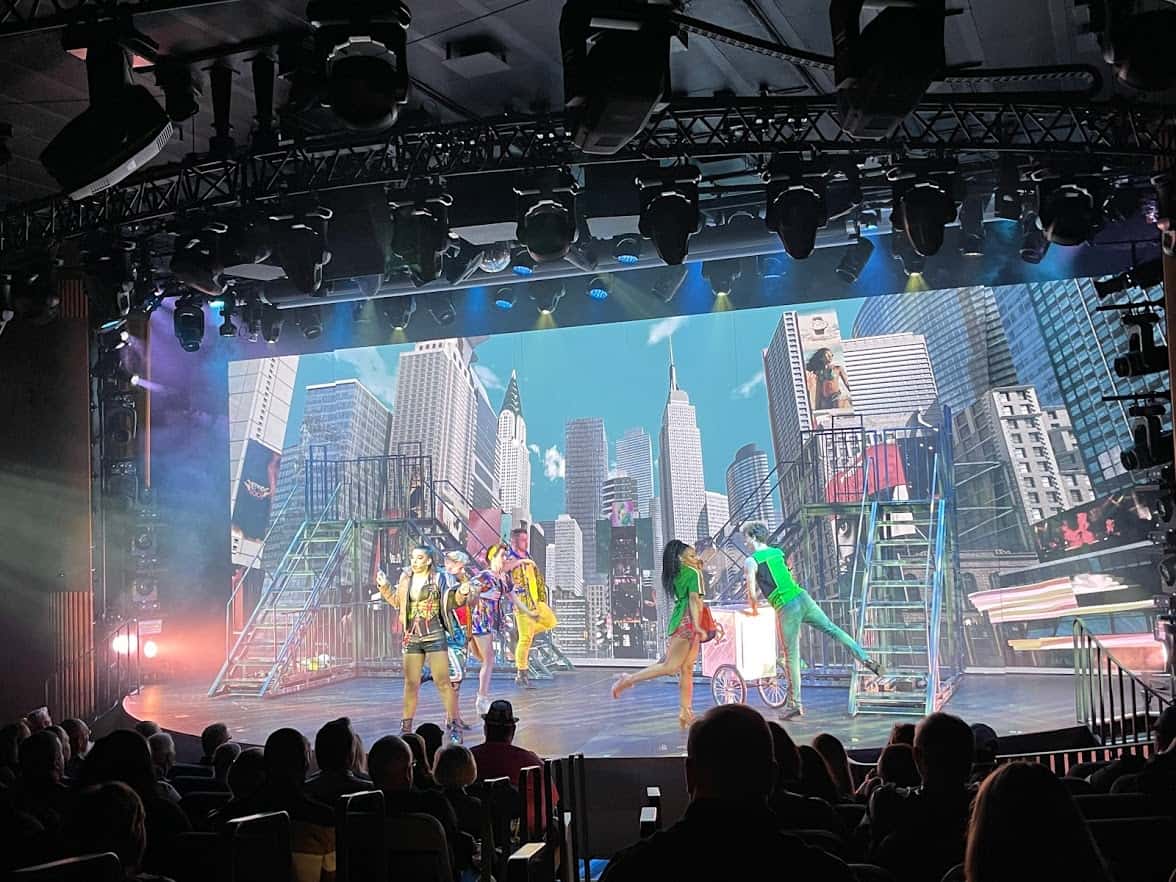 We thought about checking out the comedy show, but by the time I finished an interview I had scheduled with Chris, the cruise director, and we got to the Punchliner Comedy Club, it was pretty packed.
So instead, we headed to the Fortune Teller Bar for a late-night drink.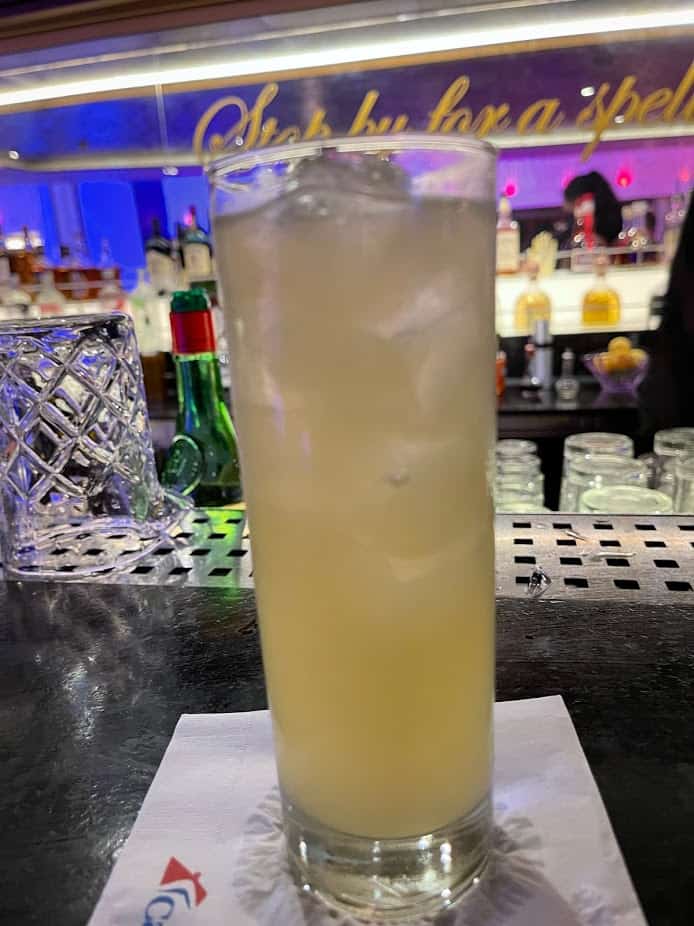 Afterward, I was feeling a little hungry so I grabbed a couple of slices of pizza and, letting my sweet tooth get the best of me again, a strawberry cannoli from Piazza Panini (they serve dessert after 8 pm).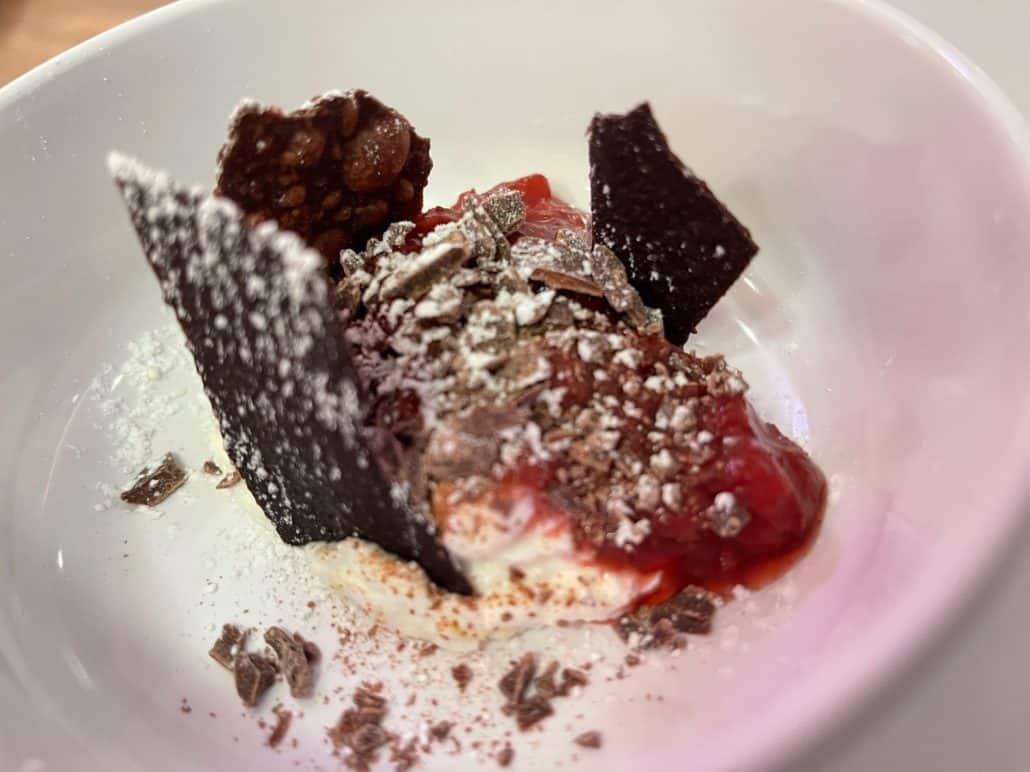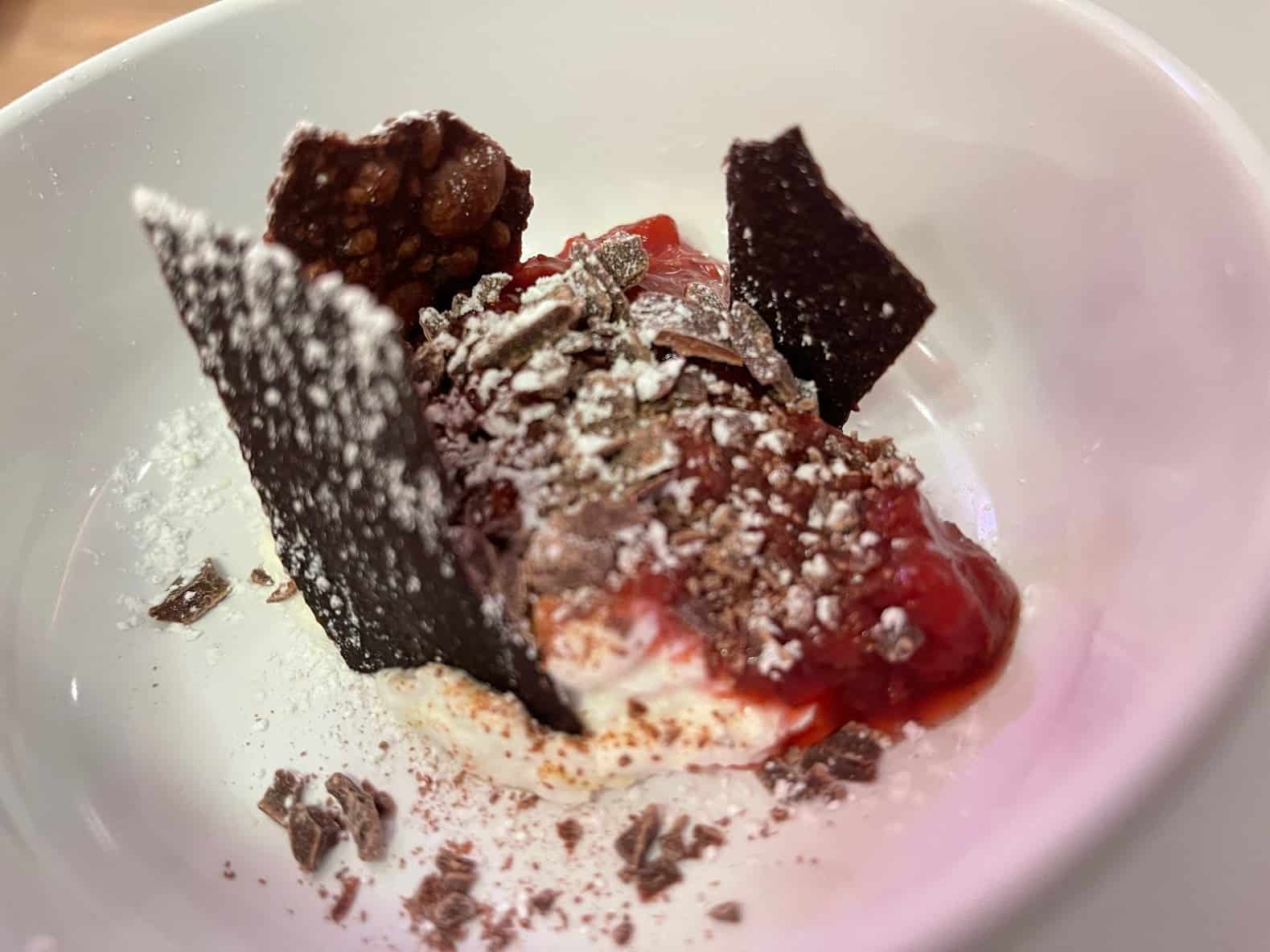 After that, it was finally time to call it a night. On many cruises, the final sea day ends your trip. But in this case, we still have one more stop, as tomorrow we're visiting Nassau, Bahamas.
I'm planning to visit the Blue Lagoon… a place I feel like I may have been about 14 years ago, but don't truly remember.
Until then…
Check out my other Mardi Gras trip reports: