Today marks my third time in Amber Cove in 28 days, and you know what? I'm absolutely okay with that.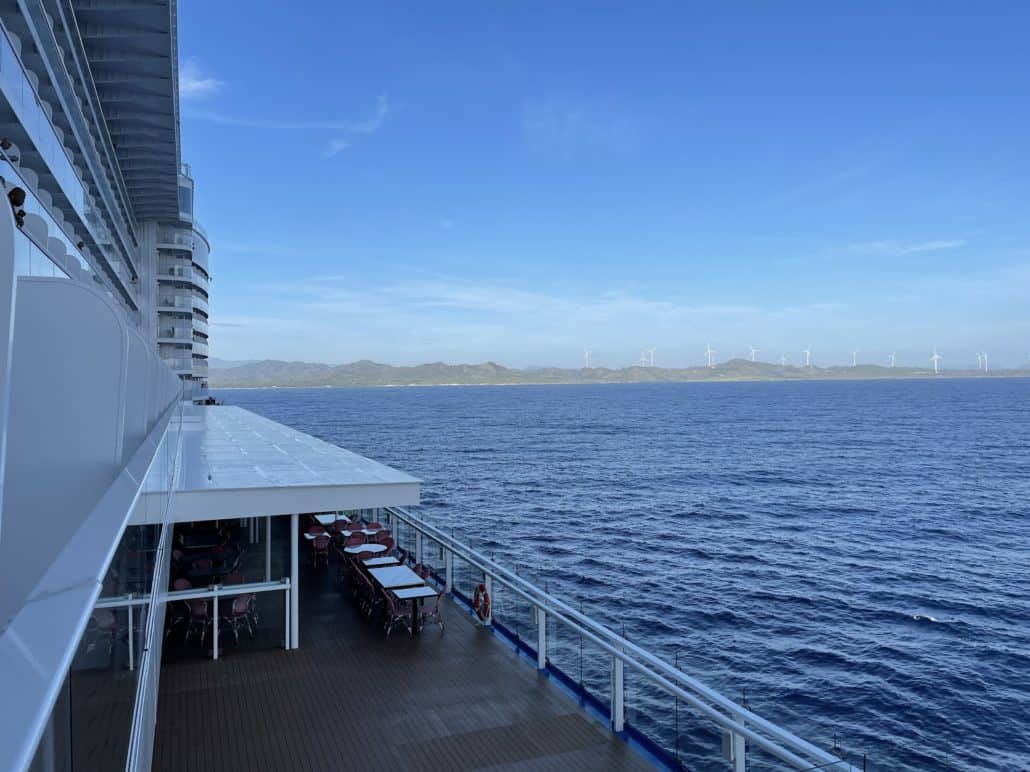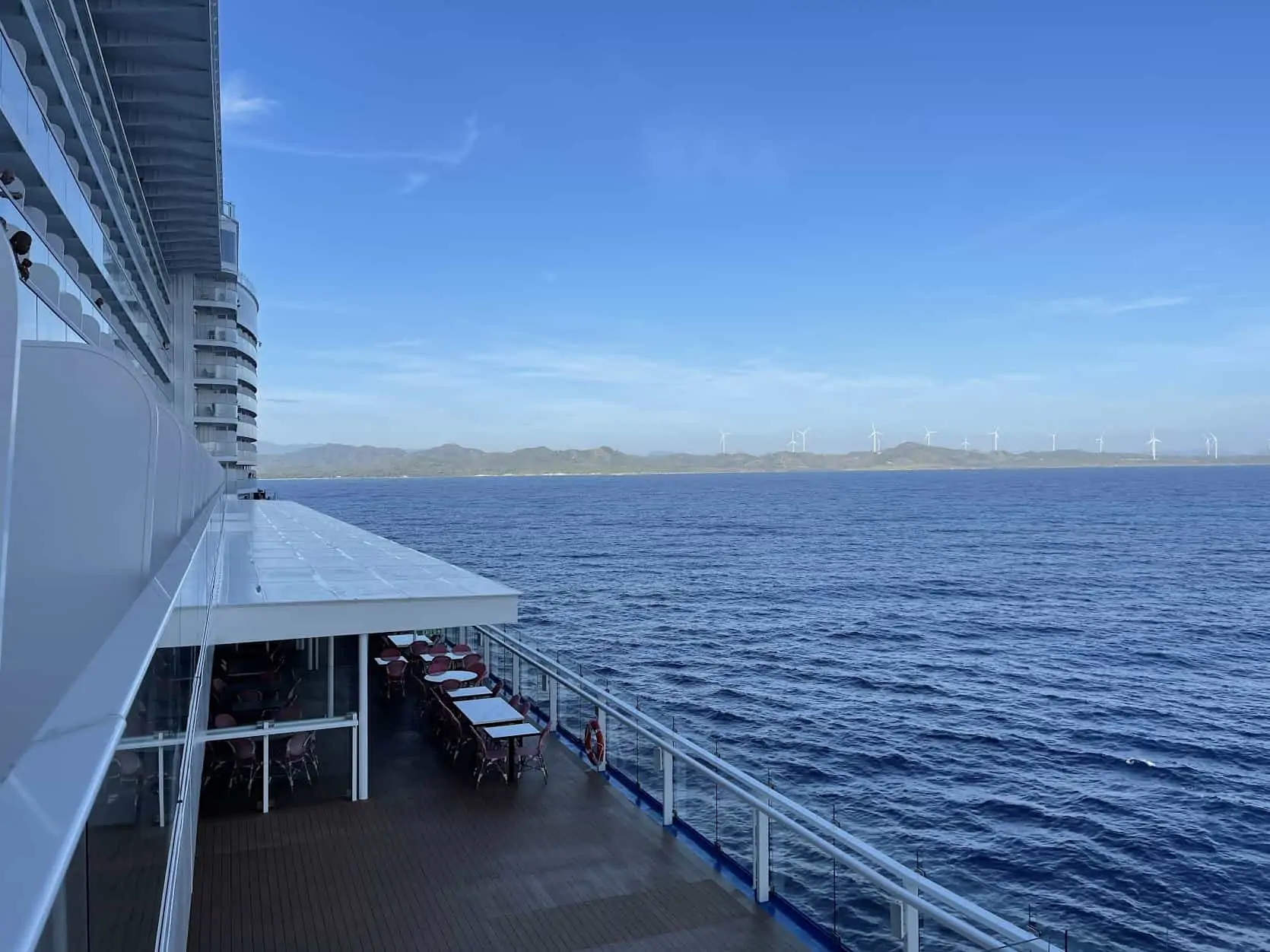 As I mentioned yesterday, as a ship-head, this is one of my favorite ports to visit from a technical standpoint because upon arrival, the captain has to maneuver the ship into position and then back into the port. I'll be honest, I'd love to be on the bridge observing this whole process. How cool would that be?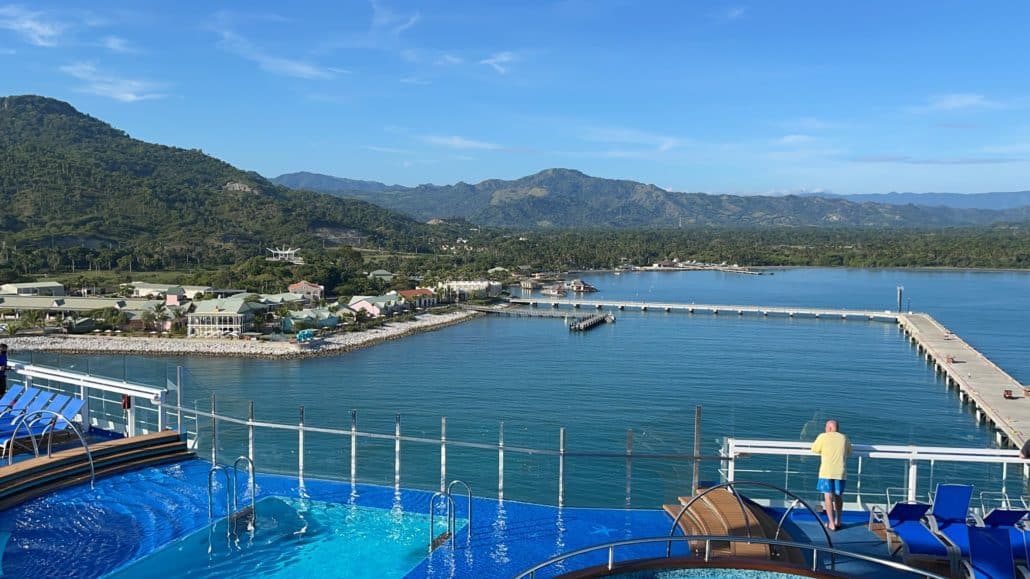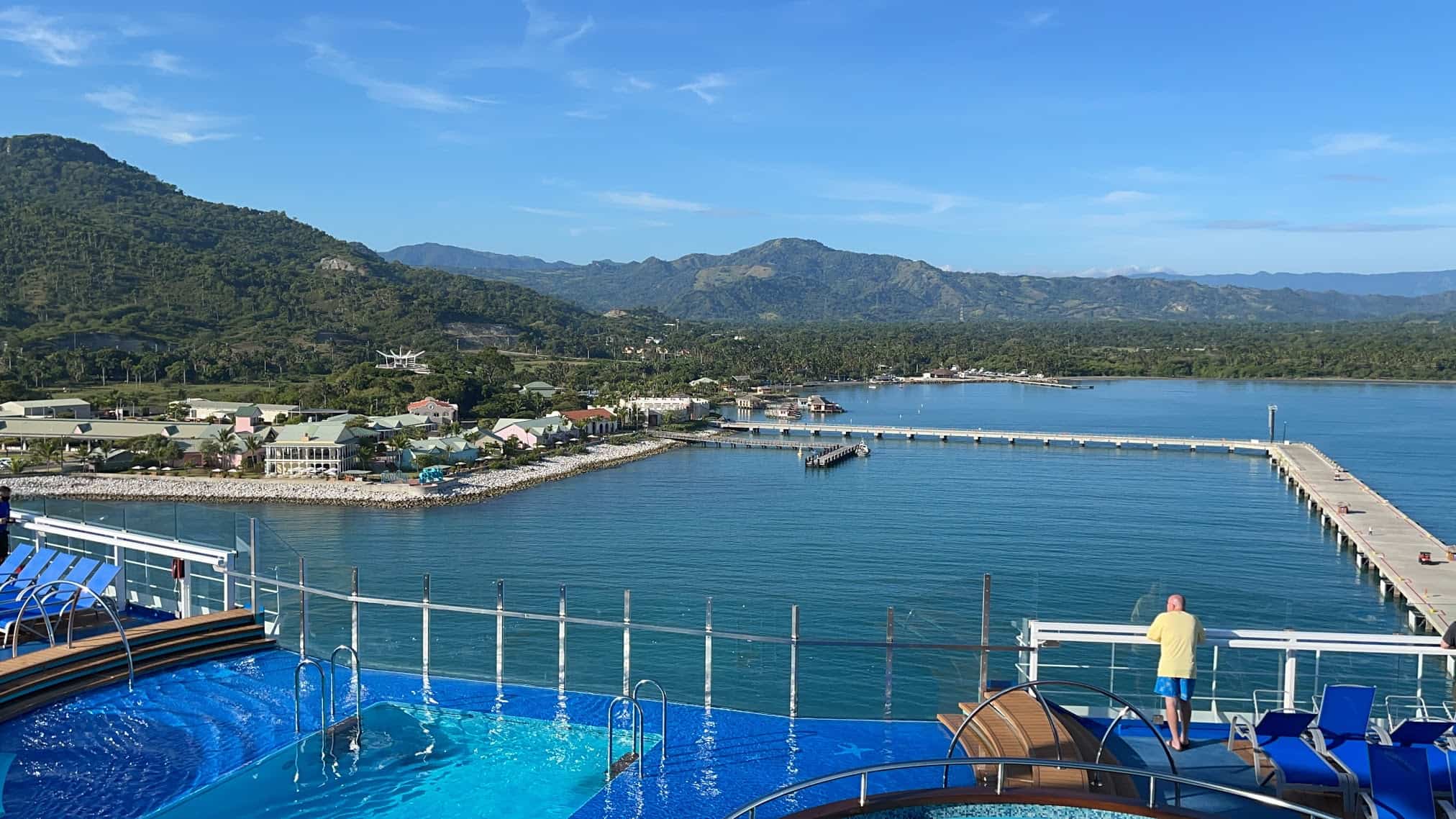 As with yesterday in San Juan, there was a plaque ceremony at the pier with local dignitaries, as they welcomed Mardi Gras to the port for the first time.  But unlike San Juan, I didn't attend the ceremony and instead headed straight for my Grand Cabana.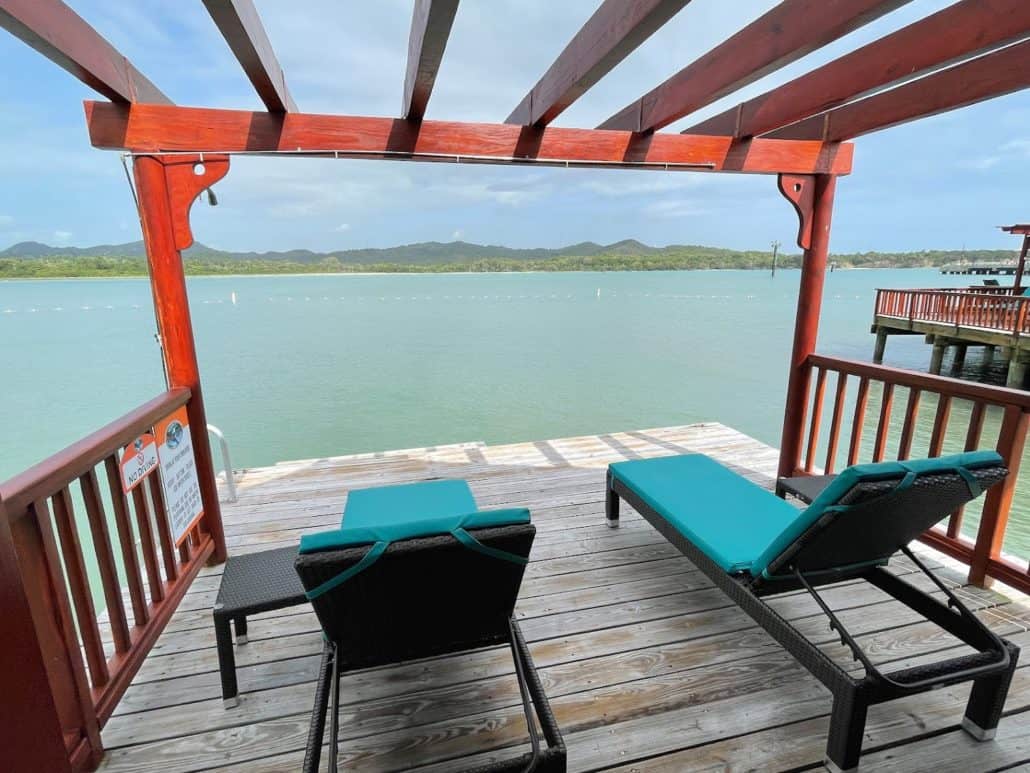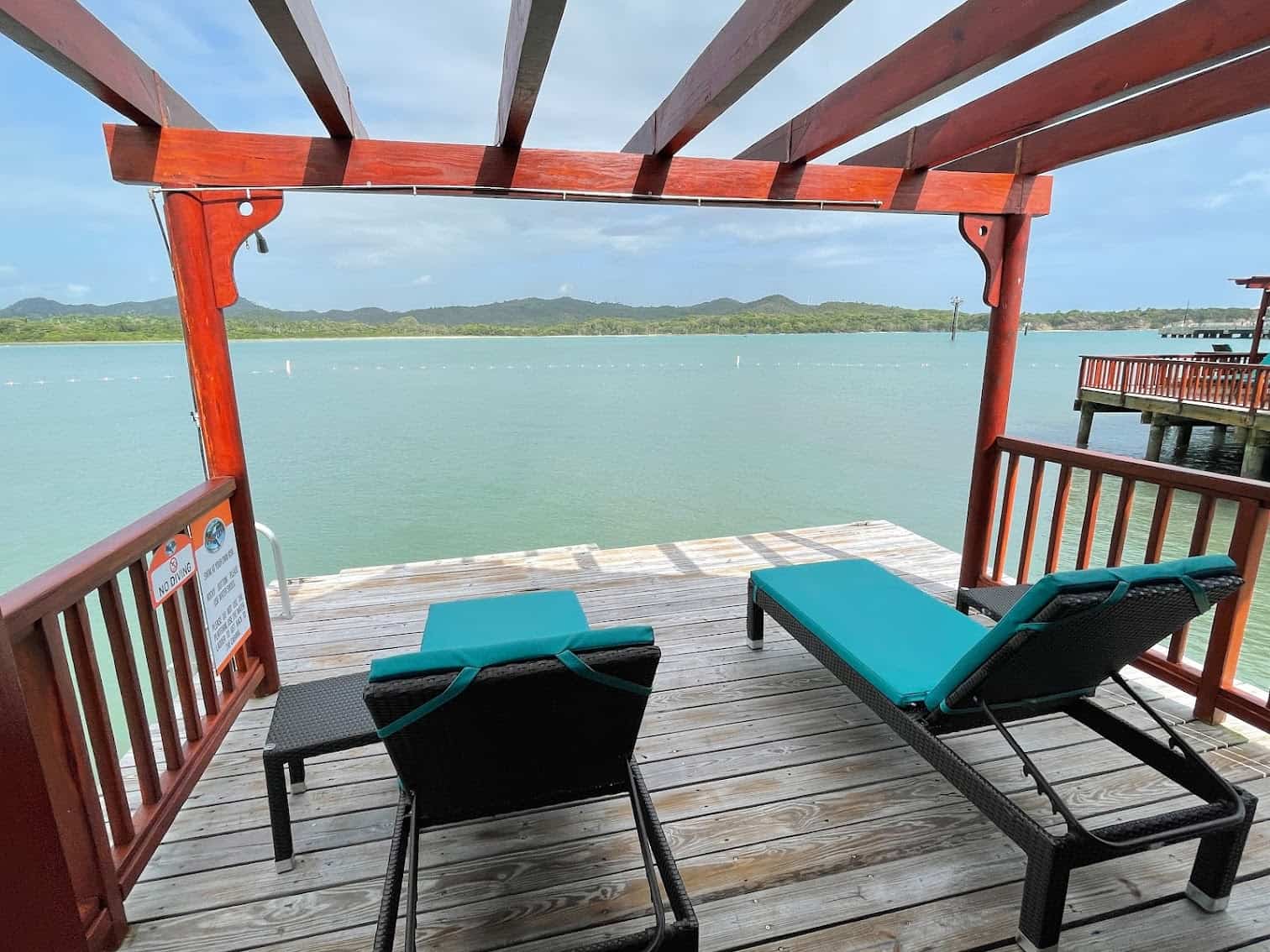 If you were following my recent Carnival Horizon trip report, you know that my travel agent booked the Grand Cabana on our July 4th sailing for her clients. Well, turned out she was on this sailing as well and had once again booked this amazing space for her clients. (Have I mentioned lately the perks of booking with a travel agent?)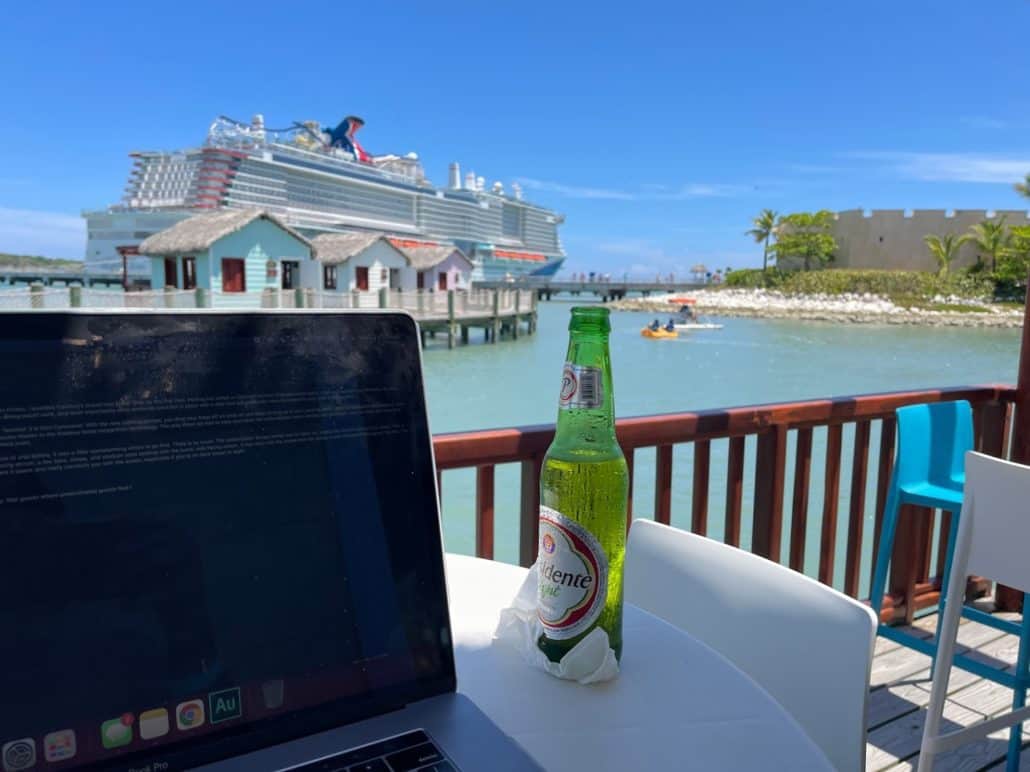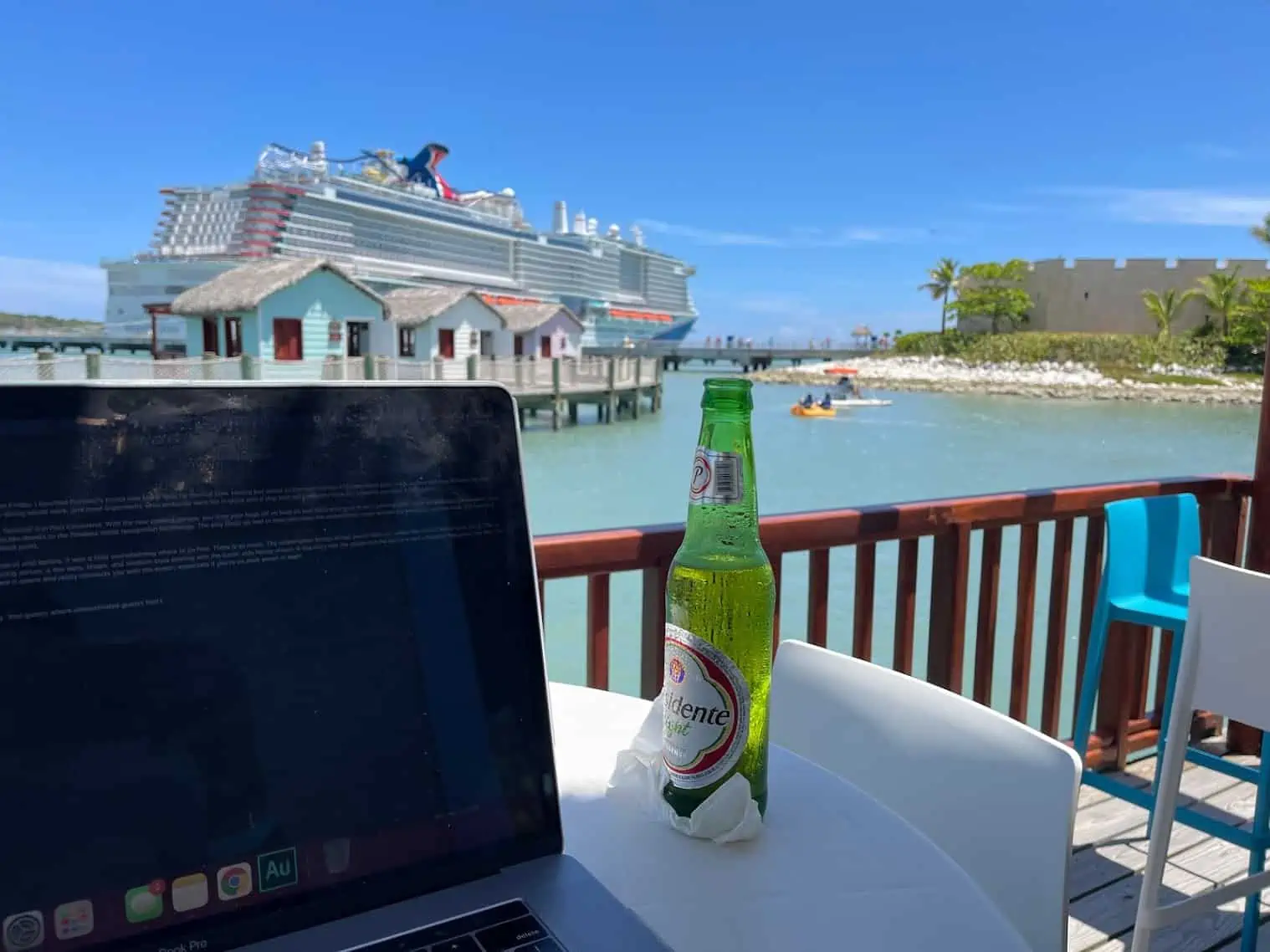 It was another picture-perfect day in Amber Cove with a nice breeze which, given how hot it can be when the Caribbean sun is shining, was a welcome relief.
The last time I was here, I spent the day ziplining with friends we'd met on board. But today was more of a work day for me. (I mean, sure, I was in a gorgeous cabana with a beer by my side and a killer view, so I bet a lot of you would happily trade places… but I really was working!) As I'd soon find out, I wasn't the only one doing so…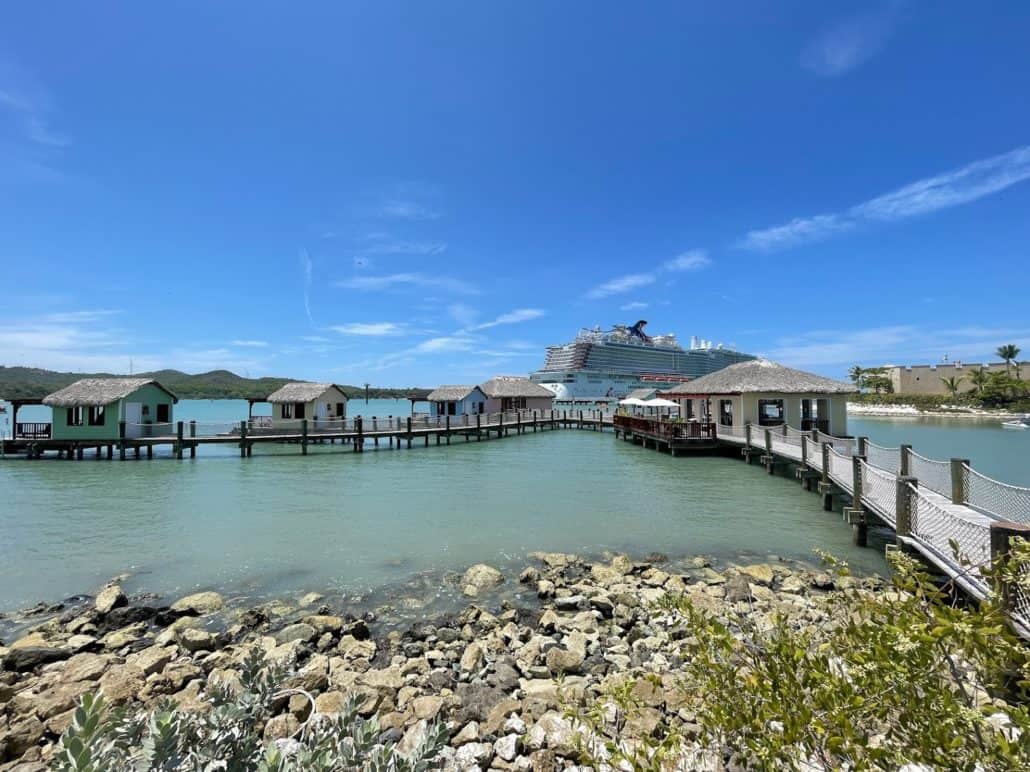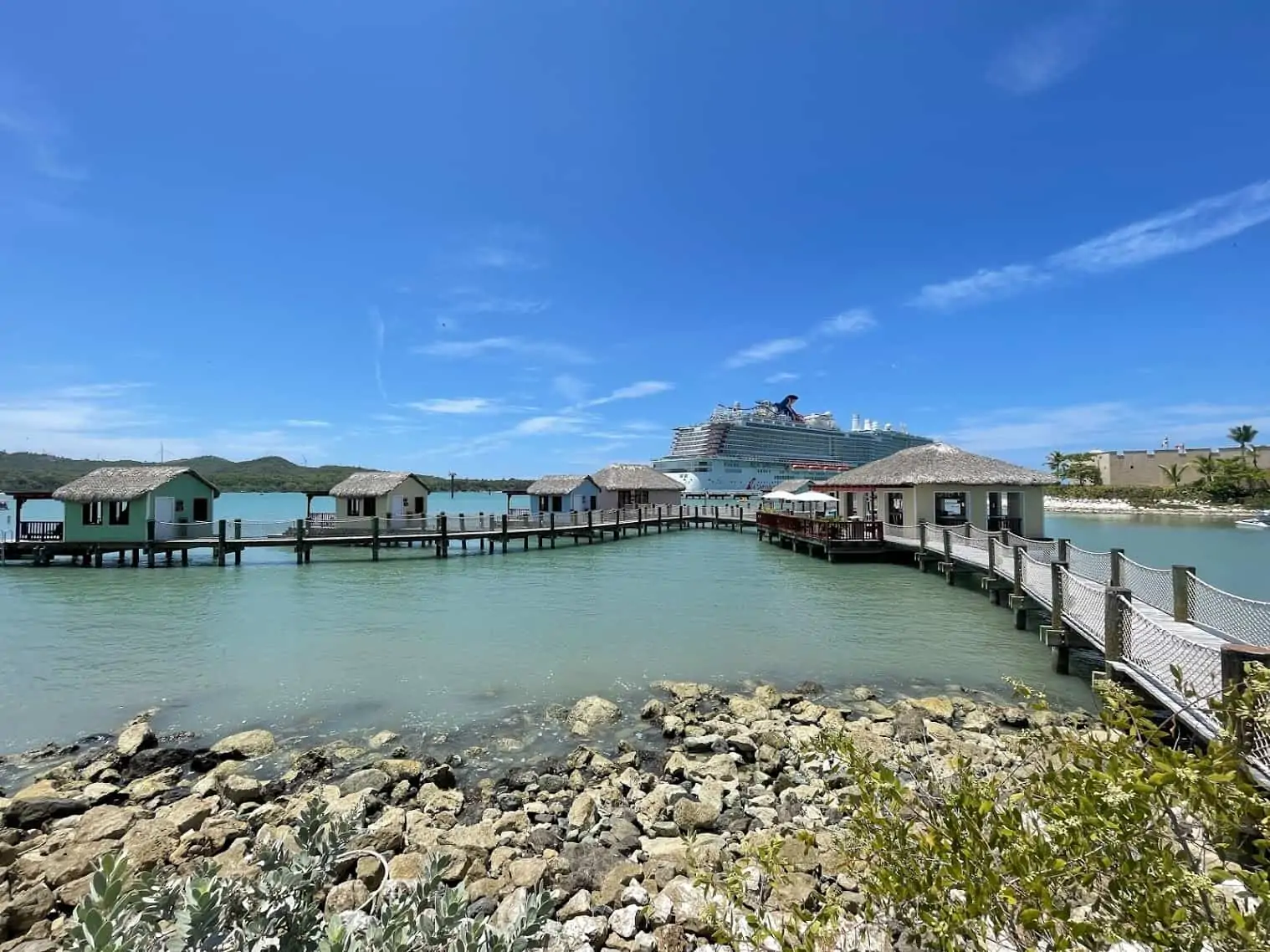 Mid-afternoon, Carnival's Brand Ambassador John Heald went live on Facebook. Now, this isn't really all that unusual given that he's on this inaugural sailing with us and has been doing his infamous "walkies" on a regular basis.
But this was different, because he said he had to share some news. This was not the jovial, sometimes goofy John we all know and love, this was the John who is often tasked with having to tell people things they don't want to hear. I'll admit, I tensed up. I may even have stopped breathing while I waited to hear what he was about to announce.
The news he shared that afternoon was something many cruisers did not want to hear: Carnival had decided that in order to keep everyone safe, they would be requiring masking in public spaces as of August 7, regardless of a person's vaccination status. Beginning August 14th, they plan to require all passengers to provide a negative PCR or antigen test done three days before embarkation. (You can read more about the announcement here.)
"We have to keep cruising going," he said in summing up the decision, "and this is what we have to do."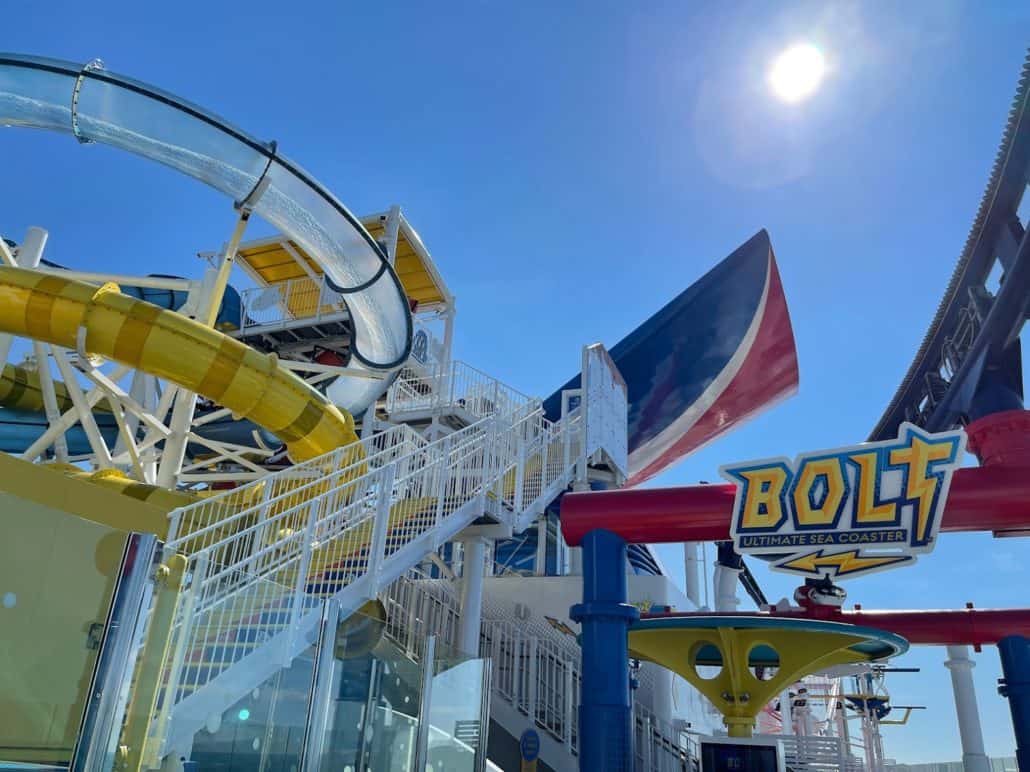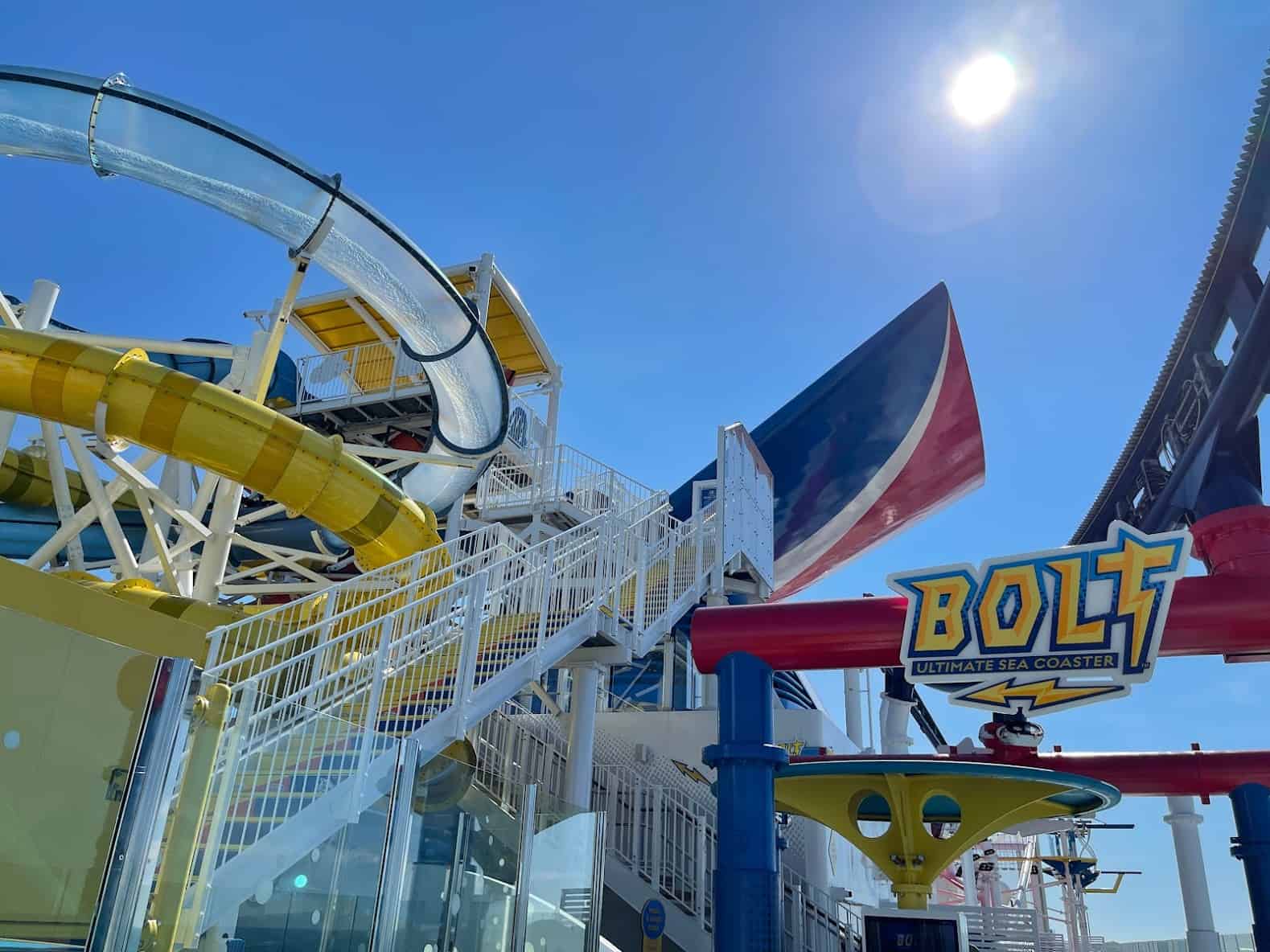 It's safe to say that by the time we headed back to the ship, the mask mandate was the hot topic on board. "Glad we booked this week and not next," more than one person was heard saying, while others said they'd happily wear a mask if it meant they could continue to cruise.
We, however, had something more pressing on our minds: Our 4 p.m. appointment to ride the BOLT roller coaster! We'd easily made the reservation on the HUB app, so all we had to do was check in on deck 18 and then head up to deck 19 to wait our turn.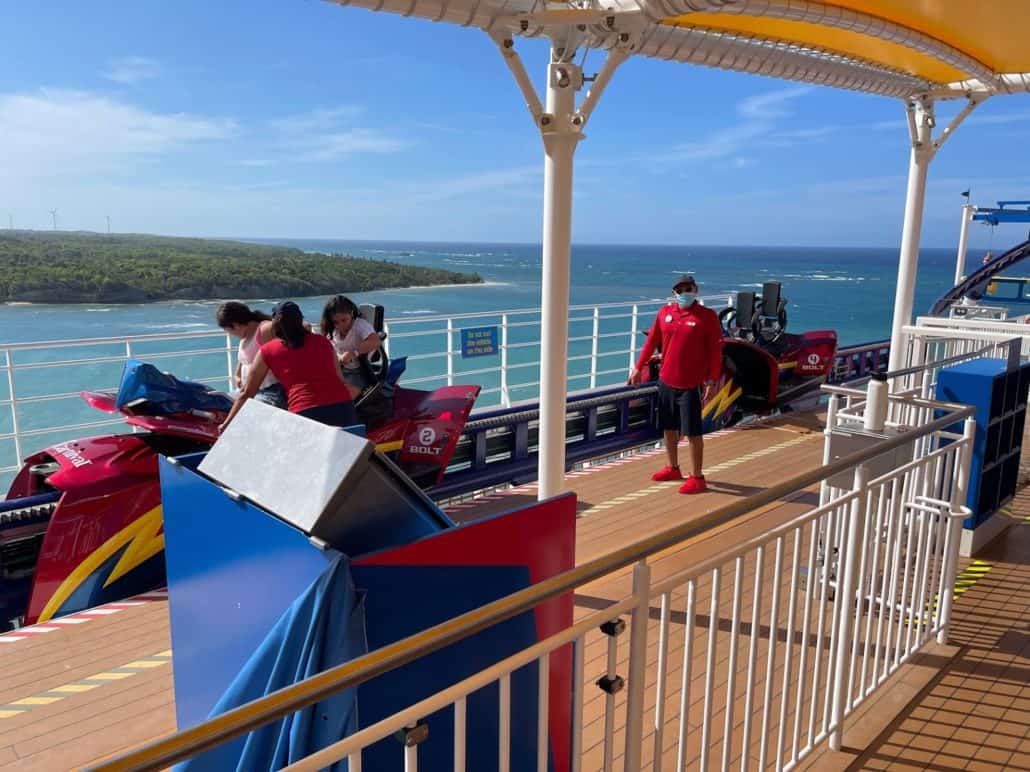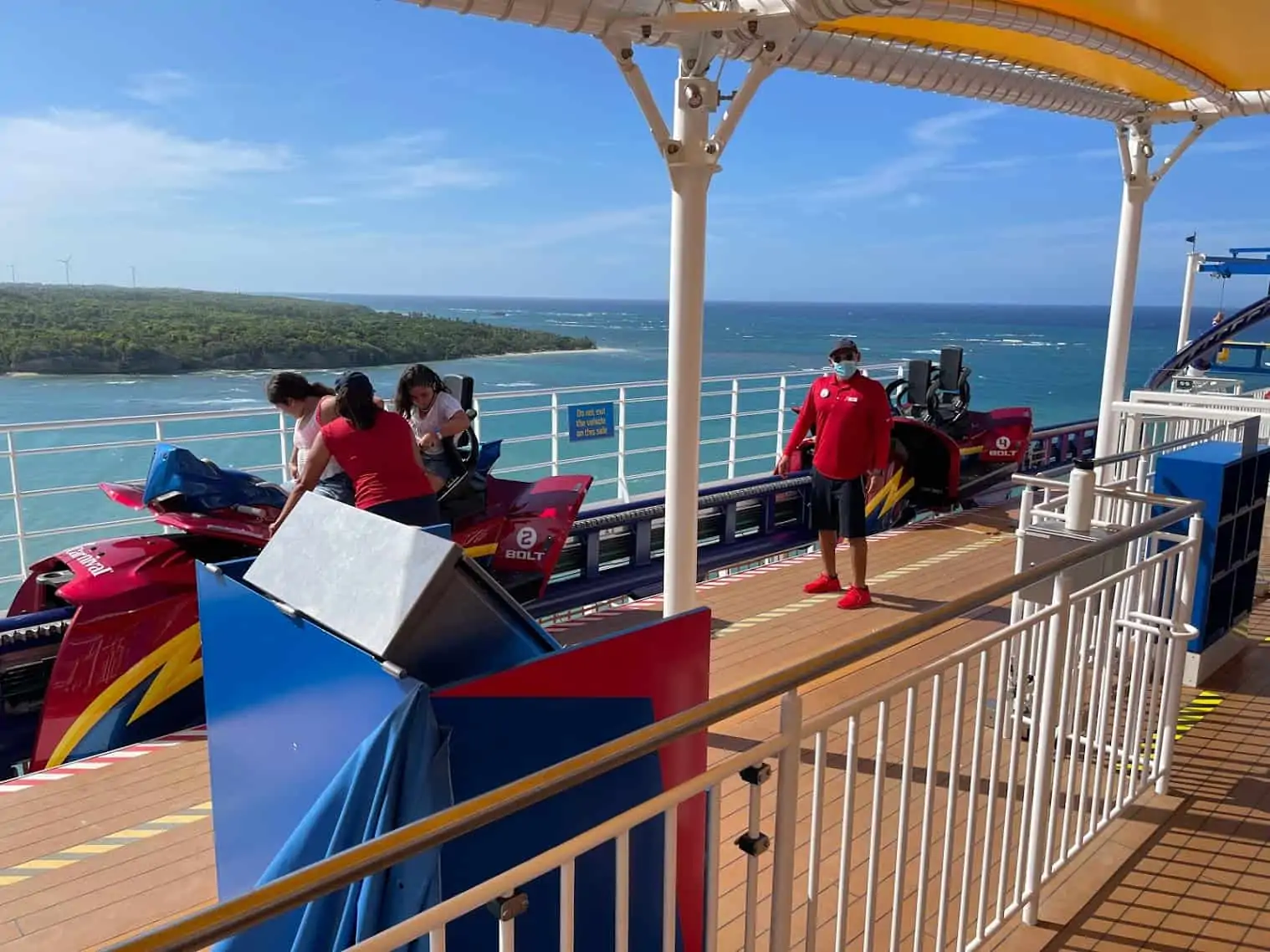 Wait-time wise, we were there about 10 minutes before it was our turn. (As someone who has waited over an hour to ride Space Mountain at Walt Disney World, this was a breeze). There's been a little confusion over the price point for BOLT.
Several times, it was said that the $15 bought you two laps, but during our sailing it's been one lap.
Frankly, two would definitely be better because you need that first time around the course to figure out the controls and get comfortable with the height so you can really let loose and go full-speed on the second.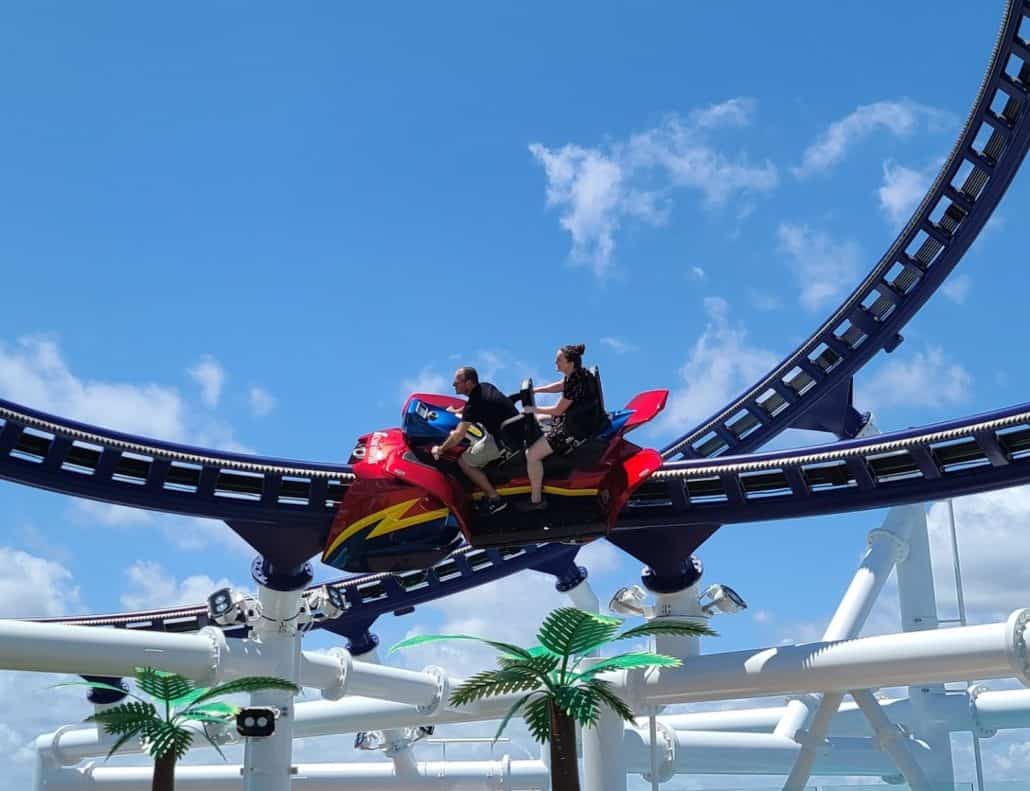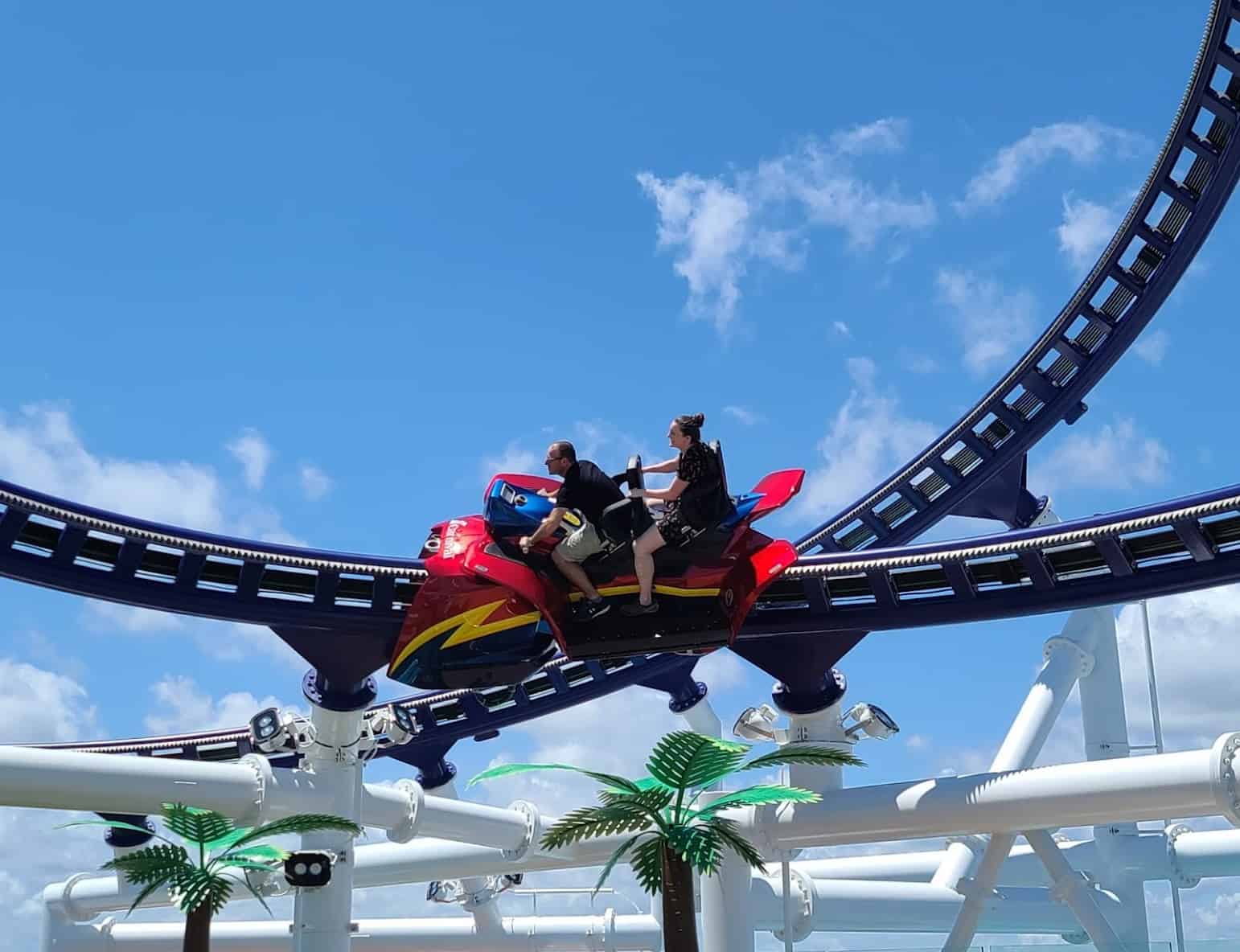 I assume they're trying to find the sweet spot between how much people are willing to pay, what demand will be at that price point, and how long people are willing to wait. (It gets pretty hot up in the space where you line up). They also have to account for the fact that BOLT can't necessarily operate every day.
For example, we tried to ride yesterday but couldn't because the winds exceeded 45 miles per hour. This also shut down the ropes course, meaning that on a sea day two popular attractions were unavailable to guests. Obviously, Carnival can't control the weather, I only mention it because you might want to keep an eye on the weather report when planning your top-deck activities.
After our BOLT ride, I went to record the podcast. So here's a little peek behind the curtain, as they say: Typically when I know I'm booked on a cruise, I'll pre-record the show to avoid any potential internet issues, which can sometimes present a real challenge.
But in this case, I wanted to record at the last possible moment for two reasons. One, I wanted to be able to do the show from onboard Mardi Gras to give listeners a "you are here" feeling. It's also important to me that the information I'm providing is as up-to-date as possible.
Had I pre-recorded, I wouldn't have been able to discuss Carnival's mask mandate on the show. Fortunately, I was able to get Ashley Kosciolek from The Points Guy — who is both a colleague and a friend — to join me for a segment on the breaking news.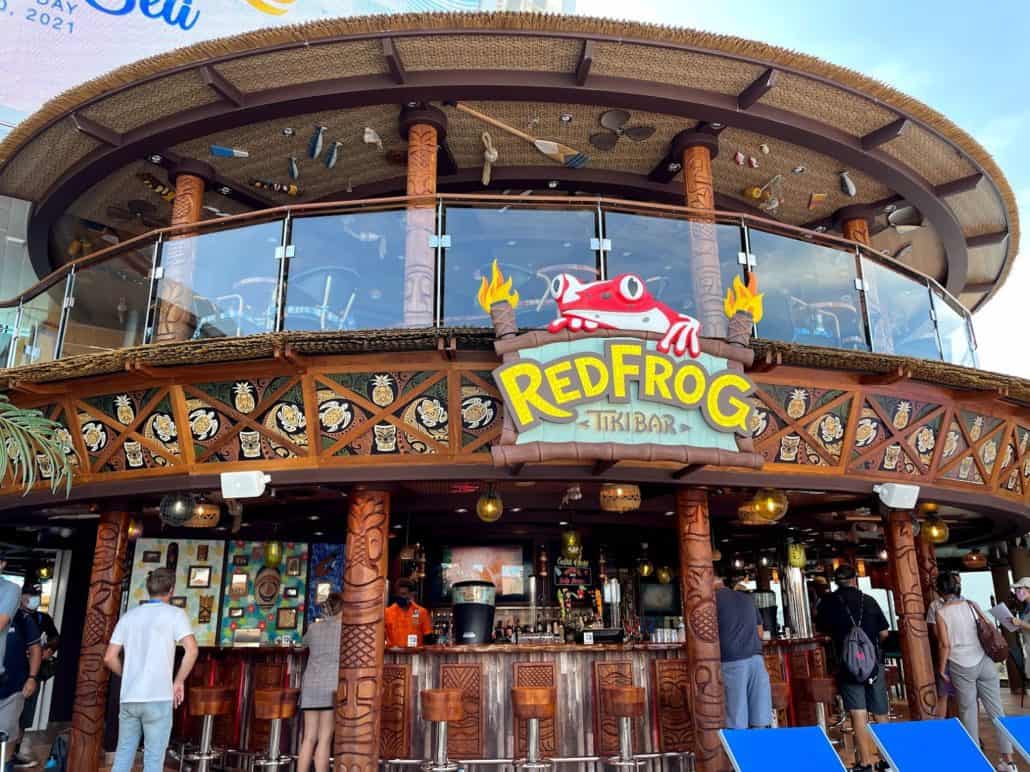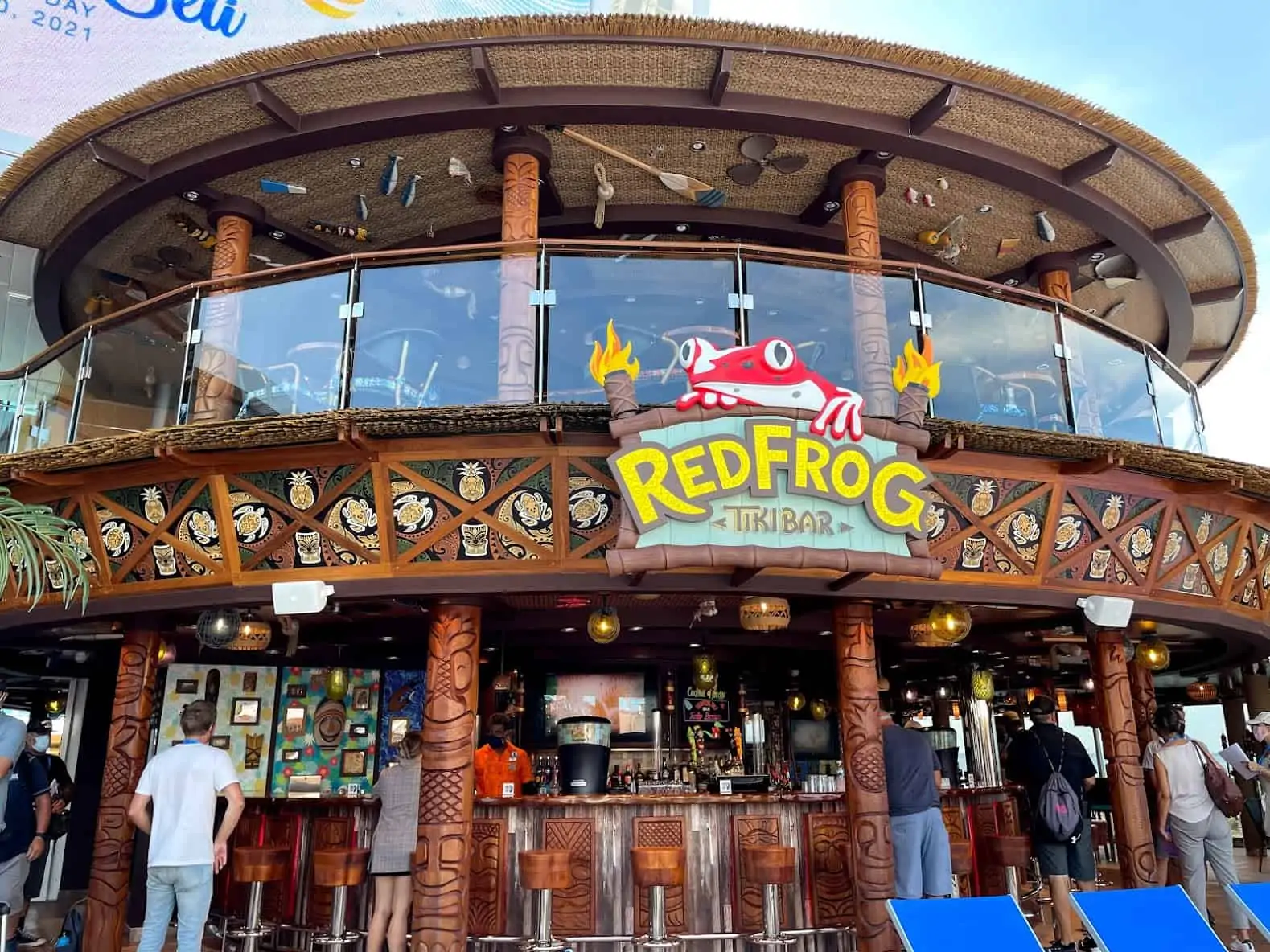 When boarding the ship, I told myself that over the course of the week I would have a drink (alcoholic or non) at every single bar on the ship in order to get a full feel for her.
So after recording the show, we headed to the Tiki Bar where I had a mango hard seltzer. We were going to hit the Serenity Bar next as our miniature pub crawl continued, but it was closed. So instead we headed to the Tides Bar on the back of the ship.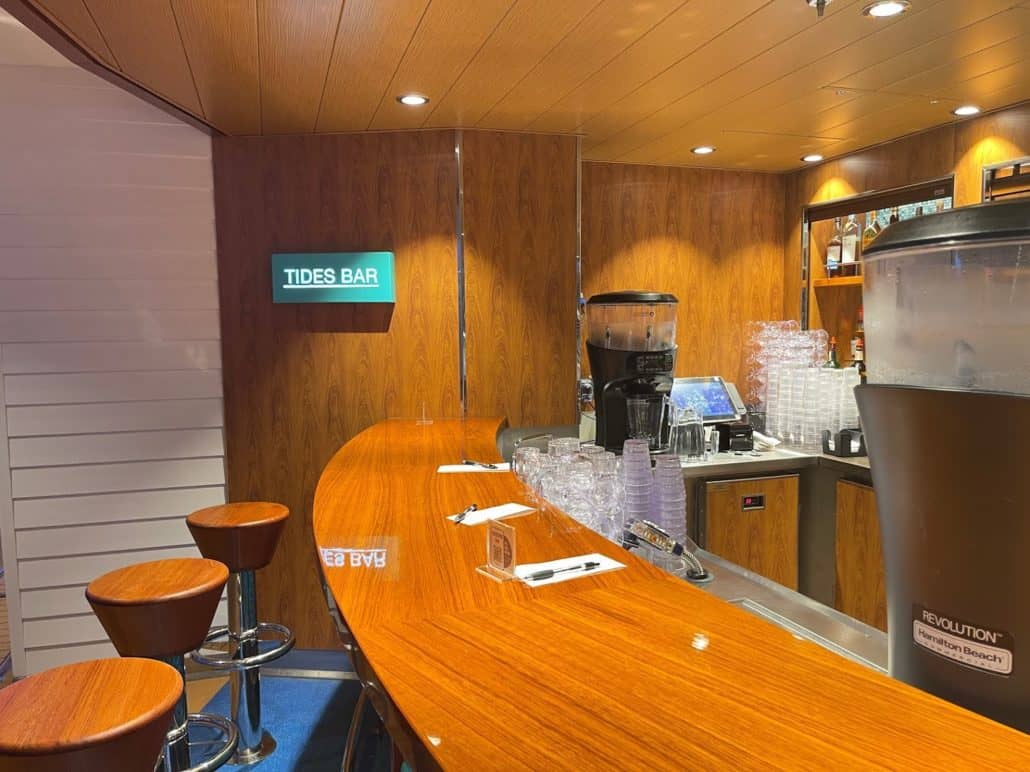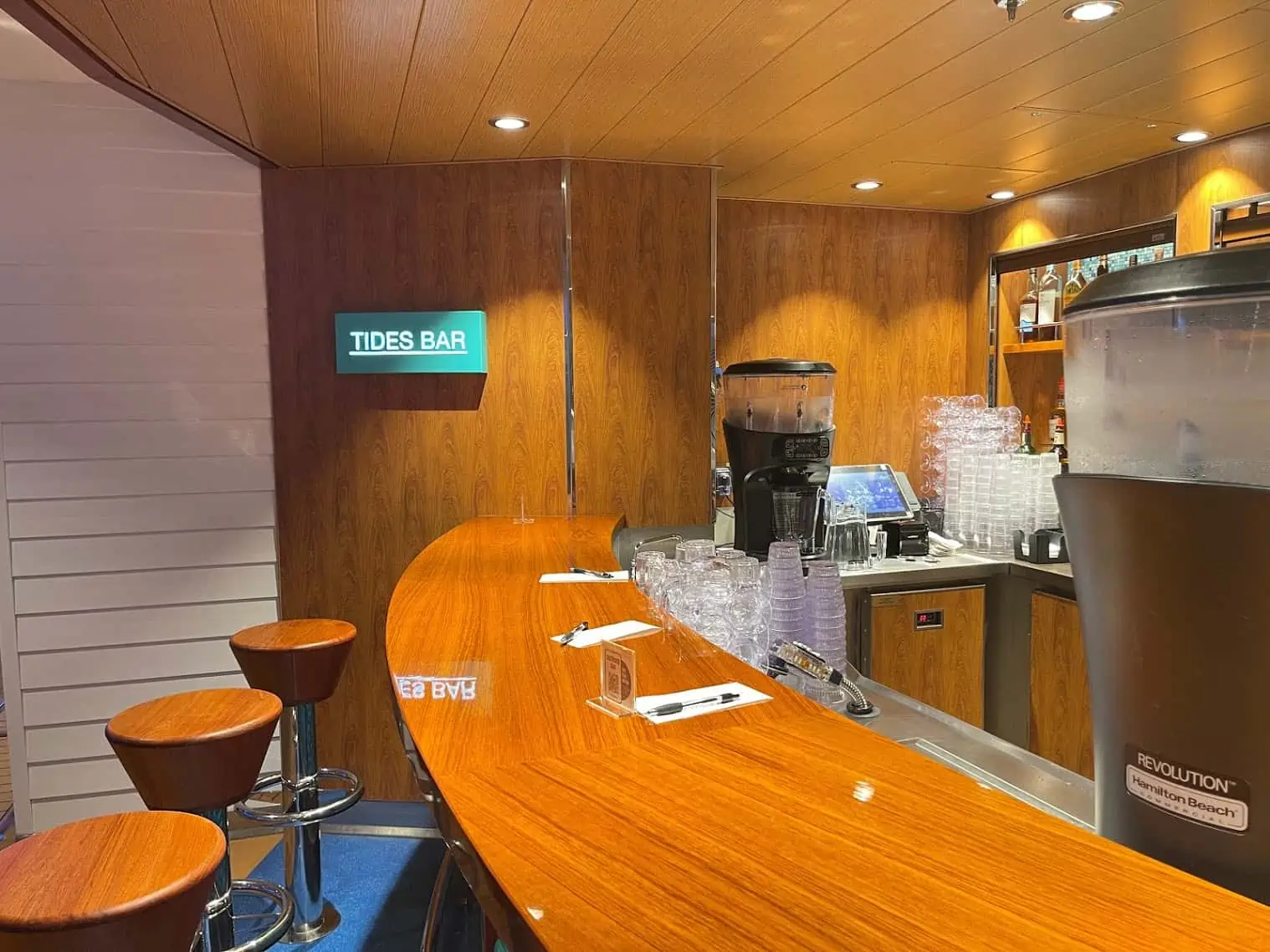 The bartender at the Tides Bar said I looked familiar. At first, I thought maybe she'd seen my videos, but it turned out she remembered when Ashley, staff writer Richard Simms, and I sailed the Carnival Sunrise out of New York city back in September of 2019. I don't know how some crew members manage to remember faces like they do, but it's pretty incredible.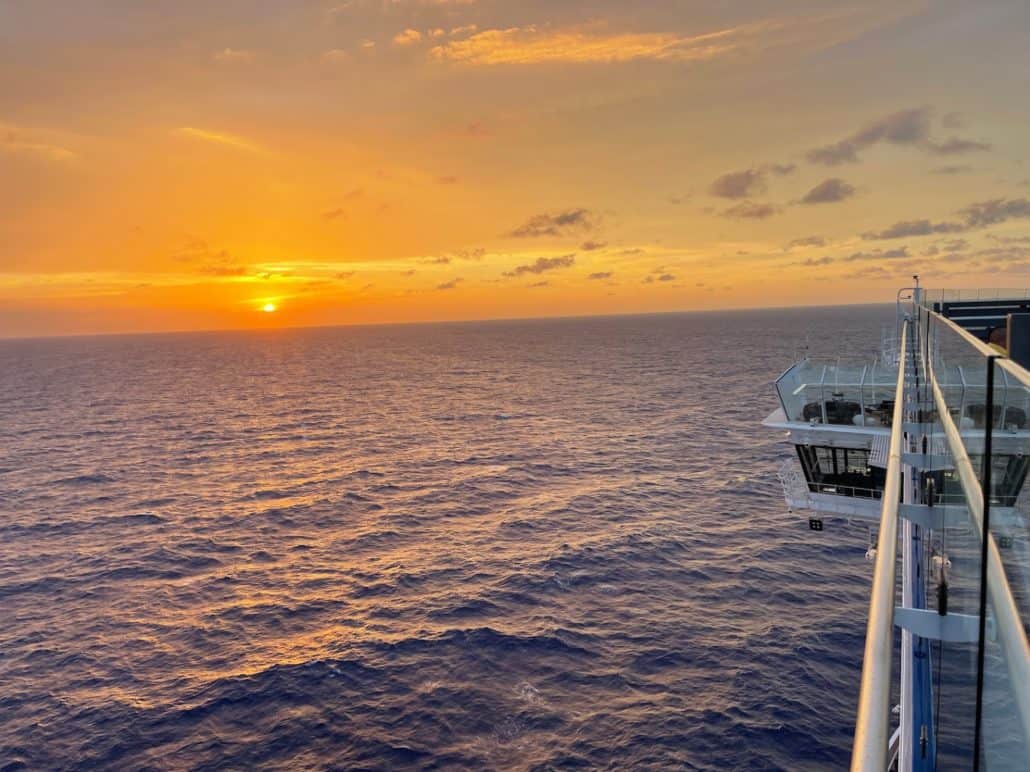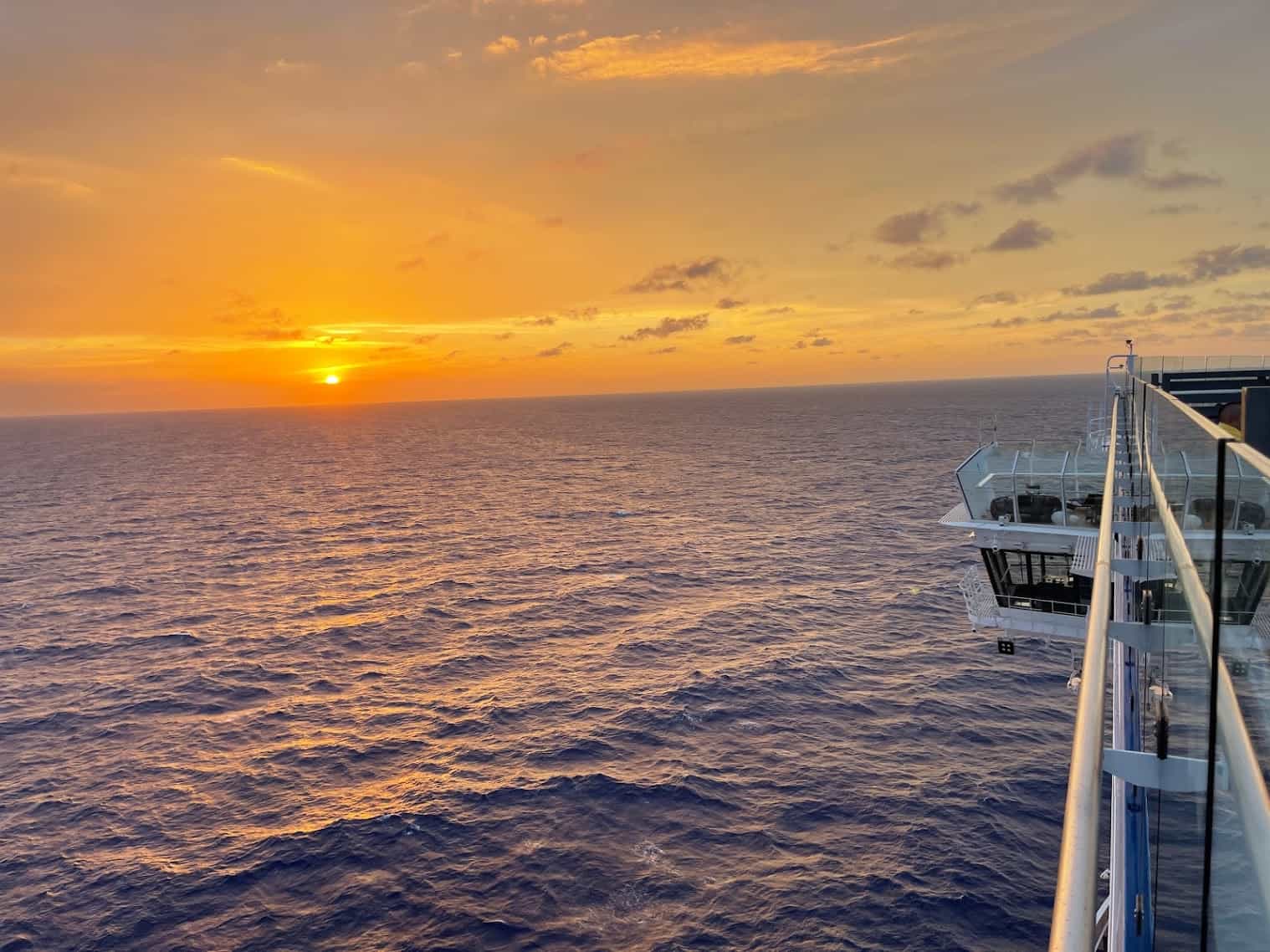 Realizing what time it was, we headed to Serenity on deck 18 forward to watch the sunset… and what a stunner it was. Probably one of the best I've seen at sea in the past decade. It was one of those amazing sunsets in which the slowly descending ball of fire lights up the horizon and looks as if it's so close you could reach right out and touch it… especially when seen through a camera lens.
Afterward, we checked in on the HUB app saying we were ready for dinner. 10 minutes later, we were notified that our table in the main dining room was ready.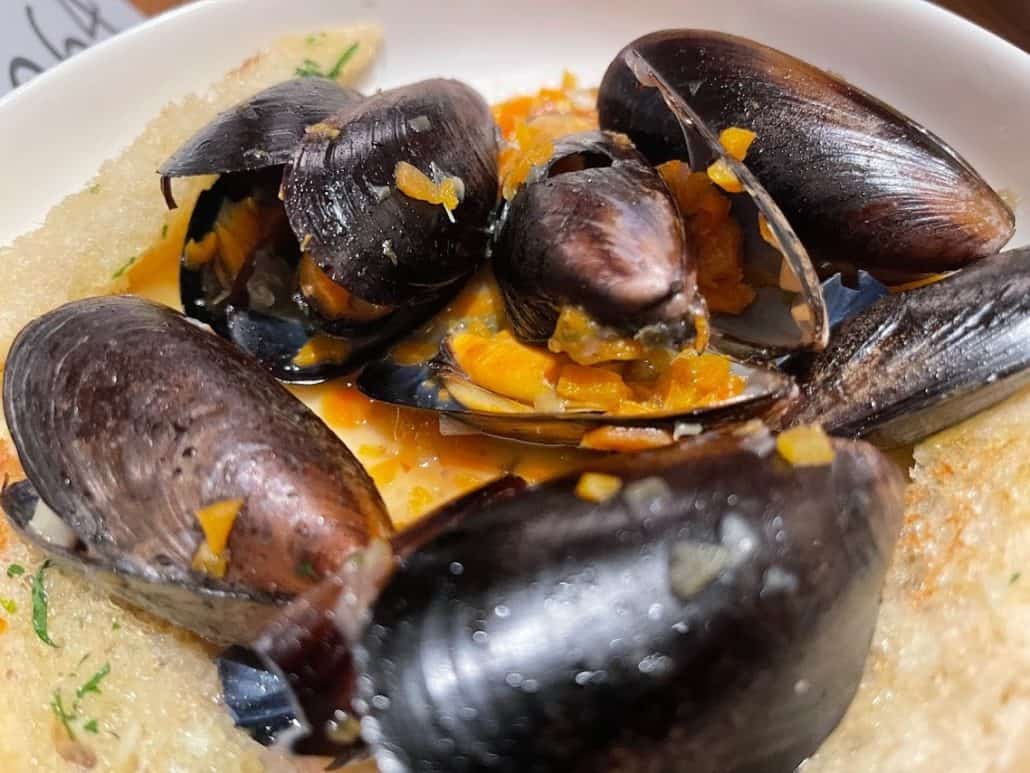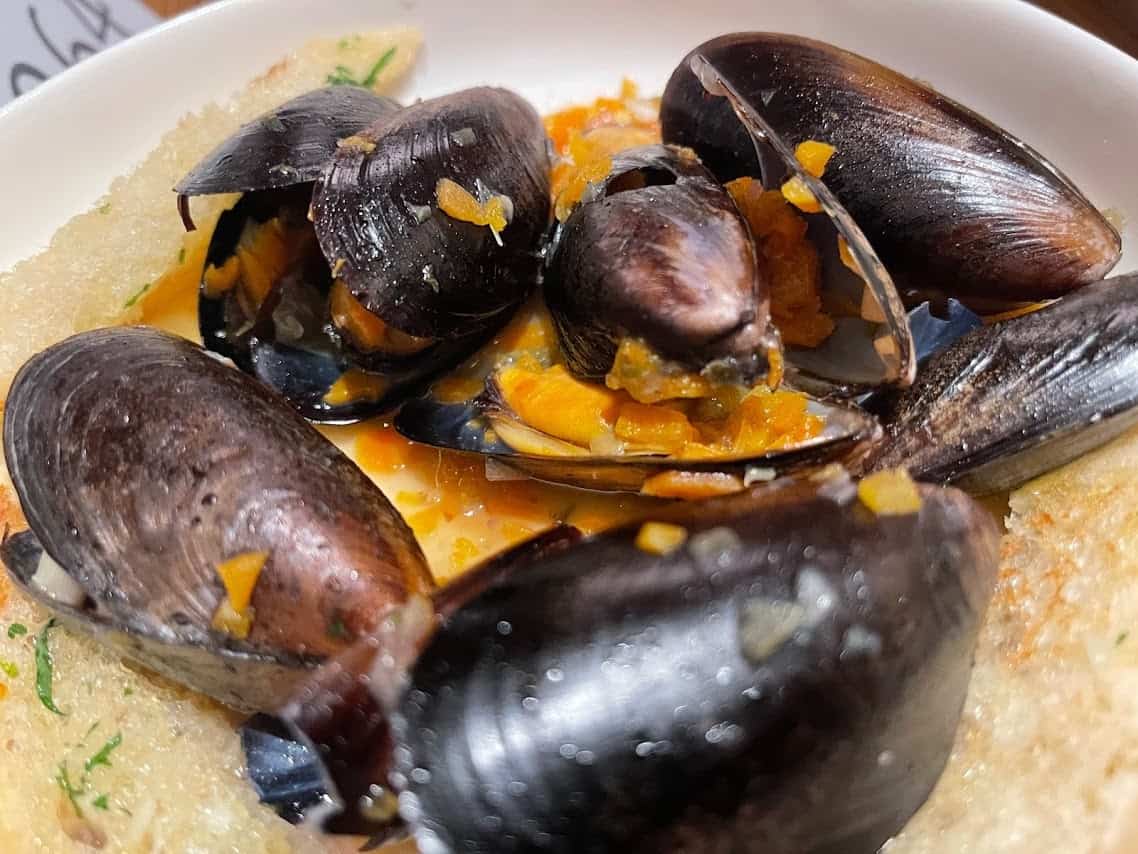 We were eating in the Flamingo Dining Room, which is the smaller of the two. It's located on deck 6 midship near the French Quarter, although it is not considered part of that zone. (The second main dining room is The Palm, which is located on decks six and seven aft.)
I know I've mentioned a couple of times that there have been a few issues where dining's concerned, but tonight things went great. (Anyone who's ever sailed on a new ship will tell you that it can take a few sailings for all of the kinks to be worked out). We were able to retrieve and finish off a bottle of wine that we'd started at Cucina del Capitano a couple of nights prior. Food-wise, I went with the French Onion soup, mussels, spare ribs, and apple pie.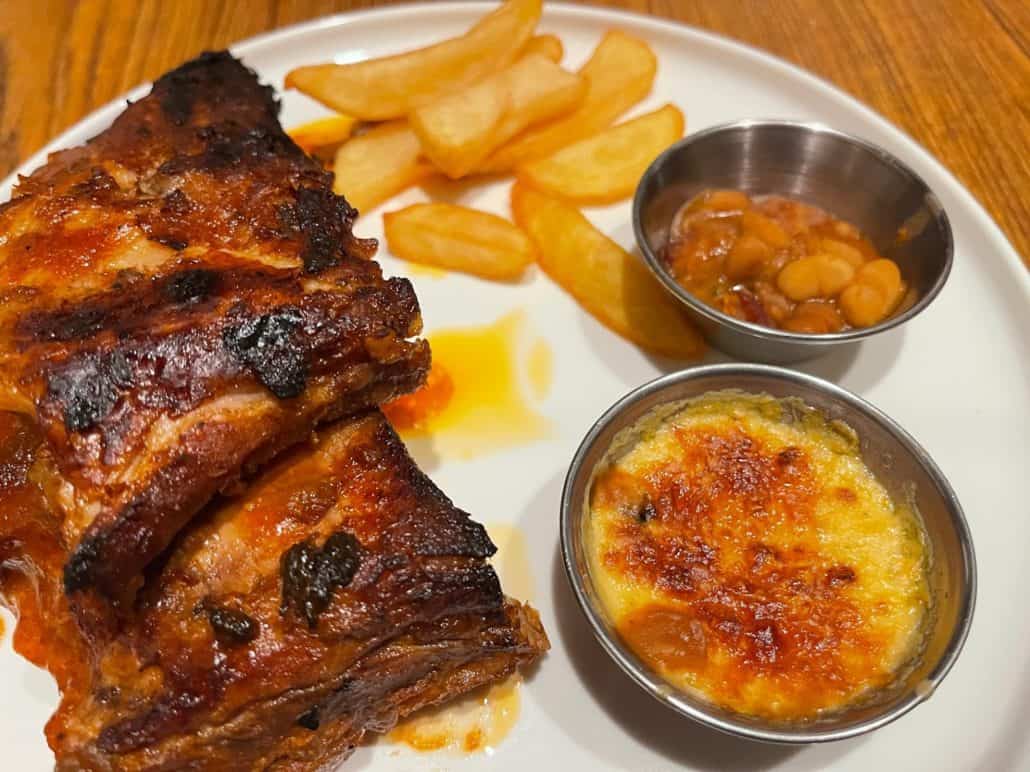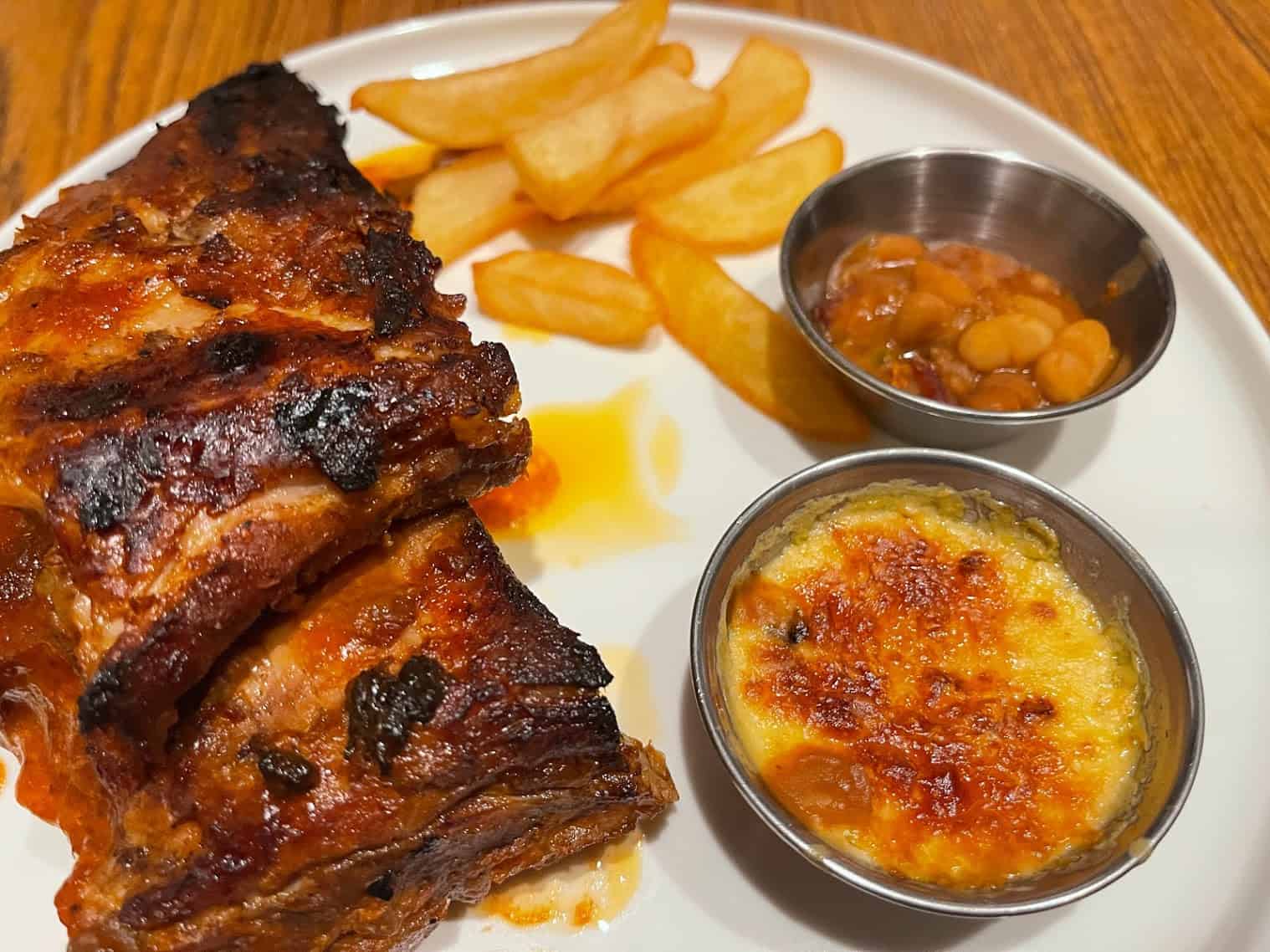 Service was good and everything seemed a bit less chaotic. I suspect that as the week is unfolding, people are starting to realize that dining options that would normally come with a fee on other Carnival ships — such as Guy's Pig & Anchor Smokehouse, Cucina, and the new Chibang! — are actually complimentary on Mardi Gras right now.
As they've figured this out, it's done exactly what I assume those options are meant to do by reducing wait times for the main dining rooms.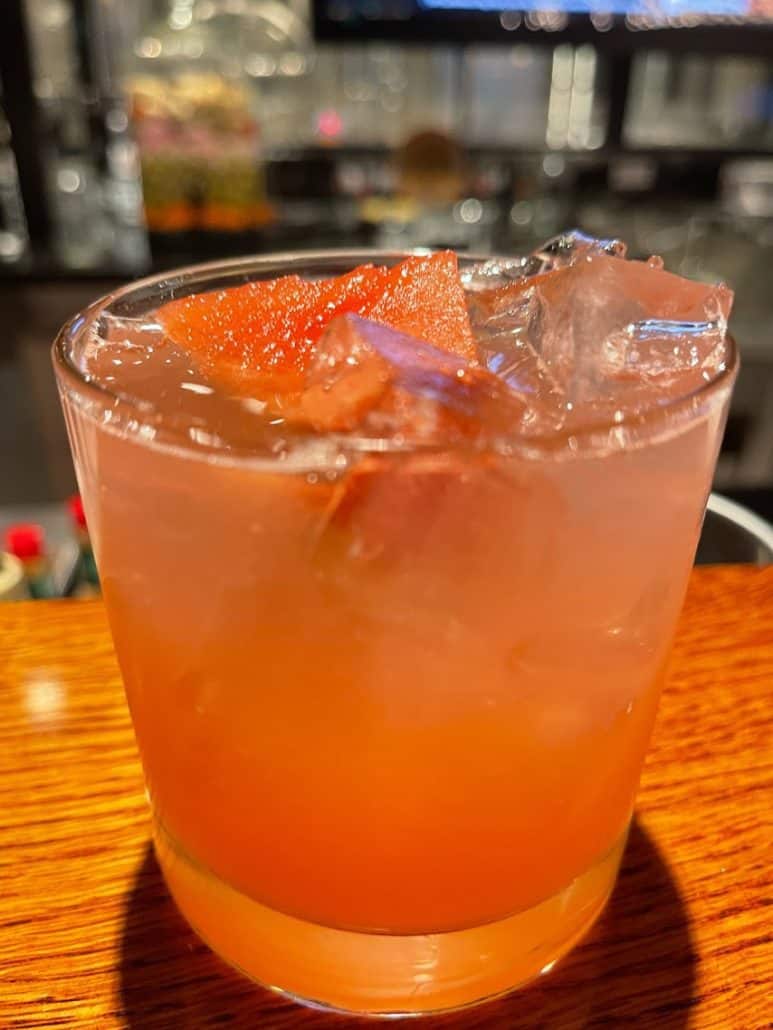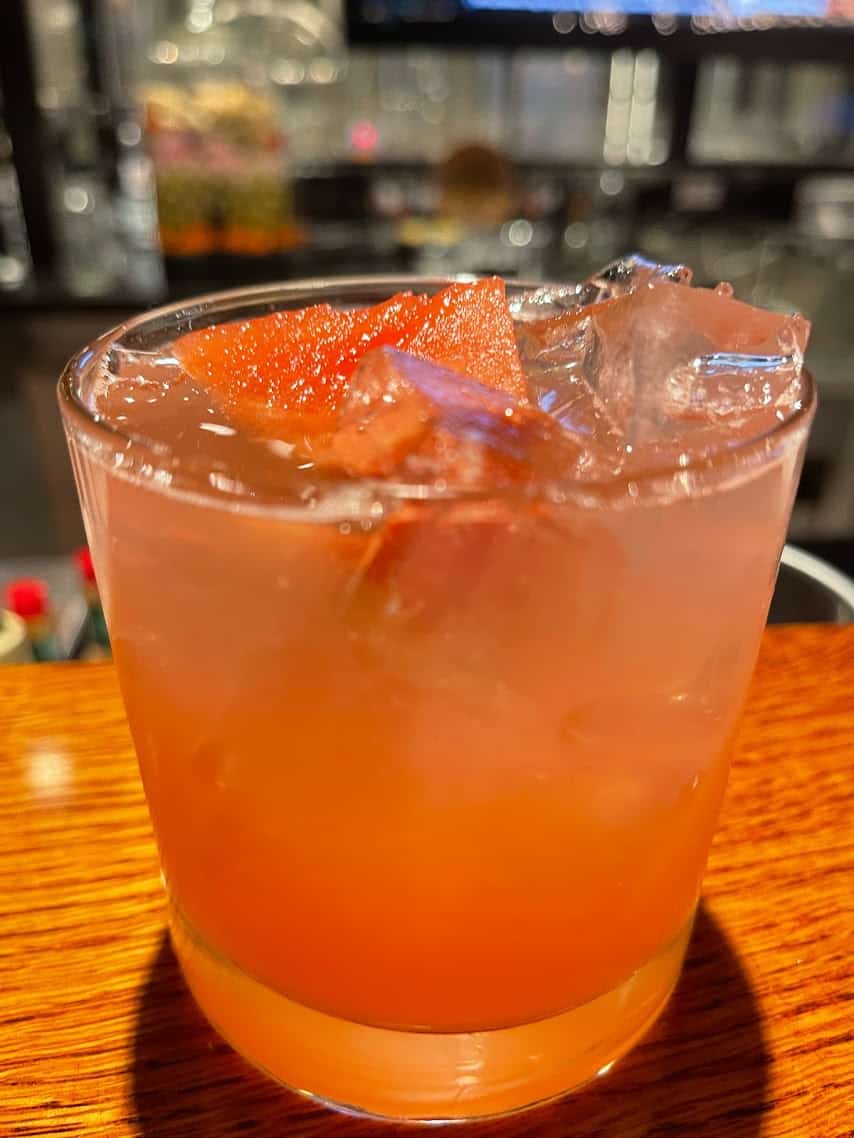 We finished dinner around 9:40 p.m. and were going to check out the comedy show, but by the time we arrived it was standing room only. We'd done that the night before and the sightlines were kinda crappy, so instead, we decided to wander around the ship.
Running into a friend of mine from Jacksonville — this may be a big ship but it's still a small world — we headed to Guy's Pig & Anchor Smokehouse to hang out. I ordered a smoky watermelon margarita and we chatted for about an hour before I called it a night.
As I've mentioned before, there are a lot of new bars on Mardi Gras. But what's really cool is that there are also a whole lot of specialty drinks that are unique to the bars at which they're being served.
I got to chat with Eddie Allen — the VP of Beverage Operations for Carnival — earlier this week and all I can say is that he and his team have really outdone themselves when it comes to the concepts and cocktails introduced on this ship. I may be determined to hit every bar this week, but you'd have to do a month of sailings (and push your Cheers! package to the limit) in order to try all of the new drinks.
Tomorrow is a sea day and they're going to let us go behind the scenes to see the LNG powerplant below deck as well as some of the new recycling techniques being used on this ship. Obviously, anytime I get to take a tour like that, I'm going to jump at the opportunity.
Until then…
Check out my other Mardi Gras trip reports: